Last updated on September 23, 2023
Given the advancements in bed technology and the various different styles that they now come in, choosing a bed to purchase is not an easy choice. With so many different options available on the market, beds are not just something that you sleep in come the end of a long day; they are a furniture state that reflect your own personal style and taste.
However, in order to be able to find the perfect bed that suits not only the style and decor of the room that it is going in but also offers a good night's sleep then you need to pay close attention to the list of tips that are featured below.
In This Post:
Choose a Headboard That Matches Your Style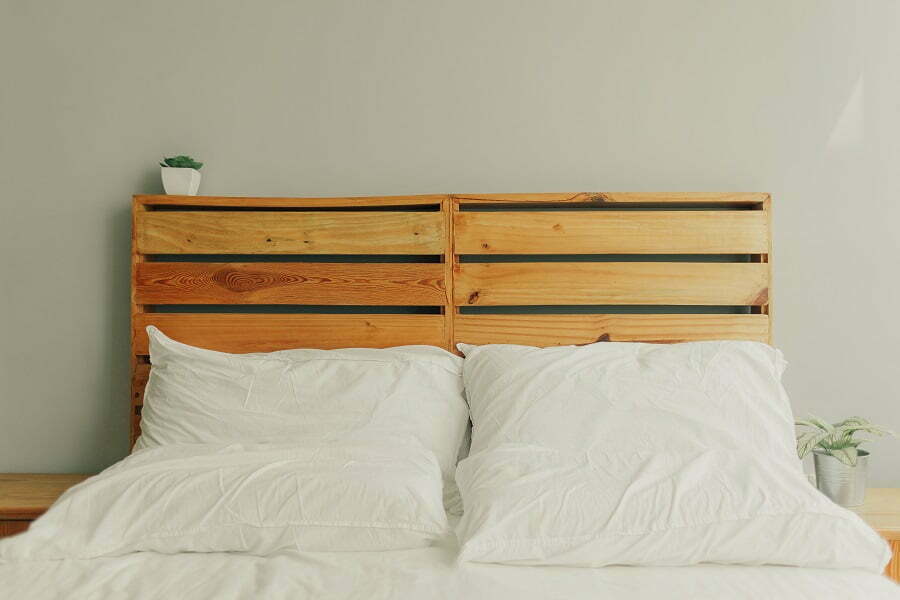 Both the bed frame and headboard are elements of any bed that have the potential to be particularly striking, so choosing one that perfectly matches your style can really improve the overall aesthetic of the room that it is going in. Where you have contemporary decor, an upholstered headboard offers a good look, whereas metal is more suitable for a minimalistic or urban look. For a classic and traditional aesthetic then go for a wooden headboard instead.
When opting for an upholstered headboard, the fabric that you choose is actually very important, as getting the right one can help to create the perfect look. A room should not only look good but also feel good too, and choosing the perfect fabric is absolutely key to achieving that outcome.
Have a Budget
With us spending as much as a third of our lives in bed, it is important that you invest a reasonable amount of money in a good quality bed. You want one that will let you have the best night's sleep every single night and that may come at a cost. By doing some proper research you can avoid paying too much for a bed and you will develop a good idea of how much they cost. Armed with this information you can set a budget and stick to it when choosing a bed.
Consider the Type of Mattress
Whilst you may want a bed to look good, it is equally important that it provides a good level of support and comfort also. So what is key here is finding a mattress that has the right type of filling, as this will determine how good a night's sleep you will have. Some of the types of fillings available include latex, foam, pocket sprung, plus many more, with each one of them creating a different feel. What is equally important as the filling is the size of the mattress. This site can help you find the perfect size mattress for you.
Consider How It Will Get Into Your House
Prior to deciding on your absolute dream bed, it is important that you have considered if you will be able to get it through your front door, up the stairs, and into the room that it is going in. Where you have any doubts of whether or not a particular bed will get into your house, then opt for a business that includes both delivery and installation of the bed as these guys are experts at fitting large objects into small spaces.
Find a Good Quality Foundation
When it comes to choosing a bed you want to make sure that the design of it gives whoever is sleeping on it and the mattress the optimal amount of support. Bed bases come in a range of different types, including slatted, platform, and sprung slatted – all of which provide a great deal of support so choosing between once comes down to personal choice.
Thinks About Functionality
Nowadays, beds offer so much more functionality than they used to. For instance, divan and ottoman bed frames offer lots of extra storage space, making them ideal if the room that it is going in does not have much storage space in there already. In fact, some now even come with lights and charge points built into them. These features can be super helpful when wanting to create a more minimalist look in a room.
Find the Perfect Height
In order to ensure that you do not fall out of your bed at a great height or tripping up over it because it is too low down to the floor then you need to find a bed that is the perfect height. As part of this, you need to take into account the height of the person using it and the height of the mattress that is going to be used on it.
Be Aware of Size
Whilst it is very tempting to go all out and buy a super king-size bed, you need to consider the space that is available in the room that it is going in. If you are buying a bed to go into a new house then it is recommended that you map out its size on the floor with some tape in order to get a fair gauge of how much space it will take up and how much will be left for any other pieces of furniture that need to go in there. Repeat this process for different-sized beds until you find the one that is perfect for the room.
Understand That Colour Matters
A small room can actually be made to feel much bigger than what it is simply by introducing light colors to the space. However, if you want to create a cozy space with lots of cozy vibes then go for darker tones. The bed frame is part of the overall aesthetics of the room and so you need to choose a color that fits in with the rest of the space.
Materials Can Create Harmony
The room that you sleep in should be one that evokes feelings of relaxation. The material of the bed frame and headboard all play a part in doing this. No matter what you decide, just make sure that there is harmony with the other elements that make up the bed and the room.
Liked reading this? Here's more: