Last updated on October 20, 2023
Immerse your home in the radiant spirit of Diwali because this article shares unique, culture-rich decor ideas that will transform your space into an enchanting festival of lights celebration.
I am truly proud to have crafted this article along with its unique designs on 20 Elegant Diwali Decor Ideas, and I sincerely hope it stirs your creativity as much as it did mine during its creation.
Diwali, the festival of lights, is a time for joyous celebration and home decoration plays a significant role in setting the festive mood. This article is packed with innovative and vibrant Diwali decor ideas that will transform your home into a festive paradise.
From traditional diyas and rangolis to contemporary fairy lights and floral arrangements, you'll find a plethora of options to choose from. Whether you prefer a minimalist approach or love going all out, there's something for everyone.
Read on to discover how you can infuse your home with the spirit of Diwali, ensuring it shines the brightest this festive season.
Rangoli Designs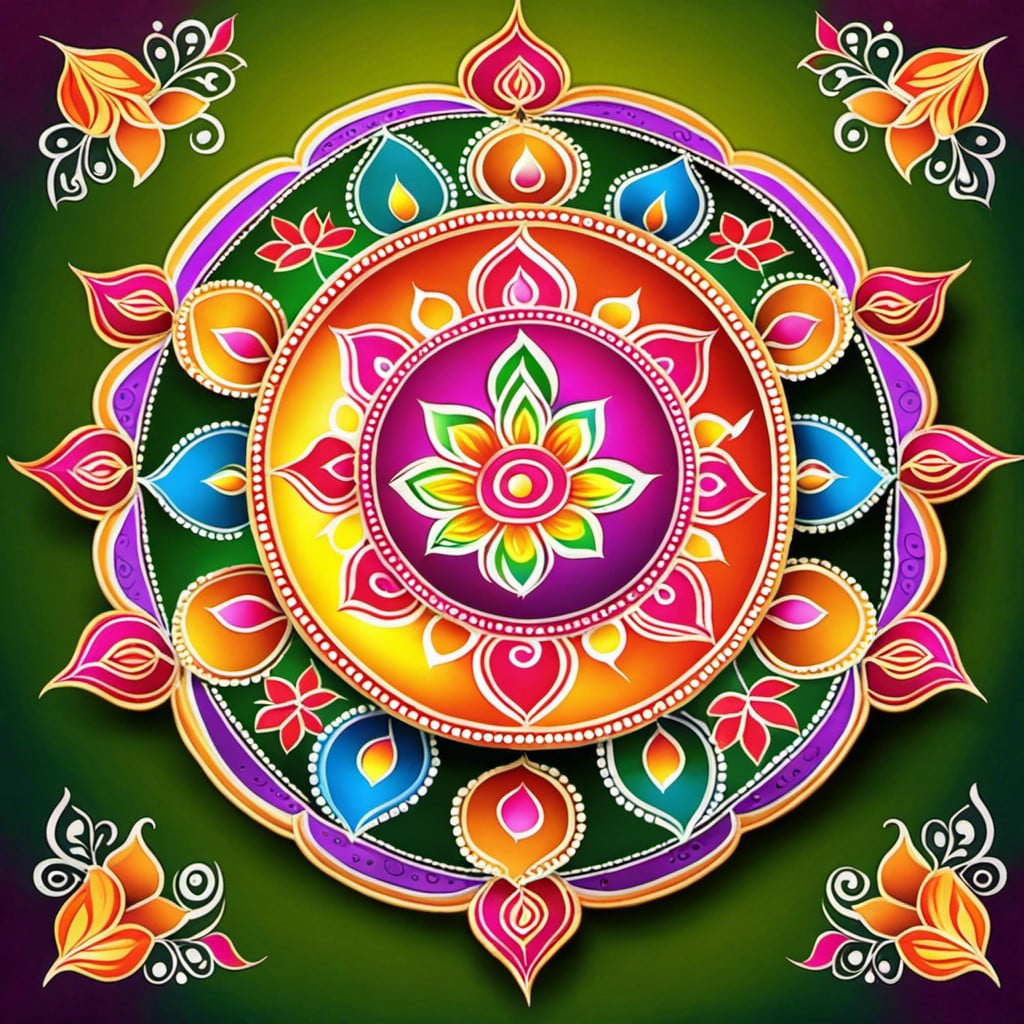 A cherished tradition, Rangoli encapsulates the vibrant spirit of Diwali. Derived from a Sanskrit word meaning "row of colors," it involves creating intricate patterns using colored powders, rice or even flower petals on the floor of entrances and courtyards.
Here are a few key points to consider while creating your Rangoli:
Designs range from geometric patterns to images depicting deities, nature or auspicious symbols like swastikas, footprints, lotus and others.
Materials commonly used include rice flour, sand, chalk, or flower petals for added fragrance and appeal.
To keep the Rangoli in place, you can outline your design with wet chalk or make a paste of the material used.
Apart from visual appeal, Rangoli is also believed to ward off evil spirits, hence a staple at entrances.
For a modern twist, add tea-lights, candles or diya in your Rangoli design for a lovely glow.
To engage children, incorporate elements like eco-friendly paints, stencils and easy-to-handle materials in simple designs.
Remember, Rangoli designs are all about creativity, so don't hold back and let your imagination run wild to create an arresting visual masterpiece!
Diya Decorations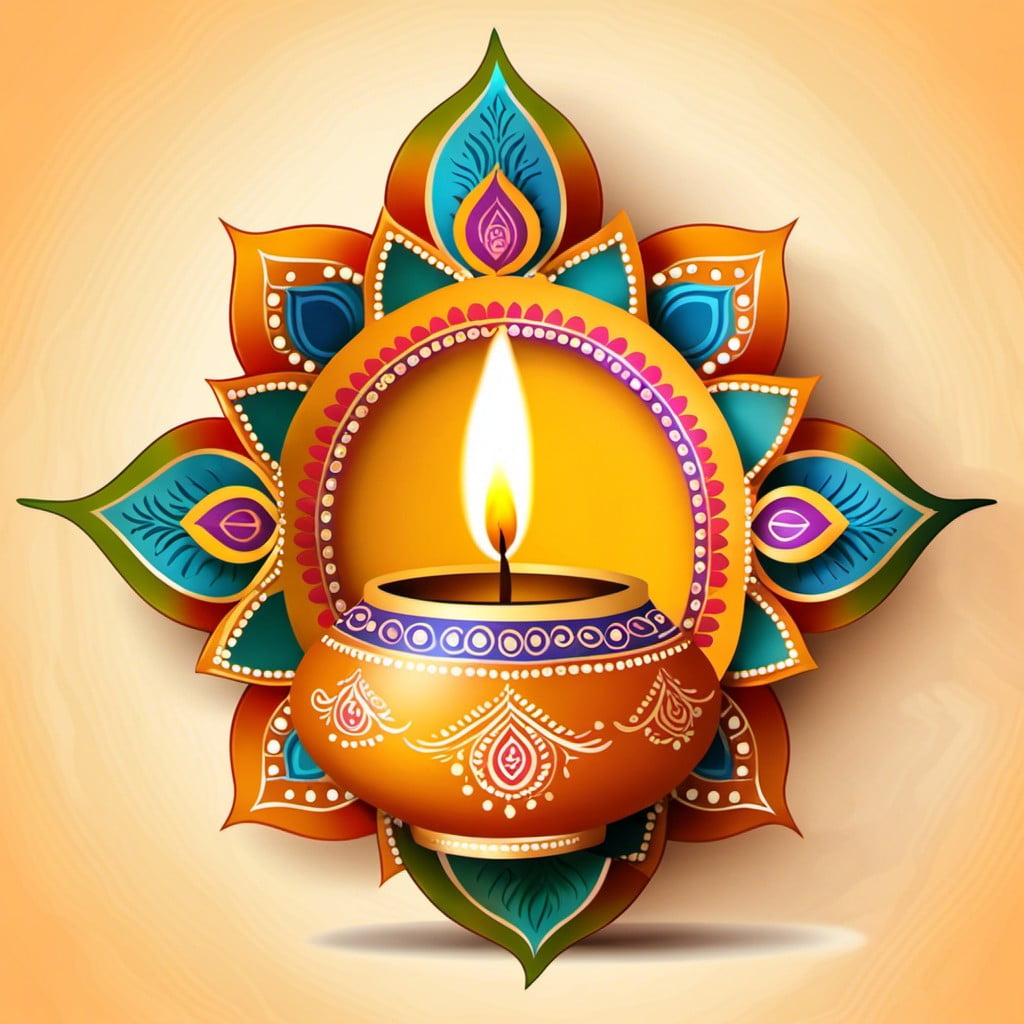 First, pick up earthen or clay diyas from a local store. They're eco-friendly and lend an authentic Indian touch. A fun twist is painting them with acrylic colors or adorning them with beads, sequins, or glitter. Ensure to use non-flammable materials to sidestep any safety issues.
Next, consider where you'll place them. Doorstep, windowsills, corners of the house – they all make excellent spots. Unique placement such as floating diyas in a glass bowl with water or placing them on decorative trays can create visual interest.
Finally, always strive to balance the diyas' light with the room ambiance. When done right, their soft glow can add a serene atmosphere to your festive decoration, creating an appealing luminous spectrum throughout your space. Safety should be paramount, avoid placing diyas near flammable materials.
Lantern Hangings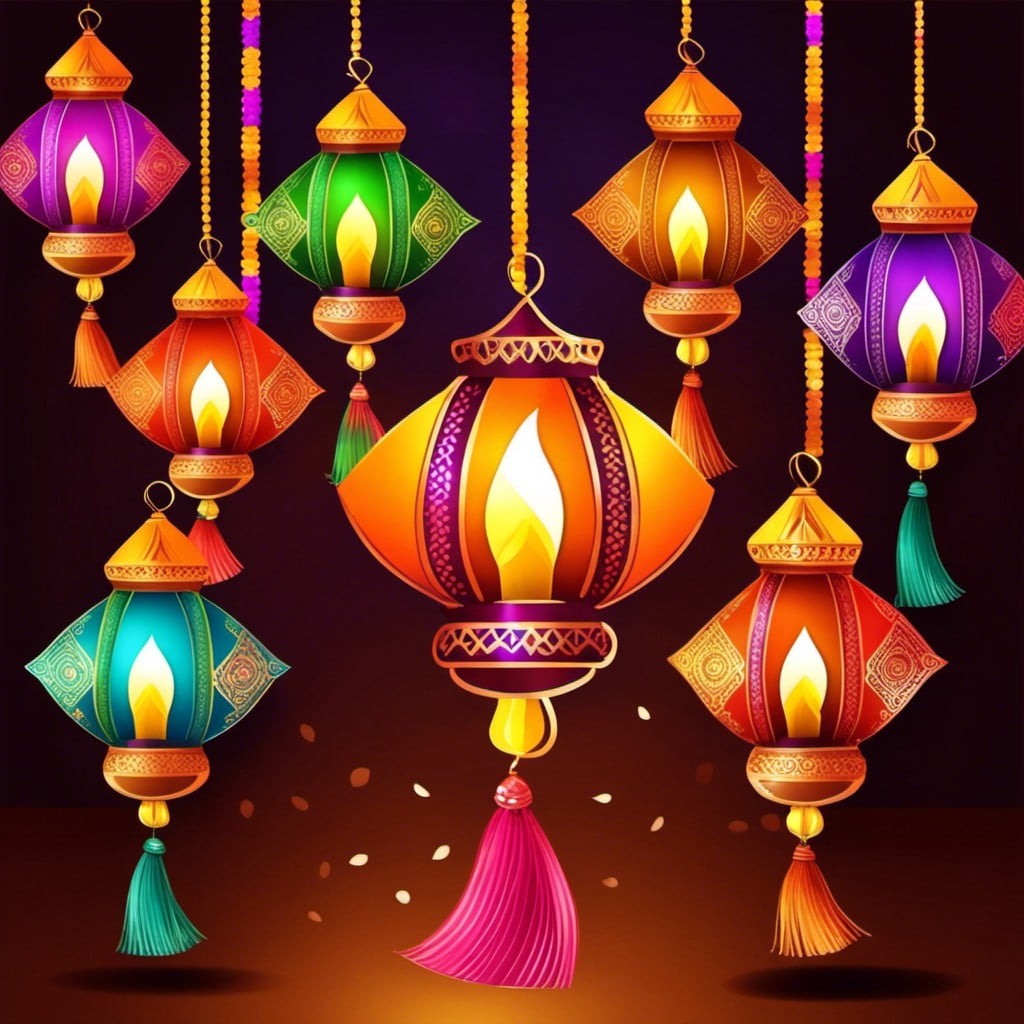 Employing lanterns can infuse an enchanting effect into your Diwali décor. It's a versatile element that pairs well with both traditional and modern settings.
Here are some ways to effortlessly incorporate lanterns into your celebration:
Clustered Hangings: Group variously sized lanterns together at different heights to create a stunning visual display. This is particularly effective over dining areas or entrances.
Window Showcase: Drape an assortment of brightly colored lanterns in your windows for a festive street-facing attraction.
Garden Lights: Weatherproof lanterns can be hung from tree branches or patio coverings to illuminate an outdoor setting, adding a warm, inviting glow.
Pathway Light Posts: Guide your guests with a series of lanterns leading a path toward the door or around the backyard, rendering a welcoming ambience.
Remember, lanterns don't always require a light source. Even unlit, they can introduce an intriguing architectural component to your décor. Experiment with a mix of structured metallic lanterns and softer paper ones to add depth and variety to your aesthetic.
Floral Arrangements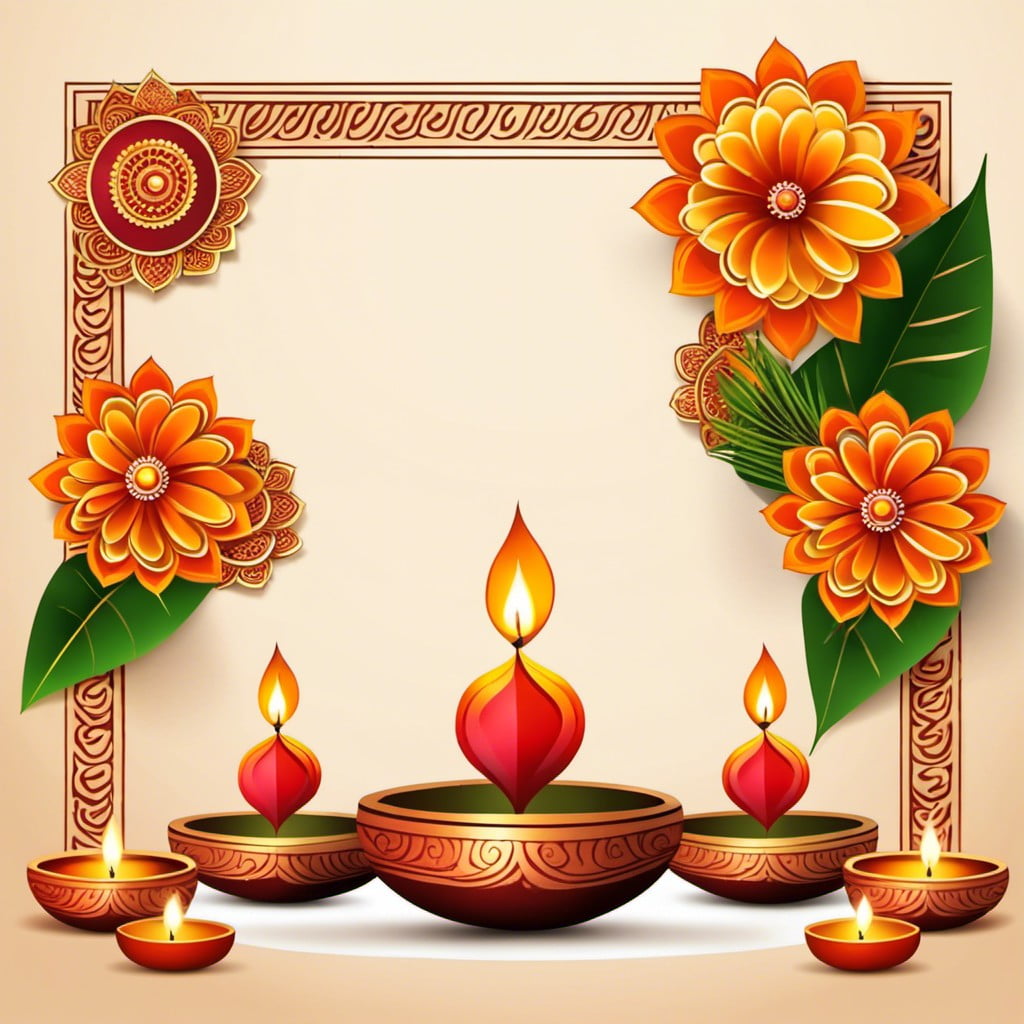 Incorporating flowers into your Diwali decor adds a burst of color and freshness. Different varieties symbolize different attributes – marigold for brightness and positivity, roses for love, and lilies for prosperity.
You could arrange flowers in brass urns or clay pots around your home. A garland of bright orange marigold and fragrant roses draped over doors or artworks adds a welcoming touch. Floral arrangements can also include floating flowers in a bowl of water, placed strategically around the space.
Experiment with colors, textures, and heights. You can utilize branches of colorful autumn leaves to add height. Potted plants blooming with flowers add depth. These arrangements offer a fragrant, beautiful, and inviting ambiance.
Remember, fresh flower arrangements require regular care. Replace wilted flowers promptly to maintain the vibrancy of your decor.
If freshness maintenance proves challenging, opting for high-quality faux flowers is an excellent alternative. Nowadays, they mimic the look and feel of real flowers closely, and some even come scented!
Whether you stick to a traditional flower choice or venture to experiment, floral decor is sure to breathe life into your Diwali celebrations.
Candle Displays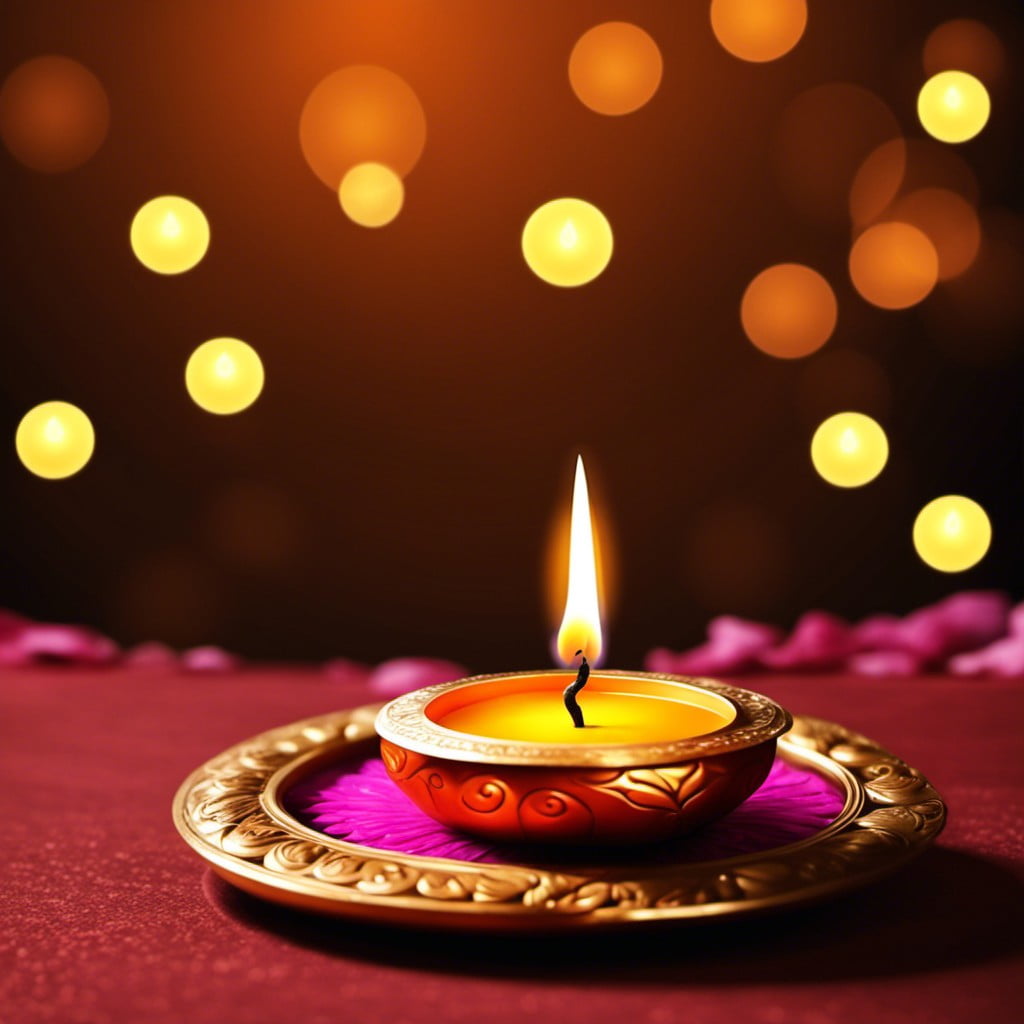 Diversity is crucial in assembling an outstanding candle display. Ensure you use a variety of sizes, shapes, and colors to add depth and interest.
Arranging candles on a vintage tray or a mirror creates a pleasing reflection of the flickering flames.
Stack pillar candles on a cake stand in the center of your table, or spread tea lights amongst your rangoli design for a fresh take.
Incorporating cinnamon sticks or dried citrus slices around the base of candles can infuse a pleasing aroma.
And safety should not be an afterthought. Always ensure candles are placed away from flammable materials and are extinguished when leaving the room.
Further, using hurricane lanterns or glass cloches can add an extra layer of safety while also elevating the elegance of your candle display.
Traditional Toran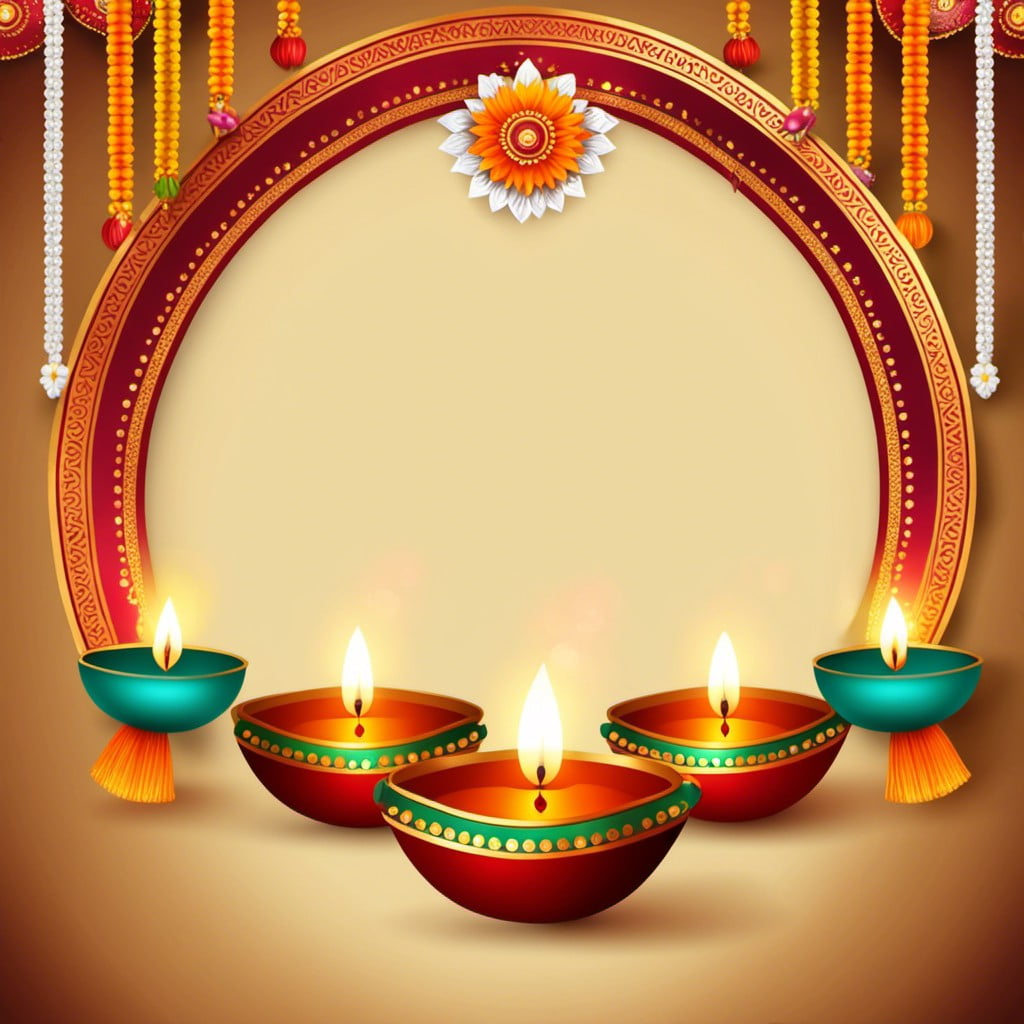 A Toran is as much an integral part of Diwali decorations as it is a reflection of rich ethnic culture. Often placed at the entryway, it is believed to invite prosperity and good vibes. While the stores offer an array of torans, one can also consider crafting a homemade piece for a personalized touch.
1. Material Selection: Primarily, choose from materials like marigold flowers, mango leaves, beads, or even fabrics. Marigold and mango-leaf torans are the most sought after due to their traditional significance.
2. Length Calculation: Measure your doorframe correctly to ensure the Toran fits comfortably, neither too long nor too short.
3. Color Consideration: Different colors carry different meanings in Hinduism. Red signifies power, while green symbolizes life and fertility. Consider the color symbolism before finalizing your Toran.
4. Attachment Method: Once designed, you can either hang it from door hooks or use tape.
5. Care: Ensure to replace the Toran if it starts to wilt or fade.
Incorporating a Toran in your Diwali decor not only accentuates the charm of your home but also keeps the tradition alive in a visually delightful way.
Light Strings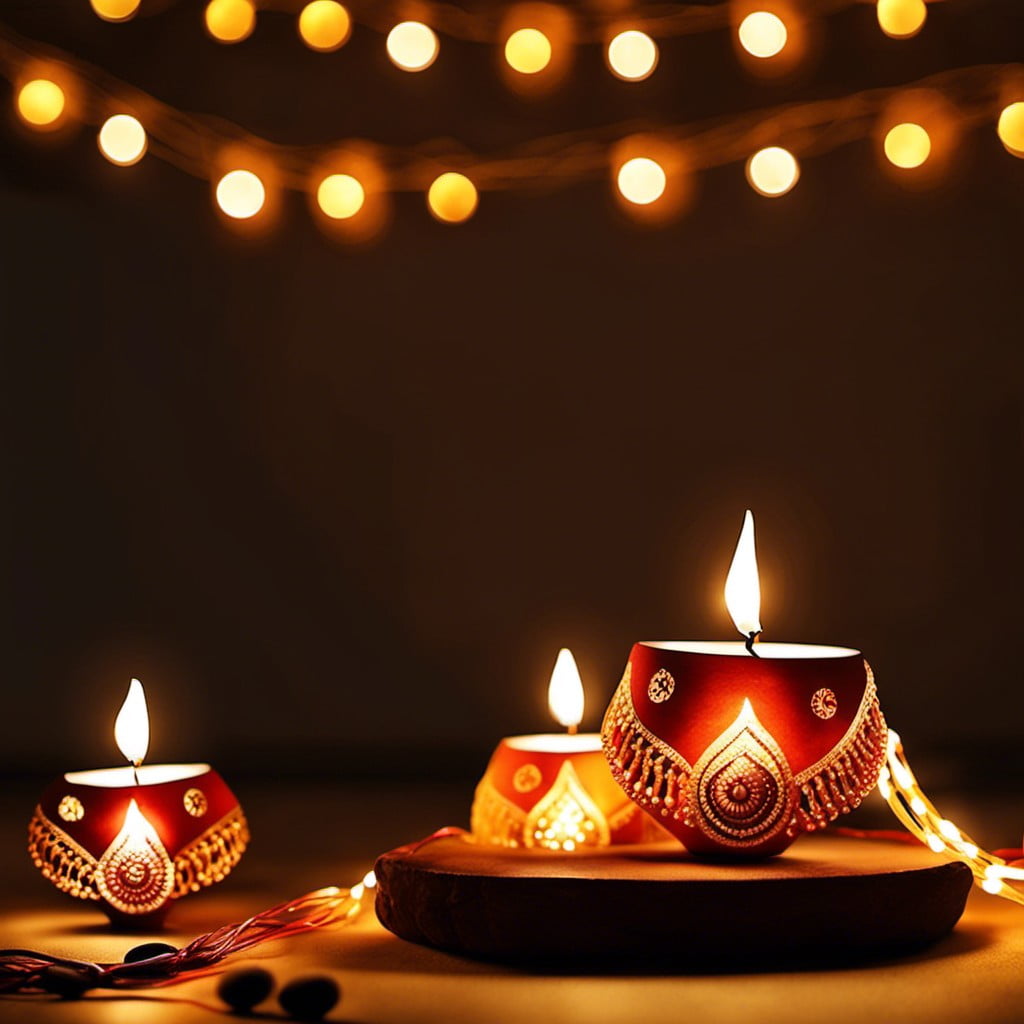 Using decorative lights, like fairy lights or LED strips, can add sparkle to your Diwali celebrations. Check these points to achieve an exciting and dynamic effect:
String these lights around your windows and doors or in your outdoor spaces to create a warm and inviting ambiance.
Experiment with different colored lights to create a unique atmosphere. Cool whites for a serene effect, or vibrant colors for a festive feel.
Plus, weaving lights around your indoor plants or pillars can brilliantly illuminate and define these spaces.
String lights can also make a dramatic impact when draped over the dining table or across the living room ceiling.
For a more artistic touch, craft a design on a wall using lights or even use them to outline your Rangoli.
Remember, these lights enhance the beauty of your decorations and bring a warm, festive glow to your home.
Colored Powder Art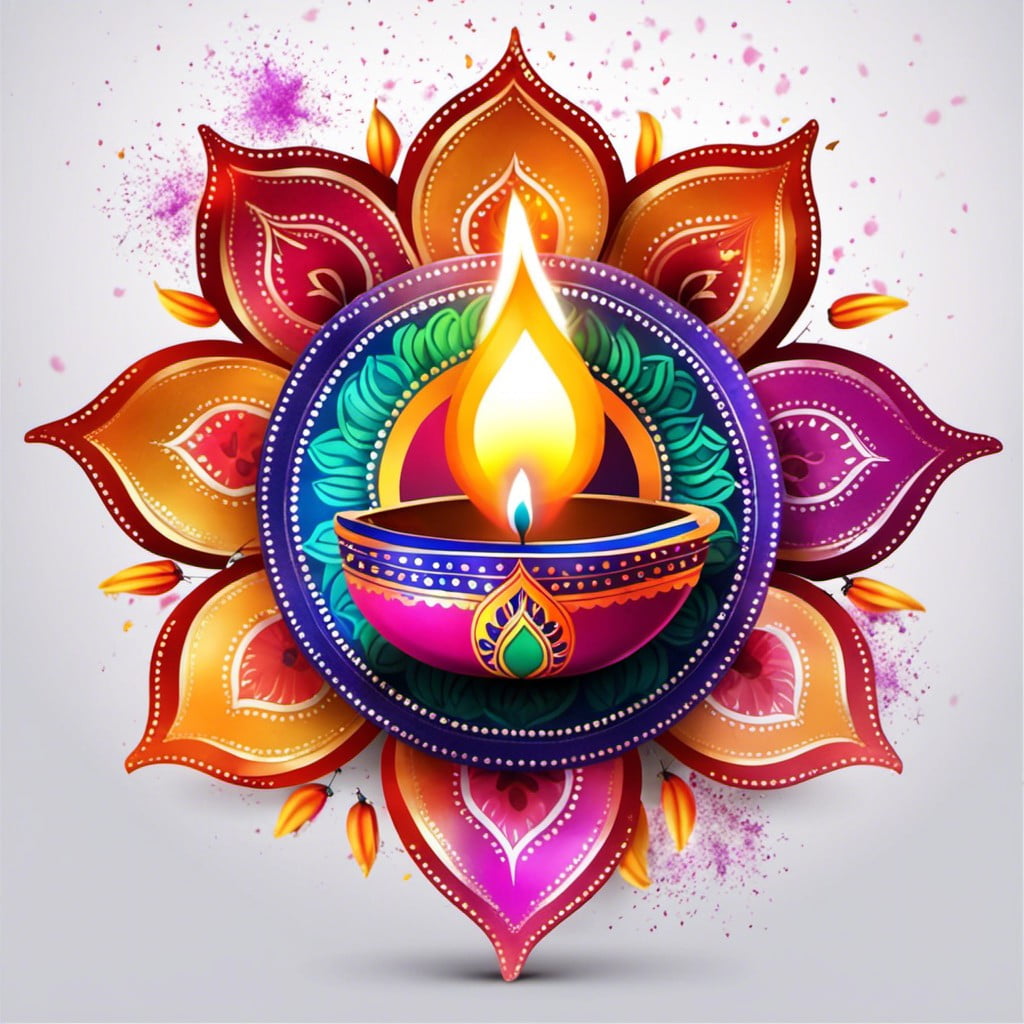 Colored powder art, popularly known as Rangoli, is a form of decorative art made with colored powders, rice grains, or flower petals. A typical addition to any Diwali decor, it serves as a warm welcome to guests and goddess Lakshmi, the Hindu goddess of wealth.
Here's how to contribute to your Diwali festivities with this form of lively and expressive art:
1. Select a Design: Start with simple geometric patterns before venturing into intricate designs. Symbolic designs like the lotus, peacock, swastika, or the 'OM' are also popular choices.
2. Choose the Right Colors: Use vibrant colors for a striking contrast. Traditional colors like red, yellow, and green are common, but inclusion of other bright colors can make your design stand out.
3. Prepare the Space: Clear and clean the desired area before starting, ranging from basic sweeping to washing with water. A flat, hard surface is optimal for creating Rangoli.
4. Sketch the Design: Outline your chosen design lightly with a piece of chalk or pencil.
5. Fill in with Colors: Carefully begin filling in the design with the colored powders or grains. Remember, patience is key here.
6. Add Embellishments: Decorate with flower petals, diyas, or even candles to add dimensions and elevate your creation.
Remember, creating a Rangoli is believed to bring good luck, and is as much about the process as it is about the end result. Happy decorating!
Themed Centerpieces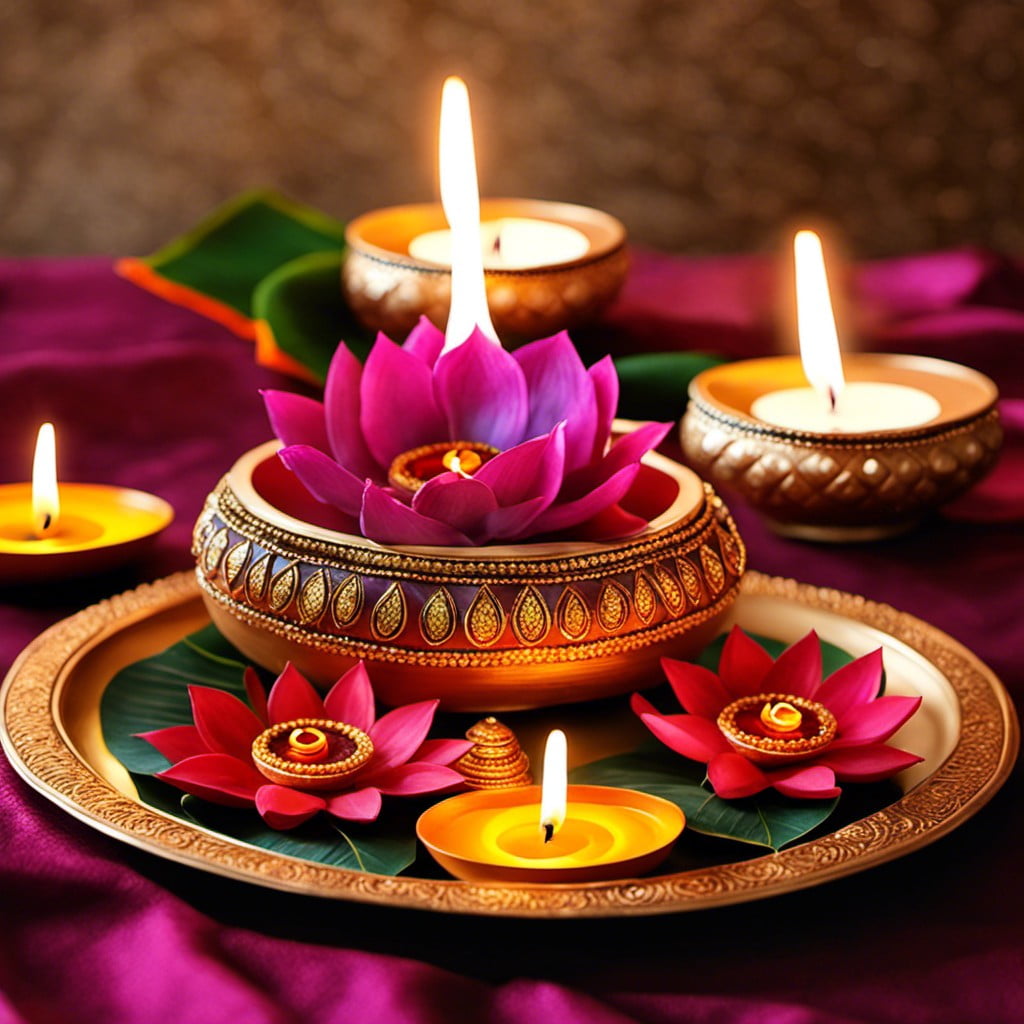 A centerpiece fosters a festive spirit right at the heart of your home—be it the dining table, coffee table, or even the corner stand. For Diwali, themes can pivot from traditional to modern, simple to ornate.
1. For a traditional look, fill a brass thali with water, arrange floating diyas and flowers, and you have a classic Indian centerpiece.
2. Use a glass terrarium, filled with string lights and accented with small gold painted diyas for a modern touch.
3. For a subtle yet elegant style, a vase filled with marigold or roses, highlighted with string lights, can be wondrous.
4. A fusion centerpiece can comprise a vintage lantern surrounded by scattered marigold and crystals.
Remember, it's all about expressing creativity and evoking the festive spirit. Choose your theme wisely and get set to charm your guests this Diwali.
Ethnic Cushions and Rugs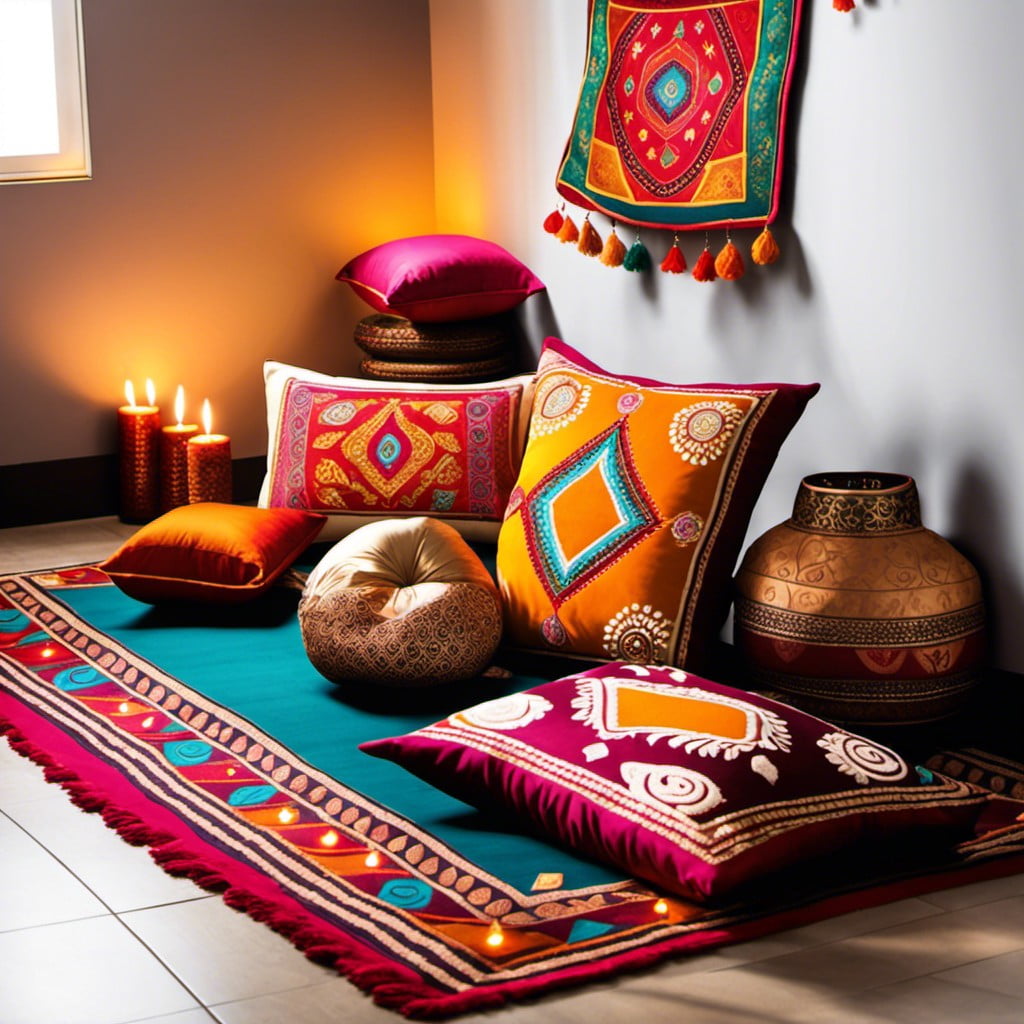 Adding a touch of ethnicity can significantly transform your space. Cushions and rugs featuring traditional motifs, vibrant colors, and rich textures provide an instant festive uplift. They're functional and make for a comfortable seating arrangement, especially if you're hosting Diwali gatherings.
1. Select materials like silk or velvet for a luxurious feel.
2. Look for patterns inspired by Indian art and culture. Paisley, mandalas, or animal embroideries are excellent choices.
3. Opt for bold, rich colors like burgundy, emerald, or gold.
4. Artisanal rugs with traditional weavings exhibit authenticity.
5. Layer rugs and cushions in different sizes and patterns for texture and depth.
6. A beautifully designed or printed pouf can complement your cushions and rugs.
7. Don't restrict them to your living room – they can enhance your bedroom or outdoor space too.
Festive Wall Hangings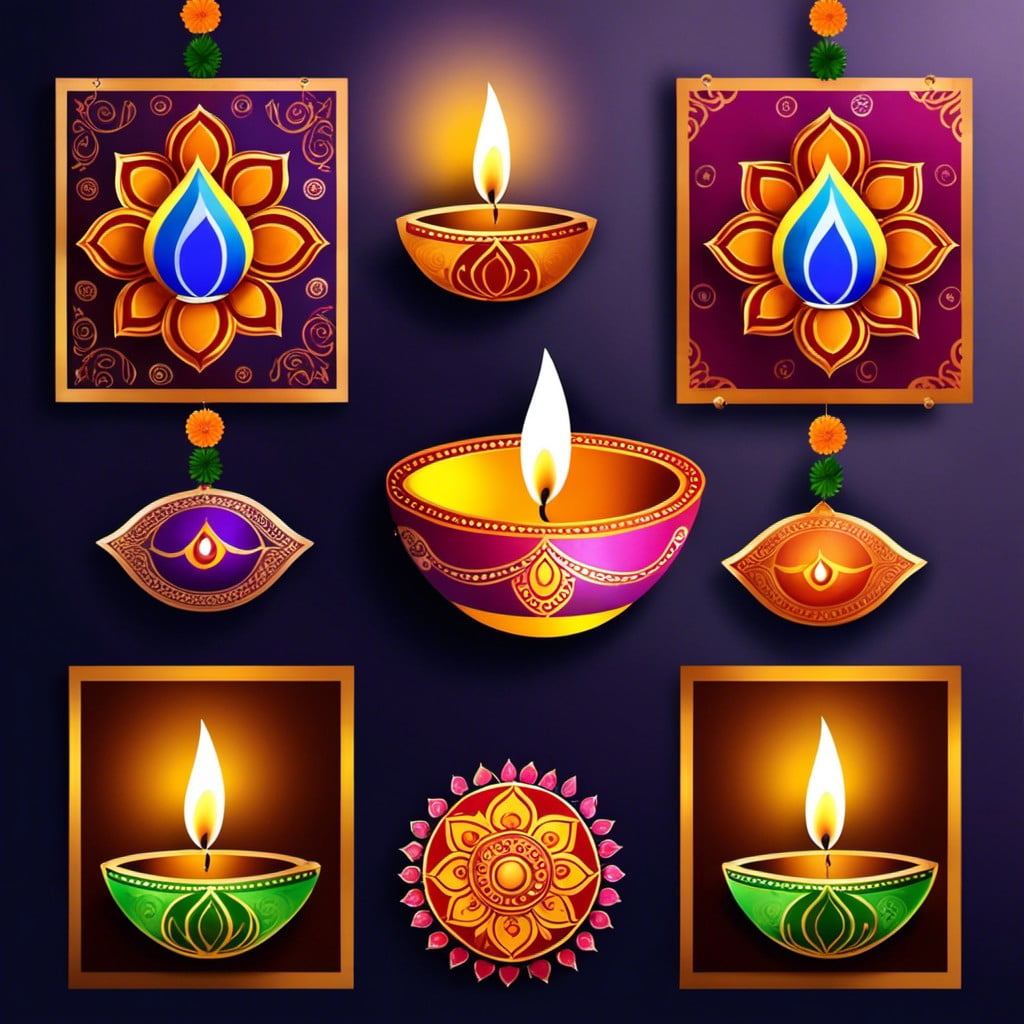 Bold, vibrant, and eye-catching symbols of Indian culture make an excellent choice for wall decorations during the festive season. Here are a few distinct concepts:
1. Traditional Tapestries: Opt for tapestries featuring vivid illustrations of Hindu mythology. These not only create a glamorous effect but also portray the essence of Diwali.
2. Mirror Work: Incorporate ethnic wall hangings adorned with tiny mirrors. When reflecting the Diwali lights, these mirrors augment the festive blaze.
3. Embroidered Wall Art: Choose pieces with intricate, colorful details, such as those showcasing patterns of elephants, peacocks, and other auspicious symbols.
4. Kutch Wall Décor: Renowned for embroidery and mirror work, Kutch-style art exudes flamboyance and ethnicity, perfect for celebrating the festival of lights.
5. Metallic Wall Accents: To provide a modern touch, select metallic accents like wall sculptures, which, when lit up, create a beautifully radiant atmosphere.
Remember, wall hangings are not only for visual appeal, but they also imbibe a sense of positivity and charm in the home. So choose elements that resonate with your personal style and beliefs.
Paper Cut Out Decorations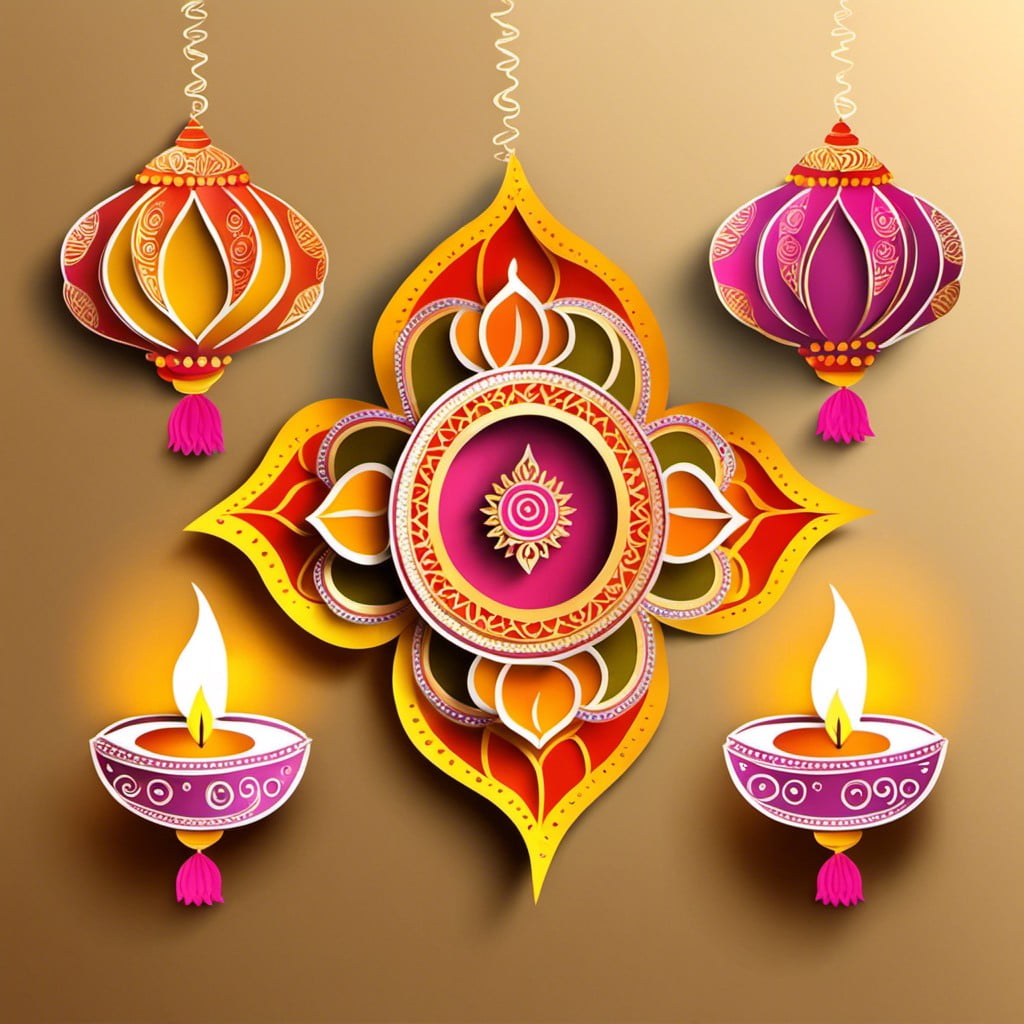 Paper-cut decorations offer a simple yet effective way to bring beauty and a festive spirit to your home during Diwali. Anyone can participate in this fun craft project, from young children to adults.
1. Use colorful paper: Opt for vibrant colors like red, green, and yellow to reflect the energy of the festival.
2. Variety of shapes: Try making various shapes such as peacocks, stars, lanterns, or traditional Indian motifs.
3. Placement: Hang them on windows or doorways, or even use them as a centerpiece on your table.
4. Additives: Enhance them with glitter or sequins for that extra sparkle.
5. Grouping: Group similar shapes together for a bold display.
Crafting your decorations can be a great way to engage the entire family, turning decoration into a shared, unforgettable festive experience. Happy decorating!
Floating Candles in Water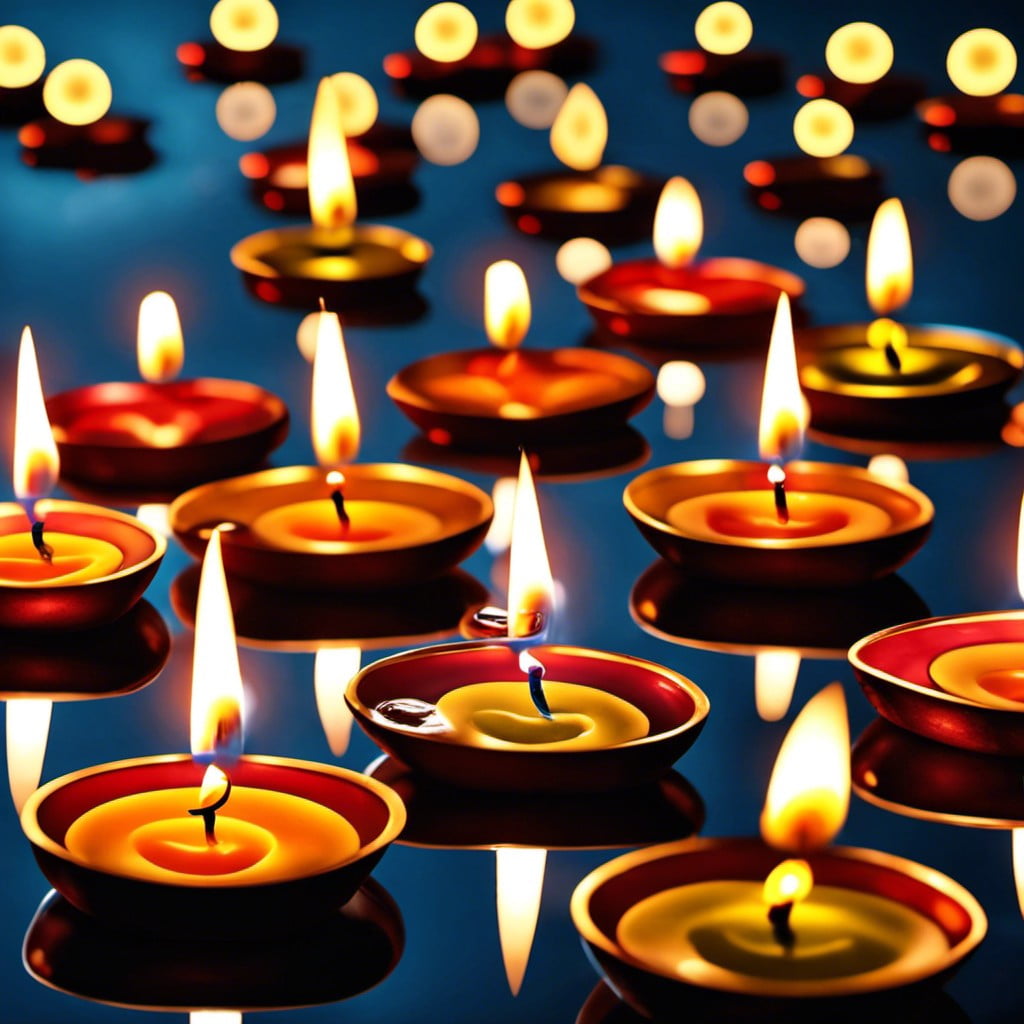 Placing beautifully lit candles inside decorative bowls filled with water can instantly amp up the festive vibe in your home. Their soft, dancing flames reflecting in water make an enchanting visual that's hard to overlook.
Here are a few concepts to maximize this décor idea:
Use different sizes: Consider using votive candles of varying sizes to create depth and interest.
Add Flowers: Floating petals of flowers like marigold or rose around the candles not just adds color but caters to the festive spirit of Diwali.
Bowl Decoration: Ornament the outer area of your water vessel with dazzling craft materials. Glass or crystal bowls work best.
Positioning: Position these bowls strategically. Center tables, windowsills or corners where light is low are great spots.
Color in Water: Absorb a drop of ink in the water to give an opaque or translucent appearance, upscaling the overall aesthetics.
Remember, safety should never be compromised. Ensure candles are securely placed, far from flammable objects, and do not leave them unattended.
Handcrafted Pottery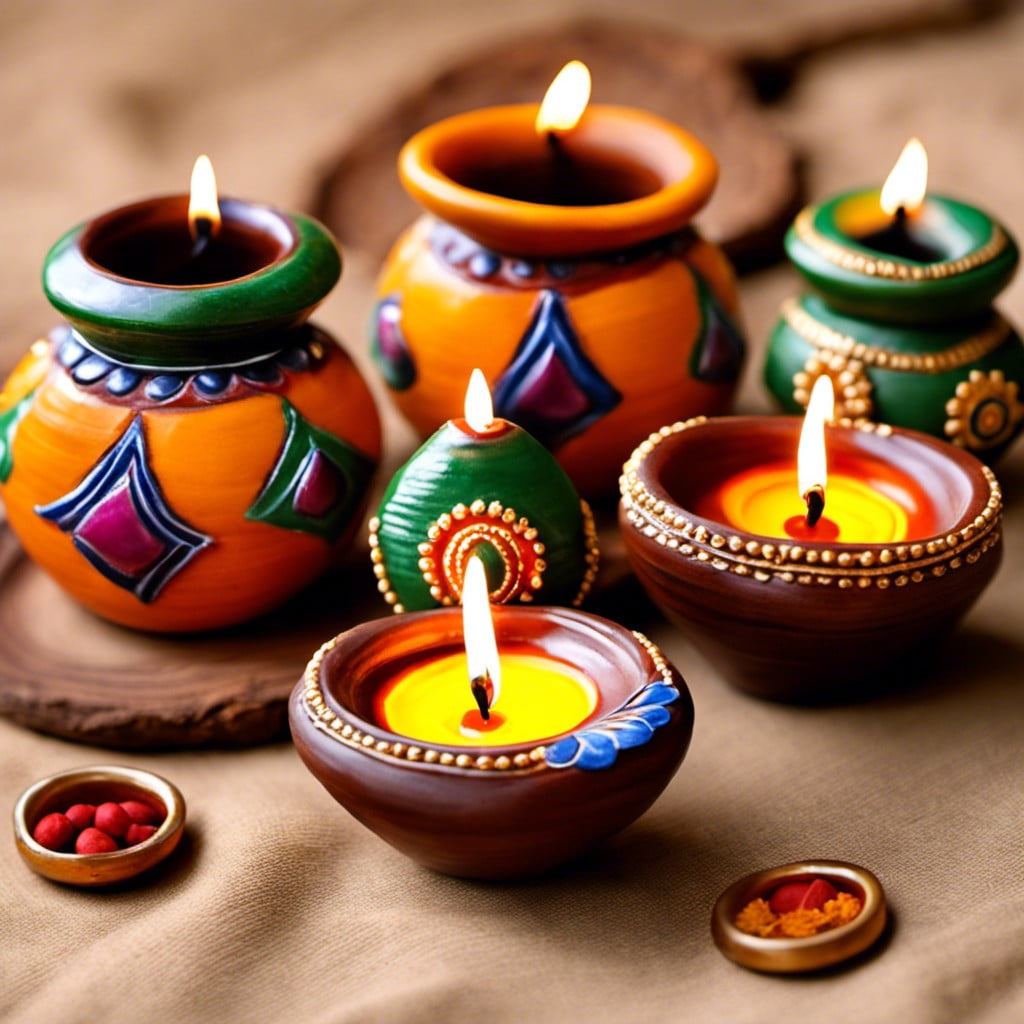 Emphasizing craftsmanship, handcrafted pottery adds depth to your decor with its unexpected charm. Consider choosing pieces made of clay or terracotta, which reflect the warm hues of Diwali. Add a touch of shine by picking ones with handmade glaze or embellishments.
For dressing up the corners, tall pottery vase filled with blooms are an elegant choice. Also, miniature clay figurines can adorn your display shelves staging enchanting Diwali vignettes.
Pottery lamps, loaded with tea light candles, introduce a gentle glow to space, creating a serene ambiance. They can be placed on window sills, mantelpieces, or stairway landings.
Pottery bowls work perfectly to hold colorful rangoli powders or can serve as lovely center-table decor filled with water and floating candles.
However you choose to incorporate these, handcrafted pottery is sure to enhance the festive cheer. With a wide array of designs and sizes available, these few suggestions can help ignite your imagination for a charming Diwali decor.
Ceiling Decor With Ornaments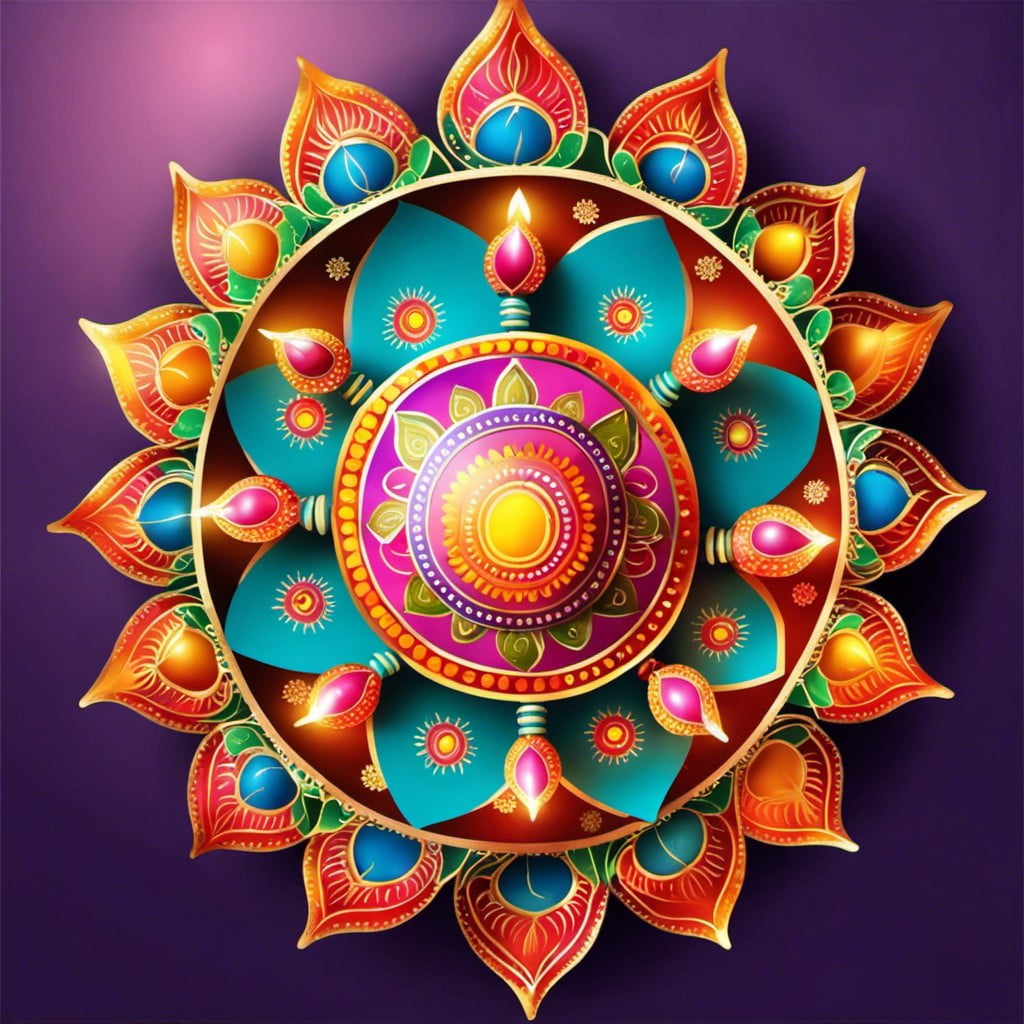 In the spirit of Diwali, your ceiling can't be left bare. Strategically hanging ornaments can make your room sparkle, capturing the essence of the Festival of Lights.
Here are some ways to spruce up your ceiling:
1. Glass baubles: Hang these colorful orbs at different heights for a cascading effect. Add LED lights inside for an added glow.
2. Wind chimes: A blend of beauty and music, wind chimes add a captivating charm.
3. Star String Lights: Small luminous stars twinkling above can make your room feel magical.
4. Dangling Crystals: Reflecting off light, they can create stunning visual effects.
5. Paper Lanterns: These lightweight decorations can be hung in clusters or individually, adding festive flair.
6. Pom Poms: These fluffy decorations, made of tissue paper or wool, provide a pop of color.
7. Tassel Garlands: These playful decorations can give an elegant bohemian feel when hung across the ceiling.
8. Origami Art: Not only beautiful but also reflective of patience and precision, a perfect Diwali ambiance.
Remember to hang ornaments securely and away from any light fixtures or anywhere they could present a fire hazard.
Decorated Entryway With Marigold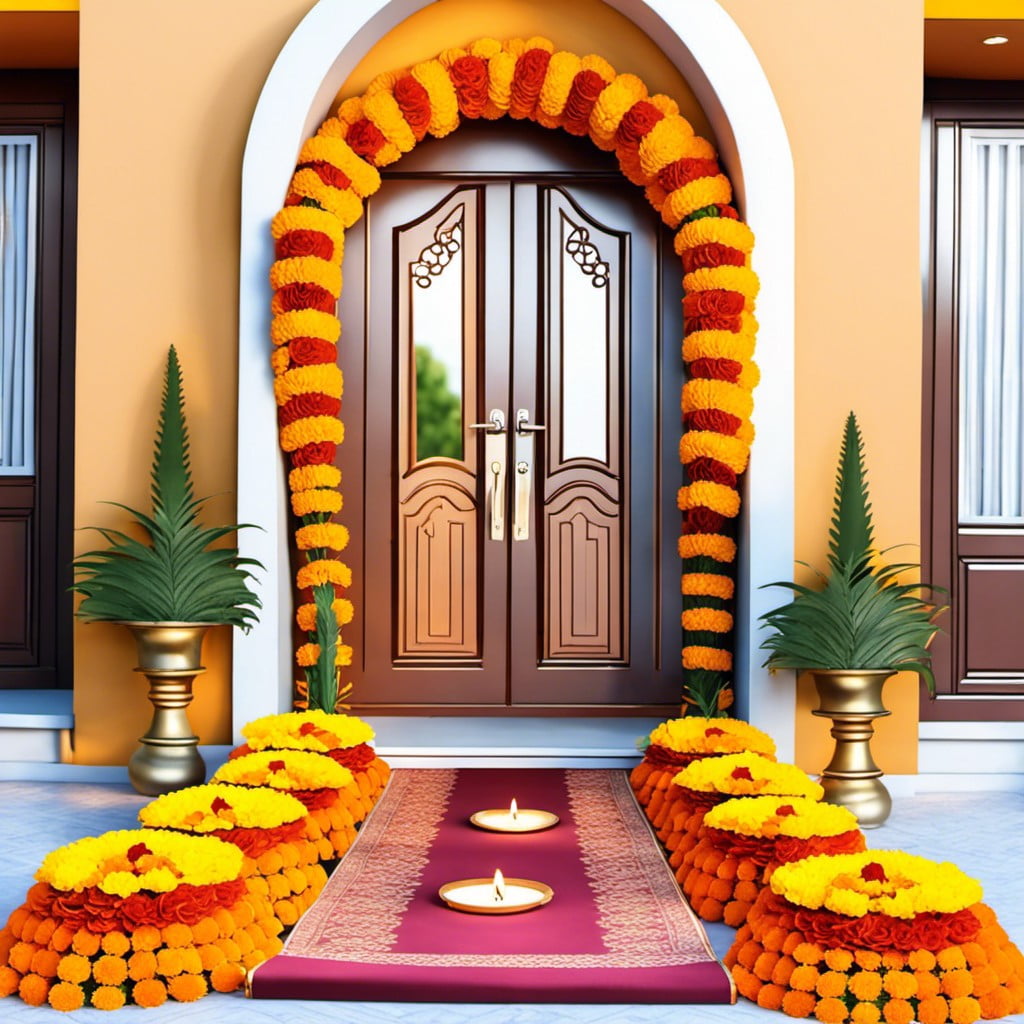 Marigold, with its vibrant yellow and orange hues, symbolizes brightness and positivity. It's an ideal choice for embellishing your home entrance during Diwali.
Start by creating a garland string of fresh marigolds, interspersed with green leaves for contrast. You can also choose faux marigold if fresh ones are difficult to source.
For added flair, consider hanging the garlands around the door frame, draping them in a curve for a visually appealing impact. They can also form a beautiful backdrop behind your Rangoli and Diya decorations at the entryway.
Integrating fairy lights alongside the marigold decorations can provide an enchanting warm glow.
Remember to uphold the symmetrical arrangement as chaotic designs can disrupt the harmonious appeal. Also, ensure the marigold decorations do not obstruct the doorway.
Your guests should feel welcomed rather than overwhelmed by your decorations. With just a little effort, marigold decoration can turn your entryway into a charming invitation for Diwali celebrations.
Glass Jar Decor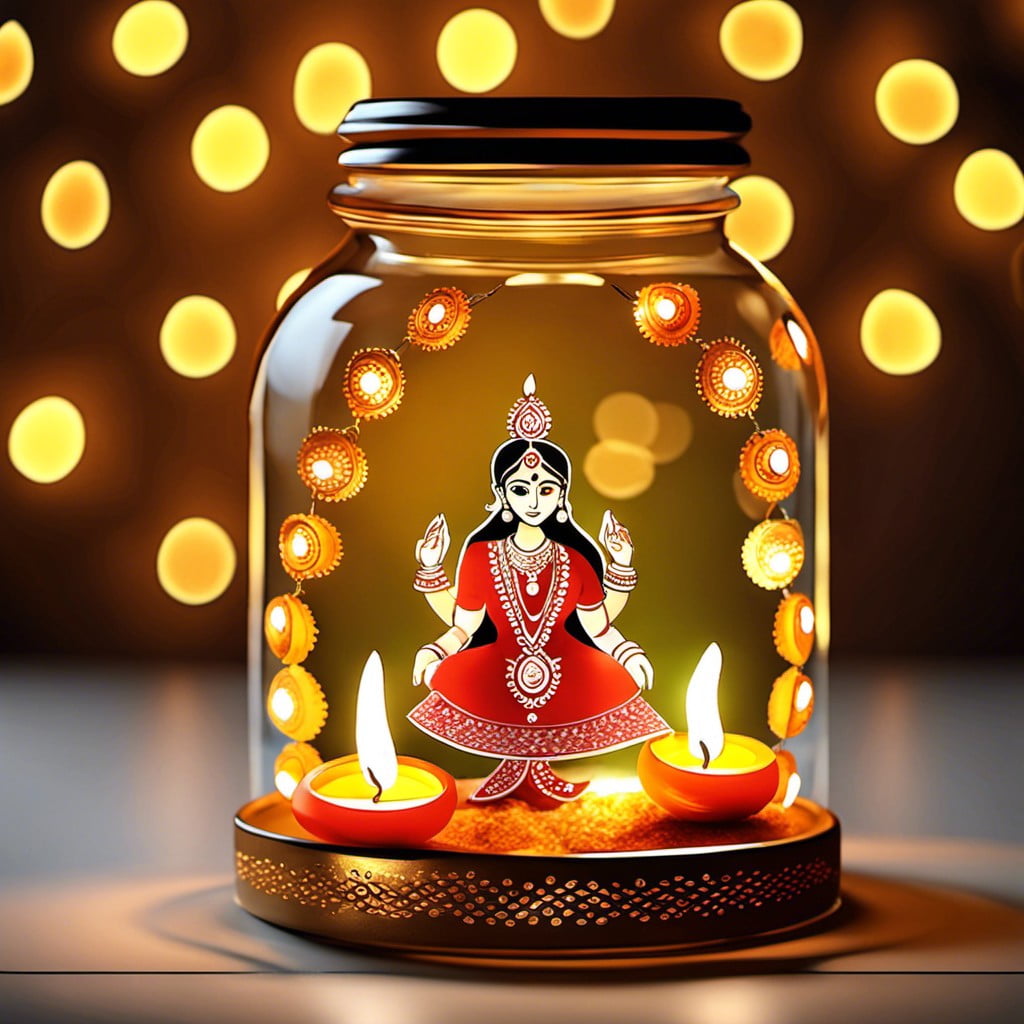 Utilizing glass jars for Diwali can add a beautiful and economical touch to your decorations. Filled with fairy lights or colorful LED strings, these can add a magical glow to any corner. Ensure to use battery-operated lights for safety reasons.
An alternative way to use glass jars is by filling them with painted pebbles or sequins, further beautified with a tea light or votive candle on top. This gives a sparkling effect and casts beautiful reflections. Remember to place the jars on a heat resistant surface and check candles for safety.
Another creative idea is to use them as miniature terrariums. Fill the jar with vibrant colored sand, perhaps in layers, small succulents or air plants, pebbles, and miniature figurines. It acts as a small oasis within your home.
Lastly, for a festive touch, tie a vibrant ribbon around the neck of the jar or paint intricate Diwali motifs like lamps or flowers on the outside. You could also stick on colorful or shiny paper cutouts to jazz up the look. Ensure to use washable colors or stickers for easy removal later on.
These are just a few ideas to inspire varied use of glass jars for Diwali decor.
Temple Decoration With Bells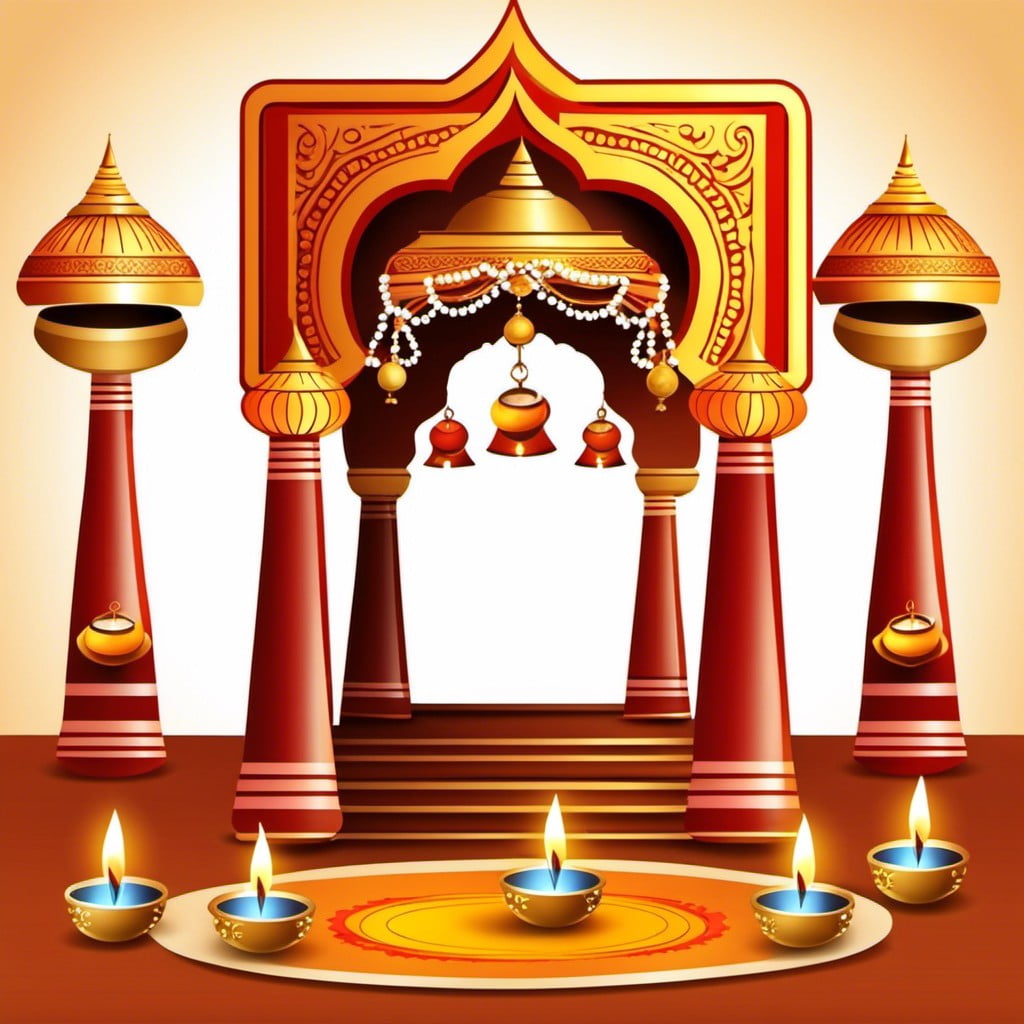 Bell decorations effortlessly enhance the aesthetic appeal of the temple area. Here are a few quick tips to consider:
1. Select bells in various sizes to create a melodious, eclectic look. Bronze, brass, or ceramic options work best.
2. Hang bells at varying lengths on the temple's overhead space to add visual interest and depth. Consider using vibrantly colored ribbons or threads for this purpose.
3. Opt for decorated bells adorned with traditional motifs, mini ghungroos, or mirror work for an added festive touch.
4. Combine bells with miniature LED lights for an enchantingly divine feel in the evenings.
5. An important detail to remember is to ensure the placement of the bells doesn't impair accessibility or disrupt the temple activities.
With these in mind, the temple area transforms into a harmonious and festive corner reflecting the joyous spirit of Diwali.
Decorative Trays With Sweets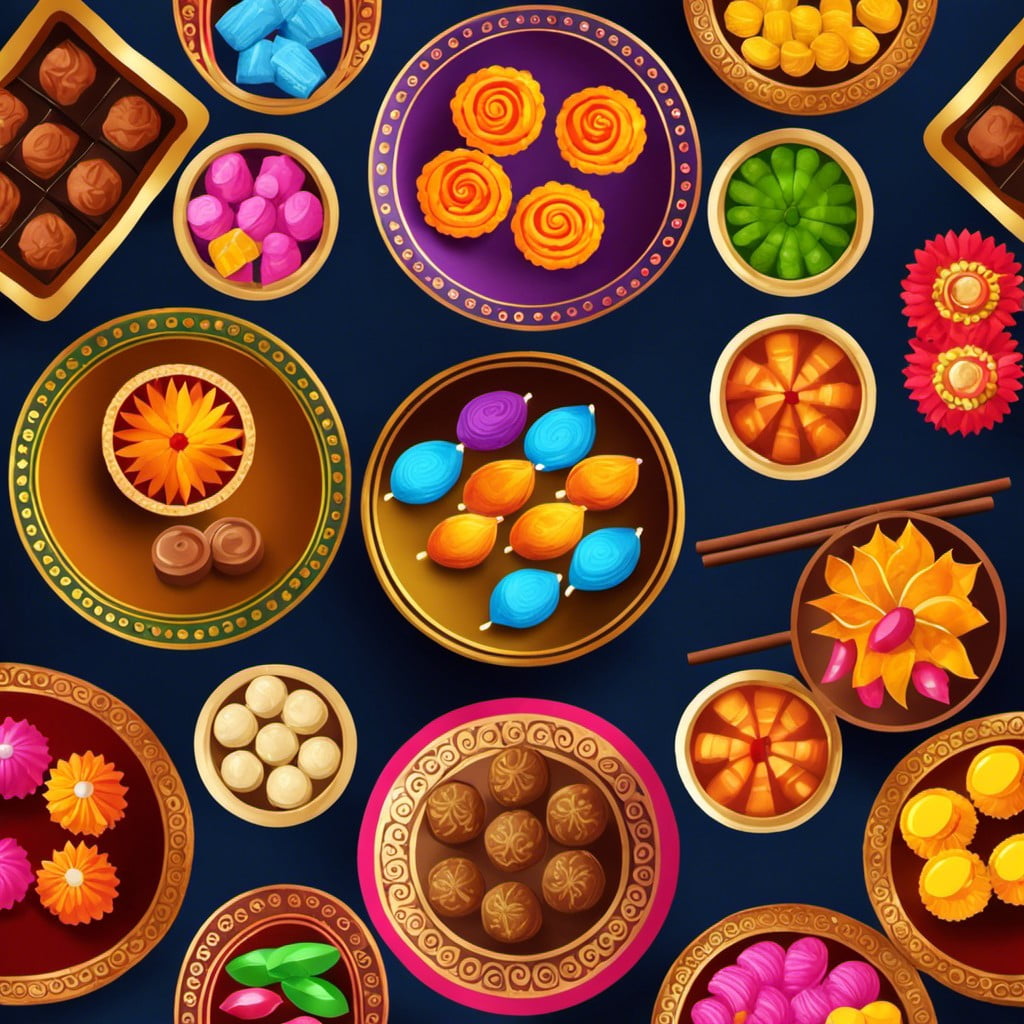 Decorative trays brimming with sweets not only serve as an inviting centerpiece but also highlight the festive spirit of Diwali. Here's how you can put a creative spin on this traditional element:
1. Use metal or silver trays, a staple of traditional Indian households, to ooze an old-world charm. If you go for these, balance their antiqueness with some brightly colored sweets.
2. You can also choose ceramic plates for a more rustic look. Complement these with traditional Indian sweets or dry fruits.
3. A tiered stand can add a dash of innovation to your display. Arrange different types of sweets on each tier for variety.
4. Don't hesitate to toss in some decorative elements between sweet arrangements. Diyas, artificial flowers, or glittery baubles can add to the festive vibe.
5. Finally, you can wrap the sweets in colorful foil for an added touch of festivity.
Incorporating these ideas will not only keep your guests tempted but also add an enhanced aesthetic appeal to your festive decor.
Mason Jar Lanterns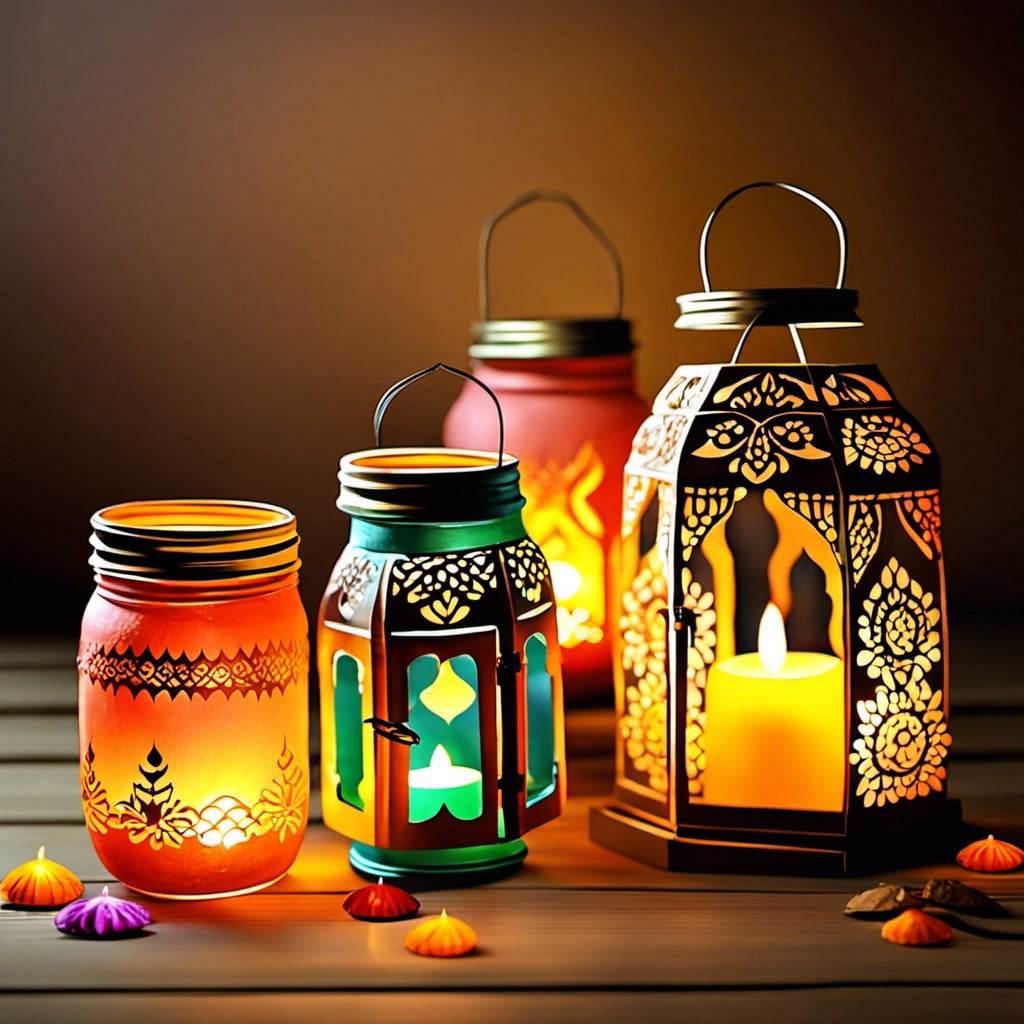 Utilizing mason jars can add a charming touch to your Diwali celebration, while also serving as a functional light source.
Begin with clean, empty jars. Consider large mason jars for a bigger statement or several small ones for a gentle glow. For a touch of elegance, you could sand the exterior lightly for a frosted look or leave them clear for a refined, glossy finish.
Decorate the outer section to your liking. This could be as simple as a twine or ribbon tied around the neck, or a more elaborate design using paint or decoupage. Opt for motifs that mirror the festive spirit like peacocks, lotuses, or traditional geometric patterns.
Next, place a small LED tea light or fairy lights inside. These are safe and stay cool, eliminating the risk of overheating the jars. Alternatively, you can use regular tealights or small scented candles for a soothing aroma.
Position these lanterns strategically around your home. The placements could range from clustered on dinner tables, aligned on window sills to adding sparkle on stair steps.
Finally, remember to dim your main lights to let these mason jar lanterns truly shine. This will create an ambiance of warmth, coziness, and festivity, glowing brilliantly throughout your Diwali night.
Liked reading this? Here's more:
Recap: