Last updated on November 27, 2023
Learn new door decorating ideas for your classroom because a well-decorated door can inspire and motivate students to engage in their learning journey.
I am truly proud to have personally written and designed this article on 20 Classroom Door Decorating Ideas, and I sincerely hope you find it inspiring and experience as much joy perusing these creations as I did crafting them.
Classroom doors offer a fantastic canvas for creativity, transforming a simple entryway into an engaging, educational, and welcoming space. From seasonal themes to literary tributes, door decorations can inspire students and create a sense of classroom community.
This article provides a plethora of door decorating ideas for classrooms, each designed to spark imagination, promote learning, and create a vibrant environment. Whether you're seeking simple designs or intricate masterpieces, you'll find detailed instructions, tips, and tricks to make your classroom door truly stand out.
Let's dive into the world of door decor that not only matches your teaching style but also captivates your students.
Alphabet-themed Doors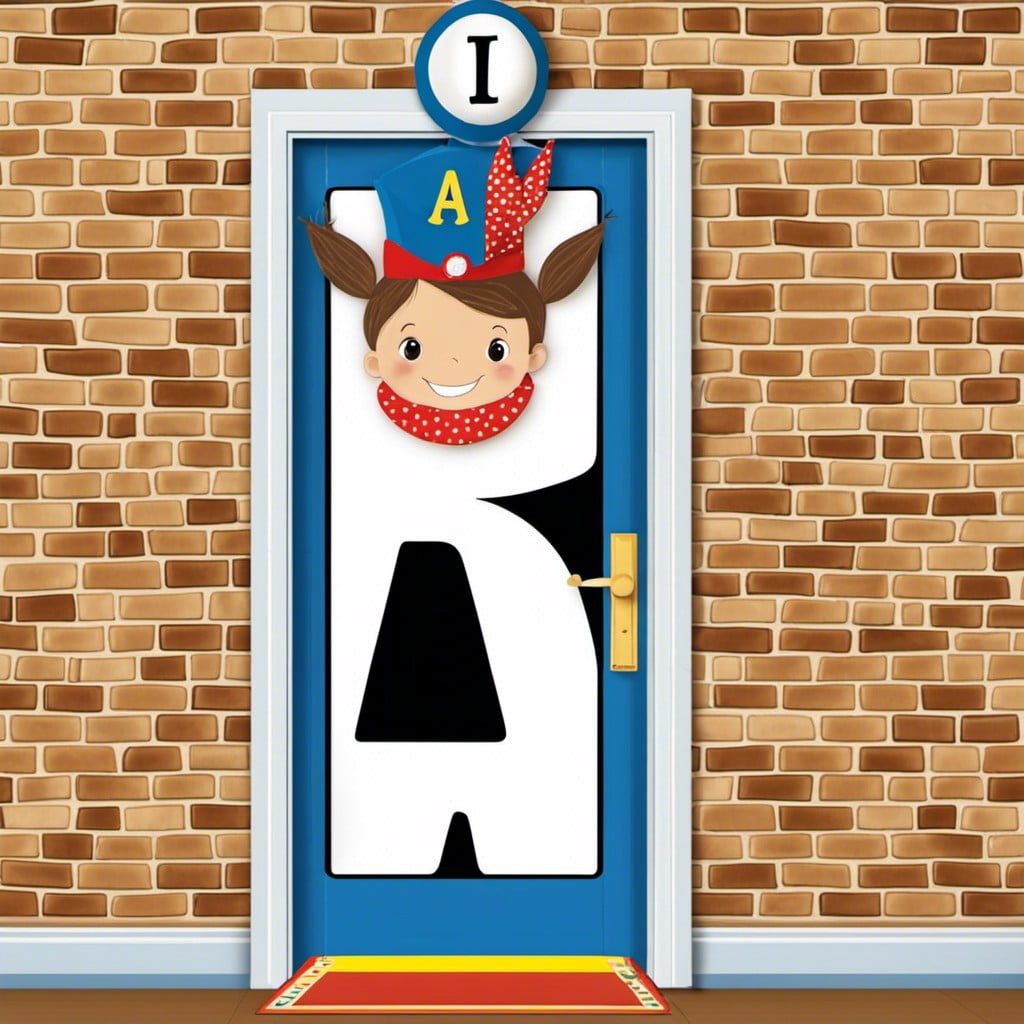 There's an undeniable charm in using the ABCs as part of your classroom door décor. Opting for a vibrant mix of colors can draw the young learners' attention to the letters. Align the alphabet in sequence or scatter them creatively – it's entirely up to you. Use different fonts and sizes to invite interest and discussions on letter shapes.
If you're catering to older students, consider turning it into a fun learning tool. Decorate with words starting from each letter. Animal names, scientific terms, or even countries could serve as fantastic examples. Keep the theme flexible by changing these words periodically, whether weekly or monthly, to keep the learning ongoing.
Craft stores often carry sturdy alphabet cutouts suitable for this purpose. However, hand-cut letters also add a personal touch, allowing you to customize sizes and fonts as needed. These could also involve the students – creating a sense of ownership and pride in their learning environment.
Seasonal Decoration
To make the most of this decorating style, it's all about timing your themes to align with the progression of the year. Start the school year with autumn leaves depicting warm hues of vibrant oranges, reds, and yellows. As winter approaches, transform your door with a snow-themed decor that can play host to snowflakes and snowman designs.
When spring arrives, incorporate flower motifs, butterflies, and pastel shades for a fresh new look. Finally, end the year on a lively note with a summer beach theme, featuring sunshines, sandcastles, and seashells. Remember, the key is to anticipate and follow nature's calendar.
Assign students to individual tasks for each seasonal makeover. This not only instils a sense of responsibility, but it also promotes team building. Use easily available and recyclable materials where possible, encouraging children to be resourceful and conscientious towards the environment.
Welcome Banner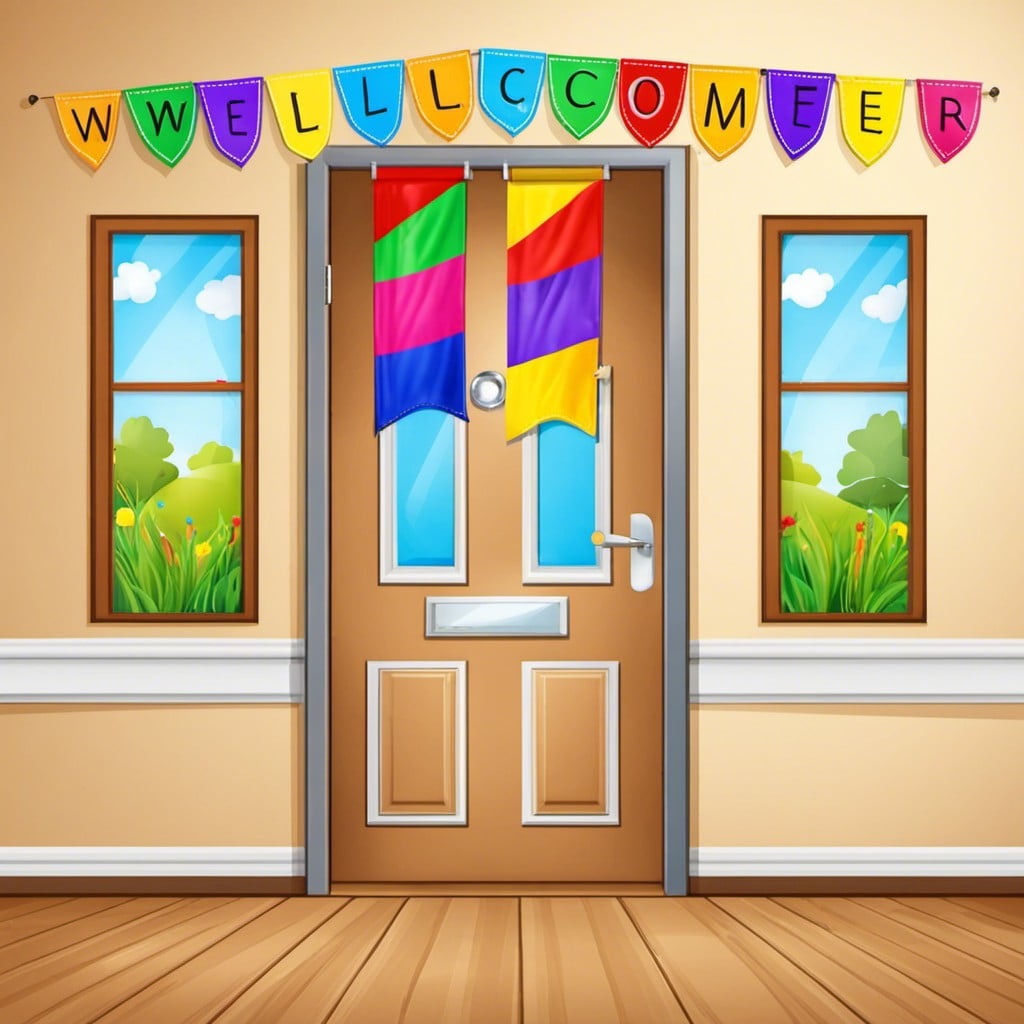 An exciting feature to consider incorporating into classroom decor is the use of a welcome banner. This feature is not only a decorative element but also serves a significant purpose of making students feel invited and cherished. It's an excellent way for teachers to show a warm welcome to their students and make their classroom atmosphere more pleasant and conducive for learning.
Here are a few essential points for incorporating Welcome Banners:
Placement: Ensure it is placed in a visible position over the door or adjacent wall. A banner should be eye-catching and create an uplifting environment.
Size and Color: The banner should be of a suitable size and vibrant colors, making it easy to view from a distance.
Content: Include a welcoming message, the teacher's name, and possibly the grade or class subject. Be creative with font styles but maintain readability.
Material: Durable materials like vinyl or laminated paper can withstand regular wear and tear, ensuring the banner endures for the whole academic year.
Personal Touch: Encourage student participation. Allow them to add their names or signature to the banner, promoting a sense of community and ownership.
Seasonal Updates: Update or rotate your banner design occasionally to reflect the change of the seasons, holidays, or school events. It can keep the class environment fresh and engaging.
With a welcome banner, you subtly convey the message that every student is a valued part of the classroom community.
Student Artwork Display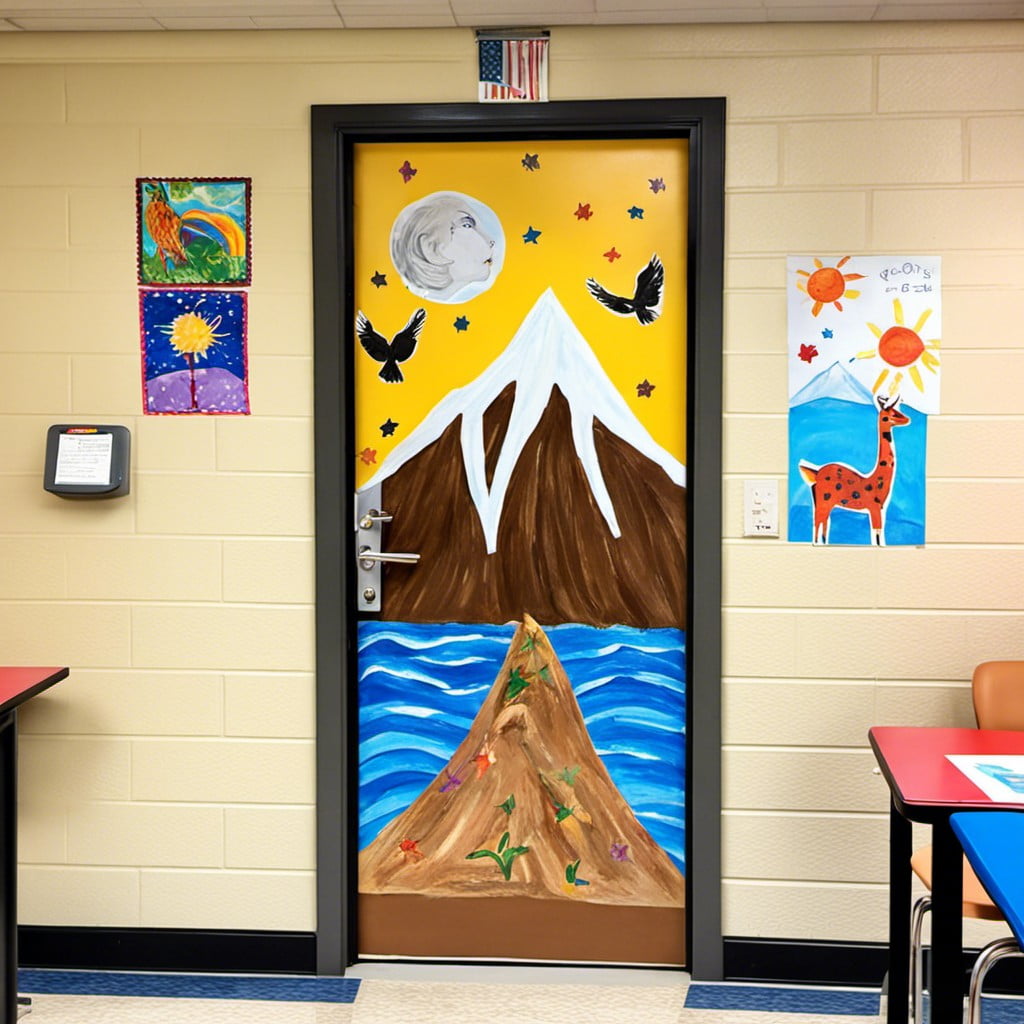 Enriching the classroom decor with student artwork has many benefits aside from beautifying the door. Notably, it boosts students' confidence and fosters a sense of ownership.
Here's a practical approach:
Allocate different sections of the door to individual students or groups.
Encourage creativity by letting them choose their medium – sketches, paper cutouts, magazine collages, and so on.
Incorporate themes relevant to your current syllabus; this can also double as an innovative teaching aid.
Periodically rotate the display, allowing every child a chance to showcase their creativity on the door.
Preserve and appreciate each piece by adding a small label with the artist's name.
Remember, the aim is not perfection, but expression. Let the classroom door be a testament to the creativity brewing within!
Inspirational Quotes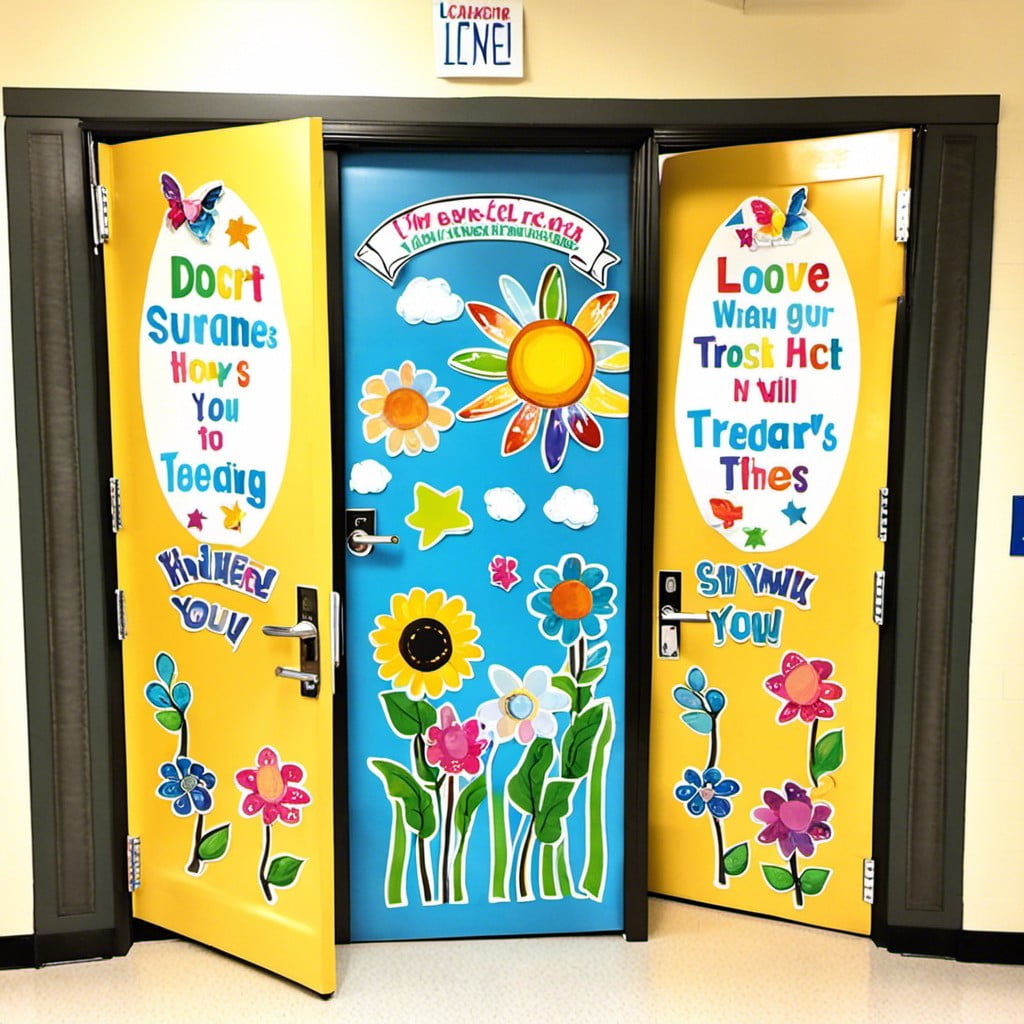 Harnessing the power of words, uplifting quotes can spark motivation and encourage a positive learning environment. They're effective in inspiring both students and teachers, fostering a sense of unity and shared goals.
Here's how to incorporate this idea:
Choose an empowering quote that promotes learning and personal growth. Consider ideas from famous educators, authors, or historical figures.
Use vibrant, contrasting colors for your lettering to ensure the quote stands out. Consider the psychology of colors—a calming blue might suit a quote about patience, for instance.
Play with fonts and typography. Give the keywords in your quote more emphasis by making them larger or in a different font.
Engage students by discussing the meaning behind the quote. This could form the basis of a class activity or discussion.
Update periodically with different quotes to keep the inspiration fresh. This could align with different themes you're covering in class, or to suit the particular time of year.
Consider clever placements – quotes need not run in a straight line, they can circle the door frame or even criss-cross the door.
Remember, the goal here is to foster continuous inspiration. Each time a student or a teacher opens the door, they should feel welcomed and spurred on by the quote's message.
Science-themed Doors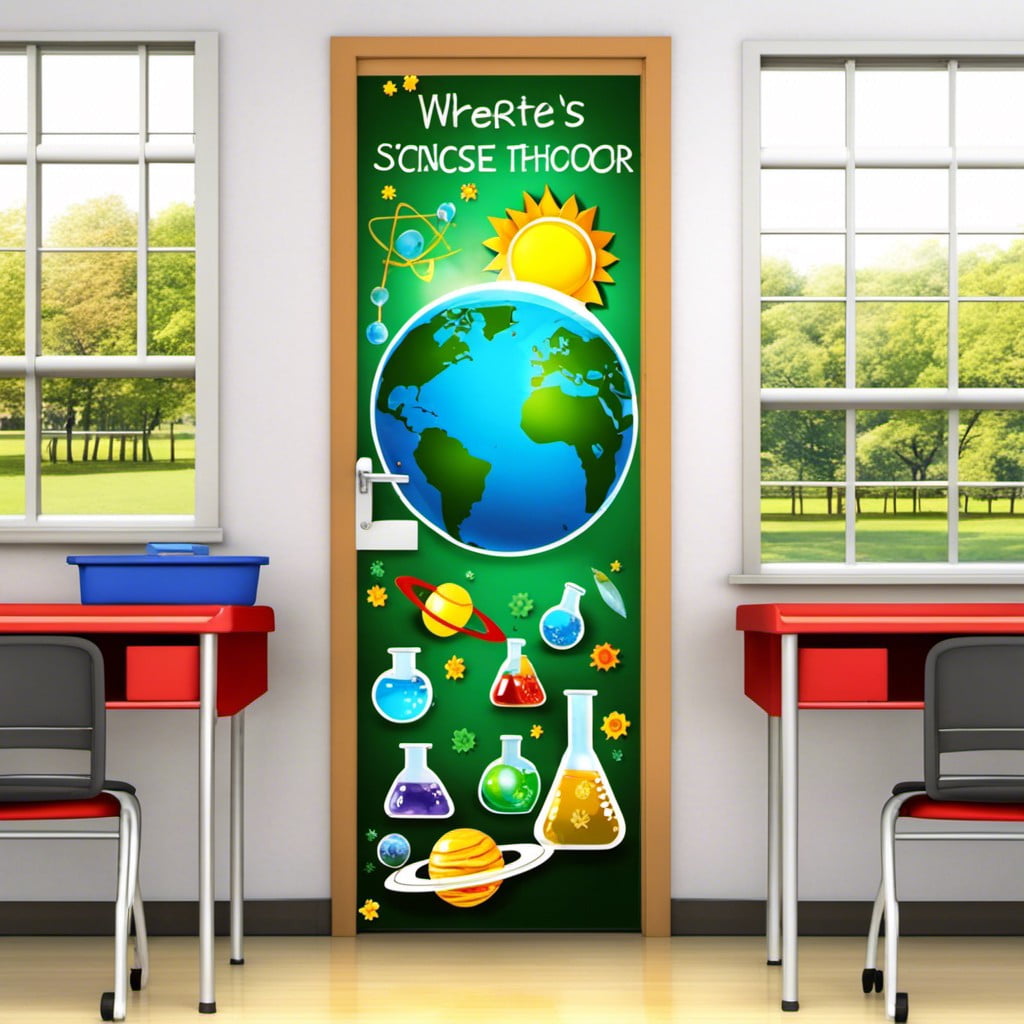 Harnessing the wonders of science, doors can transform into learning platforms. An iconic model of the solar system brings the universe at students' fingertips.
You can create a DNA double helix using colorful craft paper, stirring curiosity about genetics. Opt for a giant magnifying glass showcasing fun facts about insects, stirring up interest in entomology.
An amusing spin could be using popular scientists as superheroes to highlight their contributions. Balancing both education and aesthetics, these ideas spark interest and ignite passion for science.
Book-inspired Decorations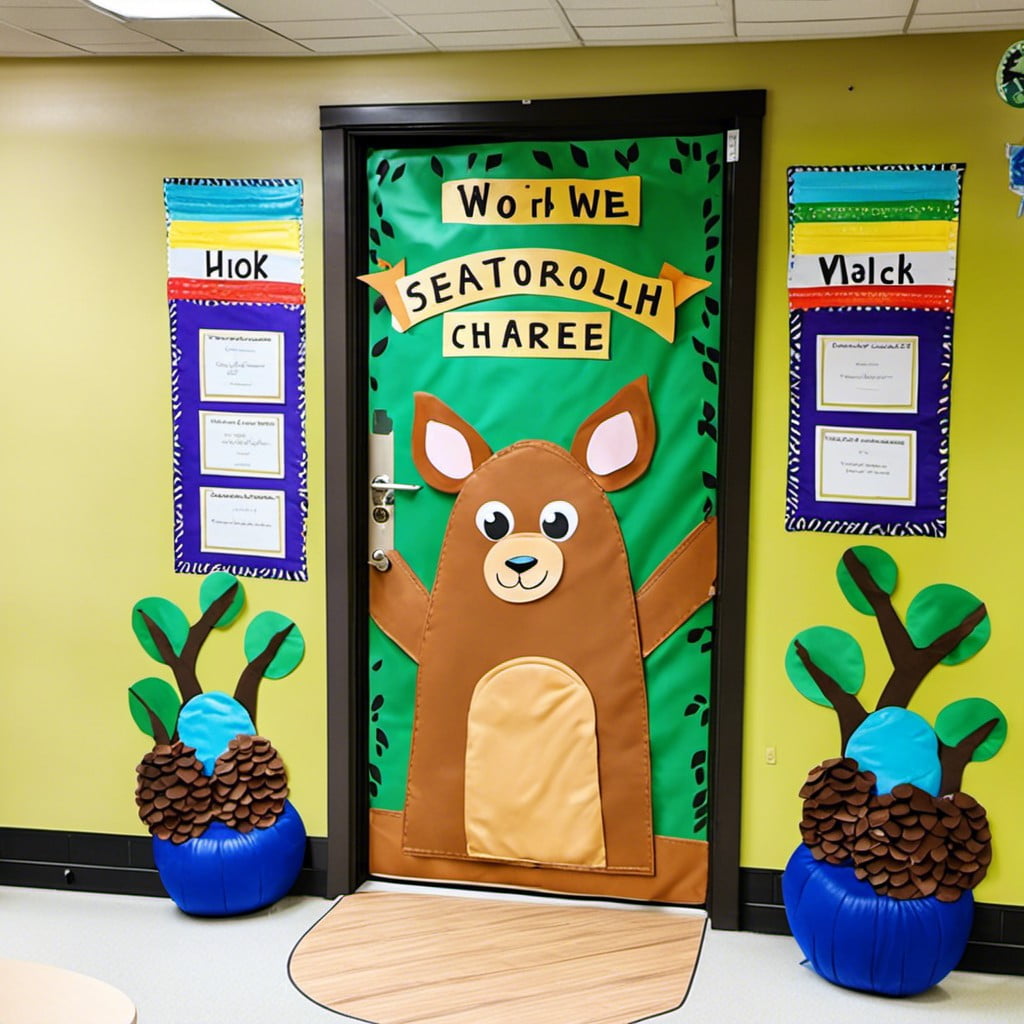 Diving into the world of literature helps create a stimulating environment that fosters a love for reading. An abundant array of novels, children's books, and fairy tales offer nearly limitless inspiration for door decorations.
Imagining a "Through The Looking-Glass" scenario? Use a mirror and create silhouettes of Alice and the White Rabbit. Captivated by the "Chronicles of Narnia"? Use faux fur and icicles to recreate the entrance to Mr. Tumnus's house. For "Harry Potter" enthusiasts, a door can be transformed into Platform 9 3/4. Exploring the beauty of "The Jungle Book" can be as easy as adding jungle prints, animal cutouts, and Mowgli's silhouette.
It's about recreating the essence of beloved books to ignite imagination and generate excitement for learning.
Animal Themes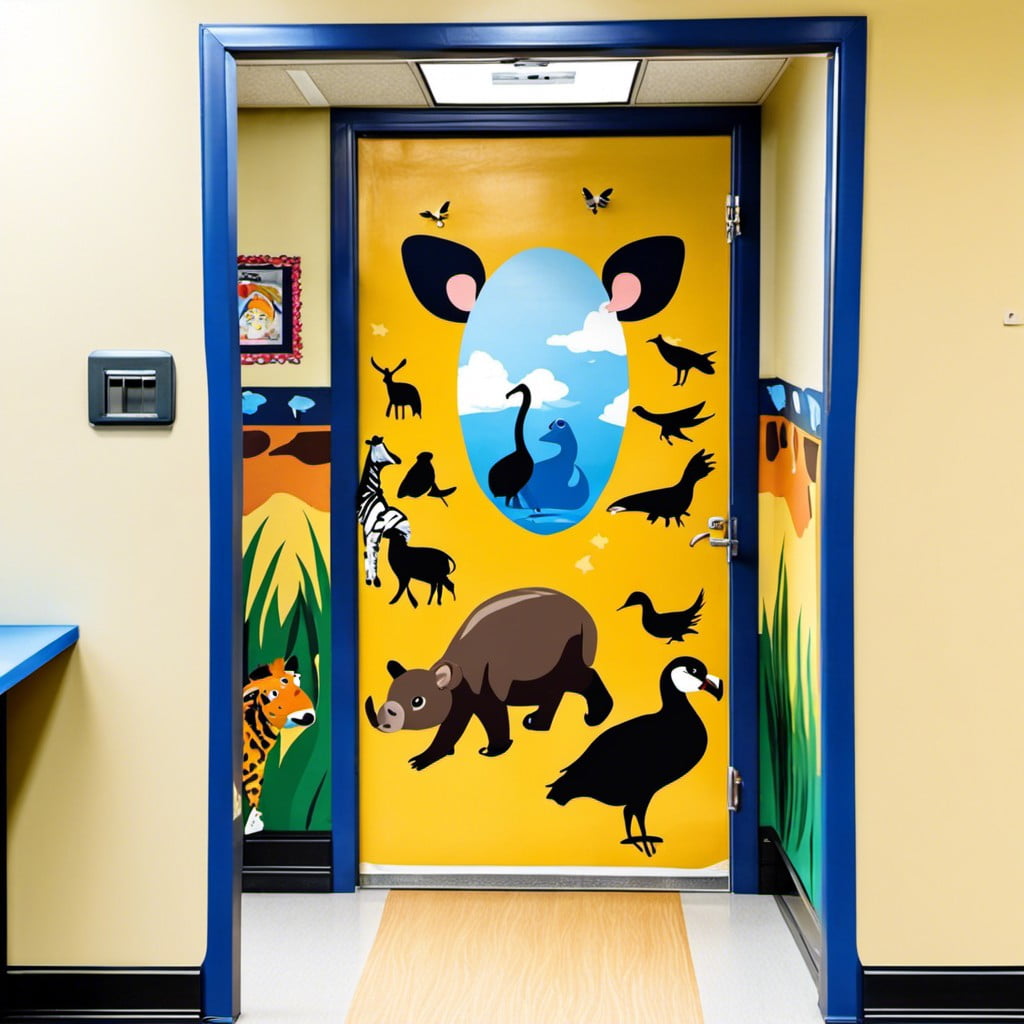 Creating an engaging learning environment can be as easy as bringing a bit of the animal kingdom to your classroom door. Encourage a love for wildlife and foster creativity with these concepts:
1. Safari Adventure – Use paper or cloth to simulate animal prints like zebras, giraffes, or tigers. Add a few cut-outs of popular safari animals to complete the look.
2. Underwater Exploration – Dive beneath the waves with images of colorful fishes, turtles, and dolphins. Don't forget to add some seaweed or coral for an extra pop of color.
3. Jungle Scene – Let students' imaginations run wild with a jungle scene, complete with monkeys, birds, and snakes. You could even add a few interactive elements like hanging vines.
4. Birds of a Feather – Add a variety of colorful birds to the door, each one representing a student in the class to create a sense of community.
Remember, the possibilities are endless, so feel free to mix, match, and adapt any of these ideas to best suit your classroom's needs!
Interactive Chalkboard Door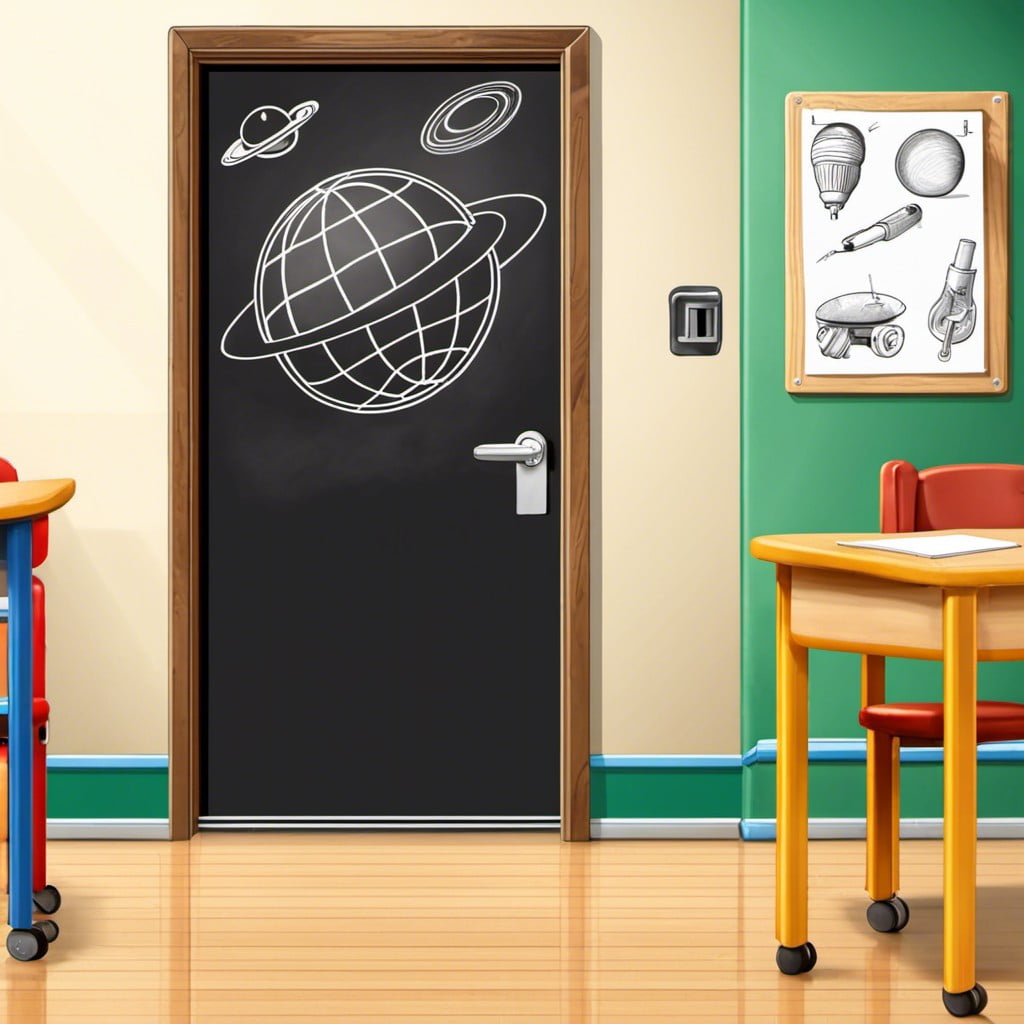 An excellent option to foster an interactive learning environment, this design involves covering the door surface with chalkboard paint. It creates a readily available space for pupils to exhibit their creativity, from drawings to mathematical equations.
Here are a few considerations:
1. Ensure the chalkboard paint is non-toxic and safe for children.
2. Decide on a chalk dust management strategy. A small dustpan and brush can help clean up excess dust.
3. Engage the students by posing a question of the day or week on the door. These queries could range across different subjects, encouraging students to think and participate.
4. Consider designating a space for students to write or draw their responses to the query of the day/week.
5. Encourage positive messages. A wall featuring affirmations or compliments can go a long way in boosting self-esteem and promoting healthy relationships.
6. Change the theme throughout the academic year to keep it fresh and exciting, from science equations during exam periods to holiday-themed drawings or writings.
Colorful Balloon Design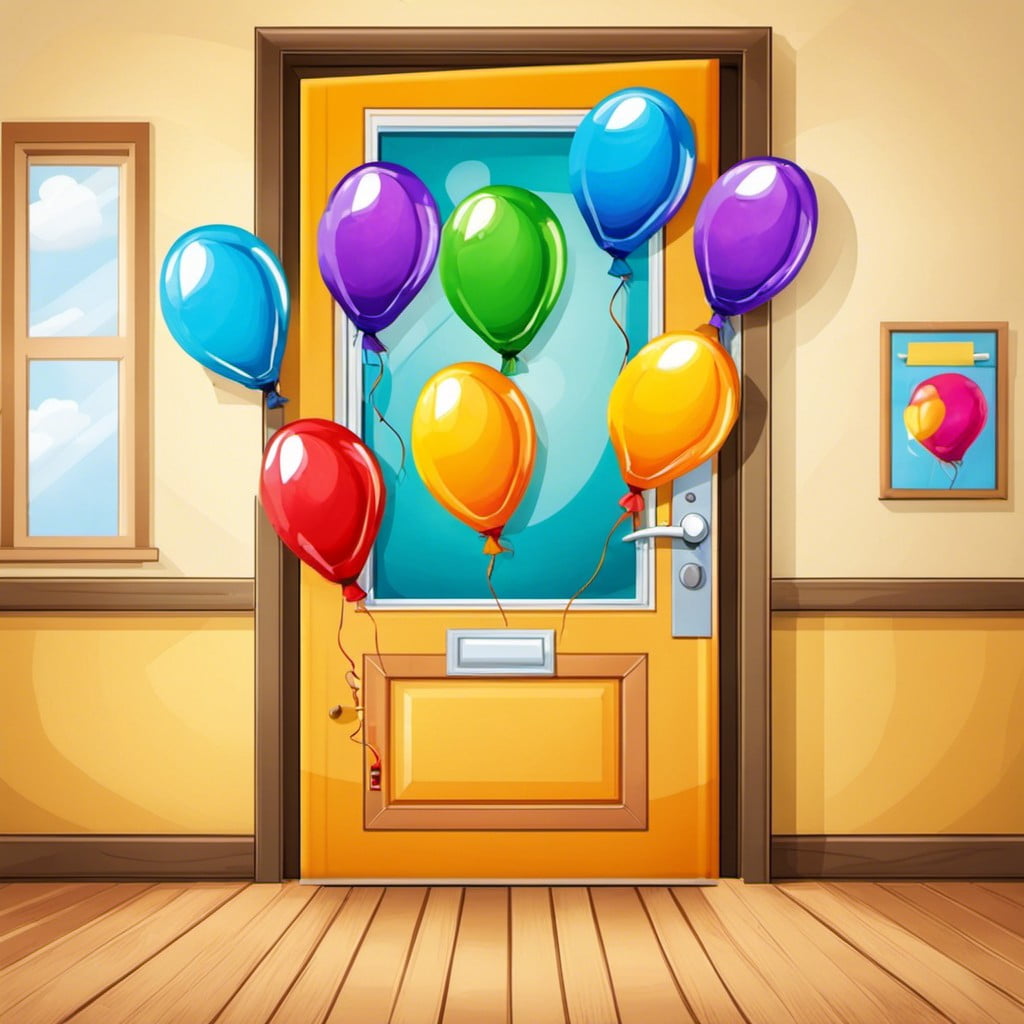 Considered a universal symbol of joy and celebration, balloons bring a vibrant burst of colors into any environment. Implementing their design for a classroom door can yield delightful results.
1. Variety: Opt for a mix of colors to captivate attention and spark a sense of fascination.
2. Arrangement: Arrange them whimsically to resemble a balloon bouquet heading skywards or in the shape of a rainbow.
3. Dimension: To create the illusion of three dimensions, layer different sizes of balloon cut-outs. A larger balloon in the foreground and smaller ones in the background can give the appearance of distance.
4. Interaction: Make it fun and engaging by assigning each child a specific balloon on the door. When showcasing achievements or completed tasks, stick stars onto their corresponding balloons.
Remember, the goal is not rigid structure but lively dynamics. Happy decorating!
School Mascot Theme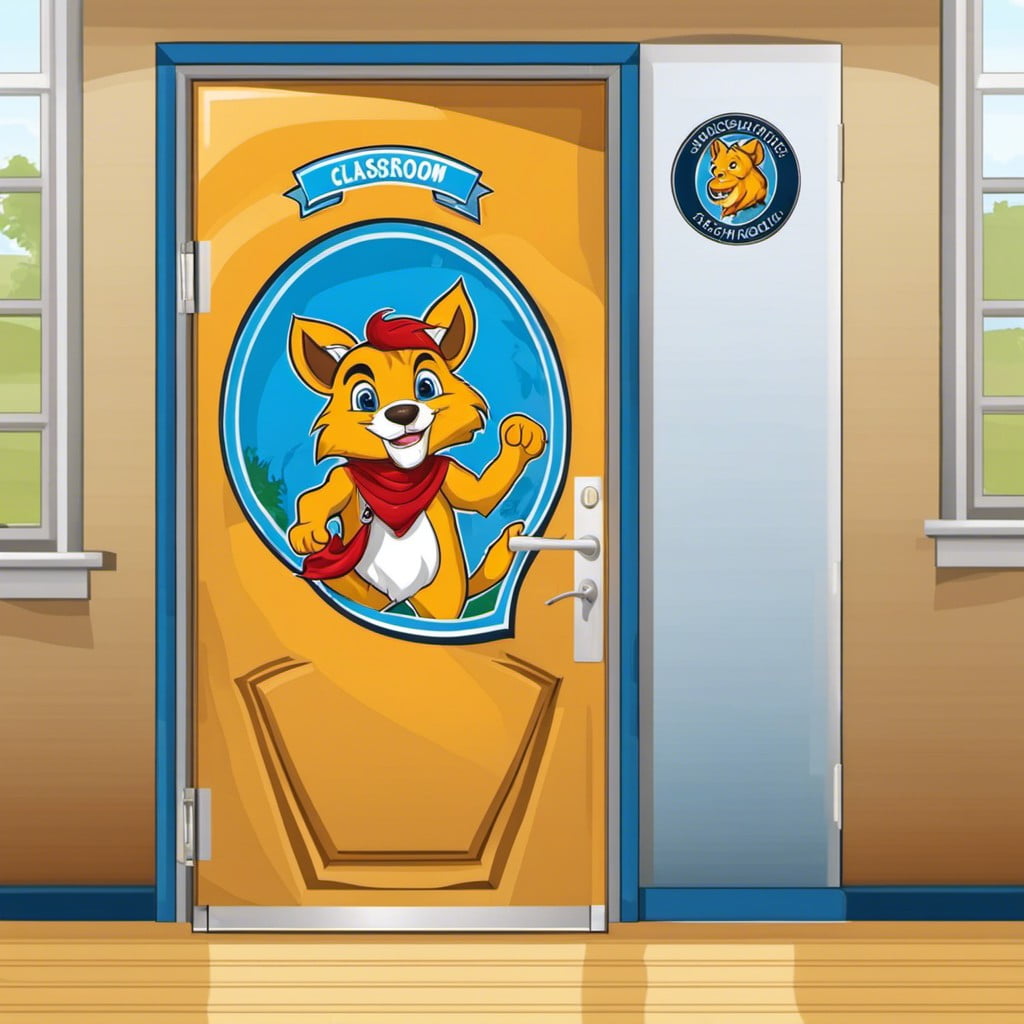 Honoring your school spirit can be a fantastic way to decorate your door. To execute this, firstly, acquaint yourself with your school's mascot and colors. Then, brainstorm innovative ways to incorporate them on your door.
1. Use Craft Paper: Cut out shapes to resemble your mascot using colored craft paper. Sticking these shapes onto your door can produce a striking, eye-catching effect.
2. Handprint Mascot: Participative decorations like using handprints or thumbprint of students to create your mascot offers a personalized touch.
3. 3D Models: Small 3D models or stuffed toys of the mascot can be affixed onto your door for a standout visual treat.
4. Motto Quotes: Consider adding your school's motto or some empowering phrases along with the mascot for an additional layer of inspiration.
5. Mascot Cut-Out: Large cut-outs of the mascot with a syncing background can also make a significant impact. Add details with paint or markers.
Such emblematic door decor not only uplifts the aesthetic appeal but also instills a strong sense of belonging among students.
Patriotic Decorations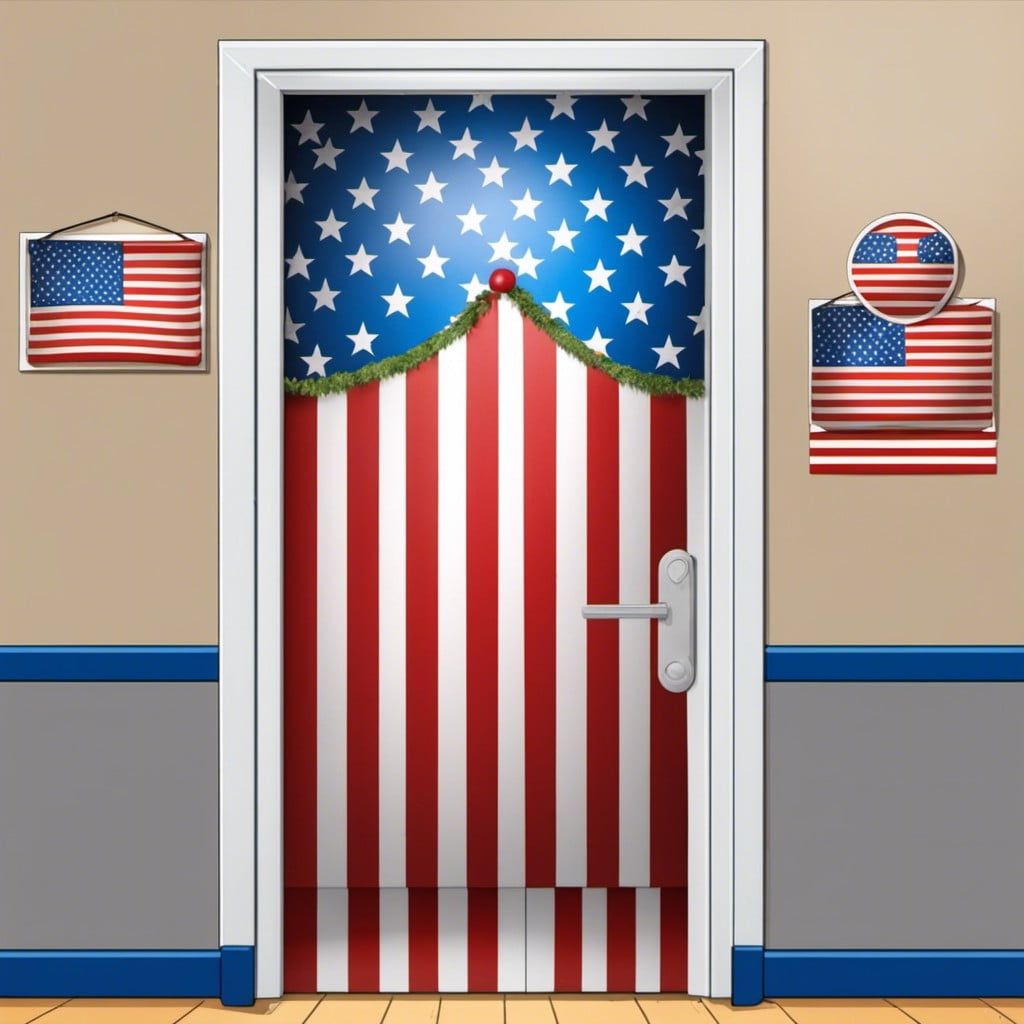 Patriotic decorations resonate with students, fostering a sense of unity and national pride. Red, white, and blue color schemes are time-honored go-tos, but there's a great variety that can be explored within this theme. Consider these few ideas:
1. Bald Eagle: Emphasize the national bird in a large mural, potentially designed by students.
2. Flag Interpretations: Have students create their interpretations of the national flag.
3. National Symbols: Highlight all kinds of national symbols, from the liberty bell to Mount Rushmore.
4. Historical Figures: Design a montage of important state leaders or founders.
5. Timeline of Historic Events: Show key dates and events that led to the formation of the country.
Remember, the key with patriotic decorations is to engender a sense of togetherness and appreciation for the nation's past, present, and future.
Hollywood Star Theme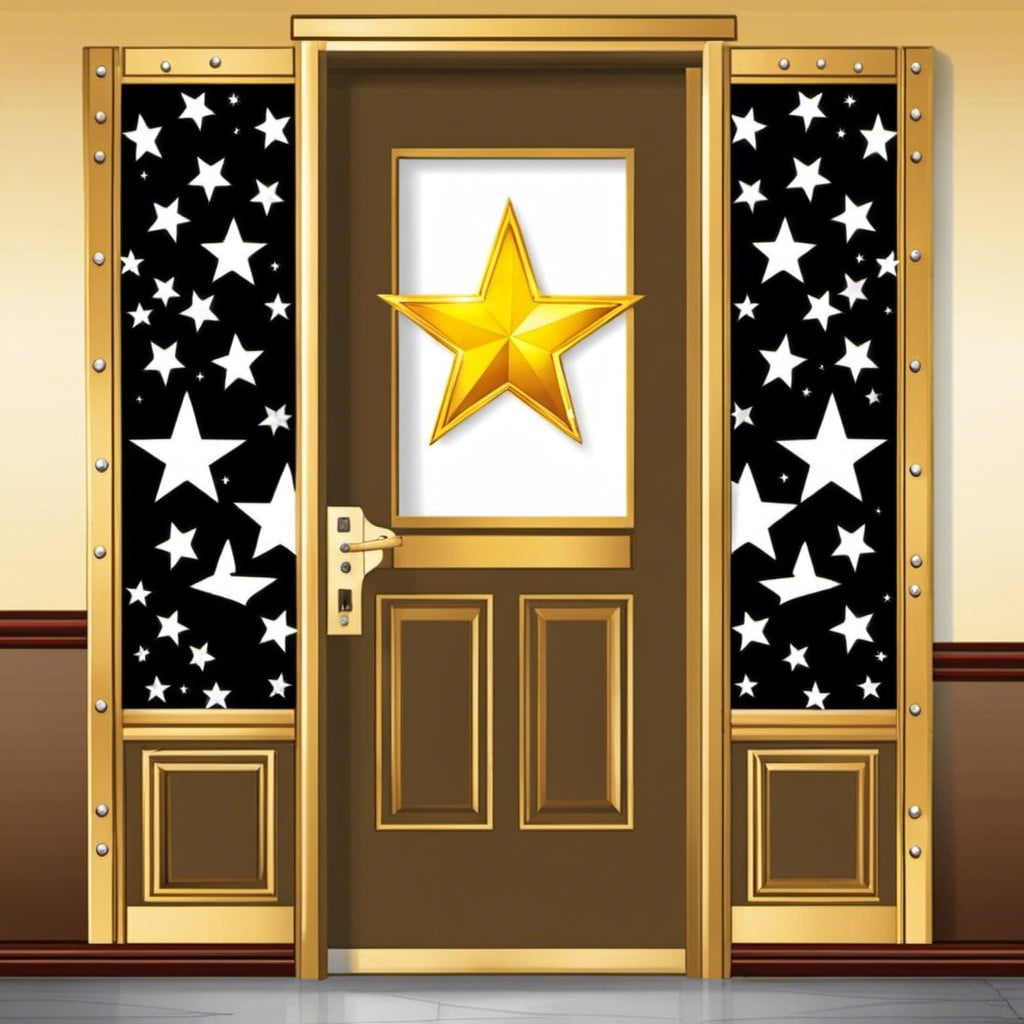 This theme allows classrooms to channel the glitz and glamour of Hollywood. Start by creating a Hollywood Walk of Fame by listing the names of each student on individual stars and placing them on your door to resemble a star-studded pathway. Use red and gold color aesthetics for an authentic feel.
For those seeking a more interactive approach, consider incorporating a "spotlight" element. Cut out large film reels and add the current curriculum topics inside the "frames" – a great way to incorporate learning and visual appeal. Don't forget the clapperboard – it can be used for important dates and deadlines.
Finally, aim for balance to prevent overwhelming the eyes. The focus should remain on informative portions, ensuring the door serves as both a decorative and educational tool.
Historical Figures Motif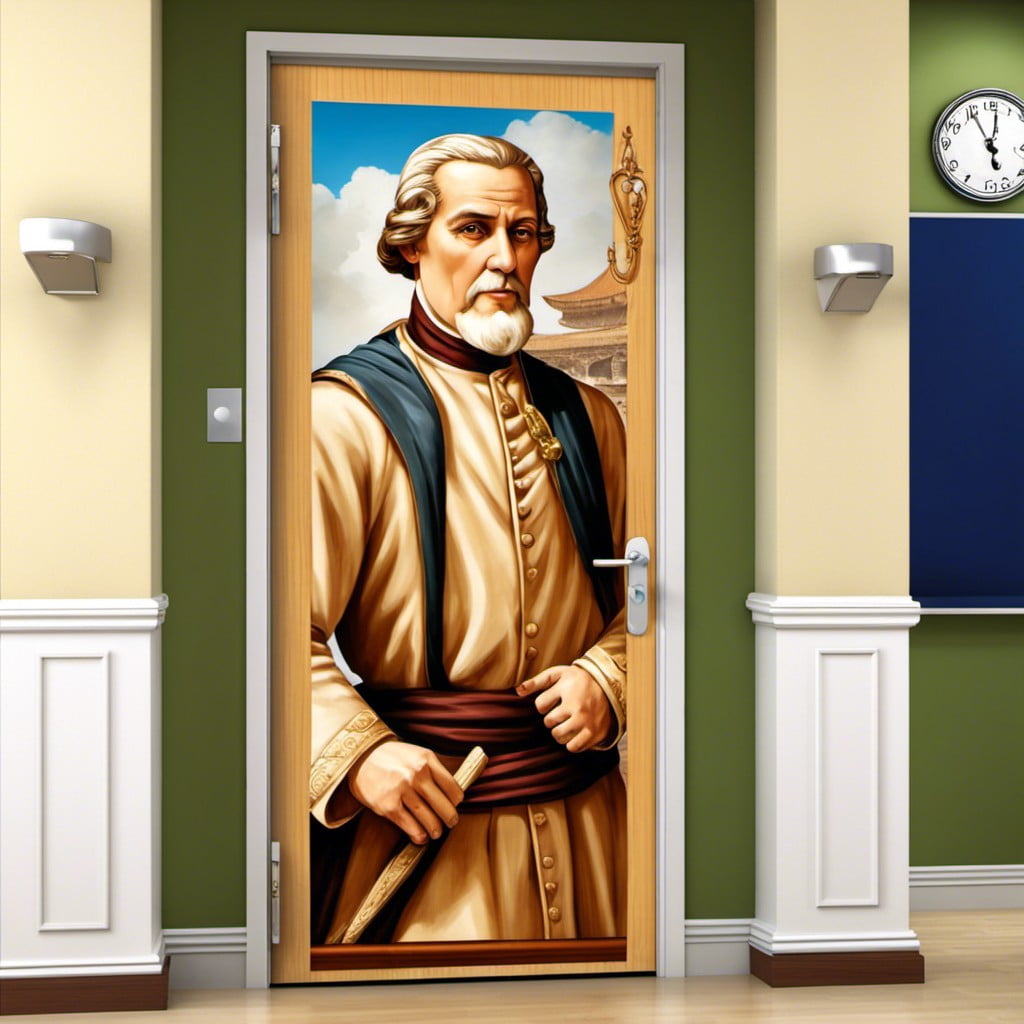 Breathing life into the teaching of history can be accomplished right at the classroom's entrance. With this unique decorative idea, revolving around eminent historical figures, one can create an appealing visual learning aid that stirs curiosity.
The first point of action is to identify a range of important personalities from your history syllabus. Be sure to include diverse figures from various epochs and cultures, ensuring a comprehensive representation.
Next, using printouts or hand-drawn images, create personable and vibrant depictions of these individuals. Don't shy away from adding symbolic elements related to their achievements or contributions.
Accompany the images with simple yet stirring quotes from these historical figures or facts about their lives. This inclusion not only amps up the visual appeal but also provides insightful learning tidbits for students.
Lastly, consider framing this artwork with iconic elements from the epochs these figures belong to. This could range from a medieval fortress for King Arthur to a backdrop of the Civil Rights Movement for Martin Luther King Jr. This serves to contextualise the figures and their contributions.
This creative venture can serve as a potent learning tool, stirring an interest in history and its players right from the classroom door.
Social Awareness Messages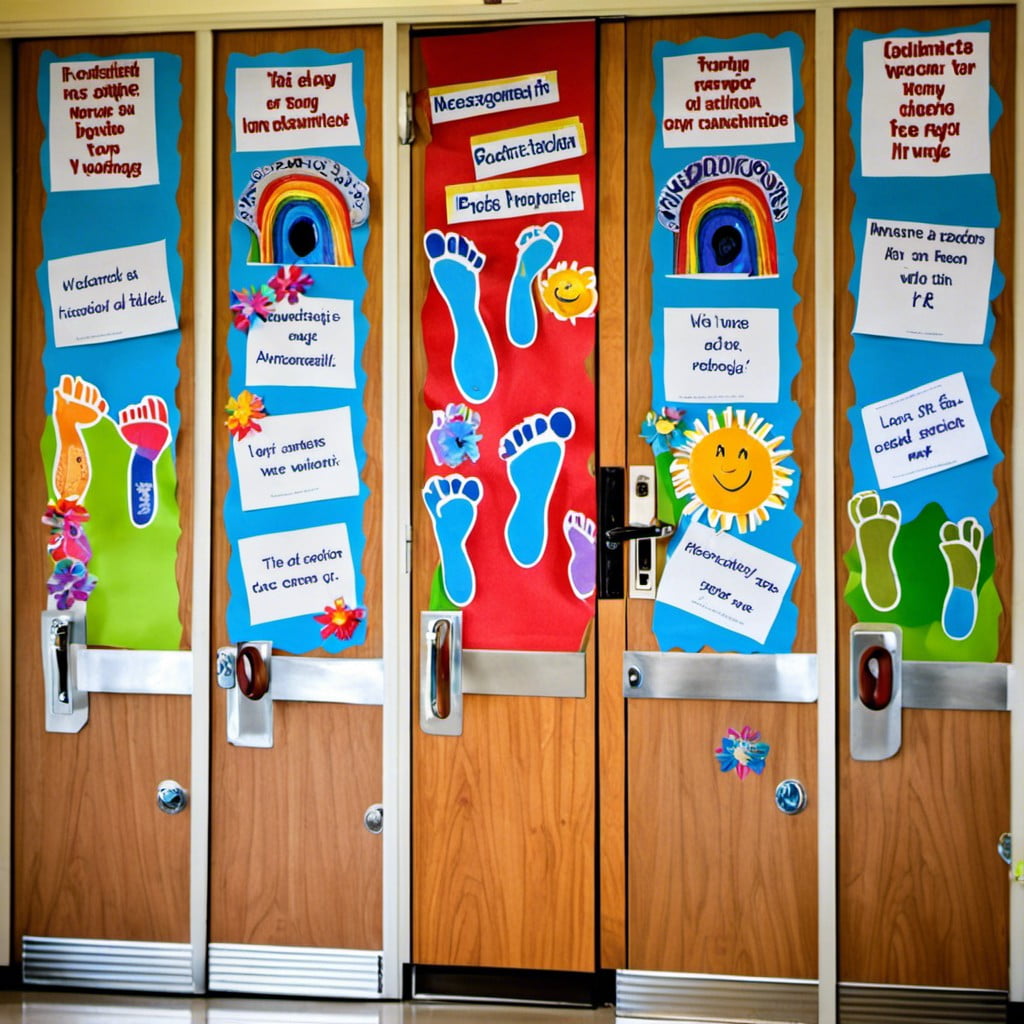 In an era where education extends beyond the curriculum, it's crucial to raise socially conscious students. Using the classroom door as a beacon for social awareness can be quite impactful. Here are a few pathways to consider.
Highlight Environmental Issues: You can use door space to bring crucial environmental crises to the forefront. For example, portray climate change with rising sea levels or emphasize recycling with a collage of recyclable materials.
Promote Equality: From gender and racial equality to LGBT+ rights, choose a topic of relevance and display it through powerful symbols and messages effectively.
Mental Health Matters: Spark a conversation about mental health. Use symbols such as semi-colons or calming images along with supportive phrases to foster a school-wide dialogue.
Community Service: Create a design focusing on volunteerism and charity, reminding students about the importance of giving back.
Choose messages that resonate with the students and inspire them to think globally and act locally. Remember, clarity and simplicity are key when choosing designs and phrasing. If planned well, your door can not only set the visual tone for your classroom but also serve as a platform for continuous learning and growth.
Nature-inspired Concept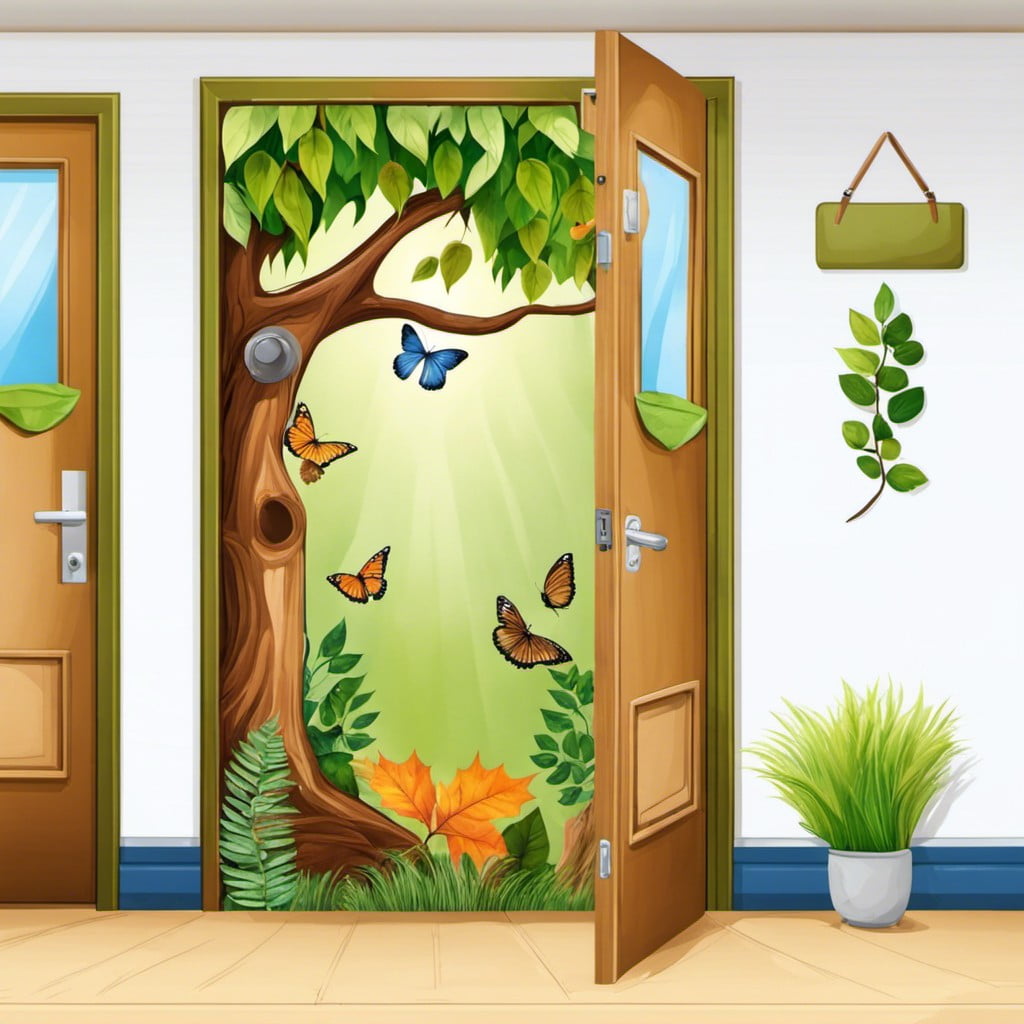 Embracing the beauty of the outdoors, a nature-inspired theme breathes life into classroom decor. There's a diverse array of elements one can play with – vibrant colors of flowers, the tranquility of greenery, or even the intriguing mystery of the insect world.
A. Botanical Beauty: Leaf patterns and flower designs not only make the door appealing but can incorporate a biology lesson. Each student can represent a different plant species.
B. Wildlife Wonders: Consider a small fresco of butterflies, birds, or other fauna. This contributes to an elegant, yet educational decor.
C. Weather Elements: Displaying weather cycles can be both decorative and informative. The use of clouds, sun, lightning, and raindrops can spark engaging class discussions.
D. Insect Fascination: Teaching about insects doesn't have to be limited to the biology lab. Showcase diverse insect life on the door to encourage curiosity and respect for tiny creatures.
Remember, creativity is key. Encourage students to contribute, making the door decoration a fun, educational process. With a nature-inspired theme, the sky's the limit!
Math Equations Decor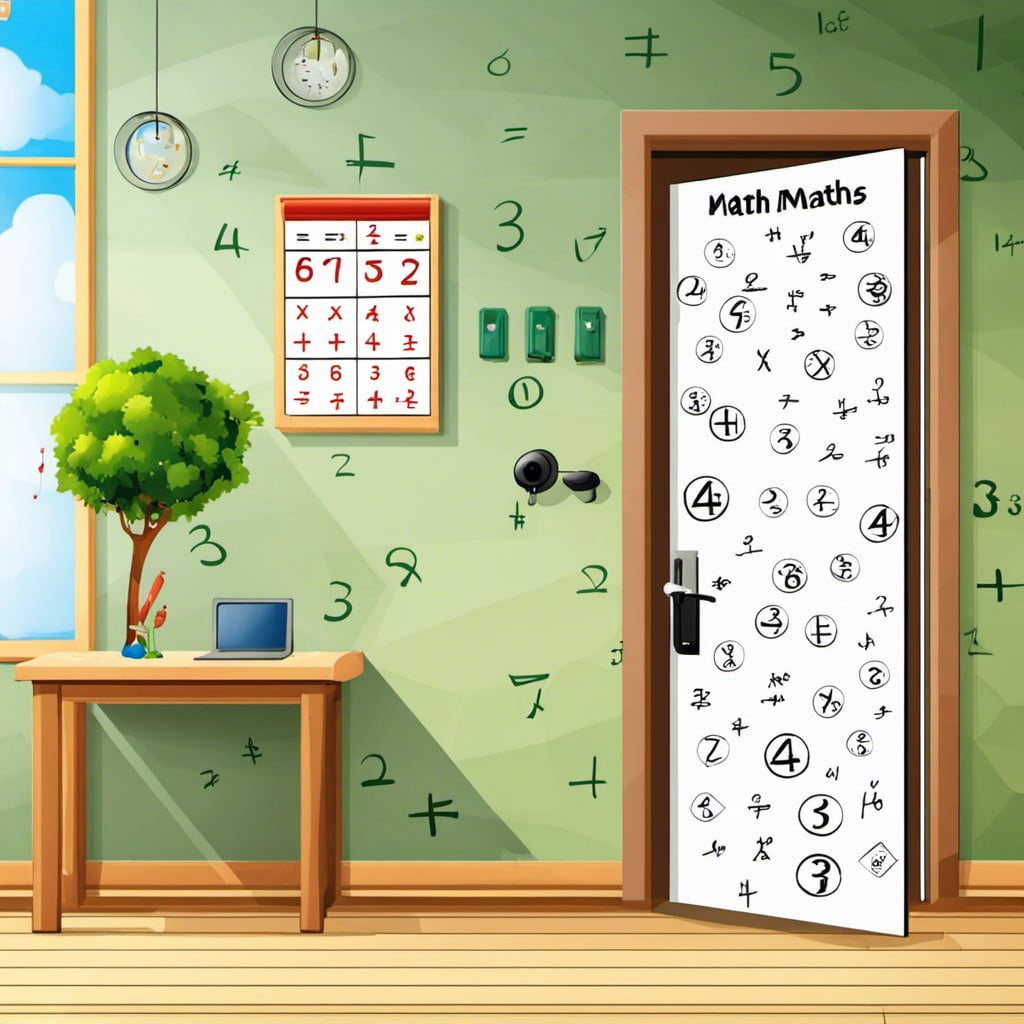 Mathematical equations serve as a visually stimulating and mentally engaging adornment choice for teachers aiming to craft an educational ecosystem. Here are few ideas for your consideration:
1. Evoke curiosity by using intriguing problems that students can solve throughout the day, motivating them to actively participate and problem-solve.
2. Feed their imaginations with colorful, large print versions of important formulas; act as an elegant backdrop and a continual learning reminder.
3. Help instill the value of numbers with a decor based on fun and easy equations combined with graphic cartoon characters.
4. Cater to various skill levels in your class by using a tiered system, from simple addition for beginners to complex calculus for the advanced.
5. Create a dynamic environment by changing equations weekly, encouraging continual learning and engagement. It can double as a topic starter for that week's lesson.
While this decor educates, its potential to incorporate vibrant colors and appealing designs ensures that learning also remains fun.
Sports-oriented Door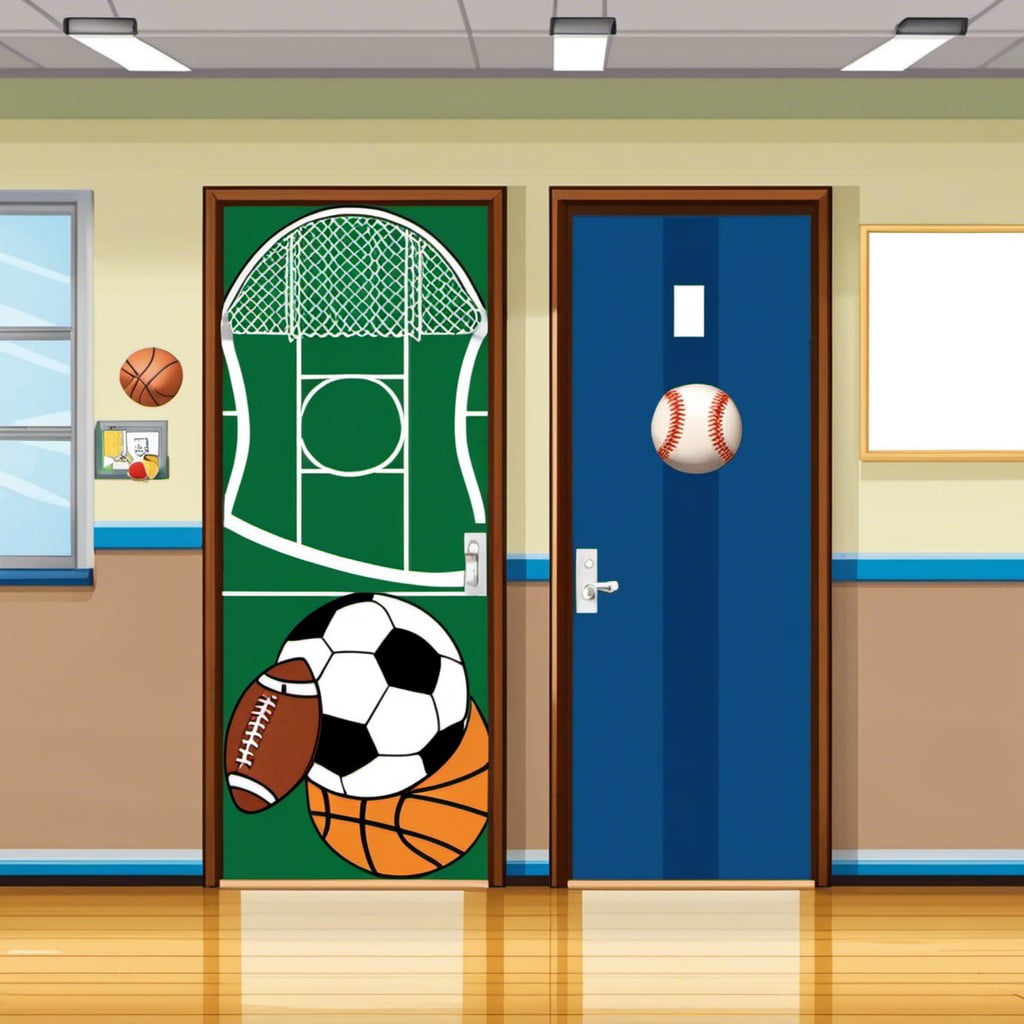 Sport activities are not only for the field; they find their place in door decorations as well. One can infuse the thrill of competition, teamwork, and enthusiasm into classrooms with this style.
1. Choose a specific sport or incorporate a mix of several to inspire students.
2. Incorporate motivational sports quotes to encourage a positive learning and team environment.
3. Utilize cut-out pictures or posters of different sports icons to inspire the students.
4. Experiment with textured materials, like faux grass or basketball texture, for a tactile experience and visual intrigue.
5. Create boarders using small foam balls resembling various sports equipment.
6. Don't shy away from adding a miniature goalpost, hoop, or net for a lifelike touch.
7. Use colors synonymous with specific sports – green for soccer, orange for basketball, etc.
Remember, the goal is to invigorate the students' spirit and give a nod to their favorite hobbies.
Travel-themed Door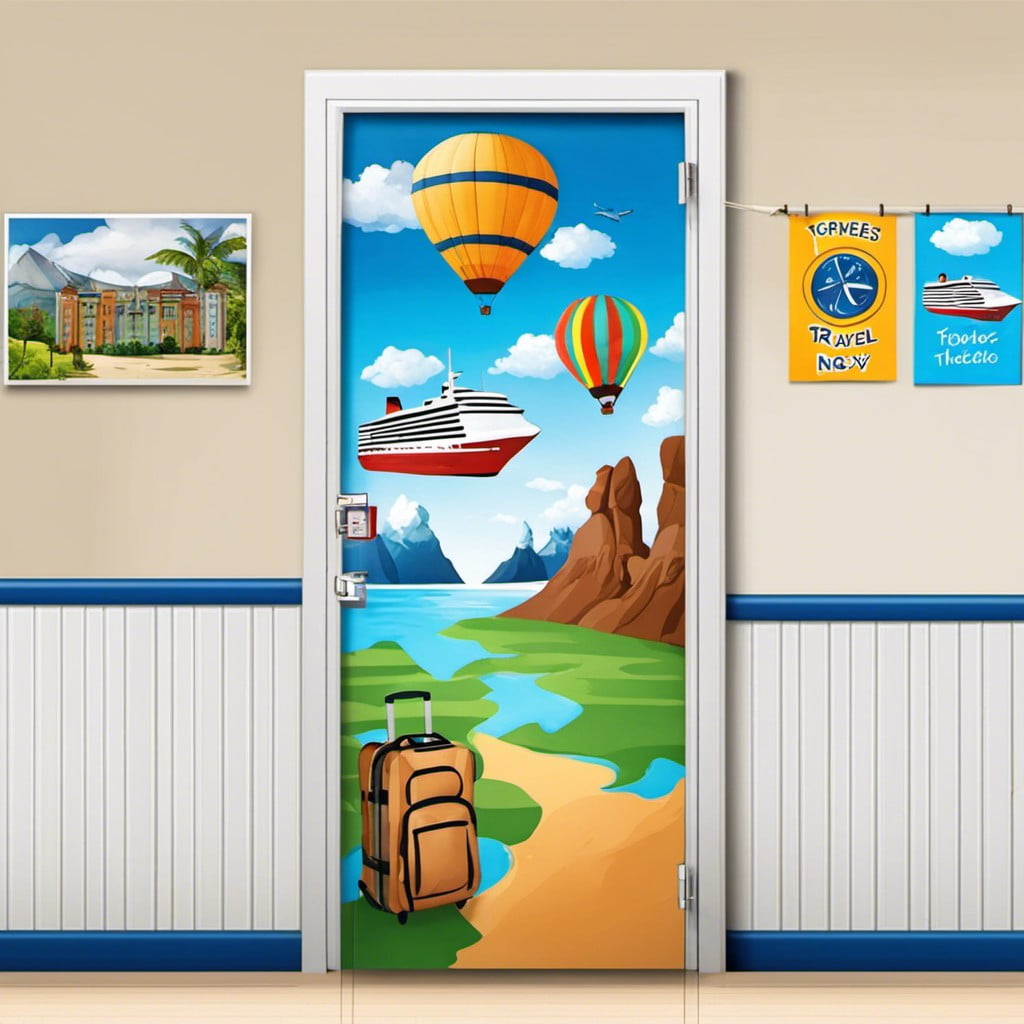 A creative approach to bring the world to the classroom is through a travel-themed door. It's an excellent way to make learning about geography fun and exciting.
The teacher can install the world map as the background and mark different countries with colourful stickers or flags. A creative touch could be to add photos of famous landmarks like the Eiffel Tower or the Pyramids.
Turning the door into a suitcase is another bright idea. You can encourage the students to create luggage tags made of paper with the names of various destinations they've learned.
A third arrangement involves an airplane door—an effective way of sparking the imagination of the young travellers. Class activities could be painted on the door as 'flights', further fostering a sense of shared exploration. Remember to keep it educational, maybe by associating each location with a specific lesson.
Engaging students in the decorating process will make them more invested in their learning and leads to a more fulfilling educational experience.
Outer Space Design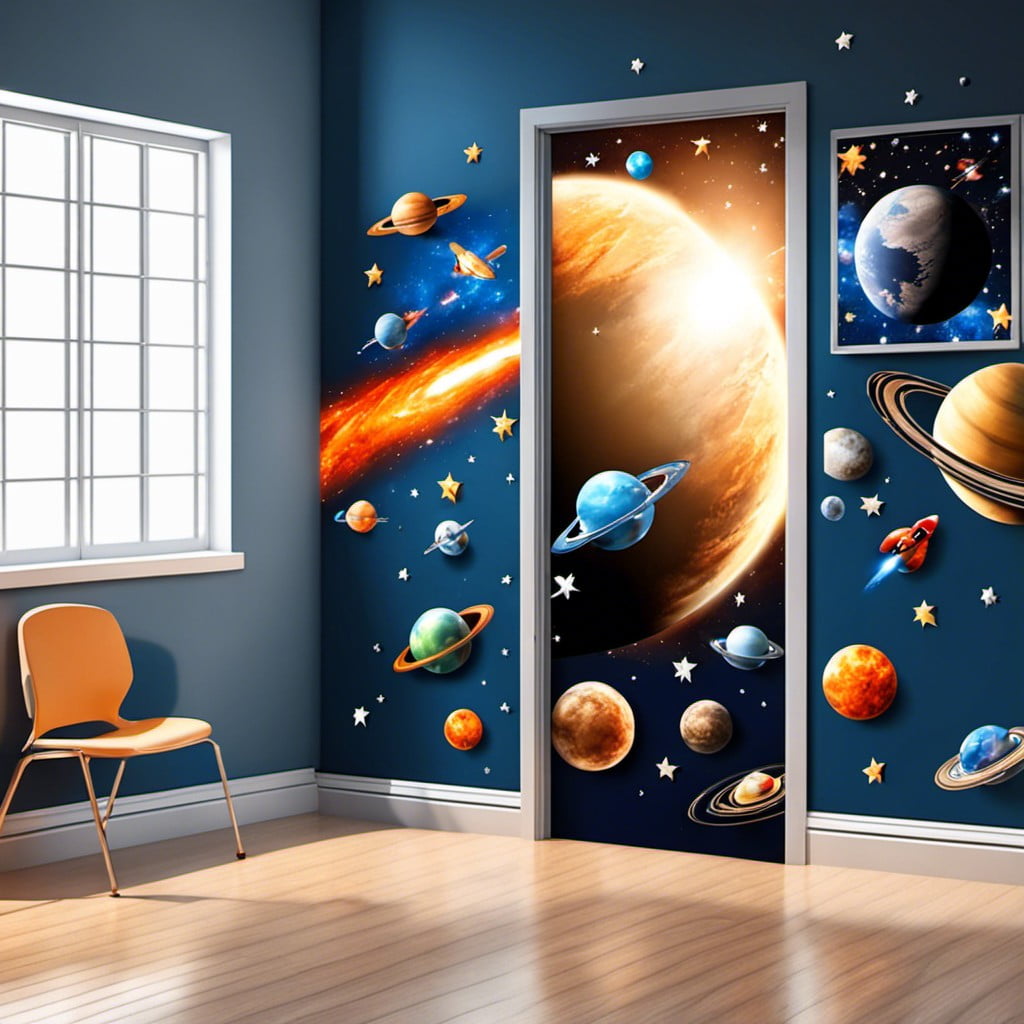 Diving into the wonders of the galaxy can be an exciting way to captivate young minds. Incorporate a starry night backdrop, using either paint or a pre-made poster. Cut-out planets can be colorfully designed and labeled, aligning with realistic or illustrative aesthetic.
Astrological miscellaneous could include aliens, rockets, satellites, or astronauts, depending on grade level. To inject a sprinkle of educational value, you could also highlight famous astronomers or space missions. Remember, the goal is to stimulate imagination, keeping education fun and engaging with a visually-pleasing environment.
Enhance the texture by adding glow-in-the-dark stars to mimic the night's sky. Dot constellations across your door or even create the Milky Way using swirls of glittery paint. It's all about creativity, exploration, and combining learning with illustrations of the enigmatic cosmic world.
Liked reading this? Here's more:
Recap: