Last updated on March 11, 2023
First impressions are always important regardless of whether we are talking about people, cities, houses, etc. If you want to live in a home that unmistakably makes the best first impression on visitors, you have to give a lot of attention to decor!
But, here is the thing. When it comes to decor most people pay attention to central rooms in their home – mainly the living room and kitchen. It makes sense, doesn't it? These are the rooms where we spend most of our time, where we receive guests, etc., so it is perfectly reasonable that we put a lot of thought and money into decor accessories for these spaces.
But when you think about the first impression, are these rooms the first to come to your mind? Because, for us, the first that comes to mind is, in fact– the entryway. The funny thing is that most people don't even consider it as a room and don't one-bit attention to it. And yet, it is the first thing that people see when they come to your home.
The first thing about this part of the home is that it needs to be functional. For this reason, in many homes, there is a little table, sometimes with drawers, where we keep the keys, etc. But, besides being practical, we want this space to be beautiful and clean as well. Keeping it clean and well maintained is easy with good household products. But making it really memorable is much harder. That is why we decided to focus on figuring out some of the eye-catching foyer table decor ideas for the best first impression.
In This Post:
Table with Lot of Storage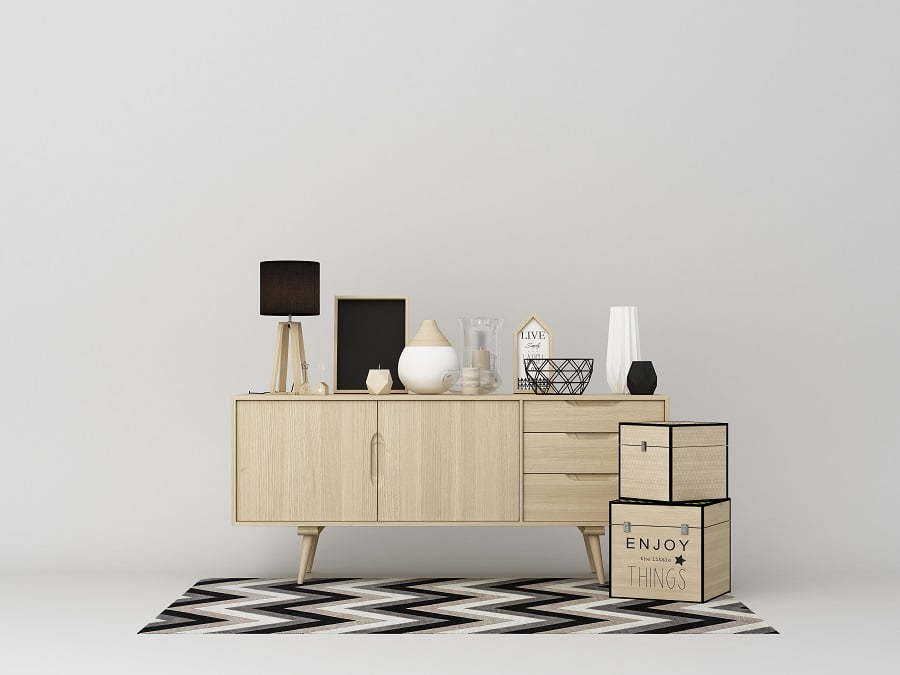 You can opt for a closed-off unit or the one with open shelves, but what is important is to have enough space to put everything that you want. In our opinion, closed, cabinet–like tables are better because they are often pretty spacious inside, while they don't appear bulky and don't make the foyer look cluttered. You can keep shoes inside and on the top, you can put a decor vase or a flower pot, books, table lamps, etc.
Slim Table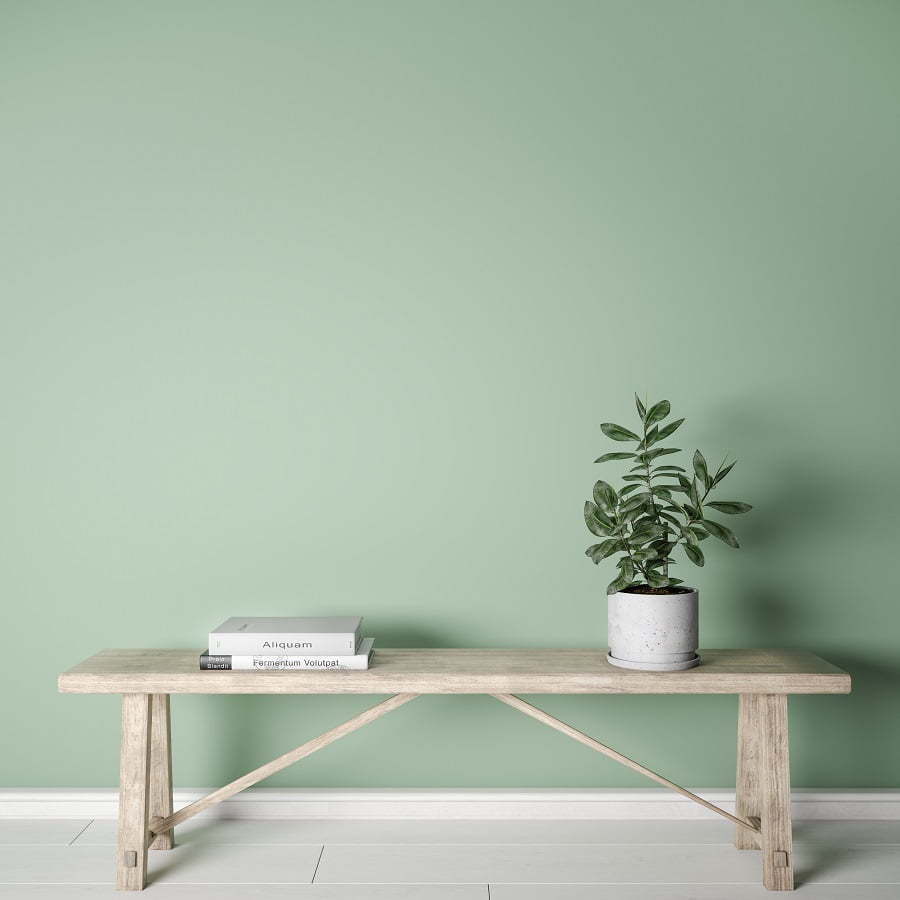 If you don't have a lot of space, the best is to go with a slim table. This kind of table will give the impression of an industrial decor zone. It won't take up a lot of space, and at the same time it will be unique, attractive and you will have where to put the keys when you enter. Keep in mind that there should be enough space, to put some flowers or a little figurine.
Wooden Hallway Table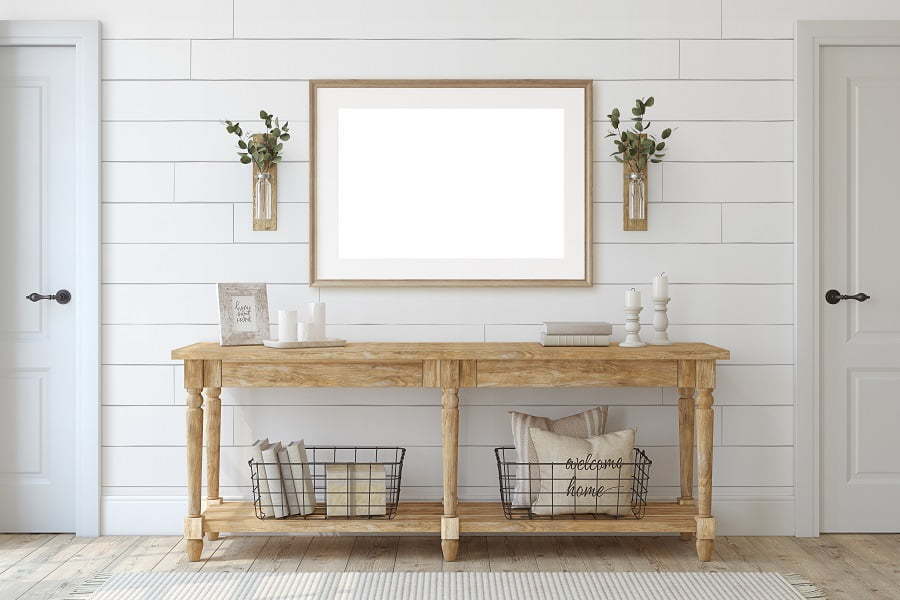 Because it is natural, wood is a warm material. As such it is a good option for entry hallways decor furniture because it immediately sends the message that your home is a place of love and care. To spruce it up a bit you can always add some greenery and a stylish lamp. If possible you can also include a mirror.
Make Sure that Colors are Consistent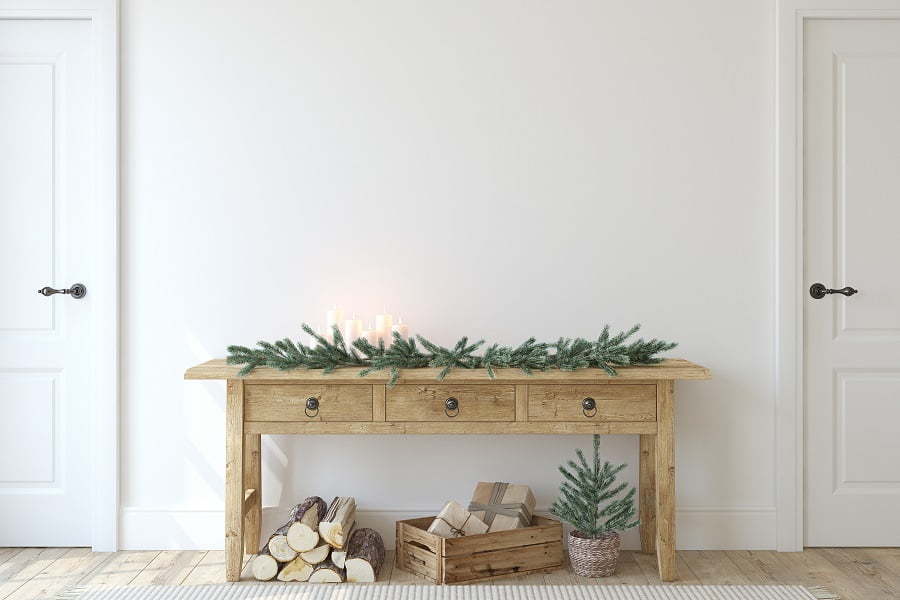 If you want to make sure that your home is appealing to the eyes, you need to pay attention to the colors and decor supplies you combine. That counts for every part of the home, including the foyer. Therefore, make sure that the color of the table goes well with the walls. Also, you can add some books in different colors.
Minimalist Approach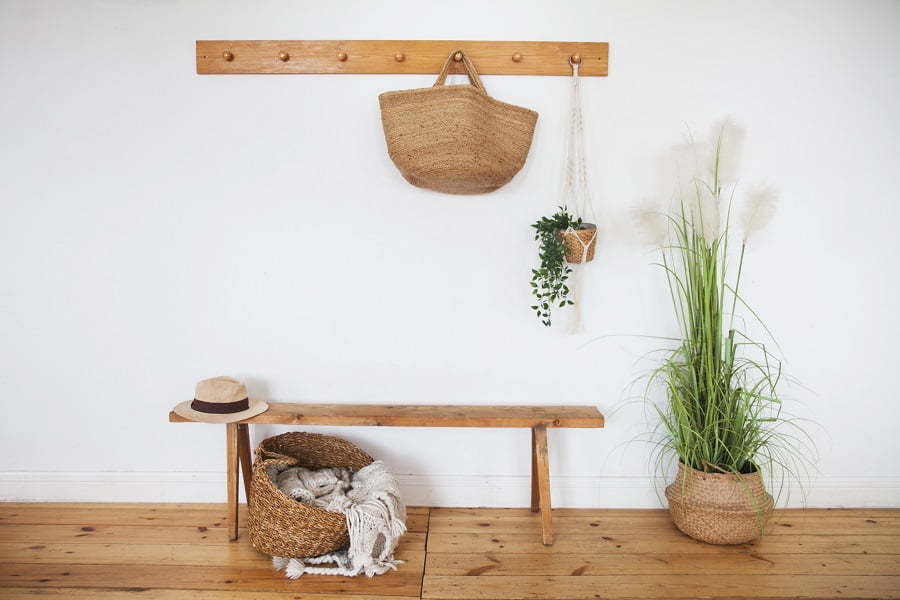 In most cases, the foyer isn't big, so you have to make sure that you don't put a ton of things, otherwise, it will end up being cluttered. Let yourself be driven by the "less is more" logic and leave space to appreciate several key pieces on the table. If you opt for decor with the accent on a few things, you will get a cozy space regardless of how small it is. For example, if you only have room for a little console table, add a stack of books and put a lamp on top and you will see how it will change the appearance of the entryway.
Sophisticated Table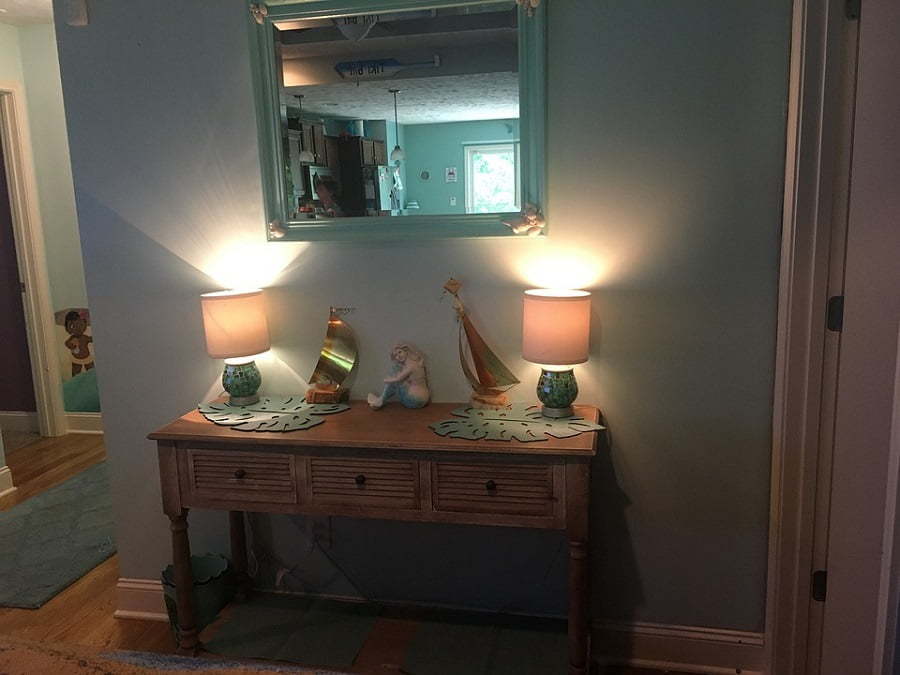 If you want to make an impression on your guests, we suggest choosing a three-tier console table. It gives you a lot of space, yet it is not bulky. Plus it goes perfectly in a modern home and everyone will be astonished by its unusual design. You can put plants or books on it, but keep in mind that if you want the table to be the center of attention you should keep things as minimalistic as possible.
Artistic Table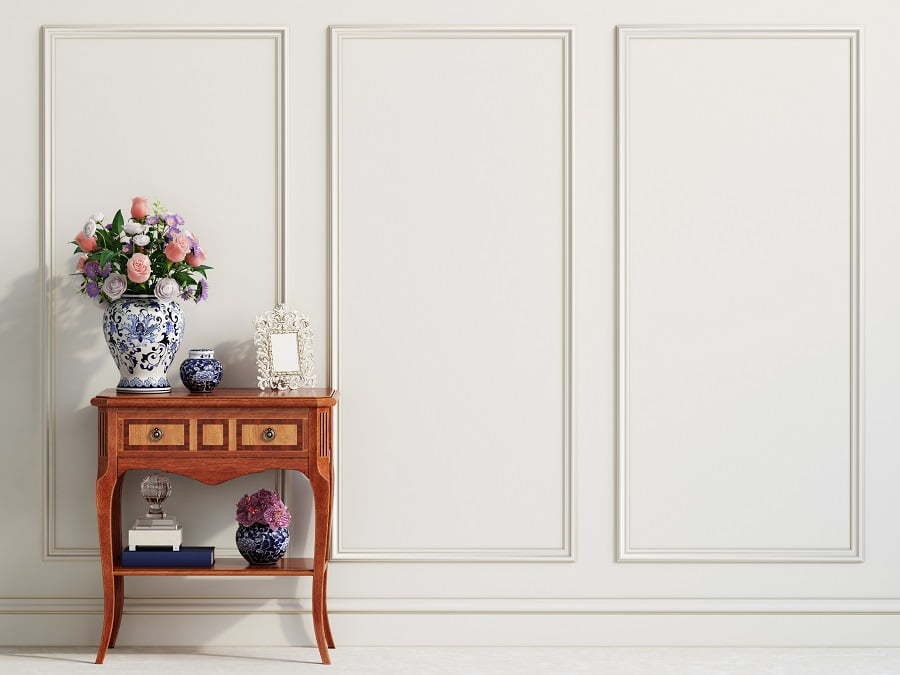 While some people choose simple furniture, others prefer to have pure art, event in the entryway. If you find yourself in the second group, you might consider a table that has powerful hand-carved motives. These tables are usually made of high-quality wood which will give and an additional touch of warmth.
Ornate Table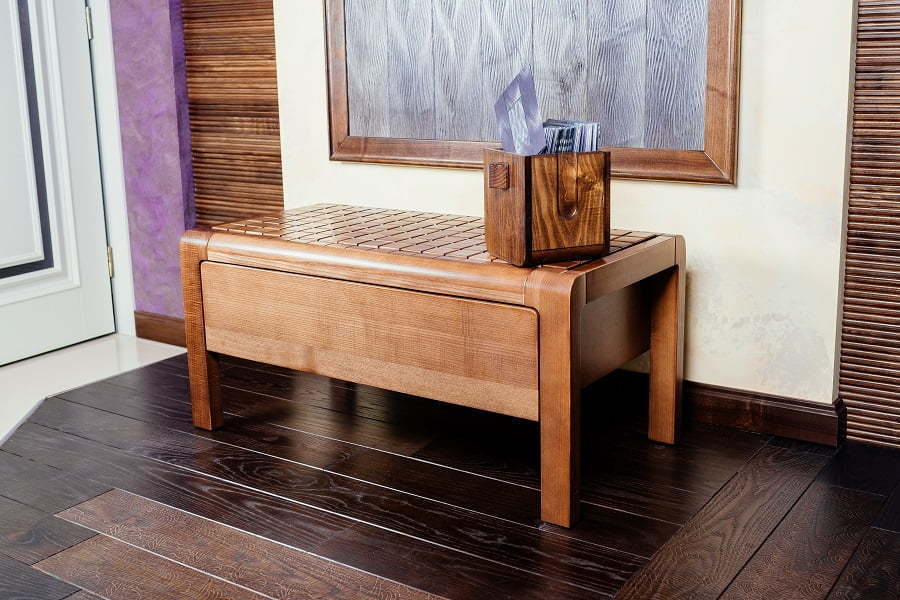 We tend to on small or slim tables because the entryway is narrow or small in most homes. But if you are living in a big house with a spacious hallway, there is nothing that stops you from going after a  massive ornate table. There are, for example, big foyer tables, with marble coating that go along perfectly with white walls. If you have a bronze flower pot it will look wonderfully on the marble layer. 
Alternatively, you can display an elaborately designed decor piece such as a flintlock pistol replica for a unique embellishment that will catch the eye.
Black Table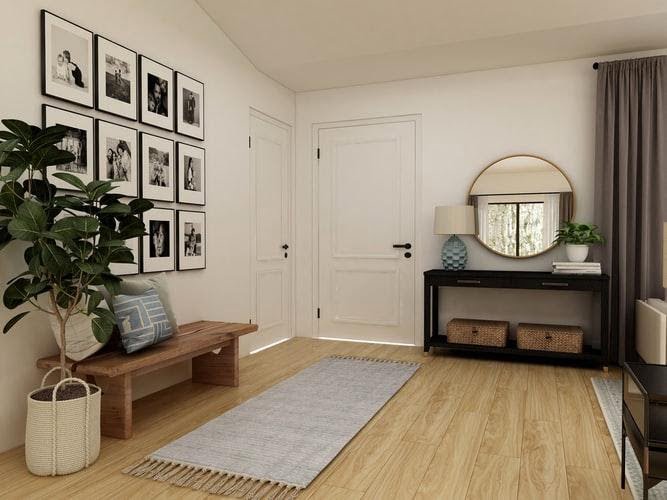 Although some people aren't too fond of it, black must be always a splendid option for the color of an entryway table, because it brings a touch of elegance. However, those who are against these options claim that it can also make the foyer too gloomy. While it can be true, you can easily prevent this from happening by putting colorful things on the table – for example, you can add blue vases, or a sophisticated white lamp, etc. The most important is that you make decor with love.
The Takeaway
Here we are at the end of our list of suggestions for foyer table decor. Although people don't pay a lot of attention, it is undeniable that his piece of furniture can play a significant role in your home's first impression. We hope that these decor trends 2021 provided you with some ideas for entryway in your home! Have you thought about the foyer decor before?
Liked reading this? Here's more: