Last updated on September 20, 2023
If you are ready to start living a minimalist life, it can be difficult to know where to begin. The best way is to start with your bedroom.
A comfortable and well-designed room will make all the difference in how successfully you transition into this new lifestyle. Here are some of the best ideas for starting off right there at home. 
In This Post:
Bed Is Important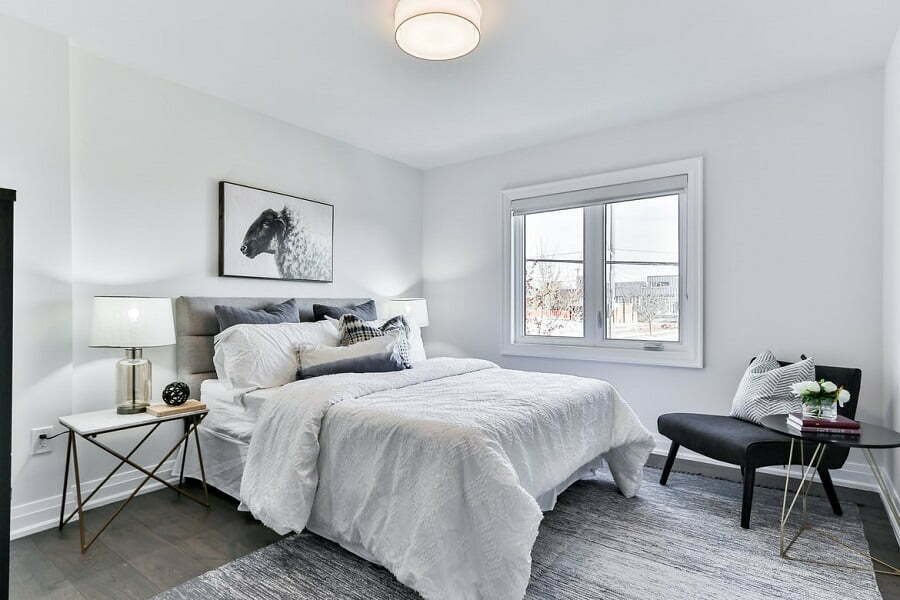 The bed is the most important item in a bedroom, and it should be comfortable. Luckily, you have plenty of options. You can go with a traditional bed, purchase a futon, or bed linen is another luxurious bedding option that makes them more comfortable. Either one will do nicely as long as you're getting a good night's sleep.
Get Rid of Clutter
The first step of a minimalist bedroom design is to get rid of all the clutter. If you have a lot of stuff in your room, take a day or two and pack it up. Don't just stick it under the bed, either – donate it. This is a great way to clear out some space as well as do a little spring cleaning at the same time.
Use the Right Furniture
You may have all of this extra space, but that does not mean your room needs to be empty. In fact, if you're going for a minimalist look, you're going to need the right pieces of furniture. This means getting rid of those bulky dressers and using bedside tables instead. You can also hang a shelf or two as well as use the walls as additional storage space.
The secret is to divide up your items into categories – one for clothes, one for books, etc – and put them in their own little corner.
Light and Bright 
One of the best things about a minimalist bedroom design is that it brings so much light into your life. If you can, try to use as much natural lighting as possible. Open up those blinds and let the sunshine in. Take advantage of all of that natural lighting to keep your room bright and cheery.
Use Natural Fibers
Using natural fibers in your bedroom is one way to make your room feel more comfortable. They are easier on the skin, which means you will be getting a better night's sleep (which is part of the minimalist lifestyle, after all).
Incorporate Plenty of Closet Space
The final step is to make sure you have plenty of closet space. If you don't already have one, it's time to invest in a good dresser or armoire. The more closet space you have, the more comfortable your room will be.
Make It a Comfort Zone
The most important part of a minimalist bedroom design is that it should always be a comfort zone. If something isn't working, don't hesitate to replace it. Be sure to take your time and find out what works best for you.
Add Personal Touches 
Lastly, make sure to sprinkle some personal touches here and there. This will make your room feel more like home. For example, you could buy a nice rug or an interesting piece of art to put on the wall. Anything goes as long as it makes you feel at ease and comfortable.
Relax! 
It is important to remember that claustrophobia can set in if you try too hard to create a minimalistic bedroom design. The trick is finding the right balance between feeling free and feeling closed in. Be sure to give yourself plenty of room to stretch or you'll soon find yourself feeling very uncomfortable.
Minimalist bedroom design is an idea that many have tried but few have mastered. However, with a little bit of time and effort, anyone can transform their bedroom into a perfect minimalist retreat. Of course, the only way to really know is to do it. Try having nice furniture, put those paintings you like up on the wall, buy good linen bedding, or go with a big window to let all the natural light shine all throughout. 
You never know what you might discover about your own personal tastes in the process. So, go out there, try as many as you want, and think back and see which one works best for you.
Liked reading this? Here's more: