Last updated on November 23, 2023
Because Minnie Mouse-themed parties create unforgettable memories, delve into this article for creative and captivating decoration ideas expected to turn your event into a Disney wonderland.
I'm very proud to share this article featuring 20 Magical Minnie Mouse Party Decoration Ideas, all uniquely designed by myself, and I genuinely hope that you find it as inspiring and fun as I did while creating them.
Dive into the magical world of Disney with a Minnie Mouse-themed party that will leave your guests in awe.
This article is full of creative ideas to transform your space into Minnie's iconic polka-dotted paradise.
From DIY decorations to themed table settings and party favors, you'll find everything you need to plan an unforgettable Minnie Mouse party.
Whether you're celebrating a birthday or just want to add a touch of Disney magic to your day, these tips and tricks will ensure your party is a hit.
So, keep reading for step-by-step instructions and insider tips to make your Minnie Mouse party a memorable one.
Minnie Mouse Balloons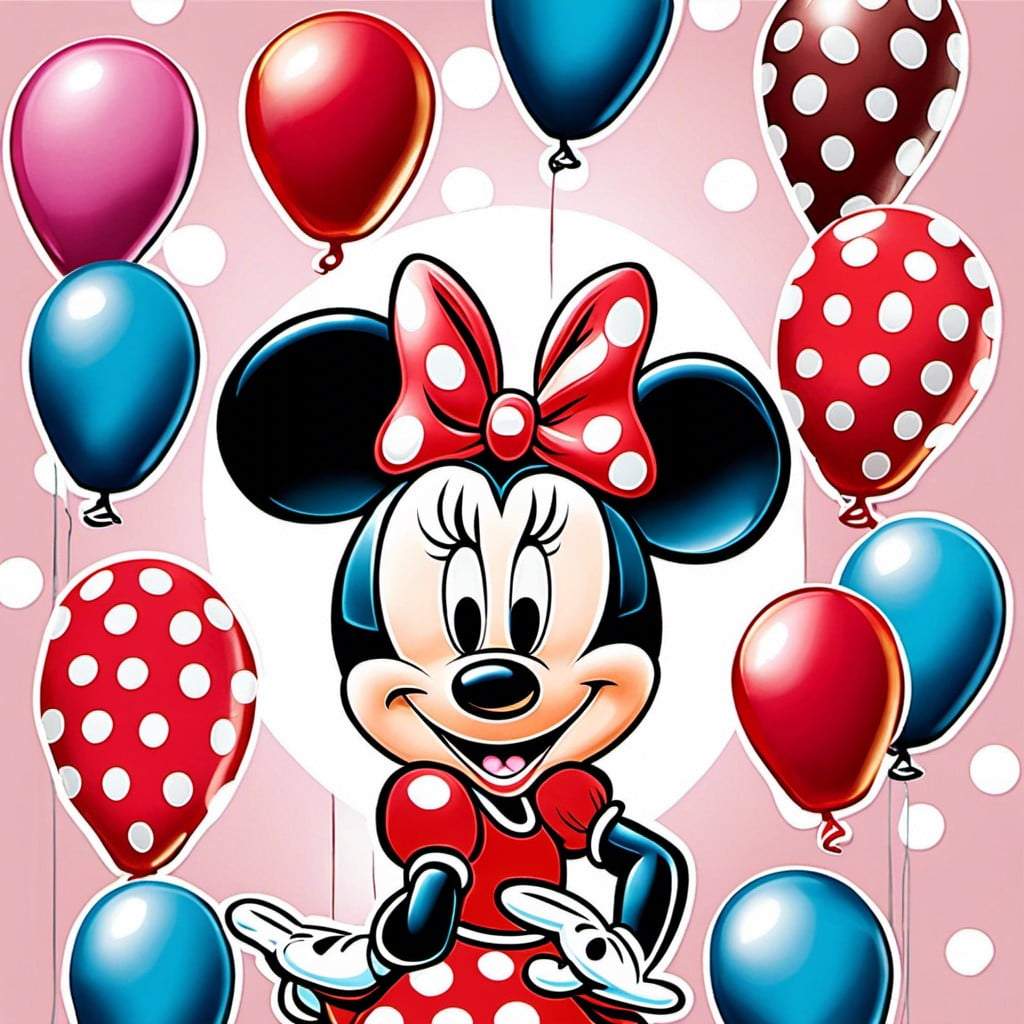 Inflatable decorations play a key role in party ambiance, especially when they represent the theme character. Choose a variety of shapes and sizes to complement your setting.
Giant foil balloons showcasing Minnie's silhouette or her famous bow make a grand statement. Conversely, smaller latex balloons featuring Minnie's images contribute to a fun, whimsical atmosphere.
Additionally, think about arranging the balloons in unique ways. Consider a wall display or a creative cluster to go by the entrance.
Finally, remember to stick to your color scheme with choices like pink, white, or polka dots to match the rest of your Minnie Mouse decorations.
Polka Dot Tablecloth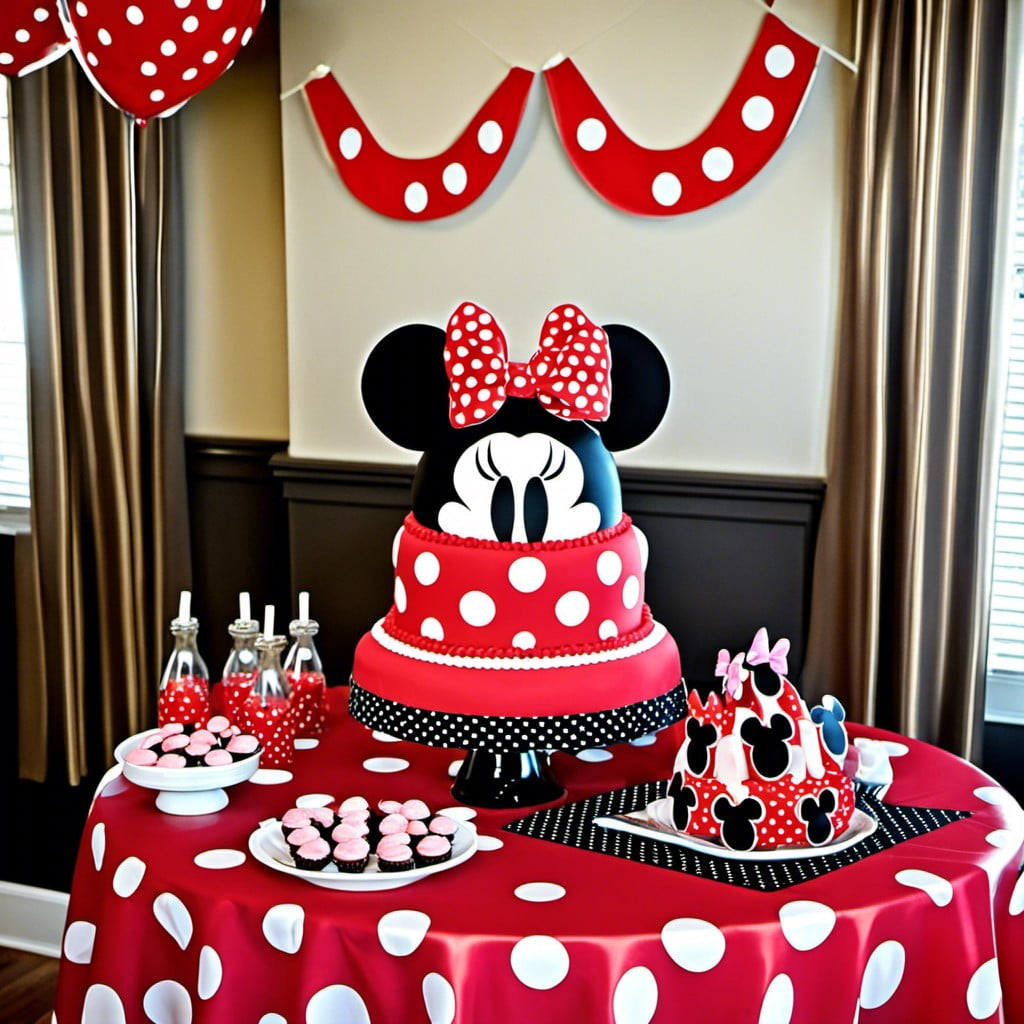 Featuring an adorable polka dot pattern, a tablecloth proves to be more than a mere protective cover for the table. It plays a pivotal role in setting the overall mood and theme of your party.
Consider a red tablecloth with white polka dots. Texture matters just as much as color, so ideally, opt for linen or cotton. They're easy to handle and exude a warm, welcoming vibe.
Make it the star of your party table by pairing it with plain white plates. Add contrast by spreading some black cutlery around it. If you're feeling particularly creative, you could go a step further and fashion mouse ear-shaped napkin rings.
Remember, the polka dot tablecloth acts as a festive canvas that helps bring your Minnie Mouse party vision to life. So enjoy the process of dressing up your table to match the beloved Disney character.
Minnie Mouse Themed Banner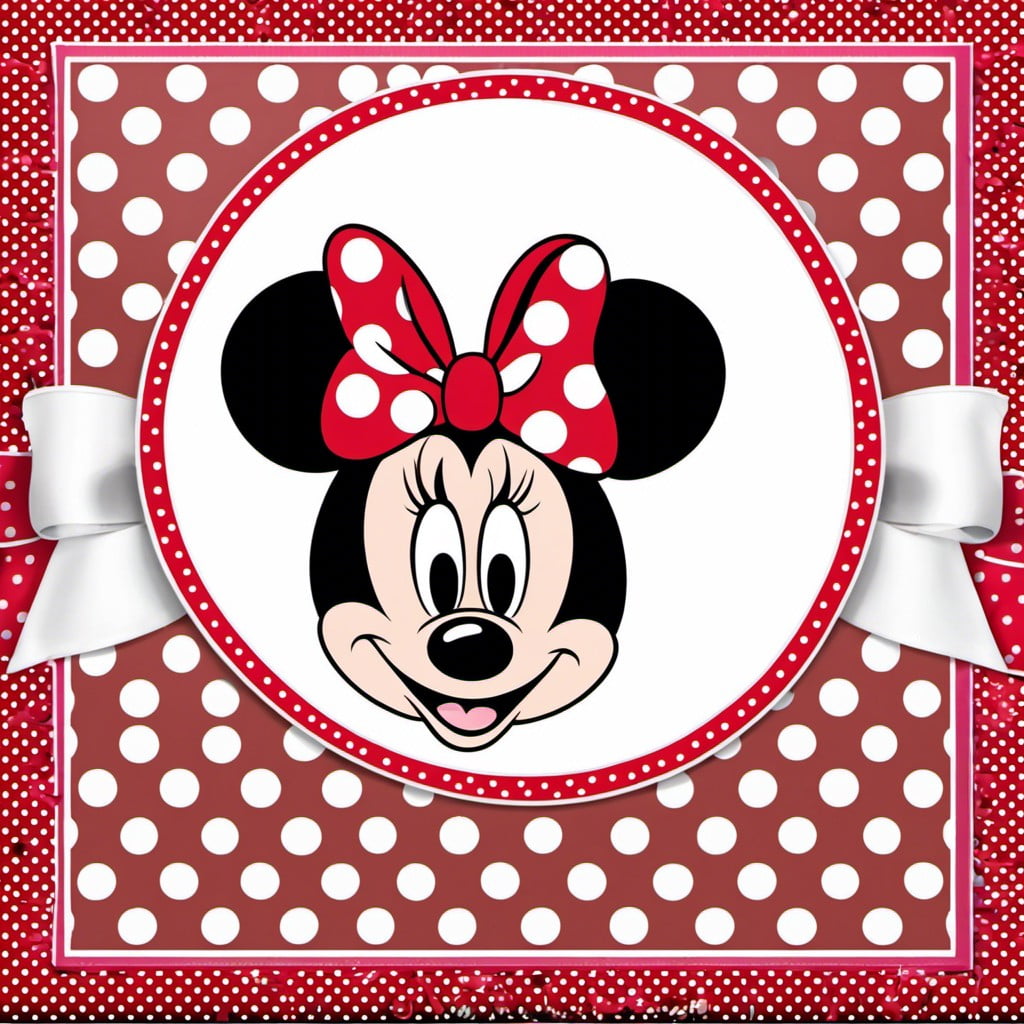 A suitable part of the venue to hang this creative piece would be across the entryway or above the main table. Several aspects to keep in mind while making or buying a Minnie Mouse banner include the color scheme that mainly highlights pink, black, and white. Also, don't forget Minnie's iconic bow tie and Mickey Mouse shaped head silhouette — no banner is complete without these!
Grocery stores, party supplies shops, or online platforms offer various styles, from a simple "Happy Birthday" alternating with Minnie's head silhouette to more personalized designs including the birthday girl's name or age. For the DIY enthusiasts, materials such as card-stock, ribbons, and templates found online can provide a cost-effective yet sentimental touch. Just remember, the key lies in the detail, making sure the theme permeates every feature of your banner!
Pink and White Streamers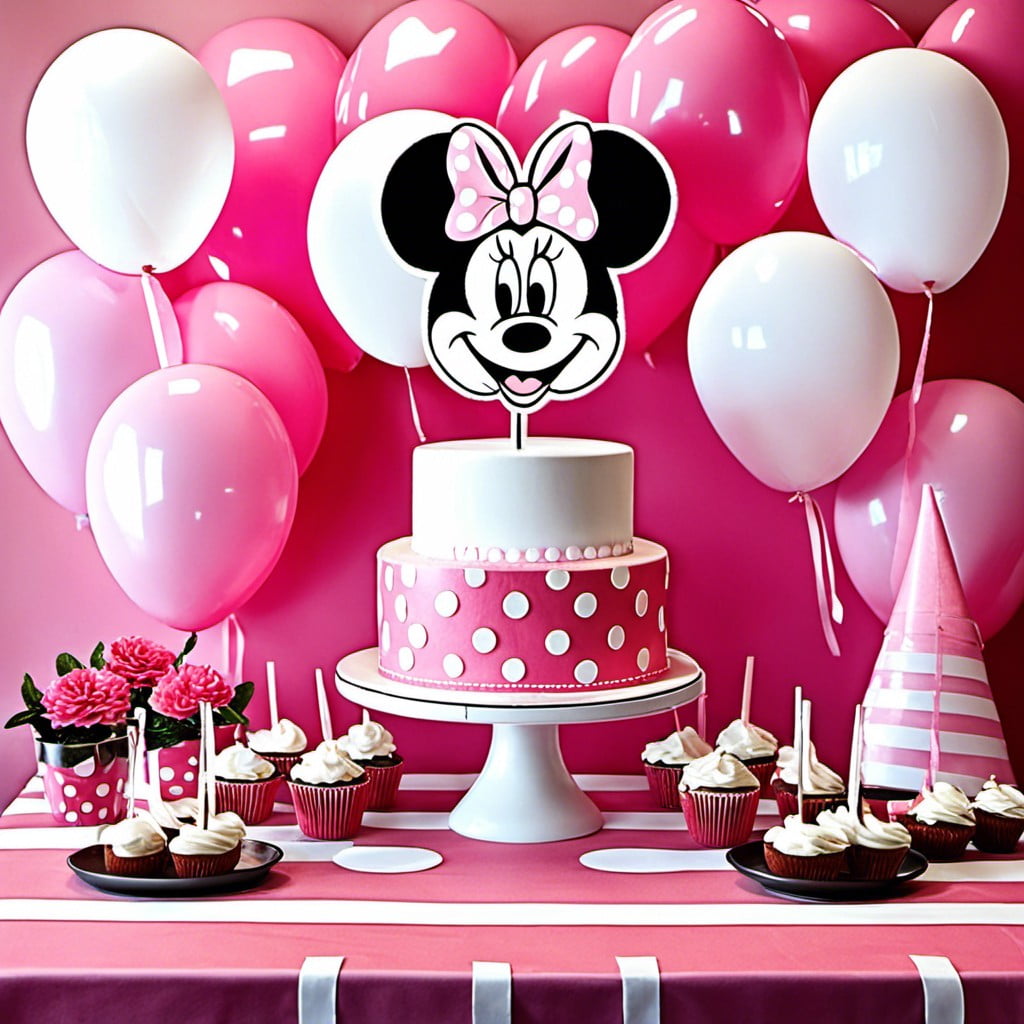 Using streamers in the party's motif colors can really elevate the overall look. Twist pink and white streamers together for a whimsical touch.
Hang them from the ceiling, frame a door or create unique wall art. You could even fashion them into a DIY photo backdrop! This affordable decoration not only adds a splash of color but also gives the room a festive, party feel.
Plus, the cleanup is as easy as pulling them down and popping them into a recycling bin- making them a hassle-free choice.
Life-size Minnie Mouse Cardboard Standee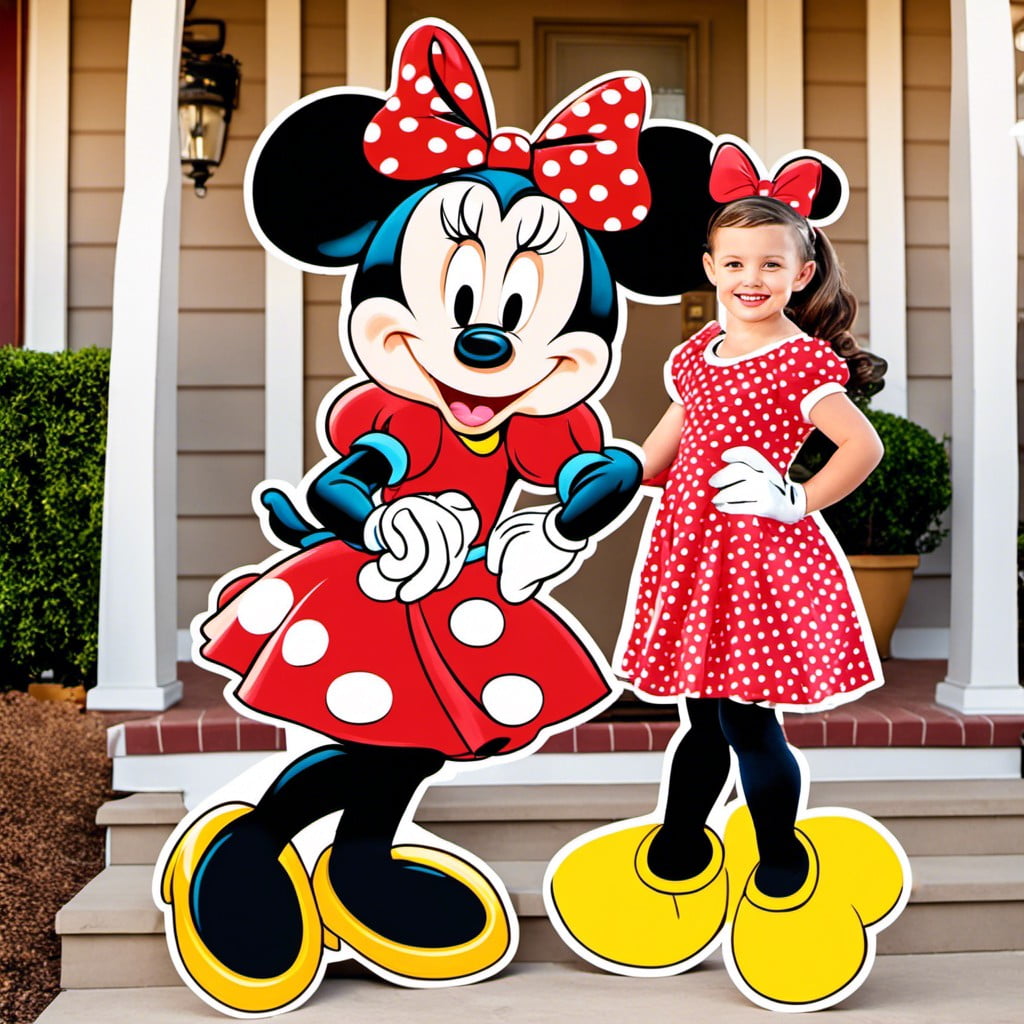 Continuing with the decoration guide, it's important not to overlook the power of a fun and captivating centerpiece. This is where the life-size cardboard standee of Minnie Mouse comes into play. When placed strategically, it can greatly enhance the party's ambiance and serve as a delightful photo op for guests.
1. High Quality: Ensure the standee is made from high-quality cardboard, clear, and crisply printed for an authentic feel.
2. Positioning: Place it strategically, possibly at the entrance, beside the cake table, or photo booth for optimal impact.
3. Sizes: Depending on the age range and height of guests, choose an appropriately sized standee.
4. Safety: Make sure it has a solid support at the back to prevent it from falling over.
5. Variety: Consider also having smaller versions of the standee placed around the venue for added charm and consistency.
Remember, the goal is to make the decorations as enjoyable as possible for all attendees!
Mouse Ear Shaped Cupcakes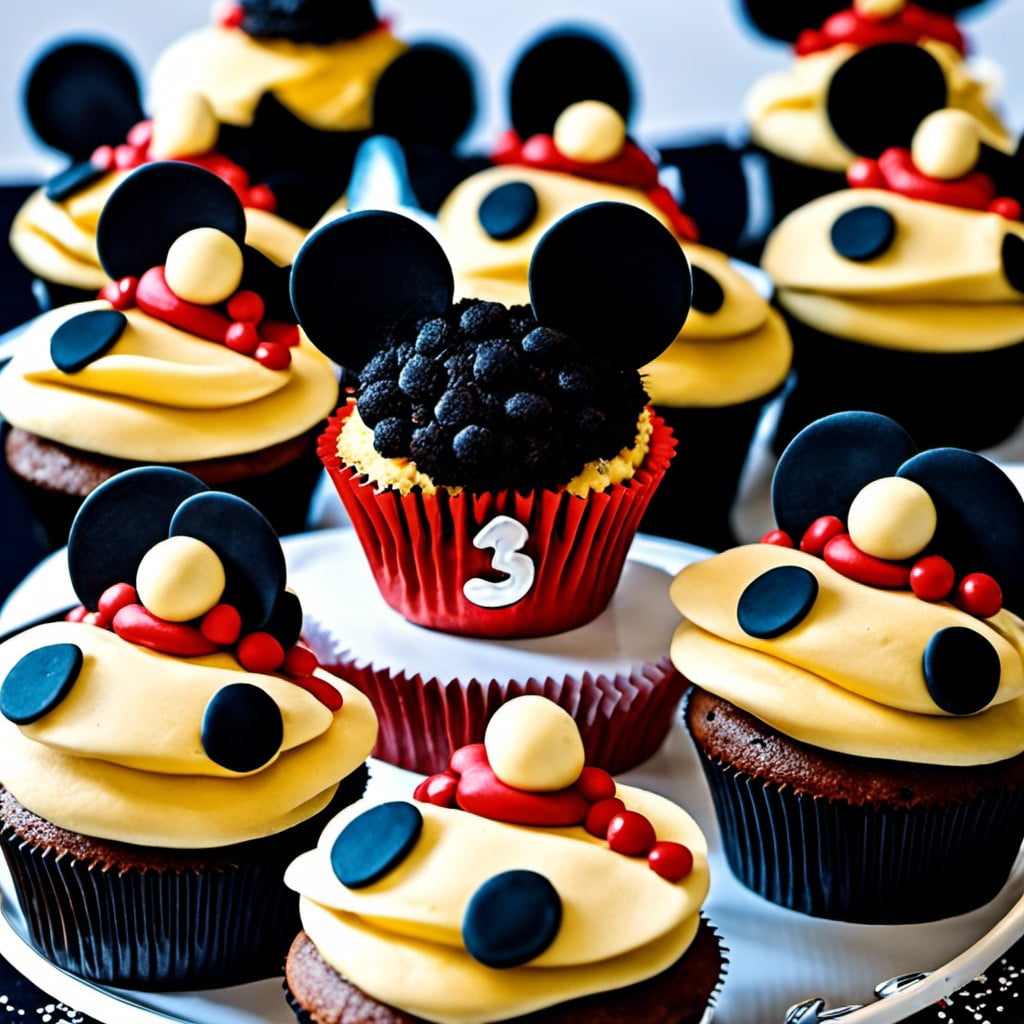 Decorating these delightful treats is as simple as one, two, three. Start by baking your favorite cupcake recipe and let them cool.
Top each cupcake with a swirl of pink frosting, but don't stop there! To make them truly "Minnie," you'll need two mini Oreo cookies. Carefully twist and separate each cookie. Discard or eat the side without frosting. Use the frosted sides as the mouse "ears" by pressing them gently into the pink frosting.
For an additional touch, consider making a small bow from red fondant and placing it between the "ears," giving a nod to Minnie's signature style. It's an easy process, yet the result is high-impact, leaving your guests oohing and aahing over these edible, thematic pieces of décor.
Minnie Mouse Party Plates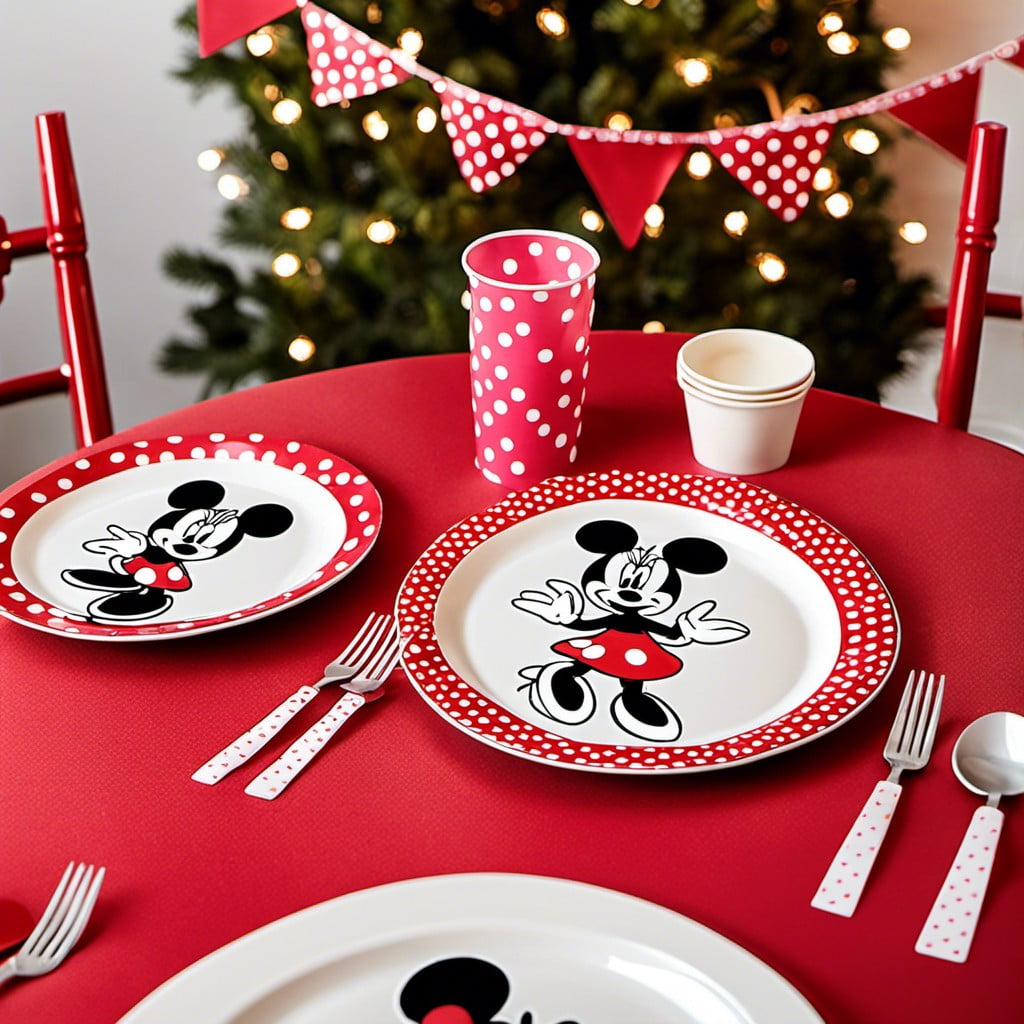 Opting for themed party plates not only reinforces the unity of your décor but also adds a playful touch to the meal. Consider those featuring Minnie's iconic bow, her silhouette, or scenes from the beloved cartoons.
In order to elevate the visual appeal, coordinate the plates with complementary-colored tablecloths or napkins. Remember, a proper setup is just as crucial as the plates' design. Layer themed plates on solid-colored chargers for an elegant touch, or mix and match different Minnie patterns for a fun, varied look.
For eco-conscious hosts, there are also biodegradable or reusable options available which encapsulate style and sustainability concurrently. Hence, these additions can blend function, aesthetic, and responsible buying into your party planning.
Pink and White Flower Arrangements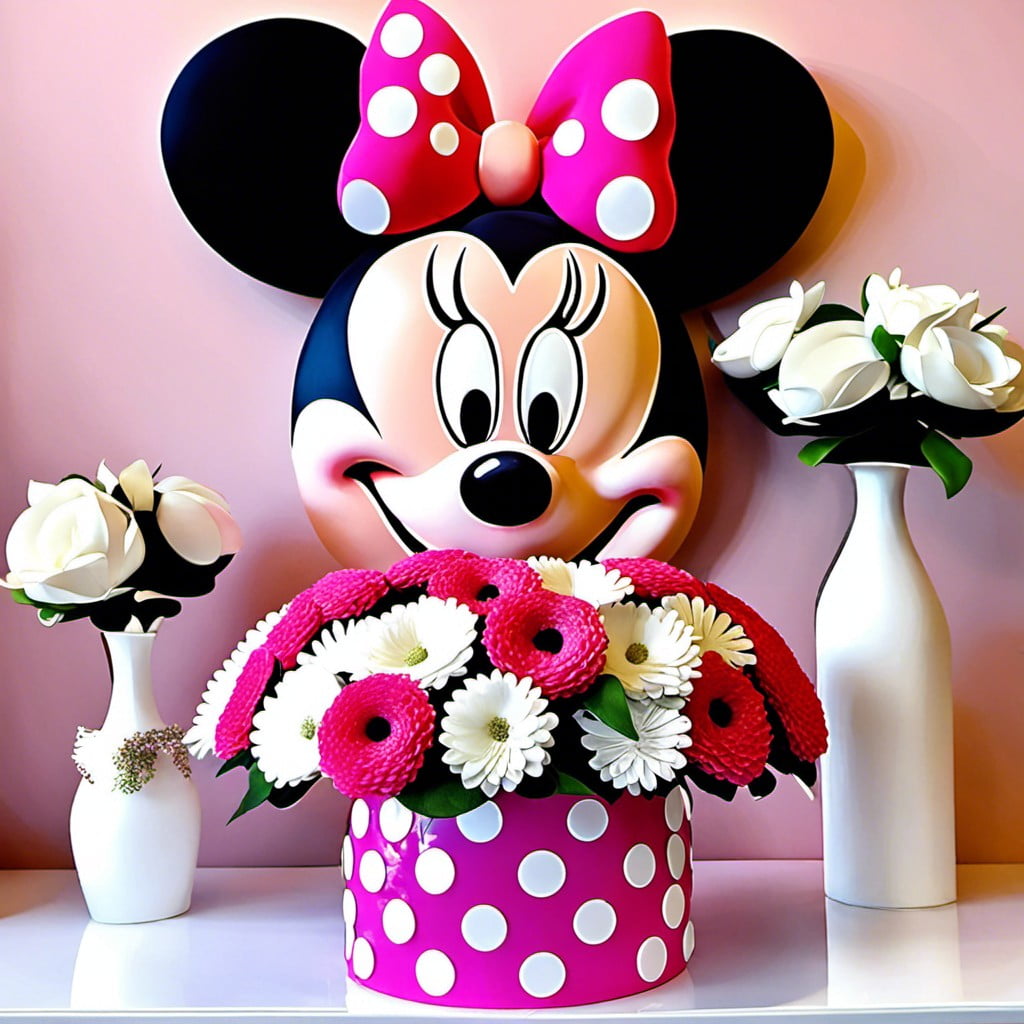 Flower arrangements in shades of pink and white effortlessly enhance the aesthetic of the party.
Opting for a mix of roses, peonies or carnations will allow you to achieve the desired color palette effortlessly.
To highlight the theme further, consider adding small Minnie Mouse figures or bows into the arrangements.
A striking arrangement can be achieved by placing the flowers in polka-dot vases, which would also resonate with the Minnie Mouse motif.
If budget permits, try scattering individual flowers across tables to tie the whole look together, giving a whimsical and playful feel to the occasion.
Minnie Mouse Photo Booth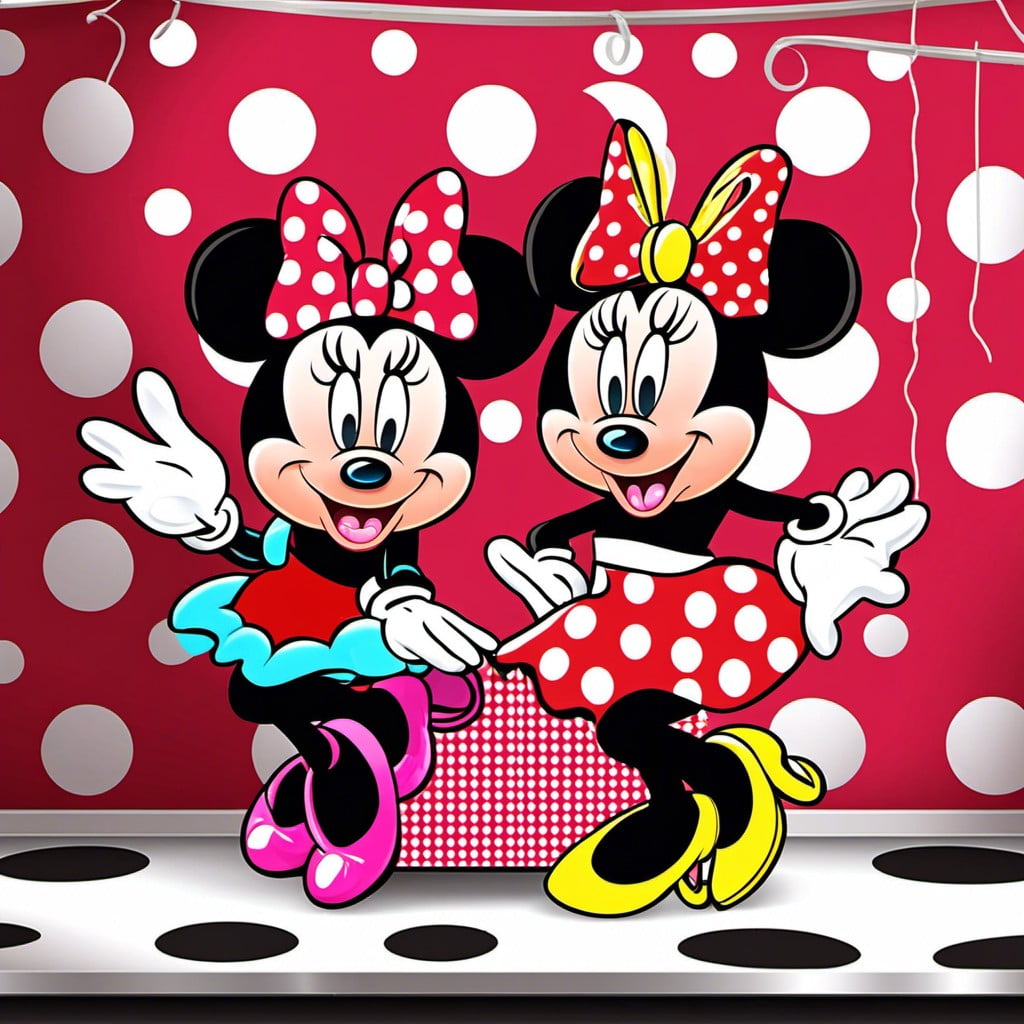 A photo booth can be an engaging centerpiece at any party, amplifying both fun and memories. Embrace the Minnie Mouse theme by adding quintessential elements to the booth.
1. Backdrop: Choose from a variety of pre-made options available online or get crafty and create your own using pink or red fabrics adorned with white polka dots. Incorporate Minnie's silhouette or her iconic bow as additional details.
2. Props: Create or purchase some themed props. Think large, bow-shaped headbands, Minnie's gloves, or cartoon-cutouts on sticks.
3. Decorations: Consider adding Minnie Mouse balloons on both sides of the booth or tiny twinkling lights for a magical touch.
4. Photo-frame: A large, handheld frame themed with pink and white, complete with Minnie's ears and bow at the top, offers an interactive element for guests as they strike a pose.
In creating your Minnie Mouse photo booth, remember the goal is for guests to step into Minnie's world with each snapshot.
Pink and White Lanterns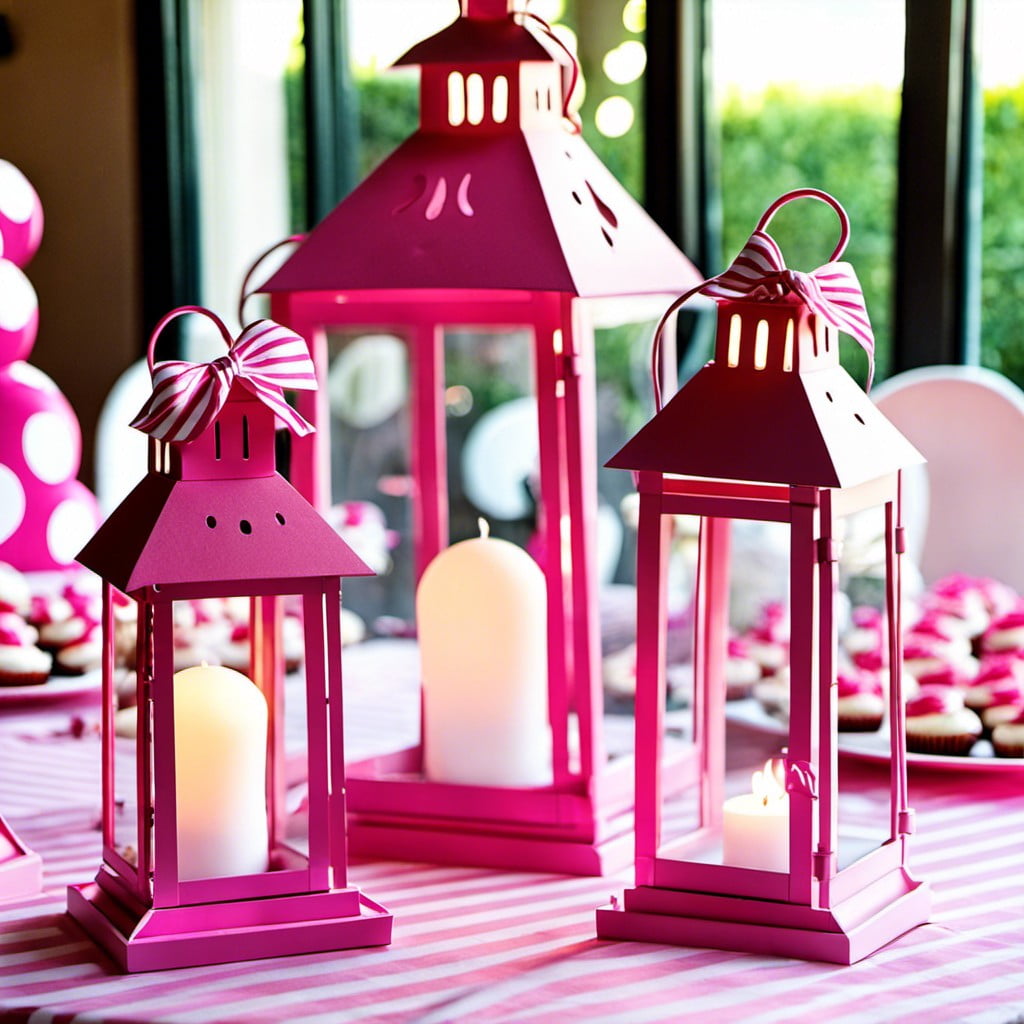 Incorporating these specific-colored lanterns can magnify the ambiance of the party venue. Suspended from the ceiling, or arranged on tables, they'll radiate a soft, warm glow, enhancing the whimsical element significantly.
Pink lanterns effortlessly tie into the Minnie Mouse theme, infusing energy and fun. White lanterns balance out the color scheme with their simplicity and elegance. This pairing also allows for a striking yet well-balanced decor theme.
They are available in various sizes and patterns, so you can always find one that fits your preferences. Lanterns can also be ornately decorated with Minnie-motif stickers or ribbons for that extra touch of magic!
Polka Dot Cupcake Stand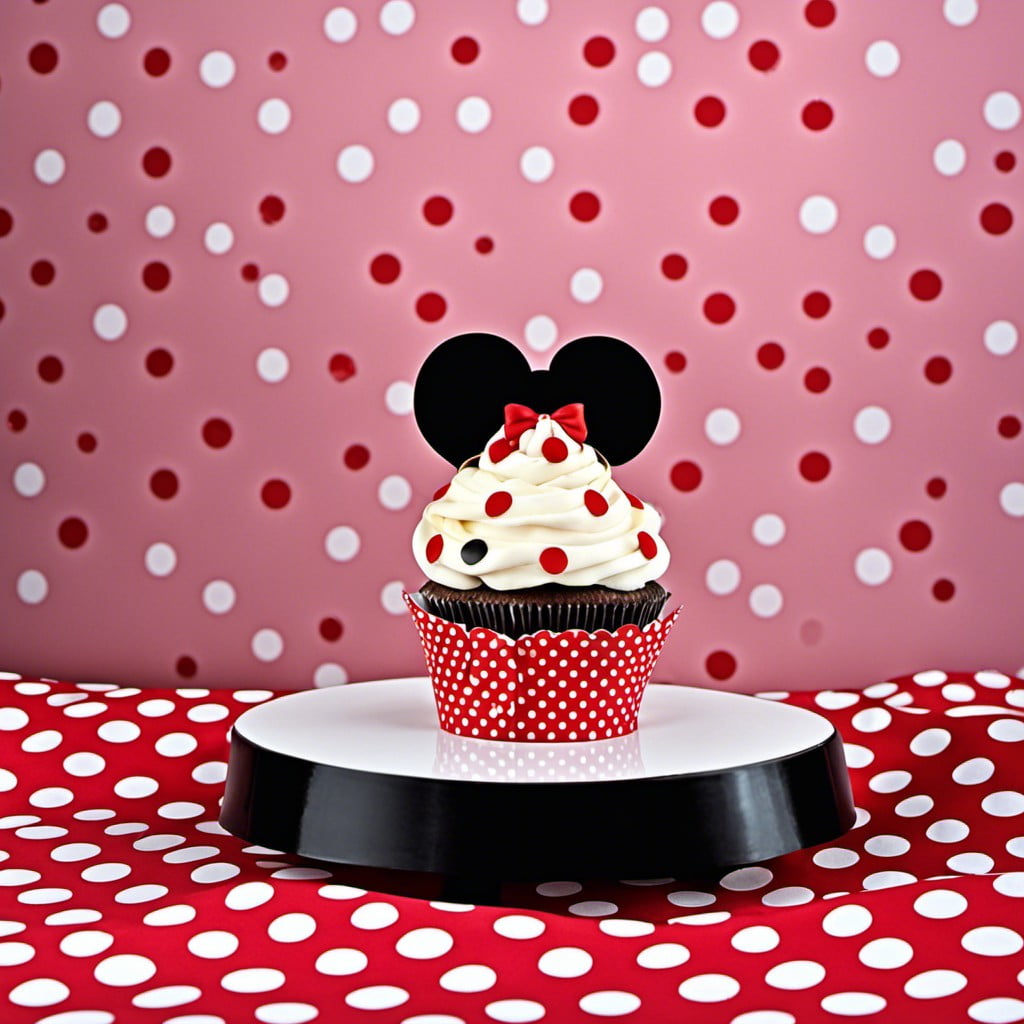 A polka dot cupcake stand is the perfect addition to any Minnie Mouse-themed party. Not only does it add a delightful visual impact, but it also serves a functional purpose, holding sweet treats for guests.
To keep with the theme, design a stand with red and white polka dots or pink and white, similar to Minnie's iconic dress. The immediate draw of attention towards this stand will entice your guests to take a bite.
Enhance this aspect by considering a vivid, eye-catching polka dot pattern. It's a charming way to showcase your delicious cupcakes and ties in flawlessly with the overall Minnie Mouse aesthetics.
Moreover, a cupcake stand frees up valuable table space, allowing room for other party elements. It vertically tiers the cupcakes, making it an integral part of the party decorations while making the cupcakes easily accessible for party-goers.
Minnie Mouse Napkins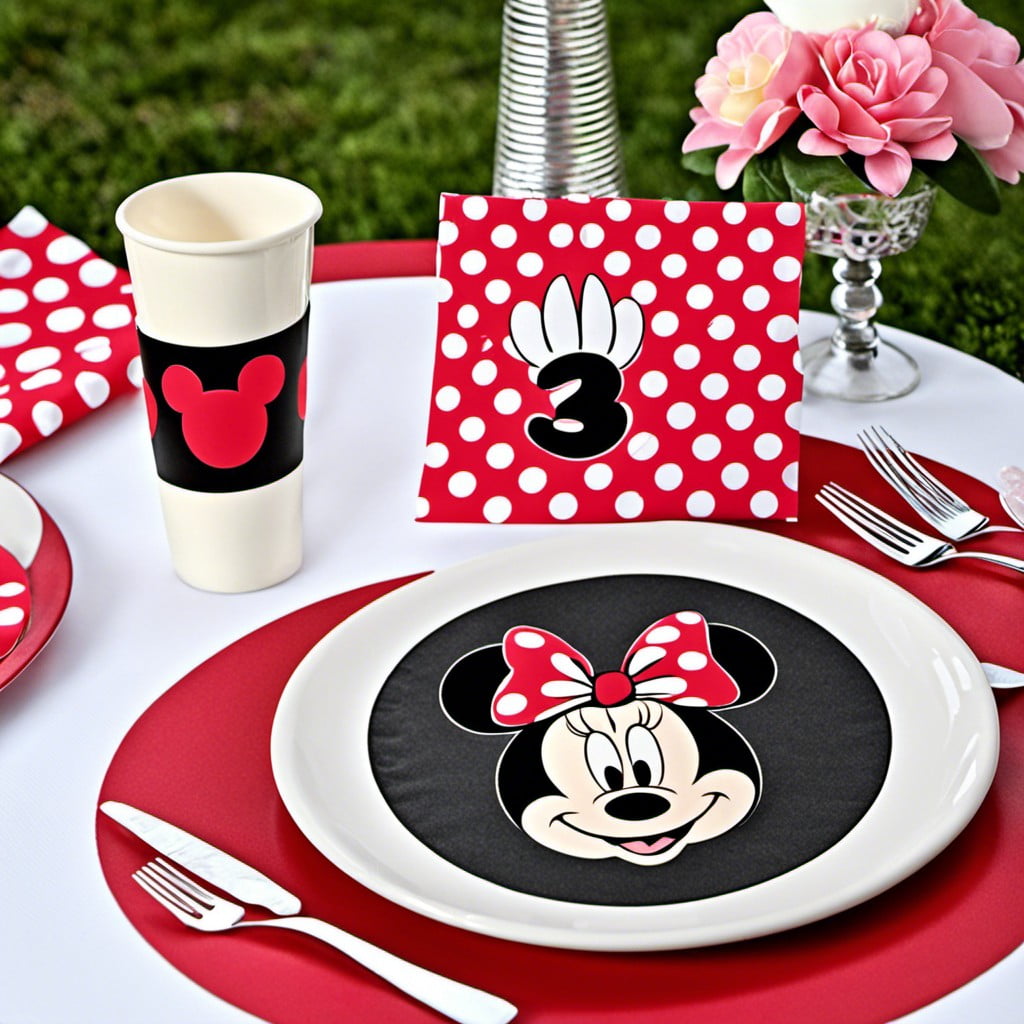 To make your table settings truly stand out, opt for specially-designed party accessories, such as those adorned with the beloved Disney character's face. A pack of themed napkins not only adds to the overall decor, but also serves a practical purpose. Just imagine each guest's delight at seeing Minnie's cheerful face every time they reach to wipe their hands!
Four important things to keep in mind:
Quality: Select high-quality, absorbent napkins that can withstand spills and messy fingers.
Size: Consider larger napkins for the dining table and smaller cocktail napkins for the dessert and drinks station.
Quantity: Be sure to have enough on hand – it is recommended to have at least two napkins per guest.
Cohesion: Aim for consistency in your overall theme. If Minnie is wearing her classic red dress, ensure all other decorations align with this color scheme.
Remember, it's all about attention to detail. These unique touches make your party unmistakably 'Minnie', adding a special sprinkle of magic.
Minnie Mouse Party Hats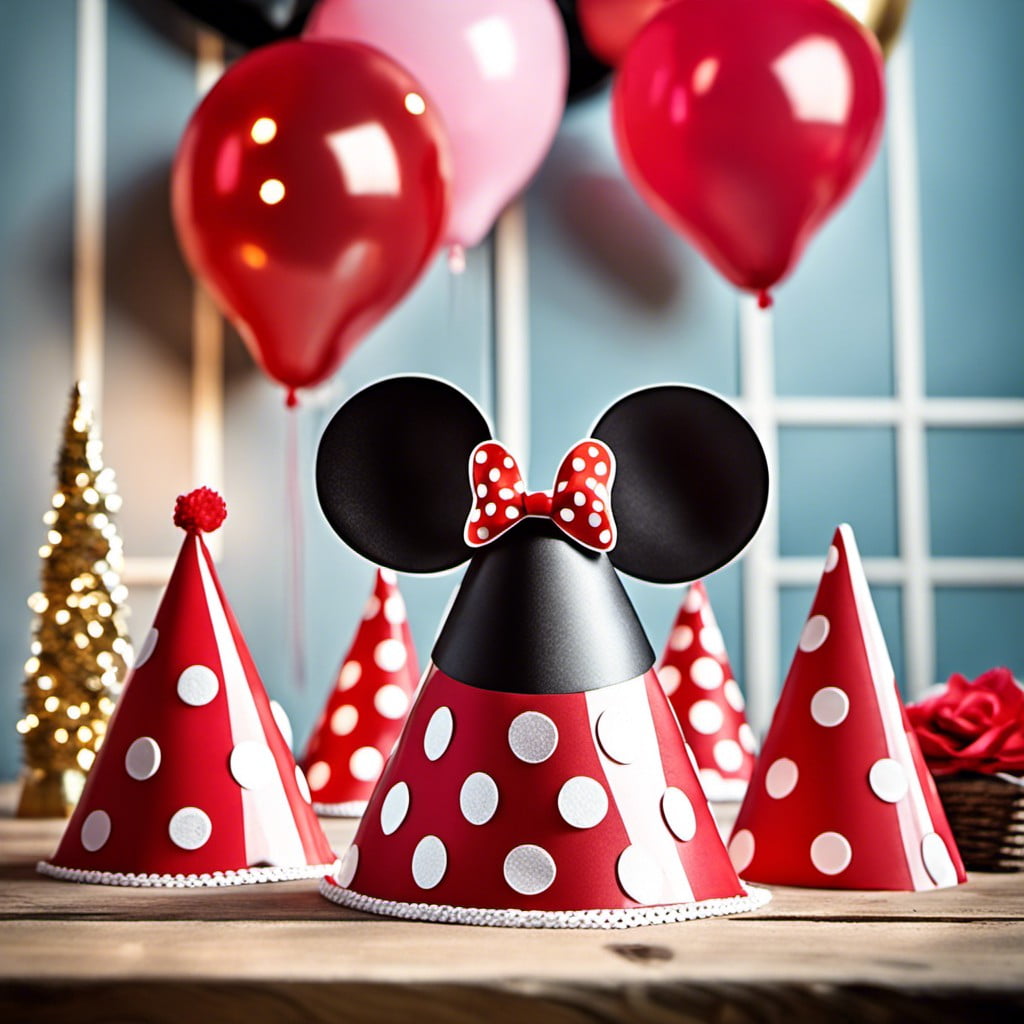 To achieve a consistent theme, consider providing each guest with a hat reflecting the iconic silhouette of our beloved cartoon character. These can either be store-bought or handmade, offering a crafty alternative.
The process of making such hats requires minimal supplies: some black cardstock, scissors, and adhesive. Moreover, these adornments serve a multi-functional purpose – not only do they enhance the party's ambience, but they also double as playful party favors that guests can take home.
An added touch could be personalizing each hat with a guest's name. This not only makes the hat a keepsake, but also helps in managing the crowd during the celebration.
Don't be afraid to get creative – perhaps add a bow to represent Minnie's signature look, or use sparkly cardstock for a festive touch.
Bow-shaped Cookies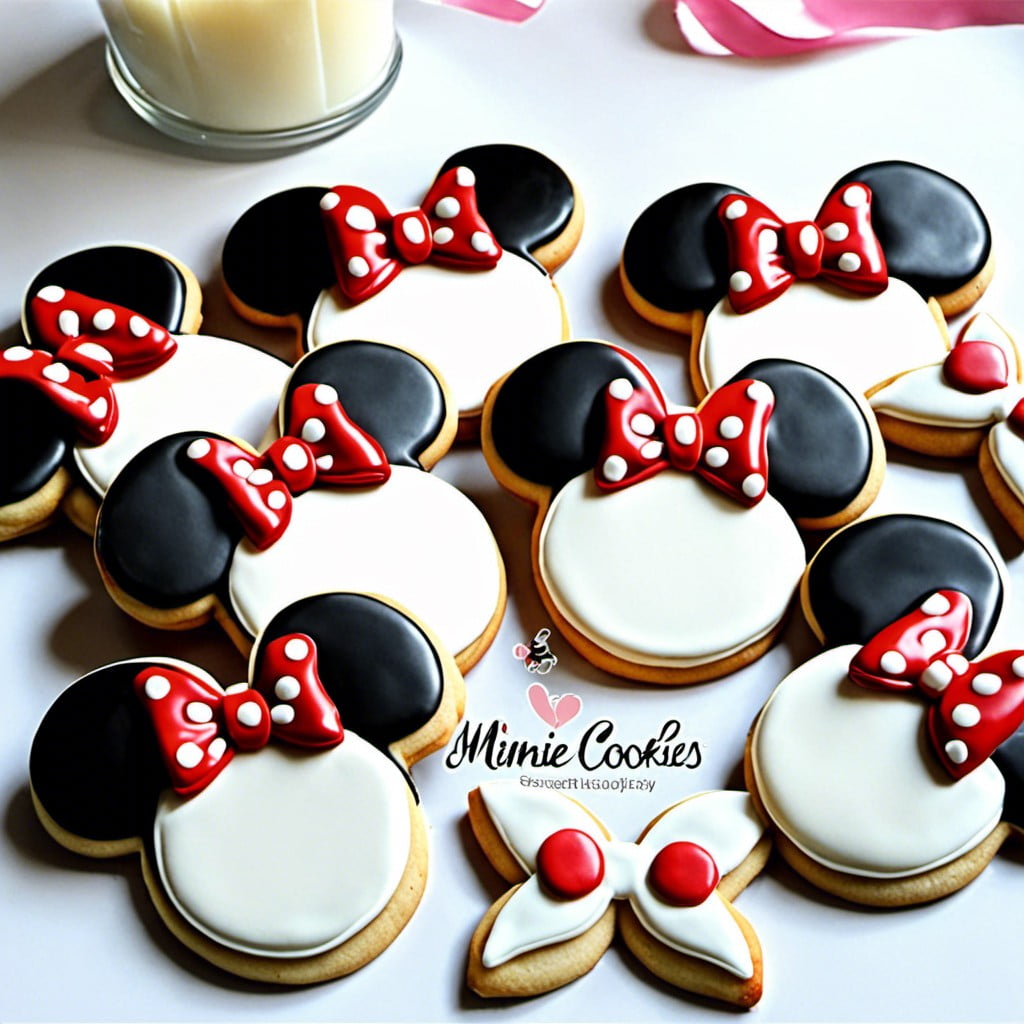 When baking, a fun twist to ripen the spirit of the celebration is incorporating the iconic design into your refreshments. For instance, cookies can take a unique turn by molding the dough into cute, bow shapes a la Minnie Mouse's signature style. Aside from their adorable appearance, these cookies add a sense of consistency to your theme, effectively making every aspect of the party — including the food — a tribute to our beloved mouse.
Follow these few steps to bring your bow-shaped cookies to the table:
Use a bow-shaped cookie cutter for uniformity and precision.
Give your cookies a pop of colour by incorporating pink or red icing which coincides with Minnie's typical attire.
Add white polka dots to the icing for a distinct Minnie Mouse vibe.
Be sure to bake enough for all the guests, bearing in mind that they'll be popular among the little ones.
Remember, the goal is to foster joy and uphold the theme, not to stress over culinary perfection. Even less-than-perfect bow cookies will have their charm and keep your Minnie Mouse theme consistent.
Pink and White Popcorn Boxes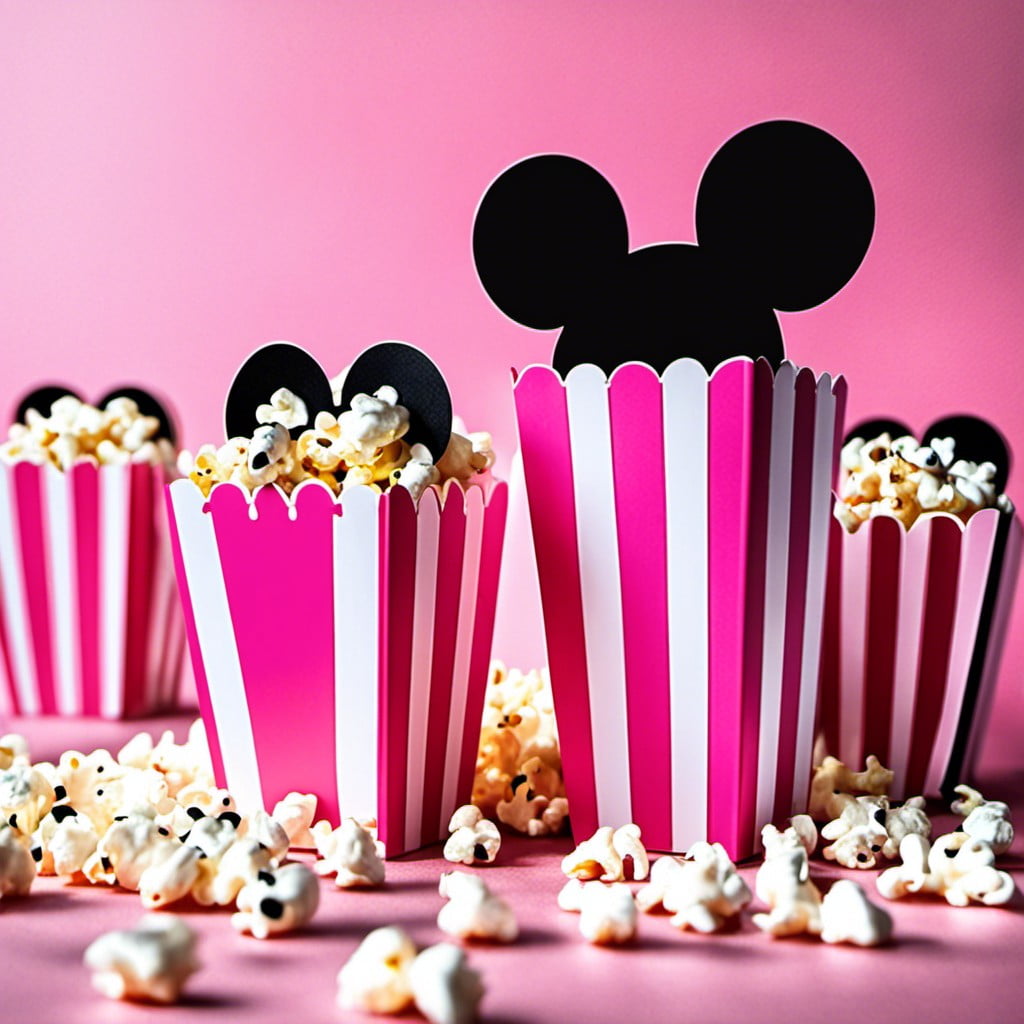 Continuing with our detailed guide, let's focus on the popcorn boxes. In theme with the Minnie Mouse party design, opt for popcorn boxes in shades of pink and white. This not only offers a treat for your guests, but also serves as a striking feature in your overall party decor.
Consider adding varied shades of pink to break the monotony and make your snack station pop. From blush, to cerise, or rose, the gradation will make an exciting visual play.
Give these popcorn boxes a little extra charm with custom stickers or ribbons. Pre-cut Minnie Mouse silhouettes or bow tie stickers align closely with the theme. As an alternate, a simple ribbon wrapped around each box can heighten elegance.
Remember, neatness is paramount. Precise cuts, expert folding, and symmetry are what make these small details stand out, ultimately contributing to your party's success. Now onto the next feature, the spectacular candy bar!
Minnie Mouse Invitations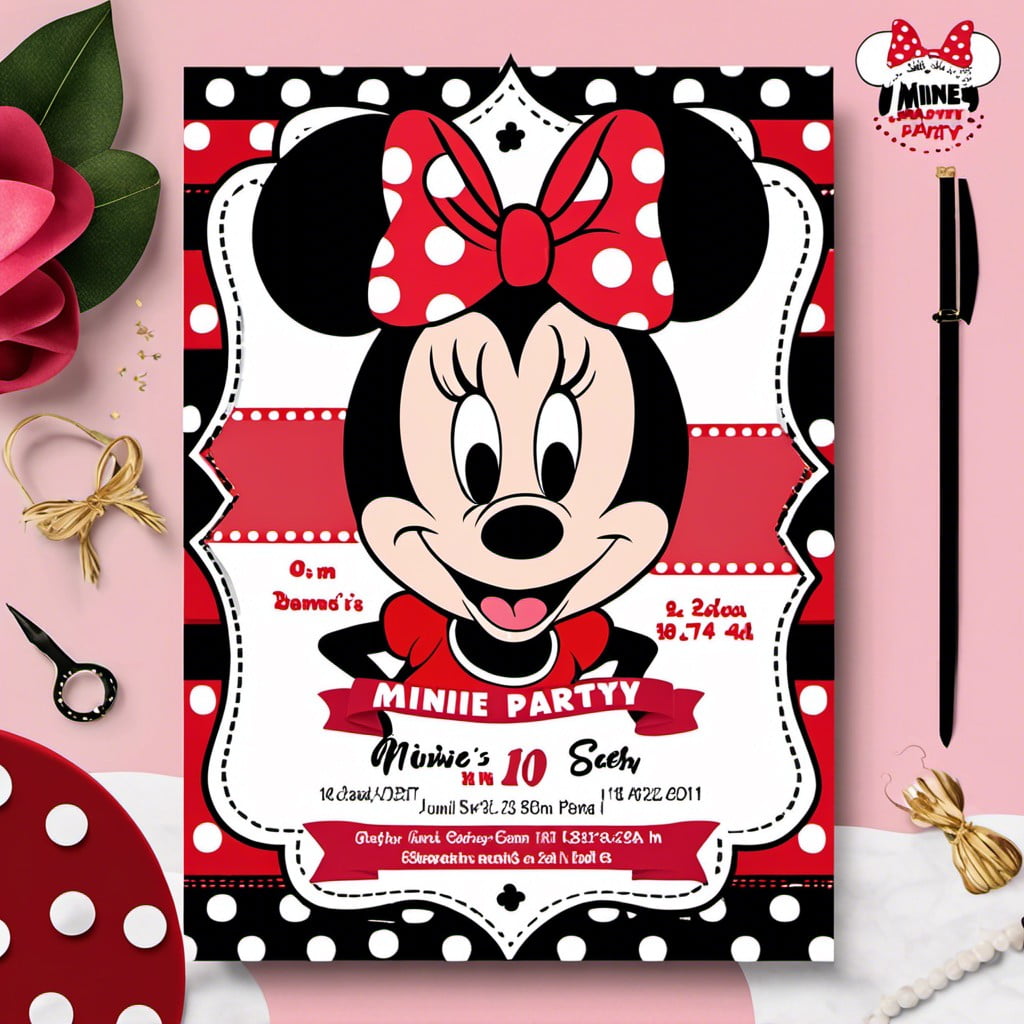 Starting with high-quality cardstock, choose a design that showcases Minnie Mouse in the classic pink and white polka dot dress.
To personalize, add your party details formatted as if Minnie herself is inviting the guests.
Incorporate Minnie's iconic bow and ears into the design, perhaps with a cut-out or raised graphic for a delightful tactile element.
Consider including a matching RSVP card that features Minnie's companion, Mickey.
For the final touch, select pink envelopes or add a polka dot liner to complete this charmingly memorable party invitation.
Polka Dot Balloons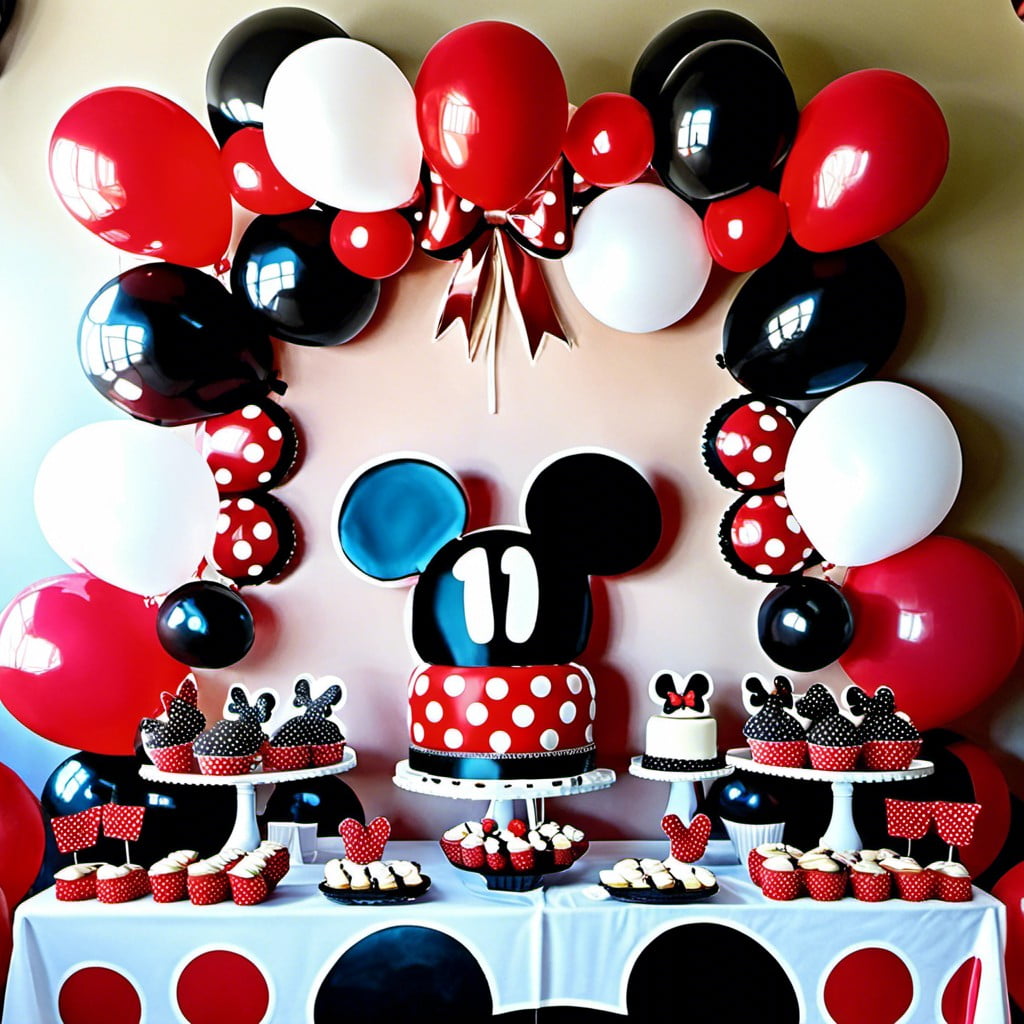 In keeping with the Minnie Mouse theme, opt for polka dot balloons in vibrant colors. String them up along windows or at the party's entrance, integrating them seamlessly into your party décor. Go for a mix of smaller and larger dots to create visual interest. Black and white polka dot balloons bring a classic yet playful touch, while pink and white options add a sweet and feminine charm.
To create an immersive Minnie Mouse atmosphere, you might also consider having some balloons shaped like Minnie's iconic head with its signature bow. Balloons aren't just meant to float around – use them imaginatively for a stunning wall backdrop or group them creatively as charming table centerpieces. They are an inexpensive and versatile décor addition, ensuring your party space is merry and magical.
Pink and White Candy Bar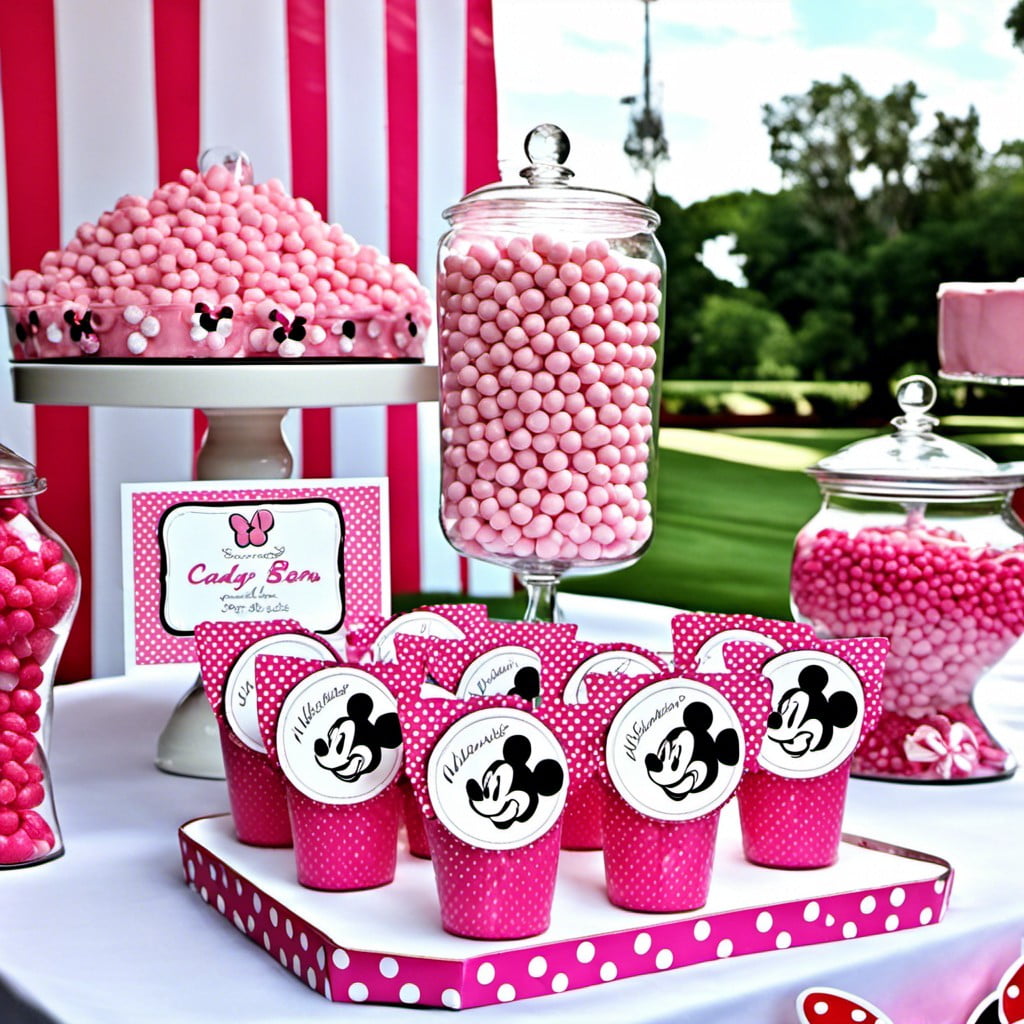 A sweet delight that caters to both the young and old. A pink and white candy bar serves multiple purposes – manifesting as a decorative piece that fosters the theme whilst offering guests a sugar-fix.
Essentially, it requires a plain table, preferably white to enhance the visually appealing array of candy. Fill glass jars of various sizes and shapes with candies, lollies, and sweets in shades of pink and white to align with the theme.
Some popular candy choices include marshmallows, M&Ms, and peppermint sticks. Ensure to have scoops or tongs, alongside small bags or boxes for guests to serve themselves.
Enhance the presentation with a pink table runner or a polka dot backdrop. Tie it all with pink ribbons around jars and add Minnie Mouse decorations such as stickers or tags to maintain the theme.
Minnie Mouse Table Centerpieces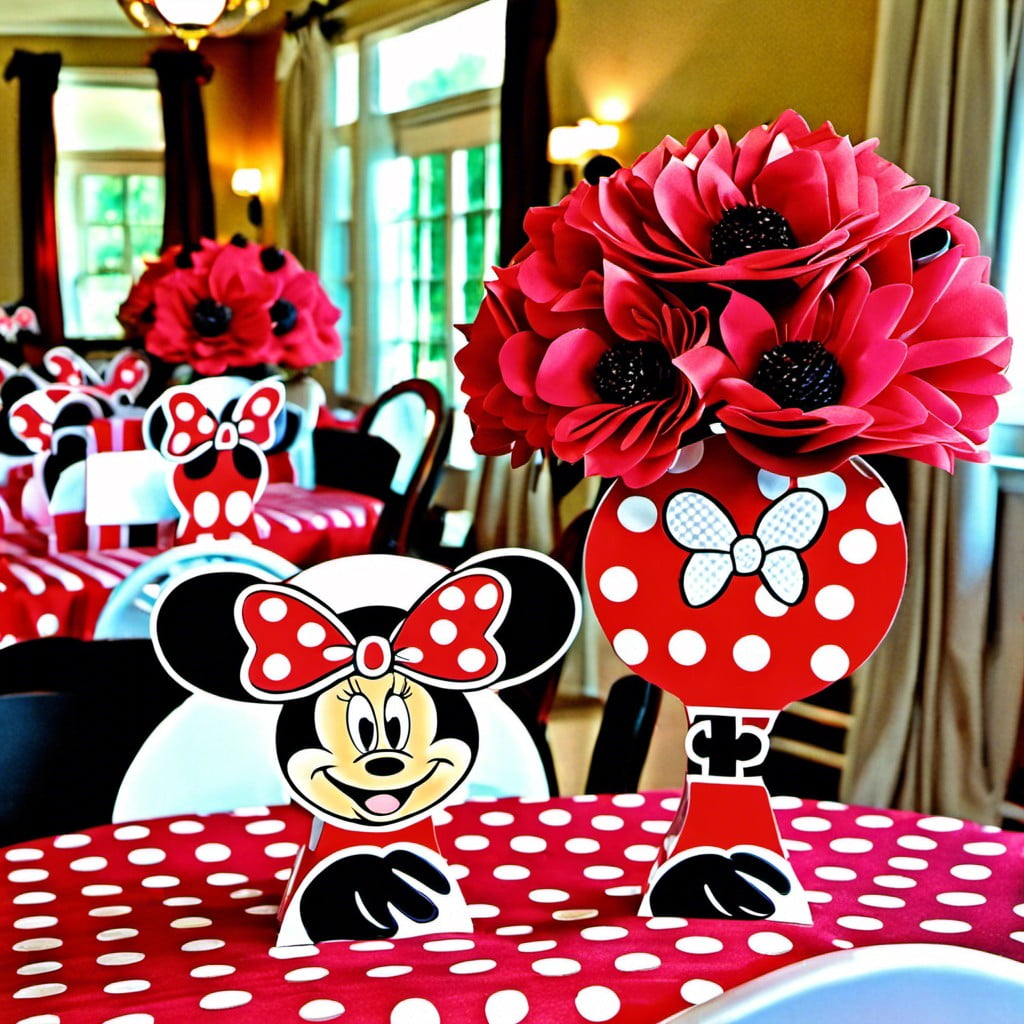 To create an engaging centerpiece, one suggestion is to use a pink, polka-dotted vase filled with white carnations or roses. This will perfectly complement any Minnie Mouse themed tablescape by bringing in the classic colors of the character's outfit. For an extra touch, consider adding a small Minnie Mouse figurine peeking from behind the flower arrangement.
Alternatively, try stacking themed dinnerware, such as plates and cups, in the shape of a pyramid as a striking centerpiece. Place a large Minnie Mouse plush toy at the top of the pyramid to capture the attention of your guests.
Also, table lanterns accented with Minnie's iconic bow can add a whimsical and charming touch. These can be hung from the ceiling or stand alone on the table.
Lastly, mini toy carriages filled with candies and topped with a Minnie Mouse bow can serve as both a centerpiece and party favor. Remember, the key to a successful centerpiece is creativity, so feel free to mix and match these ideas according to your party's needs.
Party Favors With Minnie Mouse Stickers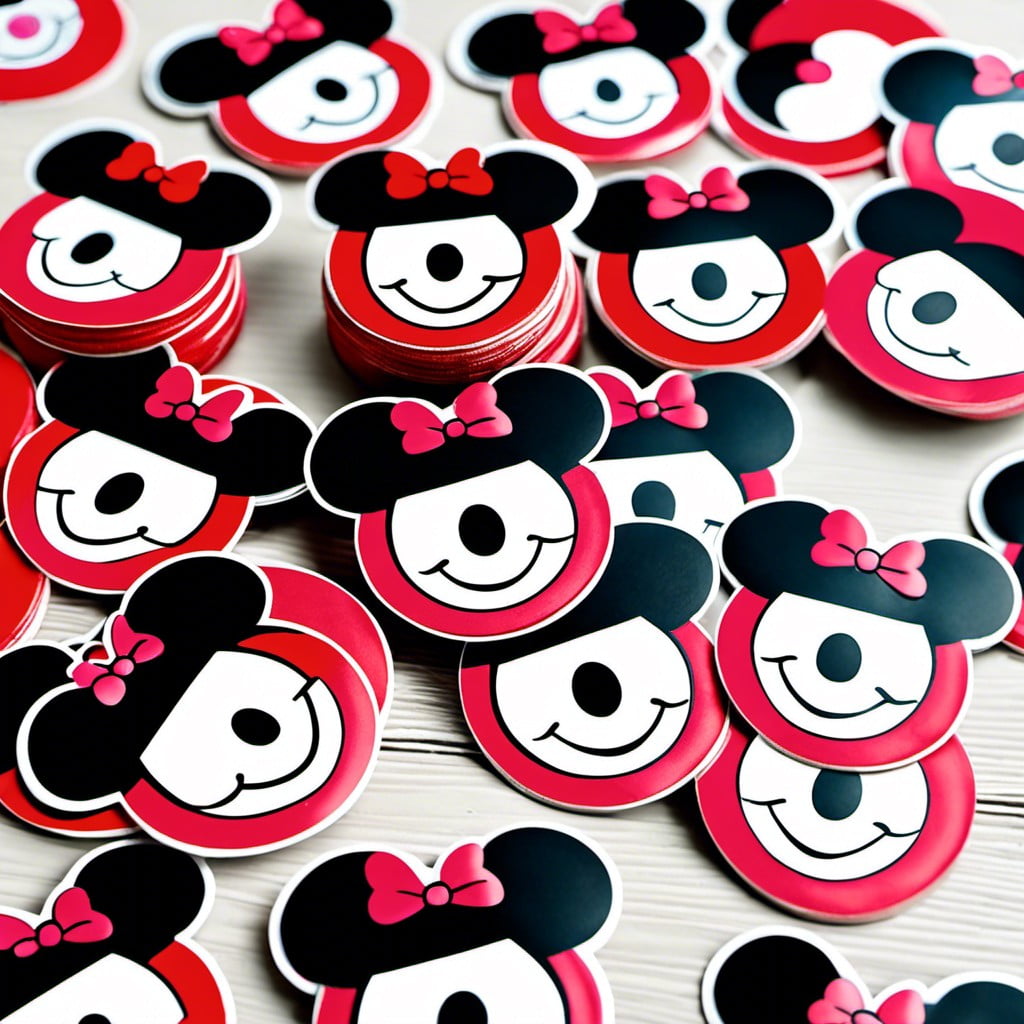 As an exciting finale to the party, delight the little guests with party favors adorned with Minnie Mouse stickers.
These favors could include a variety of small toys, candy, or craft items packaged in a themed gift bag or box.
Offering age-appropriate goodies will keep children entertained even after the celebration wraps up.
Moreover, leverage the versatility of these stickers to add personalized touches to items like water bottles, notepads, or pencil cases.
With these memorable tokens, the party spirit lives on, making it a truly unforgettable day for the young ones.
Liked reading this? Here's more:
Recap: