Last updated on September 18, 2019
Welcome to the My Home Style Blog Hop Christmas tree edition. It's an exciting week with 25 bloggers sharing their Christmas tree styles. If you are hopping in order then you are coming from This is Our Bliss.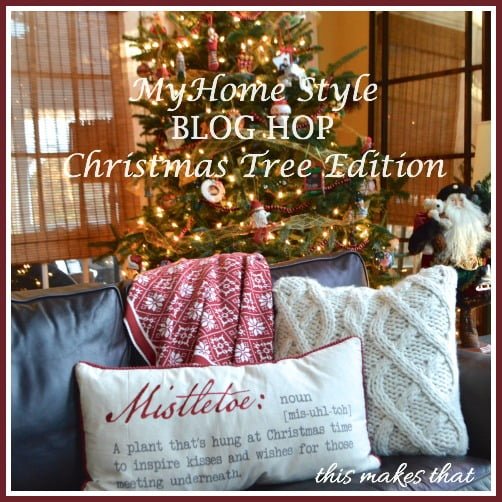 Today I'm sharing our family Christmas tree.  It's my favorite tree because each ornament has a special memory and story behind it.  You probably have a family tree very similar to ours. It's the tree with ornaments the kids made in elementary school, souvenirs from our travels and ornaments that reflect our lives and personalities. I call it our "scrapbook" tree.
My tradition is to buy my husband and our two sons an ornament every Christmas that reflects their lives during the year.  One year my husband bought a red Jeep so I searched high and low for a red Jeep ornament.  When my younger son was into video games, I found a video game controller ornament and when my older son was into snowboarding he got a snowboarding ornament.  We love reminiscing when we pull out the ornaments every year.  Some bring us laughs and a few bring a little tears.
To add a little sophistication to our family tree, I used small white lights, gold mesh ribbon and cranberry wooden bead garland to make it look more sophisticated.  Kind of like a Pottery Barn tree. I think the ribbon and garland added a little sparkle and festivity to our family tree.
Our tree is so cozy tucked in the corner of the family room.  I left the standing mirror against the wall so the ornaments and lights can reflect off of it.
Thanks for stopping by.  Now, please hop on over to Southern State of Mind to see her gorgeous tree.
Liked reading this? Here's more: