Last updated on January 26, 2022
Here are a couple of extensive lists to stock up on pantry essentials after you complete moving homes. Read on!
When you move into a new house, your first visit to the supermarket might be an interesting experience. Since moving companies don't usually let liquids into your storage unit, you've probably been discarding most of the liquid items from your kitchen since moving out.
Before moving into your new house, you probably threw away most of your old spices and various containers full of outdated foods. Now that you've moved into your new house, you're going to want to stock up on some essential pantry items for cooking healthy meals at home.
A "reverse" grocery list works just like any regular pantry list — you can store it on your smartphone or, if you'd rather, not share it with anyone else.
I would recommend getting rid of all the stuff you no longer eat. That includes canned vegetables, dried beans, pasta sauce, etc. Also, get rid of any leftovers you didn't eat (or even opened). If you still have room in your refrigerator, throw out everything past its expiration date.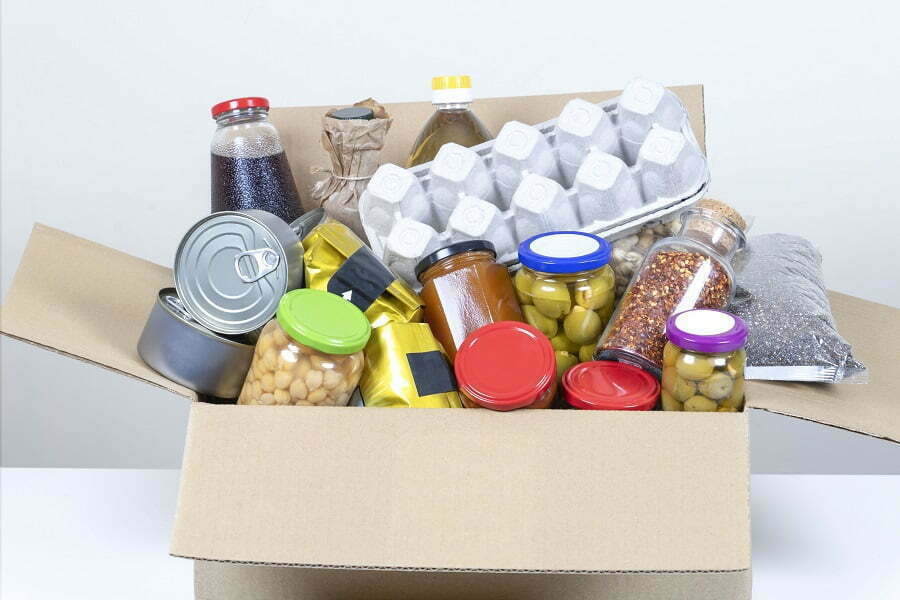 You should also make sure that you have plenty of paper towels, dish soap, laundry detergent, toilet paper, hand soap, cleaning supplies, trash bags, garbage bags, and plastic wrap.
You will also want to buy a few things that you won't normally have access to.
The first shopping list:
Salt, pepper, sugar, flour, baking soda, cornstarch, yeast, coffee, tea, cocoa powder, vanilla extract, olive oil, vinegar, ketchup, mustard, honey, maple syrup, molasses, jam, jelly, peanut butter, pickles, olives, cheese, milk, eggs, dry cereal, tuna, chicken broth, beef broth, vegetable broth, soy sauce, bouillon cubes, soup cans, spaghetti sauce, tomato paste, rice, lentils, oats, oatmeal, brown rice, couscous, quinoa, bulgur wheat, barley, tapioca starch, potato flakes, tortillas, bread crumbs, buns, rolls, pizza dough, crackers, pretzels, chips, nuts, raisins, dried fruit, chocolate bars, candy bars, cookies, cake mix, muffin mixes, pancake mixes, waffles, frozen pizzas, ice cream, popsicles, yogurt, sour cream, mayonnaise, salad dressings, condiments.
In This Post:
Pantry Essentials
Pantry essentials include salt, pepper, sugar, flour, baking powder, eggs, butter, milk, coffee, pasta, rice, beans, oil, vinegar, mustard, ketchup, soup, spaghetti sauce, tomato paste, etc. These foods should be purchased after a move.
A list of what you need to buy on your first trip to the store. You'll also get a list of spices you might want to add later on.
Second trip:
Cayenne pepper, Sage, Thyme, Smoked Paprika, Celery Salt, Rosemary, Ground Cloves, Nutmeg, Kosher Salt, Flour, Corn Starch, Baking Soda, White and Brown Sugars, Sugar Substitute, Panko and Bread Crumbs, Oatmeal, Dry Pasta, Rice, Packets of Dessert Mixes, Tea and Coffee, Baking Powder, Powdered Sugar, Corn Meal, Cocoa Powder.
Canned and Bottled Goods, Canned Tomatoes, Broth, Mustard, Ketchup, Beans and Vegetables, Tuna, Mayonnaise, Honey, Jams, Tomato Paste, Barbecue Sauce, Fruits, Pickles and Olives, Peanut Butter, Syrup.
Cold foods should be put first in the grocery cart. Then come cheese, yogurt, milk, butter, eggs, meat, veggies, fruits, and bread. Frozen foods should follow last because they take up too much room in the freezer. Freezer items include ground meats, sausage, steaks, chops, berries, nuts, and ice cream.
Pantries are places where you store your food. You should stock up on basic foods such as pasta, rice, beans, cereal, milk, peanut butter, etc. Don't forget about snacks and drinks! The more variety you have, the better.
Stock up on spices, too, because they help make your meals taste great. Ensure you also have some non-perishable items such as paper towels, toilet paper, hand soap, dishwashing liquid, trash bags, cleaning supplies, etc.
FAQ
How do you pack canned food for moving?
Cans can be packed in boxes or plastic containers with lids. They can also be wrapped individually in newspapers.
What is the best way to pack fresh vegetables?
Fresh produce should always be stored in perforated plastic bags. If you don't have them, use zip lock bags.
How long does it take to unpack a box full of groceries?
It depends on how many boxes you have. It takes anywhere from 30 minutes to an hour to unpack one box.
If I'm not using my pantry items right away, can I freeze them?
Yes, but keep in mind that freezing doesn't preserve vitamins and nutrients. So if you plan to eat these items within six months, freeze them. Otherwise, toss them into the garbage.
Liked reading this? Here's more: