Last updated on November 19, 2023
Explore creative rustic pantry door ideas because they can transform your kitchen's aesthetic while offering a charming appeal to your home.
I've designed unique illustrations for these ideas. I hope you get inspired!
Rustic pantry doors have a unique charm that can add allure to any kitchen. As design enthusiasts, we've all seen the generic barn-style doors and vintage wooden designs. Admittedly, they're fantastic, but this article aims to detour from the beaten path.
Prepare to delve into a collection of fresh and unique ideas that challenge the conventional rustic pantry door designs. Towards the end, resources to some of the best traditional ideas available will also be anchored, for reference. Our goal is to spark creativity and engage a new perspective.
So, let's sail on this exciting journey of pantry door exploration.
Twine Wrapped Rustic Pantry Door Handle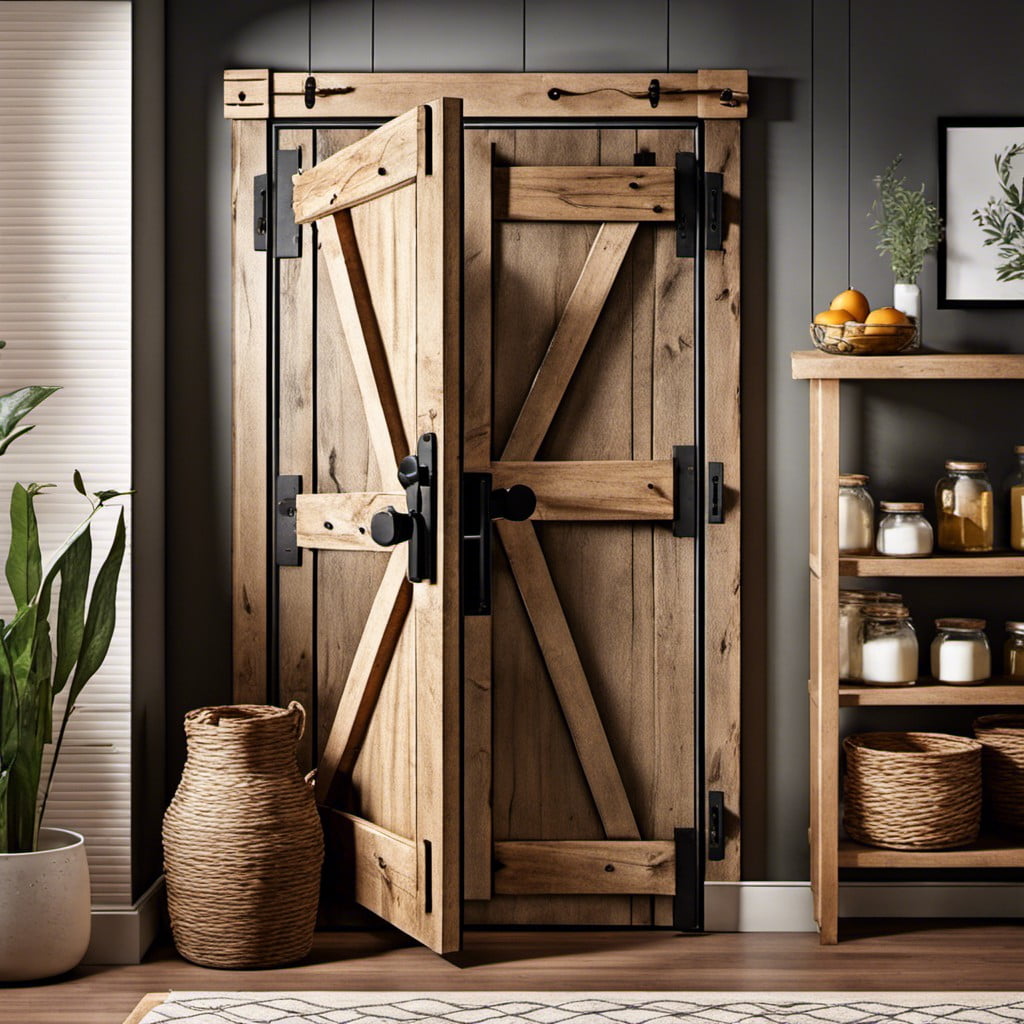 Incorporating twine into your kitchen can introduce a charming, natural element that complements the rustic style perfectly. When used as a door handle wrap, it creates a focal point that is visually appealing and intrinsically tactile.
Contrasting a smooth door surface, the twine adds textural diversity while keeping the handle comfortable to the grip. It can be wound tightly around the handle for a neat, intricate appearance or more loosely for a shabby-chic effect. Either way, the result is a custom handle that adds a unique, personal touch to your pantry.
Created with materials that are easily accessible and budget-friendly, this handle upgrade is a straightforward D.I.Y project. With some jute twine, a hot glue gun, and scissors, you can transform your pantry door handle in less than an hour.
If you prefer a more polished look, consider pairing your twine handle with a stained wood door. For a more authentic rustic feel, use a distressed or reclaimed wood door. Incorporating twine-wrapped handles in your design pays homage to traditional craft techniques and results in a pantry door that exudes a warm, rustic charm.
Rustic Pantry Door With Wrought Iron Accents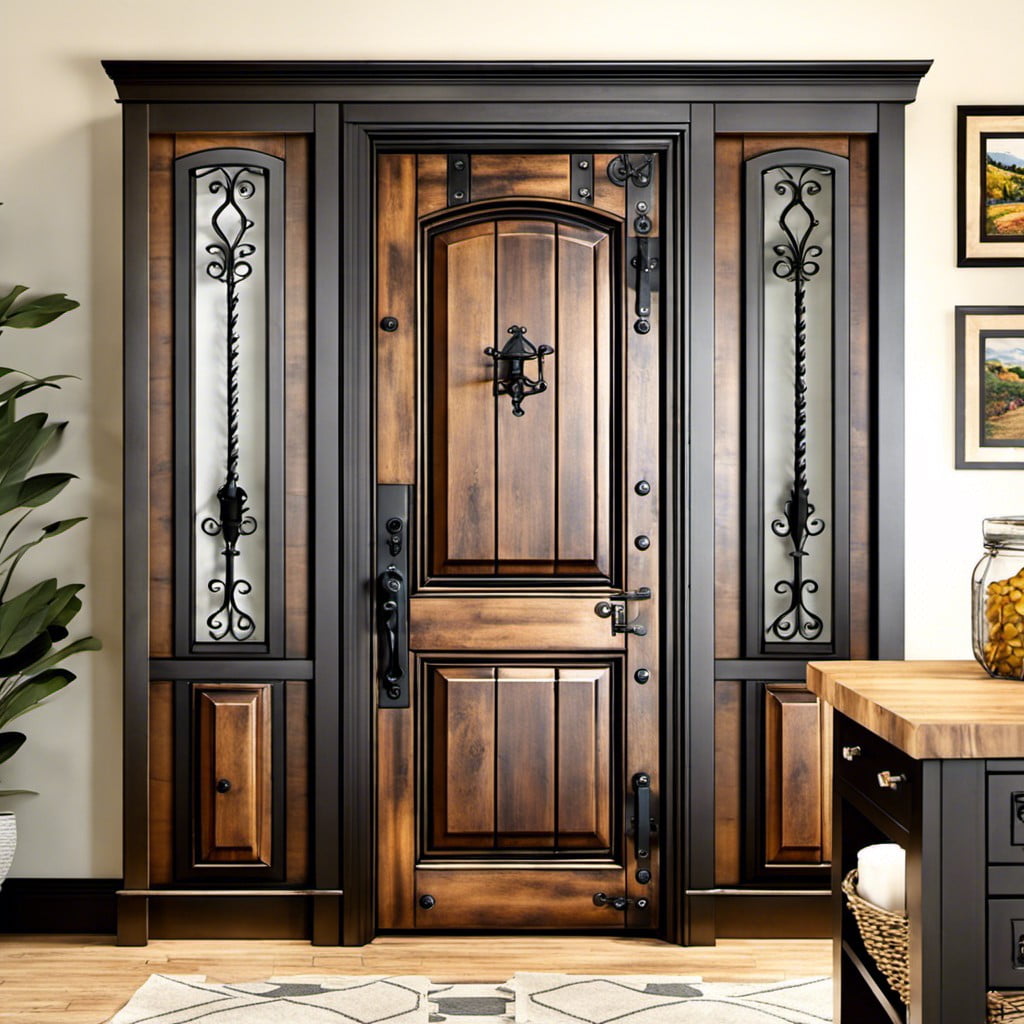 Wrought iron accents can be a unique way to imbue a touch of rustic charm into your pantry door. Typically used in Mediterranean and Tuscan home designs, wrought iron has a historically rich appeal that marries well with rustic decor.
Injecting these accents can be as simple as:
Changing existing door handles, knobs, or latches: A wrought iron door handle or latch can instantly elevate the rustic appeal of your pantry door.
Affixing iron grilles or overlays: An iron grille set in a wooden door frame can result in a contrasting look, thus magnifying the rustic quotient.
Incorporating iron accents in door panels: Uniformly spread wrought iron accents on door panels can provide a balanced rustic touch.
The key advantage of wrought iron is its remarkable durability and resistance to weather. It might develop a layer of natural patina over time, further amplifying its vintage appearance, turning any pantry door into a testament of timeless rustic allure.
Distressed Wood Pantry Door for Rustic Look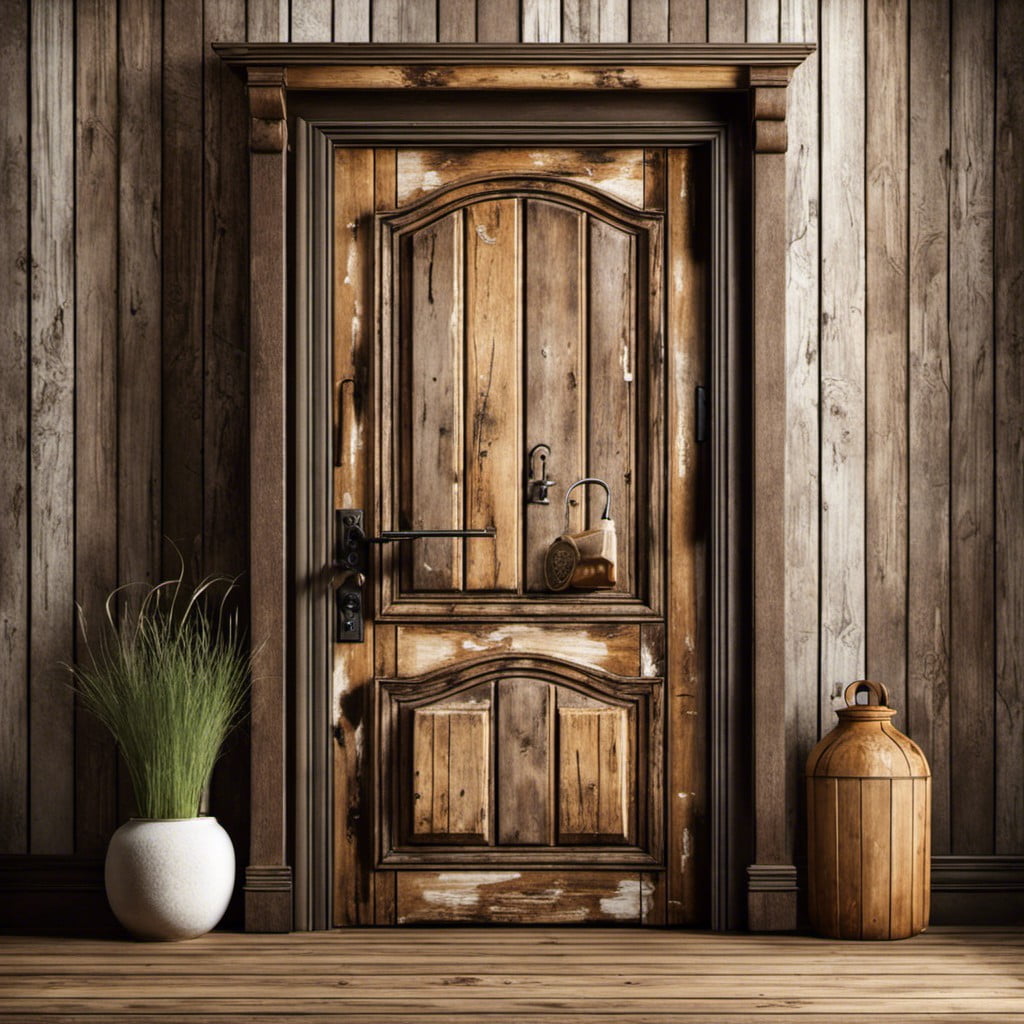 Continuing on with the diverse options, distressed wood presents an unparalleled, unique aesthetic for your pantry door. Embracing the rustic vibe, these doors are often characterized by purposeful wear and tear, inviting a sense of warmth and history.
Highlights:
1. Authenticity: The markings, knots, and color variations in the wood exude a genuine rustic aura. Not every piece is identical, thus making each distressed door distinct.
2. Versatility: Despite its rugged appeal, distressed wood can complement modern kitchens as well, creating a charming mix of old and new.
3. Durability: The finishing techniques used for distressing not only enhance the wood's appearance but also its longevity.
4. Easy maintenance: A distressed wood pantry door hides scratches or dings well, rendering it perfect for bustling households.
5. Customization: From the level of distress to color and finish, everything can be customized to suit individual preferences.
As such, integrating a distressed wood pantry door can effortlessly amplify the beauty of your kitchen while maintaining that homely, comfortable atmosphere you desire.
Rustic Slatted Barn Door for Pantry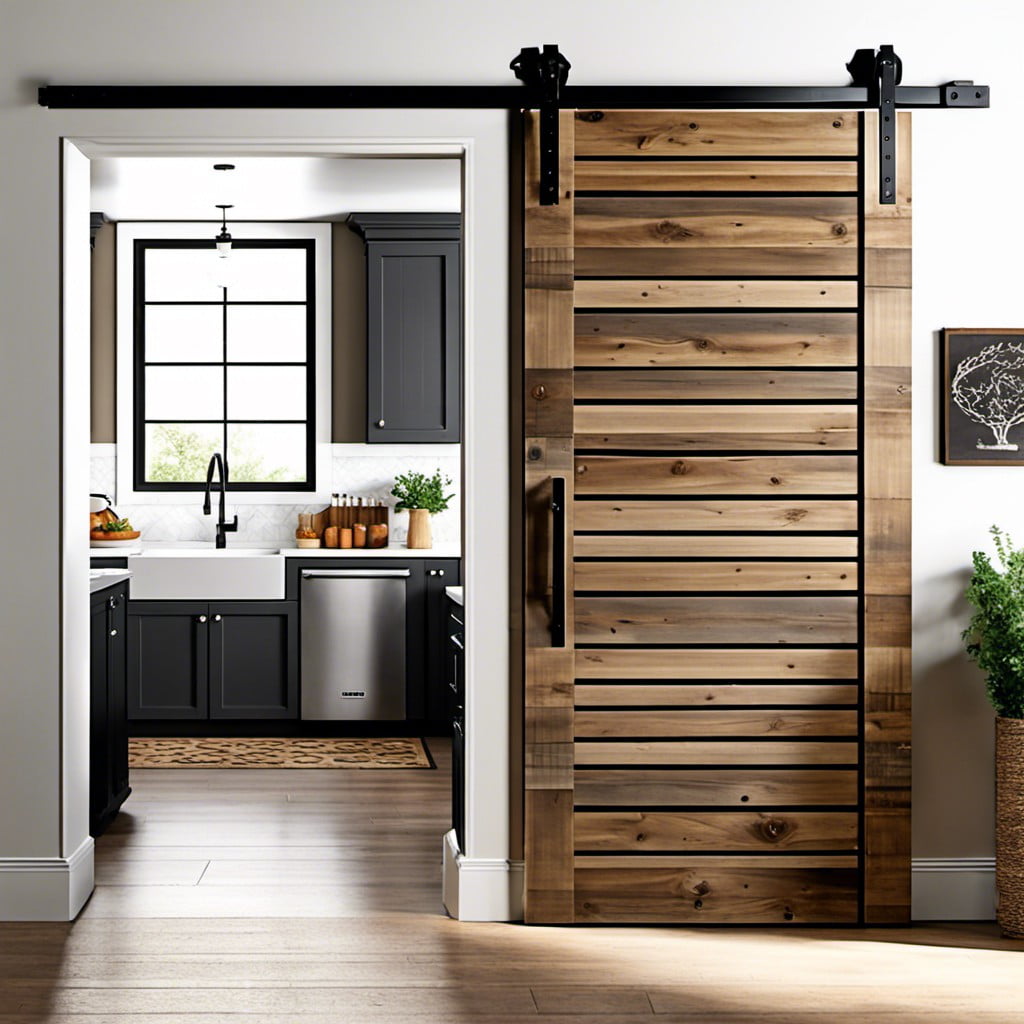 Having a slatted barn door for your pantry infuses a genuine country charm. The horizontal or vertical slats provide a unique style, offering a view into the pantry without fully revealing its contents. Any type of wood, whether it's reclaimed, weathered, or stained a particular shade, can create a diverse range of looks.
Sturdiness is a key characteristic of these doors as they are typically constructed from robust, durable materials like pine or oak. Metal tracks and hardware add to the rustic appeal, and also ensure smooth, reliable usage.
An additional advantage is their space-saving sliding design, which makes them ideal for kitchens with limited space. Furthermore, it's enjoyable to customize these doors with your choice of finish or distressing method. So, each time you slide open your pantry, you experience a bit of country bliss.
Finally, to amplify the design, consider coupling your slatted barn door with antique or wrought-iron door handles or pulls, echoing the raw, vintage appeal.
Salvaged Door for a Pantry With Vintage Flair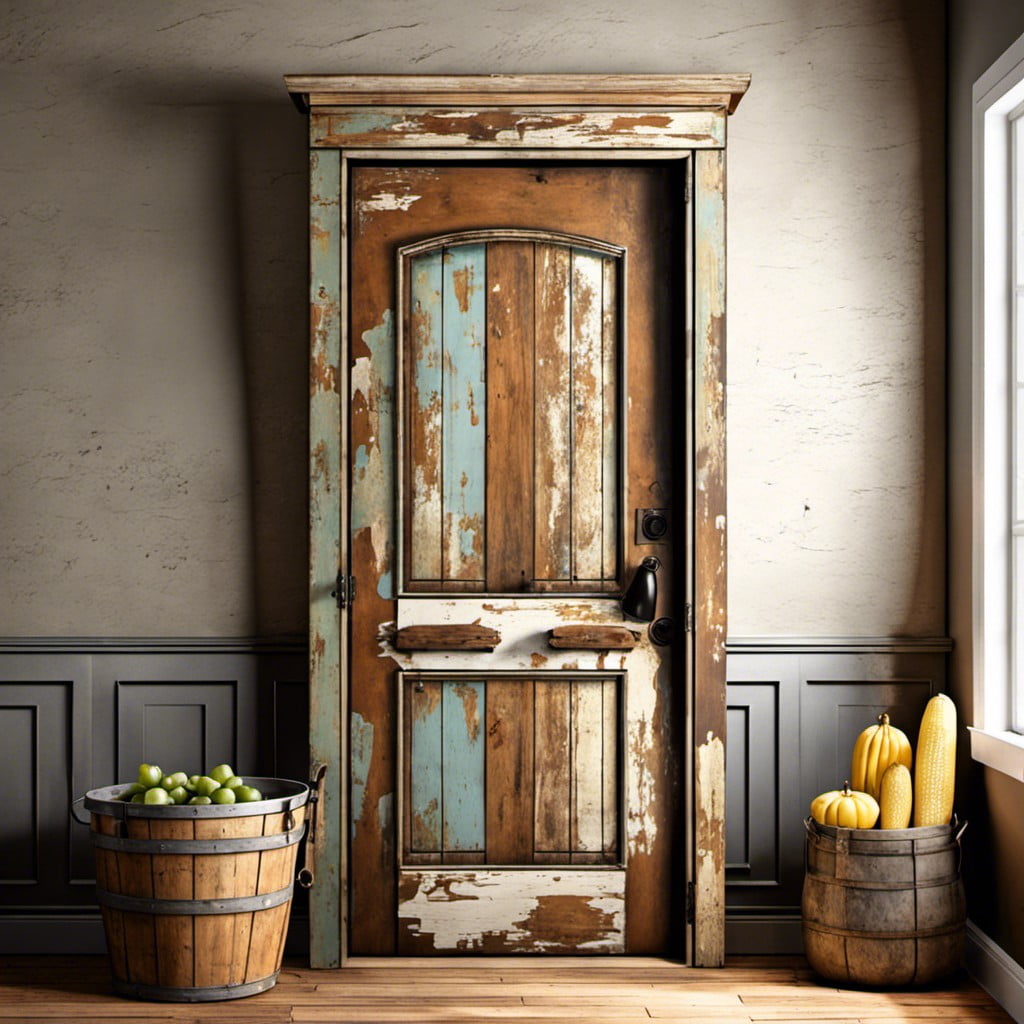 A salvaged door can add an undeniable charm to the pantry, presenting a marriage of history, durability, and character. While selecting a suitable door, pay heed to its size and patina. The wear and tear becoming a badge of pride, not a defect.
Feel free to embrace its original hardware, be it a unique knob or an unusual hinge, adding character and an interesting conversation piece. Opting for a pop of color from a previous layer of paint can break the monotony in neutral kitchens. Remember, the door doesn't have to match the rest of the kitchen cabinetry. Its charm lies in its uniqueness, and the story it tells.
A quick sprucing up might be all your salvaged door needs before it's ready to guard your pantry. It's an eco-friendly choice that can be highly budget-friendly, especially if you can source the door from a local salvage yard or flea market.
Rustic Pantry Door With Chicken Wire Window
Adding a chicken wire window to your pantry door embraces the charm and simplicity of farmhouse living, creating a focal point in any kitchen setup. Chicken wire, known for its weatherproof and malleable properties, is not only practical but offers a creatively rustic solution when seeking to incorporate texture.
1. Texture and Light: The wire grid allows light to travel through, keeping your pantry from becoming a dark hole while introducing an engaging texture into your kitchen space.
2. Accessibility: With a quick glance, you can take inventory of your pantry, making it easier to prep and plan meals.
3. Customizable: It's easy to paint or distress the frame surrounding the chicken wire to match your decor preferences.
4. Easy Installation: Chicken wire is lightweight and easy to install, making this a feasible DIY project.
5. Affordability: As an inexpensive material, chicken wire can help you achieve a rustic look without breaking the bank.
Remember, despite its utilitarian origins, a Chicken Wire Window pantry door can become a delightful intersection of form and function in a rustic adorned kitchen.
Weathered Gray Wood Pantry Door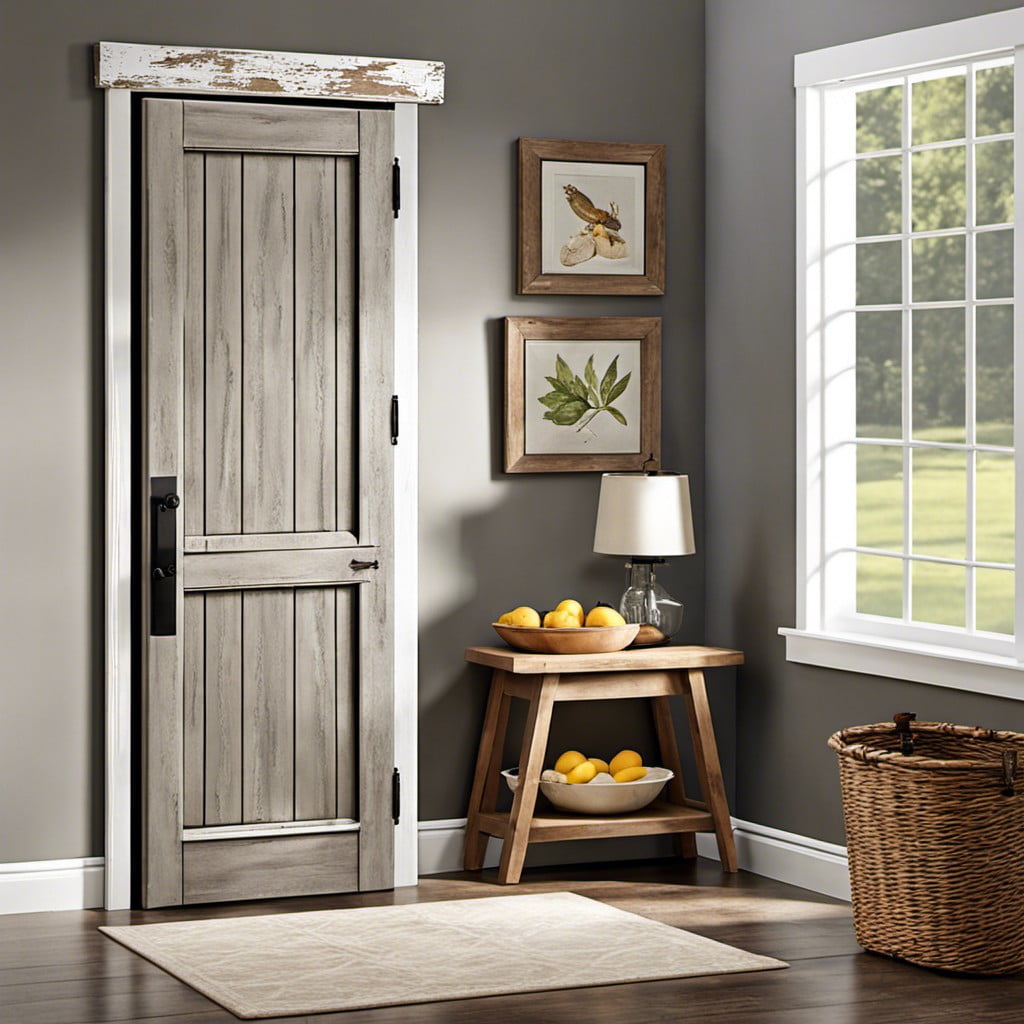 Defining the essence of rustic design, the weathered gray wood contributes to the graceful age and rugged charm of a pantry door. This sophisticated style is distinguished by its pleasantly worn, faded gray finish that can provide an irresistible, warm, and cozy appeal.
Here are some exciting attributes associated with the weathered gray wood pantry door:
Natural Aesthetics: This door design highlights the wood grain, knots, and natural imperfections, making each door unique.
Versatile Style: While ideal for the rustic interior, it can seamlessly blend with modern, industrial, and farmhouse styles too.
Sturdy Construction: Despite its aged look, these doors typically possess robust and durable construction, ensuring longevity.
Maintenance: The weathered gray finish conceals minor scratches and dings better than darker finishes, resulting in less noticeable wear and tear.
Mood Setting: The subdued tone of the weathered gray wood can set a calm, relaxed atmosphere in the kitchen.
Remember, incorporating the right hardware can enhance this door style further, with vintage knobs or wrought iron pull handles being excellent choices.
Pantry Half-Door for Rustic Kitchens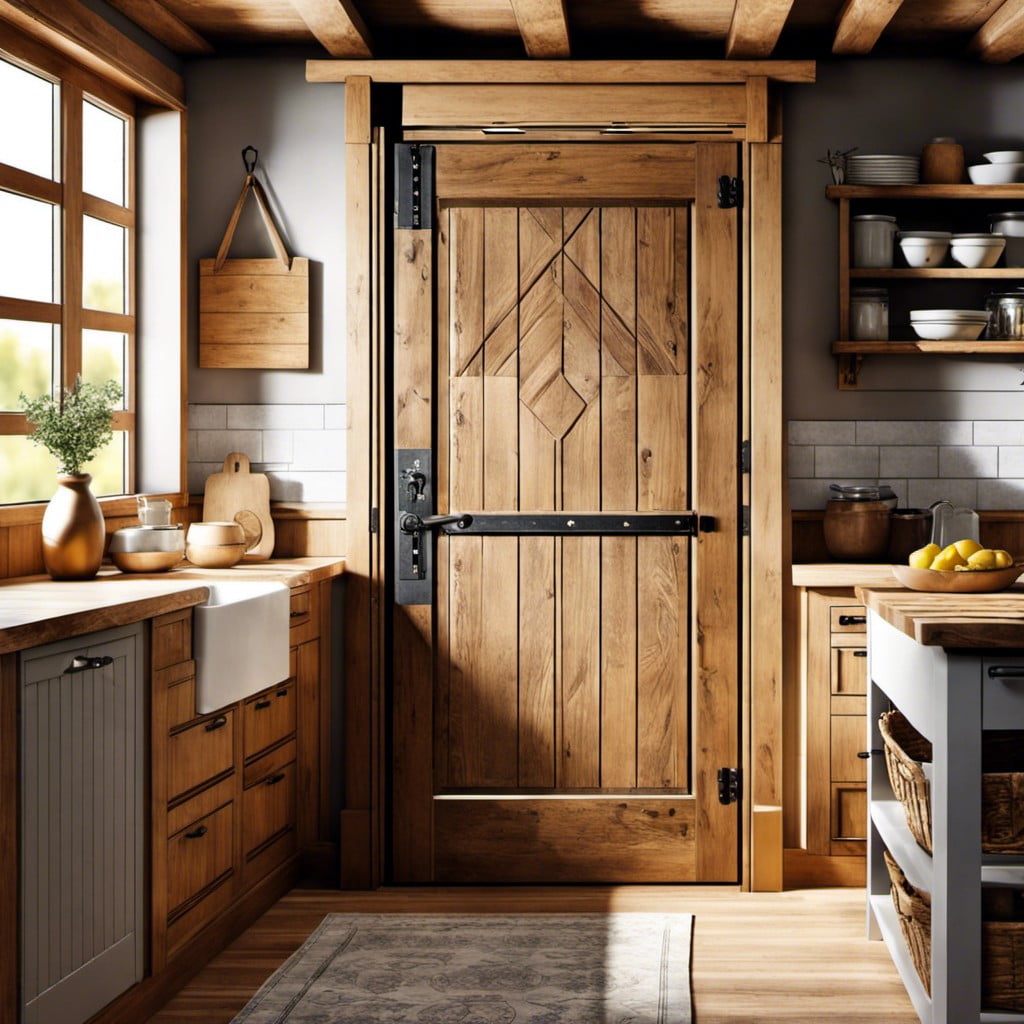 Half-doors infuse an ideal balance of privacy and openness, perfect for rustic kitchen pantries. They give a quaint charm, echoing old-world countryside homes. The top part kept open allows natural light to stream into the pantry while providing visibility. The lower section keeps young ones or pets from venturing in unattended.
For a truly rustic flair, opt for a weathered wood, distressed finish, or a milky paint job. You can also include some detailed carvings, an ornate trim, or simply let the wood grains shine through. Sturdy iron or brass hardware retains the rustic vibe and adds a dash of functional elegance. Remember, no two half-doors are alike! Personalize it to match your kitchen aesthetics, while retaining the warmth and earthy charm typical of rustic designs.
Rustic Bi-fold Pantry Doors With Aged Metal Hardware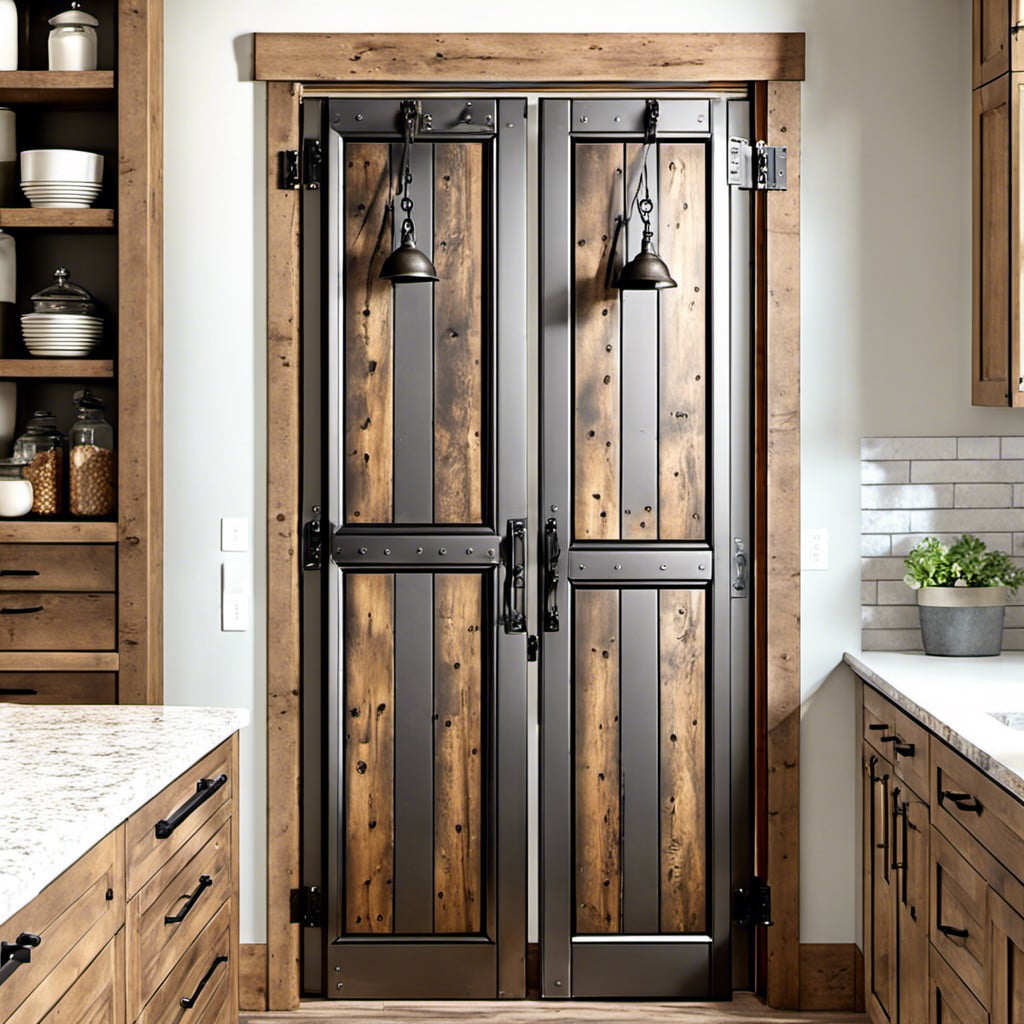 Crafted from natural wood, these doors add warmth and character. The bi-fold design is a space-saver, perfect for kitchens with limited space. With the right construction, they easily glide open with a light push.
Aged metal hardware complements the rustic charm. Choose hinges and door pulls in styles like distressed copper or black cast iron for contrast. These metals not only enhance the rustic feel, but they're also durable and sturdy, ensuring your doors withstand the test of time.
For a unique touch, consider adding decorative metal corners. This detail can tie in with your hardware, maintaining a cohesive look.
Hardware isn't just functional but also a design element. Personalize your doors by swapping generic hardware with vintage finds – think antique store or flea market. But be sure they're in good working condition.
Remember, bi-fold doors can showcase your pantry's interior. Organize neatly if it's visible and maybe keep your best dinnerware on display to impress your guests.
With this design, your pantry doesn't just become a storage space, but also a central design piece of your kitchen, exuding a cozy, charming, and weathered vibe.
Chevron Patterned Rustic Pantry Door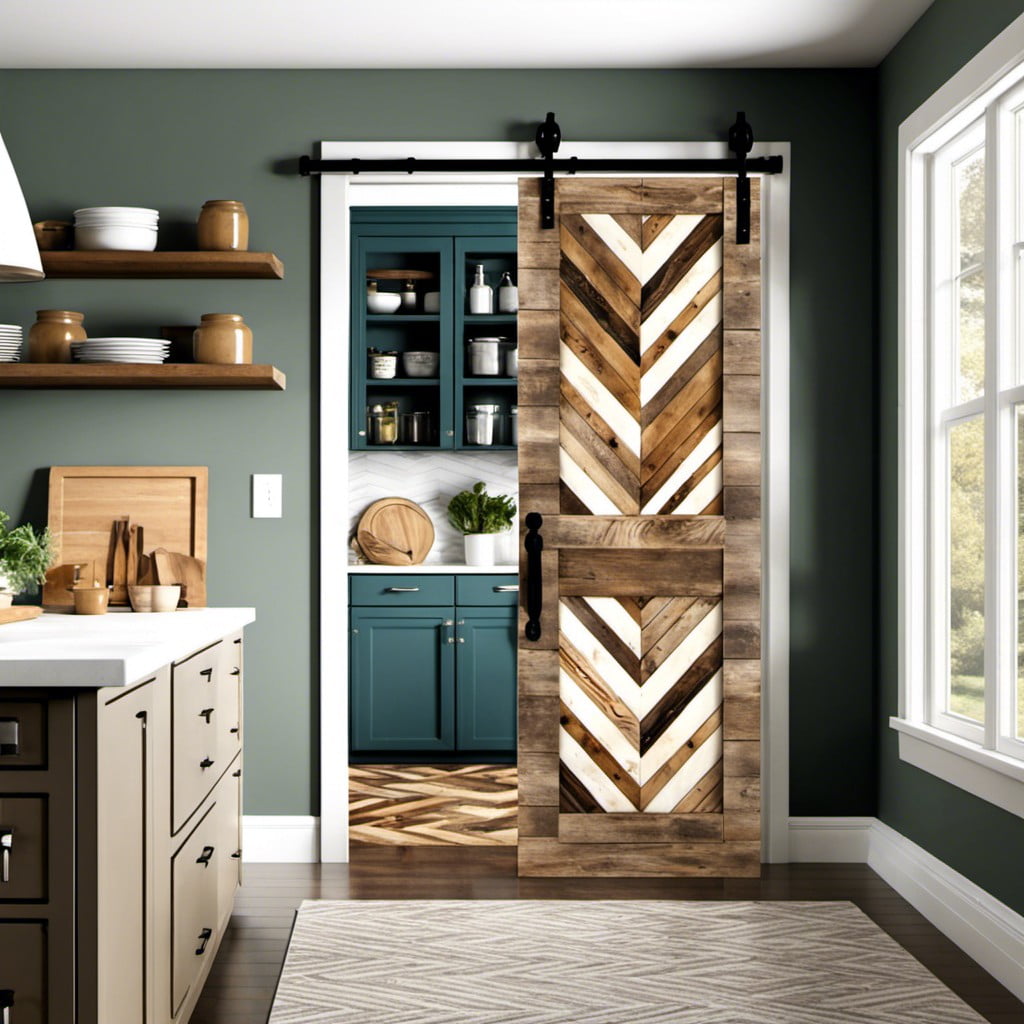 To achieve this distinctive design, alternate wood pieces are angled in a V-shaped pattern inspired by the timeless Chevron insignia. This adds a dynamic visual interest to your pantry entrance, making it a standout feature in your kitchen.
The beauty of this design lies in its versatility; whether you choose contrasting hues or opt for a more subdued, monochrome look, the Chevron pattern always impresses.
Sourcing reclaimed wood for your door can add a rich patina and history, intensifying the rustic allure. Alternatively, using new lumber and applying a weathered stain can mimic this aged appearance.
Do not shy away from using hardware that pops against your chosen wood tones; bronze or black iron hinges and handles can add an extra layer of rustic charm. Try a matte finish for your hardware to maintain a soft, understated aesthetic.
Remember, this door style complements a variety of décor schemes. In modern or traditional setups, it lends a hint of rustic edge, balancing the overall look. So, allow your kitchen's personality to shine through the Chevron Patterned Pantry Door. It's more than a functional element; it's a conversation starter.
Rustic Pantry Door With Grainsack Stripe Detail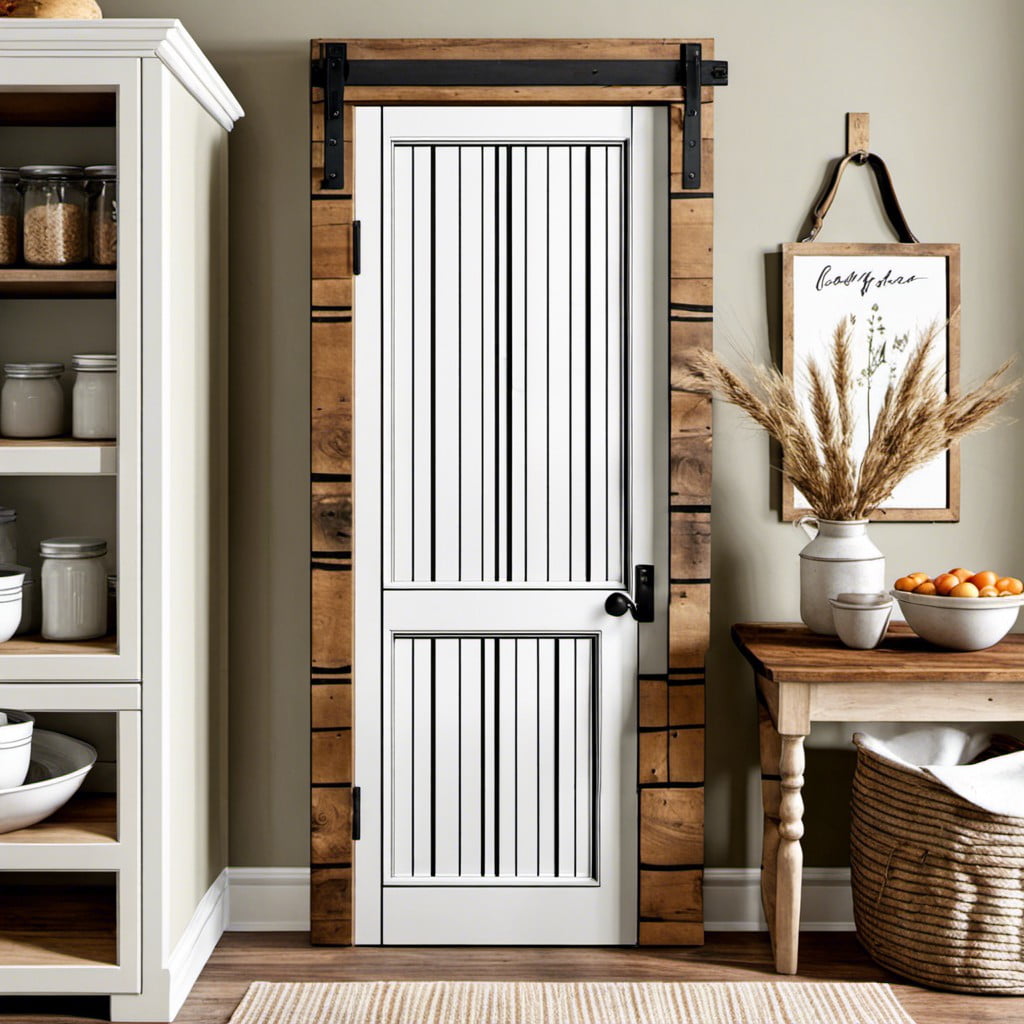 Expressing a nod to rustic aesthetics, the grainsack stripe detail is an excellent way to add character to your pantry door. Traditionally crafted from linen, grainsack stripes have a long history that's deeply rooted in vintage, rustic, and farmhouse styles. Their characteristic coarse texture and neutral tones can serve as a beautiful contrast against the smooth texture and color of solid wood.
Would you believe that achieving this look is simple? Pick a sturdy wood for your door, then choose a robust fabric bearing the grainsack stripe pattern. Make sure to align the stripes vertically to mimic the appearance of old grain sacks. A few carefully placed upholstery nails around the edges are enough to secure the fabric onto the wood.
In this way, you can bring a touch of warmth, texture, and authenticity to your pantry door. Especially significant is that the grainsack stripe detail, with its humble and unpretentious origins, connects the user with simpler times, celebrating the beauty of the functional.
Reclaimed Wine Barrel Wood Pantry Door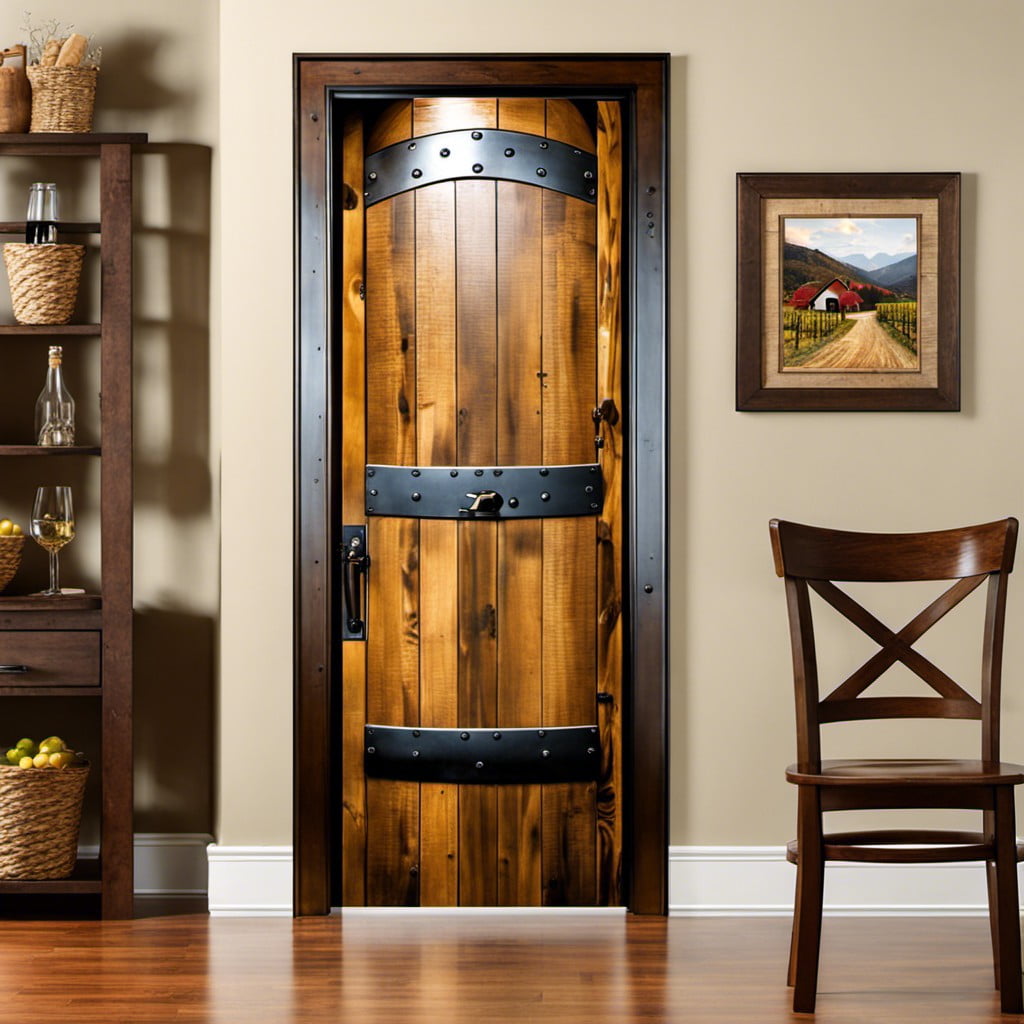 Using the curvature of the barrel to your advantage, this wood, thick and cured by years of storing wine, brings a charming authenticity to your pantry door. Not only does it add a touch of historical elegance to your kitchen decor, but the intricate wood grain patterns of the staves also provide a visually attractive feature.
An added benefit is the sustainable aspect – you're reclaiming and repurposing material, which is a nod to environmental friendliness. To enhance its rustic presence, pair it with vintage iron or brass handles. Note, it's important the door frame and hinges can accommodate the weight of such a robust piece.
This rustic door style doesn't lack practicality either. You can opt for vertical or horizontal placement of wood staves, depending on your aesthetic and functional preferences. The richness and depth of color depending on the type of wine the barrel stored can offer variations from a warm amber to a deep chestnut. Thus, every reclaimed wine barrel wood pantry door is uniquely imbued with its own history and charm.
Rustic Pantry Door With Inset Chalkboard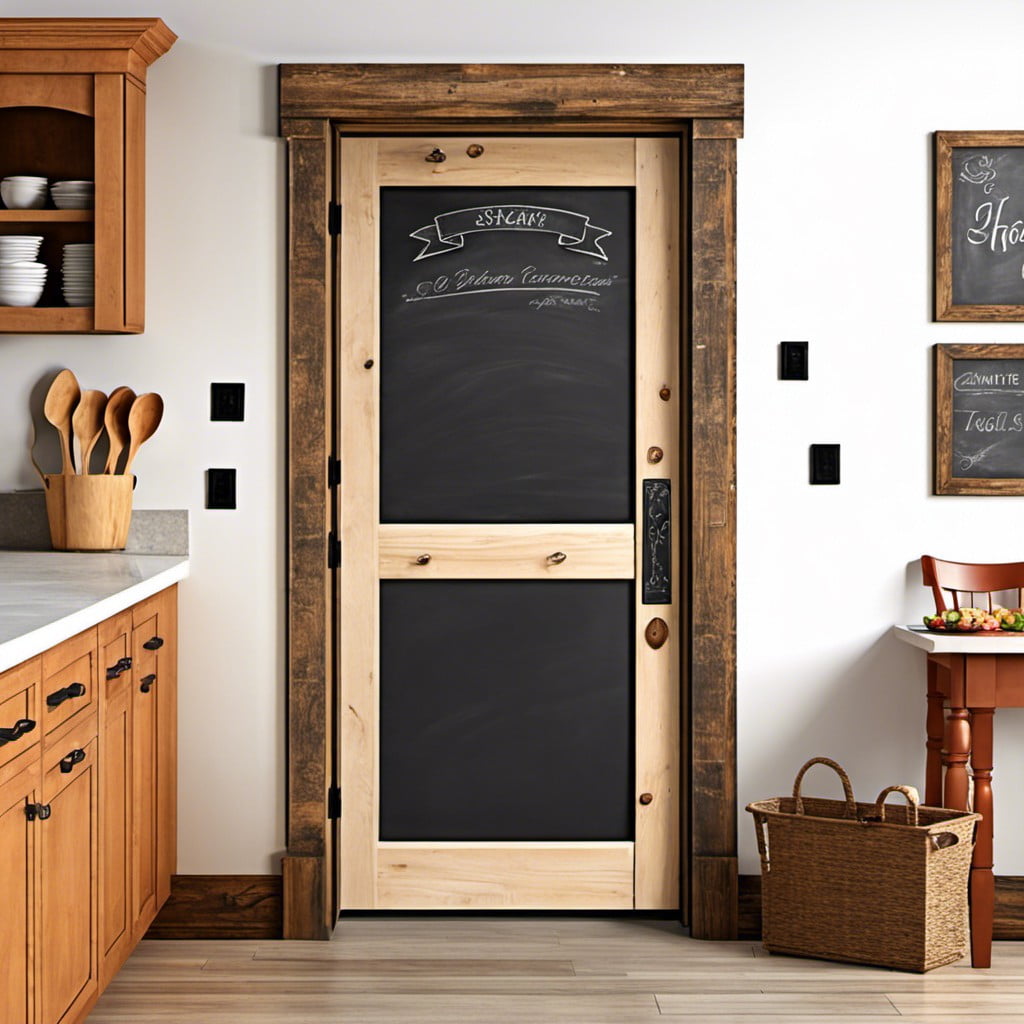 Incorporating chalkboards into your rustic pantry door not only adds a charming aesthetic, but also boosts functional value. This ingenious addition can serve as a place to jot down your grocery shopping list, meal plans, or notes for family members.
To achieve the desired rustic feel, consider using reclaimed wood for the base of the door. This material brings an age-worn character that harmonizes perfectly with the charm of a chalkboard. Remember to seal the wood properly to preserve its durability over time.
While you can choose to build the entire door as a chalkboard, a small inset might provide a balanced visual interface. You can frame the chalkboard section with heavier pieces of distressed wood or even wrought iron accents, adding to the rustic appeal.
For the chalkboard, feel free to pick among various shades of slate grey, blue or even green. Your chosen hue can compliment or contrast with the door color. Match the chalk shade to further enhance overall visual harmony. Always remember to season your chalkboard before first use to get an authentic, fully-erasable surface. Consider adding a cute rustic chalk holder to complete the look.
In short, a rustically-themed pantry door with inset chalkboard merges style with utility, presenting a unique kitchen addition that can be both a workhorse and a conversation starter.
Two-tone Wood Rustic Pantry Door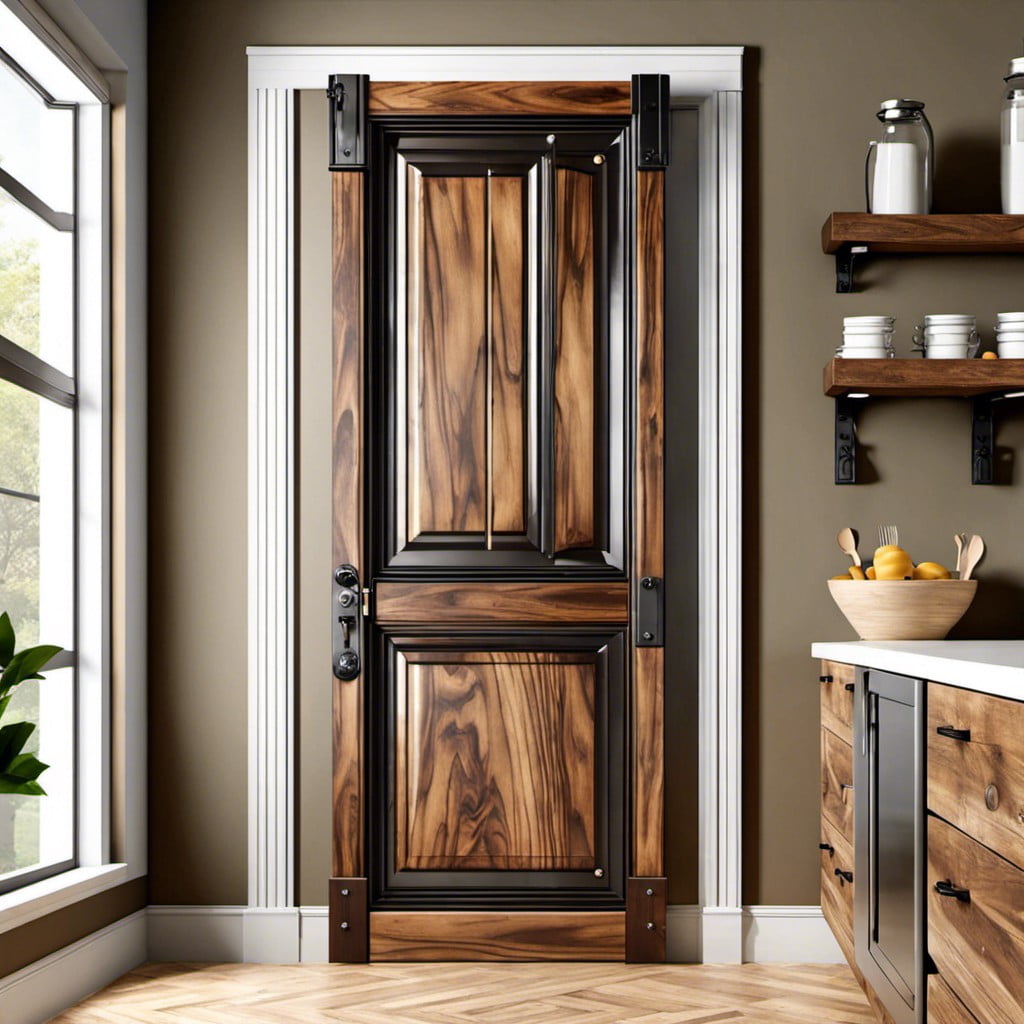 The beauty of two-tone wood lies in its ability to add contrast and depth to the pantry door's design, producing a uniquely rustic aesthetic. Start by combining a darker stain with a lighter one, trying walnut and oak for a balanced warmth and depth.
Here are some key concepts:
Material Selection: Opt for durable choices such as maple or pine known for their contrasting grain patterns, providing an authentic rustic look.
Staining Techniques: Apply the lighter stain first, before adding the darker one. This technique brings out the grain patterns and makes them more pronounced.
Panel Construction: For homage to the traditional country style, opt for an old-fashioned panel door build which exhibits both stains attractively.
Hardware Choice: Complement the door aesthetics with metal hardware like cast iron, copper, or brass which reinforces the rustic style.
2-tone wood pantry doors are a great solution to elevate the aesthetic of any rustic kitchen, serving both functionality and stunning visual appeal.
Teak Wood Rustic Pantry Door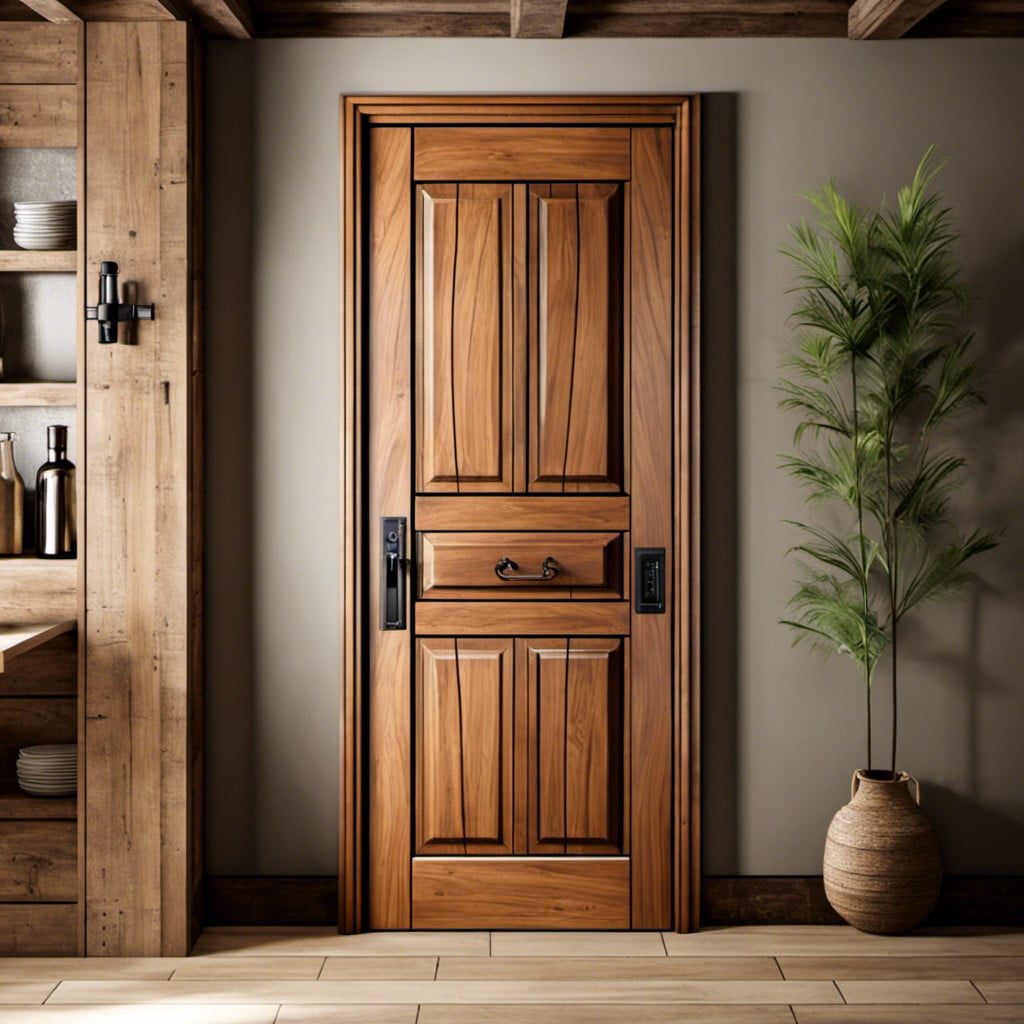 Teak, a highly durable and water-resistant hardwood, lends an authentic rustic charm when used as a pantry door material. The inherent graining patterns and rich color shades salient of teak offer a naturally nostalgic look, perfect for a rustic kitchen decor.
With its potential for intricate carvings, a teak pantry door can be a standout accent piece. It's not just about aesthetics though, teak's resilience against effects of weathering and time ensure less maintenance, making it a practical pick.
To maintain its rustic appearance, opt for a matte or semi-matte finish. Lastly, pair it with antique or brass hardware for a complete, cohesive look.
Masonite Style Rustic Pantry Door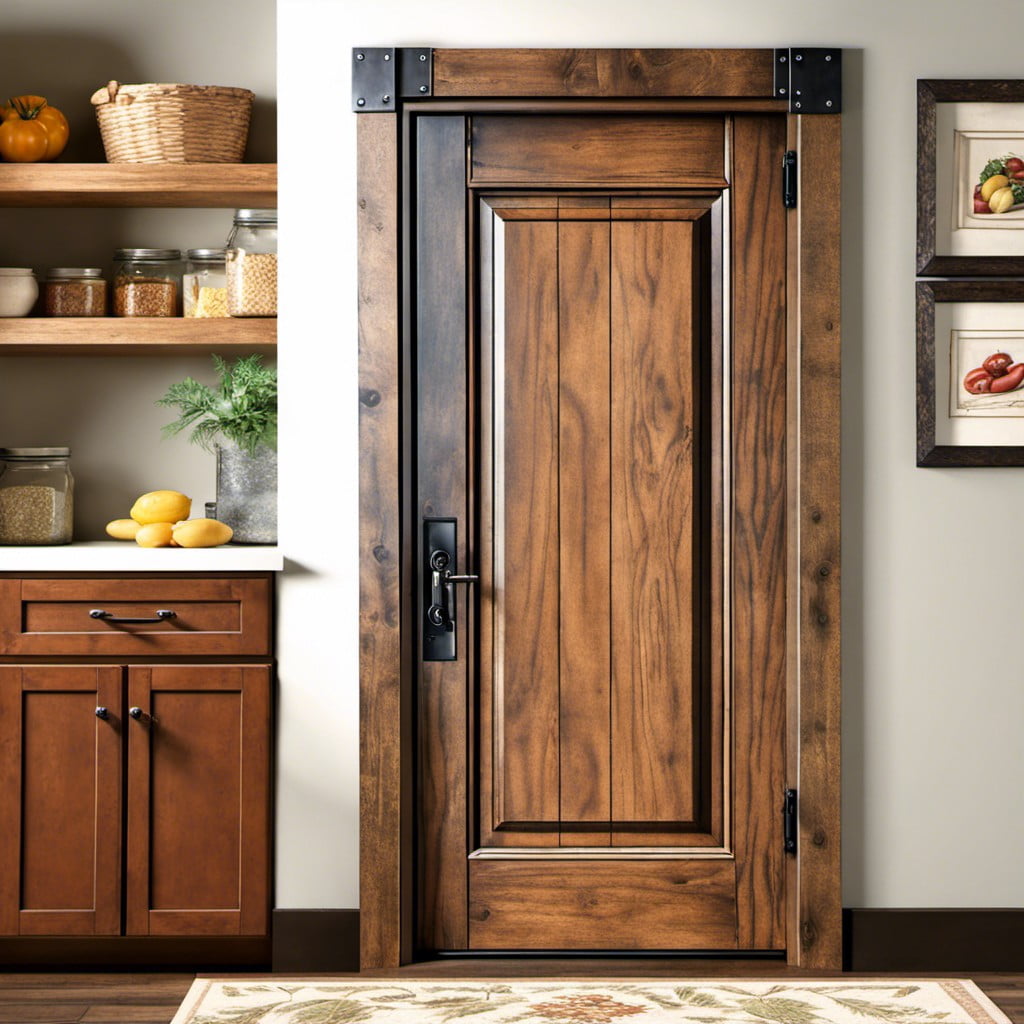 The charm of a Masonite style door lies in its unique construction. Crafted from engineered wood, its smooth, dense design resists warping and cracking, ensuring longevity. It's an ideal choice for homeowners seeking the beauty of a wooden door without the maintenance concerns.
Often, Masonite doors exhibit a warm, striking grain pattern, mimicking the natural allure of rustic wood. These patterns can be incredibly versatile, complementing any interior decor from modern to traditional. Opt for a tone that contrasts with your pantry's interior to create a visually interesting focal point.
This door style can also accommodate a variety of hardware designs. Whether you choose antique bronze pulls or sleek, modern handles, it's a perfect canvas to showcase your personal style.
A bonus? These doors are also eco-friendly. Since Masonite is constructed from waste wood byproducts, it's a more sustainable choice for the environmentally-conscious homeowner. Considering a Masonite style door can not only level up your pantry's look but also reduce your ecological footprint.
Rope Accented Rustic Pantry Door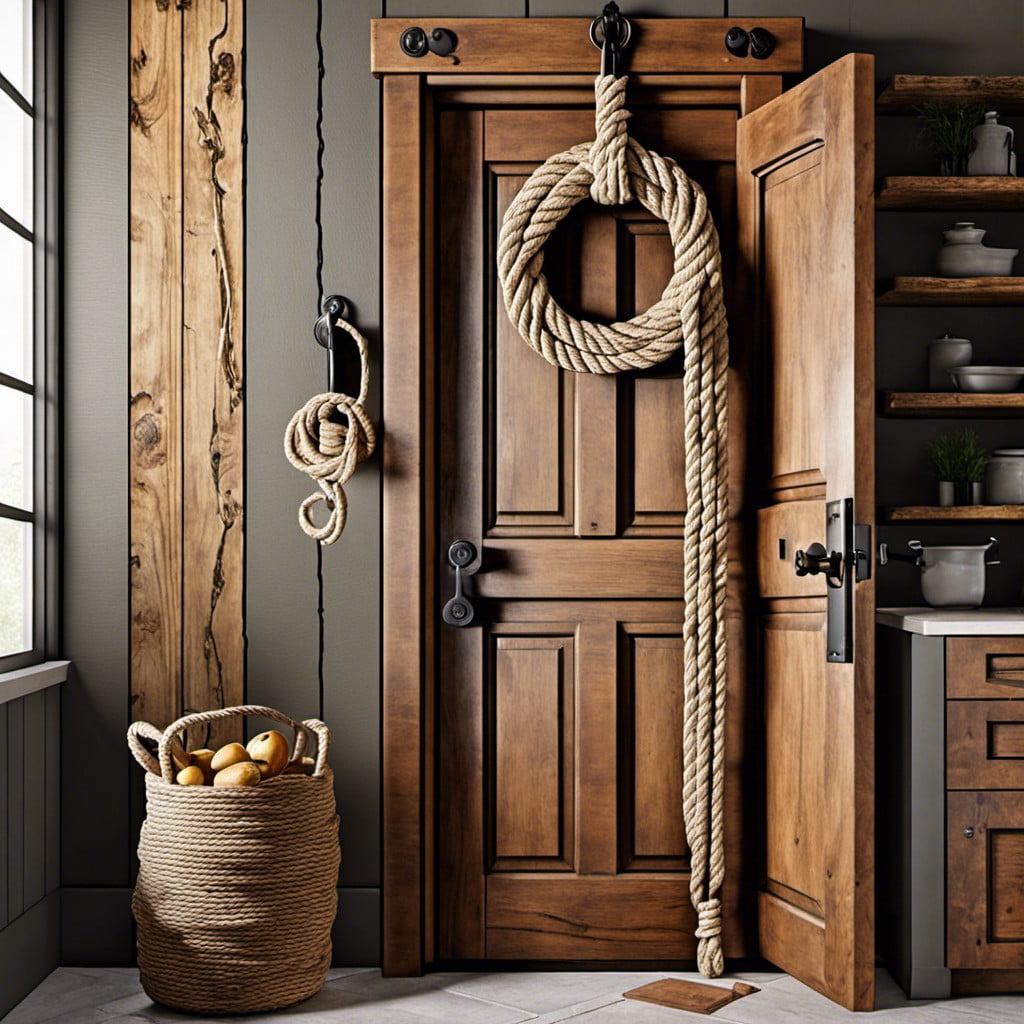 A rope-accented door brings a touch of nautical charm to your rustic pantry. It involves wrapping the handle or the edge of the door with thick, brown or manila rope, serving not only as a functional grip but also as a unique design element.
This style pairs well with wooden doors, especially if they are crafted from reclaimed or distressed wood. The contrast between the rugged texture of the rope and the smooth surface of the wood creates a delightful tactile experience.
For added appeal, complement the rope accent with seashell or driftwood embellishments. These simple additions can transform your pantry door into an eye-catching feature of your kitchen.
To maintain the rustic vibe, choose a rope with a natural, raw finish rather than a high-gloss or synthetic option. As for installation, use a strong adhesive and apply it carefully to ensure a secure grip. Note that thicker ropes will provide a more substantial feel and look more prominent.
Keep in mind that while the rope accent is unusual and attractive, it should still feel comfortable to use. Consequently, select a rope thickness and texture that will be easy on your hands when opening the door.
Rustic Glass Pane Pantry Door With Wooden Lattice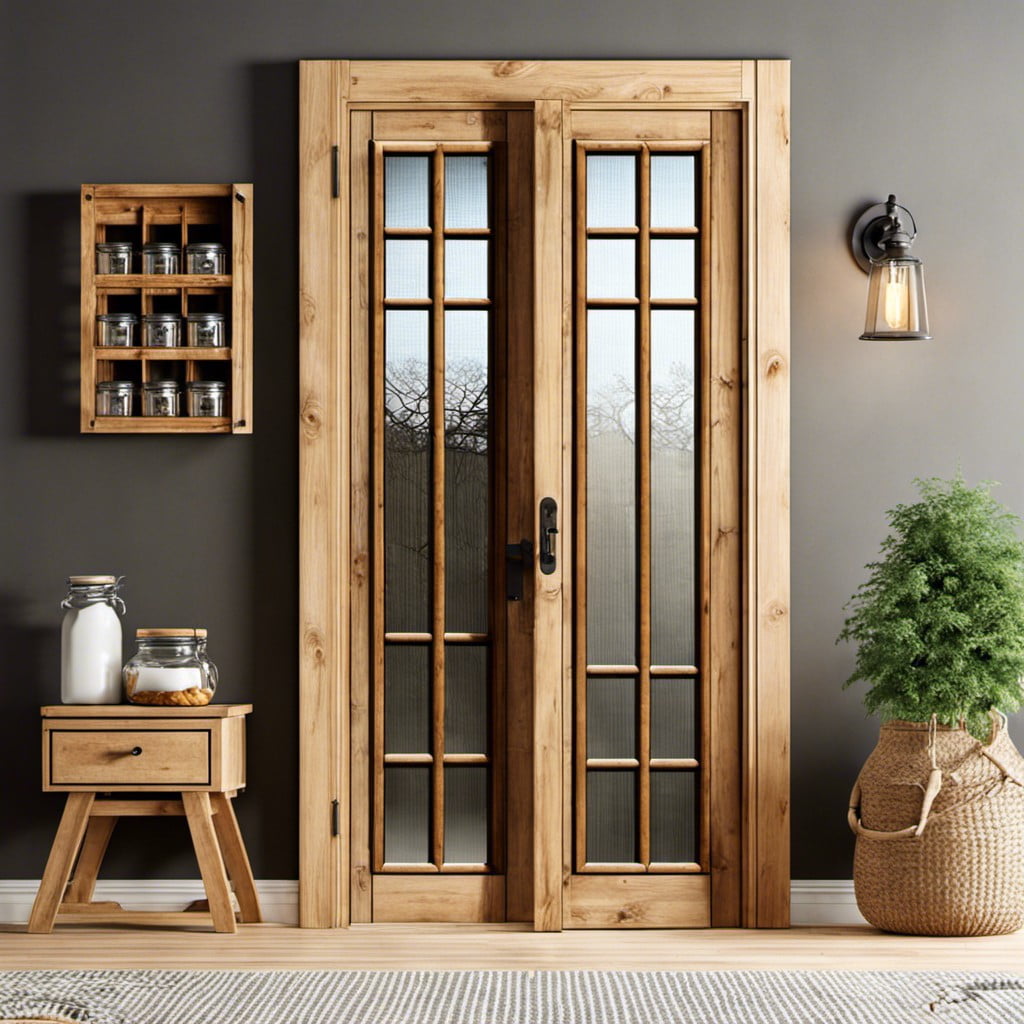 A stunning upgrade to a traditional pantry design, this style introduces a visually captivating play between transparency and solid patterns. Wooden lattice incorporated into a glass pane door blurs the line between privacy and visibility, allowing glimpses of your neatly stacked cans and boxes without fully revealing the contents.
Handcrafted, lattice designs can range from simple criss-cross patterns to intricate geometric arrangements. The warmth and natural imperfections of the wood contrast the glass's smooth texture, creating a rustic appeal skilled in both aesthetic and functionality. For a personalized touch, the wood can be stained or painted to match your kitchen's color scheme.
Remember to always ensure the door's materials and structure are of superior durability to withstand common kitchen spills and splashes. Despite its elegance, simplicity in cleaning and maintenance is a factor not to be compromised.
Industrial Rustic Rollup Pantry Door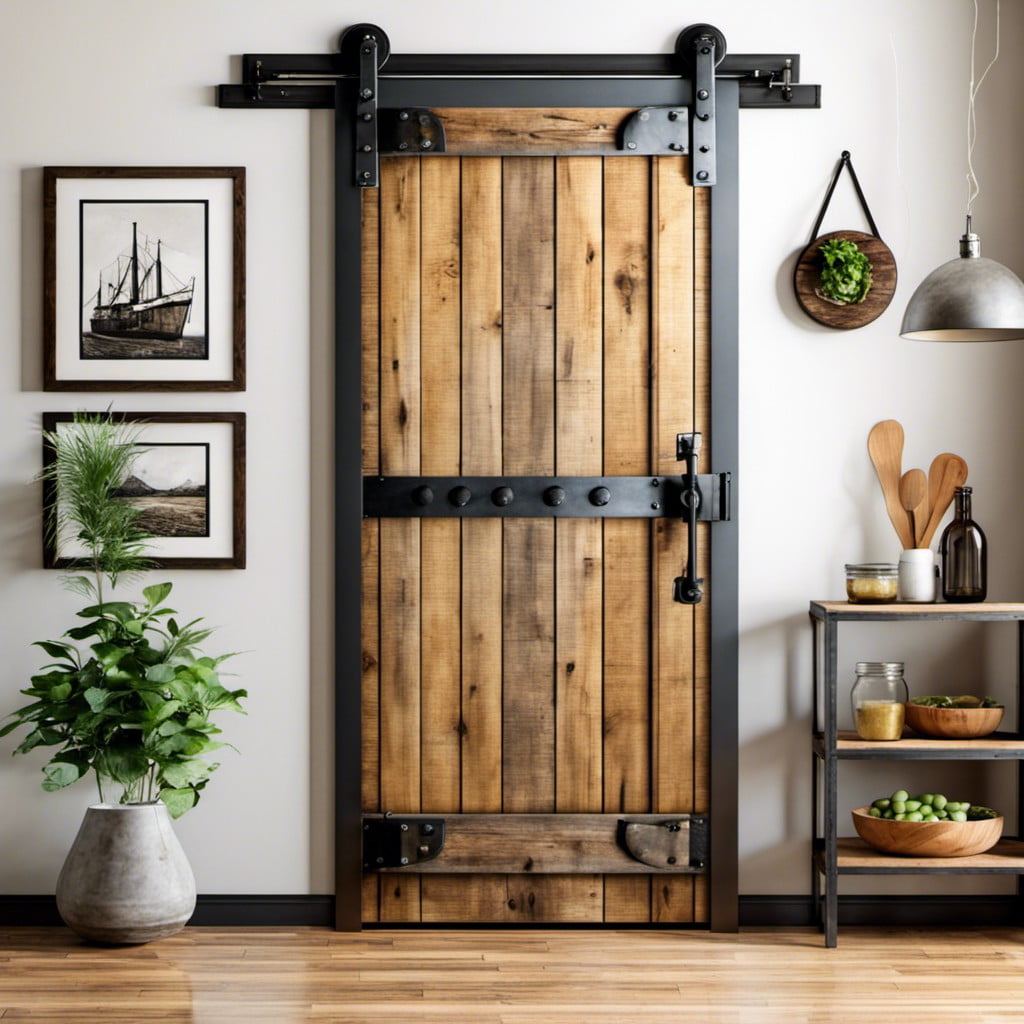 These doors add a modern twist to the rustic charm. Featuring a rolling mechanism commonly used in industrial indoor applications, they can be both functionally robust and visually stunning.
Here's what to consider:
Material Choice: Opt for weathered wood or distressed metal to achieve a rustic appeal.
Rolling Mechanism: The swooping movement makes these doors a focal point of your kitchen. Ensure the smooth operation of these doors with proper installation and maintenance.
Space-saver: As they roll upwards instead of swinging out, these doors can significantly save on floor space. Ideal for smaller pantries or kitchens without a lot of room to spare.
Customizability: These doors can be tailored to any height and width, offering flexibility to accommodate different properties and pantry dimensions.
Element of Surprise: The rollup action can deliver a surprising element to your guests, as they may not expect such a door for a pantry.
The industrial rustic rollup door blends the old-world charm with the sleekness of contemporary design, providing a unique aesthetic for your pantry.
Rustic Pantry Door With Latch and Strap Hinges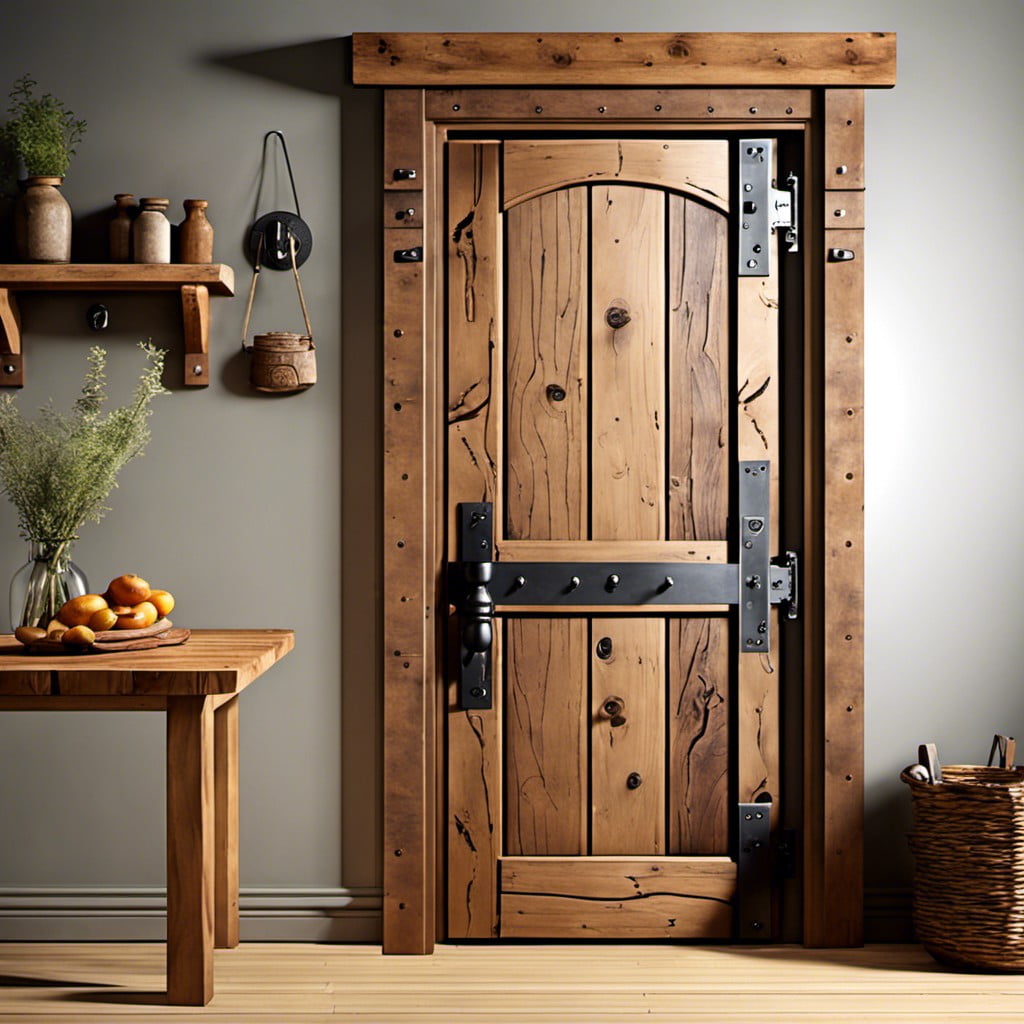 Emphasizing durability and simplicity, this concept leverages the robust features of latches and strap hinges. Historically, these elements were prominent in barns and outbuildings, making them ideal for rustic design.
1. Material: Typically, these doors are built from hefty timber or reclaimed wood, perfect for establishing a warm, earthy ambiance in your space.
2. Latch Hardware: Opting for an antique iron or dark aged bronze latch not only serves functional purposes but also adds an authentic rustic charm.
3. Strap Hinges: Not only a practical support feature for the door's operation, strap hinges, especially in wrought iron or distressed metal finishes, add visual interest and reinforce a provincial aesthetic.
4. Customization: Modify the size and placement of your hinges or choose a latch design that suits your personal style. You might even find painted options for a pop of kitschy country charm.
5. Preservation: Both the latch and strap hinges promote longevity for your pantry door, providing the reliable functionality that's essential in a high-traffic area like a kitchen.
Remember, the rustic pantry door with latch and strap hinges should reflect a story of handmade craftsmanship and age-old stability, making it a warm and inviting addition to any home.
Ideas Elsewhere
Liked reading this? Here's more:
Recap: