Looking for clever ways to use a wall mounted coat rack for storage as well as decor? These ideas will inspire you. Read on!
Wall mounted coat racks offer solutions not just to hang hats, coats, or jackets but depending on what you get or how you build them, they can add extra function and style to an existing space.
You can put open or close shelves or add additional hooks for more storage and even the top shelf can be used for displaying everyday items. They can create a certain character in a room and sometimes increase the value of the place itself.
So I've compiled this great list of coat rack ideas that make you think about the humble rack differently. Check these out and get inspired to experiment as much as I did!
In This Post:
Wall Mounted Coat Rack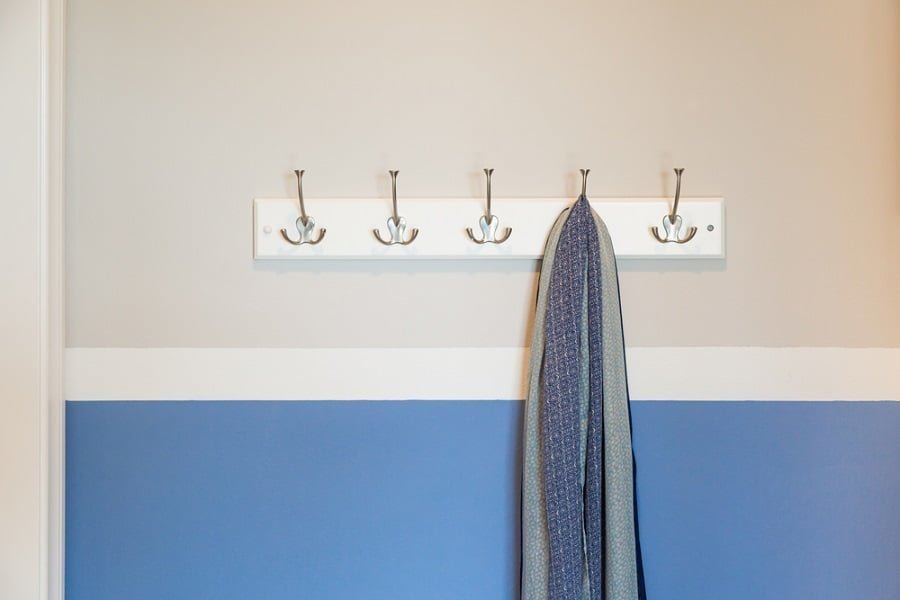 Although big interior design elements are often prioritized, it's the little things that give life to a space like a wall mounted coat rack. It's not just for a coat but for hats, scarves, and other accessories. It's the ideal solution for small entryways and other storage areas.
Wall Mounted Coat Rack with a Shelf
If you have a minimalist lifestyle and is wanting a versatile coat rack, why not get one with a shelf on top. Aside from its normal use, you have extra space on top of some of your everyday items.
Decorative Coat Hooks
Since coat racks are now becoming popular again, getting decorative hooks would add more spice and elegance to your already beautiful coat rack. Ther are a lot of options to choose, from vintage looking dinosaurs to the modern art feature or piano hooks.
Rustic Coat Rack
A rustic rack is perfect to add the extra vintage ambiance of a rustic room. It's advisable to place this on your entryway, hallway, kitchen, or bedroom.
Entryway Coat Rack
Adding a wall mounted coat rack in your entryway provides extra benefits you wouldn't even think of. Aside from its job, it can make your entryway look organize and it will encourage your family members to hang their coats or hats.
Vintage Coat Hooks
Vintage hooks can be used not just for a vintage rack but for other styles as well. By doing this, it shows your creativity by matching it with different types of coat racks that can complement any space.
Coat Rack for Kids
Let's face it, most kids don't want to hang their coats after using. So getting a cute rack for kids is a fun, clever idea to make them hang their hats, coats, or jackets.
Wall Rack with Hooks
A wall rack with hooks is actually very versatile. They're not just for hats, raincoats or jackets, you can also hang belts, scarfs, utensils and even display jewelry or arts.
Farmhouse Coat Rack
If you're looking for a wood-based coat rack, then a wall-mounted farmhouse style is what you need. It comes with different sizes and finishes and has the same organizational features as a conventional coat rack wall mount.
Coat Rack with Storage
If extra storage is what you're looking for, a coat rack can easily offer this feature plus other functionalities. It offers plenty of space because of the open shelves plus you can also keep things on top.
Coat and Hat Hooks
Coat and hat hooks have plenty of varieties. It's important to know that aside from the functionality, the style and durability are equally important as well to match the coat rack's color and style and make space look more beautiful and vivid.
Unique Wall Hooks
Wall hooks also come in unique appearances and it might even surprise your kids or guests by doing so. Some look like kid's toys, others are faucets, umbrellas, and cellphone holders.
Industrial Coat Rack
An industrial wall mounted coat rack offers more than just hanging coats and hats, it also has extra space on top plus beams for hanging towels or even adding more hooks.
Unique Coat Racks
Wall mounted coat racks don't have to always have the traditional look, sometimes being unique is a great route as it shows your personality and creativity.
Small Coat Rack
A perfect coat rack for the space saver and minimalist is a small wall mounted one. It does have fewer hooks but the space it occupies is also much lesser.
Mirror with Coat Hooks
If you got a fancy mirror that you want to add functionality, adding coat hooks would be beneficial. It makes the space more elegant because of the mirror and then you can hang things on the hook.
Coat Tree Rack
If you're fed up with conventional wall mounted coat rack, why not try using a tree rack. Since it's wall mounted, you wouldn't have to worry about anyone hitting them and falling down.
Door Knob Coat Rack
A door knob coat rack is a nice addition to the character of your interior. It's kind of difficult to get one so the best thing to do is to do it yourself especially if you have plenty of old doorknobs lying around.
Coat Pegs
A coat peg is for hanging things that are usually fixed to a wall, door, etc. This is the best option for a lot of extra storage plus you can put doors to close the peg itself.
Jacket Hanger
Wall-mounted jacket hanger's purpose is to hang as many things as it can. You can put a lot of hooks in a single rack though it doesn't usually have any other function.
Liked reading this? Here's more: