Last updated on December 3, 2023
Creating unique and memorable 18th birthday decorations becomes a breeze because this article is designed to inspire with innovative and exciting themes.
Celebrating an 18th birthday is a significant milestone, marking the transition from adolescence to adulthood. It's only fitting that the festivities should be as momentous as the occasion itself.
Whether the birthday honoree is a fan of chic, minimalistic aesthetics or prefers a more extravagant, themed celebration, there are countless 18th birthday decoration ideas to choose from.
This article delves into a variety of creative and memorable decoration ideas, from elegant table settings and unique balloon arrangements to innovative lighting techniques and personalized decor items.
With the plethora of ideas detailed here, you're sure to find the perfect decor to make the 18th birthday party a memorable one.
Balloon Archway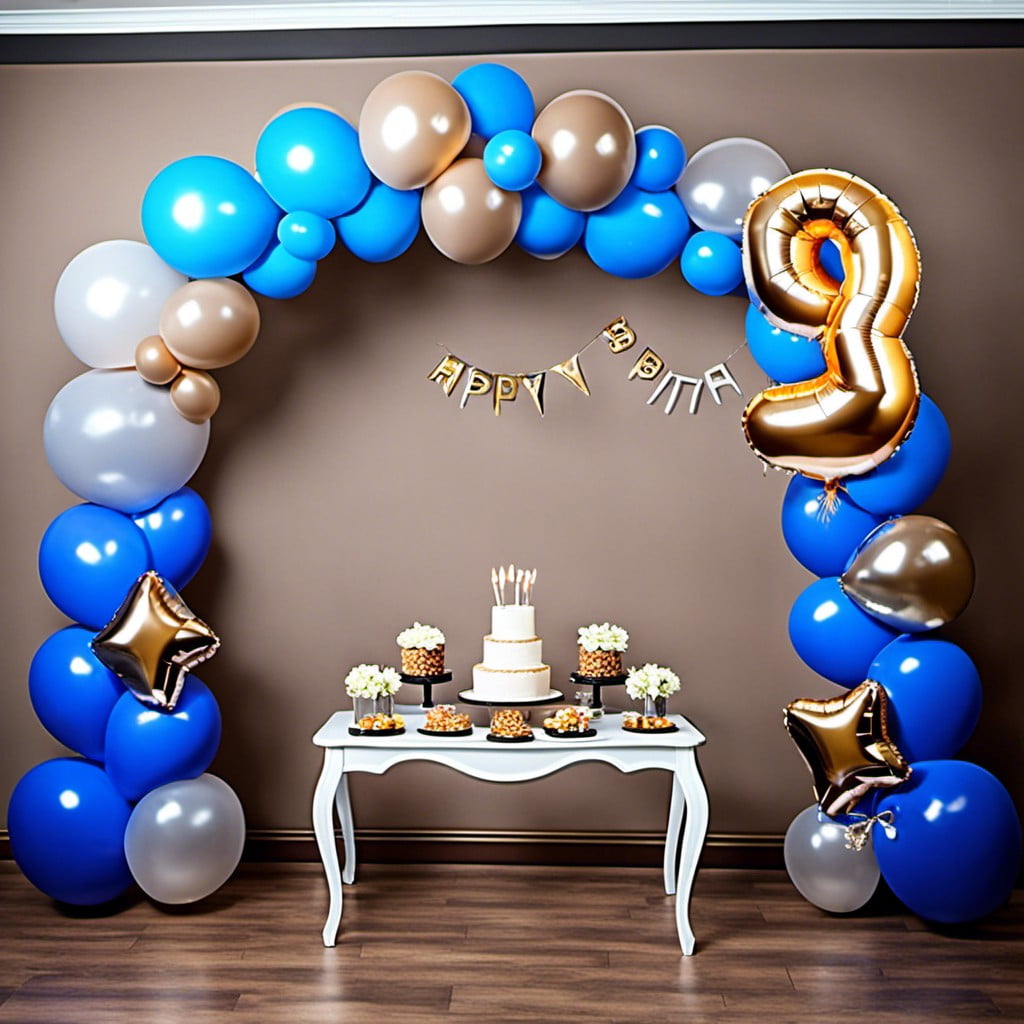 The beauty of a balloon archway lies in the color-coordinated transformation it brings to your space. Ideally positioned at the entrance or around the cake table, its towering majesty offers an Instagram-ready frame for birthday selfies.
You can choose from a myriad of designs – a simple classic arch, intricate spiral shapes, or even dramatic organic looks with a mix of small and large balloons. While helium-filled balloons are commonly used, air-filled balloons can be as effective and more budget-friendly.
Don't forget to add florals or foliage to give it a polished look!
Photo Booth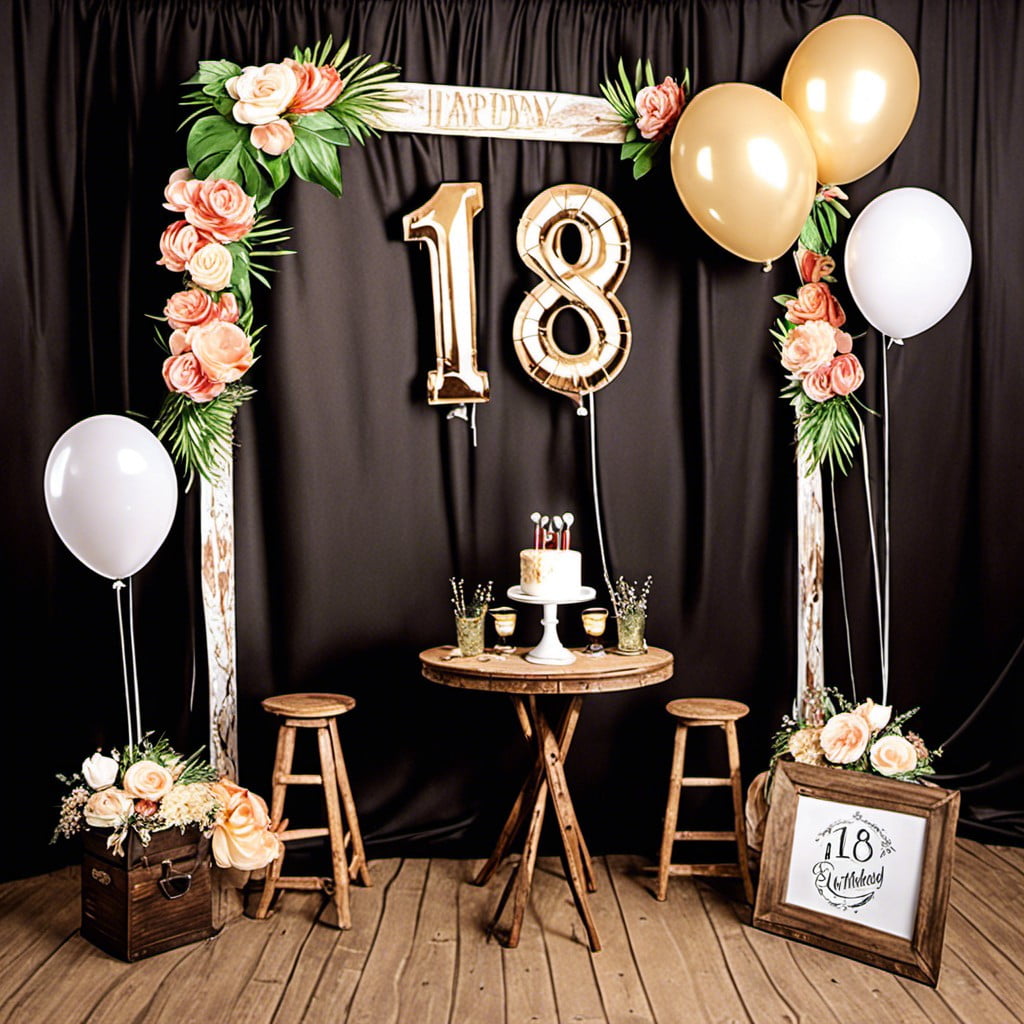 Having a photo booth at an 18th birthday party not only serves as a fantastic focal point but also provides entertainment for guests.
Envision a booth adorned with a fabric backdrop in theme-related colors; it could be sequins for a touch of glamour, or scenic for a more relaxed feel.
Prop boxes can be filled with amusing accessories such as hats, wigs, oversized glasses, and boas for guests to dress up and strike a pose.
An instant photo printer will facilitate immediate keepsakes, while a Polaroid guest book lets them leave personalized messages alongside their pictures.
Invite a friend with a good eye or hire a professional photographer to ensure every unforgettable moment is captured.
The photo strips can also double as fun party favors for the guests.
String Lights Decor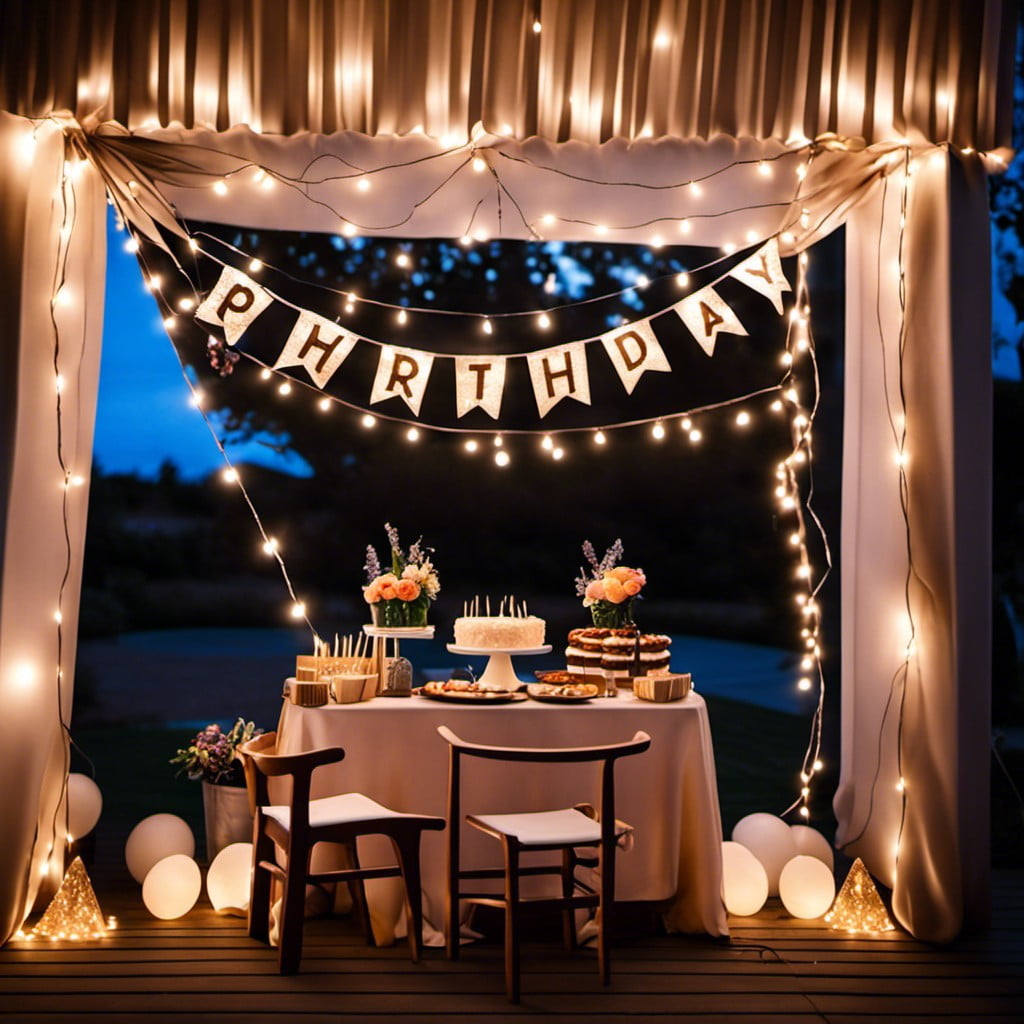 To add to the inviting atmosphere of your party, drape these twinkling babies across the ceiling, around door frames, or along the edges of tables. There are options for white or colored bulbs, depending on the mood you're trying to set. Mixing in some fairy lights with traditional string lights can provide a fun variety in sizes, creating a whimsical layered effect.
For a more tailored look, cluster them in jars or arrange them in shapes or words on the wall. The soft glow brings warmth and intrigue, complementing your party decor perfectly. Combined with some hanging photos or paper decorations, a string light ensemble can turn a plain room into a dazzling display in no time.
Moreover, strategically placing the lights can help guide guests around the venue, softly illuminating areas like the drinks table, the food buffet, or the dance floor. Just remember: always check the strand before hanging, and ensure all outlets and extension cords are safely arranged.
As a bonus, this versatile decoration can be repurposed for future events, or to add a cozy touch to the bedroom after the party is a sweet memory.
Memory Photo Wall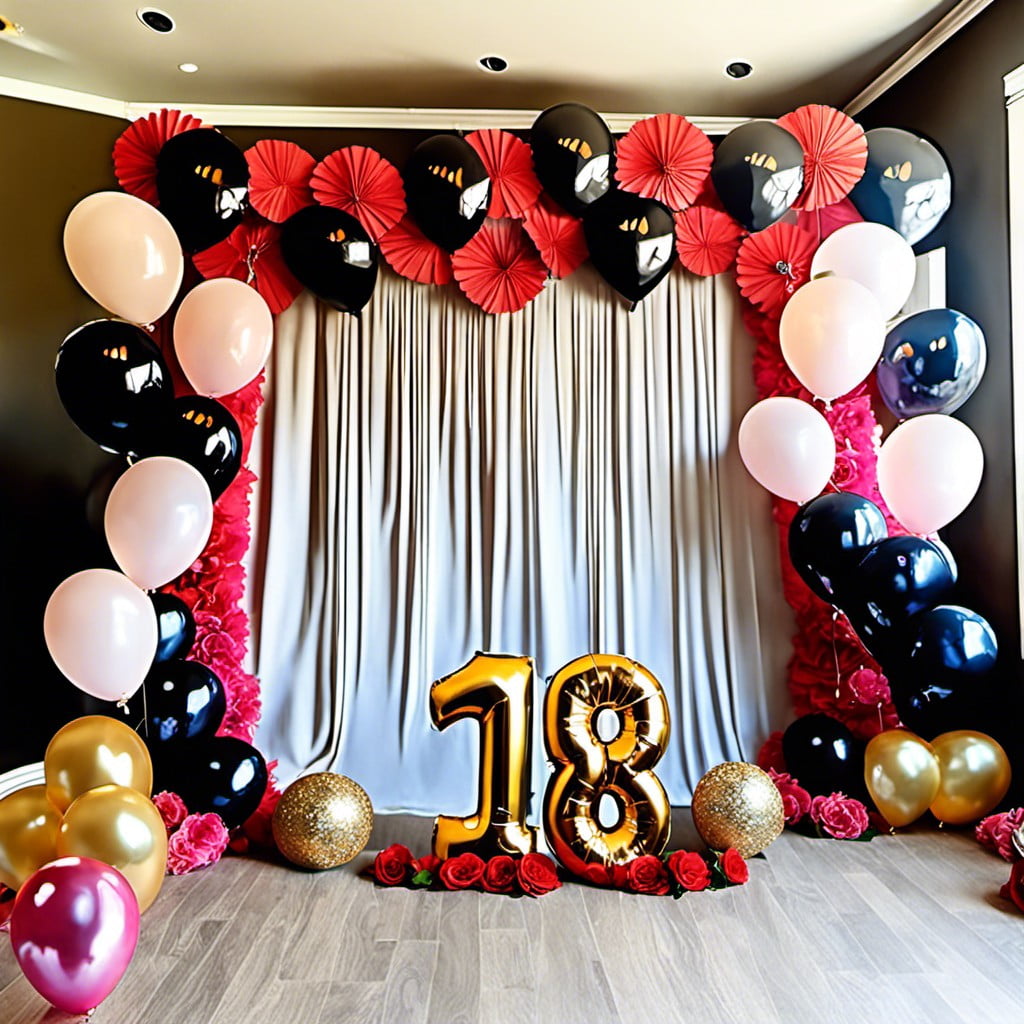 To create an interactive and nostalgia-inducing feature, convert a room wall into a memory photo wall. This decorative tool celebrates the journey of the birthday individual from their first year to present. Pics from infancy, family gatherings, childhood playdates, school events, sports achievements – let there be variety.
Arrange these pictures in chronological order for a fascinating timeline effect or randomly, for a lively, mosaic-like pattern.
To add a personalized touch, include some hand-written moments from their past, words from their close ones or funny anecdotes. Simply pin these among the photos for an element of surprise. Printing the photos in black and white or sepia tones can lend a vintage aesthetic. Alternatively, vibrant color photos make the wall pop and look more festive.
Remember to choose a well-lit wall that can be easily seen by guests. Use removable adhesive strips or string and clothespins to attach photos for minimal wall damage. By strategically placing this display, the memory photo wall can lead to many shared stories, laughter, and even tears, serving as a centerpiece of the party.
Thematic Table Centerpieces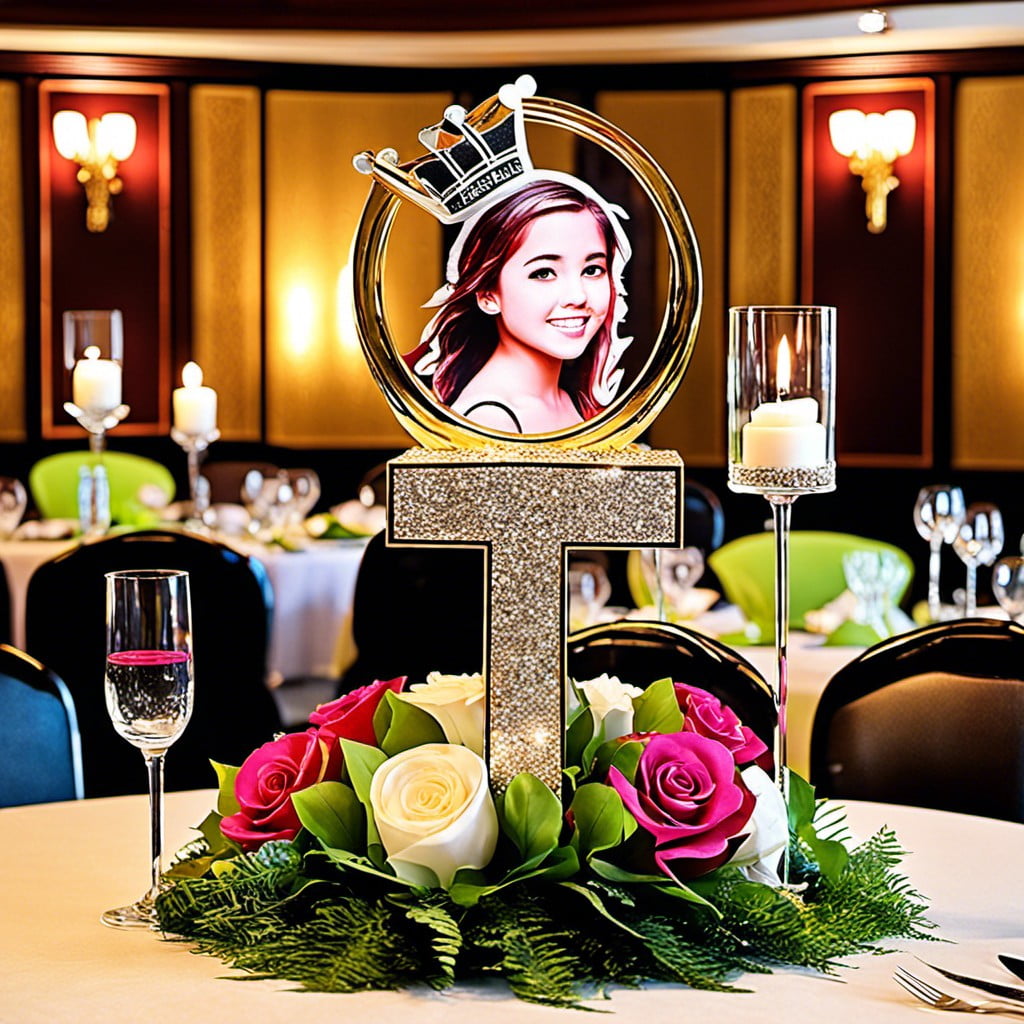 Table centerpieces are excellent tools to reflect the theme of the 18th birthday party. Here are some concepts to bring your theme to life with table centerpieces.
1. Sports Theme: Use equipment like balls or rackets, along with trading cards featuring favorite athletes.
2. Hollywood Theme: Consider miniature clapboards, faux Oscar statues, or glistening star-shaped confetti sprinkled around.
3. Travel Theme: Include miniature globes, postcards, or small models of famous landmarks.
4. Book Lover's Theme: Showcase stacked vintage books, eyeglasses, or mini bookshelf.
5. Garden Theme: Opt for terrariums, miniature potted plants or decorative bird houses.
6. Music Theme: Reflect it using vinyl record coasters, sheet music under a glass tabletop, or miniature musical instruments.
Remember, the focus is to elicit a theme conversationally and visually through each centerpiece. Make your centerpieces interactive or functional, like edible arrangements or games related to the theme. Moreover, lighting can take centerpieces to the next level; consider adding tiny fairy lights or LED votive candles for that added charm.
Confetti Balloons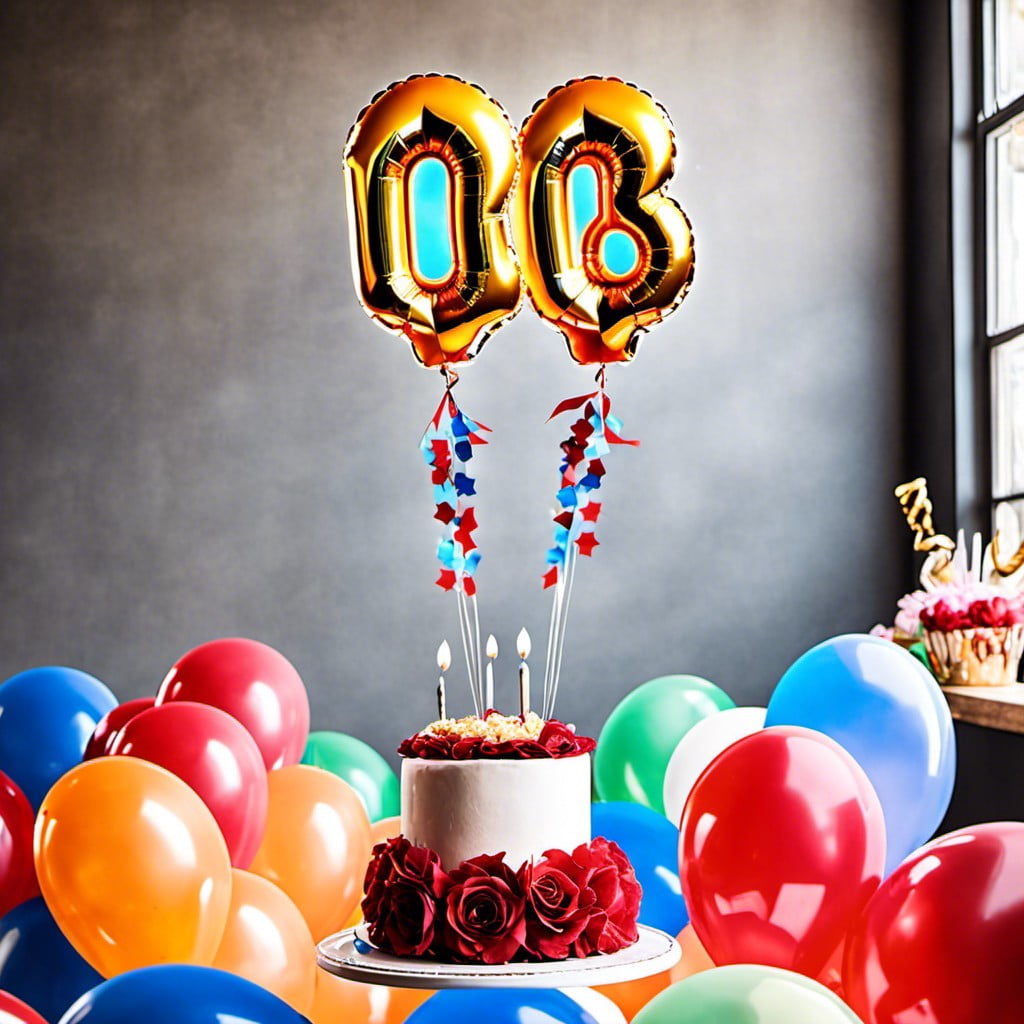 Elevate the ambiance with a bit of sparkle! Fill transparent balloons with shiny confetti for a dazzling effect.
When choosing confetti, pay attention to color combinations to maintain the theme.
Decorate the ceiling, string them up as a backdrop, or let them float freely for a playful twist.
Don't be afraid to experiment with different color combos and confetti types like star-shaped or metallic.
And, for an exciting finale, bursting a few to shower guests with confetti can be an unforgettable moment!
Remember, these beauties are more than just balloons, they are an engaging visual treat that creates a festive mood.
Personalized Banner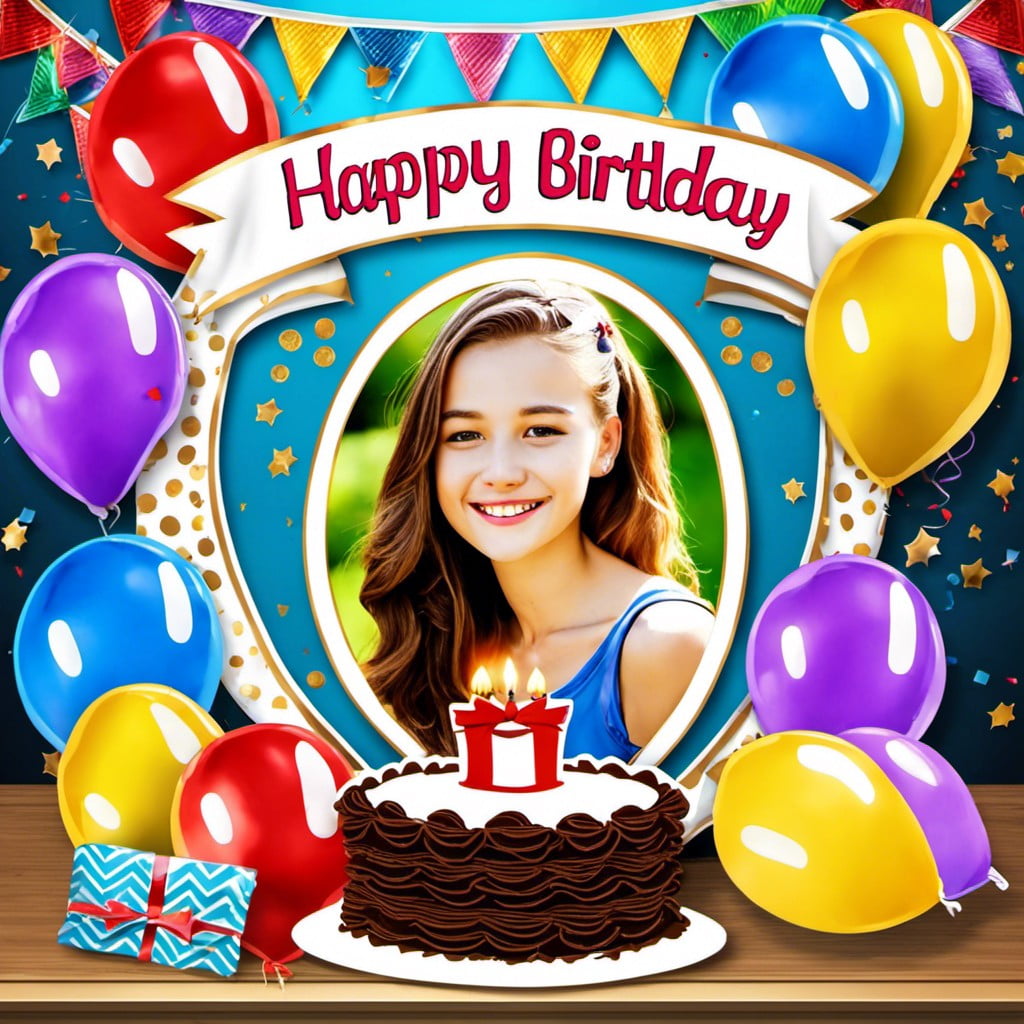 A unique touch to any birthday celebration, a personalized banner captures attention and provides a festive focal point. It can display a heartfelt message or the guest of honor's name, adding a level of exclusivity to the event.
Opt for colors that match the overall theme of the party to create visual harmony. When deciding on placement, consider high-visibility areas, such as above the main table or across a spacious wall. This way, it can serve as a backdrop for memorable photographs.
Take advantage of online printing services that offer customizable designs or, for a more hands-on approach, try crafting one at home using cardstock and artistic flair. The key is to ensure it reflects the celebrant's personality and the spirit of turning 18.
Number '18' Decor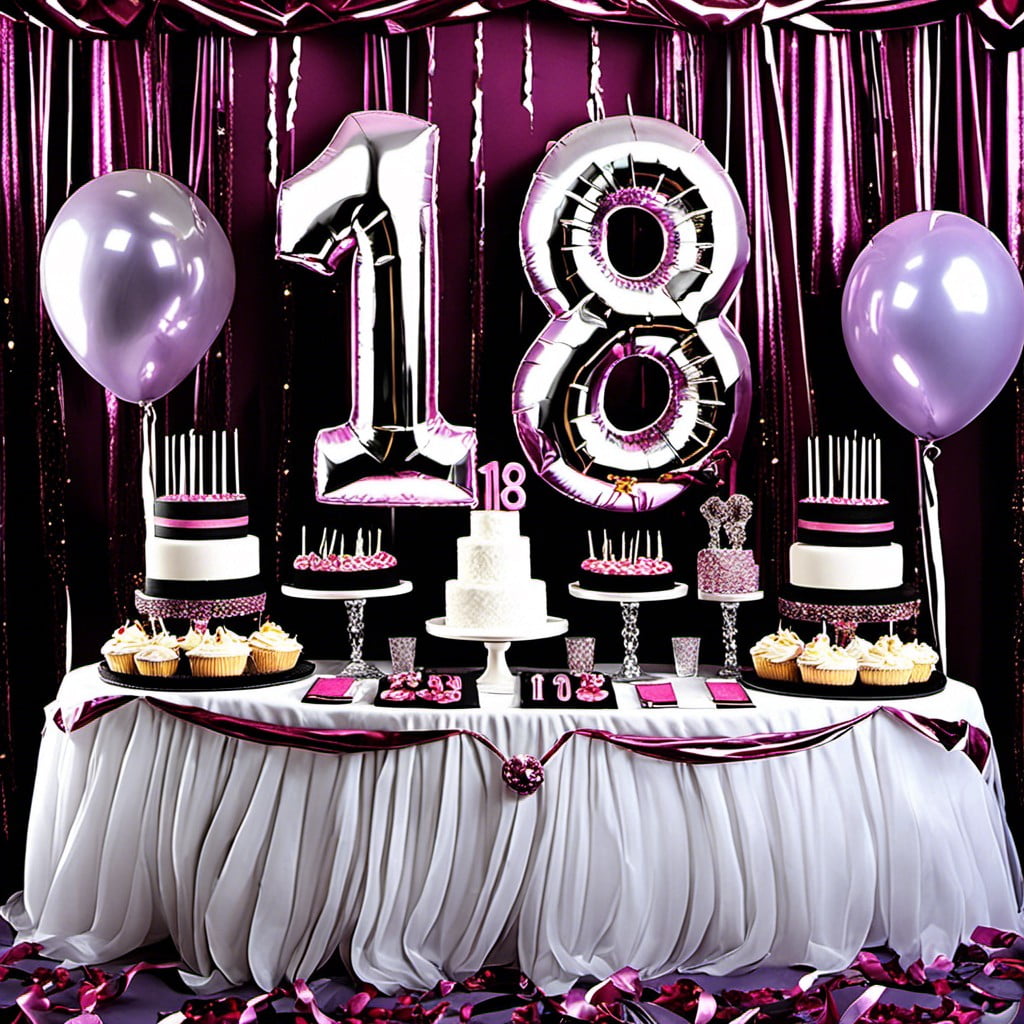 Incorporation of the birthday number in the decorations is a classic that never goes out of style. It adds a personalized touch and highlights the significance of turning 18.
Consider using large foil balloons in the shape of '1' and '8', either in classic silver or a color that matches your overall theme. They make an excellent backdrop for pictures or can be placed at the entrance to greet guests.
Another creative idea is to display '18' through framed photographs, spotlighting memorable moments from each year of the birthday person's life. This not only serves as a decoration but also as a touching journey down memory lane.
Alternately, fashion the '18' number using flowers, art pieces, or candle arrangements. This approach can pour an artistic flare into the decor, making it truly stand out.
Remember to place the '18' decor in a prominent position for maximum impact. It's a statement piece that symbolizes the special landmark birthday.
Cupcake Tower
A captivating sight at the party venue can be an artfully arranged cupcake tower. It's not only a treat for the taste buds but a feast for the eyes, adding an extra dash of sophistication and detail to the overall aesthetic of the event.
Here are some essential points in curating this trendy element:
Variety: Mix and match different cupcake flavors and frosting colors to create a diverse and delectable cluster that will appeal to everyone's palate.
Theme Consistency: Ensure your cupcakes align with your decided 18th party theme. A sea-themed party may have blue-iced cupcakes, sprinkled with edible pearls and tiny mermaid toppers.
Height: Select or build a tiered serving stand that enhances visibility and allows the cupcakes to cascade downward in a visually appealing manner.
Presentation: Consider adding decorative elements like ribbon or pearl strands around the cupcake tower's stand, which complement your party's color scheme.
Accessibility: Arrange cupcakes in a way that makes it easy for guests to select and remove them without disassembly.
Remember, the tower doesn't have to be composed purely of cupcakes. You can add other bite-sized treats to complement or contrast, or place a larger, more ornamental cake on the top tier to create a dramatic highlight.
Birthday Signboard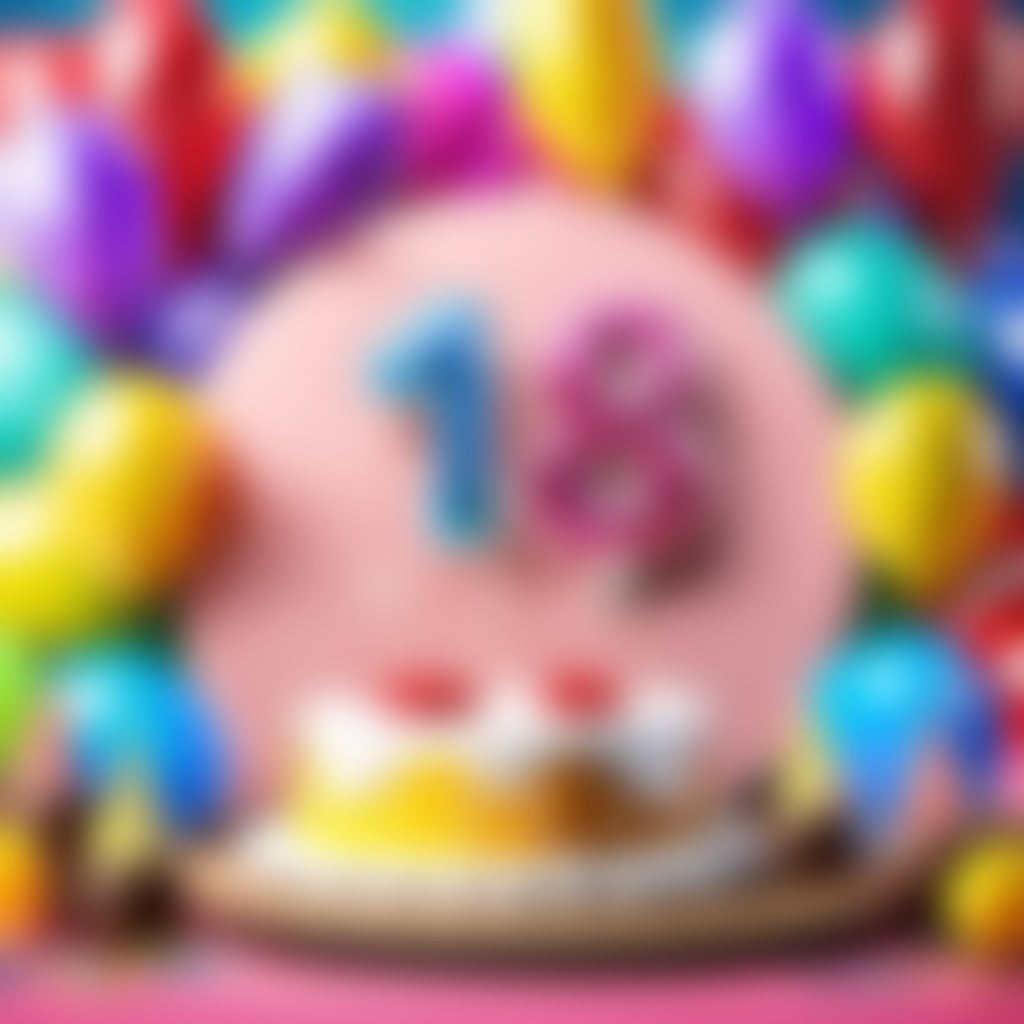 Personalizing this celebratory occasion is a surefire way to make it memorable. One simple and effective tool for this is a birthday signboard. Handcrafted or professionally made, it can serve as a warm-hearted focal point for your party decor.
A few tips to make your signboard stand out:
1. Incorporate the birthday person's hobbies, interests, or favorite colors. This introduces a personal touch and reflects their individuality.
2. Don't shy away from using eye-catching materials, be they shiny, sparkly, or with bold prints.
3. Make it interactive: let guests contribute their wishes or memories to the board.
4. Place it strategically to heighten the celebratory ambiance. The entrance gate or near the cake table are ideal spots.
5. Experiment with typography styles. Bold, italic, cursive – mix and match to draw attention.
6. Remember, it doesn't have to be just one! Create mini signboards, with sayings or quotes, to sprinkle around the party area.
In the end, the signboard should instill joy, laughter, and a sense of belonging for the birthday person and guests alike. Though it may seem a small detail, it can pack a large sentimental punch.
Paper Lanterns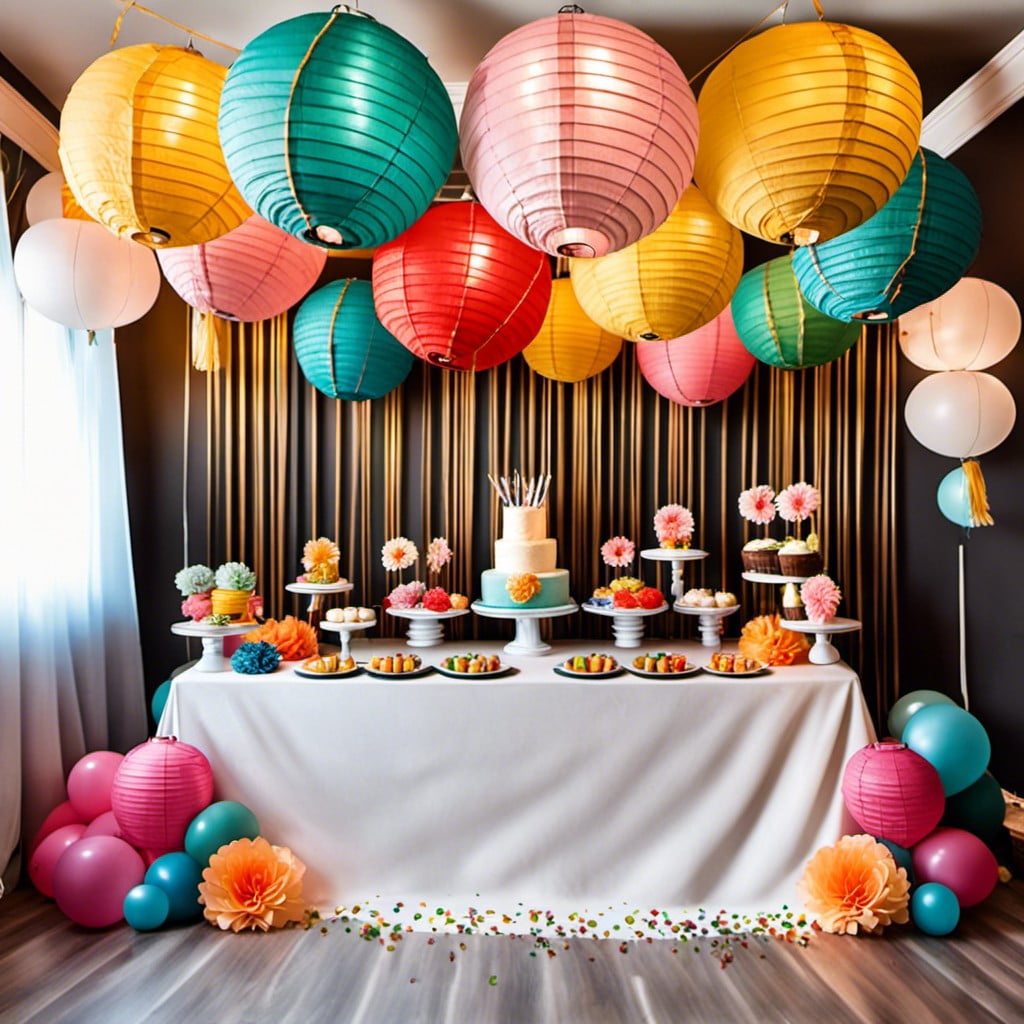 Often symbolizing joy, celebration, and charm, paper lanterns can add a unique and eye-catching element to the decoration setup. Opt for different sizes, colors, and shapes, hanging them at varying heights to create depth and interest.
For an artistic touch, consider DIY versions – decorate plain lanterns with paint, glitter, or colored paper cut-outs to match the party theme. Craft a warm, inviting ambience by placing LED tea lights inside them. Not only does this lend a magical glow, but it also ensures safety, unlike traditional candles.
Clustered around the party space, strung over the dining area, or even leading a path to the entrance, these lanterns suffice as a brilliant decoration accent. Just remember: arrangements should be strategic, enhancing the overall look without causing any navigational issues for guests.
Fairy Light Curtains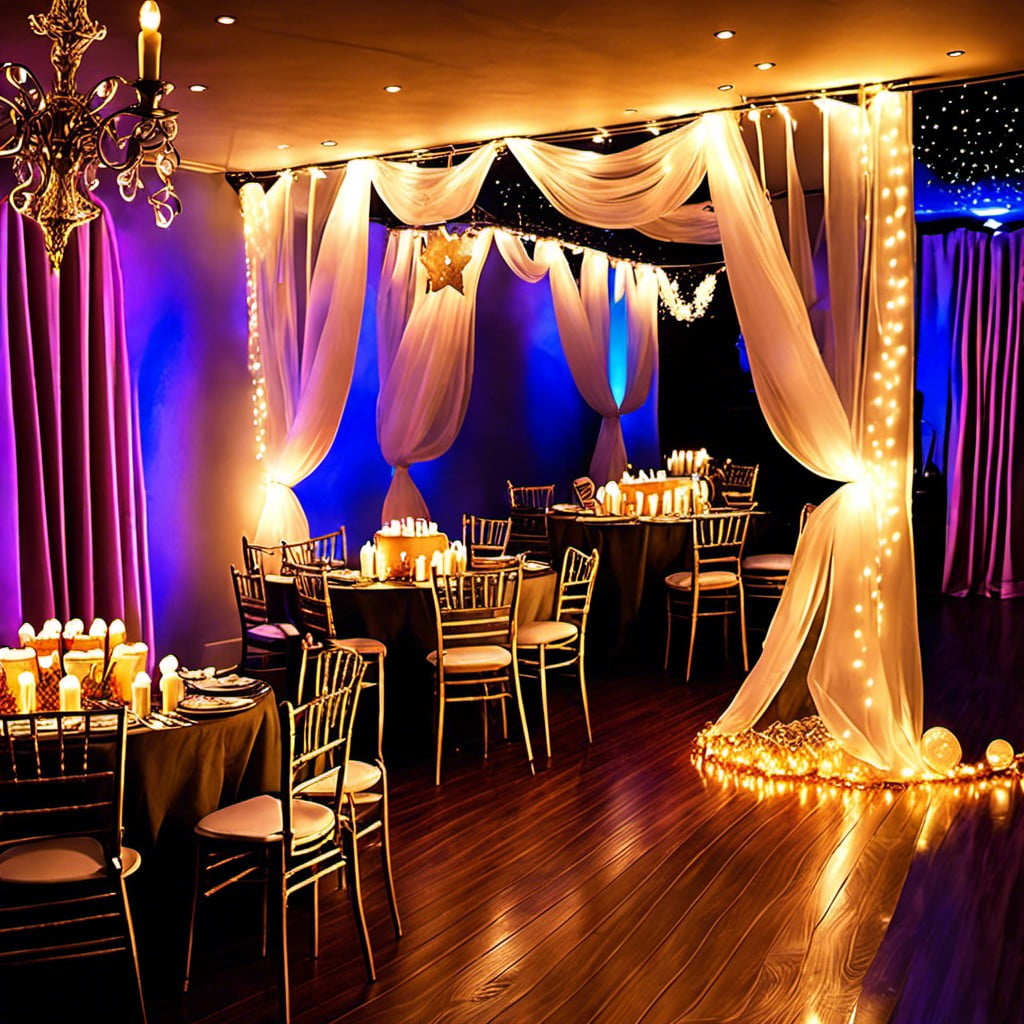 Fairy light curtains effortlessly enhance the ambiance with a sparkling display. They can be used to illuminate an outdoor party or indoor celebration. To create this, you'll need numerous strings of fairy lights.
1. Measures: Before purchasing, measure the length and width of the area where the curtain will be hung. This will ensure you buy the right amount of lights.
2. Hanging Method: Attach a sturdy rod at the top of the intended space and arrange the light strings in a curtain-like fashion. Using transparent or similar color hooks can enhance the illusion.
3. Light Selection: Opt for warm white lights for a softer glow or multi-colored ones for a vibrant twist. LED lights are preferred due to their energy efficiency and longer lifespan.
4. Safety: Always check if the lights are safe to touch and aren't prone to overheating. This is especially significant for indoor events or parties with children.
5. Combo with Other Decor: Combine with sheer drapes or hang some photos using small clothespins to create a unique element.
6. Maintenance: Ensure the lights are dust- and waterproof as well to facilitate easy care and maintenance.
Applying these ideas, your fairy light curtain will serve as a brilliant centerpiece, creating a memorable environment for any 18th birthday celebration. Remember, it's not just about the light, but the magic it brings to the event!
DIY Backdrop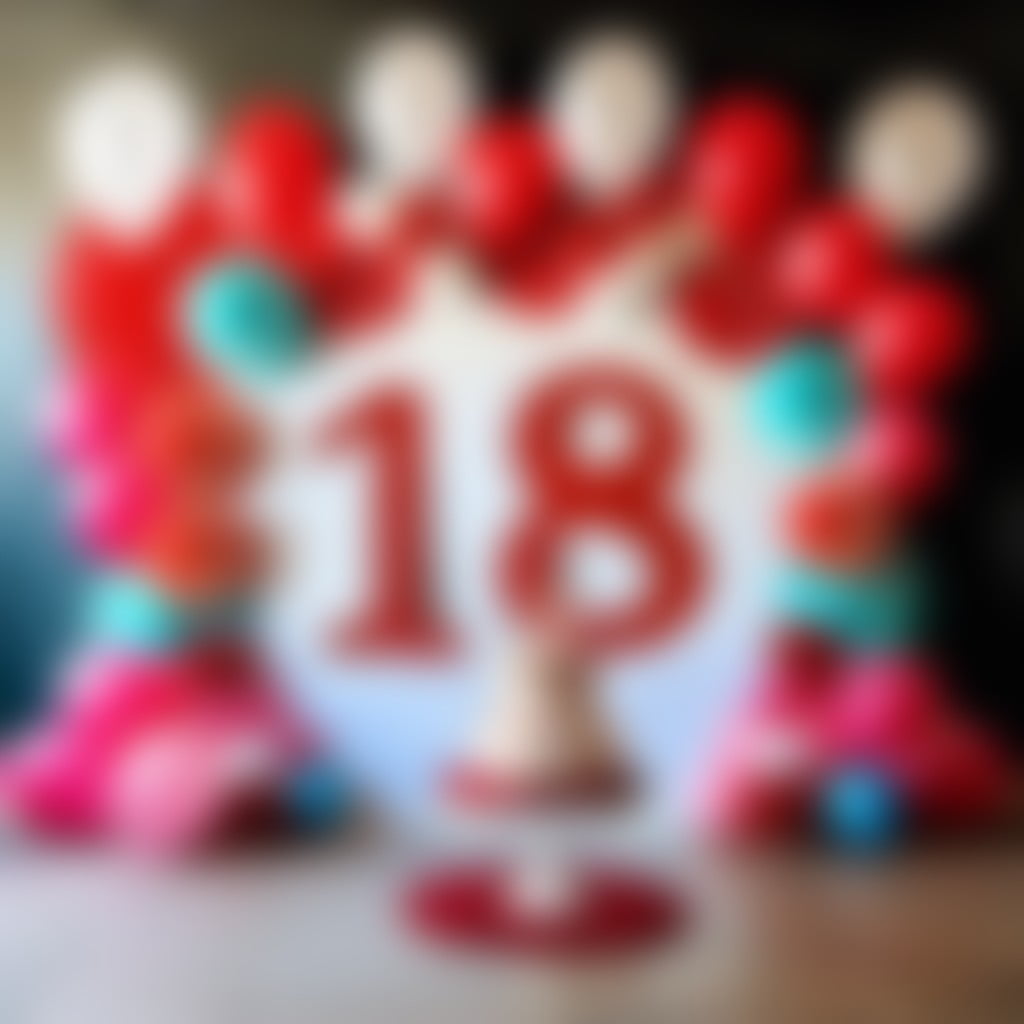 Creating your own backdrop can bring a personalized touch to the party and serve as an excellent photo background. It's a task that's not only cost-efficient but also allows for unleashing your creativity. Here's a quick guide:
1. Choose materials: Depending on your party's theme, select fabric, streamers, balloons, artificial flowers, or even photo frames!
2. Get an affordable stand: Find a sturdy stand that suits your chosen materials. You may use PVC pipes, a curtain rod, or even a suitable wall at your venue.
3. Design and Setup: Start arranging your materials onto the stand or wall. It could be a cluster of balloons, a cascading row of streamers, or a neat square of framed pictures.
4. Add finishing touches: Finally, incorporate some extras for added pop – fairy lights, glitter, hangable props – let your imagination run wild!
Remember, the backdrop should represent the celebrant's personality while complimenting the overall theme, so keep it unique and fun!
Candy Buffet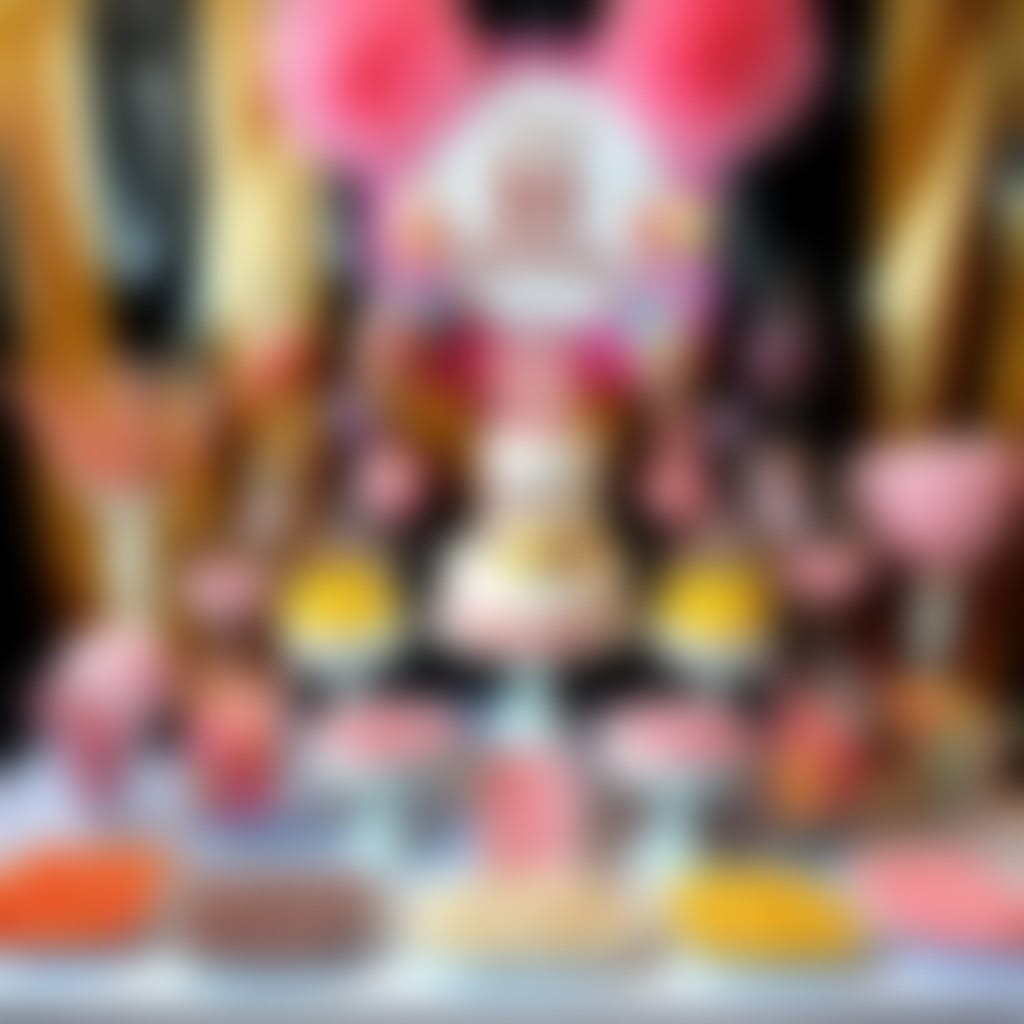 Creating a candy buffet adds a fun and sweet twist to your 18th birthday decorations. Select sweets that match your color scheme for a coordinated look, and use a variety of glass containers to hold each type.
Utilizing a baker's rack or shelf can highlight the colorful array of choices. Label each jar so guests know what they're dipping into. Don't forget scoops or tongs for each bin, as well as a stack of candy bags for take-home treats.
For a unique touch, include some childhood favorites or local specialties!
Color-coordinated Decorations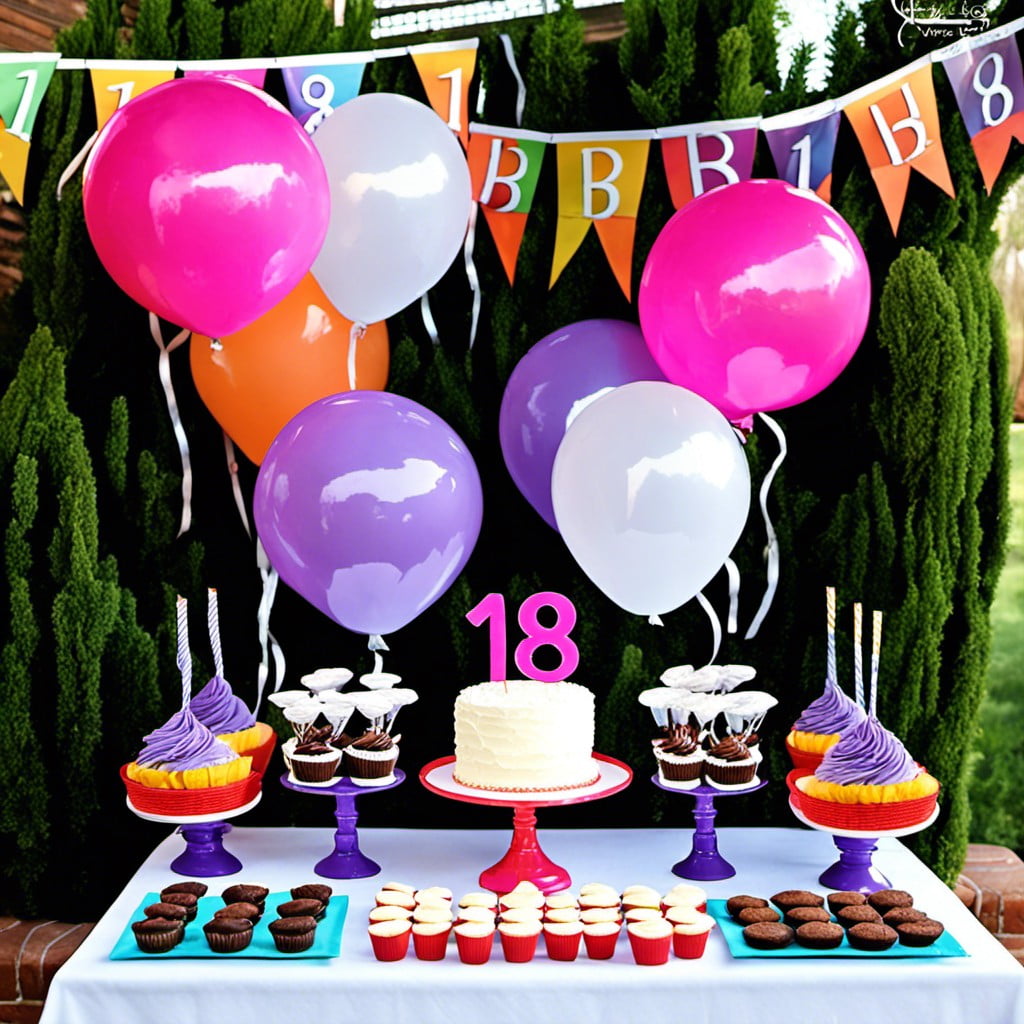 Selecting a color scheme is essential. It streamlines the decor process and creates an atmosphere suited to the celebrant's tastes. A single color, a duo, or a combination of multiple hues can paint a festive picture.
Let's explore options:
1. Monochromes: Opt for different shades of a single color for an elegant, understated effect. This can range from napkins to table runners, and even the cake.
2. Complementary Colors: Go for contrasting colors on the color wheel to make decorations pop. An example could be blue and orange.
3. Triadic and Tetradic: Triadic uses three colors evenly spaced on the color wheel, while Tetradic uses two sets of complementary colors. These schemes provide a vibrant, playful atmosphere.
4. Pastels: These provide a soft, calming effect, great for outdoor or day-time parties.
5. Metallics: Gold, silver, or rose gold combined with another color adds a touch of glamour.
Remember, consistency is key. Once decided, the color scheme should reflect in each decoration element, assuring a visually pleasing symmetry.
LED Balloons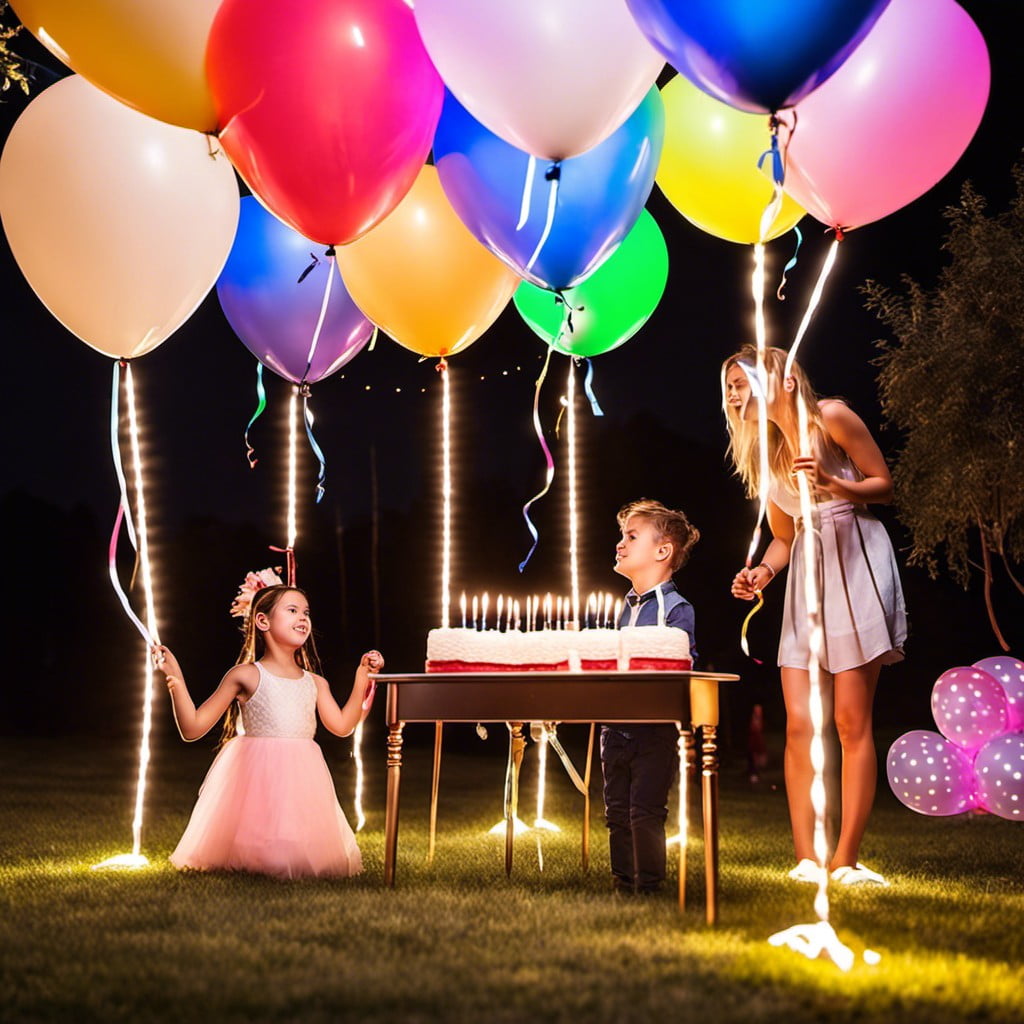 Ideal for creating ambient evening light, these glowing orbs effectively transform any area into an enchanting fairyland. They're powered by tiny LED lights inside, illuminating the balloon and casting a warm, soft glow around the space.
Easy enough for anyone to set up, they can be attached to strings and hung from the ceiling, or fastened onto balloon weights and arranged around the party area. Always remember to switch them on just before the party to ensure they last through the night.
With a wide range of colors available, the balloons can easily match any theme or color scheme, making this a versatile decor option.
Mason Jar Lights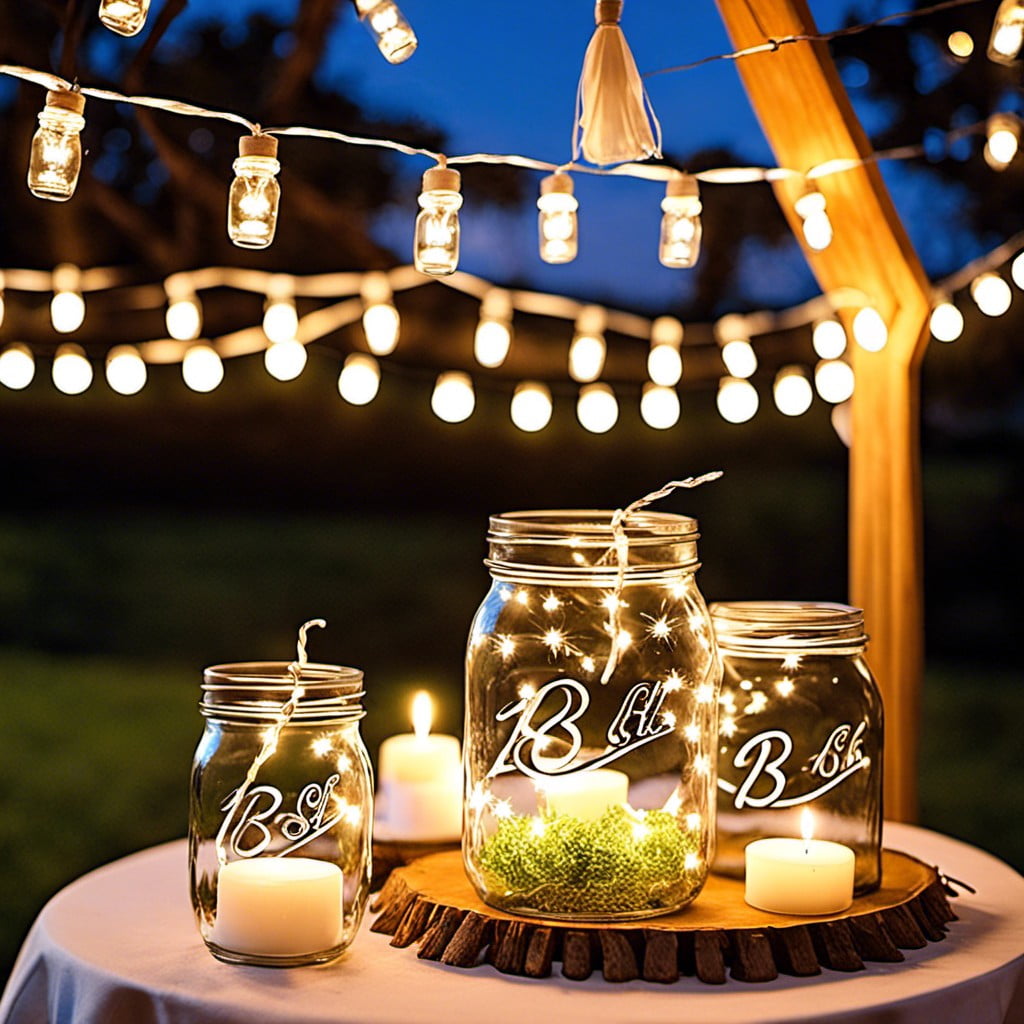 For a magical ambiance, utilize Mason jar lights to great effect. These versatile lanterns bring a charming luminosity to any setup. They are easy to assemble with just a Mason jar, small LED lights, and battery sets.
You can opt to fill jars with fairy lights for a warm, welcoming glow. Similarly, vibrant LED strips coiled inside jars offer bolder, color-centric illuminance. These jars can be hung, placed on tables, or dispersed around, depending on the desired effect. To heighten the visual appeal, consider tying a color-coordinated ribbon around the jar lid or even inserting photo cut-outs inside the jar along with the lights.
Not only are these light jars beautiful, but they also offer energy efficiency and pose minimal fire hazards compared to candles. Concerning cost, they're a budget-friendly alternative to expensive light fixtures, becoming an ideal choice for birthday decor.
Remember to keep spare batteries at hand, so the sparkle does not fade in the middle of the celebration.
18 Candles Decor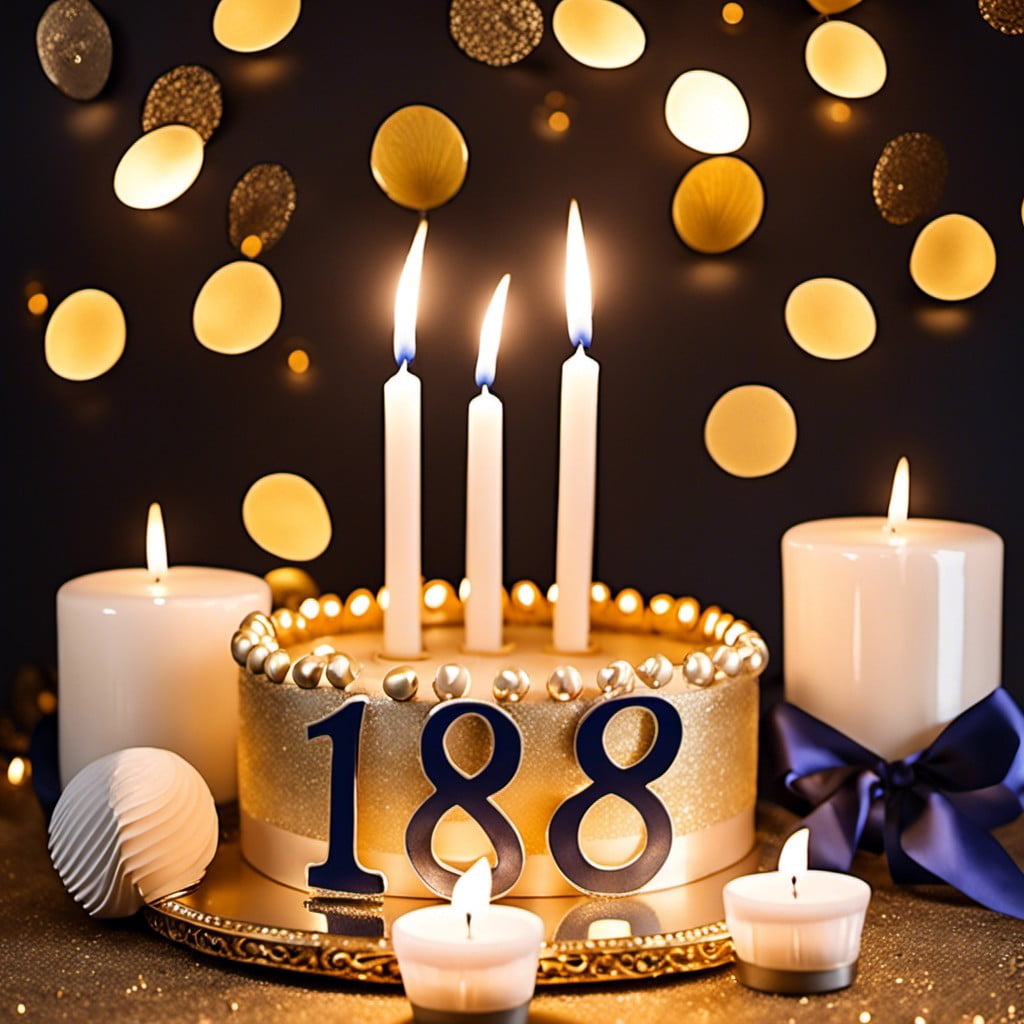 Harnessing the symbolic power of this momentous age, incorporating candles into your party decor can add an element both visually striking and deeply meaningful. Consider using tall pillar candles for a dramatic impact, enhancing the ambiance by carefully orchestrating their placement.
Remember, safety comes first, so think about placing on heat-resistant surfaces or inside lanterns. Opt for electric candles near flammable materials or in tighter spaces where many guests will be bustling around.
Expanding on the traditional '18' cake candles, scatter around smaller votive or tea light candles for a warm, inviting glow. Opt for perfumed ones to provide a delightful aroma, boosting the atmosphere even further.
Lastly, play within your color scheme. If you're going for a monochromatic theme, all-white candles can be a chic choice. But, don't hesitate to use colored or metallic candles for a fun, vibrant setting. Embrace the candle magic, enhancing your decor while celebrating the adult milestone.
Birthday Tiara and Sash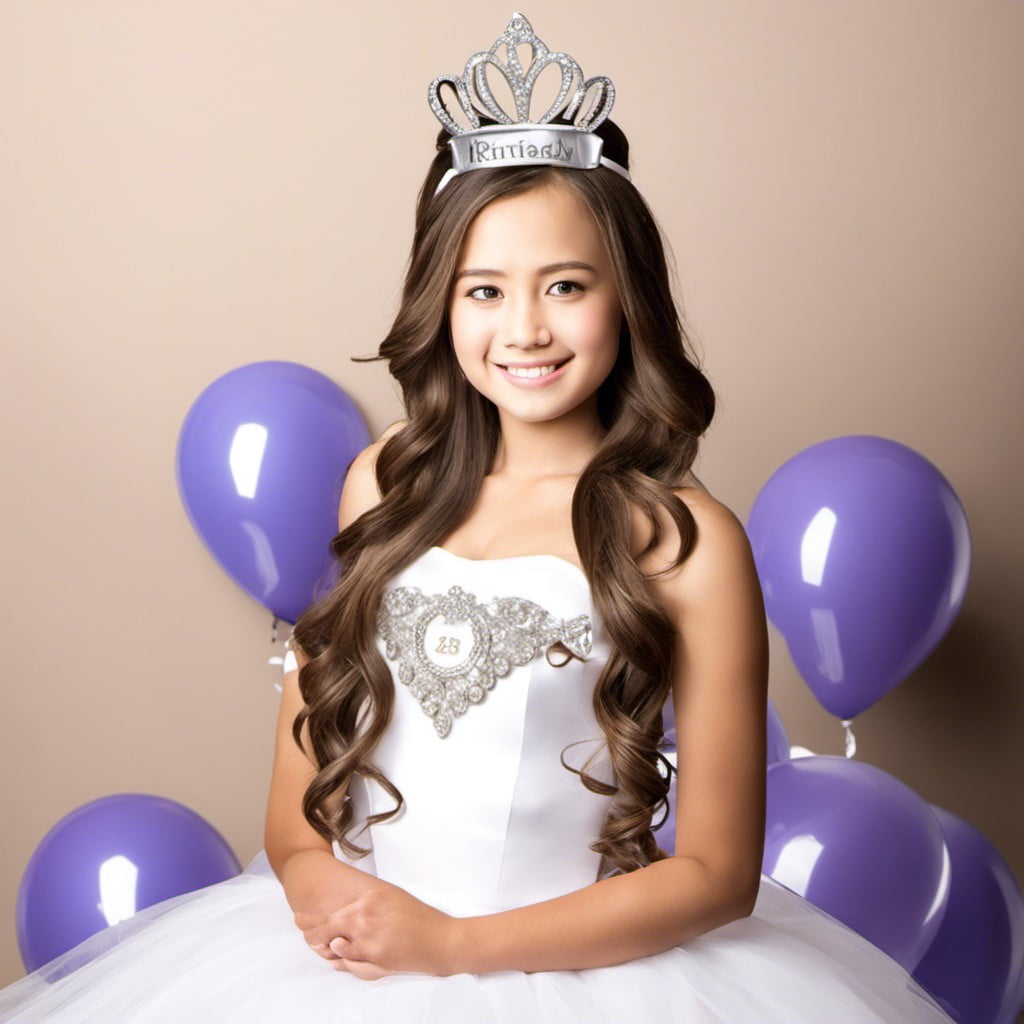 Adding a festive touch to the birthday celebrant's outfit can instantly elevate the atmosphere of the party. A tiara, signifying royalty and class, can make the birthday child feel special and appreciated. Similarly, a sash creates a feeling of recognition and stands as a fun reminder of the person of the day. You can personalize these items by including the birthday person's name or a cute message like "Officially 18". Sparkly or colourful, these accessories are not only good for pictures but are fun keepsakes for the birthday teenager to remember their special day.
1. Material Choice: Choose a tiara and sash that reflect the party's theme. Metallics like gold and silver are classic options; however, don't shy away from colors that match the decor or the celebrant's preference.
2. Personalization: NOTHING screams special than a custom sash with the birthday person's name or an inside joke that amps up the party spirit.
3. Comfort: Ensure the tiara and sash are comfortable for extended wear. They should be lightweight and free from any elements that might poke or scratch.
4. Longevity: Opt for quality materials ensuring a removable keepsake to treasure the memories associated with it.
5. Picture Perfect: Consider how the sash and tiara will photograph, choose eye-catching or shimmer options for noticeable party photos.
By incorporating these tips, the Birthday Tiara and Sash will become an integrated part not only of the decoration plan but something over which the birthday person will gush too. It's all about fine details that create lasting impressions.
Custom Birthday Cake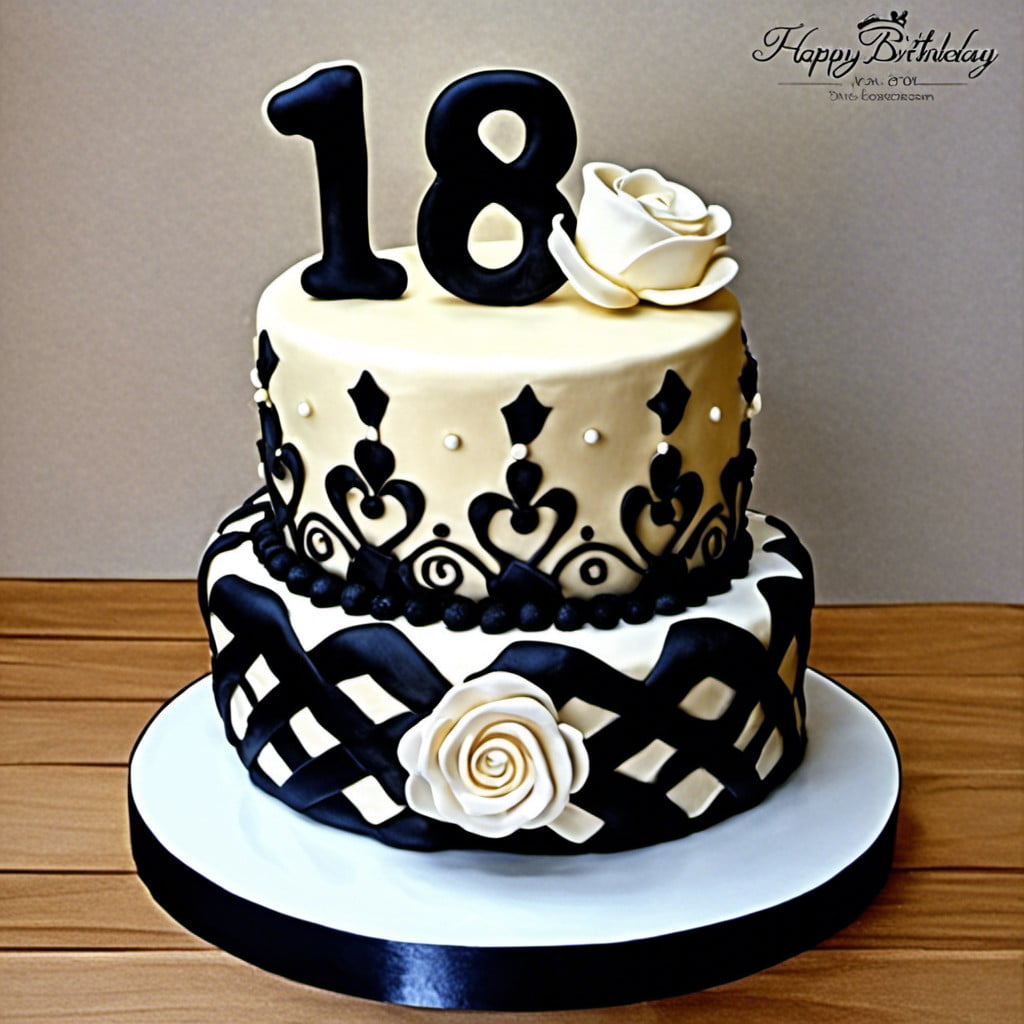 An 18th birthday celebration isn't complete without a cake as it's a centerpiece of birthday traditions worldwide. For an added personal touch, consider a customized cake that resonates with the birthday individual's personality, interests, or hobbies.
Your options are numerous. Are they into sports? Choose a cake that's shaped or designed like their favorite athletic equipment. Fan of a music band or singer? Opt for a cake designed with symbol or album art of the favourite artist. Have an artistic streak? Select a cake with an architectural or abstract design.
Additionally, adding their name or a meaningful quote in icing can provide more personalization. This isn't just limited to textual content, but also the color palette and flavor selection. You can match the color of the frosting or the cake itself to other decorations or the party theme. Similarly, choose a flavor that the celebrant cherishes whether it's chocolate, vanilla, red velvet, or a unique concoction.
Finally, as a nod to the significant '18' milestone, incorporate this number into the design. It can be as bold as the cake's shape or as subtle as a small iced detail. By featuring the celebrant's interests and personal style, the custom birthday cake will not only taste delicious, but also set the celebratory mood.
Liked reading this? Here's more:
Recap: