Last updated on October 23, 2023
Embrace the vibrant and eclectic style of the '80s because this article outlines unique decor ideas that bring nostalgia and a visual party right into your home.
"I have meticulously crafted these unique 20 Retro Decor Ideas inspired by the 80s, and I sincerely hope you find them as inspiring and fun to explore as I did when creating them."
Step back in time and let's explore the vibrant, eclectic world of 80s decor. From bold geometric patterns to pastel color palettes, the 80s brought a unique flair to home design, one that continues to inspire today.
This article is your one-stop guide to recreating that iconic look, packed with tips, tricks, and ideas to help you transform your space into an 80s haven.
Whether you're after the full retro experience or just a touch of nostalgia, you'll find all the details you need right here to achieve your desired 80s decor.
So, let's dive in and rekindle the magic of the 80s in your home.
Neon Color Schemes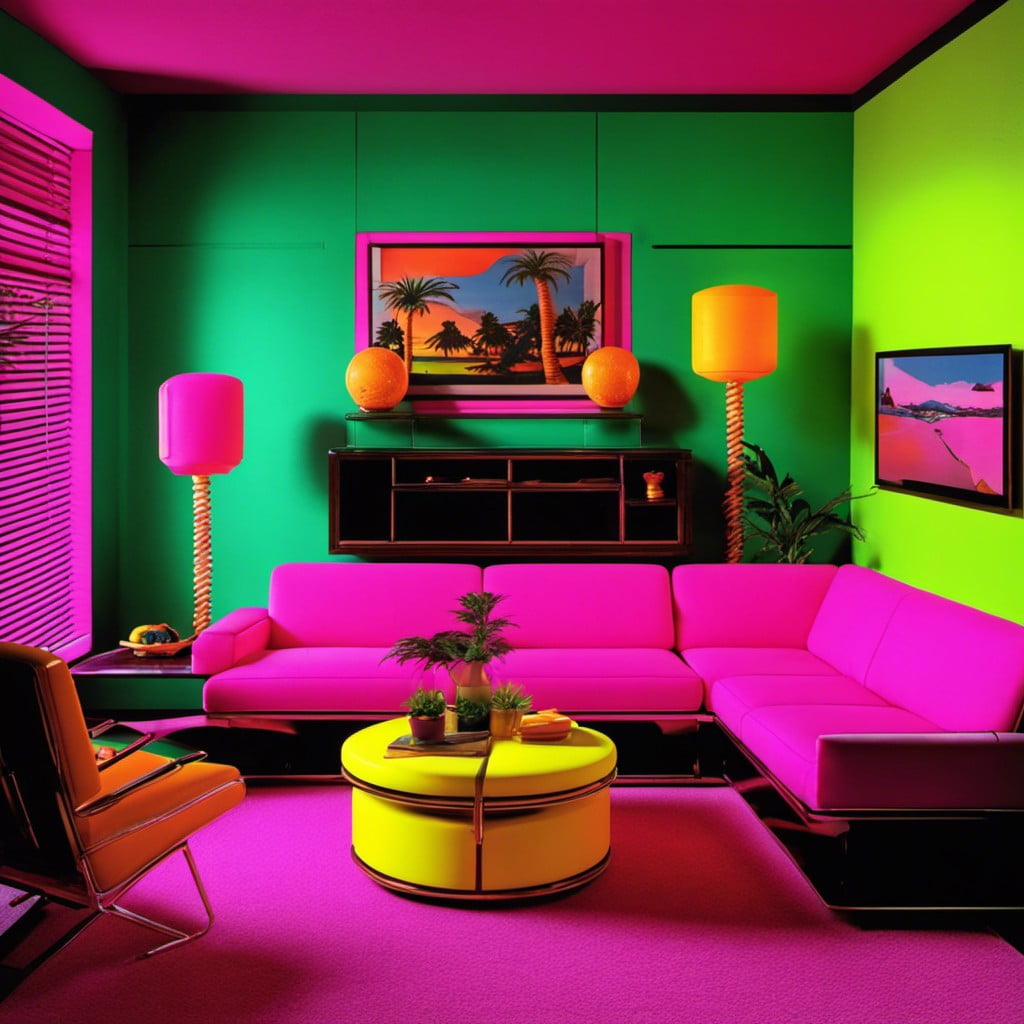 Neon colors play a significant role in forming the quintessential 80s aesthetic. Bold hues of pink, green, yellow, and blue are unmissable elements of this retro style, often juxtaposed to form stark contrasts.
Ideal for highlighting focal points in a room, vibrant neon can transform dull corners into dynamic spaces. Textile accents such as drapes, throw pillows, and rugs are perfect candidates for these colors.
Additionally, furnishings painted in neon hues can inject an immediate nostalgia-evoking effect. Remember though, neon is potent; use wisely to avoid overwhelming the space.
Instead, strive for balance by offsetting intense colors with neutral shades, or choose one neon color as your standout piece to anchor the design.
Graphic Wall Art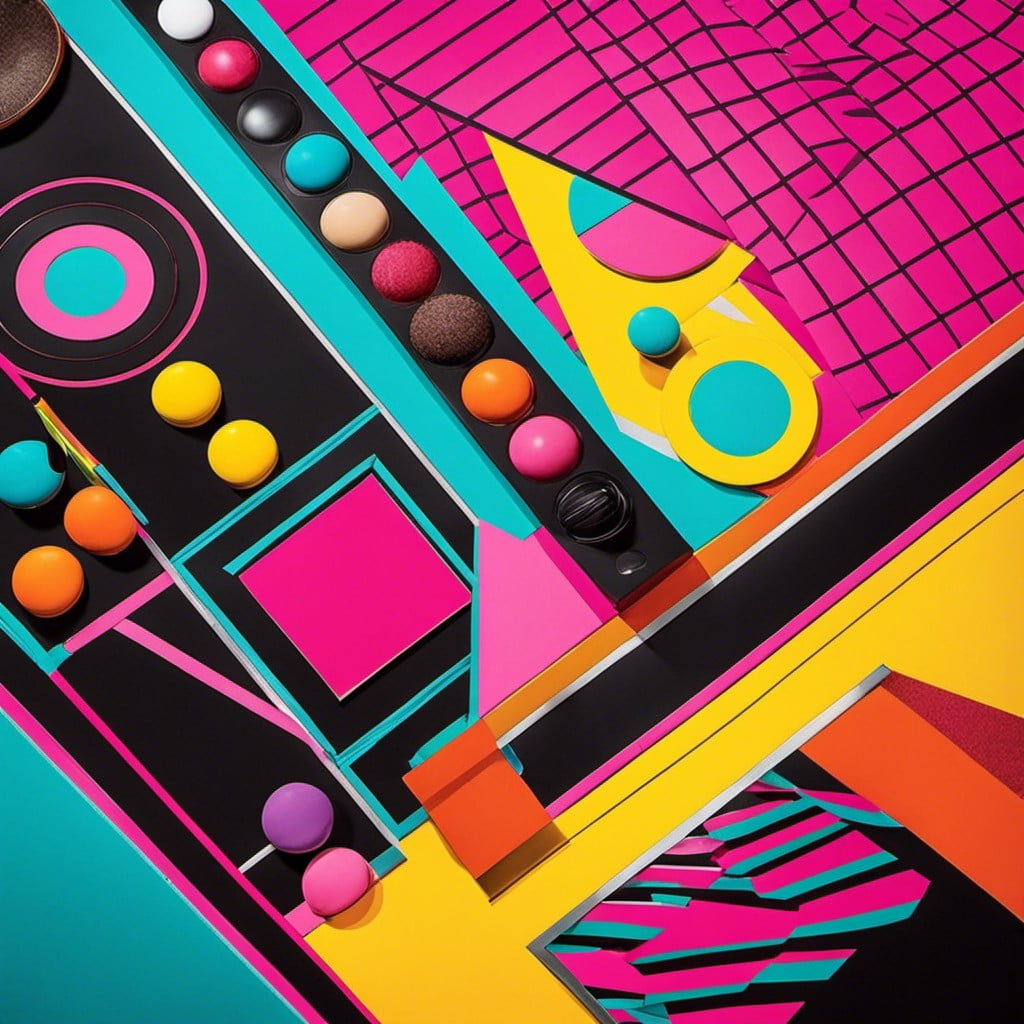 Embracing the bold and vibrant energy of the 80s requires diving into the world of graphic wall art. This creative explosion is characterized by its bright colors, bold typography, and abstract shapes, offering more than just visual appeal. It adds a touch of individuality and rebellion to any home.
Consider hanging large pop culture posters that influence the 80s era. Iconic movie posters, famous album covers, or colorful artworks by artists like Keith Haring or Andy Warhol would do the trick.
Alternatively, typography art is another great choice. Song lyrics from popular 80s bands or motivational quotes in bold, chrome-like fonts will undoubtedly capture the decade's spirit.
For a slightly subtler approach, consider geometric-shaped art. Abstract shapes and thick, angled lines portray the futuristic theme typical of 80's design, instantly updating the look of your walls.
Remember, the larger, the better when dealing with graphic wall art from this era. Bigger pieces create an immersive experience, plunging visitors straight into the heart of the 80s.
Retro Arcade Machines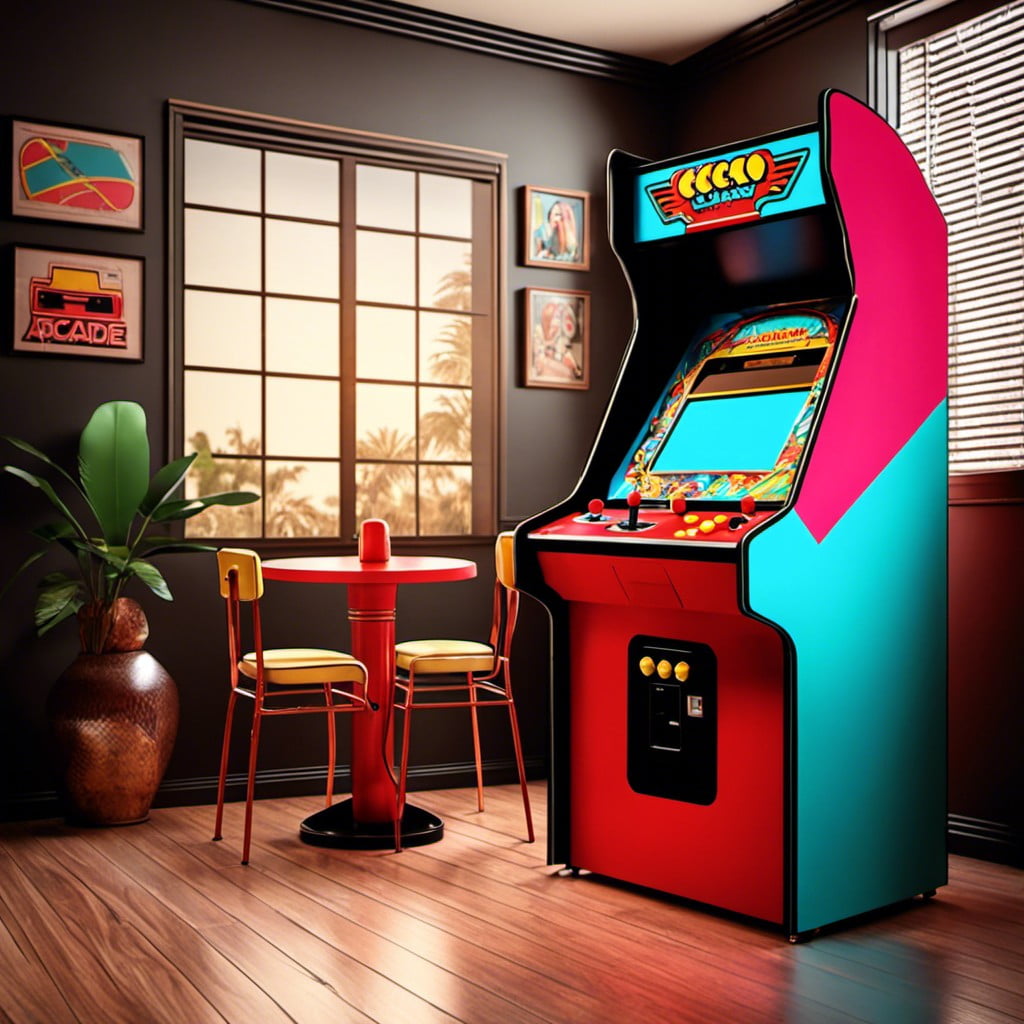 Turning a corner of your home into a gaming haven has never been easier. With a resurgence of classic arcade machines into the marketplace, the nostalgia factor can seamlessly be woven into your decor theme. You can opt for an original machine – think Pac Man or Space Invaders – to really stir up some memories. These machines offer dual functionality: they are both a fun activity and a piece of vintage art.
For smaller spaces, miniature countertop machines provide equal amount of retro charm. In tight quarters, they do the trick without overwhelming the room. Pair these with low stools to further capture the arcade aesthetic.
To add a pop of '80s authenticity, position your arcade machine adjacent to neon signage. This forces the focus onto the gaming corner and invites everyone to stop by for a game or two.
Remember, you can work with suppliers to customize these machines to match your overall color scheme. This way, the arcade machine becomes a statement piece without feeling out of place.
Geometric Patterns for Wallpaper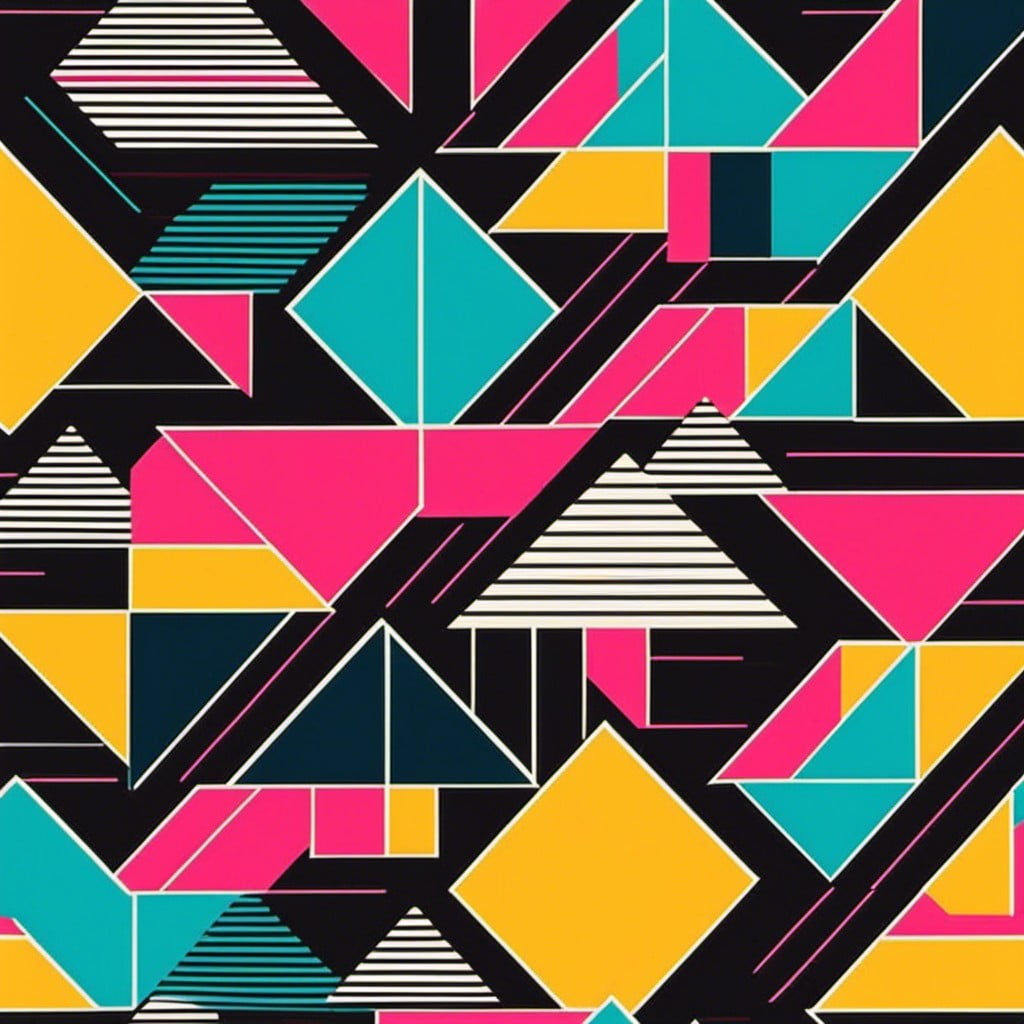 In the pursuit of an authentic 80s vibe, wallpapers are not to be overlooked. Bold patterns were a quintessential element of the decade's design aesthetic, offering a visual feast on the walls. Geometric designs, such as circles, squares, triangles, and herringbone patterns, were particularly pervasive during this artistic era. They inject a sense of dynamism and character into any space, turning otherwise dreary walls into vibrant backdrops.
To maintain the iconic look, it's important to seek out designs that feature the theme's signature glossy finish. A shiny wallpaper surface can further emphasize the liveliness of the geometric patterns, evoking a feeling of excitement and playfulness.
In terms of colors, consider those that are emblematic of the 80s — think neon pinks, purples, blues, and greens. These eccentric colors not only bring out the geometric designs but also augment the overall 80s ambiance.
When incorporating geometric wallpaper, moderation is key. Covering every wall in a room might be overwhelming. Using this wallpaper on a feature wall, however, can strike the perfect balance, adding an eye-catching focal point without detracting from the other retro decor elements.
Remember, going for the 80s look doesn't mean you can't personalize. It's more than acceptable to blend modern trends with these vintage styles. Monochromatic geometric patterns, for instance, are a contemporary twist that still retain the essence of the 80s aesthetic.
Lava Lamps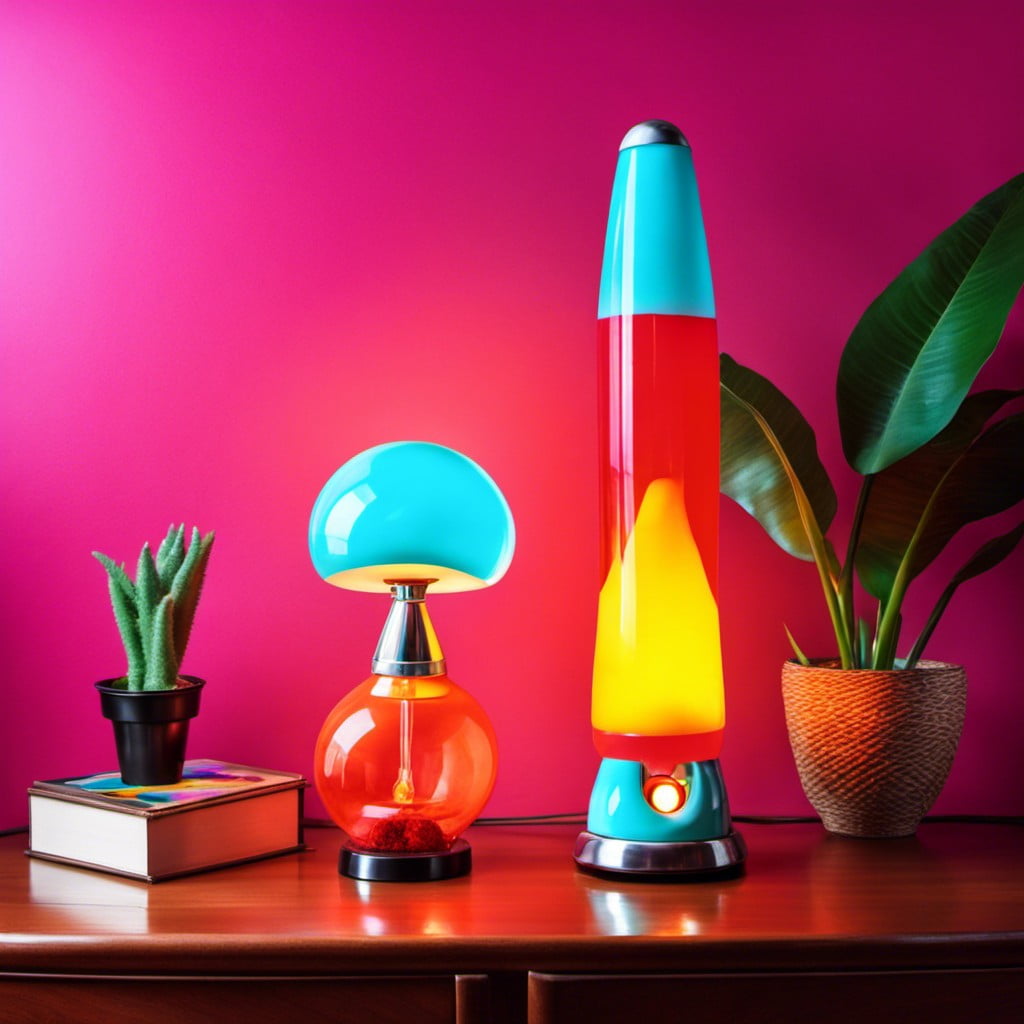 The mesmerizing gloopy essence of these lamps brings instant ambiance, whether placed on a coffee table, bookshelf, or desk. Iconic for their distinctive teardrop design, these lamps create a psychedelic effect with heated wax floating in a liquid medium.
The light source at the bottle's base heats the wax, causing it to rise and fall in captivating blobs, creating a soothing, trance-like spectacle. Spice up your room with different colors to match your mood and decor style, from fiery red to cool blue or a vibrant purple.
The slow, languid movement within the lamp also makes it a unique stress-relieving piece, perfect for your 80s sanctuary. You'd find the reemerging popularity of lava lamps in modern interiors not surprising thanks to their ability to double as statement décor and ambient light sources.
Vinyl Record Decorations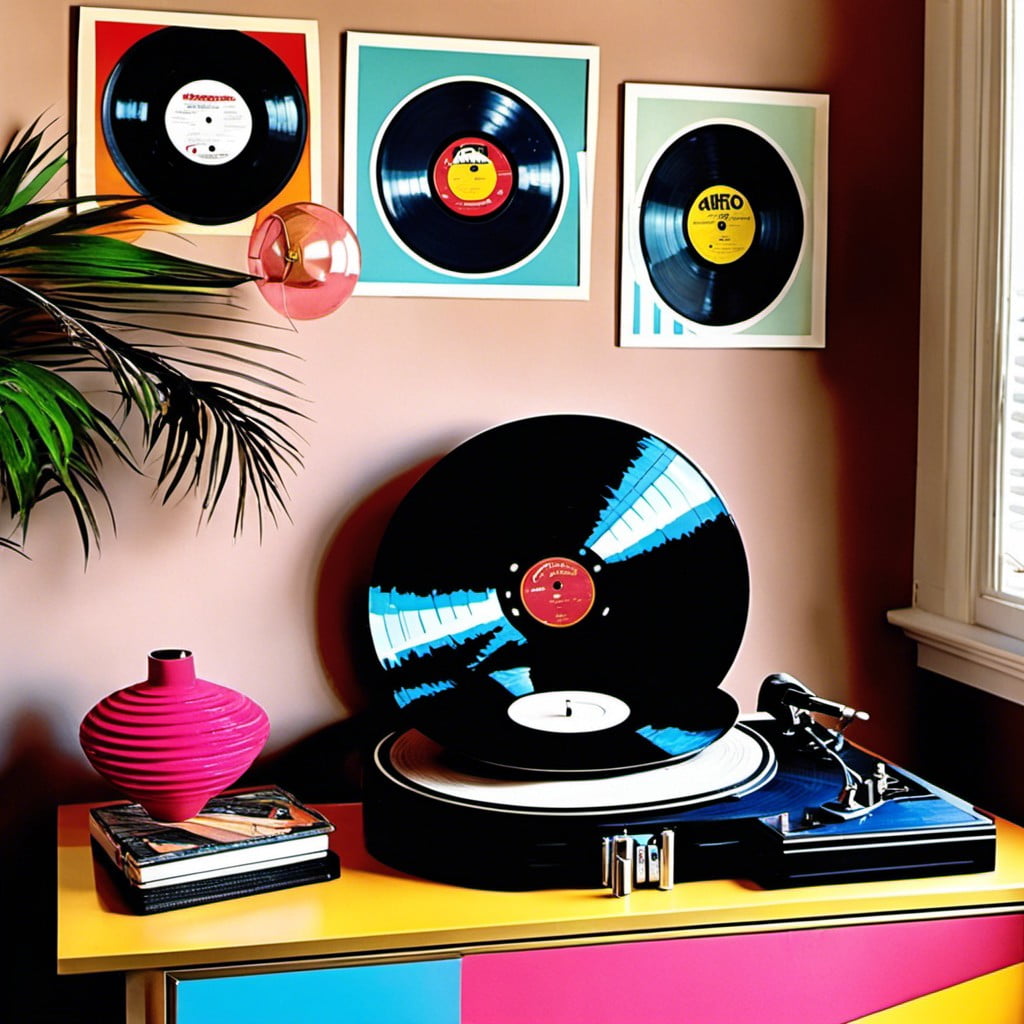 Embracing vinyl records as part of your home's aesthetic can tap into a distinct 80s feel. They're diverse, being used either as standalone pieces or incorporated into larger design aspects.
1. Framed album covers: Selected favorites can add a vibrant color splash, reflecting personal music tastes.
2. Shelves display: Aligning records on dedicated shelves make interesting, easily changeable wall art.
3. Coffee table décor: Pile up albums horizontally for a quirky center-piece.
4. DIY Clock: Repurpose a record into a functional vintage-looking timepiece.
5. Floor-to-ceiling feature: Regularly spaced, this offers a visually gripping accent wall.
Remember that moderation is key to avoid clutter. The versatility of vinyl record decorations can evoke a unique blend of nostalgia mixed with contemporary style.
Pop Art Prints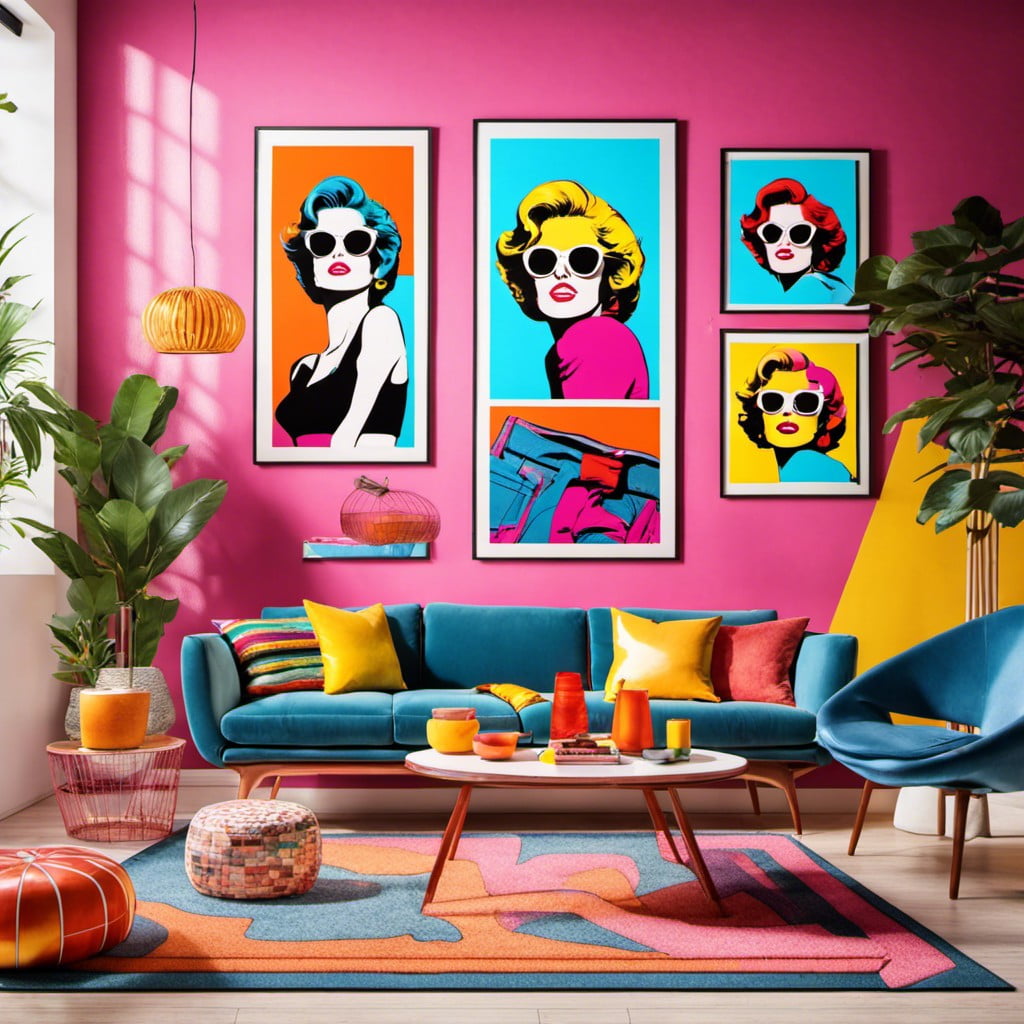 Inject some color and iconic imagery into your decor with pop art prints. Known for their bold hues and large-scale portrayals of cultural motifs and celebrities, these pieces became the epitome of cool in the 80s. Hang them in high traffic areas to make a statement and captivate guests.
Choose from artists such as Andy Warhol and Roy Lichtenstein, known for popularizing this visual art movement, or go for lesser-known artists to create a unique atmosphere. Explore various themes – from celebrity portraits, comic book strips, to intriguing objects inspired by everyday life. This isn't just wall décor; it's a conversation starter.
Pro-tip: Large pop art prints can dominate a room, so plan your furniture and accessories around these pieces to ensure a harmonious design. Remember, pop art is typically bold and bright, so keep the rest of your decor somewhat subdued to avoid visual overload.
Finally, while choosing your pop art, don't forget to have fun with it. After all, the spirit of pop art is all about challenging the status quo and embracing the whimsical.
Fluorescent Lighting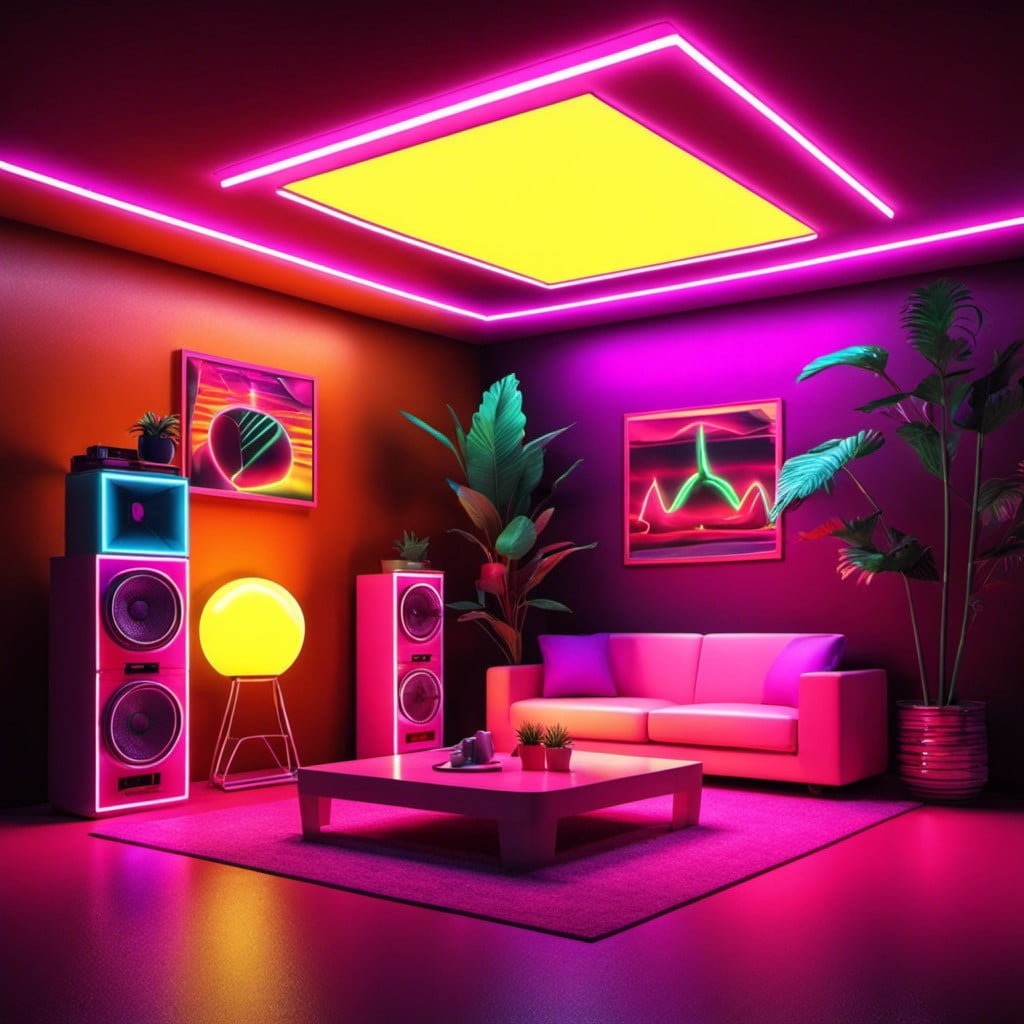 Highlighting the quintessential 80s revival, fluorescent lighting adds a striking element to any room. This lighting choice, loved for its vibrant hues and atmospheric effect, represents the quintessence of 80s style. Slightly avant-garde, it reintroduces the high energy of the decade in a modern home setting.
Consider the placement deliberately – hung in darker areas, it can create an engaging focal point. A tube light behind a houseplant or wall art provides an offbeat glow, creating dramatic shadows and highlights. Be daring with color. A pink light cast in a hallway affords a rosy tint, while a green one offers an edgy moodiness. Lighting isn't just functional; it's an aesthetic statement.
Maximize the impact by pairing it with complementary 80s features. Remember, balance is key. Pair bright light with neutral tones to maintain an appealing contrast. For those craving an authentic 80s ambience, fluorescent lighting is a true homage to the past that can be stylishly incorporated into today's home aesthetics.
Beanbag Chairs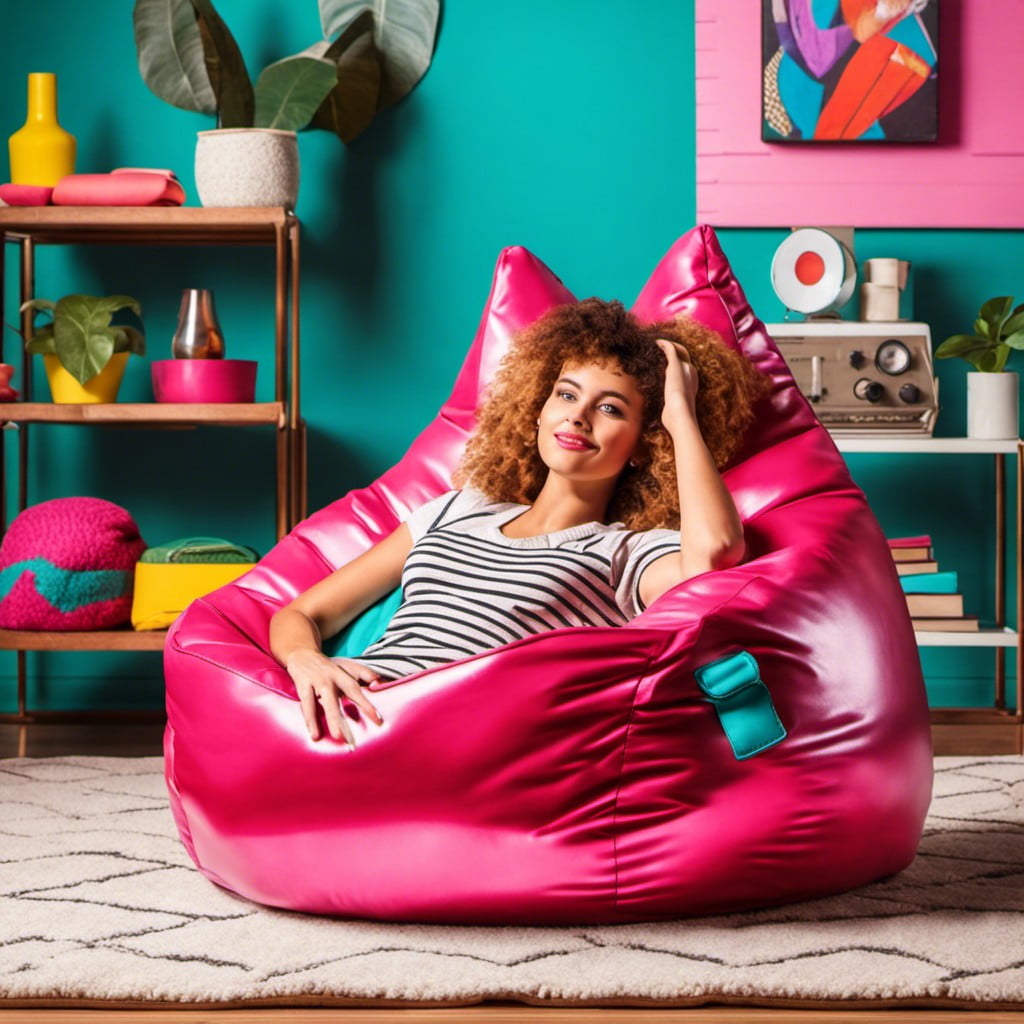 Relaxation meets style with these quintessential additions to any '80s-inspired space. Ideal for any corner, they provide comfortable seating without the rigid structure of traditional chairs.
Innovative materials like faux fur or vinyl can remake them into contemporary pieces while maintaining their nostalgic appeal. Use a vivid shade—think: electric blue or hot pink—to embrace the decade's love for dynamic colors.
They create a laid-back vibe and offer an informal yet striking statement. They're not only a fun retro way to furnish your space, but also a definite conversation starter!
Wall-mounted Rotary Phones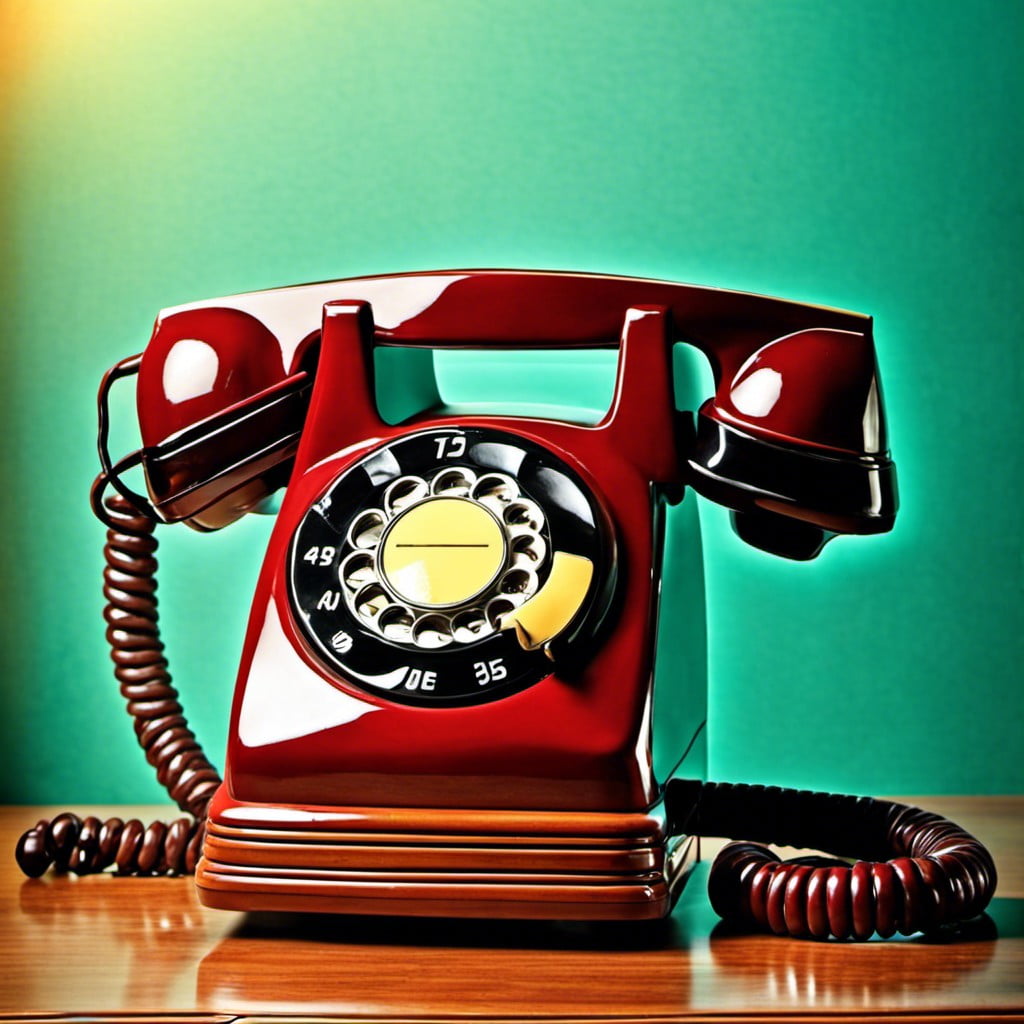 These vintage gadgets add a quirky touch to any wall, contributing both functionality and flair. Reminiscent of the public phone booths in classic 80s movies, they're visually striking and may even spark memories or start conversations among your guests.
1. Installation options: Opt for useful spaces like the kitchen or hallway, where a quick call can be made without the need to find a handset.
2. Variety: Classic black or white units are timeless, but don't rule out the bright ones — they can add a fun splash of 80s vibrancy.
3. Think of pairing: Try pairing them with 80s photographs, posters, or wall plaques for a more cohesive look.
4. Usage: They're not just decoration! Hook them up for an extra house line or for an in-house intercom system.
Remember, it's all about stepping back in time and enjoying the charm of a bygone era. Embrace the vintage appeal!
Jungle-themed Wallpapers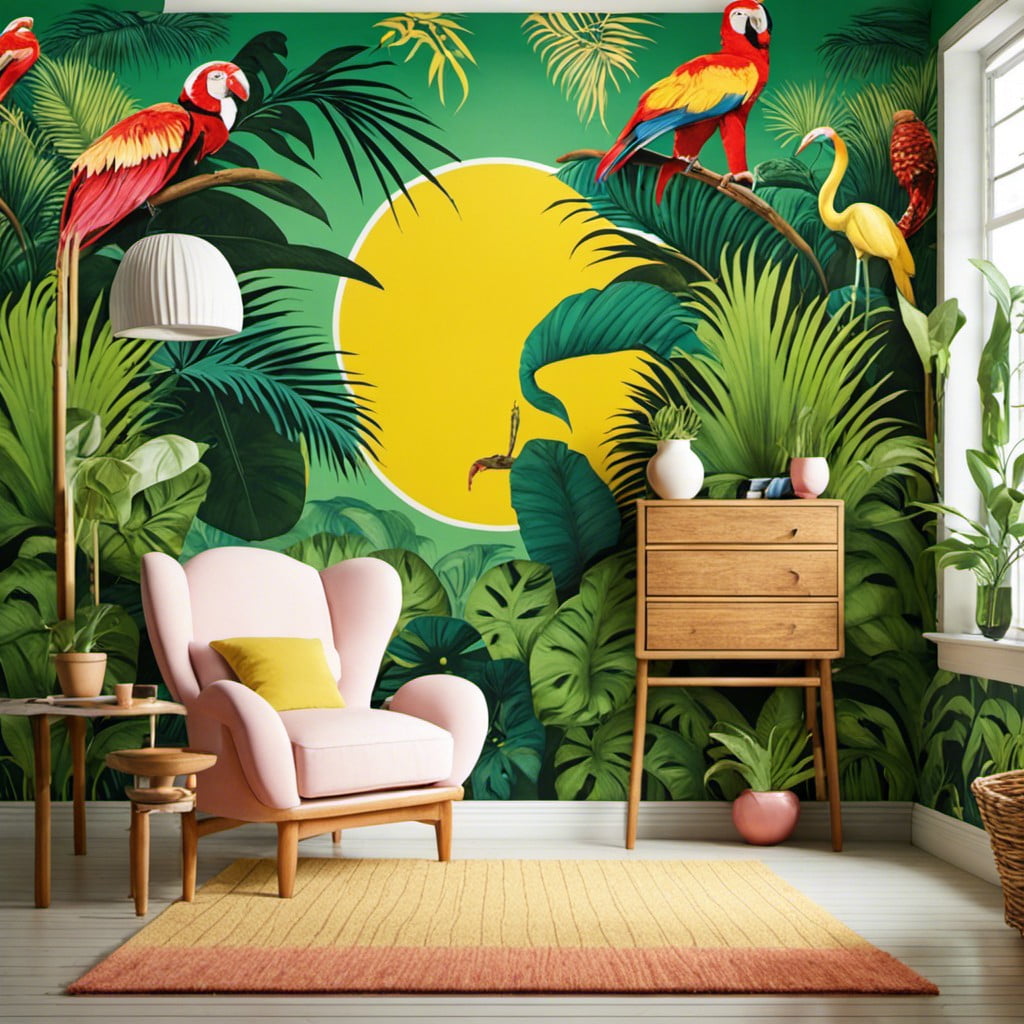 For a daring touch of the exotic, there's nothing quite like integrating the vibrant, lush aesthetics of the jungle into your living space. In the 80s, wallpapers mimicking the complexity of the wild gained popularity, injecting a dash of adventurous spirit to interiors.
To achieve this look, consider wallpapers with large leaf patterns, presenting rich tones of emerald, jade, and moss. Opt for those with a matte finish to replicate the muted, dewy greenery of a thick rainforest.
Bird motifs further amplify the jungle essence. Search for designs featuring brightly colored parrots, toucans, or flamingoes.
Also, feel free to explore a mix of nocturnal landscapes, with silhouettes of trees and animals against calming twilight shades, or a lively daylight scene, bursting with direct, vivid hues. Matching your selected wallpaper to your room's lightings can enhance the jungle ambiance further.
Do not shy away from coordinating this bold wallpaper with your room decor. Pair it with natural materials, such as rattan, bamboo, or jute. Artifacts and sculptures from ethnic or tribal origins also blend effortlessly with the jungle vibe.
Remember, the goal is to evoke the sense of exploration, mystery, and unlimited life inherent in the wild. So, push boundaries while maintaining a harmonious balance for a genuinely immersive jungle-themed atmosphere.
Vintage Metal Band Posters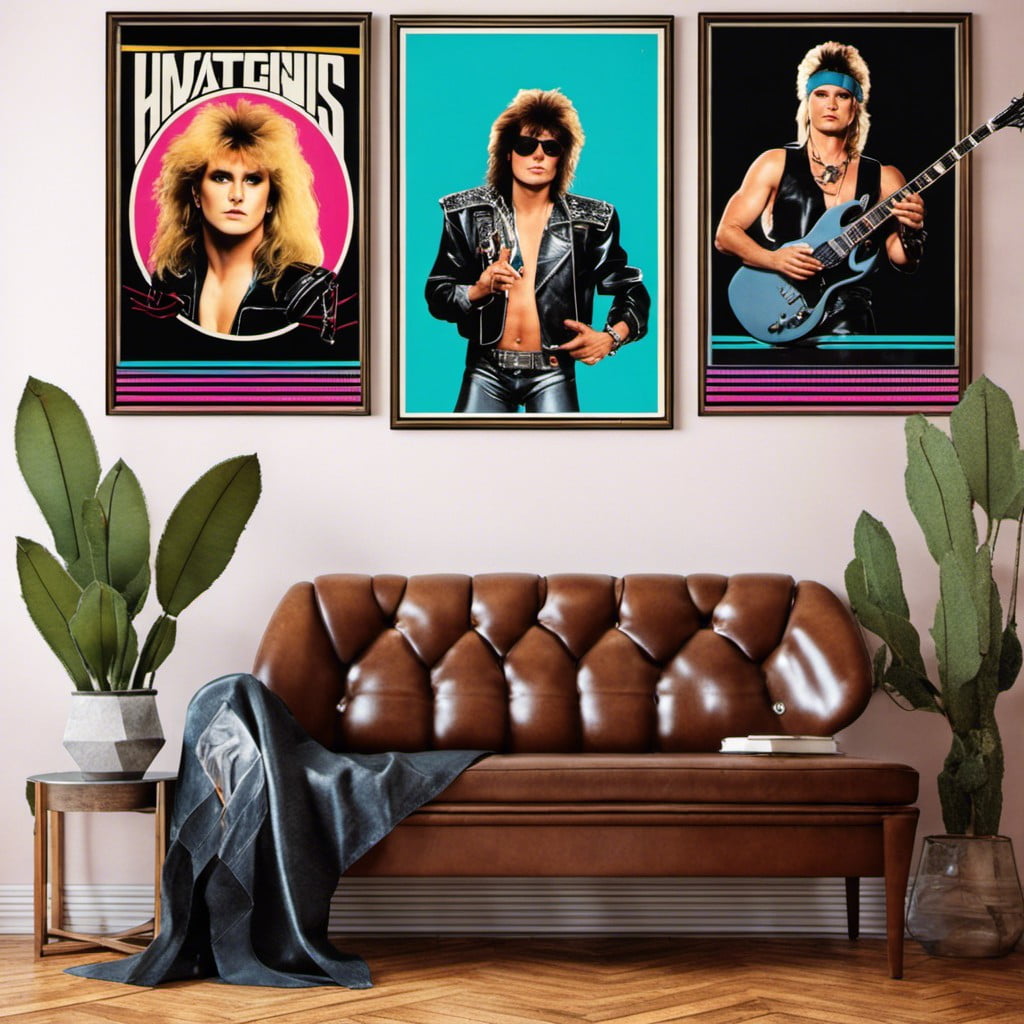 Serving as perfect conversation starters, these statement pieces are packed with nostalgia and raw attitude. Iron Maiden, Metallica, or AC/DC scream 80s era, and having their posters bring that energy instantly into a room.
Choose originals for a touch of authenticity or reproduction prints for a more budget-friendly option. Avoid overdoing it; one or two carefully selected posters work best without overwhelming the space.
Striking when framed, they can be a focal point in a room or part of a gallery wall. Consider the room's existing color scheme; coordinating it with the poster's dominant color creates a more cohesive look. Proper light, either from a window or intentionally placed lamp, will emphasize the poster and make the colors pop.
Jukebox Corner Placement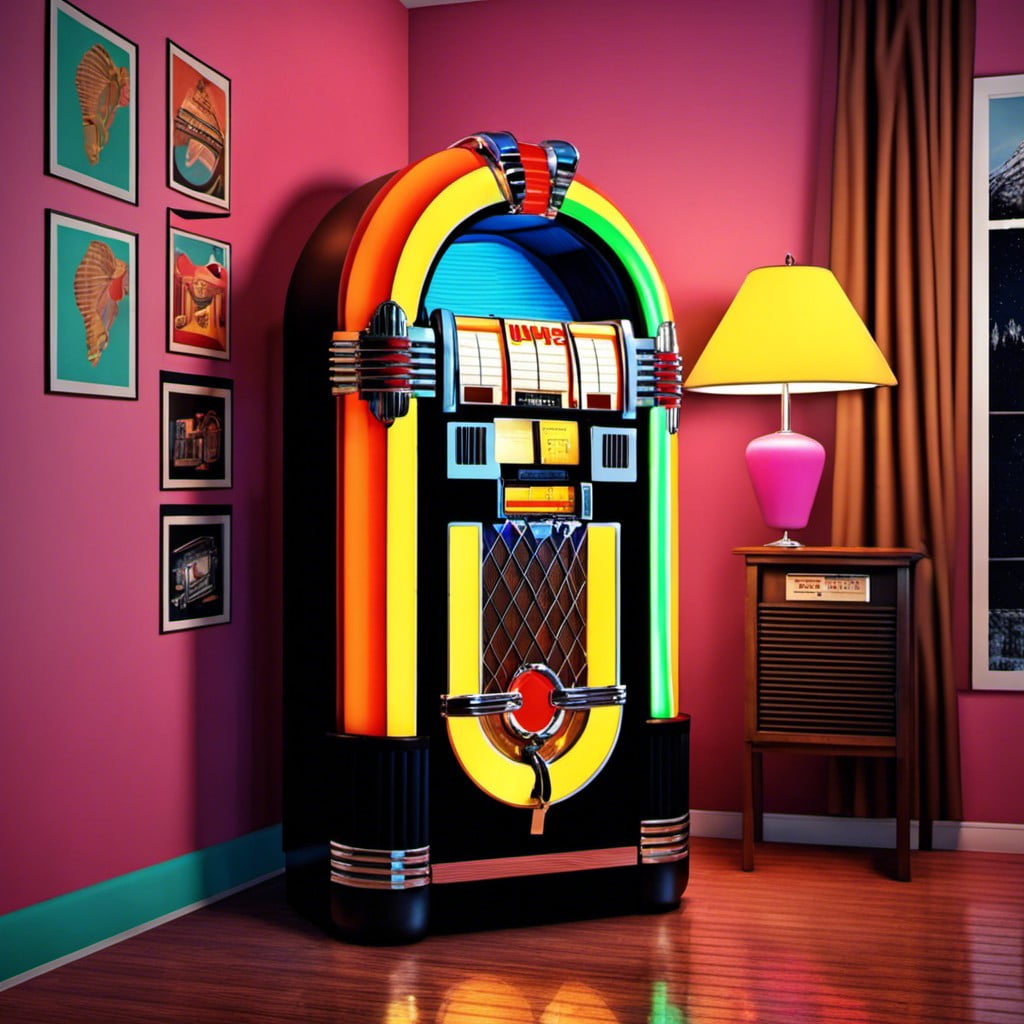 Fitting perfectly into any corner, your jukebox becomes an instant conversation starter. Its strategic position enhances the room's aesthetics and utilises an often under-utilised space.
1. Space Optimization: Corner placement is key for larger pieces like a jukebox, ensuring a harmonious layout without encroaching upon valuable space.
2. Ambient Noise: The positioning provides an equal distribution of its nostalgic tunes, enveloping the room in a cozy, inviting ambience.
3. Light Effects: Many jukeboxes feature vibrant, multi-colored lights that can bring an exciting visual dynamic to the room when placed in a corner, spreading the rays across the walls creating a unique shadow play.
4. Room Focal Point: This placement converts your jukebox into a retro art piece, contributing significantly to your decor's overall 80s theme.
5. Accessibility: A corner is usually readily available for you and your guests for song selections, easy maintenance and doesn't disrupt the flow of the room.
Remember, your jukebox isn't just for music; it's an integral part of the room's aesthetic and atmosphere. Its presence is commanding; however, strategic placement can make it a seamless fit, positively contributing to your room's overall layout and vibe.
Abstract-shaped Furniture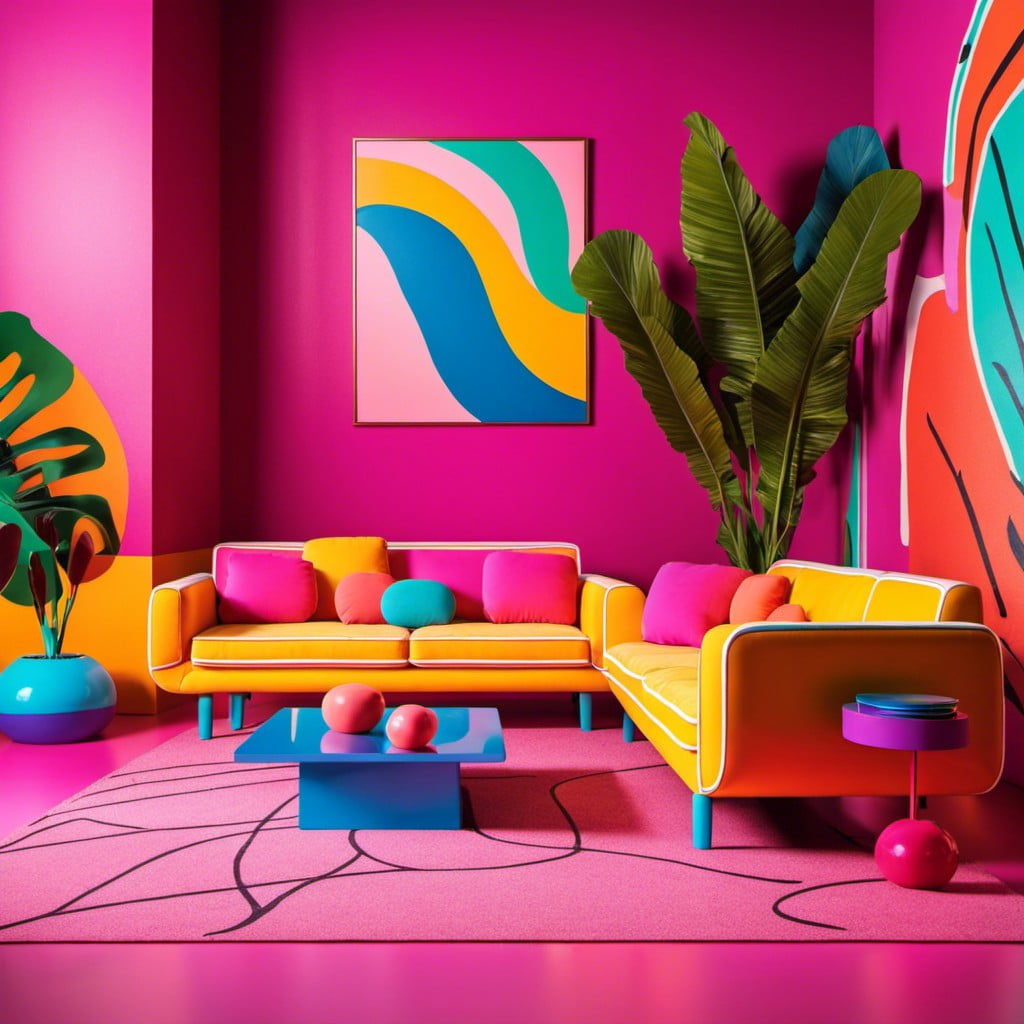 In the 80s, gone were the days of rigid, uniform shapes! Instead, furniture started taking on forms that were bold, quirky, and undoubtedly abstract. From angular chairs to irregularly shaped coffee tables, embracing the unusual became the norm. This trend isn't so common anymore, but it's certainly not forgotten.
Here are a few key points to understand about abstract-shaped furniture:
Embrace Asymmetry: Asymmetrical designs were a signature 80s look. Aim for pieces that shun balance in favor of an unpredictable aesthetic.
Look for Bold Colors: Abstract furniture from the 80s often came in bold, vibrant colors. Think hot pinks, sunny yellows, or electric blues.
Focus on Plastics and Metals: In line with the futuristic vibe of the decade, look for pieces made of plastics or shiny, metallic hardware. These materials exude a true 80s feel.
Experiment with Scale: Don't be shy about featuring over-the-top, oversized furniture. The 80s took a "bigger is better" approach.
Quality Over Quantity: Rather than filling a room with many pieces, aim for one or two abstract pieces as the centerpiece of your décor.
Remember, implementing an 80s abstract-shaped furniture style in your home isn't about copying. The essence lies in reminiscing and reviving the audacious spirit of the era, while still keeping the rest of your décor pleasing and balanced.
Brush Stroke Painted Ceramics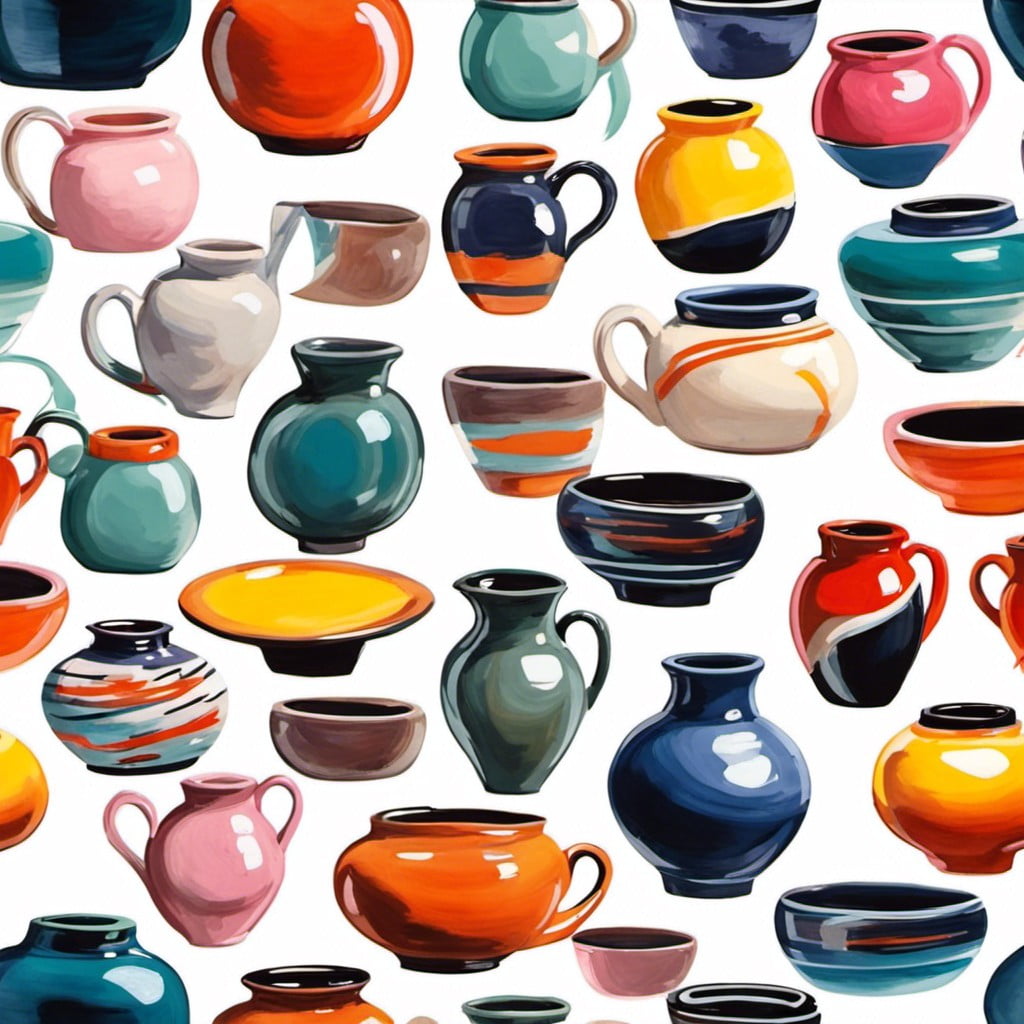 Brush stroke painted ceramics, often bright and bold, act as a true testament to the adage that 'beauty lies in imperfections'. These charming pieces carry uniqueness, putting a remarkable spin on your everyday décor.
1. Variety: Vases, cups, plates, or even lamp bases – virtually any ceramic piece can don hand-painted strokes, making it a versatile trend.
2. Color-play: Don't shy away from contrasting colors. Juxtaposing shades like yellow against blue or red against green can deliver a beautiful pop of color.
3. Personal touch: Each stroke is different, leaving an unmistakably authentic marking.
4. DIY projects: This décor trend is perfect for enhancing creativity. It lets you make your décor items using simple brush strokes, turning them into spectacular masterpiece.
5. Versatility: Brush stroke ceramics complement a range of styles, be it minimalistic, rustic, or bohemian.
6. Add pattern: Incorporating pattern, like dots, waves, or lines, lends personality and visual interest to these ceramics.
7. Pairing: Pair them with solid-colored, simplistic décor. This makes these ceramics command more attention and avoids a cluttered look.
Remember, each piece carries a personal touch, turning your décor into a charming representation of your artistic expression.
Exposed Brick Walls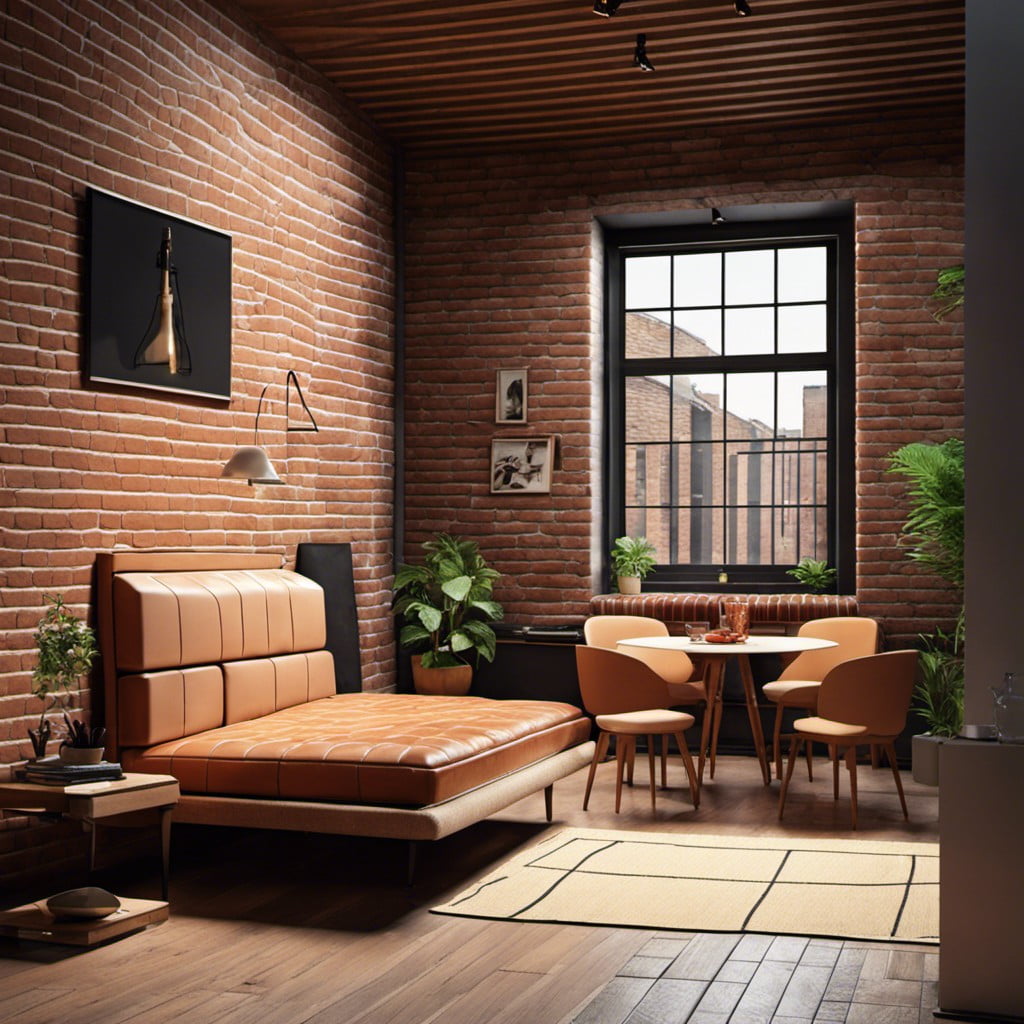 Adopting this robust, raw aesthetic of the '80s is effortlessly avant-garde. It works perfectly for loft apartments or any space aiming for a rustic or industrial chic look. Do not fret if natural brick is not feasible or cost-effective, there is a variety of faux brick wallpapers available.
1. Embrace the Imperfections: The charm lies in mismatched bricks and mortar lines. It forms an authentic pattern that adds depth and character to the room.
2. Neutral Palate: Exposed bricks generally come in warm, earthy tones. Enhance that natural hue with neutral furniture and decorations.
3. Lighting Choices: Strategically place the lights to highlight the texture of the wall. Try using filament bulbs for a warmer ambiance.
4. Contrast with Modern Elements: Although the brick wall is inherently traditional, pairing it with modern elements like metallic or glass accessories creates a sophisticated interplay of styles.
Incorporating this design feature into your space can drastically transform its ambiance, lending an ambiance of casual elegance and substantial charm.
Oversized Florals On Curtains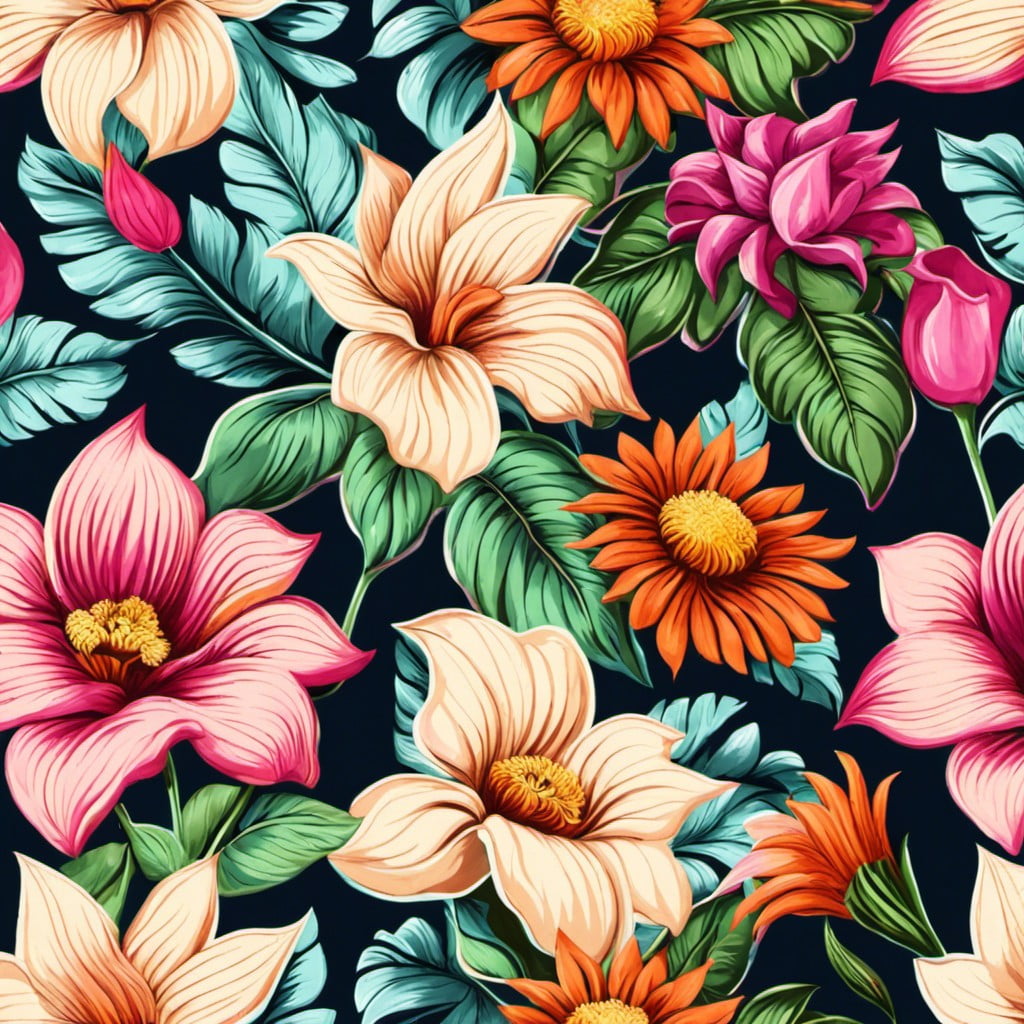 During the 1980s, a popular trend was incorporating oversized floral designs into curtains. These were often rendered in bold, bright colors that caught the eye and added a dramatic touch to any room.
This form of design helps to create a focal point in your space, drawing attention and adding a splash of nature-inspired charm.
Here are a few key points related to this trend:
Choose designs with large, bold flowers.
Opt for vibrant colors that enhance the room's mood.
Try pairing with plain walls to keep focus on the curtains.
Opt for lighter fabric to ensure the curtains hang well.
Coordinate with other décor elements, like cushions or artworks, for a cohesive look.
Remember, even as you add a retro touch, maintaining a balance is key. You don't want to overwhelm your space, but create a harmonious blend of the past and present. Mixing oversized florals with contemporary elements can lead to spectacular results.
Shag Rugs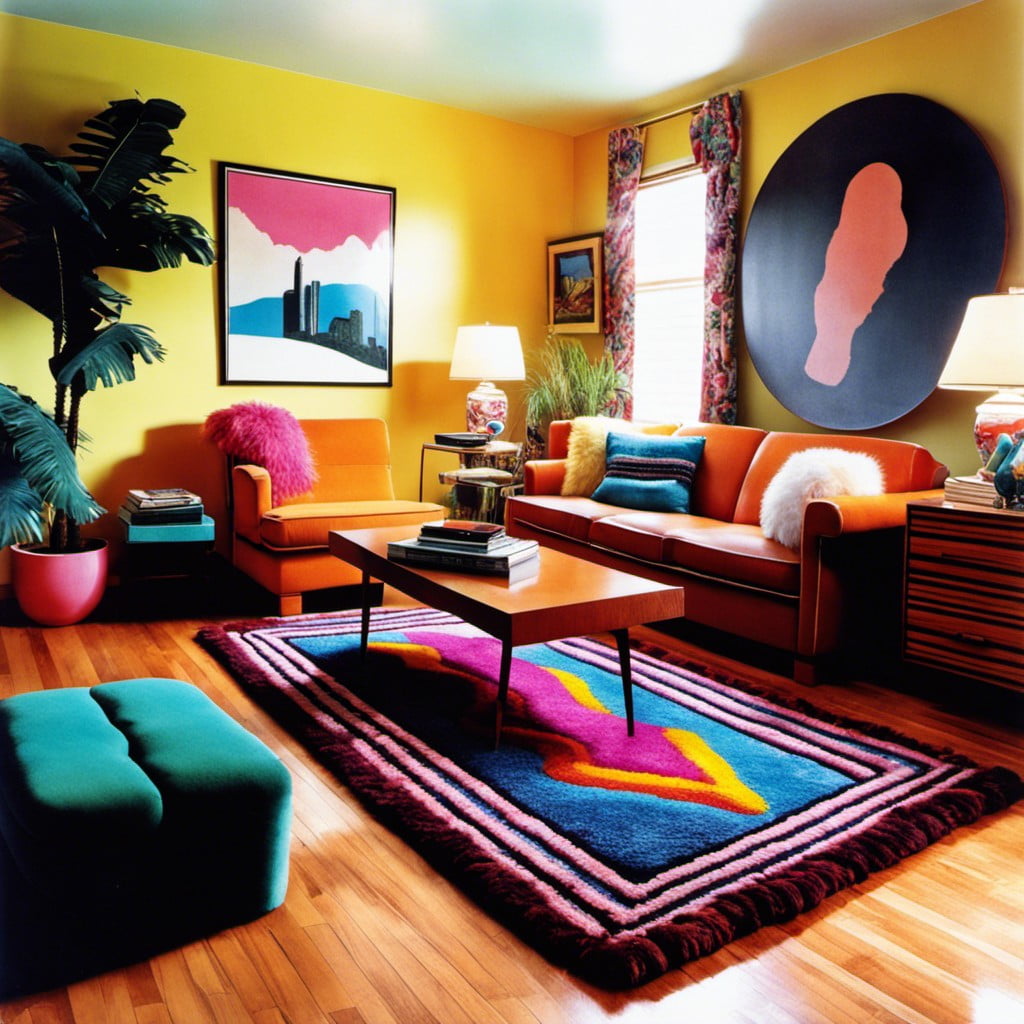 Though synonymous with the '70s, shag rugs continued their dominance into the '80s, primarily due to their comforting and relaxed vibe. They were often found in bright, bold hues to mimic the overall vibrancy of the decade. Utilizing a shag rug can reintroduce that same laid-back atmosphere into modern spaces.
Its high pile and fluffy texture play a central role in creating a warm, cozy feel. You can go for round designs in living areas or fluffy runners for hallways. Shag rugs, in rich shades, can act as an inviting centerpiece, adding a touch of vivaciousness.
Equally suitable for bedrooms, a shag rug near the bed brings a snugly aesthetic every morning. For a true '80s character, experiment with uncommon colors like purples, aqua blues, or lime greens. Using these rugs isn't only about form, but also functionality. They are excellent at absorbing sound, ideal for rooms with high foot traffic.
From relaxing zones to bustling areas, the softness underfoot is always welcoming, transforming any space into a cozy corner. A couple of care tips though – do remember to shake off the dust frequently and prefer professional cleaning every year for longevity.
Retro Bar Carts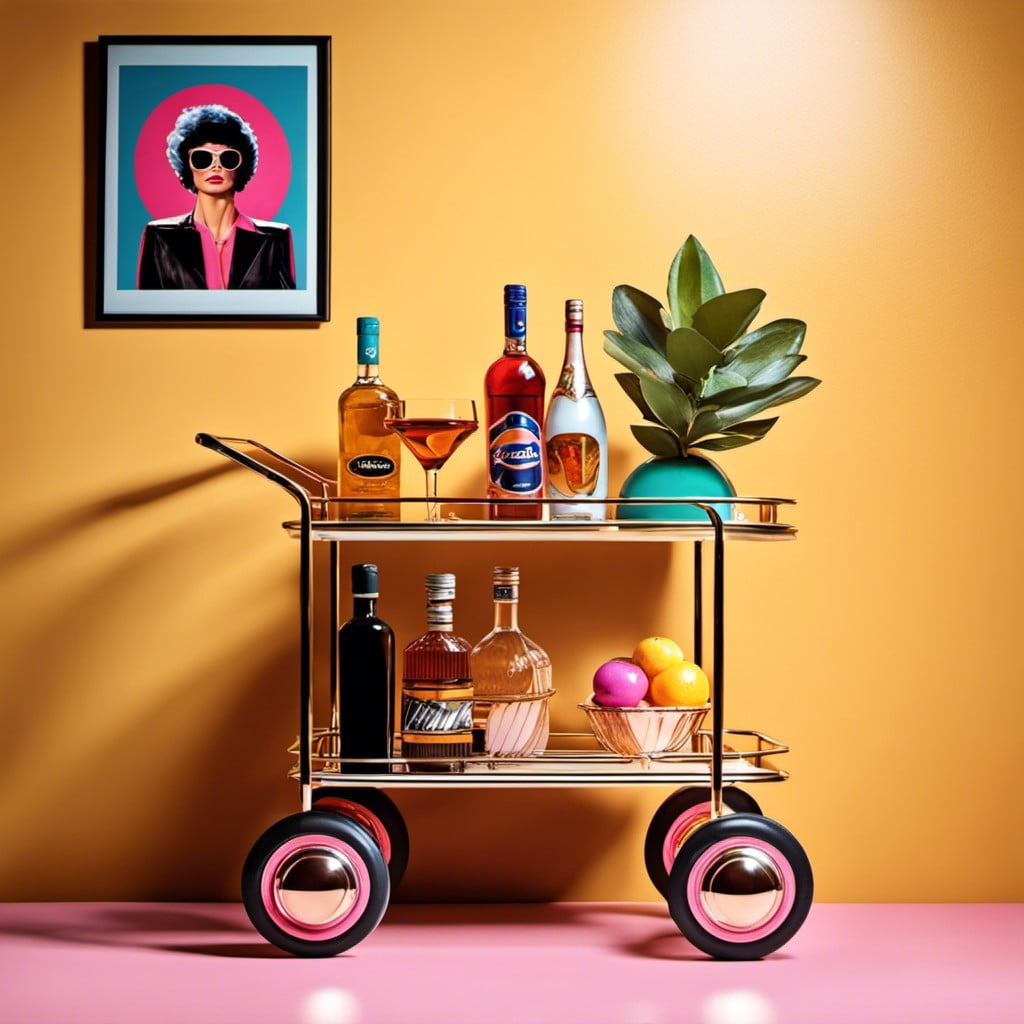 Reinforcing the allure of the 80s, bar carts lend themselves perfectly as a functional and stylish décor element. Going beyond the territory of cocktail connoisseurs, these can be an effective display for vintage glassware collections or unique thrift-shop finds.
Opt for brass or chrome finishes, staple choices of the 80s era, and make sure your bar cart comes with wheels for added versatility.
Styling your bar cart is all about balance; juxtapose your bottles with statement glassware, perhaps some bold colored tumblers or etched stemware.
Think about layering your accessories, maybe a stack of vintage coasters on one side with a retro ice bucket on the other for visual interest.
You can also introduce a plant or a small bouquet, preferably in a chic metallic vase, to add some organic touch amidst all the glam.
One quick tip – unusual cocktail mixers, colorfully labeled tonic water or boutique soda bottles not only add 80s flair, but also double as conversation starters at your next party! Keep variety in mind to achieve that nostalgic, yet contemporary, blast from the past styling. Do remember though, the end motive is to create a visually enticing space that still remains approachable for actually serving drinks.
Now let's roll that cart to its right place and start concocting some Cosmopolitans!
Pacman-themed Décor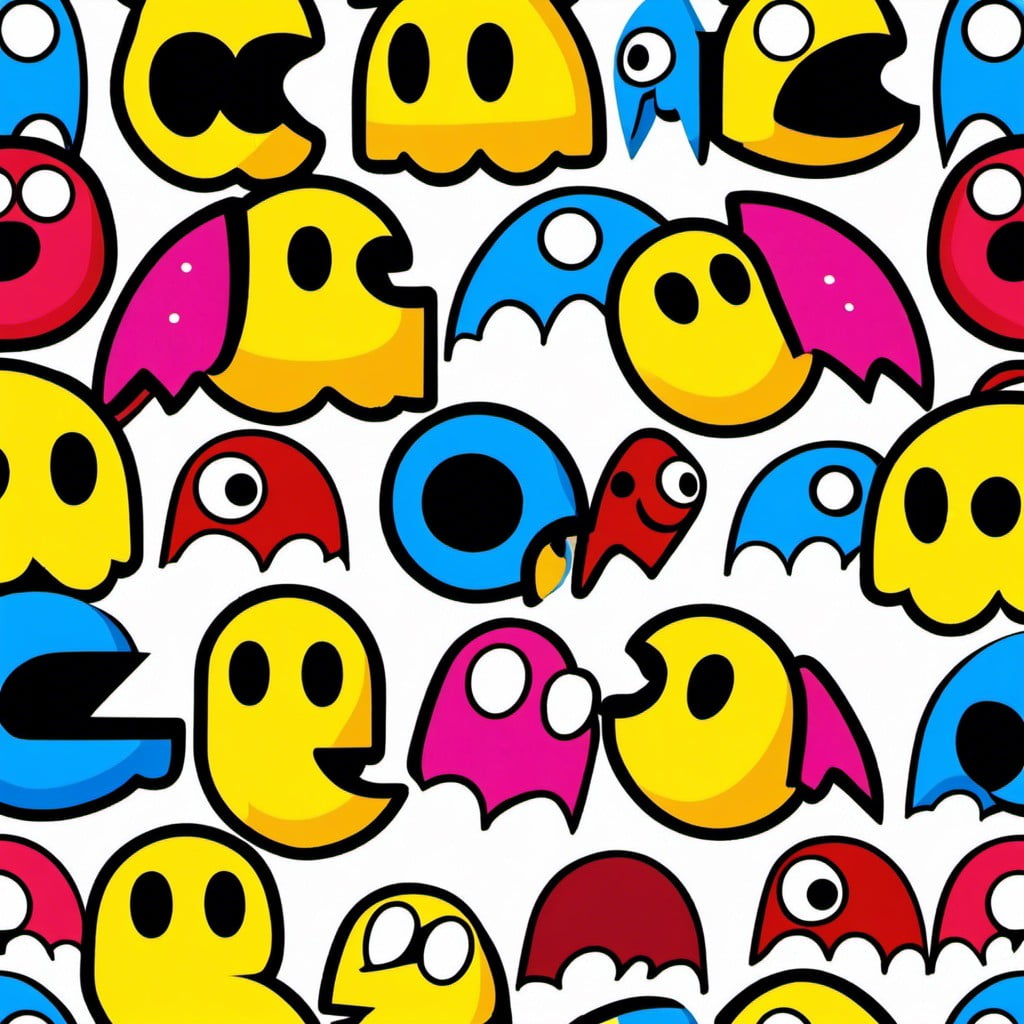 Creating a nostalgic and playful ambiance in your home can be as simple as incorporating Pacman-themed elements into your décor. Opt for wall decals of the iconic characters or even a functional Pacman wall clock. Upcycle old Pacman arcade games into coffee tables or feature artwork, adding a nostalgic twist to your space.
Table lamps resembling the dots Pacman 'eats' serve as unique lighting solutions, while Pacman-themed cushions can add a fun pop to your couch. Lastly, consider a rug mimicking the Pacman game screen for a quirky floor feature!
Liked reading this? Here's more:
Recap: