Last updated on November 1, 2023
Discover innovative bathroom sink decorating ideas because a well-adorned sink can drastically elevate your bathroom's aesthetic appeal.
I am extremely proud to present my personally designed 20 Bathroom Sink Decorating Ideas, and I hope you find as much inspiration and joy in exploring them as I had in creating them.
Transforming your bathroom sink area into a stylish and functional space can be a fun and rewarding endeavor. Whether you're aiming for a minimalist, vintage, or modern look, there are countless ways to spruce up this often overlooked area.
From clever storage solutions to creative use of accessories, this article will guide you through a myriad of bathroom sink decorating ideas. We'll delve into details such as the selection of color schemes, choice of fixtures, and the use of mirrors and lighting, ensuring you have all the information you need to create a stunning focal point in your bathroom.
Floating Shelves With Decorative Items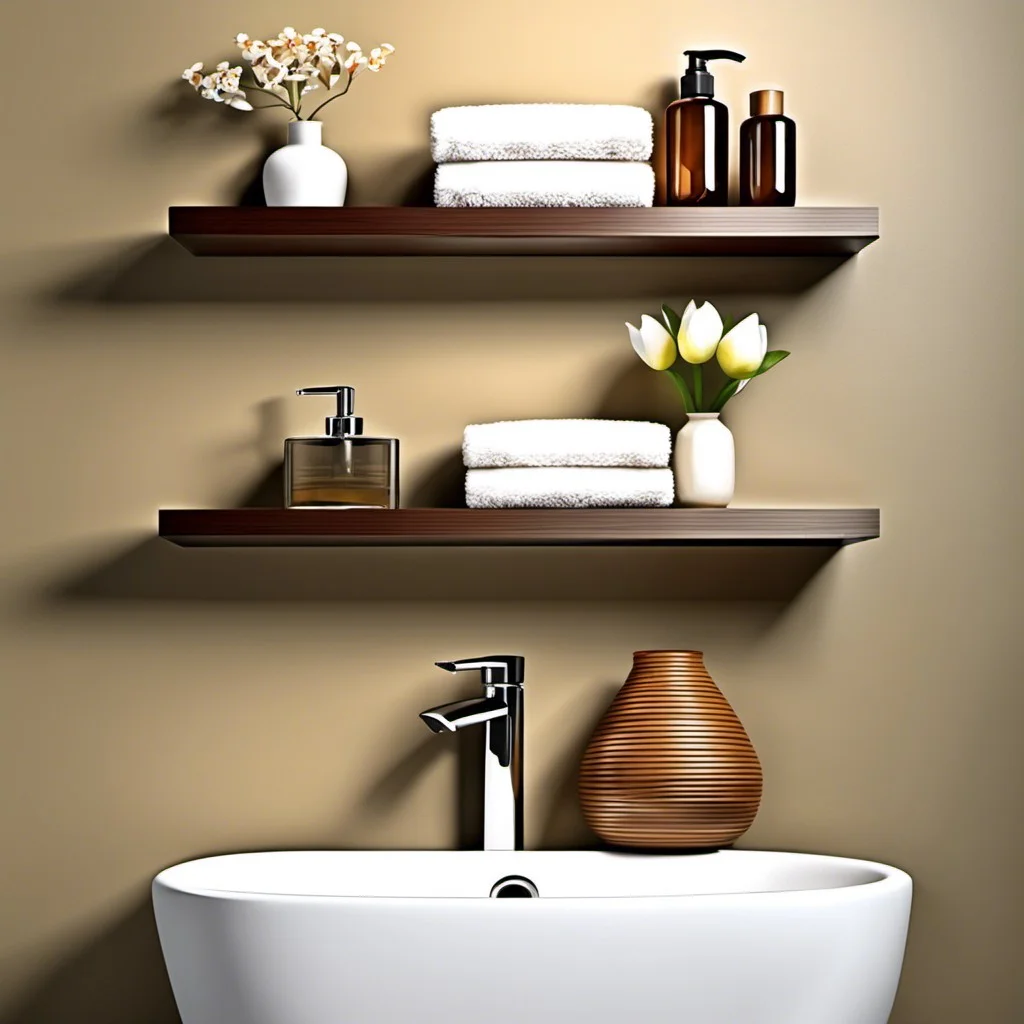 To effectively utilize the wall space above the bathroom sink, floating shelves serve as a functional and aesthetic solution. They not only offer additional storage but also present an opportunity to enhance the bathroom's overall appeal.
Consider arranging a few well-chosen decorative items on them. Perhaps a small piece of art, a vintage trinket, or an interesting picture frame. Alternatively, practical items that have a decorative flair, like pretty glass bottles filled with bath salts, can also be a great choice.
It's important to remain mindful of the space's harmonic balance while selecting these items. Try pairing items of varying sizes and shapes, and stick to a color palette that is in line with the rest of the bathroom's décor. This helps create a visually pleasing and cohesive look.
Additionally, choose items that can withstand the humid bathroom environment. Waterproof or humidity-resistant materials are ideal. Woods that have been properly sealed or painted, glass, ceramic, and metals like brass or stainless steel are great choices.
Floating shelves are not only about function, they can indeed be a form of wall art on their own, different shapes and finishes can give them a decorative twist, think hexagonal or circular, rustic or glossy.
Balancing practicality and aesthetics is key when decorating these shelves. Remember, less is often more when creating a tranquil bathroom space.
Ceramic Soap Dispenser and Dish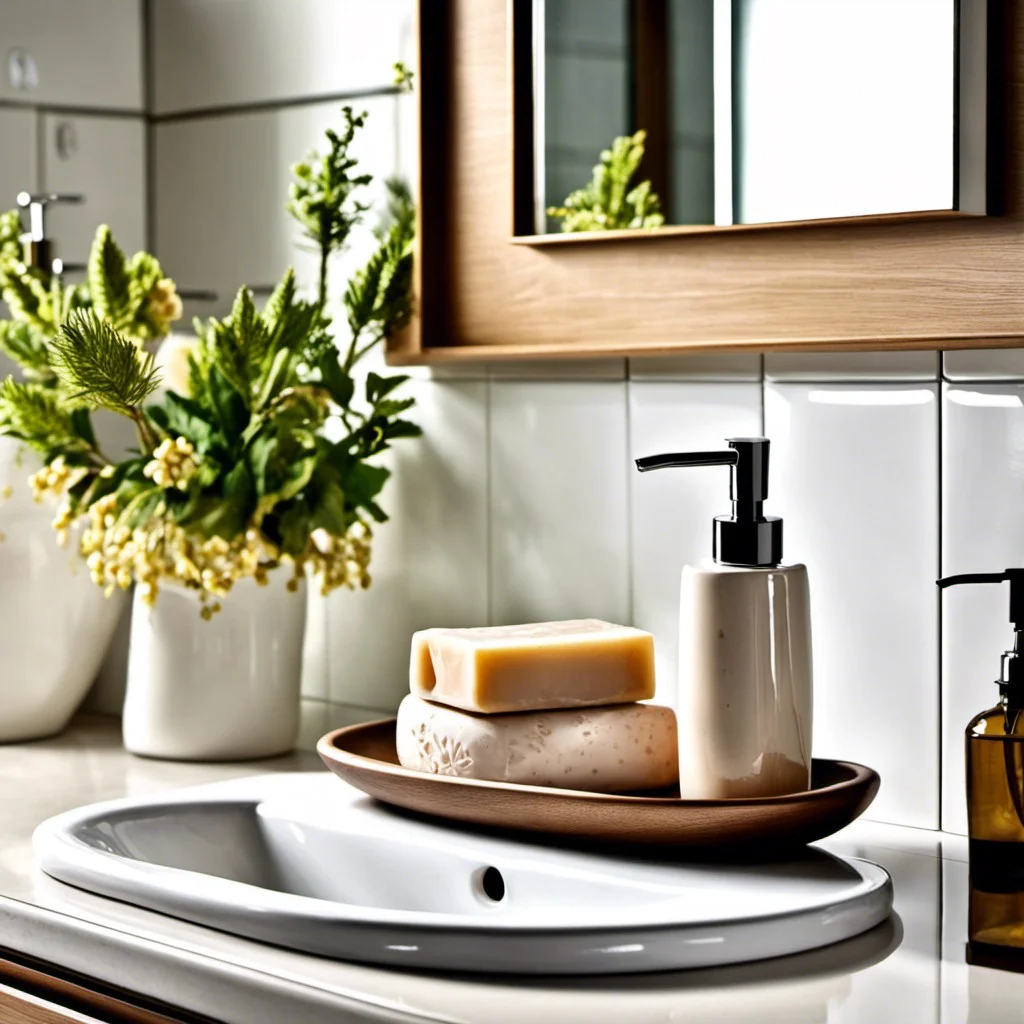 Ideally selected, a ceramic soap dispenser and dish add a touch of elegance, inviting sophistication into any restroom. This functional duo not only serves an essential purpose, but they also offer an opportunity to inject style into the room.
Start by picking a set that complements your overall bathroom theme. These pieces can take different forms – minimalist and sleek for modern interiors, or patterned and vibrant for eclectic spaces. The options are limitless. They are available in various colors, too, allowing you to either blend with your existing palette or create an attractive contrast.
Remember, high-quality ceramic pieces are worth the investment. Not only are they sturdy and durable, but they can also withstand moisture – crucial in a bathroom setting. As a bonus, they're easy to clean too, ensuring your vanity remains immaculate. Don't forget to keep the dispenser and dish neatly aligned on the sink edge for a polished look.
Fresh Flowers in a Beautiful Vase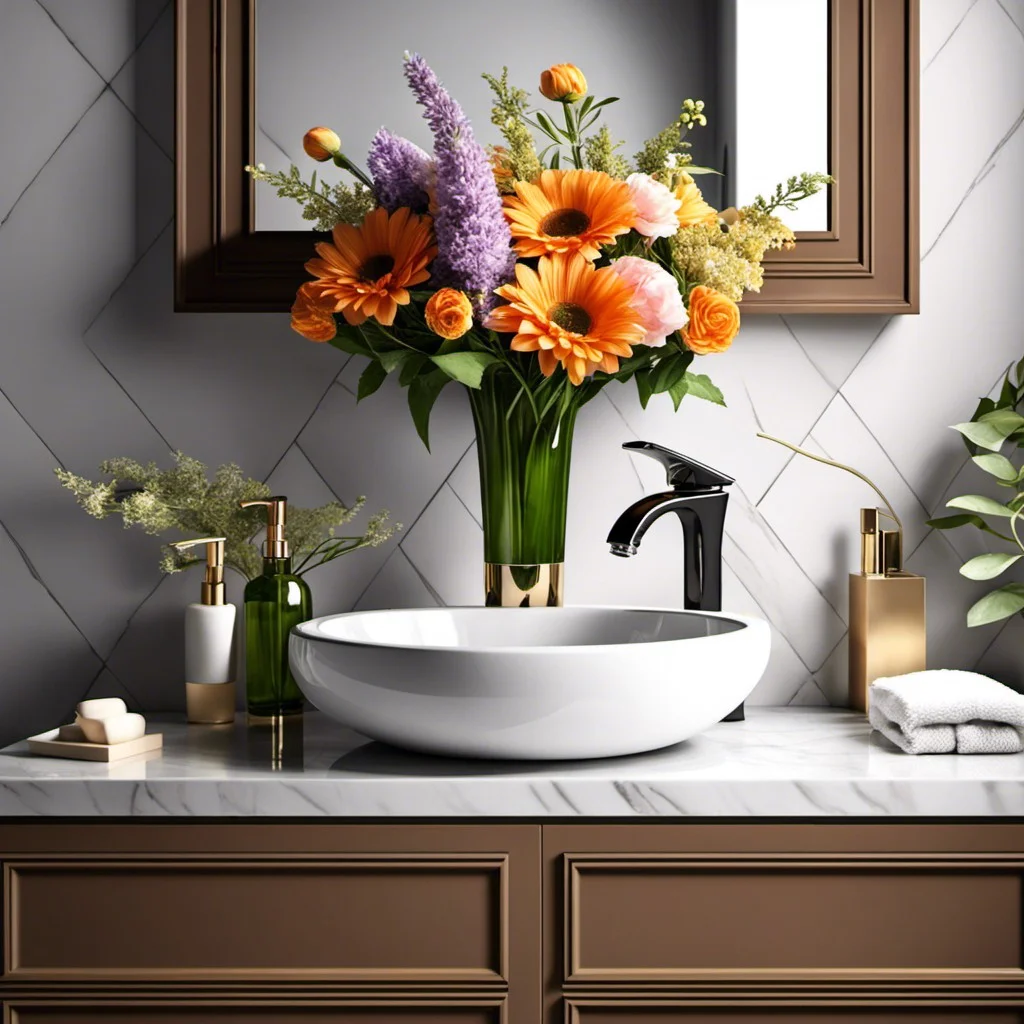 A vibrant bouquet can add life and color to any bathroom sink. Depending on the size of your sink, a smaller arrangement could be appropriate. Opt for seasonal blooms or your favorite flowers; just ensure they're fresh for maximum impact.
Flowers not only enhance the aesthetics of the room but can also serve to improve the scent. A fragrant bouquet of roses, for instance, provides a natural air freshener.
The vase you choose can also add a stylistic touch. A sleek, clear glass vase allows the flowers to be the main attraction, while a color-coordinated or intricately designed vase can serve as an additional focal point, contributing to the overall decor.
Remember to change the water regularly and switch out the flowers as they begin to wilt to maintain a fresh, welcoming atmosphere.
Decorative Mirror Above the Sink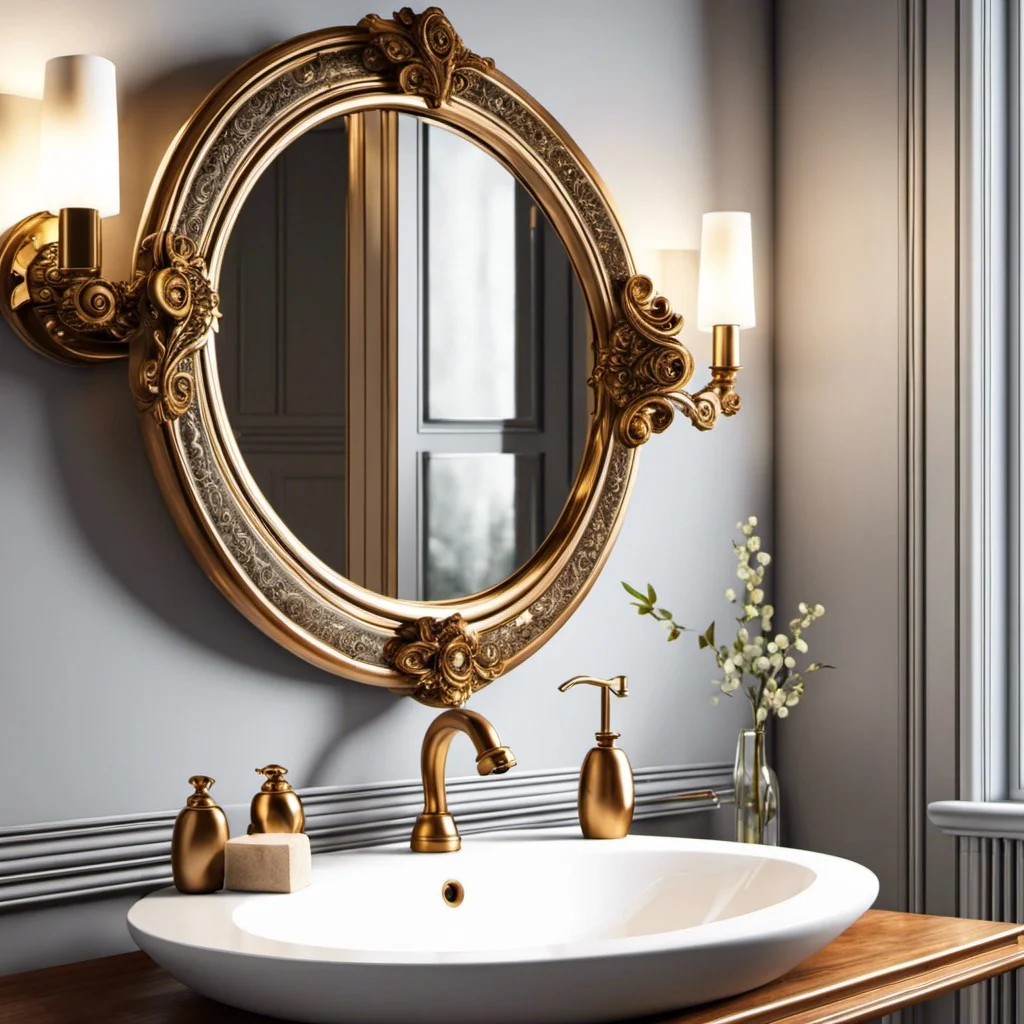 In enhancing your bathroom's aesthetic, the choice and positioning of a mirror can have a tremendous effect. It not only serves a functional purpose but also adds depth and brightness by reflecting light. Opt for a design that complements the general theme of your bathroom; for instance, a vintage framed mirror complements a traditional bathroom scheme, while a sleek, unframed piece works best in contemporary spaces.
Take note of size and placement too. Too small and it loses its impact, but too large could potentially overwhelm the area. Position it at eye level, providing the best angle for everyday use. For added beauty, you could consider a mirror with built-in lighting. A well-lit mirror combines functionality with sophistication. This way, it becomes an integral element which significantly contributes to the overall decor and atmosphere of your bathroom.
Small Potted Succulents or Plants
Offering an array of shapes, sizes, and colors, succulents serve as versatile additions to any bathroom sink decor. These low-maintenance plants thrive in the humid environment often found in bathrooms. When choosing the pot, consider matching or contrasting it with the color scheme of your existing decor for a consistent aesthetic.
Consider keeping them near the sink to get access to indirect light. Use cacti, aloe, or snake plants for a modern touch, while ferns or spider plants lend a more traditional feel. If space is limited, opt for miniature variants, such as the tiny jade plant, haworthia, or echeveria.
Rotate them periodically to ensure all parts get equal light and grow evenly. This rotation also gives a slight change in scenery every so often. Remember, over-watering is more harmful than under-watering for these desert natives – keeping the environment a little dry will ensure healthy plants. So, be careful when watering, especially if the sink area tends to stay damp.
Small potted plants won't just add a vivacious splash of green to your bathroom, but also improve air quality and add a calming effect to your personal spa.
Scented Candles or Diffusers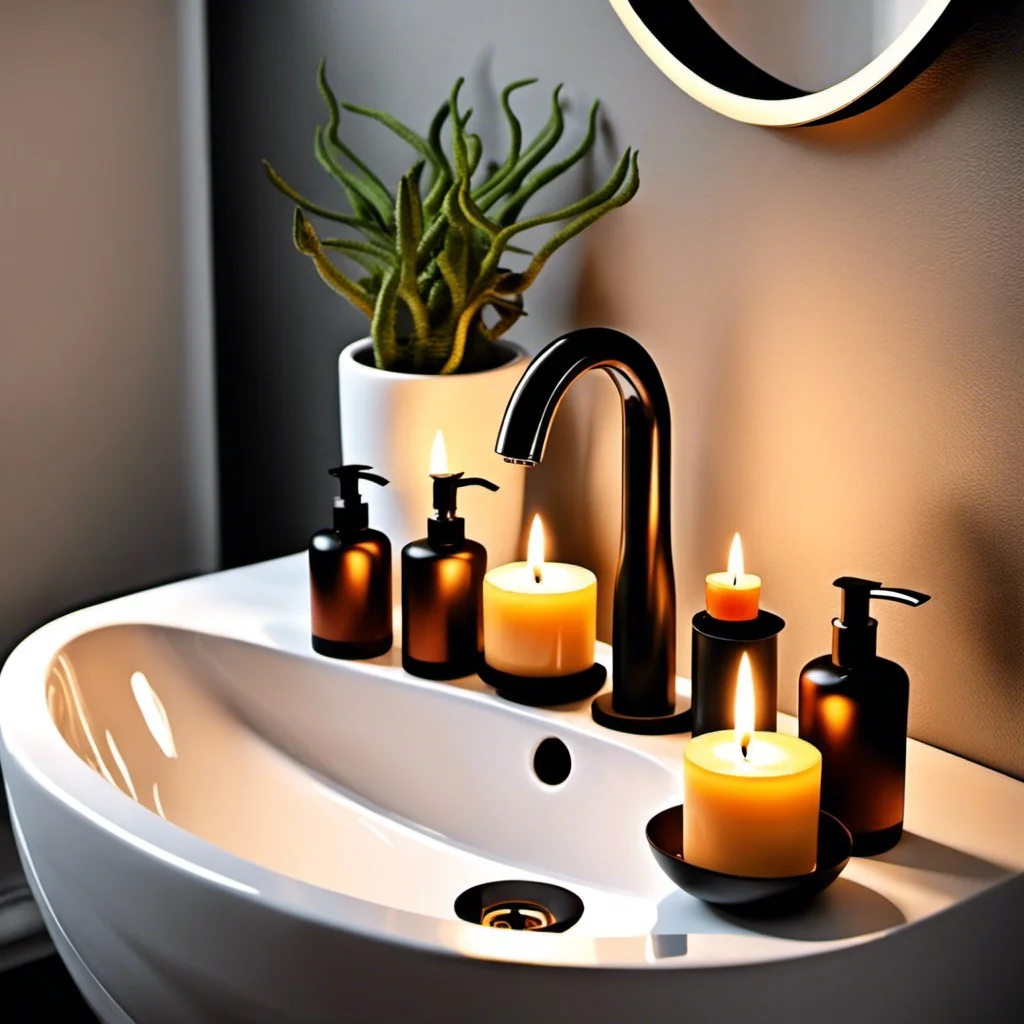 In the context of bathroom sink decor, aromatics add a touch of olfactory charm. Having a pleasantly scented bathroom contributes significantly to the overall experience. Choosing an appealingly fragranced candle or diffuser goes a long way in enhancing the bathroom ambience.
When choosing a scent, consider those that invigorate or inspire relaxation, like eucalyptus or lavender, respectively. To ensure safety, always position candles away from flammable objects and remember to extinguish them before leaving the bathroom.
Diffusers, on the other hand, offer a great flameless alternative. They continuously emit a consistent scent and can become a striking decorative element, especially, if choosing a reed diffuser with an elegant look.
Either option, carefully picked to match your stylistic preferences and fragrance likings will elevate your bathroom decor to a whole new sensory level.
Stylish Hand Towels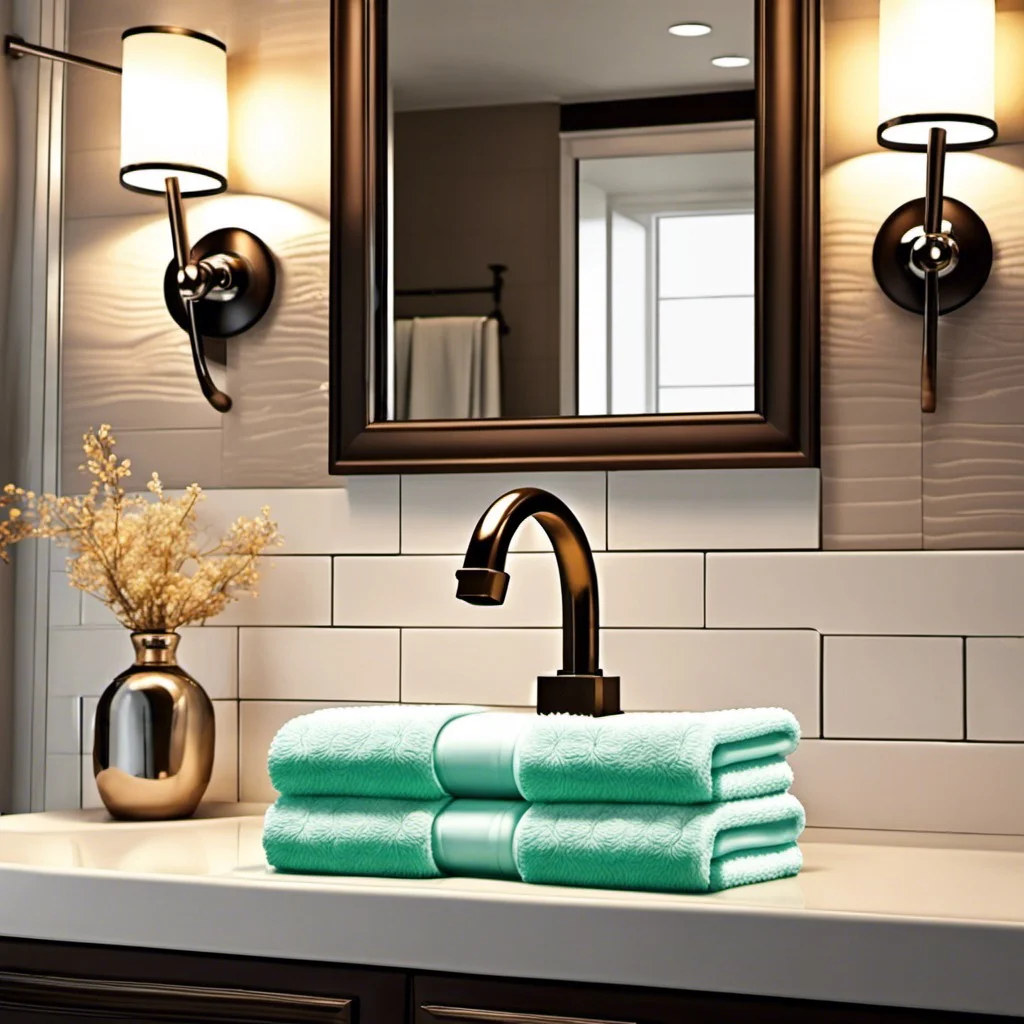 Possessing a variety of textures and designs at hand infuses elegance to your space. Fabric choice matters, a rich cotton rather than the generic terry cloth brings diverseness.
Mixing it up with bold designs or natural tones depending on your overall decor theme keeps things exciting.
Always have a fresh pair on stand-by; cleanliness is paramount in a bathroom.
Consider a decorative towel ring or a modern hook for displaying your choice handsomely.
Cut down on clutter, ideally, only one or two should be in view at any time.
Placing these near your sink not only adds visual appeal, but also ensures practicality.
It's an easy, cost effective pop without going overboard.
Glass Jars for Cotton Balls and Swabs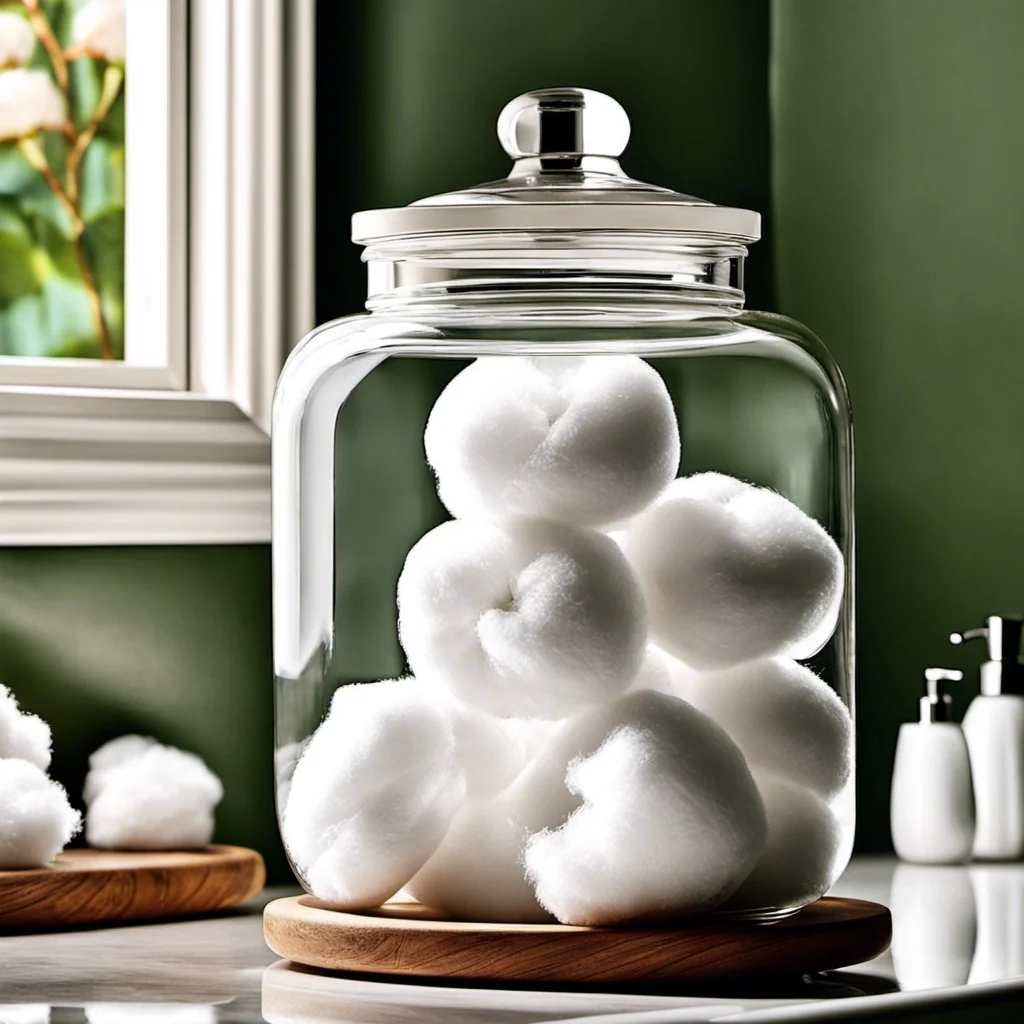 Crafted from translucent material, glass jars offer practical storage without compromising style. They can add a modern touch or a vintage vibe, depending on their design, while keeping cotton balls and swabs tidy and within easy reach.
Placing a small jar next to your sink not only increases functionality but also balances visual appeal, making it a simple yet effective decor trick to incorporate. It also promotes hygiene, as these essentials are kept clean and dust-free.
You can even opt for jars with metal lids or wooden accents to match your bathroom's theme.
Decorative Backsplash Tiles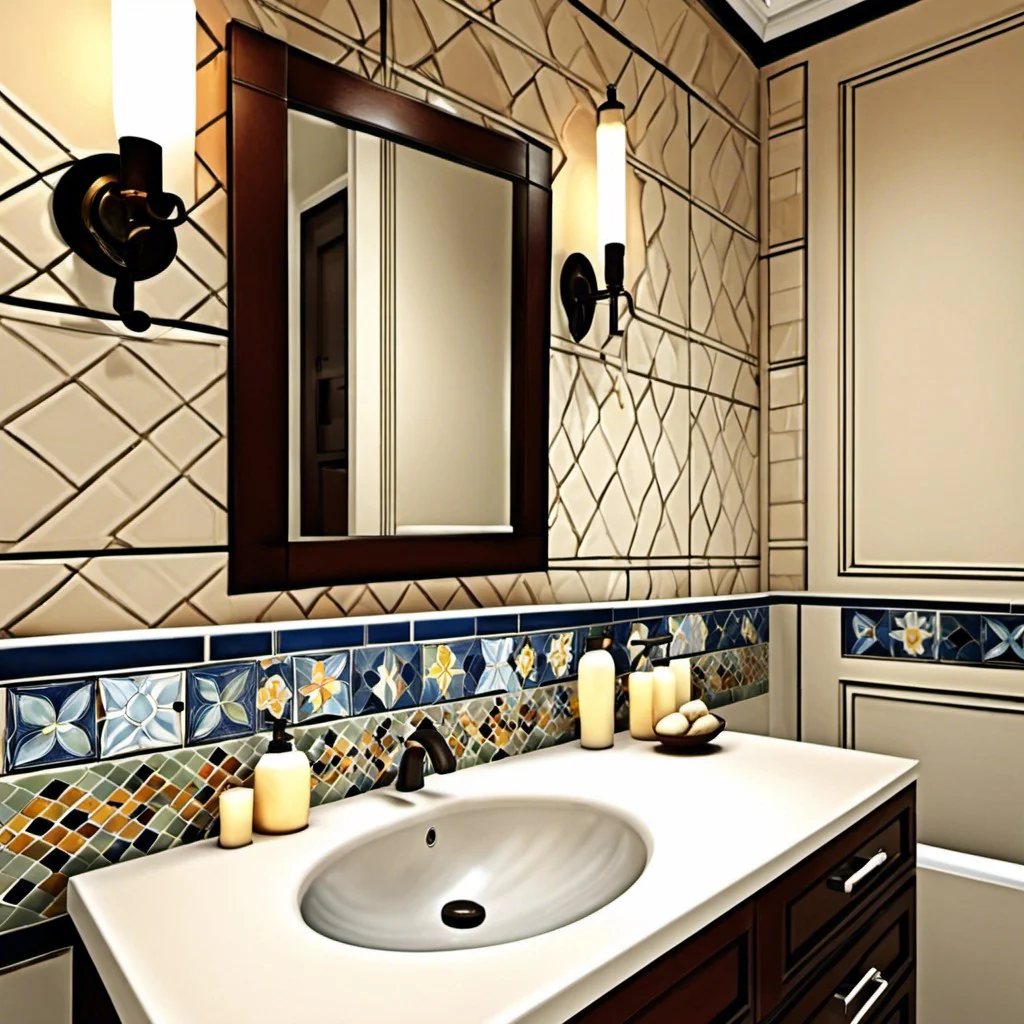 For an extra splash of charm, consider choosing a backsplash that complements the overall theme of the bathroom. This area offers an ideal canvas for showcasing your style, as it's often the first thing in view when walking into the room.
Experiment with tiles of different shapes and colors. Subway tiles can create a clean, modern look while mosaic designs or geometric patterns can provide an element of intrigue. In smaller spaces, glass tiles can reflect light and create a sense of depth.
Play with finishes: glossy for a sleek, modern aesthetic or matte for a more subdued, natural appeal. Metallic tiles can evoke a sense of luxury, while encaustic cement ones bring in a touch of the traditional.
Remember, a backsplash should be both functional and stylish. It must resist moisture and daily splashes, but also tie in with the rest of your decorations.
Designer Faucet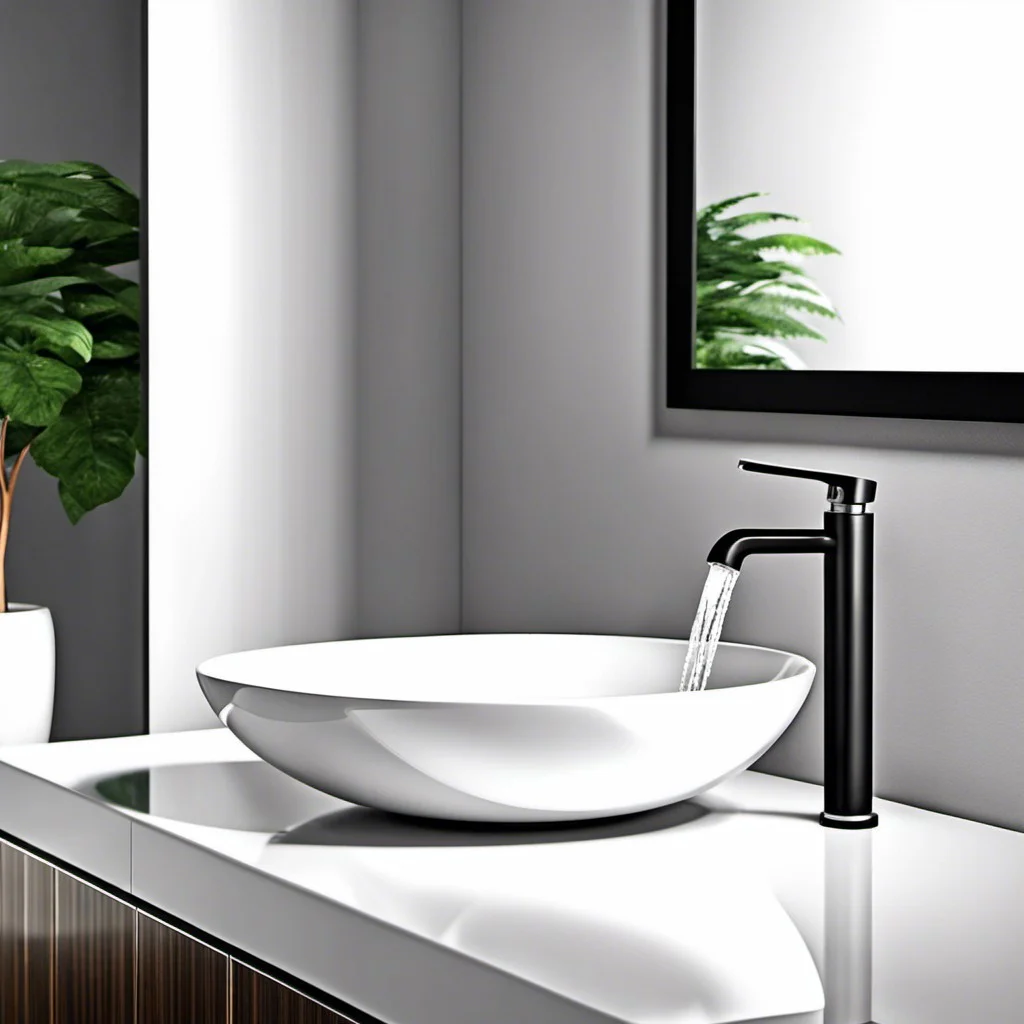 A carefully chosen designer faucet can effortlessly amplify the aesthetic appeal of your bathroom. For a bold, modern appeal, consider a waterfall-style faucet with sleek lines and chrome finish. If you prefer a classic look, a brass-finish faucet with porcelain hot and cold knobs will inject instant charm.
Pay attention to functionality as well as form. Most designer faucets nowadays come with features like water saving technology and temperature control. The placement, whether wall-mounted or deck-mounted, can also contribute a lot to the overall appearance of the sink area.
Remember, it's not about splurging on the most expensive option in the market, but about finding a design that suits your overall decor and meets your needs. Matching it with other bathroom fixtures like towel bars or shower heads for harmony can be an excellent move. In the end, it's the attention to small details that makes a big difference.
Simple, Chic Wall Art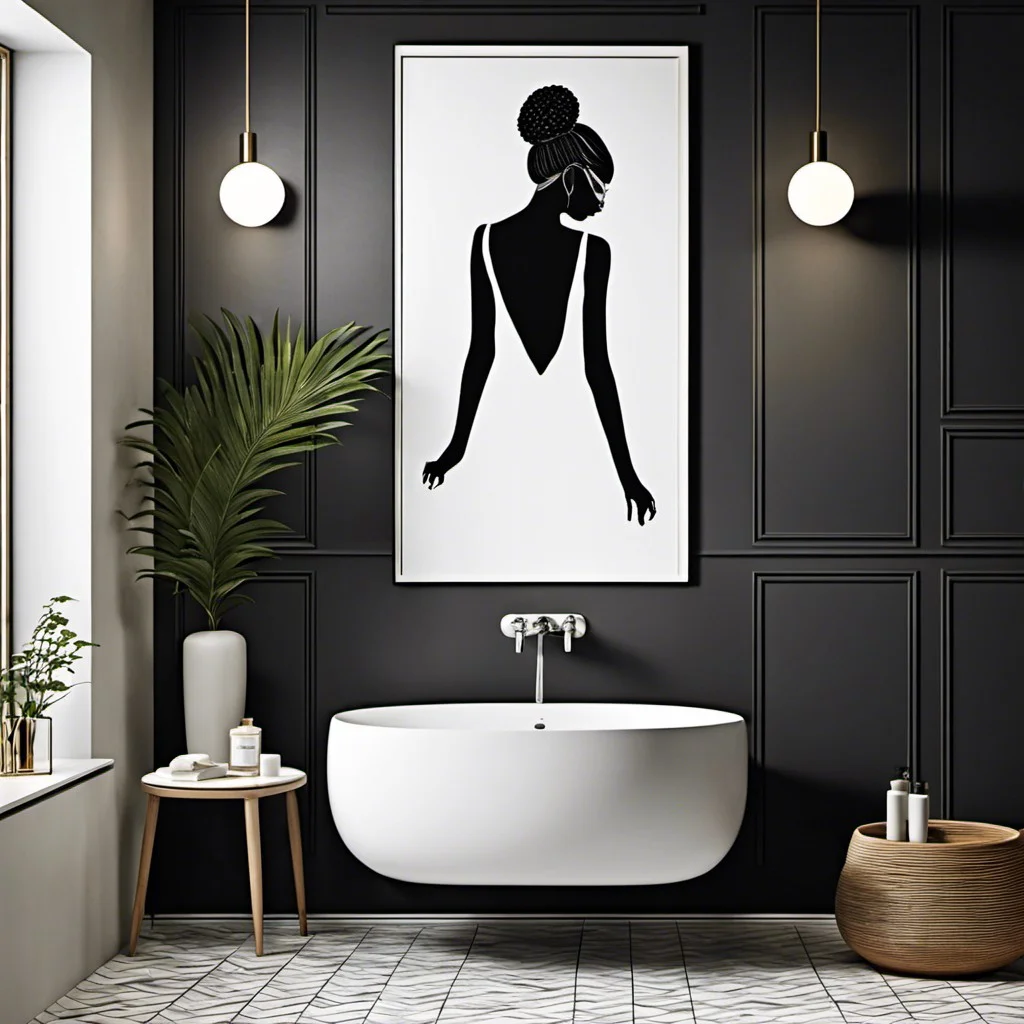 Keeping it minimalistic, yet classy can make a significant impact. Opt for abstract prints or classic black and white photographs to bring refined elegance. Just be sure the pieces are framed correctly to withstand the bathroom's moisture. Install them at eye level for an immediate visual draw upon entry.
Having a series of smaller art pieces offers flexibility for arrangement options. Mix shapes and sizes for a dynamic layout or keep it uniform for a sleek contemporary touch. Remember that it's all about personal style and preference; let your bathroom exhibit a bit of your personality.
Marble Countertop for Luxury Feel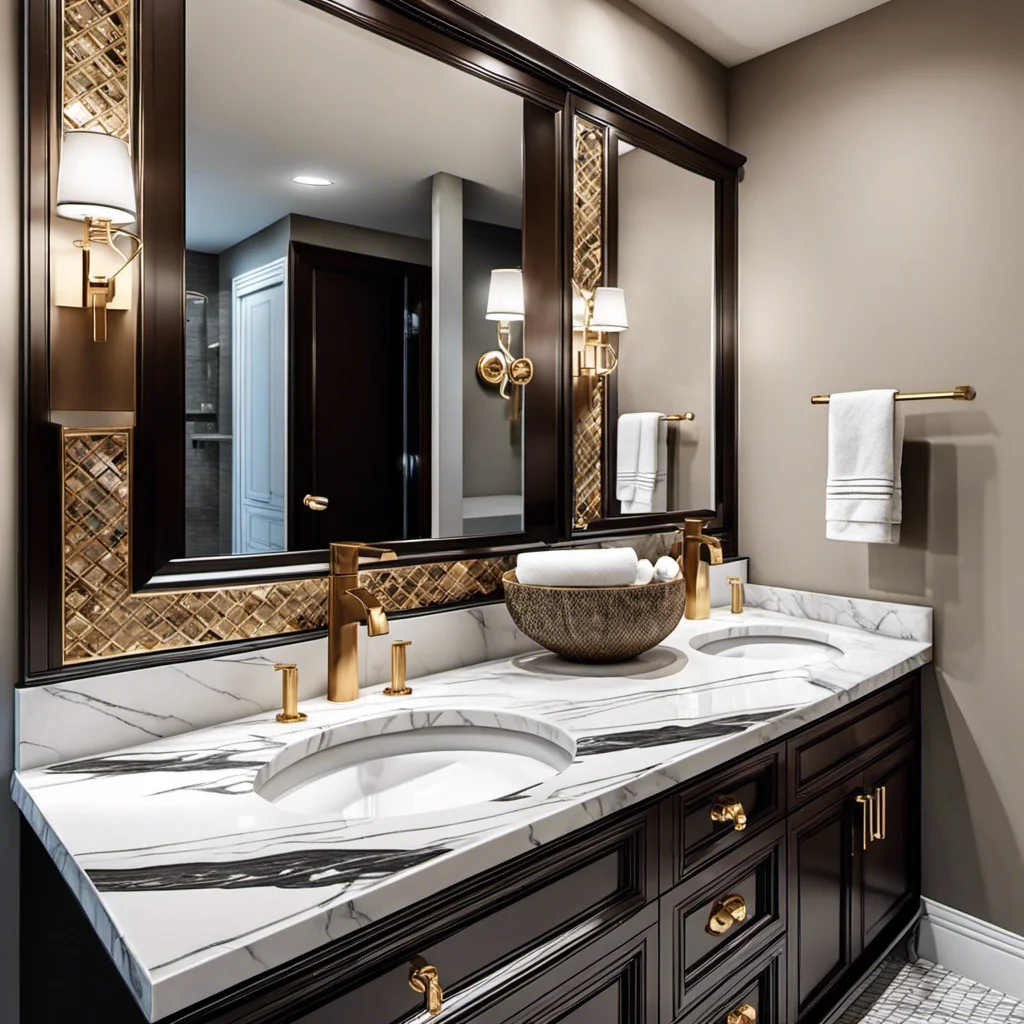 With their unparalleled elegance, marble countertops instantly transform the sink area into a luxury spot. Besides being highly durable and resistant to water and heat, this material has a timeless appeal that enhances the aesthetic quality of any bathroom.
Consider the following points:
1. When choosing a marble countertop, opt for a shade that complements the existing bathroom decor. There are many options, from stark white to gray and even pink.
2. Sealing is essential for marble because it is porous and can absorb water or stains. Ensure regular sealing to maintain its pristine appearance.
3. Marble countertops can be paired well with various faucet finishes. Polished brass, for instance, adds a hint of vintage glamour.
4. Regular cleaning is important. Use a non-abrasive cloth and a gentle cleaner to keep the surface spotless.
5. Understand that over time, marble forms a patina. Some homeowners find this adds to its charm, giving the bathroom a lived-in, organic feel.
Remember, marble counters inherently elevate your sink area, adding to its visual appeal and functional value.
Sink Skirt for Pedestal Sink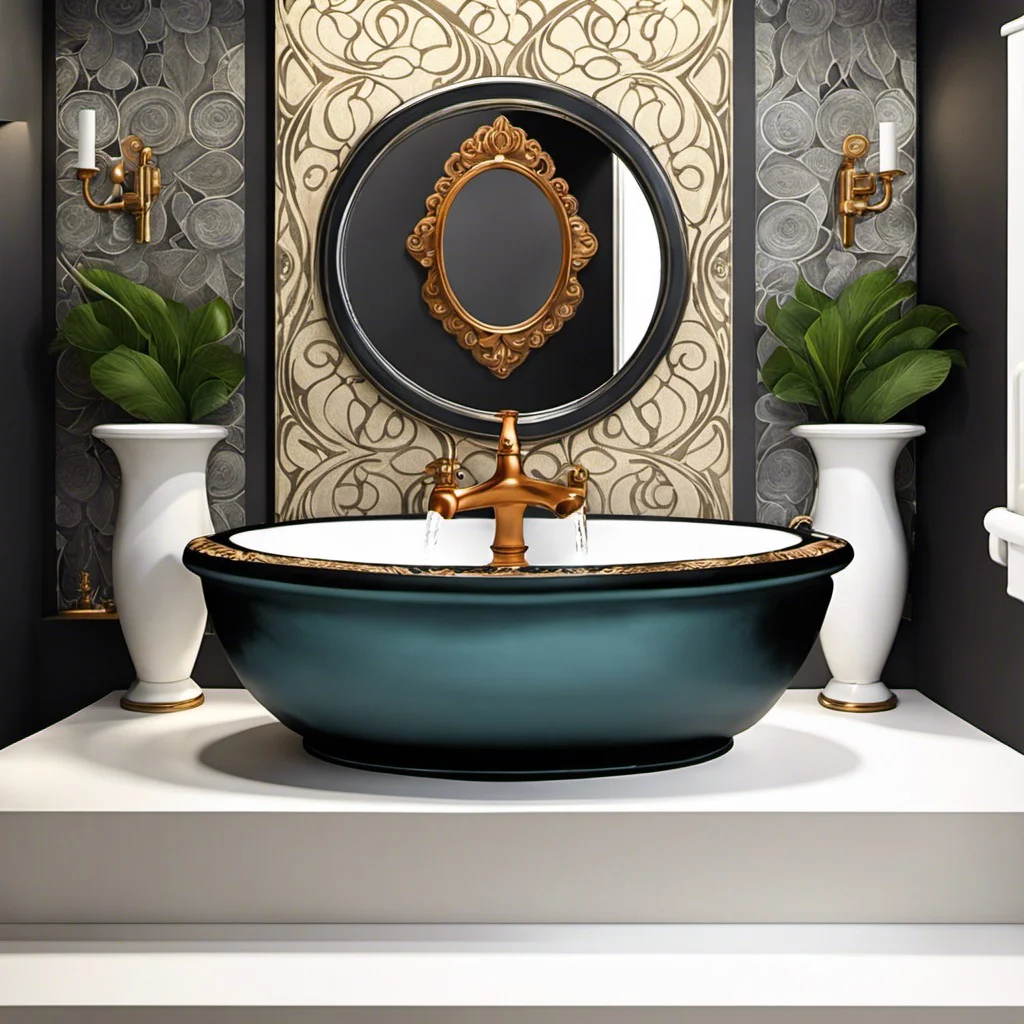 A sink skirt can do wonders in transforming a plain pedestal sink into a more stylish fixture. It is not only decorative but also functional, providing an extra space to stash less attractive bathroom essentials.
Two major factors to consider are fabric and print. You'll want a material that withstands moisture, such as water-resistant polyester. As for the print, consider one that complements the overall theme and color scheme of your bathroom.
Installing the skirt is a breeze – you can use either adhesive-backed hook-and-loop tape or a tension rod. Remember, the fit should be snug, not too tight or loose. A perfect sink skirt can make a significant difference in the overall appearance of your bathroom.
Under Sink Storage Baskets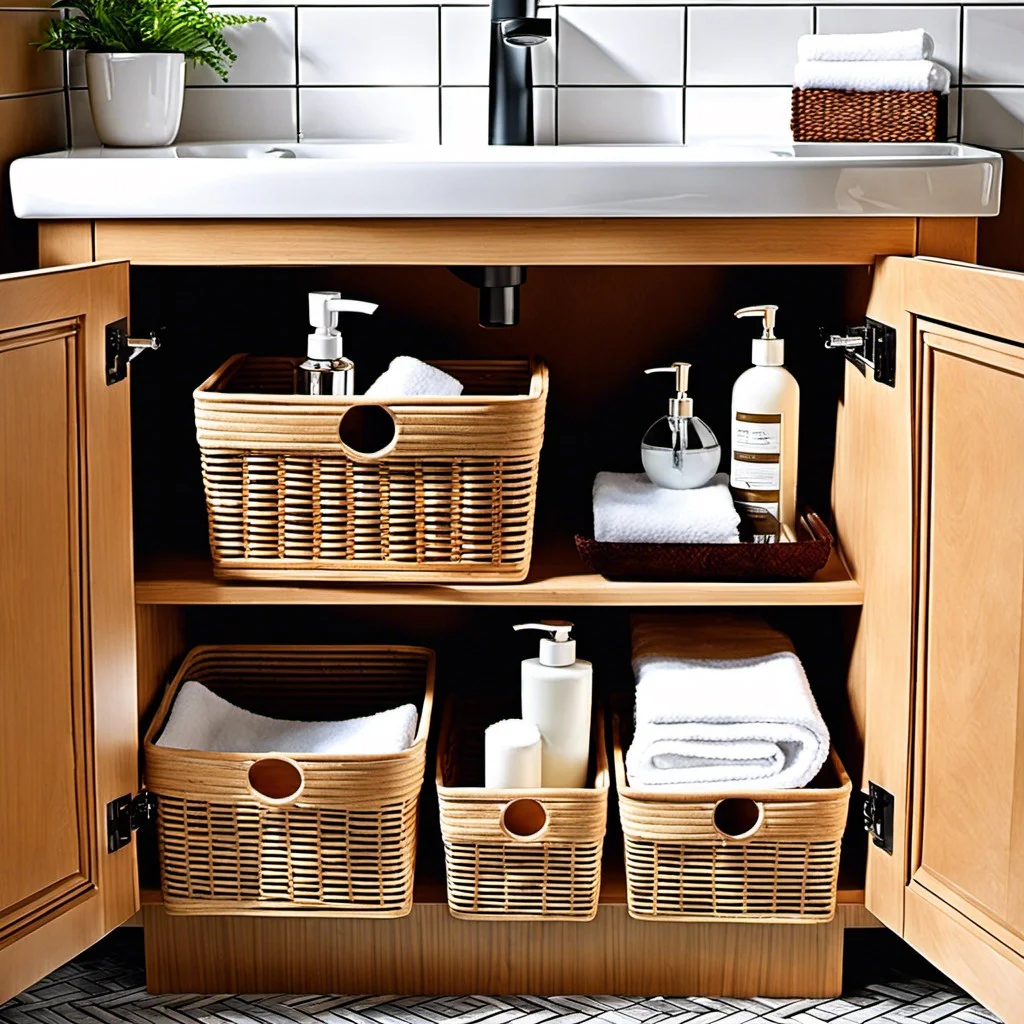 Keeping a tidy and organized bathroom is crucial, especially when dealing with limited space. Imaginative storage solutions can be a game-changer. Consider employing chic baskets beneath the sink, which not only allow you to store all your essentials but also add a cozy touch to your bathroom decor.
1. Opt for woven rattan or seagrass baskets for a rustic, warm feel.
2. Use wire baskets lined with linen for a more sleek, modern aesthetic.
3. Match the color of the baskets with bathroom decor to maintain color harmony.
4. Use different sizes to store varied items – larger ones for towels and smaller ones for toiletries.
5. Label each basket for easy identification and added style.
6. Custom-fit sliding baskets can optimize under-sink space.
7. Layered baskets on gliding tracks can further maximize capacity.
By organizing your bathroom essentials into these baskets, your bathroom will look neat, and you'll save precious time when looking for a specific item.
Vintage Containers for Toiletries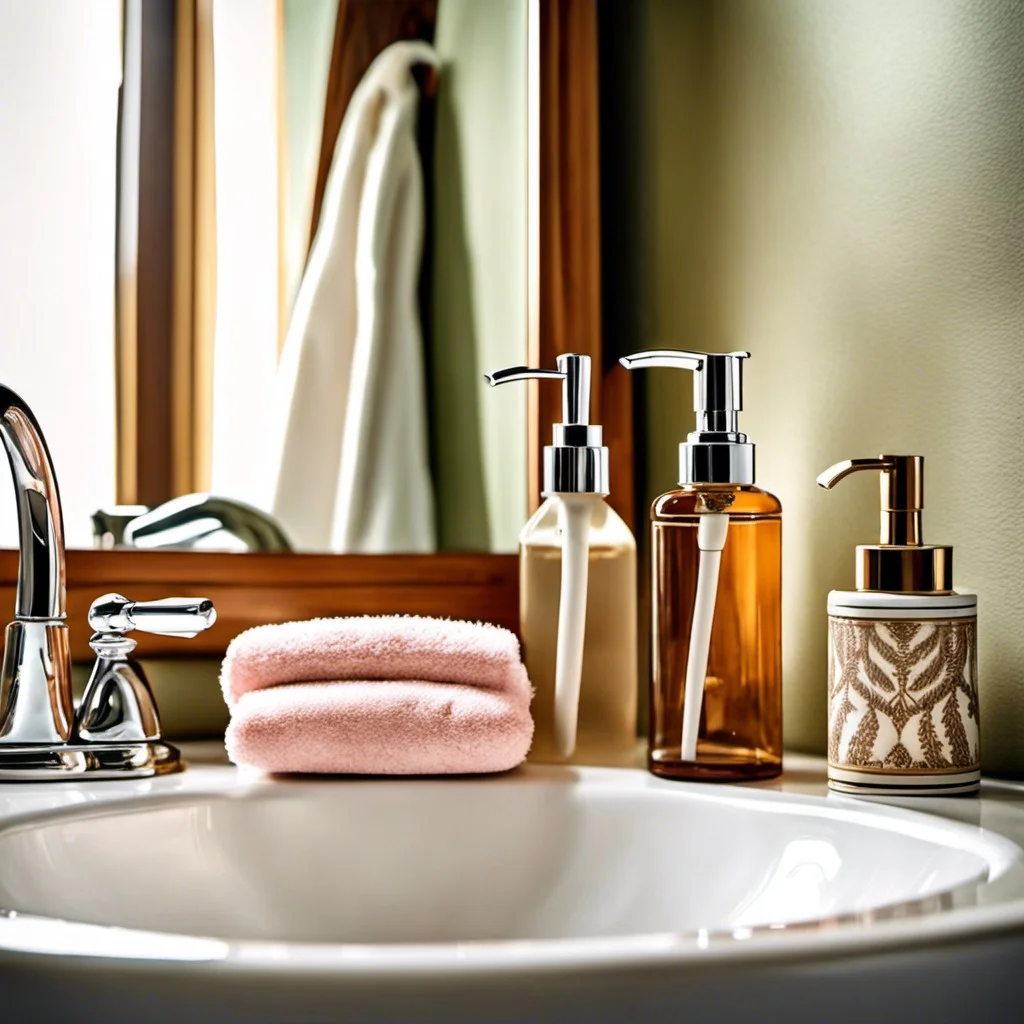 A sprinkle of vintage charm can infuse your bathroom with unique style. Antique glass or ceramic containers ornamented with intricate designs and finish can serve dual purposes – as eye-catching decor and practical storage for toiletries.
Store your cotton balls, bath salts, or even your toothbrush in these lovely pieces. Flea markets and online vintage shops can be gold mines for eclectic finds. But remember, it's not always about how old an item is, but rather, it's about the character it adds.
Don't shy away from items with a little patina or wear – these elements can contribute to a genuine rustic look. Additionally, take care in selecting items of various sizes and shapes to add visual interest and dimension to your bathroom sink area.
Lastly, keep the daily use of these items in mind – durability and functionality are as important as appearance.
Mason Jar Soap Dispensers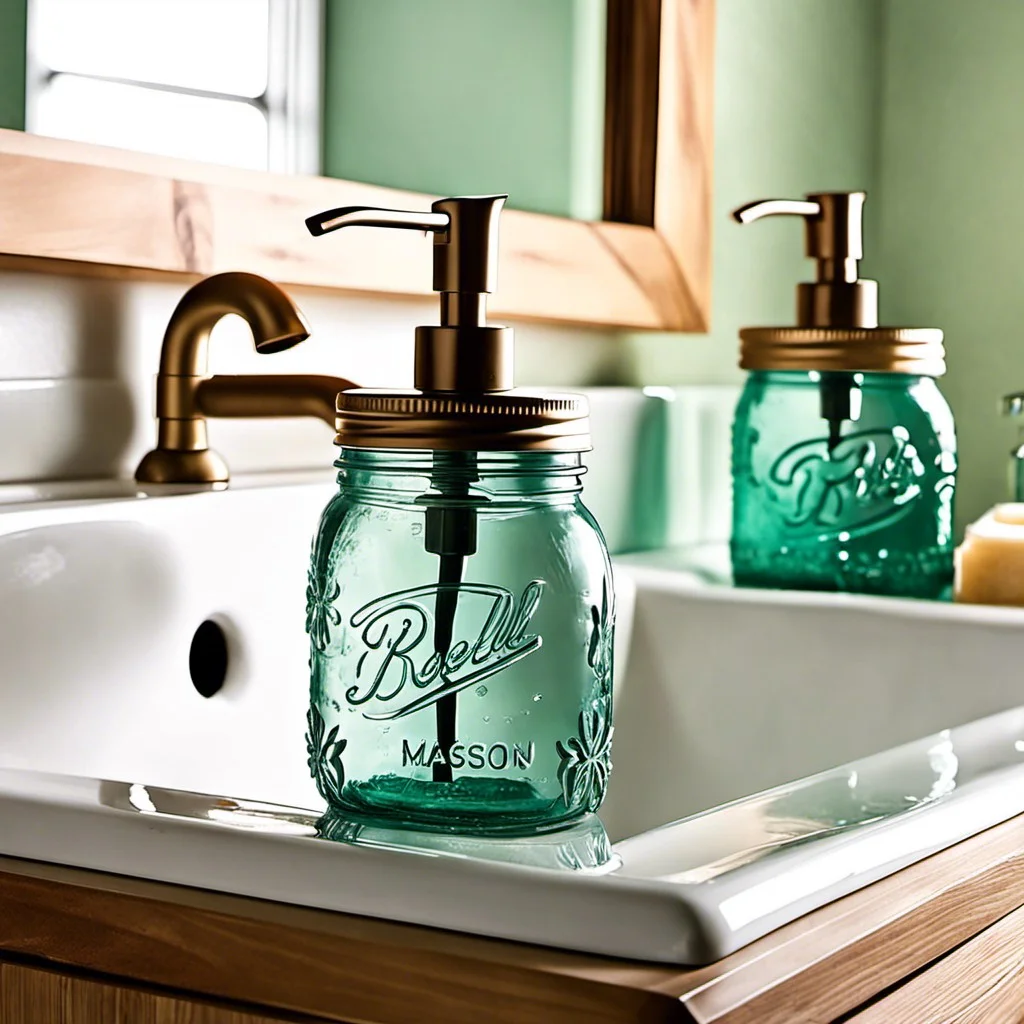 Mason jar soap dispensers add a rustic charm to your bathroom scheme. The simple yet sophisticated jars can go with almost any interior style, from vintage to modern.
With a stainless steel pump, they offer a durable and practical charm that few other items can. Plus, they're refillable, making an eco-friendly choice.
A light tint option can contribute to the overall aesthetic, while a clear jar lets guests appreciate the liquid inside. You can even customize them further by painting the exterior or wrapping them with jute rope or twine for that additional homely touch.
Crafting them at home can be a creative, rewarding exercise or a variety of exquisite, ready-made options are available in stores and online.
Fill them with colorful liquid soap or lotion to make them both functional and decorative.
Unique, Decorative Light Fixtures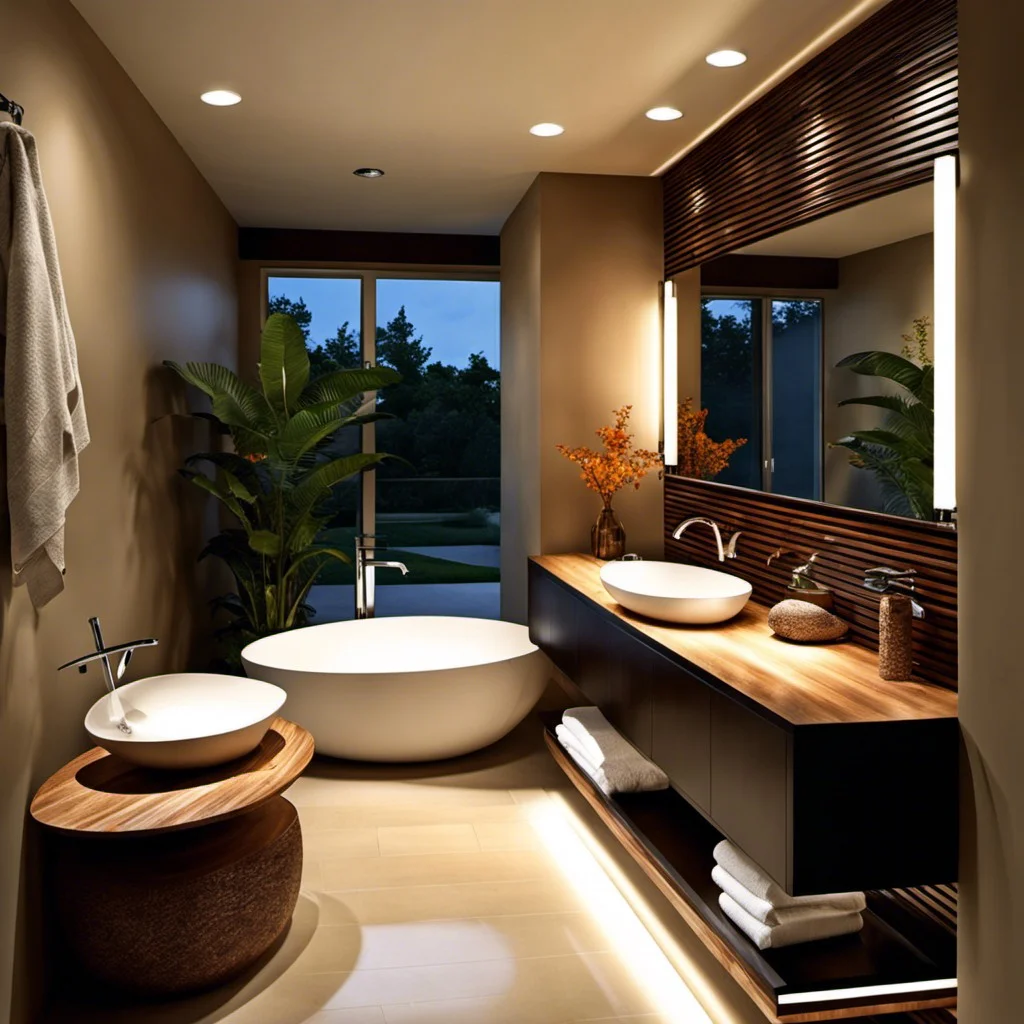 Elevating the aesthetic of your bathroom can be as simple as choosing the right lighting. For a whimsical touch, consider fixtures with unusual shapes or designs. These can serve as a statement piece, capturing attention while providing necessary illumination. Pendant lights hung at varying heights can make a dramatic impact, especially when paired with Edison bulbs for a vintage feel.
For a minimalist approach, recessed lighting in the ceiling retains a clean look while spotlighting the sink area. Wall sconces flanking the mirror offer additional light while adding symmetry to the space. Consider materials like brass or nickel for a role in setting the style tone. It's all about blending practicality with your personal style. Experiment with different bulb temperatures as well, as this can dramatically impact the atmosphere.
Remember, well-placed and well-chosen light fixtures can take your bathroom from common to extraordinary!
Woven Rug for Floor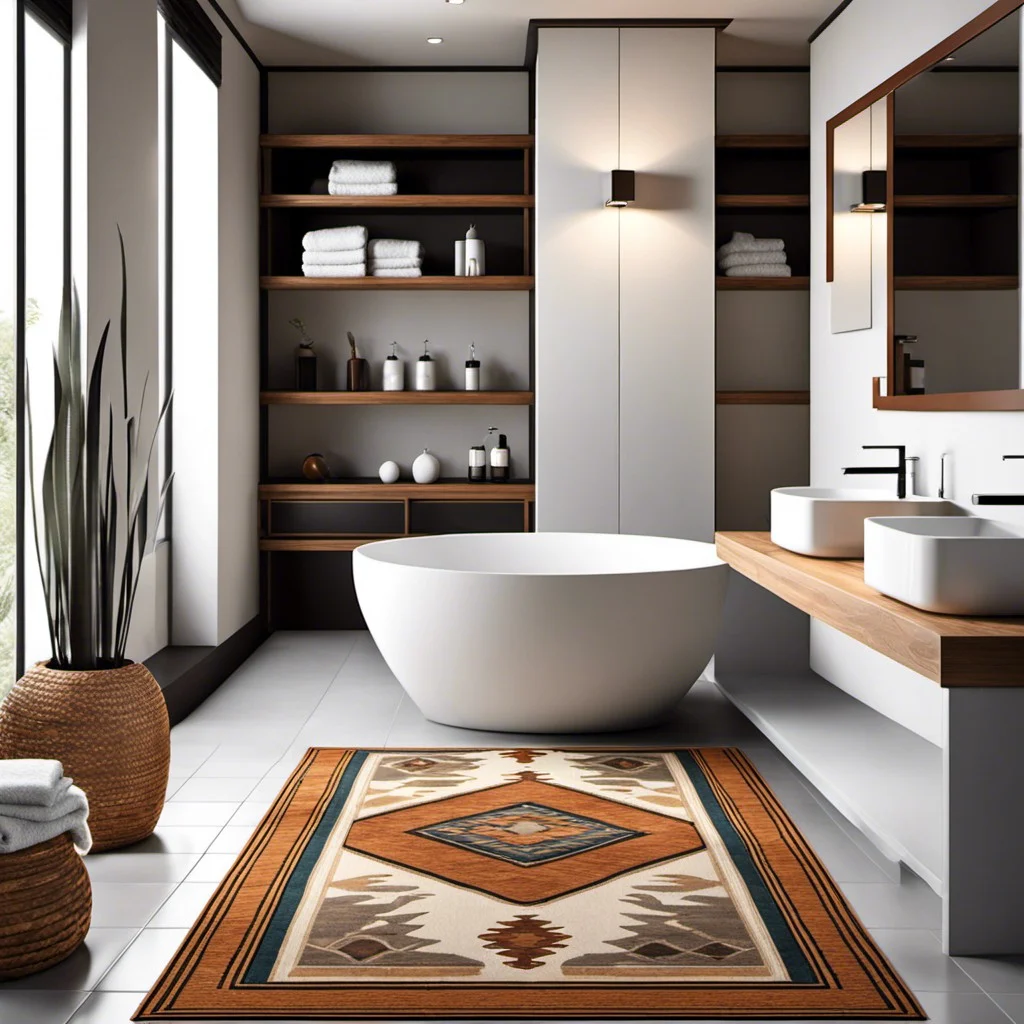 Choosing a woven rug can greatly enhance the aesthetic appeal of your bathroom. This often overlooked element brings warmth and texture to the space, while also providing a practical function of preventing slip incidents. To amplify its effect, coordinate the rug's colors and patterns with towels or other decor pieces in your bathroom.
When selecting a rug, prioritise materials that resist mold and mildew, such as bamboo or nylon. Consider a rug with a non-slip backing for added safety. Furthermore, for a visually balanced look, make sure it fits comfortably in the open floor space and doesn't crowd your bathroom.
In terms of maintenance, choose a rug that's machine washable to keep it fresh and clean. Lastly, play with shapes – oval rugs can soften the room's hard angles, while rectangular ones can elongate the floor. The right rug can transform your bathroom from a purely utilitarian space to a private oasis.
Nautical or Themed Decor Items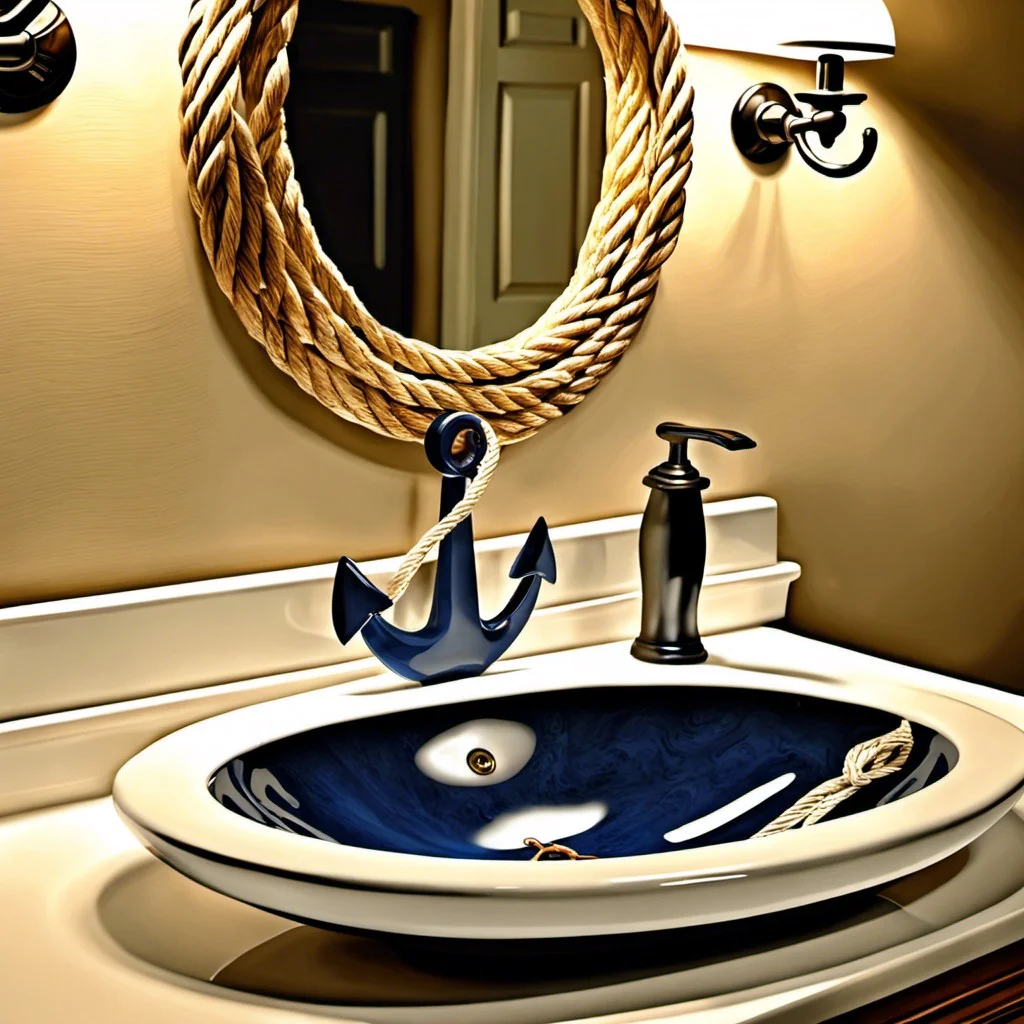 Having an overarching theme can tie all your decor items together, and a nautical style works splendidly for bathrooms due to its strong association with water.
Coastal or ocean motifs can be included subtly with a boat-shaped soap dish or a shell-styled toothbrush holder.
Fishing net decor with faux starfish and shells further reinforces the theme.
Curtain with subtle anchor or seaside prints can add charm to the window or can be used as a shower curtain.
Consider using blue hues for towels and bath mats.
Elements like a lighthouse-shaped candle or buoy-styled hanging lights can be the final touches that perfect your nautical themed bathroom sink area.
Stylized Toothbrush Holder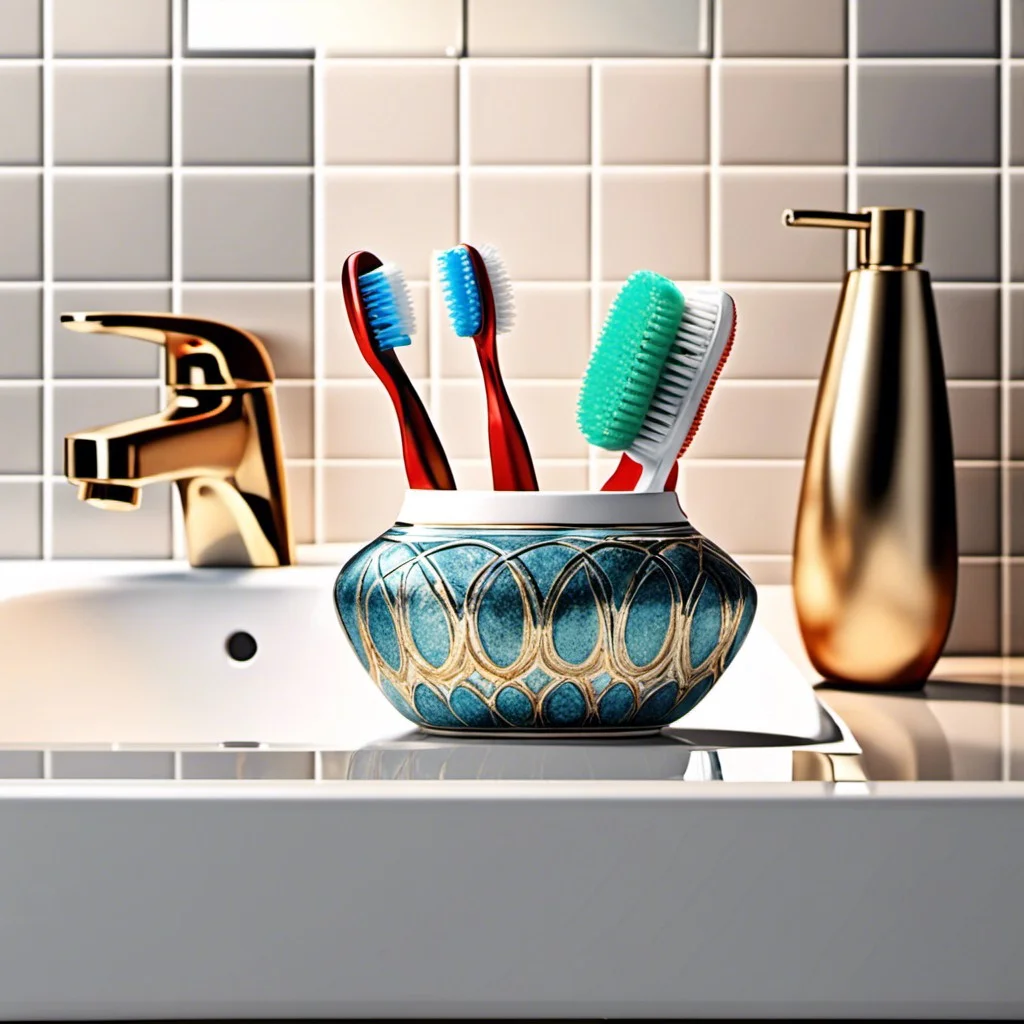 Choosing a stylized holder doesn't just ensure hygiene but also adds a touch of character to the sink area.
1. Material Play: Options range from ceramic, bamboo, stainless steel to glass, pick what best complements other fixtures.
2. Shape and Size: Remember, utility is paramount. Pick a holder that accommodates your family's brushes without looking cramped or cluttered.
3. Go kitschy: Pick designs that reflect your personality or a theme, be it a sleek metallic style for a minimalistic look or a fun nautical theme for a coastal vibe.
4. Double-duty: Some holders come with slots for both toothbrushes and toothpaste keeping the area neat.
5. Wall-mount: A wall-mounted holder helps free up space, a beneficial aspect for smaller bathrooms.
Remember, a thoughtfully picked toothbrush holder can go a long way in harmonizing your bathroom's decor.
Liked reading this? Here's more:
Recap: