Last updated on November 9, 2023
Explore the timeless allure of black iron beds because there are endless decorating ideas that transform your bedroom into an elegant space.
"I am thrilled to share this article and accompanying designs on 20 unique black iron bed decorating ideas, which I passionately crafted, hoping it will inspire and entertain you as much as it did me during its creation."
Black iron beds can truly make a statement in a room, offering a timeless elegance that can be transformed to fit any style, from rustic to modern, minimalistic to extravagant.
Whether it's the centerpiece of your master bedroom or an addition to your guest room, a black iron bed offers a plethora of decorating opportunities.
In this article, we'll explore various ways to style and enhance your space around this versatile furniture piece.
We'll dive into color schemes, bedding choices, wall decor, and more, ensuring that by the end, you'll have all the inspiration and guidance needed to create a space that's not only aesthetically pleasing but also uniquely yours.
Use White or Cream Bedding for Contrast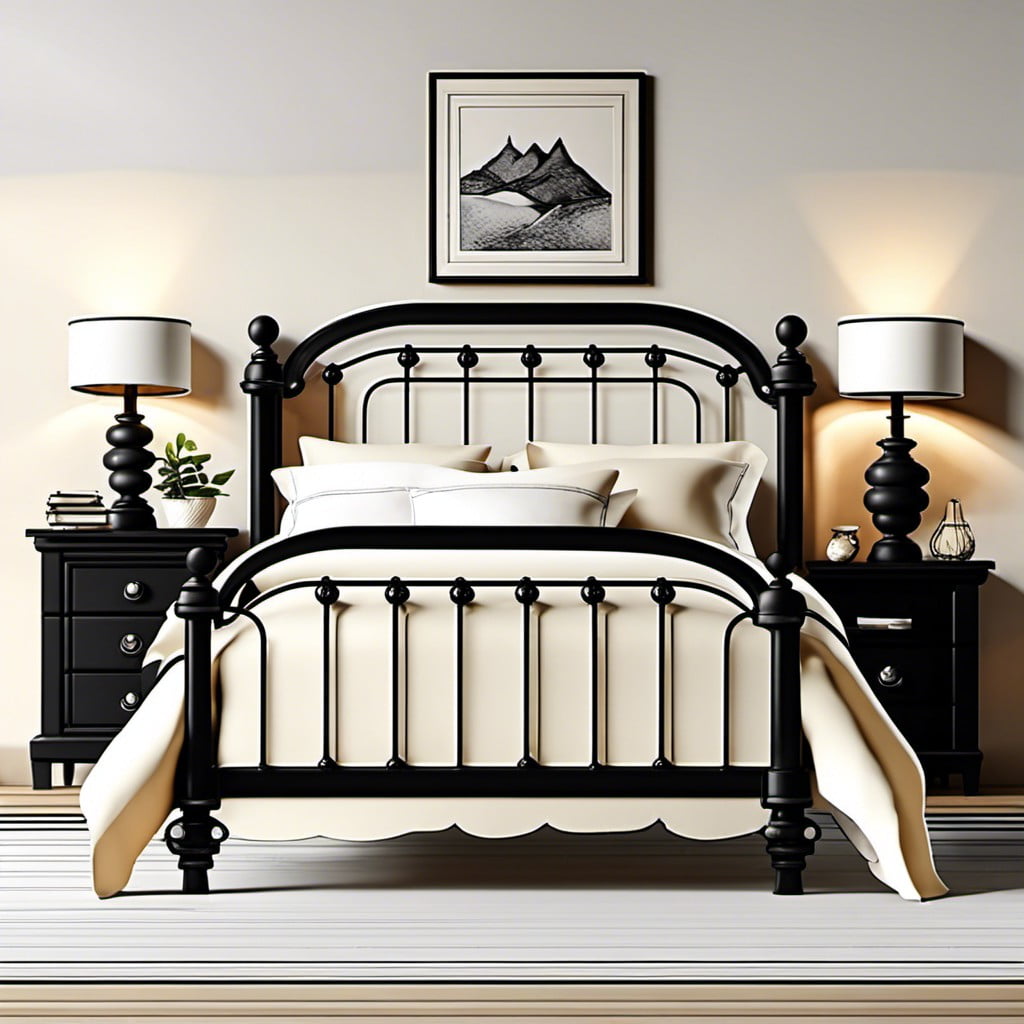 Opting for white or cream bedding adds an instant brightening effect against the black iron bed. Not only does this highlight the unique, often intricate design of the bed frame, but it brings balance to the overall bedroom aesthetic.
Opt for material textures like cotton, linen, or even satin to further elevate the look. Consider a patterned white down comforter or a cream quilt with embossed texture to add depth.
Pillows can follow the same color scheme, with a blend of whites and creams in varying sizes and textures. You can also go with a cream bedskirt or white rug underfoot to mirror the soft bedding tones, completing the coherent design.
Remember, while it is about the contrast, it's also about creating harmony.
Pair With Farmhouse-style Decor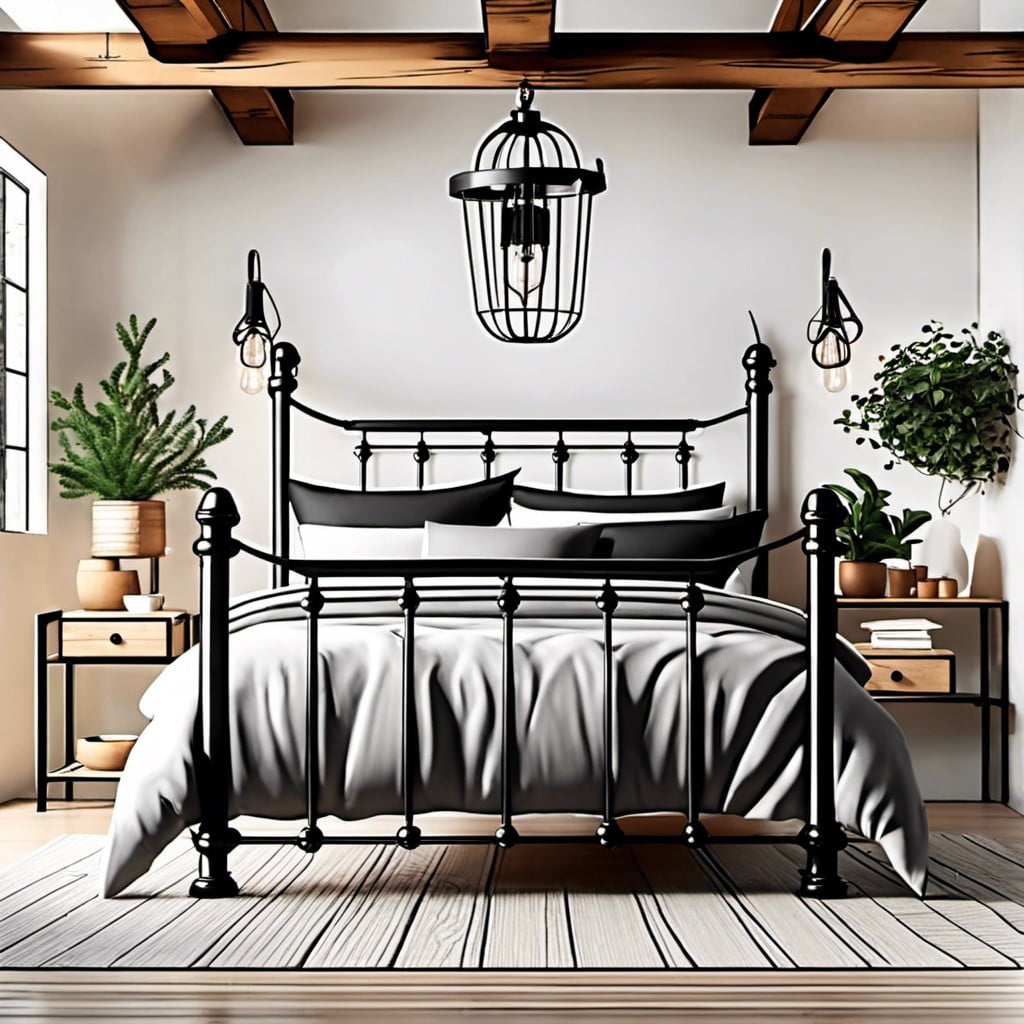 Marrying a black iron bed with farmhouse-style decor creates a charming blend of rustic chic and industrial edge.
Opt for accents with distressed wooden finishes, warm tones, and quintessential farmhouse details.
A vintage quilt, repurposed as a throw blanket, infuses an authentic rural vibe while ticking-stripe pillows add a patterned pop.
Consider complementing this with a barn door instead of the usual bedroom door to complete the rural charm.
A simple mason jar lamp on the bedside table can also encapsulate the warmth of the farmhouse aesthetic, juxtaposed beautifully with the bed's sleek iron frame.
Combine With Industrial Lighting Fixtures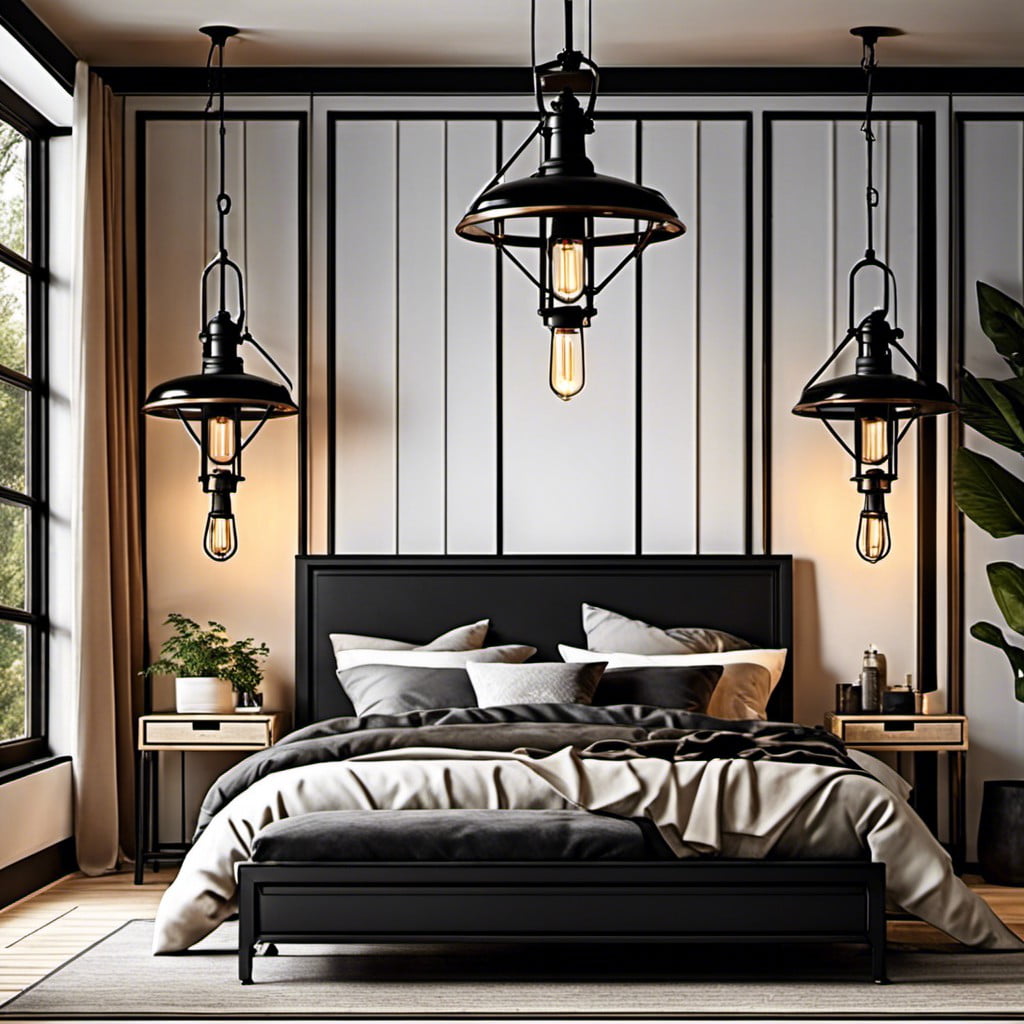 Industrial lighting fixtures, with their raw and unfinished appearance, can perfectly compliment the sturdy and rugged aesthetic of a black iron bed.
Opt for fixtures that highlight utilitarian elements such as metal, wire cage designs, or exposed filament bulbs.
Hanging pendant lights on either side of the bed can create symmetry and a sense of balance in a room.
Alternatively, utilizing floor lamps with adjustable arms can give a flexible lighting solution, allowing you to direct the illumination exactly where it's needed.
Remember, the imperfections and uncommon finishes typical of an industrial lighting fixture can make a show-stopping contrast against black iron bed frames, establishing an atmospheric, modern bedroom space.
Add Color With Bold Throw Pillows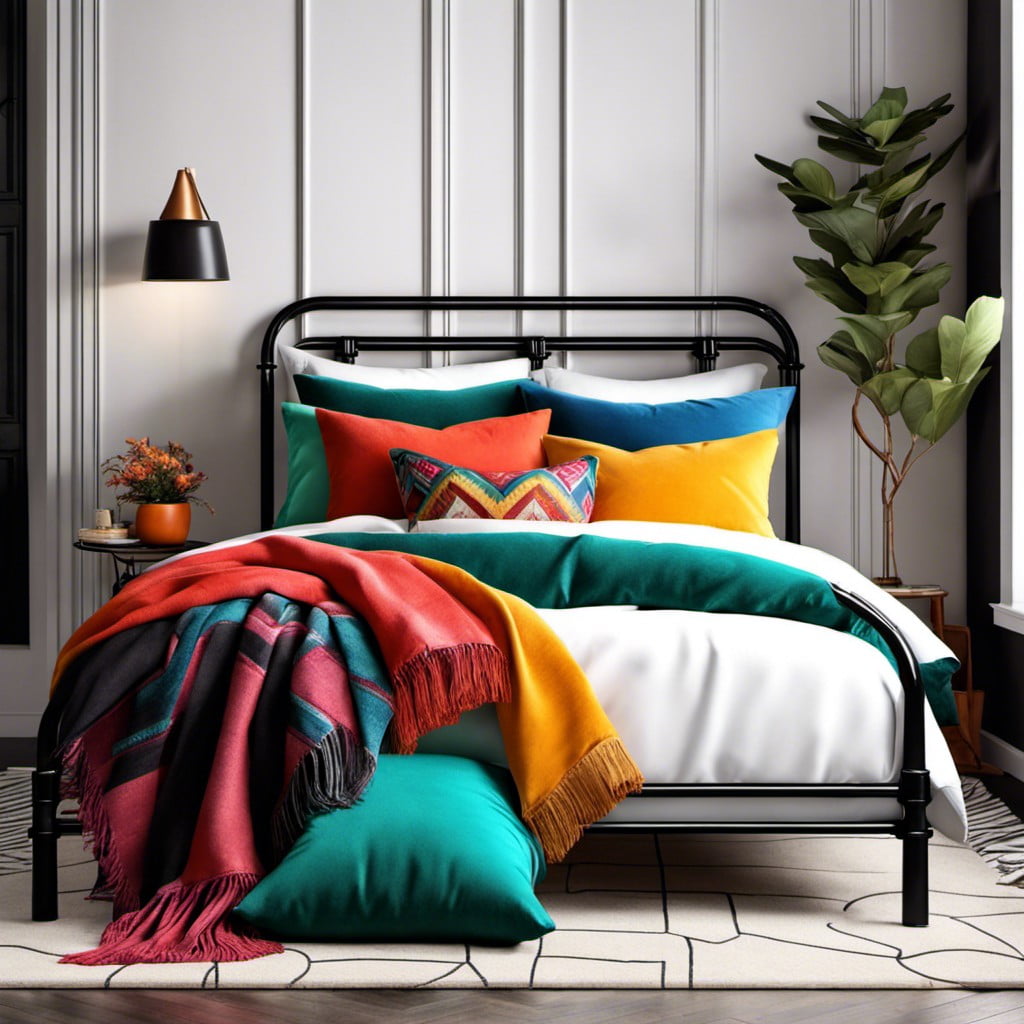 Injecting vibrant hues into your room can be successfully achieved through the use of throw pillows. Offering an unconventional punch of color against the black iron bed, they become the star of the space! Just think rich emeralds, energetic yellows, or even gentler blush pinks, the variety is endless.
With solids, patterns or even textured fabrics, these accessories provide a flexibility unmatched by other decor elements. They are cost-effective, easy to switch out with changing seasons or moods, and can tie the room's color palette together effortlessly. Plus, they add a level of comfort for those leisurely weekend readings or breakfasts in bed.
Remember, while you can go wild with the colors, maintaining a balance is key. A mishmash of too many bright colors may create visual clutter. On the other hand, a thoughtful selection can harmonize the room and give it that 'expert touch'. It's all about expressing your personal style while keeping the room cohesive and visually appealing.
Hang Monochrome Art Above the Bed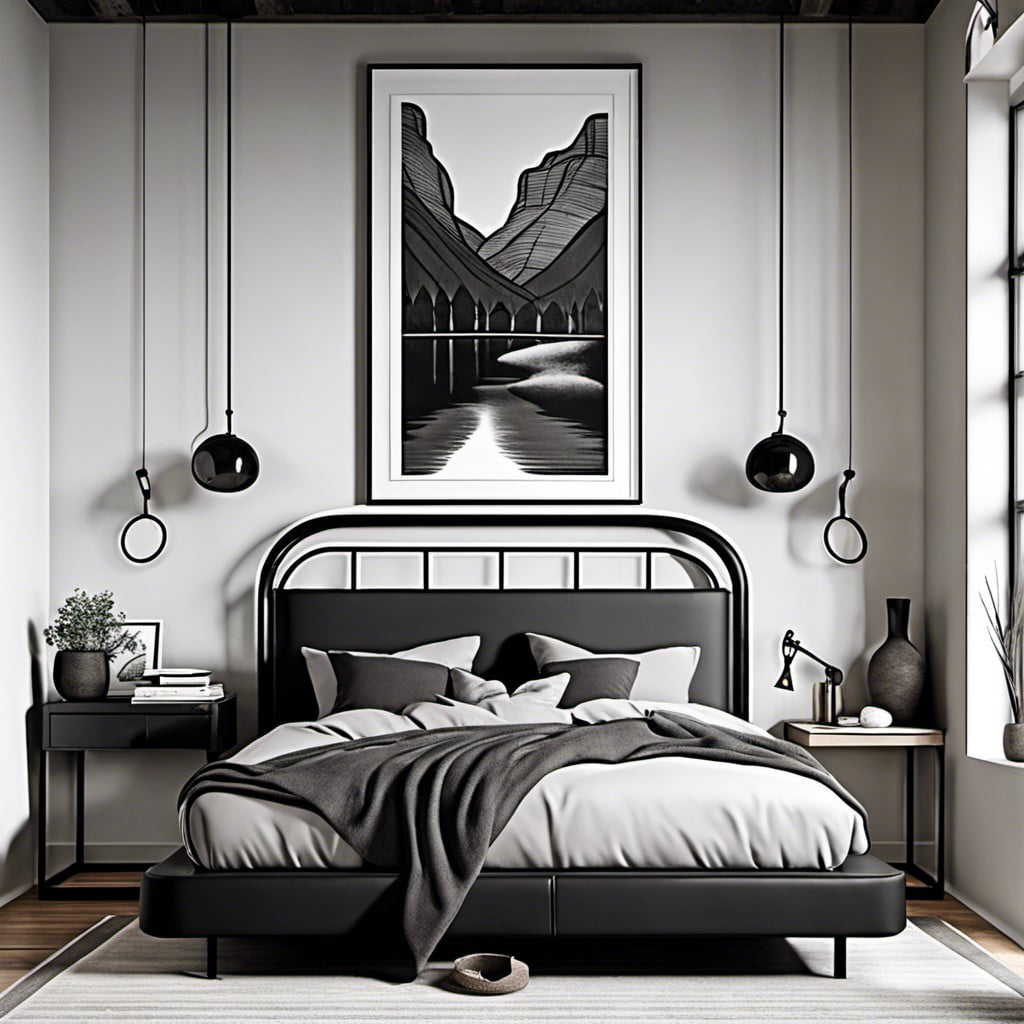 Monochrome artworks serve to enhance the beauty of your black iron bed and not overpower it. When choosing a piece, consider abstracts, landscapes, or still life in varying shades of a single color. This ensures an easy blend with the bed's classic look.
Hanging the frame at eye level will create a harmonious balance in your room. To avoid visual monotony, opt for a mixture of sizes. Proportion plays an important role in maintaining the visual weight in the room. It's also okay to play around and create an exciting asymmetry with smaller frames surrounding a larger central piece.
Keep your wall art minimal and quiet to maintain the bed as the room's focal piece. A well-chosen artwork will add a layer of sophistication and personality to your room while contributing to its overall desirability.
Use Red and Black Checked Bedding for a Rustic Look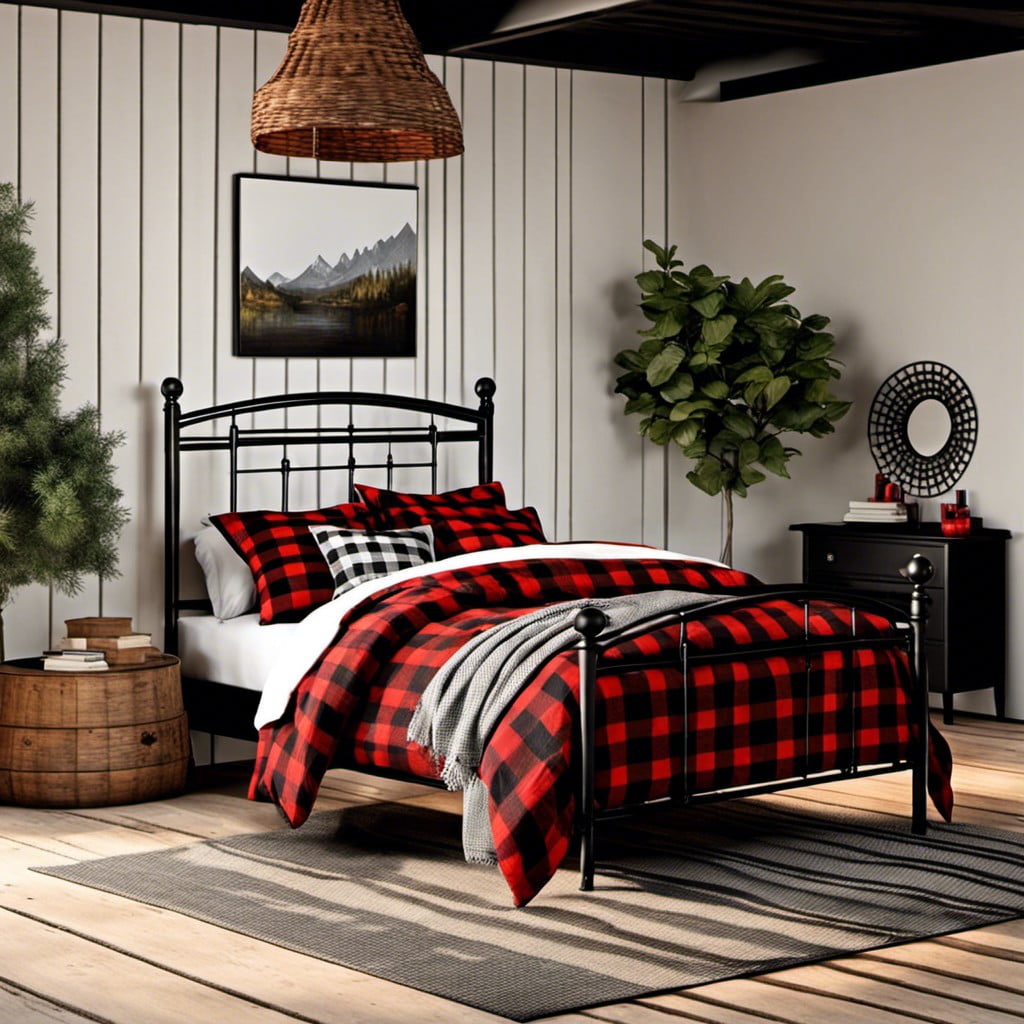 The charm of red and black checked bedding lies in its quintessential rustic appeal. Adding it to your black iron bed immediately creates a warm and welcoming atmosphere. It harks back to cozy log cabins and soft flannel shirts, creating an endearing and comfortable ambiance.
This pattern particularly shines during winters, instilling a sense of warmth in your room. To further enhance this look, consider adding flannel throw pillows or a knitted blanket. Choose accessories made from natural materials, such as a wooden clock or wicker baskets, to complete the rustic vibe. This strategy is especially effective if your room has lots of exposed wood or stone.
Lastly, complement your bedding with golden-toned lighting to maintain the warm, rustic appeal. Remember, the goal is to create a space that feels cozy and inviting, a perfect sanctuary for those colder nights.
Incorporate Vintage Accessories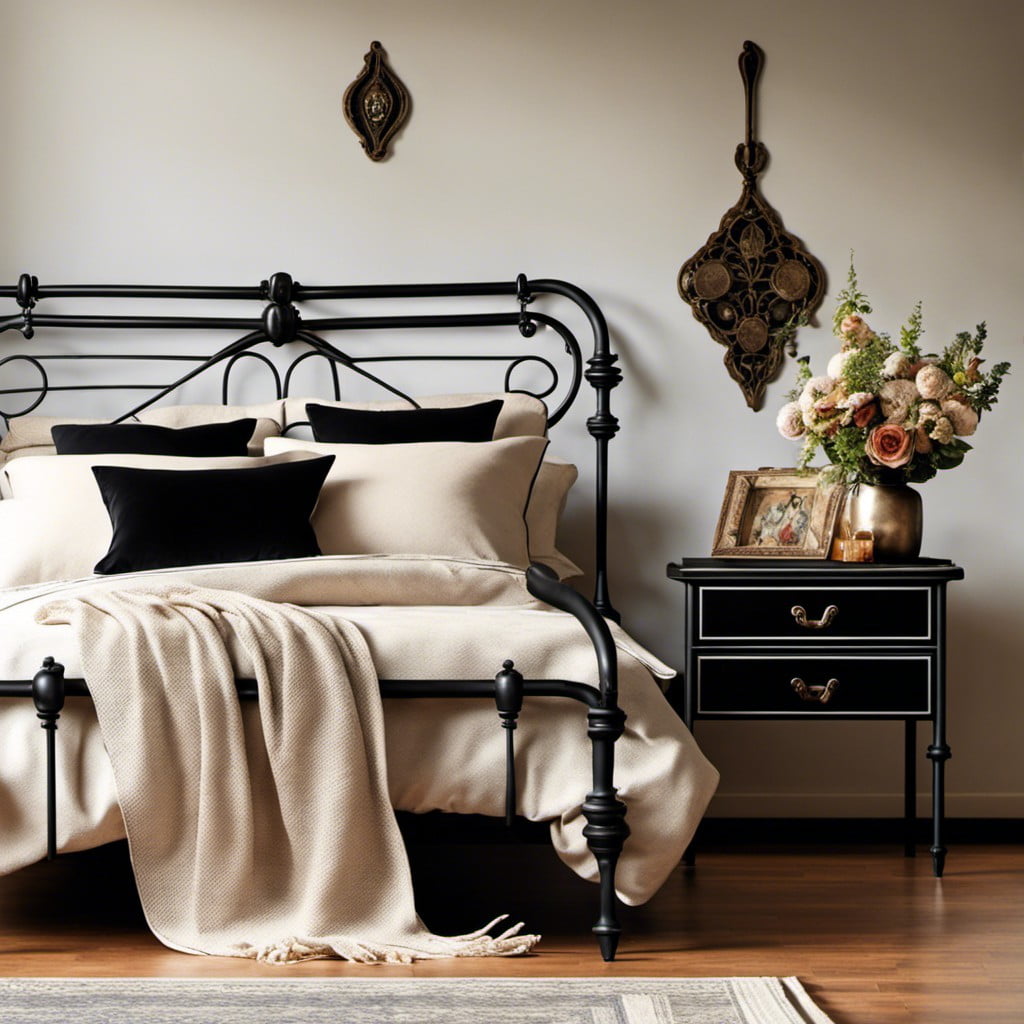 Vintage accessories will work wonders alongside your black iron bed. Character-filled items, such as a distressed wood side table or an antique rug, infuse the setup with an unique aesthetic.
Remember to go for ones that complement your color scheme and overall decor style. A vintage mirror above the bed enhances the space and adds a touch of elegance. Antique lamps on bedside tables can offer soft, warm lighting while reinforcing the vintage element.
Old trunks or chests can double up as a bench or storage space at foot of bed. Achieving this look isn't about perfection, rather it heightens charm and personality, making your room utterly timeless.
Pair With Dark, Rich Wall Colors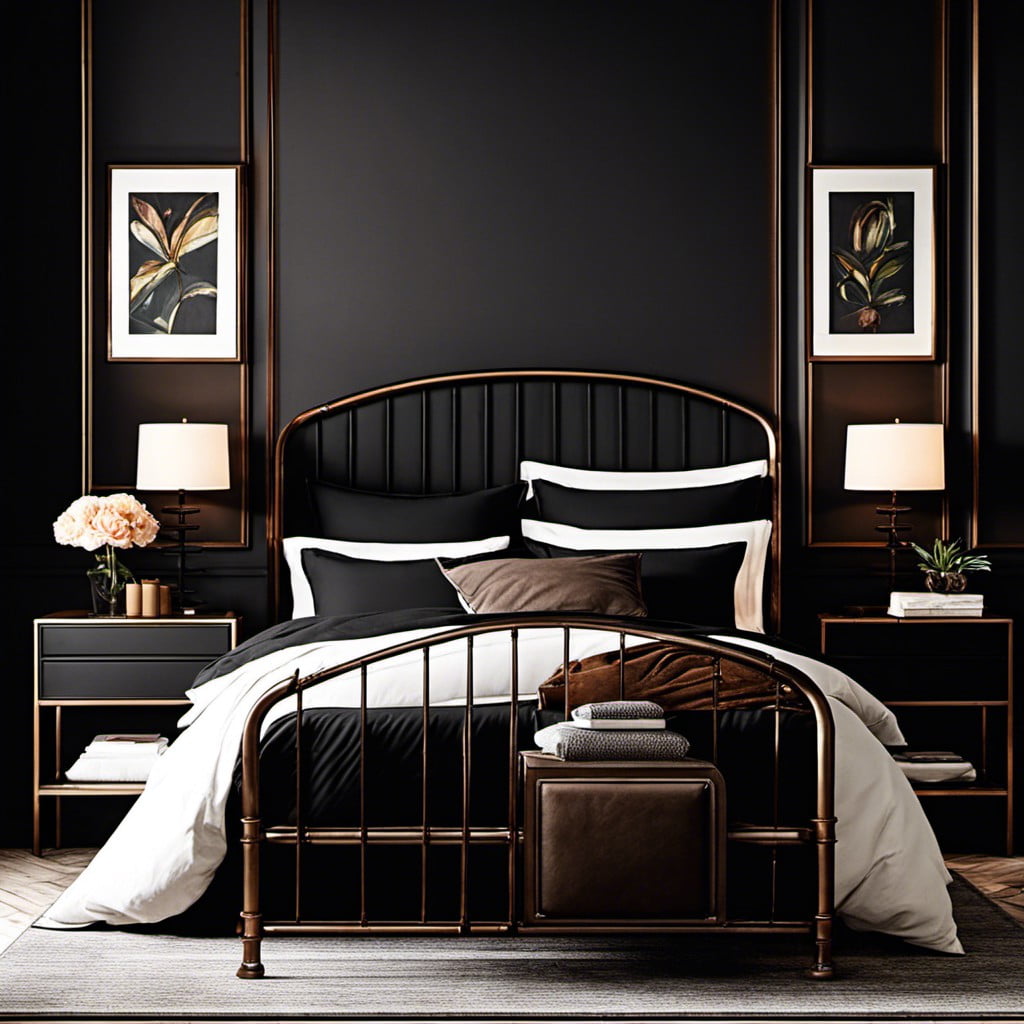 Dark, rich wall colors create a dramatic backdrop that makes a black iron bed pop, adding depth and opulence to your decor. Consider velvety plum or deep emerald green to invoke luxury.
For a seductive, sophisticated look, burgundy or charcoal gray might be the choice. These shades help to balance out the starkness of the iron bed, making it a cohesive part of the room rather than just a standalone piece.
Remember, with darker walls, ensure plenty of natural or artificial light in the room to prevent a gloomy atmosphere. Lastly, try to incorporate these tones into other elements of the room – perhaps in a focal wall piece, a rug, or throw pillows on the bed. This reaffirms the room's color palette and pulls the look together.
Use a Patterned Rug to Add Texture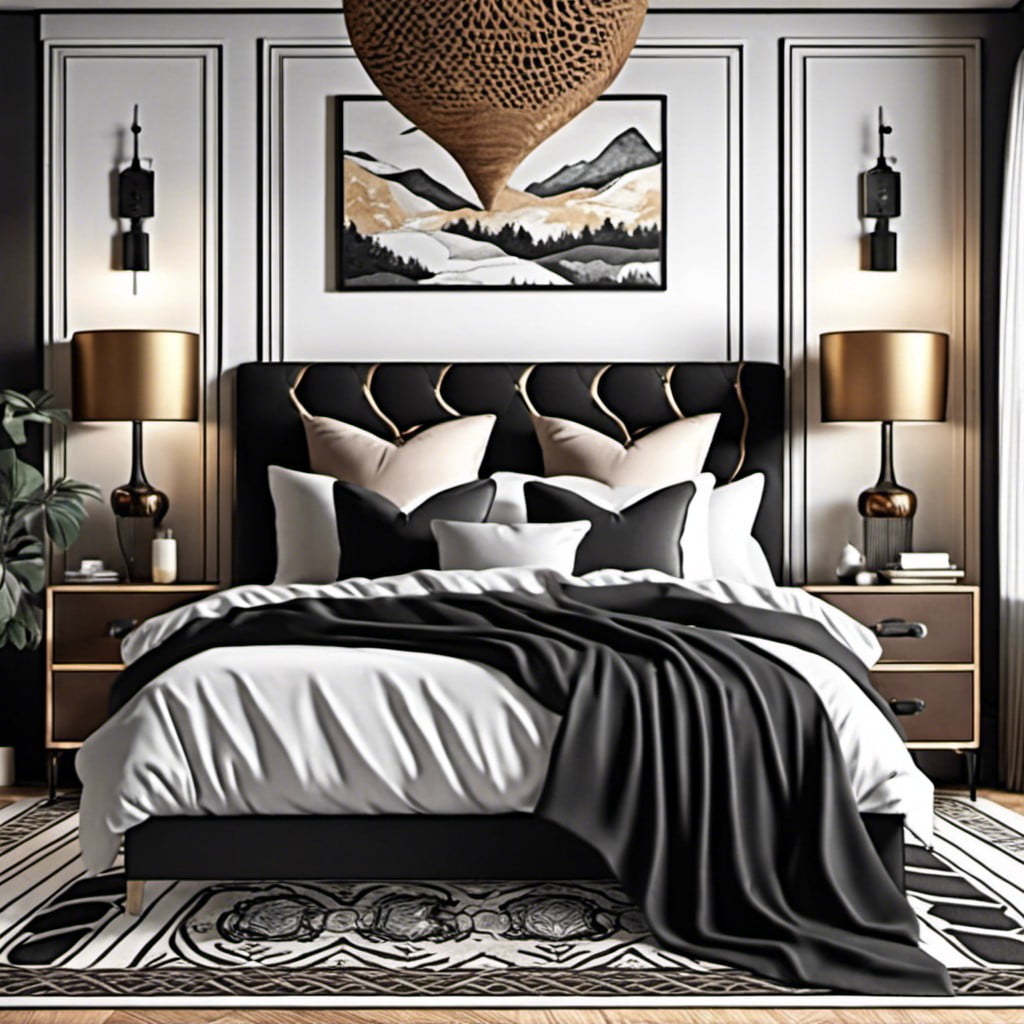 Embracing a patterned rug is a fantastic strategy to elevate any black iron bed setting.
1. Influences Mood: The chosen rug pattern can set the mood of the bedroom. Intricate designs cast a traditional feel, while geometric shapes induce modern vibes.
2. Texture Variation: A plush or shaggy rug varies the room's texture, creating visual interest and a more inviting space.
3. Coordination: Ensure the hues within the rug's pattern align with the rest of your decor. This unifies all elements, promoting harmony.
4. Size and Placement: Use a rug big enough to extend beyond the bed, serving as a delightful visual anchor. Placing it partially under the bed makes the room appear more spacious.
Takeaway: A rug isn't merely for comfort underfoot, it's an extension of your decor that adds depth and character to your bedroom. So, consider the pattern, texture, color alignment, as well as the size and placement to create an exquisite aesthetic around your black iron bed.
Add a Canopy for a Romantic Touch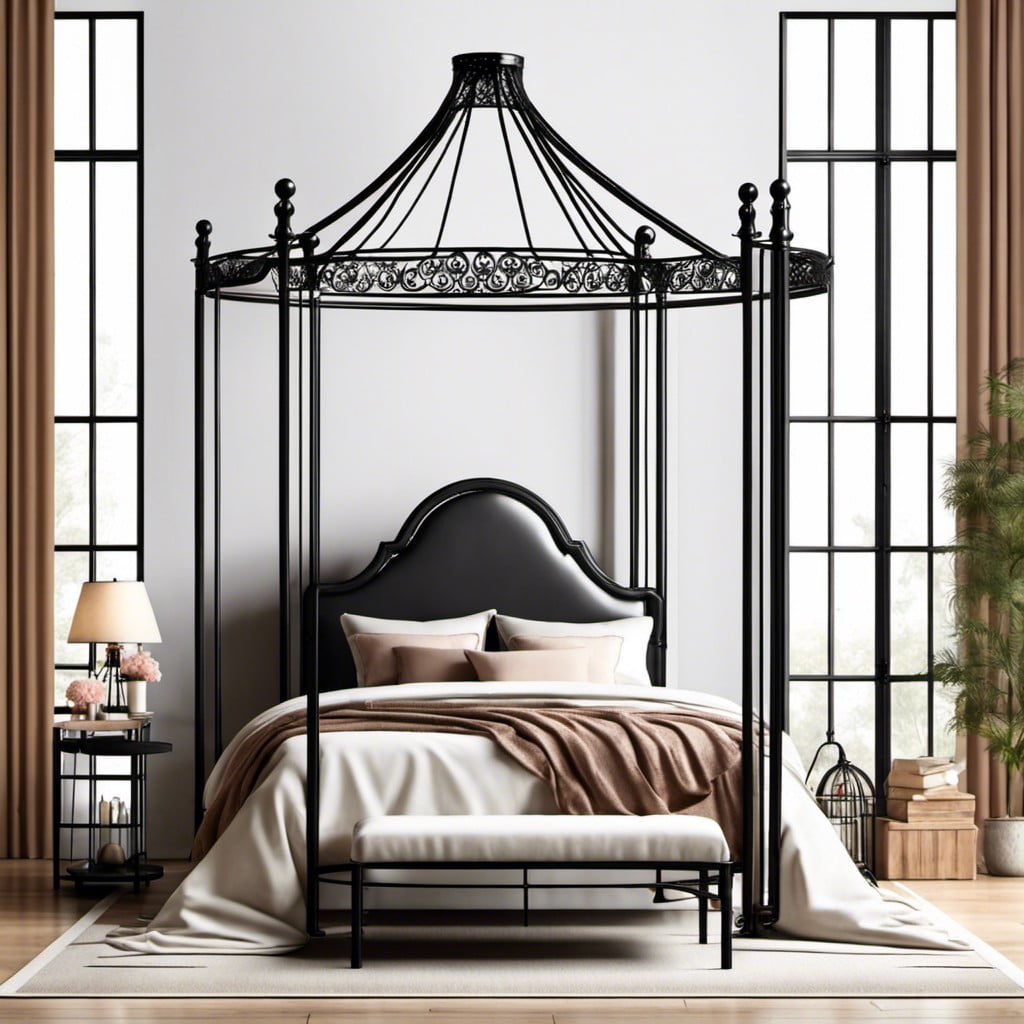 Incorporating a canopy can create an enchanting, dreamy atmosphere, encapsulating that old-world charm and infusing a certain degree of sophistication. Opt for a sheer fabric canopy, like white chiffon or tulle, which cascades beautifully without overpowering the room. To keep it from appearing overly traditional, choose clean, simple lines — no frills or heavy embellishments.
The canopy need not cover the entire bed; draped from the headboard or gathered to one side, it can create a unique visual draw. Pair it with string lights for an even more magical effect, or leave it plain for understated elegance. Ensuring the canopy fabric complements other aspects of the room, especially the bedding and wall color, can enable a cohesive overall aesthetic.
Remember, the goal here is to add a touch of romance while still enhancing the iron bed's strong attributes. The softness of the canopy should beautifully contrast with the firmness of the iron, striking a balance of textures in your interior design.
Draping Fairy Lights for Soft Illumination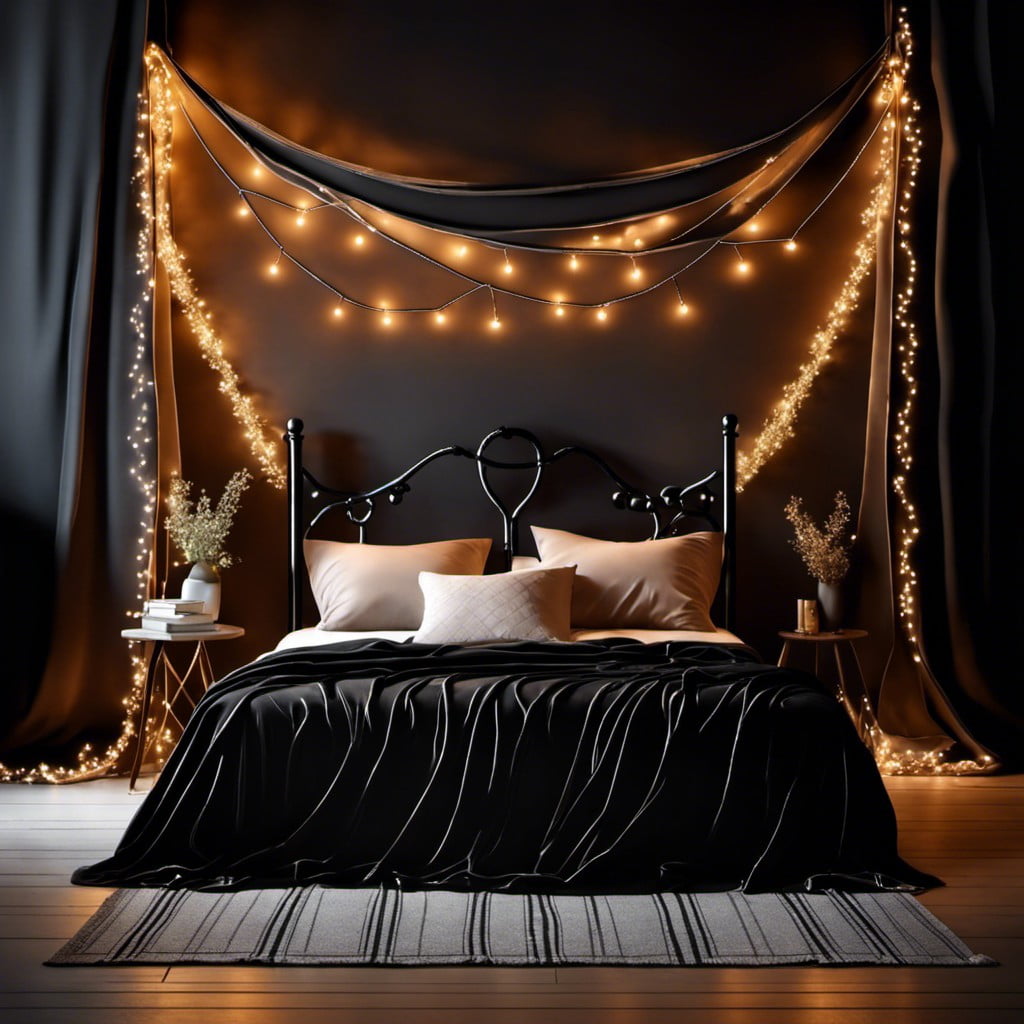 Fairy lights offer a whimsical way to enhance the ambiance of a bedroom while bringing attention to the architectural intricacies of a black iron bed. This illumination not only provides a soft glow but also contributes a fairy-tale-like allure to space.
Here's how:
1. Position: Wrap the lights around the bedposts or weave them through the headboard and footboard. Avoid obstructing any decorative elements.
2. Type: Opt for warm white lights for a cozy, inviting atmosphere, or go for cool white lights for a more modern vibe.
3. Functionality: For an enchanting nighttime experience, choose lights with adjustable brightness or distinct modes such as twinkling or fading.
4. Safety: Always choose LED lights, as they stay cool and reduce the risk of overheating.
5. Style: For a streamlined look, choose fairy lights that have a black wire to blend in seamlessly with the black iron bed.
6. Storage: During the day, fairy lights can be subtly wrapped around the bed posts where they remain unobtrusive yet readily available for the evening's soft illumination.
By considering these key points, fairy lights can transform your black iron bed into a magical nighttime retreat.
Mismatched Bedside Tables for a Unique Look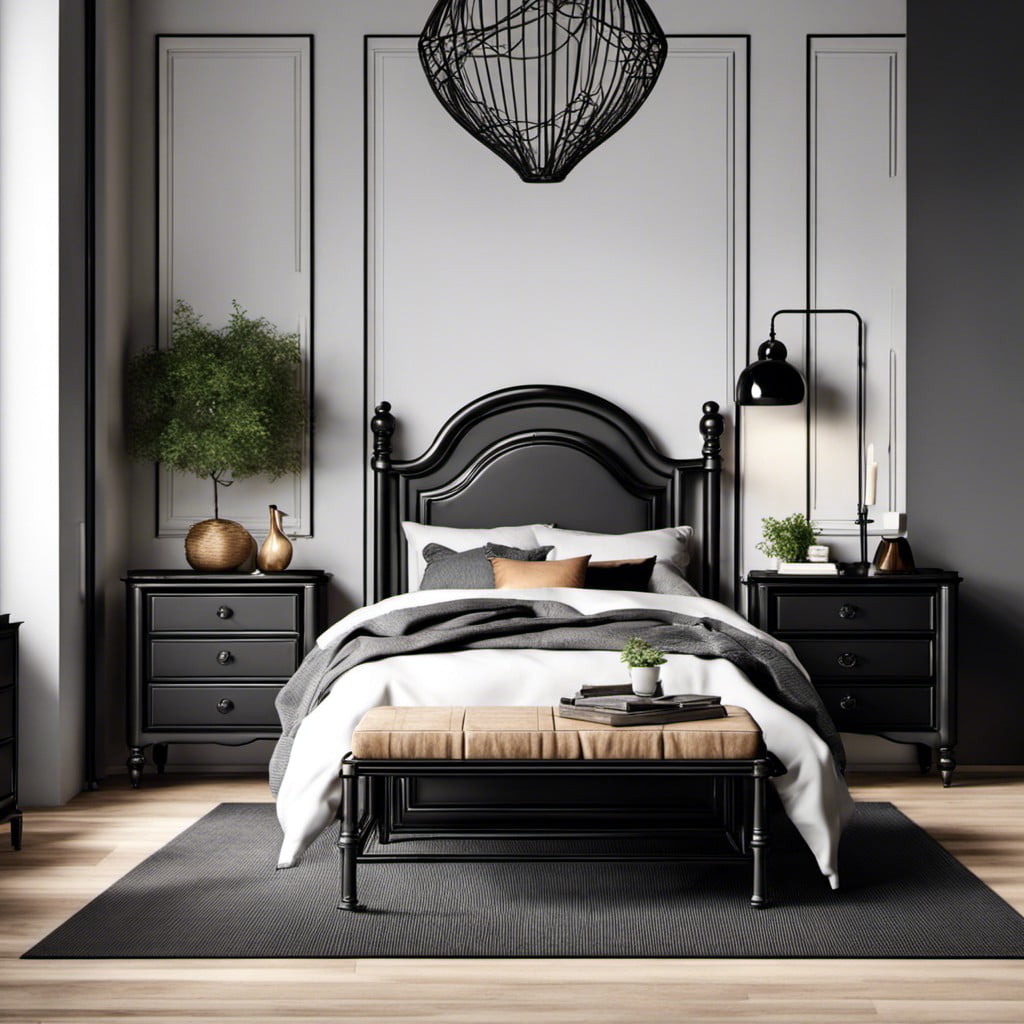 Adding a sense of intrigue to a bedroom is simple with mismatched bedside tables. Inject personality with a variety of styles, shapes, and sizes. This creative deployment not only offers unique and exciting visuals but also provides ample scope for storage versatility.
Firstly, consider coordinating mismatched tables by color or material. Maintain consistency throughout the room by repeating some element, perhaps the hardware or wood tone. Secondly, keep the tables at similar heights to facilitate ease of use and boost the aesthetic appeal.
In addition, scale is essential – a smaller, more delicate table can balance a larger, bulkier one. Lastly, unify the tables by using matching table lamps. This brings cohesion to the overall design, making the mismatched duo appear intentional and well thought out.
Pair With Wood Elements for a Balanced Aesthetic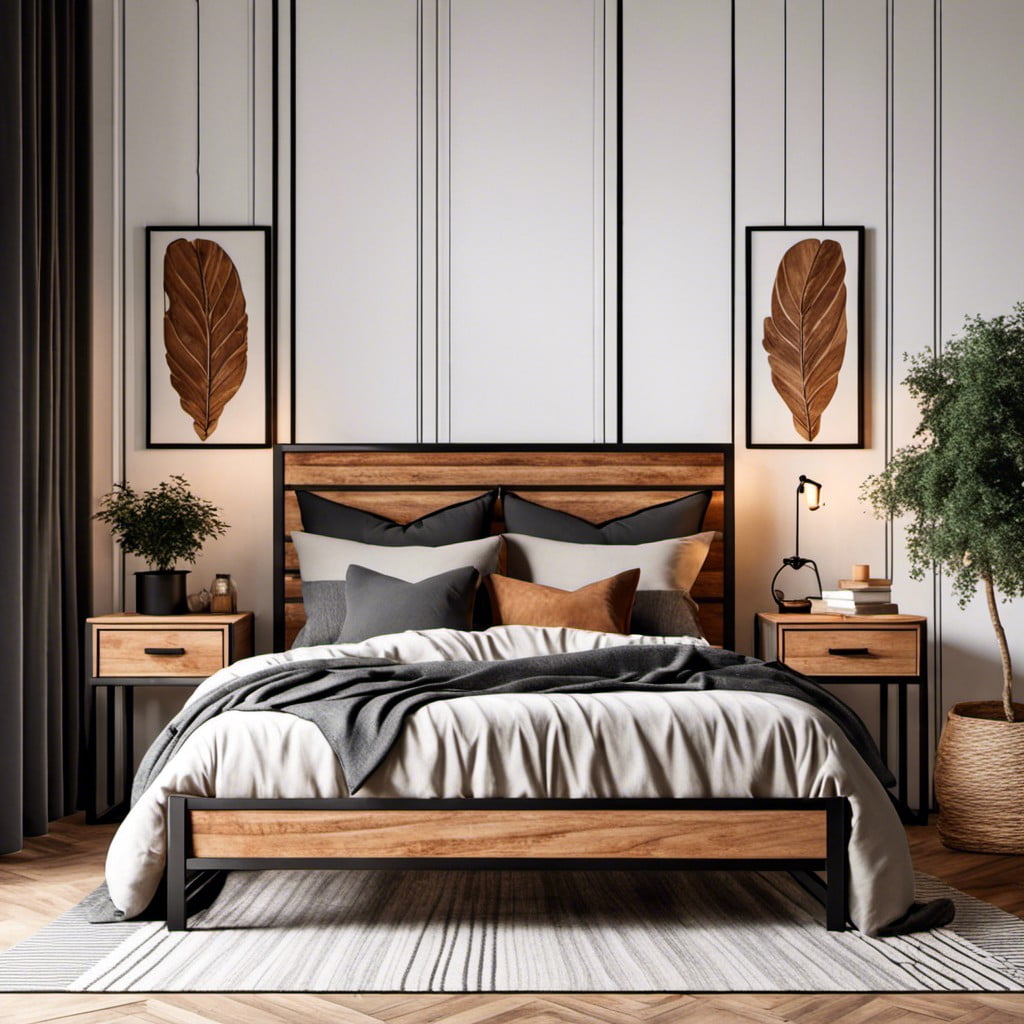 As a versatile material, wood has the capacity to complement black iron beautifully. The warm tones of wooden items counterbalance the cool, industrial feel of the iron. An oak or pine dresser, for instance, introduces a touch of refinement to the stark robustness of the metal bed frame.
Additionally, consider decorative elements such as hand-carved wall art or a vintage wooden trunk at the foot of the bed. If you're leaning towards a more rustic approach, reclaimed wood shelving or a barn door closet can add just the right touch of authenticity.
To make the most of this design pairing, aim for a balanced composition. For each prominent wooden furniture piece, allow your black iron bed to be the focal point. This balance ensures neither the metal nor wood elements overpower each other, creating a harmonious and aesthetically pleasing arrangement.
Use Pastel Colors to Soften the Look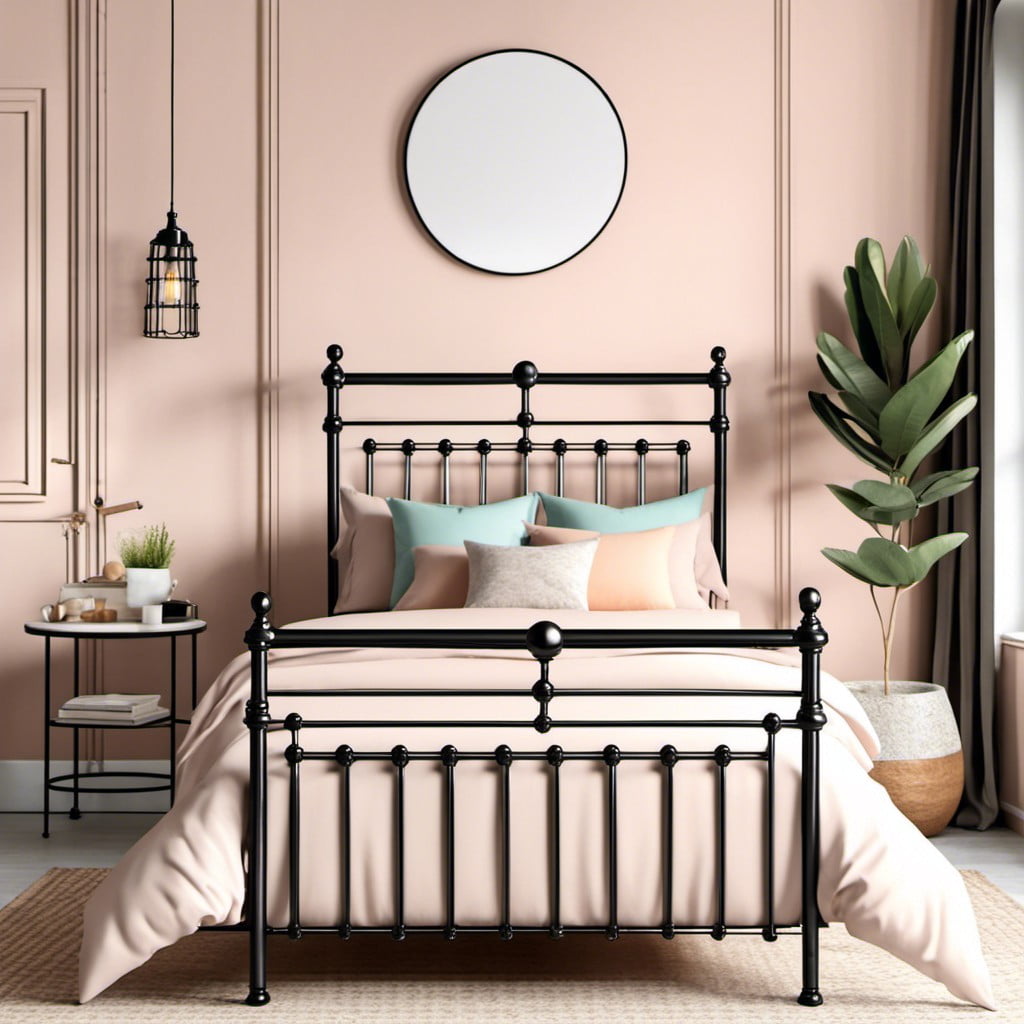 Breathing warmth into your black iron bed doesn't always require a dark or vibrant palette. Pastel hues play a fabulous role in this context. Imagine soft blush pinks or baby blues contrasting against the stark iron frame. The result? An aesthetic that's both gentle and striking, without overcoming the room's comfort level.
Consider these points:
Bedding and cushions: Introduce pastel bedding sets or throws to add a layer of softness. Accentuate with pastel-colored pillows to enhance the visual appeal.
Wall paint: Painting the walls in pastel shades creates an interesting backdrop that subtly complements the strong bed frame.
Neutral accessories: To prevent overcrowding the palette, incorporate neutral-toned accessories like cream or white curtains, lampshades, or area rugs.
Patterns: Include patterned pieces, like a striped pastel rug or polka dot cushions for additional interest.
Metals: Soften the industrial feel by adding metals like copper or brass in the forms of lamps, picture frames, or side tables. They harmonize well with pastel tones, invoking a sense of elegance.
Remember, the aim is to create balance. Too much pastel can overwhelm, while too little may not deliver the desired softening effect. Experiment with different elements until you strike the perfect balance.
Incorporate Metallic Accents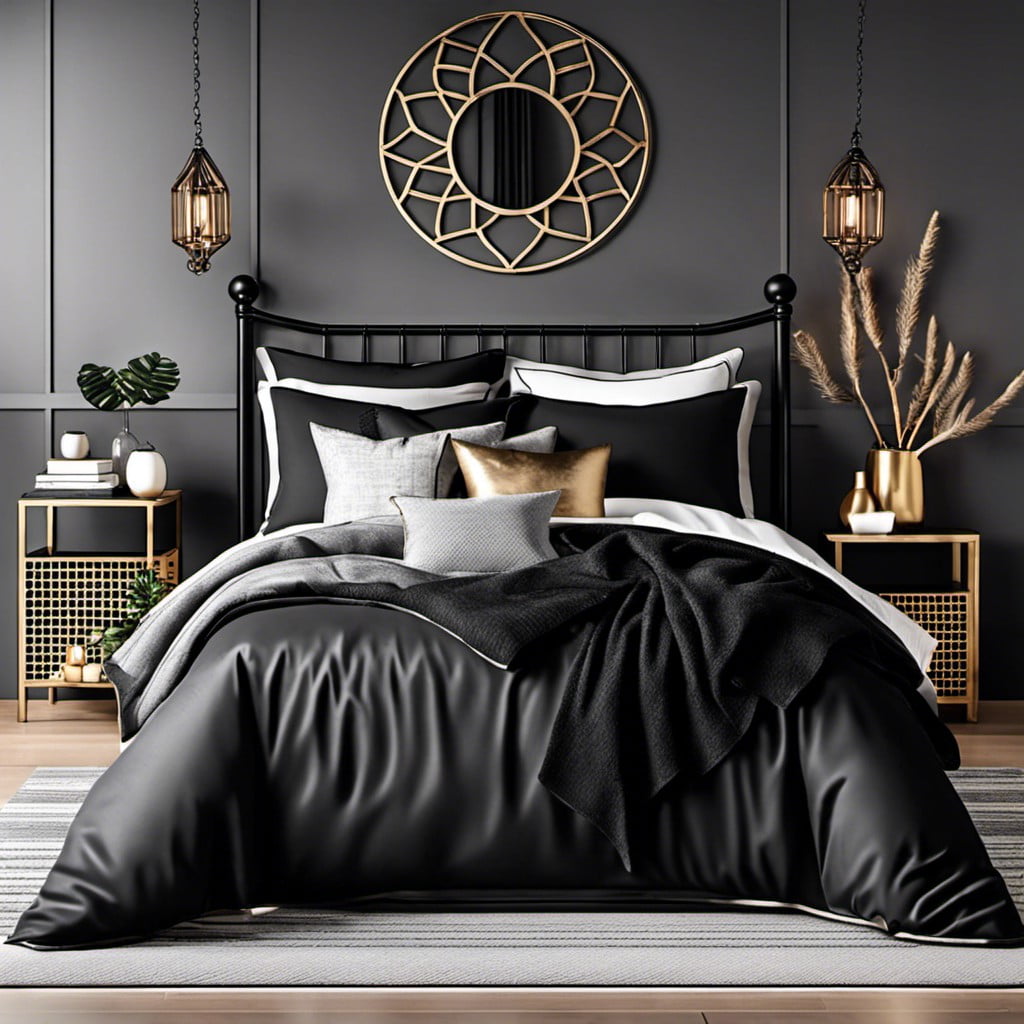 Showcase your room's key elements and elevate your decor by thoughtfully placing metallic accents.
Opt for statement pieces such as a silver pendant light or a gold mirrored tray on the dresser for a dose of sophisticated glamour.
Not only do metallics diversify the feel of your interior, but they also beautifully offset the rigid black iron.
Bronze ornamental pieces, brass frames or even a pair of nickel lamps on the bedside tables also work perfectly.
Always remember, the key to success is balance; too much may overwhelm the room and distract from the main feature – your black iron bed. So use metallics sparingly and appropriately.
Showcase Black and White Photography On Nearby Walls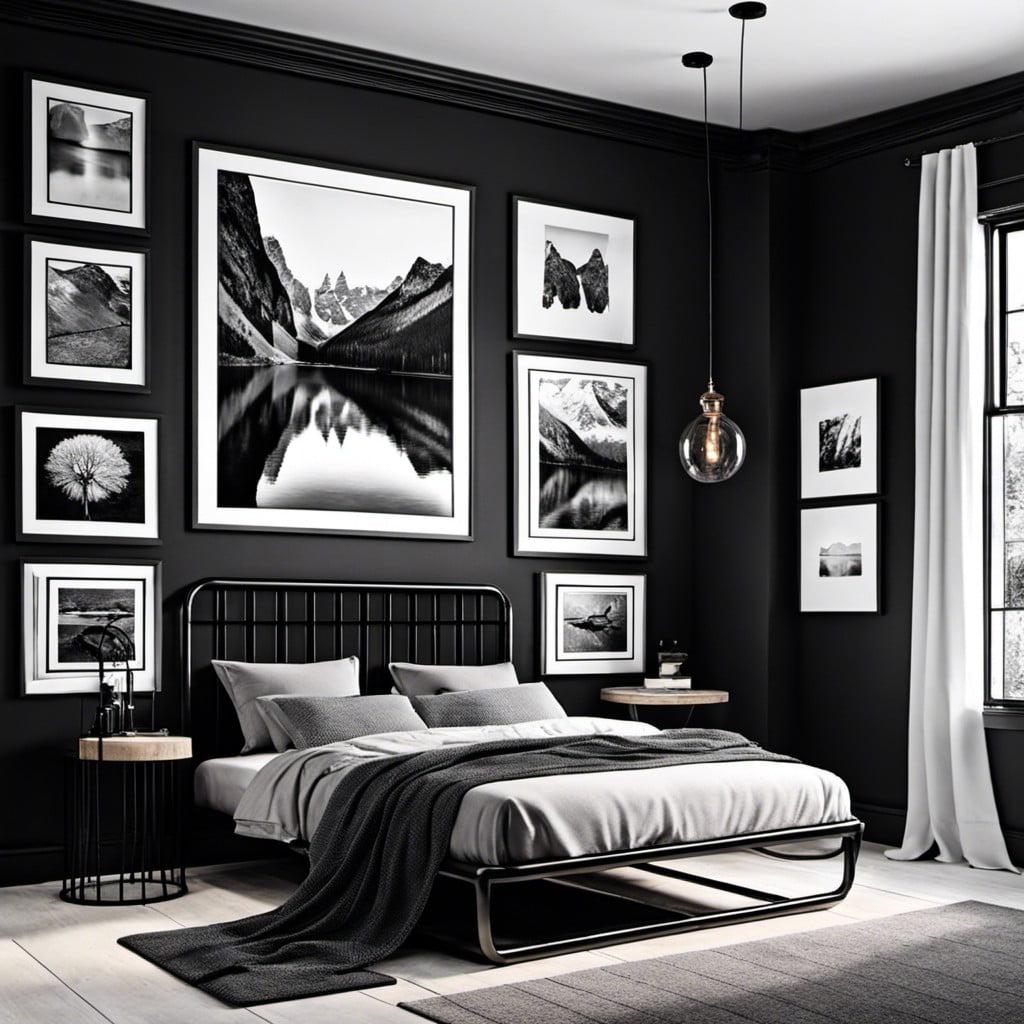 Utilizing black and white photographs imbues a sense of timeless elegance. Photos can include landscapes, portraits, or abstract shots, offering visual interest and complementing the bed's monochrome palette.
To create a dynamic display, consider mixing different frame styles and sizes. The placement of these should ideally form a harmonious balance across the wall, catering to both the bed's dimensions and room's layout.
Proximity matters, too – mount the imagery above, alongside, or even leading towards the bed, depending on room size and furnishing orientations.
This display not only personalizes your space but also harmonizes with the bed's stark dichotomy.
Use Plush, Grey Bedding for a Modern Touch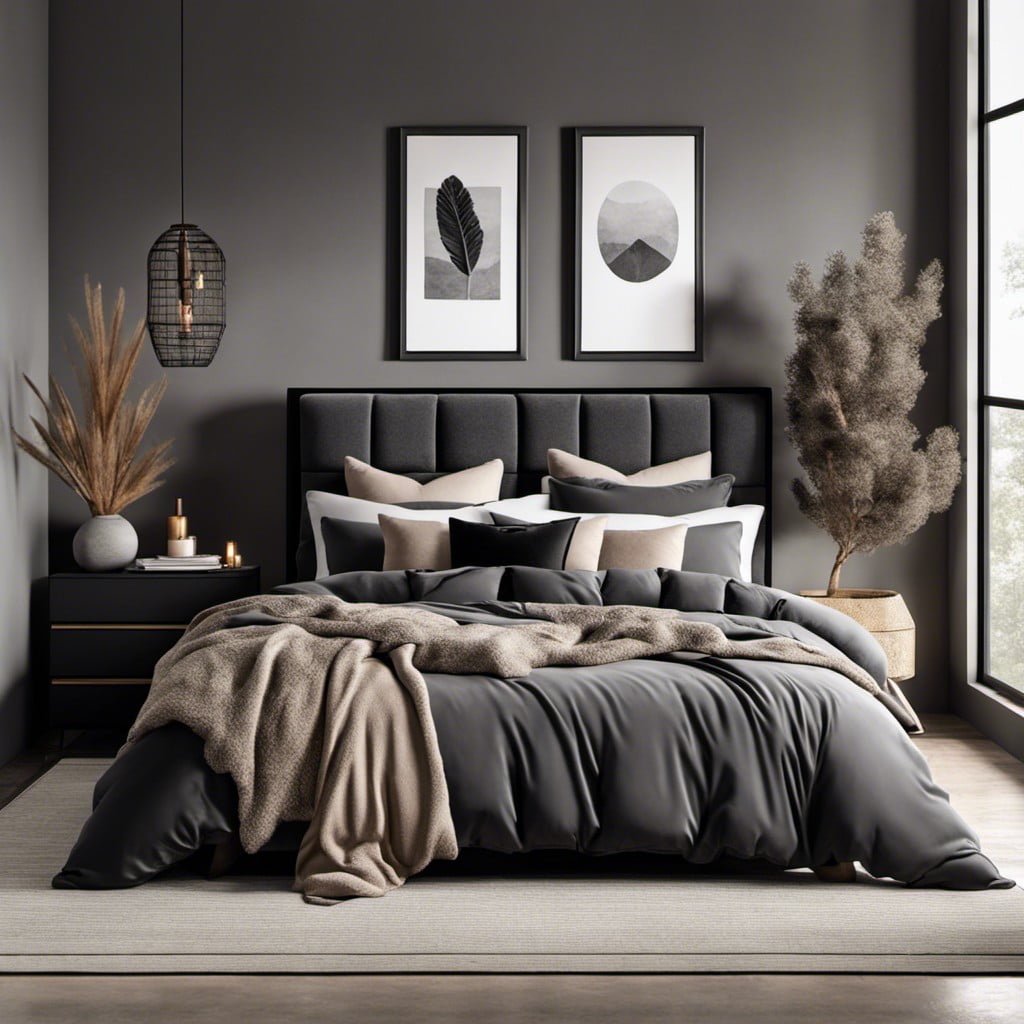 Selecting plush, grey bedding can instantly elevate the overall look of your black iron bed. It offers a chic, modern touch that fairly complements the daring nature of the black iron.
The lightness of the grey provides a striking contrast against the dark frame, thereby turning your bed into a statement piece. Go for luxurious fabrics like velvet or satin to make the bedding stand out.
Do mix textures to add interest, a faux-fur throw or knit cushions can be perfect. Remember, minimalistic doesn't have to mean boring, and a grey color scheme can open up a diversity of styles to experiment with.
Experiment With Geometric Shaped Decor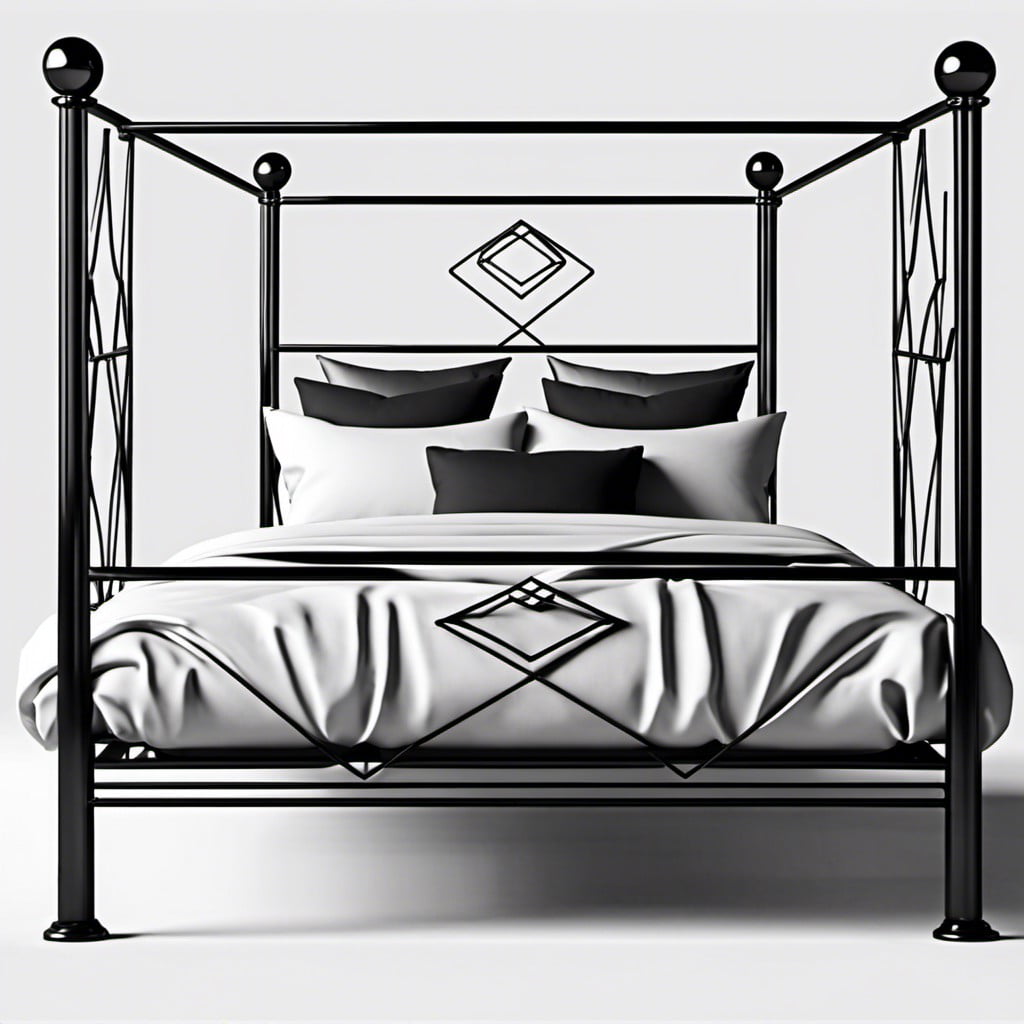 Daringly venture into the world of shapes by incorporating pieces that echo the streamlined structure of your bed. Mirrors, wall art, or lamps with angular details instantly up the chic factor and keep coherence within the overall design.
1. A faceted mirror above the bed not only reflects light and visually expands the space but also reinforces the sleekness of the iron bedstead.
2. Wall art, particularly metallic or wire art, is ideal for creating a focal point and emphasising the geometric theme.
3. A table lamp with a sculptural base, especially if it accentuates a three-dimensional geometric effect, ties the theme together perfectly.
4. Geometric-patterned bedding or throw pillows are subtle ways to build continuity without overwhelming the room.
Don't be afraid to explore geometric patterns and shapes further with smaller decor items as well – perhaps a fashionable hexagonal bedside clock or a striking cubist sculpture on the dresser. Remember, though, balance is key; too many geometric influences could create visual clutter, so integrate these elements thoughtfully.
Pair With Concrete Accents for Urban Chic Styling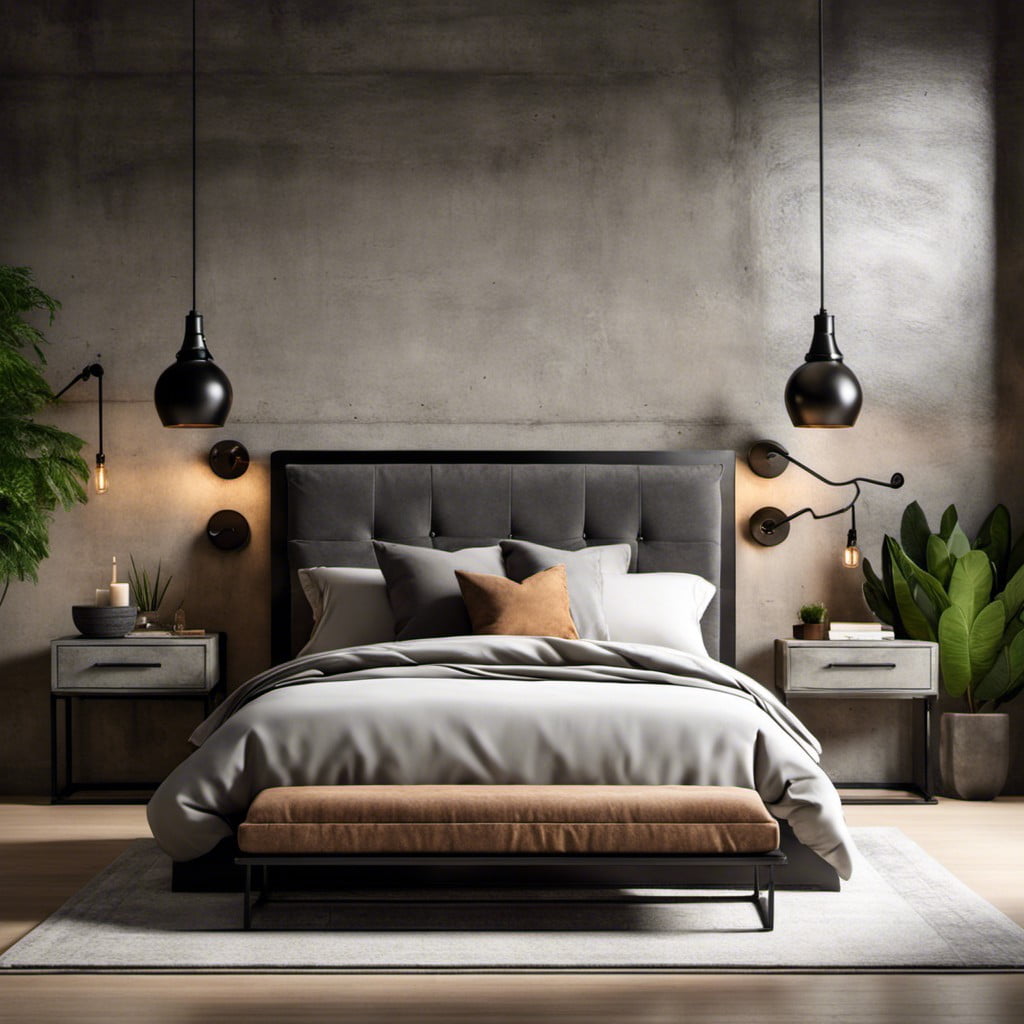 Subtly introducing concrete accents can beautifully solidify the urban chic mood around your black iron bed. For instance, a creatively designed concrete bedside table or lamp base easily injects sophistication and coolness.
To keep it textured and inviting, consider a concrete wall-clock or artwork. Even a polished concrete floor can effortlessly mimic the edginess of the black iron, cementing a contemporary appeal.
If you prefer smaller accents, concrete plant pots or picture frames can be equally compelling. Remember, the key is to incorporate, not overwhelm. Think wedges of raw urban charm breaking through your space—undeniably exciting, yet calming.
Add a Bright Area Rug for a Pop of Color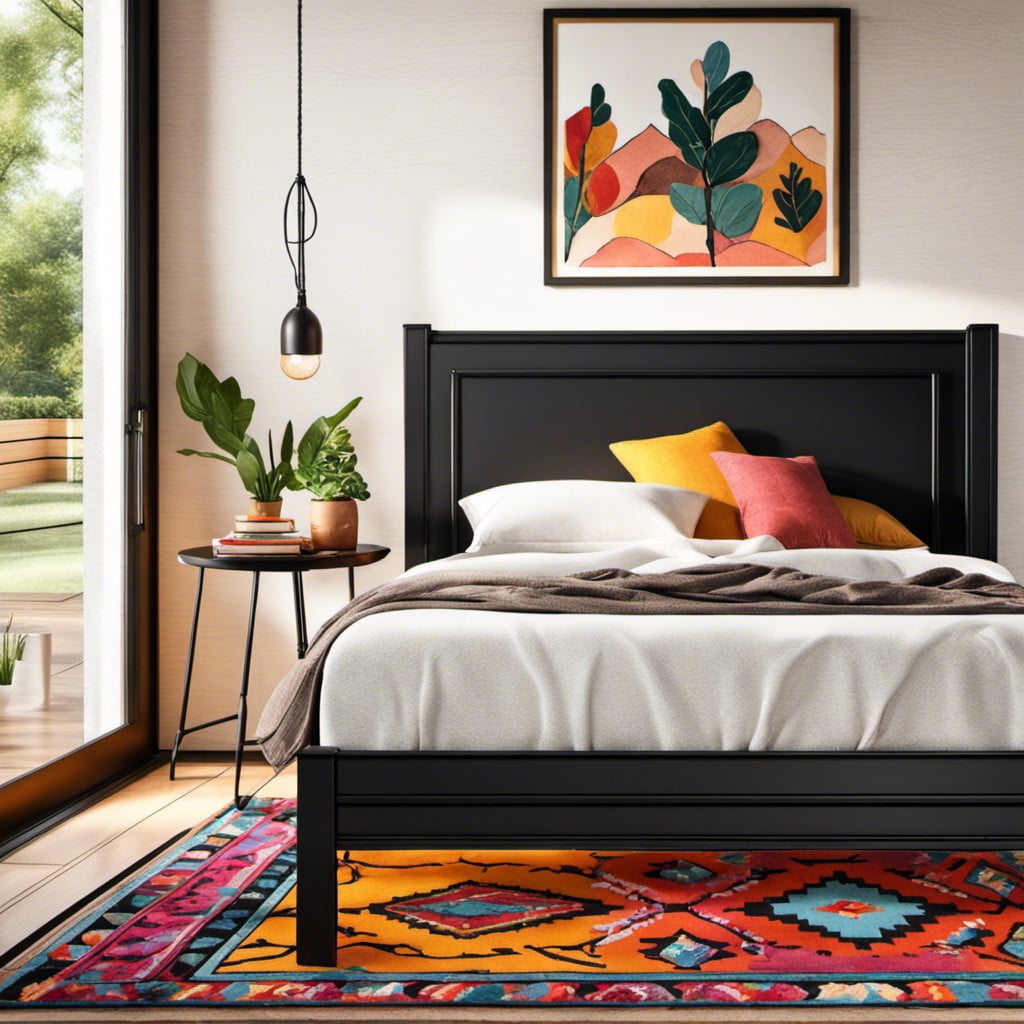 Bold hues can wonderfully contrast the sleek darkness of an iron bed. A vibrant rug, serving as the room's centerpiece, can bring the entire decor alive. Choose a color that complements your room; it could be an electrifying blue, sunny yellow, rich burgundy, or any shade that is refreshing to the eyes.
Size and placement matter: for spacious rooms, a large rug under the bed creates a visual treat, while in compact spaces, a smaller carpet peeking out around the bed edges works perfectly. Just be careful to maintain harmony with your existing decor.
Geometric patterns or ethnic motifs on the rug can elevate the room's style quotient, creating a striking balance between the classic look of the iron bed and contemporary design elements. Experiment and see the vibrant transformation unfold.
Liked reading this? Here's more:
Recap: