Last updated on October 30, 2023
Decorating your cake table can elevate your event to new heights because it marries creative expression with culinary delights, compelling your guests to anticipate the mouthwatering desserts awaiting them.
I am thrilled to share this article and original cake table decoration designs I've crafted, hoping you'll find as much inspiration and joy in them as I did creating them.
Decorating a cake table can transform any celebration into an unforgettable event. Whether it's a birthday, wedding, or anniversary, a beautifully adorned cake table can be the centerpiece that captures everyone's attention.
From choosing the right tablecloth and centerpiece to selecting the perfect cake stand and accessories, every detail matters. In this article, you'll discover a variety of cake table decoration ideas that will inspire and guide you in creating a stunning display.
You'll learn about different themes, color schemes, and style options, as well as practical tips on how to arrange everything for maximum visual impact. So get ready to unleash your creativity and make your cake table the star of the show.
Floral Centerpieces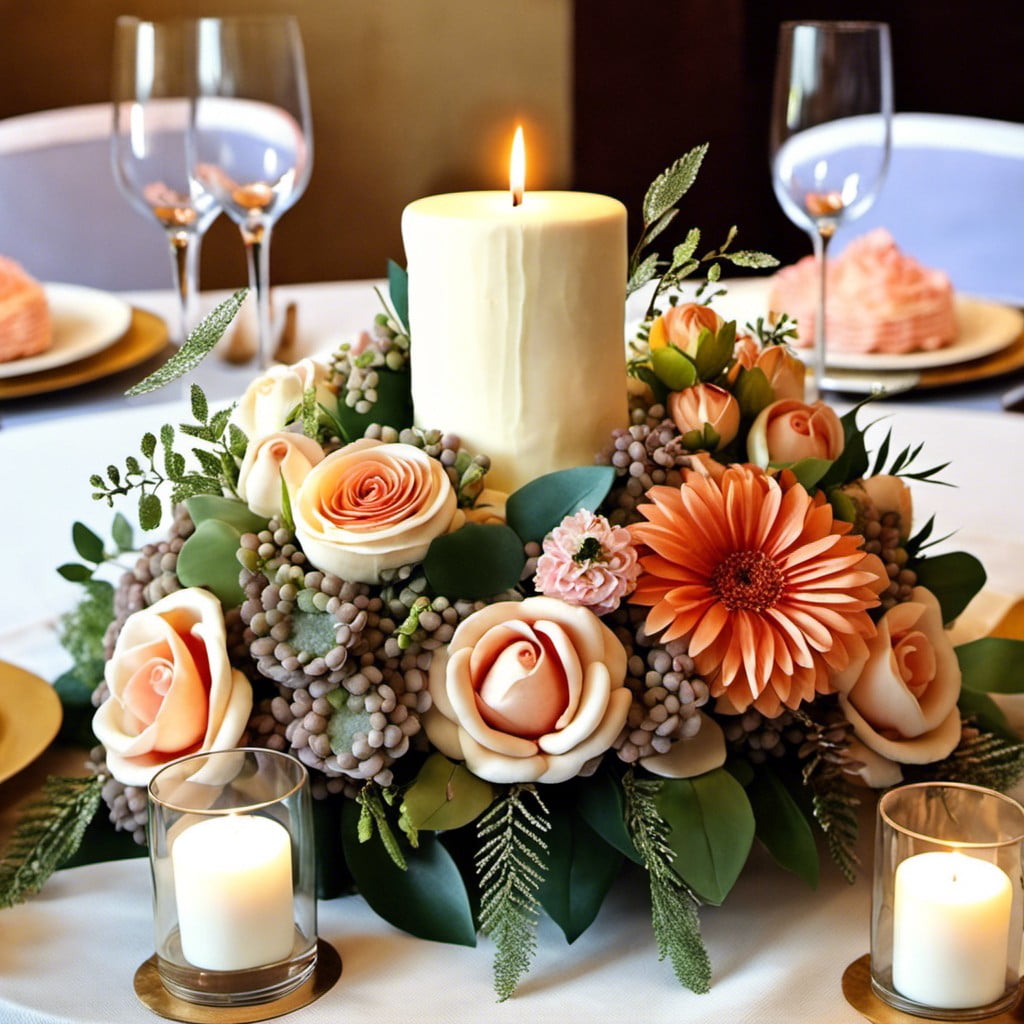 Endearing and ever-appropriate, floral accents breathe life into any cake table setup. Select blooms that match your color scheme or opt for classic white to complement any decor. Garlands of eucalyptus, vases of roses, or clusters of peonies can work beautifully.
1. Fresh Flowers: Use fresh flowers to create a vibrant, aromatic centerpiece. Coordinate colors with the event theme.
2. Silk Flowers: Silk alternatives look strikingly real and will last much longer, perfect for outdoor or warm-weather events.
3. Height Variation: Elevate some blooms in vases or pedestals, keep low some others for visual interest.
4. Greenery: Mix greenery like ferns or ivy with blooms to bring a natural contrast, depth, and lushness.
5. Coordination: If possible, coordinate with the cake design. A floral topping on the cake that echoes the species or color of your centerpiece can pull the table's look together.
Remember, only use edible flowers or ensure they are removed before serving if illustrated on the cake.
Ribbon Table Skirt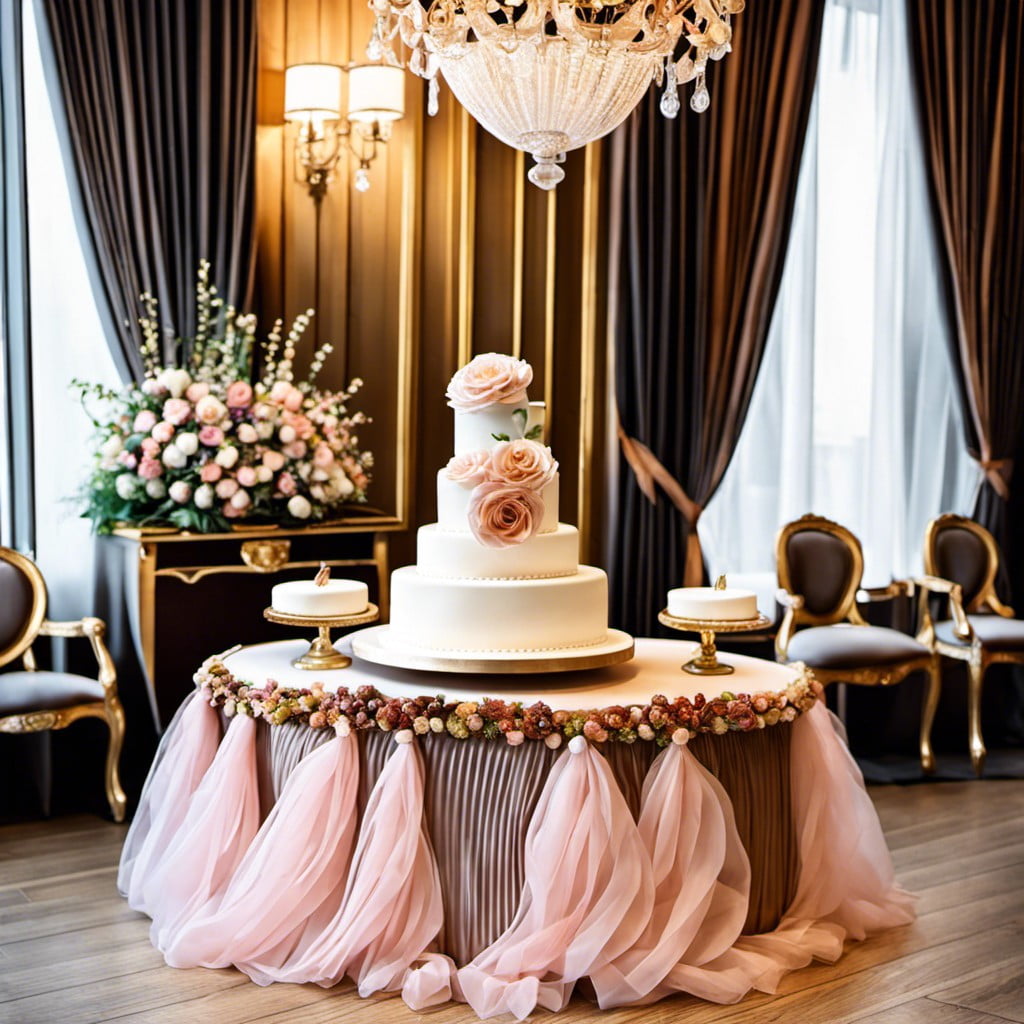 Adding a ribbon table skirt offers a delightful visual appeal. Investing in a quality skirt that matches your event's color scheme provides an excellent base for your cake centerpiece. It effortlessly hides any rough table edges while adding a wash of color and texture.
When selecting the material, satin or organza gives a luxurious look and feel while grosgrain or cotton lends a more casual, rustic approach. Cutting the ribbons into varying lengths can create an extra dimension, offering a playful, whimsical touch.
Layout is also paramount; a scattered approach creates an eccentric look, while a uniform layout induces a sense of formality. Ensure the ribbons are attached securely to avoid any mishaps during the event.
Crystal Cake Stand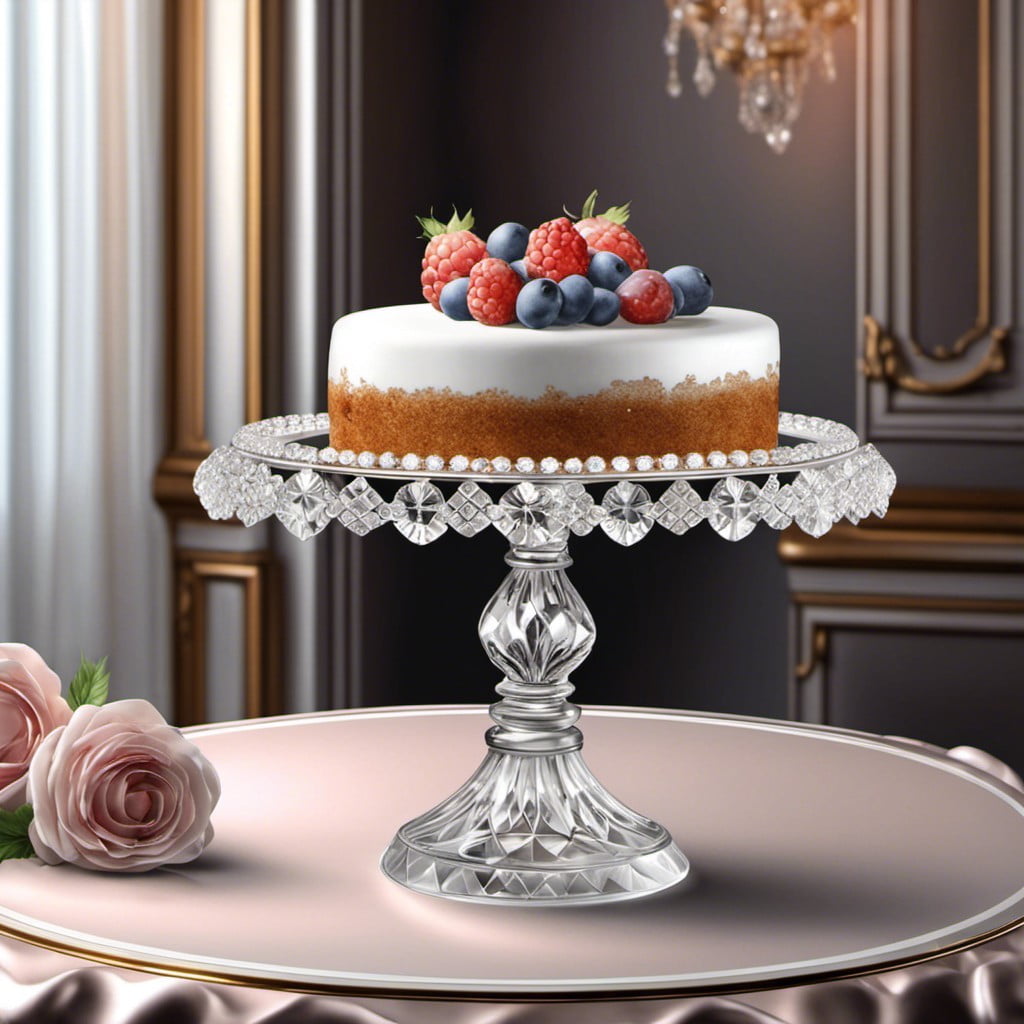 Exuding elegance and sophistication, these stands capture and refract light beautifully, adding a visual treat.
From intricate designs to contemporary styles, they harmoniously blend with any thematic setup.
Ideal for focal-point cakes, they enhance grace and stature.
Single-tiered options work best for smaller cakes, while multi-tiered ones amplify grandeur.
Care should be taken to ensure durability and stability.
Consider LED light strips around the base to further accentuate their charm.
Remember, cleanliness is key with crystal, so keep that cake stand sparkling.
LED Light Accents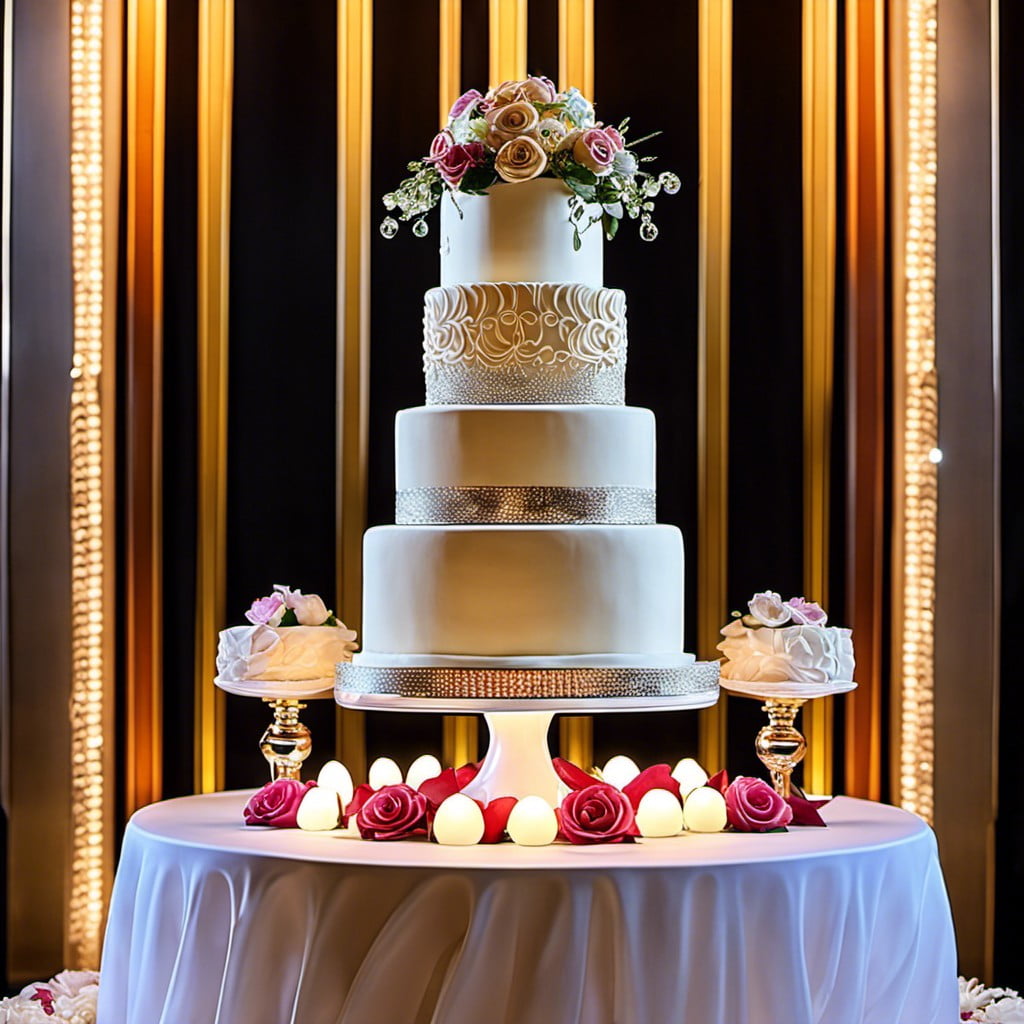 Utilizing LED lights can instantly elevate your cake table's aesthetics. This decor element allows you to customise the ambiance as per your preference – warm glow for a sophisticated, cozy vibe or cool, colorful hues for a vibrant, party mood.
1. Subtle Glow: Tiny string lights, especially when layered under sheer tablecloth, bring a magical, fairy-tale-like ambiance to your cake table. They are perfect for both indoor and outdoor settings.
2. Light Boxes: Another exciting option is light boxes which, when placed under the cake stand, illuminate the cake from below, making it the main attraction at your event.
3. LED Centerpieces: You could also incorporate LED lights in your floral centerpieces or around the cake, weaving them amidst flowers, or perhaps within transparent vases for a dramatic effect.
Remember, the key is in balancing the lighting; ensure it's neither too harsh to overpower the cake's visuals nor too dim to go unnoticed. Finally, ensure all wires and battery packs are well-concealed to maintain the overall aesthetic appeal.
Colored Tablecloth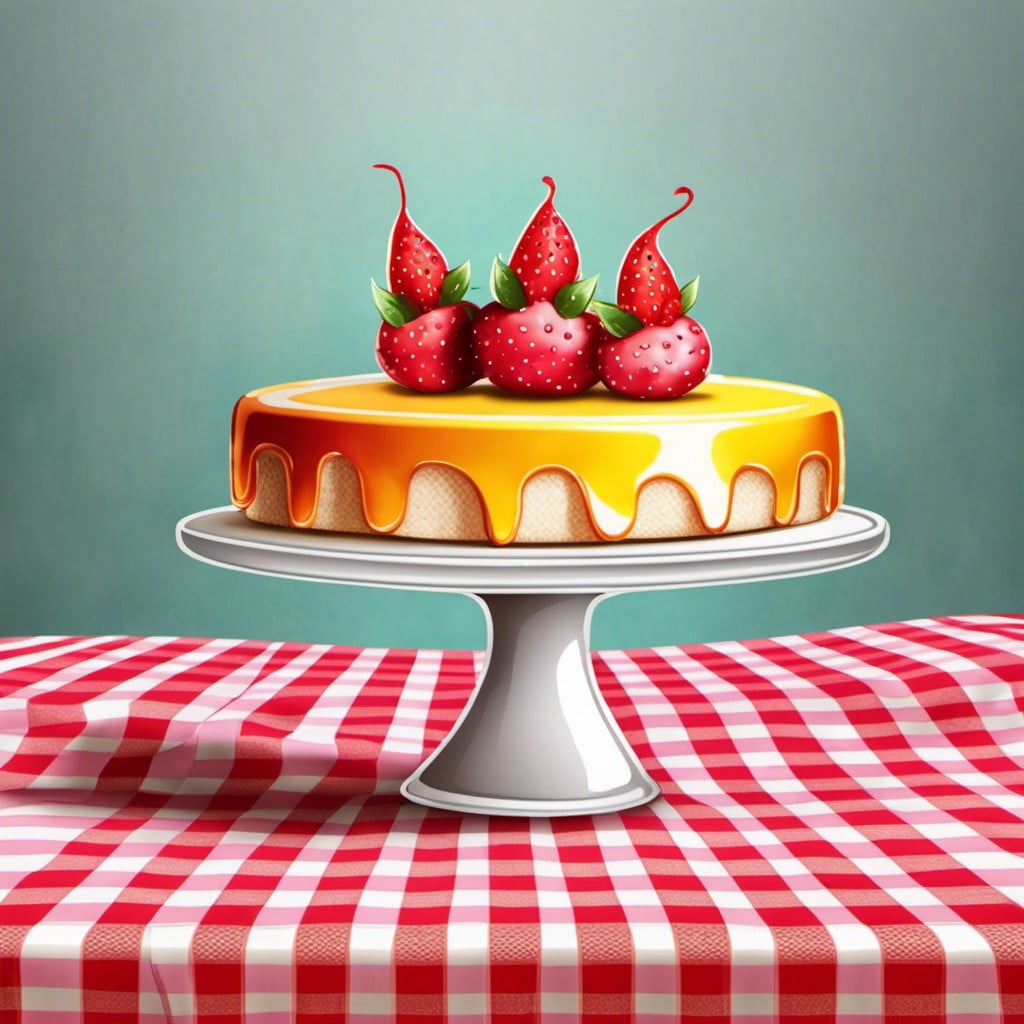 Selecting the right hue for your tablecloth is crucial. Consider the overall color scheme of the event to maintain coherence.
Pastels can create a soft, elegant look, while deeper tones can add a dramatic, striking effect.
Make sure to consider the cake's design and colors too, as you wouldn't want them clashing with the tablecloth.
A beautiful linen with a luxurious texture can lend a refined touch.
For even more visual interest, patterns such as subtle stripes or polka dots can be incorporated, provided they don't distract from the centerpiece – the cake.
Lastly, despite the color and pattern choices, cleanliness is paramount; even a tiny stain could be a major distraction.
Match with overall event color scheme.
Choose pastels for elegance, deep tones for drama.
Coordinate with cake design.
Consider fabric texture.
Use patterns subtly.
Ensure cleanliness and stain-free appearance.
Decorative Cake Toppers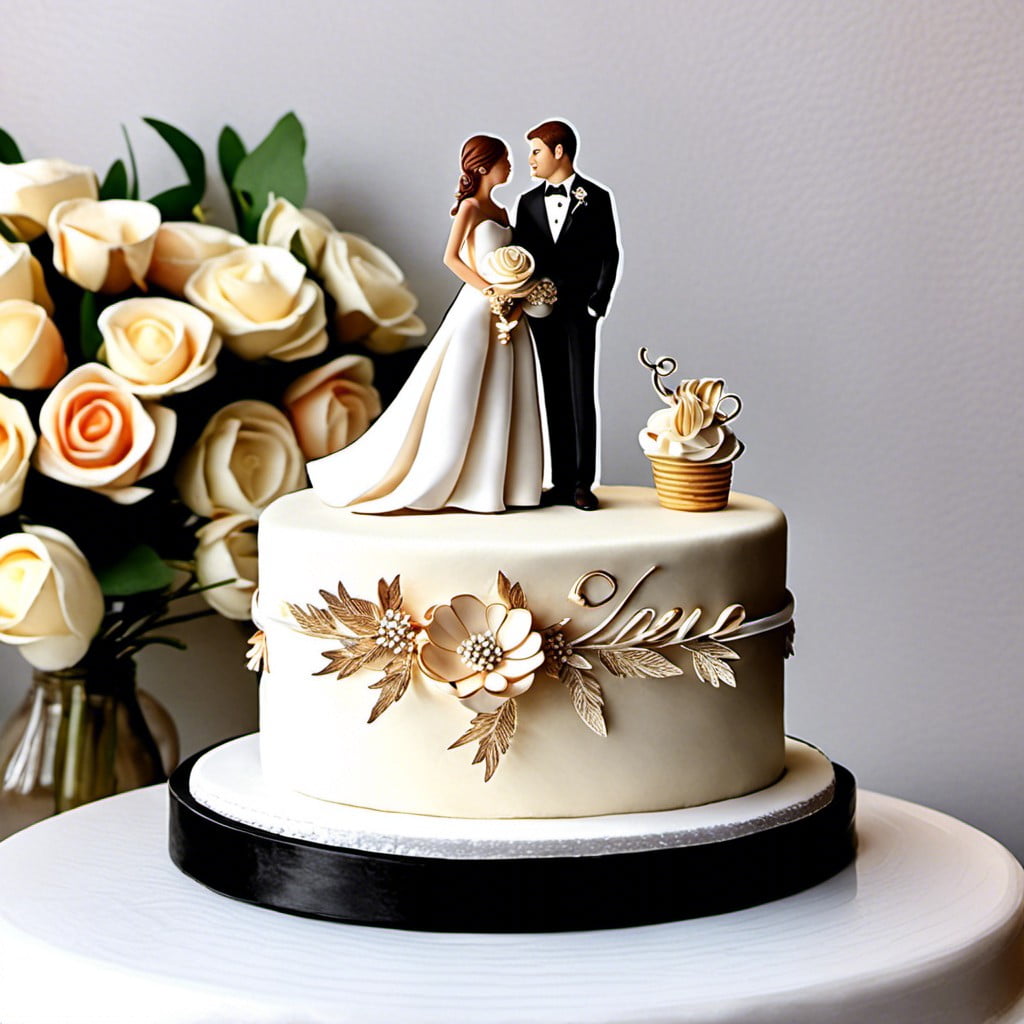 Unconventional materials like feathers, fabric, and even paper can make stunning cake toppers. Interesting shapes and motifs, tailored to the event's theme or the cake's design, create a harmonious presentation.
Personalized toppers, such as monograms, numbers or unique quotes can add a sentiment of warmth and familiarity. For a modern twist, consider the use of LED lights or laser cut designs.
Whatever the choice may be, it's essential to ensure the topper remains proportional to the cake's size and doesn't overpower its look. Toppers should also be lightweight to avoid sinking. Above all, keep food safety in mind by choosing non-toxic materials or using a barrier between the topper and the cake.
Tiered Cake Plates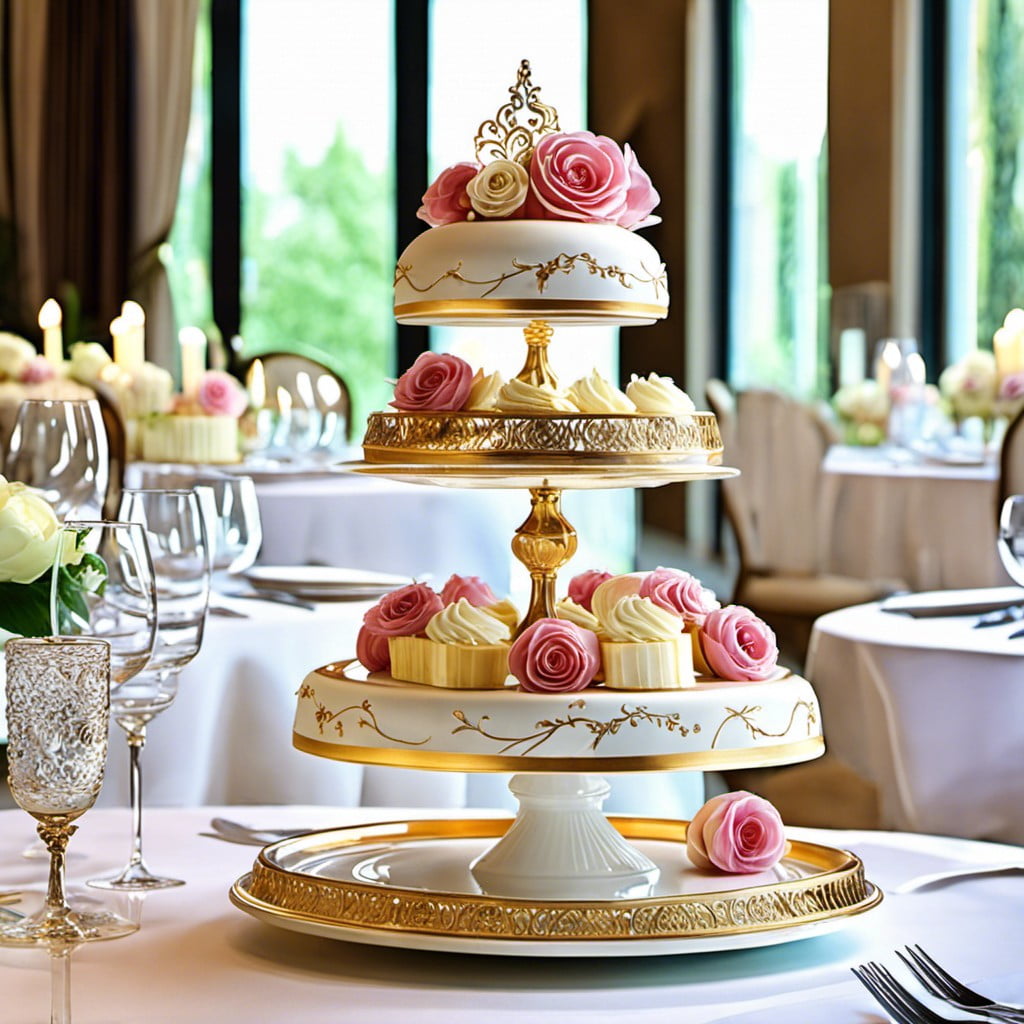 These eye-catching masterpieces add a vertical element that captures attention and creates a visually fascinating display. Working with different heights, you can effortlessly draw focus to your delectable creation.
Choose between ceramic, glass, or metal plates to match with your overall theme. Multi-leveled displays not only provide a centerpiece for your table but also allow you to showcase cakes of different sizes or types.
Remember to ensure the sturdiness of your structure, your stylistic centerpiece should be just as functional as it is beautiful. Consider the weight of your cake and the stability of your chosen stand.
Whether you prefer a traditional setup or a modern twist, there's a range of designs to fit your unique vision.
Vintage Tableware Display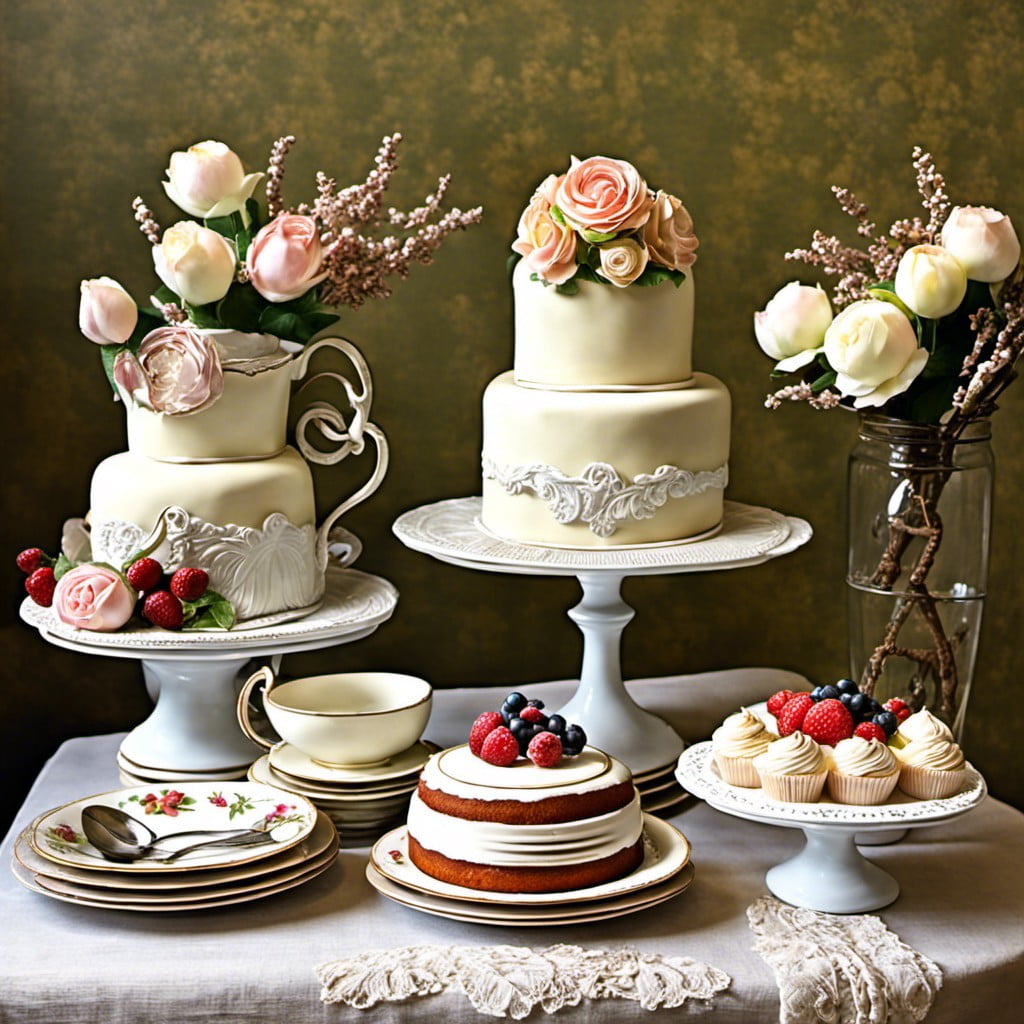 To evoke a sense of nostalgia and elegance, consider utilizing pieces of antiquated tableware. Copper cake cutters, ornate glass cake domes, porcelain plates, and silver utensils can be meticulously arranged to display the cake. Vintage cake carriers, adorned with floral or geometric patterns, pastel colors, or gingham are quite eye-catching, and act as a centerpiece in its own right.
Display the dessert on an aged wooden cake stand for added rustic charm. Don't overlook the power of small details; doily napkins or lace trimmed handkerchiefs could subtly carry the vintage theme, enhancing the aesthetic appeal.
If collecting genuine vintage items isn't feasible, there are countless replicas in markets and online shops that can serve the identical purpose, adding character and sophistication to your cake table.
Glittering Table Runner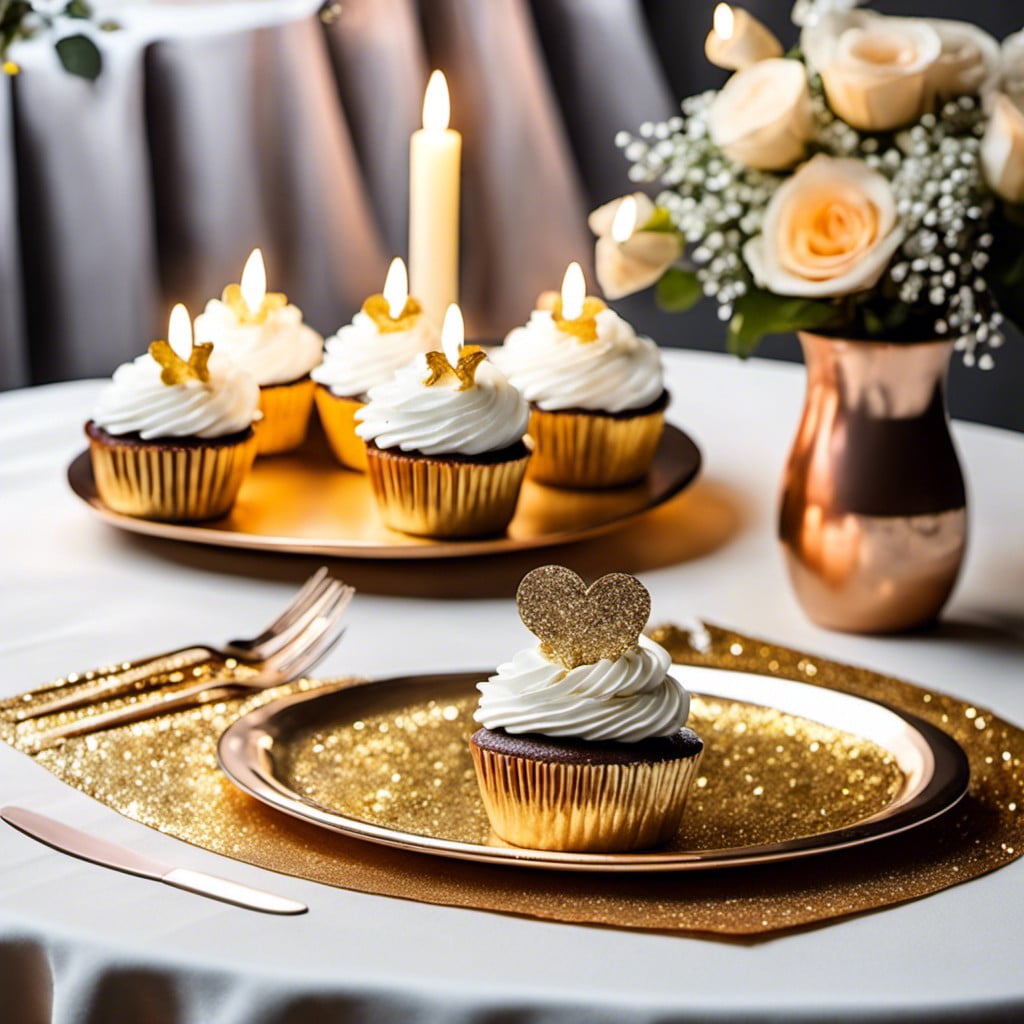 Elevate your cake table with the dazzling effect of glitter, which adds a spectacular touch and stands out from traditional linens. It's the perfect way to create a focal point that encourages guests to gravitate to the sweet treats. Beyond aesthetic enhancement, the use of glitter catches and reflects light creating a luminescent effect that can enliven your reception or party.
1. Glitter-friendly occasion: Consider the event's ambiance before choosing this sparkling decor. It fits seamlessly in glamorous, New Year's Eve, princess-themed, or Christmas events.
2. Choosing colors: Match the glitter color with the overall color scheme for a harmonious look. Silver and gold are universal options, while vibrant hues like pink or blue can make a fantastic statement.
3. Material consideration: You can find runners made of sequined fabric, or opt for a DIY approach with loose glitter applied to a simple fabric runner.
4. Cleanup: Consider that glitter can be tricky to clean up. To minimize the mess, use a clear sealer spray to set the glitter.
5. Runner length: Make sure that the runner is the right length for the table, hanging just above the floor on both ends for the most visually appealing effect.
Incorporating this shimmery table accessory adds a dynamic effect to the cake display, creating a statement piece to wow your guests.
Themed Balloon Display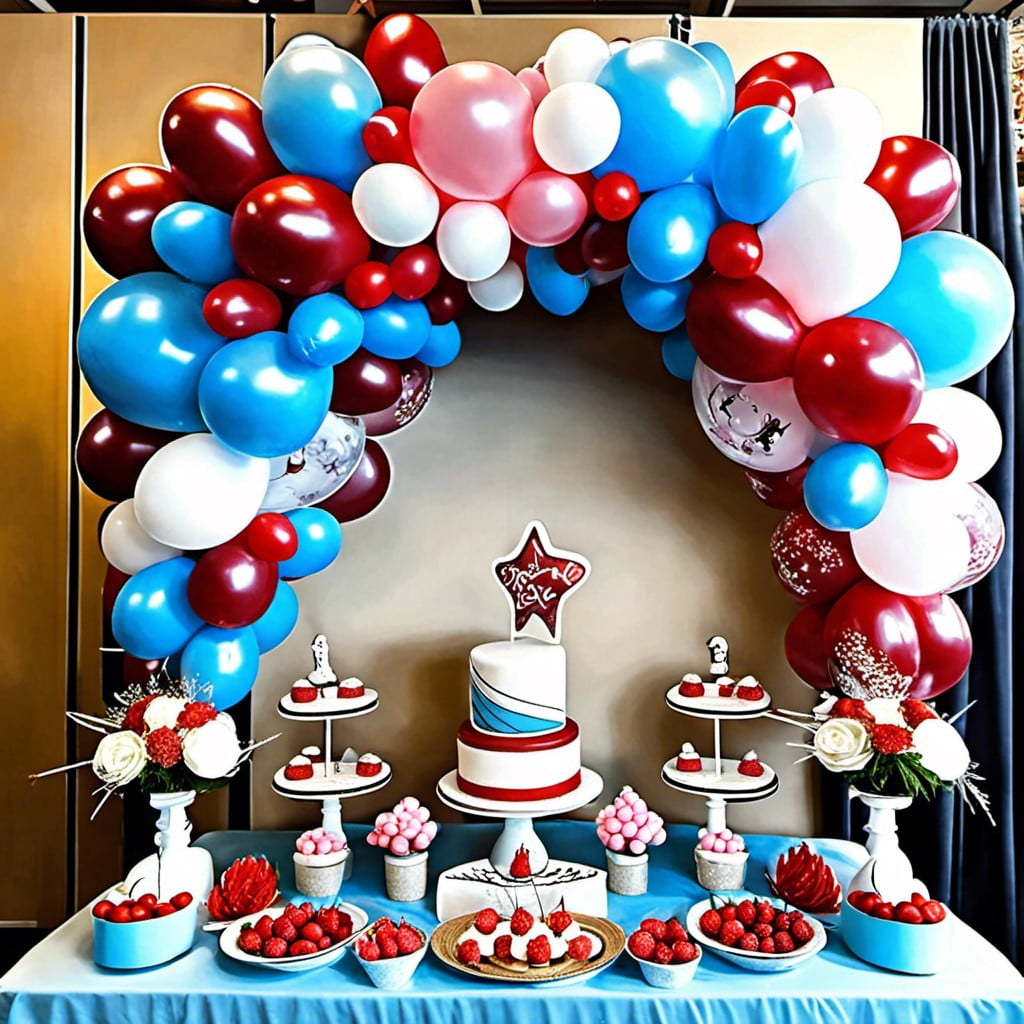 Choosing the right theme for your balloon display can truly enhance the charm of your cake table. Vibrant colors or pastel shades, both can create wonderful contrasts against the tablecloth and cake itself.
Aim for a variety of shapes and sizes to create depth, and consider having some balloons with printed designs to maintain the theme. Incorporate elements such as balloon arches over the cake table, a cascading wall of balloons, or even a whimsical balloon garland.
Don't forget to play with height; taller balloon installations can frame your cake table beautifully. Balloon weights wrapped in matching fabric will keep everything in place while adding to the decoration. Just remember, balance is key to avoid overshadowing the star attraction: the cake.
Rustic Wood Platform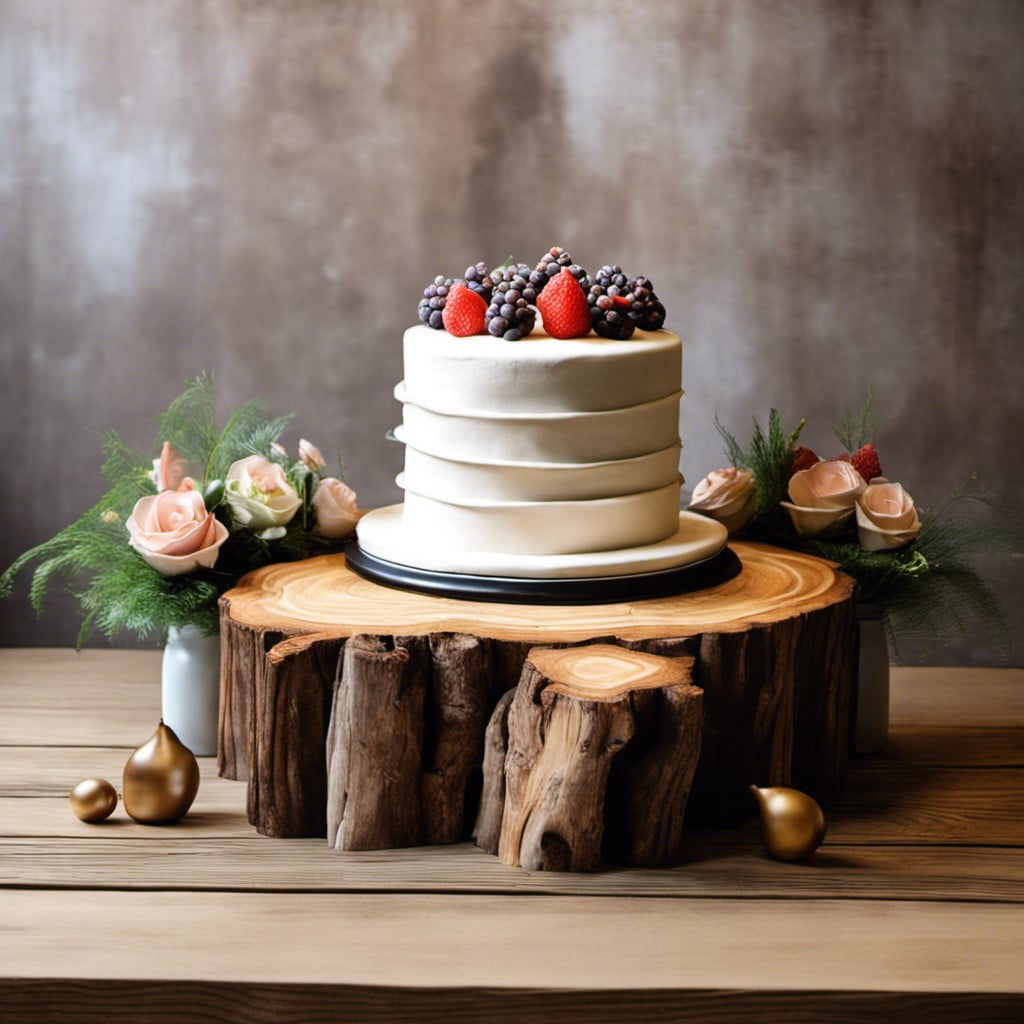 A rustic wood platform adds an earthy element and dimension to your cake table setting. Cut a large, thick piece of wood to serve as your platform or use a prefabricated one. Wood colors can vary, ranging from lighter shades like pine to darker ones like mahogany to suit your theme.
Consider distressing or staining the wood for added character. To avoid cake-to-wood contact, use a clean doily or cake board. For an enhanced effect, add complementary details like bark, moss, or simple greenery around the base.
Remember, presentation is key!
Mini Cupcakes Decoration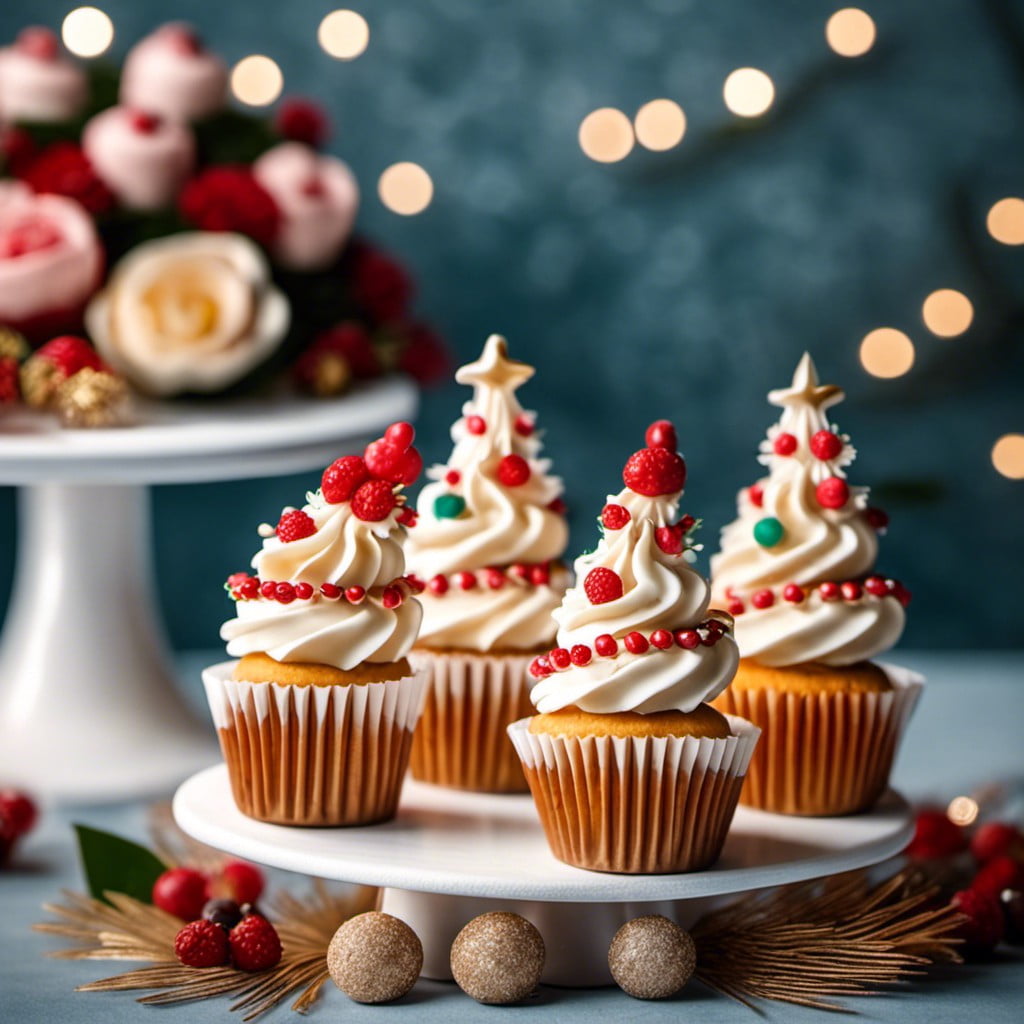 One delightful idea is to intersperse miniature desserts among the main cake. These little treats not only add variety but also contribute to the visual allure of the table. Their smaller size provides easy access for the gusts and mixes wonderfully with other design aspects.
For an added touch of style, try matching the icing on the cupcakes to the overall color scheme of the event. Experimenting with diverse cupcake holders is another avenue to explore. Choose metallic, foil, or patterned versions, depending upon the desired atmosphere.
Even the cupcake display stand can be a part of the decoration; tiered and spiral stands can catch the eye and multiply the visual impact of these spellbinding sweets. Remember, attention to even the smallest details can enhance the overall effect, creating a memory to cherish.
Decorative Signage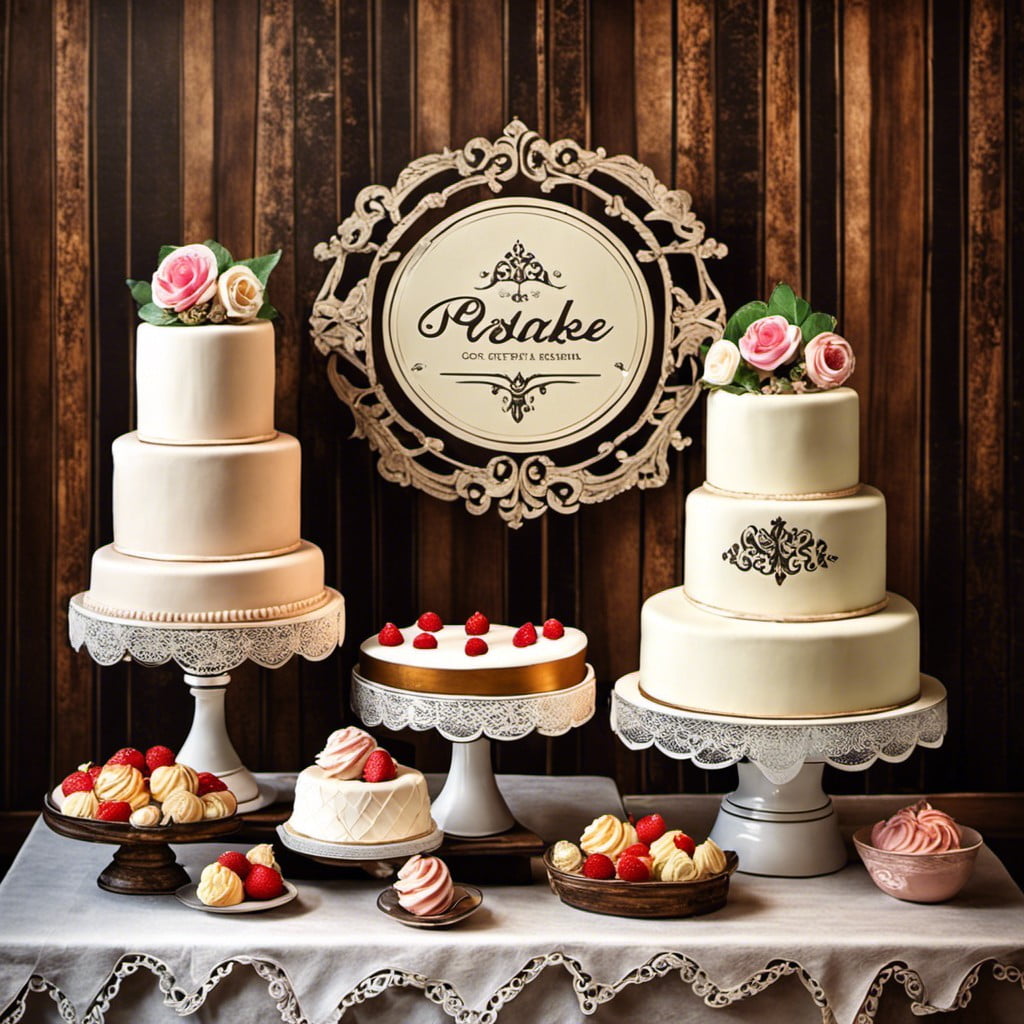 Apart from grabbing the attention of the guests, eye-catching signs can double up as an artwork after the party. Get creative with materials, such as chalkboard, acrylic, or even a vintage mirror. You can refer to a professional calligrapher to write beautifully styled messages, quotes relevant to the occasion, or even simple instructions such as 'Slice me.' For themed parties, use relevant props to infuse personality into the decorations. Personalized designs are wonderful as they create an intimate and warm atmosphere. A simple DIY touch can add a lot of charm to an otherwise basic sign. It's all about making the cake table a focal point while complementing the party theme.
Fabric Flower Arrangement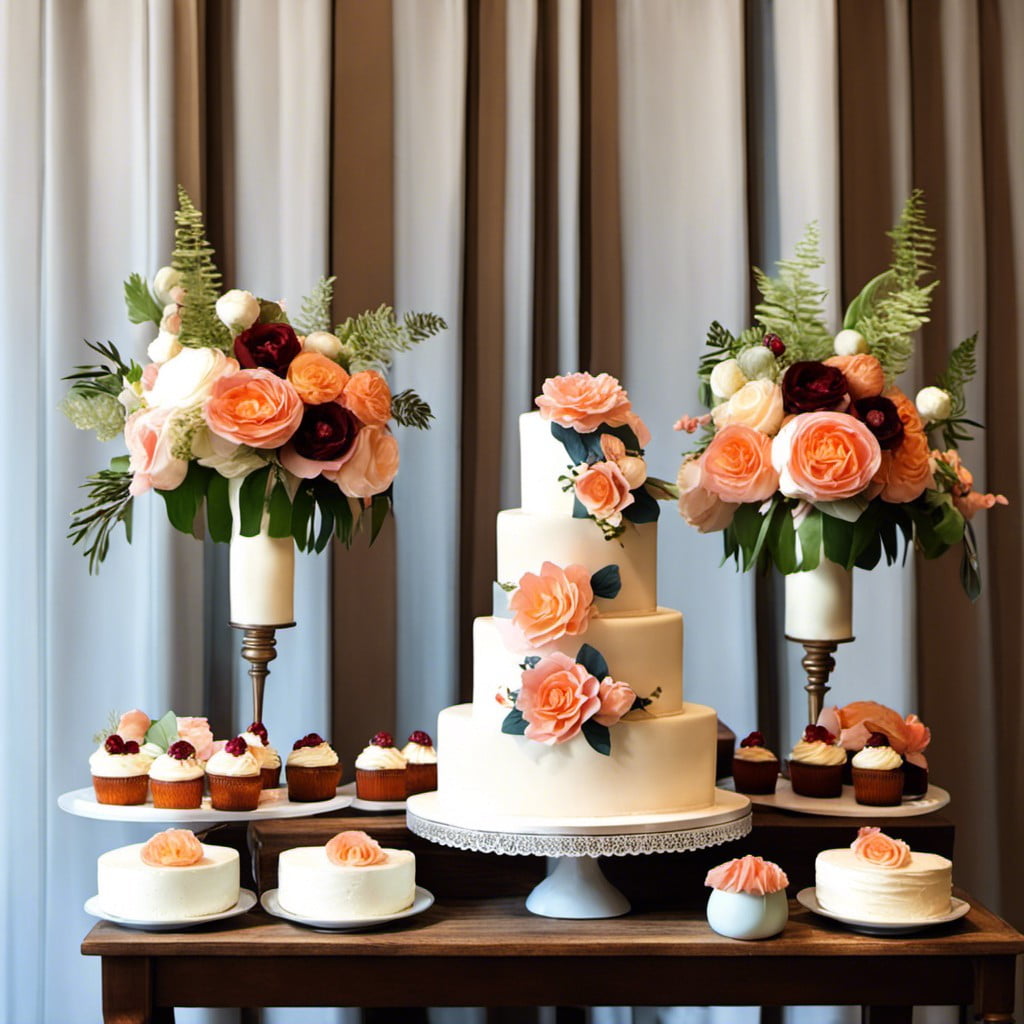 This type of arrangement offers an everlasting appeal to any cake table. Ditch the fresh blooms and opt for an elegant and cost-effective fabric flower arrangement instead. Their beauty lies in their longevity and less maintenance.
You could either go for a single, striking hue or a mix of complementary colors. It's possible to tailor these blossoms to match your color palette, and arrange them in stylish vases or miniature crates for a more rustic vibe.
To make a visual impact, play with proportions. Mix large blooms with smaller ones, have an ebullience of flowers, or make a minimalist statement with a few strategically placed buds.
Consider adding some green fabric leaves for extra texture and depth, and even some decorative elements like glitter or beads for a dash of sparkle. The beauty of fabric flowers is they're fully customizable to suit your style.
Lastly, remember to ensure the arrangement fits the size of the table. It should not overshadow the cake but should be significant enough to hold its own as a decor element.
Decorated Cake Pops Stand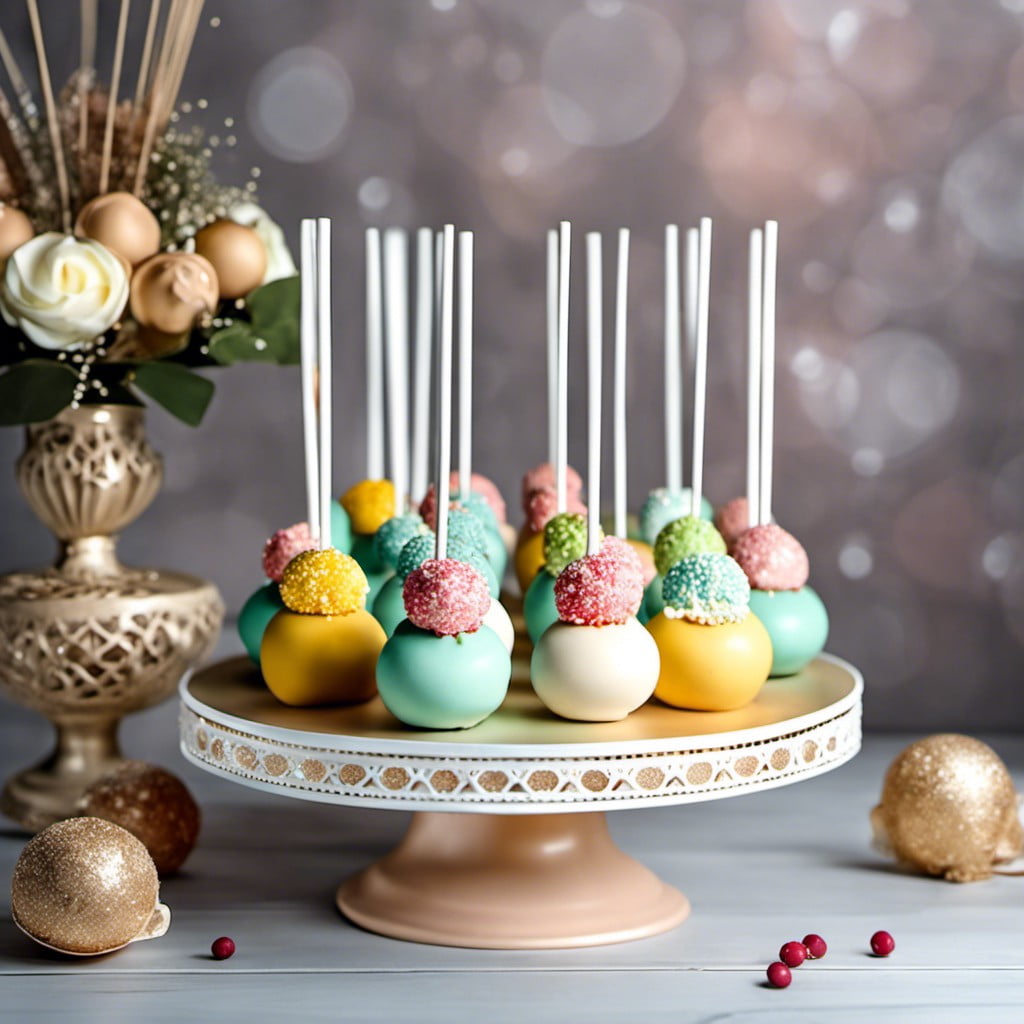 Creating a charming display for your cake pops can enhance aesthetics while adding a fun element to your cake table. Consider using a tiered stand designed specifically for cake pops for an elevated appearance. Not only do these stands help to space out your cake pops, but they also become part of the decorations.
Color-matching the stand with your theme offers a harmonious touch. Also, adorn the stand base with decorative elements like silk flowers, beads or ribbon bows to provide an added touch of elegance.
Opt for a glass cloche or bell jar on top to preserve freshness and add a whimsical, fairy-tale feel. Acting as a focal point, a well-decorated cake pop stand brings joy and excitement to guests while accentuating your overall decor.
Mason Jar Candle Lights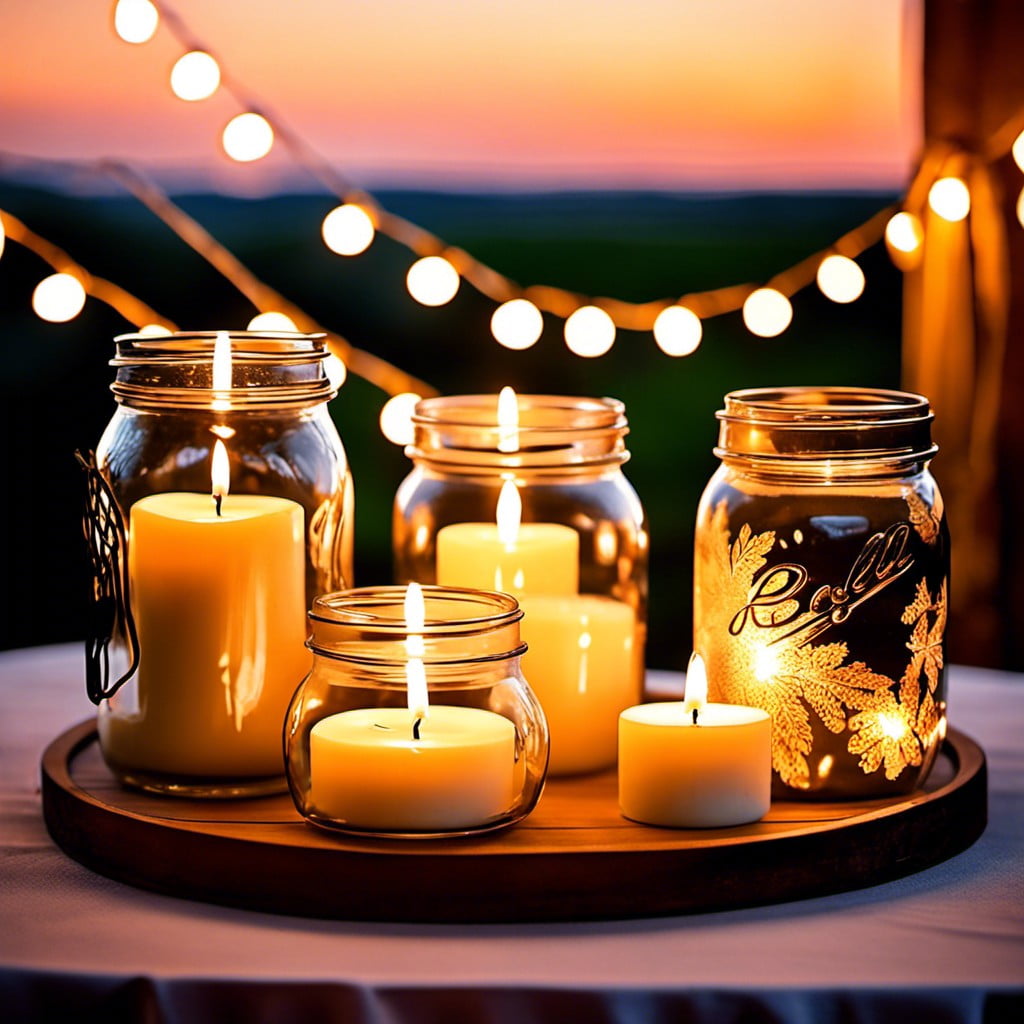 Incorporating Mason jar candle lights into your cake table décor adds a touch of elegance and sophistication. These versatile pieces can elevate any theme, offering both function and style. They serve the practical purpose of providing light, helping highlight your cake and other delicious treats.
To maximize their effect:
Select jars of varying sizes for visual interest.
Choose candles according to the event's color scheme.
Arrange them asymmetrically for a more organic look.
Consider adding ribbon or twine for a rustic touch.
Filling jars partly with water can create a beautiful reflection effect.
Remember, always exercise caution when dealing with open flames. For an outdoor evening event, they can be the magical detail that puts a sparkle in your guests' eyes as they feast on the cake.
Sequin Linens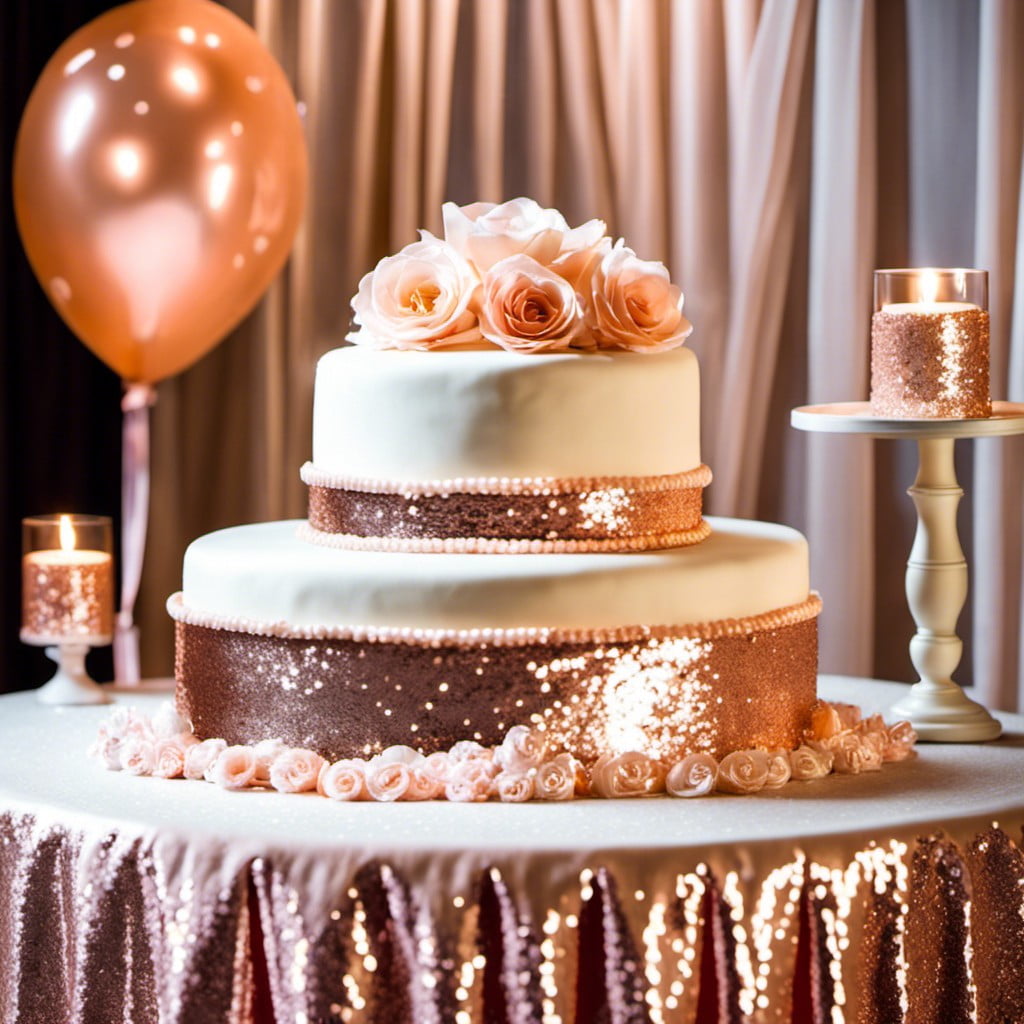 Sequin linens add a touch of glamour and sparkle to the cake table. They confer an elegant, festive ambiance that can make any ordinary table stand out.
1. Affordable Luxury: With sequin linens, you can have a luxurious look without breaking the bank. They instantly enhance a cake table's appearance, making it the focal point of the event.
2. Color Variation: They are available in a range of colors, from gold and silver to pastel hues, providing various options for coordinating with the event's theme.
3. Versatility: Simple to use, they can be draped over the table or used as runners. They are perfect for all occasions from a simple birthday to a lavish wedding.
Remember to care for your sequin linens correctly. Gently shake off any lingering cake crumbs or residuals, then clean according to the manufacturer's instructions. This way, they can be reused for future events.
Tiered Macaron Display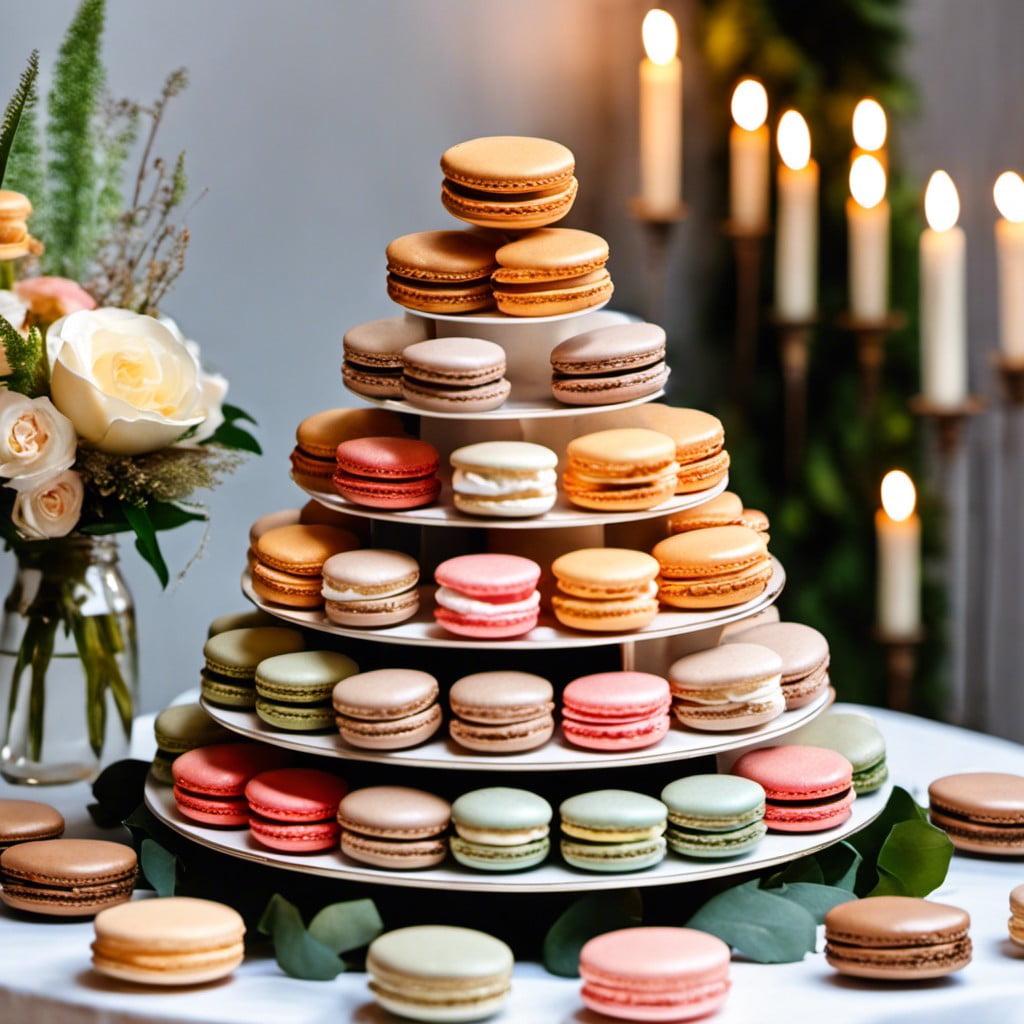 A tiered macaron display offers a contemporary spin on traditional cake tables. This concept involves stylishly arranging macarons, those puffy, little French desserts, on multi-level platforms.
The setup lends a touch of elegance and brings varying height to the table, enhancing visual interest. It also brings a burst of color and unexpected delight to the décor.
Consider matching macarons to your color scheme, arranging different flavors on each tier, or alternating colors for a playful look.
For a dramatic effect, place the tallest tier at the center of the table, flanked by lower tiers on each side. You can also use illuminated platforms for a more sophisticated evening setting.
Be sure to use sturdy materials for the stand to ensure stability. With these tips, your tiered macaron display can become the icing on your cake table decoration!
Colorful Fruit Accents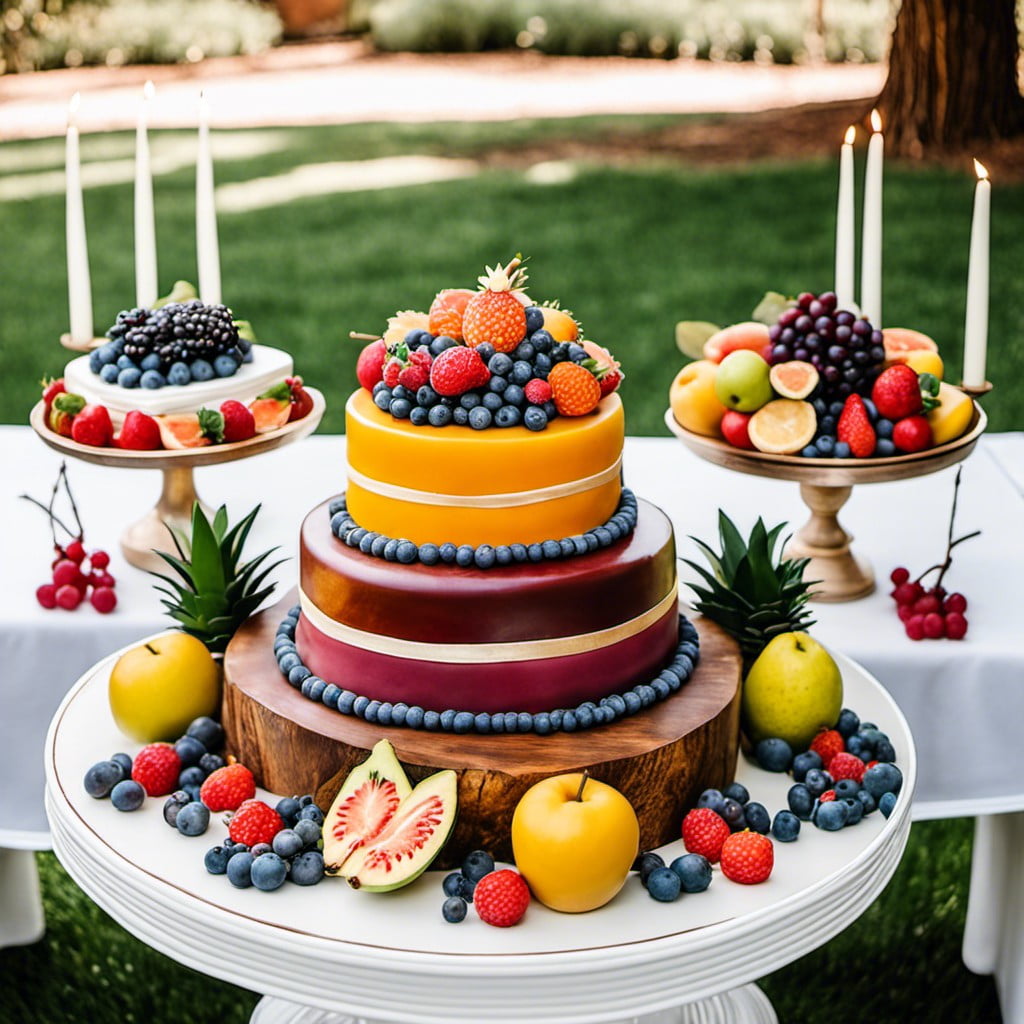 Fruit's natural vibrancy can add a pop of color and freshness to the table. Incorporate fruits reminiscent of the occasion or season, like strawberries for spring or oranges for autumn.
Scatter them as decorative accents around your cake, or use fruit-filled bowls as centerpieces. This is not just visually appealing but also an eco-friendly option.
Ensure they complement your cake design and overall theme. Remember, less is always more — subtlety can be key to creating an elegant look.
Photo Backdrop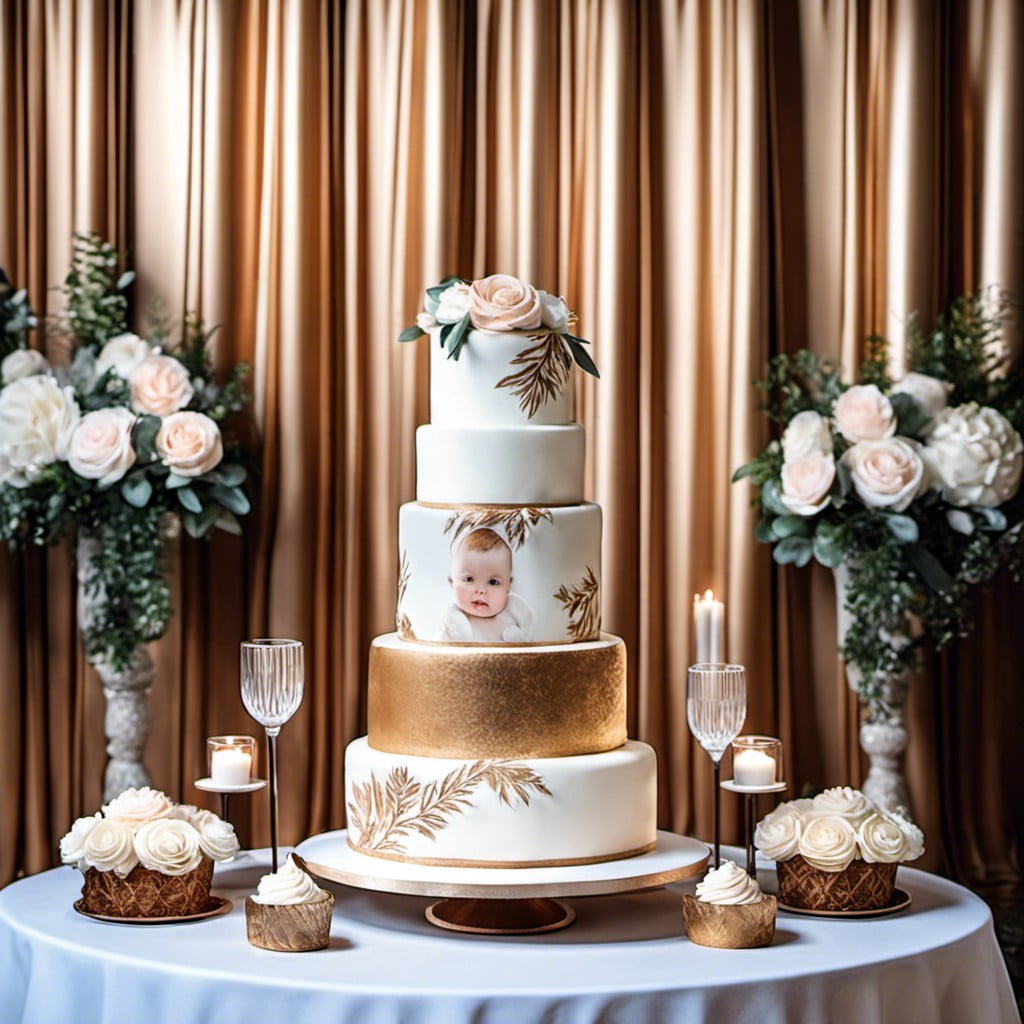 A compelling photo backdrop can act as the icing on the cake for your cake table decoration. Consider some key points to ensure your backdrop accentuates rather than overshadows your cake table:
1. Harmonize With Theme: The backdrop should blend seamlessly with the overall theme of your cake table, whether vintage, rustic, or modern.
2. Location Importance: Position the backdrop where it will enhance the appeal of the cake, without causing a visual distraction.
3. Size Matters: Your backdrop shouldn't overwhelm the table – a size just wider than the table should suffice.
4. Lighting Impact: Incorporate soft fairylights or lanterns to create a warm, inviting glow around your cake table.
5. Budget-friendly Options: DIY can be a great way to have a personalized, cost-effective backdrop. Consider artfully arranging fabric, flowers, or balloons for that punch of personality.
Remember, every detail counts to create a cohesive, fabulous cake presentation.
Liked reading this? Here's more:
Recap: