Last updated on December 6, 2023
Transforming your pantry door into a spice haven is a revolutionary space saver because it frees up your kitchen counters and drawers, streamlining your cooking process.
I'm proud to present 20 Creative DIY Pantry Door Spice Rack Ideas, my unique designs which I hope will inspire you just as much as they delighted me during their creation.
Maximizing kitchen space is key in maintaining an organized and functional cooking area. One innovative solution is a DIY pantry door spice rack. This ingenious idea allows you to utilize the often-overlooked space behind the pantry door for storing your spices. It not only creates additional storage but also keeps your spices easily accessible and visible.
This article will walk you through different DIY pantry door spice rack ideas, from simple designs to more intricate ones. It will cover all the necessary details, including materials needed, step-by-step instructions, and tips for maintaining your new spice rack. By the end of the article, you'll be equipped with all the information needed to create your own pantry door spice rack.
Back of Door Wire Rack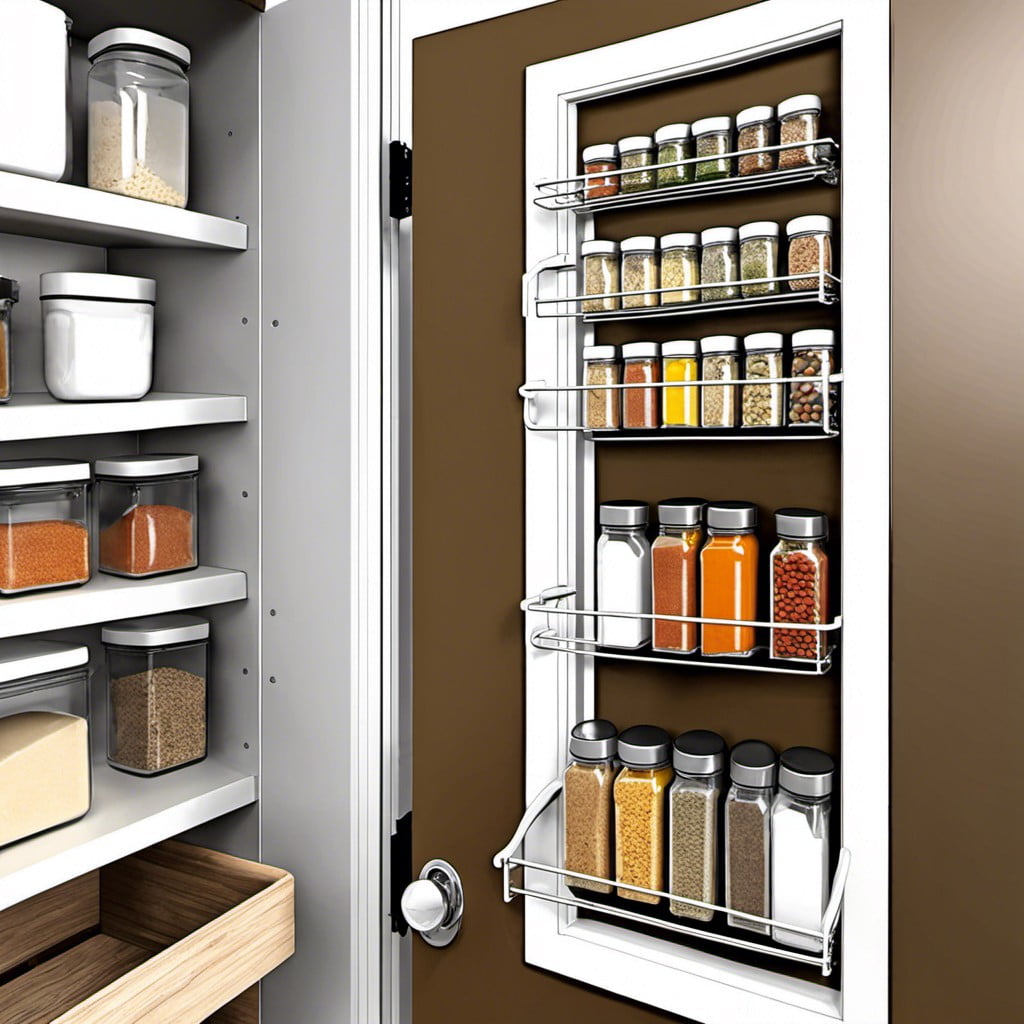 Making optimal use of your pantry door, a back of door wire rack can be highly beneficial. This type of rack is often easily installed, attaching directly to the door, creating ample space for spice storage. Its wire construction offers visibility and easy access to your spices, improving organization and simplifying meal preparation.
Some key considerations when implementing this rack type include:
Measure your door and rack: This ensures a suitable fit. Too wide and it won't close; too narrow and it might look awkward or waste potential storage space.
Select sturdy materials: High-quality wire or metal racks can bear the weight of multiple spice jars without bending or breaking.
Consider the rack design: Some wire racks come with adjustable shelves or modular compartments to fit differently sized spice containers.
Easy installation: Many of these racks require simple tools for installation, such as a drill, making them a handy and efficient option.
In this way, a back of door wire rack, while being a practical addition, contributes significantly to optimizing your pantry's storage capacity.
Magnetic Spice Jars Rack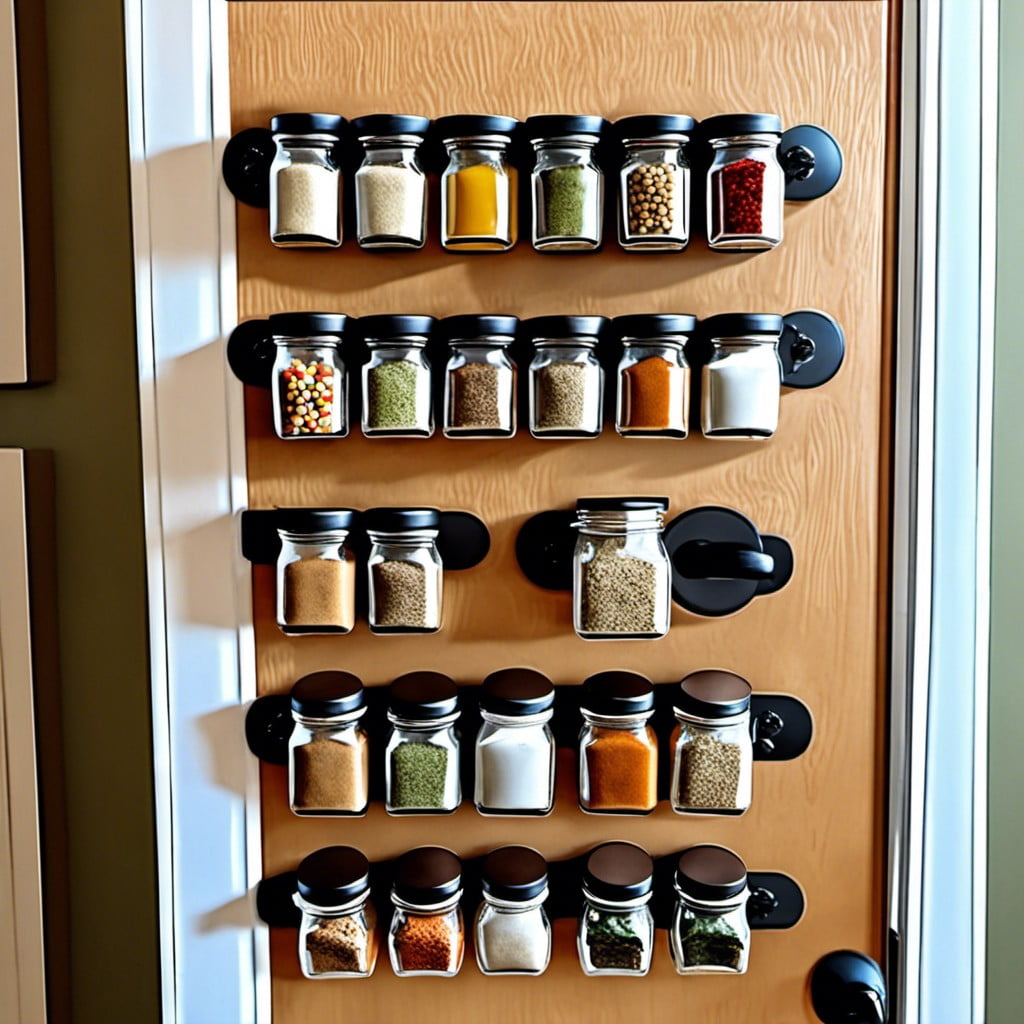 Utilizing magnetic power for organization goes beyond the fridge. Magnetic spice jars, often coupled with a metallic sheet or strip, can redefine your pantry door space. These jars pack a double punch with their transparency, making identification a breeze, and their compact size ensuring a clean, minimalistic aesthetic.
1. Convenient: You can easily reposition them as per your cooking needs, providing flexibility in organization.
2. Space-saving: No shelf required, easily sticking on the inner side of your pantry door.
3. Easy Access: The transparent bodies help to identify and pick the right container without much hassle.
4. Customizable: The number of jars can be adjusted based on your spice collection, creating a tailored fit for every pantry.
5. Cost-effective: A budget-friendly option, especially considering the combination of versatility and minimal installation requirements.
Through this inexpensive, sleek, and clever storage solution, your spices are always within reach and neatly arranged.
Multi-tiered Lazy Susan Rack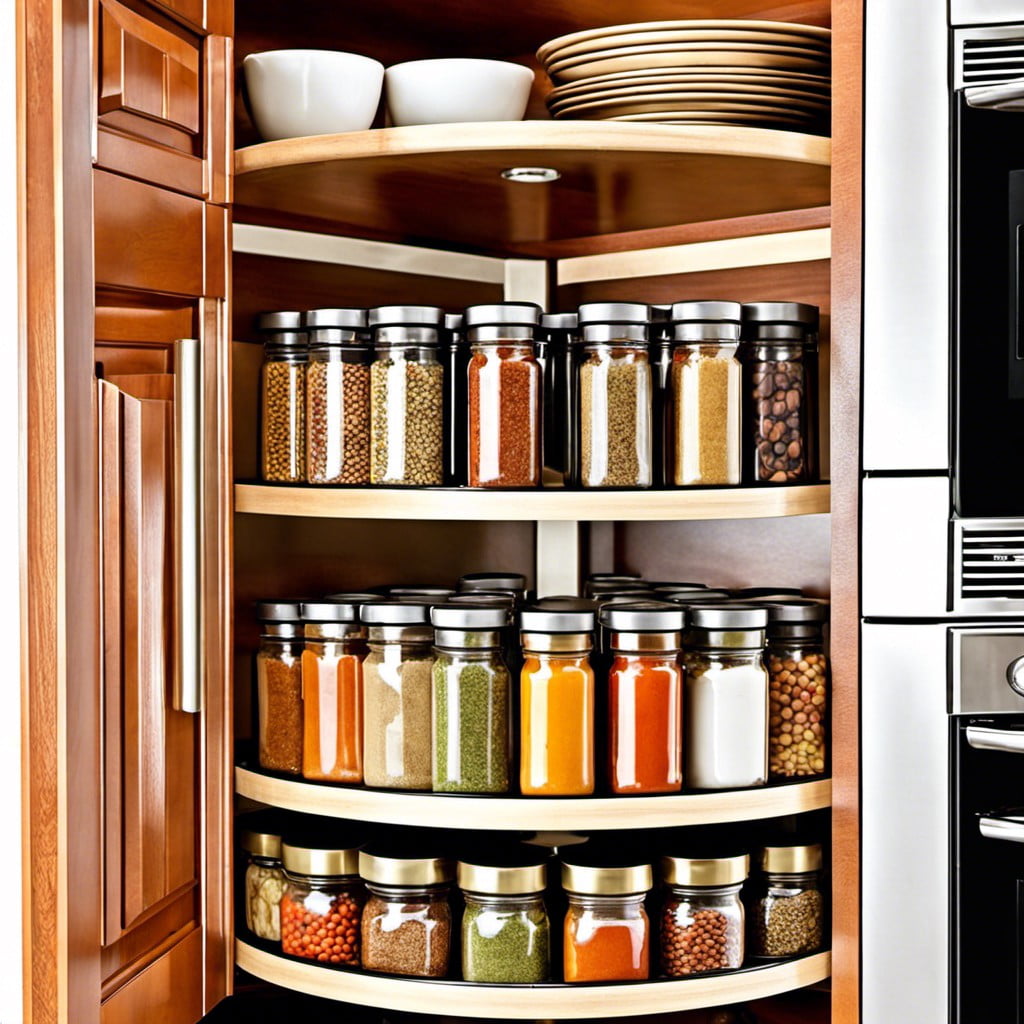 Implementing a multi-tiered lazy Susan in your pantry door provides a highly functional design for organizing spices. This style of rack lets you easily rotate the tiers to find your preferred spice quickly, saving precious time during cooking or baking.
1. Space-Saver: By arranging spices vertically, it makes optimal use of your pantry space.
2. Visibility: No more hidden spices! Each tier rotates independently, giving every jar a clear vista.
3. Versatility: It can accommodate a variety of jar sizes easily.
4. Easy Installation: Installation typically involves simply mounting it onto your door.
Hence, a multi-tiered lazy Susan rack is a pragmatic and efficient choice for a DIY spice rack project. Ensuring this tool is properly installed in your pantry will definitely enhance your cooking experience.
Full-length Hanging Door Rack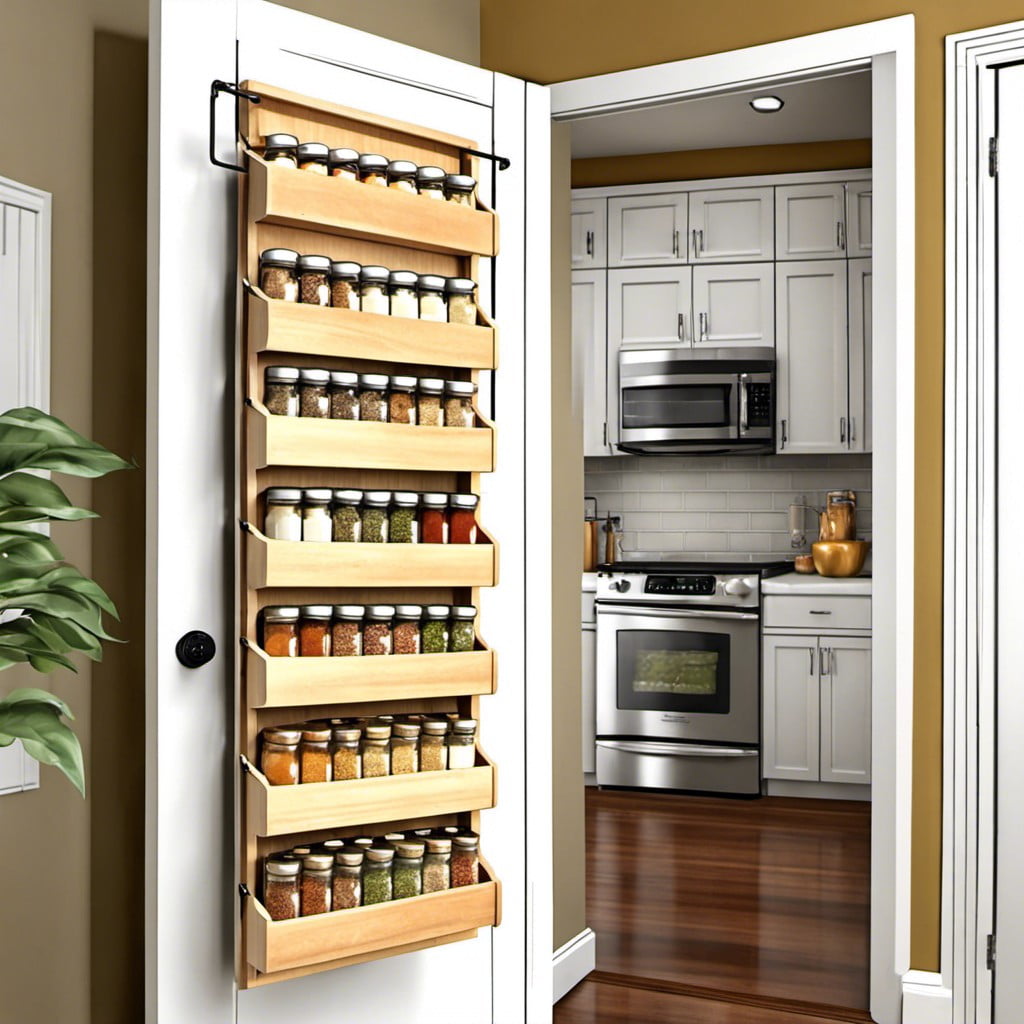 Making optimal use of otherwise unused vertical space, this option can hold a multitude of spices while keeping them easily accessible and organized. Designed to cover the length of the door, it consists of numerous compartments or tiers to create much-needed storage in a visually pleasing manner.
1. Space efficiency: Covers the entire length of the door, transforming unused space into a functional spice repository.
2. Accessibility: By keeping spices in line with eye level, it makes identifying and retrieving spices a breeze.
3. Diversity of design: Available in a variety of designs, like a shoe organizer model, a wire grid or a clear vinyl hanger, allowing you to select what best fits your pantry door.
4. Easy installation: Mostly requires just a few simple hooks on the top and optionally at the bottom of the door, eliminating the need for drilling or extensive fitting process.
5. Versatility: Can accommodate spice bottles of various shapes and sizes in its pockets or compartments, providing an adaptable and scalable storage solution.
Remember, while it's a handy option, ensuring the weight of the rack is within the bearing capacity of the door is crucial to maintain durability and efficiency.
Clear Plastic Bottle Rack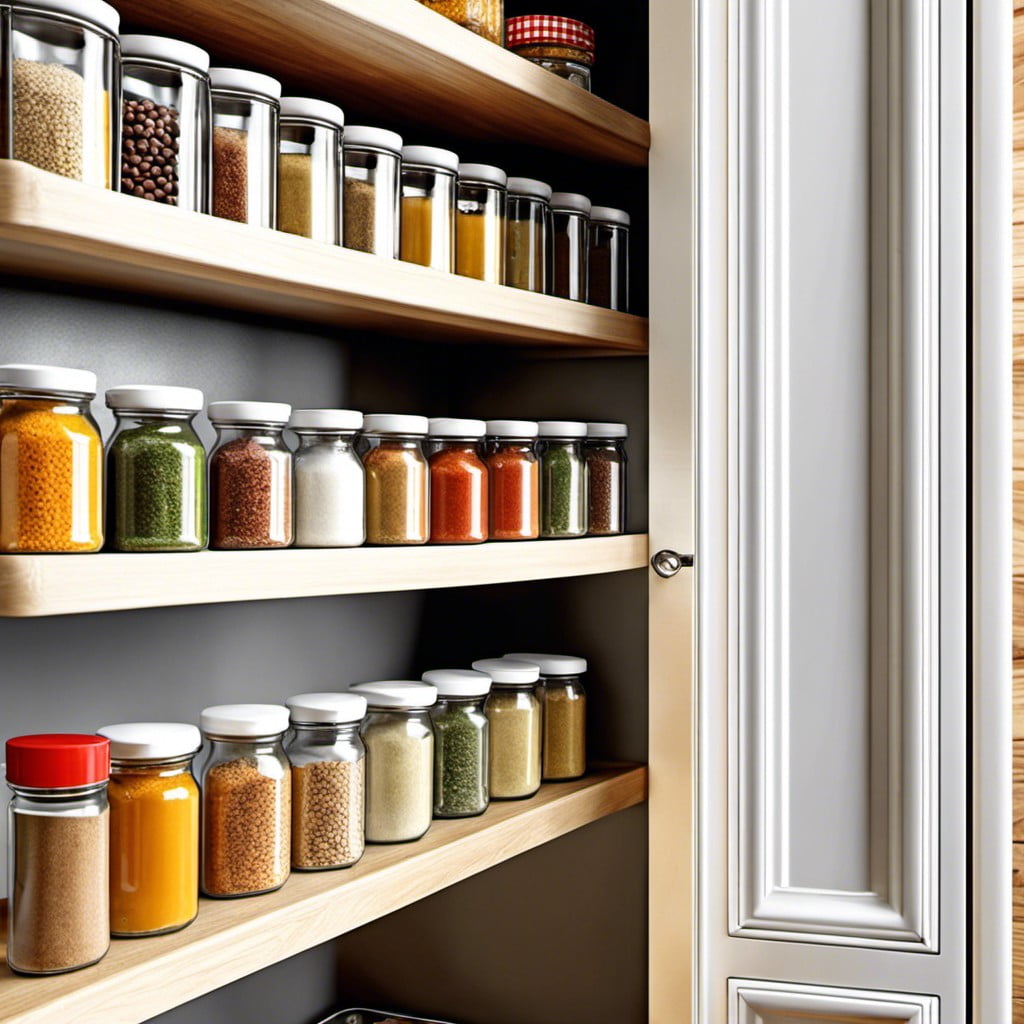 Cease the search for missing cayenne pepper during cooking. The clear plastic bottle door rack serves as a practical beauty. It's all about visibility and accessibility here. Each Spice gets its clear, plastic home, allowing you to spot what you need at a glance.
These clear plastic bottles are your ticket to an organized pantry. Create labels on the bottles for quick identification. Long gone are the days of rummaging through the pantry during a cooking spree.
Environmentally conscious folks will appreciate the recycling aspect. Old water or soda bottles become handy spice holders. An eco-friendly solution, indeed!
The simple installation process is another big plus. Affix a hanging shoe organizer to the pantry door. Slip each bottle into the pockets, and voila, your spices are lined up like obedient soldiers.
Once in place, your culinary endeavors will take on an exciting turn. No more hunting down elusive spices. Everything's there, visible and accessible, as it should be in a well-organized kitchen.
Mounted Wooden Shelf Rack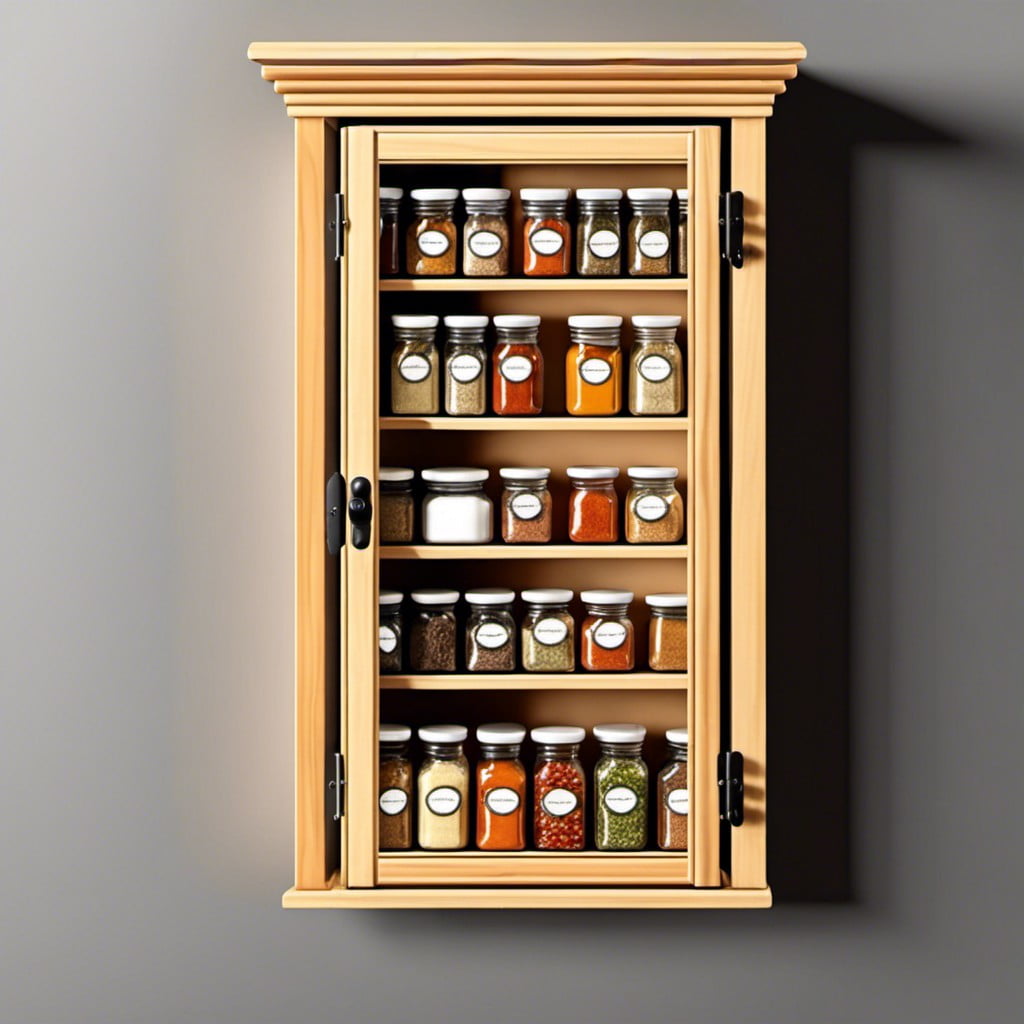 This option provides a quintessential rustic charm that suits many kitchen décor styles, from country farmhouse to modern minimal. Start by measuring your pantry door and purchasing wood planks accordingly, ensuring they're trimmed to the right size. Wide planks offer a generous amount of space for various spice jars.
Ensure to customize your rack by creating sections according to the spice jar dimensions. Keeping taller sections for bigger jars and smaller, snug spaces for common spice jars would aid in quick accessibility.
For a secured mount, use sturdy brackets fixed to the door. It's crucial to distribute the weight evenly across the door; placing heavier jars at the bottom can aid this. It's also advisable to apply a finish for easy cleanup and an elevated look.
Remember, use labels and alphabetical arrangements to facilitate quick and easy spice spotting. This practical organization solution not only maximizes pantry space but also adds an element of warmth to the kitchen ambiance.
Hangable Chalkboard Spice Rack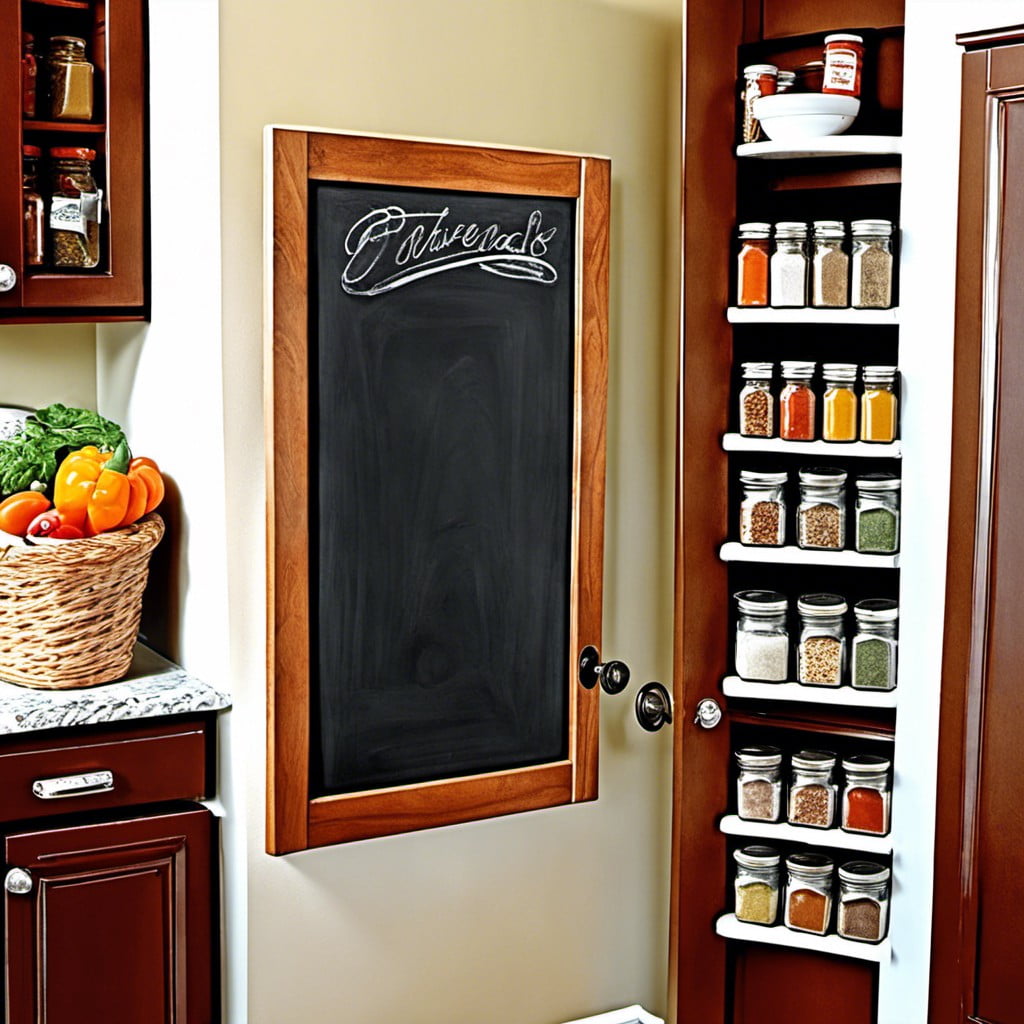 Switching to a hangable chalkboard spice rack can substantially enhance the aesthetics of your pantry while prioritizing functionality. This innovation incorporates two key elements: storage and identification.
1. Storage: This system allows you to keep your spices in simple, lightweight containers adhered to the chalkboard. Clear glass or plastic containers ensure the spices are visible, simplifying selection.
2. Identification: The chalkboard becomes a giant, easily adjustable canvas for labeling your spices.
Creating such a rack is relatively straightforward. Start with a flat sheet of metal, paint it with chalkboard paint, attach flexible magnetic strips to spice jars' bottoms, and arrange them as you see fit. Always remember to consider the weight of the jars and always ensure they stick securely.
Spontaneous cooks will enjoy the flexibility that comes with this method. It allows you to easily rearrange spices as you add or use up supplies. Additionally, casual scrawls make it simple and satisfying to change labels as needed.
Metal Wall Grid Rack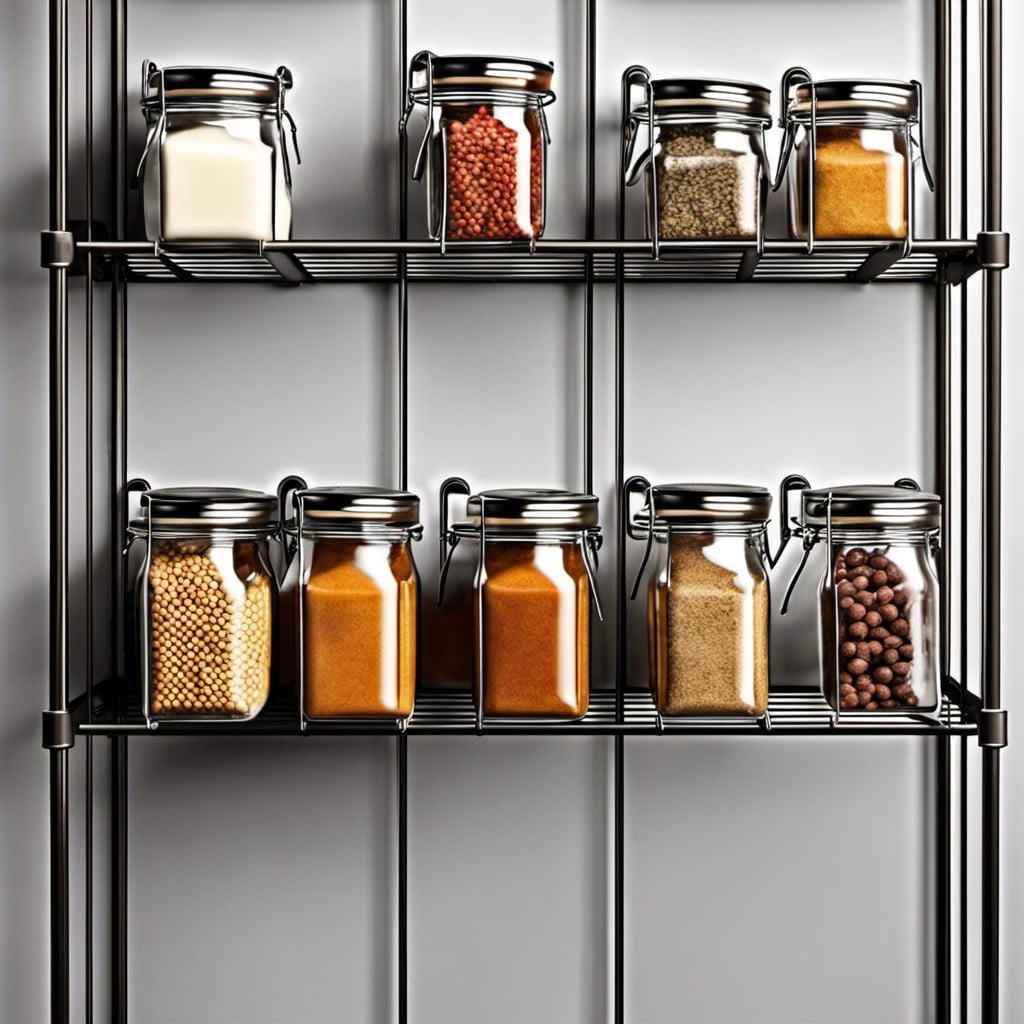 A popular choice for modern interior lovers, a metal wall grid rack offers a sleek, minimalist look. Durability and style are its key selling points.
Concepts behind creating a metal wall grid rack:
1. Sizing: Choose the grid size based on the available pantry door space. Remember to consider the depth of the rack; you do not want it to intrude on your pantry space.
2. Arrangement: Plan a layout of your spices before hanging the grid to ensure it serves its purpose well.
3. Installation: Securing your rack to the pantry door is crucial. Use substantial hinges, adhesive, or mounting hardware.
4. Customization: Metal grid racks are quite flexible. You can add S-hooks for hanging spice bags, clip-on baskets for holding jars, or magnetic tins that stick directly to the grid.
5. Maintenance: Regular cleaning is needed to avoid dust buildup. Warm soapy water will suffice in most cases.
Remember, it is not just about using the space; it's about enhancing functionality and convenience in your kitchen. Invest time in planning and creating a rack that will meet your unique needs.
Pull-out Pantry Shelf Rack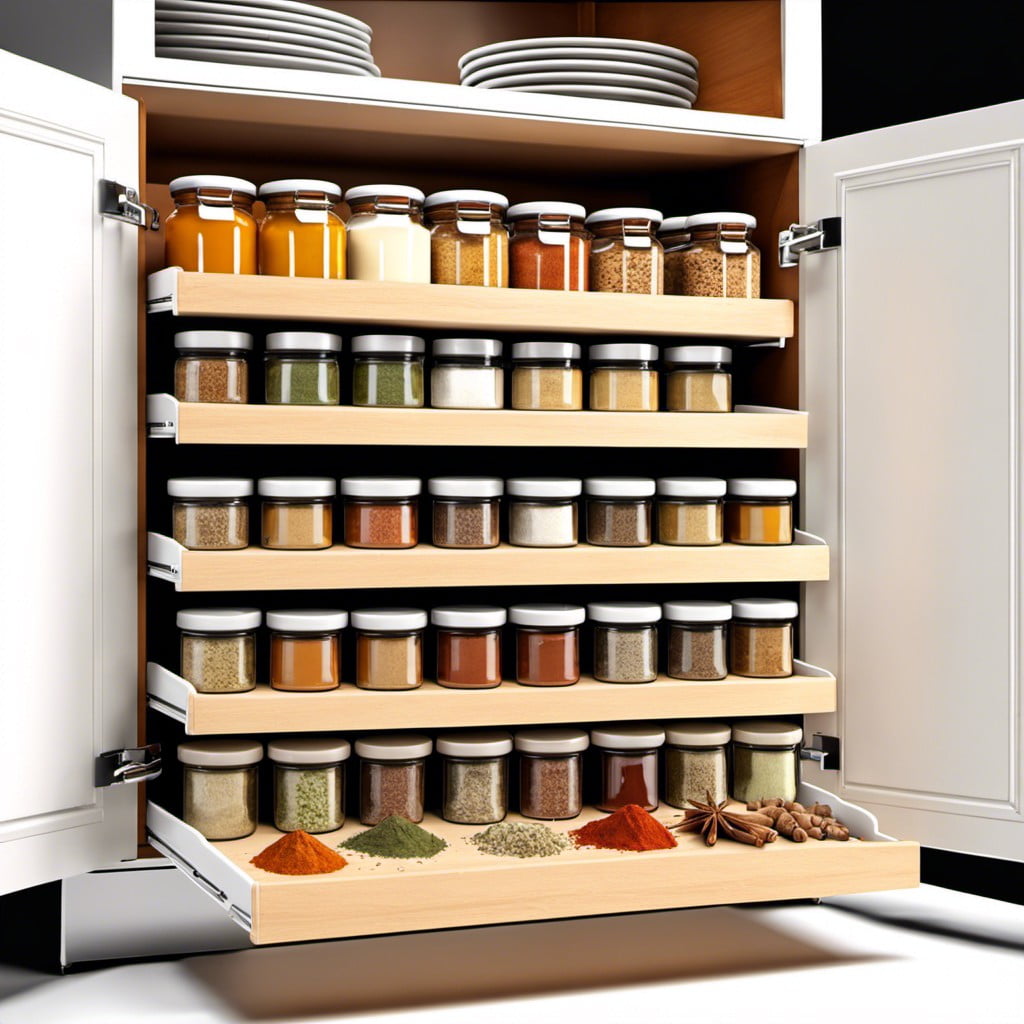 Pull-out pantry racks are an efficient solution to keeping spices organized and accessible. This design allows every spice to be seen clearly, eliminating the need to fumble through jars and bottles. They can be customized to fit any pantry size, large or small, and are relatively easy to install. Here's what makes them a great choice:
1. Space-Saving: The rack slides in and out of your pantry, making full use of vertical space. Your spices are all stored in one compact area instead of scattered throughout the kitchen.
2. High Visibility: The stepped design lets you see all the spices at once, which saves time when cooking and makes inventory easier.
3. Easy Installation: The rack is usually mounted on smooth-gliding tracks. Some DIY enthusiasts prefer to build their own with plywood, while others choose pre-made kits.
4. Flexibility: You can add or subtract shelves as needed, based on your spice collection. It's also easier to clean than traditional static shelves.
Investing in a pull-out pantry shelf rack will enhance your kitchen efficiency while giving it a sleek, professional look.
Spice Gripper Clip Strips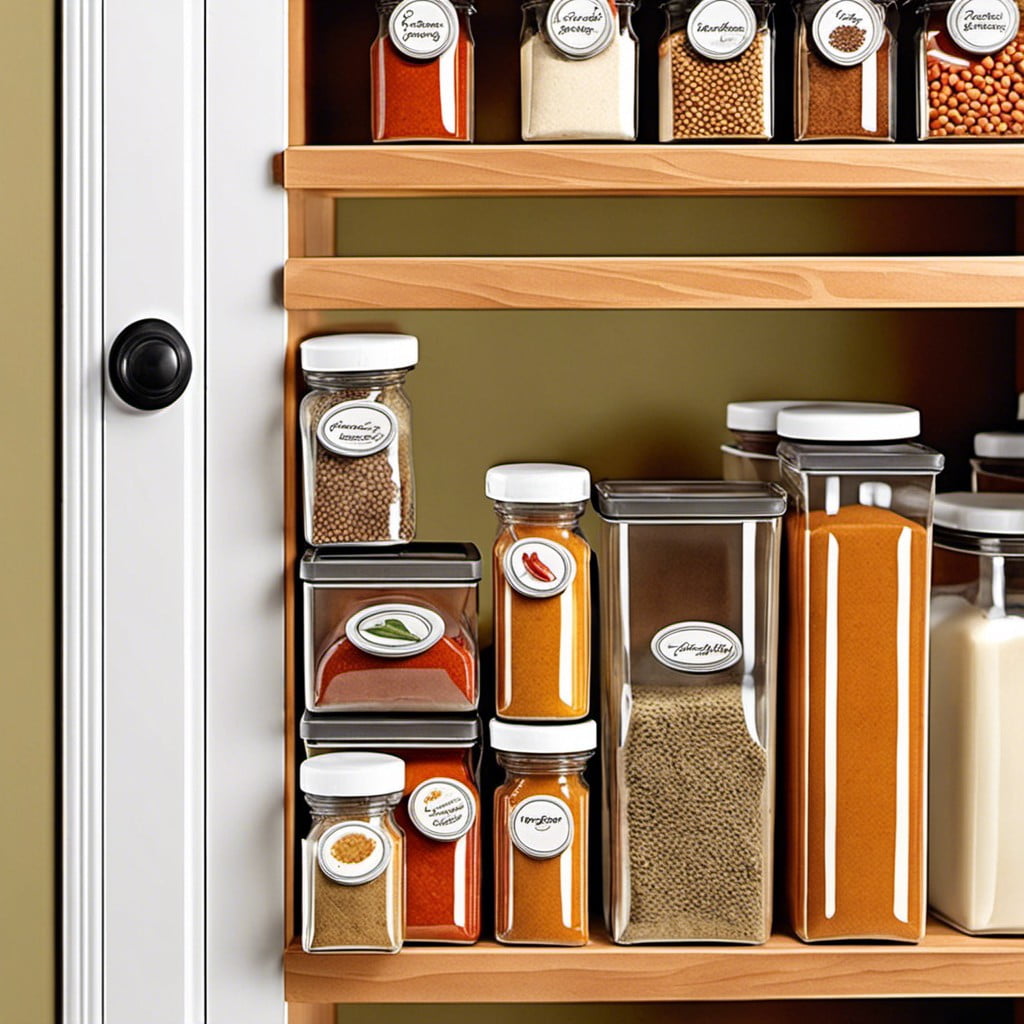 These durable lightweight strips adhere firmly to the inside of your pantry door and can hold various sizes of spice containers. Quick insulation is gained without any tools, drill or screws.
Here's more about this design:
Saves Space: The design capitalizes on unused door interior space, helping you make the most out of your pantry.
Easy Identification: Arranged side by side, your spices are easy to find and reach, making cooking a breeze.
Versatile and Adjustable: They can hold both round and square spice bottles and adjust to fit the route precisely.
Economical: Despite their effectiveness, these gripper clips are often reasonably priced, making them a budget-friendly option.
Easy Installation: Many models are easy to install, often requiring just a strong adhesive to secure them to your door.
Always remember, the key to an efficient spice organization is easy access and clear identification. Spice gripper clip strips provide both! Happy seasoning!
Chicken Wire Door Spice Rack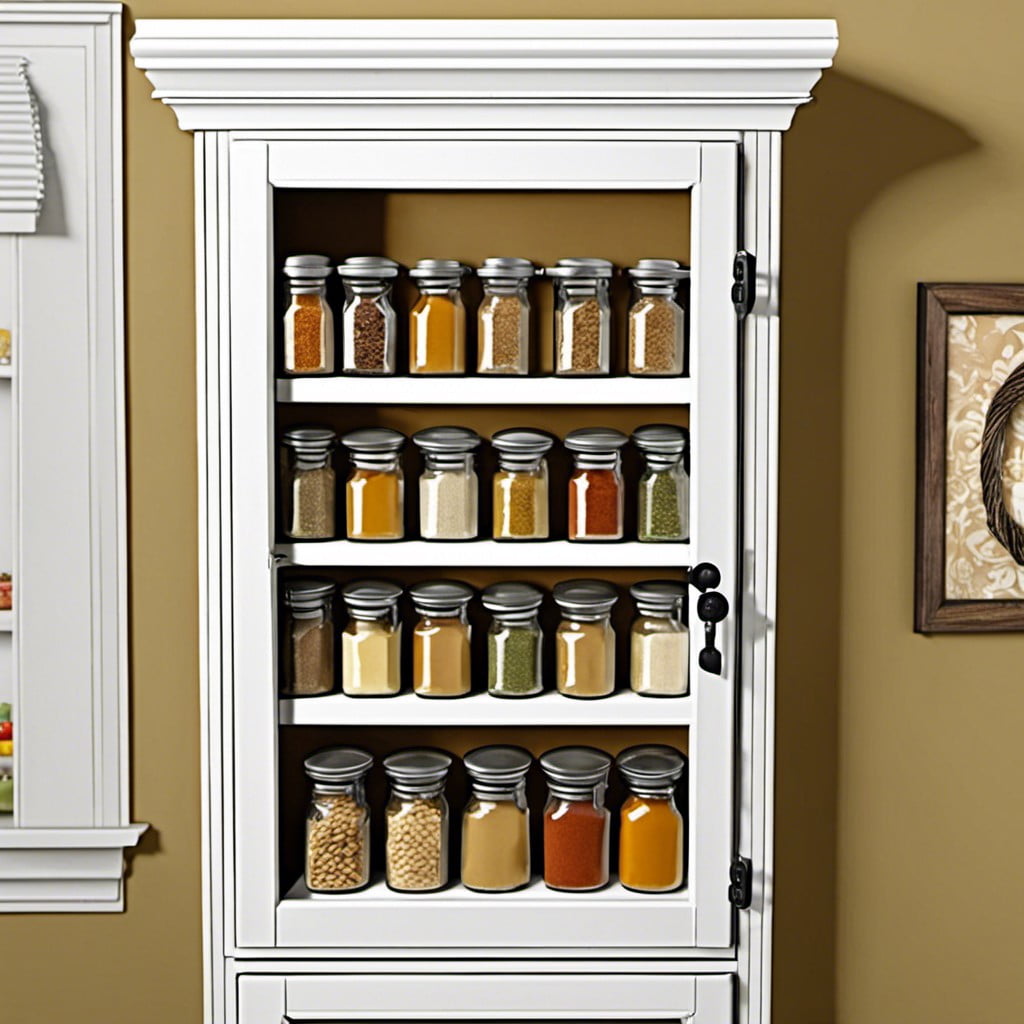 Being an intriguing mix of country chic and practicality, this option brings charm to any kitchen. To construct, all you need is a spool of chicken wire, a couple of wooden planks that you can paint to match your pantry, and some nails to lock them into place.
You'll appreciate its lightweight design and easy accessibility, while its sizable gaps ensure your spices are clearly visible. Keep in mind though, to secure smaller spices at the corners where the wire intersections offer better hold.
Also, the framework offers great scope for customization – you may add wooden labels or small baskets to segregate and easily locate various herbs and spices. Remember, keeping frequently used spices at eye-level boosts efficiency while cooking.
So go ahead, muster up that DIY spirit, and make your pantry an enviable spice hub the chicken wire door spice rack way!
Adjustable Door Mount Spice Rack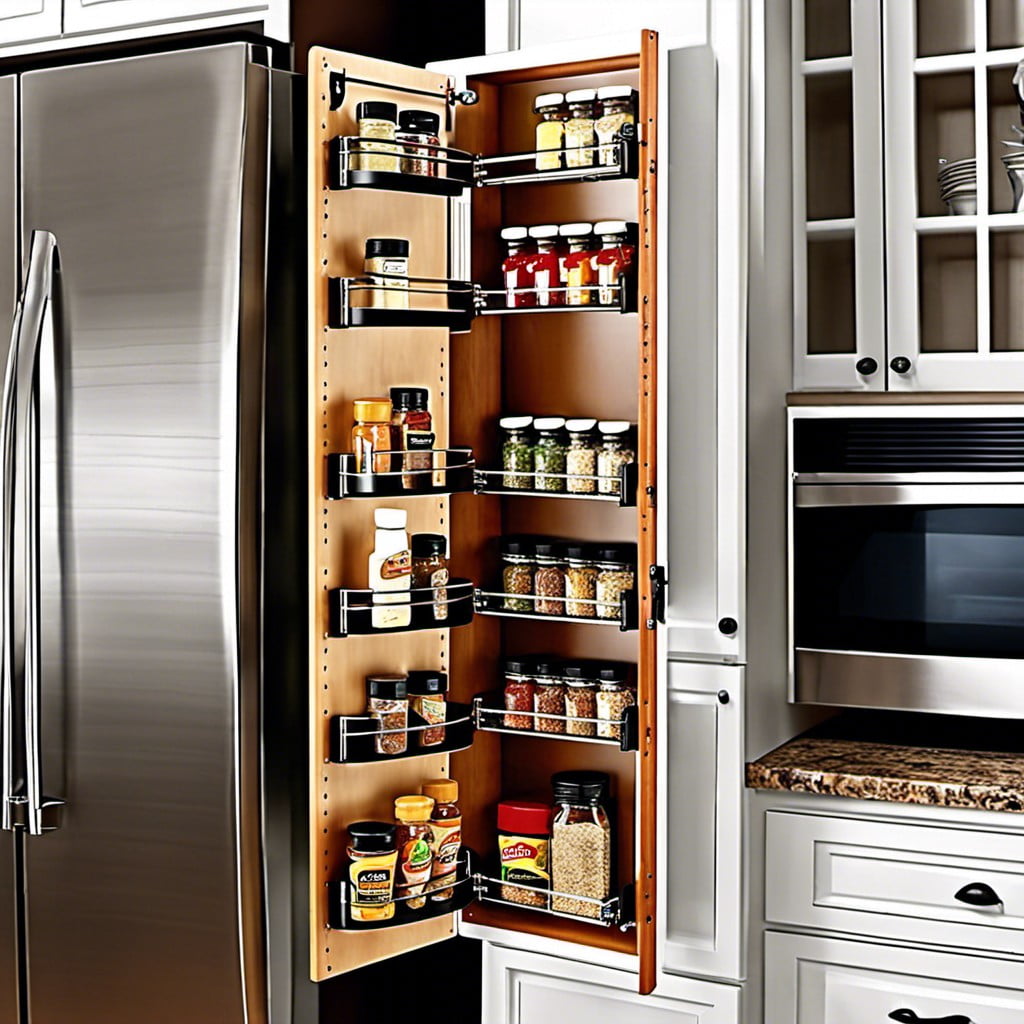 Perfect for both large and small homes, this convenient spice storage solution can be tailored to suit your unique needs. The adjustable door mount spice rack comes in a wide array of sizes and styles. Its fundamental aspect is its customizable shelves. Depending on the size and quantity of your spice bottles, you can easily modify the distance between the shelves.
Developed for efficiency, it allows you to make the most of the vertical space, making it a go-to for homes with limited cabinet or counter space. It can be effortlessly installed on any pantry door, taking up minimal space while offering maximum storage.
Choose from options ranging from sturdy metal to robust plastic varieties. While all models aim to provide secure storage, some even feature guard rails or other retention systems to maintain your spices in place, even when the door swings open.
Take note, however, that proper measurement is of utmost importance before any purchase. Ensure the rack fits the width and length of your pantry door, and the door can close seamlessly once the rack is mounted.
Moreover, this rack type offers simple visibility. Your spices are displayed in plain sight, making it easy to locate and access when needed. This hint of organized aesthetic can add warmth and homeliness to any kitchen design.
Remember to regularly keep track of your spice quantities. The ease of viewing can motivate you to replenish your stock, maintaining fresh and vibrant flavors in your cooking endeavors.
Industrial Pipe Rack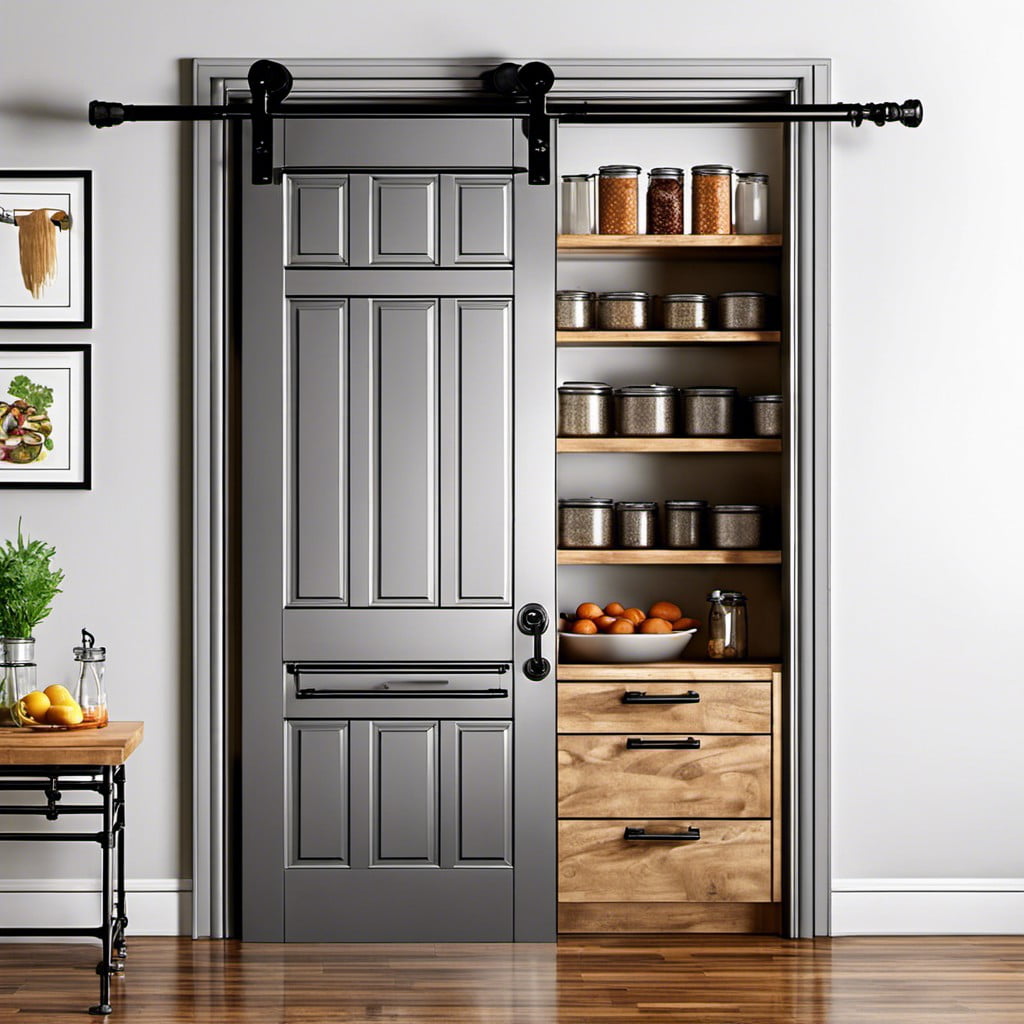 Featuring a modern, minimalist design, the industrial pipe spice rack is a brilliant choice for those seeking both functionality and visual appeal. Simple yet extremely sturdy, this rack utilizes metal pipes joined together to hold small containers of spices.
1. Construction: The configuration typically involves horizontal metal pipes, attached to vertical sections. When assembled, they create various rows or sections for easy organization of spices.
2. Installation: Known for its versatility, this rack can be attached to your pantry door or set against the wall. This ensures efficient space utilization while keeping spices within an arm's reach.
3. Adaptability: This rack can hold a variety of spice container shapes and sizes with equal ease. Its open design makes viewing and selection of spices convenient.
4. Aesthetics: With polished pipes and neat design, it adds an urban, industrial texture to your kitchen ambiance. Pair it with rustic wooden shelves for an exemplary blend of modernity and tradition.
5. Maintenance: The metal construction of this rack is easy to clean and remains durable over time. Its semi-open design makes dusting off each shelf a simple task, promoting a clean cooking environment.
So, looking for a cutting-edge yet practical solution for your spice storage needs? The industrial pipe rack is the perfect fusion of design and function, enhancing the aesthetics of your kitchen as it caters to your convenience.
DIY Pallet Door Spice Rack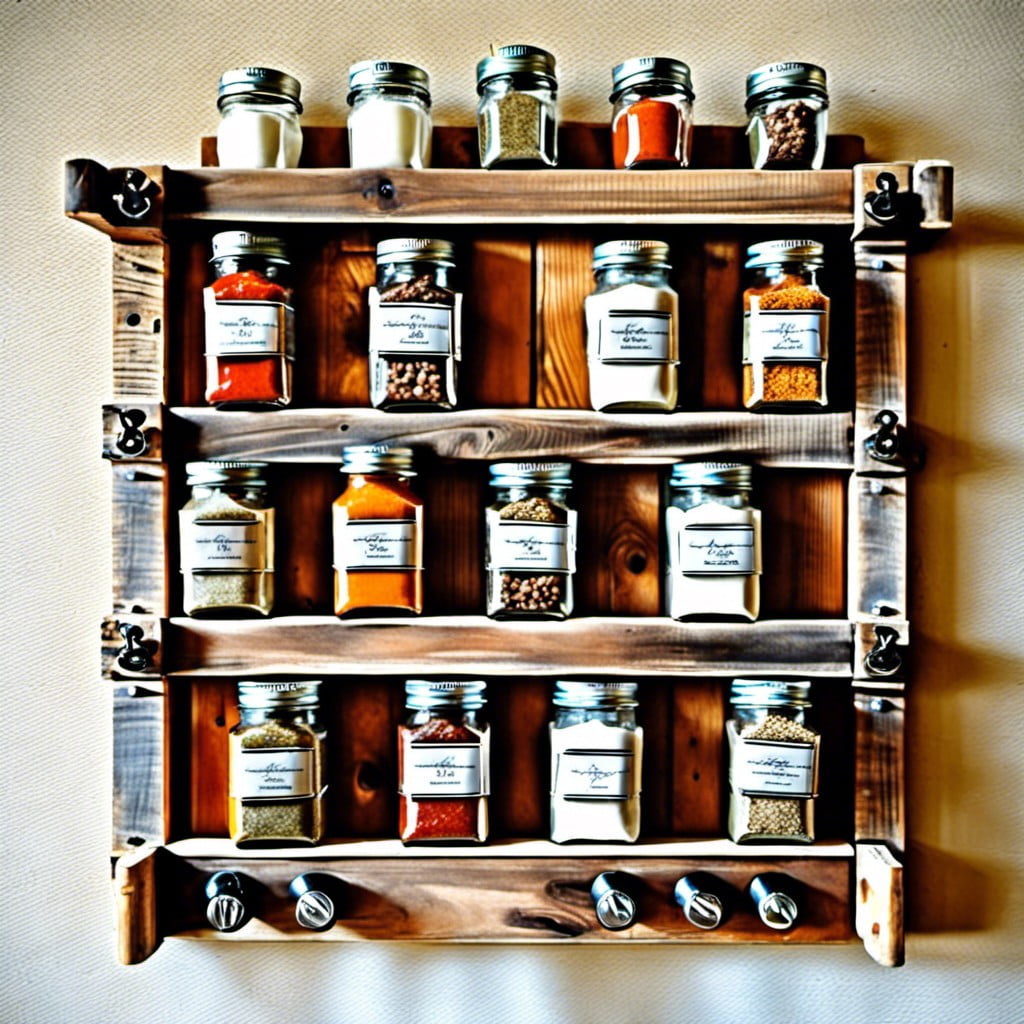 Constructing this type of rack requires minimal effort, which makes it an ideal project for those new to DIY tasks. Begin by securing a wooden pallet to the back of your pantry door. This provides a sturdy platform to attach spice shelves. Keep in mind to ensure enough space between the shelves to accommodate varying spice jar sizes.
To maximize your area, consider creating multiple rows and columns. Paint the pallet to match the color scheme of your kitchen, adding an aesthetic element to practical storage. Secure the pallets using strong adhesive or screws. Remember to anchor them well to handle the weight of the spices.
For an extra touch of functionality, label each shelf according to the spice type or alphabetize them for easy access. This easy, budget-friendly project transforms an overlooked space into a highly organized, visually appealing spice rack.
Also, remember to consider the door's swing range to avoid knocking over your spices when it opens or closes. Lastly, maintain your DIY pallet door spice rack by occasionally checking for damage or loose screws. Regular dusting can keep your spices fresh and safe from contamination.
Note: avoid using treated wood as it may contain chemicals that could affect the quality of your spices.
Mason Jar Spice Rack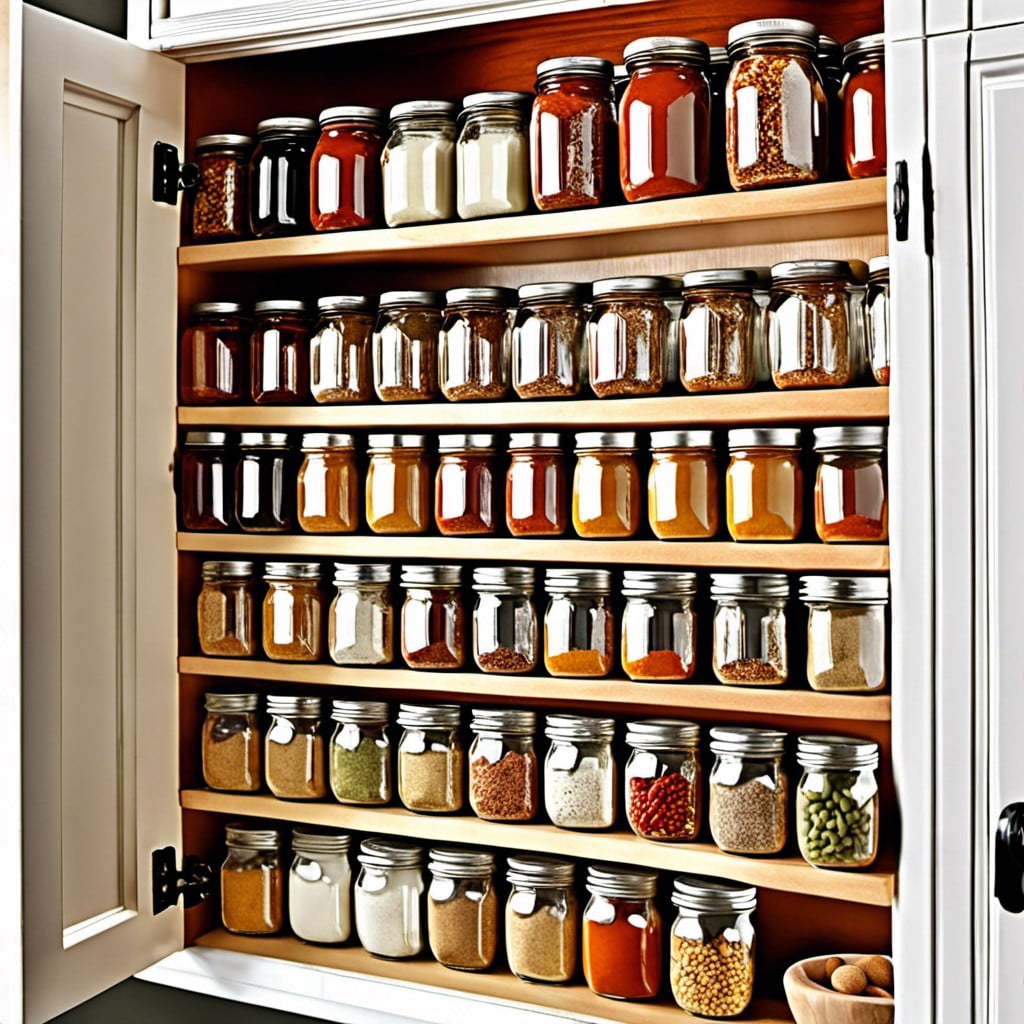 Capitalizing on their rustic charm and practical utility, Mason jars make an excellent choice for a DIY spice rack. Here's how you can utilize them:
1. Sizes: Choose pint or half-pint sizes based on the bulk of your spice nominations.
2. Layout: Depending on your pantry door's width, line up the jars either horizontally or vertically.
3. Attachment: Adhere the jar lids to the inside of your pantry door using a strong adhesive or drill them in for heavier spices.
4. Labelling: Use a paint pen for clearly marking each jar with the spice's name. It is visually appealing and eases your search during busy cooking hours.
Remember, Mason jar spice racks not only bring organization to your pantry but also add an authentic farmhouse aesthetic.
Copper Pipe Spice Shelving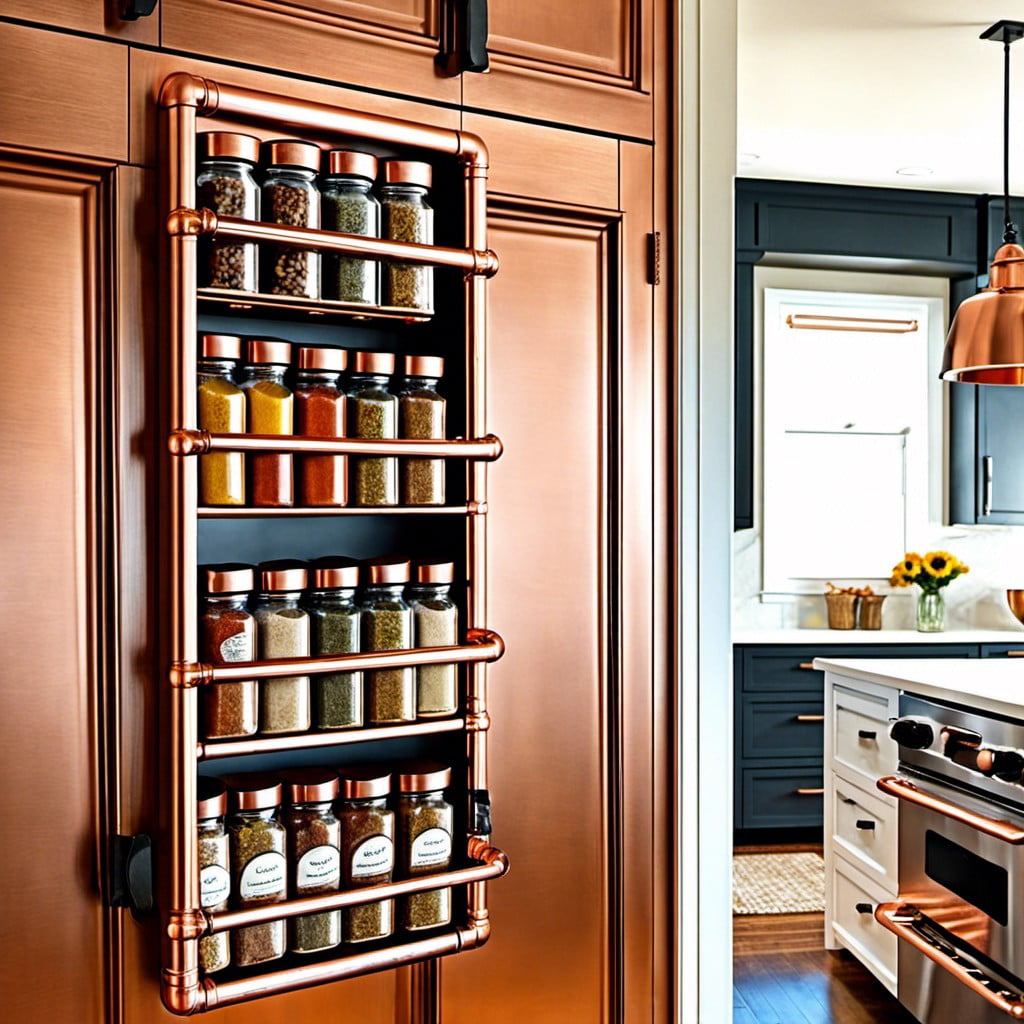 Opting for this design lends a trendy, modern aesthetic to your pantry. To achieve this, here are some steps to follow:
1. Measure: Determine the size of your shelving by taking proper measurements of your pantry door and the spice containers you'll be situating.
2. Cut and Assemble: Using your measurements, cut your copper pipes accurately. Connect them using elbow and tee fittings to form your shelves.
3. Mount: Use pipe straps to securely attach your copper pipe shelving to the pantry door. Add a couple of hooks on the door for extra support.
4. Arrange and Label: Finally, place your spices on the shelves and consider adding labels for easy identification.
Remember, working with copper requires some skill, so if you're not handy with tools, it may be worth recruiting a friend with plumbing experience or hiring a professional. Remember to consider the conditions of the pantry as well since copper can tarnish over time in humid conditions.
Sliding and Hanging Rack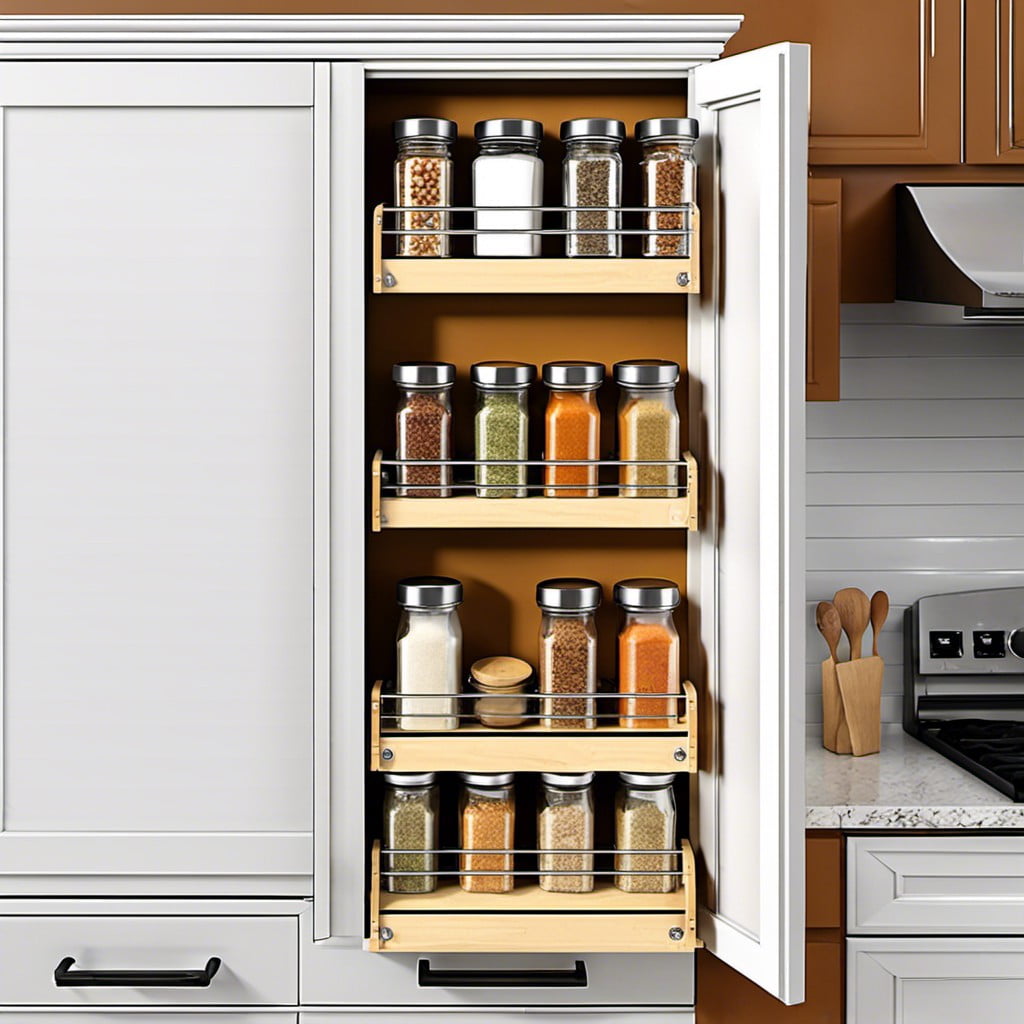 To forge ahead with the sliding and hanging design, one would need a few materials including a hanging rail, S-hooks, and your assortment of spice jars. The design focuses on maximizing space usage while ensuring easy access to your spices.
It involves fixing a rail on the inside of your pantry door, or even on the wall beside it if the door's structure is not suitable. Next, your spice jars are to have their lids screwed to the S-hooks which are then hanging on the rail. This setup not only provides a visual appeal in your arrangement, but also aids swift recognition of spices and reduces the time spent rummaging through the pantry.
Remember, before commencing, ensure that the pantry door can accommodate the weight, size, and motion of the spice jars when the door is in use. It's a straightforward setup, but always prioritize both functionality and aesthetics in your design.
Pegboard Door Spice Rack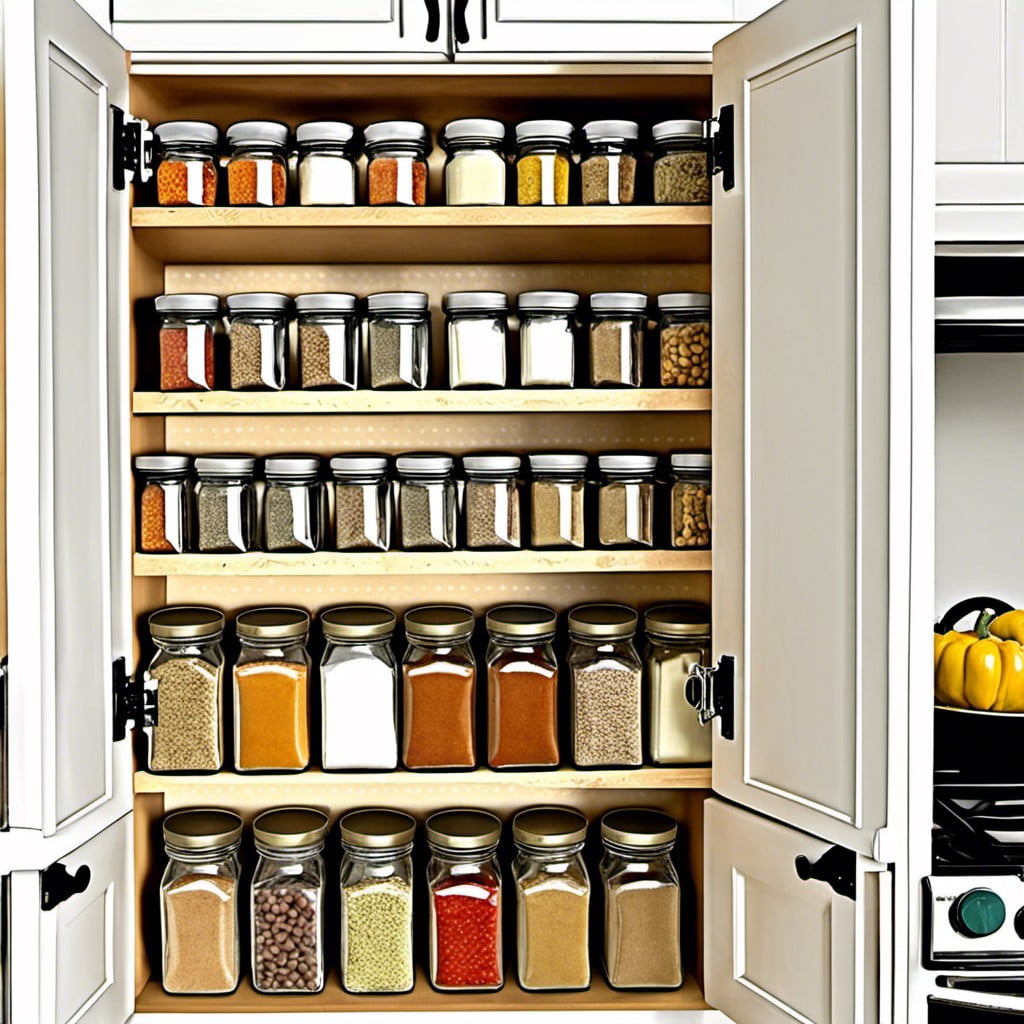 Perfect for those with a myriad of spices and limited space, utilizing a pegboard on the pantry door can be a game-changer.
1. Flexibility: You can arrange pegs according to the sizes of spice jars, making it extremely versatile. If your spice collection grows or changes, the pegboard adapts easily.
2. Visibility: The pegboard layout ensures everything is visible at a glance – no more fumbling to find the right spice.
3. Easy installation: With minimum tools required, installing a pegboard is a simple weekend DIY project.
4. Space-saving: It takes up minimal space, freeing up your kitchen shelves for other essentials.
5. Customizable: Choose paint your pegboard for a pop of color, or stain a wooden one for a warm, natural look.
Remember, a well-organized spice collection is key to efficient cooking. With the pegboard door spice rack, delays in finding that elusive jar of cumin are a thing of the past!
Recessed Pantry Door Rack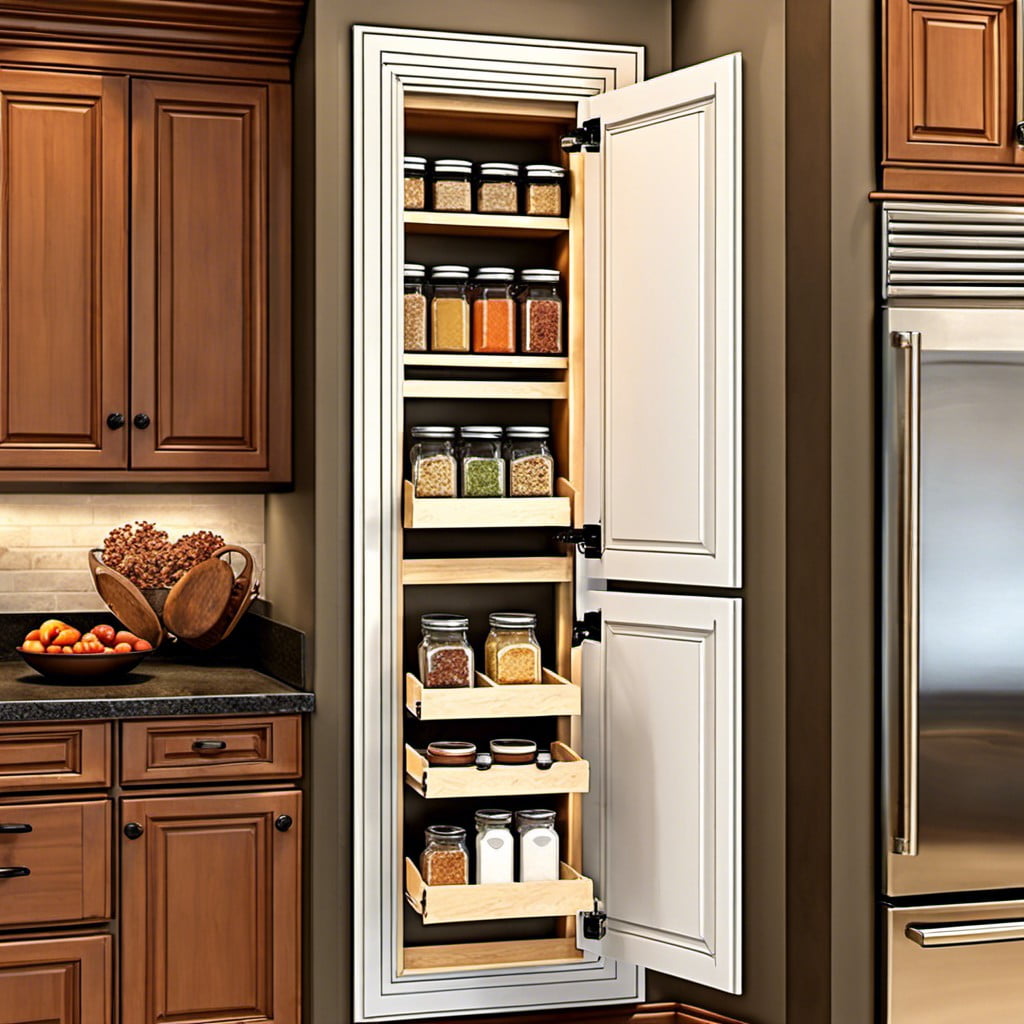 Ideal for homeowners seeking a sleek and minimal approach, a recessed spice rack maintains the clean lines of your pantry door. It's a fantastic option that doesn't protrude into your space. Installing it involves cutting into the door and creating a cavity to accommodate your spices.
This style offers an efficient and organized method of storage since each spice jar is readily visible. It also utilizes the oft-wasted inner surface of your pantry door.
Some considerations include:
Ensure a Structural Fit: Your pantry door should be solid and thick enough to carve out a recess without compromising stability.
Select Suitable Containers: Given the storage is open to view, opt for uniform jars or tins for visual harmony.
Safety First: Sharp tools are involved in installation. If you're not experienced with such DIY tasks, a professional's assistance may be useful.
Labeling: Clearly label each jar to quickly find what you need.
Flexibility: Consider adjustable shelving for different jar heights, getting the most from the space.
Finish: Give thought to the interior finish of the recess for an aesthetic that complements the rest of your kitchen.
Cleanliness: As this design is open, regular dusting might be needed to maintain cleanliness.
Drawer Conversion Spice Rack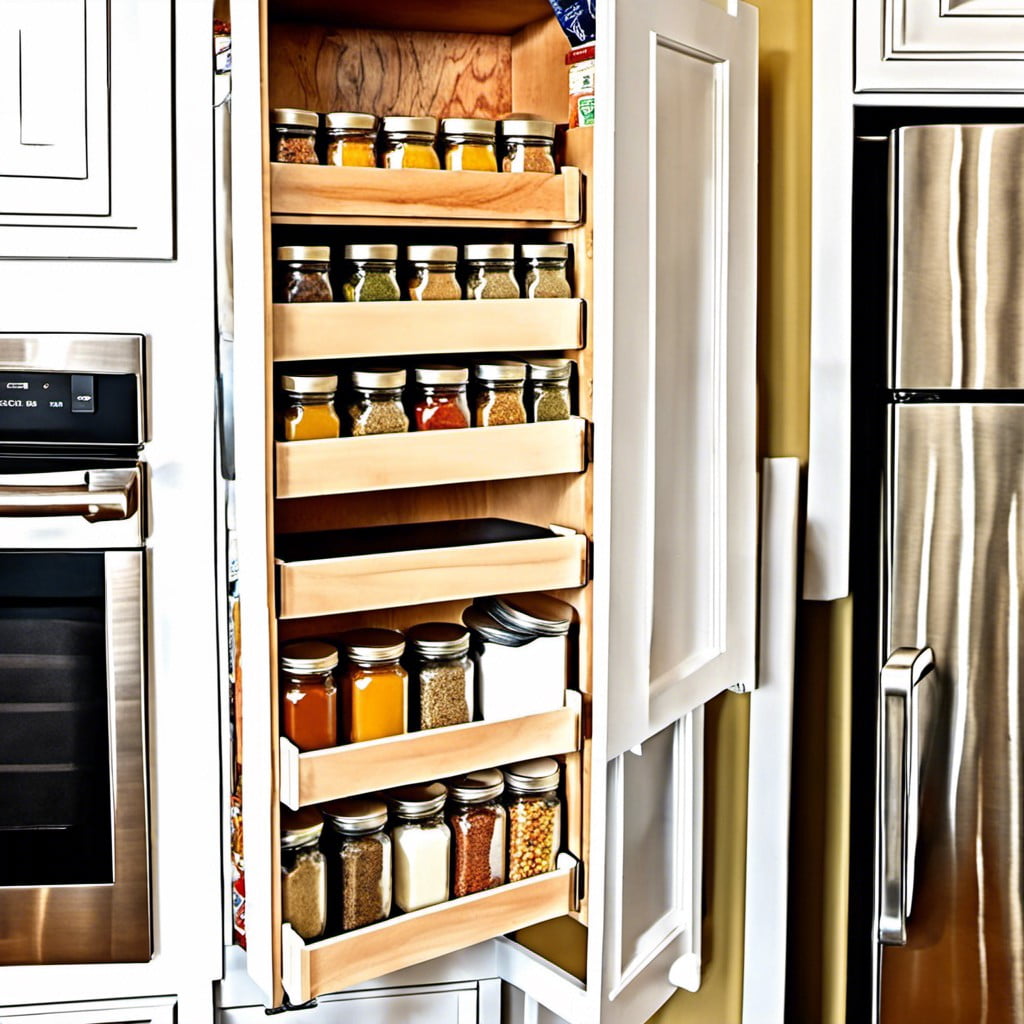 Transforming a standard kitchen drawer into a dedicated spice oasis carries several benefits. Firstly, it's a space-efficient solution, especially for those with limited kitchen real estate. Choose shallow drawers, ideally close to your cooking range for easy access.
The setup process is quite simple. Begin with emptying the drawer. Measure the dimensions before buying or creating uniform spice jars. Traditional or magnetic jars can be used, based on your preference.
To make the drawer visually appealing and highly functional, label each jar on the top. This way, you'll immediately know where your cumin or paprika is without unnecessary searching. To avoid spills or clutter, make sure every jar has a secure lid.
Finally, organize the jars. It can be in alphabetical order, by cuisine, or by frequency of use. Regularly used spices should be placed towards the front for ease.
In summary, a drawer converted into a spice rack provides convenient, compact storage. It simplifies cooking by making spices easy to find and reach. Plus, it introduces order to what can often be a chaotic part of kitchen storage.
Liked reading this? Here's more:
Recap: