Last updated on November 21, 2023
Because spice racks can transform an ordinary kitchen into a charming farmhouse-styled space, we will explore some innovative and stylish spice rack design ideas.
I've designed unique illustrations for these ideas. I hope you get inspired!
Diving into the world of spice rack organization? You're in the right place. This article isn't just a regurgitation of all the common designs floating around the internet. Although popular styles will be touched upon, providing resources for the cream of the existing crop, expect to discover new, fresh perspectives.
Aimed at reinvigorating the classic farmhouse style for today's kitchen, we will take a unique spin on how to best accommodate your spices. So without further ado, let's explore these curated, unique ideas that are sure to transform your spice rack into a true kitchen statement piece!
Ladder Style Spice Rack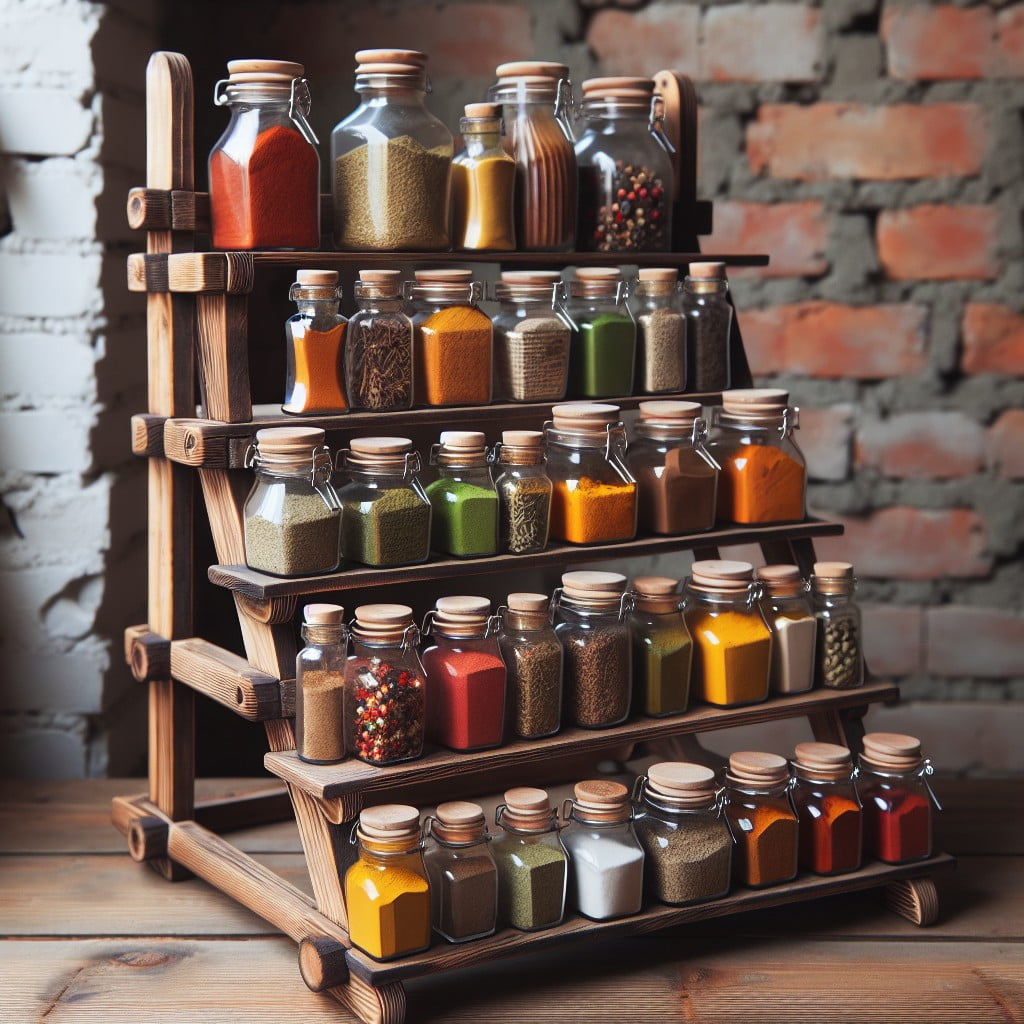 Managing space optimally, the ladder-style spice rack assumes a vertical outlook. Its design mimics the rungs of a ladder, where you can organize your spices in a tidy fashion.
This option offers flexibility, adapting to small, narrow spaces or offering ample storage if you go for larger sizes. It's not only practical but also appealing – wooden rungs contrasted against sleek metal frames make for a beautiful rustic display.
You can either choose to wall-mount this rack or have it free-standing, depending on your kitchen layout and preference. Choose vintage, weathered wood for a more authentic farmhouse look.
With minimal construction, it brings a significant organisational change.
Vintage Milk Crate Spice Rack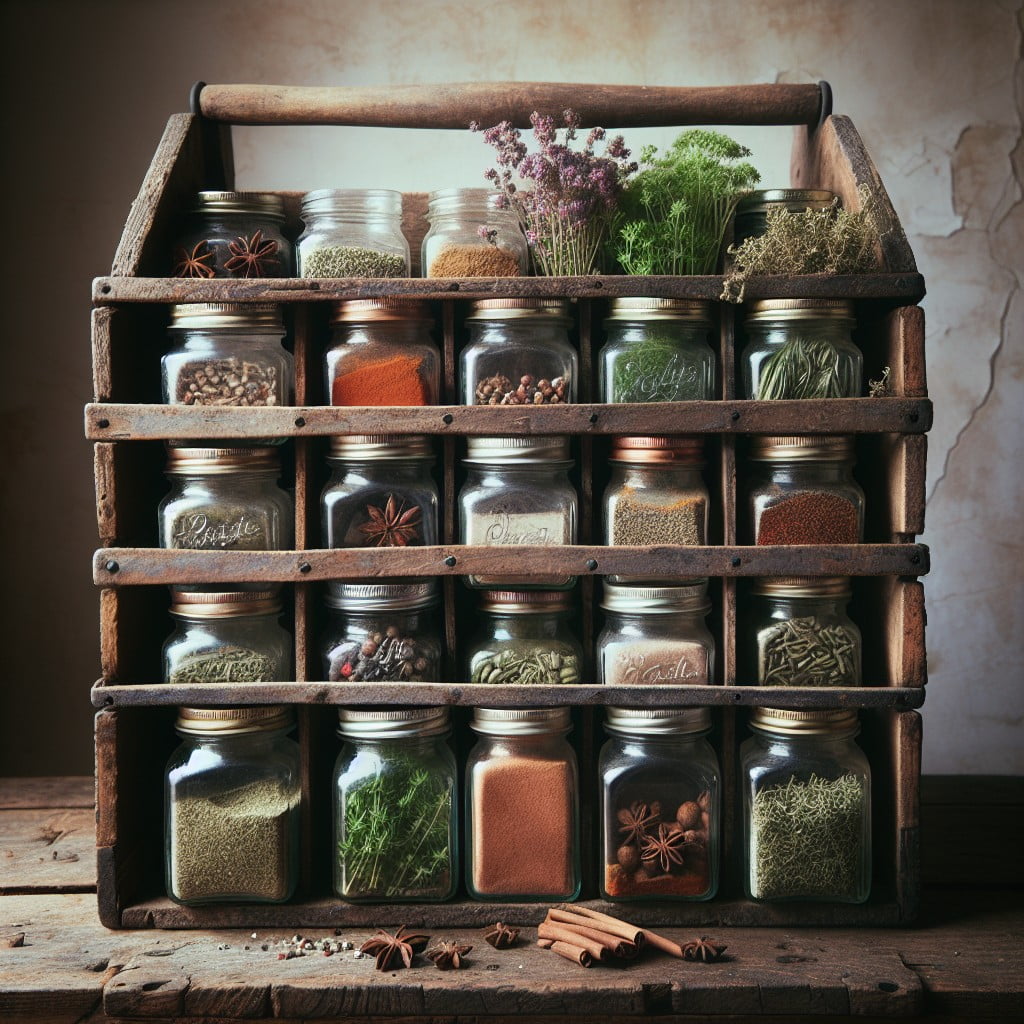 A rustic and practical design, this type of spice rack offers both storage and style. To create this, hunt for an authentic or reproduction milk crate. Keep the wooden slots intact for your spices or add smaller compartments for a customized fit.
A striking piece of decor, it's best mounted on the wall for easy access, yet it can equally serve as a countertop piece. Its vintage allure, the worn grooves, and faded markings whisper stories of bygone dairy farms, adding a touch of nostalgia to any kitchen.
Wagon Wheel Spice Rack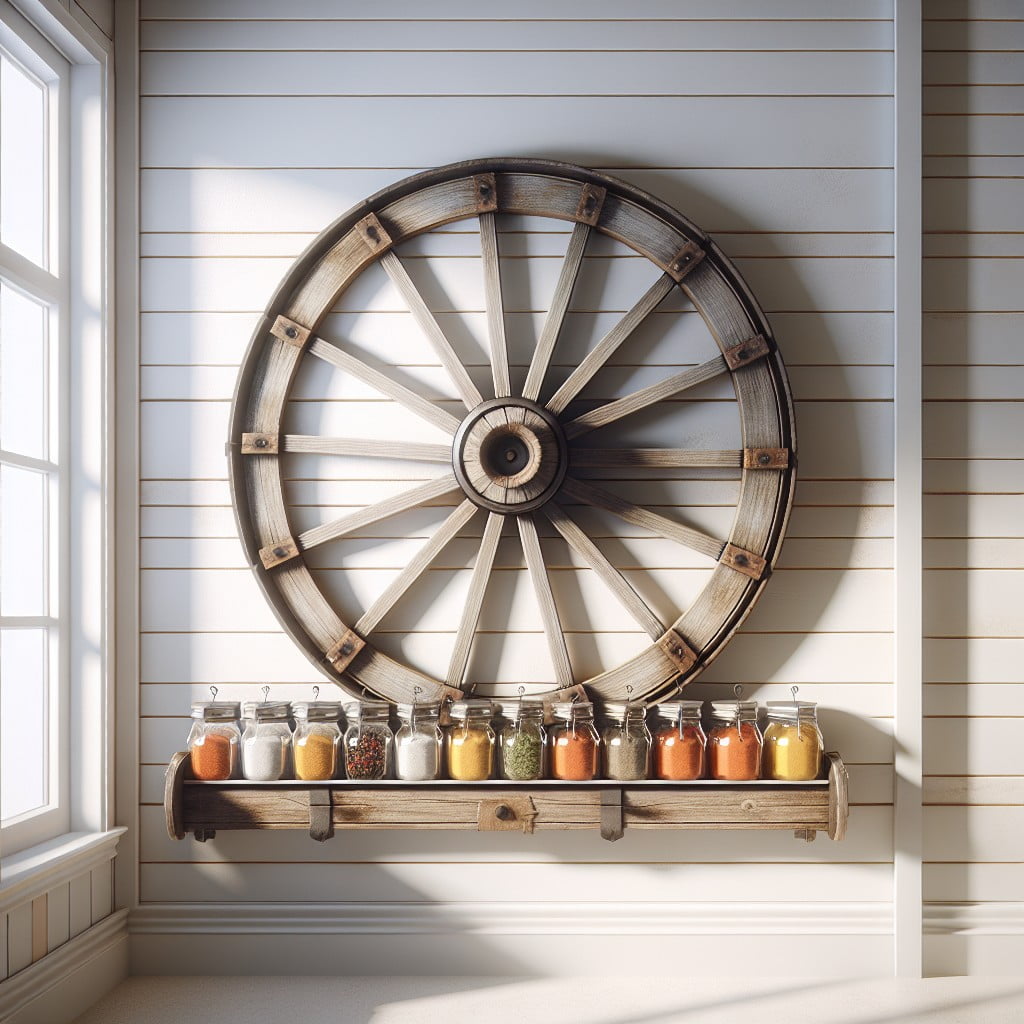 Repurposing an antique wagon wheel can give your spice collection a unique storage solution. The rustic charm fits perfectly within the farmhouse design aesthetic.
Bottle storage maximizes the wheel's spokes, providing an easy-view layout. Spices are just a turn away with the rotating functionality.
To further enhance its farmhouse appeal, consider mounting it on a barn wood backdrop. The combination of antique wood, metal, and your colorful spices will create a visually appealing focal point in your kitchen.
Practical, beautiful, and always a conversation starter – this spice rack idea seamlessly blends form and function.
Picket Fence Spice Rack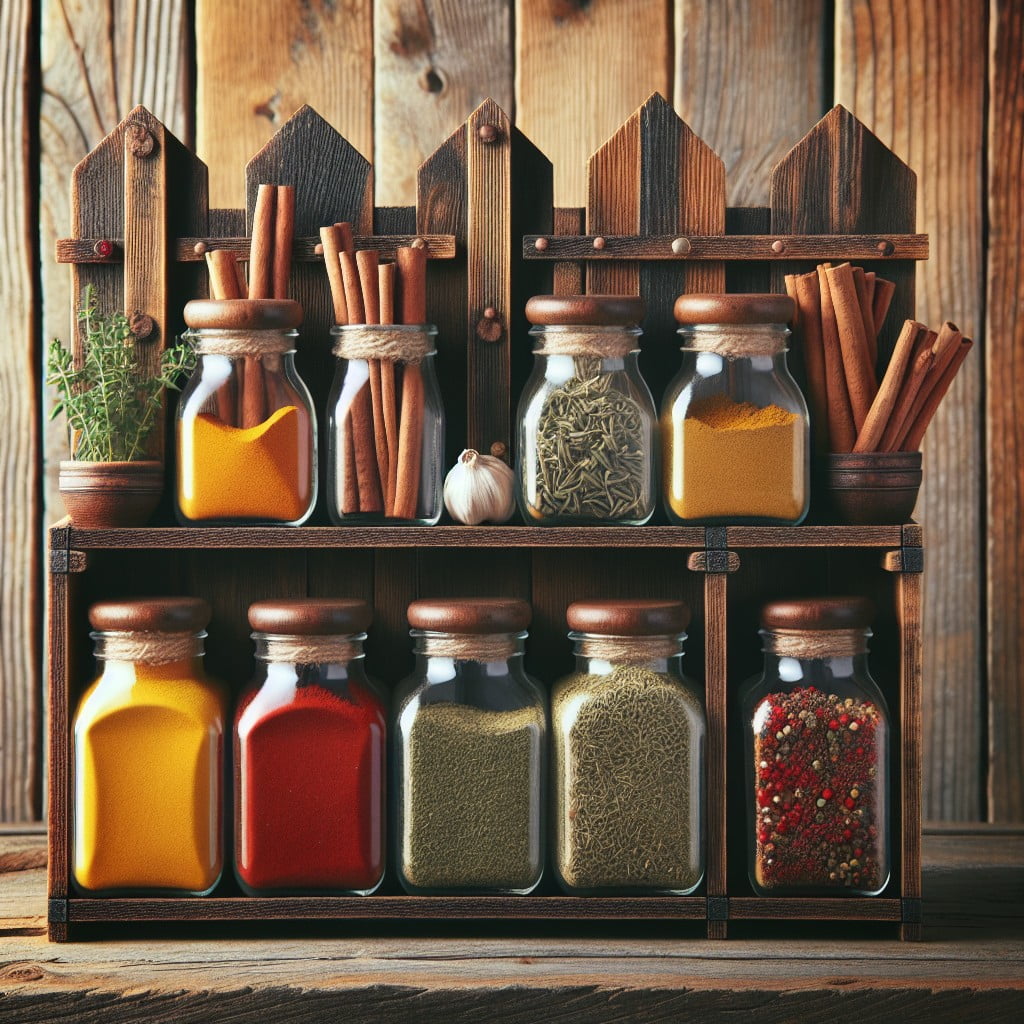 Choosing one such as a picket fence design brings a significant touch of rustic charm into your kitchen. Constructs with multiple shelves provide ample space for spices of varying sizes, ensuring easy access as you cook.
The white-washed wood often used in these designs enhances the farmhouse style, and the functionality does not stop at spices; small kitchen tools also fit perfectly.
All you require to build your own is a few wooden planks, nails, and a saw. An optional coat of paint can give your spice rack the desired vintage look.
DIY enthusiasts may enjoy this project, although many retailers offer ready-made designs with simple installation processes.
A vertical configuration makes it easy to affix to a wall or pantry door to save on countertop space.
Barn Wood Spice Rack
Embracing the spirit of a rustic, rural aesthetic, a spice rack crafted from barn wood serves as an ideal representation of farmhouse charm. By repurposing weathered and aged wood, you not only contribute to a sustainable lifestyle but also add a touch of natural allure to your kitchen.
Firstly, barn wood bears an intrinsic character with a story to tell; each grain, each knot and each rustic finish whispers of its past, making it a unique piece in your kitchen decor.
Secondly, its durability makes it suitable for holding heavy jars of spices or small kitchen utensils, combining functionality with style.
Lastly, whether mounted on the wall or placed on a countertop, it blends well with other farmhouse elements like stone countertops, distressed cabinets or industrial faucets.
Each rack can be customized to accommodate your space and spice array. Even the simplest design can transform your space into a rural retreat, adding a warming touch to your culinary adventures.
Mason Jar Wall-Mounted Spice Rack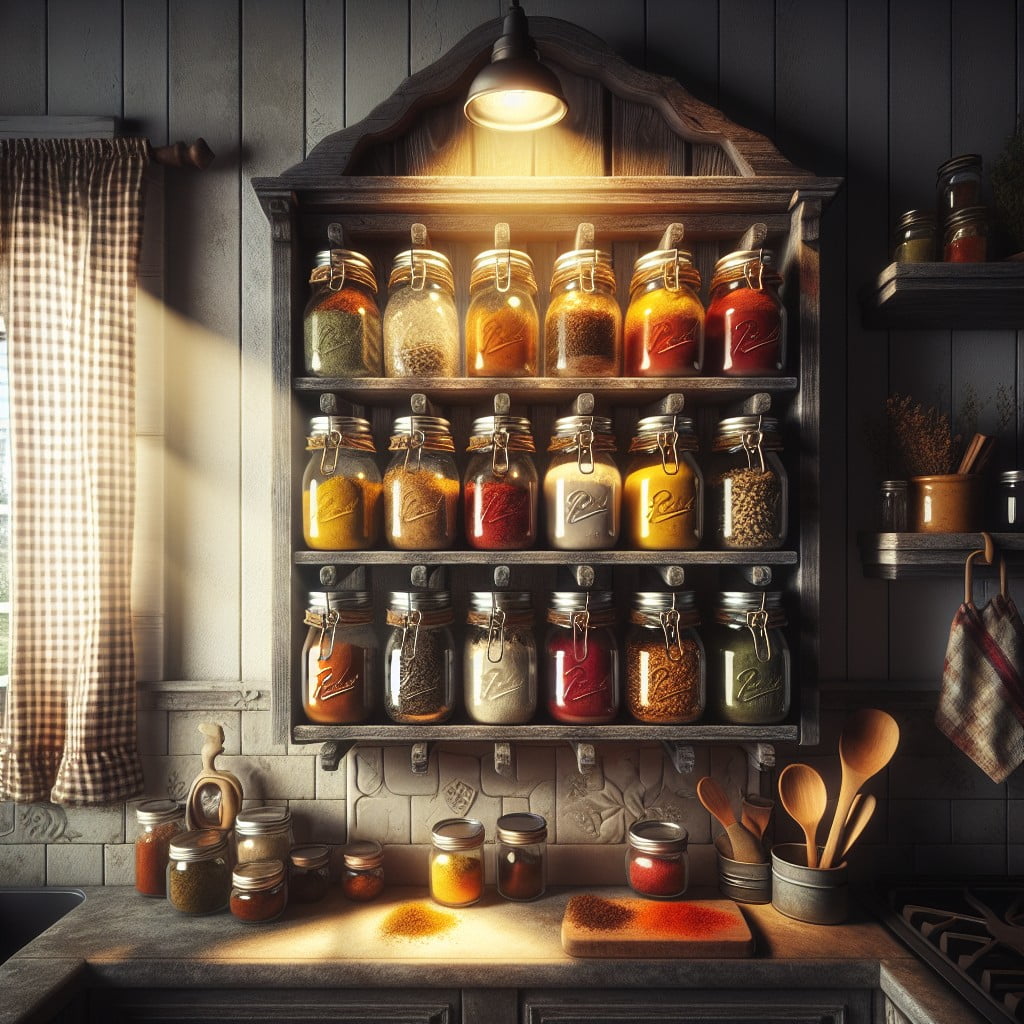 Perfect for the pantry or kitchen, these petite jars offer both cute aesthetics and practicality. The sheer material allows quick identification of spices with just a glance while keeping them fresh and dry.
To maximize space, they can be easily fastened onto a wood pallet or a board with hose clamps that secure the jars. A simple installation process creates a sturdy, space-efficient and easily accessible spice rack.
Be creative and paint the lids or label each jar for an extra personal touch. It's a charming, functional addition that embodies the heart of farmhouse style.
Copper Pipe & Leather Spice Rack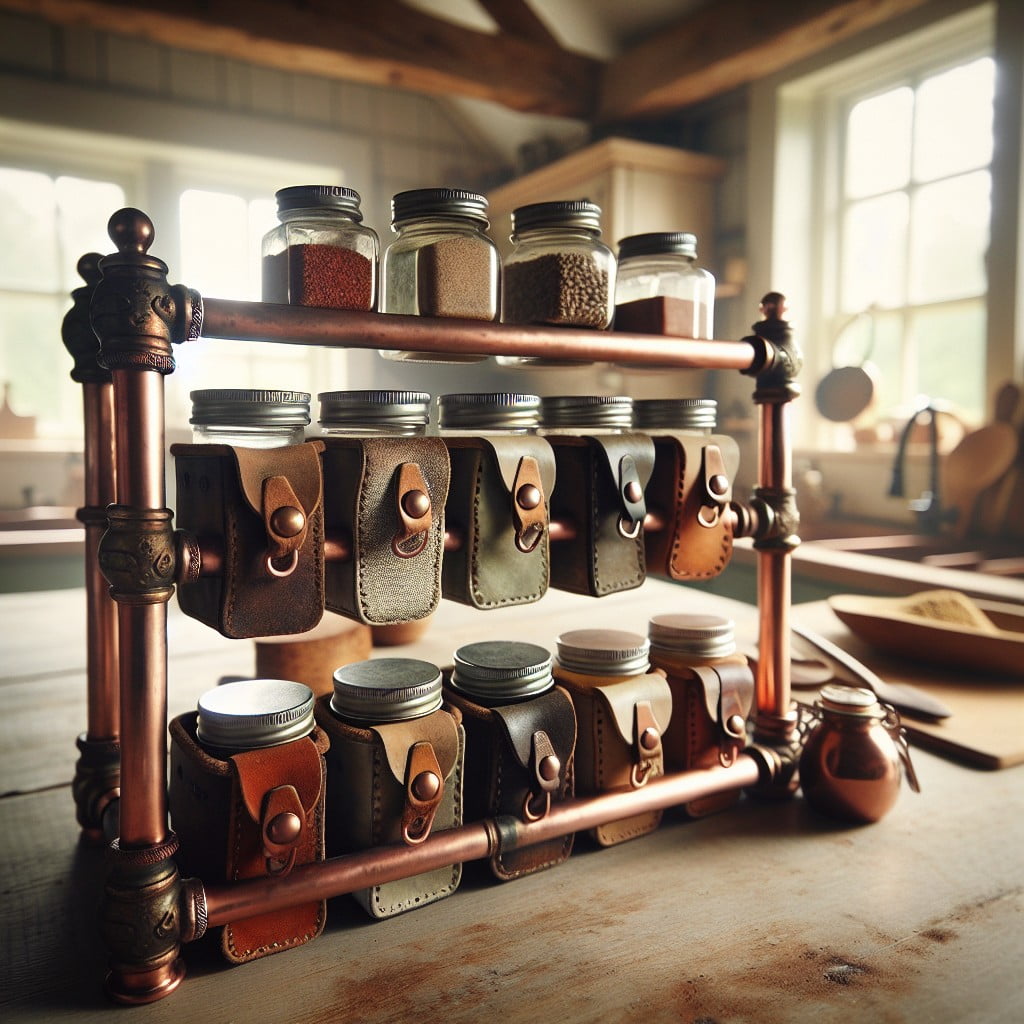 Combining the rich patina of copper with the rustic charm of leather, this spice rack design adds a touch of elegance to your farmhouse kitchen. Using lengths of copper pipe, cut to your desired size and secured with leather straps, you can create an innovative display for your spices.
The copper's warm tones marry beautifully with brown leather, evoking an antique patina, yet the look remains modern. This project isn't just for aesthetics, though. Your spice bottles slide into the pipes with ease, allowing for quick access while cooking, and the spaces between the pipes mean you can clearly see every label.
The flexibility of this design is another key point; it can be customized to fit any kitchen size or shape, making it a practical solution. Arrange the pipes in a row for a minimalist look, or group them in clusters for a more organic feel. If well polished and treated, this copper pipe and leather spice rack is durable, tarnish-resistant, and will develop a beautiful aged look over time.
Finally, the leather straps not only act to secure each pipe to the wall but also introduce a contrasting texture, enhancing the overall design's visual interest. Their rugged character complements the shiny copper, creating a stylish spice storage solution with a distinct charm that's truly farmhouse chic.
Stacked Crates Spice Rack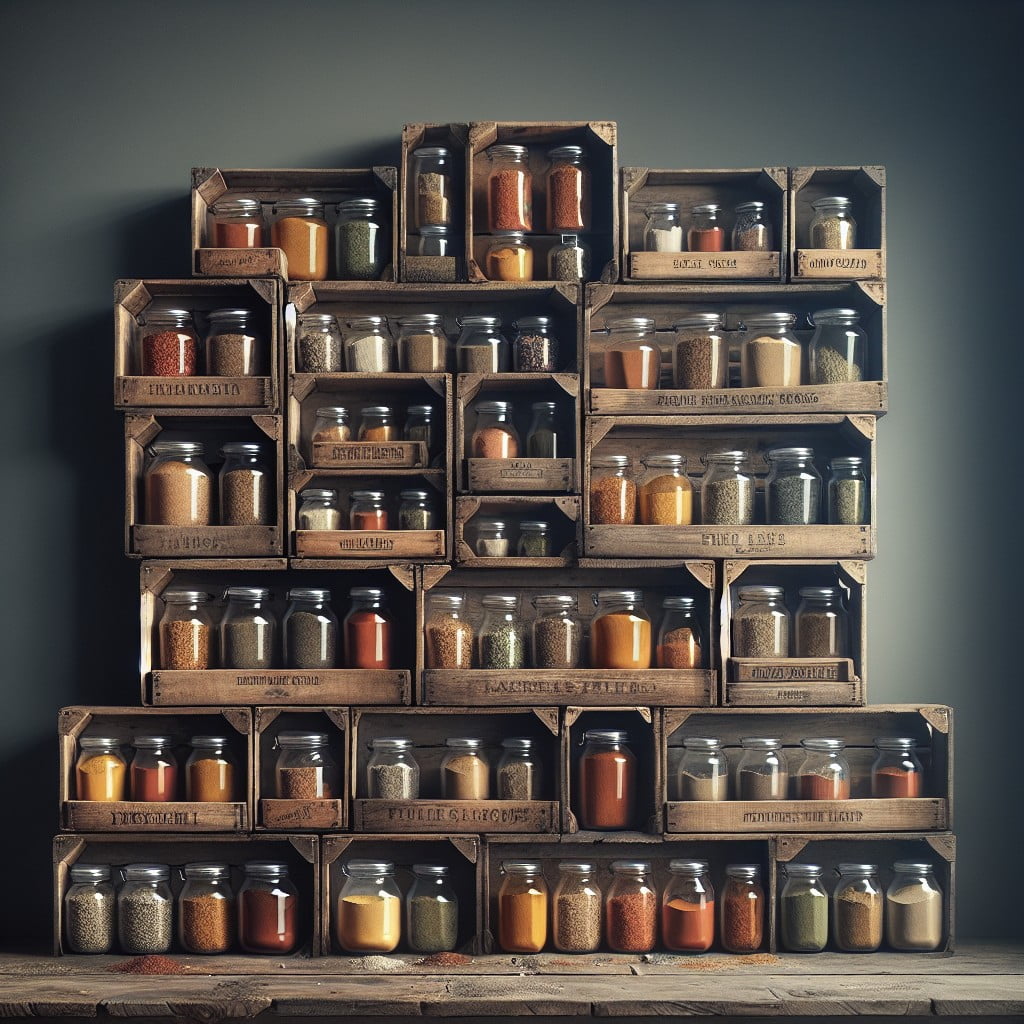 Ideal for those wanting a rustic touch with high functionality, Stacked Crates Spice Racks are incredibly versatile. These can be constructed from small wooden crates, found easily at antique stores or online. One appealing aspect is the flexibility in how many crates you use, catering to your storage needs.
Here are some key points:
Arrangement: Crates can be stacked vertically or horizontally, on countertops or mounted on walls.
Adaptability: Size can be adjusted by altering the number of crates; ensuring it fits flawlessly within your kitchen.
Style: Unfinished wood pays homage to rustic accents, but feel free to paint or stain for a personal touch.
Extra Storage: Some crates come with an open space at the side, perfect for storing larger bottles or kitchen accessories.
Window Frame Spice Rack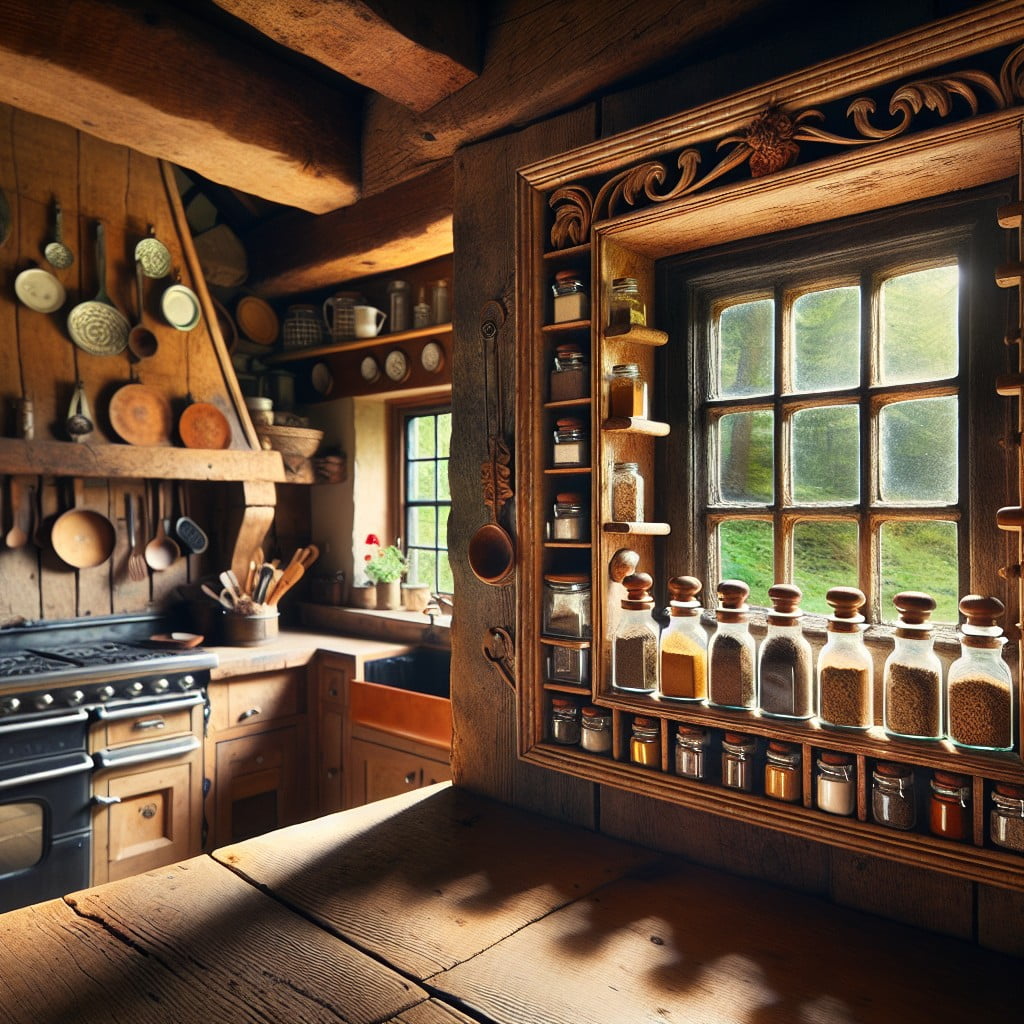 Capturing the rustic charm of a rural farmhouse, this option employs an old window frame as the basis for a distinctive spice rack. Attached shelving units turn individual window panes into a home for spice bottles, which not only fills your kitchen with nostalgia but also practicality.
Upcycled Design: Repurpose an old window frame as a spice rack, showcasing eco-friendly design.
Multi-Purpose: Individual panes allow you to categorize the spices according to your preference, making the rack both a statement piece and an organizer.
Vintage Charm: The distressed look of the window frame can add a touch of antique aesthetic to your kitchen area.
Easy Installation: Directly mount the window frame to the kitchen wall. Ensure a sturdy attachment to hold the weight of spices.
Customizable: Feel free to paint or varnish the window frame as you wish, to match your kitchen decor.
Aside from being a decorative element, it is highly functional and easy to reach, making your cooking endeavors more convenient. The window frame spice rack is truly one-of-a-kind, adding character to your farmhouse-style kitchen.
Teacup Shelf Spice Rack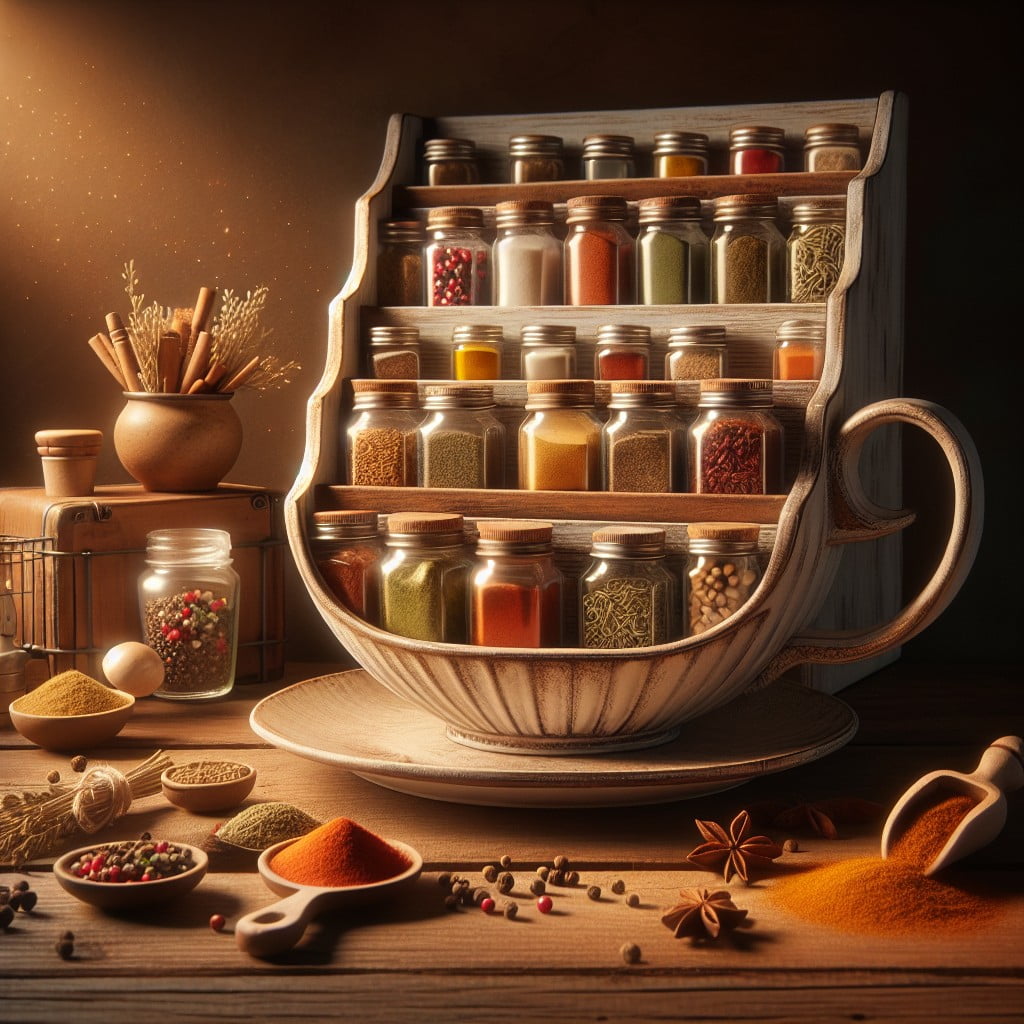 A teacup shelf takes a charming turn when used as a spice rack. The tea-invoking nostalgia fits perfectly into the farmhouse aesthetic.
1. Size and Design: Typically compact, it can fit into tight spaces in the kitchen. Many designs offer a mix of both small and large compartments which serve well for various spice container sizes.
2. Easy Installation: Fixing it to the wall can be all it takes to set up a teacup shelf spice rack. Its lightweight nature prevents complications during installation.
3. Creativity: From painting to stenciling, possibilities of customization are endless. Personal touches really amplify the charm of a teacup shelf spice rack.
4. Accessibility: The open shelf design ensures easy access to spices. No more fumbling in confined cupboards during the peak of dinner preparation.
5. Cost-effectiveness: A thrift store or unused teacup shelf at home can be given a quick makeover to serve as a spice rack. Making this project not just creative but also economical.
In essence, a teacup shelf spice rack addition to the kitchen is ideal for those who appreciate vintage charm and practicality.
Reclaimed Dresser Drawer Spice Rack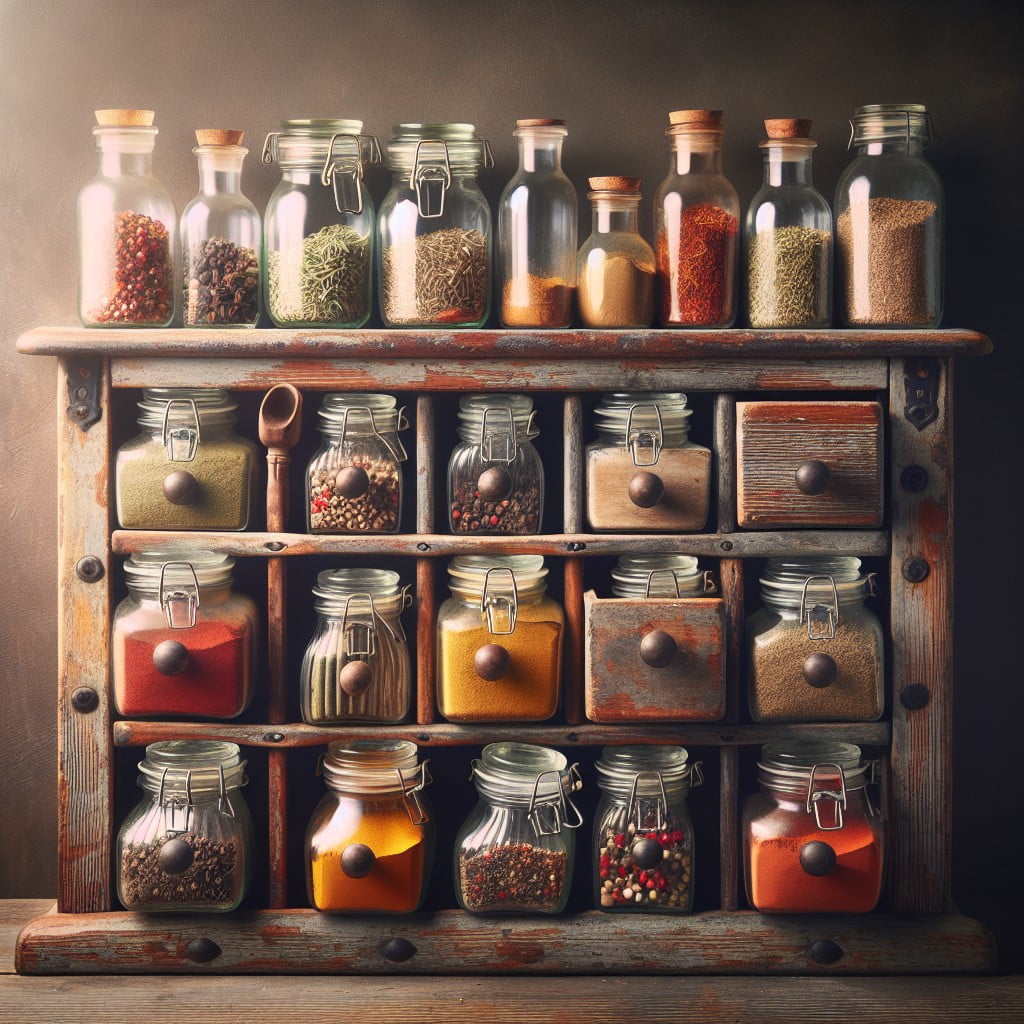 Combining function and vintage charm, using a reclaimed dresser drawer offers a creative alternative to the standard shelving unit. Here's why:
1. Space Efficient: A retired dresser drawer is sizable, facilitating storage for an extensive range of seasonings.
2. Customizable: Drawer dividers can be installed for better organization, or hooks can be added to the sides for hanging smaller items.
3. Cost-Effective: Instead of spending on high-end racks, recycling a dresser drawer not only saves money but also adds a touch of nostalgia to your kitchen.
4. Unique Aesthetic: The wear and tear of the drawer give it an authentic rustic look, aligning well with the farmhouse style.
5. Easy Installation: Simply mount the drawer onto your kitchen wall and you have a ready-made spice rack.
Remember, embracing this idea requires you to pay attention to details. Opt for a drawer with sturdy wood and consider applying a fresh layer of paint or varnish to accentuate its rustic appeal.
Shabby Chic Tiered Spice Rack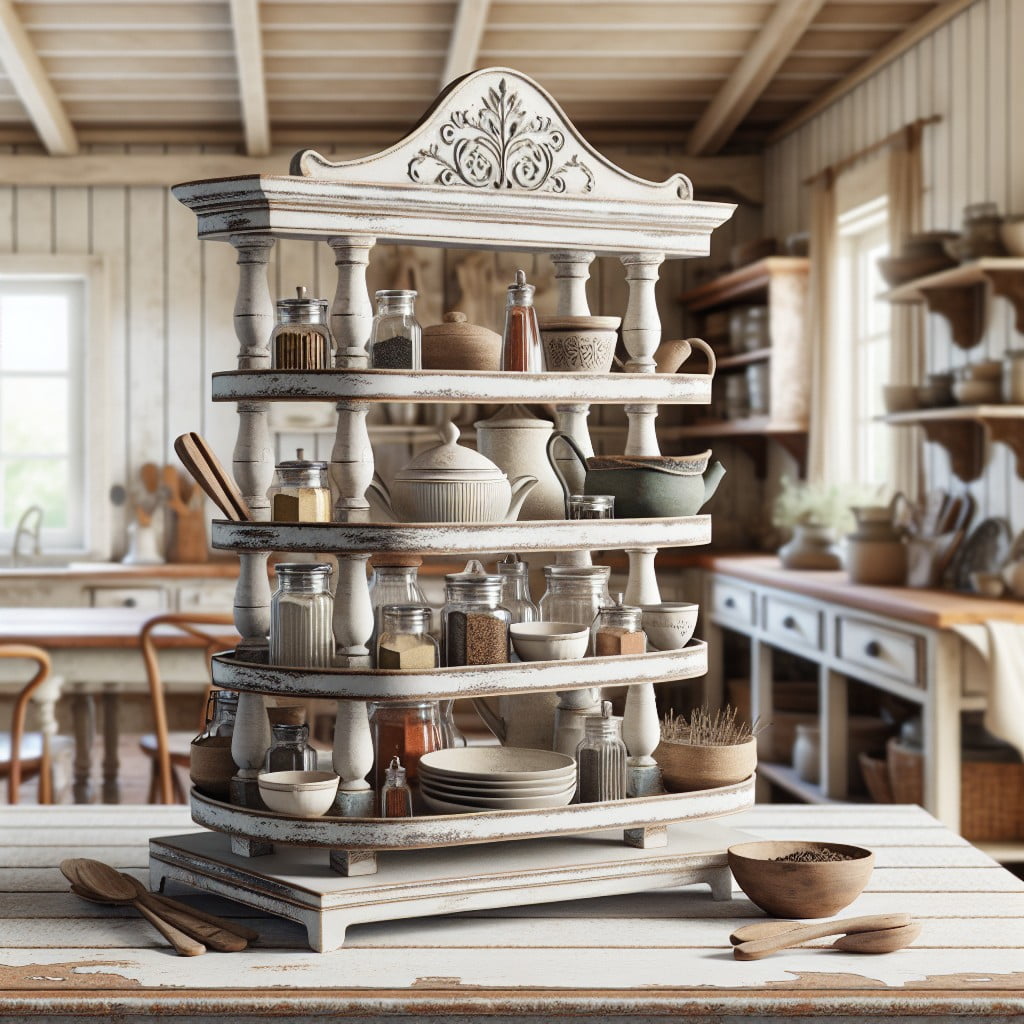 Breathing life into vintage items, this design showcases a unique, multi-level approach. The key to a successful tiered setup is selecting pieces with varying heights and dimensions. It's not uncommon to repurpose a used cake stand or even a retro three-tiered dessert tray.
Delicate, distressed finishes are staples of the shabby chic aesthetic—pastel or whitewashed hues are especially popular. Combine these with floral or lace accents to bring a touch of feminine charm to your spice storage solution.
Porcelain knobs or ornate metal handles give an added appeal that screams 'found' rather than 'store-bought'. Lastly, consider using chic, uniform, labelled containers for your spices to maintain aesthetic consistency across all levels of the rack.
Vintage Toolbox Spice Rack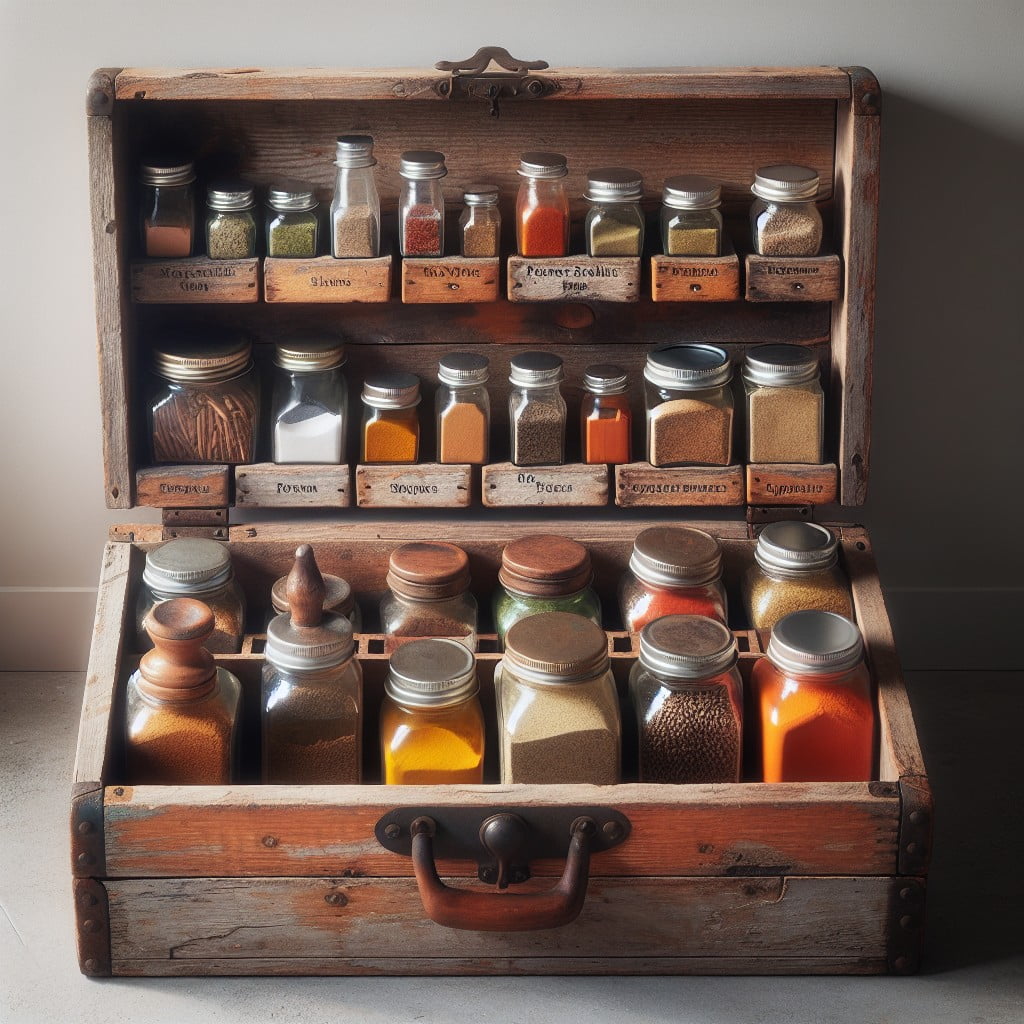 This unique spice rack style possesses a nostalgic charm that's hard to resist. It bears the distinct character of times gone by, invigorating your kitchen with a touch of history. A vintage toolbox, preferably made of wood, is ideal – its compartments serve as perfect holders for your spice jars.
Visual Appeal: The rustic, weathered appearance lends a striking aesthetic to your kitchen. Each scratch and dent tells a story, making it a conversation starter.
Space Efficient: A vintage toolbox typically has multiple compartments, providing ample room for various spice jars.
Easy Accessibility: The open setting allows for easy visualization and retrieval of your spices.
Functional Repurposing: It's an excellent example of upcycling, repurposing an old item, thereby mitigating waste and promoting sustainability.
Remember, it doesn't have to be perfect. The imperfections add to the vintage charm. Supplementary, consider using chalkboard paint or labels to identify different spices. A coated spritz of sealant will secure the old paint, preserving its antique magic.
Repurposed Pallet Spice Rack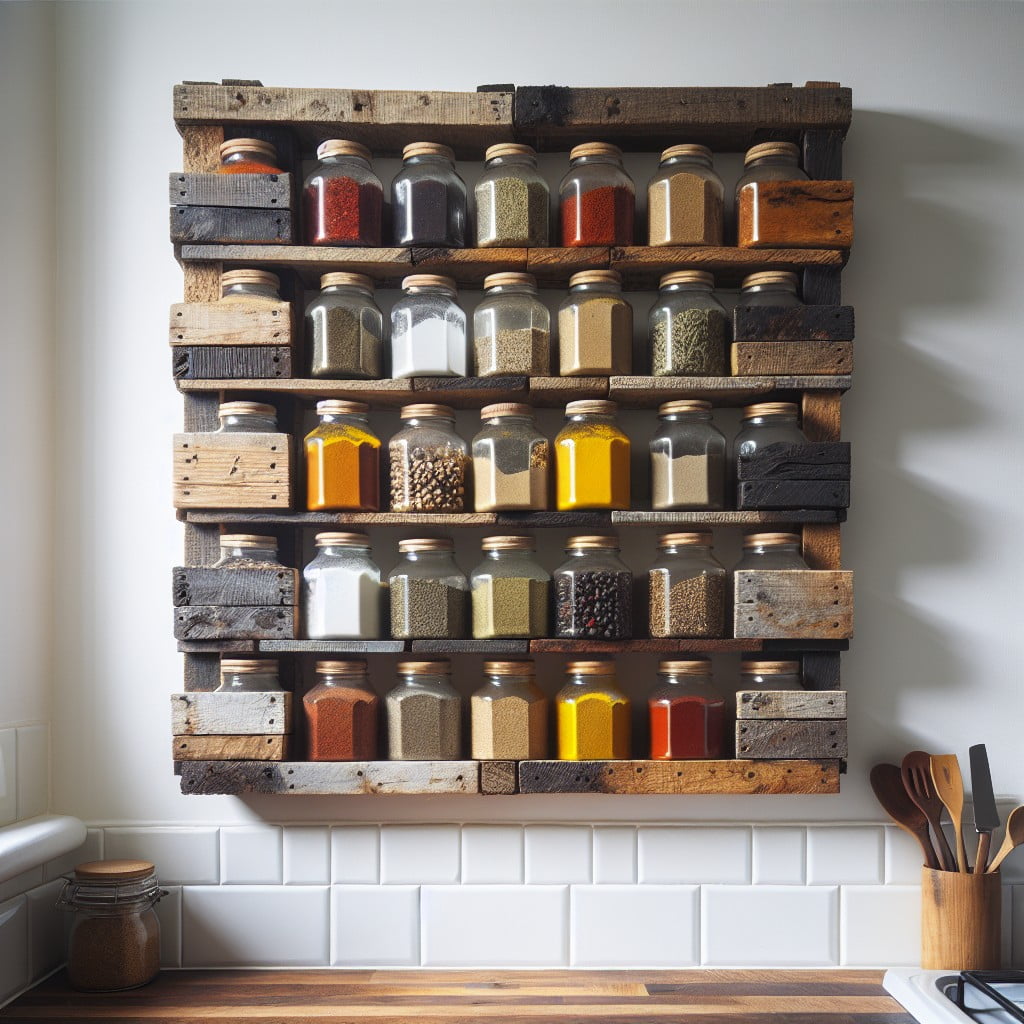 Creating this spice rack involves disassembling an old pallet and removing excess nails or other hardware. Once clean, cut your desired length and sand it down to avoid splinters. You can now paint, stain or leave it untouched for a rawer look.
Arrange your repurposed slats vertically, horizontally, or in any pattern that suits your need for space and balance. Attach small shelves to accommodate your spice jars, ensuring they're sturdy enough to hold weight.
You can hang this rustic, yet modern, piece on your kitchen wall, offering a unique and functional way to organize your favorite spices. It adds character to your space while promoting recycling and sustainability. Remember to secure it safely, especially overloaded shelves can pose a risk. Lastly, arrange your spices in alphabetical order, color, or even size to easily locate them when cooking.
Country Appeal Rattan Spice Rack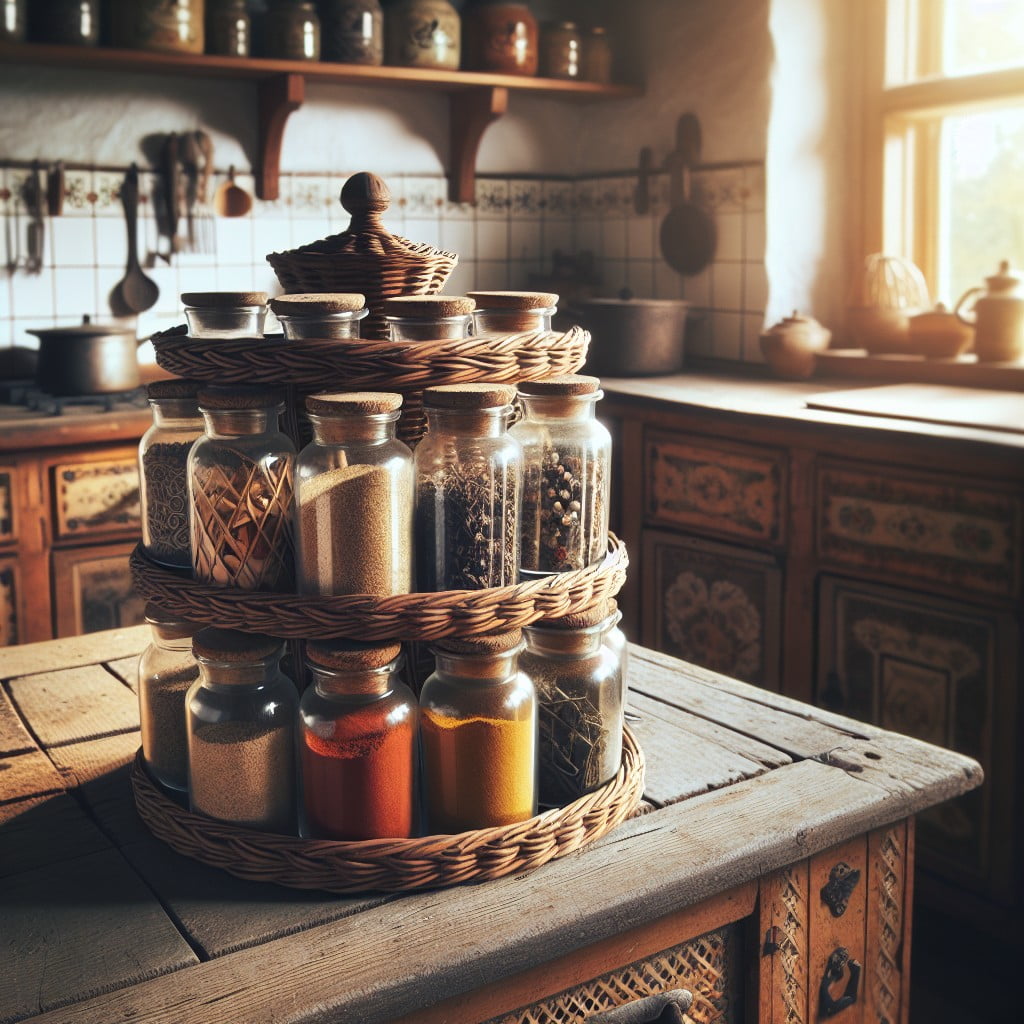 Crafted from slender but robust reeds of rattan, this rack is a striking combination of elegance and sturdiness. Its natural, country appeal comes from its organic materials and nuanced coloring, allow it to blend easily with a wide variety of decor styles. Its versatility is a key feature. This rack can be hung on a wall, placed on a countertop, or tucked inside a pantry to efficiently store and display your spices.
Not only does a rattan spice rack provide a charming rustic aesthetic to your space, but it also offers practical benefits. It houses a varied collection of spice jars, big or small, without making your counter appear cluttered, thanks to its compact design.
Able to withstand the rigors of the kitchen, rattan's durable construct rounds out the benefits of a Country Appeal Rattan Spice Rack. With its organic elegance and durability, it's certainly an option worth considering for a farmhouse style kitchen.
Farm Tools Wall-Mount Spice Rack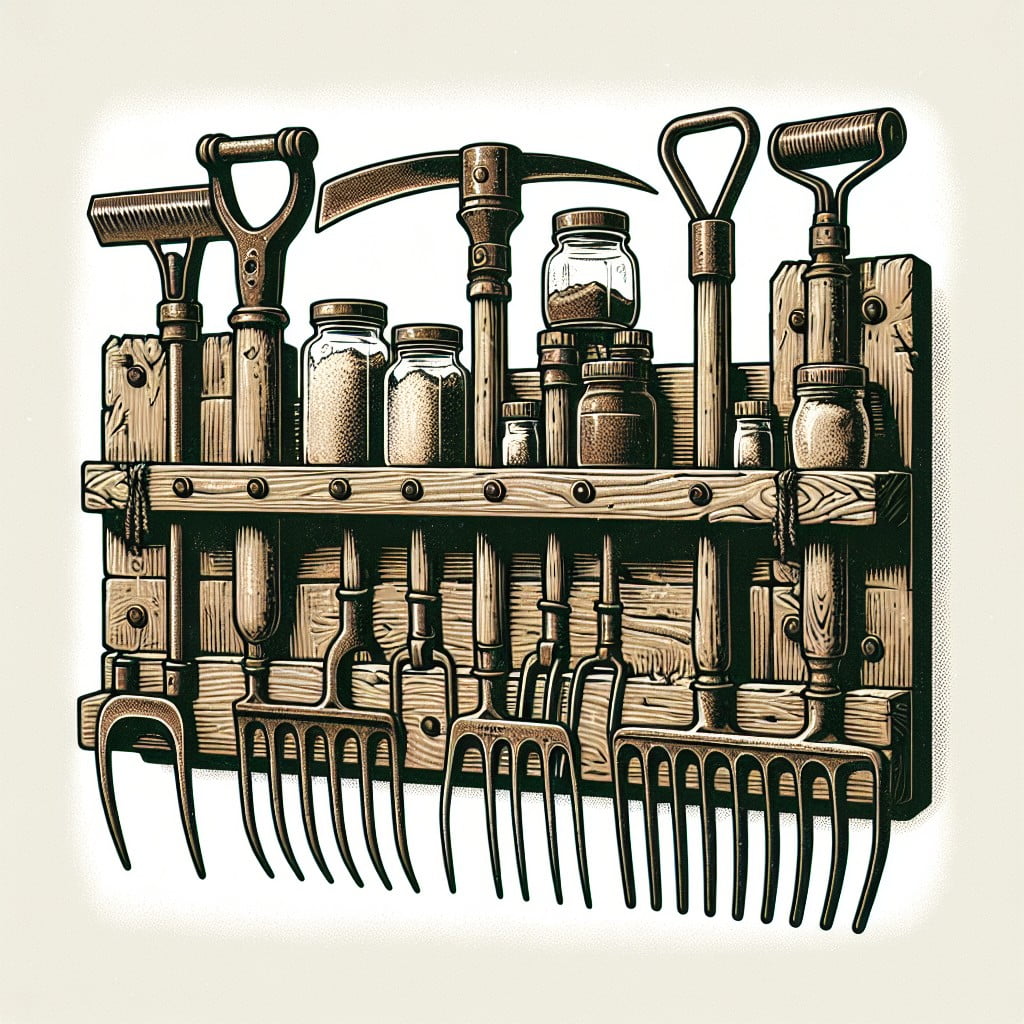 Further enhancing the rural ambiance, salvaging and repurposing old farm tools for a unique, wall-mounted spice rack is an adventurous yet attainable DIY project.
1. Tools: Opt for those with a bit of history but ensure they're still sturdy and safe. Old rakes, shovels, or even planks from discarded crates can work exceptionally well.
2. Preparation: Clean your chosen tools thoroughly and treat them if necessary. That might mean applying a new coat of paint, sanding down rough edges, or treating the material to prevent further decay.
3. Install Shelves: Depending on the tool, this can vary. For items with wide flat surfaces, like a shovel, secure small timber shelves onto the surface. With an old rake, consider hanging spice containers from the individual prongs.
4. Mount to the Wall: Affix your newly fashioned spice rack to a wall, ensuring it is well secured and capable of holding the weight of your spices.
Remember, this project links your love for cooking with your passion for the farmhouse style, creating a functional, conversation-starting kitchen feature in the process.
Provincial Garden Ladder Spice Rack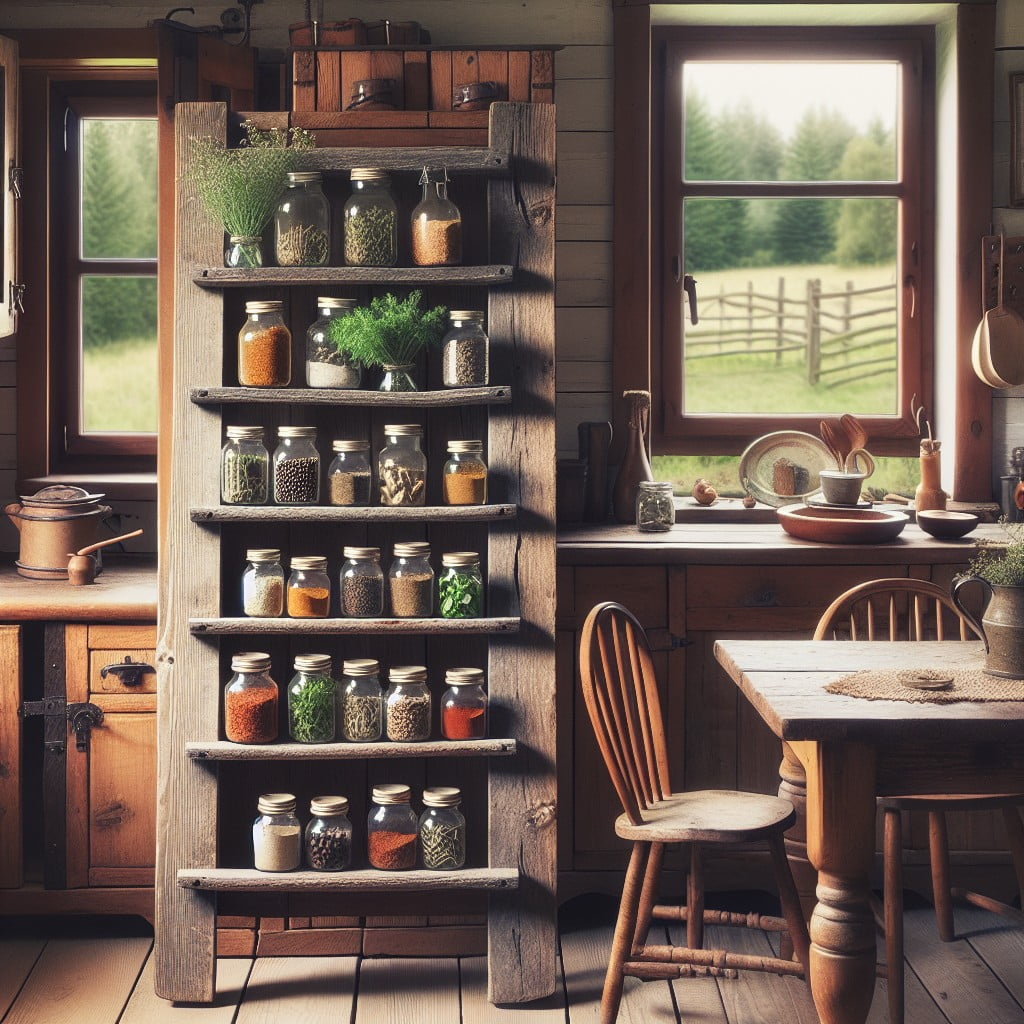 The charm of this design lies in its simplicity and its ability to blend seamlessly into any kitchen setting. The idea is to repurpose a conventional garden ladder into a functional and aesthetically pleasing spice rack.
1. Material & Construction: Ideally, opt for a wooden ladder with broad steps that provide sufficient space for spice jars. You may use a worn-out ladder for a more rustic vibe or paint a new one to match your kitchen's color scheme.
2. Placement & Installation: The ladder can be placed against a wall or hung. Ensure it's at a convenient height for easy access to your spice jars.
3. Arrangement: Organize your spices on each step. You can sort them alphabetically or categorize them based on your usage frequency.
4. Additional Details: Consider adding labels to the jars or installing small led lights on or under the steps for added convenience.
5. Versatility: This rack is not confined to holding spices. Feel free to use it to store jars of honey, tea bags, or even small kitchen utensils.
In essence, the Provincial Garden Ladder Spice Rack represents a perfect blend of utility and aesthetics, bringing a touch of the countryside right into your kitchen. It's not just a storage solution, it's a style statement.
Horizontal Log Spice Rack
Creating a spice rack from a horizontal log offers a thrilling blend of raw nature and functional design. It's authentic and rugged, evocative of a cozy cabin.
Here's what to keep in mind:
Selection – Opt for a sturdy piece of wood, ideally a log that's not too thick but wide enough to drill holes for your spice jars.
Preparation – Cleanse the log to remove any dirt or insects. Dry it properly to prevent future rot.
Customization – The diameter and depth of the holes should be based on the size of your spice jars. Space the holes evenly for a neat look.
Finishing – Smooth out the edges for a polished appearance. Don't overdo it though, the charm of this rack lies in its rough-hewn feeling.
Mounting – Drill holes at the back of the log for easy wall mounting. Alternatively, it can lie flat on a kitchen counter.
Keep in mind, this design is not only sustainable but also caters to customization — add as many holes as you need, paint it or leave it in its natural state. It's all about creating a piece that blends seamlessly with your kitchen aesthetic.
Wire Basket Spice Rack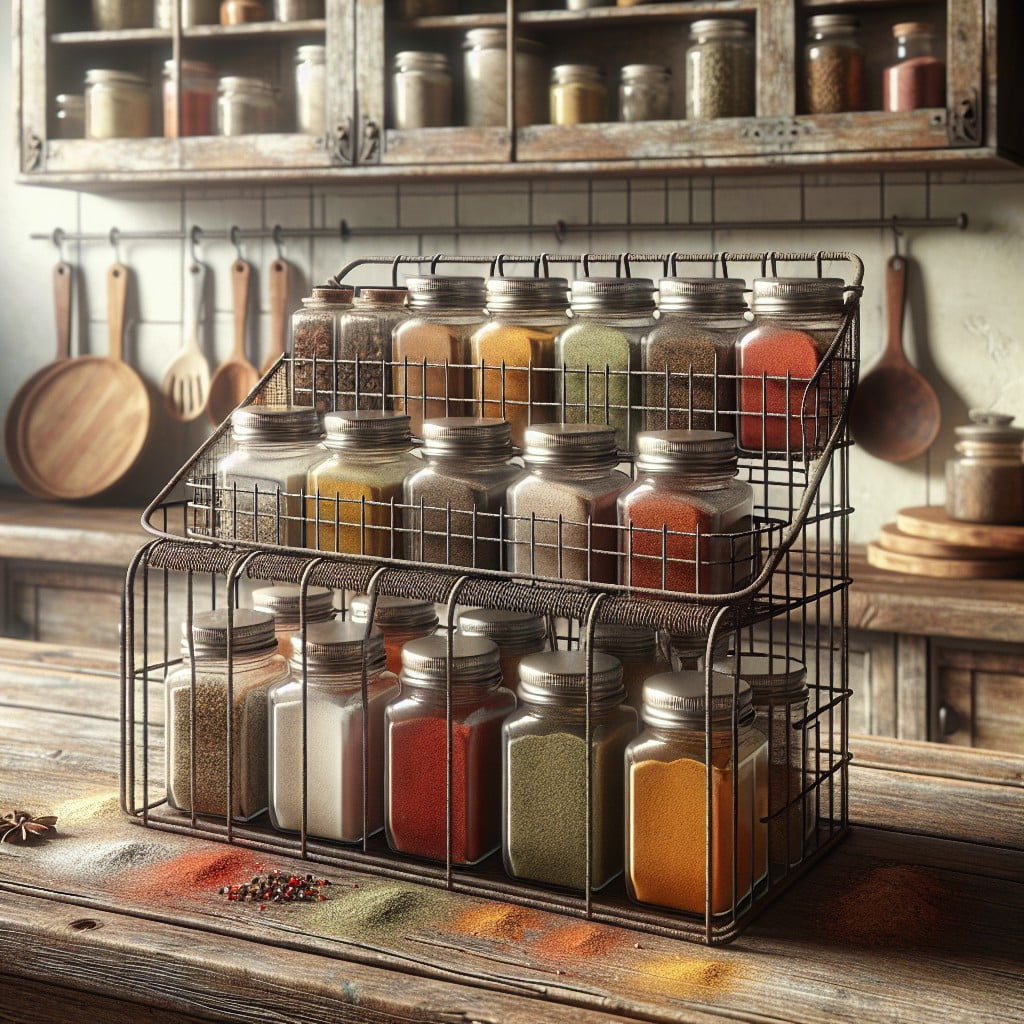 A wire basket spice rack offers a practical yet aesthetically pleasing solution to your kitchen chaos. These racks, with their open design, provide easy access to your spice jars while enabling you to see labels effortlessly. For effective utilization, consider labels on the top of your spice jars.
One remarkable aspect of this rack is its adaptability. It can be readily mounted on the wall, hung under a cabinet or even placed on the countertop, depending on your kitchen layout and needs. Choose a spot that's within reach yet out of the way of intense heat.
The flexibility doesn't end here; wire baskets come in numerous shapes and sizes. From single large basket racks for a more minimalist look to multi-tiered designs for kitchens with diverse spice collections, there's a design to cater to all.
Finally, a wire basket rack allows options for customization. From painting it to match your kitchen's color scheme to accessorizing it with hooks for additional storage, the possibilities are endless. It is all about having fun with your space and making it your own.
Though easy to clean, regular maintenance is advised to avoid accumulation of dust and grime. A simple wipe down with a wet cloth or a duster usually suffices. This rack's charming rustic aesthetic is as impressive in a modern kitchen as it is in a more traditional setting, making it a versatile choice for all homes.
Whitewashed Wood Spice Rack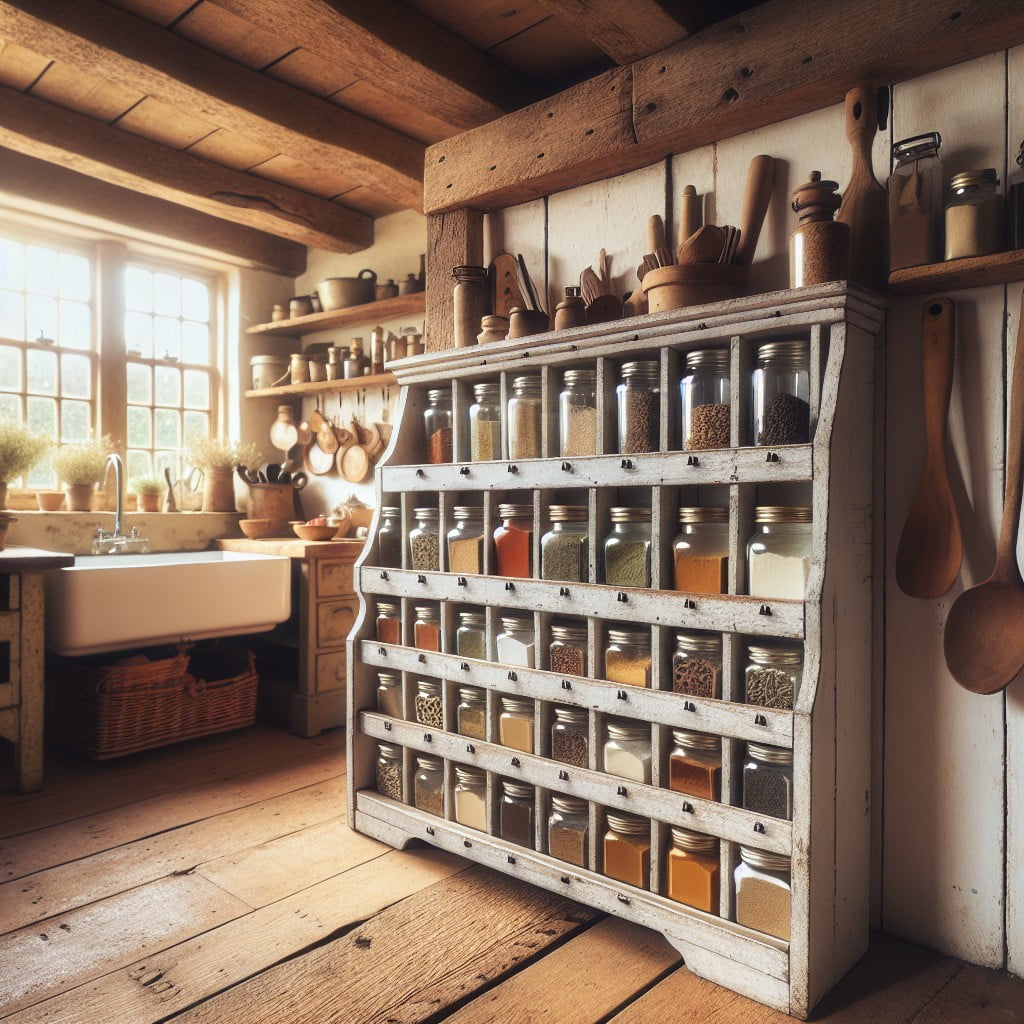 Whitewashed wood offers a nuanced rustic appeal, making it an excellent choice for a farmhouse style spice rack. Capturing the charm of weathered paint, it brings a versatile warmth to your kitchen decor.
To further enhance this look, consider distressed wood, allowing natural imperfections to shine; knots, cracks, and grain variation add character and authenticate the rustic theme.
Options range from mounted vertical racks, convenient for saving counter space, to tabletop two-tier constructions for easy access. Some designs incorporate chalkboard labels, adding a delightful touch of charm while keeping spices in order.
For a personal touch, DIY enthusiasts can construct their own from reclaimed wood, achieving a satisfying sense of accomplishment.
Remember, the goal of the farmhouse design is functionality alongside style. Whitewashed racks are not only eye-pleasing but provide organization and accessibility, simplifying meal preparations and keeping your kitchen tidy.
Ideas Elsewhere
Liked reading this? Here's more:
Recap: