Last updated on December 1, 2023
Revamp your kitchen space with ingenious spice rack door hanger ideas because these savvy solutions neatly store seasoning essentials while maximizing efficient use of space.
I've designed unique illustrations for these ideas. I hope you get inspired!
Spice up your kitchen life with inventive spice rack door hanger ideas that you've possibly never considered before.
Prominently, the internet is a vast world of ideas, with numerous impressive solutions currently available.
As much as we appreciate those existing ideas, this article tries to bring a new twist to the table.
We aim to pepper your creativity with fresh and unique perspectives, intentionally crafting a list that you may find insightful and helpful.
And don't worry, we'll also ensure you can conveniently access the resources to the best-existing ideas at the end of the article.
So why not have a look? Perhaps that spark of inspiration you've been waiting for is right here!
Dive into these flavorsome ideas to keep your spices organized and your kitchen stunning!
Over-the-door Adjustable Spice Rack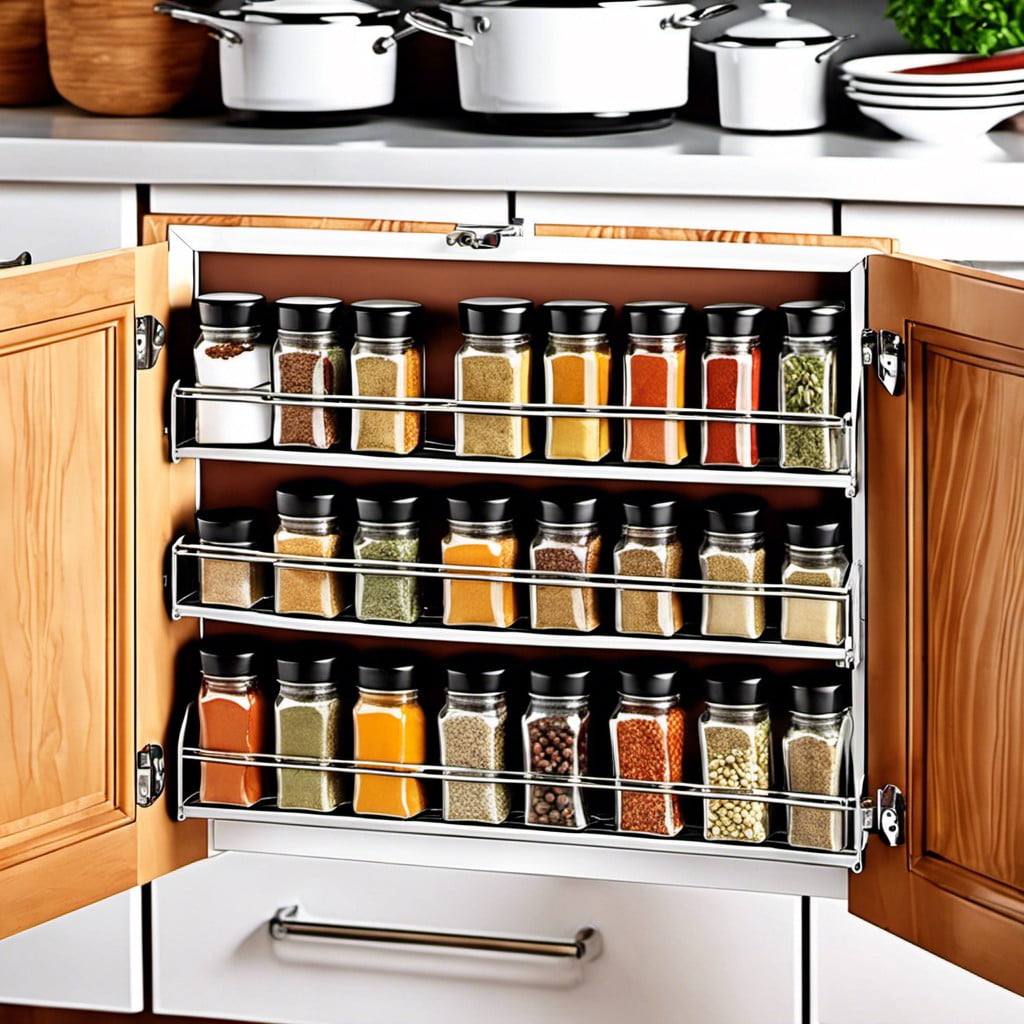 This handy option offers maximum flexibility. It comes with adjustable shelves that can be moved to suit the sizes of your spice bottles.
It doesn't require any tools or hardware for installation; simply hook it over your pantry or kitchen cupboard door. Its design is unobtrusive, ensuring nothing leaning or getting in the way when you close your door.
An added benefit, it serves its purpose without consuming much of your kitchen space. Durable materials like stainless steel or hard plastic are commonly used in this design, making it a long-lasting solution.
Magnetic Spice Rack Door Hanger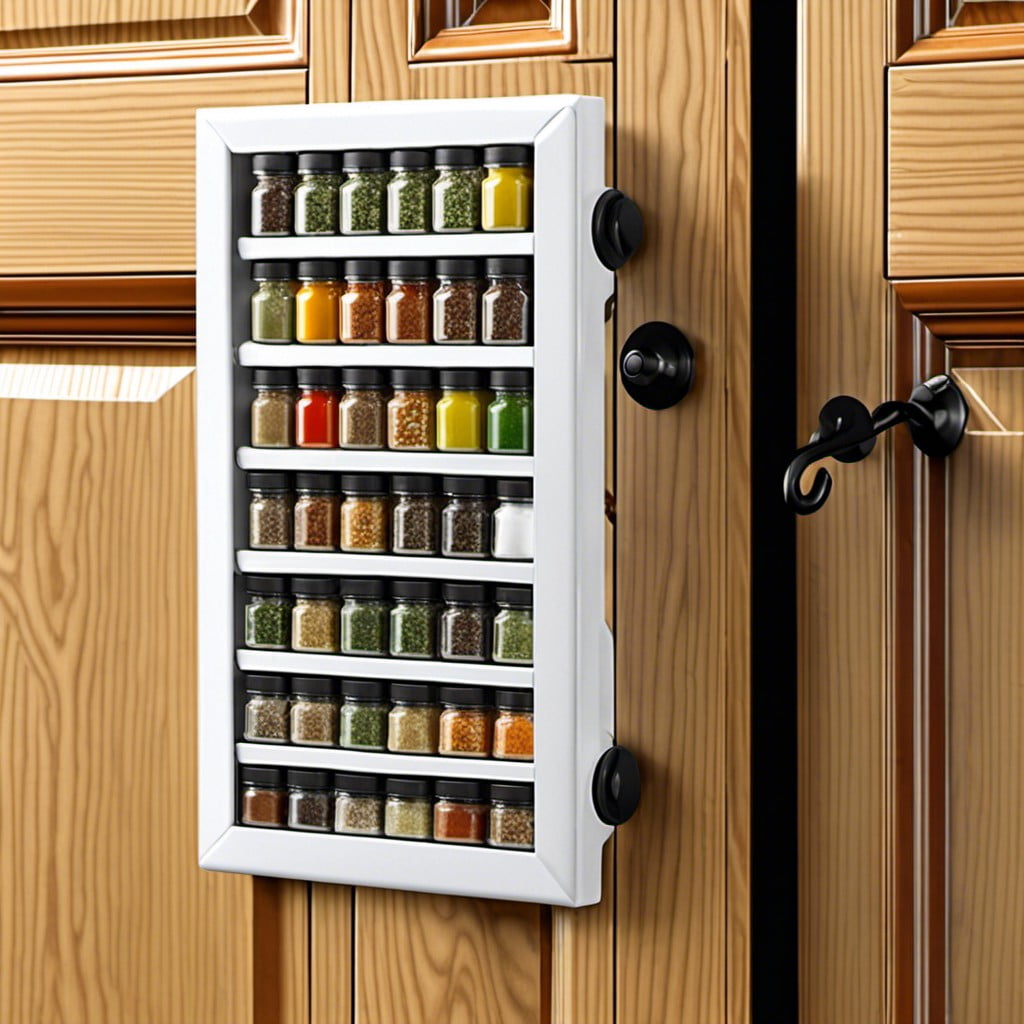 Magnetic racks offer a sleek, modern solution for spice organization. They work particularly well on the inside of metal doors or on refrigerators.
They have individual magnetic containers you can fill with your preferred spices, allowing for an easy and convenient approach to accessibility. They save space and can be effortlessly installed or removed without leaving any permanent damage.
In addition, the containers' clear tops make identification effortless. Each steel box attaches directly to the metal surface, setting up an effective space-saving method in your kitchen.
However, if your door is not made of metal, you can attach a thin metal strip to the door, and the racks will work just as efficiently.
Wire Mesh Door Hanging Spice Rack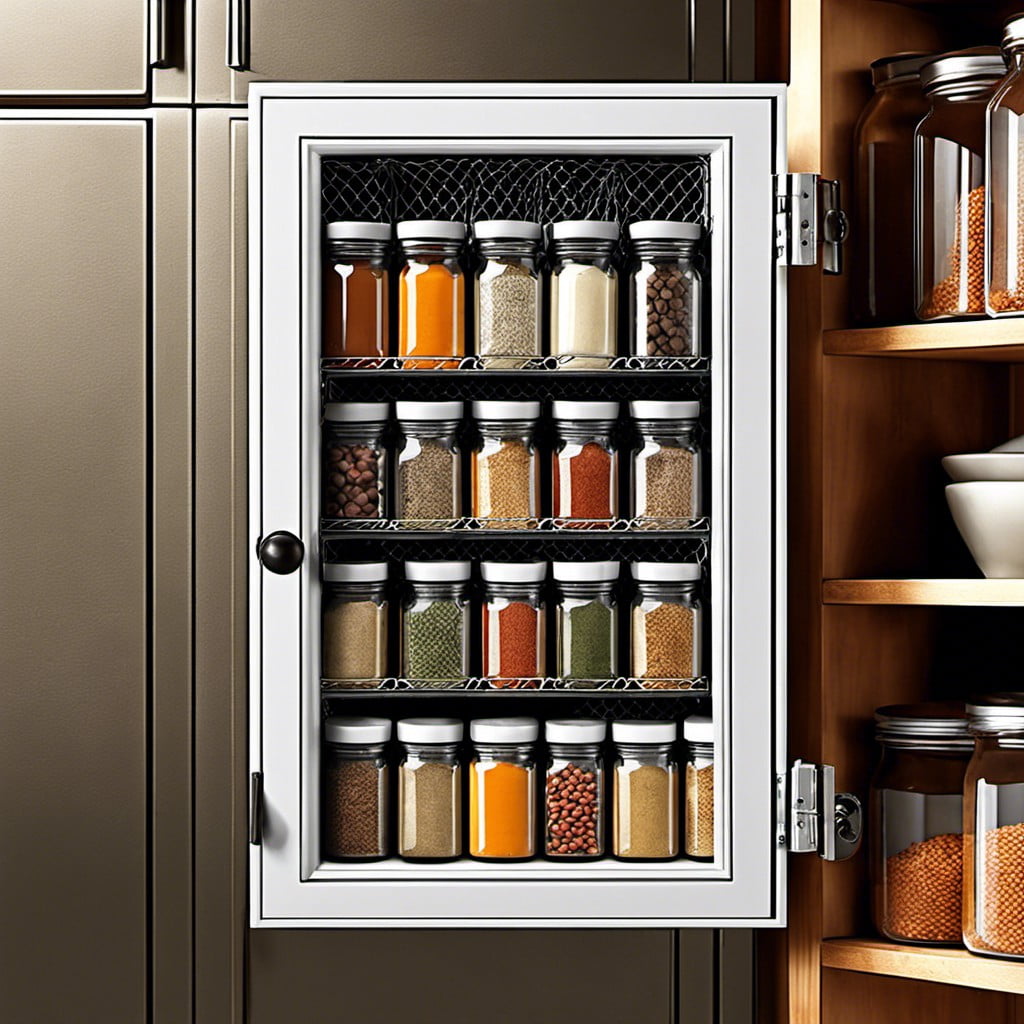 Emphasizing practicality and simplicity, the wire mesh rack is a popular choice. Its sturdy construction ensures a secure space for your spices, while its open design allows clear visibility and easy access.
The grid format allows for the adjustment of jar sizes, supporting small to large containers. Often light-weight, installation on the inside of cupboard or pantry doors requires minimal effort.
The aesthetic is modern and crisp, pairing well with a variety of kitchen decor styles from streamlined contemporary to rustic farmhouse. Most are offered in a range of finishes like classic chrome or matte black, thus providing choices to match your hardware or contrast with your cabinetry for a stylish pop.
Its affordability and durability complete the appeal of this option.
Bohemian Woven Spice Rack Hanger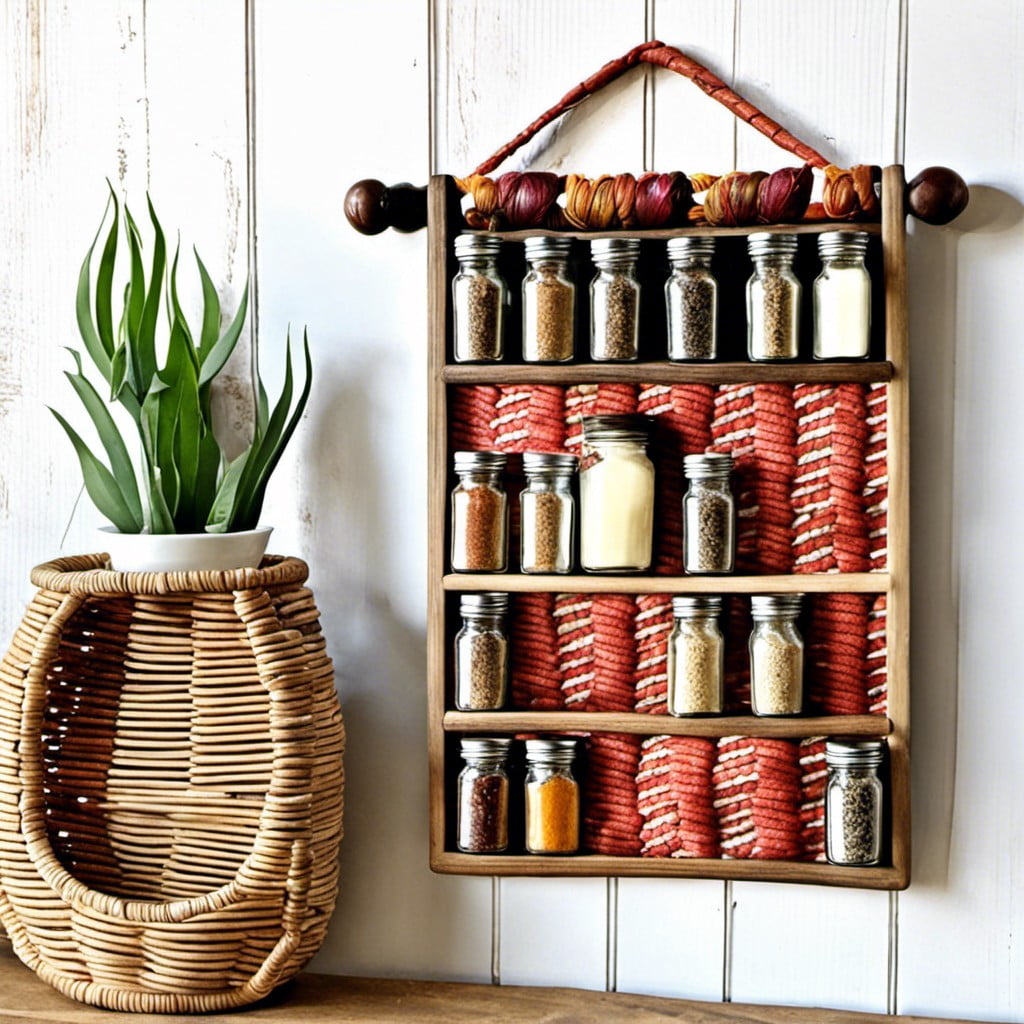 Crafted from natural materials with complex patterns and rich textures, this style of spice rack brings an earthy warmth to your kitchen. The open weave allows visual access to your spices while adding an artistic touch to your door.
Consider the following points:
Size and Shape: The design often features multiple layers of varying shapes. The assortment of sizing options caters to both large and miniature spice containers.
Material: Typically, these are made from materials like wicker, rattan, or cotton thread, extending their appeal to eco-conscious individuals.
Installation: They are easy to install, usually requiring only a few hooks or nails.
Accessibility: The open design means spices are easy to view and access.
Climate Consideration: Their breathable nature allows air circulation which helps prevent moisture buildup, maintaining the integrity of your spices.
Décor Blend: Its versatile aesthetic blend easily fits into multiple décor themes, not just Boho.
Make sure to measure your door carefully before choosing this option, ensuring a perfect fit without hindrance.
Metallic Pallet Spice Rack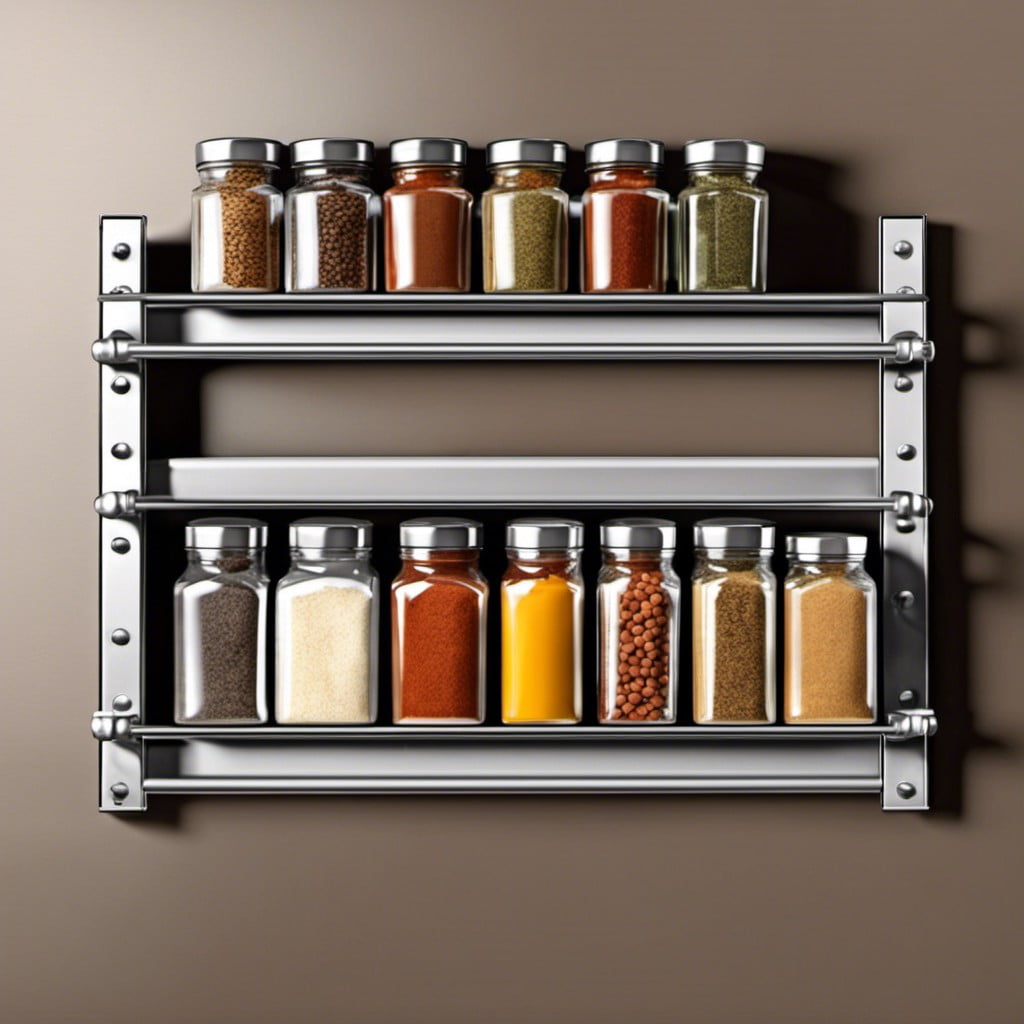 A chic and modern design, the Metallic Pallet Spice Rack offers ample storage without sacrificing style. Its sleek metallic finish complements any kitchen decor while its sturdy construction ensures durability. Firmly secured onto your pantry door, this rack accommodates various spice jar sizes with its adjustable pallet-style shelves.
Versatile Use: Not only for spices, but it can also store other items like cooking oils, vinegars, or sauces.
Space-Saving: By adhering to the unused back of your pantry door, it maximizes your kitchen's space.
Easy Installation: Many of these come with mounting hardware and instructions, making it simple to set up.
Easy Accessibility: Having spices at eye level can expedite cooking and baking processes.
Durability: Being metallic, it can withstand the weight of the spice jars, ensuring a long lifespan of the rack.
Considering these points, it is easily understood why a Metallic Pallet Spice Rack can be of great value to any kitchen.
DIY Chalkboard Spice Rack
Creating your own chalkboard spice rack begins with a blank wooden board which can be sourced from any local craft store. Then, a few coats of chalkboard paint will need to be applied. This allows for personalization and easy spice identification.
For the actual spice storage, any small containers with a flat back will suffice – think tiny mason jars or repurposed baby food jars. These can be fixed onto the wooden board using strong adhesive. Do ensure they are well-secured before proceeding to the labeling step.
The beauty of a chalkboard spice rack is in the labeling flexibility. Validating its multi-purpose usability, you can change, erase, and rewrite spice names as per your rotational use. This is especially beneficial for those who love to experiment with exotic spices.
Installation involves either secure hooks or potent adhesive strips, making it possible to hang this rack on the inside or outside of your cabinet doors. The DIY Chalkboard Spice Rack seamlessly blends functionality with creative flair. It's a charming route to spice organization that reflects your unique style amidst the practicality.
Rustic Farmhouse Spice Door Hanger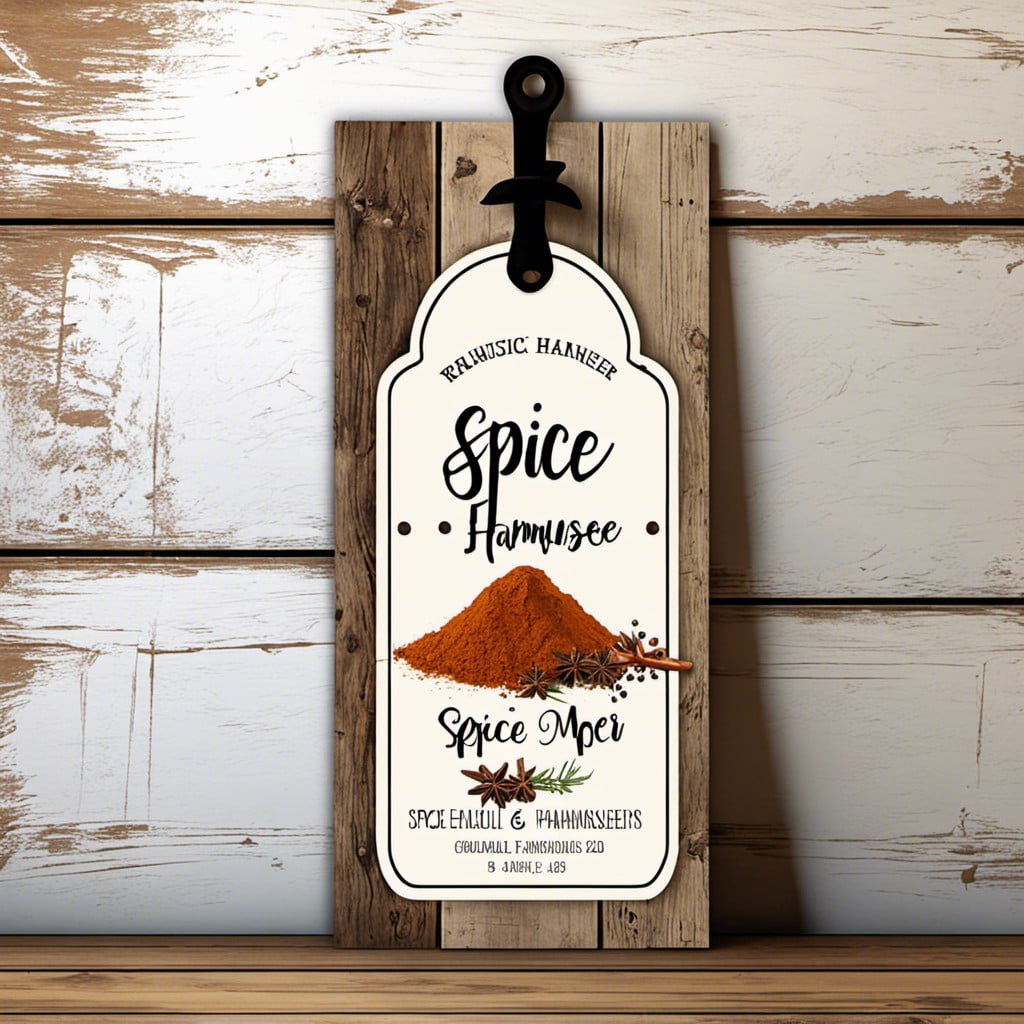 Crafted from reclaimed wood and exuding rustic charm, this spice rack perfectly complements the farmhouse aesthetic. Its distressed finish introduces a cozy, weathered character to your kitchen, lovingly housing your spices and herbs. Ideally, it should be affixed to the door at eye level, allowing easy access and visibility.
Three main factors contribute to its charm: its versatility, handmade appeal, and practical design.
1. Versatility: It can be customized to match the dimensions of your door and the size of your spice bottles. Whether you own larger spice jars or smaller containers, the rack can adjust accordingly.
2. Handmade appeal: As it is made from reclaimed wood, each piece is unique, evoking a sense of charm and nostalgia associated with rustic farmhouses.
3. Practical design: Combining fashion with practical solutions, its open shelving enables you to easily see and grab the spice you need while cooking, sparing you the time digging through a cluttered drawer.
An optional chalkboard section adds a functional flair, keeping track of inventory or jotting down essential notes. Keep it simple though; the beauty of this spice rack lies in its minimalist, rustic appeal. Always remember, less is more.
Upcycled Drawer Spice Rack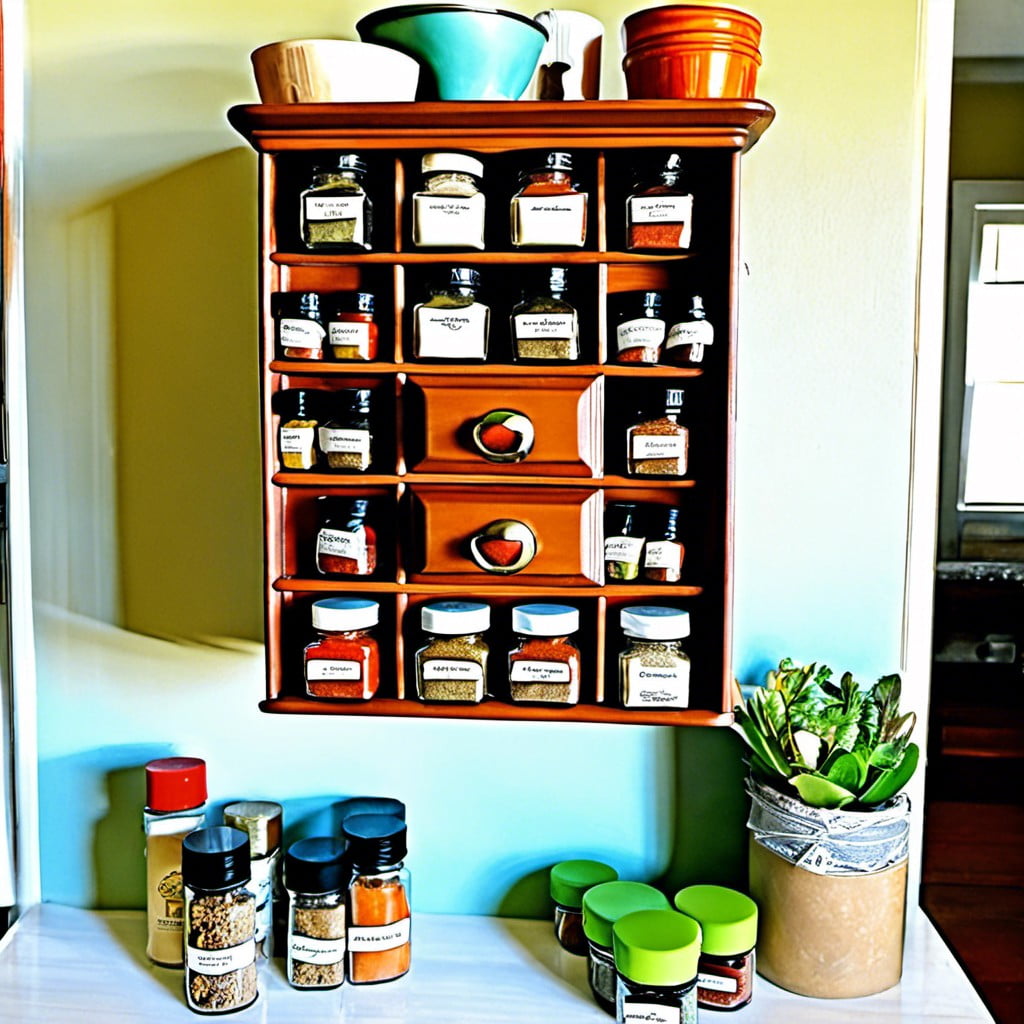 Diving into the concept of the Upcycled Drawer Spice Rack, it caters to the ethical, stylish, and thrifty decorators. This ingenious option not only adds character but also encourages sustainability by using salvaged materials.
Firstly, your existing, unused drawer can be seamlessly converted into this storable solution. The ideal specifications would be a shallow, long drawer to fit the spices comfortably and have easy access.
Secondly, pick out an attractive, durable material for the rack. Solidly built wooden drawers work best due to their resilience. Be creative and consider bespoke finishes; perhaps a distressed look aligns with your decor, or maybe chalk paint for an arty, homely feel.
Taking the third step, ensure the inner configuration suits spice jars. The inside can be compartmentalized into rows, so each of your flavor enhancers get their exclusive spot. If height is a factor, miniature shelves are an ingenious way around this ensuring maximum space usage.
Finally, secure the rack appropriately on your kitchen door. Whether horizontally above or vertically down the door, it should suit your personal preference and also kitchen dynamics. Use, for example, sturdy brackets or hanging rails for safety.
Revolving Spice Door Rack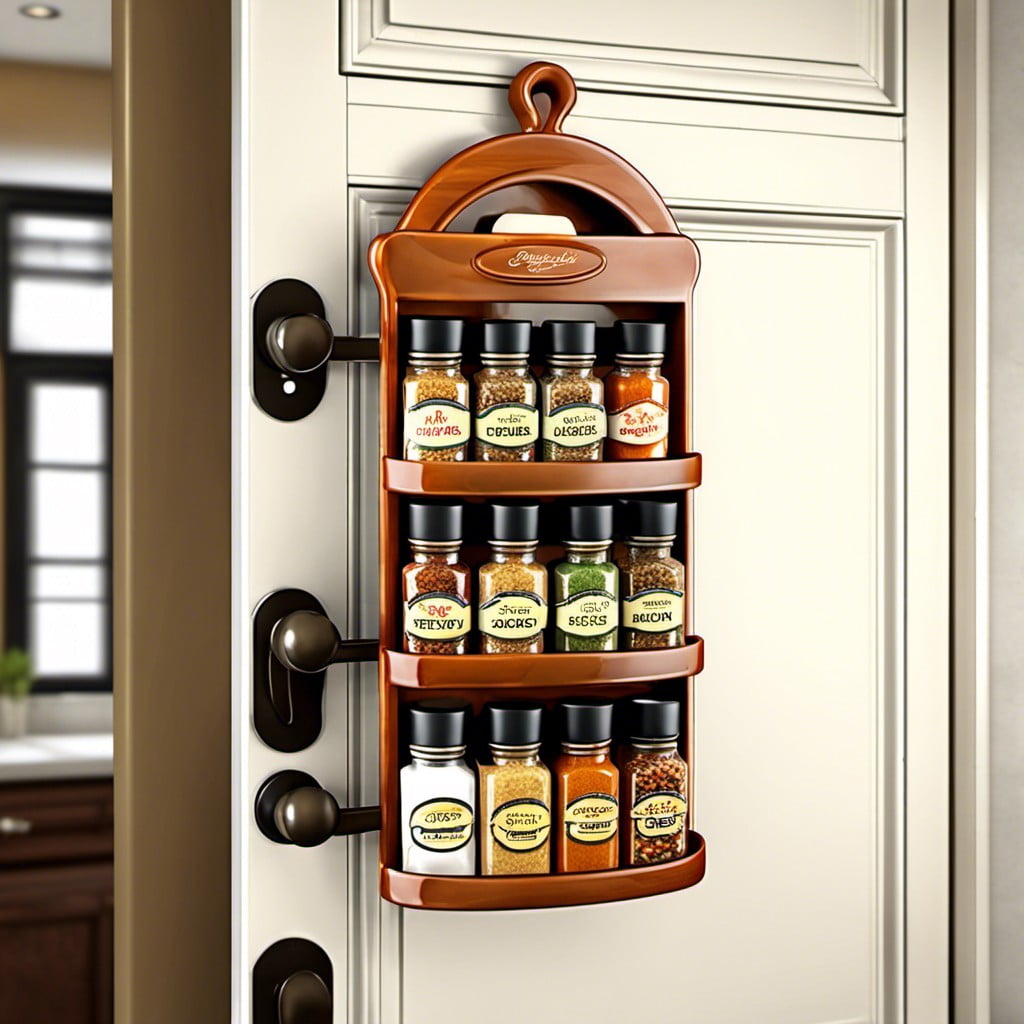 A revolving spice rack offers an efficient storage solution. Can be easily installed on any door, it enables handy access to spices while cooking.
Its standout feature is the capacity to rotate, which saves time searching for specific spice. This design also makes it space-efficient, crucial in smaller kitchens.
Notably, revolving racks available come in a plethora of designs and materials, each offering a means to complement your kitchen decor.
Care for such racks is straightforward—a simple wipe-down keeps it clean, while detachable parts can be washed separately if needed.
Installation is also usually a breeze, with many models offering drill-free mounting options for the convenience of homeowners.
Undeniably, its practical yet stylish design is an asset to any kitchen.
Acrylic Spice Rack Organizer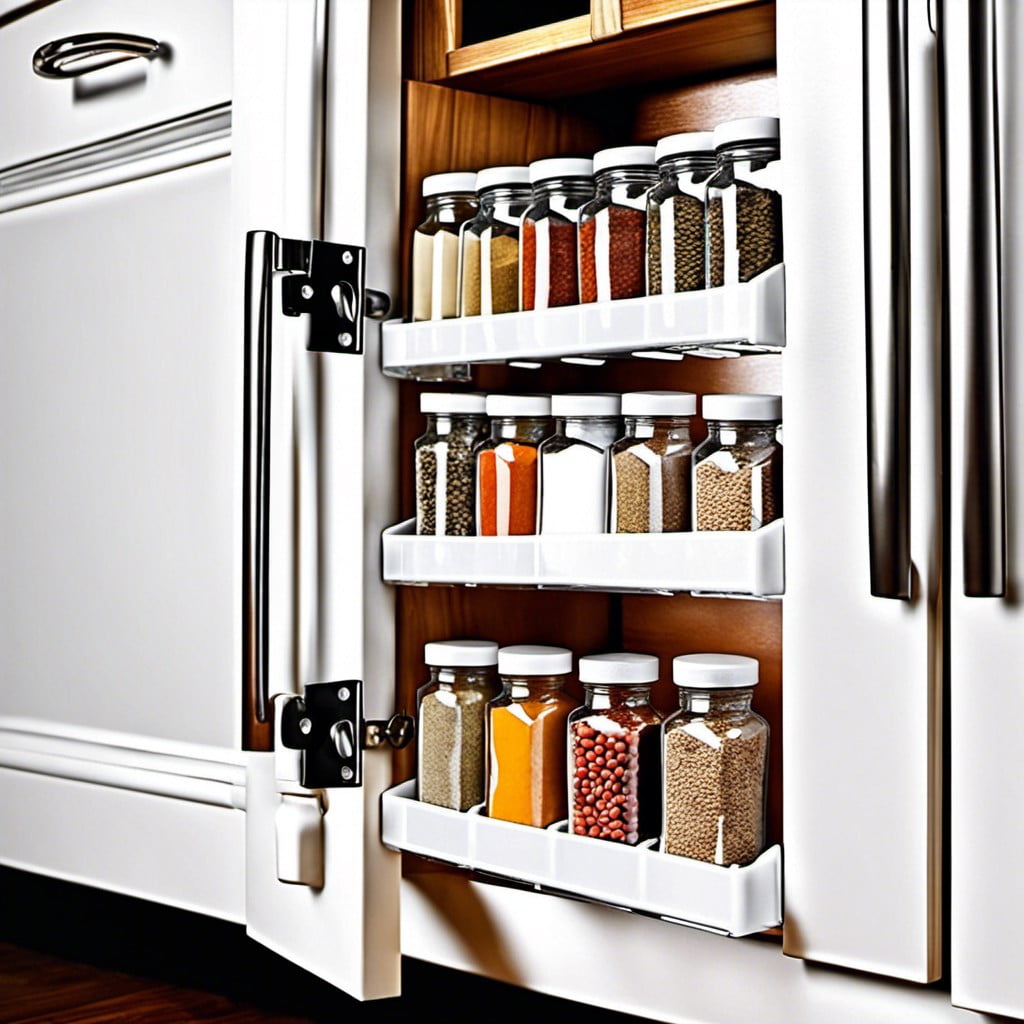 Constructed from a sturdy, transparent material, the Acrylic Spice Rack Organizer provides an aesthetically pleasing and functionally effective storage solution. Easily attached to a door and allowing for a quick survey of your spice collection, its transparency serves to minimize time spent searching for the right seasoning.
Beneficial features of this organizer include:
1. Durability: Crafted from strong acrylic material built to withstand regular use without falling prey to chipping or breaking.
2. Visibility: Its translucent nature allows one to easily identify and locate spices, streamlining cooking processes.
3. Minimalistic Design: It suits a variety of kitchen themes, from contemporary to rustic. Plus, it doesn't overshadow the colorfully rich appearance of your spices.
4. Easy Installation: Generally requires minimal effort to attach to or remove from a door.
5. Space-Efficient: Particularly useful where there's limited pantry or cabinet storage, as it takes advantage of otherwise unused door space.
Pull-down Door Spice Rack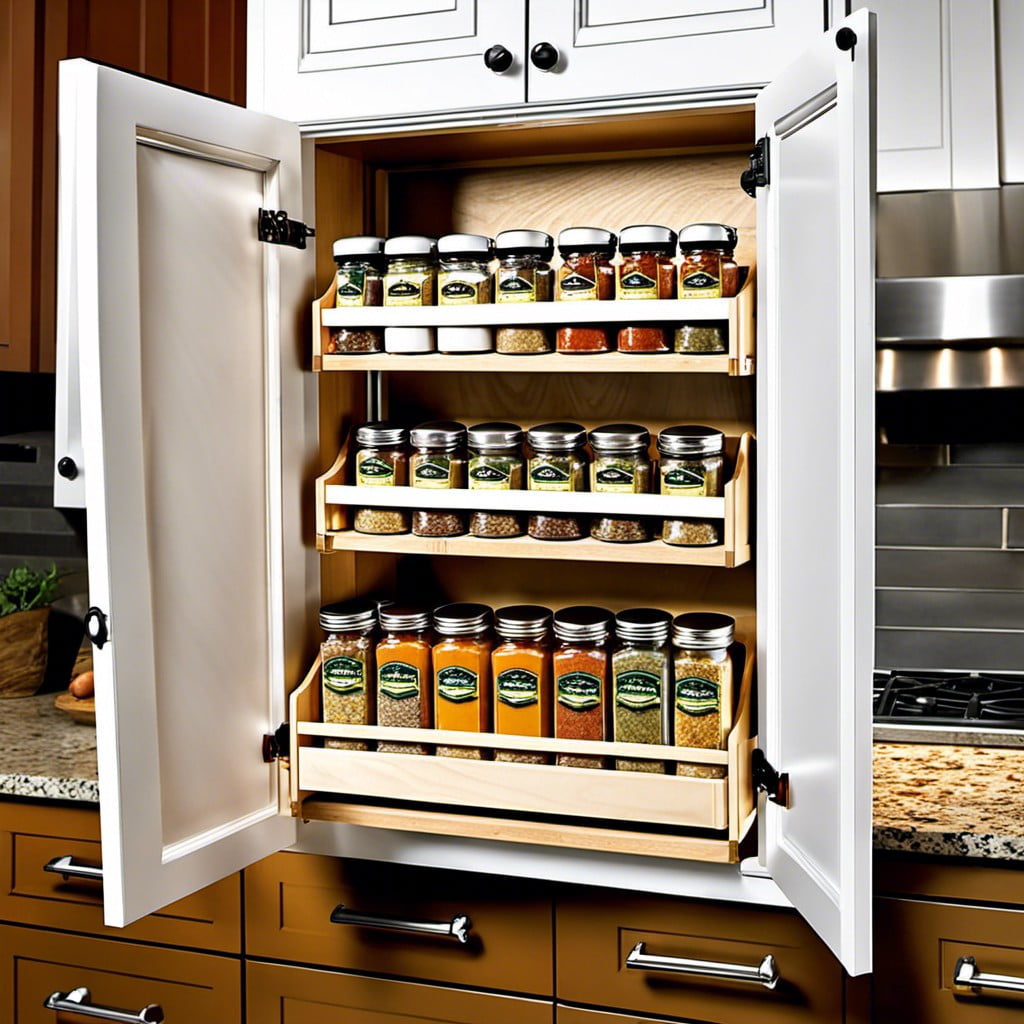 In the pursuit of ultimate kitchen pragmatism, this style is a strong contender.
Fixed onto the inside of your cupboard door, this highly practical rack utilizes a pull-down mechanism.
A self-contained shelving system that not only helps keep spices neat and organized but also within easy reach.
Here are a few key aspects to consider:
Space optimization: This design turns an otherwise plain cabinet door into a storage hub, freeing precious shelf and counter space.
Easy visibility: Spices are displayed at eye-level, aiding quick identification and retrieval.
Accessibility: The pull-down feature allows easy reach, especially beneficial for higher cabinets.
Flexible Installation: These racks often come in multiple sizes, fitting both wide and narrow cabinet doors.
Easy installation: Most require a simple screwdriver to install, with some even opting for a drill-free, adhesive-backed setup.
Bear in mind, weight capacity will vary with model and installation quality. Select and install with care to avoid spice avalanches.
A perfect solution for those tired of rummaging around dark cabinet depths.
Origami Spice Racks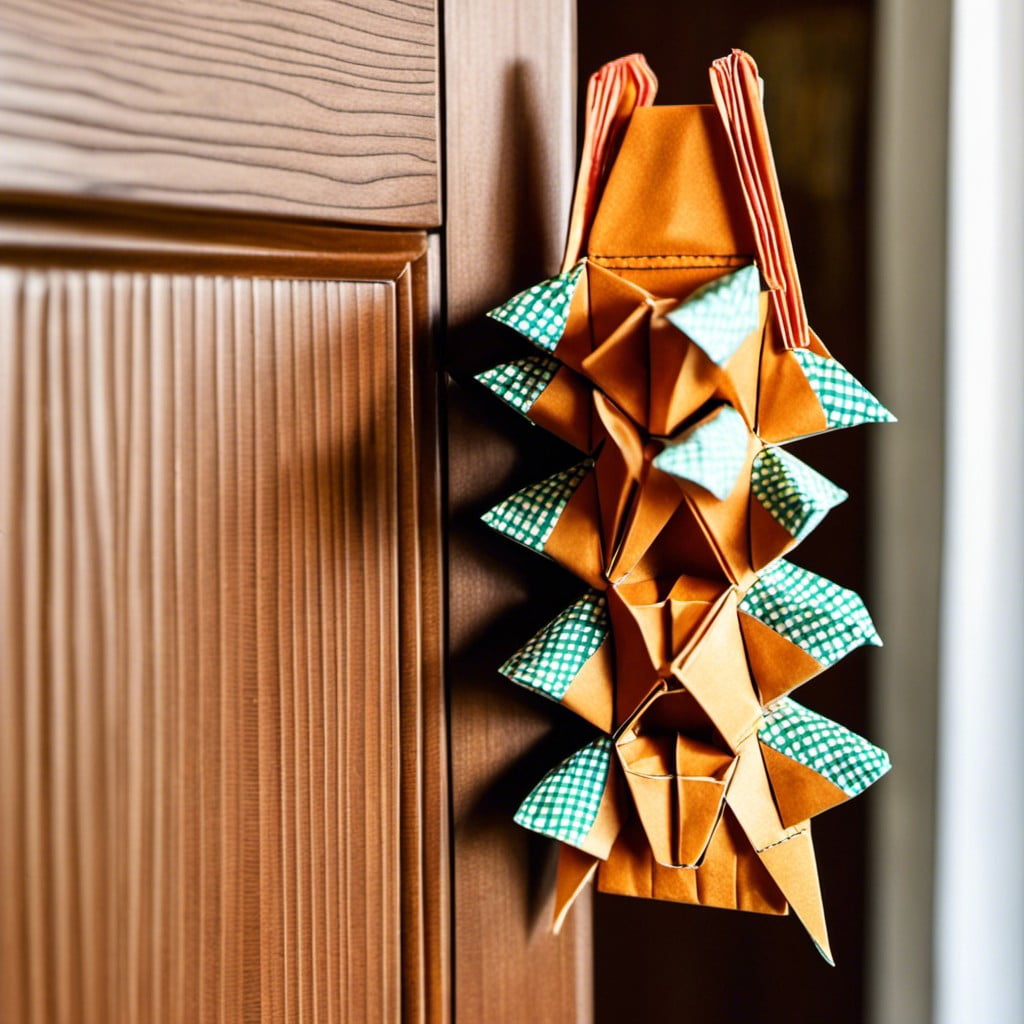 Crafted precisely from metal or sturdy paper, these racks are named for their design's nod to the beautiful and complex art of Japanese paper folding. They do wonders for usability due to their tiered features, helping to keep all your spices clearly visible.
Installation is typically a breeze as they are lightweight and usually come with brackets or adhesive strips for mounting. Not only do Origami Spice Racks have a modern aesthetic look, but their design also allows for quick recognition and easy access, granting you efficiant cooking sessions.
Ideal for the creative home cook who loves a touch of whimsy in their kitchen decor.
Glass Jar Space Saver Rack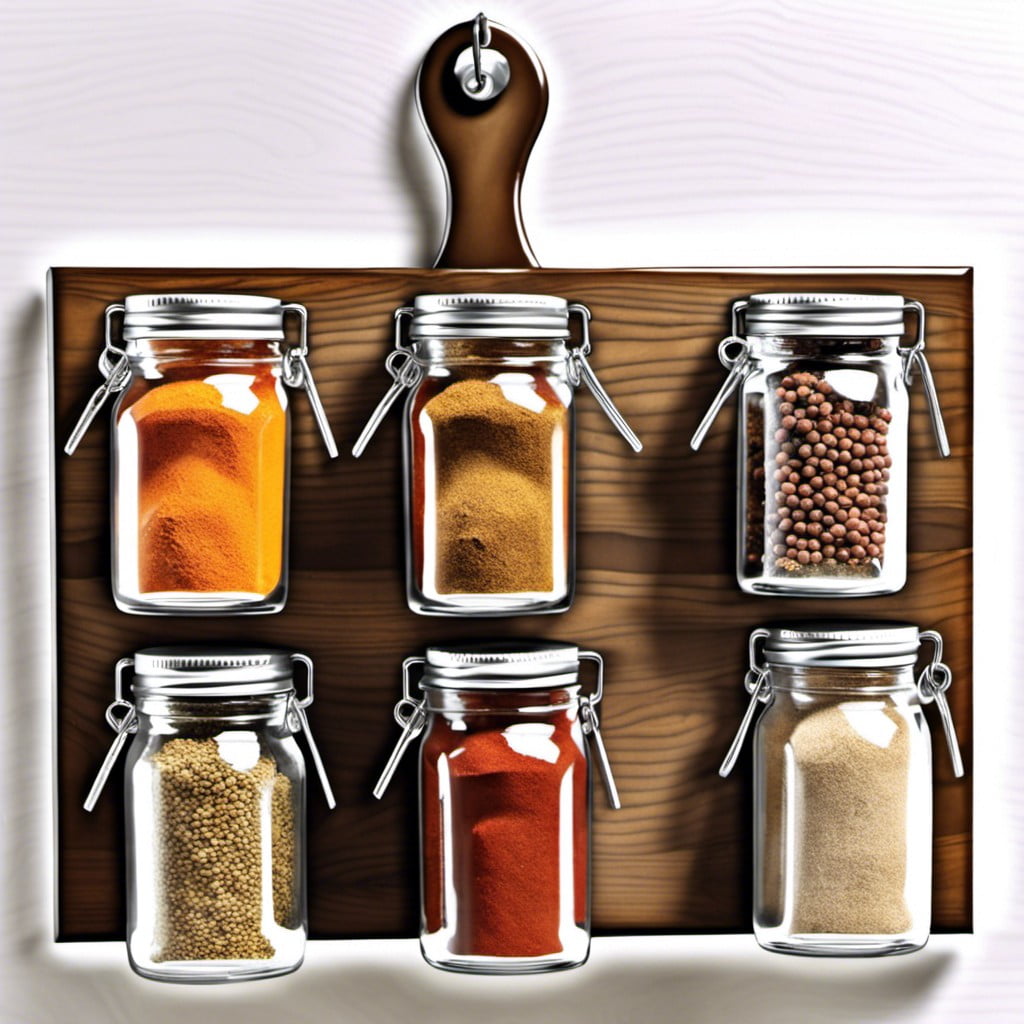 With this design, you can transform empty glass jars into mini spice containers. They not only ensure your spices stay fresh but also create a visually striking display.
Here's how you can maximize this idea:
Jar Selection: Choose small-sized, clear glass jars enabling easy identification of spices. Uniform sizes can give a neat, organized look.
Mounting: Install narrow, flat shelves, or strong magnetic strips on your cupboard door. Ensure they are spaced to accommodate the jars' height and are sturdy enough to hold the jars' weight.
Labeling: For a DIY touch, use chalkboard paint or printable stickers to label each jar. Position the labels on the jar's side facings, so you can quickly locate your spices.
Decoration: Consider adding tiny LED lights to each shelf. This supplemental light source not only highlights the jars but also makes it easier to read the labels.
Remember, this option is not only stylish but also enormously practical, as it frees up considerable shelf space. Breathe new life into your cooking space by embracing the jar trend!
Pegboard Door Spice Hanger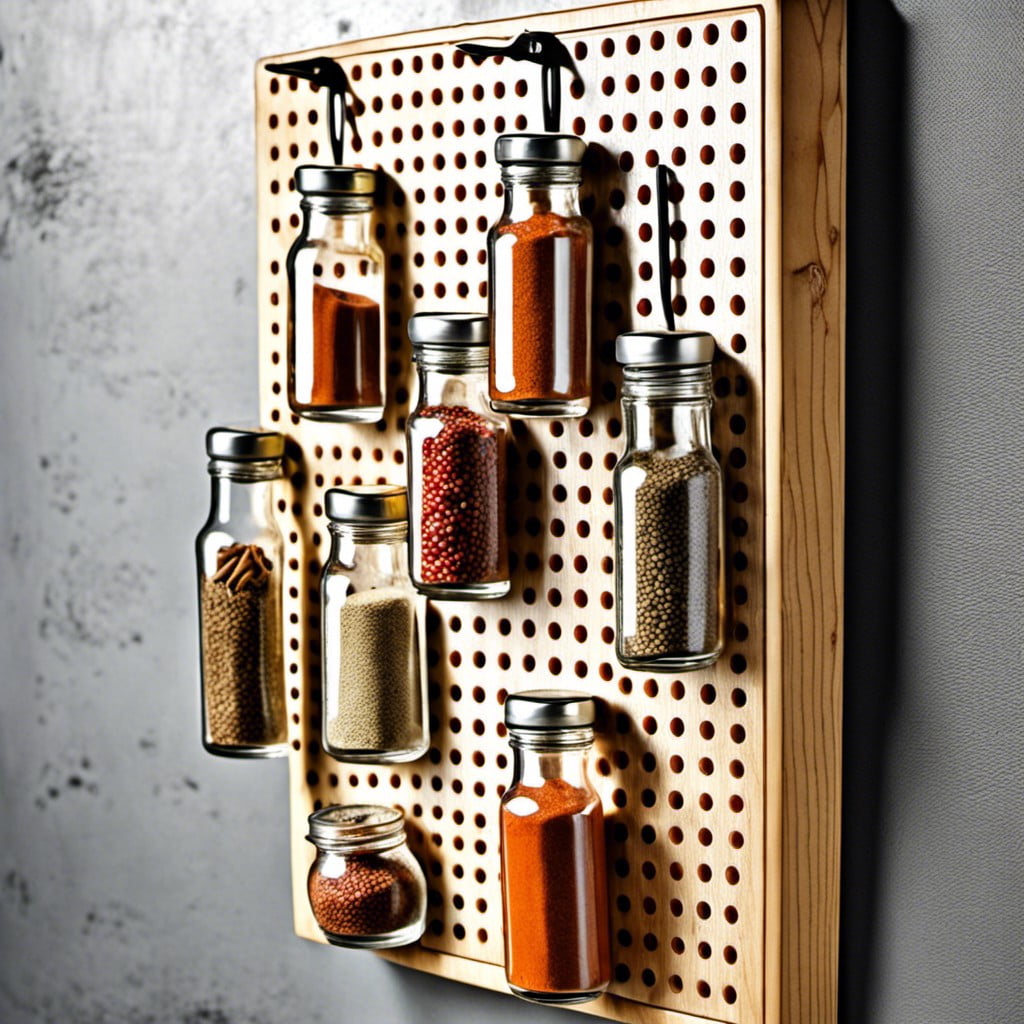 Offering a blend of utility and visual appeal, the pegboard design is highly customizable, making it a hit among spice-loving homeowners. With an array of holes, it allows for continuously variable placement of hooks or mini shelves, enabling effective space usage.
Firstly, it provides ample room for spice bottles of varying sizes. Secondly, its streamlined design complements most kitchen decors, from simple and modern to traditional or rustic. Finally, installation is a breeze – even DIY enthusiasts can easily fit it on their pantry doors.
A bonus: it's not species-specific. You could switch out spices for baking supplies, snacks, or other kitchen essentials if you ever feel the need for a change!
Steampunk Spice Rack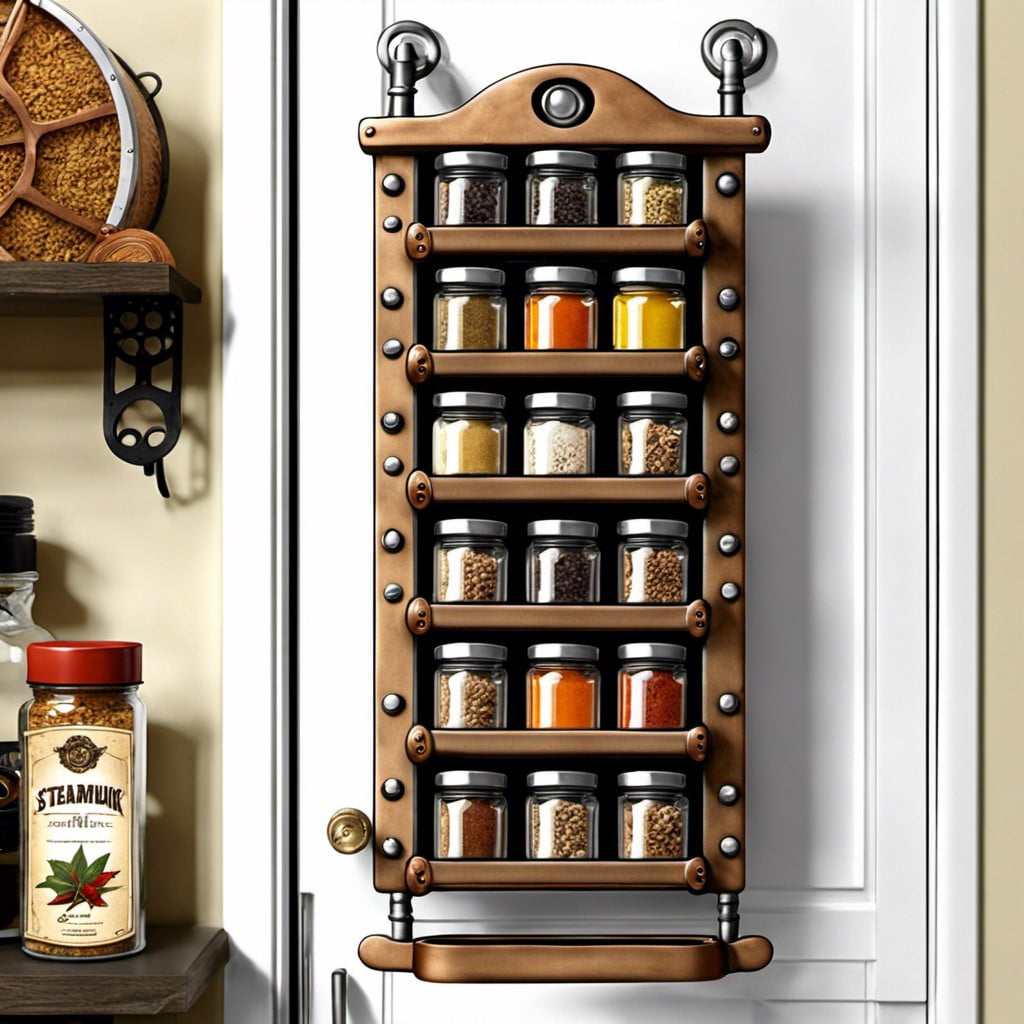 Immersing the kitchen space with an industrial, vintage vibe, this model features a combination of gears, pipes, and rustic wood. Its metal elements commonly sport dark, weathered finishes for authenticity, while the use of pipes as spice holders gives an unusual, quirky appeal.
This model is perfect for those appreciating an inventive mix of old and new. It's a versatile piece, often customizable regarding size and layout, suiting individual needs. The strong, sturdy nature of its materials ensures durability, while its visually dynamic design transforms an everyday household item into a conversation starter.
Conveniently, the rack's design allows for easy access and display of spices, promoting kitchen organization and efficiency.
Mosaic Design Spice Rack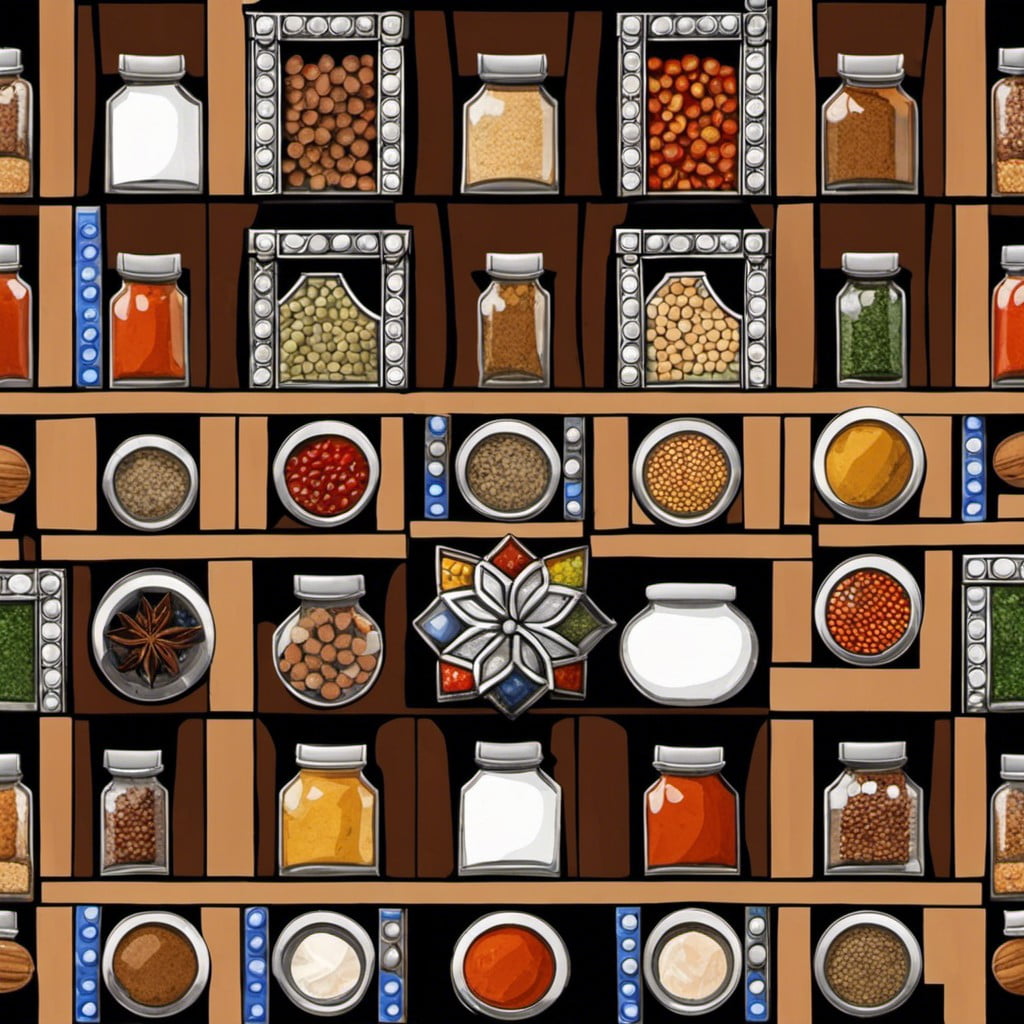 A mosaic design adds an artistic touch to the kitchen, making the spice rack not just functional but decorative as well. Utilize colorful tiles or broken ceramic pieces to cover the front side of a wooden rack, creating a vibrant display. It can be tailored according to your kitchen's color scheme or designed as a standalone centerpiece adding spark to the space.
Careful arrangement of the tiles or ceramic pieces will ensure a visually appealing effect. You may opt to follow a specific pattern or go for an abstract design for a more whimsical effect. Safety must be taken into consideration while handling sharp pieces during assembly.
Attaching the mosaic spice rack to the inside of a cupboard door will maintain accessibility while ensuring it doesn't take up counter or wall space. Also, transparency of materials isn't an issue for this style as the detailed mosaic will be the star of the show.
Remember to seal the mosaic for cleanliness and ease of maintenance, and ensure the rack and door structure can support the weight of the mosaic materials as well as filled spice jars. Lastly, if you're not handy with DIY, consider commissioning a local artist or checking online marketplaces for a custom mosaic spice rack.
Paint-dipped Wooden Spice Hanger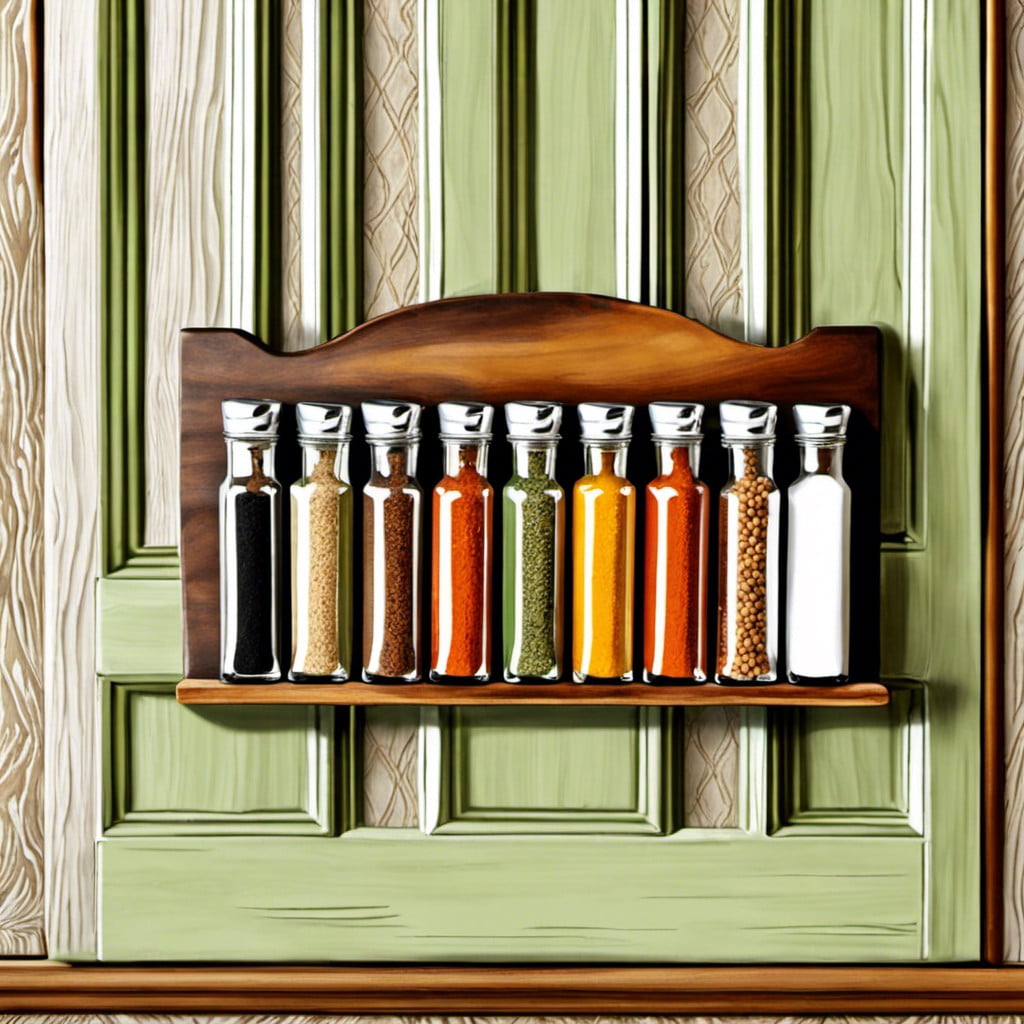 To achieve a trendy yet functional design with the Paint-dipped Wooden Spice Hanger, start with a sturdy wooden plank of desired length. Dip one end in your choice of non-toxic paint, allowing it to create a cascading color effect. Remember that the contrast of natural wood against bold color is key to this look.
After it dries, fasten the spice jars with clamps and mount to the door. Choose clamps that can be tightened or loosened in order to accommodate various jar sizes. Ensure you space them in such a way that you can easily read labels, yet they are compact enough for maximum storage.
This design not only organizes your spices but also turns them into a striking visual element, making your kitchen both stylish and practical. It also offers easy access which could be critical when cooking.
Instead of sourcing new material, you can also repurpose discarded wood, hence giving a green touch to your kitchen decor. This DIY project is rather cost-effective and perfect for those seeking a balance between aesthetics and functionality.
Minimalist Vertical Spice Rack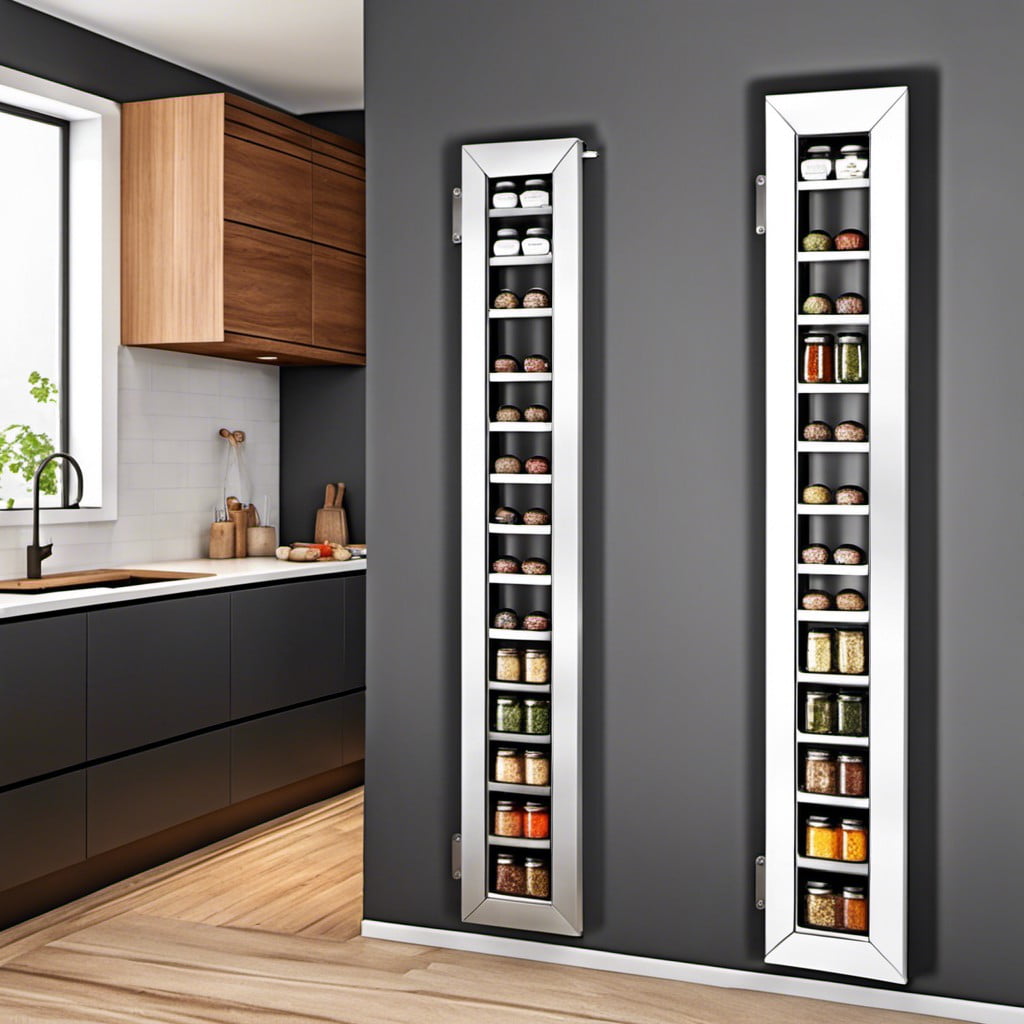 With its streamlined design and basic aesthetics, this rack caters to those who prefer simplicity. It blends smoothly with any kitchen decor without taking much space.
Typically, it's built with narrow shelves lined vertically, suiting tall, cylindrical spice jars as well as small rectangular spice containers.
Key points include:
Space Efficiency: Because the design is vertical, it uses wall height rather than width – ideal for small kitchens.
Flexibility: The rack accommodates various spice jar sizes due to its adjustable shelving.
Easy Access: Its open format ensures every herb and spice is visible and reachable.
Style: While functional, the clean lines and uncluttered layout add modern elegance.
Durability: Generally made from robust materials like steel or hardwood, it withstands time and cooking adventures.
Remember, for a more personalized touch, you can paint or stain it to match your kitchen's specific color scheme.
Stacked Layers Concept Spice Rack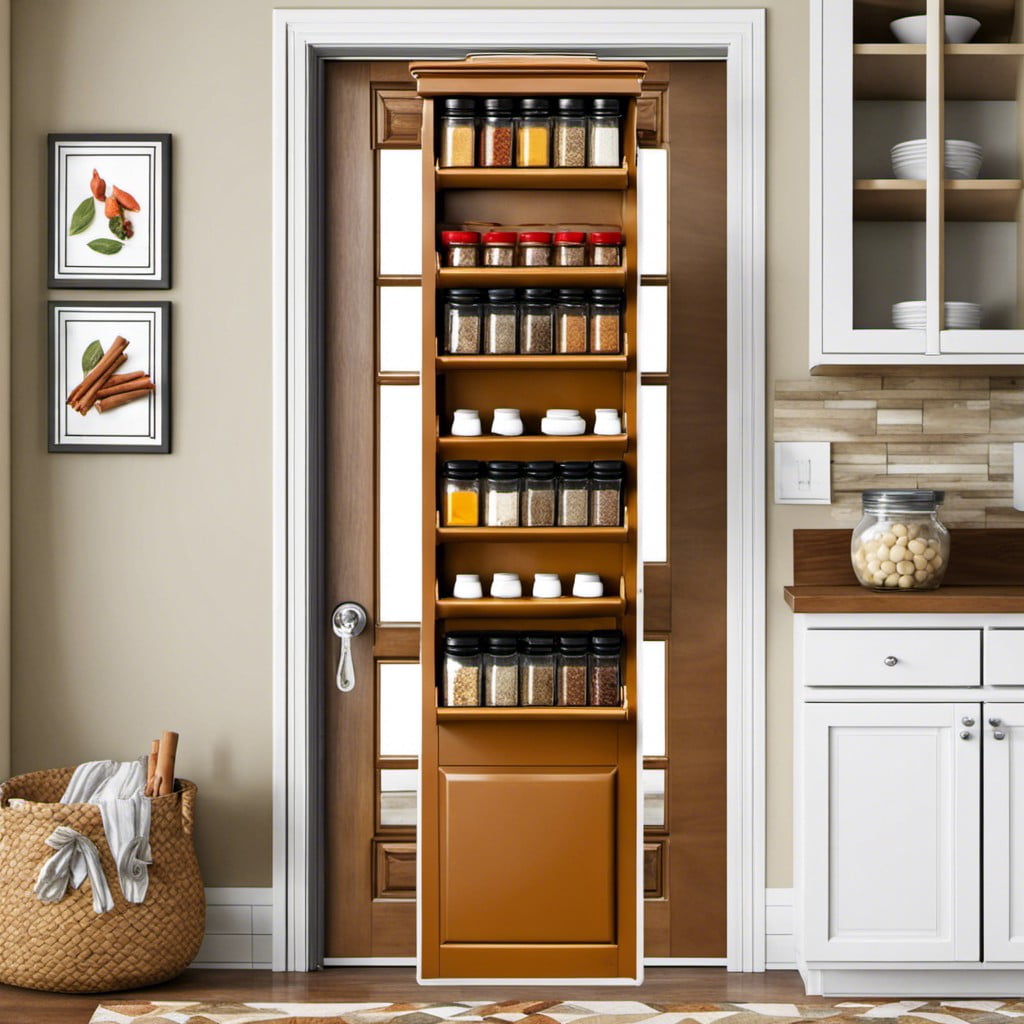 Creating this rack significantly optimizes space, with multiple layers providing ample room for every spice. Typically built from strong, durable materials, this functional design adds distinct structure to your door. It's a transformative solution especially for narrow kitchens.
Key points to note about stacked layers concept:
Space Efficient: The layered construction results in efficient utilization of vertical space, making room for more spice jars.
Easy visibility and access: The stacked design allows easy identification and reach of spice jars, promoting cooking efficiency.
Customizable: It has ample flexibility for customization. The number of layers can be adjusted to fit available space.
Aesthetic: Besides function, it brings an organized, symmetric aesthetic to the kitchen space.
Remember, focusing on durable, lightweight materials for construction can enhance longevity while avoiding strain on the door hinges.
Suction Cup Door Spice Rack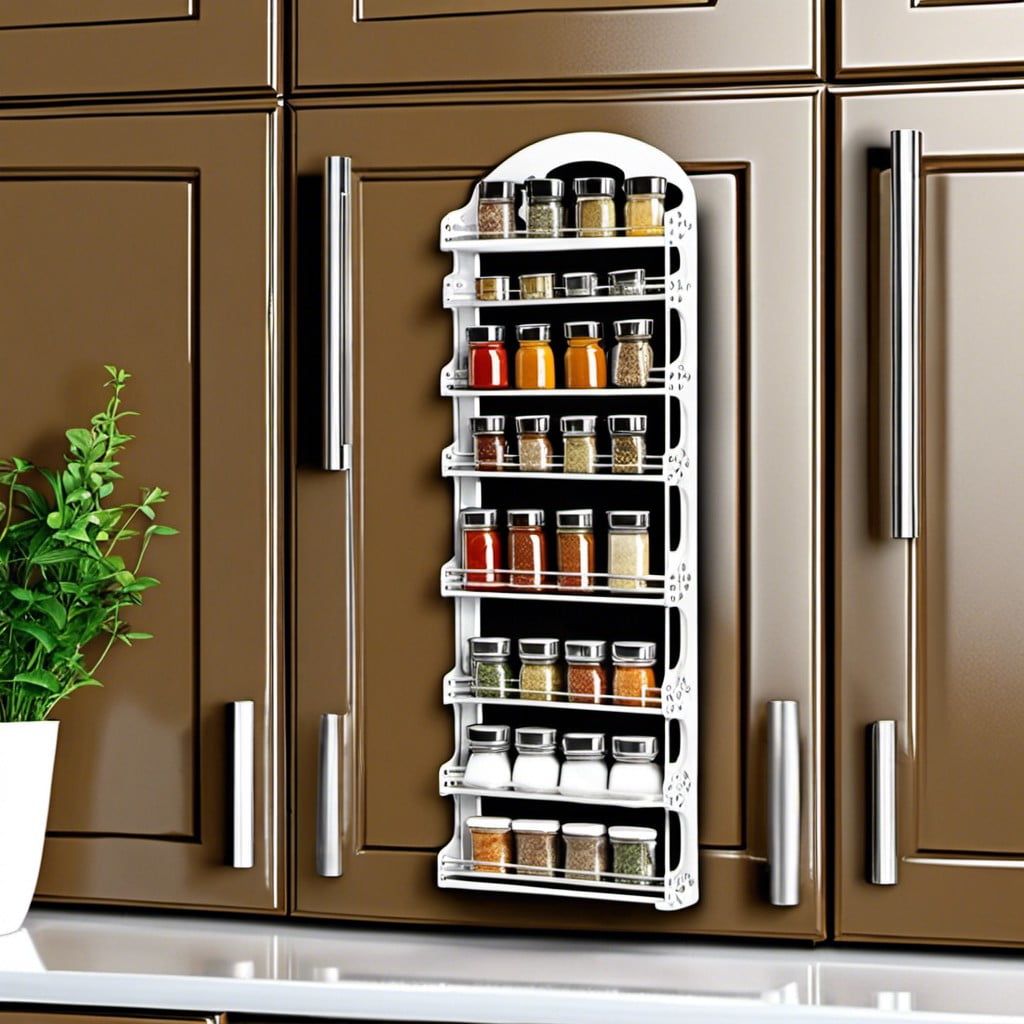 This innovative rack utilizes suction cups to fasten securely to your pantry or cupboard door. Ideal for compact spaces, it requires no drilling or hammering, thus protecting your doors from potential damage. You can swiftly install and even relocate it as needed.
Built of durable, easy-to-clean materials, the suction cup spice rack can comfortably hold varying spice bottle sizes. Bright and uncluttered, it gives you effortless access to your spice collection for quick meal preparation. Moreover, the general transparency of this style allows for an attractive display of your spices, elevated by the color and shapes of the different containers.
Ticking the boxes of practicality, aesthetics, and convenience, this rack design can be a notable addition to any kitchen setup.
Ideas Elsewhere
Liked reading this? Here's more:
Recap: