Last updated on November 11, 2023
Explore an array of fresh spring door decoration ideas because each one adds a unique, welcoming touch to your home that bursts with seasonal vibrancy.
I'm proud to share the 20 Spring Door Decoration Ideas article, filled with my own unique designs, and I sincerely hope you find it as inspiring and enjoyable as I found creating them.
Spring is the perfect time to refresh your home's curb appeal with a vibrant door decoration. Embrace the season's colors, flowers, and symbols to design a welcoming entrance that will delight your guests.
Whether you lean towards a traditional wreath adorned with fresh blooms, or you prefer a more unique DIY project such as a repurposed old window or a rustic wooden sign, there are countless ways to celebrate spring on your front door.
Continue reading for a collection of creative and easy-to-follow spring door decoration ideas that will instantly brighten your home's exterior.
Pastel Color Flower Wreaths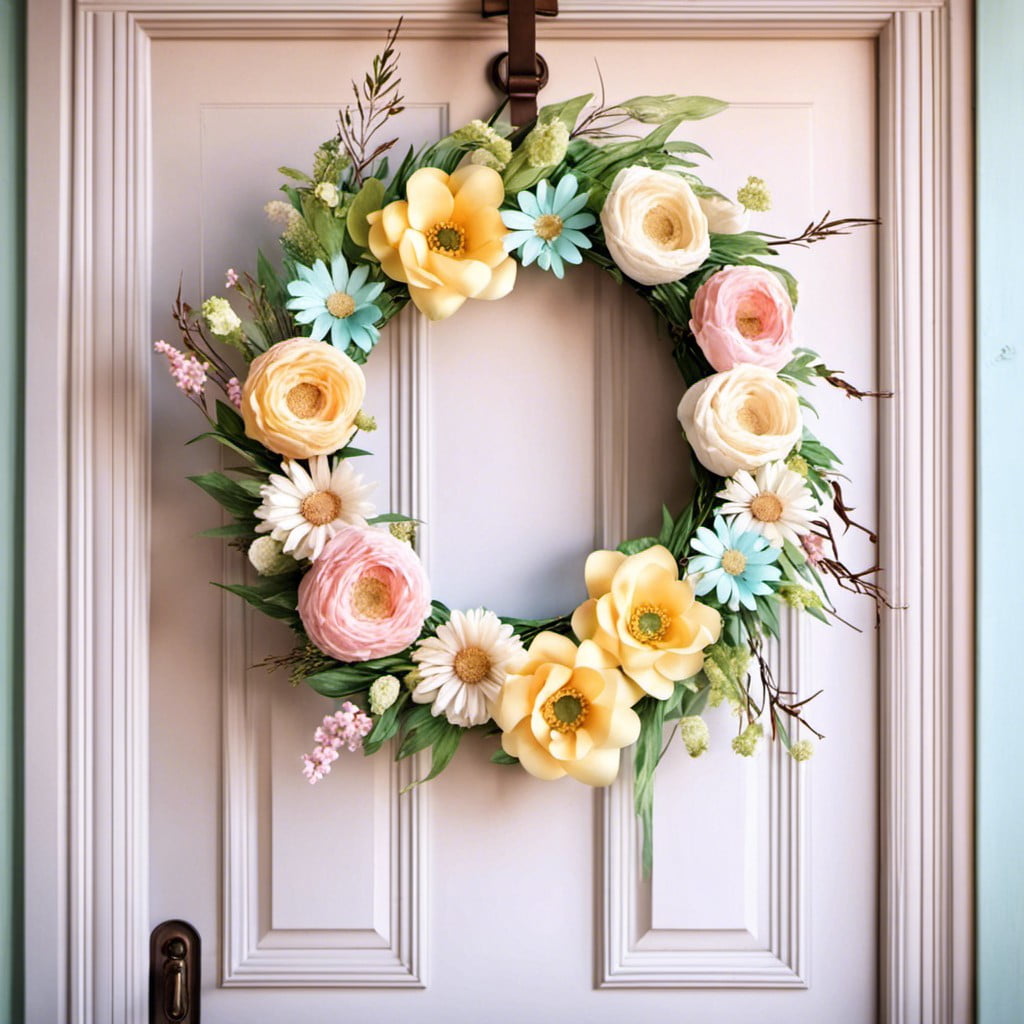 Employing a variety of pastel shades, these wreaths bring a soft, refreshing touch to your entrance. They offer an ideal way to embrace the season without overshadowing other elements. Often featuring delicate faux flowers such as peonies, hydrangeas or daisies, the combination brings together the spring theme vibrantly.
Use a foam or grapevine wreath as a base, choose your faux flower combinations and start arranging. The key here is to mix sizes and colors subtly to create an aesthetically pleasing effect. Incorporate some greenery for a natural feel. Fix the flowers in place using a combo of hot glue and floral wire.
You might want to opt for weather-resistant flowers to endure the unpredictable spring weather. Additionally, it's smart to refresh your creation for each spring season to maintain that fresh visual appeal. No prior crafting experience is required; a beautiful pastel color flower wreath is due to creativity, not complexity.
Bunny-shaped Door Decorations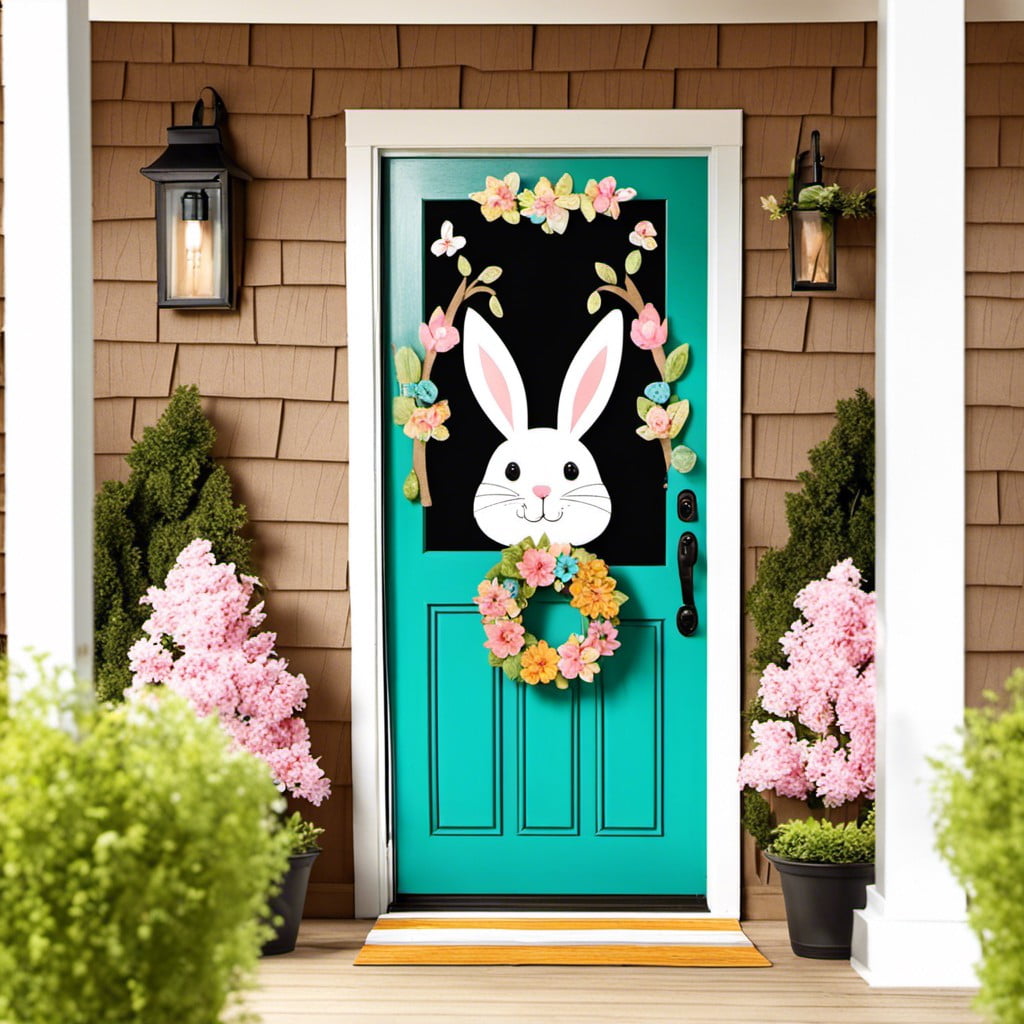 Crafting a bunny door decoration can be a delightful way to welcome the season of bloom. Start by using a basic door hanger shape or a wreath form as a base. Next, decide on a material that fits your style; for a cozy aesthetic, you might consider burlap, while felt or faux fur could offer a more playful touch.
Use wire to form the ear shapes, cover them with your chosen material, and attach them to the top of your base. Play around with decorative elements like bows, floral accessories, or a puffball tail to personalize your bunny to your liking. To round it all off, consider incorporating a tiny sign with a cheerful spring message.
This simple DIY project not only offers a charming addition to your spring decor but also a fun activity to bring some creative energy into your home.
Easter Egg Inspired Door Hanging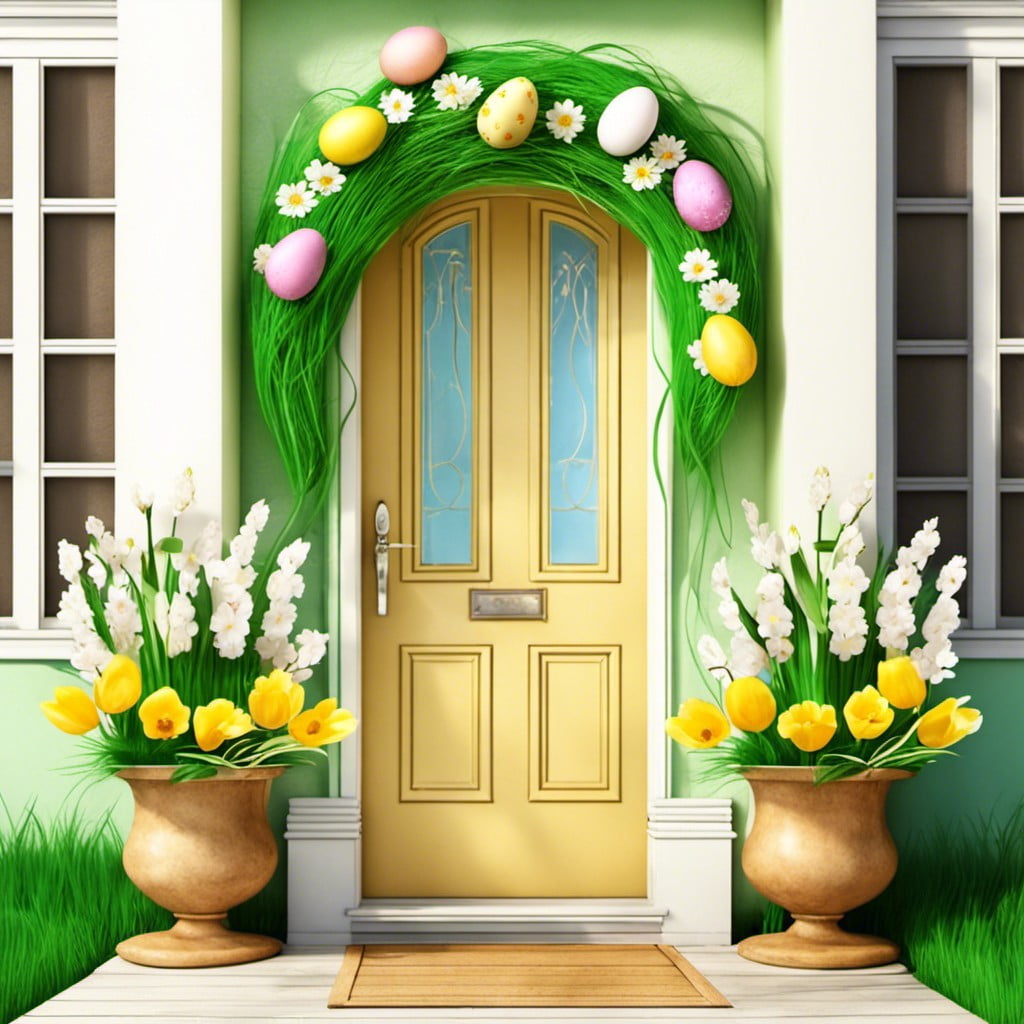 Celebrating the spirit of Easter, door hangings inspired by its iconic symbol, the egg, make a festive statement. Vivid and colorful, they mirror the energy and vibrancy of spring.
Here are the tips to make your doorway gleam with egg-citement:
Material Choices: Foam or plastic eggs are great options. Durable and lightweight, they can resist spring weather conditions.
Colors and Patterns: From solid hues, speckled prints to glittered varieties, options are limitless. Get creative and mimic the look of dyed Easter eggs.
Arrangement: Cluster eggs together or hang them individually for different aesthetic effects.
Accents and Additions: Incorporate blooming faux flowers or greenery for an added spring touch. Ribbons and bows could also add a festive flair.
Placement: Hang it in the center, on the side of the door, or combine with a wreath. The positioning could markedly alter its overall appeal.
DIY Approach: Making a door hanging can be a fun activity. Start with a wire frame, attach eggs with hot-glue, and add tiny details as desired.
Wooden Spring-themed Door Signs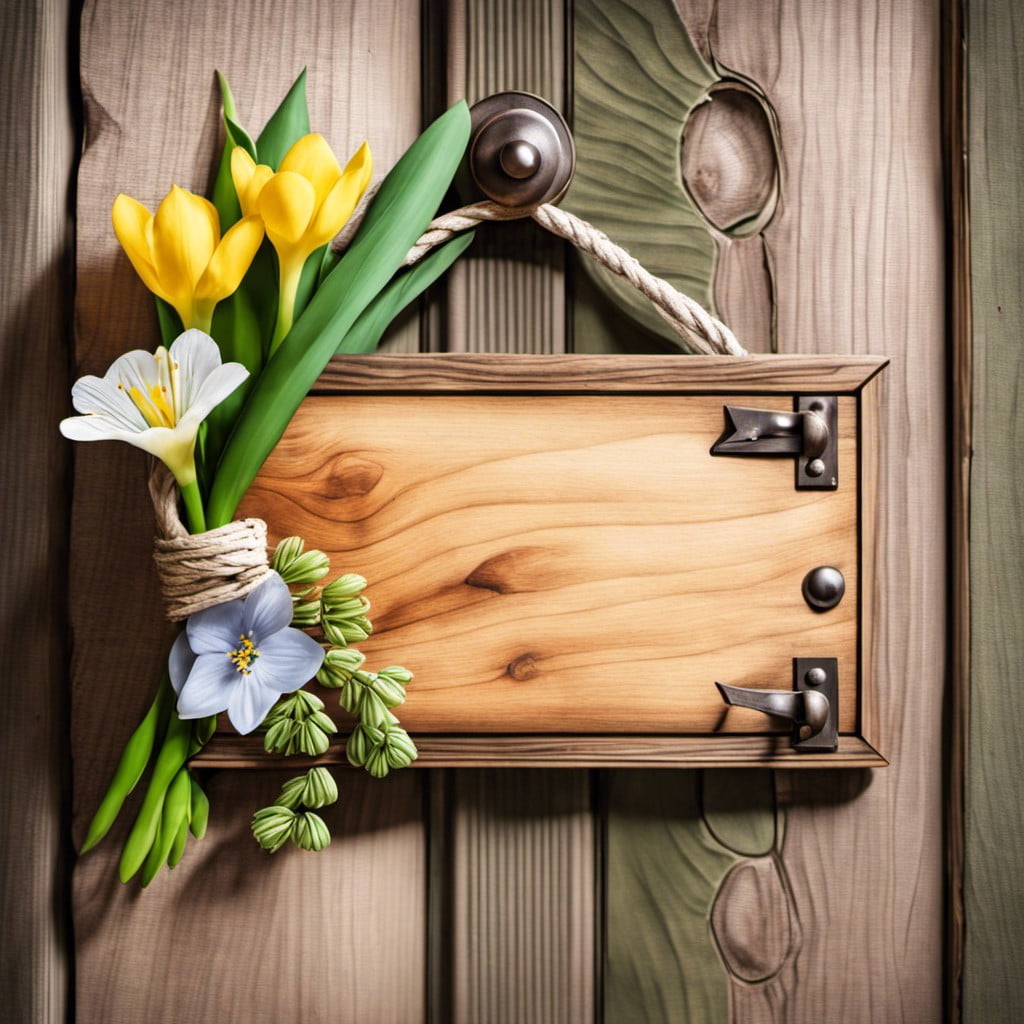 Crafting your own sign allows for personalization to match any springtime aesthetic. Consider using lightweight wood, easy to hang and offering a natural appeal. A popular choice is reclaimed barn wood which gives a rustic, warm look.
For the design, think flowers, birds, or uplifting quotes. Consider painting or using a wood stain to bring your sign to life. Light blue, lilac, or mint green are classic spring colors, although the palette choice should align with your house exterior.
To embrace a true spring spirit, incorporate real or silk flowers. Arrange them in a cluster in one corner or scattered randomly, adhering with hot glue.
Finally, secure a durable hanger to the back, and your sign is ready to greet the spring from your door!
Floral Paper Garland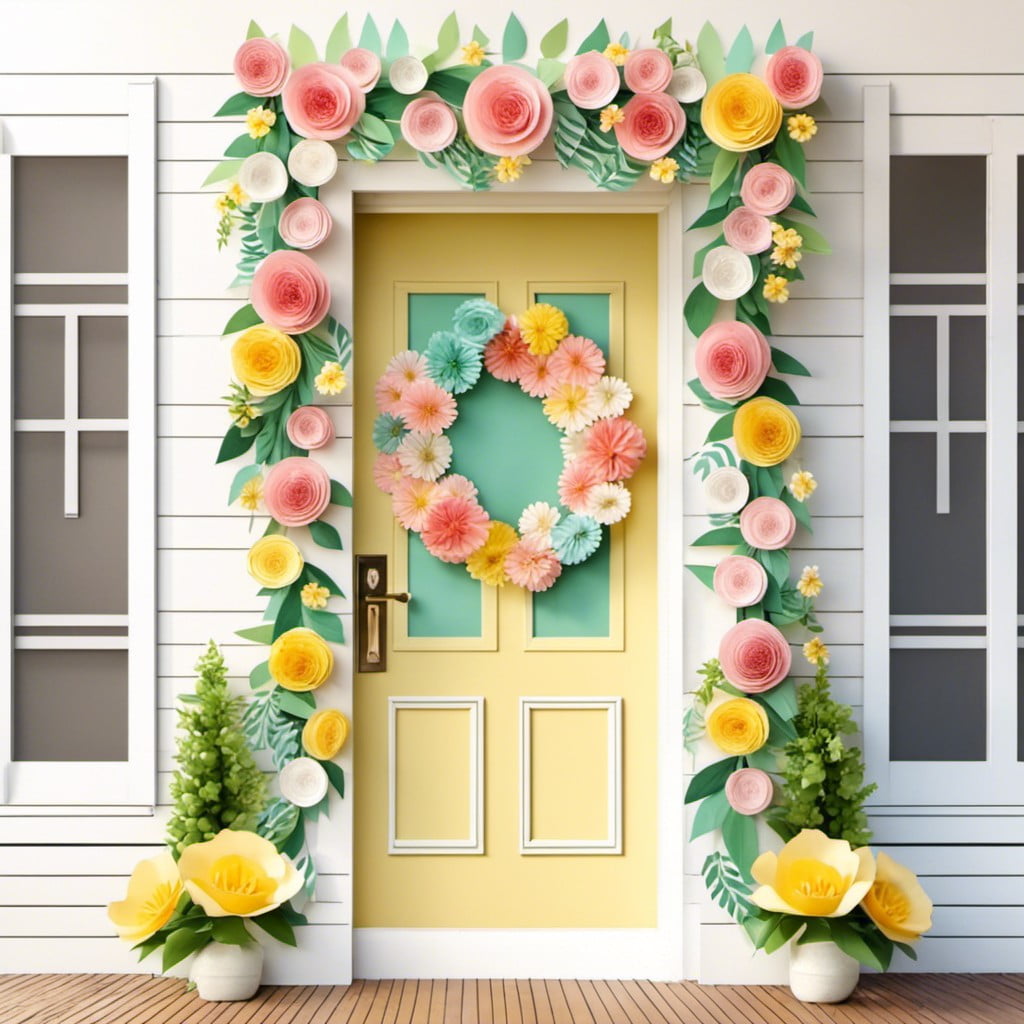 Crafted from vibrant crepe paper or even folded origami paper, these garlands bring a dash of spring beauty to your door.
Start by choosing your favorite blooms. Roses, daisies, or tulips work well.
Cut the paper into petal shapes and glue them together to form flowers.
Attach these paper flowers to a length of twine or ribbon.
Aim for a cascading effect for visual interest.
Hang this medley of colors and shapes across your door for a picturesque seasonal touch.
If you're feeling a bit adventurous, incorporate some paper butterflies or leaves into your garland.
The creative possibilities are endless.
It's an easy, affordable, and decidedly springtime look.
Umbrella Wreath Filled With Tulips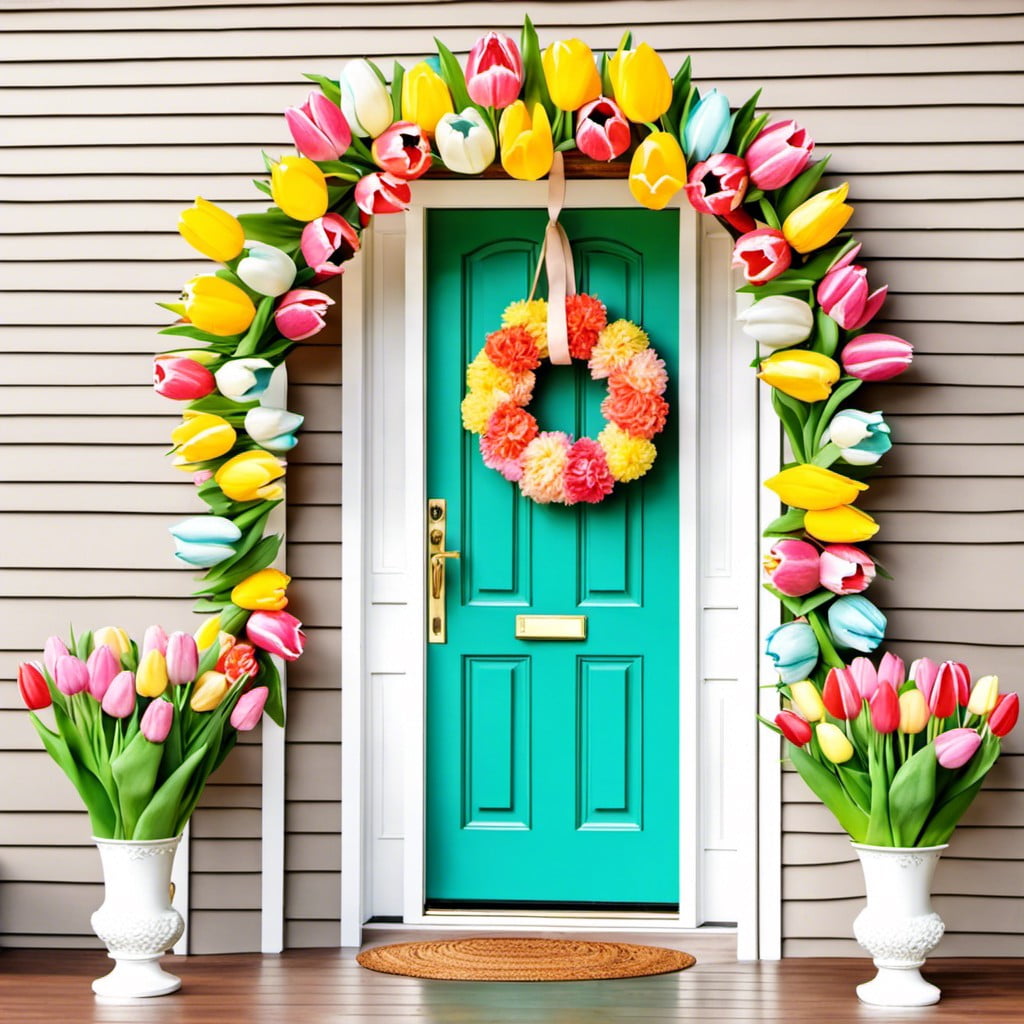 This eye-catching spring door decoration makes use of an everyday item – an umbrella. To create this, choose a bouquet of vibrant, colorful artificial tulips and simply place them inside an open umbrella. Secure the flowers using a ribbon or twine to maintain a 'just picked' floral look.
Consider selecting a pastel or clear umbrella for a distinctly springtime feel. The juxtaposition of the umbrella with the blooms adds a whimsical, unexpected touch often appreciated in seasonal door decor.
The ease of assembly is one of its key attractions. With no need for special tools, it's an approachable project for decorators of all skill levels.
Above all, vary the colors and types of flowers depending on personal preference or to suit a specific theme. Changing out the blooms allows this concept to be easily adapted for different seasons or holidays. Tulips are ideal for welcoming in the spring months, but summer might encourage sunflowers, while autumn could invite fall foliage or mini pumpkins, for instance.
Sprouting Spring Tree Cut-out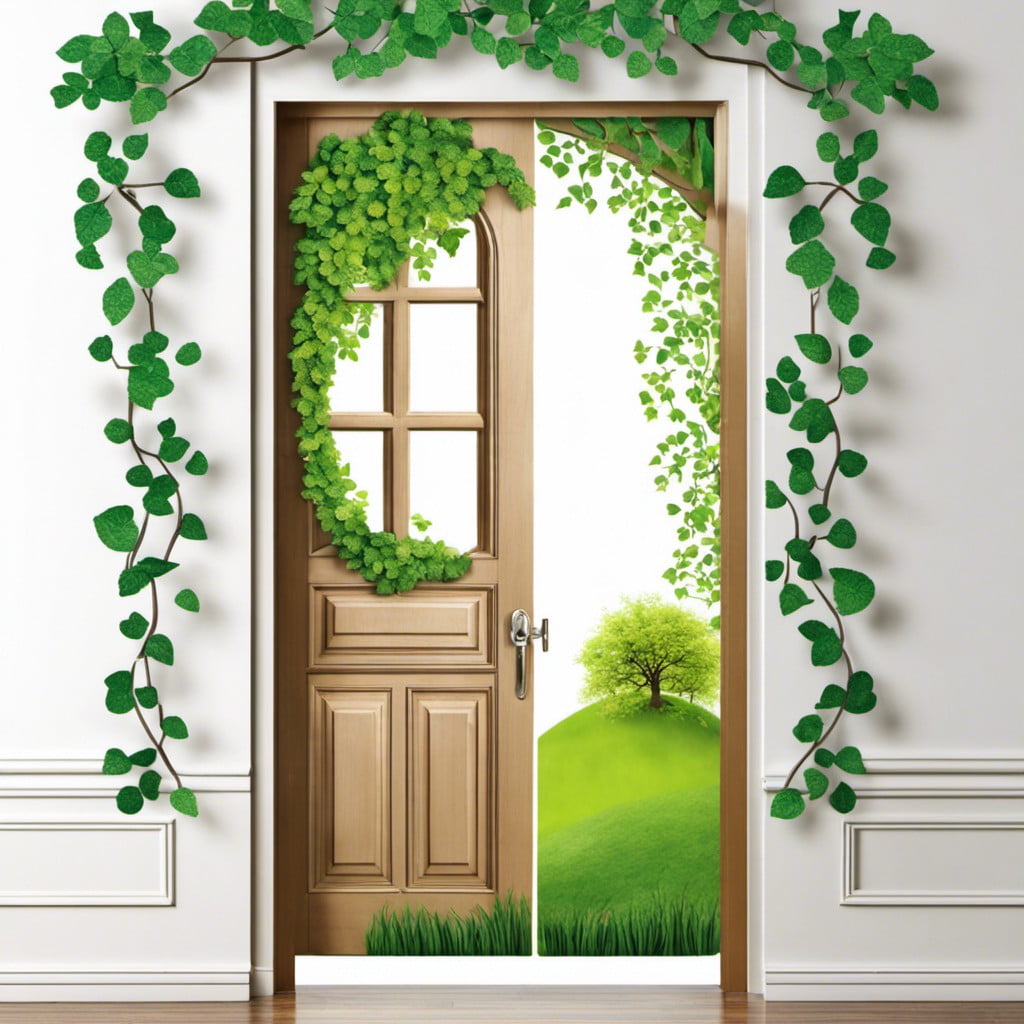 Using a piece of sturdy cardboard or thin plywood as your base, draw and cut out a tree shape, allowing for the beauty of naked branches reaching toward the sky. Creativity is key here, so let loose, and make it as simplistic or intricate as you want.
For the sprouts, lightweight craft papers in varying shades of green are ideal. Tear or cut them into small leaf shapes and adhere them randomly to your branches, mimicking the process of budding in nature. Always remember, nature is imperfect, so stay clear of evenly spaced patterns.
This decoration embodies the essence of spring; a time of renewed life and growth.
To up the ante, adding tiny three-dimensional paper flowers or small faux birds to give it an animated look. Alternatively, a touch of sparkle with glitter could mimic dewdrops on a sunny spring morning.
Remember, this work of art will be a focal point on your door, so size matters. Scale it to be clearly visible and pleasant on the eye from a distance.
Lastly, ensure a solid yet discrete hanging mechanism is in place. Fishing line or transparent string works perfectly for a floating illusion effect.
This sprouting spring tree cut-out is a charming and eco-friendly way to welcome the new season to your doorstep.
Moss-covered Monogram Door Decoration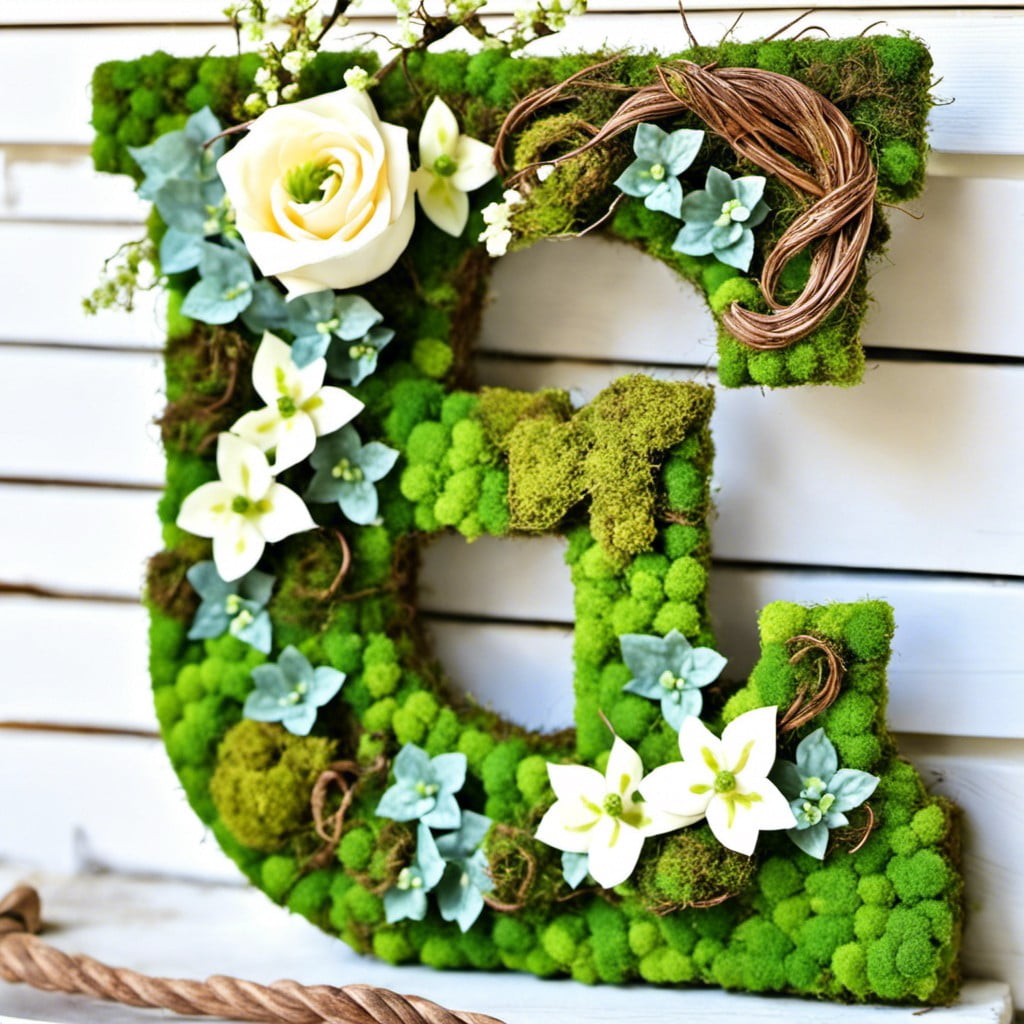 Opting for a combination of greenery and personalization, this decoration emerges as a unique choice. To start, you'll need a moss sheet, a hot glue gun, and a 3D letter that represents your family's surname.
The construction makes for a fun, straightforward weekend project. Cut the moss sheet into sections to fit the 3D letter entirely, then adhere with your hot glue gun. It's just that simple.
Remember, there's room to include your style. You might incorporate ribbon for hanging, nestle in some small faux birds, or add miniature spring flowers for a pop of color.
In maintenance, moss is virtually carefree, which means you can relish the fresh, earthy appeal all season long. It's the perfect blend of nature and chic sophistication on your front door.
Hanging Rain Boots Filled With Flowers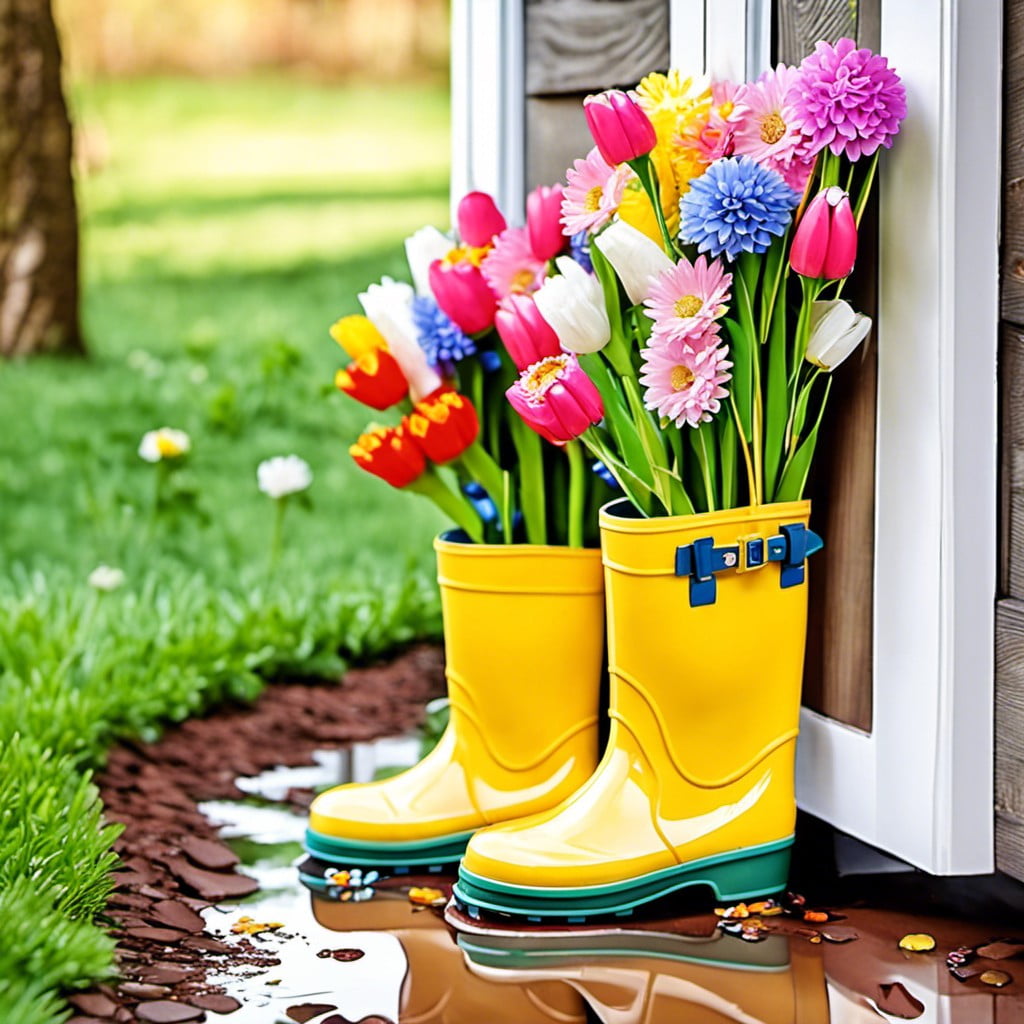 Creating this unique decoration involves selecting a pair of rain boots, preferably in a bright, spring-like color or a pattern that complements your door. Consider faux flowers for long-lasting vibrancy, although fresh blooming varieties can also be a delightful touch.
Here's how to create this charming arrangement:
1. Ensure your rain boots are clean, both inside and out.
2. If using fresh flowers, add a jar or vase inside each boot to hold water.
3. Arrange your chosen flowers in the boots, ensuring even distribution for visual balance.
4. Attach a durable string or twine to each boot for hanging.
5. Use a command hook or similar damage-free device to hang boots on the door.
The beauty of this idea is its flexibility; it's easy to swap out different flowers to match the changing bloom times of spring or even transition into a summer look. The trick is to keep it playful and vibrant to capture the essence of spring.
DIY Birdhouse Door Decoration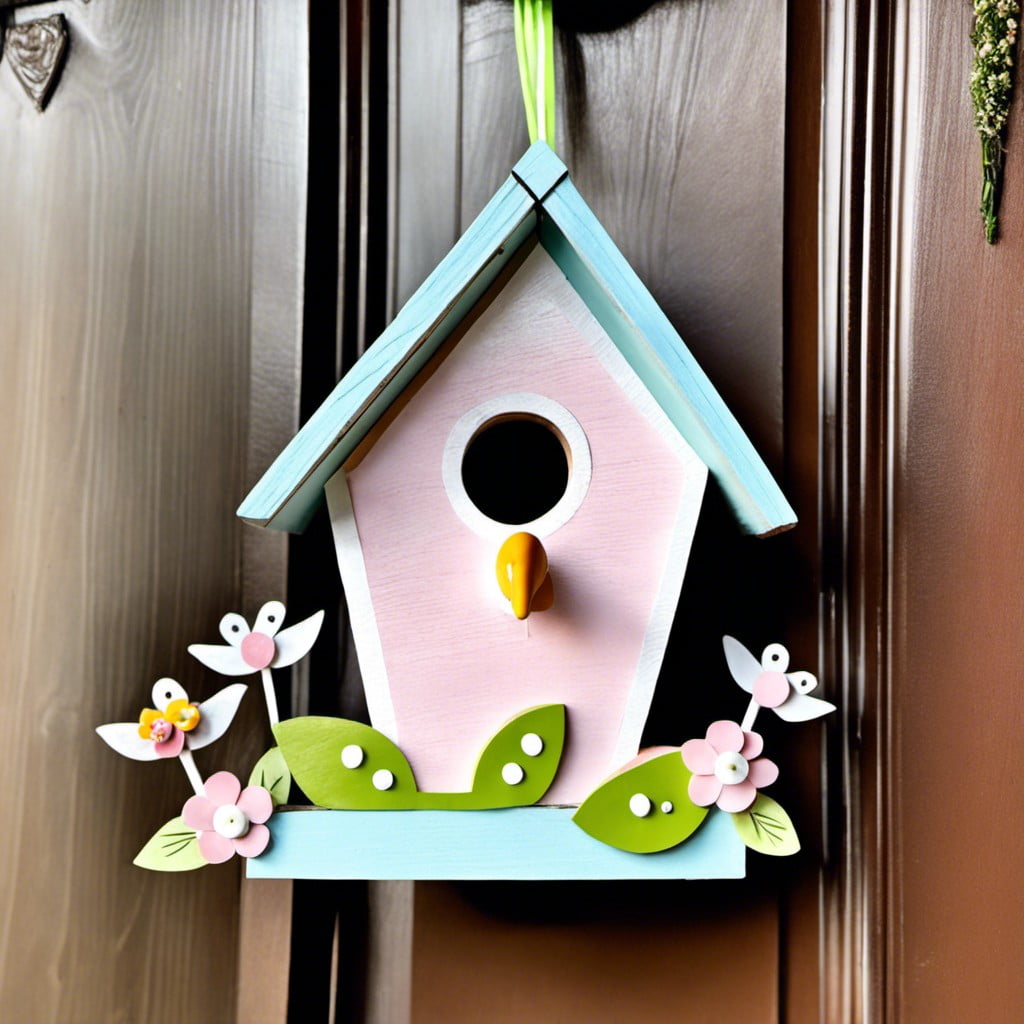 With a little creativity, birdhouses can make a captivating door decoration for spring.
1. Choose a birdhouse, either purchased or handmade. Both options work, but a handmade birdhouse may add a personal touch.
2. Paint the birdhouse. Pastels and bright colors are both appealing during spring. Consider adding a weatherproof varnish for a long-lasting finish.
3. Add unique features. This could be a small bird, artificial flowers, or other springtime accents.
4. On the back of your birdhouse, attach a sturdy string, wire, or ribbon. Make sure it's secured well enough to hang the birdhouse.
5. Finally, hang your birdhouse on the door. Try different heights to find what fits best.
Remember that nature and whimsy are hallmarks of spring, don't be afraid to let those elements shine through in your birdhouse decoration.
Miniature Watering Can Decoration With Real Plant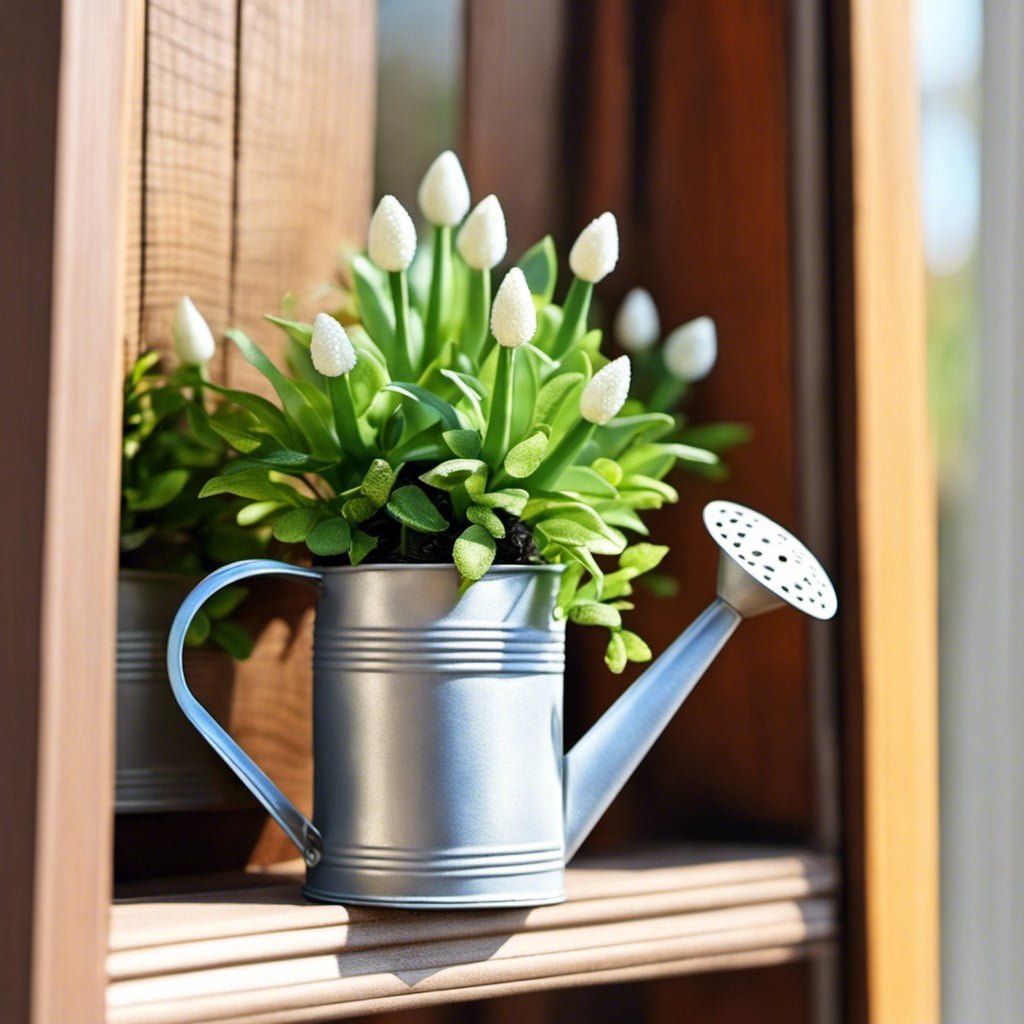 Embracing the lively spirit of spring, incorporating a real plant in your doorstep decoration adds a refreshing touch. A miniature watering can serves as a whimsical container for a seasonal bloom, thus fusing nature and craftsmanship.
Let's explore the quick steps involved:
1. Select a miniature watering can, preferably in a shade that matches the color scheme of your front porch.
2. Choose a hearty spring plant. Pansies or marigolds can be vibrant options.
3. Place small pebbles at the bottom of the can for better drainage.
4. Fill the can with a good quality potting soil up until it's about two-thirds full.
5. Position the plant inside and press down gently.
6. Find a suitable hanging spot on your door.
Remember to water the plant regularly. This decoration embodies the nurturing aspect of spring while lending a charming touch to your entryway.
Rosette Fabric Spring Wreath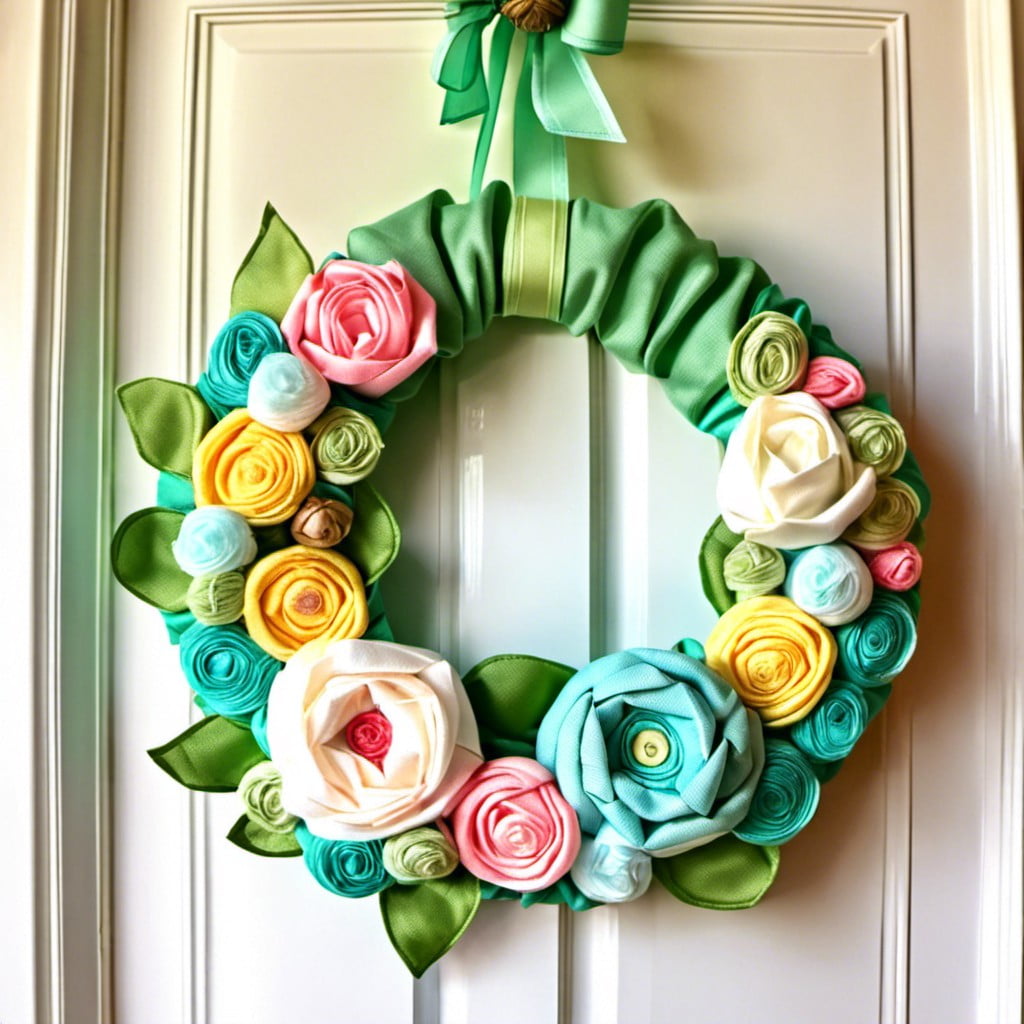 This DIY decoration delicately fuses elegance and simplicity in one wreath. To get started, gather multiple fabric rosettes—these can be purchased or handmade by rolling strips of fabric. Opt for spring colors like peach, lavender, and mint for a refreshing aesthetic.
Next, take a foam or straw wreath form and wrap it with a coordinating cloth or ribbon. The rosettes can be secured to the wrapped wreath using hot glue for a firm hold. For a more dramatic look, cover the entire surface with rosettes, or for a simpler design, adorn just one side.
A striped ribbon makes a striking contrast against the blooming rosettes, perfect for hanging your stunning creation. This easy-to-craft decoration not only refreshes your door but also warmly welcomes the blissful spring season. With your creativity, this fabric rosette wreath will surely be a head-turner.
Rustic Spring Branch Door Hanger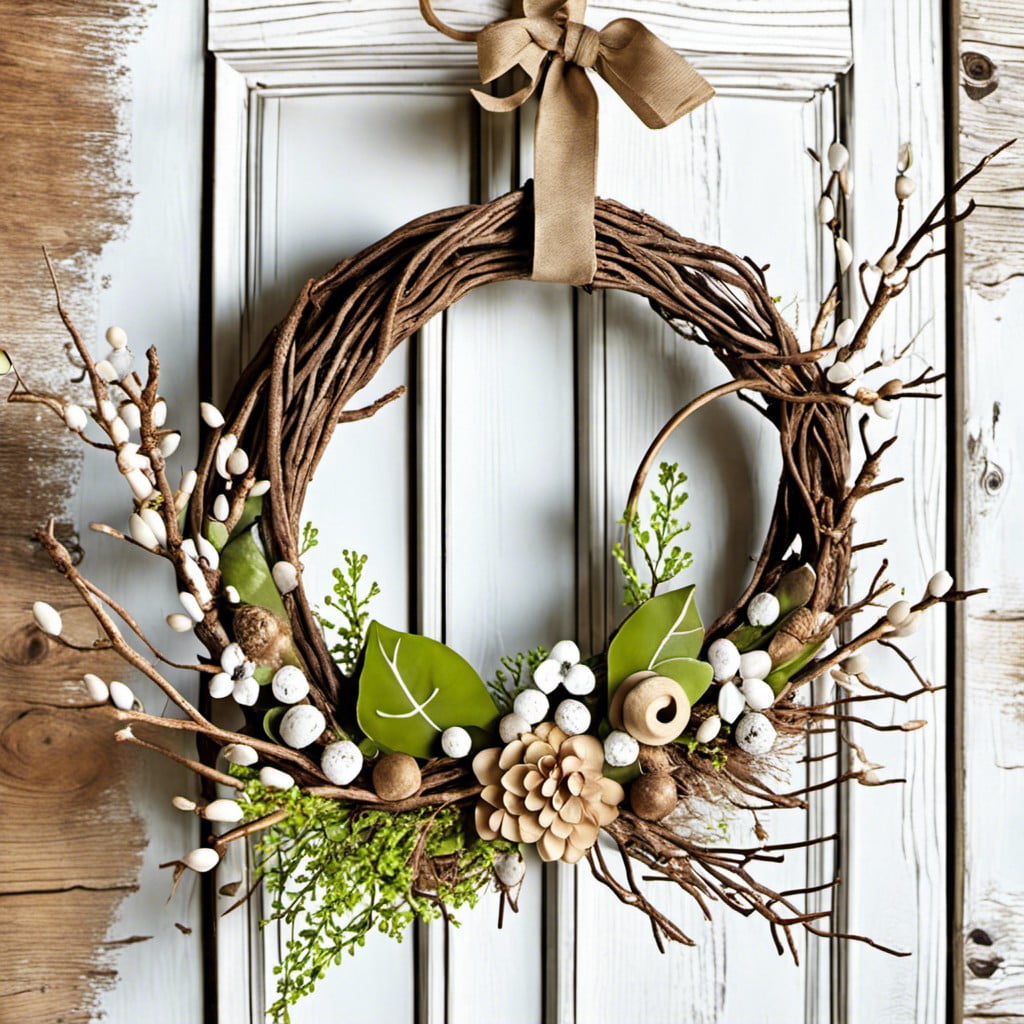 A door hanger crafted from spring branches adds a rustic charm to your home's exterior. This DIY project requires just a few items – sturdy branches, string, and your choice of decorations such as fabric blooms or tiny bird figurines.
To make this decoration, start by trimming branches into similar sizes. Wire them together into a rectangular shape, then wrap with string for added stability and an organic touch. Attach your chosen ornaments, remembering to balance their placement to maintain a natural look.
This door hanger's beauty lies in its simplicity and the subtle nod to nature's revival, as trees regain their leaves after winter's retreat. It's versatile, matches many décor styles, and can easily be personalized. Incorporating seasonal elements, like sprigs of cherry blossoms or robin's eggs, can also make it feel even more like spring.
Decorative Garden Tool Hanging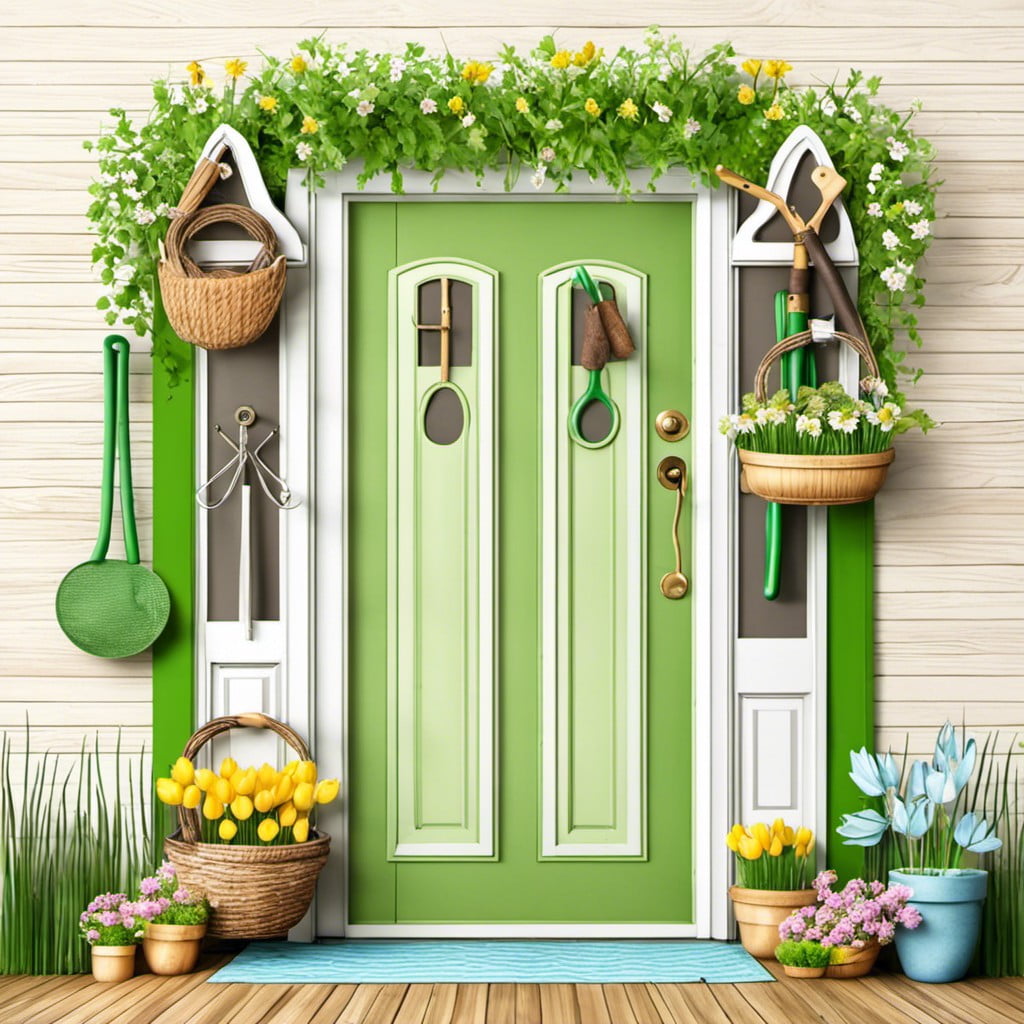 Emphasize the joy and activity of gardening in spring with this unique decor idea. Hang a brightly painted shovel or rake on your door, adorned with artificial flowers to echo blossoming gardens.
Use ribbons to tie miniature pots, complete with their own set of faux flowers, to the handle. For a more personalized touch, apply stencils or decals of words like "Welcome" or "Spring" on the tool's surface.
It's a charming and creative symbol not just of the season, but also of the garden work that comes with it. This door decoration will surely make your home stand out while highlighting your love for spring gardening.
Butterfly and Twine Wrapped Wreath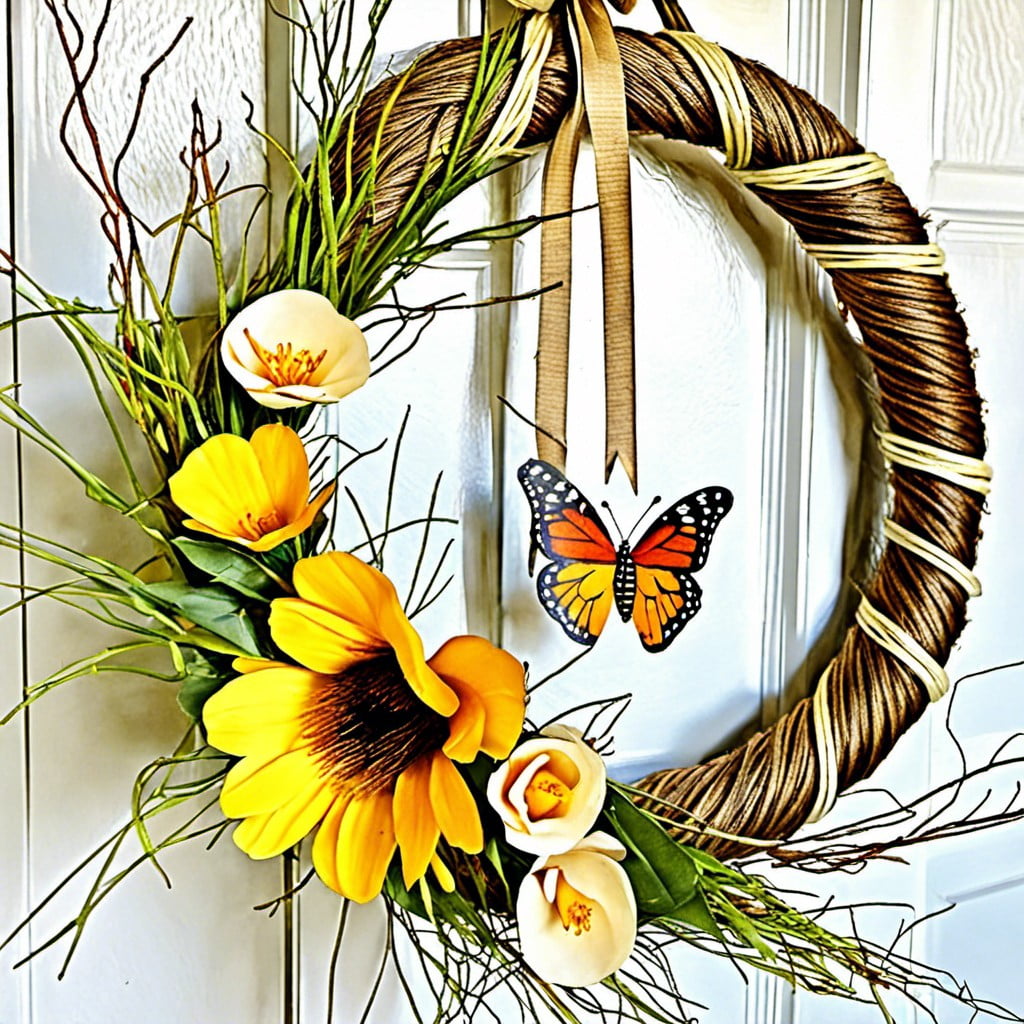 To craft this elegant decoration, you'll need a sturdy base, like a foam or grapevine wreath, essential natural twine, and imitation butterflies available at most craft stores.
Begin by wrapping the twine in tight circles around your base—this gives the wreath an organic, rustic appearance.
After you've fully wrapped the wreath, it's time to affix the butterflies.
Scatter them across the wreath in a pattern that's pleasing to your eye, either in a random fashion or more structured, like a clock face.
Use a hot glue gun to ensure the butterflies stay in place.
You can pick butterflies of different sizes and colors for added depth and visual interest.
This project is not only a delightful way to welcome the season but also a fun DIY endeavor that you can produce in an afternoon.
Remember, your door deserves a fresh spring look that's as inviting as the season itself.
Hang your creation on the door, step back, and admire.
Sunflower Door Basket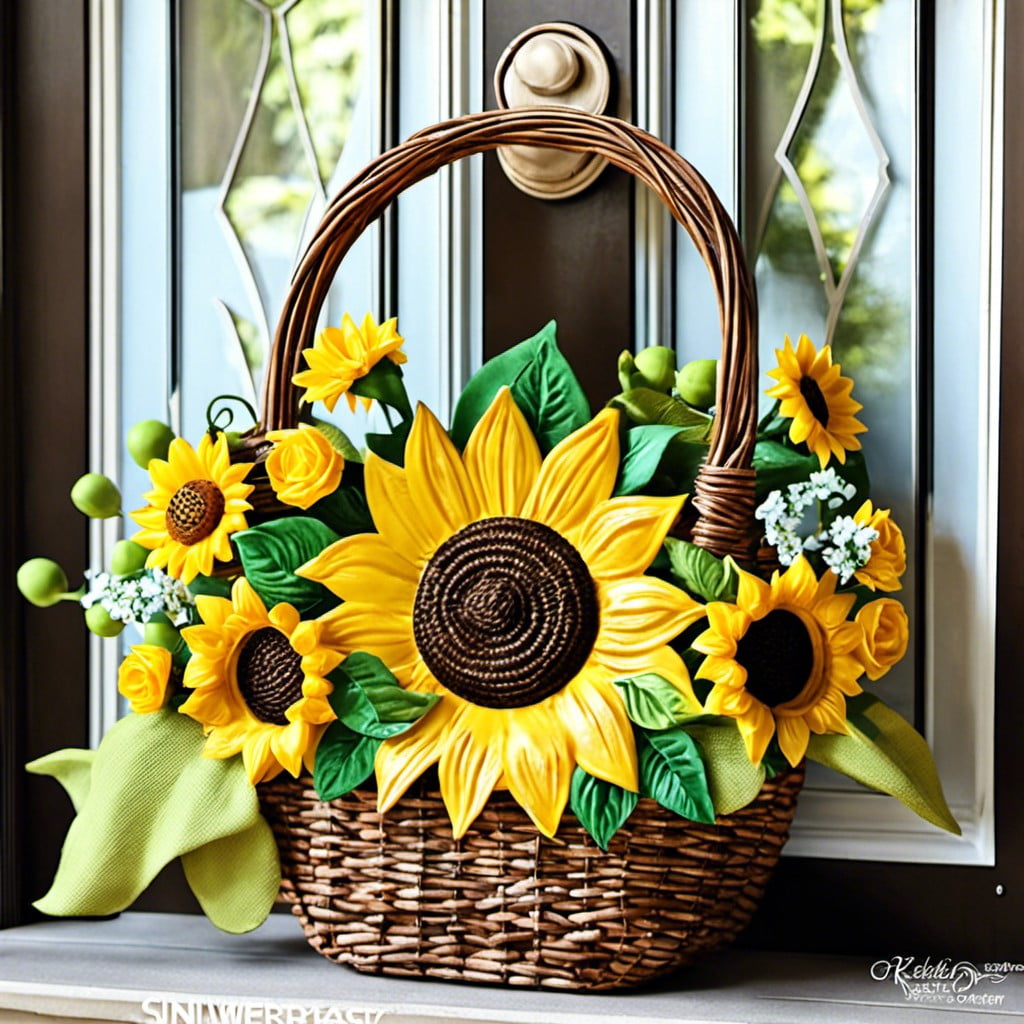 Creating this visually appealing decoration starts with finding a sturdy, preferably rectangular, wicker basket. Fill the basket with artificial sunflowers, the brighter the better for a pop of color. Ensure the flowers are fastened securely; hot glue serves well for this purpose.
The design can be enhanced by adding faux leaves or ivy for a richer look. For a unique touch, consider incorporating miniature ladybugs or butterflies amongst the yellow blooms. To hang, a wide, colored ribbon would be ideal, contrasting yet complementing the bright sunflowers.
Investing in weather-resistant materials ensures longevity, allowing the decor to withstand any surprise spring showers. Remember, while sunflowers are the star in this DIY project, flavors of personal creativity can always steal the show.
This decoration serves not only as a vibrant welcome statement but also as an ode to the sun-filled days spring brings with it. It adds a cheerful element to any doorway, promising to uplift spirits even on the cloudiest of days.
Colorful Ribbon Embroidery Hoop Wreath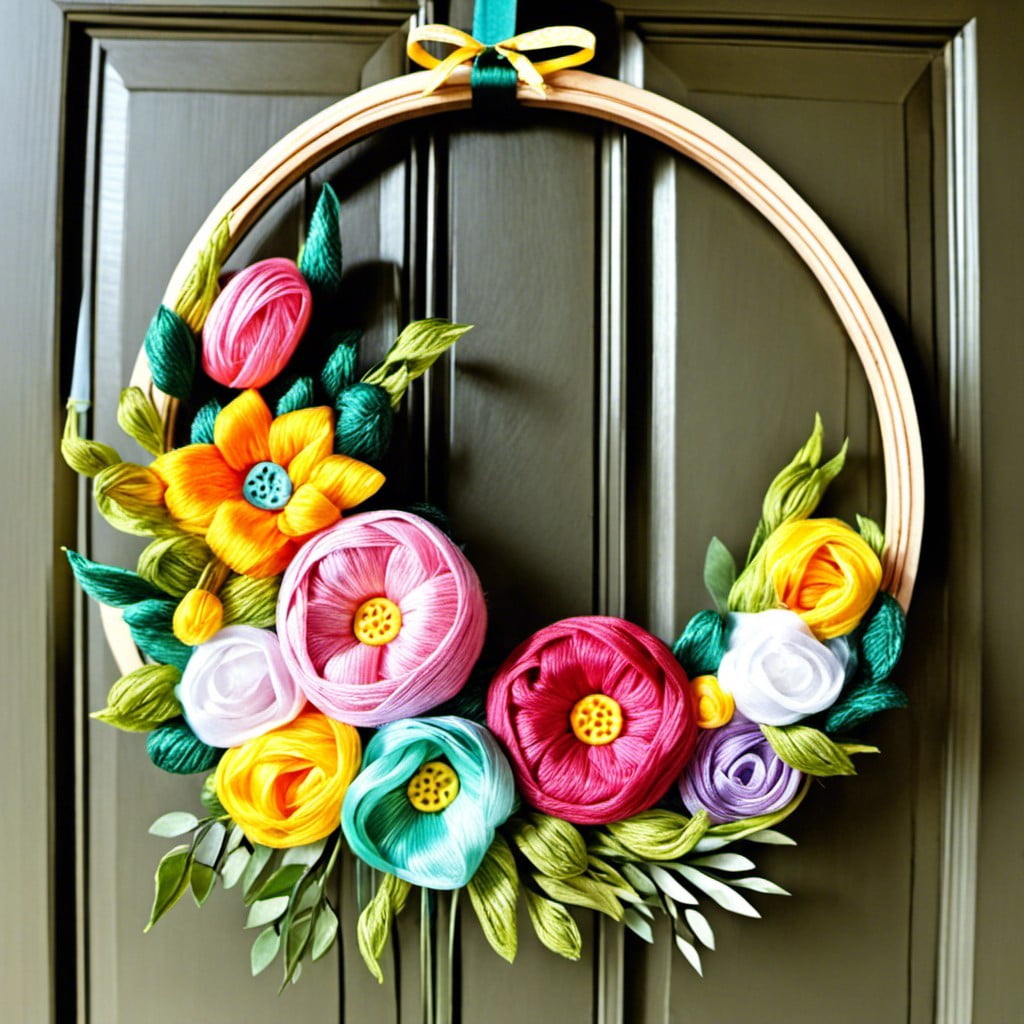 Harness the vibrant energy of spring right at your doorstep by crafting an embroidery hoop wreath festooned with colorful ribbons! This DIY project builds on the simplicity of design and a riot of colors, effortlessly capturing the spirit of the season.
Here's a brief guide on how to get started:
Start by selecting an embroidery hoop of your preferred size.
Choose ribbons in various colors and textures to evoke spring's natural palette.
Tie the ribbons around the hoop, ensuring an even spread with no gaps.
For a unique touch, consider adding embellishments such as small bird figurines or faux flowers.
Once complete, securely hang your wreath on the door, showcasing your creativity for all to see.
Enjoy experimenting with different ribbon combinations to best match your aesthetic, whether it's buttery yellows, soft pinks, or a more eclectic mix. The result is sure to be a bold, joyful statement that welcomes the season.
DIY Painted Daisy Door Mat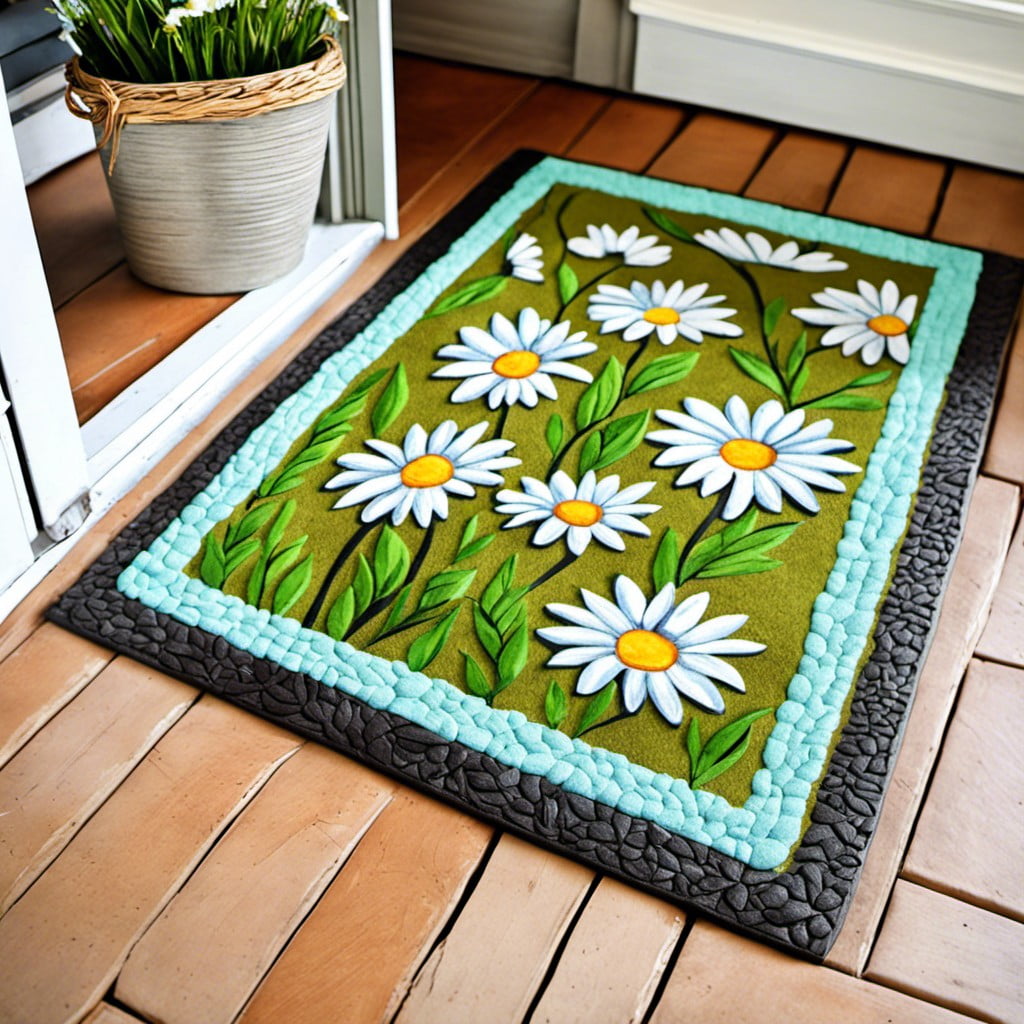 A visually captivating entrance can be achieved with just a few art supplies. Opt for a plain coir door mat as your canvas. Next, gather acrylic paints in white and yellow, along with a stencil of a daisy, to bring your image to life.
Here are the steps:
1. Secure the daisy stencil onto the blank mat.
2. Apply the white paint over the stencil, ensure even coverage.
3. Once dried, layer your yellow paint in the center of each daisy for an authentic look.
4. Allow ample drying time before positioning it at your doorstep.
This do-it-yourself project adds an element of uniqueness and artistic flair to your entrance. It's also an inviting way to welcome spring's vibrant and energetic vibe right at your porch. Plus, it's durable enough to endure the various elements of spring weather. This easy project can be refreshingly therapeutic, letting your inner artist have some fun while decorating your home for the season.
Spring-themed Chalkboard Sign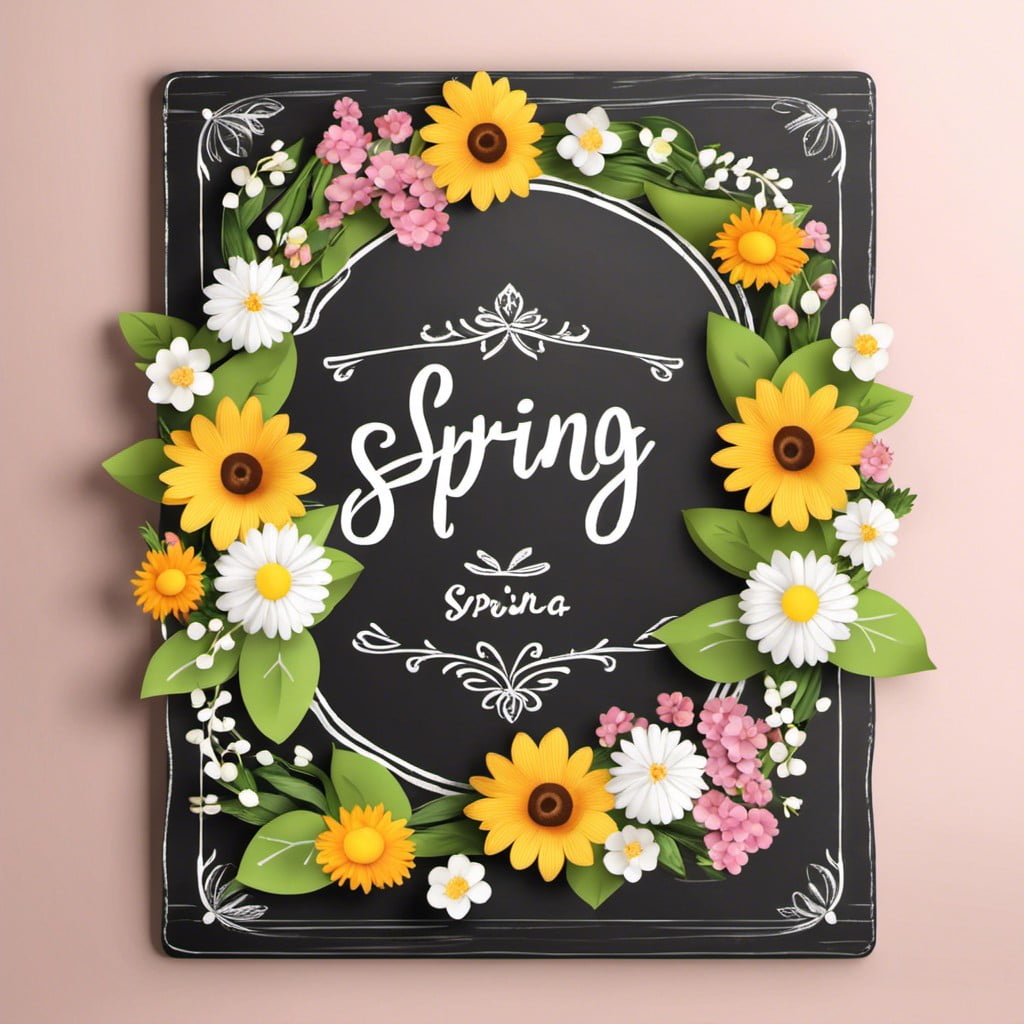 A refreshing change in your seasonal decor, chalkboard signs offer versatility due to their reusability. These signs can feature anything from welcoming messages to hand-drawn spring designs such as blooming flowers or little birds.
With a bit of chalk or chalk markers, your creative possibilities are endless allowing your door to be as unique as you are. Suitable for both indoor and outdoor use, these signs are easy to clean and update for each season or on a whim.
For a pop of color, consider a frame with a spring-themed hue. Add hooks or a ribbon for a sturdy hang. Remember, your handwriting adds an extra layer of personal touch. Embrace the aesthetic of semi-perfect lettering—it's part of the charm!
Yarn Wrapped Carrots Door Hanger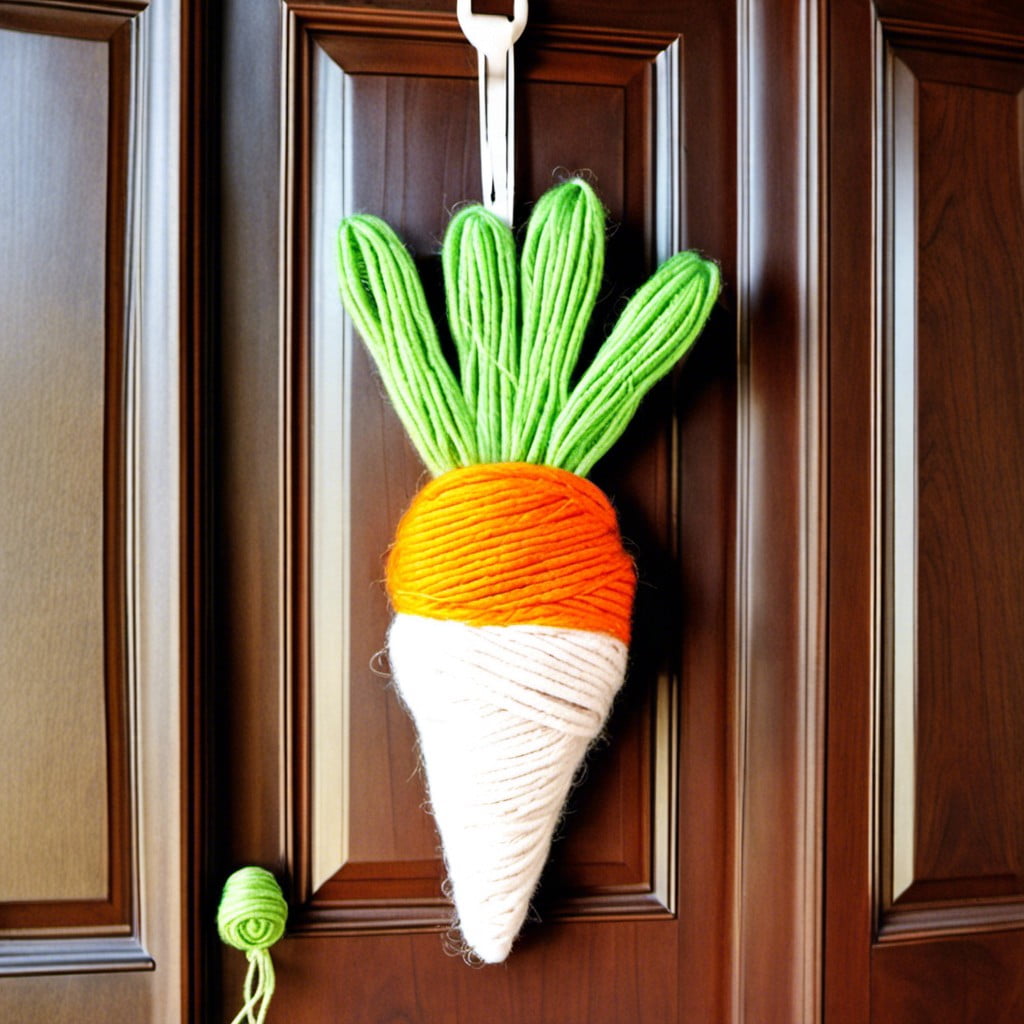 Crafted with lively orange yarn and accented by refreshing green sprigs, the Yarn wrapped carrots provide a charming spring flair to any door. The lightweight design makes them easy to hang, ensuring minimal damage to your door.
Here are some key points to remember while creating these delightful door hangers:
1. Selecting the right yarn: Choose a bright orange shade of yarn to depict the vibrant color of a real carrot. For the top, lush green yarn can be used.
2. Carrot's core: Starting with a foam craft cone as the base provides a firm, lightweight structure to wind your yarn.
3. Wrapping technique: A careful and consistent wrapping method is crucial. Make sure the yarn is wound tightly around the cone, with no gaps. Secure ends using a hot glue gun.
4. Carrot tops: The green sprigs can be short lengths of yarn or pieces of green felt cut into leaf-like shapes. They should be securely glued at the top of the cone.
5. Assembling the bunch: Gather your individual carrots into a bunch and tie them together with twine or ribbon. Add a loop for hanging.
Embrace the joy of crafting while creating a festive and welcoming ambiance at your doorstep with this project.
Liked reading this? Here's more:
Recap: