Last updated on September 22, 2023
Moving into a new apartment and buying kitchen essentials can be quite pressuring. You need to make a list of the things you need.
Select all of the items you need for everyday use and the ones you will use only for special occasions. Kitchen items are easily overlooked and forgotten.
So tip number one is to make a list. There is a great possibility if you buy more than one item to have a discount.
In This Post:
Set Your Budget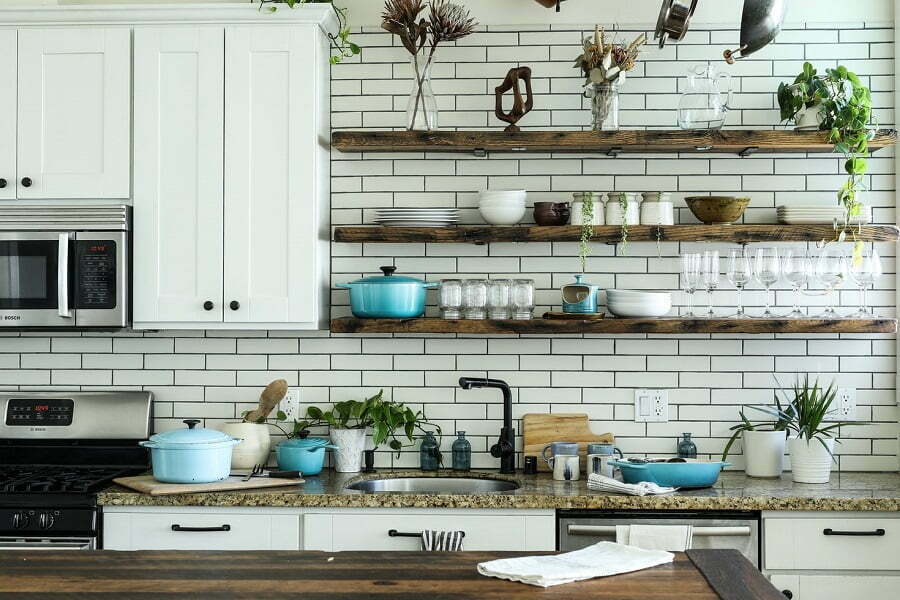 This is a very important item. Kitchen essentials can be quite expensive and draw out more money than you planned. Some exclusive pieces can be overpriced. When you are first moving into your new apartment, then you should consider getting some minimalistic dishes that are not too expensive but have classy and elegant looks.
The key point is to find a perfect balance between quality and things you can afford. Make a list of priorities. It is a much better option to invest your money into the things you will constantly use like frying pan and casserole dish. Some electronic equipment can be quite budget burdening, and you have to prioritize the electronic devices that will be in constant use.
Kitchen Essentials Purchase
There are must-haves that every kitchen needs. The dishes you will use for eating and making your meals. These are a large stockpot, a large frying pan, a small frying pan, a casserole dish, and a small pot. These are the essentials that must be found on your list. Otherwise, you will not have anything to cook in. Other kitchen must-haves are at least one bowl, plates, spoons, knives, forks, and glasses.
Try to stick to the dishes you can wash and reuse. These dishes have a longer serving span. If you are a coffee lover, then you should buy some mugs and coffee cups. You have to think in advance. You will not always be alone, sometimes, there will be guests over. You must have some extra dishes for these situations.
Make sure to buy some of the things that will serve you for food packing. These include storage containers and plastic bags. These are very efficient for your leftover handling. These are not good only for food packing but are also very useful and efficient when it comes to food preparation. It is good for you to have different sizes of containers for the different food portions.
Electronic Devices
Electronic devices are things without which the kitchen cannot function. Most of them are crucial for meal preparation, kitchen cleaning, and for kitchen order maintenance. Besides the oven, dishwasher, and stove.
A microwave, blender, and toaster will help your kitchen run smoother. None of these electronic devices do have to be extra expensive and fancy, as long as they serve their purpose and do the job. The microwave, blender, and toaster are great for quick meal preparation and will help you handle situations like sudden guests more easily. There are numerous devices that could be found in the kitchen and most of them come with a certain price.
Try to be real with yourself and estimate which devices you will use the most, and which you will not use at all. Try to make good connections with your local electronic kitchen devices sellers and earn some discounts. According to the folks at apreparedkitchen.com, it is crucial to inform yourself about the devices you are buying. A thorough research and reading product reviews will provide you with pre-purchase information that you need. Even though these discounts go up to 20-30%, it is a considerable amount of money when you are taking more than one expensive thing.
ENERGY STAR label
Whenever you are getting the kitchen equipment and appliances, try to find the ones with the energy star label. These devices are more electronically and energy-efficient and cost-effective products. This purchase can be costly at the very beginning since it is a great investment but has a long-term payoff period.
You will find this label on the packaging product or the product itself. It means that these products meet the requirements of the EPA (Environmental Protection Agency). These products are suitable for the kitchen and are food safe. You are not obliged to get any of these electronic devices. But, by getting them you will have lower costs and your bills utilized.
These are just some of the useful advice on how to prepare your new kitchen. Try not to overspend on the things you can buy later when it is more suitable for your budget. It is enough to have a number of dishes and kitchen equipment for everyday use and in case you have some friends over.
Liked reading this? Here's more: