Last updated on November 24, 2023
Explore these unique Valentine bag decorating ideas because they'll transform ordinary gift bags into delightful works of art your loved ones will adore.
Embellishing Valentine bags with creative touches can transform them into delightful gifts for loved ones. From utilizing craft supplies like ribbons, glitter, and heart-shaped stickers to employing techniques such as stenciling, painting, and stamping, there are countless ways to personalize these tokens of affection.
Whether you're crafting for kids, friends, or a significant other, this article will guide you through various decorating ideas for Valentine bags. Each idea is detailed, ensuring you can easily replicate them at home. So, let's dive into these charming DIY projects that are sure to make your Valentine's Day gifts even more special.
Heart-shaped Stickers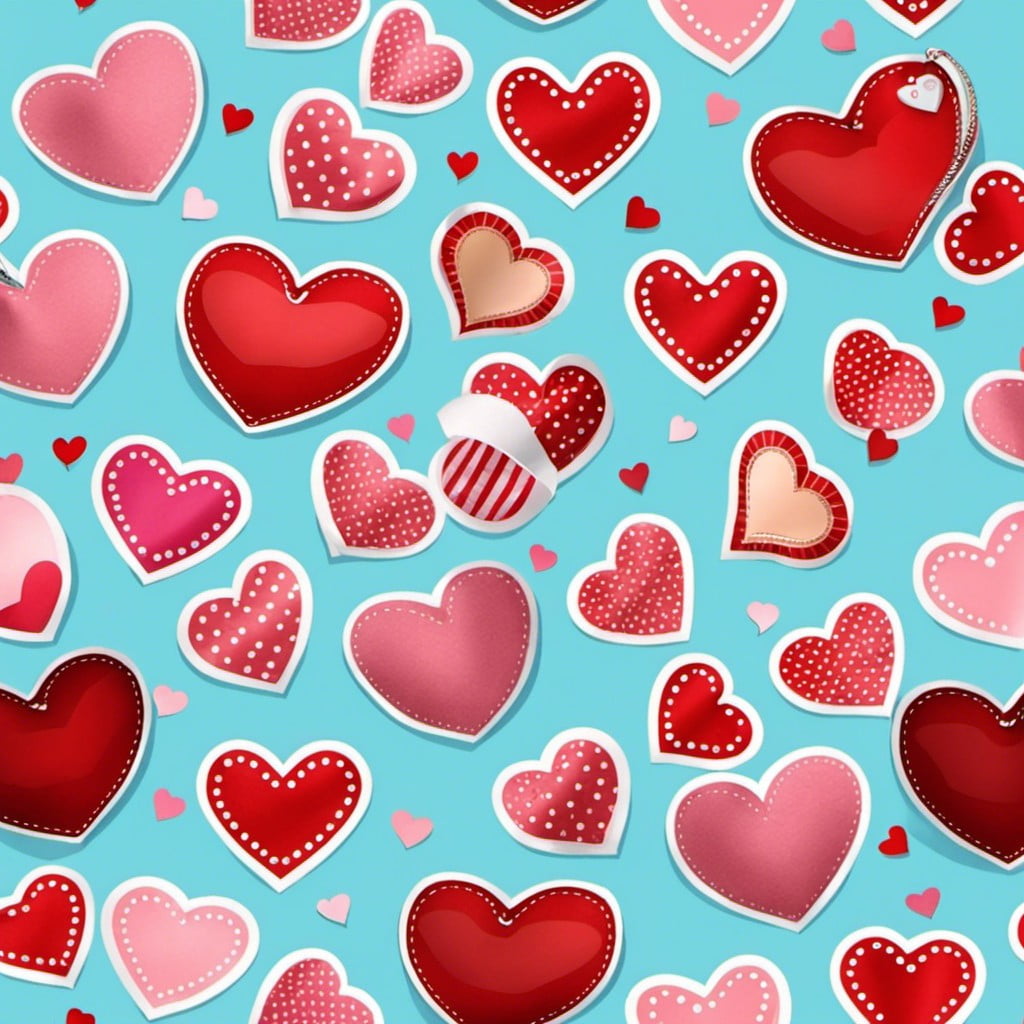 Whether it's sparkly reds, pinks, or even simple white ones, heart-shaped stickers can do wonders. They are an easy and quick way to add a love-symbol touch to your bags.
Apply them at random spots or set them out in patterns, explore your creativity! A tip to remember: to make them last longer, consider sealing them with a clear craft sealer.
Kids will especially enjoy this fun decorating tip, which allows them to add a personal touch to their Valentine bags.
Glitter Glue Designs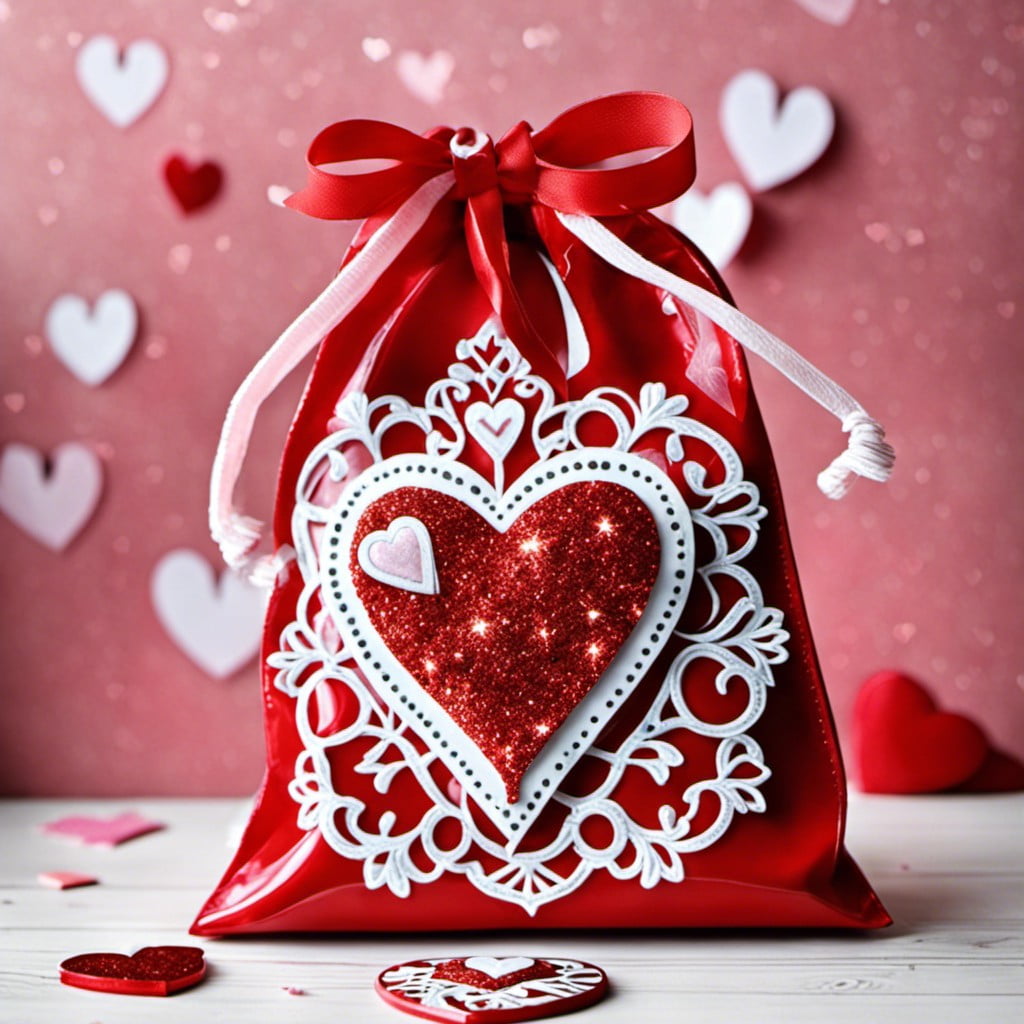 Unleashing creativity can be as simple as a dab of glitter glue. It's an effective way not only to add sparkle but also create numerous designs on the bag.
Here are few tips for using glitter glue in your Valentine's Day bag decorating project:
Sketch your design: Begin by lightly sketching out your intended design. This can help avoid mistakes or misplacement and keep everything symmetrical and balanced.
Use different colours: Glitter glue comes in a variety of vibrant colours. Don't shy away from using multiple hues to enhance your Valentine's bag.
Layering technique: Depending on the design, you might want to use a layering method. It adds depth to your design by ensuring the top layer stands out.
Dry time: Patience is vital with glitter glue. Allow it to dry fully before adding another layer or colour to prevent it from smudging.
Remember, it's not just about drawing and filling in shapes. Use the glitter glue to outline, write messages, trace, and pattern your bag. Allow your imagination to take the lead!
Sequin Patches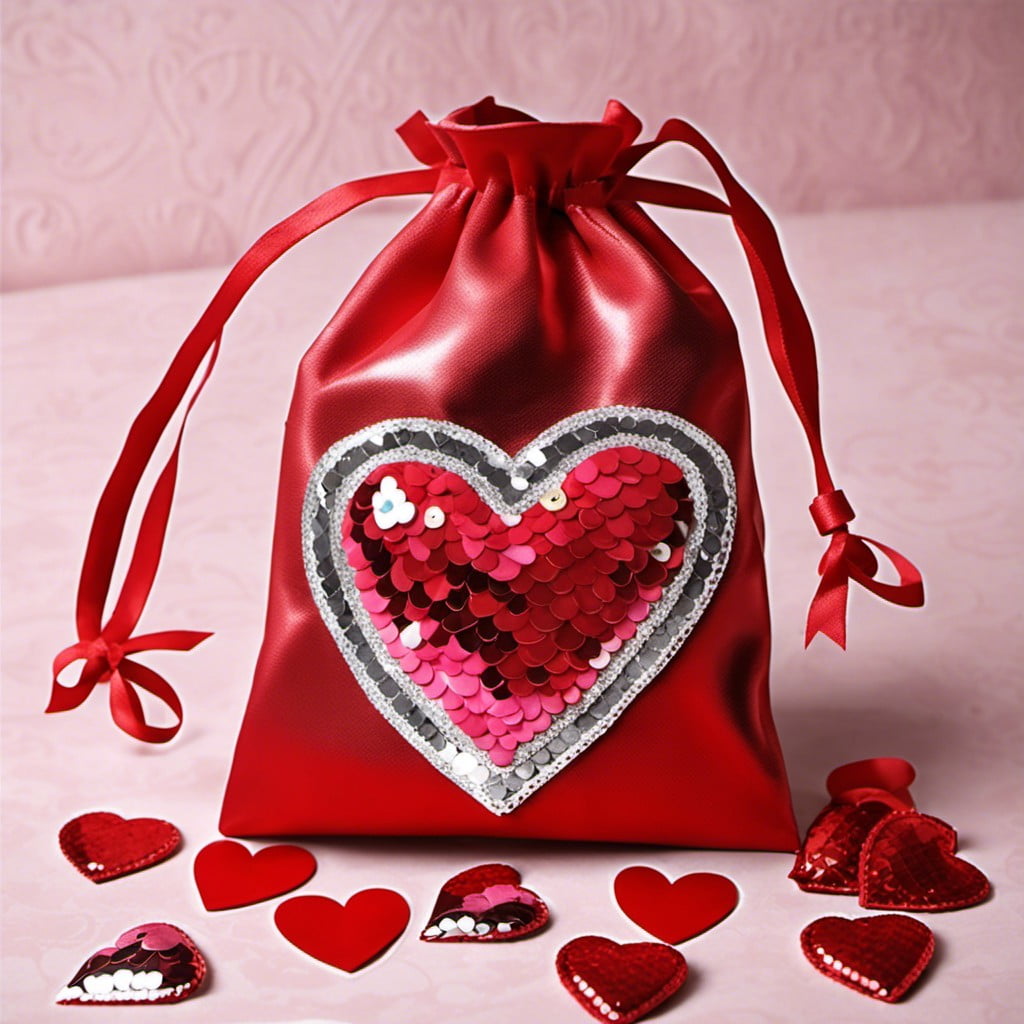 Adding a touch of sparkle to your Valentine bag is easily accomplished with sequin patches. They come in a variety of shapes, sizes and colors, but for this occasion, consider opting for heart-shaped ones in classic Valentine hues. Known for their shimmering appeal, these embellishments can be applied in an organized pattern or used to make an artistic statement.
For those who appreciate more intricate designs, overlapping sequins of different sizes can create an exceptional effect. Installation is simple, with adhesive backs requiring only an iron or hot fix applicator tool for permanence. However, for a less permanent decoration, consider using safety pins to attach the sequins. Plus, their detachable nature allows for customization for every occasion.
Fabric Paint Messages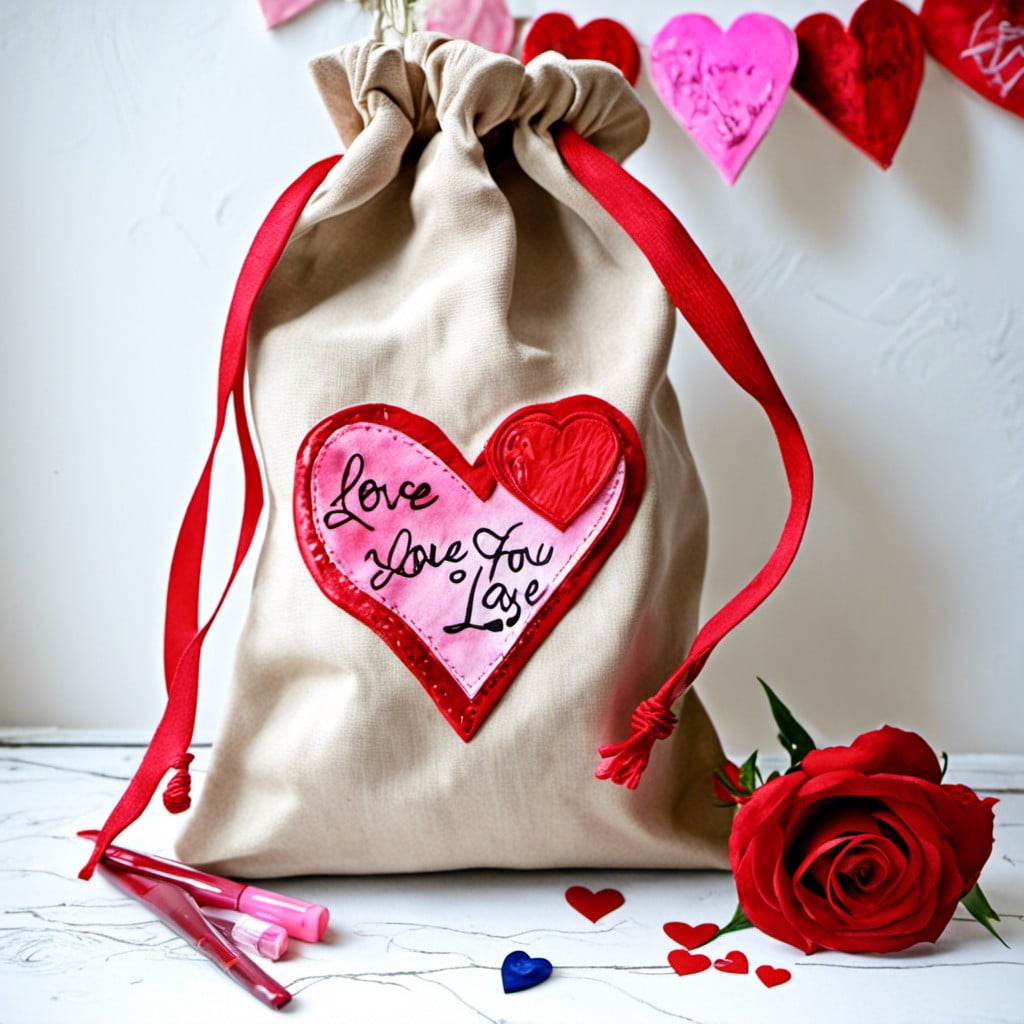 To create a sweet and sentimental valentine bag with fabric paint messages, you will need fabric paint and a set of small brushes. Your preferred fabric paint should be non-toxic, dry quickly and permanently, and be machine washable.
Your messages can range from simple words such as "Love", "Be Mine", or "XOXO", to short quotes or even your special someone's name.
Use a light pencil to outline your desired text and fill it in with your chosen color of fabric paint. You may choose to use contrasting colors or sparkly paint for added pizzazz.
Remember, cursive script or bubble letters often give a more playful and personalized touch.
Handmade Cupid Cutouts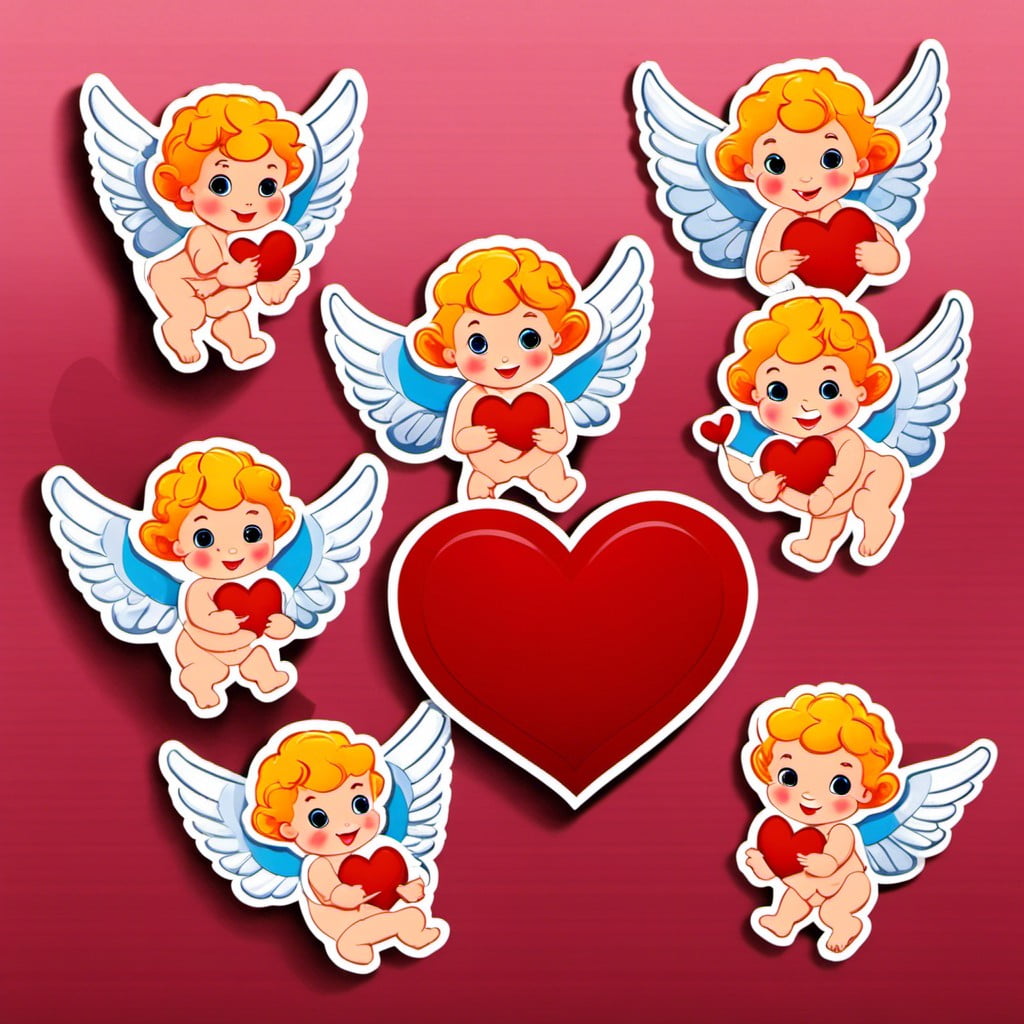 To craft these adorable figures, begin by sketching a basic cupid silhouette on a sturdy piece of cardstock. To achieve simplified yet recognizable features, focus on key details like the bow, arrow, and wings. Once satisfied with your drawing, cut it out using a pair of quality craft scissors.
Next, consider the bag's color scheme. For a harmonious design, choose cardstock that complements or contrasts the bag's hue. Metallic cardstocks, for instance, can lend your project an unexpected yet delightful sparkle.
Don't forget the luxurious touch of texture! Embellish your cutouts with glitter, tiny sequins, or even fabric scraps for added depth and intrigue. Simple stitches may also work wonders in lending a charming, homespun feel. Lastly, attach your finished cutout using a suitable craft glue to ensure it stays firmly in place. Always remember, your creative choices reflect your unique style and affection.
Ensure to be cautious while using sharp instruments or adhesives. Be patient and let your Cupid cutouts dry completely to prevent smudging or displacement. Remember, it's not about achieving professional perfection, but rather about pouring love into every little detail that counts!
Sew On Lace Trim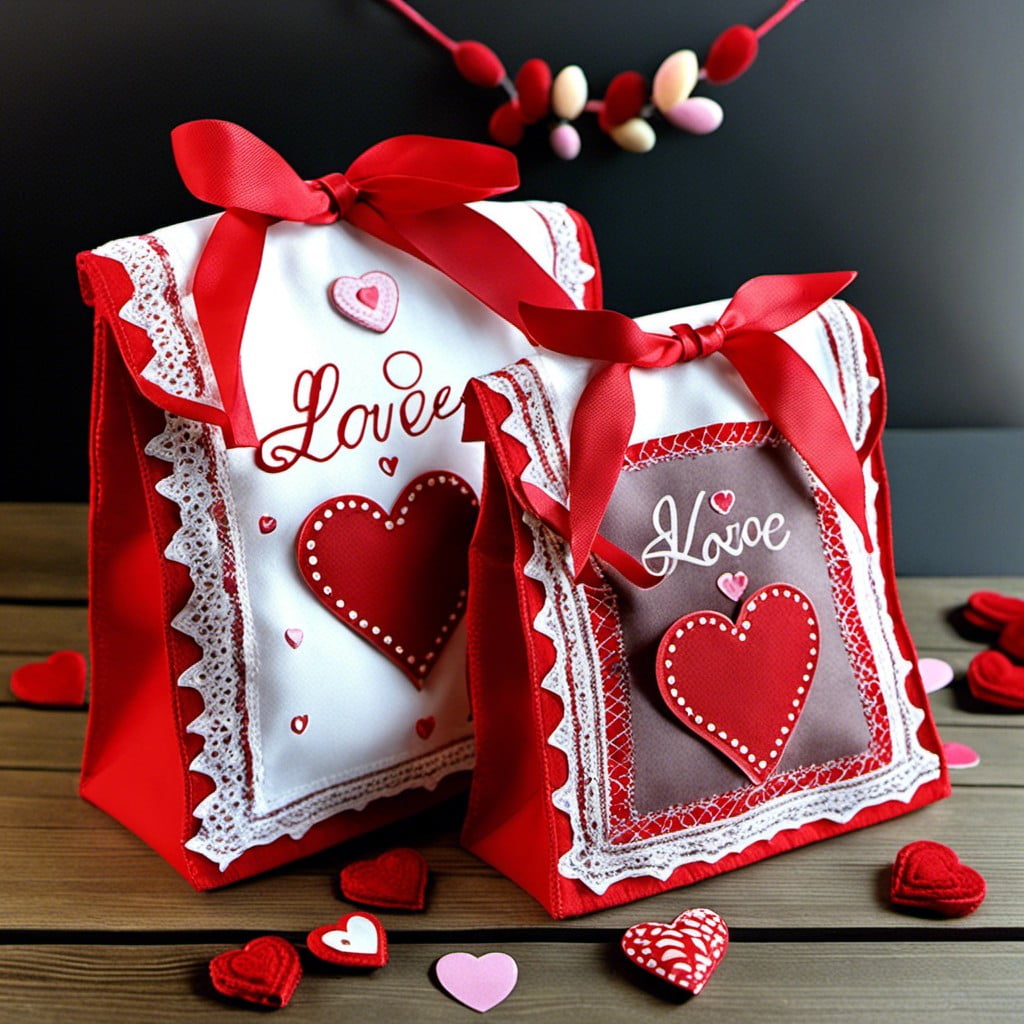 Delicately adding lace trim to your Valentine bag can incorporate a vintage and romantic feel. This trim can be sewn along the top edge, sides, or even the handle to add texture and charm. Lace trim, both wide and narrow, can be utilized. Choose from a variety of colors like white or blush for a more traditional Valentine's Day feel, or venture into hues like lilac or teal for a unique twist.
Consider experimenting with patterns as well, from simple lace edging designs for a minimalist touch, to elaborate floral patterns for a more ornate look. A sewing machine can ensure secure attachment, but hand-sewing allows for more precise placement, particularly with detailed designs. Remember, when sewing, to account for the trim's additional weight and adjust the robustness of your stitches accordingly.
So, grab your needle, thread and lace trim, and get ready to turn your Valentine bag into an object of beauty and elegance.
Stick-on Dimensional Hearts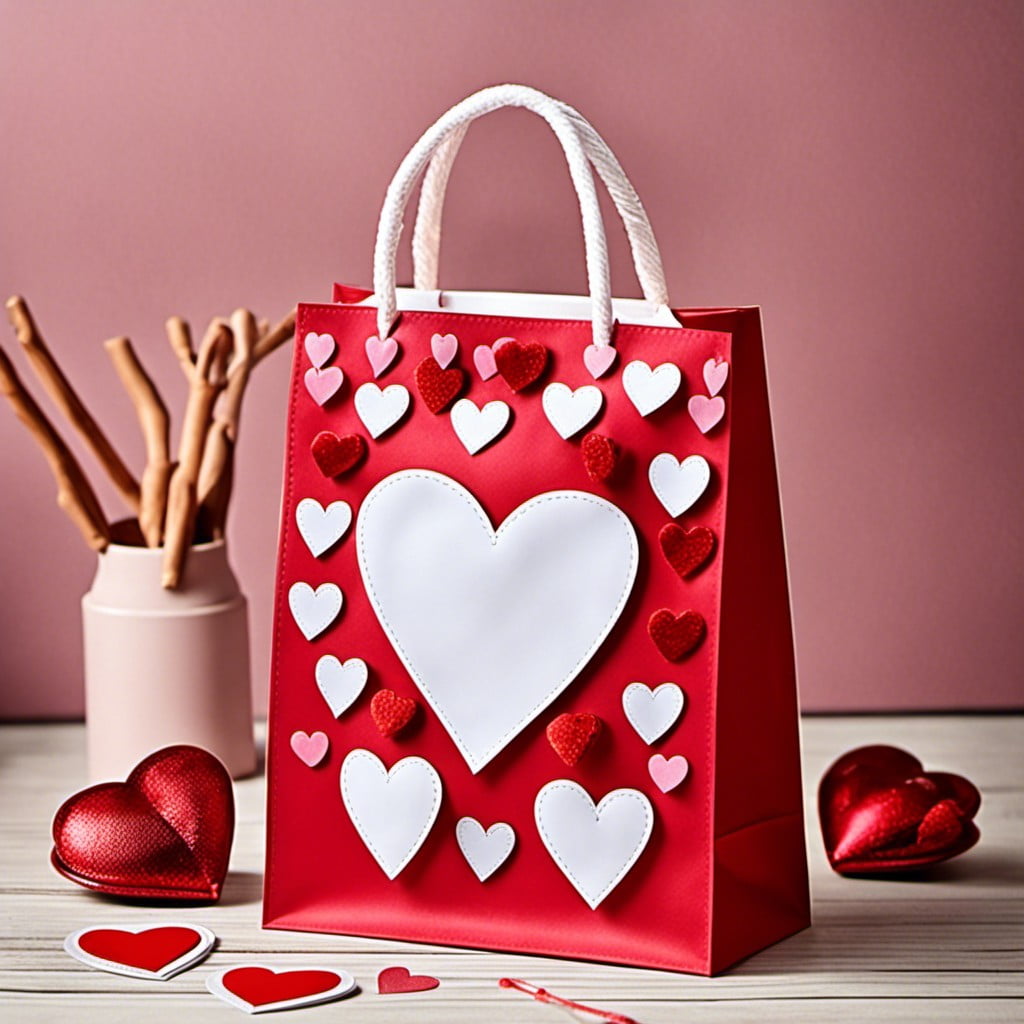 A popular addition to any Valentine bag is dimensional hearts that can simply be stuck on. These embellishments provide an instant 3D effect that can make any design pop.
Here's how you can creatively use them:
Arrange them in a scattered pattern across the bag for a cute, confetti-like effect.
Create a unique heart-centric design, like a large heart made up of smaller ones.
Use them to border the bag, adding a fun edge that's visually appealing.
Remember, there's no need to stick to traditional red or pink hearts only; explore a range of colors to suit your style. This method requires no sewing or gluing, making it an easy but effective decorating choice. Play with different sizes and patterns to add a touch of playfulness and depth.
Ribbon Bows and Loops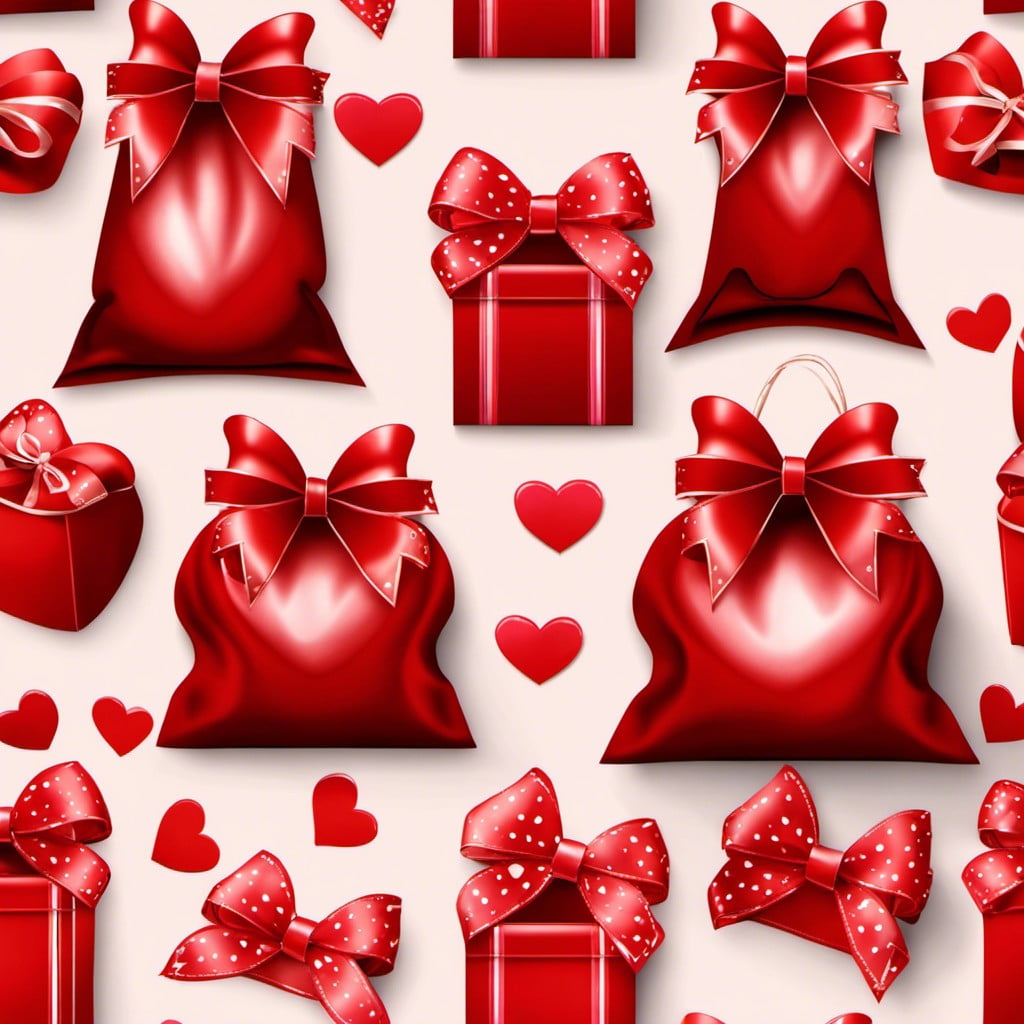 In a variety of color schemes and materials, ribbons can add a spectacular visual impact to your Valentine's bag. The beauty of this decor element lies in its versatility. Choose from satin, grosgrain or velvet, depending on the desired texture and shine. From salsa reds to lovely pinks, select hues that speak the language of love.
Start off by creating classic bows; they don't just look adorable but are simple enough even for beginners. You could also try your hand at making more intricate looping patterns, should time permit. Another idea is to wind the ribbon around the handle for a festive touch. Remember to pick a width that complements the size of your bag. Also, always secure your ribbons firmly, so they stay put and look neat. With these few points in mind, integrating ribbon bows and loops to enhance your Valentine's bag is just as fun as it is effective.
Love Quote Iron-ons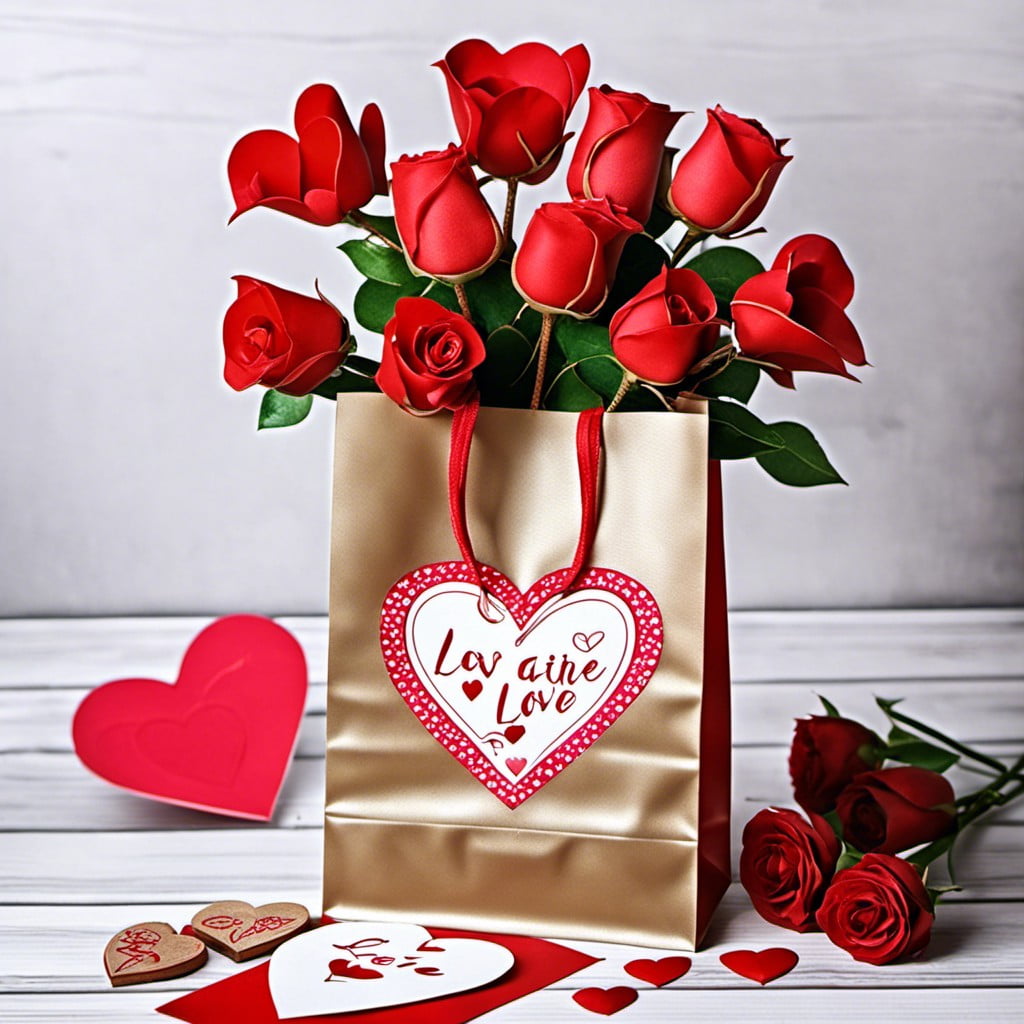 Iron-on quotes can be a fun and effective way to personalize your Valentine bag. These are readily available online or in craft stores, featuring a wide variety of love-inspired quotes and phrases. Choose a quote that resonates with you or represents the message you want to share.
To apply, carefully position the iron-on on the bag and use a hot iron to press it into place (make sure to use a cloth between the iron and the iron-on to prevent damage).
Remember, you're not limited to a single quote – feel free to mix and match different ones to create a love letter effect. Whether you use a popular love quote or a line from your favorite love song, the result is a Valentine bag design that is uniquely yours.
Furthermore, to add another layer of personal touch, consider pairing the quote with an iron-on graphic like hearts, lovebirds or Cupid's arrow. This can add a visual charm to your phrases, making your valentine's bag even more attractive.
Flower Appliques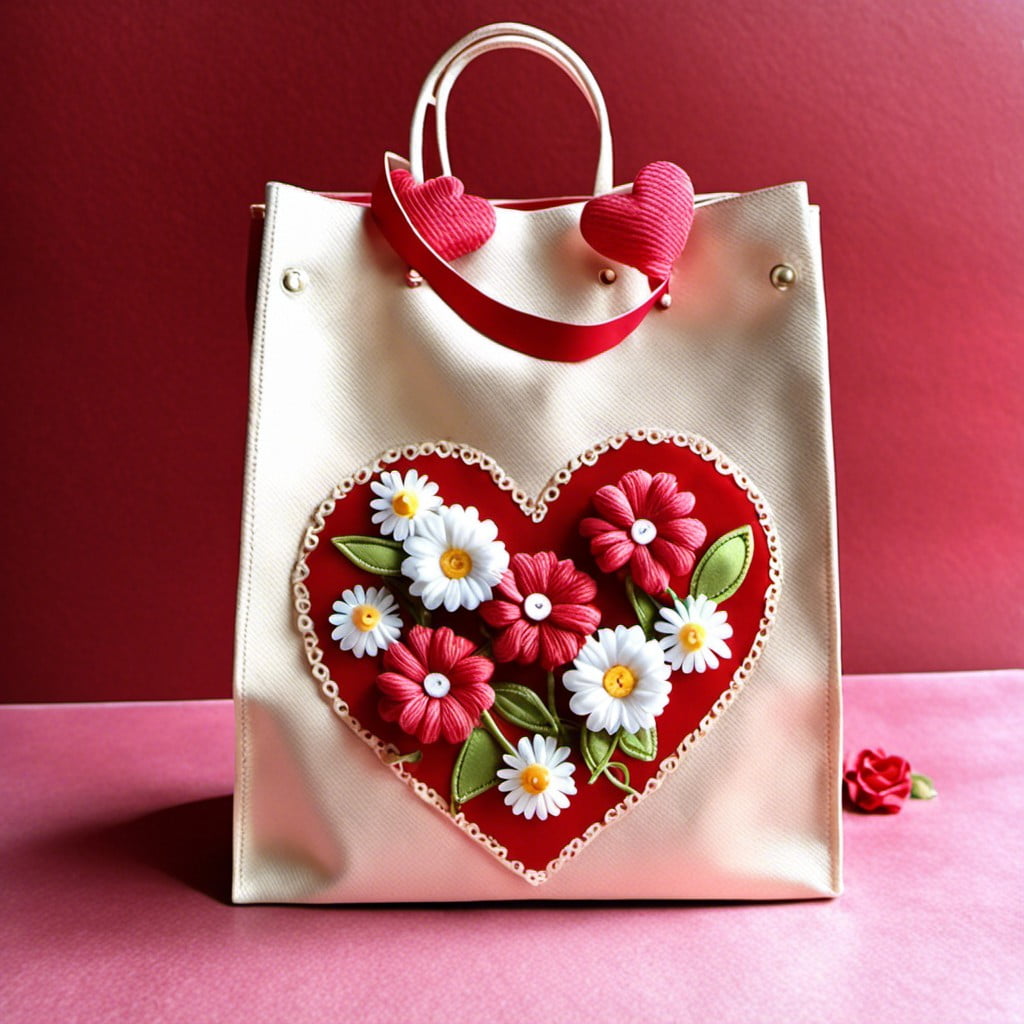 Delightfully playful and nature-inspired, these embellishments often function as a charming focal point. Drawing attention with their vibrant colors and intricate designs, they inject a refreshing twist into the conventional Valentine red and white color scheme.
1. Material Variety: They can be made from a range of materials such as satin, organza, or even recycled old clothes, lending a unique touch to each creation.
2. Methods: There is no one way to attach them – stitching, gluing, or ironing on appliques all provide secure fastenings.
3. Creativity Boost: Mix and match different flowers, sizes, and colors. Remember, Valentine's Day isn't exclusive to hearts.
4. Personal Style: Whether a vintage rose or a modern daisy, every flower says something about you. Make sure to pick one that reflects your style.
5. Statement Piece: Larger appliques can serve as a stand-alone decoration, while smaller ones can be paired together to create a complex design.
The joy of decorating a Valentine bag with flower appliques lies in the freedom and flexibility offered – a perfect avenue to let your artistic flair bloom.
Beadwork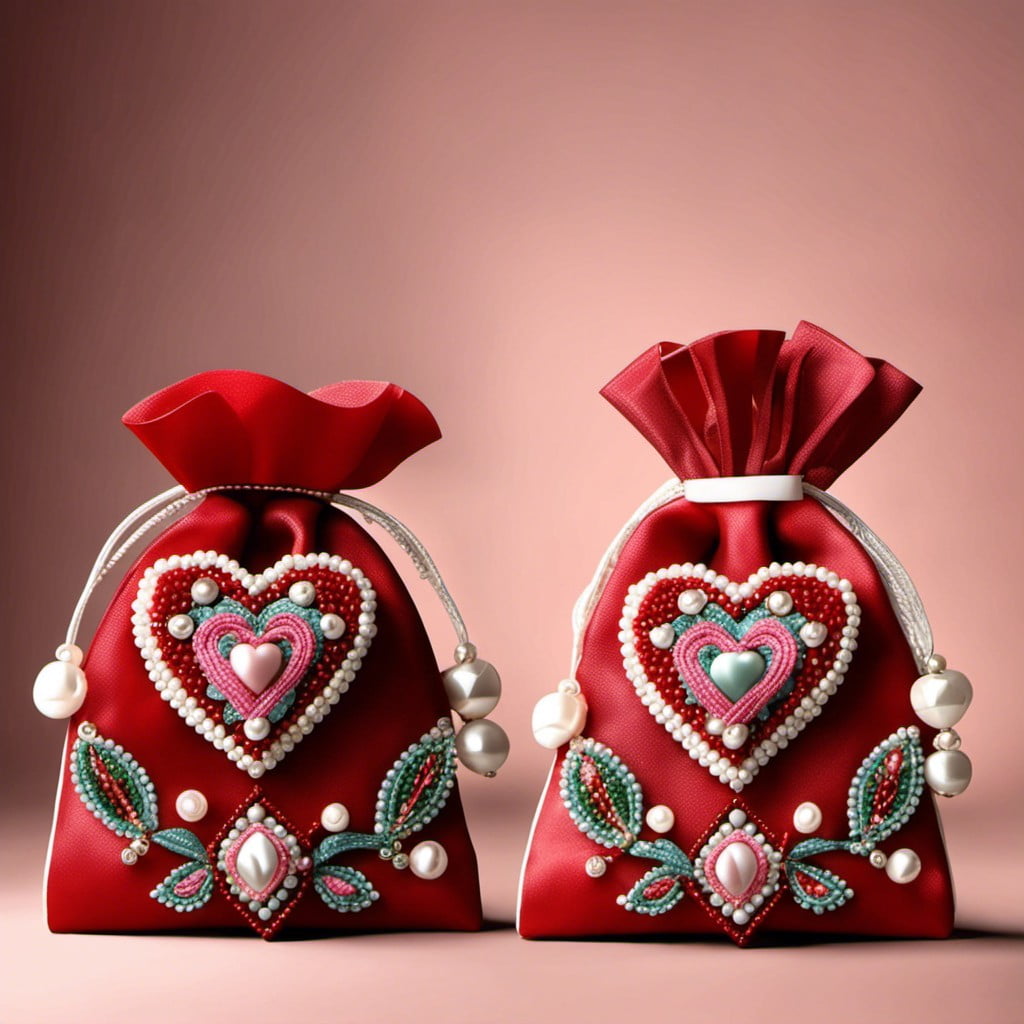 Delving into the enchanting world of beadwork, let's explore its potential in enhancing your Valentine's day bags:
1. Choose beads: You'll find beads in a delightful array of colors, shapes and sizes. Opt for Valentine-themed colors like red, pink, or white.
2. Create a design: Sketch out patterns such as hearts or love letters. Lay out your beads accordingly before fixing them.
3. String beads: Use a thick needle and sturdy thread. Be sure to secure them tightly to the bag.
4. Detailing: Make it interesting with gradient shades, different shapes, or 3D bead patterns.
5. Safety: Keep your beads secure. Apply an extra layer of glue underneath in case the thread ever breaks.
Remember, even the smallest beads can add a big touch of love to your Valentine bag! Beadwork allows you to demonstrate creativity, patience, and a keen eye for detail, making your gift even more special!
Attach Charm Bracelets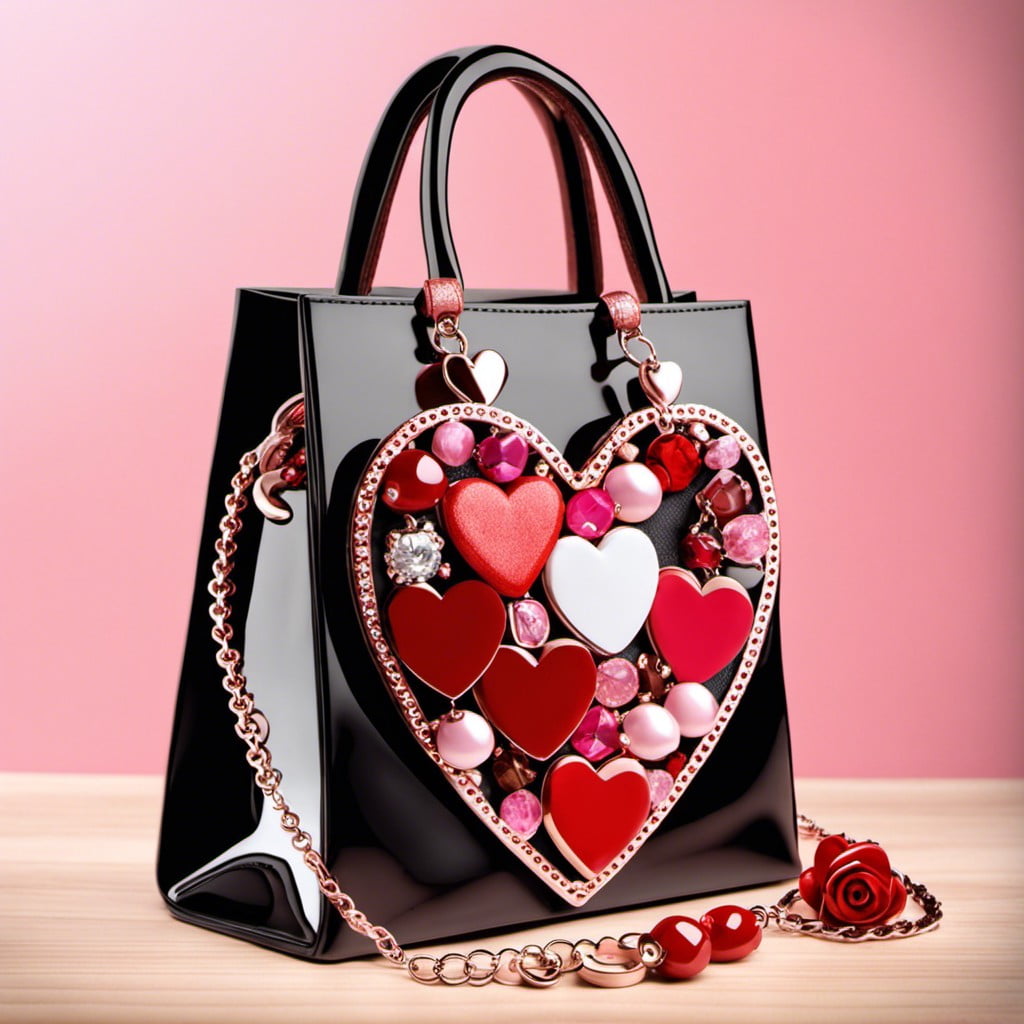 For a truly unique touch, consider adorning your Valentine bag with charm bracelets. Find some that represent objects or symbols of love, such as hearts or Cupid's arrows. This decoration method not only adds a thematic appeal, but also a dash of elegance and sophistication.
Two ways to incorporate them:
1. Directly fasten the charm bracelet: Remove individual charms and sew or glue them onto the bag. The jingle as they move adds an audible delight to the visual appeal.
2. Incorporeal the whole bracelet: Loop the entire charm bracelet around bag handles or weaved into the bag's fabric, keeping in mind to fasten securely.
Remember, there's no hard rule. Feel free to mix and match various charms for a truly personalized Valentine bag.
Printed Photographs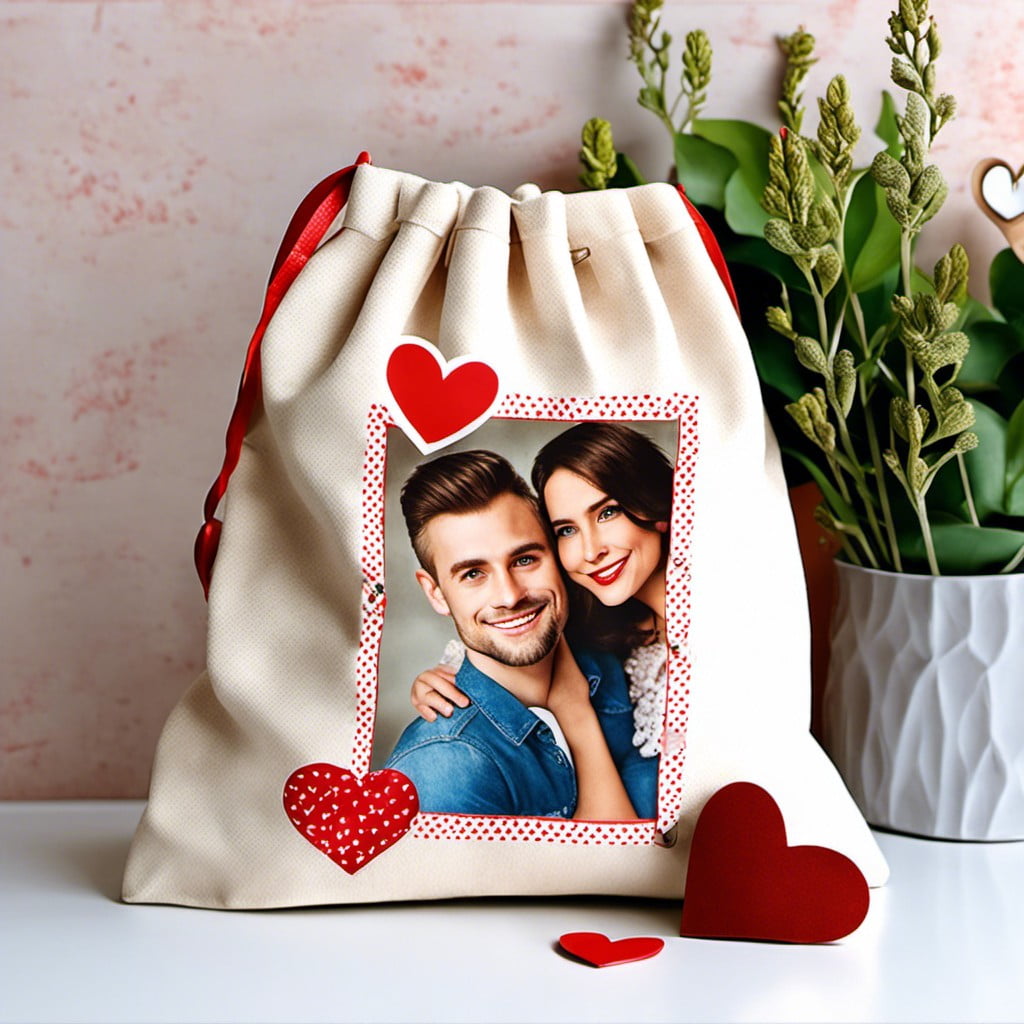 Nothing says "personal" like featuring your cherished memories right on your bag. It's a simple but truly heartfelt idea.
You could use photos from your favorite trips, special occasions, or even your beloved pets. Get them printed on iron-on transfer paper, cut them out, and iron them directly onto the bag.
Mix and match sizes and shaping for an eclectic feel. Be sure to follow the transfer paper instructions properly. The key is to let the image cool down completely before peeling off the backing paper.
Remember, placement is crucial – balance your photo with other embellishments for a visually pleasing design. The result? A customized bag that narrates your story!
Faux Fur Trimming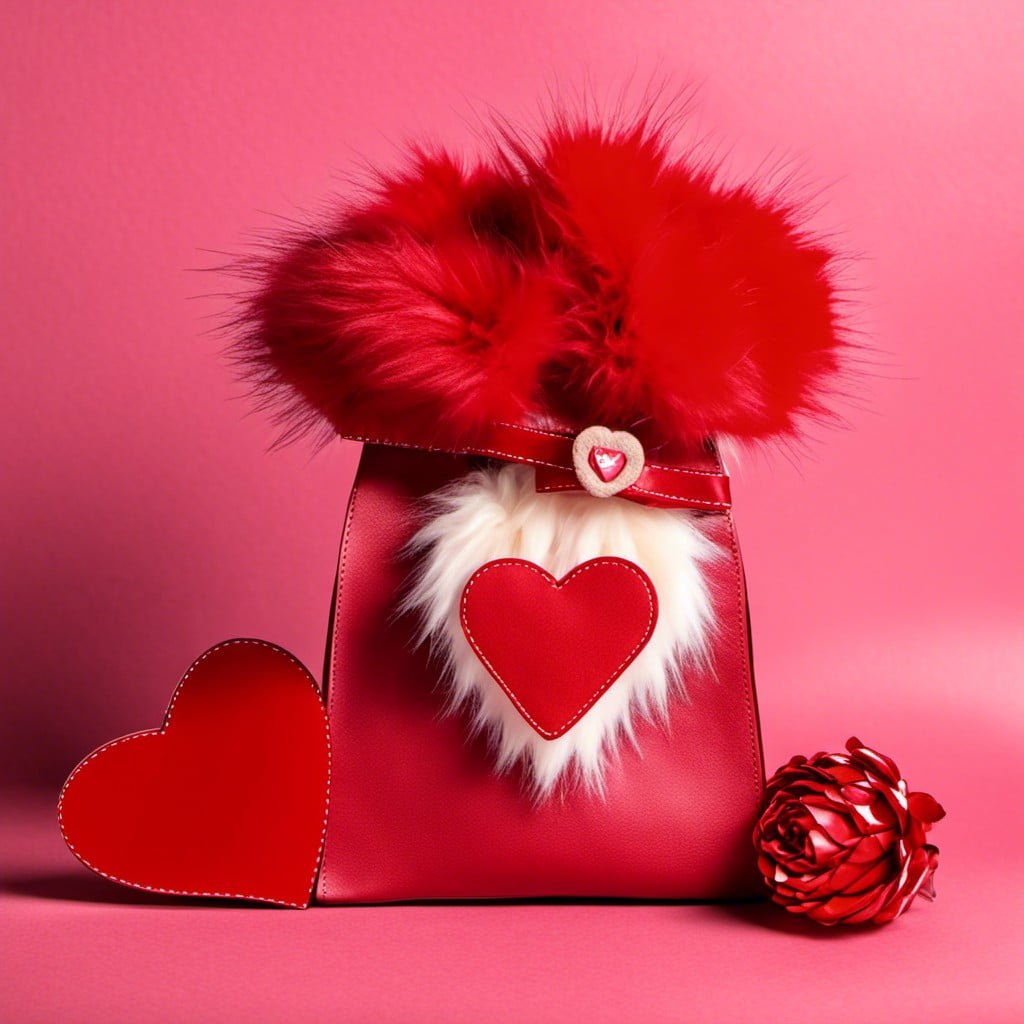 Adding a hint of luxury to your Valentine bag can be as straightforward as utilizing faux fur trim. This versatile material, available in a range of colors and textures, can be tacked around the top or base of the bag to create a plush border.
If you'd like a more understated look, consider a fur-trimmed pocket. This accent not only adds a sophisticated touch, but also presents an additional functional space for love notes or candies.
Should you yearn for extravagance, adorn the entire bag with faux fur. This bold choice guarantees your Valentine bag will be a standout piece, reflecting the warmth and affection associated with the occasion.
Remember, working with faux fur requires a modicum of patience and precision. A neat, uniform trim presents a polished, professional finish. To achieve this, make sure to cut the fur from the back, using a sharp craft knife rather than scissors to prevent disturbing the fur pile. When it comes to attaching your trim, a strong fabric glue can be a quick and clean solution, though hand-sewing will provide a more durable connection.
Incorporating faux fur trim into your design is a fantastic method to inject some glamour into your Valentine bag, demonstrating attention to detail and a flair for upscale aesthetics.
Velvet Fabric Panels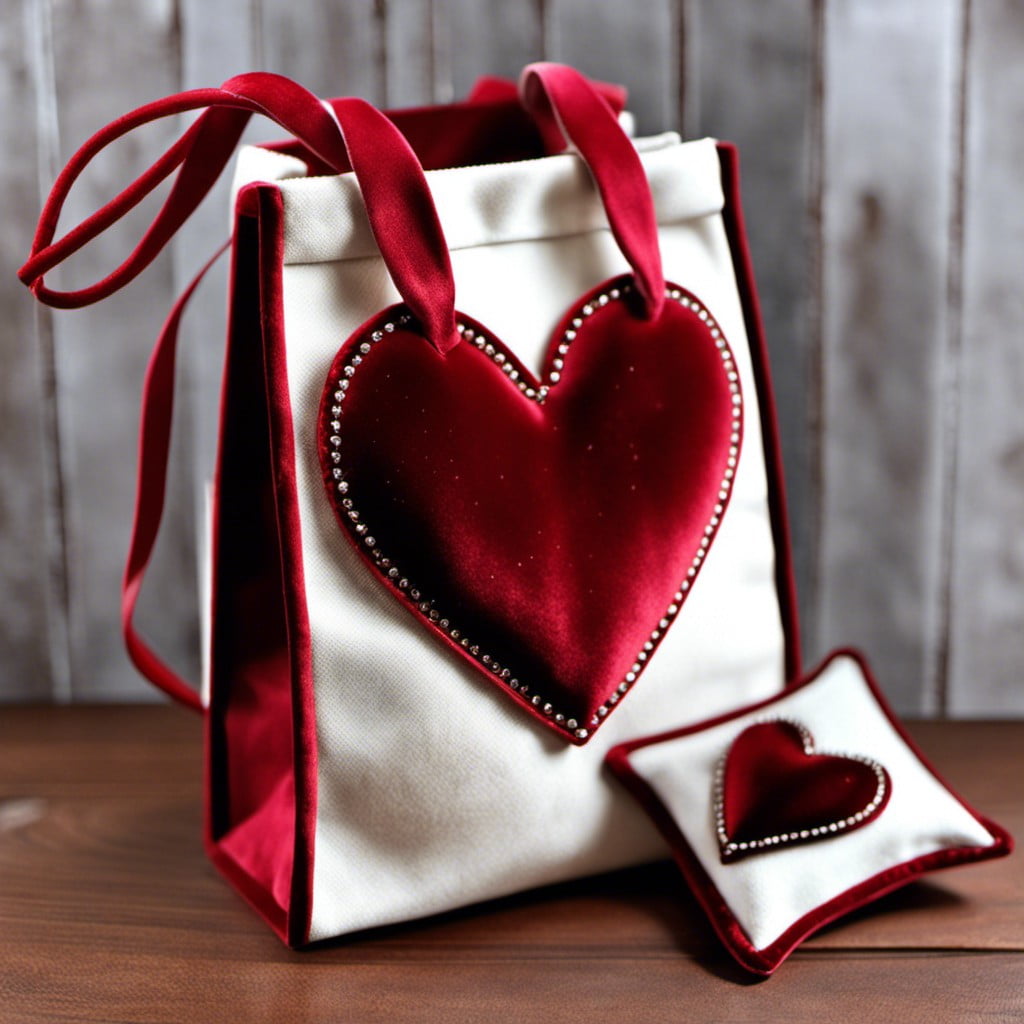 The decadent texture of velvet adds a touch of luxury to any Valentine's Day bag. Start by choosing panels in shades that complement the bag's existing color. You may prefer a deep, romantic red or perhaps a soft, blush pink. Remember to keep the size of the panel appropriate for the bag – you don't want to overwhelm the design.
Next, use fabric glue or a sewing kit to secure the panel onto the bag. Aim to position it in a way that it becomes a central, eye-catching feature. Also, be aware of different pile directions while using more than one velvet piece as it can affect the overall light and shading effect.
Customization is the key, so you might choose to layer other decorations on top of the velvet, such as patches or beadwork, adding a delightfully rich texture. Just make sure these additions won't ruin the velvet's plush texture. Now, your bag is not just a bag, but also a luxe accessory that can make a definite style statement.
Feathers and Beads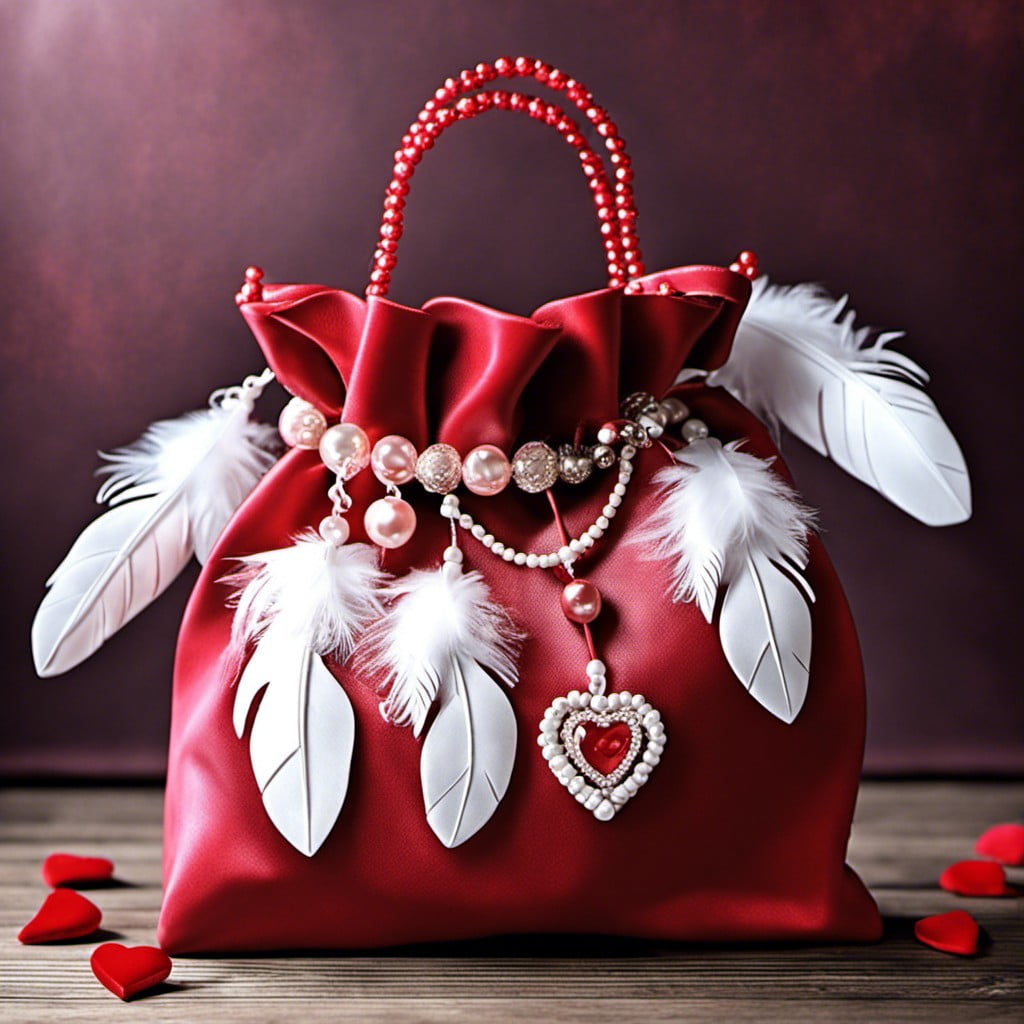 Incorporating feathers and beads can add a delightful touch of whimsy to your Valentine bags. Here's how to add some fluff and sparkle.
1. Choose Feathers: Pick feathers that complement your bag's color scheme. Soft pinks, reds, or whites can help adhere to a Valentine's Day theme.
2. Select Beads: From tiny seed beads to larger, more dramatic ones, select beads that will add sparkle and shine to your bag.
3. Attach Feathers: Use fabric glue to secure them. Decide whether you want them to drape down the sides or stick out from the top.
4. Beadwork: Add beads to the ends of the feathers for weight and aesthetic appeal, or sew them directly onto the bag.
5. Experiment: Don't be afraid to rearrange until you are pleased with the final aesthetic.
Remember, balance is key. Too many feathers may overshadow the bag's look, while too few may go unnoticed. The same applies to the beads.
Put On Pom-poms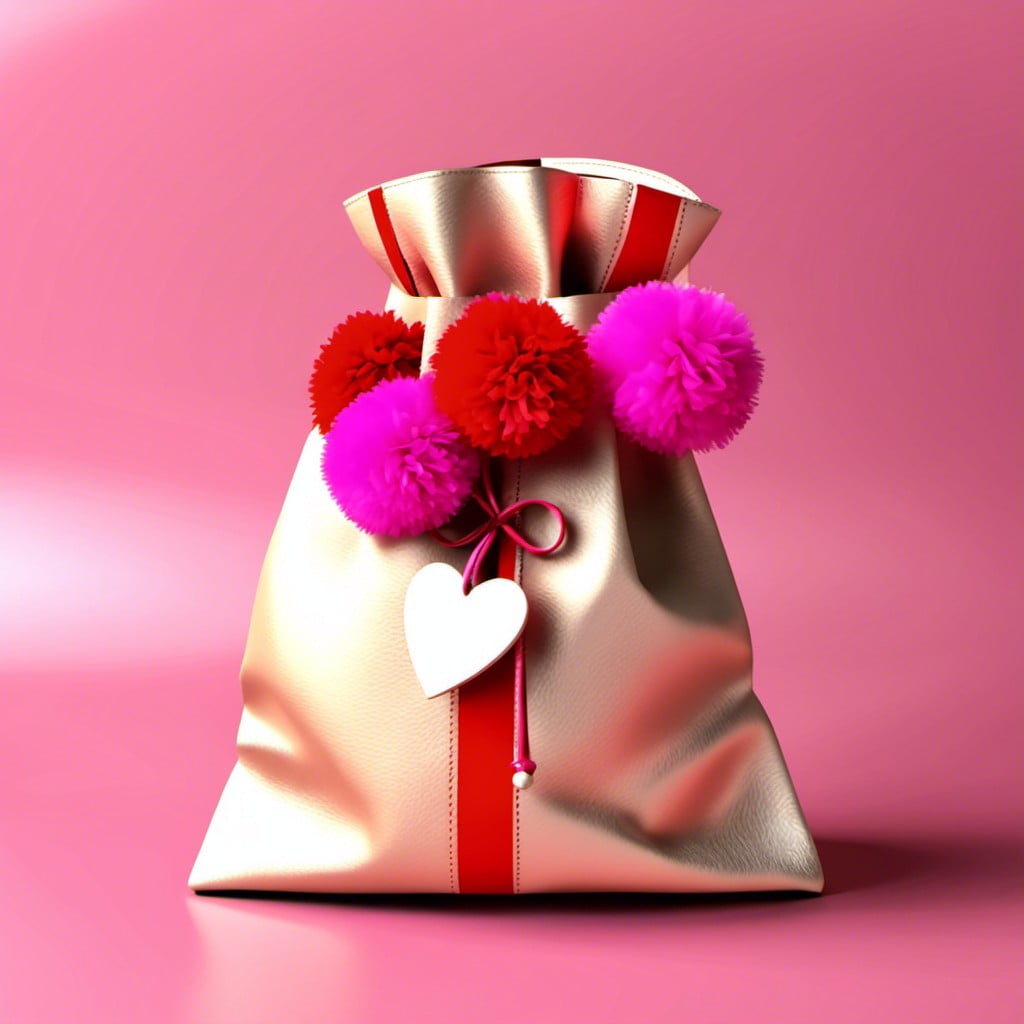 Pom-poms, with their fuzzy texture and vibrant colors, can add a touch of playful whimsy to your Valentine bag. Depending on the size, they can be attached to different parts of the bag. Large ones for corners and small ones to create patterns across the bag can work wonders. To adhere, simply use a hot glue gun, taking care to apply evenly to prevent clumping.
For a unique approach, create a pom-pom heart by arranging small red and pink ones into the shape. Remember, pom-poms come in various materials, so choosing between yarn, felt, or cotton can add another layer of texture. Always mix and match sizes and colors for depth and visual interest. But, be cautious not to overdo it, as pom-poms can become overwhelming if used excessively. A tasteful arrangement of pom-poms can truly make your Valentine bag pop.
Fabric Marker Doodles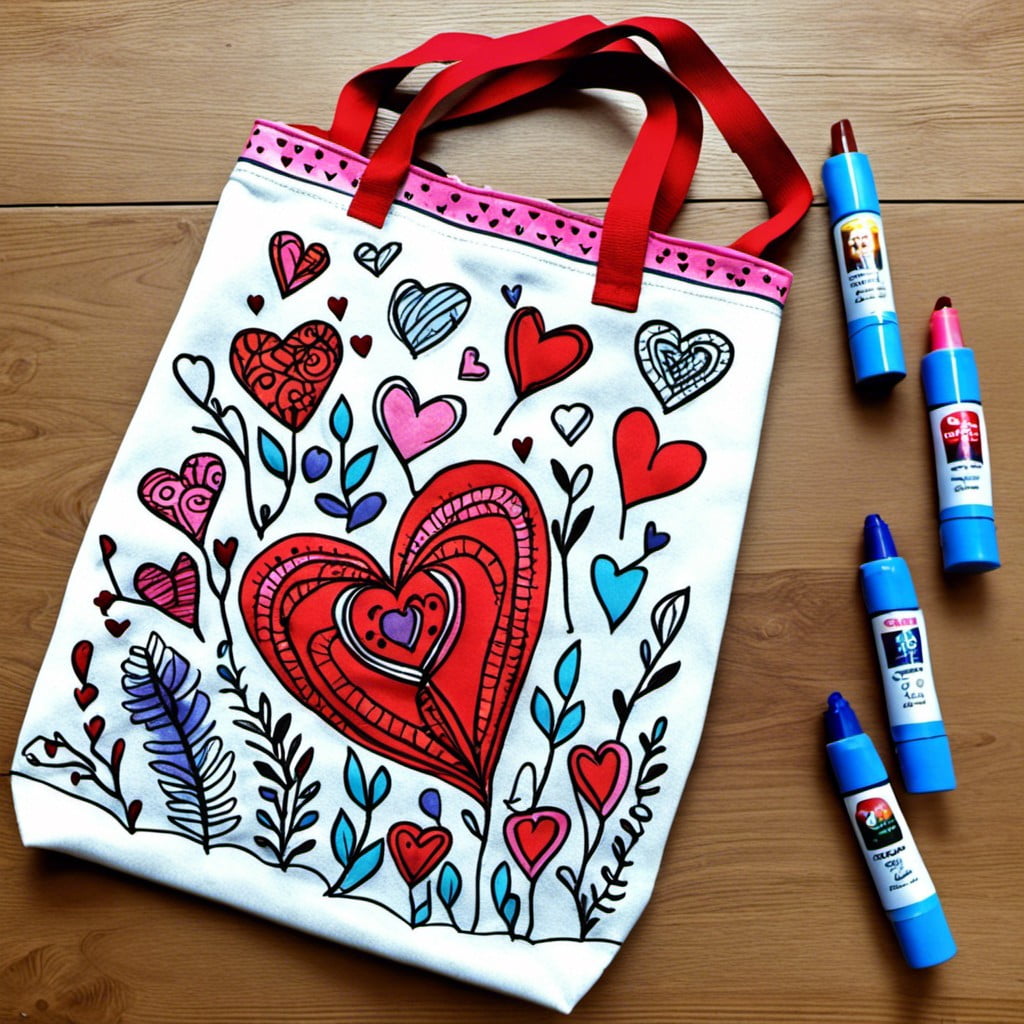 Doodling with fabric markers allows a personalized touch that's fun and easy. Ideal for both adults and kids, this method transforms plain valentine bags into exciting, one-of-a-kind pieces. Here are a few ideas to get started:
1. Heart Patterns: Small, overlapping hearts can create a romantic mosaic effect. The colors can be monochromatic or rainbow-themed, depending on personal taste.
2. Love Messages: Write 'Be Mine', 'Love', or 'XOXO' in stylish calligraphy. This direct approach resonates with the simplicity of true love.
3. Stick Figures: Cute stick figures, perhaps showing a couple holding hands, add a touch of whimsical charm.
4. Abstract Art: Unleash your imagination with swirls, zigzags, and dots for a pure expression of creativity.
Remember to let the ink dry completely before using the bag. Be aware that some markers may require heat-setting to prevent their colors from running.
Embroidered Initials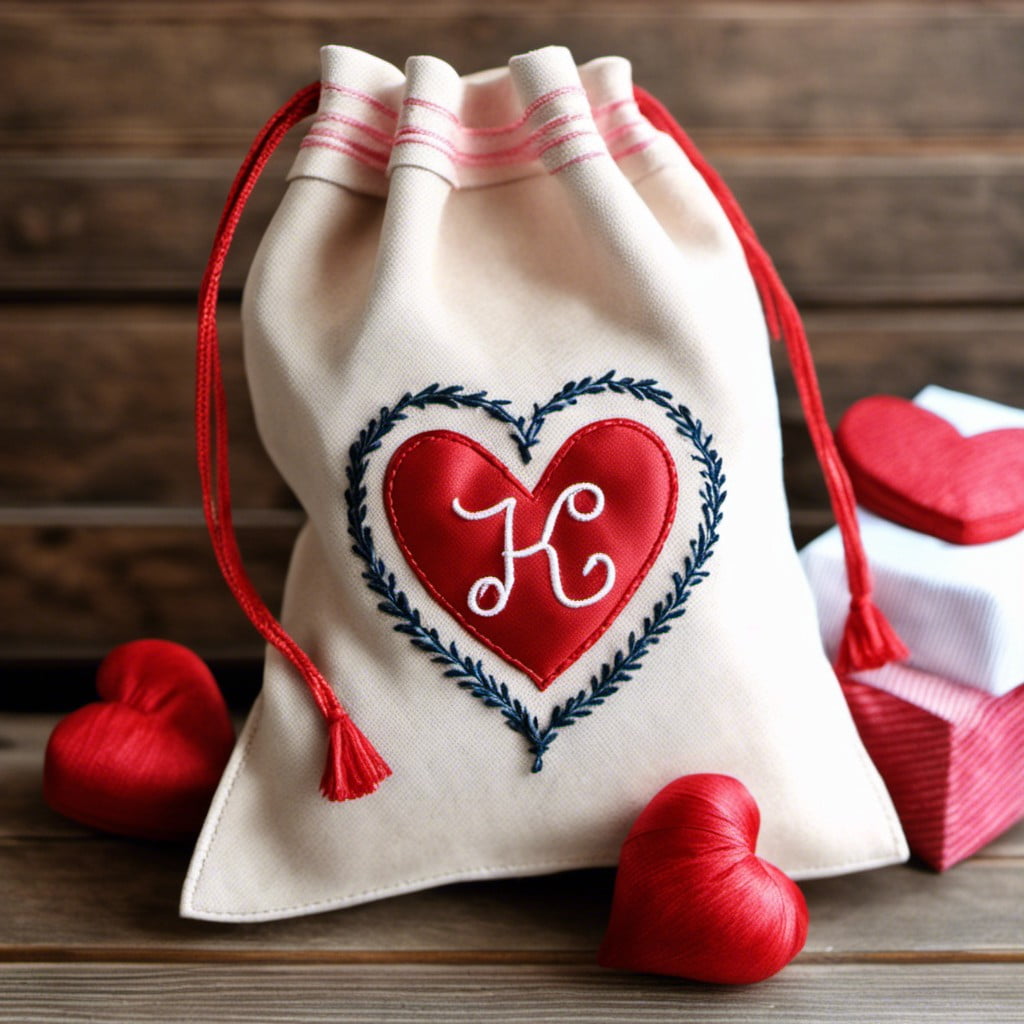 For a personal touch, consider incorporating an embroidered pattern of initials on the bag. Select a favorite font style and color to match the bag's overall design. This can be accomplished either by hand or with a sewing machine:
1. Gather thread matching the bag's color scheme and an embroidery needle or sewing machine with an embroidery feature.
2. Sketch the initials lightly with a fabric-friendly pencil.
3. Follow the lines to create the embroidered initials.
4. If the bag's material is thick or heavy, an embroidery hoop can be used to maintain tension and ensure neat, even stitching.
This process adds not only a special personal flair, but also a pleasing tactile element to your Valentine bag. Ensure the quality of the embroidery: neat, even stitches will provide the best results.
Attach Mini Love Letters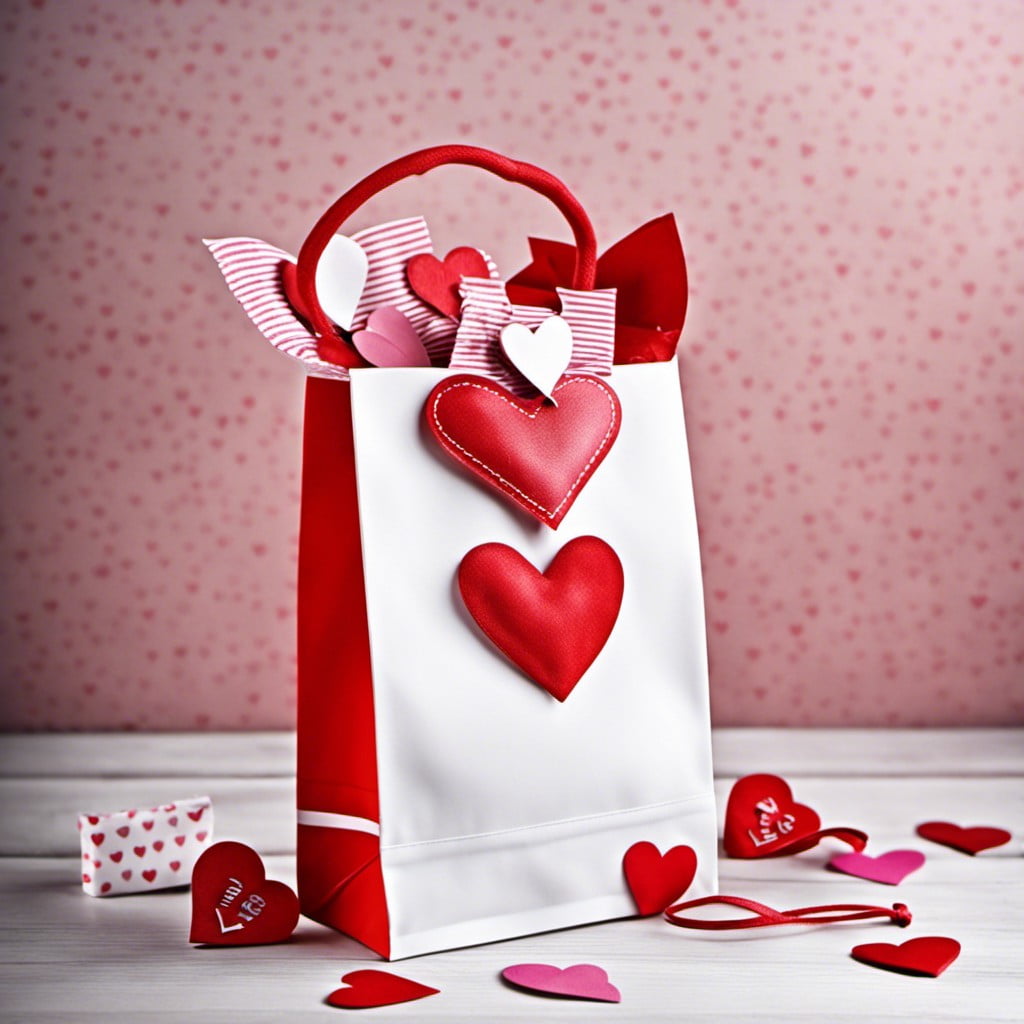 Tucking in miniature-sized, handwritten love letters can be a very endearing way to personalize Valentine bags. You are not just making it visually appealing but also adding an element of surprise and thoughtfulness, creating a strong impression.
Here are a few quick tips:
1. Neatly fold papyrus or colored paper into small envelopes.
2. Pen down short, heartfelt messages.
3. Embellish envelopes with fine liners or pastel shades.
4. Consider using fragrant ink for an aromatic touch.
5. Strategically position these letters so they're noticeable but not immediately visible.
6. If you're a fan of mystery, you could even craft clues directing the receiver to the hidden letter!
Bear in mind that execution is key. Attention to detail will enhance the overall look and feel of your Valentine bag. So get creative and start writing those love notes!
Liked reading this? Here's more:
Recap: