Last updated on November 7, 2023
Embrace the Cocomelon theme for your next party because this article is packed with unique and charming decoration ideas that will transport your guests into the captivating world of the popular kids' show.
I take great pride in curating these 20 unique Cocomelon decoration ideas and their accompanying illustrations, and I hope they will inspire you and bring as much joy as I experienced in creating them.
Transforming your space into a Cocomelon-themed wonderland can be an exciting project! Whether you're planning a birthday party or simply want to surprise your little ones, this article is your ultimate guide.
It's packed with creative ideas, from vibrant wall decorations to adorable table settings, all inspired by the beloved characters from Cocomelon.
Detailed instructions and practical tips are included to ensure your decorating process is as smooth as possible.
So, let's dive into the colorful world of Cocomelon and start creating a magical environment that will make your children's eyes sparkle with joy!
Cocomelon-colored Balloons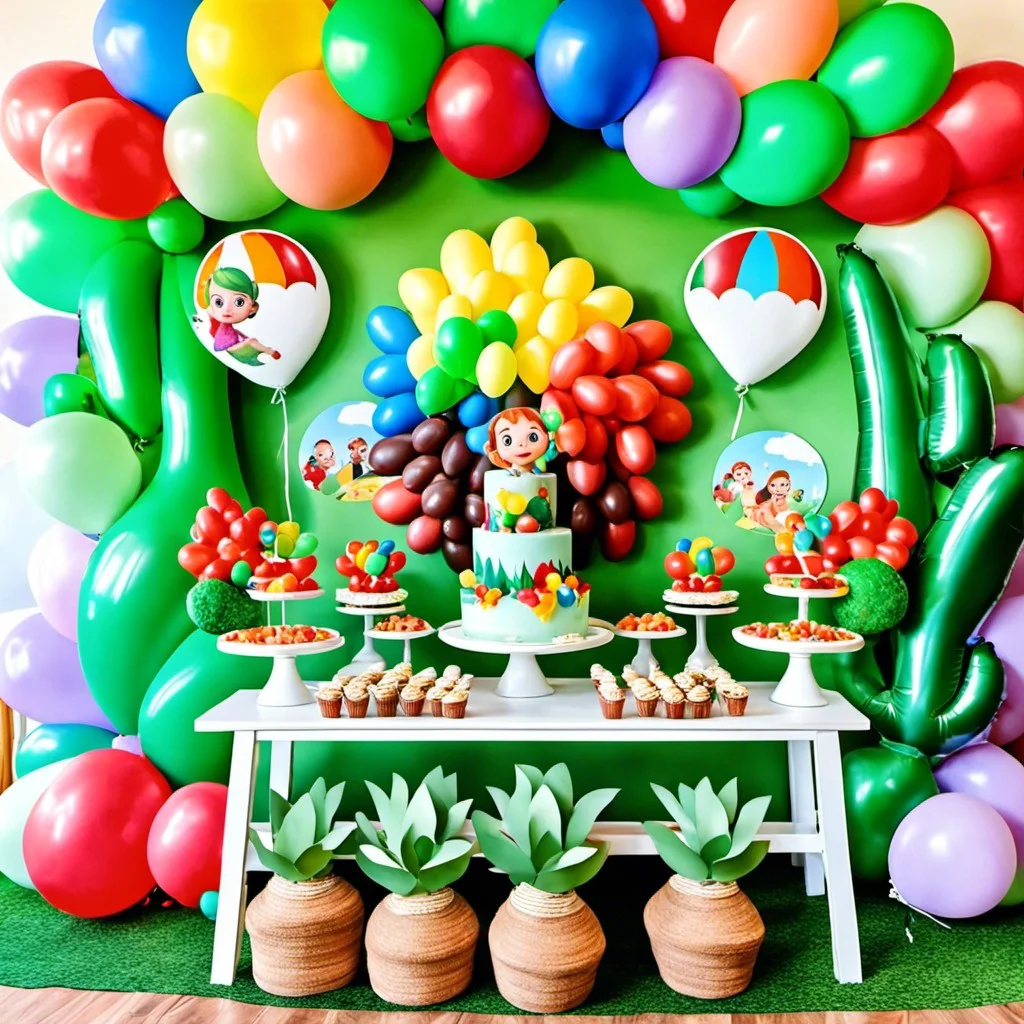 Balloons are a versatile decoration that can rapidly transform any space. To align with the vibrant world of Cocomelon, choose balloons in shades of vibrant red, cool blue, and refreshing green.
You might consider a sizeable balloon arch at the entrance. Alternatively, helium-filled balloons loosely scattered across the floor could make a fun play area for the young guests.
Do not forget about the balloon centerpieces for each table, which could feature a central Cocomelon character balloon, like JJ or TomTom.
Enhance the arrangement by adding LED lights to balloons for an enchanting effect in the evening. Balloon columns at strategic places could also add to the festive vibe.
Remember to order extra balloons as children love to play with them, and some might pop during the event.
Cocomelon-themed Banners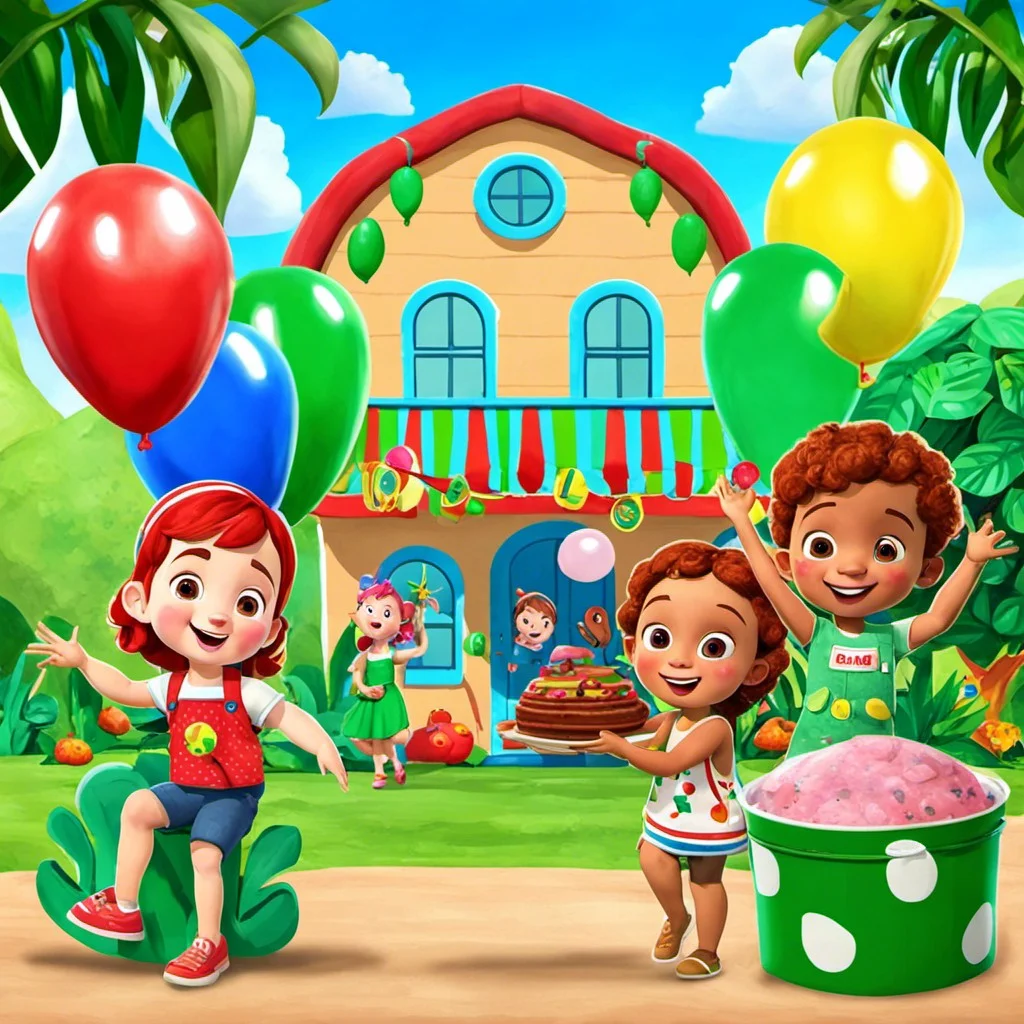 Starting with the right banner sets the mood for your party. Opt for banners featuring favorite Cocomelon characters to greet guests upon arrival. The eye-catching colors and familiar faces will instantly transport them into the Cocomelon world.
Choose from different materials, like vinyl or paper, according to your budget and preference. To make it a keepsake, consider a personalized banner with your child's name and age. Add variety with banners of different shapes – classic rectangles, pennant-style or pop-out character cutouts for a playful touch.
Remember to place the banner at memorable spots, like above the main table or entrance door. Even better, accompany a doorway banner with matching balloon clusters for an inviting entrance.
Subtle or grand, banners are an effective way to establish a Cocomelon atmosphere without going overboard.
Cocomelon Cake Toppers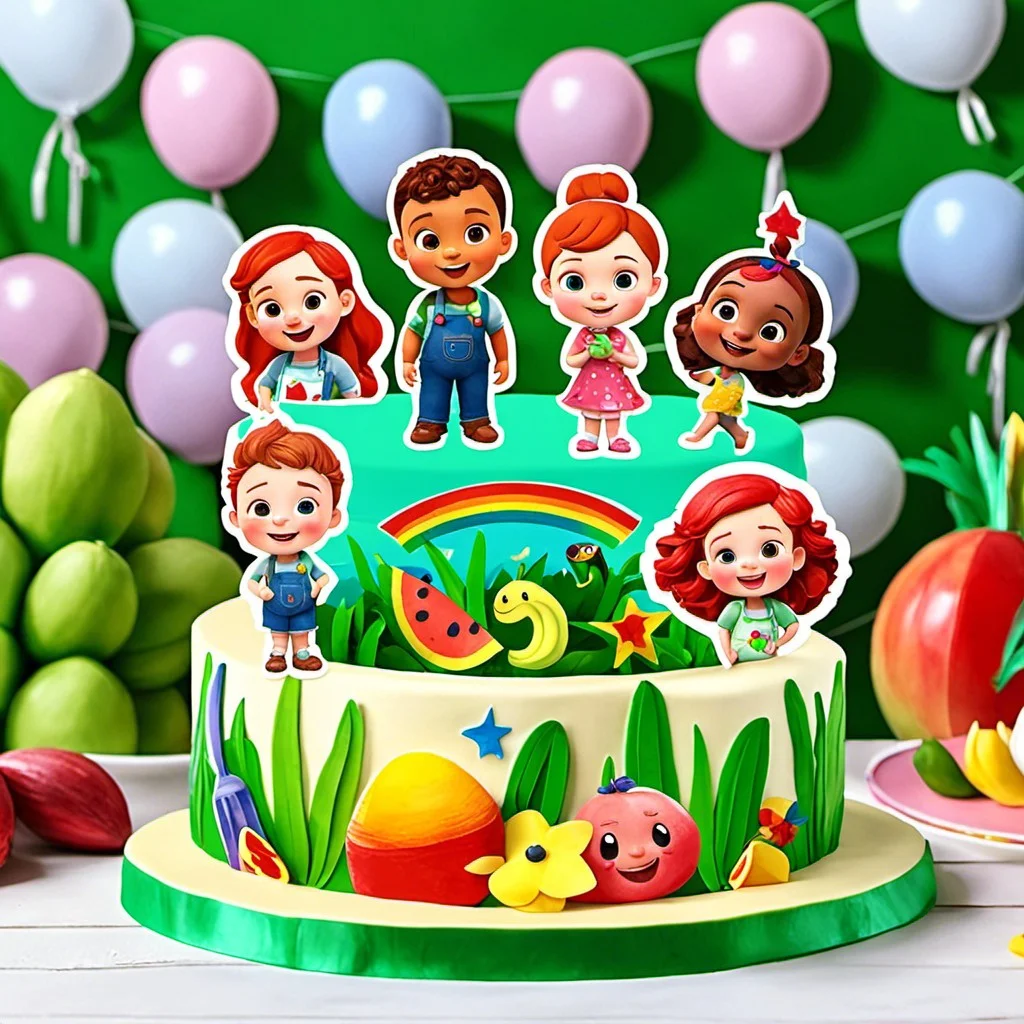 Creating a memorable moment when it's time to blow out the candles will be easy with a well-chosen cake topper. Cocomelon-themed toppers are vastly available and come in various sizes; they can display favorite Cocomelon characters, or spell out a birthday message.
1. Personalized toppers can add a child's name or age, making the cake feel even more special.
2. Edible cake toppers are an exciting alternative, bringing in fun shapes like musical notes or fruit to tie into the Cocomelon theme.
3. Consider multi-piece sets. They can cover more surface area of the cake and create an interactive scene.
4. Double-sided toppers provide visual interest from all angles of the cake, especially if it's placed in the center of a table.
5. Glitter or foil-finished toppers can add a touch of shimmer to your cake, making it stand out even more at the party.
With these points in mind, selecting the right cake topper can help make the event as magical and memorable as possible.
Tablecloth With Cocomelon Print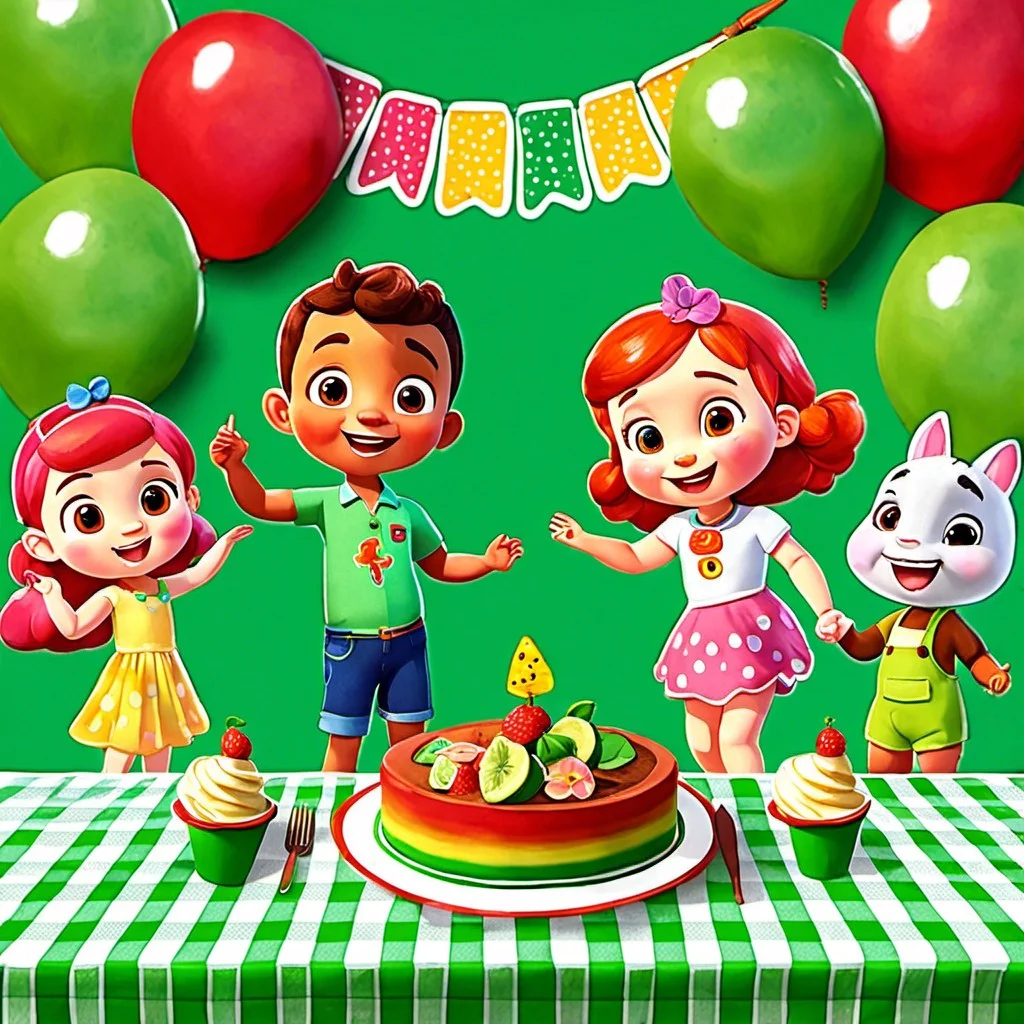 A vibrant, fun way to dress up the party table is by using a printed tablecloth. Cocomelon-themed options are readily available online and come in a variety of designs, displaying popular characters such as J.J, TomTom, and YoYo popping against a vivid backdrop. These add immediacy to the party's theme, and kids will love recognizing their favorite animated friends!
Moreover, a tablecloth isn't just decorative – it also protects the table underneath from spills or stains. Especially with children bustling around, this feature might save the day. Just ensure the size is correct for your table for maximum coverage and effect.
To add an extra touch, consider layering with a solid color table runner in nascent greens or blues. This adds visual interest and helps delineate spaces, such as a buffet spread or a drinks station.
Keep in mind the overall aesthetic you're going for. The table setting should ideally balance the boldness of the tablecloth with simpler dinnerware or discreet centerpieces for a harmonious outcomes.
Finally, remember that decorations are not limited to the surface of the table. Skirts or table fringes can elevate the look and add a fun, frilly touch to the setting. These can be matched with the color scheme and further tied into the Cocomelon theme.
Cocomelon Character Standees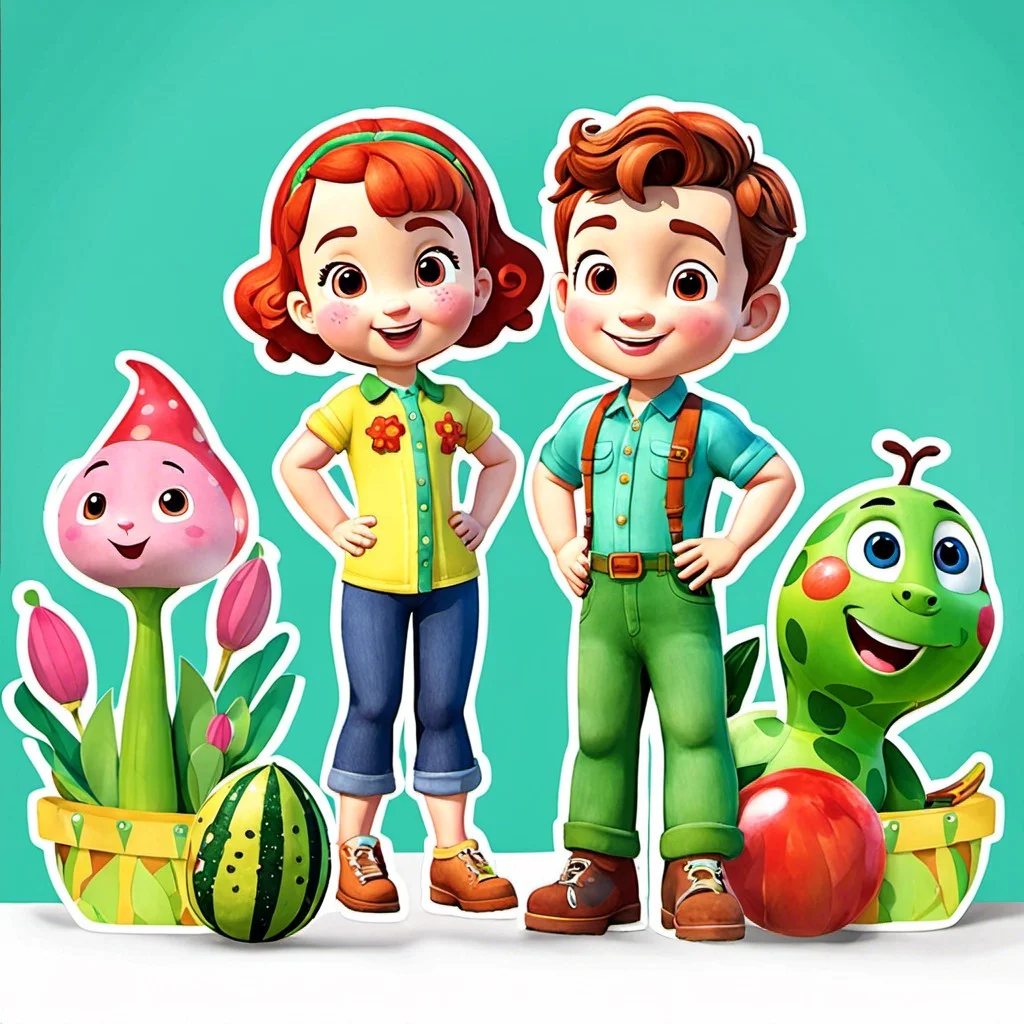 With life-sized standees, draw in the excitement of having mini guests like JJ, TomTom, YoYo, or even the whole gang!
These sturdy cardboard cut-outs offer a fun, 3D element to your party setup and are perfect for photo ops.
They come in a multitude of sizes to cater for different spaces and are easy to set up.
Don't forget to place them strategically around the party area to maximize visibility and interaction.
And, for the ultimate party experience, illuminate them with ambient lighting to make each character come alive!
Cocomelon Napkins and Plates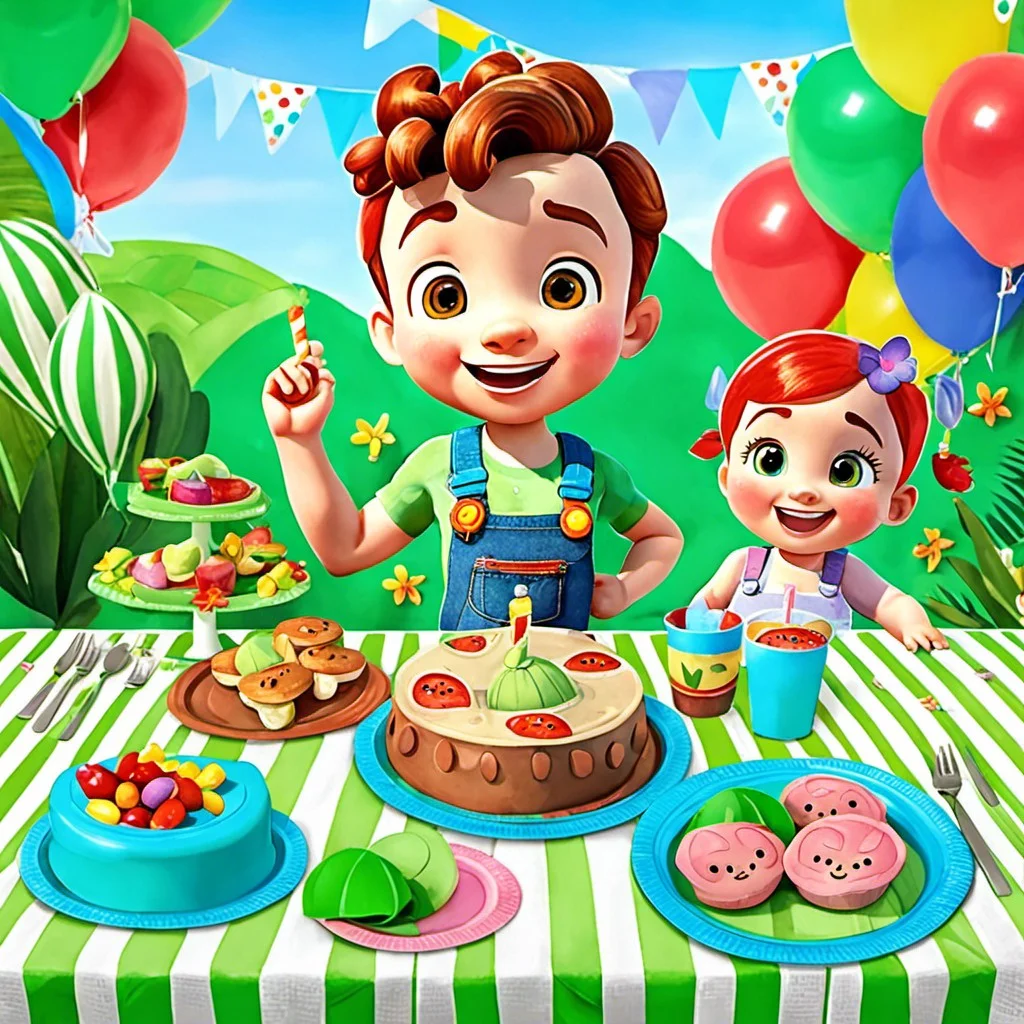 Incorporating these tableware elements can significantly enhance your party's thematic continuity. Opting for packs that feature beloved characters such as JJ, TomTom, and YoYo, these items not only serve a functional purpose but also double as fun decorative accessories.
Remember, though, your choices aren't limited to character prints only. You can also consider options in the show's color scheme of red, green, and blue. Significantly, for an eco-friendly twist, pick options made from biodegradable materials. Easy to dispose of, they're not just perfect for parties but also kind to our planet.
It's also worth noting that themed plates could potentially act as a fun conversation starter for your little guests. Easily available online, these essential entertaining accessories can tie your Cocomelon party together while adding a dash of charm to the whole setting.
Cocomelon-inspired Cupcake Designs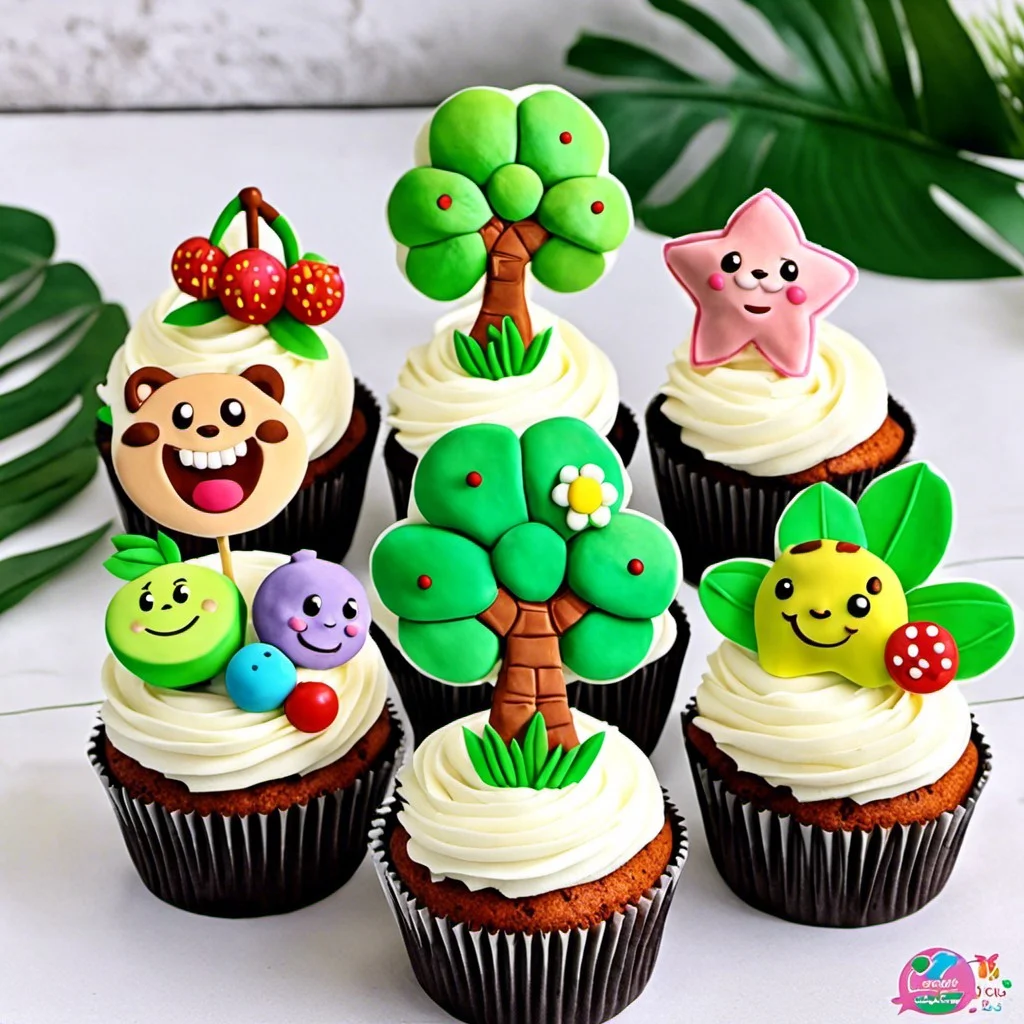 Whisking a batch of cupcakes can become an instant hit with a pinch of Cocomelon! Here's how to get your sweet treats in line with the theme:
1. Fondant Toppers: Use colored fondant to create shapes of your favorite characters. These edible figures should be made in advance to allow drying.
2. Edible Images: Purchase or order Cocomelon edible images. They're cornstarch sheets with food coloring that you can easily place on frosted cupcakes.
3. Character Wrappers: Consider paper wrappers adorned with the show's theme and characters. It adds an extra pop to otherwise simple cupcakes.
4. Color Palette: Stick to the show's main colors—red, blue, and green—for the frosting. You can go for single color frosting or mix it up for a vibrant set up.
These accents not only taste great but definitely "up" the overall party mood. It's the small details that make the big picture. Happy baking!
Watermelon-themed Foods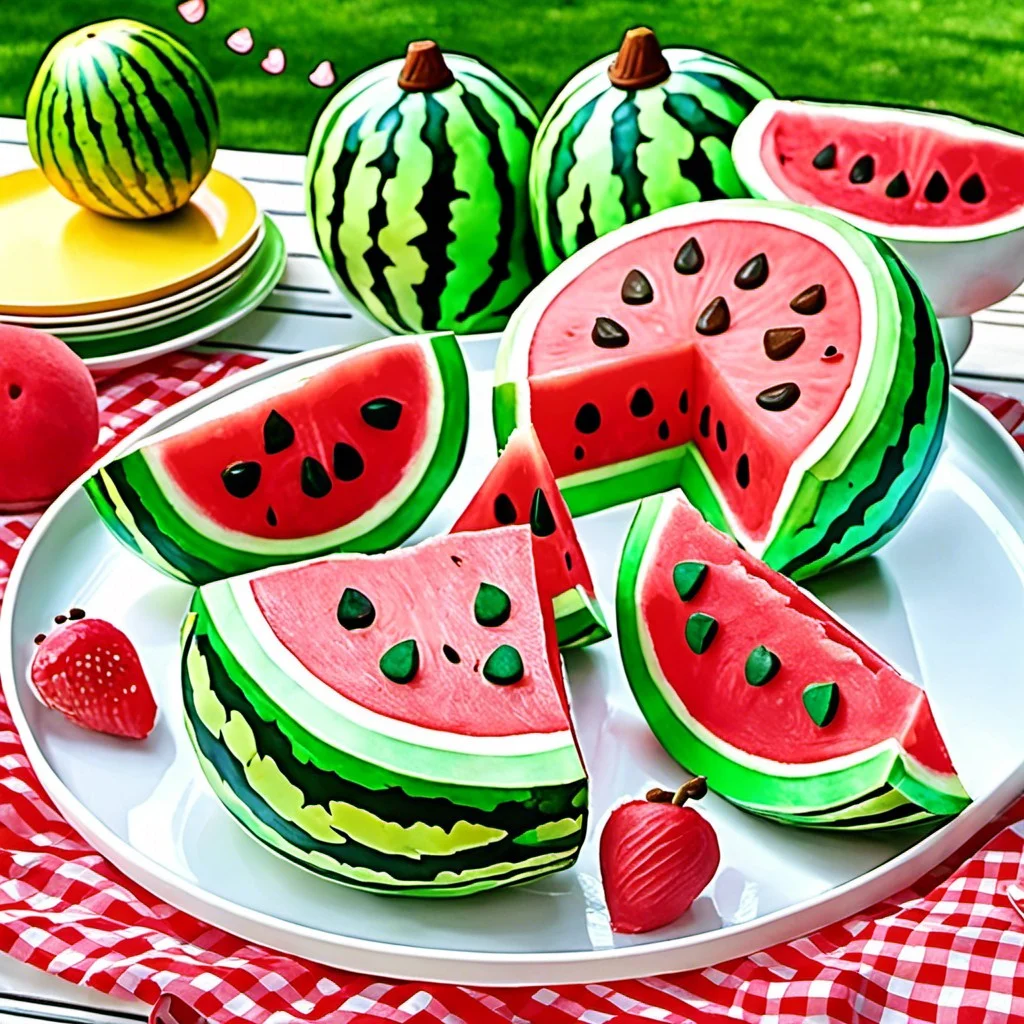 Implementing your theme through the food serve simply amplifies your enthusiastic efforts. Start with a refreshing watermelon punch – a favorite among adults and kids alike.
Skewers of watermelon chunks interspersed with cheese offer a sweet and salty snack. Take it up a notch with a watermelon-shaped cake or cupcakes topped with red frosting and chocolate chips to mimic the fruit's inside.
Remember to keep some fresh sliced watermelon for those preferring a healthier, less sugary option. The ultimate, quirky addition could be watermelon pizza, where a large slice of watermelon serves as the 'crust' topped with fruits and a drizzle of honey.
With these ideas, both the visual appeal and taste buds of your guests are catered to, embracing the Cocomelon theme entirely in every bite.
Cocomelon Personalized Party Hats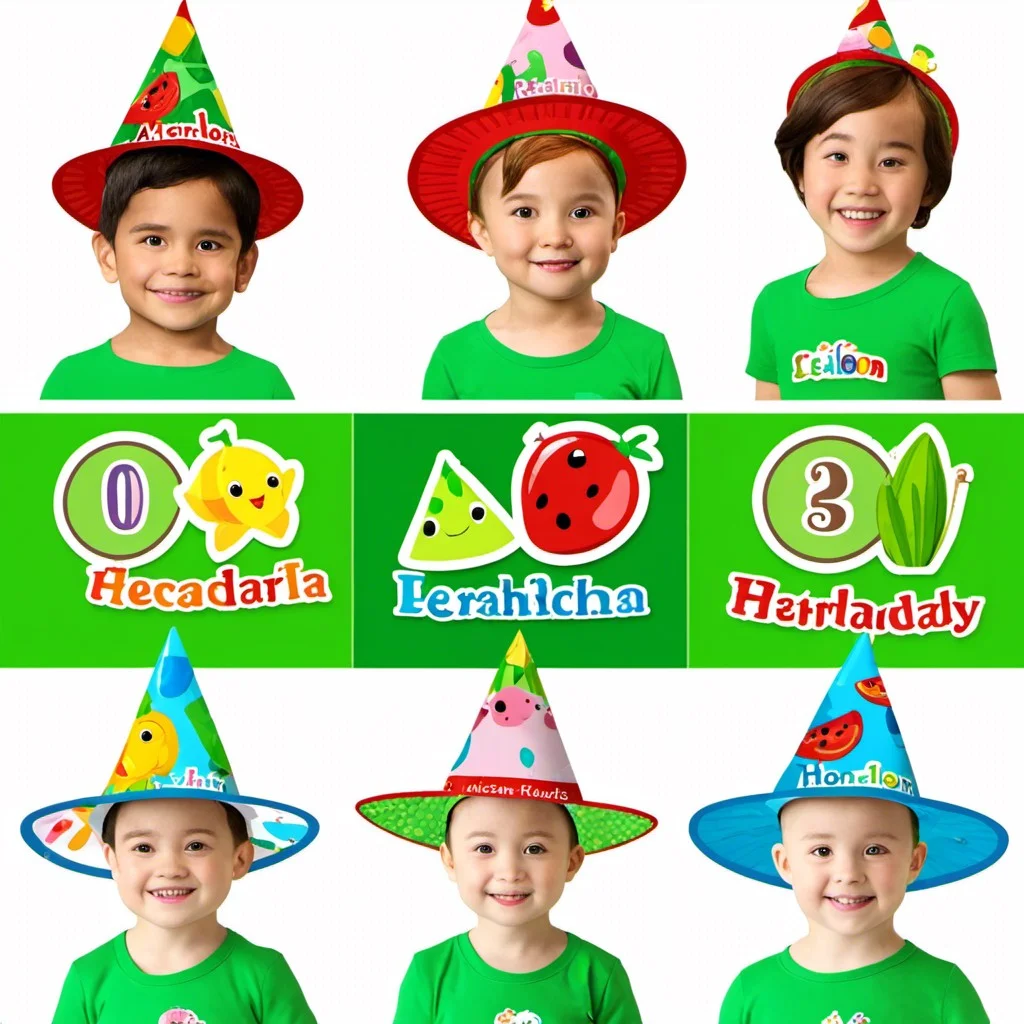 Delighting the party-goers with personalized elements could not be made easier than with these hats. Start by selecting party hats that are in the bright hues of Cocomelon – red, green, and blue. Use a trusted online service or a local printing shop and get the name of each guest, along with their favorite Cocomelon character, printed on the hat. You can choose a different character for each guest to mix things up a bit. Not only will this make each guest feel special, but it also doubles as a takeaway from the party. Remember, high-resolution images will give the best print results.
Kids love seeing their names on objects, and these hats will be no exception. Remember to get one for the birthday child with a special message or the number signifying their age.
DIY Cocomelon Confetti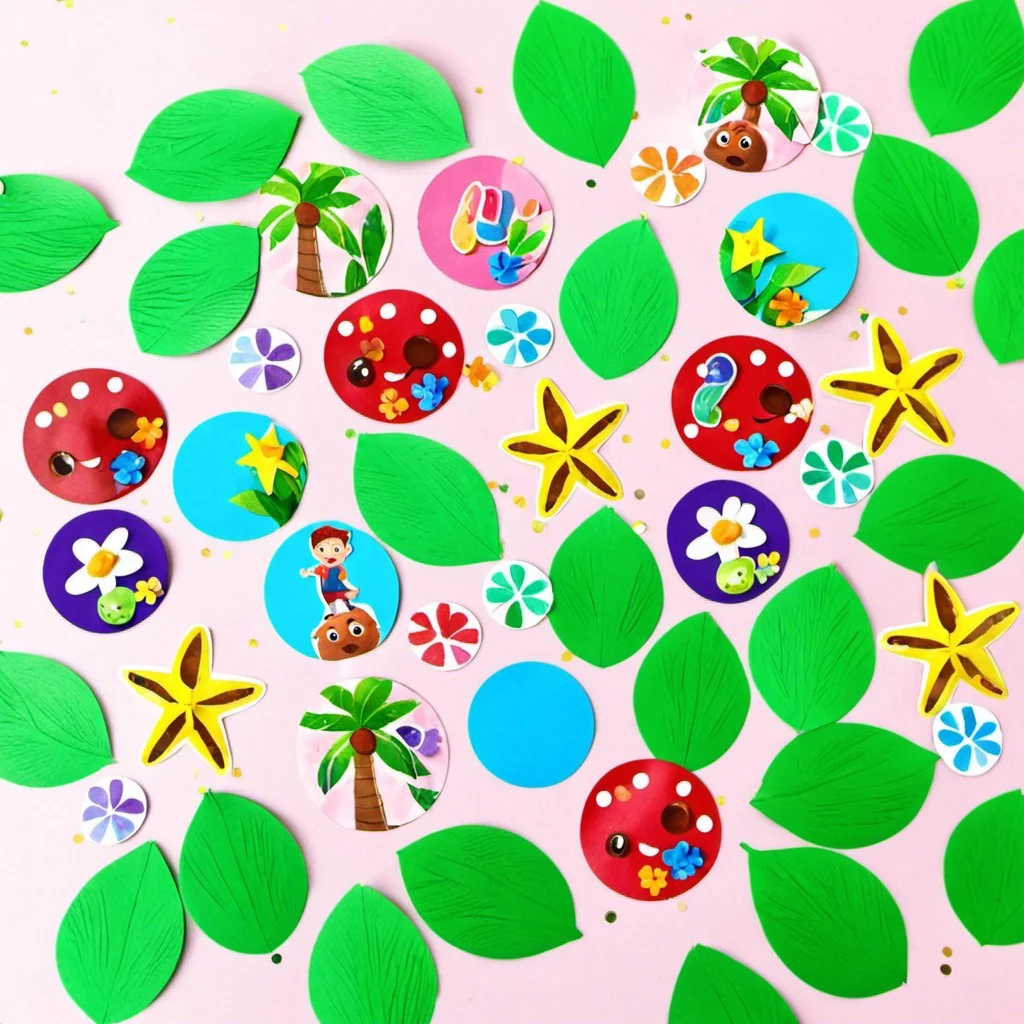 Crafting your own confetti brings an added personal touch to the party decor. Start by selecting recyclable paper in Cocomelon color palette – green, red, blue, and yellow. Using a regular hole punch, create small circles. For a fun spin, consider punchers that create different shapes, like stars or hearts.
Another option is cutting small, simple shapes of Cocomelon characters out of colored paper. Be sure to make enough to liberally scatter across your party tables or to toss in celebration. This easy project is not only cost-effective but also a great activity for kids to participate in the party preparations.
Remember to clear up any mess, a handheld vacuum cleaner does the job efficiently.
Watermelon-shaped Piñata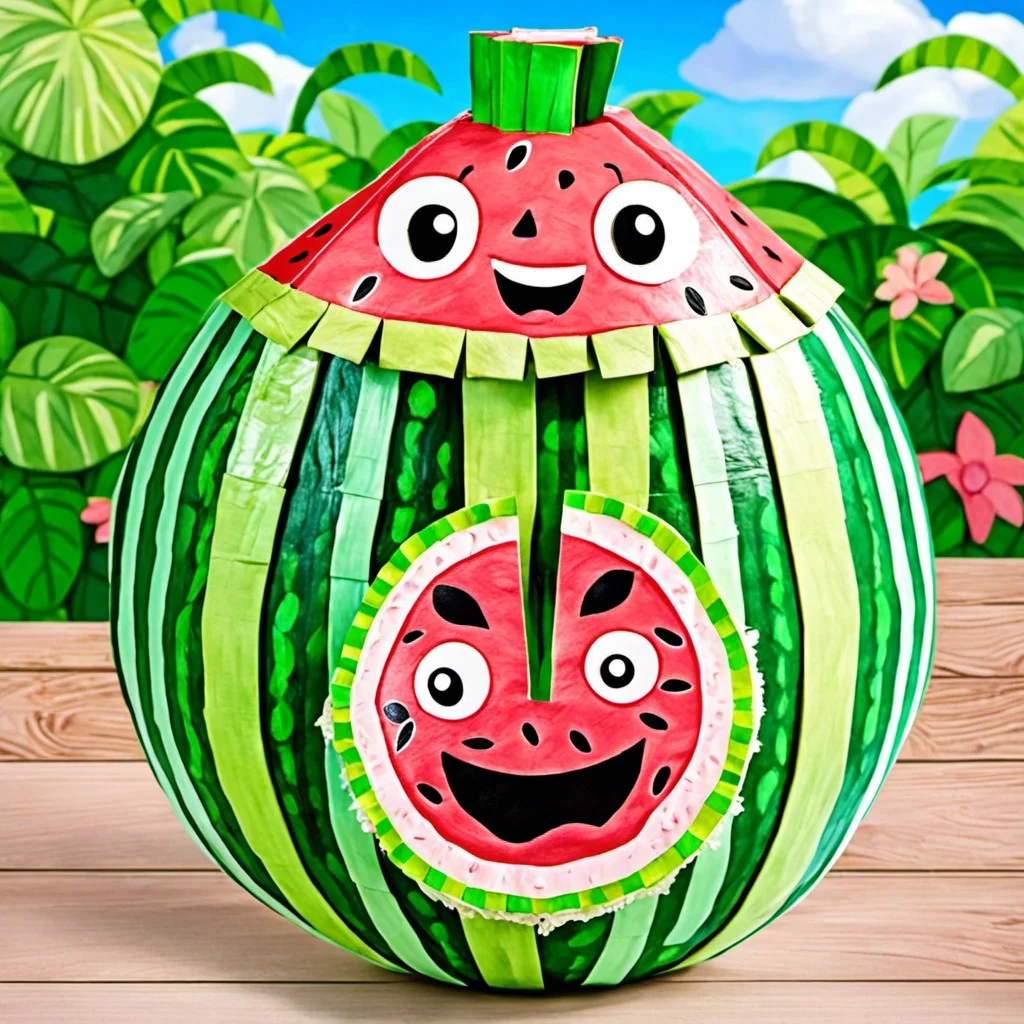 With its vibrant hue and playful shape, a piñata styled like a watermelon adds a fun, fruity twist to your party's entertainment line-up. For fans of the Cocomelon series, it's a nod to the Watermelon Sugar episode as well.
Here are some points to consider:
Size: Think about the age and number of attendees before choosing the size of your piñata. Smaller sizes are better for indoor parties or smaller groups, while larger ones are ideal for open spaces and larger gatherings.
Fillings: Traditional piñata fillings include candies and small toys that'll excite your young guests. Ensure the goodies are age-appropriate to avoid any safety issues.
Piñata stick: Don't forget a colorful, sturdy stick for the kids to safely swing at the piñata.
Setting: Hang your watermelon piñata in a clear area to avoid accidental damage to furniture or guests. Chose an area that can also keep the crowd at a safe distance.
Safety: Ensure the kids are supervised during the activity to encourage safe play.
Cocomelon Party Invitations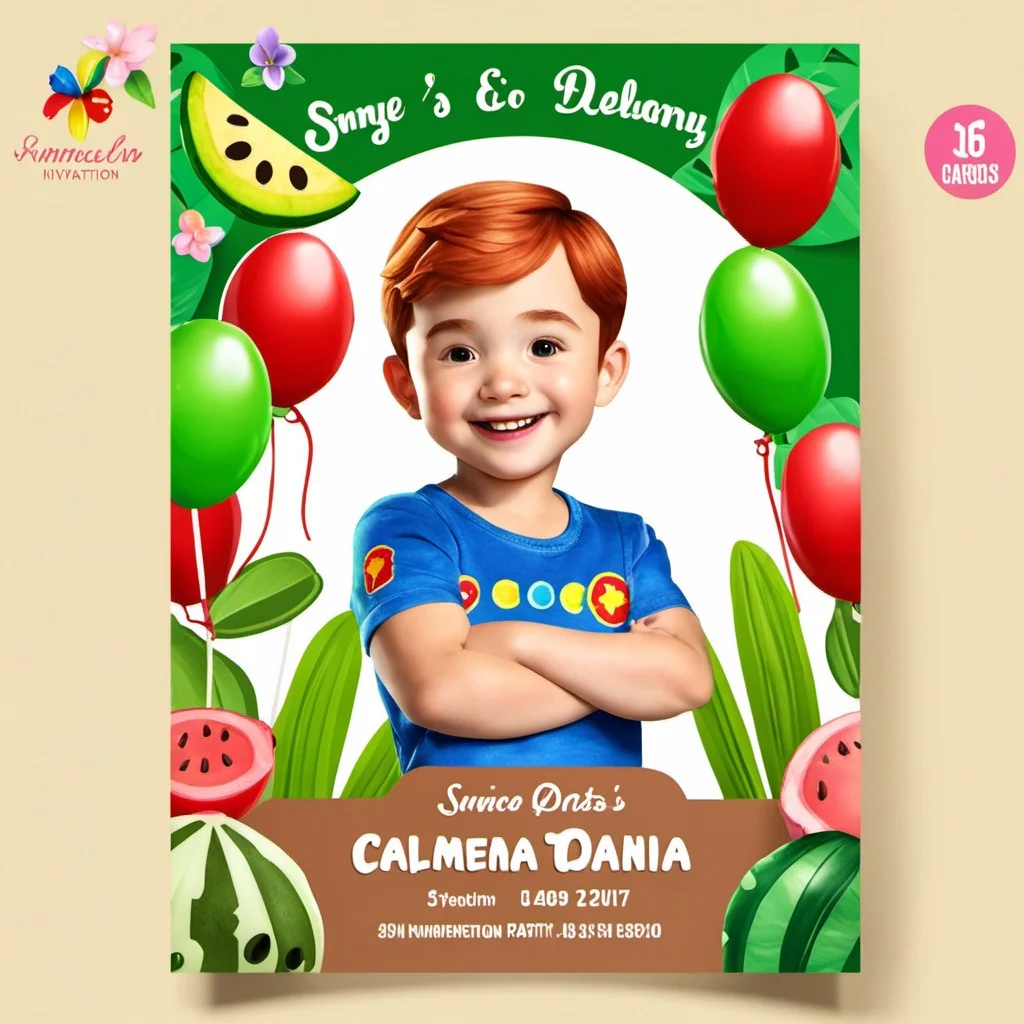 Engage your guests right from the start with uniquely designed invites. Opting for digital invitations? Use vibrant colors resembling the Cocomelon palette – bold red, vivacious yellow, and playful blue. Add recognizable icons from the show, like the iconic watermelon or the lovable characters.
For traditional paper invitations, consider cute pop-up designs featuring characters. Or, try cards shaped like a watermelon slice – a sweet nod to the show's title. Don't forget important details: date, time, location, and RSVP. Keep the wording in tune with the theme, such as "You're invited to a Jolly Good Time! Join us for a Cocomelon Extravaganza."
Remember to send out the invites two to three weeks in advance. This gives your guests ample time to plan and increases anticipation for an unforgettable Cocomelon celebration.
Wall Decals With Cocomelon Characters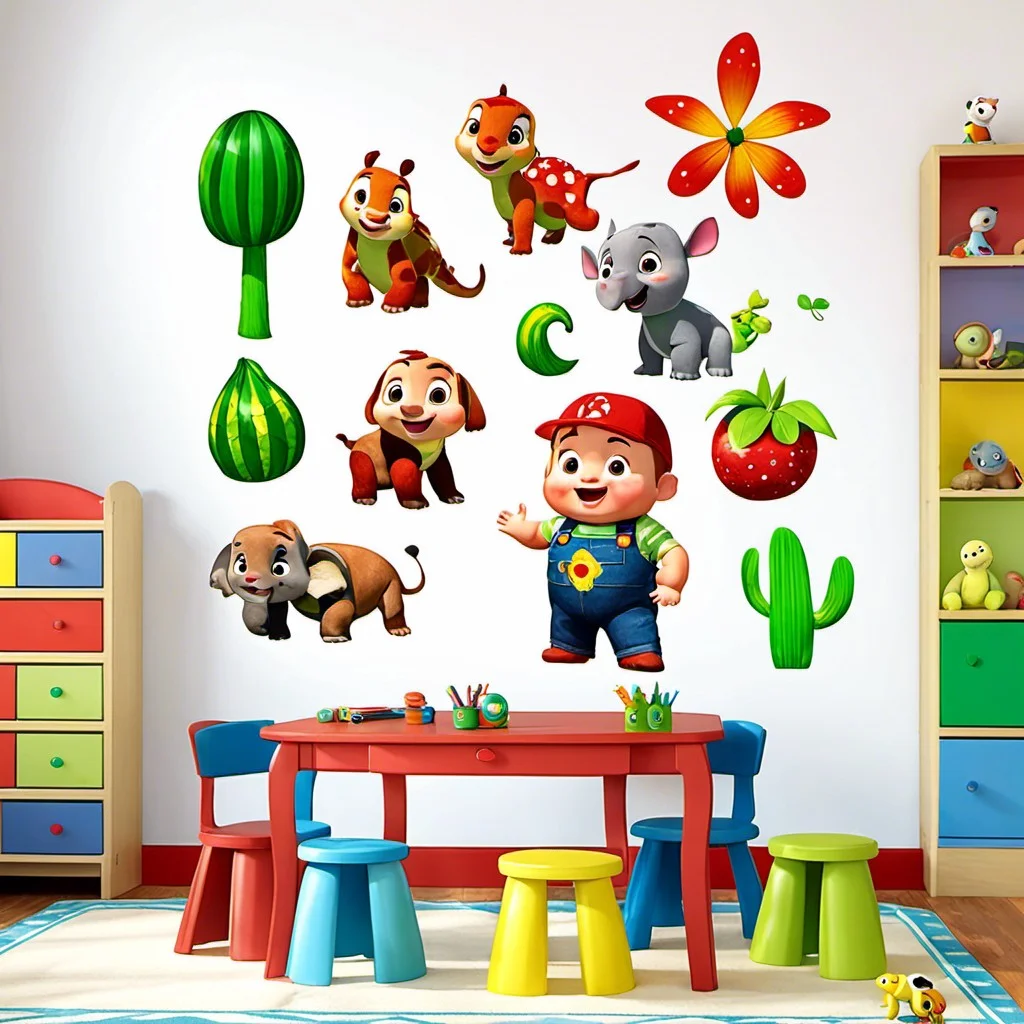 A simple yet effective way to integrate the Cocomelon theme is through wall decals featuring beloved characters. They effortlessly transform any standard party area into the vibrant world of Cocomelon, bringing joy to little attendees.
Consider the following tips when you use wall decals:
Choose a variety of sizes for visual interest.
Place larger decals at eye level for kids to offer memorable photo ops.
Go beyond walls – think doors, windows, or even on the floor.
Be mindful of your colour scheme, choose decals that complement your theme colours.
Remember that wall decals offer the benefit of an easy setup and clean up. For renters or those conscious about wall damage, rest assured, these stickers are typically removable and do not leave residues or marks.
Cocomelon Scene Setter With Props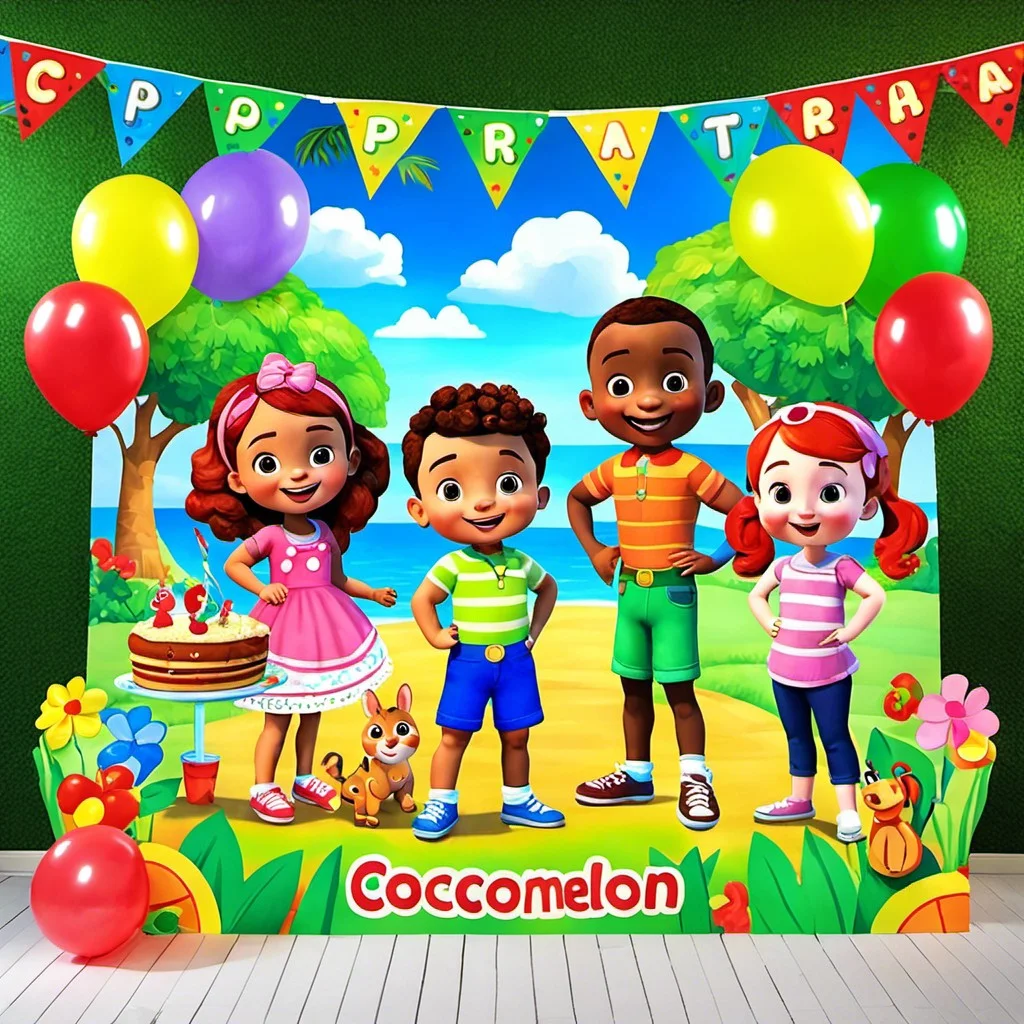 As one of the focal points of your party, choosing the right backdrops and accessories is crucial. The Scene Setter, decorated with cheerful graphics from the Cocomelon world, provides a vibrant, picture-perfect setting.
Life-sized characters on the backdrop creates an immersive experience for the children – it's as if they've stepped right into the cartoon!
The props offer a fun way to interact with the scene. Whether it's a set of jumbo watermelon balloons or cutouts of Baby JJ and friends, these details add depth and dimension to your set up. Position these strategically for maximum effect. Don't hesitate to mix and match to make your setting more dynamic.
Remember, the scene setter doesn't just provide a gorgeous background for party photos. It also sets the celebratory mood, ensuring a memorable Cocomelon party.
Cocomelon-themed Cutlery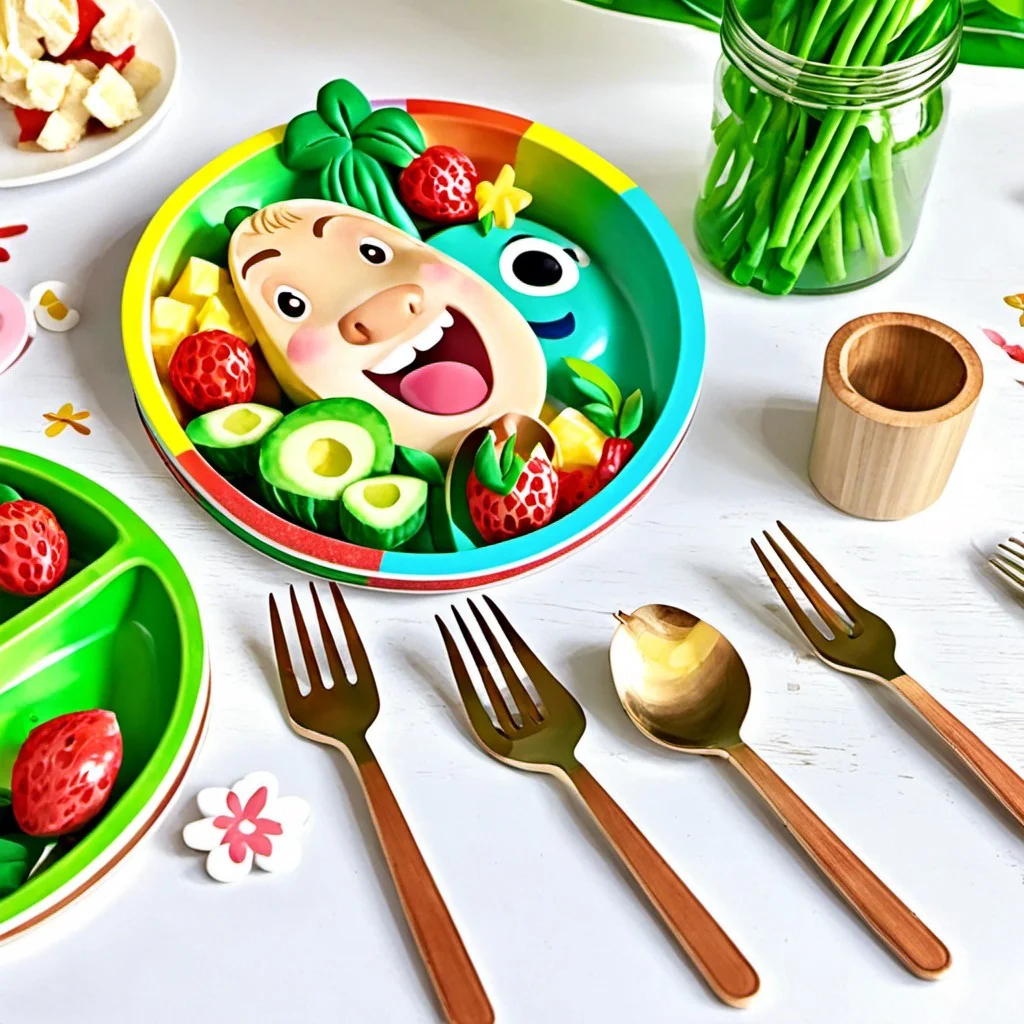 To enhance the dining experience, coordinating cutlery can do wonders. Opting for forks, spoons, and knives imbued with the vibrant colors of the Cocomelon theme – think red, green, blue – effortlessly incorporates the party motif into meals. Even better, consider cutlery adorned with Cocomelon stickers or prints.
Be mindful of safety, especially if children constitute the majority of the guests. Plastic cutlery would be a safer option. For a touch of creativity, tie a Cocomelon-themed ribbon around the cutlery set and place it on the napkin. This not only adds a pop of color to each setting but ties the theme into every aspect of the party. Remember, it's the little details that create a fully immersive party experience.
Cocomelon Themed Centerpieces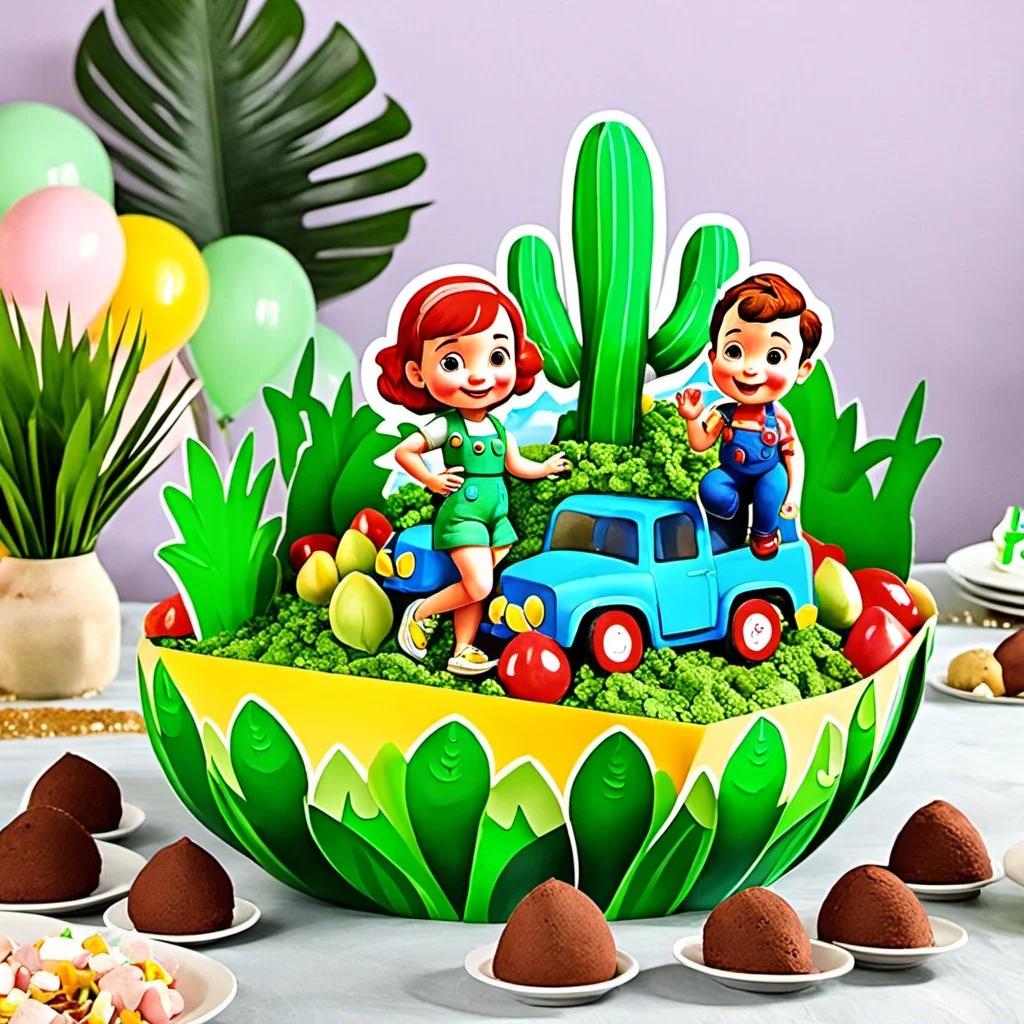 Crafting the perfect centerpieces can truly bring the entire party decor together. Dazzle guests by sticking to items that represent the youthful fun of the show. Using vibrant-colored balloons, small, plush Cocomelon character dolls, or even watermelon-shaped baskets can do just that!
Fill these eye-catching baskets with candies, flowers, or simple props like bells and bows matching the colors of Cocomelon. Also, playing around with height is a great tip. For example, you can place Cocomelon character cut-outs on tall skewers amidst bouquets of flowers.
For lighting, watermelon scented or colored candles also add a warm, inviting ambiance and a fun tie-in to the theme. Lastly, remember to incorporate essential Cocomelon hues—red, blue, and green—to truly capture the full aesthetic.
Table Decoration Kits in Cocomelon Colors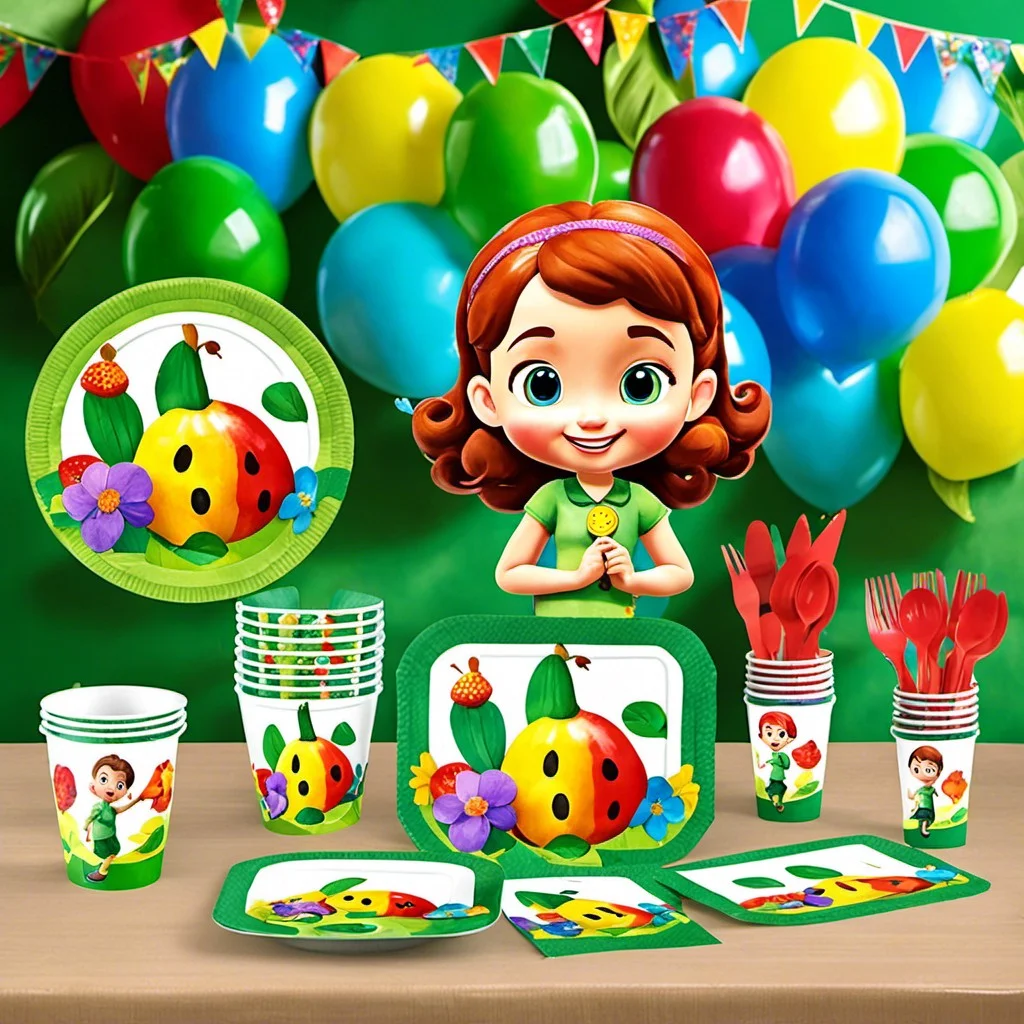 Selecting the right hues is fundamental in capturing the essence of Cocomelon. Embrace an array of vibrant colors red, green, yellow, and blue. They set the tone instantly and your guests will feel as though they've stepped straight into an episode of Cocomelon.
First, invest in a table runner, as it makes a great and compelling base. Then, sprinkle it with matching confetti for a dash of charm and whimsy.
Tablecloths and placemats especially made in the bright tones of Cocomelon characters will also contribute to an immersive dining experience.
Additionally, including vibrantly colored napkin rings or bold centerpieces, like large plastic fruits or Cocomelon character figurines, can elevate the fun factor of your setting.
Remember, consistency is key. Using the same color palette for all tabletop items, from plates and cups to cutlery, will tie the entire look together, enhancing the theme.
To top it all, think about a tasteful arrangement of multicolor balloons tied around chair backs or floated above the table. They'll definitely be an eye-catching component of your table décor. A little creativity goes a long way in creating a memorable Cocomelon-themed celebration.
Cocomelon Character Masks for Kids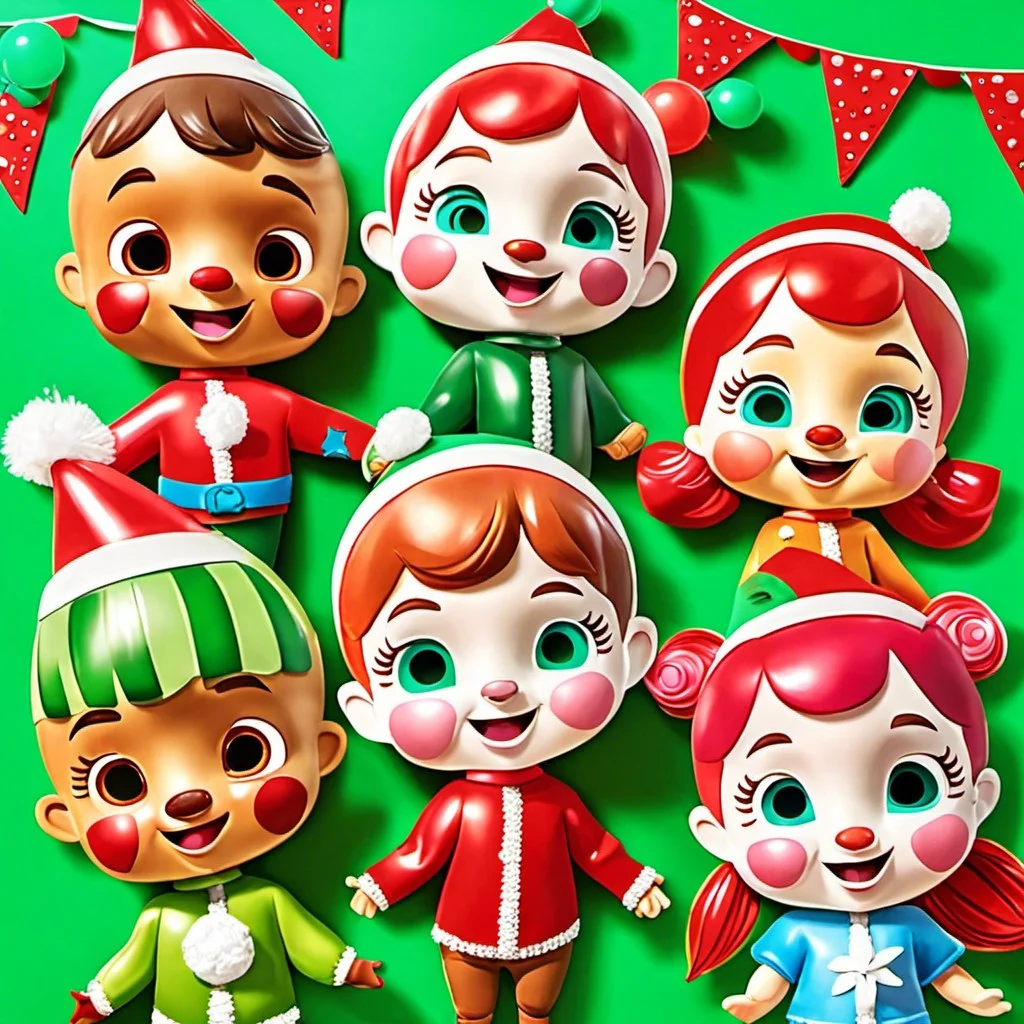 These are a must-have for the little guests who are star-struck by the Cocomelon characters. Give them an opportunity to step into the shoes of their beloved characters with these fun masks. They'll certainly be a hit among the kids, adding an extra layer of excitement and imagination for them during the party.
Here's how you can go about it:
1. Commercial Options: Several online platforms sell pre-made masks featuring characters like JJ, TomTom, or YoYo. Ensure to order in advance to allow ample shipping time.
2. DIY: If you're creatively inclined, making your own masks could be an enjoyable pre-party activity. Use printable templates available online or make your own from scratch using cardstock.
3. Safety Considerations: While kids are having fun, remember to prioritize their safety. Masks should fit properly, with adequate eye openings and comfortable elastic bands. Avoid materials that may cause skin irritation.
4. Engagement: Consider a game that incorporates the use of masks, perhaps a character role-play. This will get everyone involved in an organized activity and using their masks.
Incorporating character masks will undoubtedly contribute to a memorable Cocomelon-themed party.
Cocomelon-themed Games and Activity Stations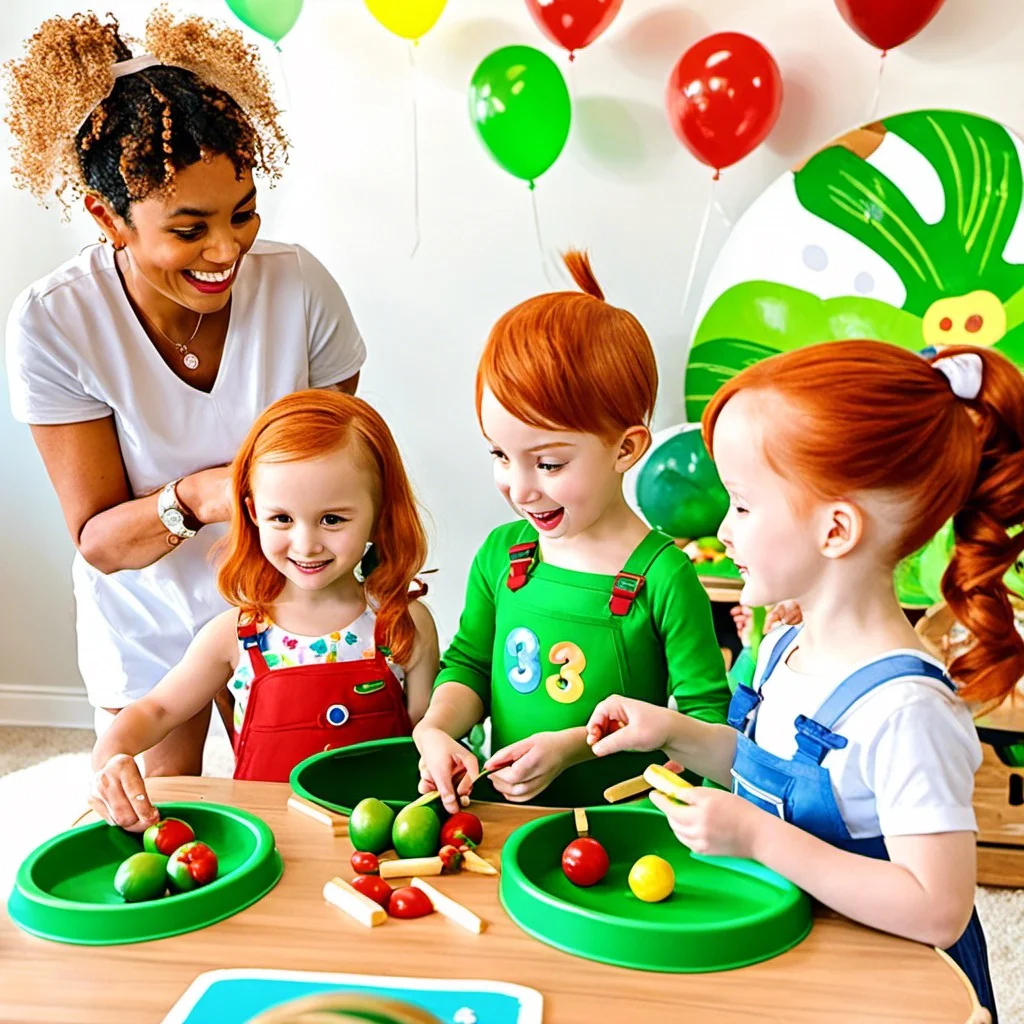 Transforming ordinary games into Cocomelon-themed versions can make your party more engaging. For instance, a fun musical chair game can feature tunes from the show. To add a learning element, consider a 'Pin the Tail on JJ' game, which improves children's hand-eye coordination.
For activity stations, creativity is key. Set up a coloring station with Cocomelon character printouts and crayons for a stimulating art session. A temporary tattoo station with Cocomelon designs can get all the kids excited too.
Don't forget a small stage for a sing-along session. Choose popular numbers from the show and let those little voices echo with joy.
Remember, the games and activities should be age-appropriate and safe for children. Ensuring they're fun and educational will keep the little guests entertained and the parents appreciative.
Cocomelon Goodie Bags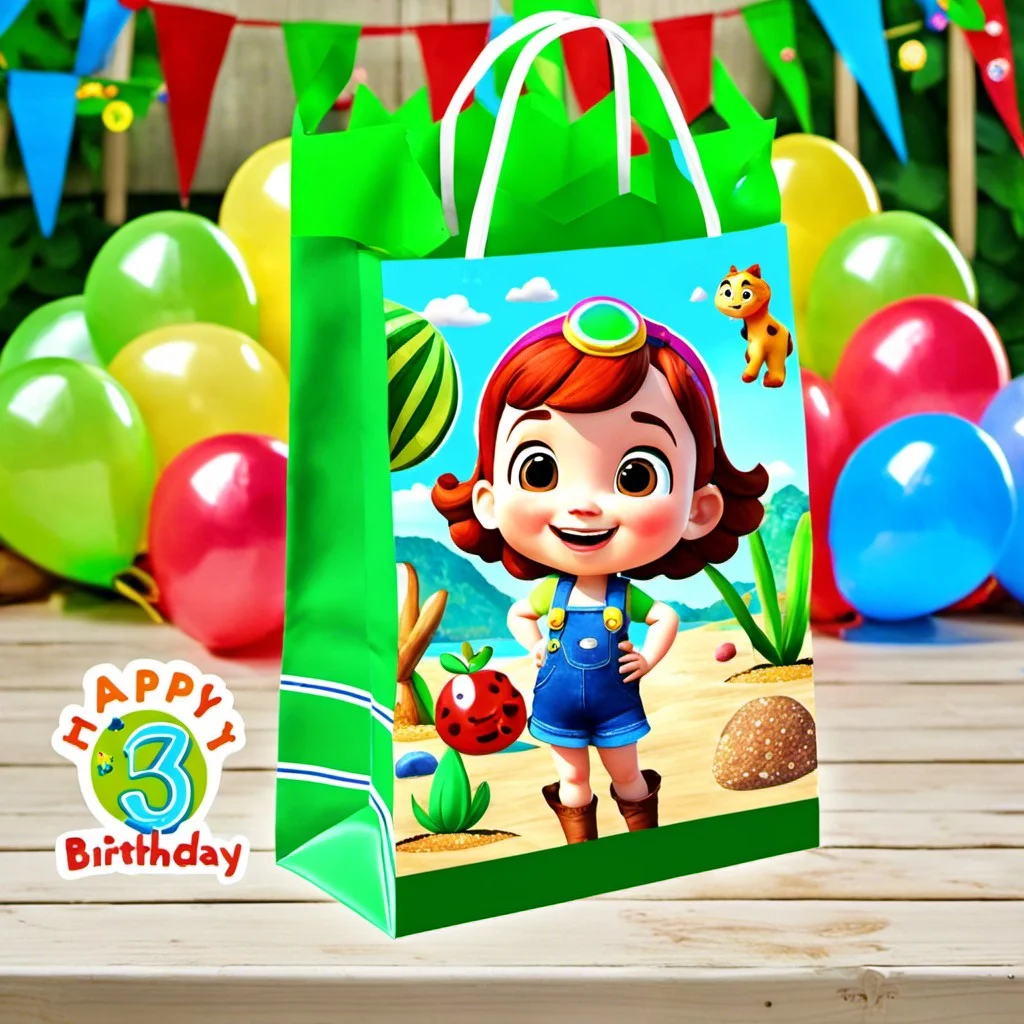 The delight of any party, especially for youngsters, are the end-of-party favors. Fill these bags with a selection of Cocomelon-themed treats.
Consider items like custom stickers, mini coloring books, character keychains or Cocomelon printed badges.
Toss in some candy for a sweet surprise! If you're eco-conscious, canvas totes make wonderful reusable alternatives.
Decorate them with fabric markers to highlight the Cocomelon theme.
Ensure every guest leaves with a fond memory in hand!
Liked reading this? Here's more:
Recap: