Last updated on November 19, 2023
Building a DIY planter box for a deck garden is easy. But I'll make it even easier with this idea. Read on!
I've always wanted a small garden at my home. Unfortunately I never had the will to start one. Digging soil just never seems like a thing for me. But I love the idea of having your own fresh herbs, veggies, and plants. Until now, my only gardening was limited to a few mason jars with herbs in the kitchen.
I've decided that it had to change and I've built the easiest deck garden ever. But before I tell you how, let's back up little.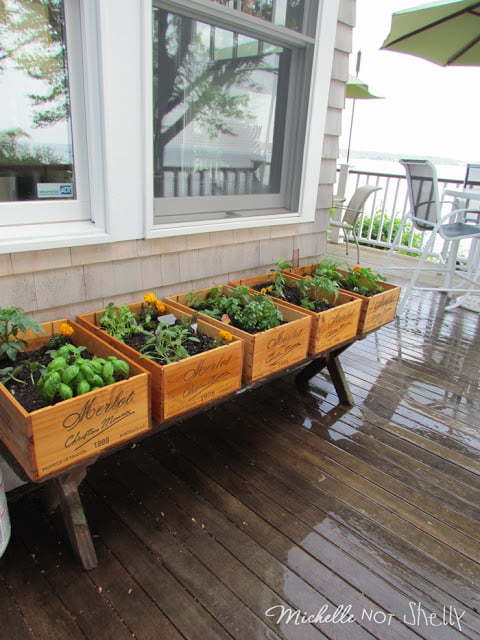 How to Build a DIY Planter Box
It's as simple as putting a box together from wood boards and screws. It's the basic DIY woodworking project. There are two important things for container gardening – soil and water drainage.
So here's how you build it:
Put the box together. I'm sure you can measure, cut, and glue it together. Alternatively, use any wooden box (more on that later).
Drill a few holes at the bottom. Think about how the water must leave the box, otherwise, it will rot.
Add a layer of pebbles on the bottom of the box to help the drainage.
Add soil.
Finally, place your new gorgeous planter box on the deck or another pretty place.
Easy Planter Box Ideas
I'm an avid DIYer, but I am also a bit lazy. So if I can skip a step in a project by reusing something – I will. This counts as recycling, doesn't it?
So to make your DIY planter box easier, you can repurpose some old boxes or crates. I've used wine boxes: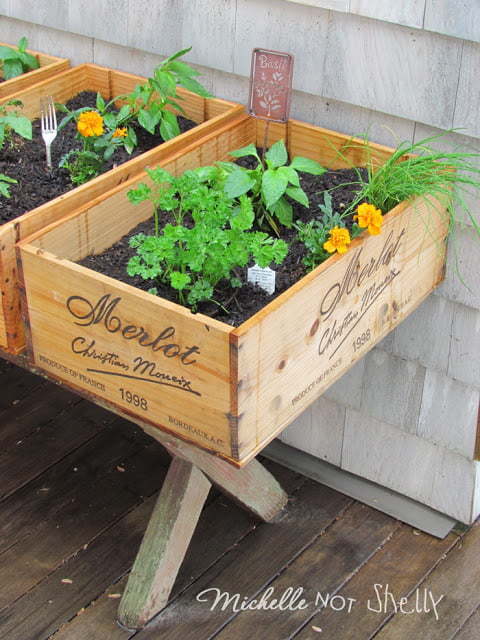 We have raised the boxes on an old bench too.
It's important to keep in mind that to build the planter, you need to follow all of the remaining steps. That is – establish good drainage.
Here are some other boxes that will work as your deck garden:
Wood crates
Milk crates
Corrugated metal boxes
Just don't use card boxes – they will not hold moisture well!
Liked reading this? Here's more:
Recap: