Last updated on September 19, 2023
These DIY planter ideas will allow you to make one from almost anything. No more complaining you can't get the right planter!
Have you been in a situation where you just can't find the right planter for a houseplant? I think we've all been there. You can get them in all styles, shapes, and sizes at the stores, but sometimes none of them are right.
That's when the DIY way comes in. And it is wonderful! You'll be amazed at how many great ideas there are to make your own. More importantly, they are so easy.
Let's dig in, and see what I have come up with for you this time!
In This Post:
How to Make a DIY Planter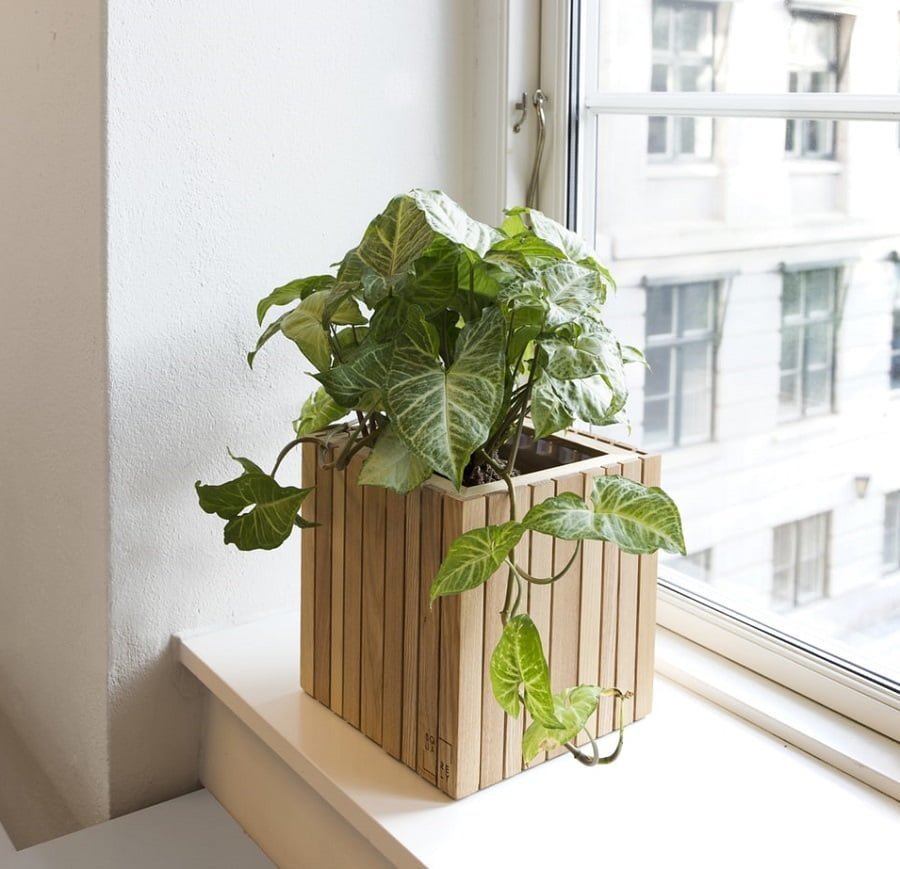 Making a planter for your houseplants, flowers, or herbs is easier than you might think. It's because you can make it by repurposing so many things. Any container will do. Of course, you can make it more complicated if you want to build a unique container from scratch (boxes from wood, for example).
But to keep things simple, let's go over what it takes to build a simple project.
Here are the steps:
Choose a container. Any container that is waterproof will do. (Some containers that aren't waterproof might be lined with polyethylene.)
Drill (or otherwise make) a hole in the bottom of it. This is for water drainage. The hole doesn't need to be big – just about a half an inch wide is good enough. Make multiple holes if it's a big container.
Decorate the container to make it look all pretty.
Line the bottom of the container with pebbles. This is to make better drainage.
Add planting soil.
Add the plant.
Put the new planter in a place where everyone can enjoy it.
Simple enough, isn't it?
But I know you need more. There are as many ideas as there are types of planters, and then some.
Flower Pot Ideas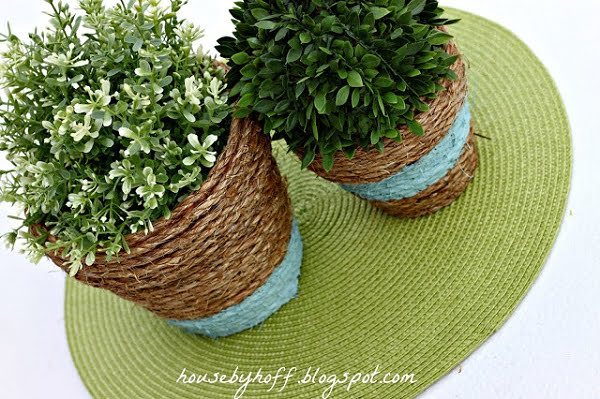 The flower pot is perhaps the most popular type of planter. Indeed it's flowers that have the most decor appeal so we like to bring them to our interior, porch, backyard, and even garden.
So making a flower pot yourself is a useful project to make. It's not so much about saving money (although there's that) as making something unique that helps the flowers stand out even more.
What Can You Use as a Flower Pot?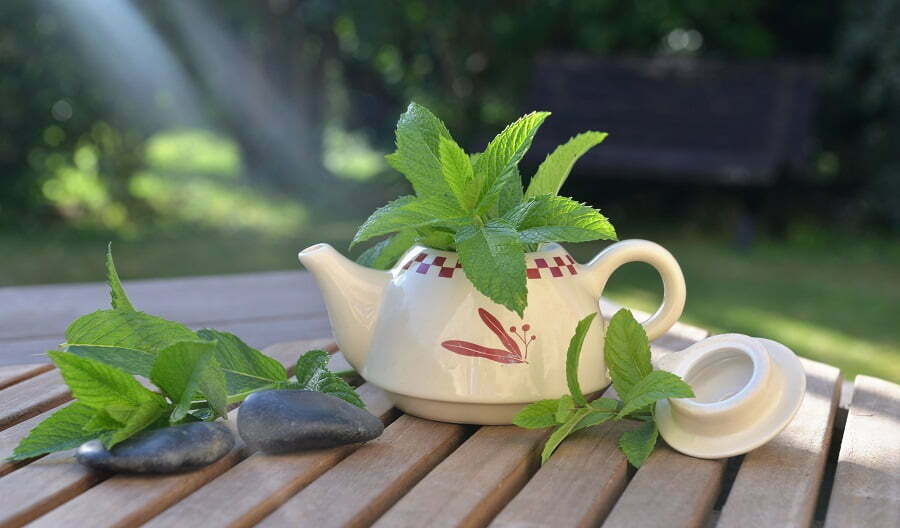 Anything that is waterproof and can fit your plant (outdoor planters will have to withstand the weather too). The possibilities are endless. There's one key thing to keep in mind. Your planted flowers will need drainage that the pot has to provide. This simply means that the pot needs to have a hole in the bottom.
Regular household items can double as flower pots in a pinch. For example, people have used rubber boots, car tires, dinner bowls, hollowed logs, wooden crates, metal pails, antique milk cans, fruit baskets, washtubs, and tin cans. You can also get old clay pots and decorate them to add appeal.
Indoor Plant Pots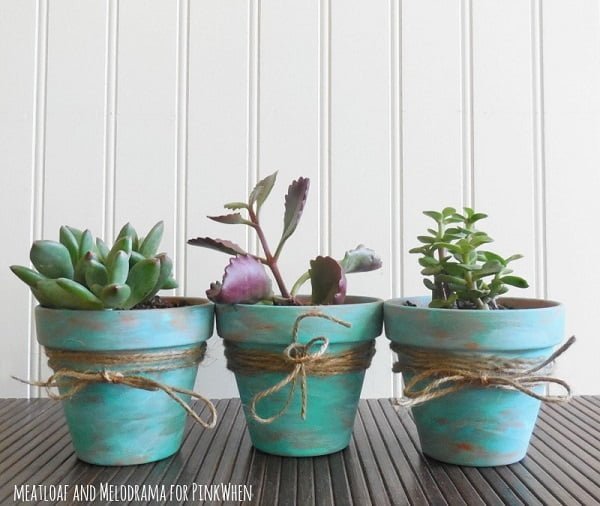 Plants are important parts of the interior decor. Make sure that their containers are presentable to guests and suitable for the house theme.
You can paint plain pots to match other accent pieces. White, black, silver, and gold look great in modern dwellings. You can also turn plastic thrift store bowls into hanging planters.
What's important about this type of planters is that you can use even more materials and repurposing items than outdoor. You can decorate the pots with paint and even papercrafts.
Indoor Flower Pots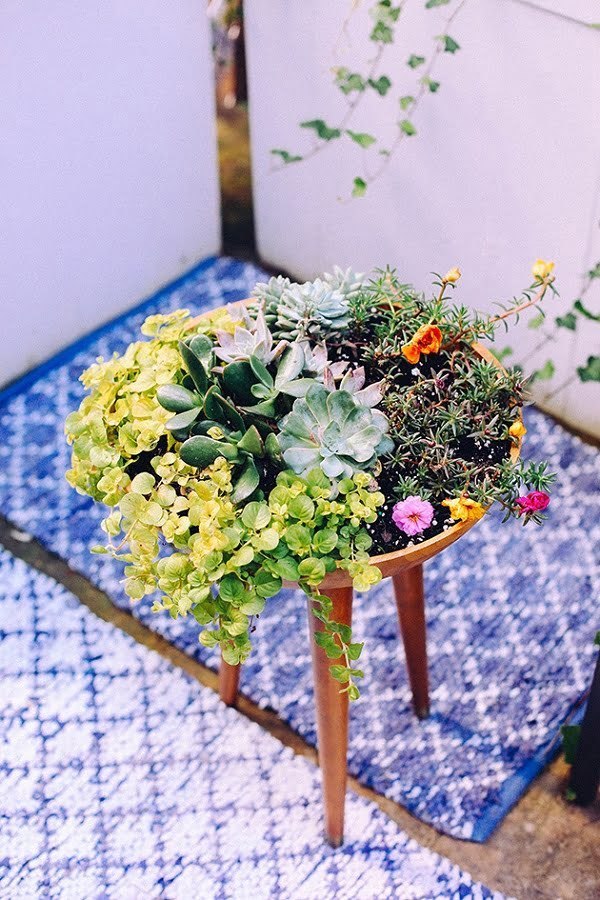 Space is limited indoors so you need clever ways to do more with less. For example, place several plants in a single big bowl. You could also upcycle old clay pots by adding decor around their edges such as seashells, aquarium stones, ropes, and so on.
Small Plant Pots
Did your kids play around with plastic dinosaurs when they were little? Take them out of the storage and stuff them with soil to make adorable plant pots for succulents.
You can do the same with driftwood, old rotary phones, old hardcover books, glass jars, tea containers, seashells, floppy disk boxes, and so much more.
Plant Holders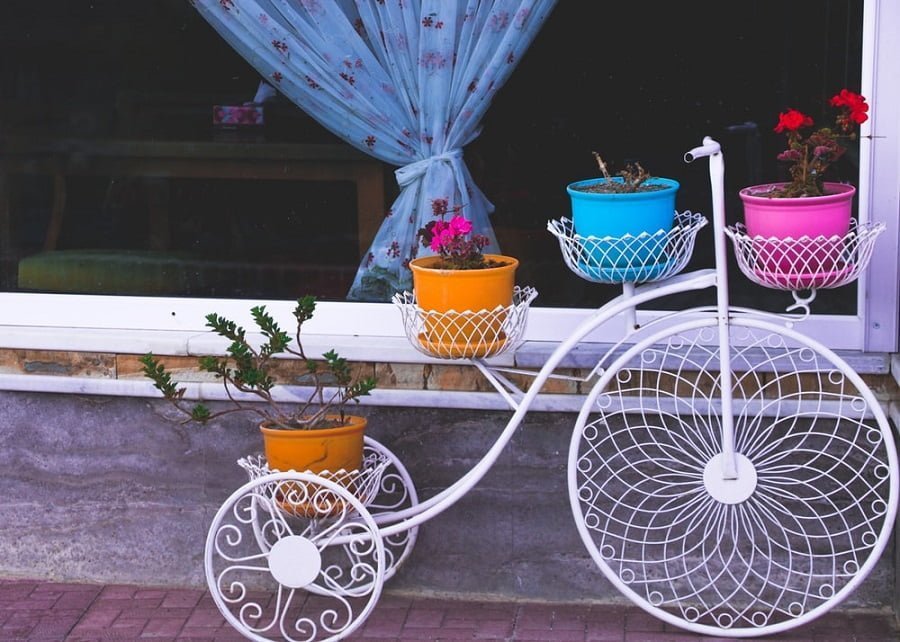 Plant holders can take many shapes. From stands to hanging holders to vintage racks. Here's what you can find:
Single pot stand
Rack
Ladder
Shelves
Tree-shaped stand
Repurposed racks (such as using old chairs, dressers, or an old bike), if you want to be all whimsical.
Wall mount holders
Hanging holders
Baskets
On top of that, they can come in many designs, and they can be vertical or horizontal. Your choice will depend on the space where you want to keep it.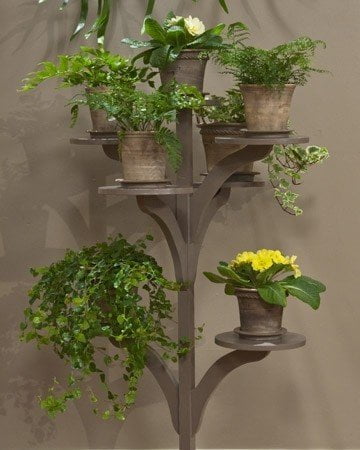 Place your pots on stable holders with eye-catching designs. For instance, you can mimic trees by creating a stable base where DIY branches flow outward on multiple levels. The ends of these branches should have a smooth platform for the pots.
Balance all sides so it won't topple over. Use old logs or freshly cut lumber depending on what's available.
DIY Wall Planter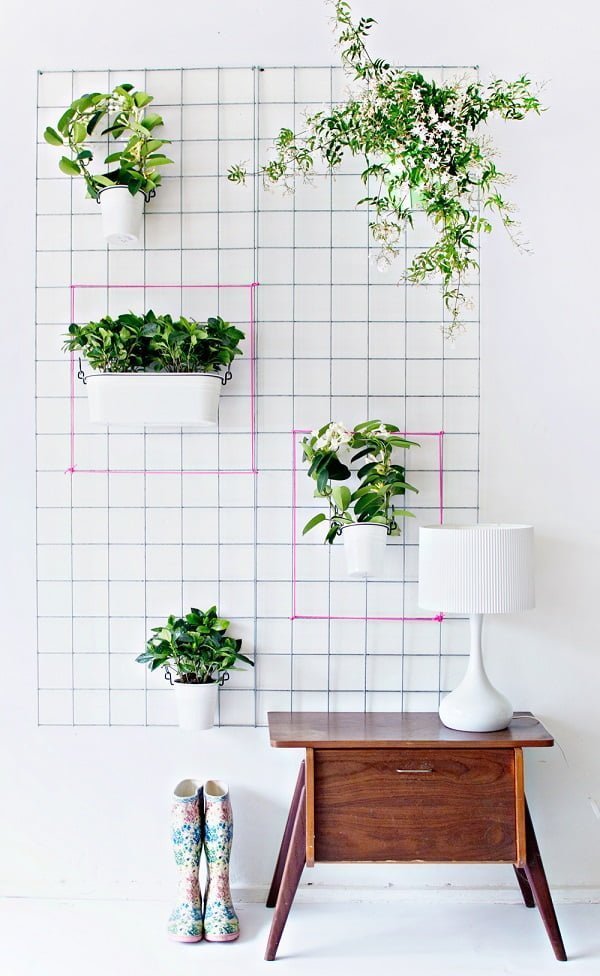 Wall planters are so trendy because they make use of space that is otherwise empty to create a green corner in a room. You can go as far as creating your own living wall.
Maximize the vertical space along the walls with DIY planters. Install a steel mesh on the wall and hang non-fragile pots such as metal and plastic. Use hooks and wires to get the job done.
You can also make horizontal planter shelves or vertical wooden boards with metal rings to hold clay pots.
Glass Planter
Glass planters are usually used to plant succulents. The size you get by reusing bottles, jars, and other glassware is exactly right for them. You probably won't plant other houseplants in them anyway.
Glass is perfect if you want to know what goes on inside the soil too. You can convert old vases, glass jars, lighting fixtures, bottles, and kitchen bowls into planters. Place them outside the window to maximize sunlight or hang them from the ceiling using ropes.
And then there are the terrariums. You can make a whole arrangement of succulents in an aquarium as a great accent piece.
Hand Painted Flower Pots by Patterns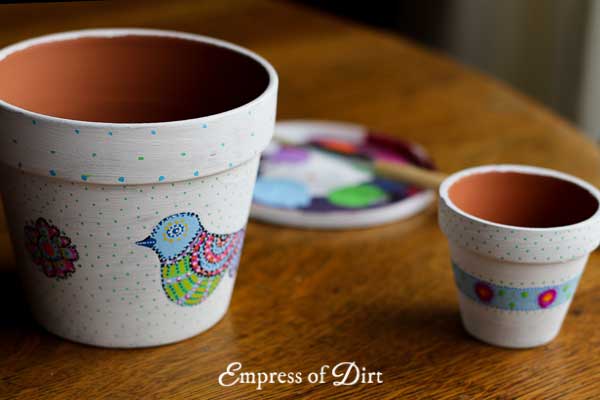 Paint pots by a pattern to make them come alive. Just copy and don't worry if your work isn't perfect. You can always fix stray brush strokes later. Start with simple images and increase the complexity as you gain confidence. Acrylic paints work best for clay pots.
Outdoor Planter Ideas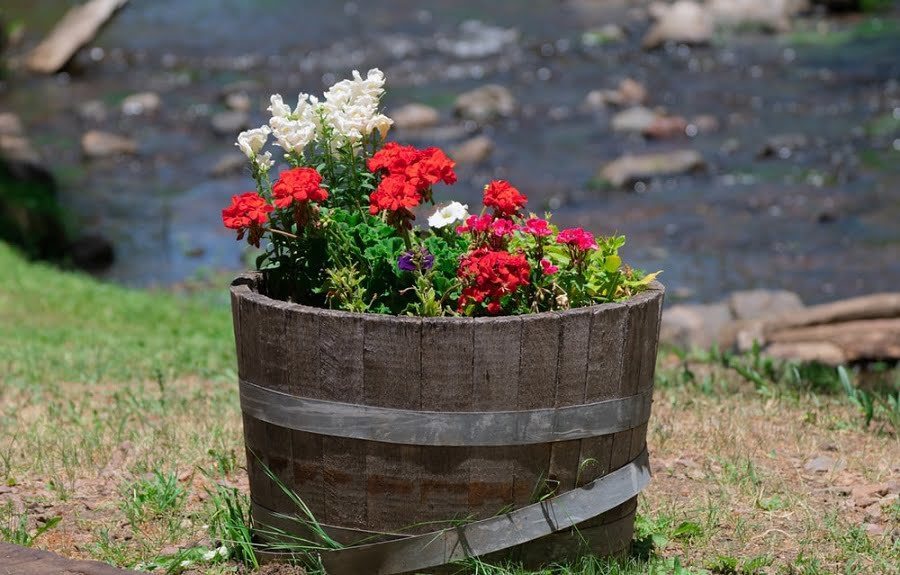 Do you have an old rusty wheelbarrow? A metal washbasin? Unused wooden crates? Large wicker baskets? Any of these will do fine as instant outdoor planters.
Make sure that they have holes at the bottom to drain excess water. To protect the wood, you might want to staple a plastic sheet lining inside of it.
Large Outdoor Flower Pots
Big pots are expensive so try to see if you have containers that can substitute. Even large trash bins can look stunning after a good paint job.
Old laundry baskets, paint buckets, and bathtubs are good candidates as well. If you are handy with tools, then consider making box pots for one or multiple plants.
Large Outdoor Planters for Trees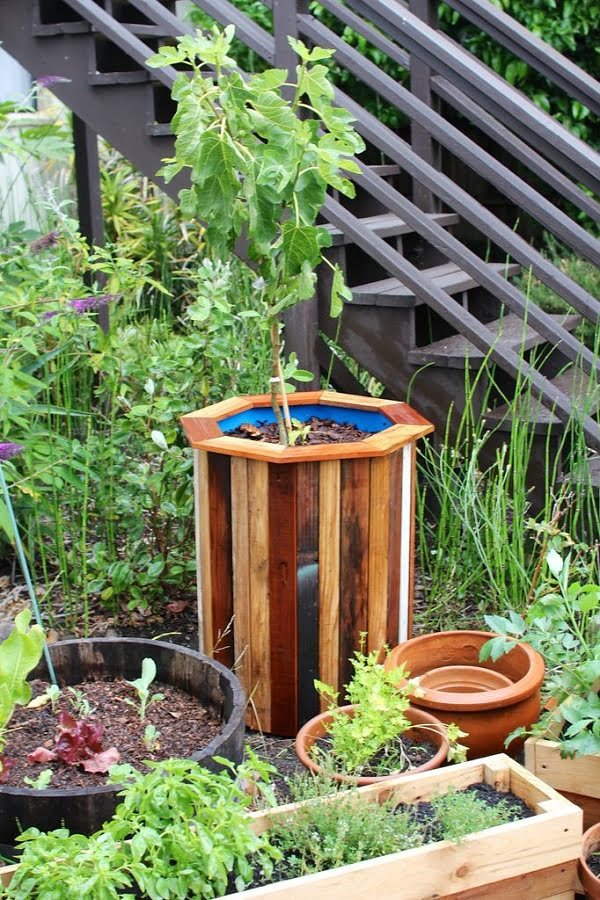 If you want an easy DIY planter that can hold a tree, then consider the common blue plastic barrels. They have a 55-gallon capacity that should be more than enough for a lot of large plants. Saw off the top and paint the sides or cover it with wooden planks to style it.
DIY Large Planters
Build a planter if you have specific requirements for the shape and size. Get some lumber to begin the construction of wooden boxes. Make sure that their bottoms have a bit of space from the ground.
You can also create cement pots by using a mold.
Front Porch Planters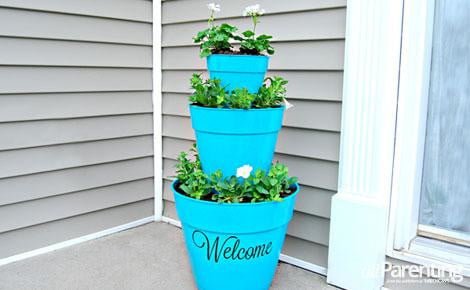 Make a statement with big, bold, and colorful front porch planters. Place flowering plants in a large barrel, a sizeable watering can, or any other suitable container.
If you are feeling patriotic, then choose flowers with the same colors as the flag. You can also choose seasonal colors.
Another neat idea is to add your house number to the box planter and place it by the door.
DIY Wooden Planters
Contrary to popular belief, making your own wooden planters is easy. It's as simple as putting together a box. You can make a long and narrow box and install it on one side of your deck.
Another easy idea is to create a window planter by cutting holes on a plank and screwing it to the outside wall of the house. Insert clay pots on the holes and you're done.
Brick Planters
Bricks are small, tough, and easy to use. Create planters with straight edges or curved lines using this versatile material. It's great for long rows of plants around homes, inside gardens, or along driveways. You can use the same material for the building's facade to create a unified look.
Balcony Planter Box
Make your balcony more inviting by adding a planter box or two along the railing. You could buy a plastic rail planter or create your own using wood. You may also opt to position the plants on the floor instead of the rails for stability, especially for the larger and heavier ones.
DIY Large Concrete Planters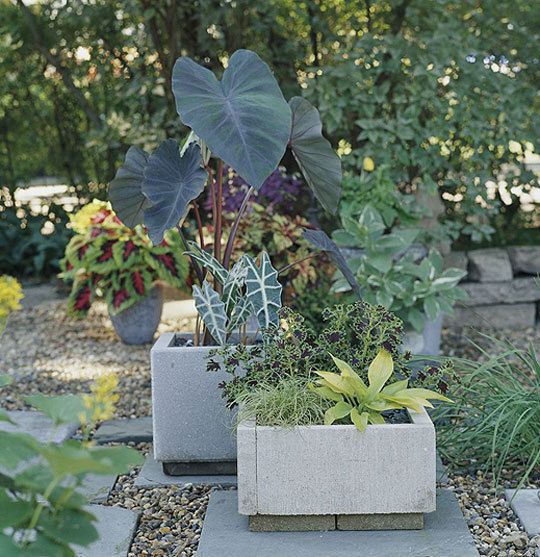 You build large concrete planters using simple tools like plastic buckets, concrete mix, trowel, water, and utility knife.
A 5-gallon bucket is suitable for the exterior mold while a 2-gallon bucket provides the shape for the interior.
Fill the space between the two and let it cure. Remove the forms by cutting with a utility knife. Use sandpaper to polish the DIY planters.
Recycled Planters
Instead of throwing stuff out, create a unique garden using nontraditional pots.
Here are some things to recycle as a planter:
Old toys
Cups
Shoes
Computer accessories
Food containers
Plastic bottles
Umbrellas
Wicker baskets
Weaved bags
Toilet bowls
Metal drums
Milk jugs
Vintage rotary phones
I'll stop here but the list is endless.
Dress them up with paint or accessories and they can become completely unrecognizable.
Tire Flower Pots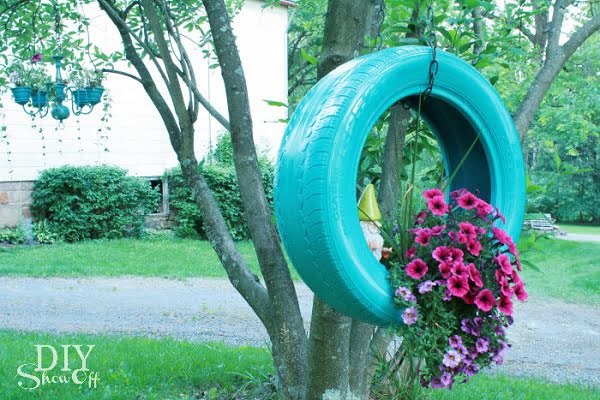 If you have old car tires gathering dust in the garage, then take them out and turn them into flower pots. Use them as-is or layer them to create visual interest. You may also paint the sides and cut them into shapes.
However, you should know the downside of using old tires too.
How to Make a Plastic Bottle Garden
Plastic bottles are ideal for outdoor vertical gardens as they are durable, weather-resistant, and easy to work with.
Keep the cap on and cut a rectangle across the middle.
Poke small holes for drainage.
Fill it up with soil.
Plant herbs.
Hang them using rope that runs along both edges.
FAQ
What to plant in small pots?
Small succulents and herbs. Most houseplants need bigger planters.
How to paint plastic planter pots?
You can use acrylic paint for painting plastic pots, but it's not best suited and may not hold well in some cases. For best results use paint that is made to adhere to plastics.
How to plant small trees in pots?
Use 55-gallon barrels or pots of similar size. Be prepared to move it to bigger containers as the tree grows. Ensure the container has enough drainage.
Liked reading this? Here's more: