Last updated on September 23, 2023
Mastering styling your bed can be quite tricky. Many would agree that there aren't many elements that would spice up your bed experience, which is true to some extent. You don't want to clutter your bed too much, as it is the place where you rest at the end of the day. This means that you are basically left with blankets and pillows.
However, there are tons of ways you can spice up your bed style, both in comfort and overall design. Start with the basics, like a comfortable mattress and colored sheets, use throws and pillow shams, and cozy textured sheets. Then, add some extra elements to make it look stylish!
If you're looking for bed style inspiration, below you will find a couple of simple bedding tips that put you on the top of the bed design game. Read on!
In This Post:
Start with the Basics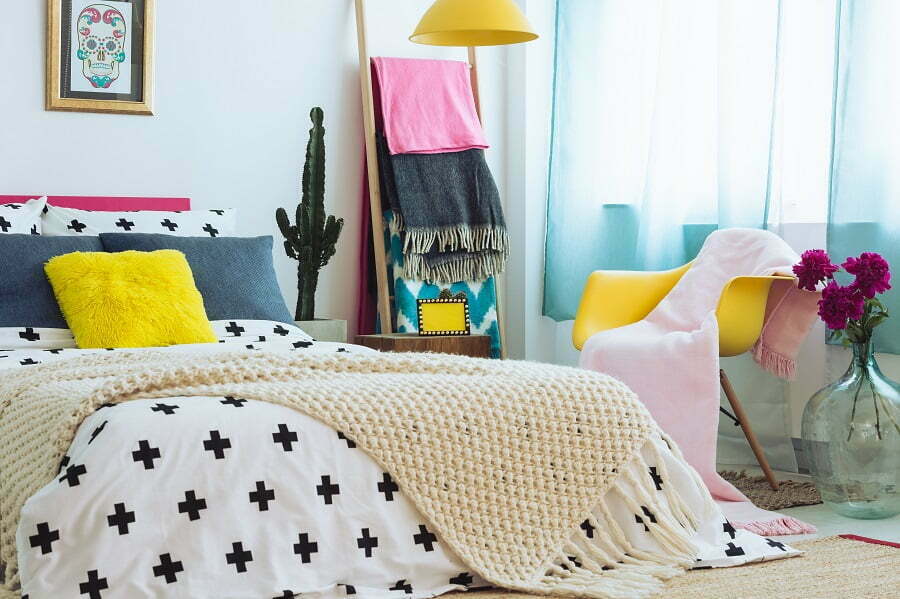 A typical human being needs 6 to 8 hours of regular sleep. If you consider that it is about a third of our day, you'll see that it is time to invest in a set of quality mattresses, bedsheets, and pillows. However, you don't need to get a top-of-the-line cushion to do its job.
The good thing is, there are tons of affordable bedroom essentials on the market that provide a top-notch experience with a lot of wiggle room to put a personalized touch when it comes to designs. For example, many designers invest in plain colored sheets. A sheet in neutral colors offers enormous flexibility when it comes to aesthetics and provides that classic bed look. You can also use printed sheets to give depth and personality to the overall style.
Use Soft Layer Sheets
Aside from the value of the mattress, adding a couple of layer sheets is critical to the overall comfort of your bed. Start with the crisp, soft elements underneath and put the topmost sheet face down. This will provide you with a warm, welcoming feeling every time you jump on your bed. Or, if you prefer something cooler (literally), iced sheets may be the best for you.
Choose neutral colors and cozy textures as part of your bed layer. Also, use patterns to your advantage and look for complementing contrast to make your bed more inviting. Remember that texture and layering are all about effortlessly matching each component to achieve an elegant look. However, overdoing this may provide you with an unwanted result of a messy and uncomfortable bed.
Decorate With Throws
Many people overlook the aesthetic value of throws in bed design. A simple trick that incorporates your throws to the look you're after is to drape it over to the corners of your bed casually. They provide an informal aspect and give off a welcoming feel to your bedroom design. The best part is that you can use different throws for different occasions and achieve a distinctive look.
Utilize Pillows and Shams Wisely
Bed essentials wouldn't be complete without pillows and shams. You can also use them to elevate your bed style to another level. Matching your shams with your duvet is the first step to getting that goal. Shams have a more prominent profile than standard pillows, and they fit perfectly if you place them closest to the headboard.
Another approach to shams is to stack them together with pillows for that modern-looking bed style. To achieve this, you can place two pillows under a sham to complement them together with your bedding aesthetics. There's no definite equation when it comes to how many pillows and shams you can use on top of your bed. However, the most common approach to this is to use two identical pillow sizes and one that is either bigger or smaller, depending on your sleeping preference.
Set a Theme
Printed sheets with bold designs are usually the first thing people will notice when your bed. With that in mind, you can use this to your advantage and go with a theme. A bed design with a tropical feel would blend well with beautiful green plants at the side of your bed. If that's not possible, you can also go along with the color scheme of your bedroom walls and match it with the color palette of your bedding.
Add Finishing Touches
You're almost done transforming your bed, and adding a couple of touches here and there provides sophistication to the newly transformed look.
A pair of folded throws at the foot of the bed gives off depth and texture to the overall bed aesthetics. Personalize your bedside with the help of supporting details like books, a quality nightstand, or even picture frames. A subtle change in your bedroom's lighting not only improves your mood but offers a different vibe to the place.
The Takeaway
Updating the looks of your bed is not so hard if you put your creative mind into it. You only need to mix and match some components of your bed and play around with colors, and you'll be surprised with what you'll get in the end.
The most important thing is to put the time and effort into making your bed design personalized, thoughtful, and beautiful. So, if you're planning to make a significant change, start today and create the most beautiful bed you will ever sleep in!
Liked reading this? Here's more: