Last updated on October 31, 2023
Find out how to elevate your picnic with elegant decor because these easy-to-follow tips and tricks will transform your outdoor soiree into a stylish feast.
I'm proud to share these 20 top picnic decor ideas, all my original designs, and I hope they inspire you as much as they've inspired me during their creation.
Planning a picnic and looking for creative, stylish decor ideas? This article is packed with inspiration to help you design an unforgettable outdoor experience. From setting up a charming picnic table to creating a cozy atmosphere with the right accessories, we've got you covered.
We will delve into various themes, color palettes, and even some DIY decor ideas to add a personal touch. Whether it's a romantic date, a family gathering, or a fun outing with friends, these ideas will make your picnic stand out.
So, let's get the ball rolling and dive into the exciting world of picnic decor.
Checkered Picnic Blanket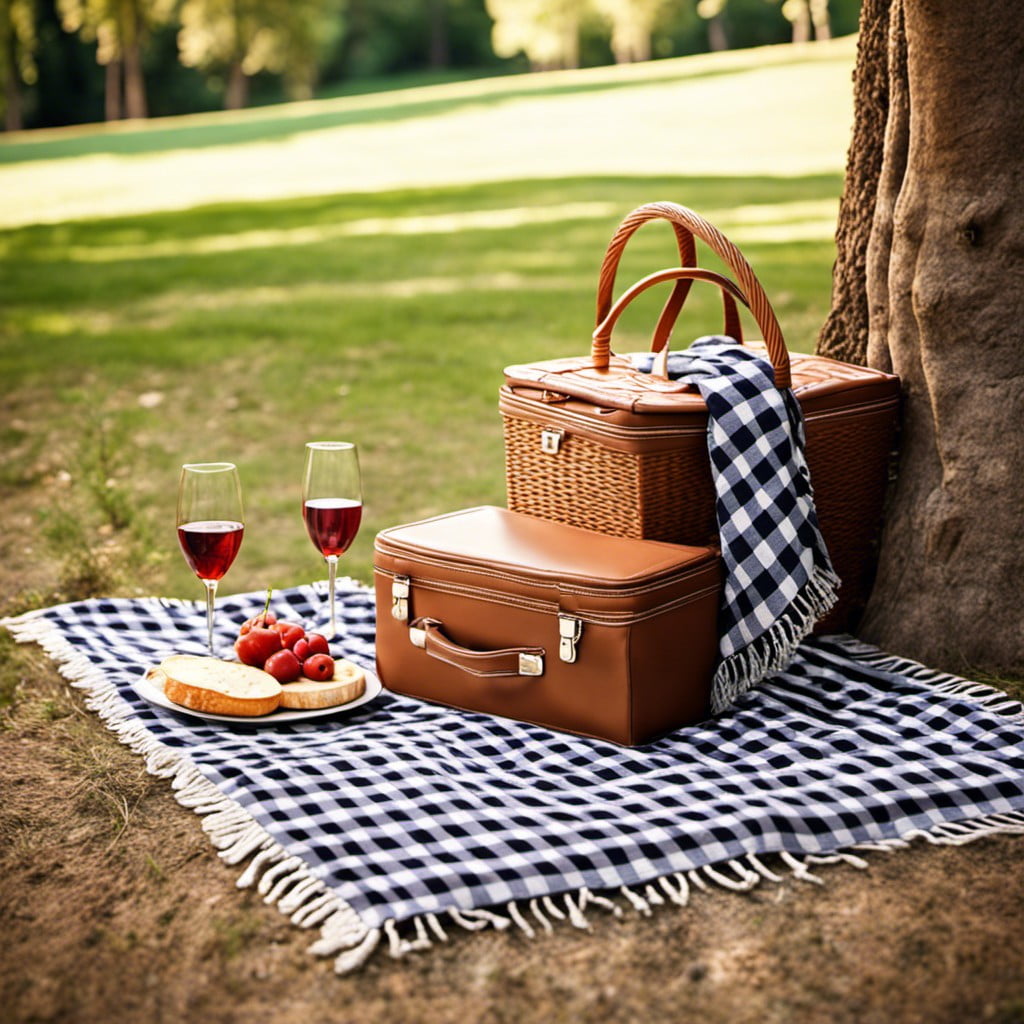 In choosing the perfect ground cover, opt for the classic choice. The iconic duo of red and white not only sets the atmosphere but can easily complement the surrounding natural elements.
This backdrop can also make your colorful salads and sandwiches pop visually. A bonus is the practicality; spills blend in rather than stand out, it's easy to clean, and it defines your picnic space clearly.
A larger size can accommodate more people while allowing room for food and beverages. Remember to select a blanket with a waterproof underside for those dewy mornings or damp grasses. Light to carry yet tough, a checkered blanket is an outdoor staple that never goes out of style.
Floral Centerpiece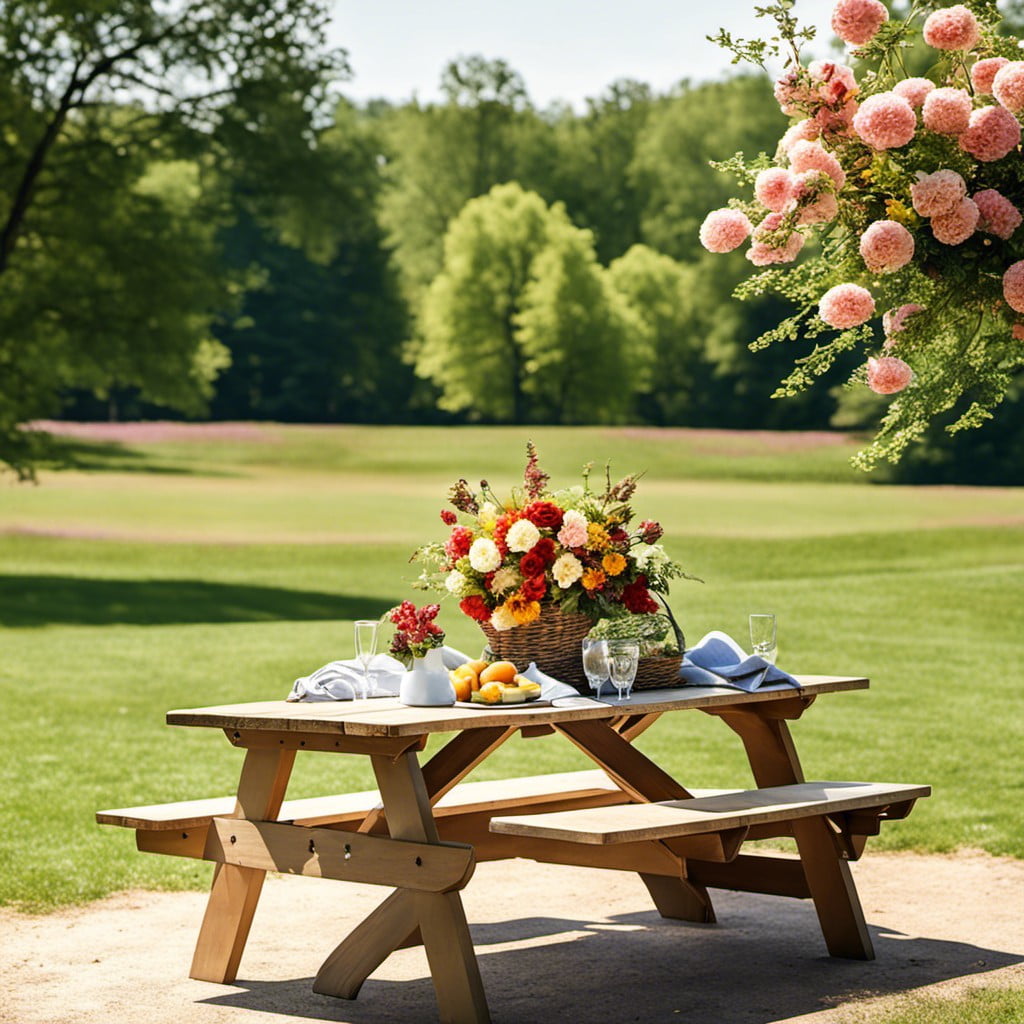 Floral centerpieces can instill an unforgettable elegance to your outdoor gathering. The beauty of these adornments lies in their versatility. For a vibrant scene, mix bright blooms such as gerbera daisies, sunflowers, and carnations. For a more serene setting, consider softer blossoms like hydrangeas, peonies, or roses.
Recollect that wildflowers can bring a hint of rustic charm to the table. Incorporate them into small mason jars or vintage milk bottles for a countryside feel. Alternatively, tall glass vases hold arrays of lilies or tulips to great effect.
Not only visually pleasing, these arrangements also provide a pleasant aroma. Remember that faux blooms are an excellent substitute if allergies are a concern, or the picnic occurs in an extreme climate.
Consider complementing colors or contrasts between your chosen flowers and other picnic decor for stunning results.
Rustic Picnic Baskets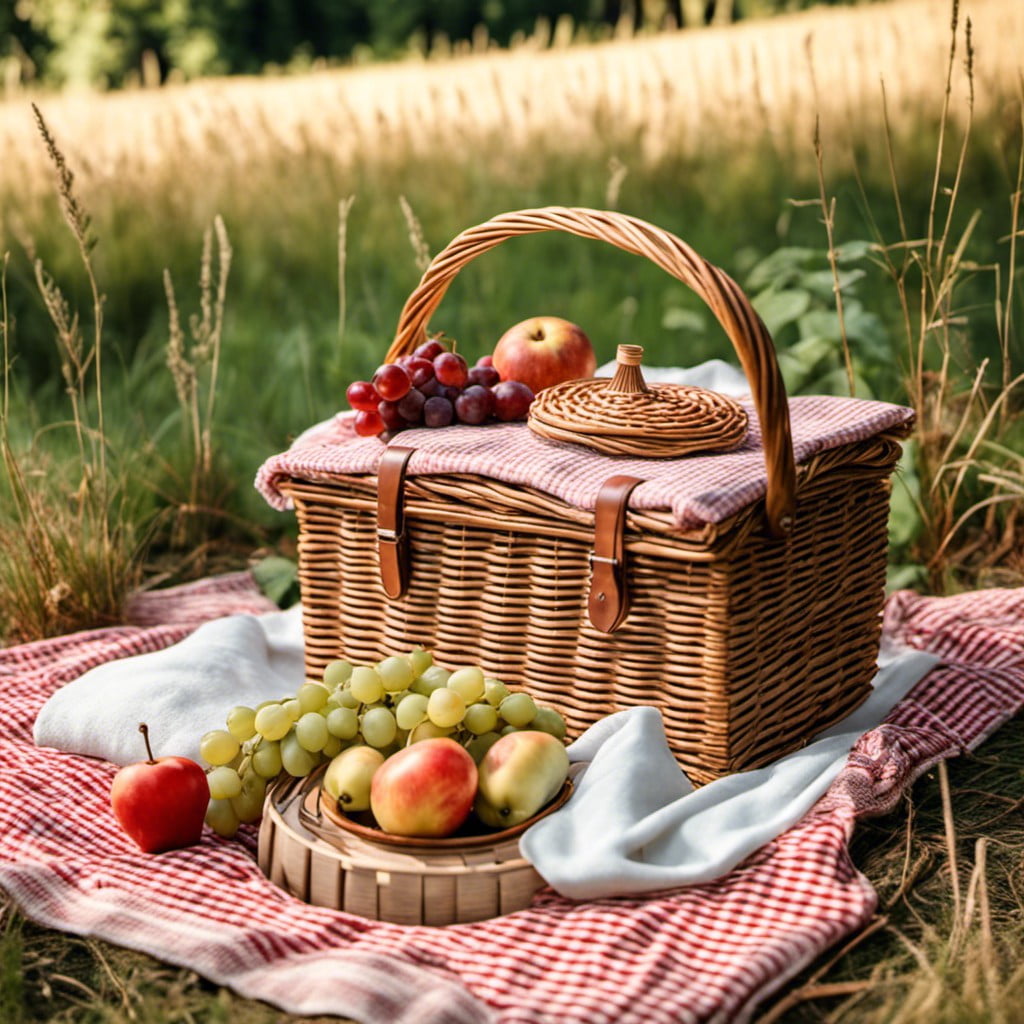 Prized for their traditional aesthetic, these carryalls instantly upgrade the meal on the go. Made from natural materials such as wicker, rattan, or even wood, they blend harmoniously with the outdoor surroundings.
Choose baskets with separate food compartments and secure closures for an ultimate practicality. Opt for a larger size if the party is bigger, whereas a small, casual picnic calls for a compact variant.
A more personalized touch can be added with bright gingham lining, ornate handles, or a bespoke monogram on the lid. They also double as a stylish storage solution post-picnic, making them a fantastic and functional investment.
Outdoor Fairy Lights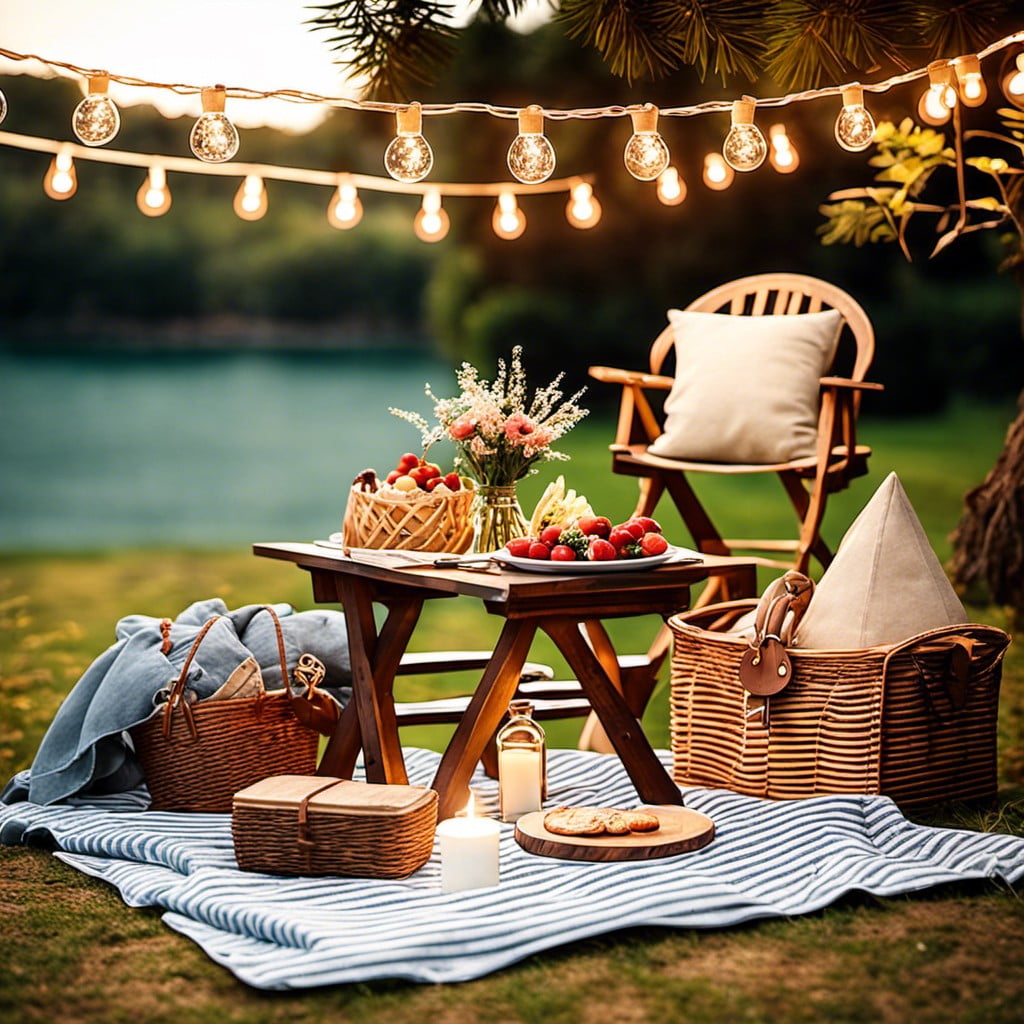 When artfully draped from trees or the edge of a gazebo, they can transform even the most mundane area into a magical outdoor space. They offer a gentle, welcoming light that invites one to relax and stay awhile.
Choose from different styles – festoon bulbs exude warmth and a vintage charm, while tiny white LED strings create a twinkling starlight effect. To add a personal touch, opt for fun shapes like flamingos or hearts. Solar-powered alternatives offer an eco-friendly option, saving energy while illuminating the festive scene.
Remember, a little goes a long way – a sparing use of fairy lights often creates a more delicate, captivating effect. Whatever style you choose, make sure they are safe for outdoor use to avoid any potential hazards.
Colorful Paper Lanterns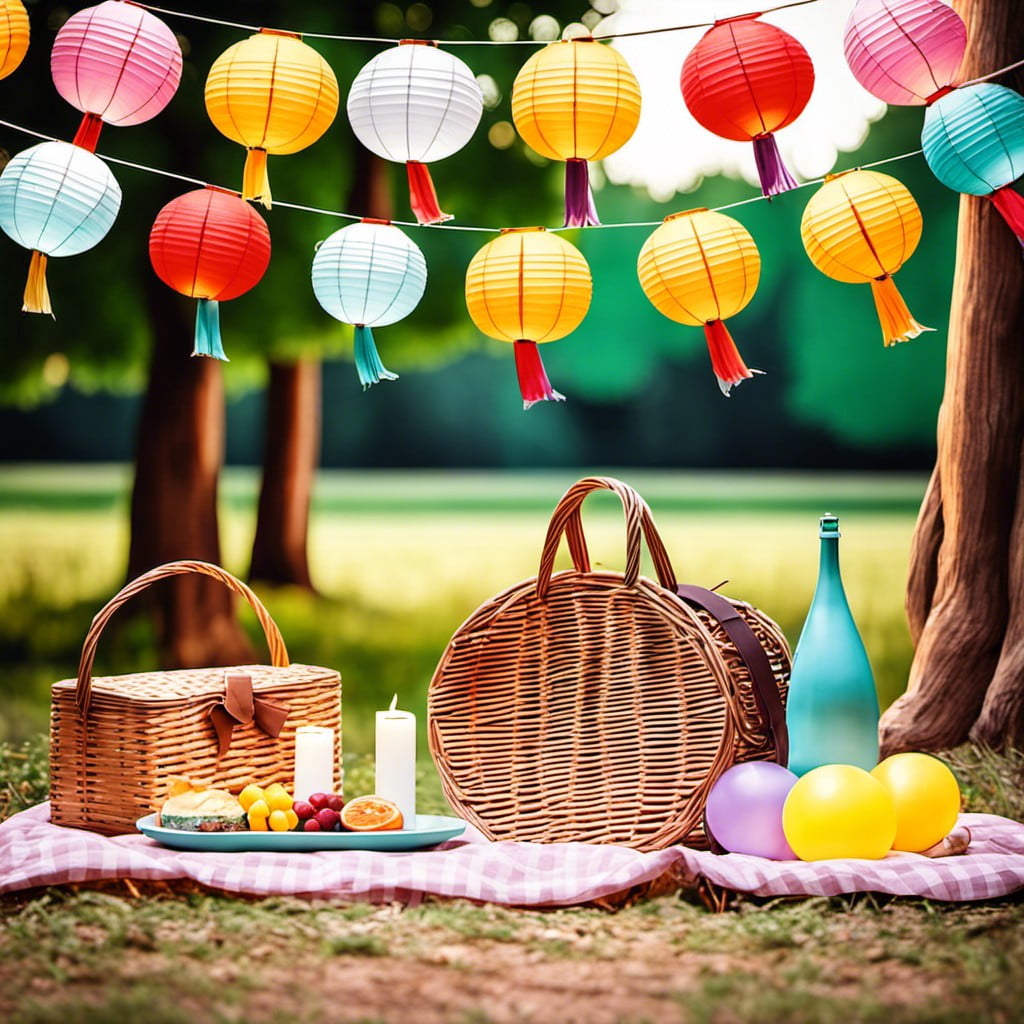 Bright hues can instantly lift the picnic aesthetic, and that's exactly where paper lanterns step in. These lightweight decorations are easy to hang from surrounding trees, creating an enchanted atmosphere.
Choose an array of colors for a cheerful touch or stick to a specific color scheme to align with other picnic elements. Remember, paper lanterns are not solely for night picnics. During daylight, they serve as vibrant orbs dancing in the wind.
If your picnic extends into evening, consider illuminating them with battery-operated tea lights for a gentle glow.
A hot tip: Mix different sizes and shapes to add visual interest. You might also consider pairing them with fairy lights for an added sense of enchantment.
Be mindful that these lanterns are delicate, so keeping them away from barbecue grills or open flames is essential.
Mason Jar Drink Dispensers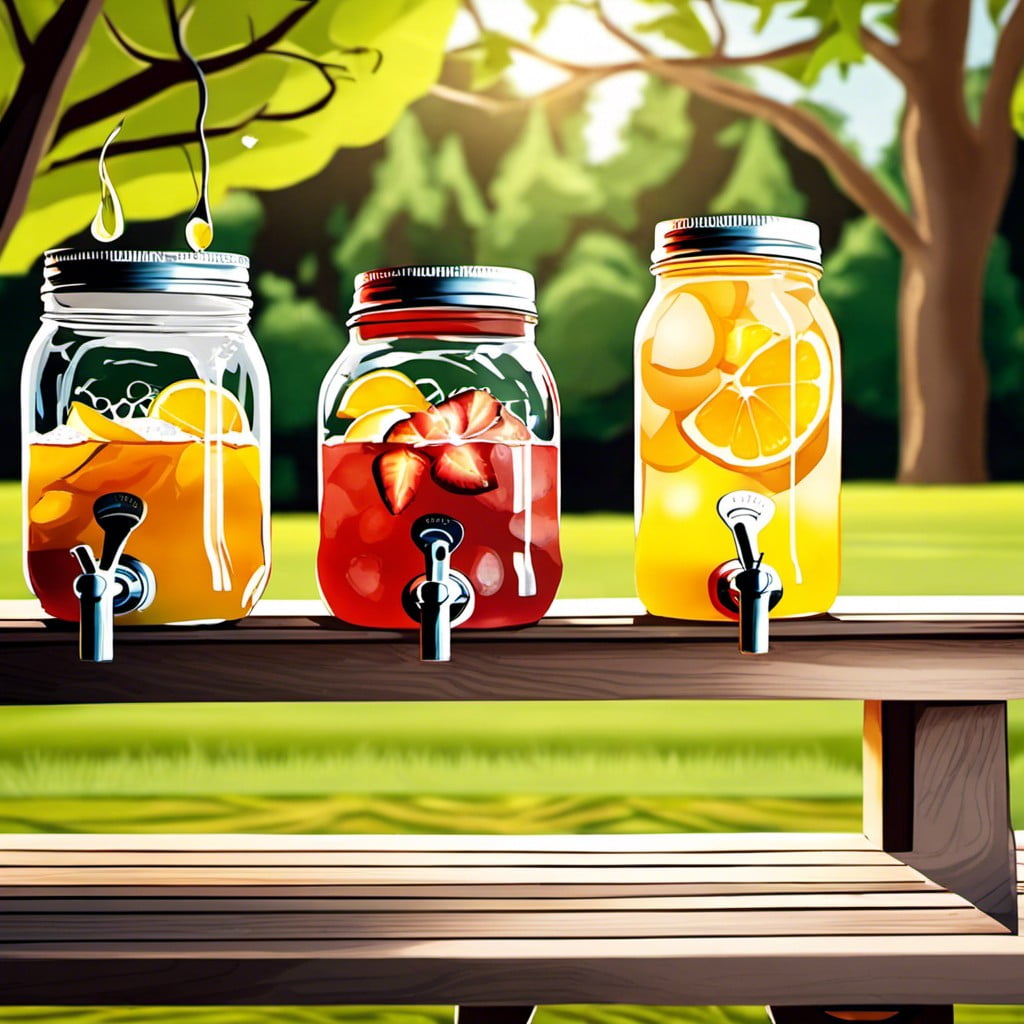 With their humble reproducibility and a vintage chic vibe, the Mason jar drink dispensers make for a versatile addition to any picnic setup. They not only serve refreshments but also double as eye-catching decor pieces.
Space-saving and practical, these containers come in various sizes and with easy-to-use spouts, simplifying beverage service for all your guests.
The broad mouth makes it easy to add ice, large quantities of fruit juice, water, or your favorite drinks. Unsurprisingly, these dispensers become even more summer-friendly when filled with colorful punches, lemonades, or iced teas.
Embrace the option of making them more festive by adding fresh fruits or herbs directly into the dispenser. You could even add a few drops of food coloring to match your picnic's color theme!
Maintenance of the Mason jar dispensers is a breeze. Being dishwasher safe, they can be cleaned quickly post-gathering. Just remember to place them firmly on a stable surface when in use, and you're good to go for a day of fun and frolic under the sun.
Chalkboard Food Labels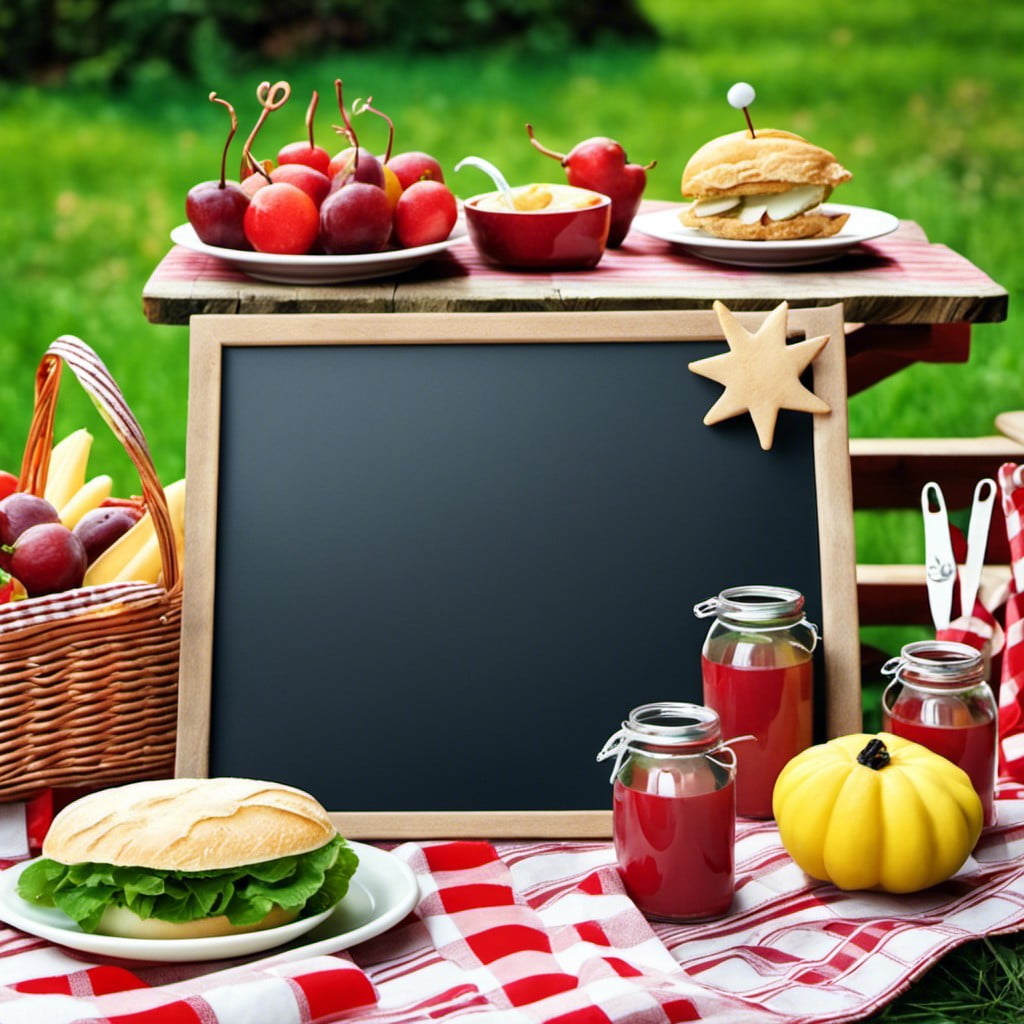 Adding a personal touch to your picnic spread doesn't have to be complicated. Chalkboard food labels offer a fun and easy way to describe your food offerings to guests. Not only do they help identify potentially allergenic or dietary restricted foods, they also give you a chance to get creative with naming each dish.
To achieve this, purchase miniature chalkboards and chalk ink pens from a local craft store. The pens provide smoother writing and are smudge-proof unlike traditional chalk. Think of witty or cute names for your food items and jot them down on the boards. Each label should stand next to its respective dish for complete clarity.
An added bonus is their reusable nature. Once the picnic is over, simply wipe them clean and they'll be ready to label the spread at your next outdoor feast! Remember, sometimes the smallest details can elevate a casual gathering to an unforgettable event.
Painterly Dishware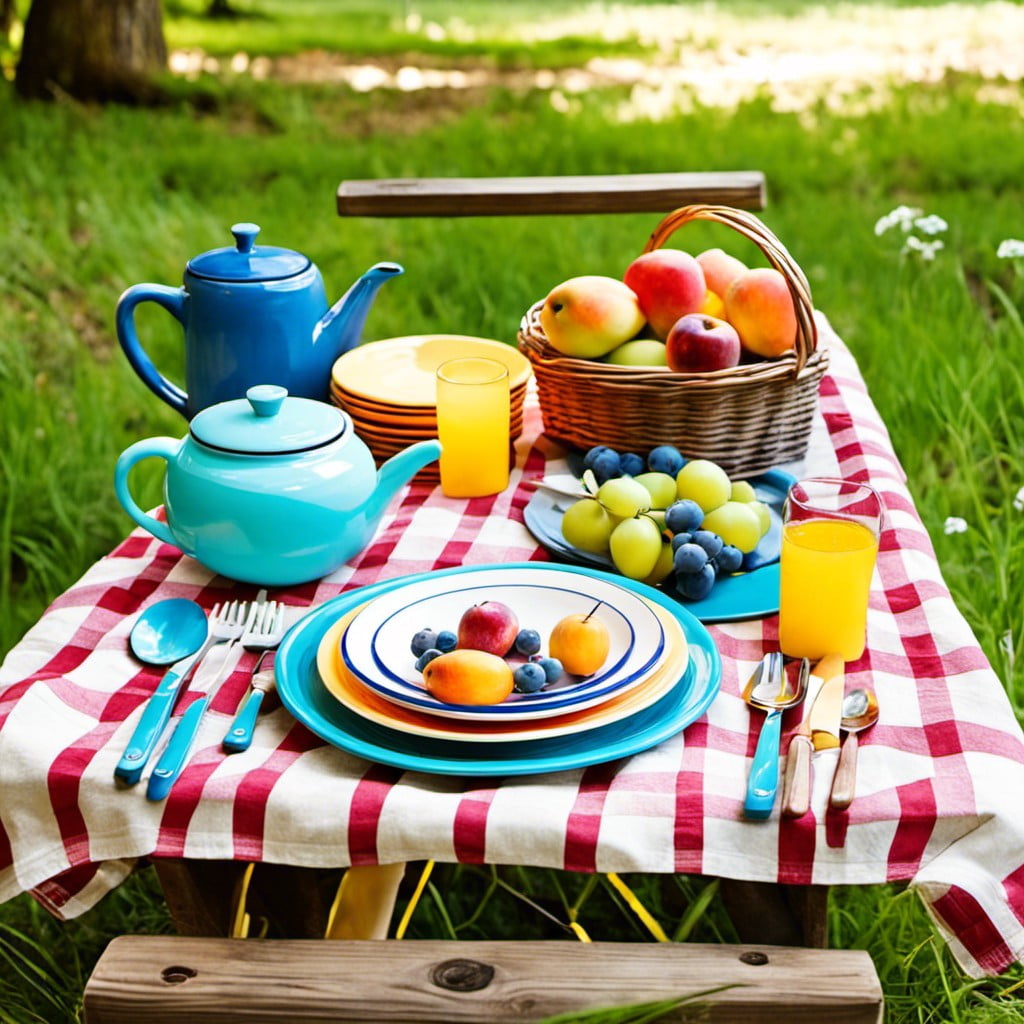 A pop of color and artistic flair is effectively introduced through the use of painterly dishware. Opt for plates, bowls, and mugs with hand-painted designs for an extra touch of personalized charm.
Organic shapes, abstract patterns, or even dishes that mimic a watercolor palette can all contribute to an inviting table set-up. These interesting pieces not only serve a functional role but also double as conversation starters, bringing a lively element to your picnic setting.
Remember, each piece doesn't need to match, a mix and match approach can add an eclectic and vibrant vibe to your picnic decor. Always remember to choose durable, preferably shatter-resistant dishware, considering the outdoor setting of your picnic.
Wine Holder Stakes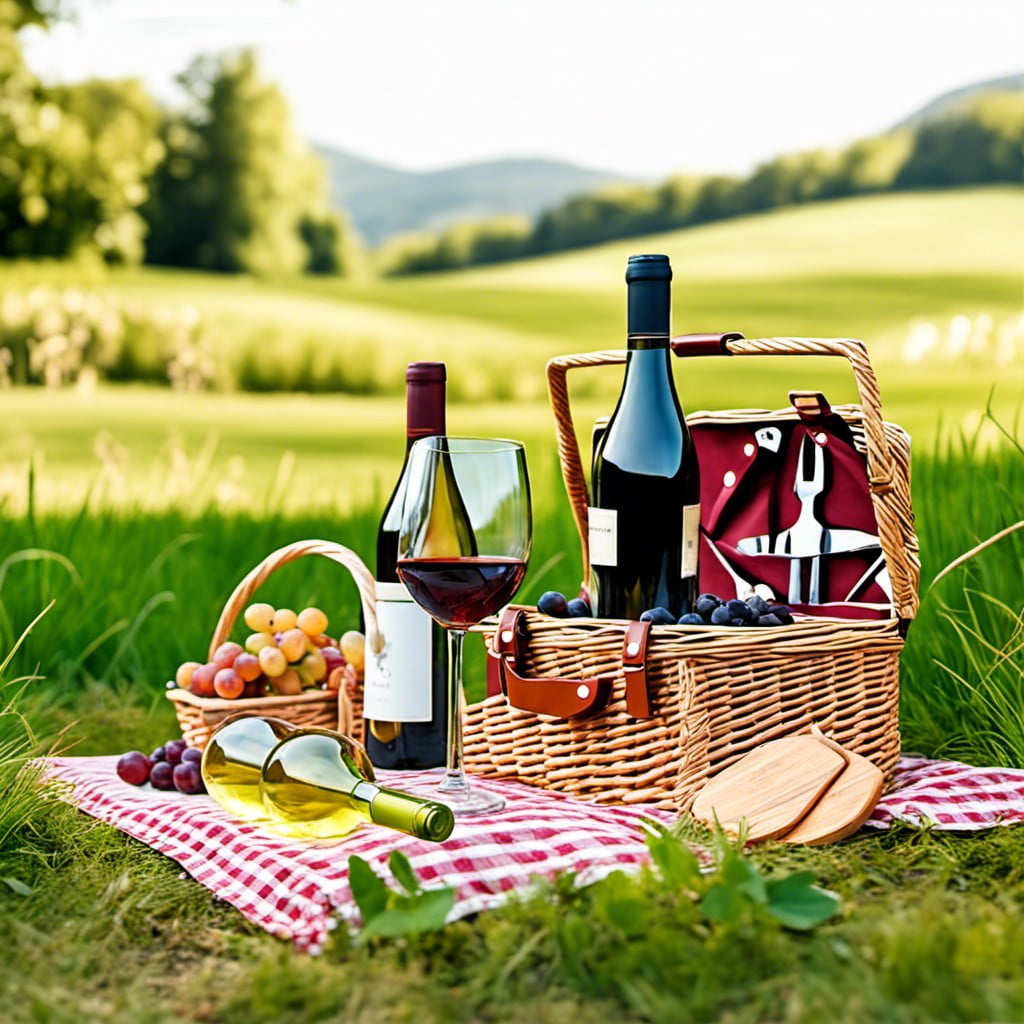 Practical yet stylish, wine holder stakes are an excellent solution to prevent spills and keep your beverages within an arm's reach. They can be pushed into the ground next to your picnic setting, offering an attractive, secure place to hold a bottle and prevent it from tipping over.
The stakes are generally made from sturdy metals to ensure durability.
With them, you don't have to worry about uneven surfaces or placing your beloved red on the grass ever again.
Some styles also include holders for glasses, keeping your table uncluttered, and the drinks safe from bumps and knocks.
For an added touch of sophistication, look for models with ornate designs or a finish to match your picnic's theme.
Remember, stakes should be inserted securely into the ground to work effectively and are meant for outdoor settings.
Convenience combined with elegance, these stakes bring functionality to your outdoor picnic while enhancing the overall aesthetic appeal of your setup.
Vibrant Outdoor Pillows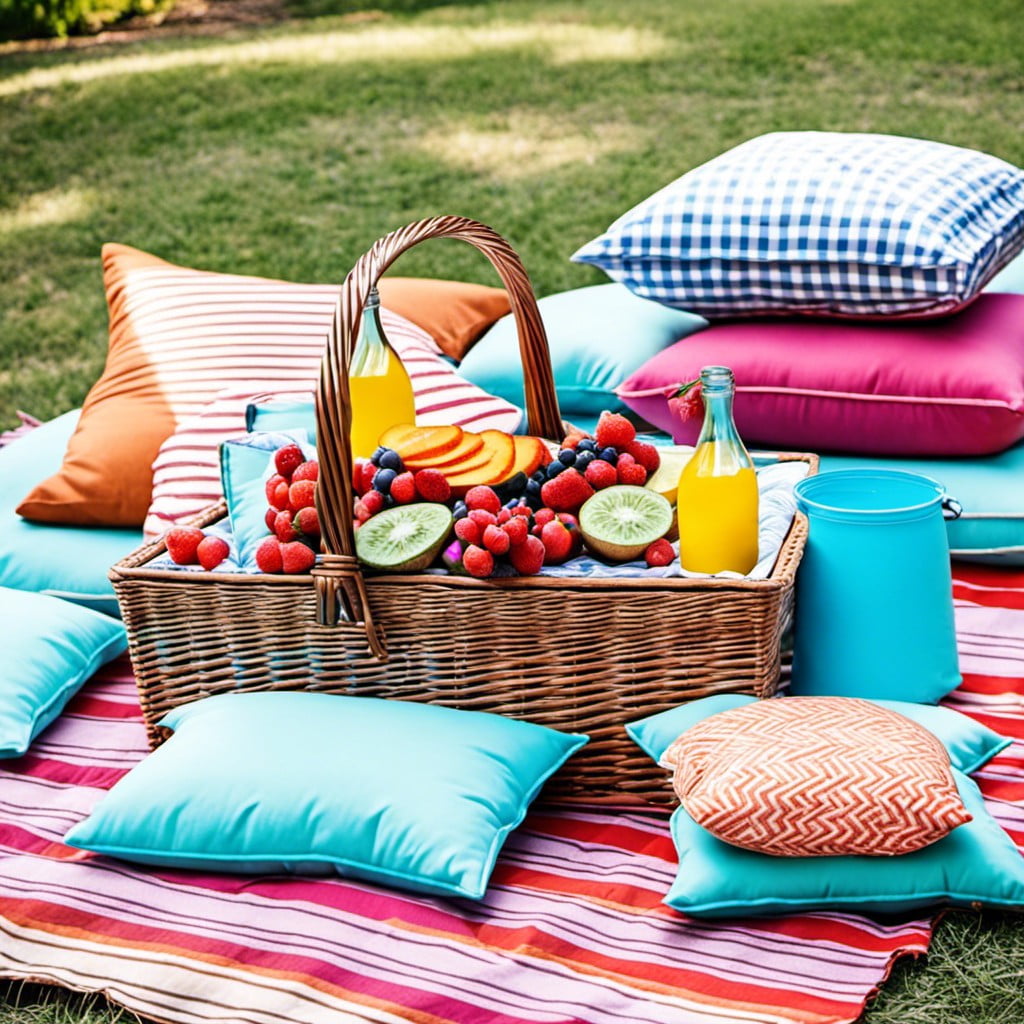 Ensuring comfort while enhancing aesthetics is key for any outdoor gathering. Brightly hued pillows readily serve this dual purpose. Not only do they make your picnic seating cozy, but they also enliven the setting, creating a joyful atmosphere that elevates the picnic experience.
Here are some quick tips to consider:
1. Mix and match designs: Pairing diverse patterns such as stripes, polka dots, and floral, brings in visual interest.
2. Opt for weather-resistant fabrics: This ensures the pillows withstand different outdoor conditions while reducing wear and tear.
3. Choose uplifting colours: Sunny yellows, vivacious pinks, and lively blues can instantly lighten the mood.
4. Consider varying sizes: This not only creates a visually pleasing depth but also offers flexible seating options.
5. Regular cleaning and storage: To increase the lifespan of your pillows, it's advisable to clean them regularly and store them indoors when not in use.
Remember, the key is to select pillows that mirror the refreshing feelings of summer and the relaxed atmosphere of a picnic.
Personalized Napkins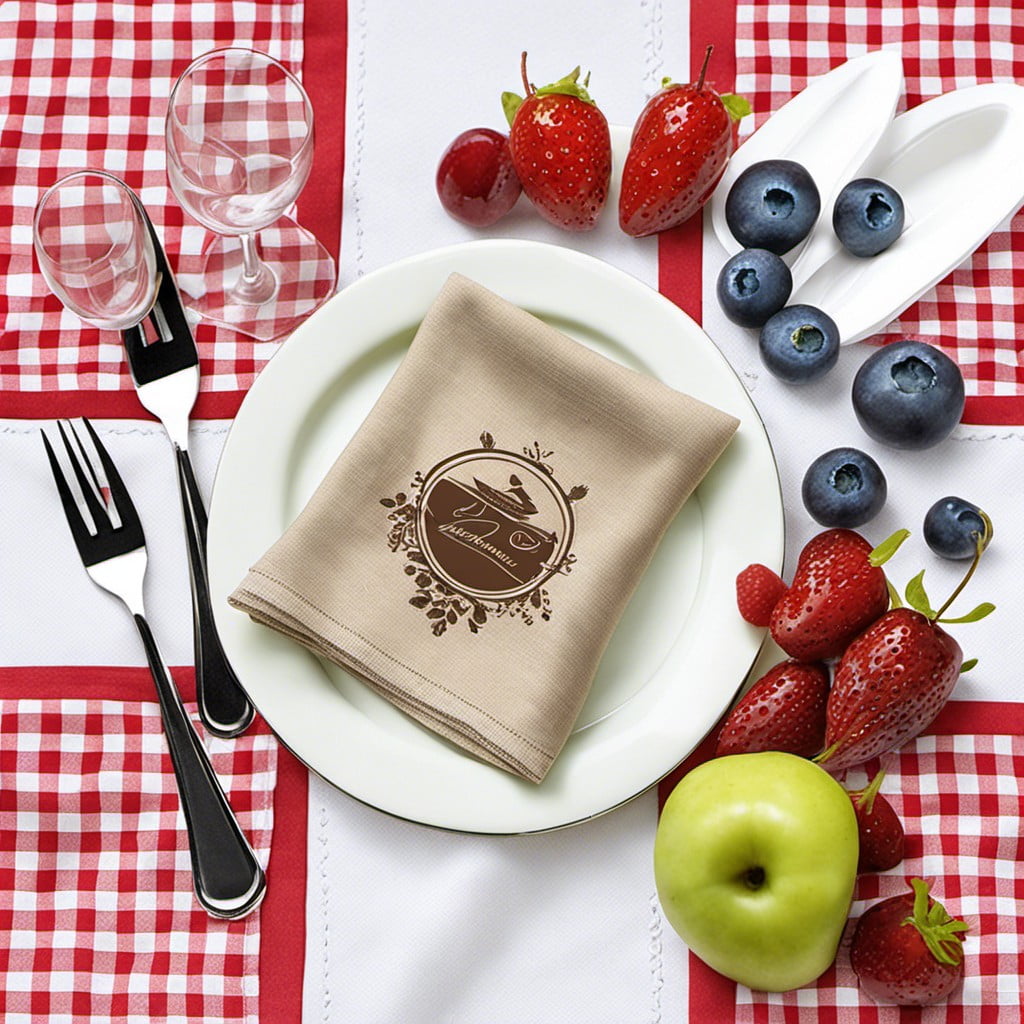 Creating a unique experience for everyone in attendance often lies in the finer details. Tailor-made napkins add an intimate touch, making guests feel special and aligning with the overall theme.
Imagine displaying napkins etched with each person's initials or perhaps a fun, relevant quote in fitting calligraphy. This could also extend to incorporating designs fitting the atmosphere, with options like sunflowers for a sunny day or pinecones for an autumn vibe.
Confirm the selected design is both aesthetically pleasing and integrated with the rest of the décor, ensuring a seamless blend between all elements. This small but impactful detail can significantly elevate your picnic's visual appeal, making it unforgettable for your guests.
Themed Picnic Banner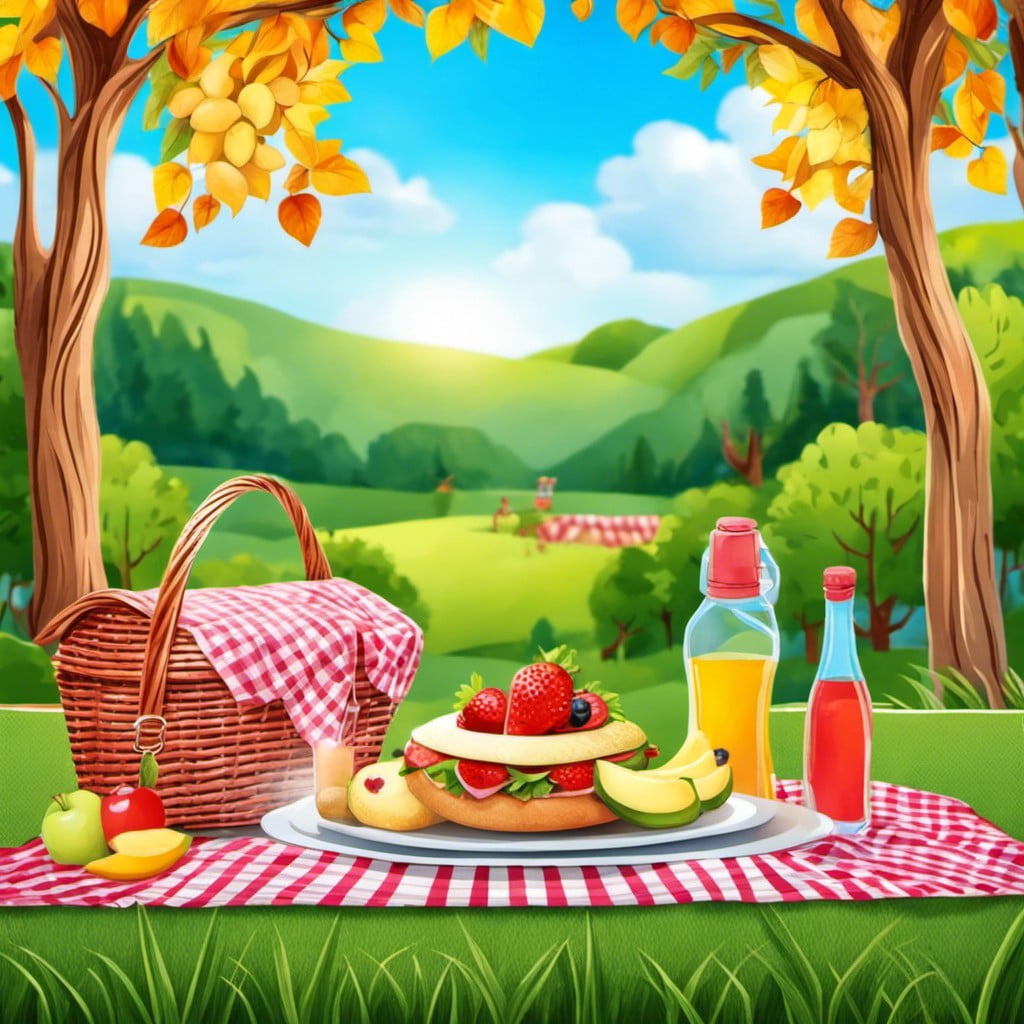 Introducing a theme for your picnic can make it even more enjoyable and memorable. One unique and creative way to showcase your chosen theme is through banners. You can purchase ready-made banners or, for a personal touch, create your own.
1. Make DIY banners: A DIY banner can bring a sense of authenticity and craftsmanship to your picnic. Use materials that align with your theme, ranging from craft paper, stencils, markers to cloth scraps, and yarn.
2. Shop online: A multitude of e-commerce sites offer customized banners. Choose a color scheme, design, size, and layout that fits your theme, and they'll do the rest.
3. Use natural elements: For a garden or beach picnic, consider creating a banner out of natural elements, such as leaves, flowers, or shells connected by a string.
4. Light it up: For evening picnics, consider adding some fairy lights to your banner to create a magical environment.
5. Color coordination: Ensure your banners match the overall color palette of your picnic. Consistent color schemes add cohesion and polish to your picnic aesthetics.
Remember, a themed picnic banner not only adds an aesthetic appeal but also sets the mood for your special outing. It's a fun, straightforward way to express the theme and make your picnic stand out.
Natural Wood Serving Planks
Serving planks carved from natural wood bring an earthy, organic vibe to your picnic scene. Not only are they practical, but they also elevate presentation of your meal, making even simple sandwiches seem gourmet.
There are several varieties available, each offering unique grain patterns and colours. For instance, oak is heavier with distinct grain, ideal for hearty meats and cheeses, while birch is lighter, best for fruits and delicate pastries.
Remember to care for your planks through regular cleaning and oiling to preserve their natural beauty and extend their longevity. Lastly, if aesthetic appeal is your priority, choose a plank with live edge – it will keep your picnic setup looking rustic yet stylish.
Picnic Tablecloth With Fun Prints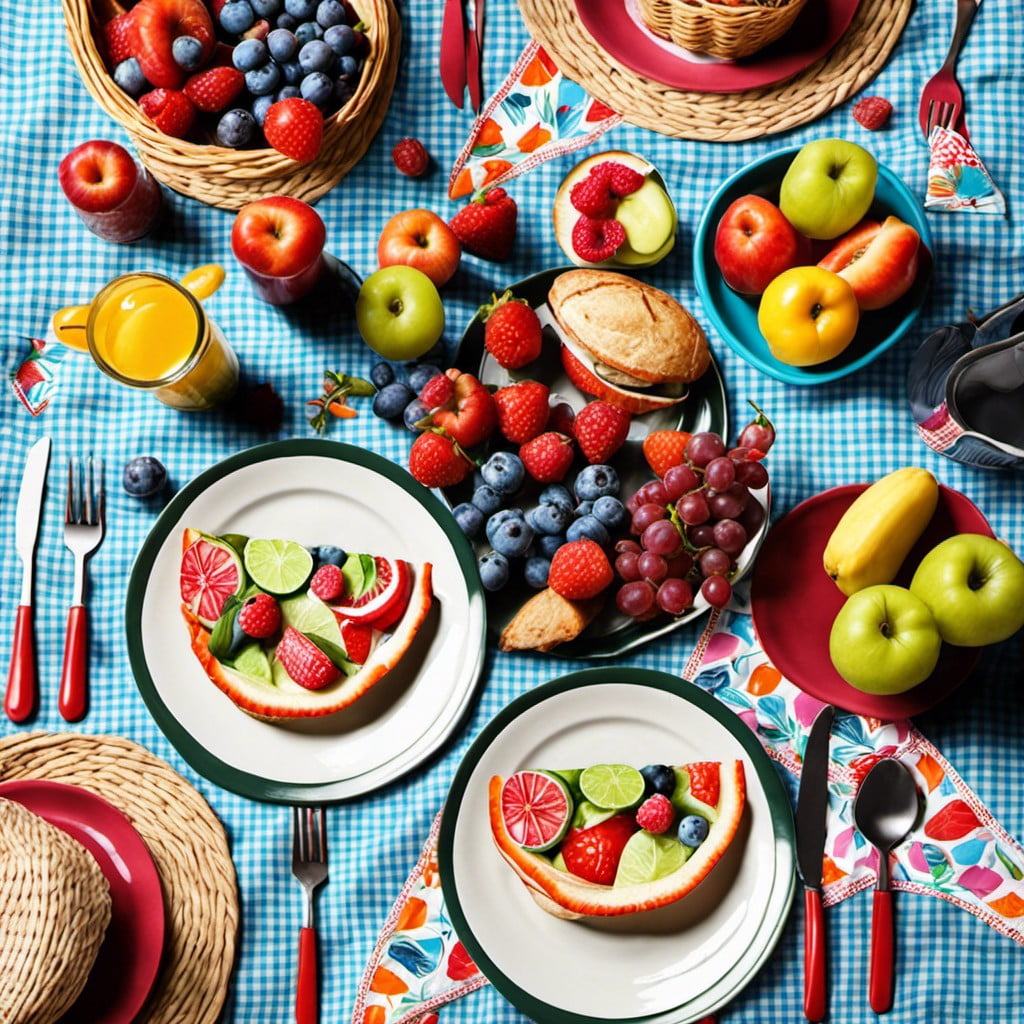 Choosing the right tablecloth can transform your picnic spot instantly. Designs showcasing vibrant colors, unique patterns, or thematic prints add personality and set the mood.
Consider the following when choosing your tablecloth:
Material: Opt for fabrics like cotton or linen that are easily washable and quick-drying.
Print: Select a print that complements your picnic theme. Nautical stripes are perfect for beach picnics, while floral prints work for garden settings.
Size: Ensure it's large enough to cover the table or picnic area but not too long that it drapes excessively.
Secure the tablecloth using clips or weights at the corners to prevent it from flying off in a breeze. Placement is also key, so aim for the middle of your picnic spot for accessibility and aesthetics. A good tablecloth can indeed be instrumental in creating an inviting picnic setup.
Lanterns With Candles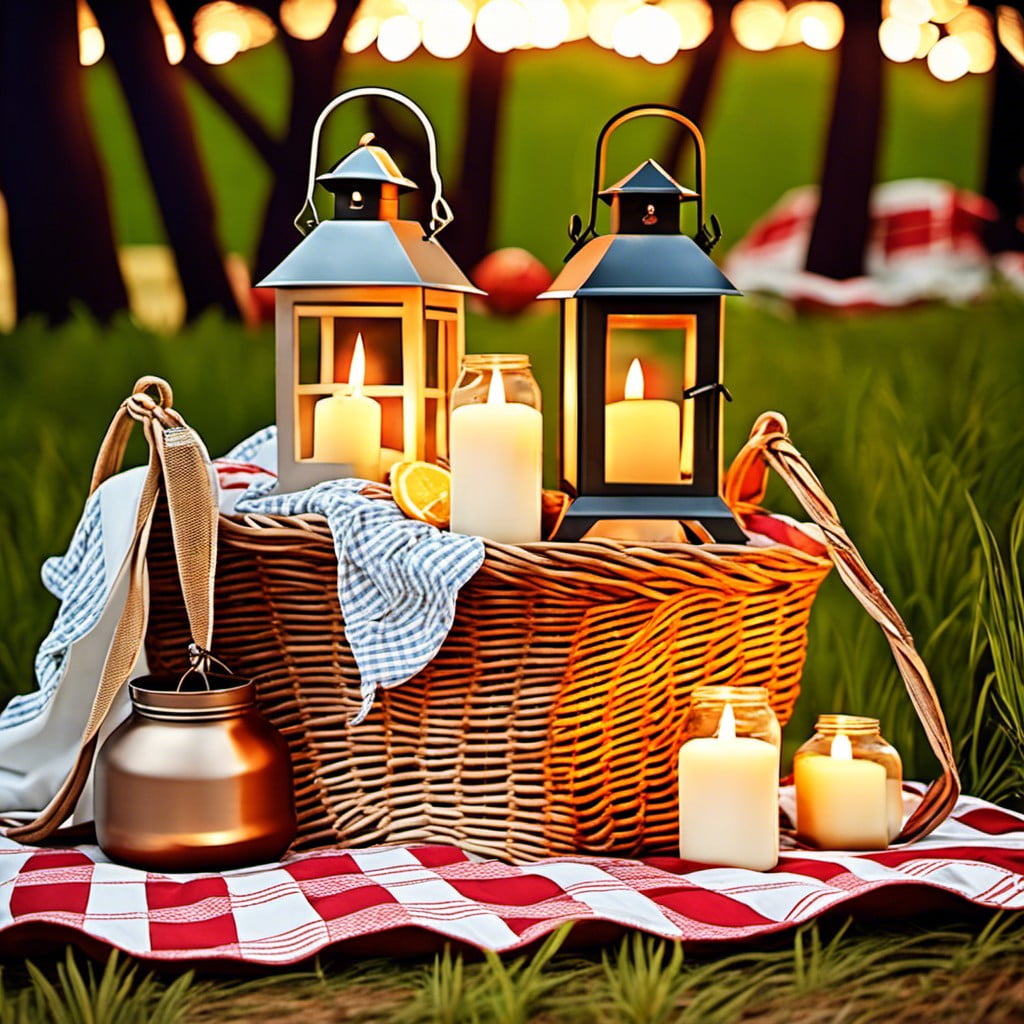 When choosing lantern styles, strive for a mix of shapes and sizes to create visual interest. Opt for candles with a long burn time, these will last for the duration of your picnic.
Consider scented candles, which can enhance the ambiance and help ward off insects. Furthermore, placing them in a strategic setting can serve as a guide for your guests, subtly directing movement around the picnic area.
Always keep a safe distance from other decor and flammable materials. With lanterns, you're illuminating the space and adding an enchanting glow, transforming your al fresco dining into a magical soirée.
Festive Balloons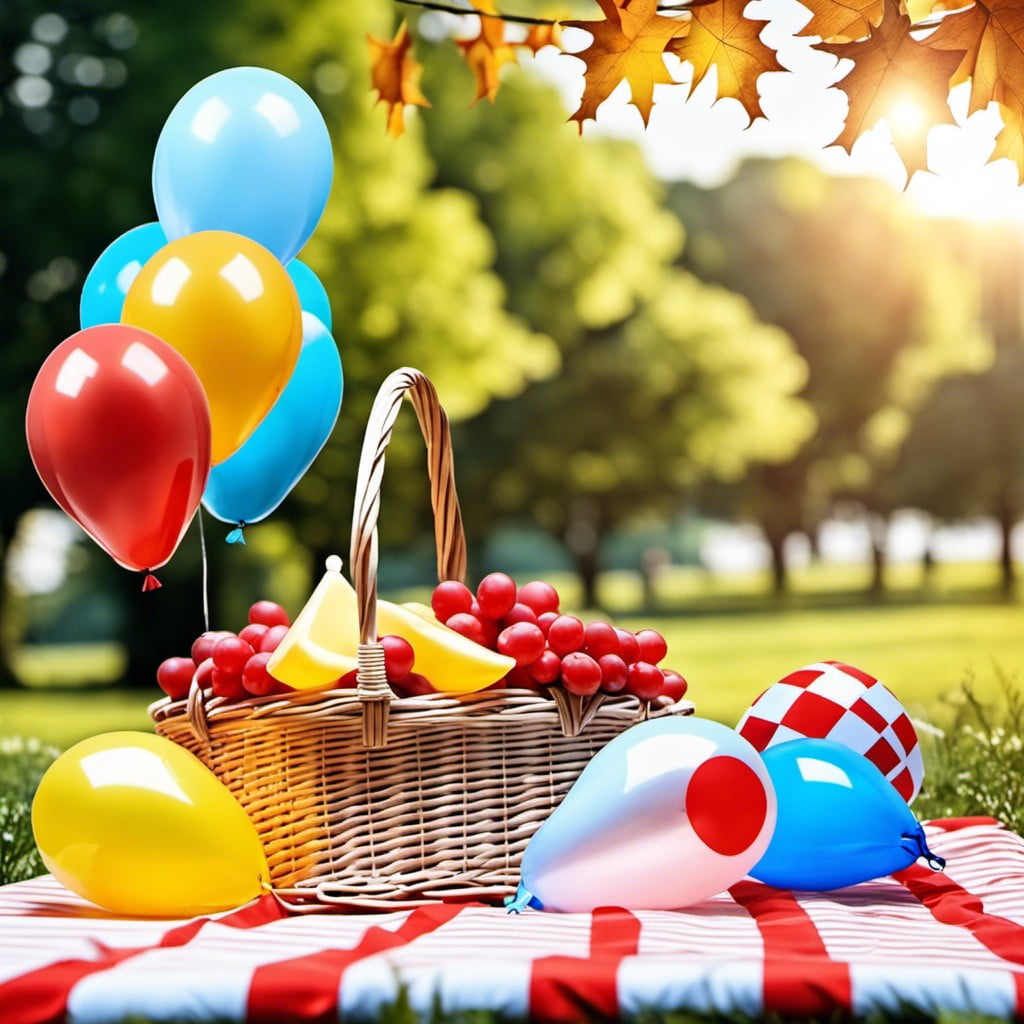 Balloons provide an effortless way to amplify the ambiance. They are an economical yet effective method to fill up the empty space.
By using helium-filled variants, you can tie them to the picnic blanket's corners or even the picnic basket handles, creating an eye-catching display.
The color palette is crucial here – select hues that complement the overall theme of your picnic.
Pair vivid shades like hot pink and electric blue for a lively atmosphere, or opt for a mix of pastel tones for a subtler, more romantic feel.
For a whimsical touch, consider patterned or even character-shaped balloons.
If you're picnicking at a public park, make sure balloon use is permitted.
Summer Fruit-themed Placemats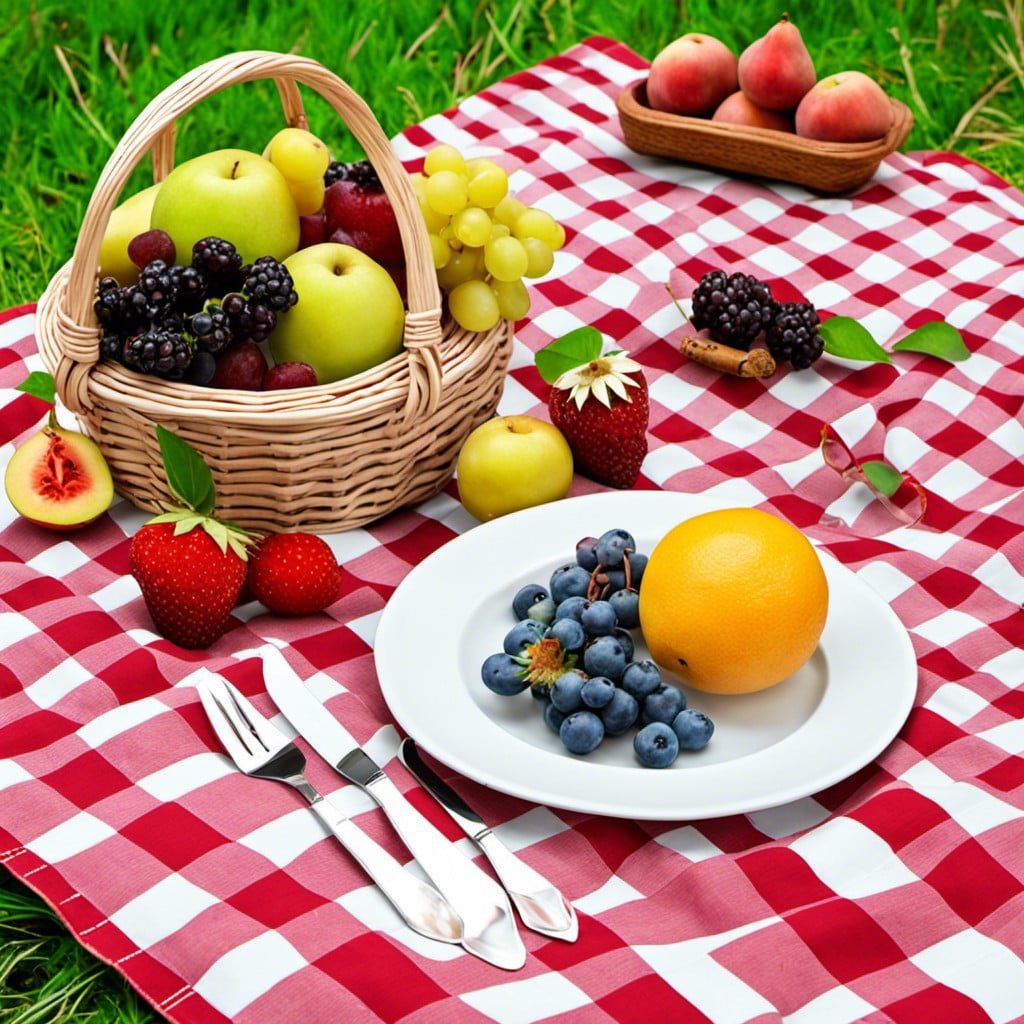 Offering a fresh look to the table while keeping it clean, these delightful placemats can be seen as practical pieces of art. Bright and charming, they echo the Amazon's juicy mangoes, the Mediterranean's sun-ripened oranges, or California's succulent strawberries, instantly lifting the picnic ambiance.
Some points to consider when selecting summer fruit-theme placemats:
Durability: Choose waterproof or moisture-resistant material to protect against accidental spills.
Design: Teeming with vibrant hues, the designs can range from pop art-inspired graphics to detailed fruit patterns.
Size: The standard placemat sizes are ideal to accommodate plates, cutlery and a glass.
Cleanliness: Opt for easy-to-clean materials allowing hassle-free maintenance post-picnic.
Versatility: These placemats aren't just for picnics. They can be used for any outdoor or indoor summer-themed event.
Adding a zest of color and joy with these placemats will create a more delightful picnic environment for everyone to enjoy.
Vintage Soda Crates for Storage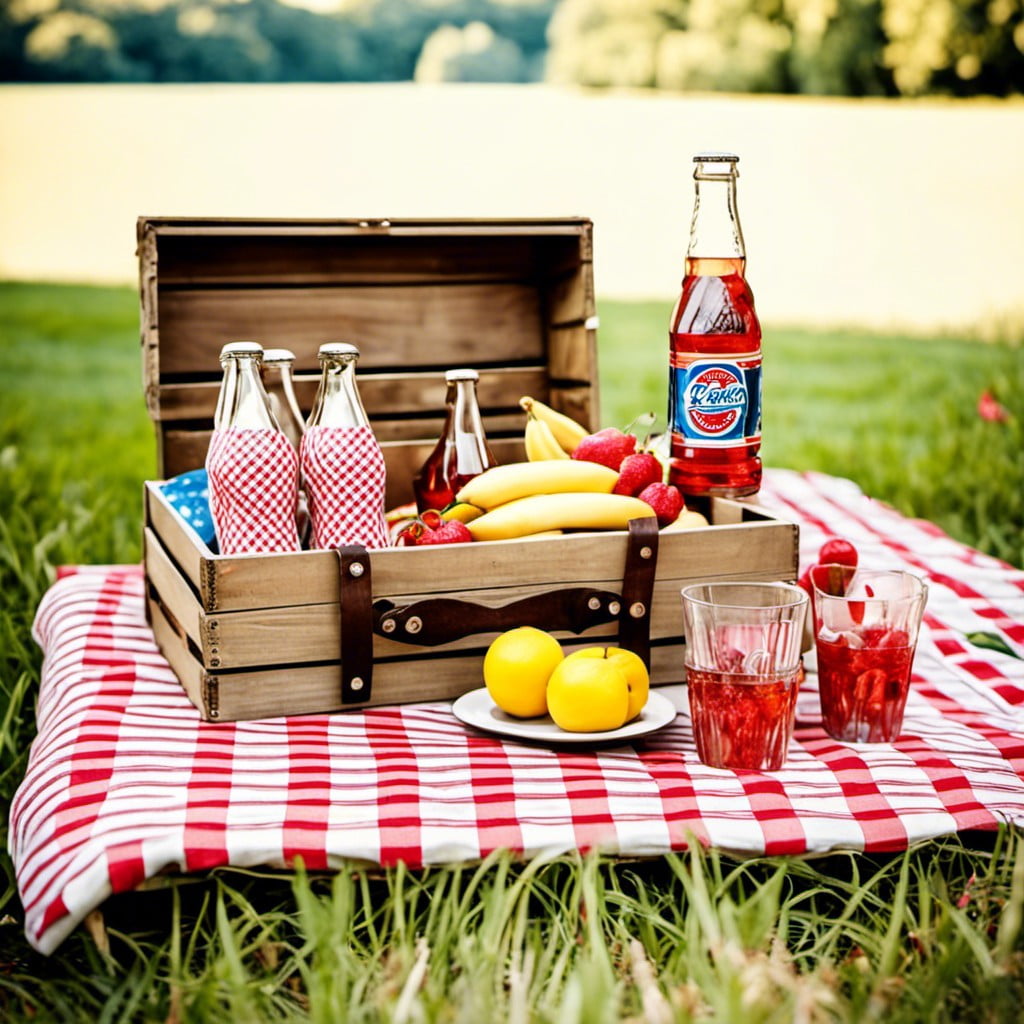 Ah, those old soda crates! Excavated from a forgotten corner of the garage or a spectacular find at a flea market, they've got a rich past. Their boards, with worn out logos and fading colours, have a distinct nostalgic charm that adds volumes to your picnic setting.
Here's how they can work as storage.
Sturdiness: Crafted from hard woods, these crates are built to last. They can handle considerable weight and provide a fantastic way to transport your picnic essentials.
Space Efficient: Their compact compartments, originally designed to hold soda bottles, now provide perfect nooks for your cutlery, napkins, condiments and even smaller snacks.
Aesthetic appeal: A vintage soda crate tucked under your picnic table adds a rustic, retro vibe. Its worn-off logos, fading colors, and aged texture paint a picture of casual, laidback picnicking.
Upcycled Decor: By using vintage soda crates, you're not just adding a splash of nostalgia to your picnic – you're giving a second life to discarded items. It's not just creative, it's sustainable too!
Easy access: The open design of the soda crates ensures quick and easy access to contents. No fumbling with lids or rummaging through deep baskets – everything is within an arm's reach.
Remember, the key to stylish picnic decor is creativity mixed with convenience. Vintage soda crates offer both in abundance. They keep your supplies organized and handy while adding a touch of old-world charm. Happy picnicking!
Wire or Wicker Food Domes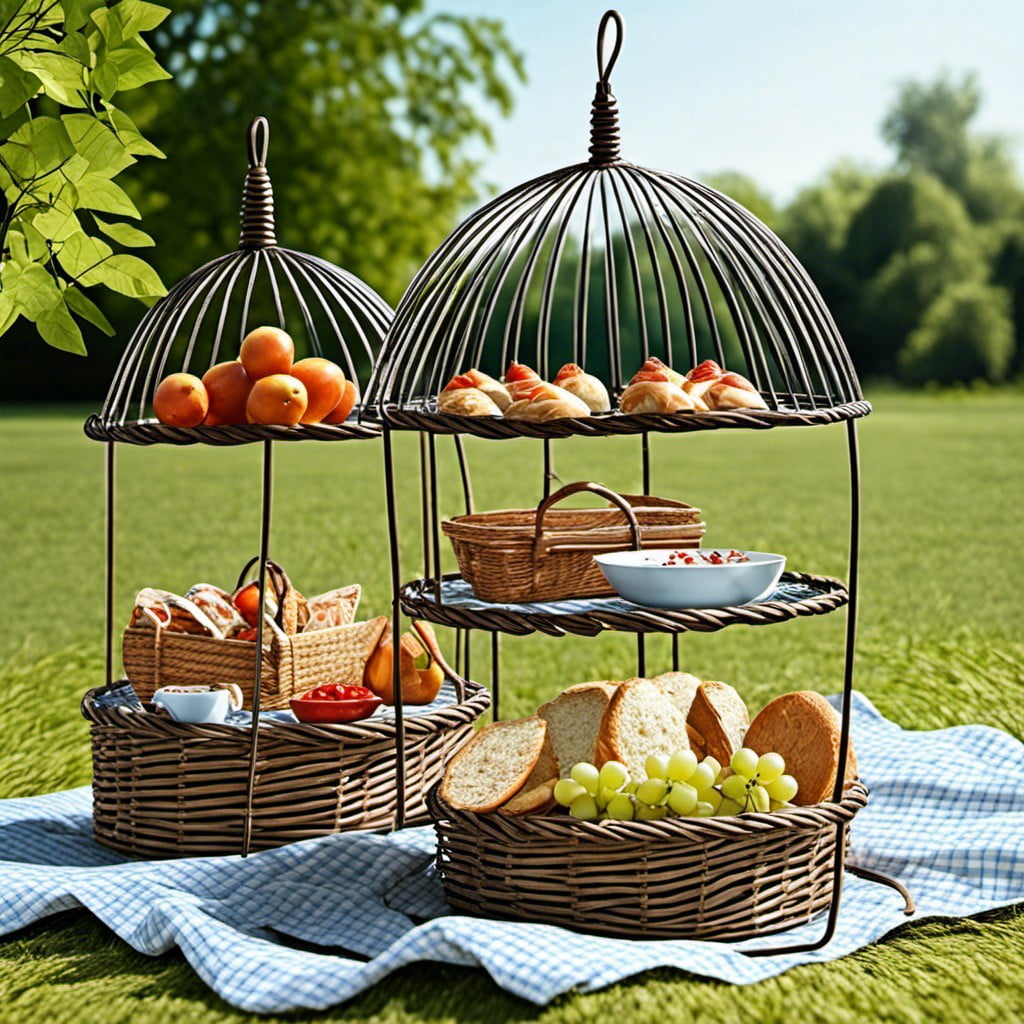 Perfect for a picnic, these food domes add a touch of sophistication while serving their practical purpose. Available in a variety of patterns, they effectively keep pesky bugs from infiltrating your culinary delights.
Whether you opt for rustic wire or pastel-toned wicker, you're not only securing your meal but also adorning your picnic table with an item of beauty. The charm of these domes lies in their impeccable blend of function and aesthetics. Match them with your overall decor theme for a harmonious look.
Consider sizes depending on your food serving needs; a larger dome for a platter of sandwiches, or smaller, multiple domes for individual dishes. By choosing these food domes, you'll balance utility and style for your outdoor feast.
Decorative Outdoor Umbrellas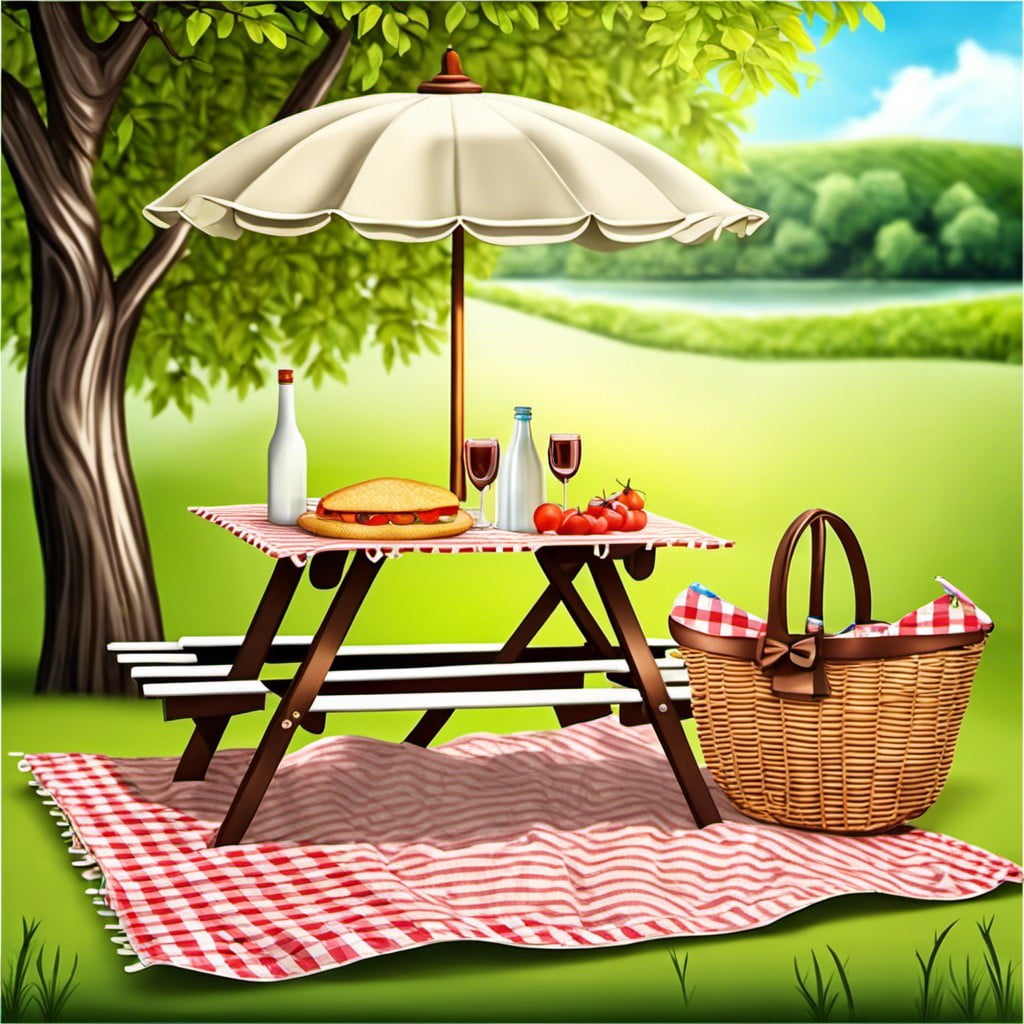 An addition of an umbrella brings style and shade to any picnic. Opt for an umbrella with bright, vibrant colors or unique patterns to add to the aesthetic appeal and make a statement.
If aiming for a more earthy or vintage theme, consider a thatch or fringe-topped umbrella. Not only visually inviting, umbrellas also provide functional value by protecting from excessive sun, keeping the area cool and comfortable.
To capitalize on your umbrella's usefulness, secure it firmly into the ground – umbrella stands are easily purchased and can prevent unfortunate wind incidents. Matching the umbrella design with your blankets, napkins, or other decor can also tie your picnic together. Be creative and have fun with it while working within your theme.
Liked reading this? Here's more:
Recap: