Last updated on November 16, 2023
Indulge your culinary instincts with unique rustic wooden spice rack ideas because these eye-catching creations not only organize your spices but also add a charming, rural appeal to your kitchen.
I've designed unique illustrations for these ideas. I hope you get inspired!
Embarking on a journey into the heart of a home – the kitchen – where rustic aesthetics meet practical use, this article explores a multitude of unique, fresh rustic wooden spice rack ideas. In the vast ocean of existing designs, some ideas truly stand out, making them deserving of special mention; hence, resources for these will be compiled at the end.
However, the central focus here is to unveil brand-new, creative angles to spice rack designs that serve utility while subtly accentuating the rustic charm. These uncharted ideas will not only add a fresh spin on the conventional spice racks, but also ensure a refreshing perspective that you'll find useful.
Let's delve right into it!
Compact Rustic Spice Rack With Mason Jars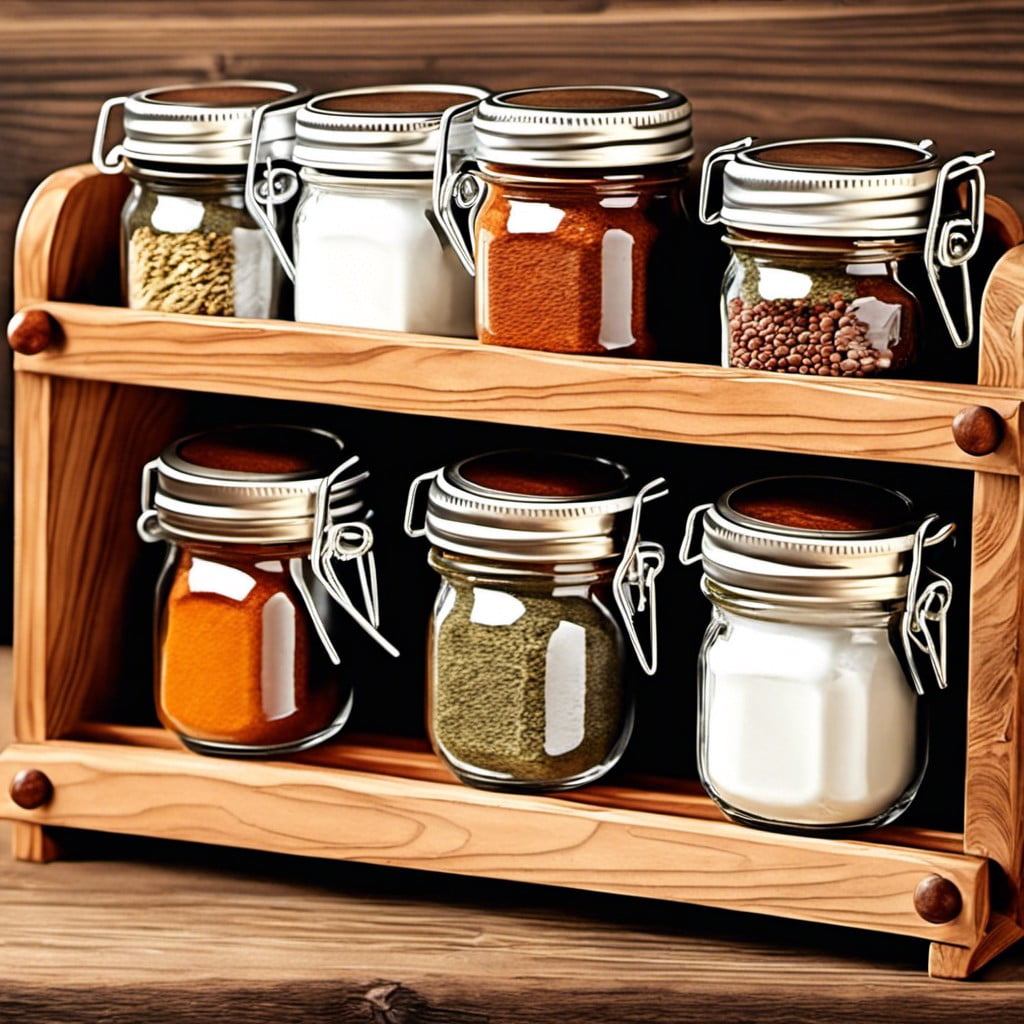 Embodying the charm of rural aesthetics, utilitarian mason jars form an integral part of this spice rack. Fixed on old, repurposed wood, these jars are front and center, making spices easily identifiable.
1. Use of Clear Jars: Clear mason jars ensure full visibility of the spices, providing an easy and efficient spice selection process.
2. Easy Access: No need to fumble for the right spice, jars are unobstructed and easily unscrewed from their resting nominal piece of wood.
3. Compact Design: Available in various sizes, allowing efficient use of kitchen real estate. Even smaller kitchens can accommodate this design.
4. Durability: Both the wooden base and glass jars are sturdy, ensuring a lasting design, saving time and money for replacement items.
5. DIY: An easily replicated design at home with some reclaimed wood and mason jars. This can add a personal touch to your kitchen.
6. Versatility: Suitable for a range of kitchens with various design aesthetics, from purely rustic to contemporary styles seeking a rustic detail.
Antique Wall-mounted Wooden Spice Rack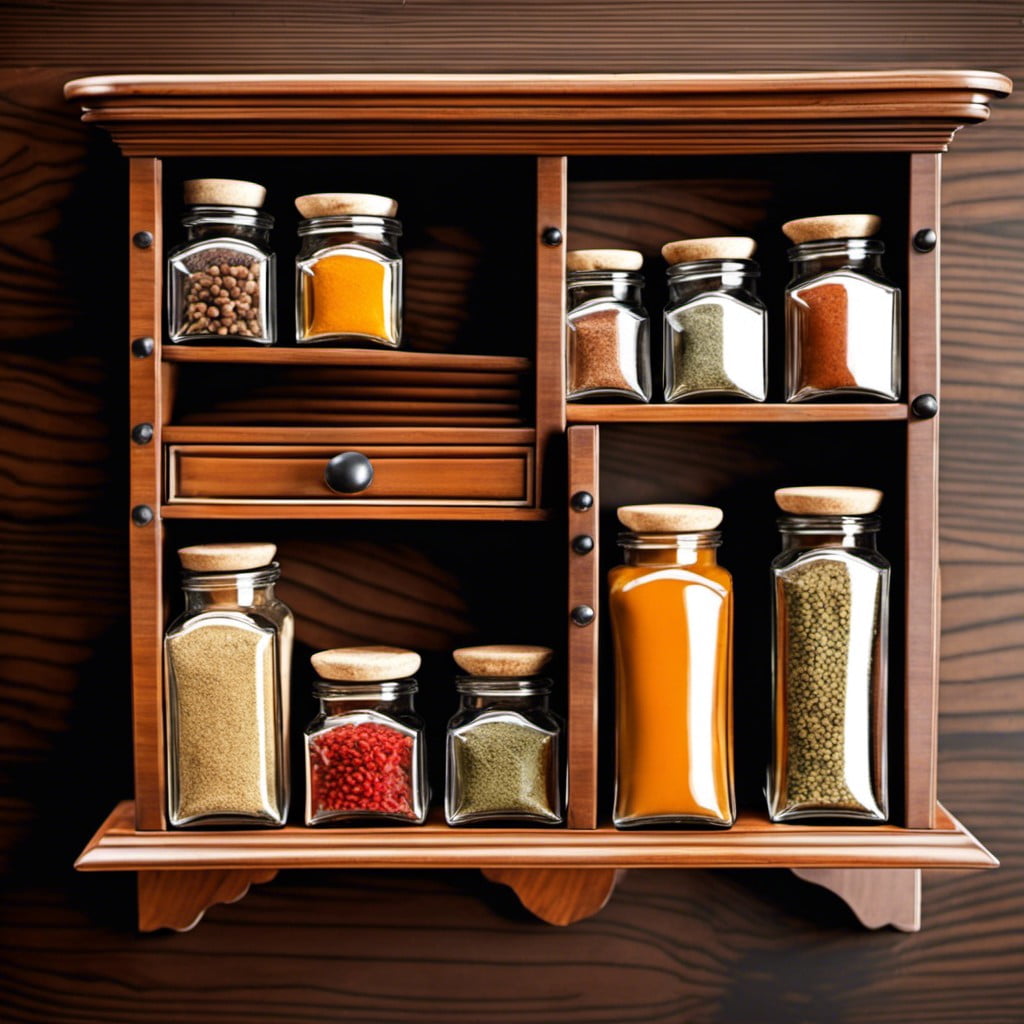 Deemed a timeless piece, this variant resonates charm and functionality. Its wall-mounted feature ensures countertop space is maximized, a plus for kitchens low on breadth. It's antique texture complements warm and earthy kitchen aesthetics.
1. Material: Generally crafted from solid oak or pine. A distressed finish amplifies its vintage appeal.
2. Design: Often features numerous shelves to sort your spices. Many come with a rail guard preventing jars from falling.
3. Variety: Comes in various dimensions, from compact single-tiered racks to larger versions spanning your wall's length.
4. Customization: Can be tailored to your preferred color or stained to deepen its rustic allure.
5. Installation: With inbuilt hooks or brackets, mounting is straightforward for the DIY enthusiast.
6. Efficiency: Ideal for holding an eclectic mix of spice jars, making it an appealing canvas of color and texture.
Remember, while selecting, ensure the rack's style aligns with your kitchen's overall design. This helps to create a uniform interior aesthetic. CHECK LISTINGS HERE(NAME OF AN E-COMMERCE SITE) FOR A VARIETY OF OPTIONS TO CHOOSE FROM.
Sliding Barn Door Style Spice Rack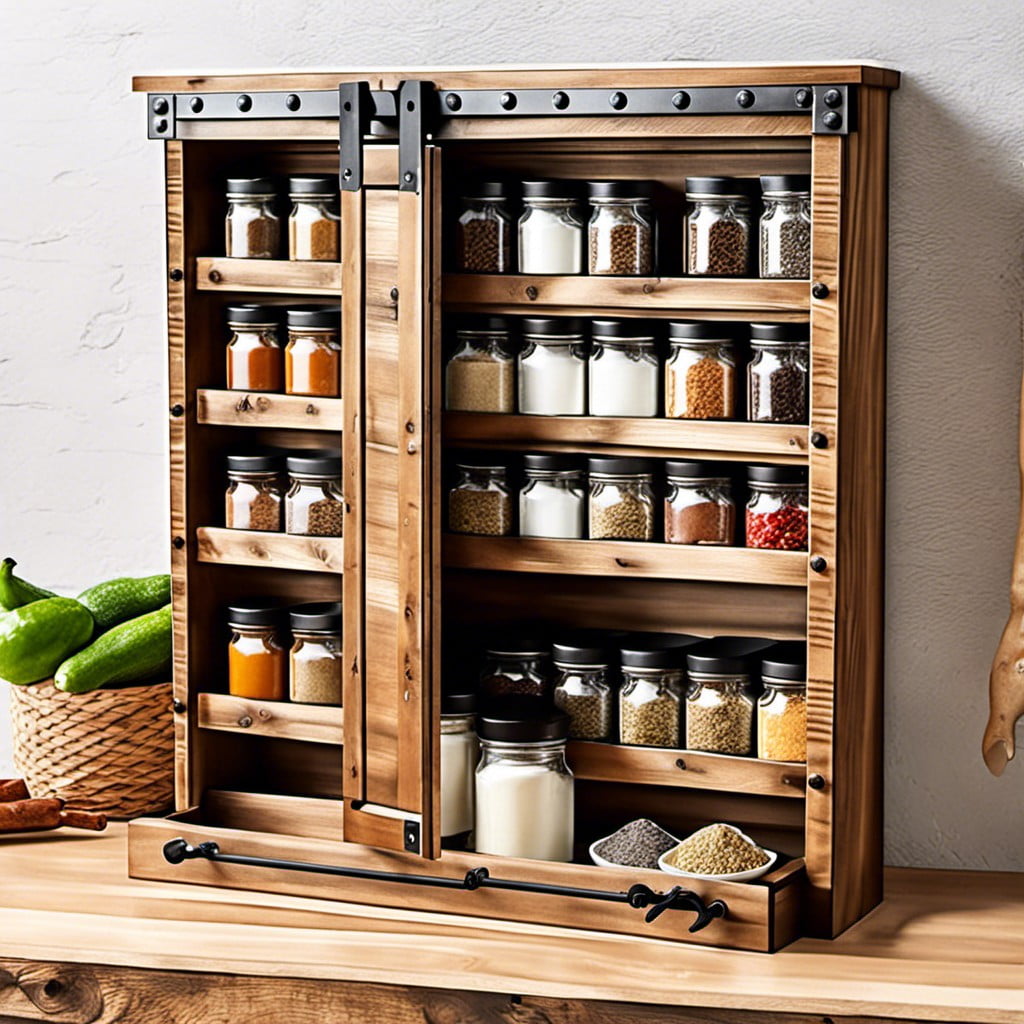 Modeled on traditional barn doors, this spice rack style carries an undeniable rustic charm. The glide door reveals spices neatly shelved, providing both visual appeal and practical functionality.
The sliding mechanisms allow easy access while saving valuable kitchen space – perfect for small kitchens or cluttered countertops.
Crafted in various wood types, from pine to oak, this rack can be tailored to your kitchen's design language.
Consider adding a distressed finish to amplify the country don, or leaving the wood untreated for a more natural, earthy appearance.
Not just for spices, these racks can double as kitchen decor pieces, displaying vintage kitchenware or cherished memorabilia.
Adapt it vertically or horizontally based on space availability.
This flexible design embodies rustic aesthetics and organization in one element.
Rustic Spice Ladder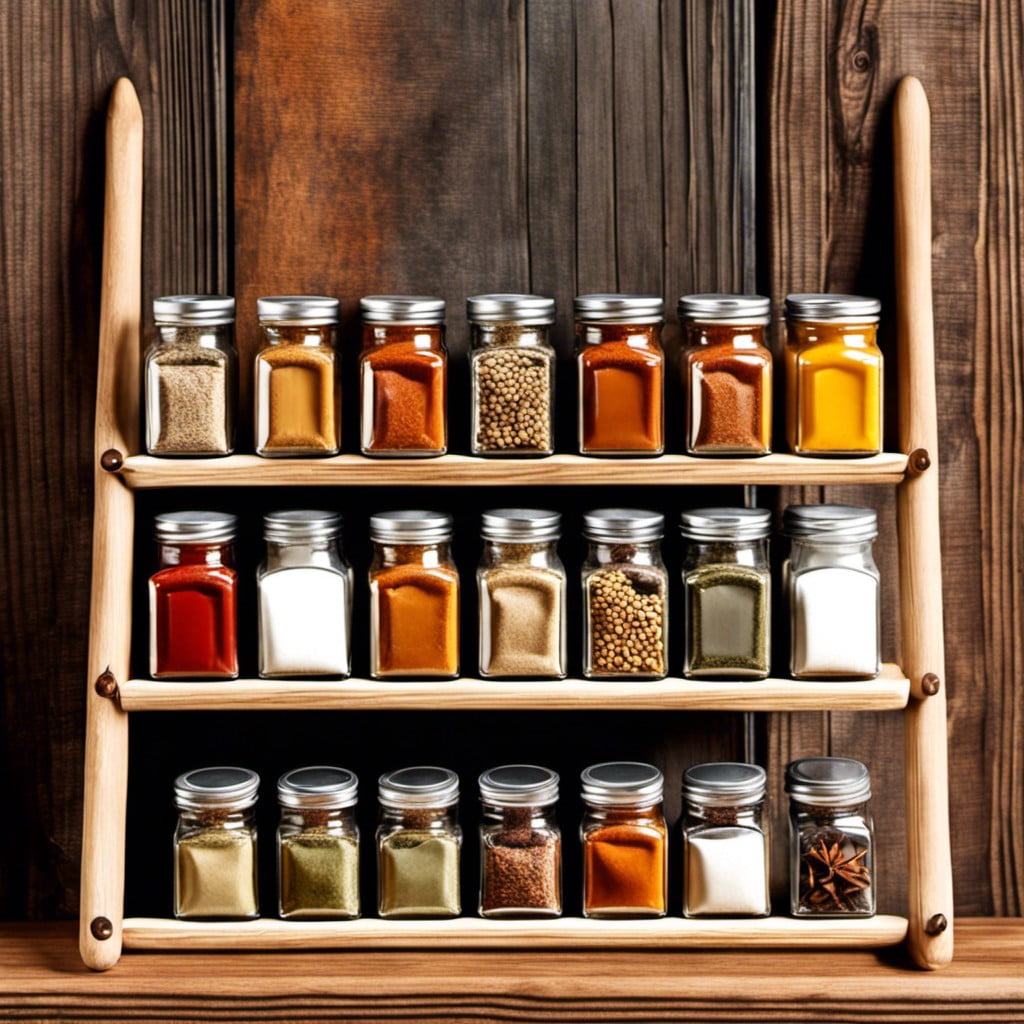 A rustic spice ladder infuses charm and organization into your kitchen space. Its vertical design makes it an excellent choice for those with minimal counter space, while its ladder-style tiers add a unique, eye-catching feature.
Primarily, using reclaimed wood for the structure gives a vintage feel. Its natural finish also brings warmth to your kitchen interior. Despite its old-fashioned appeal, the ladder spice rack's functionality is unmatched, providing ample spaces for all your spice jars.
For some additional flair, consider accenting the rungs with antique hooks for hanging other small kitchen essentials. Additionally, the ladder can lean against the wall or suspend from the ceiling, offering further versatility in placement. You can paint it or let it weather naturally over time, making it blend seamlessly with your existing decor. Easy to set up and sustainable to boot, the spice ladder is truly an innovative solution to spice storage.
Repurposing Pallets Into Spice Racks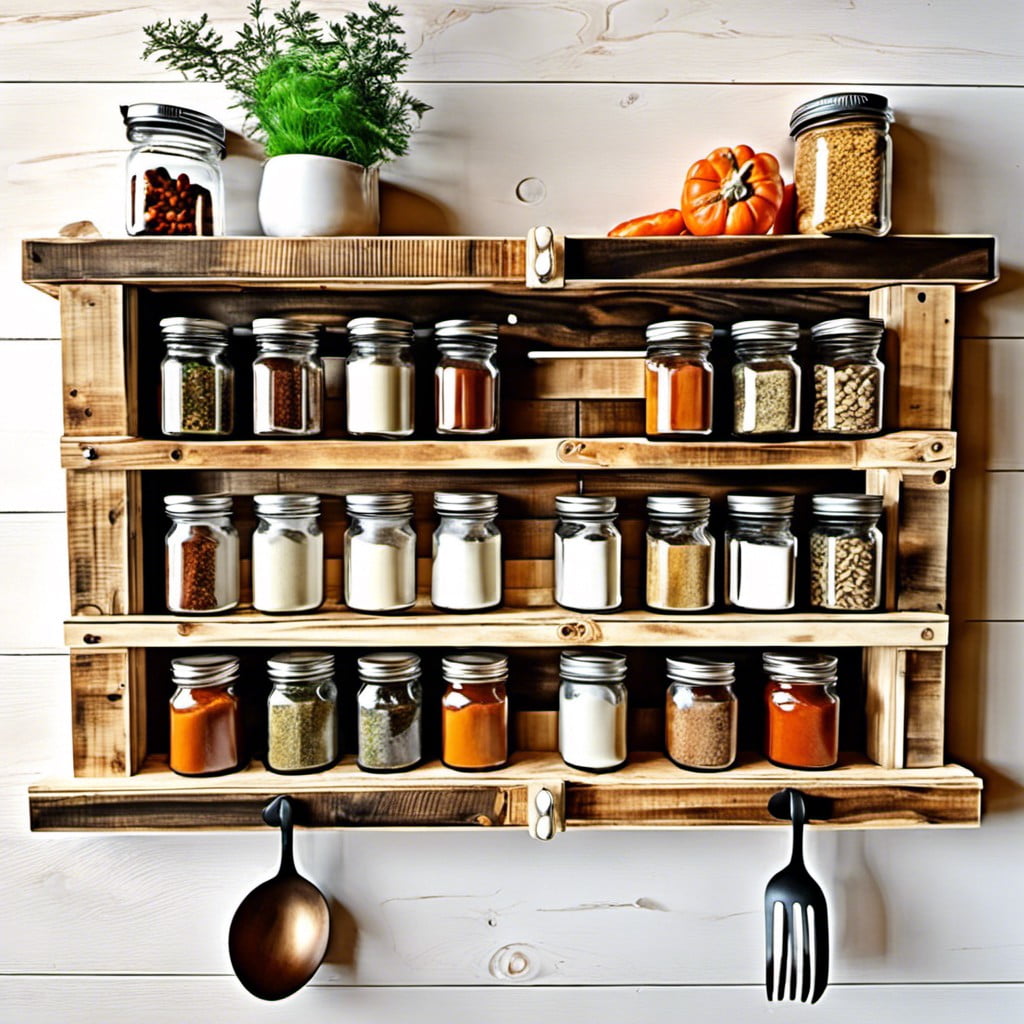 Taking an old wooden pallet and transforming it into a rustic spice rack brings a charmingly raw aesthetic into any kitchen. This project is not only cost-effective but also environmentally friendly.
Here are some helpful steps to follow:
Begin by sourcing a used pallet, typically available for free or for a small cost at local warehouses.
Clean the surface of any dirt or splinters. This step may require a little elbow grease!
Depending on your preference for a more polished or rugged look, decide if you'd like to stain or paint the pallet. Use non-toxic paint or stain, as you will store food items on this rack.
Create the rack by installing small shelves. Use the wooden slats from the pallet itself to maintain the rustic feel. Make sure they're secured with sturdy screws.
Customize the rack with hooks or clips to hang utensils or small pots.
Embrace the repurposed charm of a pallet-turned-spice rack and create functional kitchen decor with a delightful rustic vibe. In essence, it's about giving a used object a new lease of life while adding a personal touch to your kitchen space. Remember, there's no rule saying that your spice rack must look exactly like any other. Let your creativity flow.
Wine Crate Converted to Spice Rack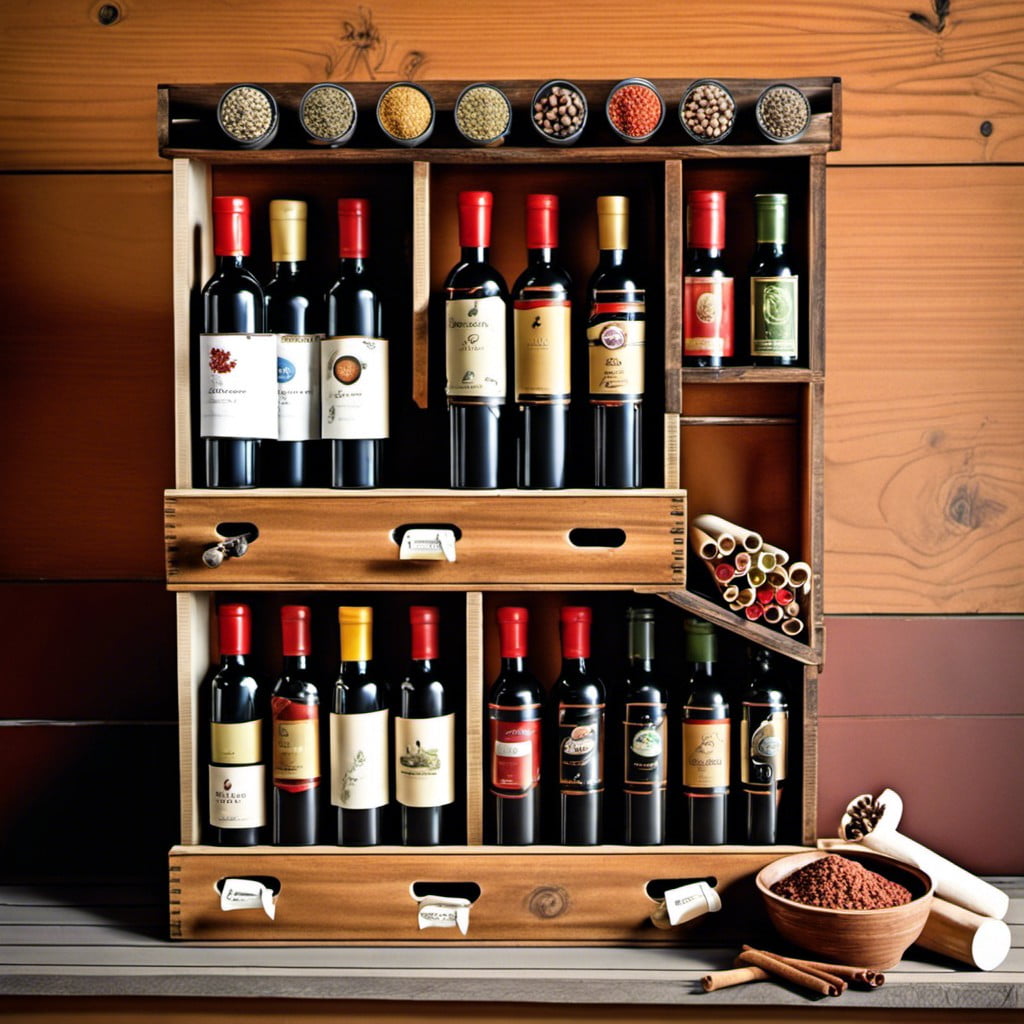 Transforming a wine crate into a rustic spice rack adds a sense of vintage flair to the kitchen. It's a straightforward project that's both eye-catching and practical.
Here are some key concepts:
1. Selection: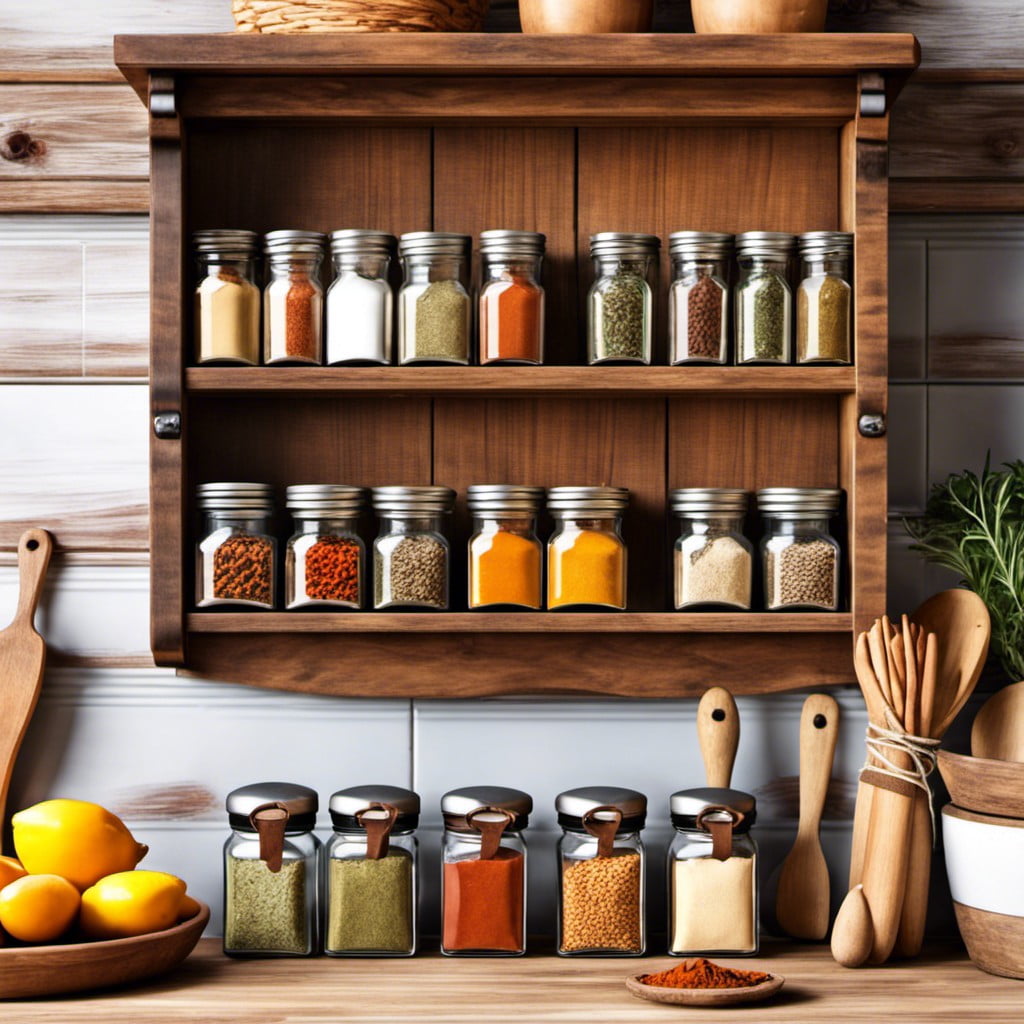 Acquiring an old wine crate may require a vineyard visit or wine shop exploration. Look for crates with appealing, vintage inscriptions for added character.
2. Preparation: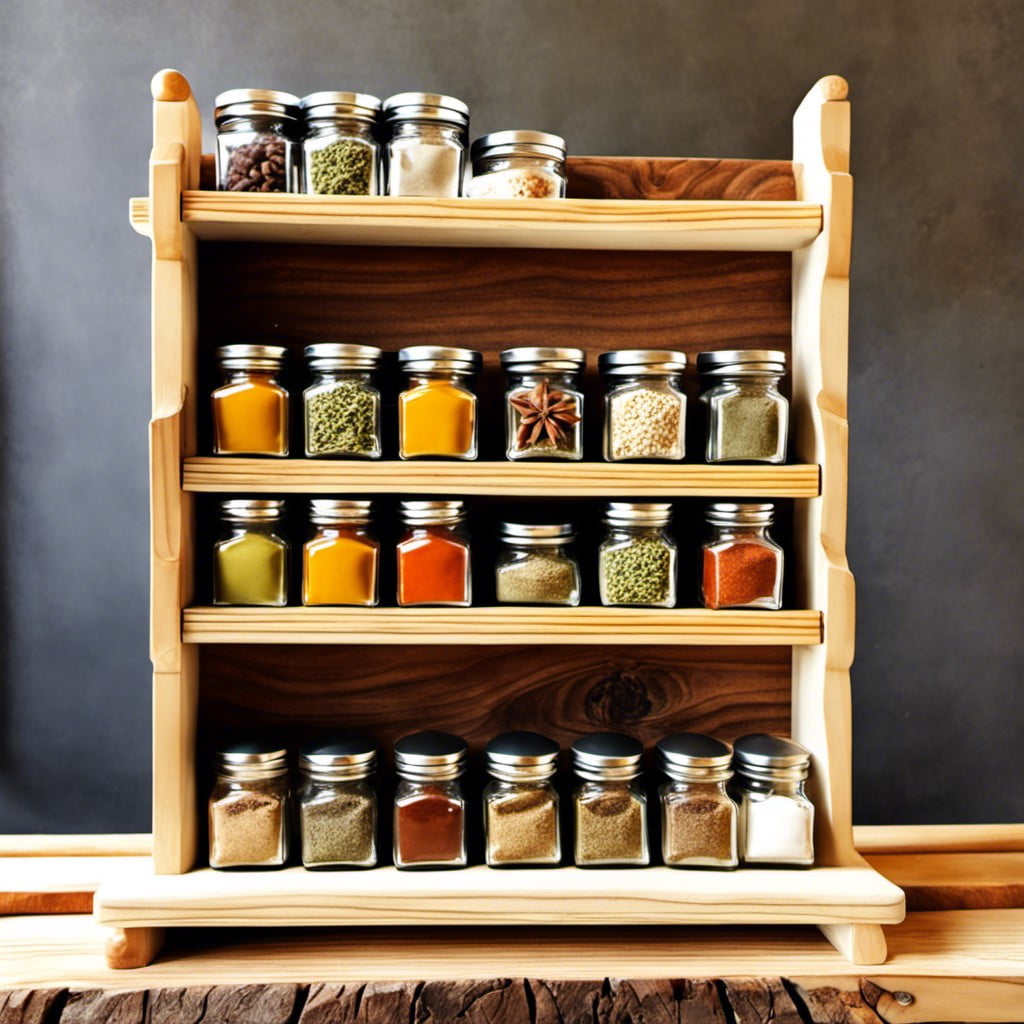 Thoroughly clean and dry the crate. To preserve the original look, apply a coat of clear wood varnish.
3. Adaptation: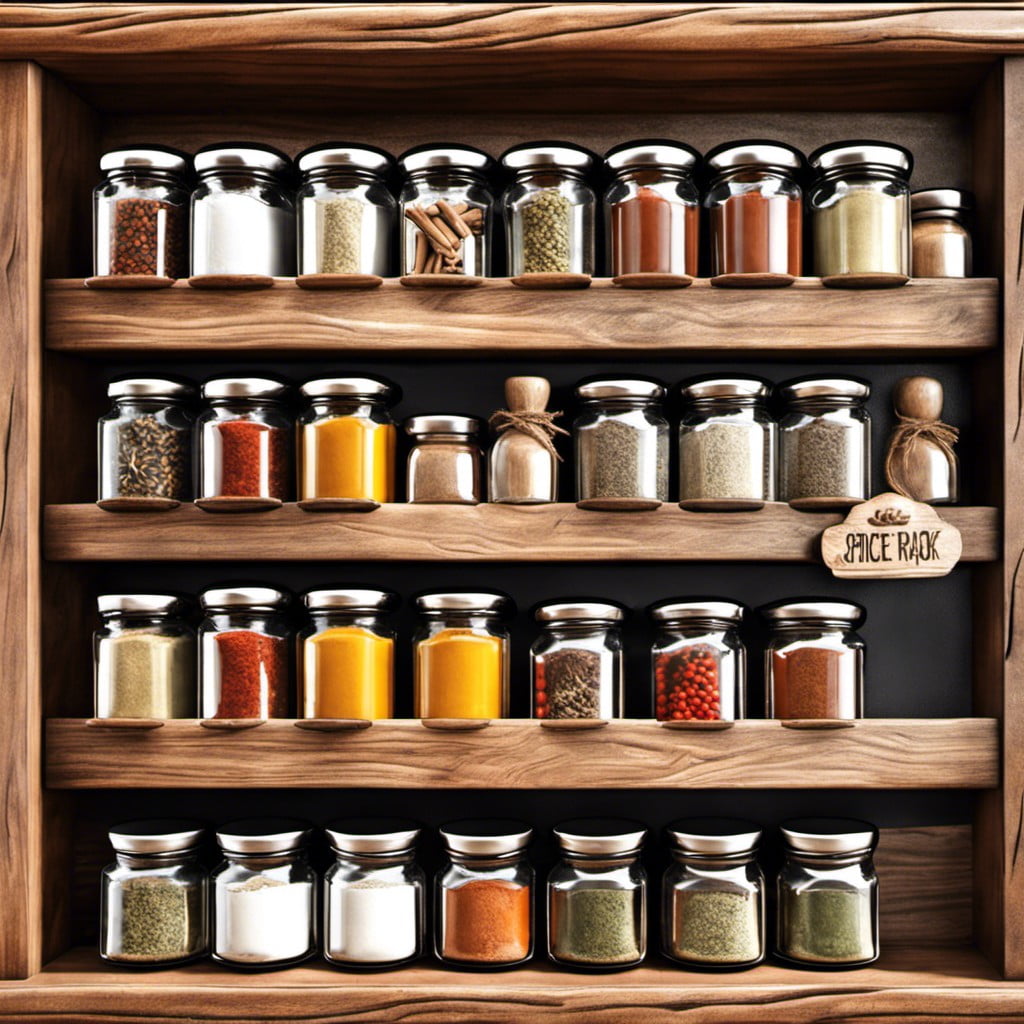 Depending on your storage needs, you may want to add shelves. This can be done by inserting dividers, using adhesive, or screwing in additional planks.
4. Variable use: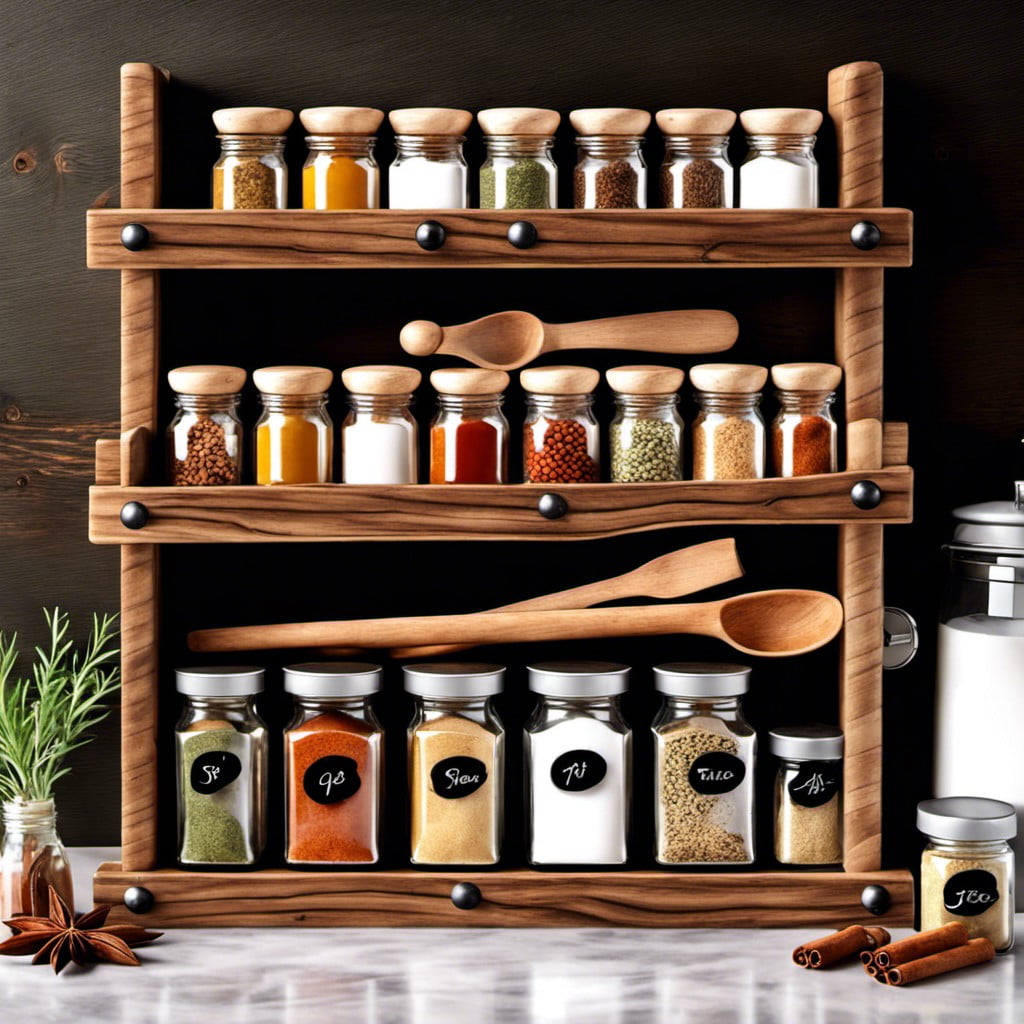 Depending on its size, the crate can be placed on a countertop or mounted on the wall. The latter frees up counter space and becomes a focal point in the kitchen.
5. Personalization: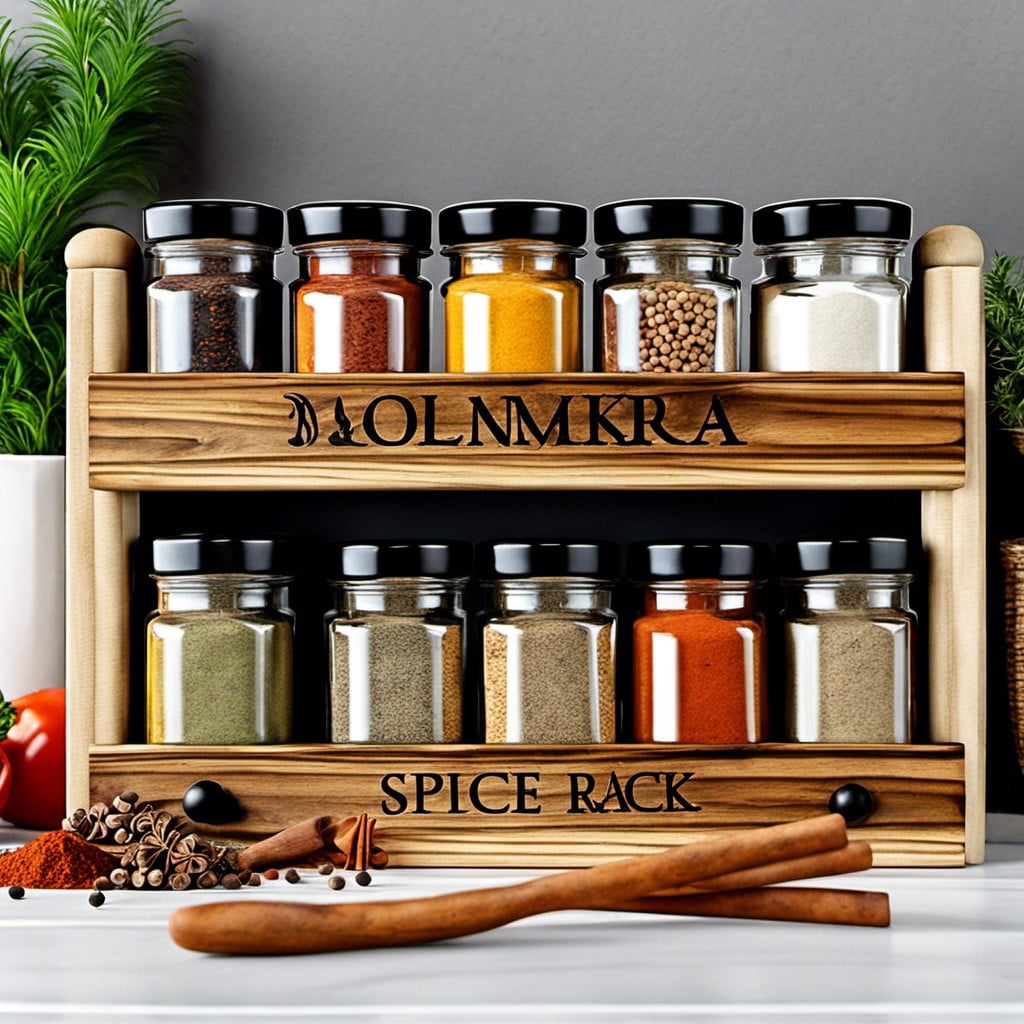 You may opt to add hooks on the underside of the crate to hang utensils or tea towels. Labelling your spices can also be a great way to make the rack feel more organized and personalized.
Remember, there's no fixed way to repurpose the wine crate. The aim is to create a spice rack that reflects your style and meets your kitchen needs.
Rustic Triple Tier Countertop Spice Rack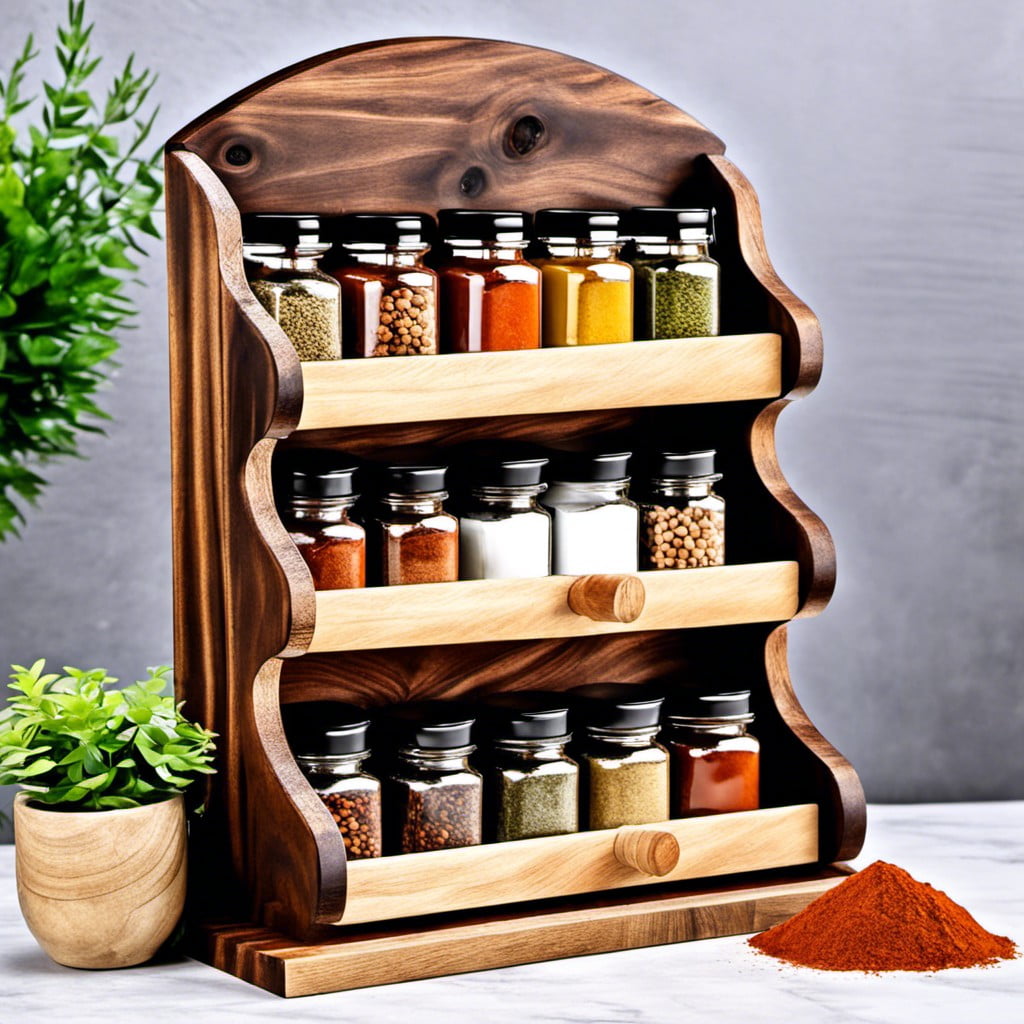 Crafted with simplicity and convenience in mind, this rack is a practical addition to kitchens where counter space is abundant.
1. Design: It's designed with three tiers for easy access and display of spices. The staggered level design means that spice jars in the back rows remain visible.
2. Material: Typically made from reclaimed or salvaged wood for that authentic rustic charm.
3. Space Efficient: Despite its triple tier design, it does not consume a lot of counter space, making it ideal even for small kitchens.
4. Flexibility: The spacious flat surface allows for the storage of larger spice jars or containers.
5. Easy to Clean: Its open design allows for easy dusting or wiping down compared to closed cabinets.
Remember, the rustic aesthetic of this rack pairs well with traditional and country-style kitchen decor. The warmth of the natural wood also adds a cozy feel to the kitchen space.
Driftwood Spice Shelf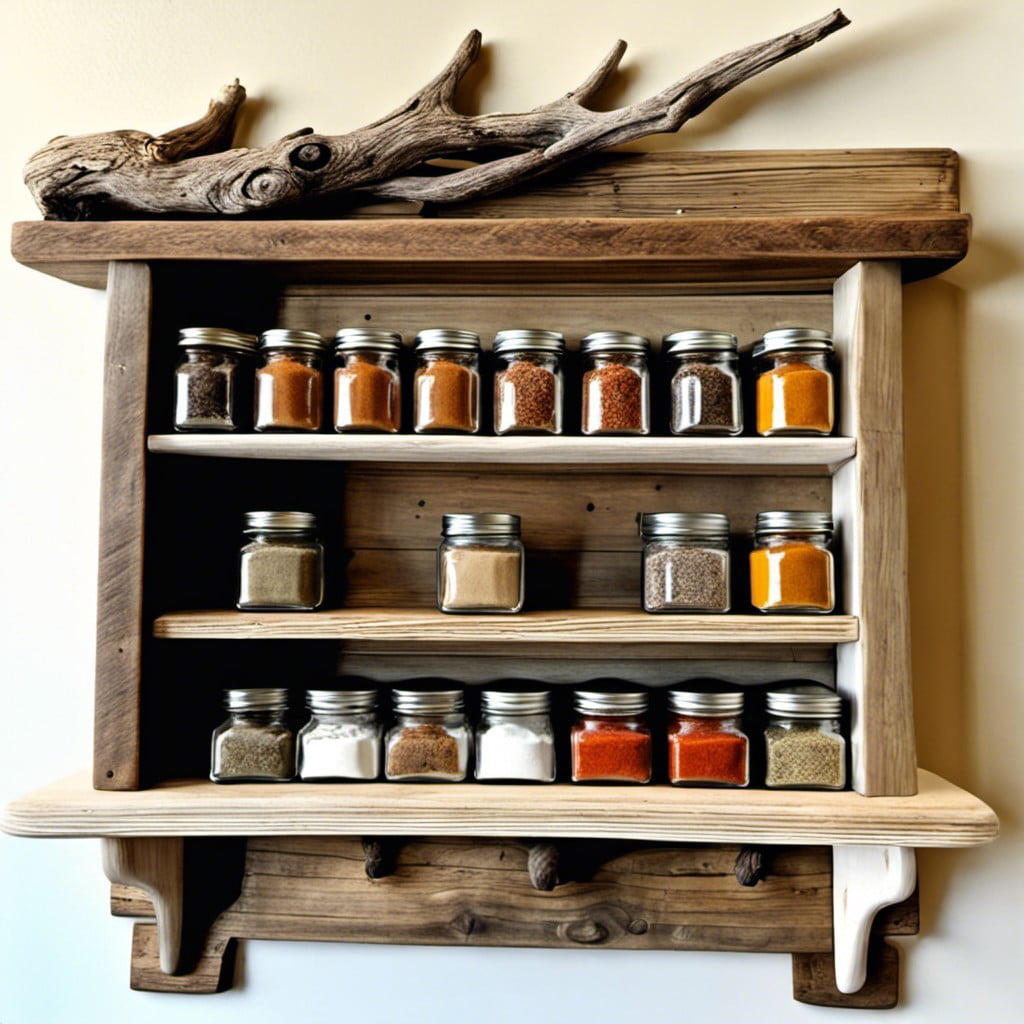 Using the unique shapes and textures of driftwood can lend an element of seaside charm to a kitchen space. Key considerations when crafting a driftwood spice shelf include stability, size, and functionality.
Selecting the right piece of driftwood is paramount. Large spices jars might need a thicker, sturdier piece of wood, while smaller jars might sit comfortably on a slender branch.
To transform driftwood into a functional spice rack, it usually needs flattening on one side. This process requires sanding for a smooth surface where spice jars can sit, ensuring they don't topple over. Coating the wood with clear varnish not only offers a polished look but also prevents dust and dirt accumulation.
For wall mounting, the driftwood piece needs secure attachments. Employ screws or heavy-duty glue to attach metal brackets. These provide reliable support, essential when housing a collection of bulky spice jars.
Lastly, ensure the driftwood piece complements the kitchen decor. Ideally, it should blend harmoniously with other elements, preserving the balance of the rustic theme. Sticking to a similar color palette can maintain continuity, but a standout piece can also add a focal point in the kitchen.
Chicken Wire Spice Rack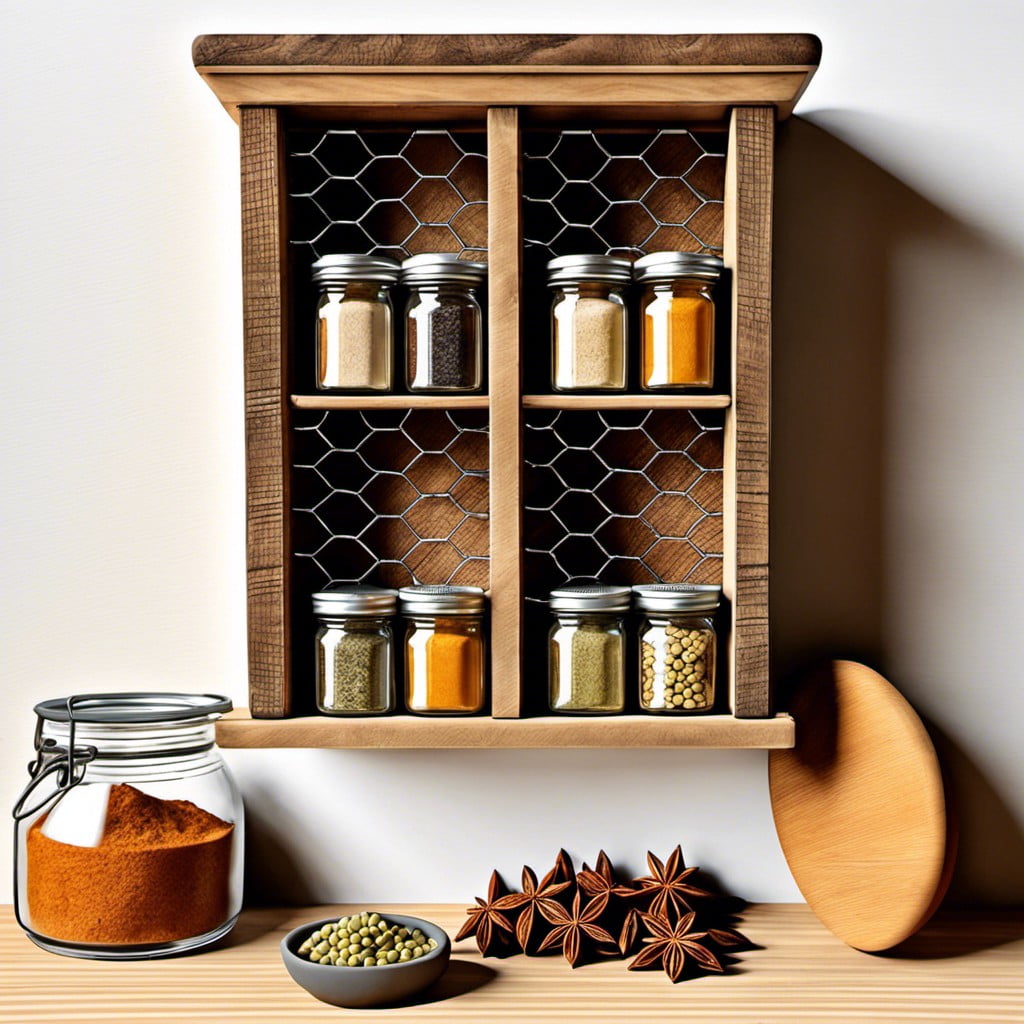 Embracing the country farm aesthetic, this style incorporates chicken wire for a unique, eye-catching design. Primarily used in rustic country houses, the material is easily accessible and adaptable. The gaps in the wire make an ideal structure to secure and display the spice jars. This design allows clear visibility and easy accessibility, offering the perfect solution to organize your spices in a visually appealing manner.
Taking it a step further, combining the chicken wire with a distressed wood frame adds vintage charm. The neutrality of the wood and the wire ensures that the rack can match with various kitchen styles, essentially bringing a touch of rustic charm to any kitchen, whether contemporary or traditional.
Its construction is relatively simple and affordable, requiring minimal carpentry skills and tools. Whether mounted on a wall or placed on the countertop, it offers flexibility in terms of placement, freeing up valuable kitchen real estate. In terms of maintenance, a quick dust-off is all it needs, making it an ideal choice for busy home cooks.
Overall, the chicken wire spice rack hits the trifecta of a viable storage solution – easy to make, functional, and beautiful.
Pipe and Wood Rustic Spice Rack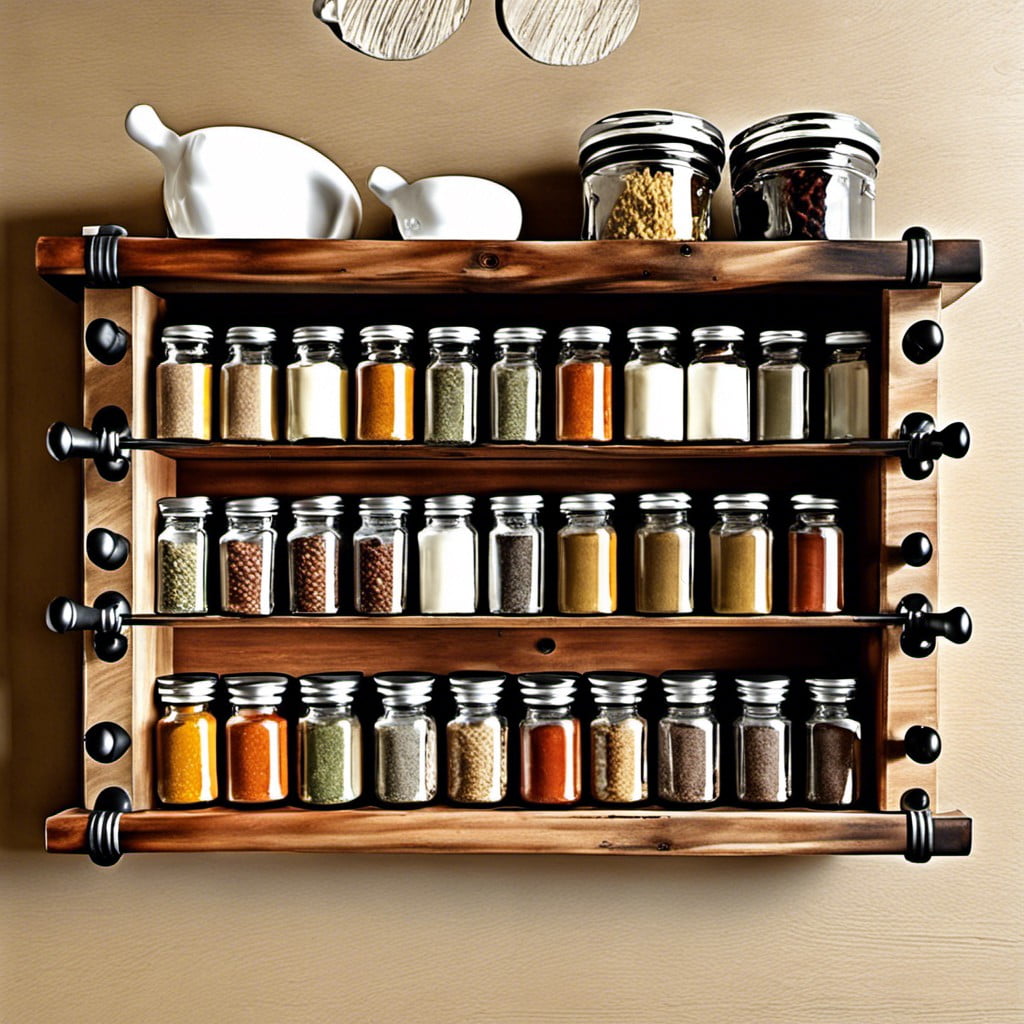 Capturing the perfect blend of industrial design with the homely allure of wood, this spice rack offers both style and function. Here's what makes it an excellent choice:
1. Modular Design: With separate sections for spices, it makes organization easy and visually pleasing.
2. Robust Make: The piping's sturdy construction ensures your spices stay firmly in place.
3. Versatility: The rack can be wall-mounted or placed on the countertop as space allows.
4. Easy DIY: By purchasing the materials, you can create your own custom spice rack to fit your specific needs.
5. Aesthetic Appeal: The combination of wood and metal complements a rustic kitchen setting significantly.
Remember, a variety of woods can be used to match your kitchen's color scheme, and with varying lengths of pipe available, you can adjust the size to fit your assortment of spice jars.
Rope Hung Hanging Spice Rack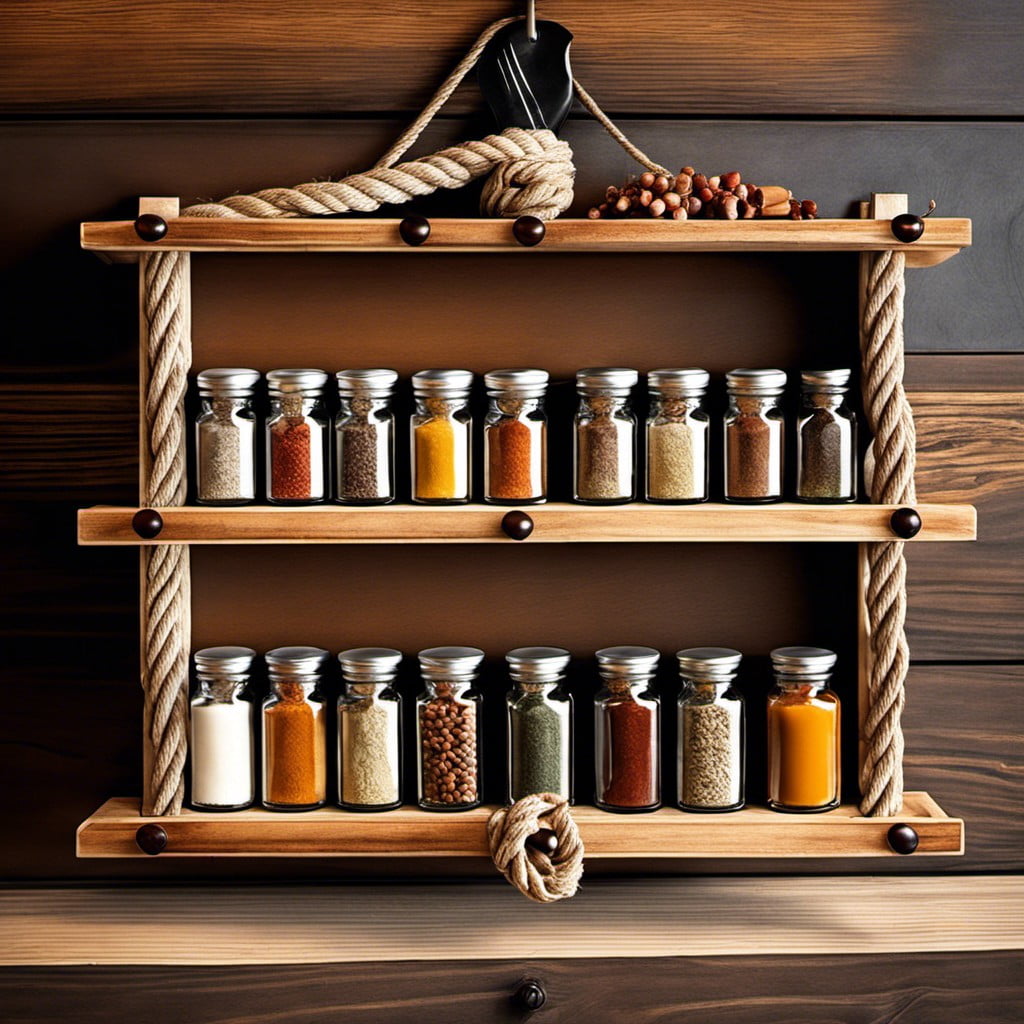 The whimsical charm of this style lies in its simplicity. Work with sturdy, coarse rope to echo a rustic vibe and choose wooden planks for the shelves.
Here are some essential points!
Size and Rope Thickness: Depending on the number of spice jars, select the dimensions of the rack and accordingly, the thickness of the rope for adequate support.
Wood Choice: Opt for reclaimed or distressed wood for authentically rustic appeal.
Secure Knots: Ensure the knots securing the levels are firm. The spaces between the planks should accommodate your tallest spice jars.
Wall Attachment: Choose strong hooks and secure them properly to the wall to bear the weight of the rack and spices.
Placement: Ideal above the kitchen counter or cooking range for easy access.
Personal Touches: Paint the wooden planks, or add a varnish to draw out natural patterns in the wood grain.
Remember, this style exudes a nautical, beach cottage feel. Innovation and personalisation are key; feel free to play around with elements till you achieve the desired look. Happy decorating!
Spice Rack With Chalkboard Labels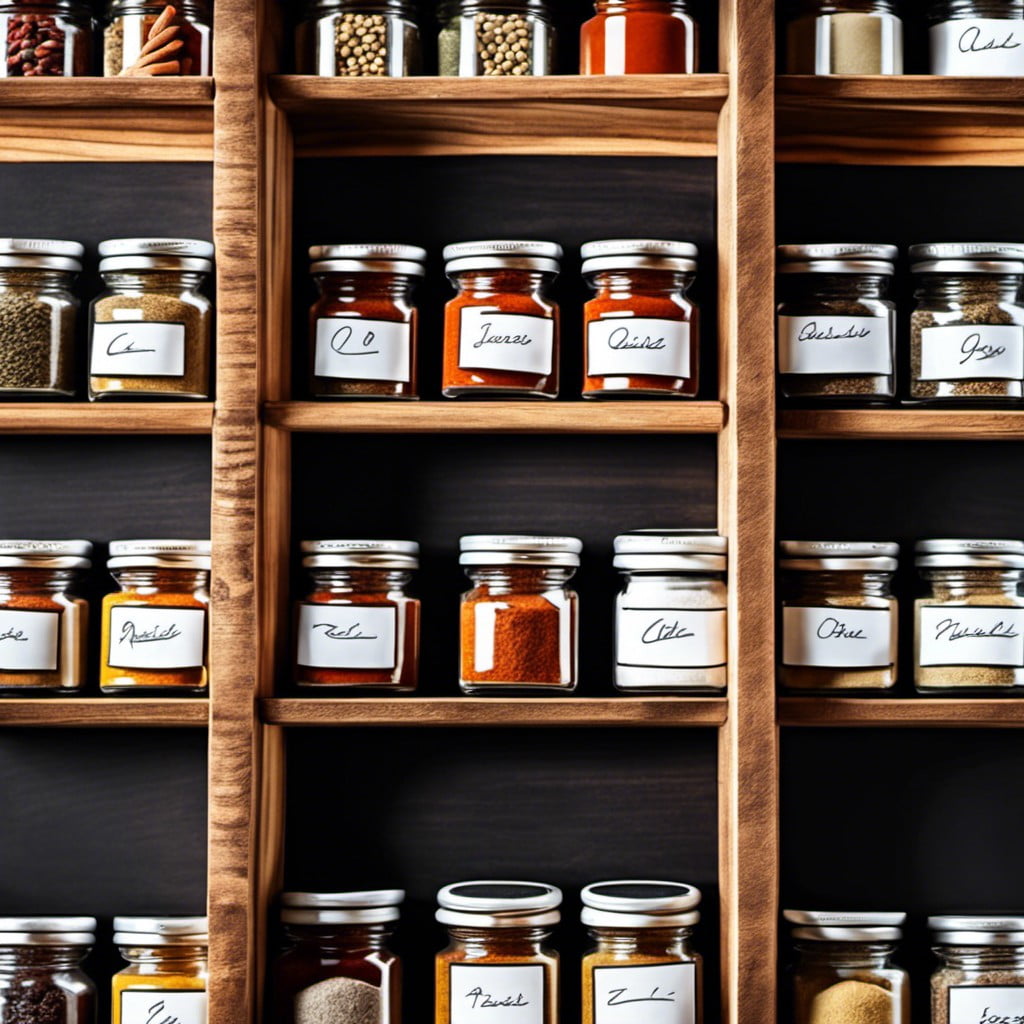 Chalkboard labels offer a personalized, aesthetic touch to rustic spice racks. They also promote easy identification of your spices, contributing to a smooth cooking workflow.
To onboard this concept, consider these points:
Easy to DIY: You just need chalkboard paint, chalk and a brush. Paint your labels, write your spice names with chalk, and you're done.
Changeable: No need to worry about permanent ink. With chalk, you can easily erase and modify labels as your spice collection evolves.
Fits Most Designs: Chalkboard labels blend effortlessly with the rustic feel of a wooden spice rack, while also offering a stylish contrast.
Interactive: It's a fun activity and you can even involve the entire family.
Remember, the neatness of your handwriting adds more charm to your chalkboard labels. However, pre-made adhesive chalkboard labels are also available in markets if you prefer a quicker method.
Tree Branch Spice Shelf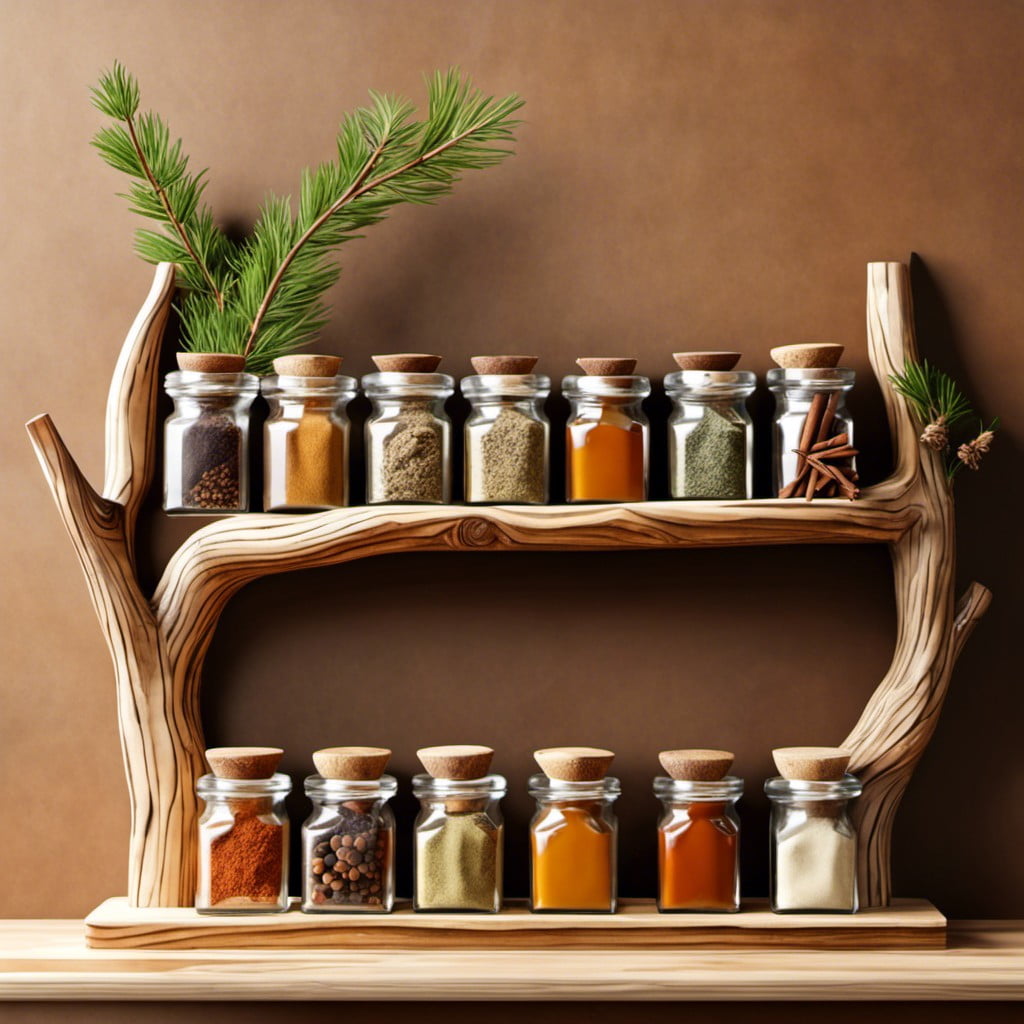 Capitalizing on the strength and organic aesthetics of natural wood, crafting a spice shelf from a sturdy tree branch breathes life into your kitchen. Emphasizing simplicity and authenticity, the concept draws on the inherent appeal of untouched timber.
To get started, you'll need a solid, straight branch about 3-4 inches in diameter. After stripping it of its bark and sanding it to smoothness, simply finish it with clear lacquer to bring out the natural beauty. In terms of mounting, firmly fixed metal brackets ensure safety while still allowing the wood to shine.
It's worth noting the free-form nature of the branch allows customization. Should you want a more 'branchy' look, smaller offshoots can serve as hooks for hanging utensils or small spice baskets. Slices of a larger branch, when affixed to the wall, create a more traditional shelf for spice jars or small pots.
With creativity and a bit of DIY effort, a tree branch spice shelf can serve as a charming, rustic addition to your kitchen, marrying functionality and natural aesthetics.
Spice Rack With Burlap Backing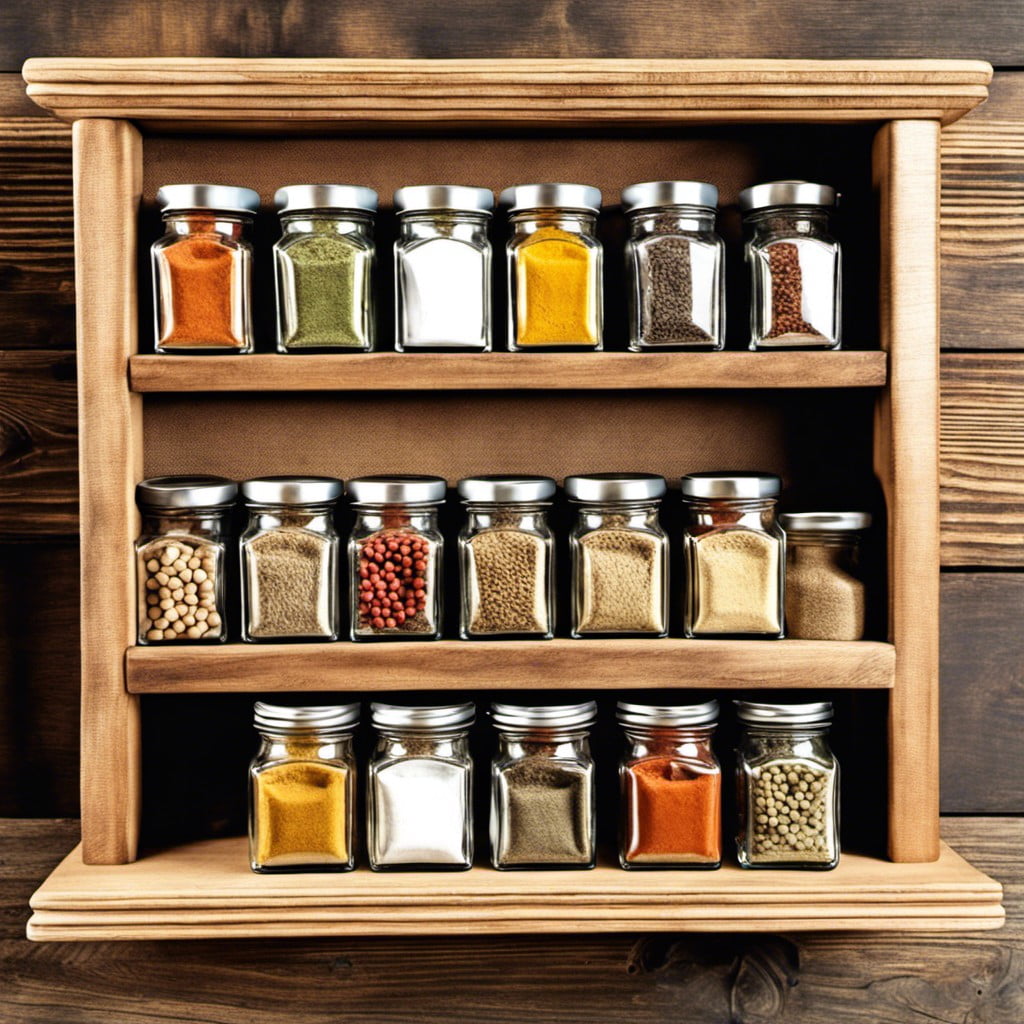 Creating this unique piece involves coupling a basic wooden rack with traditional rough-textured burlap. The burlap not only gives a rustic flair but also, when used as backing, aids in preventing spice jars from toppling over.
The texture and warm earthy color of burlap offer a striking contrast with the smooth wood, making your spices pop visually. If desired, shelf edges can be sanded and stained to further augment this rustic charm.
Here's a potential embellishment idea – attach cute name tags to label your spices. Use thick strings or twines and small wooden labels for an extra rustic feel.
Producing your own distinctive piece allows you the freedom to customize the size, design, and number of shelves according to your specific kitchen needs and personal taste. These simple elements combined seamlessly create an overall cozy, farmhouse feel that is characteristic of rustic décor.
Farmhouse Style Wooden Spice Drawer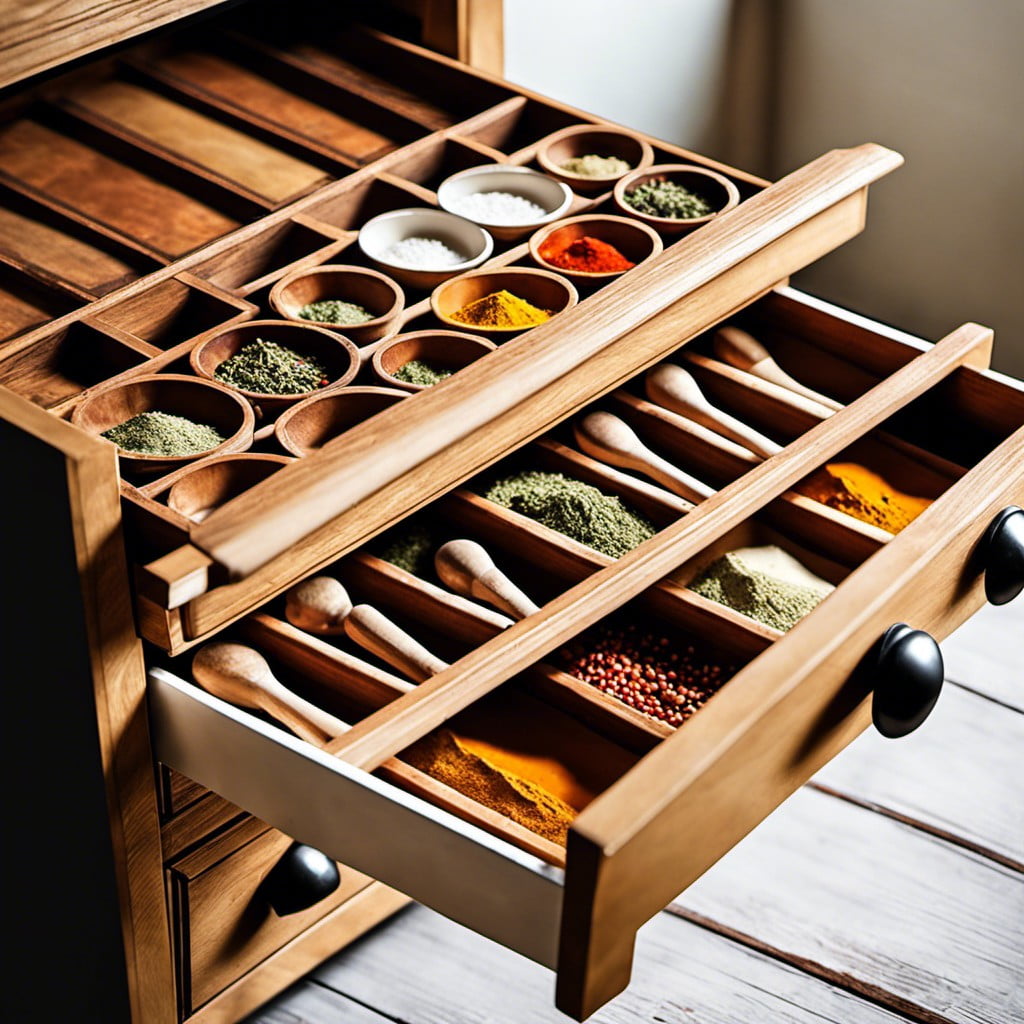 Embodying a charming blend of practicality and style, this storage solution places your spices within a drawer setting. It provides easy access and keeps your countertop clutter-free.
The key points that make this design stand out are:
Utilizes Space: Especially ideal for small kitchens, utilizing drawers for your spices saves valuable counter and cupboard space.
Keeps Spices Organized: Drawers allow spices to lie flat, providing you with a clear view of your assortment. Alphabetize or categorize as per your preference.
Protects from Light: Exposure to light degrades spices more quickly. This design shields them, prolonging their shelf life.
Ultimate Farmhouse Feel: With wooden structure and timeless design, it is an ode to the country style.
Remember, measurements should align with your drawer's dimensions. Consider bespoke boxes or adjustable drawer dividers for a perfect fit and effortless navigation. Finally, to enhance the visual appeal, you may tie in matching labels or rustic drawer knobs.
Hanging Buckets As Spice Holders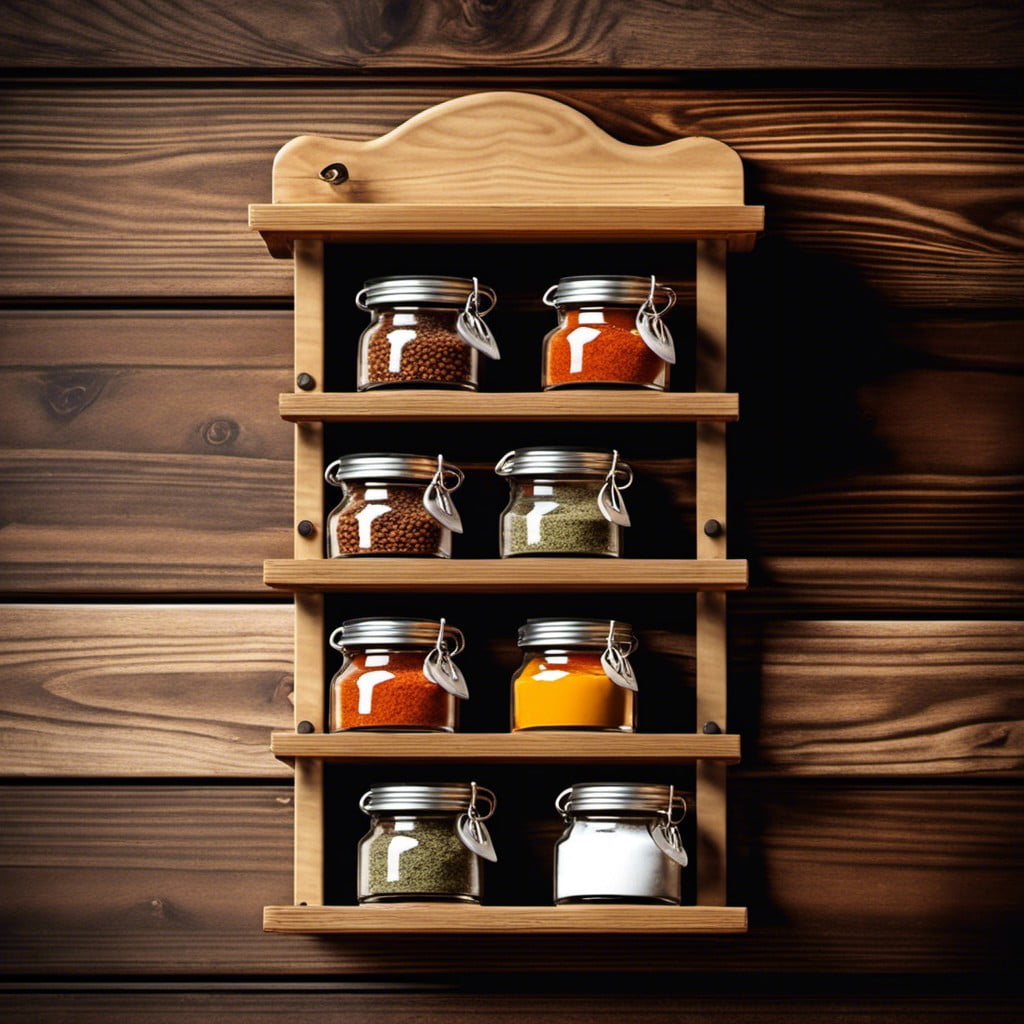 When traditional storage falls short, turn to the charm of hanging buckets. The unique vertical design makes an intriguing visual, ensures accessibility, and optimizes the use of space.
Here's how to make this rustic spice holder concept work for you:
Material Choice – Any small-sized bucket does the trick. Opt for vintage or galvanized versions for a raw, rustic look.
Arrangement – Adjust the bucket heights based on spice usage. Store everyday spices at an accessible level and less used ones higher up.
Handling – Ensure buckets pivot freely for easy access to the spices. A simple, strong nail can serve as a pivot.
Space Management – Keep in mind not to overload your buckets. This ensures easy visibility and prevents any potential mess.
Remember, the beauty of this idea lies in its simplicity and its collaboration with the rustic aesthetic.
Rustic Pull-down Spice Rack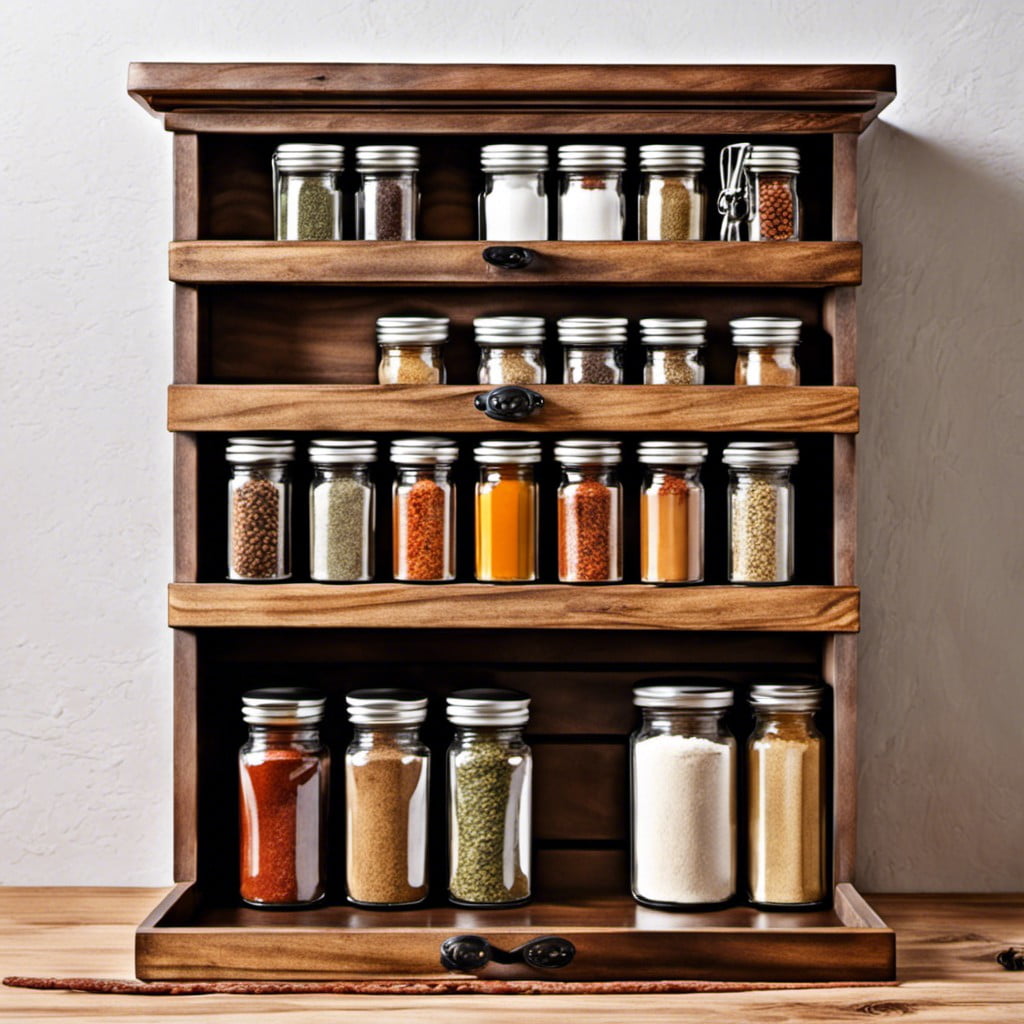 Incorporating a rustic feel with convenient functionality offers a distinctive highlight in any kitchen setup. Showcasing an attractive blend of elements such as distressed wooden finishes and robust metal fittings, these designs are eminently practical, allowing user-friendly access and visibility to contents. The user can pull down the shelves to easily view and reach items.
1. Improved Accessibility: Prominent for its easy-to-reach design, allows you to quickly get to those too-far back spices, making your cooking experience hassle-free.
2. Visibility: Avoid clutter and ensure every jar has its allocated space, allowing a clear overview of all stored spices.
3. Space Efficient: It maximizes vertical space, perfect for kitchens with limited counter or cupboard room.
4. Easy Installation: Typically can be attached under a cabinet, ensuring it doesn't occupy precious shelf or counter space.
5. Adaptable Arrangement: The level of the shelves can be adjusted according to the height of the spice jars stored.
6. Durability: Solid wood coupled with sturdy metal hinges assures longevity and can resist wear and tear of frequent usage.
Through these fundamental features, a rustic pull-down spice rack adeptly marries style and practicality, thereby adding historic charm to an optimally functional kitchen.
Reclaimed Wood Stand Alone Spice Rack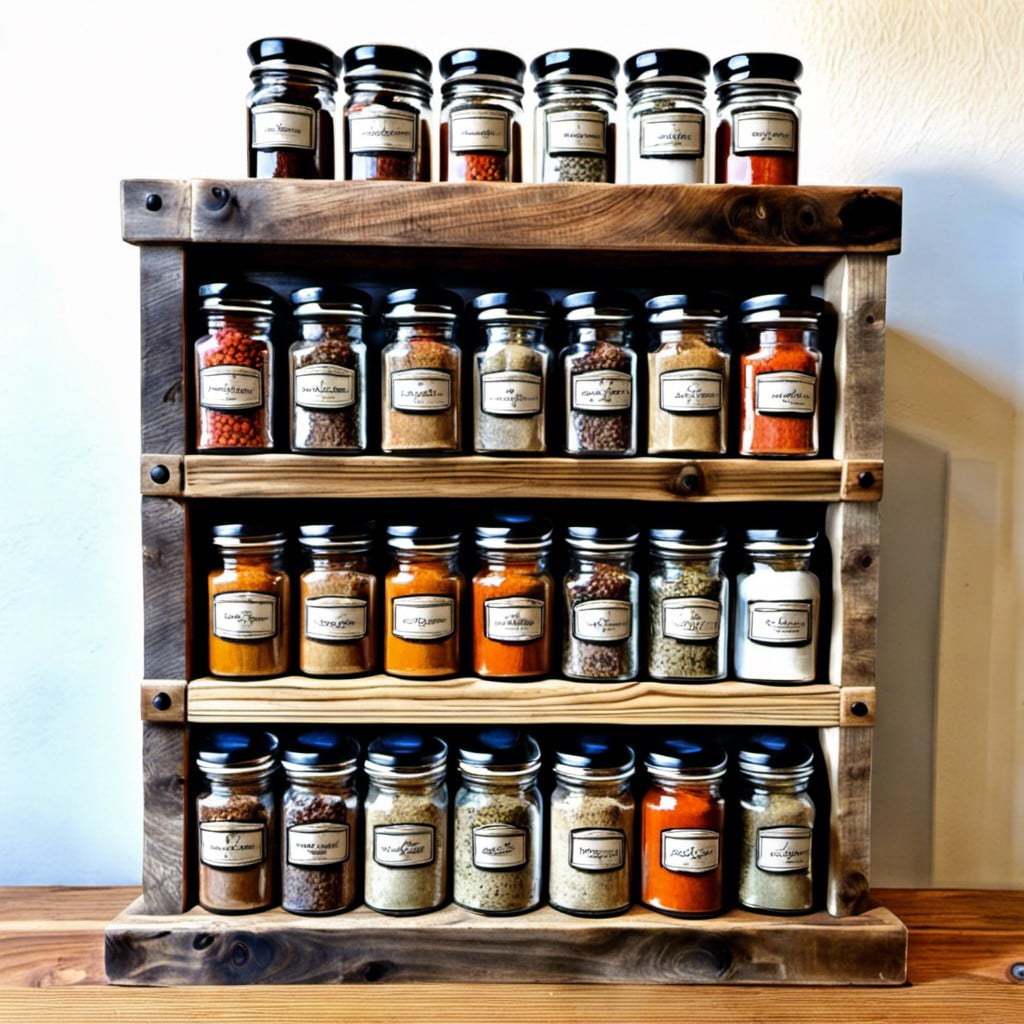 Distinguished by its unique charm, a stand-alone style rack fashioned from reclaimed wood can serve as both a functional kitchen tool and a captivating piece of decor. Sustainability and flair converge in this design, turning discarded materials into treasure.
1. Uniqueness: Each piece of reclaimed wood carries a distinct character. No two racks will ever be the same, bestowing your kitchen with a truly one-of-a-kind accessory.
2. Sustainability: By choosing reclaimed wood, you contribute to eco-friendly initiatives. You repurpose materials that would otherwise be discarded, reducing waste.
3. Spacious: Stand-alone racks can be customized to accommodate your spice collection, regardless of its size. Wide shelves can comfortably host both small and large spice containers.
4. Mobility: Unlike mounted racks, a stand-alone design can be moved around based on your kitchen layout, making it a versatile addition to your space.
5. Enhanced aesthetics: The aged look of reclaimed wood can heighten the rustic feel of your kitchen, complementing other decor elements seamlessly. Finishes and stains can be added for extra touch.
Crafting a spice rack from reclaimed wood is a homely journey into sustainability and style, merging function with old-world charm for a kitchen that's as environmentally conscious as it is enchanting.
Mini Wooden Crates Spice Organizer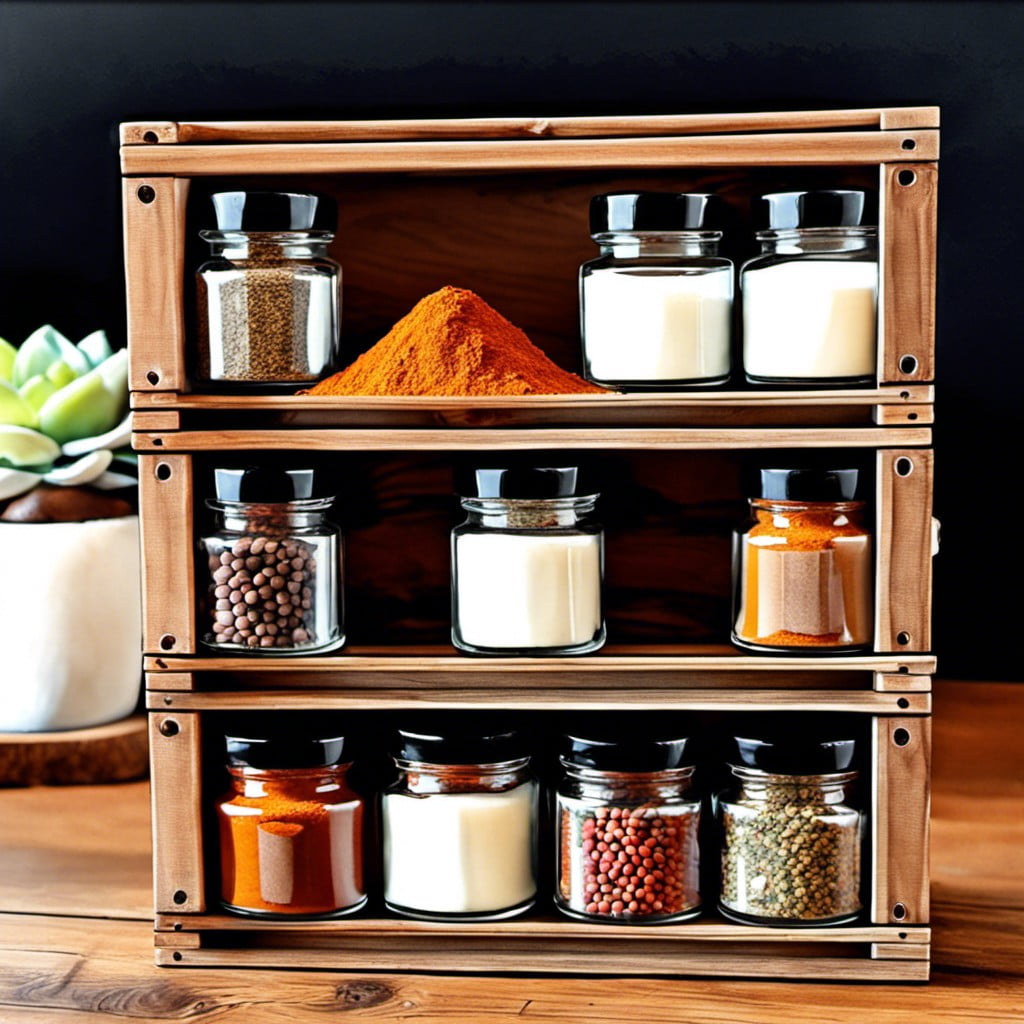 One of the simpler yet highly effective and charming rustic spice rack concepts is utilizing mini wooden crates. Reminiscent of vintage produce boxes, these crates, when mounted onto your kitchen wall, offer functionality with a flair:
1. Easy Accessibility: Nestled in their slots, your spices are immediately visible and accessible. Forget rummaging through cabinets – your seasoning solutions are now a quick glance away!
2. Space Saver: Crates can be stacked vertically or horizontally, allowing you to free up valuable counter and cabinet space.
3. Personalized Assembly: Be creative with arrangements based on your personal aesthetics and spice collection size. The sky, or more precisely, your wall is the limit.
4. Versatility: The natural wood finish of these crates subtly complements various kitchen décor schemes, and can also accommodate larger jars or bottles.
Remember good organization doesn't compromise on style. These mini wooden crates are proof that efficient and practical can also be charming and rustic.
Wooden Spice Rack With Canvas Sling Holder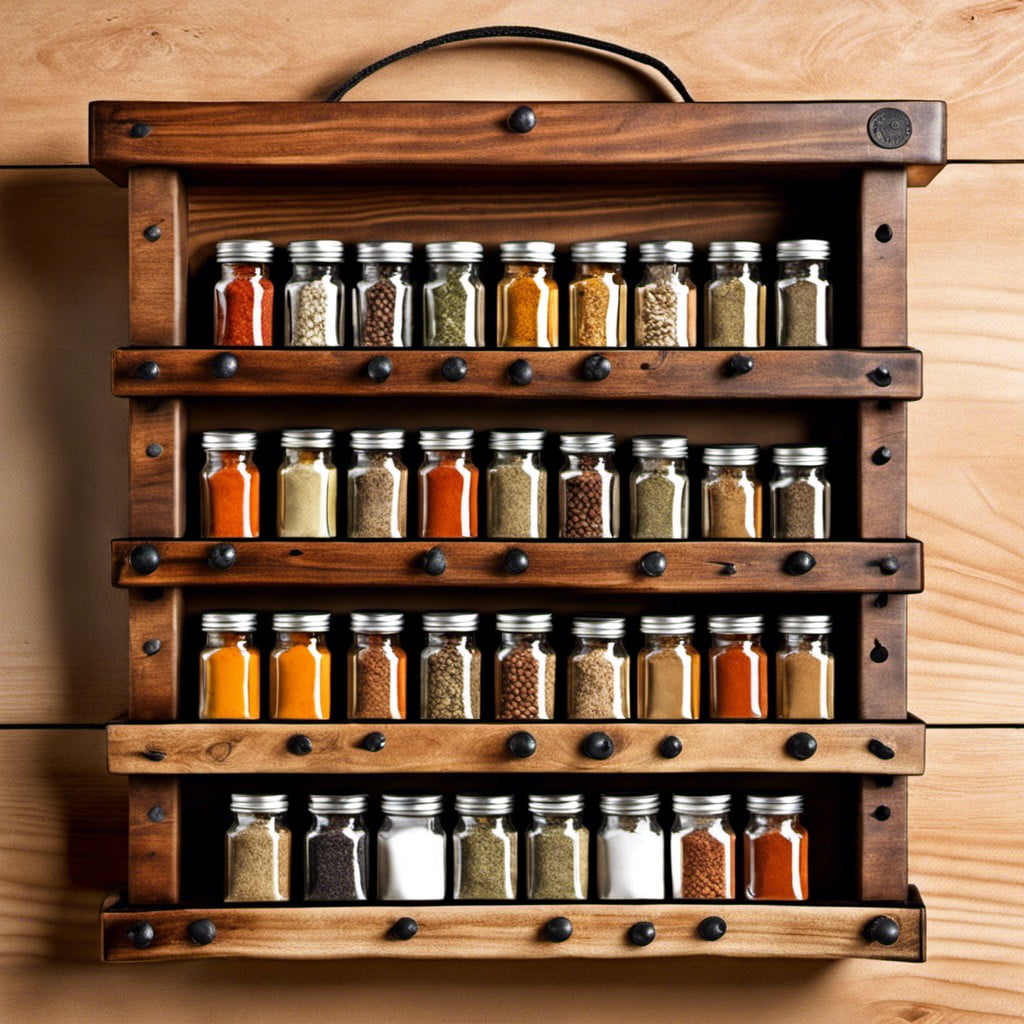 Continuing on, the Canvas Sling Holder is a unique and functional approach to storing your spices. The sturdy wooden frame provides support while the attached canvas pockets serve as individual compartments for each spice, offering an innovative alternative to traditional rack designs.
This particular spice rack is known for its flexibility. Canvas, being a robust yet manipulable material, adapts perfectly to the shape of spice jars, containers and bags, providing secure and easy access. The combination of wood and canvas adds warmth and character to your kitchen, enhancing the overall rustic theme.
Installation can vary based on your preference. With the assistance of wall hooks, it can be conveniently hung on a vacant wall or kept freestanding on the countertop for easy visibility and reach.
The Canvas Sling Holder requires minimal maintenance, a simple wipe down for the frame and a quick wash for the detachable canvas pockets will ensure longevity.
The variety in sizing options suits all kitchen sizes and spice collections, allowing for a customized and personalized approach to spice storage.
Ideas Elsewhere
Liked reading this? Here's more:
Recap: