Last updated on July 31, 2023
Discover a variety of creative and festive Thanksgiving chalkboard ideas that will add charm to your holiday celebrations, making them even more memorable.
With Thanksgiving just around the corner, it's time to start thinking about how to decorate your home for this special occasion. And what better way to add a touch of warmth and charm than with a Thanksgiving chalkboard? Whether you're hosting a big family dinner or just looking for some festive decor ideas, we've got you covered.
In this article, we'll share 20 creative and inspiring Thanksgiving chalkboard ideas that will help you set the perfect mood for your holiday celebration. So grab your chalk and let's get started!
In This Post:
"Give Thanks" Calligraphy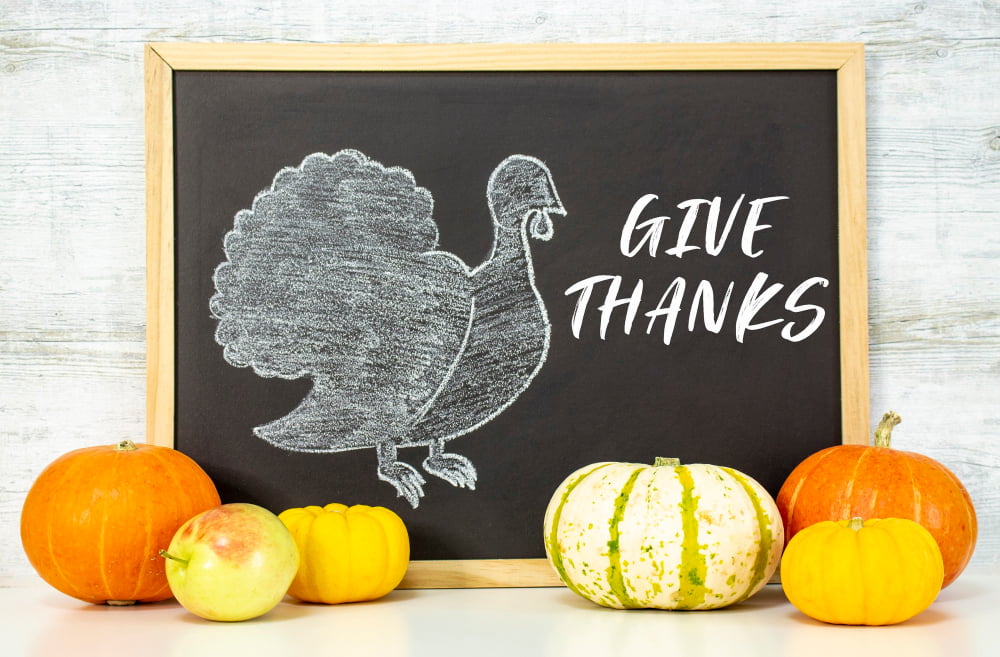 "Give thanks" calligraphy is a beautiful and simple way to decorate your Thanksgiving chalkboard. Using a white or metallic chalk marker, write the phrase in elegant cursive or bold block letters.
Add some flourishes like leaves, acorns, or pumpkins to make it more festive. You can also experiment with different fonts and styles until you find one that suits your taste.
This design works well as the centerpiece of your board but can also be used as an accent for other designs such as menus or gratitude lists.".
Turkey Chalk Drawing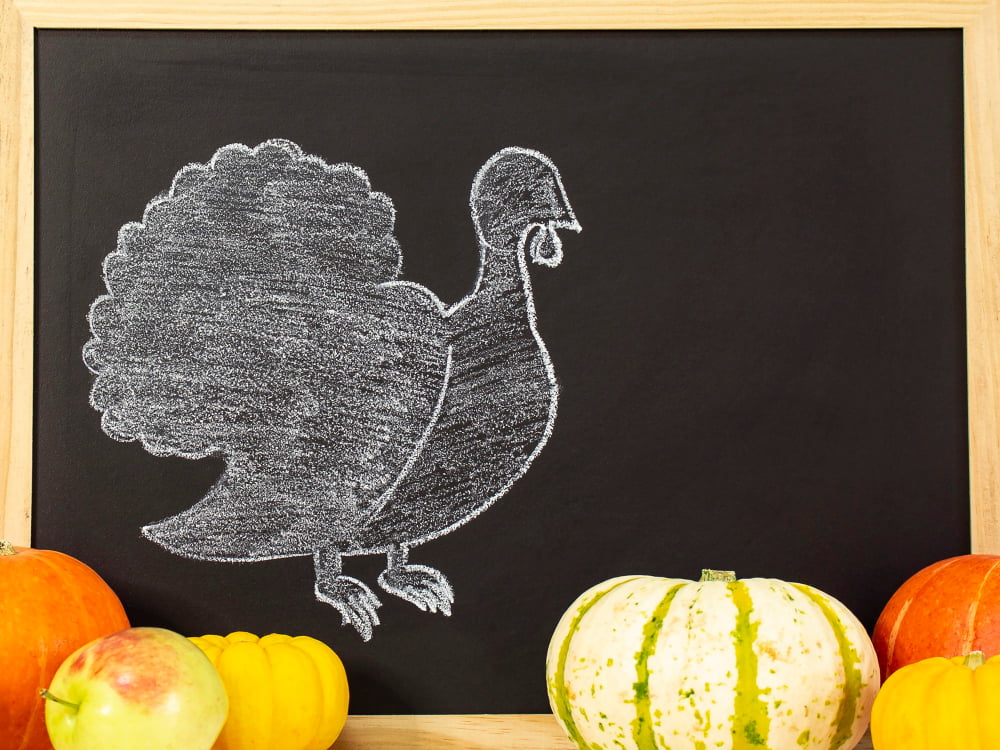 To make this design, start by sketching the turkey's body and head with brown or black chalk. Then, add feathers in various shades of orange, yellow, and red to create depth and texture.
Don't forget to draw the turkey's signature wattle (the fleshy protuberance under its chin) in bright red! add some finishing touches like eyes and feet using white or black chalk. This fun design will surely impress your guests while adding a festive touch to your home decor!
Autumn Leaves Border
It adds a touch of nature to your decor while keeping it simple and stylish. To create this look, start by drawing an outline of the border with white chalk.
Then, fill in the space with various shades of orange, red, yellow and brown leaves using different sizes and shapes to add depth to the design. You can also add some acorns or pinecones for extra texture if you wish! This beautiful autumnal theme will make your guests feel warm and cozy as they gather around your table on Thanksgiving Day!
Chalkboard Menu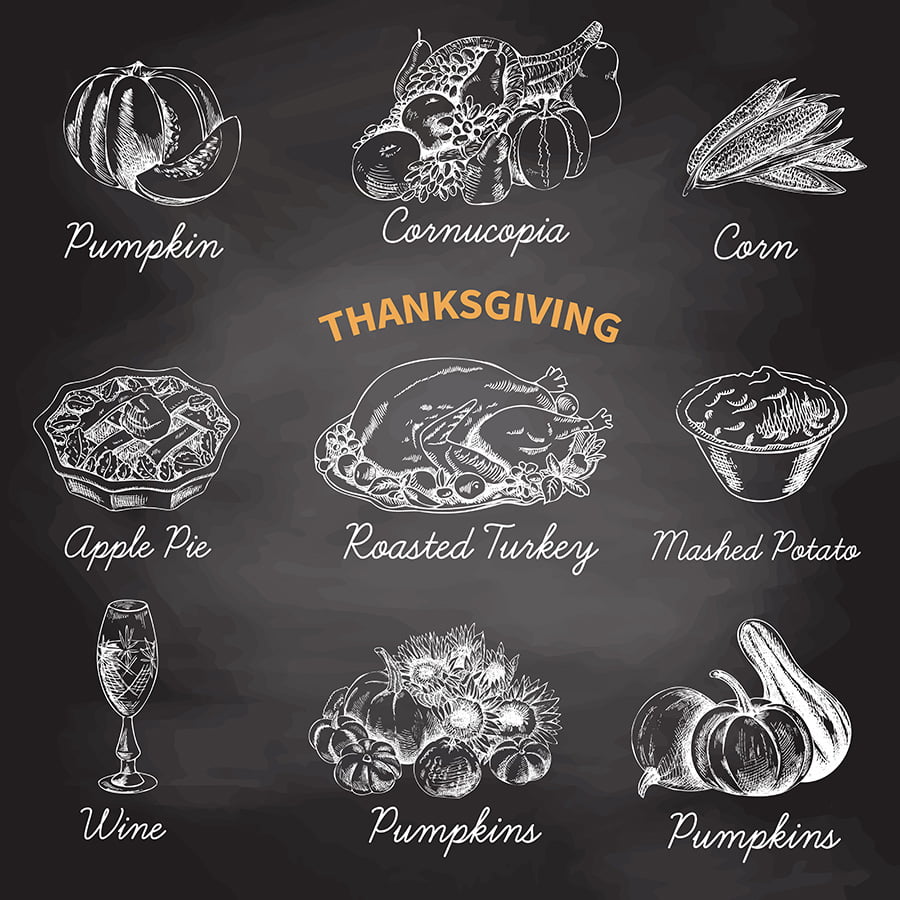 Not only do they look stylish, but they also serve as an easy reference for guests who want to know what's on the menu. To create your own chalkboard menu, start by choosing a large chalkboard that will fit all of your dishes and drinks.
Then, use white or colored chalk markers to write out each item in clear handwriting. You can even add decorative elements like illustrations or borders if you're feeling creative! Don't forget to include any dietary information (like gluten-free options) so everyone knows what's safe for them to eat.
Once you've finished creating your masterpiece, place it somewhere prominent where everyone can see it – like above the buffet table or near the dining area – and enjoy watching as guests admire both its beauty and practicality!
Gratitude List
Using a chalkboard to create your list can make it even more special and visually appealing. To create this design, start by writing "Gratitude List" at the top of your chalkboard in bold letters.
Then, use smaller lettering to write down everything you're thankful for this year – from family and friends to good health or new opportunities. You can also add some decorative elements like leaves or pumpkins around the edges of your board for an extra festive touch!
Pumpkin Patch Design
A simple pumpkin patch design can be created by drawing various sizes of pumpkins in different shades of orange and green on the bottom half of your chalkboard. You can also add some hay bales or autumn leaves for added texture and dimension.
To make it even more personalized, consider adding your family name or a Thanksgiving message above the pumpkin patch scene using contrasting colors like white or gold lettering on top of black background. This charming design will surely bring warmth to any room during this special holiday season!
Cornucopia Illustration
The cornucopia, also known as the "horn of plenty," is a symbol of abundance and prosperity. To create this design, start by drawing the outline of the horn with chalk.
Then fill it in with an array of fall fruits and vegetables such as pumpkins, apples, grapes, pears, squash and corn cobs. You can add some leaves or flowers to give it more depth and color variation.
This design works well on large chalkboards or as part of a larger Thanksgiving-themed display in your home décor setup!
Fall Garland Doodle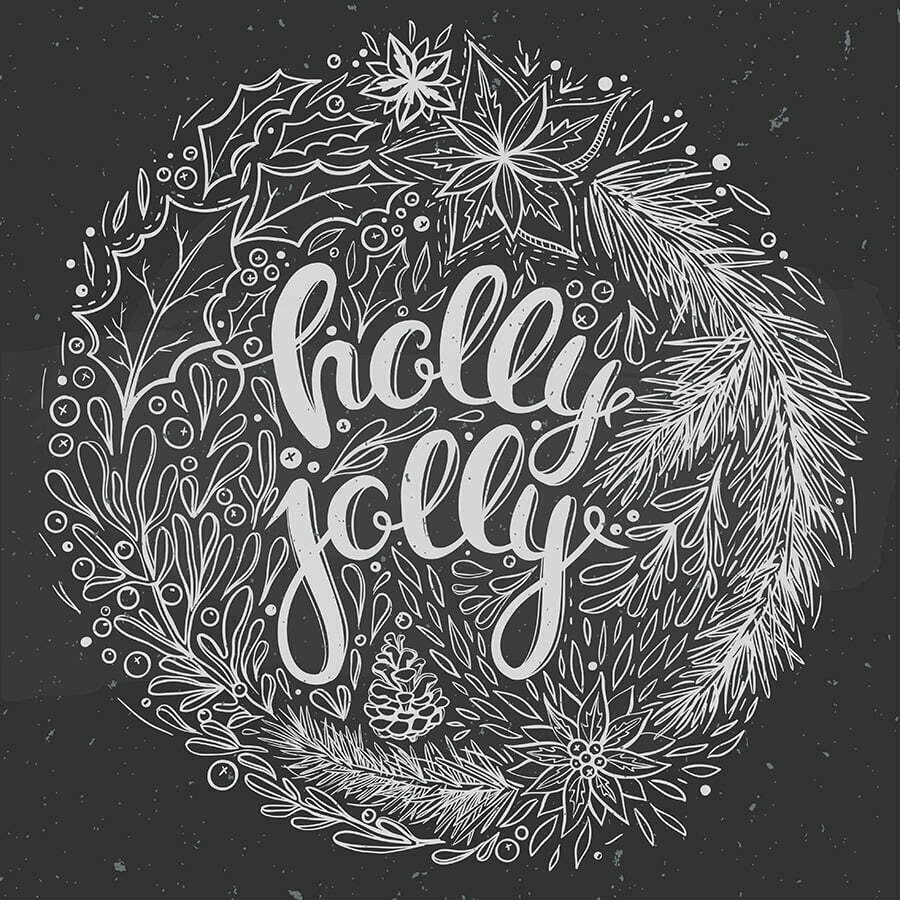 This simple yet elegant design features a string of leaves, acorns, pumpkins or other fall-themed elements arranged in a loop. You can use different colors for the garland and add some shading to create depth and dimension.
The Fall Garland Doodle is perfect for framing your menu or writing down your gratitude list on the chalkboard. It's also an excellent way to add some seasonal charm to any room in your home during autumn months!
Family Name Greeting
This can be done in various ways, such as using calligraphy or block letters. You can also add some decorative elements like leaves or pumpkins around the name to make it more festive.
A family name greeting on your chalkboard will not only welcome guests but also create a warm and inviting atmosphere for everyone gathered around the table.
"Thankful" Cursive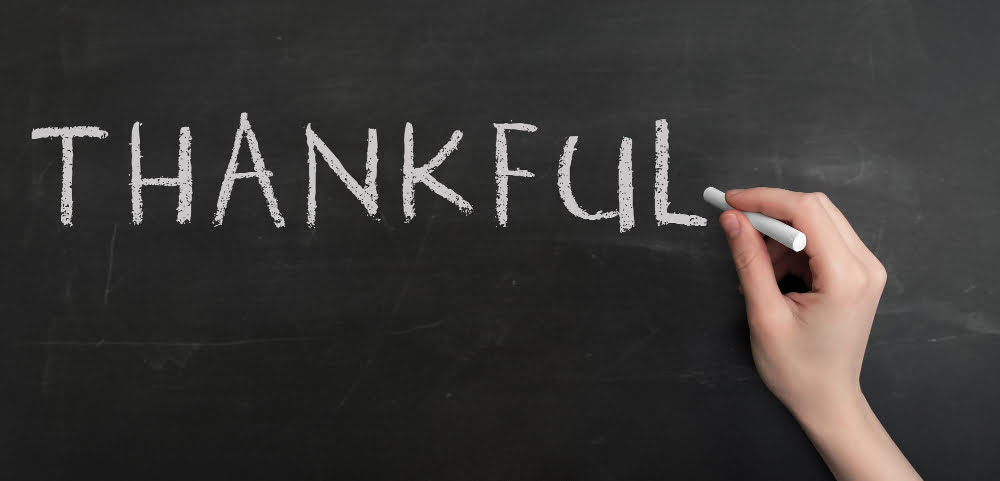 Using white or colored chalk, write the word "thankful" in flowing cursive letters on your board. You can also add small illustrations such as leaves or acorns around the word for an extra touch of fall decor.
This design works well as a standalone piece or incorporated into a larger display with other autumn-themed elements. The elegant script adds an air of sophistication while still conveying the message of thankfulness that is so important during this holiday season.
Harvest-themed Word Art
You can use words like "harvest," "bounty," or "abundance" in creative ways, such as incorporating them into an illustration of fall produce or using different fonts and colors for emphasis. Another idea is to write out a favorite quote about gratitude or autumn, surrounded by doodles of leaves, pumpkins, and other seasonal elements.
Whatever you choose, make sure the text is legible from a distance so that everyone can appreciate your festive message!
Pilgrim Hat Sketch
This can be drawn in black and white or colored chalk, depending on your preference. To create this design, start by drawing a large oval shape for the brim of the hat at the top of your board.
Then draw a smaller circle above it to represent the top part of the hat. Add details such as buckle accents and shading to give it dimensionality and depth.
This design works well as an accent piece or centerpiece on your Thanksgiving chalkboard display, especially when paired with other fall-themed illustrations like leaves or pumpkins around it.
Football Game Tracker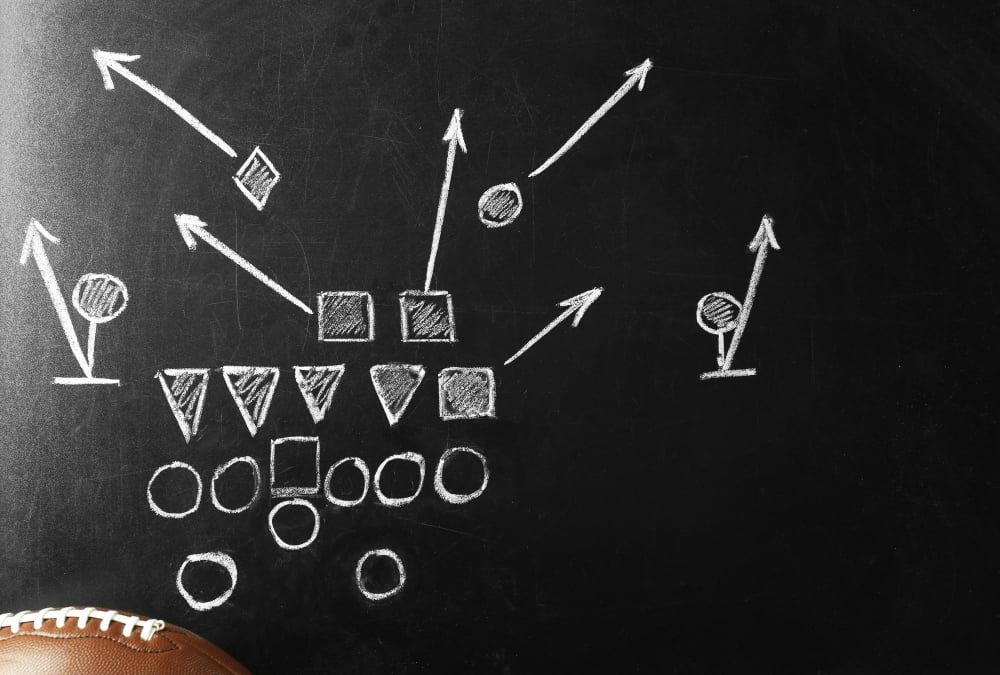 As the game progresses, update the score for each team in real-time. This will not only help you stay on top of all the action but also add an element of fun to your Thanksgiving gathering as everyone cheers for their favorite teams!
Chalkboard Countdown
You can create a simple countdown by drawing numbers on your chalkboard, or you can get creative with designs that incorporate fall foliage, turkeys, or other holiday-themed elements. Some people like to use their chalkboards as a visual reminder of how many days they have left to prepare for the big feast, while others prefer to count down the hours until dinner is served.
Whatever approach you choose, be sure to update your board each day so that everyone in your household can stay excited about the upcoming celebration!
Feast Reminder Notes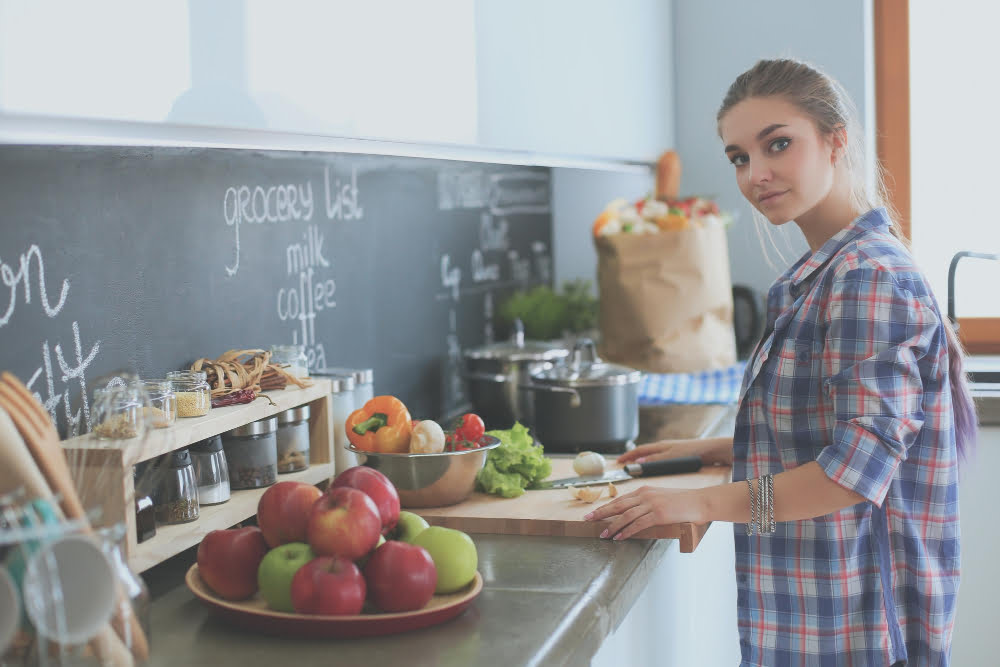 You can use your chalkboard to write down the names of each dish, along with any important details such as cooking times or special ingredients. This will help ensure that everything is ready and on time when it's time to sit down and enjoy the meal together.
Plus, it adds a fun touch to your decor while also being practical!
Pie Recipe List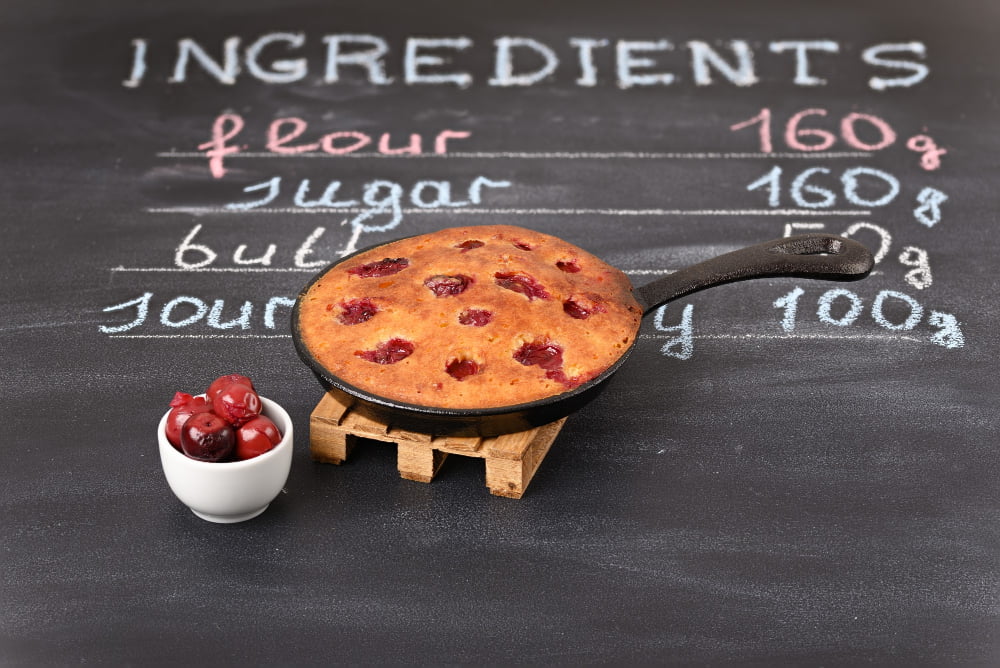 Don't forget to add the ingredients and baking instructions so that guests can recreate these delicious pies at home. A pie recipe list on your chalkboard will not only serve as decor but also provide inspiration for dessert options during the holiday season.
"Gobble 'til You Wobble" Quote
This playful phrase can be written in bold letters with colorful accents or drawn alongside a cute turkey illustration. You could also use it as part of a larger message, such as "Eat, drink and gobble 'til you wobble." The possibilities are endless when it comes to incorporating this fun saying into your Thanksgiving chalkboard decor!
Cozy Fireplace Scene
Draw a simple fireplace with logs and flames, then add some warm touches like blankets, hot cocoa mugs, and maybe even some roasted marshmallows. This design will create an inviting atmosphere for your guests while they enjoy their meal or relax after dinner.
You can also add a quote about the warmth of family or the comfort of home to complete this charming look on your chalkboard.
Chalkboard Invitations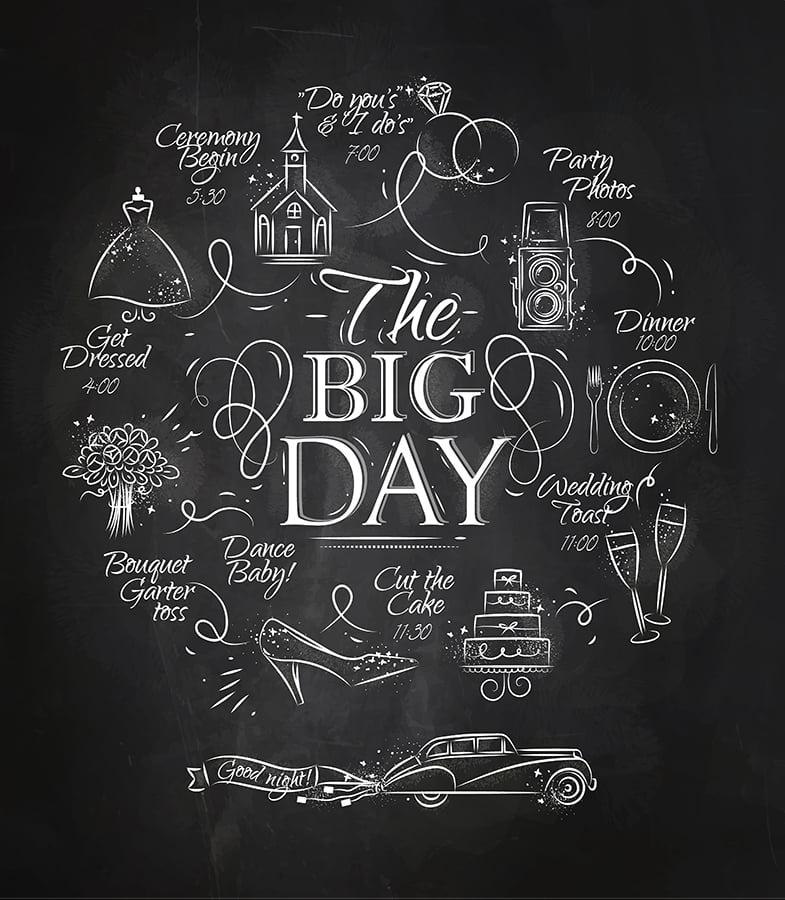 They can be personalized with the details of your event, such as the date, time, location and RSVP information. You can also add festive elements like fall leaves or pumpkins to make them more visually appealing.
Chalkboard invitations are easy to create using chalk markers or traditional chalk on a blackboard surface. Once you have designed your invitation, simply take a photo of it and send it out digitally or print copies for mailing.
Your guests will appreciate the personal touch that comes with receiving an invitation that was made just for them!
"Blessings" Script
This elegant cursive font can be used to write out quotes, verses, or simply the word "blessings". It adds a touch of sophistication and warmth to any space.
To make it stand out even more, try using white chalk on a black background or vice versa. You can also add some autumn leaves or other fall-themed elements around the text for an extra festive touch.
"Blessings" script is perfect for expressing gratitude during this special holiday season!
Liked reading this? Here's more: