Last updated on September 20, 2023
Installing door handles may seem like a straightforward task, but it is important to keep certain things in mind to make sure the job is done correctly.
From the size and type of handle to the necessary tools and measurements, there are a few essential things you need to take into account before getting started. 
Moreover, think about the style of the door and the color scheme of your home before making any final decisions.
We will talk about all the factors that come into play when installing door handles, so you can get everything right in one go. Read on to learn more! 
In This Post:
Different Kinds of Door Handles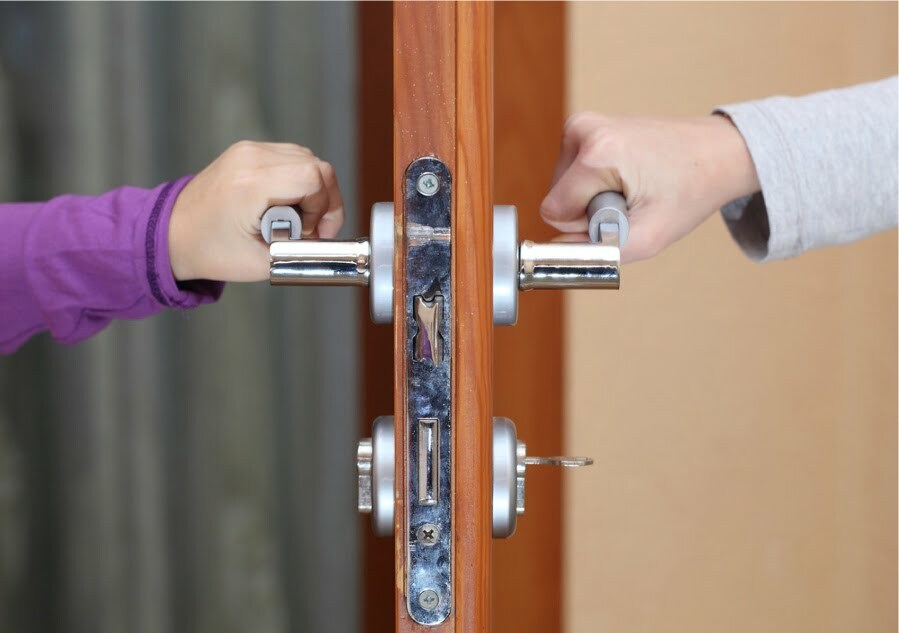 There are many different types of door handles to choose from, so make sure you have done your research before installing new handles on your doors. The most common type of door handle is the knob, which is a simple round or oval-shaped piece of metal that protrudes from the door.
Another popular type of door handle is the lever, which is a flat, rectangular piece of metal that is attached to the door with screws. There are also handles that are designed to be pushed down or pulled up in order to open the door, such as push-button and pull-handle designs.
If you have this kind of handle, you will need to ensure you know which way around it goes!
Make Sure Your Handle Is Positioned Correctly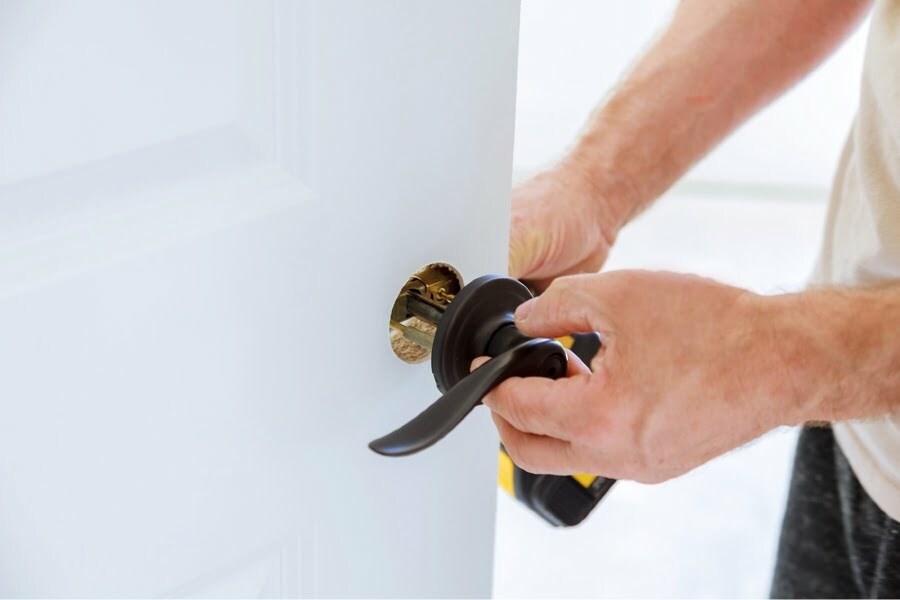 When installing a door handle, it is very important that you establish the correct position of the door lever handle before you begin the installation. This is because it will not work if it is installed the wrong way around.
The keyhole needs to be on the outside and lever handles will point toward the center of the door. Before beginning the installation process, learning how to reverse a door lever handle is advisable, so you have a handle that points the right way for your door. Not all handles are reversible, so make sure your door handles are reversible or are already the correct type for your doors.
Door Handle Materials
There are a variety of materials that can be used for door handles, ranging from traditional metals like brass to more modern materials like plastic. Generally, metal door handles have a nice, classy, and traditional feel.
Metal door handles are the most popular option and come in a variety of styles and finishes. Brass gives a luxurious look, while chrome is more modern and sleek. Think about the style of your home and which might work best for your personal taste.
Or, you can look into plastic door handles. These are a great budget-friendly option and are available in a wide range of colors, so you can match them to the walls. Or, paint your walls to match your dream door handles! Plastic handles are also easy to clean, making them ideal for high-traffic areas.
Some people even use glass or crystal for door handles. These can look particularly good on bathroom doors. They are easy to clean, modern, and trendy.
Finally, wood door handles add a warm and natural touch to any space. They are available in a range of wood types, from light maple to dark mahogany. Think about the durability and style of each kind of wood handle and go for something practical and stylish.
Choosing the Right Door Handle
Door handles are one of the most important aspects of any door, as your eyes are immediately drawn to this part of the door. Handles give a first impression of a home or a room and they need to be easy to use, practical, and also stylish. That being said, choosing the right one can be tricky.
There are a few things you should keep in mind when choosing a door handle, including the material, the style, and the finish. We have already covered the common materials used on door handles, but remember it needs to be aesthetically pleasing and functional.
You should also consider the finish of your door handle. A glossy finish may show fingerprints more easily, while a matte finish can be more forgiving.
The style of your door handle is also important to consider. If you have a traditional home, you may want to choose a more traditional-looking door handle.
However, if you have a modern home, you may want to choose a sleeker-looking option. There are many different styles of door handles available, so browse around until you find one that you love.
Finally, you should also keep in mind the size of your door handle. Make sure to measure the opening of your door before you purchase a handle so that you know it will fit properly. Door handles come in all different sizes, so choose one that is the right size for your needs.
DIY Installation vs. Professional Installation
Lastly, we should talk about installing your own door handles. This is not a terribly difficult task, however, if you feel more comfortable trusting in experts, you can call a joiner to do the hard work for you and make sure that it is perfect.
If you do decide to take on the job yourself, remember to look online for advice and top tips. This is the best way to ensure that you get the installation right.
Do not forget that door handles are an important aspect of health and safety in the home. Your doors need to open and close easily in case of emergencies, so if you do not think you can manage the installation, you should definitely seek help from a professional.
This has been a brief guide to installing door handles at home. There are several things to think about, starting with the type of door handle you want for your home. If you decide to go for a handle that you push down, you will need to make sure you have it the right way around, if it is reversible.
Moreover, you should think about door handle materials, finish, and style. Try to match the door handles you choose to the style of your home. Consider the size and durability of handles as well. Lastly, if you think you will need help installing your door handles, call an expert.
Liked reading this? Here's more: