Last updated on September 23, 2023
It is not uncommon for a garage to be the most used storage room in a house. You can find everything from lawnmowers, bikes, and snow shovels to various tools.
If you are looking to make your home more efficient with less clutter, then below are some essential things that you need in your garage.
In This Post:
Toolbox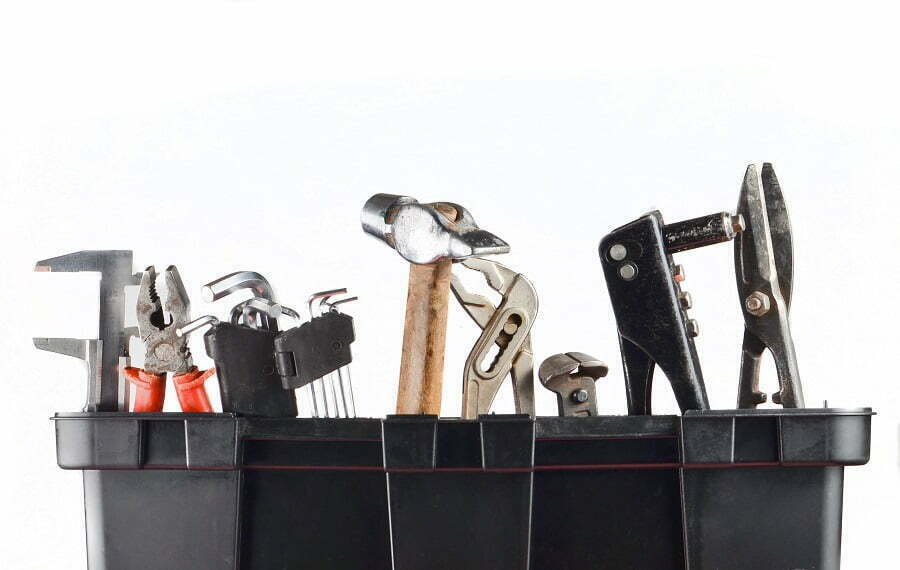 One of the primary things that should be in your garage is a toolbox containing all of your tools and supplies. Your toolbox should be complete with a hammer, screwdrivers of different sizes, pliers, wire cutters, and strippers to name a few.
As much as possible, you should try to purchase your tools with a warranty. This will allow you to replace them if they break or get lost without having to spend a lot of money. Make sure that your toolbox is equipped with a flashlight as well. This is a necessary item that you should have, as it can come in handy for more reasons than just tightening bolts.
Cordless Drill
Another essential that you need in your garage is a cordless drill for doing various tasks around the house and completing DIY projects with ease. A battery-powered drill will allow for more flexibility without worrying about finding an outlet to plug it into. It also allows you to conserve energy, which can be important to many homeowners.
Air Compressor
An air compressor is essential for various projects around the house or garage. It can be used to fill car tires, operate pneumatic tools and even function as a nail gun. The best thing about an air compressor is that it does not need electricity like other power tools do, which makes it perfect for outdoor use.
Workbench
Many homeowners will tell you that you need to have a workbench in your garage. This is where you can get all of your DIY projects done, and it will allow for more room to store some items than on the floor or tables. If you do not have enough space, then consider getting a foldable one so that it can be put out of sight when needed.
Table Saw
Along with your workbench, you should also consider getting a table saw to foster your DIY home projects. The woodworking specialists behind Saw Advisor suggest that you get one with a metal stand that can support the weight of your saw. They further recommend getting one with a guide arm and a miter gauge, which will allow you to cut through wood accurately without any problems. This will prove to be beneficial in the long run.
Ladder
Another essential thing that you need in your garage is a ladder for making it easier to reach high places with both of your hands-free to do the things you need to do. A folding ladder will help minimize the storage space needed when not being used because it can be easily folded. These ladders are often made with lightweight aluminum and have a wide top step for added stability.
Fire Extinguisher
Fire extinguishers are another essential thing for everyone's garages. If you are looking for a fire extinguisher that will suit your needs, then you should consider getting one with an easy-to-use metal pull pin. It is also important to get one that has the correct rating according to the type of work you do in your garage. This can save lives if there was ever a need for it.
Electric Radiant Floor Heating System
One essential thing that everyone should have in their garage is an electric radiant floor heating system for the winter months. It is important to get one that does not require a lot of installation work. You can choose from systems with mats, which you should place underneath the garage door to warm up your floors while preventing cold air from entering areas where it is not necessary.
Storage Units
Lastly, storage units can be very helpful in keeping your garage organized. You should consider getting ones that are made from steel wire with a powder coat finish to prevent them from rusting over time. Another important thing to keep in mind is the size of these units, or how much weight they will hold before bending or breaking. There are several different sizes and types of storage units available, so you should be able to find one that suits your needs.
A toolbox is a must-have for every car. But you need more than just tools to keep your car running smoothly as well as keep up with DIY home projects. You also need the essential things listed above stored in your garage, so make sure they are always available.
Liked reading this? Here's more: