Last updated on August 5, 2023
Wall decorating is something that many people don't take the time to do. It's not like wall painting, which usually requires a lot of prep work and knowledge on how to paint walls.
Wall decorating can be as simple as buying some decorations or wall art. There are plenty of ways you can make your home feel fresh and new, so read on to learn what to do!
In This Post:
Consider Wood Wall Paneling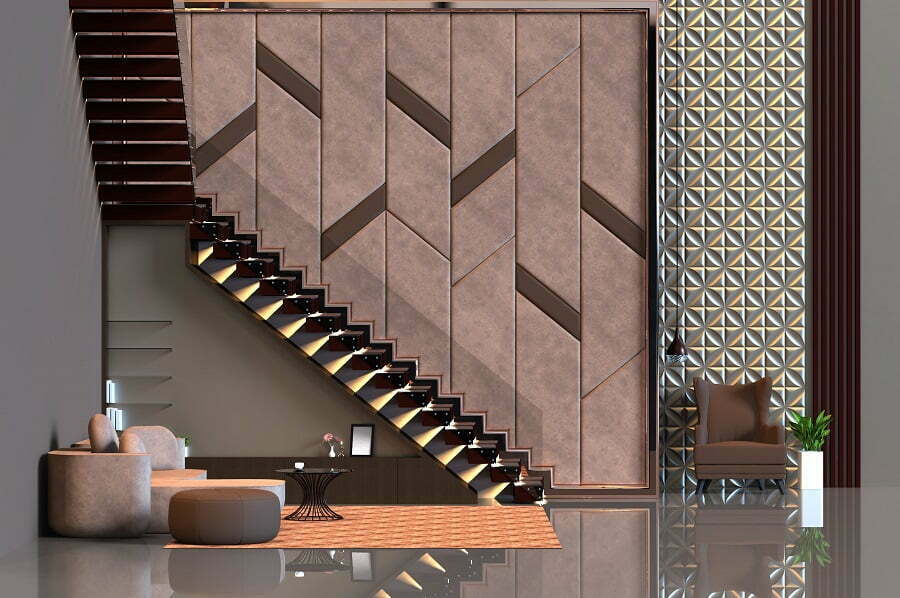 Paneling can be a great addition to wall decoration. It has a rustic feel to it, which can be used in different spaces of your home. First, you should consider the size and shape of your wall area before choosing the wood wall panels that you want to put up. You also need to know exactly what type of look you're going for and ensure that the design works with both the space and its surroundings. 
Wood wall paneling is typically installed horizontally on top of drywall instead of directly onto brick, concrete walls, or other surfaces because they don't hold nails well enough on their own without assistance from an adhesive such as construction adhesives. The most common types of wall paneling are wallboards, planks, and tongue-and-groove wood panels.
This type of paneling can be made from different types of real or manufactured wood. Whether it's oak wall paneling, pine panels, or hardwood flooring, the choice is yours!
Paint Your Walls a Different Complementary Colors
Get creative when painting your walls and do a room in two different colors. Pick colors that go well together to create the effect of decorating your wall or giving them a new look. For example, if one wall is red then paint another wall blue so they compliment each other in some way rather than clash with each other which would be counterproductive instead of effective for wall decoration purposes.
Paint it in a way that the walls facing each other are painted the same, while the ones next to each other are different. Here are some complementary color ideas that go well for house walls:
Yellow and purple
Blue and orange
Green and red
White and pink
Get Creative with Natural Patterns
Feel free to add some natural patterns to your wall. Not only are natural wall decorating ideas becoming more popular, but they are also the perfect way to give any room a fresh new look that will make people want to come in and see what's going on behind those walls. It doesn't matter if there isn't much space for hanging up pictures or paintings, you can still create some stunning wall decorations with nature-inspired prints by adding them as wall stickers.
That way you don't have to worry about measuring out the right spaces for each print because wall decals already come in pre-cut sizes which means it won't be difficult at all when applying them onto the wall using just one single squeegee tool that is included with every order.
Add circles, flowers, and even wall letters to your wall with the help of wall stickers that have a natural feel. You can also achieve a nice result by adding branches or bark patterns on your wall because they will create an interesting effect which is why most people choose to decorate their walls in this way.
Hang Up Some Wall Art
Art always gives the walls a new look and a whole different feel. Try hanging up some abstract wall art, such as paintings or framed photography to give the walls a more sophisticated vibe. If you don't have any wall art right now, there are plenty of online stores that offer great options at affordable prices. In fact, many retailers even provide discounts on multiple-piece orders which can save you time and money!
There is no need to break the bank in order to get good quality items for decorating your home either. Just be patient when shopping around so that you find something within your price range without compromising too much on style. For example, try looking for sales offers while also considering whether it will fit into your current décor theme. This way, you will be able to get a good look for less.
Add Wallpaper to One of the Walls in Your Room
A great way to break the monotony is to add wallpaper on one wall in the room. That way, you can have some fun by choosing one that reflects your personality and style as well as injects interest into an otherwise plain wall. Wallpaper can be used to represent all sorts of themes or styles so there is always something for everyone. If you're looking for wallpaper inspirations, here are some wallpapers that could be an ideal choice.
Modern wallpapers with abstract prints and bright colors
Stripes, polka dots, or animal skin wall coverings for children's rooms
Floral wallpapers if you want something feminine in the room to balance out your masculine furniture pieces
Put Up Shelves on the Wall for Displaying Books and Other Decorative Items 
Shelves are both good for practical and aesthetic purposes, and wall shelves are no exception. They can hold much more than books alone, and they also give a wall an extra touch of style and elegance. Hanging shelves on the wall is one way to decorate them as well as giving your home or office space a new look by bringing in some color, texture, design elements, etc.
Hang a Mirror in an Interesting Place in a Way That It Reflects Light Around the Room 
A mirror can add a lot of interesting detail to a wall. One of the easiest ways to add interest is by placing it in an area that gets light from another room. For example, if you have a wall that's near a window or door and doesn't get much natural lighting, place a mirror on this wall so when someone walks into your home they can see themselves reflected in the mirror. 
The walls of your house are crucial in showing your identity, creativity and they help make it feel more like home. Add wood panels or wallpaper and paint the walls in two different colors. Hang up some art or shelves to make it more complex and draw some natural patterns onto the wall after you've painted it. Add some more light by placing a mirror correctly and you'll always have a bright room filled with nice decorations. This will make every minute inside enjoyable!
Liked reading this? Here's more: