Last updated on September 21, 2023
Everyone likes to have a good-looking exterior in their houses. Whether you are planning on buying new furniture for your home or not, the first thing that will catch people's attention is your front yard and house entrance.
Good front yard and backyard decoration can boost the overall appearance of your house and make it look more inviting to family and friends.
Here are some of the best tips that you can consider if you want to have a beautifully decorated backyard and house entrance.
In This Post:
Start With Improving Your Front Door Appearance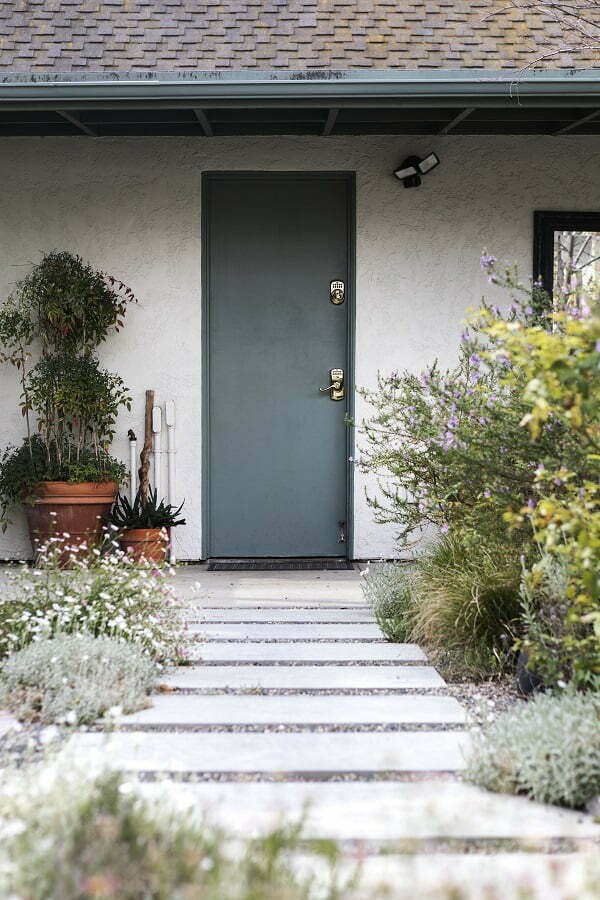 A beautifully decorated front door with an artistic welcome mat is the first thing that people will notice when they visit your house. Your front door can either make or break the overall appearance of your home exterior, so it is important to consider this element in decorating.
Start with replacing your old parcel delivery box with a new stylish one. There are many different types available in the market today so you can choose the one that would fit your front door to perfection. You can also upgrade your old welcome mat by buying a new one that would go perfectly with the design of your front door and house exterior. Even though it might not seem like a big deal, these little changes can go a long way in making your home look more inviting.
Invest in Good Quality Outdoor Furniture
Nothing complements a nicely decorated backyard than good quality outdoor furniture. Outdoor decor and furniture come in different price ranges, styles, textures, and designs. You can buy hanging chairs or hammocks if you want to relax after a long day at work, or wooden benches and patio tables if you want to enjoy breakfast on weekends with family and friends.
Additionally, when shopping for patio and outdoor furniture, you should also keep in mind where you will be placing it. For example, if you plan on buying a wooden bench with colorful cushions to enhance its appearance, then make sure that the bench is placed in front of flowers or plants so that the beautiful colors of the cushions can be seen from several angles.
Add Flowers, Plants, and Trees Near the Entrance
If you want to make your front yard and house exterior look more inviting, then it would be wise to add some greenery such as flowers or potted plants near the entrance. You can also add some trees and shrubs to your garden.
Flowers and plants can help decorate your front yard and house exterior, while also improving the overall appearance of the area by making it look more lush and vibrant. You should however take care not to overdo it, as large quantities of flowers or plants can make a small house exterior look overcrowded and messy. Also, make sure to pick out plants, flowers, and shrubs that suit the climate in your area.
Add Some Decorative Lighting to Your Walkway
Adding some decorative lighting to your front yard and house exterior is another good way of making it look more appealing.
You can for example use string lights to decorate the front porch. String lights are cheap, easy to set up, and add a nice romantic or festive mood to any outdoor area. You should try buying lights that have different colors such as white, yellow, red, purple, etc. These types of lightings will surely add beauty and flair to your house exterior.
Additionally, you may also want to invest in solar-powered landscape lamps that save money and do not require electric wiring. Solar-powered lamps can be installed n front porches and near walkways without requiring an external power source since they get their energy from the sun.
Place Outdoor Statues Near Your House Entrance
If you are into arts and crafts, then one of the best ways of making your house exterior look more appealing is by placing some decorative or artistic statues near your entrance.
For example, wooden statues with painted colorful flowers can work well if you want to give a boost to your front yard decoration. You should try painting the statues in different bright colors so that they catch attention from afar.
Some of the most commonly used outdoor statues are angel statues, mermaids, swans, fairies, etc. Place these types of decorative pieces near your front porch for added effect.
Add Some Outdoor Cushions or Pillows
Adding cushions or pillows to your backyard can improve its overall appearance considerably. You can use colorful cushions to decorate your garden furniture, sofas, benches, etc. Cushions work well for outdoor furniture because they not only add a comfortable look to them but also make them cozier and inviting.
Additionally, you may want to place some floor pillows or beanbags near the pond or water fountain if you have one in your backyard. Floor pillows are wonderful for sitting down and enjoying nature as they provide extra comfort while also adding some panache to the overall backyard appearance.
As you can see, making the most out of decorating your front yard and the backyard is not difficult at all. All you need is some creativity and budget allocation. Try following the tips mentioned in the article, and you can rest assured that your house exterior will look ten times more appealing than before.
Liked reading this? Here's more: