Last updated on November 30, 2023
Many homeowners are afraid of home renovations or remodeling projects, which is entirely understandable. Not only do they consume all of your spare time, money, and sometimes even the will to live, but it's also not rare for these projects to grow ever more unpredictable and go beyond the anticipated budget and timeline. However, you shouldn't get discouraged from renovating your home just because it requires some effort.
Fortunately, with proper preparation and research, you can plan and complete a successful but still stress-free renovation. Below, you will find a complete guide to help your remodeling projects flow as smoothly as possible. Apart from setting up a renovation budget and finding reliable contractors, other steps include creating a realistic timeline, getting the necessary permits, and decluttering.
Read on and start planning your future renovation!
Set Up a Realistic Budget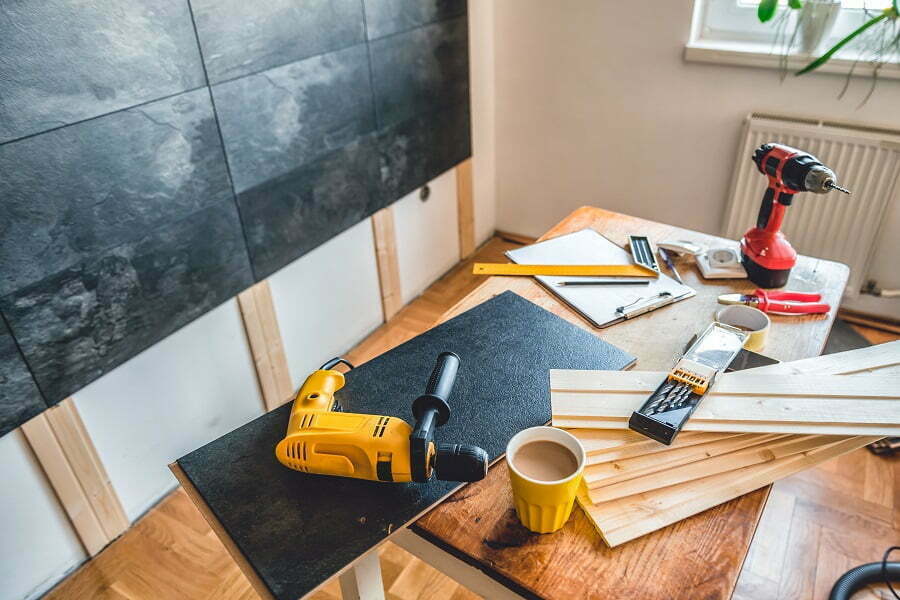 The first and most important step of the renovation planning process is creating a realistic budget. You should consider the cost of materials, contractors, and labor before you even get started with any work.
To avoid getting into too much debt with your home renovation project, you should be able to cover all of your expenses without taking out a loan or any other form of credit. Don't forget about the following expenses:
building permits,
professional design plans,
materials,
contractor fees,
labor costs,
utilities during construction,
homeowners insurance premiums.
Hire a Professional Contractor
When you are planning to renovate your home, the last thing you want is to live in a construction zone. That is why it's vital to hire a professional contractor. The more experienced the contractor is, the fewer problems you will encounter, and the less time you will have to spend cleaning up after them. For example, if you have been dreaming of getting reclaimed wooden flooring into your house, you should find someone who knows how to work with such flooring and won't ruin the materials.
If you're considering a DIY approach for smaller home projects, it's essential to equip yourself with the right tools. For woodworking tasks, such as custom shelving or minor repairs, a reliable sawing band is indispensable for precise cuts. Similarly, a drill press can be a game-changer for projects requiring accurate, consistent holes. These tools not only enhance the quality of your work but also ensure safety and efficiency. Remember, while DIY can be rewarding, it's important to realistically assess your skills and the complexity of the project. For more intricate renovations, like installing reclaimed wooden flooring, it's still advisable to defer to the expertise of a professional contractor.
However, you should always be aware that not all contractors are reliable. To avoid encountering any issues, you should do thorough research, read opinions, and ask for references.
When choosing a contractor, consider their experience, license/certification, and insurance. If possible, speak with the people who have worked with your potential contractor before and make sure they really are worth your hard-earned money; you can also ask around, especially if you know that some of your friends or family members have completed similar projects in the past.
Thankfully, you can have some of the most reliable contractor services right at your doorstep. According to this professional roofing company in Ventura County, you can find trustworthy and well-qualified professionals who will get the job done efficiently and to a high standard. Just make sure to do your research and ask for referrals before hiring any contractor.
Declutter Your Home
With a clear design project in place, it's time to get started with decluttering. This part of the remodeling process can be challenging because it involves getting rid of all the things that have accumulated throughout the years.
However, if you want your home renovation to go as smoothly as possible and for your home to be more comfortable when you move back in, decluttering is an essential step in the planning process. So, before you put up any drywall or do any serious construction work, make sure you remove all non-essential items from your home and sell them or donate them to charity.
Get the Necessary Permits
After you have finished decluttering and organizing your home, it's time to get the necessary permits and licenses. Depending on the scope of the project and the type of materials you plan to use, there may be several permits that you will need to obtain prior to the renovation process. In addition to building permits, you may need a permit for electrical upgrades, plumbing, gas, fire safety, etc.
It's important to note that you will often have to wait a few days or weeks after applying for certain permits before they are issued. That is why you should make a formal application for all of your needed permits at least a month before construction begins. However, if you cannot afford to wait for a couple of weeks for the permits to be issued, consider contacting a professional property management company to ensure that you get all of the necessary permits on time.
Plan Your Timeline
Once you have obtained all required permits and hired a professional renovator, it's time to create a timeline for your project. Avoid setting unrealistic deadlines for your contractors and making plans that are too ambitious. Take into consideration weather conditions, holidays, and any other potential issues that may influence the renovating process.
For example, if the renovation project will take more than a month to complete, you may want to consider hiring a property manager to oversee the project and its progress. The best way to ensure that your home renovation goes as smoothly as possible is to plan for any potential problems and obstacles and make sure you have a backup plan in case something goes wrong.
The Takeaway
Your home is your sanctuary, a place where you can relax and get away from the rest of the world. That is why it's so important to make sure that you are able to enjoy it even after you've made some changes. As such, you should always be prepared for anything and create a realistic budget and timeline before starting your project.
Even though the home renovation can be very stressful and time-consuming, it is possible to achieve a successful and stress-free project with the right planning. All you need to do is organize your time and finances, find reliable contractors, and create a realistic timeline that is mostly free of unexpected delays and complications. Happy renovating!
Liked reading this? Here's more:
Recap: