Last updated on August 3, 2023
Security is something that every person needs, especially when it comes to their current homes or moving into a new one. Making sure not only that their belongings are secure but also themselves is a top priority for homeowners.
Choosing the right kind of security for your home and needs will help to make you feel safer within your home and when you're away. In this article, we will go over a complete home security guide for people buying new homes.
In This Post:
Making Sure Your Doors Are Secure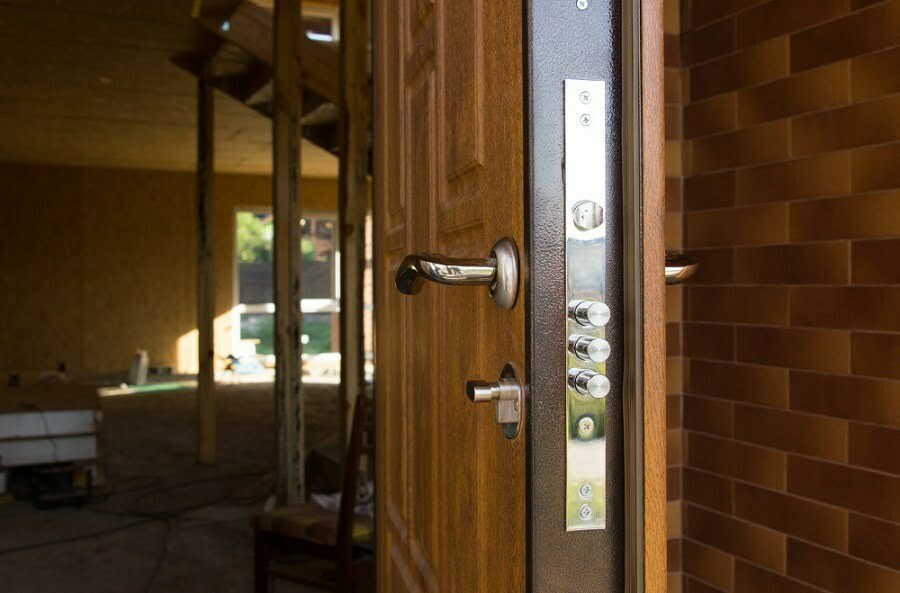 Making sure your doors are secure is a number one step toward securing your home. Checking your door's exteriors to ensure that the frames and overall wear of the door are in good condition will help to prevent easier access into your home. Making sure the doors are locked when you go to bed or aren't home is a must to keep your house safe.
Investing in a wireless door alarm is an option for security as when the door is opened the alarm will go off but doesn't if the glass is broken to get in. It's less efficient than a full security system but is an affordable option for those who can't buy a full-fledged security system. 
Another option to secure your door is adding door reinforcement hardware. Many burglars don't know how to pick a lock and don't want to take the time to do so. Instead, they will get into your home with a well-centered kick or full out ram their bodies into the door to break it by splitting your door jamb.
With door reinforcement hardware installed this will prevent a burglar from just kicking your door down and walking in. Heavy-duty strike plates also help to prevent and withstand the door from caving in from being kicked.
If you are someone with sliding doors investing in a patio door lock is beneficial to you. Placing a foot style lock is one option or there is a lock that can be installed at the top of the door. Both have a bolt that goes in the groove of the door making it unable to open. Another option for sliding doors is a heavy stick or pole but that's not as pleasing to look at.
Window Security
Windows next to doors are the second most important spot to secure your home. Again checking the frames of your windows, the glass for chips and breaks, and the locks you currently have. Making sure they are in good condition will help to secure your windows easier. Some things you can do to make your windows more secure is adding window sensors and glass break sensors that will alert you with an alarm.
Reinforcing your windows with window security film is also a generally inexpensive option. If you are someone that really wants to make sure no one comes in, adding window bars is also available. A cheaper and possibly more pleasing to the eye option is planting prickly bushes under your windows to deter anyone from going near.
Adding new lock hardware to your windows is also a good idea to not only keep it updated but also make it harder for anyone to try to get in.
Adding Lights
If anyone tries to break into your home the last thing they want is to be in broad light doing it. Using an outdoor light system will deter people from trying to get too close or break in. Some great options for lights are motion sensor systems, they will turn on as soon as something crosses their field of view. You can also use solar-powered light systems to save money that will turn on once nightfall comes.
Timed lights are also great that way you don't have to think about turning your lights on as they will just do it themselves on a set time, even if you're away from home. Placement of your lights is crucial, making sure pathways, doors, side alleys, driveways, and lawns are all covered will prevent anyone from getting close and trying to get in.
Garage
Many forget to provide extra security for their garage when it is a very easy target point. Locking the doors to the garage is very important especially if your house is connected to it. Keeping the windows covered will help to eliminate a view of what is inside, installing a driveway alarm can also help to alert if someone is trying to break in or has pulled into the driveway.
Adding extra locks to your garage door will help with securing the door if you're going away and don't want to rely solely on a code-based lock. If you have a garage door opener do not leave it in your car but keep it with you. If someone were to break into your car then they could also access your garage if the remote is inside.
Using Cameras
You can invest in cameras that just work on their own or full-out security systems. Cameras are a fabulous way to keep an eye on your property and home. Cameras make it easy to capture if anyone steals anything from your door or if someone does break in you can identify them with the footage collected.
It is a good idea to use a camera system that you can control and view from an app on your phone so that it can go anywhere with you. Making sure your system has all the features to help protect your home is very important. Some features you should include in your camera system is:
Night vision
Motion sensored
Wifi compatible
It has a talking system built in
A storage system
And weather proof for the outdoors
Placement, like your lights, will help benefit better security. Placing cameras on your doors, windows, porch, garage, facing the street and lawns, sides of your home, and backyard will help to keep all corners covered.
Security Options to Consider
With the main security options and points covered there are some smaller things to think about when protecting your home and belongings. If you are someone with a spare key, instead of leaving it under the rug or somewhere obvious, invest in a key lockbox that you can hide anywhere and need a code to get in.
Getting a secure mailbox to protect your mail is also a good idea to protect your information. Having a mailbox that once items are put in it they cannot be retrieved without a key or code. This can save your mail from being stolen or tampered with.
Investing in a safe for your home is a good idea as well to keep your most valuable belongings inside. When picking a safe make sure you can either bolt it to the floor in a secret place or install it in a wall behind a picture. With it being installed in a wall or attached to the floor a thief cannot take it with them.
Lastly, securing your home doesn't have to be hard or expensive. There are plenty of inexpensive and reliable options as listed above to help keep your new home safe. This guide will hopefully give you some ideas of what you can do to protect your new home.
Liked reading this? Here's more: