Last updated on October 30, 2023
Revamp your culinary space this festive season because this article is filled with unique, cozy Christmas kitchen decorating ideas that offer warmth and cheer.
"I take great pride in crafting this article and designing these unique seasonal kitchen decorations, and my deepest wish is that you immerse yourself fully in its inspiration and experience the same immense joy as I did creating them."
Transforming your kitchen into a cozy Christmas haven can be achieved with a few simple decorating ideas. Think twinkling lights, festive wreaths, and charming holiday-themed accessories.
This article will guide you through various ways to create a warm and inviting kitchen that embodies the spirit of Christmas. From utilizing unused spaces to incorporating Christmas colors, you'll discover how to make your kitchen the heart of your holiday home.
Detailed instructions, practical tips, and creative ideas are all included to help you design the perfect Christmas kitchen.
Festive Tablecloth and Placemats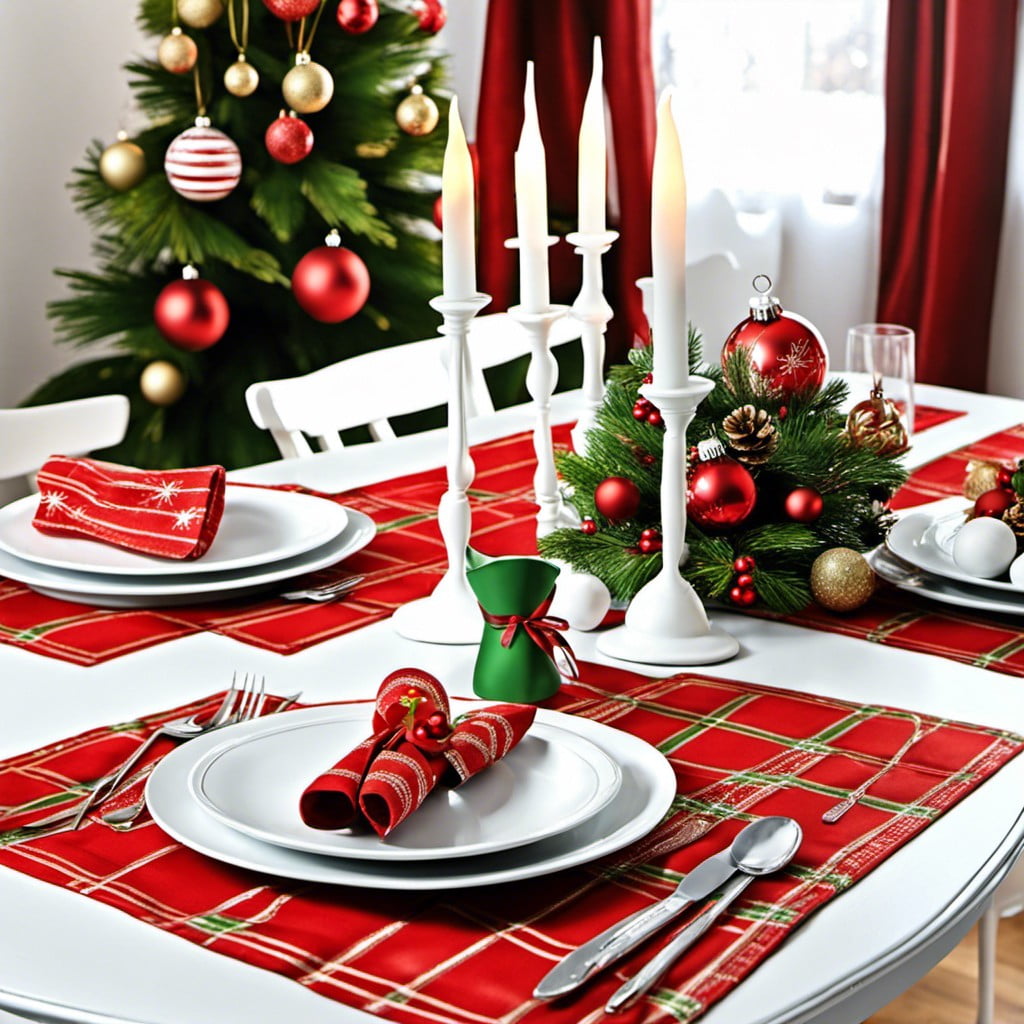 To instantly infuse holiday spirit into your kitchen, dress your table with merry prints. Seasonal motifs, like reindeer, snowflakes, or holly leaves, add a delightful touch. Go for traditional shades of red and green or choose metallics for an elegant effect. Should you prefer minimalism, select designs in white and silver. A centerpiece with pine cones and red berries could coordinate beautifully with your chosen theme.
Remember, placemats aren't just practical but offer another opportunity for festive customization. These can match your tablecloth or contrast it to create an interesting, layered look. For example, plaid placemats can sit beautifully against a solid-colored tablecloth. Just ensure that the colors tie in with the overall decor for a harmonious aesthetic.
Christmas Themed Dishware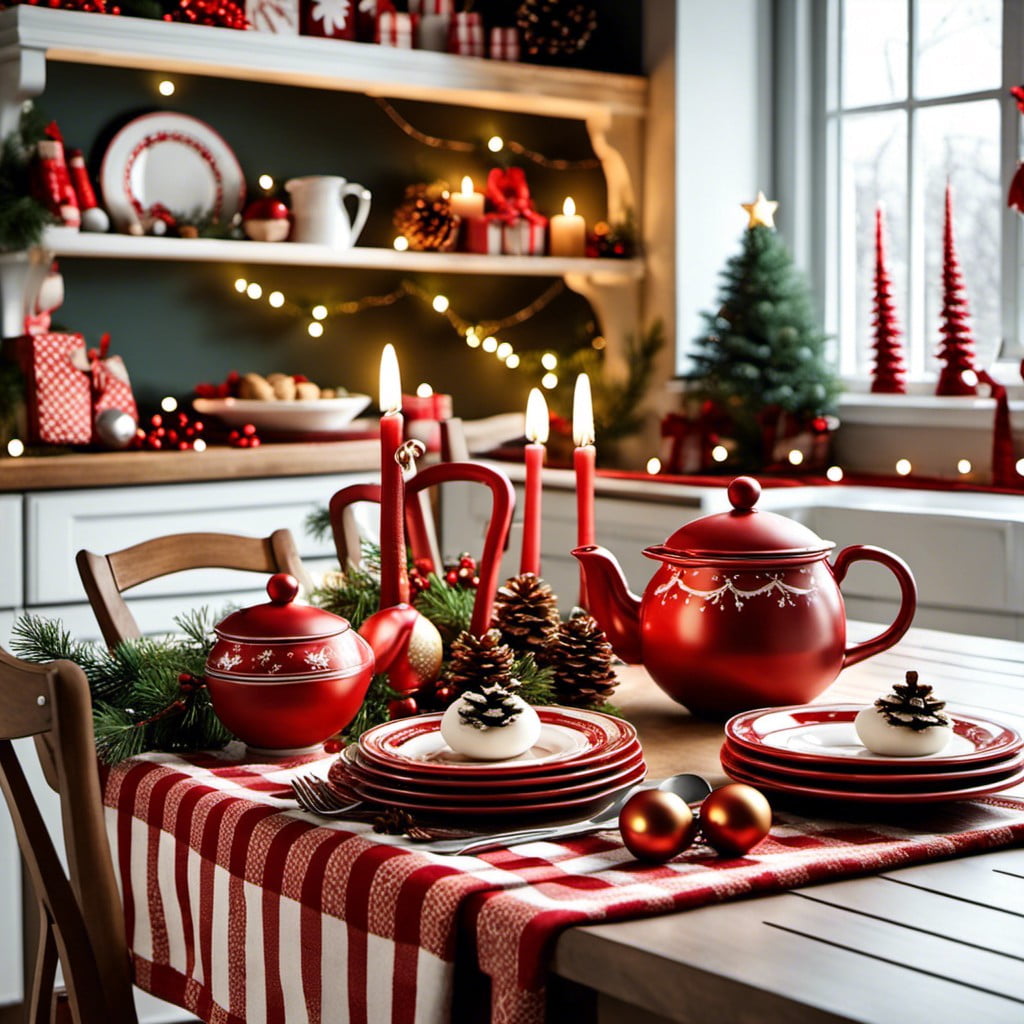 Choosing the right set can transform the heart of your home into a Winter Wonderland. Go traditional with plates, bowls, and mugs featuring Santa, reindeer, snowflakes, or Christmas trees, immersing your family in the holiday spirit with every bite taken and every sip savoured.
If you prefer a more elegant touch, opt for simple white dishware with gold or silver edging, subtly hinting the festive season. Don't forget, Christmas-themed serveware, such as platters and serving bowls adorned with holly or poinsettia patterns can add an extra layer of festivity when you serve up those holiday meals.
Consider practicalities too; pick dishware that is dishwasher safe for easy clean-up after the holiday feast. Finally, remember to offset your thematic dishware with complimentary napkins and table décor to complete the look.
Rustic Wreaths Above the Dining Table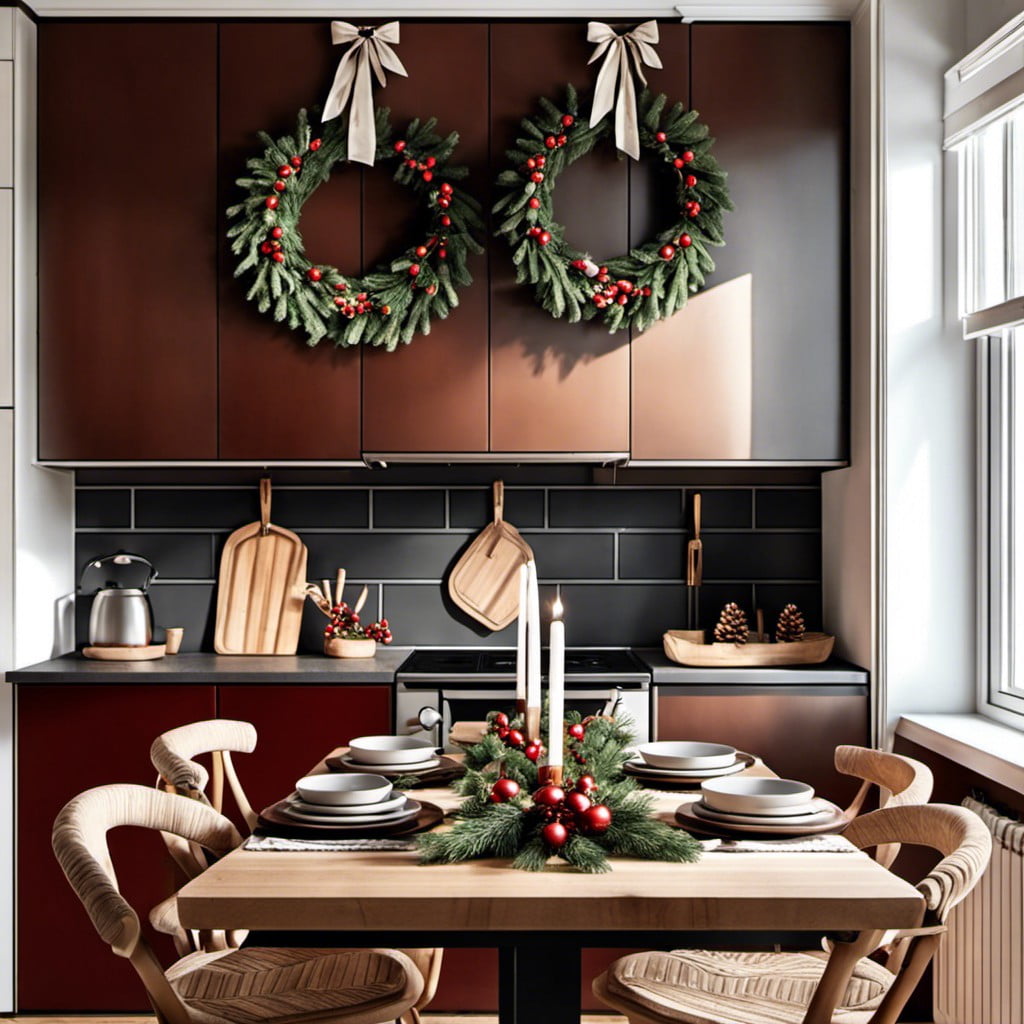 When picking the perfect rustic wreath, it's essential to consider its shape, materials, and size. They should be large enough to be noticeable but not so big they overshadow the table.
Natural elements like pinecones, berries, and evergreen branches work best to maintain the rustic vibe. Try adding a few cinnamon sticks for a festive aroma.
To hang, use heavy-duty adhesive hooks that won't damage your ceiling. Remember to secure it well to avoid it swinging or possibly falling during your festive meals.
Arrange the dining set accordingly, so the wreath becomes a natural focus point, transforming a simple meal into a Christmas feast. With well-placed, rustic wreaths, the visual and fragrance blend brings the feeling of an authentic country Christmas right above your dining table.
Garland Around Window Frames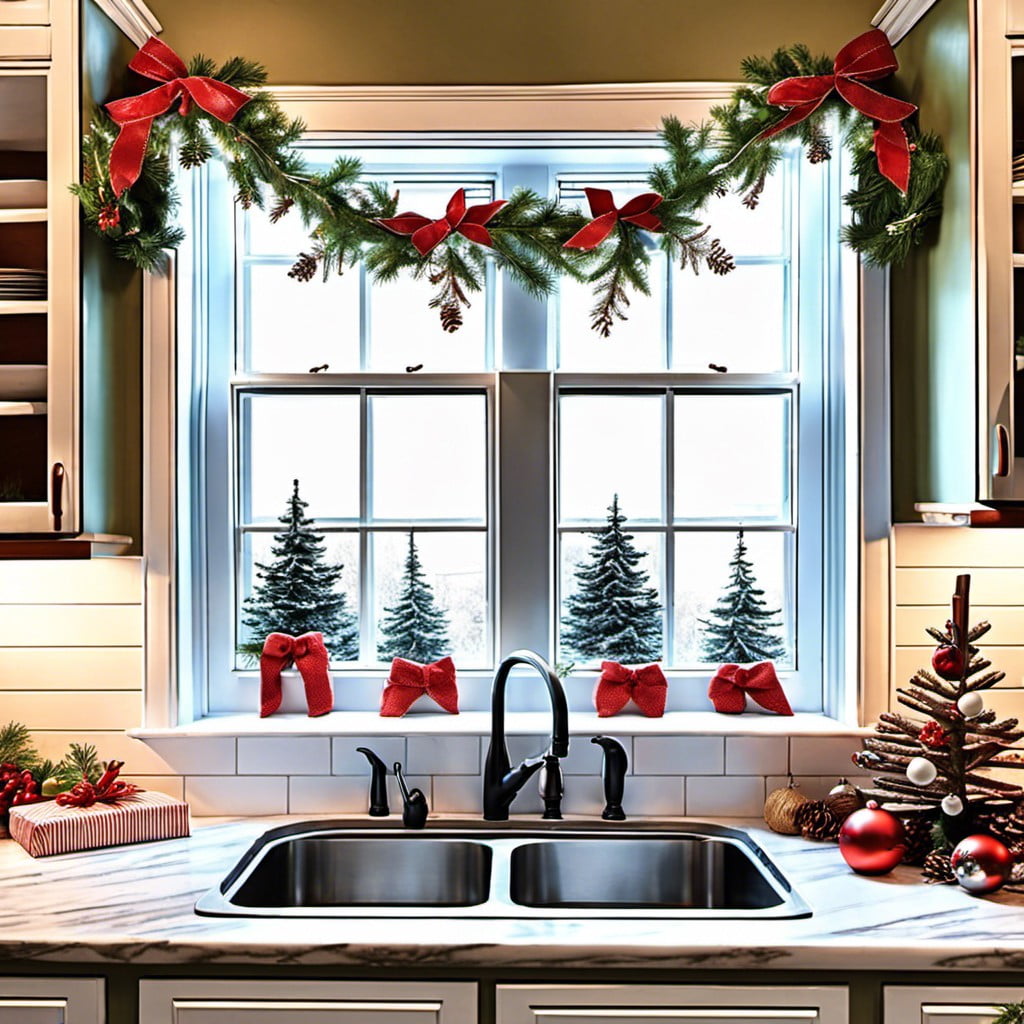 Garlands, with their lush and festive appearance, can add an unprecedented charm to your kitchen windows, making the kitchen space feel like a cozy Christmas haven.
While selecting garlands, consider ones with berries, pinecones, and even lights for that extra flair.
For daytime drama, opt for plain garland, which looks just as impressive in natural light.
Hang them along the interior side of the frame for a simple, yet elegant look.
Use strong, clear fishing line or secure transparent adhesive hooks to keep the garland in place.
Be careful not to obstruct the window's function.
It's key to balance beauty with practicality.
Red and Green Utensil Sets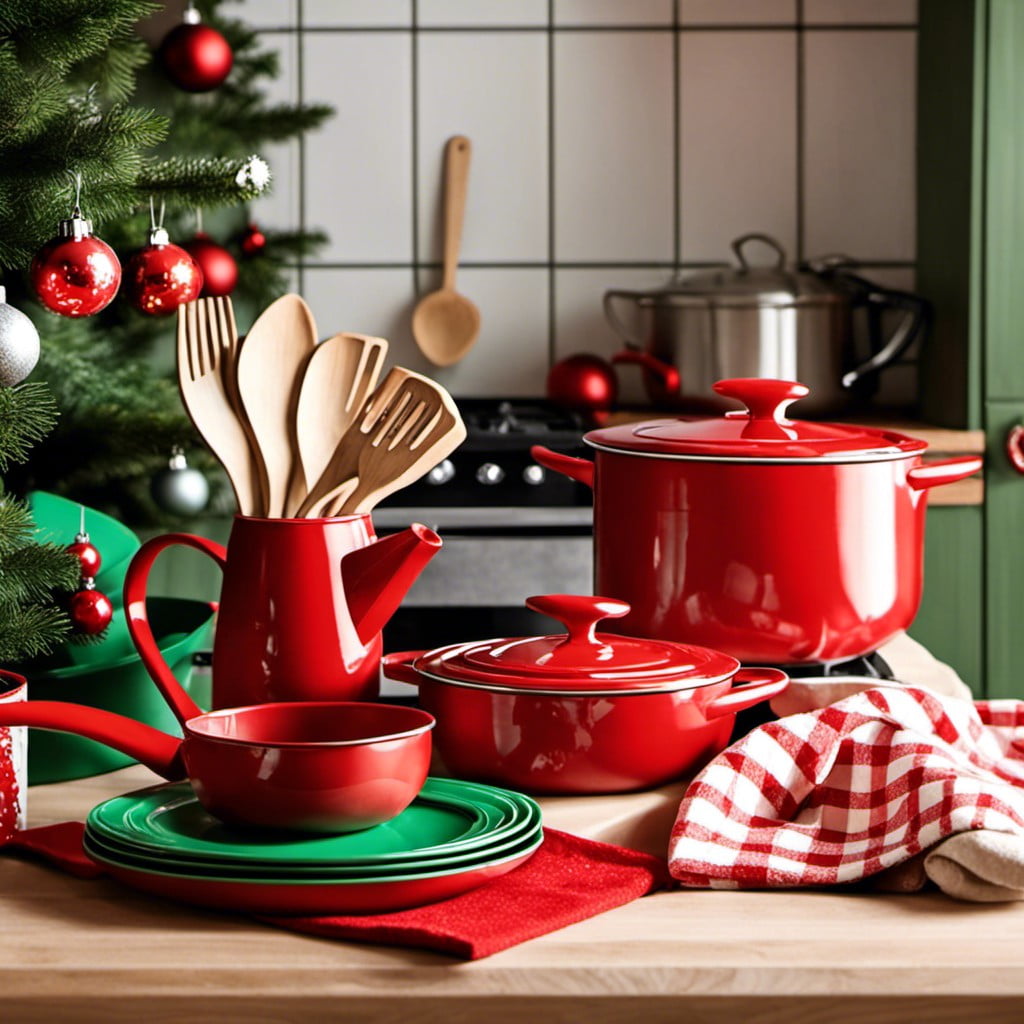 Swapping out your regular cooking tools for specialty items in the shades of the season can add a festive touch. Think about bright red spatulas, emerald green mixing bowls, and multi-colored measuring cups. Even everyday tools like dish brushes or pot holders can be switched for Christmas-themed counterparts. Just these seemingly small modifications can transform your culinary space into a heartwarming holiday scene.
The key is finding items that blend function with the spirit of the season, contributing to both your meal preparation and your Christmas atmosphere.
Candy Cane Ornaments On Plants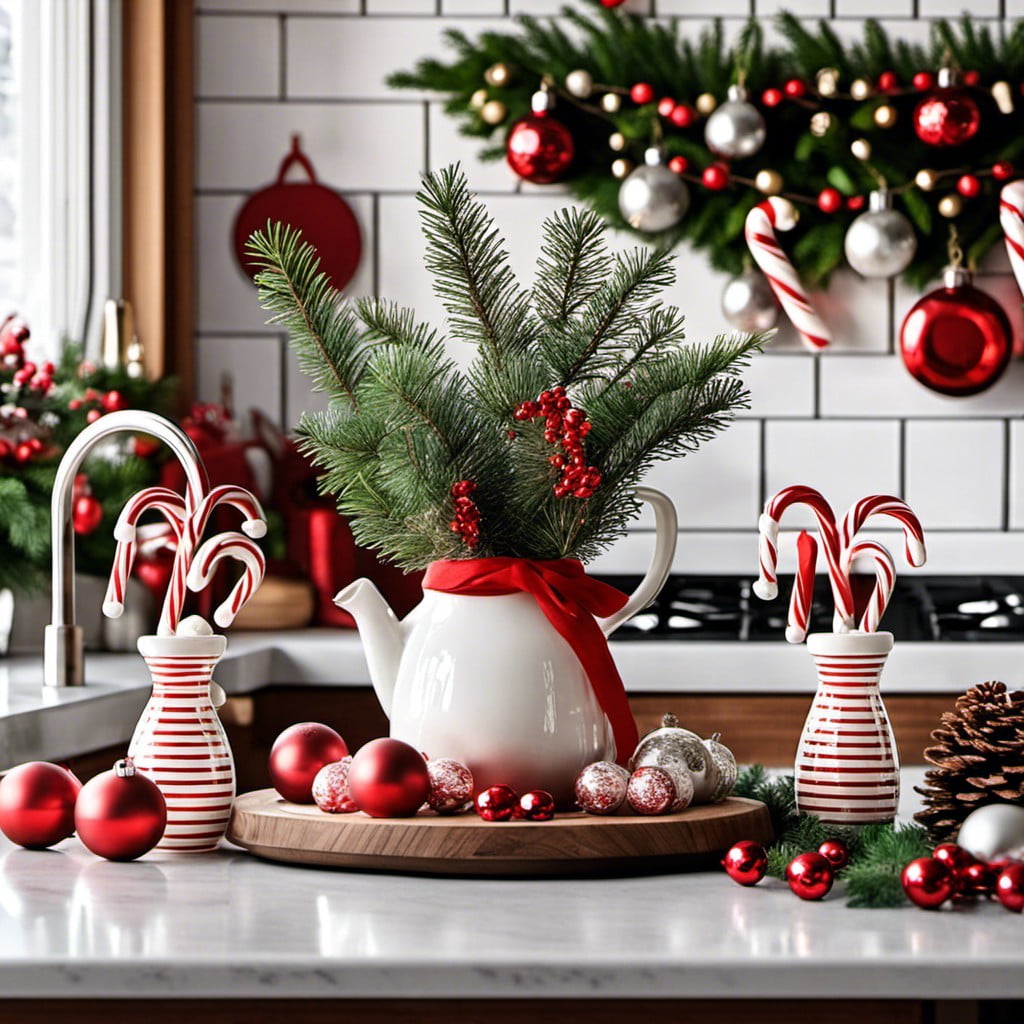 Sprucing up your kitchen greens with candy cane ornaments is an effortless way to add holiday cheer. Choose robust and sturdy plants that can support the weight of the ornaments. Opt for a mix of small and large decorations to create depth and maintain visual interest.
Not only do their bright, contrasting red and white stripes stand out against the green, but the confectionery theme perfectly encapsulates the joyful holiday spirit. Remember, plastic candy canes might be a safer choice compared to actual sugar ones as they're less prone to attract insects.
These can often be preserved and reused year after year, making this a sustainable decor option too!
Snowflake Decals On Windows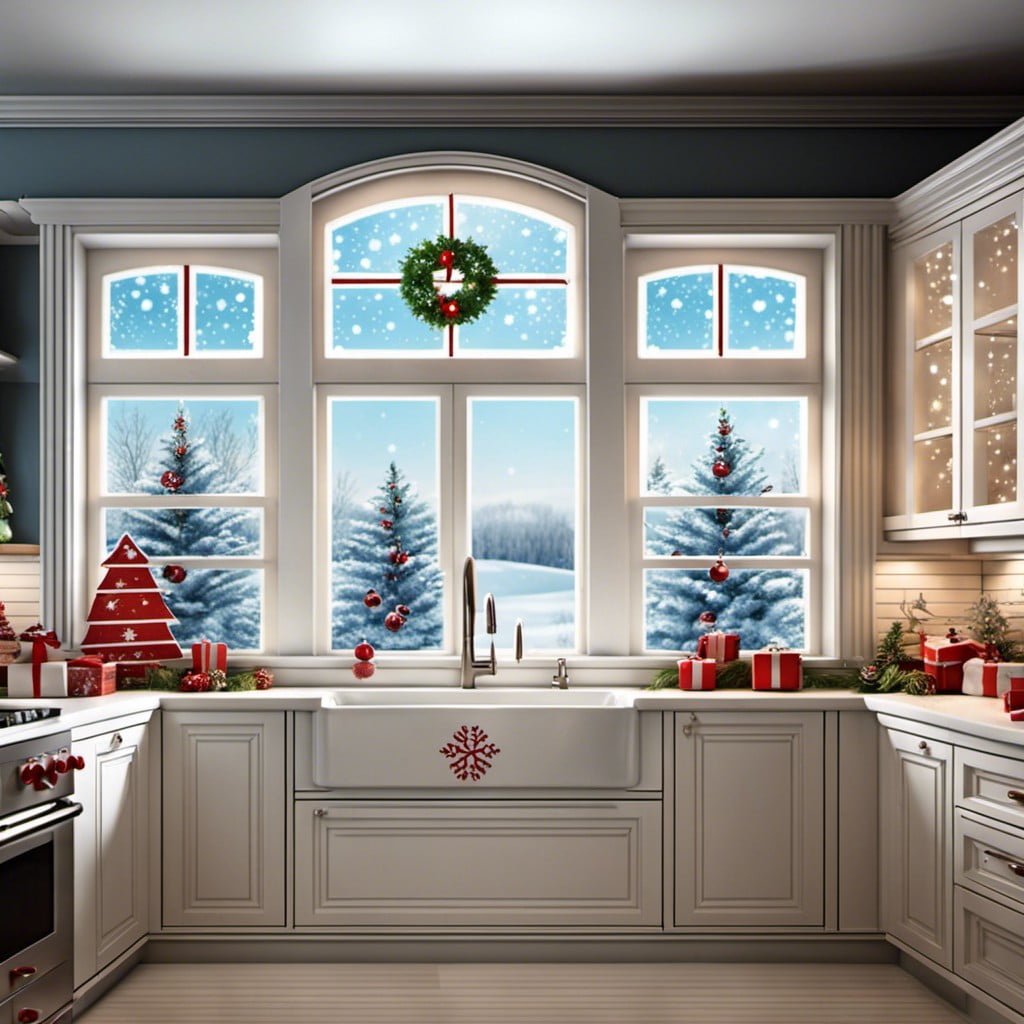 Applying decals can indeed create a wintry ambiance in your kitchen without occupying any extra space. Start with choosing white snowflake decals of various sizes to mimic the natural variation. They should be easily removable to avoid damaging your windows.
For a 3D effect, opt for decals on both the inside and outside of your windows. Space them randomly across the glass panes for a more organic feel, making sure not to obstruct the view completely.
Couple this with soft, diffused lighting to enhance the snowy effect, especially during evening hours.
Red and White Checked Kitchen Towels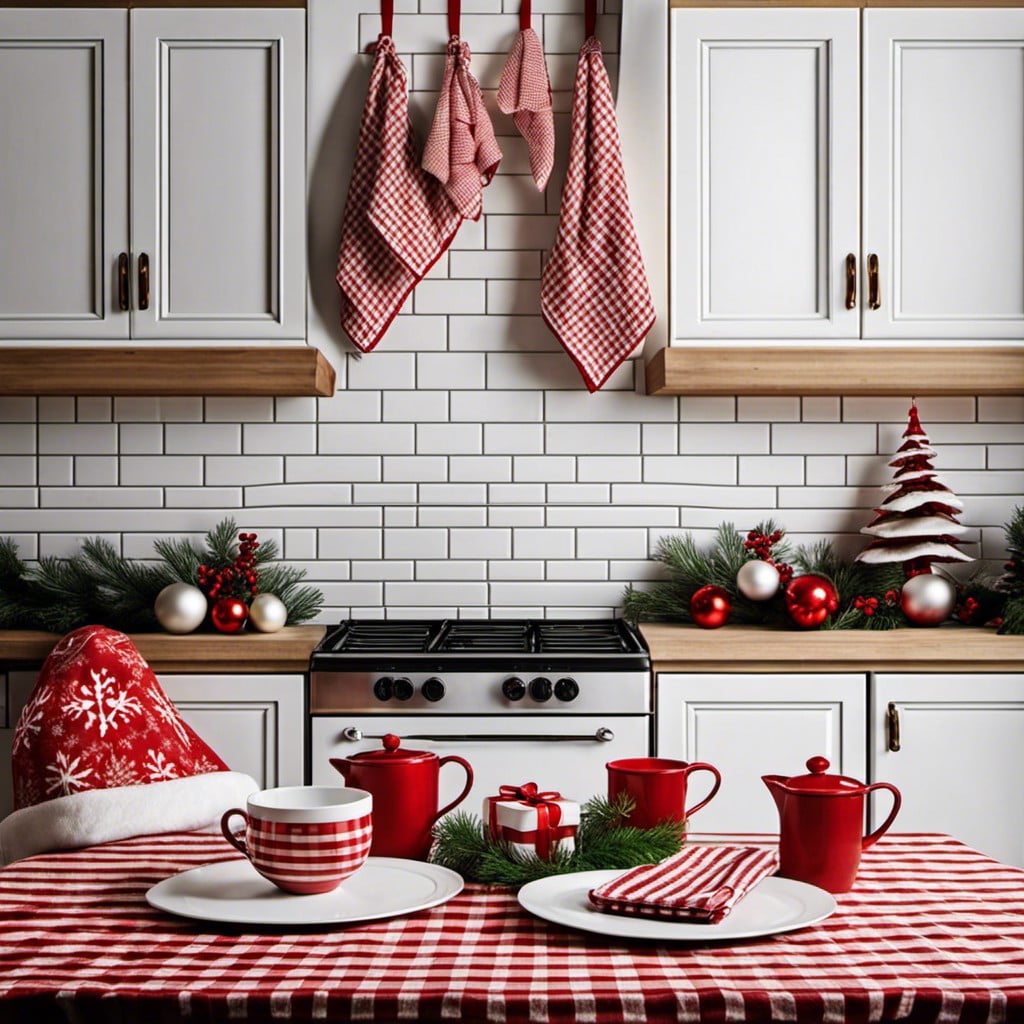 Incorporating this simple but effective decorative element can lend a traditional feel to your kitchen space. By selecting pure cotton towels, not only add warmth and texture but also ensure practicality in the space.
These towels can be hung on the oven handle, draped over the sink, or even served as casual placemats. They add a splash of Christmas colors without seeming overwhelming. The checkered pattern is timeless, aligning with the season without disconnecting from the rest of the year.
Though seemingly small, this detail contributes significantly to a homely, welcoming environment throughout the festive period.
Christmas Cookie Jar On Countertop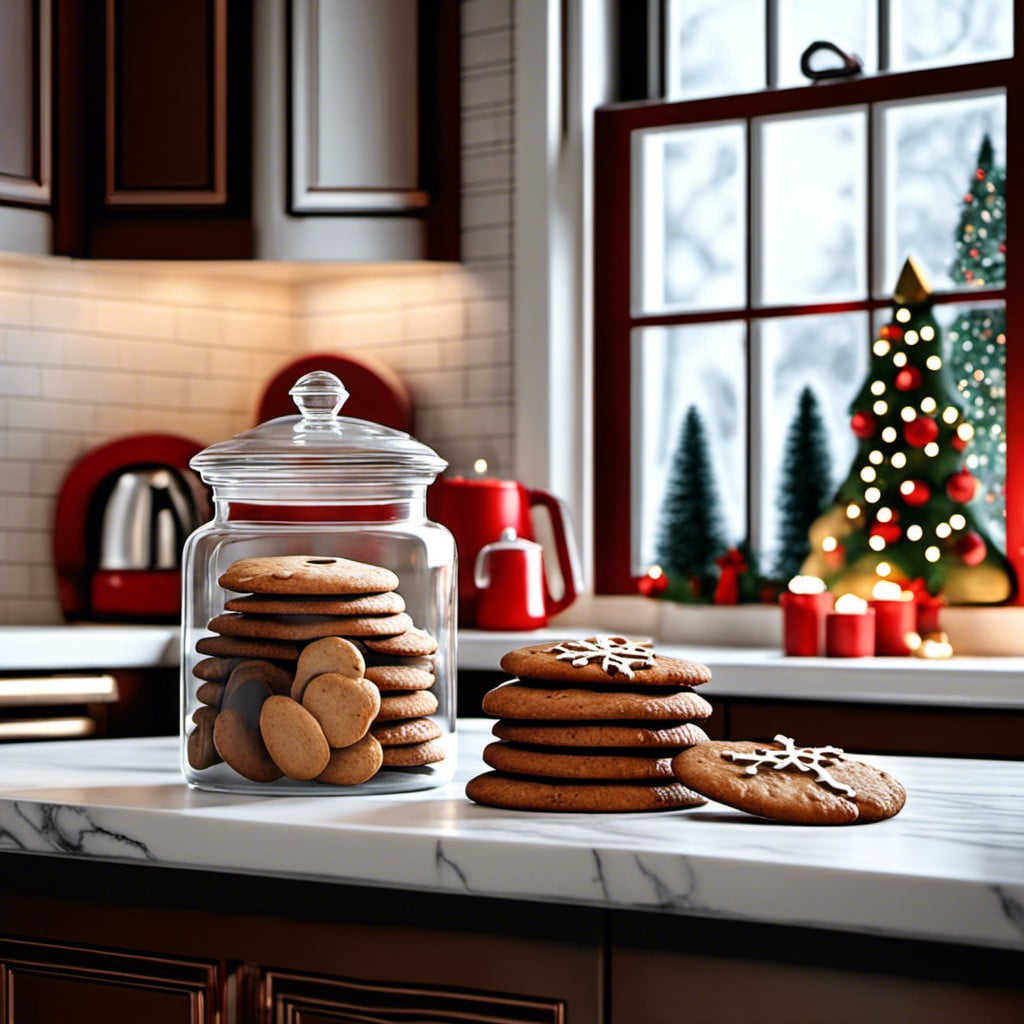 Choosing the right cookie jar can create quite the statement. It should be a vision of holiday cheer, bright colors and festive patterns such as Santa, snowflakes, or gingerbread men can contribute to a fun and welcoming atmosphere.
Additionally, it's not just aesthetically pleasing, it serves a practical purpose as well – filled with your favorite home-baked cookies, it brings an enticing aroma that adds another element to your sensory Christmas decor.
Moreover, decide on a strategic location so it catches the eye; a central spot, such as near the fruit bowl, tea and coffee station, or next to the stove, is an ideal choice.
A cookie jar also invites interaction, making the kitchen a space of warmth, sharing, and indulgence that cultivates the Christmas spirit.
Always remember – it's not about grandeur, but the small personal touches that make the magic.
Small Christmas Trees in Corners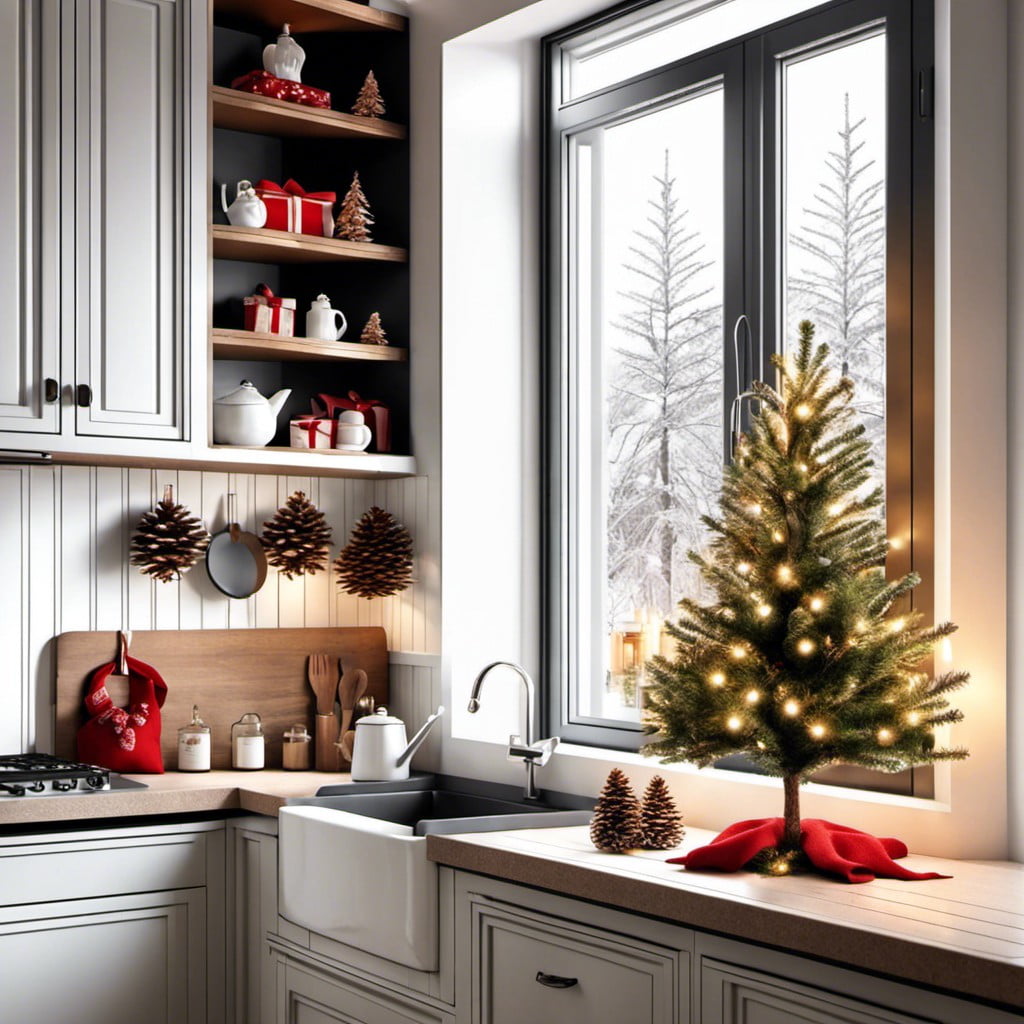 Carefully chosen and strategically placed, these trees can effortlessly infuse the holiday spirit into your kitchen.
Consider miniature or tabletop versions that are easy to move.
No need for a top-to-bottom decoration; a few trinkets or fairy lights woven around the branches will be enough.
Opt for artificial trees if you're after longevity, or go for real ones if you fancy the classic pine scent.
Remember, placing these near a window or a source of light can help accentuate their presence and make your kitchen a bit more magical.
Lighting Up Kitchen With Twinkling Fairy Lights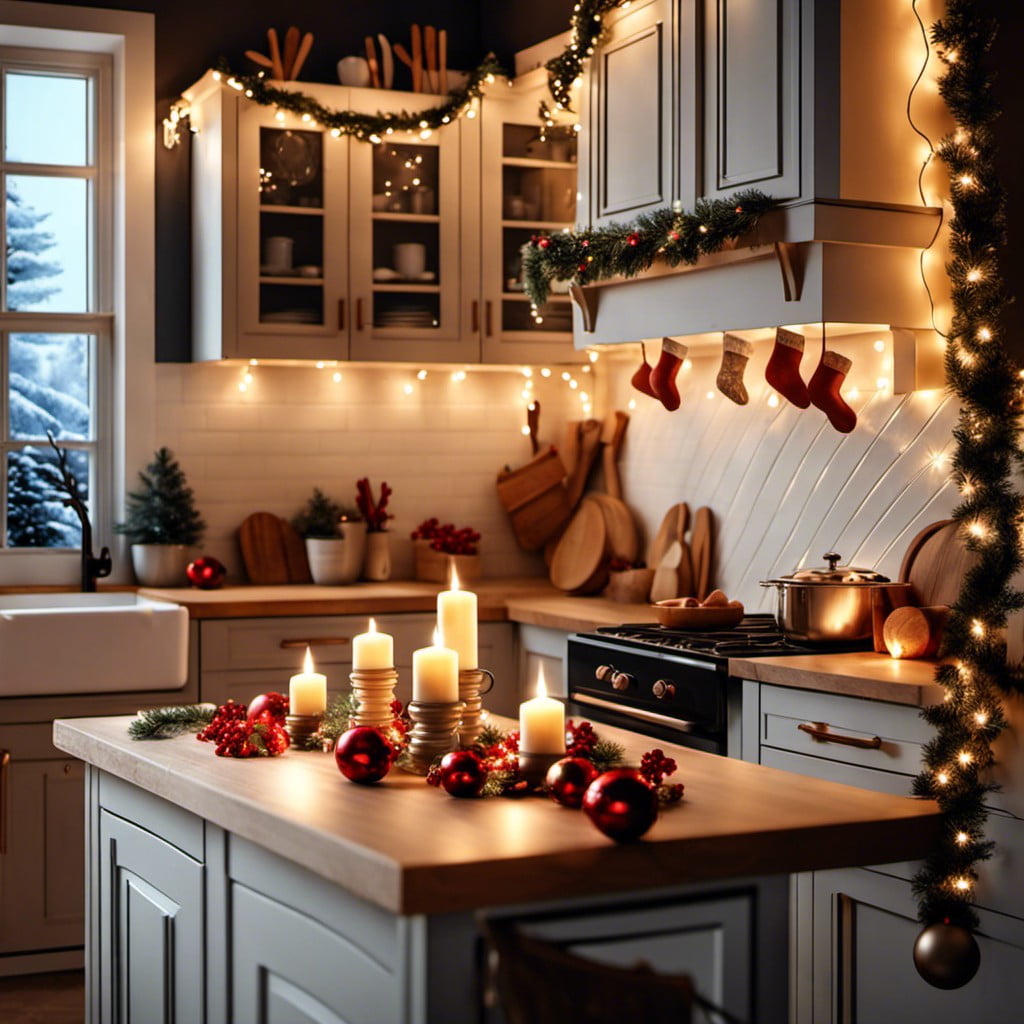 Having established a festive atmosphere, incorporating twinkling fairy lights is an effective way to elevate the coziness of your kitchen. Firstly, the choice of color plays an essential role; warm white lights typically emulate a classic, soft glow, while multicolored strands add an exciting touch of whimsy.
Positioning is key. Draping lights across the ceiling provides a starry canopy effect. Meanwhile, wrapping lights snugly around your window frames not only highlights beautiful holiday views but also creates a charming frame for wandering eyes. Just remember to keep the lights safely away from open flames or heat sources.
Dimmer switches are an undervalued asset. If your lights come with this invaluable option, use it to control the intensity of the lighting, further enhancing the cozy atmosphere.
Lastly, don't limit your creativity. Intertwining fairy lights with garlands or arranging them in glass jars offers a more festive yet unconventional approach. This technique can light up dark corners or add focus to specific areas on your countertop. However you choose to use them, fairy lights are a splendid tool, adding warmth and charm to your Christmas kitchen.
Mini Wooden Houses As Centerpieces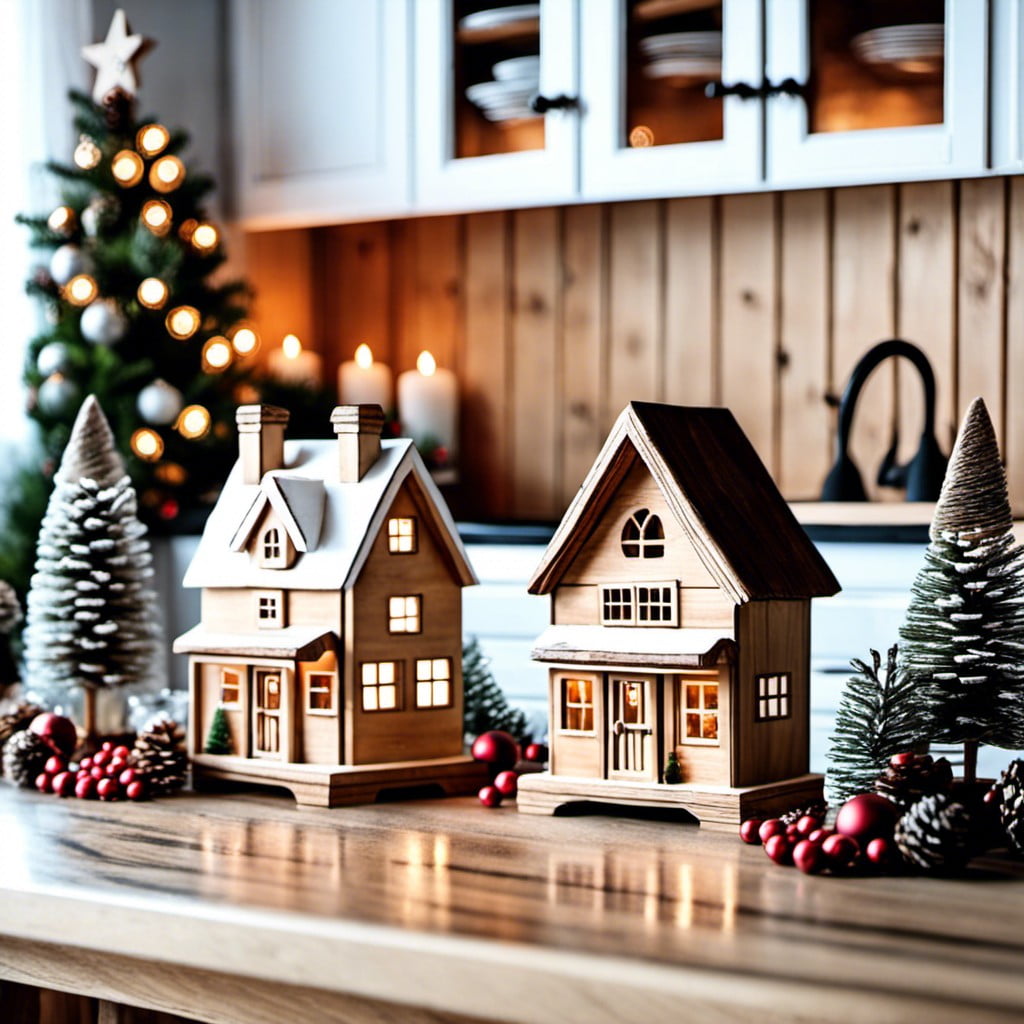 Incorporating miniature wooden houses can instantly infuse a sense of whimsy into your kitchen decor. This particularly charming centerpiece idea is not only stylish but also exceedingly versatile.
They can be painted or decorated to match your unique holiday color scheme. Nestle them amongst greenery, candles, or a dusting of faux snow for a tableau that mirrors a quaint, wintery village scene.
Additionally, consider choosing pieces with functional uses. For instance, small wooden houses that double as candle holders can add both style and soft, ambient lighting to your space. It's an fantastic way to bring a touch of festive magic right into your kitchen.
Seasonal, Fragrant Candles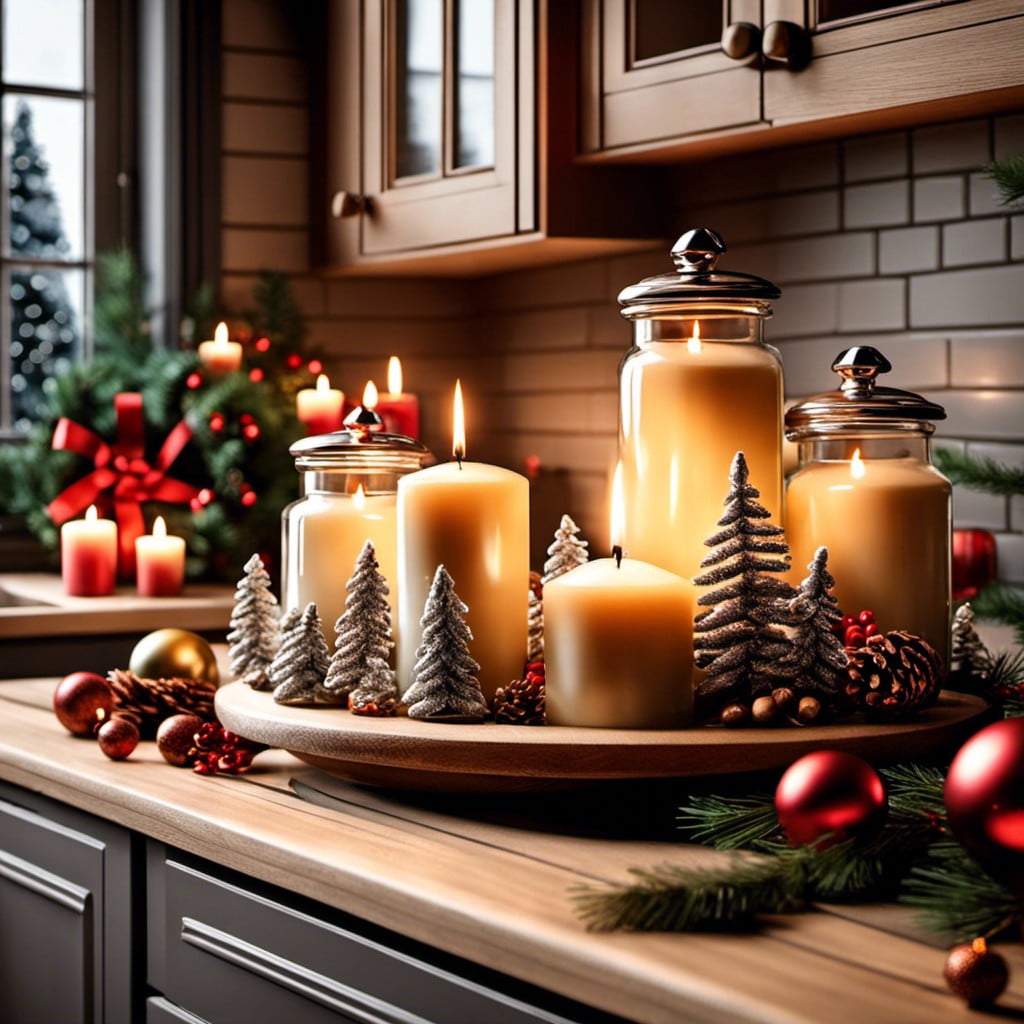 A captivating aroma can truly encapsulate the essence of Christmas in your kitchen. Choosing the right scented candles goes beyond their primary function of emitting relaxing light; it's about embracing all the sensory richness of the festive season.
Selecting candles with Christmas-centric scents, such as cinnamon, pine, orange, or roasted chestnut, enhances the cozy ambiance. Place these strategically around the kitchen to exude warmth and festive joy.
Ensure candles are safely positioned away from flammable objects. Opt for containers or candle holders that are not only functional but also complement your kitchen decor. Beautiful, decorative candle holders can add a classy touch.
Remember, the key to achieving that homey aura lies in balance – go for subtle scents that are pleasantly noticeable without overpowering your kitchen's natural aroma. Lastly, when you're not using your kitchen, leaving the candles lit can help maintain the festive mood and keep your kitchen smelling delightful.
Gingerbread House Decoration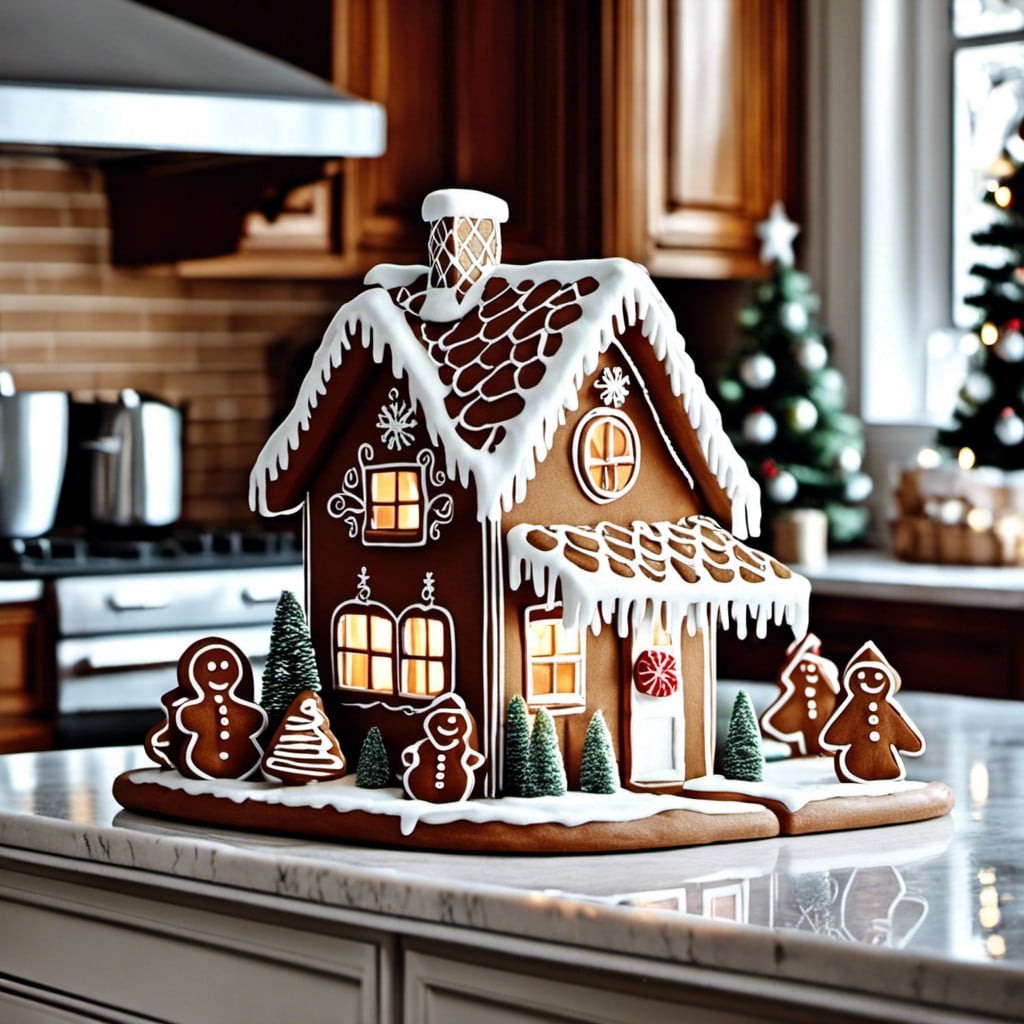 An inevitable hallmark of the holiday season, crafting your own edible edifice can create a delightful visual appeal in your kitchen. First, select a convenient spot for your gingerbread house where it stands out, yet doesn't obstruct day-to-day activities. The countertop corner or center island could be potential choices.
Assembling a gingerbread house from scratch can be an exciting family event. Alternatively, pre-made kits are available on the market, simplifying the process significantly. Do remember to place it on a sturdy base to ensure stability. A square piece of cardboard covered in foil works great.
Decorating this edible creation is where true Christmas customization begins. Employ colorful candies, icings and sprinkles. Use your culinary creativity to adorn the frosting rooftop with a pattern of gumdrops or candy canes. Even sparkling sugar can mimic the icy winter quite beautifully on the house eaves.
If you have more than one gingerbread house, scatter them around, creating a quaint Christmas village for a more captivating visual impact. Make sure to maintain them fresh with regular touch-up of icing and candies, they can look appealing and fetch you some sweet compliments!
Note: A gingerbread house should be more than just visually pleasing. Bake it with delicious gingerbread spices to infuse your kitchen with that classic Christmas aroma.
A Bowl of Pinecones and Baubles On the Table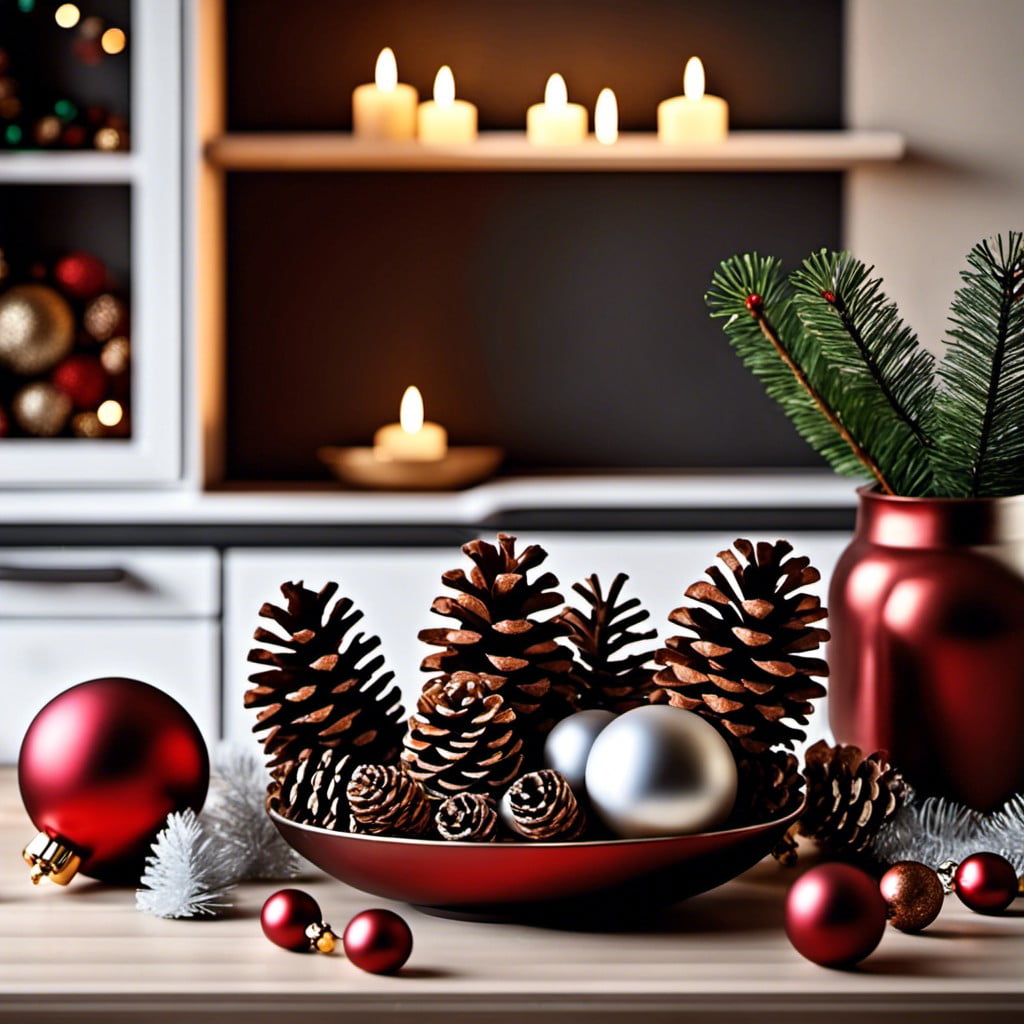 Beautifully combining nature and glitz, the centerpiece brings together elements of winter into a festive kitchen décor. Choose a wide, shallow bowl and start with arranging some pinecones, mainly for their agreeable, wintry scent and rustic vibe.
In the spaces between, pop in colorful baubles – they will catch the light and brighten up your kitchen space. Opt for traditional Christmas colors like red, gold, and green, or choose your favorite color theme.
Try to mix and match baubles in terms of color and size for visual appeal. Metallic baubles can add some sparkle, while matte or glitter ones can add texture.
Remember, a little can go a long way. Depending on the size of the bowl and table, keep it simple or lavish, but always aim for balanced. This centerpiece can be a captivating focal point and conversation starter during family meals or a warm cup of cocoa.
A tip: rotating seasonal elements, such as swapping pinecones for mini pumpkins during Thanksgiving or pastel-hued eggs around Easter, helps retain versatility and freshness throughout the year.
Hanging Mistletoe Over Kitchen Door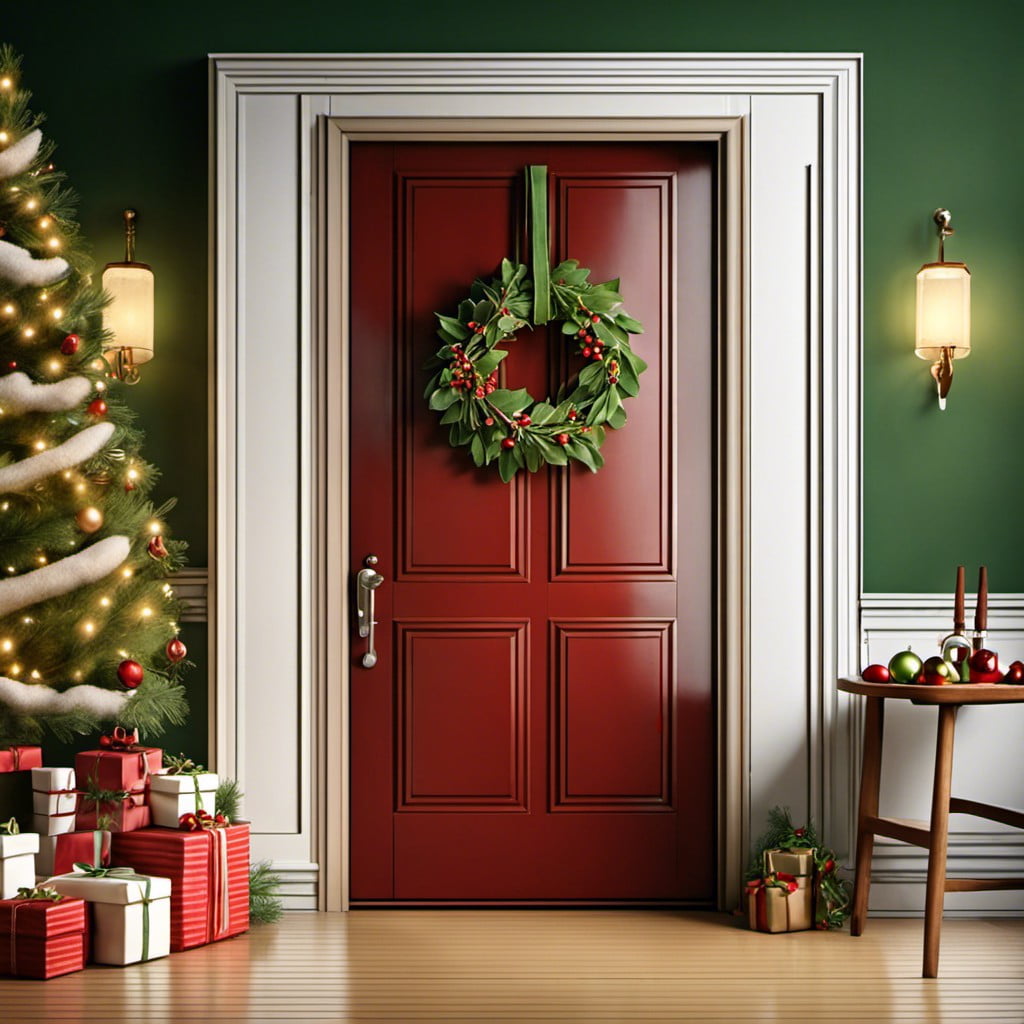 Adding a touch of holiday romance and tradition to your kitchen has never been easier. Simply secure a fresh sprig of mistletoe overhead – perhaps atop the doorway leading into the kitchen. This not only exudes holiday cheer, but also brightens the room with its lively green hue.
Select a mistletoe with bright white berries to ensure it stands out against any backdrop. Consider tying a festive red ribbon around it to enhance its visibility and Christmas charm. Its addition is instant, low-cost, and unexpected, making it an ideal festive decoration with a rich history.
Ensure you hang it high enough to avoid physical contact with food or heads for sanitary reasons. Also, remember to replace it when its freshness fades to maintain optimal festive feel. All in all, it's a quick, joy-inducing enhancement to your kitchen this holiday season.
Festive Patterned Oven Mitts and Aprons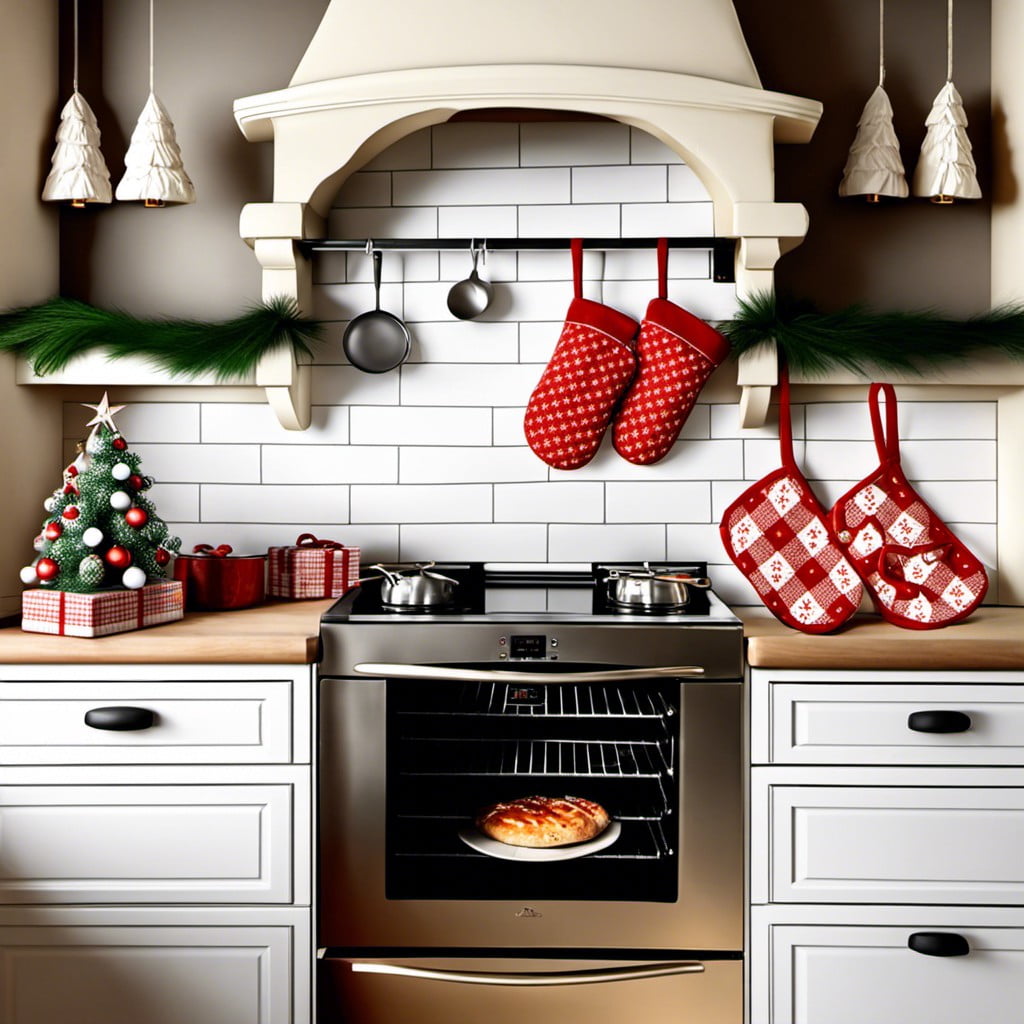 Dress up your kitchenware to create a truly immersive holiday atmosphere. This isn't limited to just dishware; even your oven mitts and aprons can join in the cheer with festive patterns and colors.
1. Consider oven mitts with reindeer patterns or snowflake prints to make cooking times more fun. They do a wonderful job of hitting the practical and decorative notes simultaneously.
2. An apron with Santa or Christmas tree prints can really add to the festive mood while you stir the pot for some Christmas recipe.
3. Use matching sets of oven mitts, aprons, and even tea towels. Such coordinated visual appeal echoes Christmas spirit throughout your kitchen.
4. Where possible, opt for artisan-made goods. Such items carry the charm of being handcrafted, adding more depth to your setup.
These items are easy to find and purchase, whether online or in holiday markets. Plus, they make a great conversation point when you have guests over. Of course, they're always a hit with children, who'll love the vibrant depictions of their favorite Christmas symbols.
Display of Christmas-themed Mugs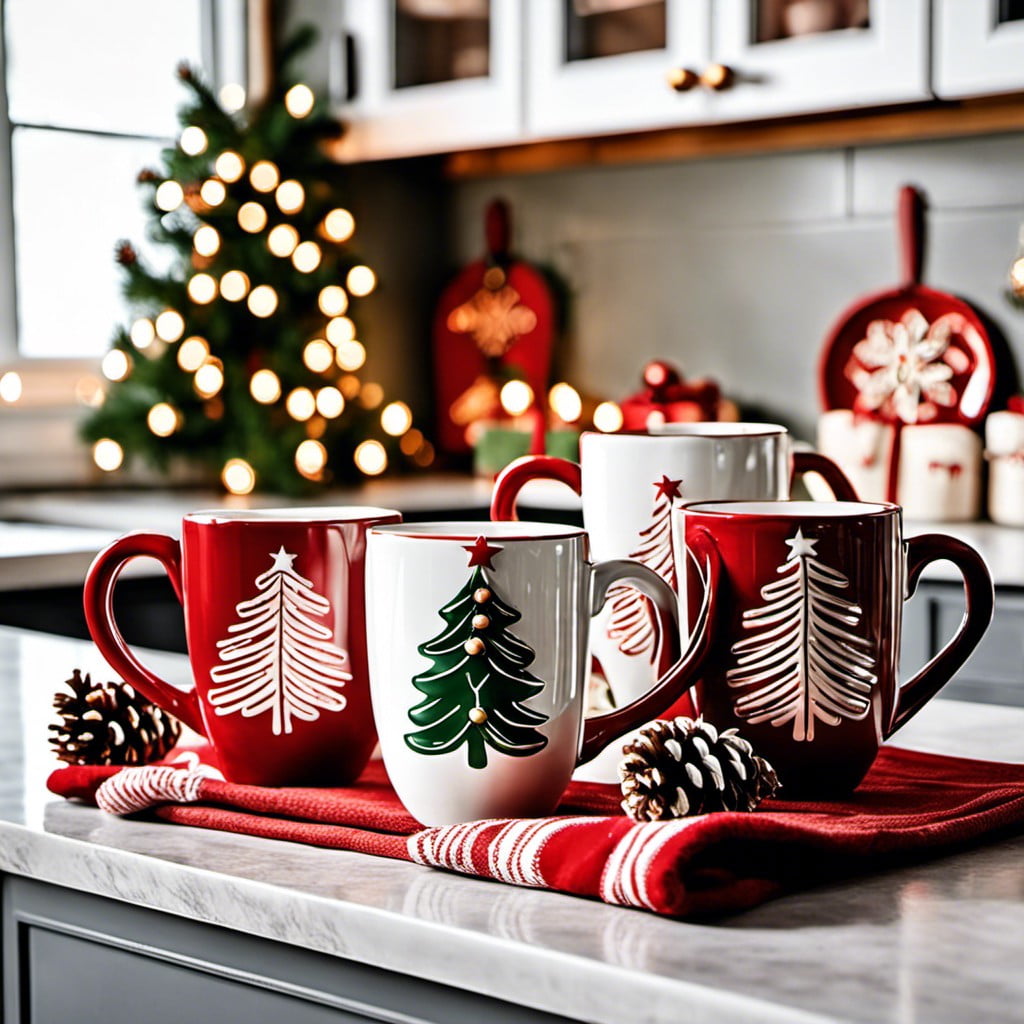 Whether latte-sized or espresso, a collection of mugs with reindeers, snowmen, Santa clauses, and other festive prints never fail to inject cheer in your kitchen setup.
Organize them on open shelving or hang them on a mug rack for an easy grab during hot chocolate or coffee sessions.
For an added sparkle, opt for mugs with a touch of gold or silver.
Not only are these functional for your holiday beverages, but they also double as appealing decor when displayed strikingly.
A Small Holiday Chalkboard Listing Christmas Menus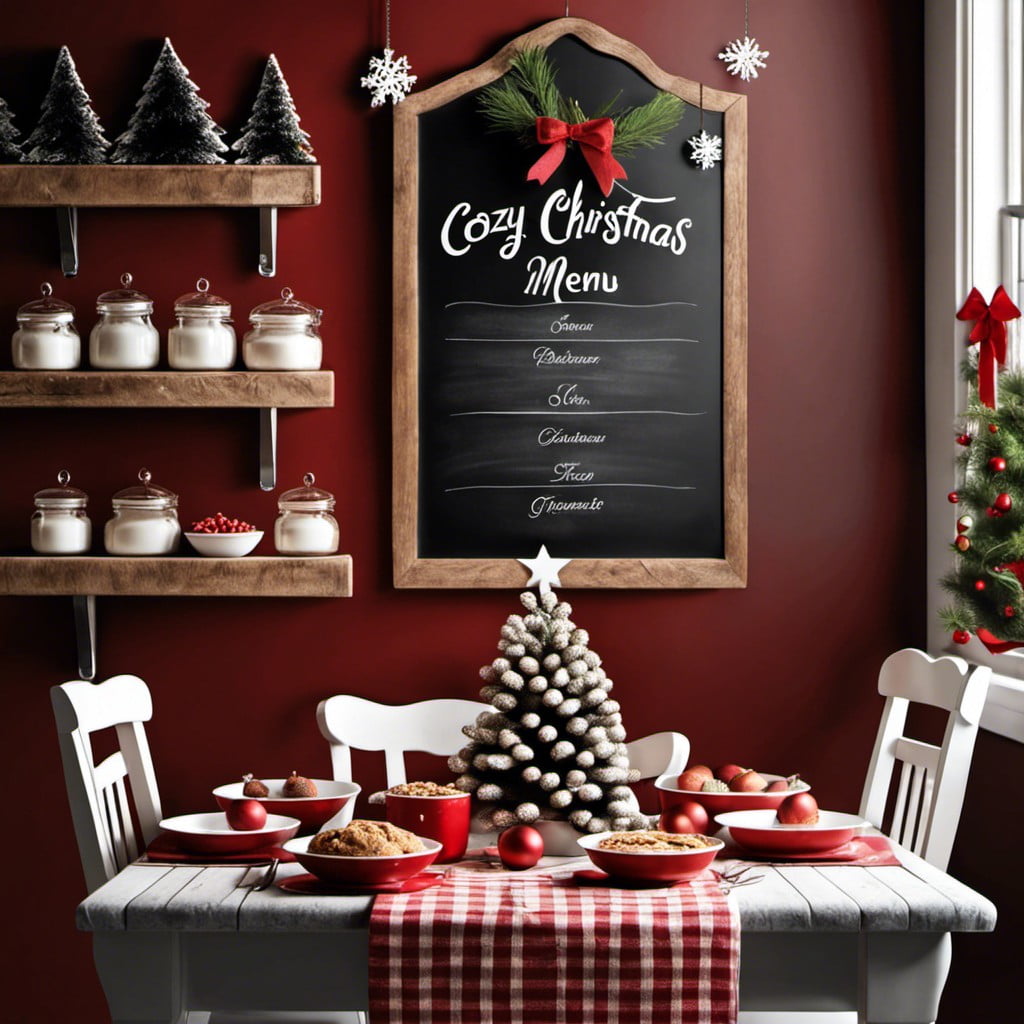 Incorporating chalkboards into your holiday decor is an eclectic and whimsical addition that is bound to spark conversation. It serves not only as a decorative piece but also as a functional item. To illustrate, scrawl out a list of festive beverages or meals you intend to serve over the holiday period.
Begin with an appealing calligraphy-styled headline such as "Festive Feasts" or "Holiday Delights" at the top. Below this, neatly list out planned dishes, special cocktails, and dessert options.
To make it more captivating, you could add little doodles of holly leaves, snowflakes, or even images corresponding to the listed dishes. This visually attractive and informative display would surely foster an excited anticipation about what delights lie ahead!
Make sure to refresh the chalkboard as the season progresses and menus change, maintaining the currency of your display. Keep the chalk in a convenient place so it's easy to modify and keep this creative canvas alive.
Nutcracker Figures As Shelf Decor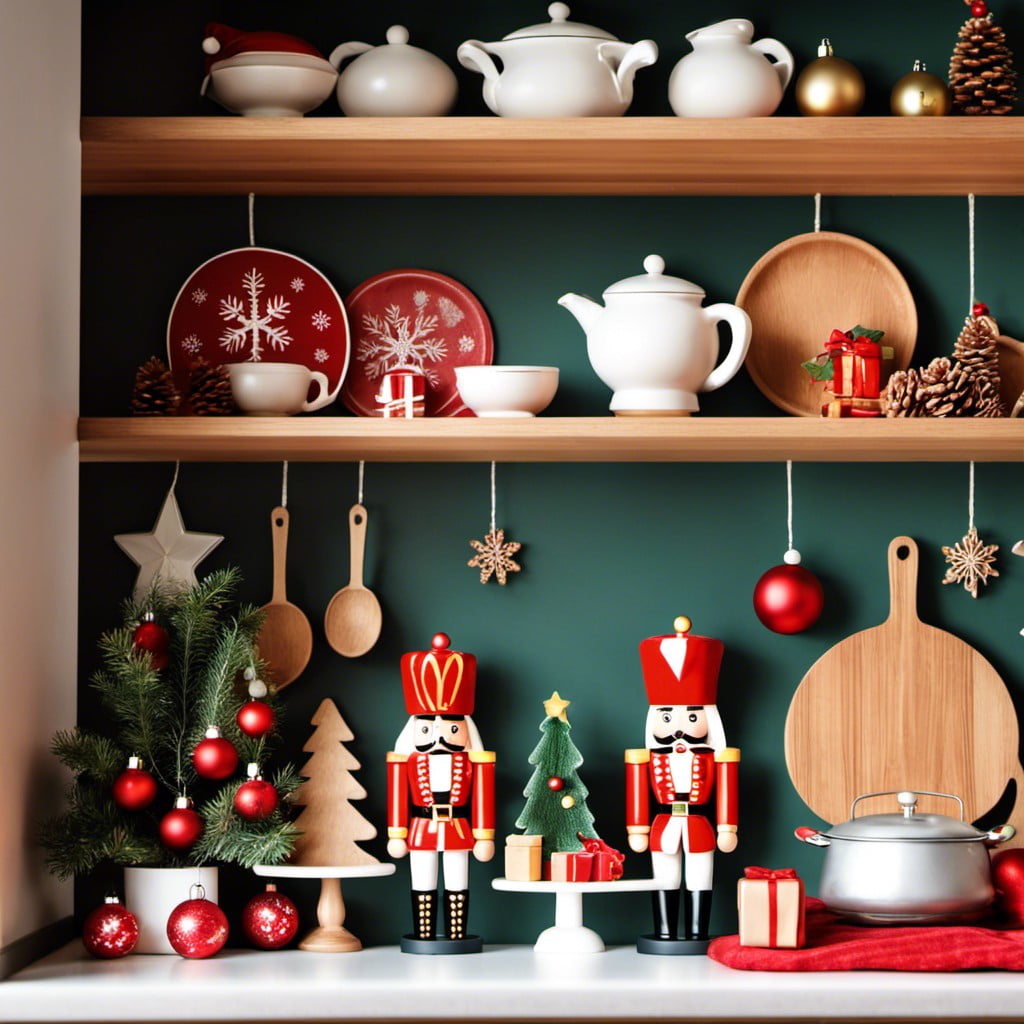 These classic symbols of the holiday season can add whimsy to any shelf space. Traditional nutcracker figures, usually adorned in bright colors and a royal guard outfit, can give your kitchen a vibrant, playful boost.
For an individual touch, consider collecting them in various sizes and colors. Scout your local thrift shops for vintage versions or craft stores for new models.
Arrange them in clusters with the tallest in the back for a dynamic, eye-catching display. This charming yuletide detail not only spruces up your kitchen but also stirs entertaining conversations amongst your holiday guests.
Liked reading this? Here's more:
Recap: