Last updated on September 4, 2023
Discover a wide variety of creative and fun Easter chalkboard ideas that will bring joy and festivity to your home this spring season.
Easter is just around the corner and it's time to spruce up your home with some festive decorations. If you're looking for a fun and creative way to add some Easter charm to your decor, then look no further than the humble chalkboard.
With its versatility and simplicity, a chalkboard can be transformed into an eye-catching centerpiece or a charming wall decoration in no time at all. In this article, we've compiled 20 Easter chalkboard ideas that are sure to inspire you and get your creative juices flowing.
So grab your chalk and let's get decorating!
In This Post:
Bunny Drawing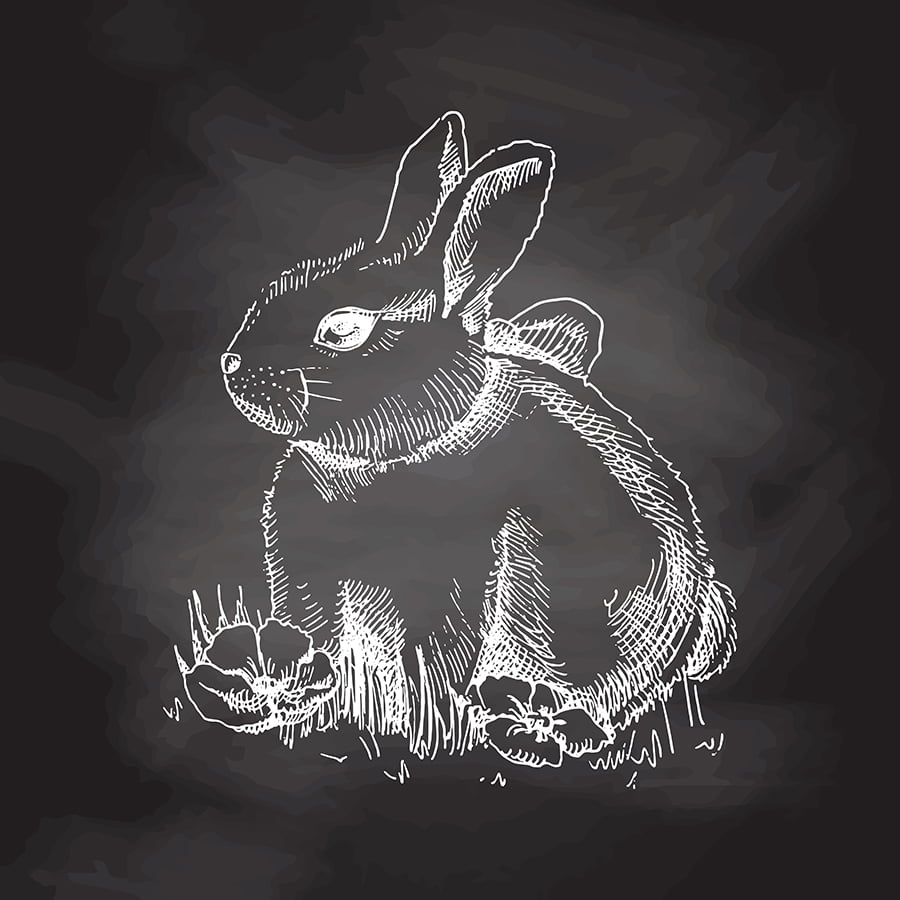 A bunny drawing is a classic Easter chalkboard idea that never gets old. You can draw a cute and fluffy bunny with long ears, whiskers, and a cotton tail to add some charm to your decor.
To make it more interesting, you can add some colorful flowers or eggs around the bunny or even dress up the rabbit in an Easter outfit like a bow tie or hat. This simple yet adorable design will surely bring joy to anyone who sees it!
Egg Hunt Countdown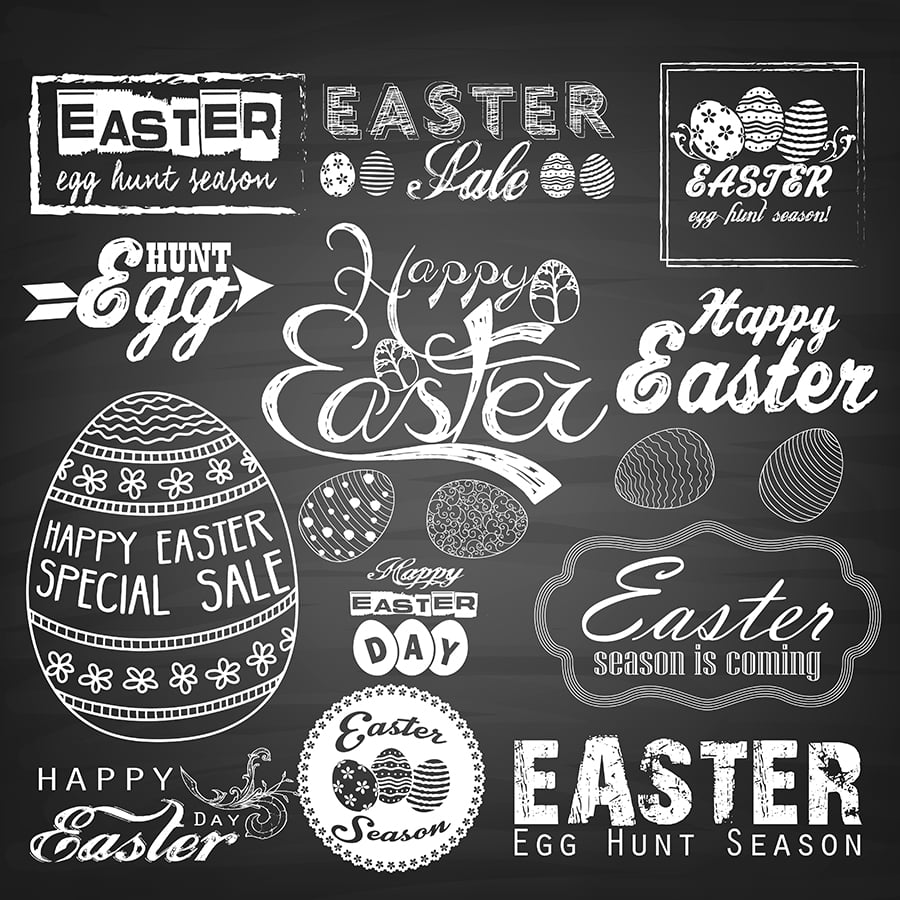 Draw a large basket or nest and add the number of days until Easter inside it. Each day, draw an additional egg in the basket or nest until you reach Easter Sunday.
You can also add little illustrations around the countdown such as flowers, bunnies, and chicks to make it more festive!
Spring Flowers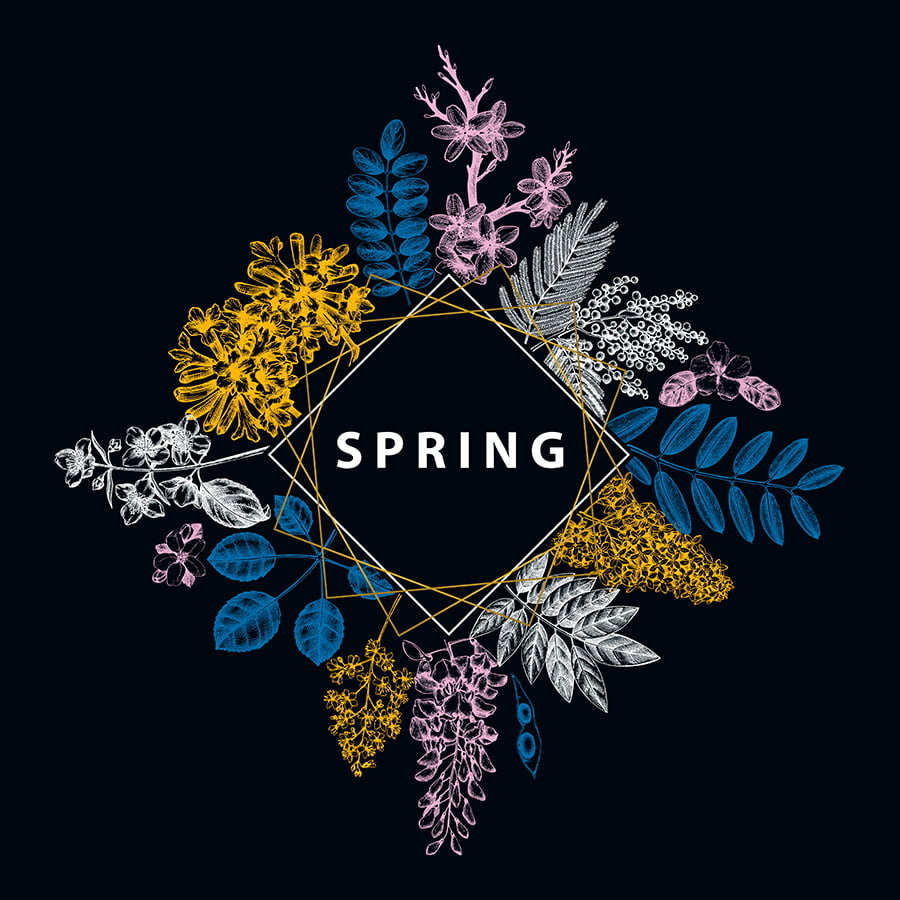 You can draw daffodils, tulips, hyacinths or any other spring flower that you like. These designs will add a touch of freshness to your home decor and create an inviting atmosphere for the holiday season.
To make your design stand out even more, consider adding some pastel colors or glitter accents to the petals or leaves of your flowers. This will give them an extra pop that is sure to catch everyone's eye!
Easter Menu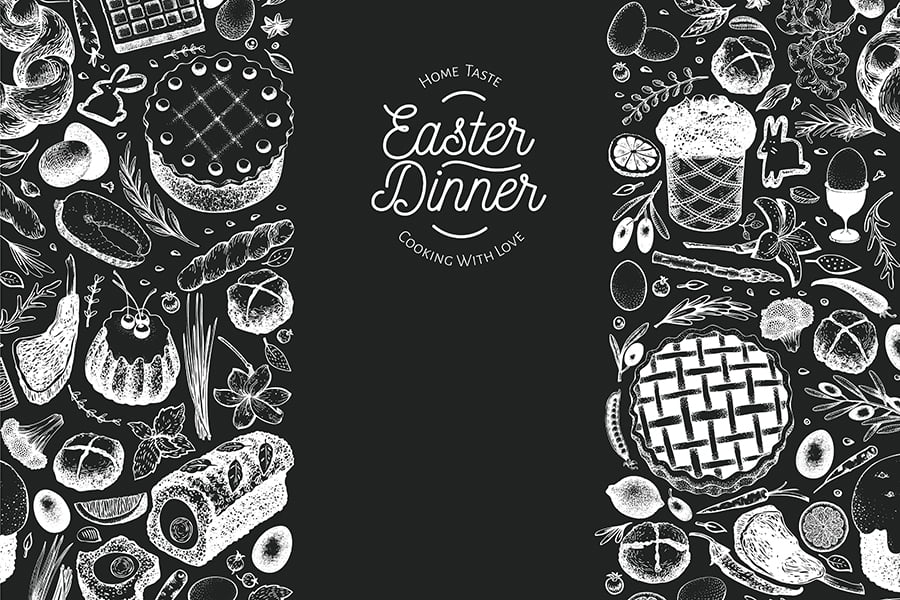 A chalkboard menu can add a special touch to your Easter table setting. Write down the dishes you will be serving, along with their names and ingredients, in an artistic way that matches your decor theme.
You could also include fun Easter-themed dish names like "Bunny Bites" or "Carrot Casserole". Don't forget to leave some space for any last-minute additions or changes!
Cross and Lilies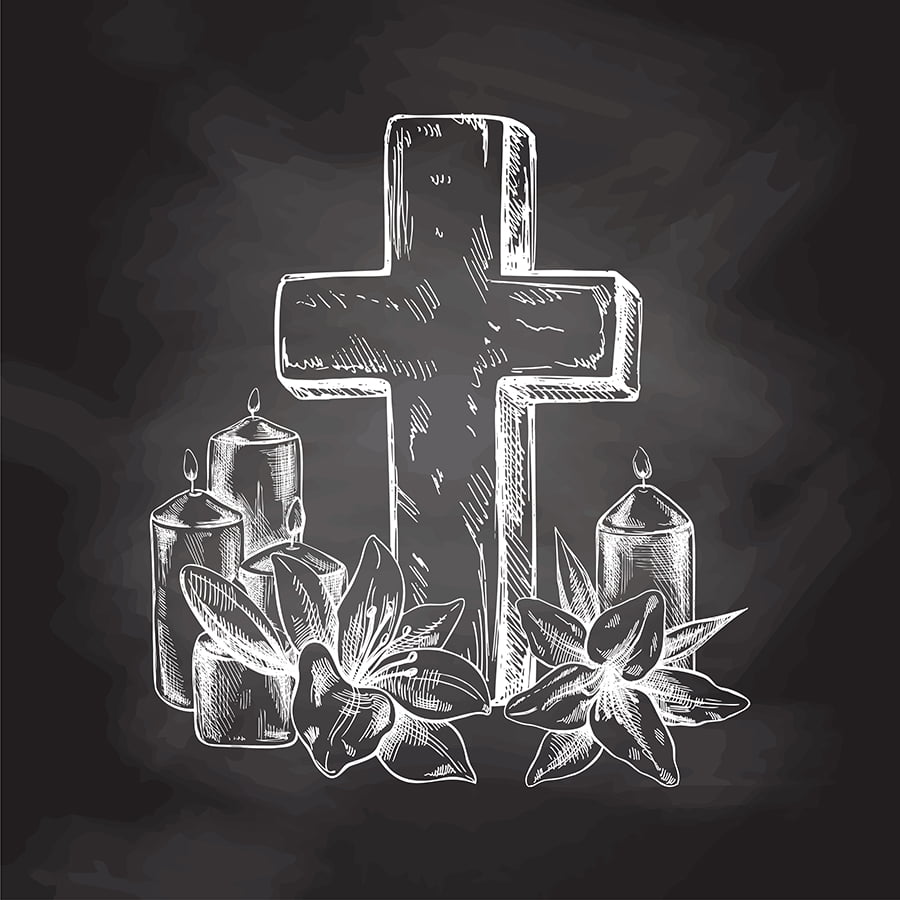 Draw a simple cross with white chalk on the board, then add some greenery around it to create an elegant look. Lilies are also commonly associated with Easter and can be drawn in various sizes and colors to complement the cross drawing.
This design is perfect for those who want to keep their decoration minimal yet meaningful during this holiday season.
Chalkboard Wreath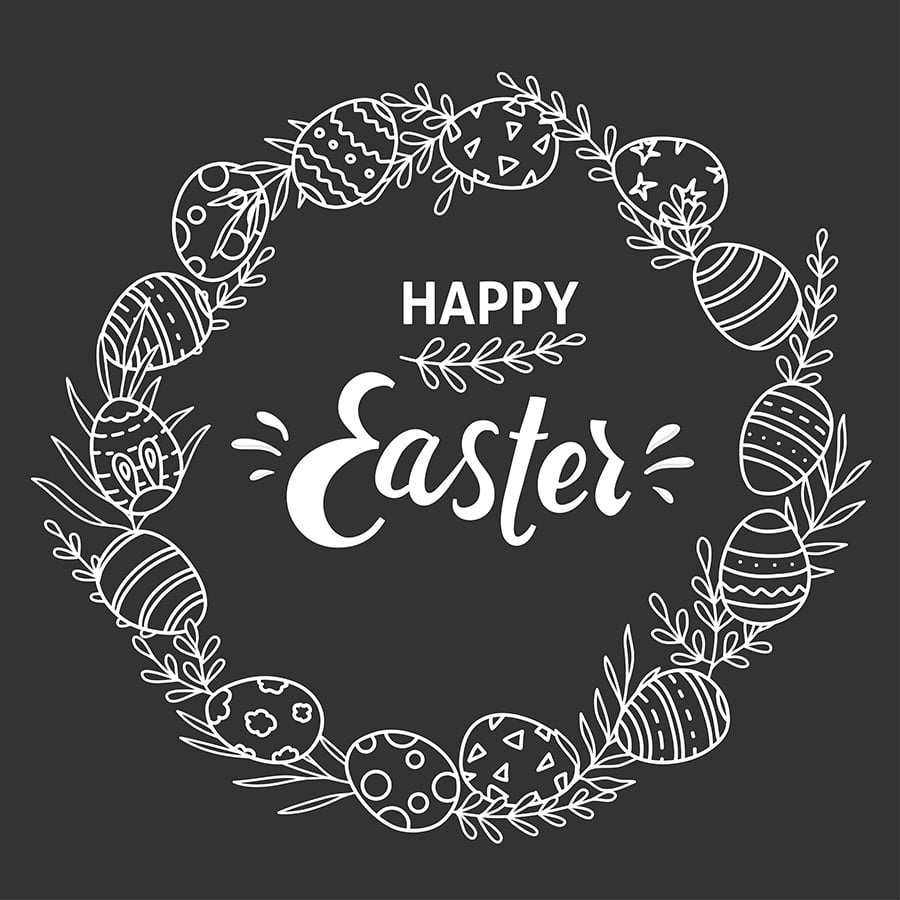 You can draw or write anything you like on the chalkboard surface, making it easy to customize your wreath with different messages or designs. Some popular ideas include drawing spring flowers, writing Easter greetings, or even creating a countdown until the big day! To make your own chalkboard wreath, start by finding a plain grapevine wreath and spray painting it with black chalk paint.
Once dry, use white chalk markers to create your design directly onto the surface of the wreath. Hang up in any room of your house for an instant touch of festive cheer!
Family Egg Decorating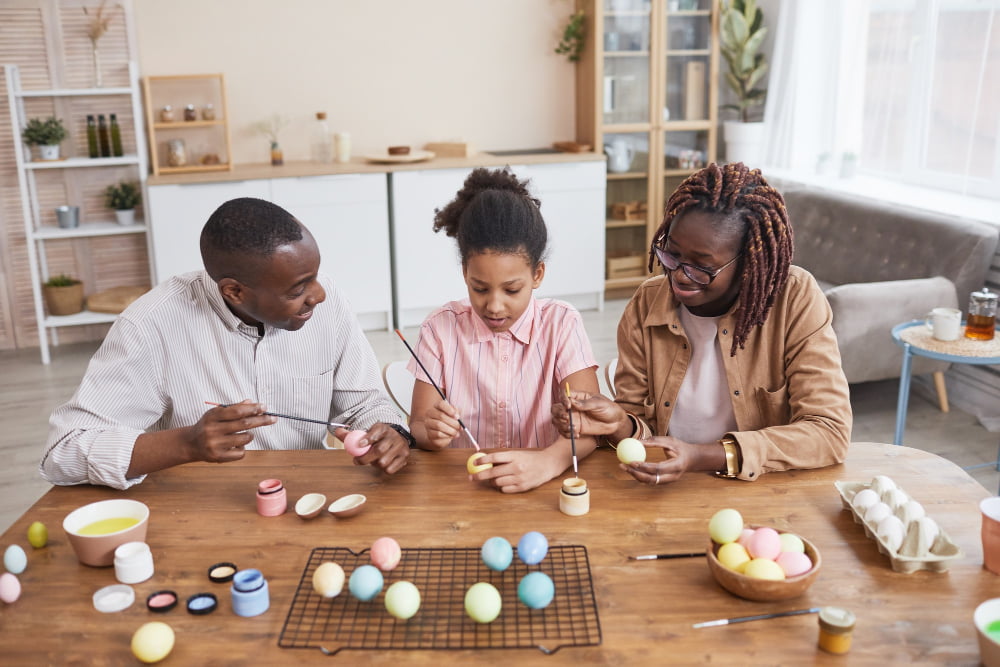 Gather your loved ones around the table, provide them with hard-boiled eggs, paintbrushes, and an array of colorful paints or markers. Encourage everyone to let their imagination run wild as they decorate their eggs in unique ways.
You can even turn it into a friendly competition by voting on the best-decorated egg! This activity not only brings families together but also creates lasting memories for years to come.
Chick Illustration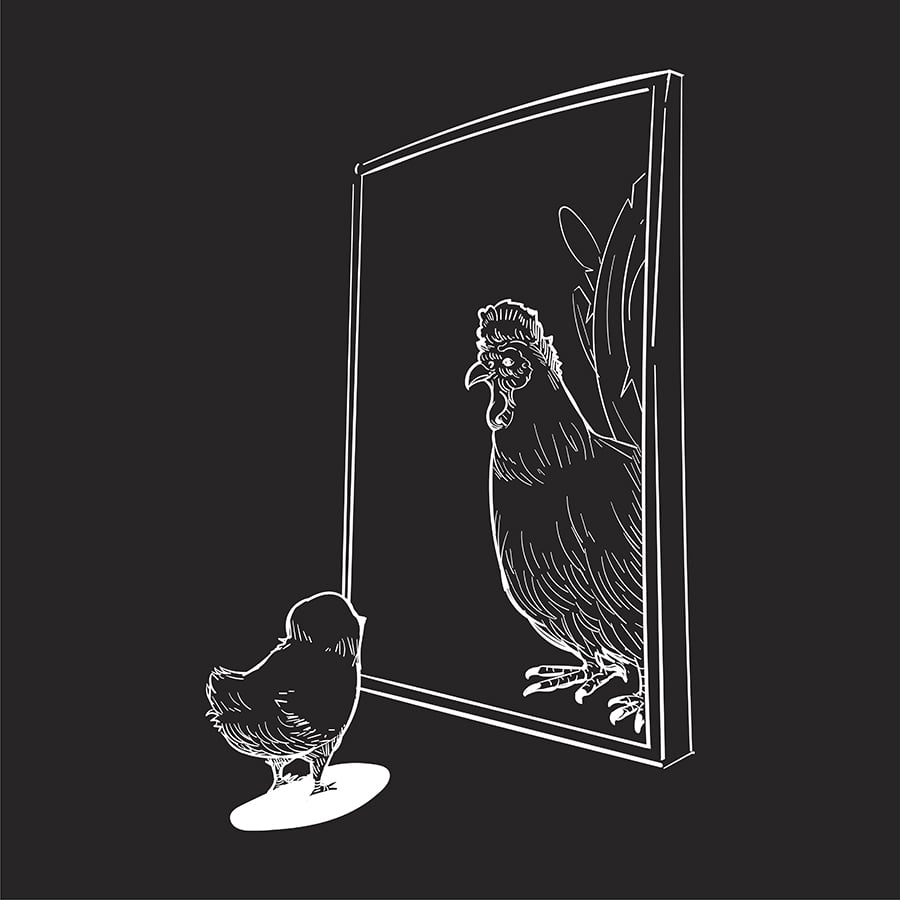 You can create a simple or detailed drawing of a baby chick, depending on your artistic skills. Add some colorful flowers or eggs around the chick to make it more festive.
This design works well for both indoor and outdoor decorations, as it brings in the springtime vibes with its bright colors and cheerful imagery.
Resurrection Message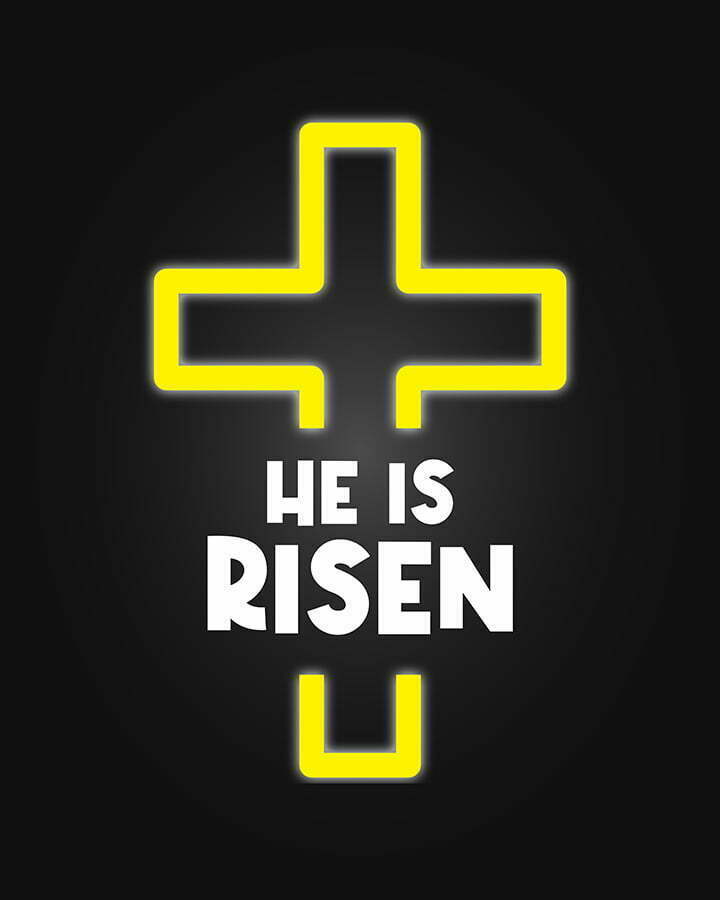 You can write a Bible verse or an inspiring quote about Jesus' resurrection on your chalkboard. Some popular verses include John 11: 25-26, "I am the resurrection and the life," and Luke 24:6, "He is not here; he has risen!" A simple message like this can add depth to your Easter decor while also reminding everyone why we celebrate this holiday in the first place.
Carrot Garland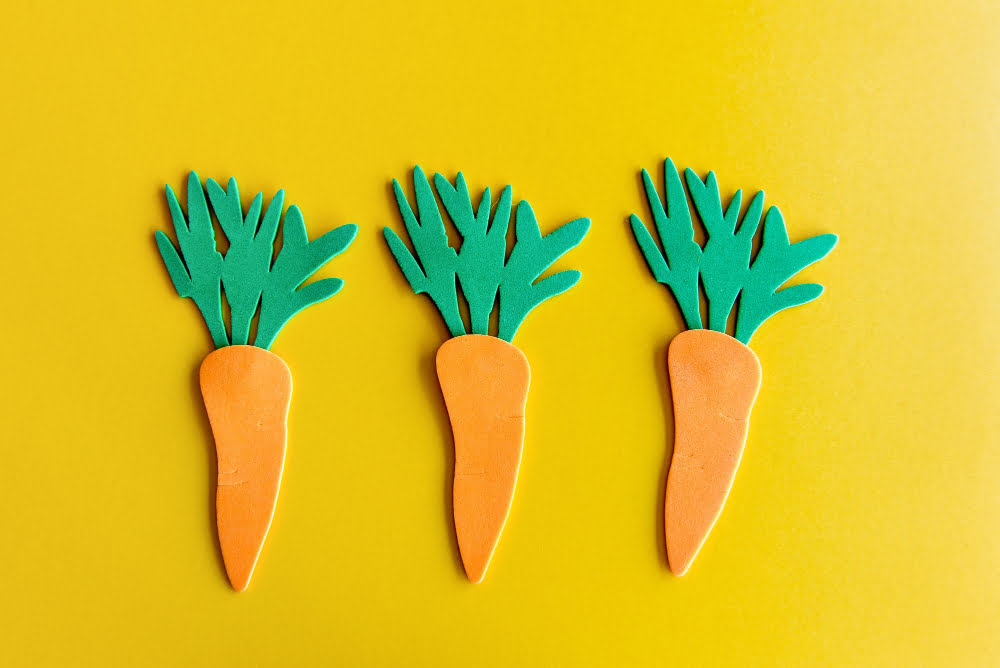 To make this garland, you will need orange construction paper or cardstock, green tissue paper or ribbon, scissors, and string. Cut out carrot shapes from the orange paper and cut small strips of green tissue paper or ribbon for the tops of the carrots.
Glue each strip onto the top of a carrot shape to create a stem. Once all your carrots are complete, thread them onto a piece of string using tape or glue dots to secure them in place.
Hang your finished garland on walls, mantels or doorways for an adorable touch that is sure to impress guests!
Easter Jokes Corner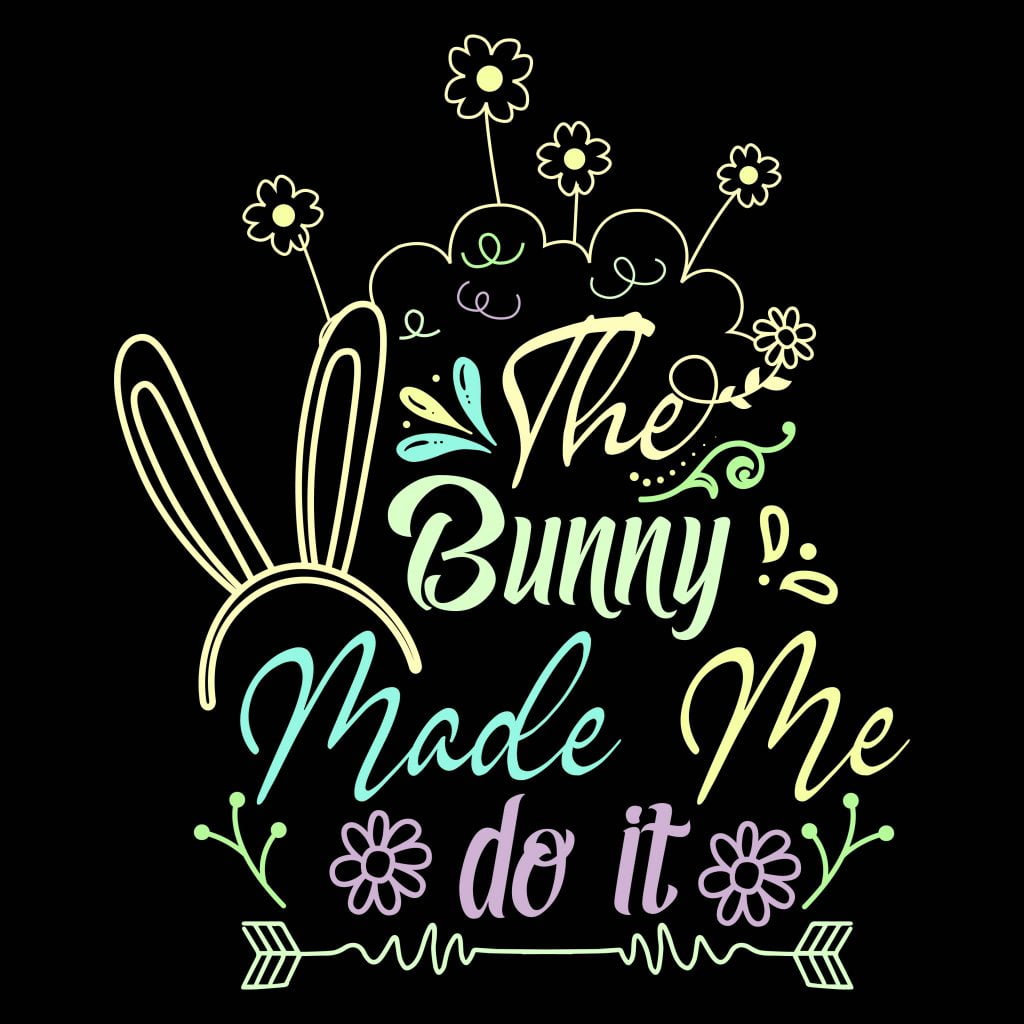 Here are a few examples to get you started:
Why did the Easter egg hide? Because it was a little chicken!
What do you call ten rabbits marching backwards? A receding hareline!
How does the Easter bunny stay in shape? By doing lots of eggs-cercise!
Basketful of Eggs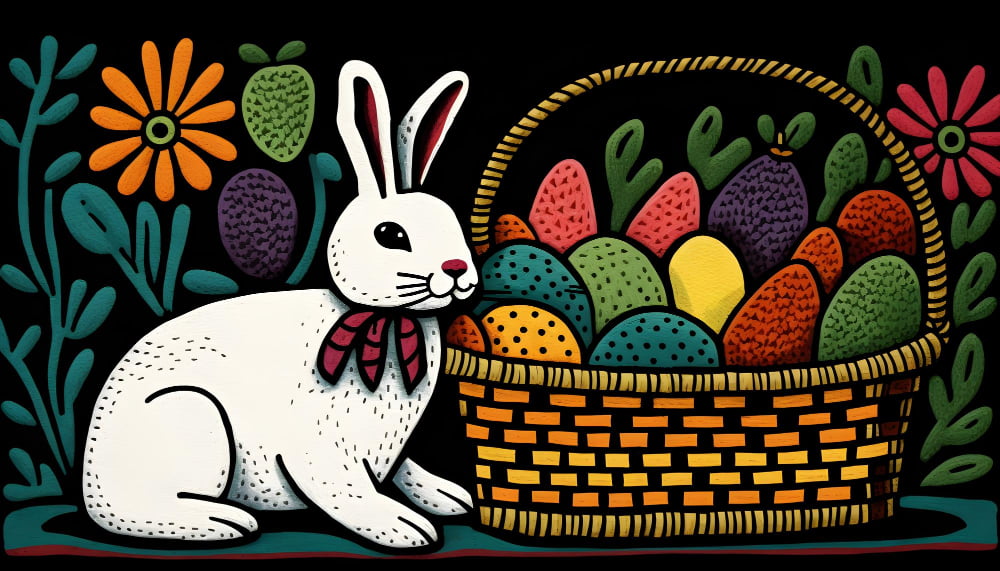 Draw a simple basket outline and fill it with colorful eggs to create an eye-catching display. You can also add some text, such as "Happy Easter" or "Egg Hunt Time", to make the message more clear.
This idea works well for both home decor and classroom displays, adding a touch of festive cheer to any space.
EGGstraordinary Puns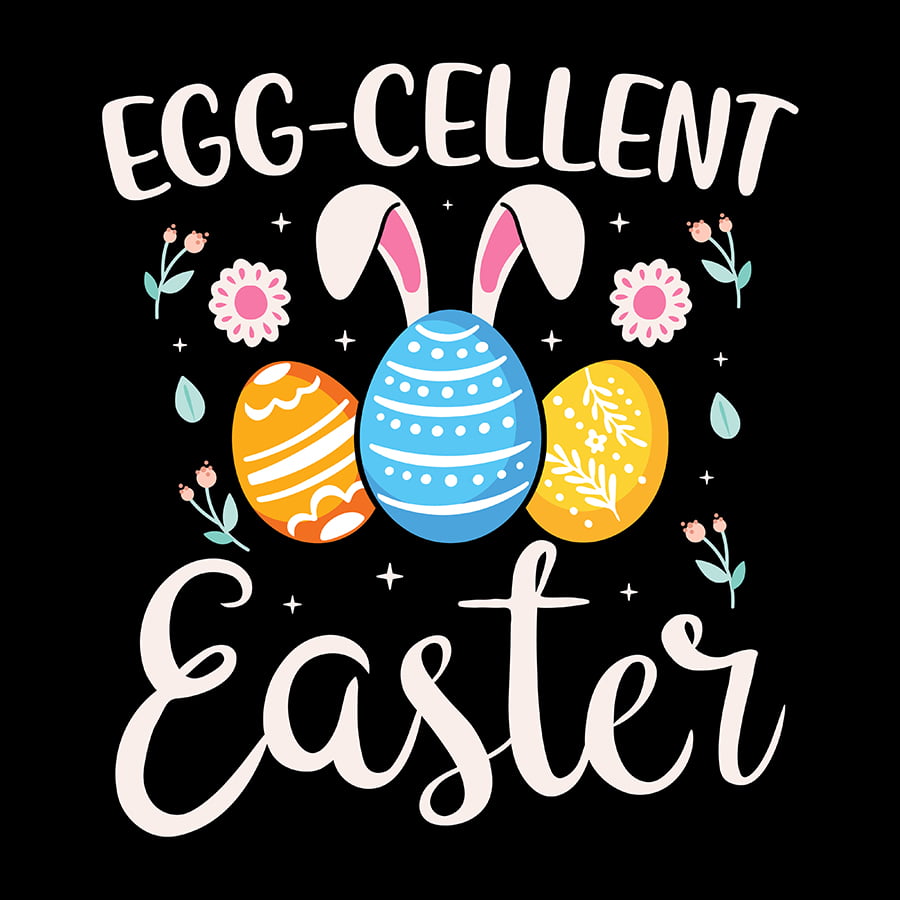 Here are a few examples: "I'm egg-cited for Easter!" or "Don't be too hard-boiled this holiday." You can also incorporate puns into your egg decorating station by labeling different colors with phrases like "yolk yellow" or "egg-shellent white". Get creative and have fun!
Bunny Hop Race
On "go," they must hop like bunnies to reach the finish line first. You can even add some obstacles along the way, such as hopping over stuffed animals or weaving through cones.
This activity is sure to bring laughter and joy to your Easter celebration!
Scripture Verse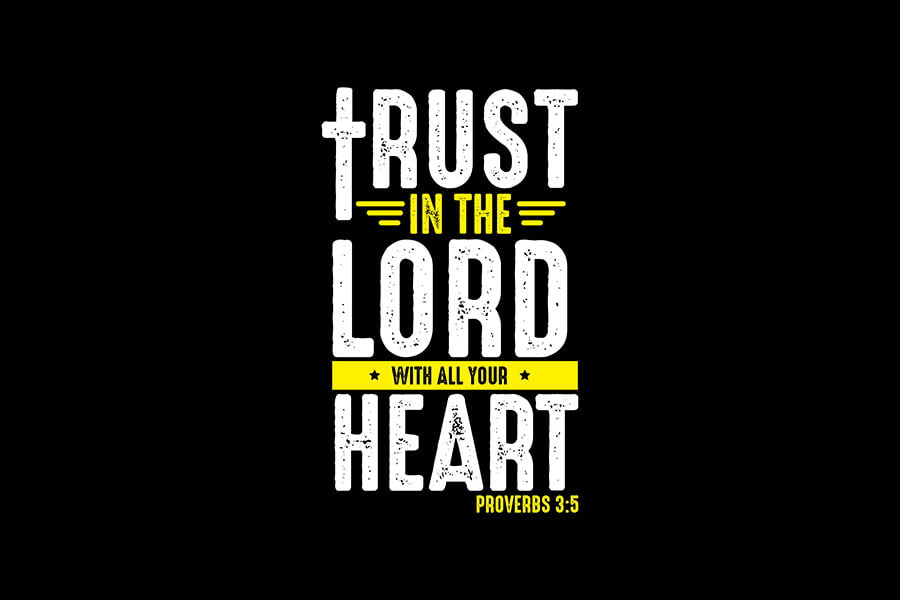 Choose a verse that speaks to you and write it in beautiful calligraphy on the board. Some popular choices include John 11: 25-26, "I am the resurrection and the life," or 1 Peter 1:3, "Praise be to God…He has given us new birth into a living hope through the resurrection of Jesus Christ from the dead." Not only will this add an element of spirituality to your home during Easter time, but it can also serve as a reminder for all who see it about what this holiday truly represents.
Chocolate Egg Tracker
Then, draw or write clues for each location to help kids find their treats. You can also use this idea to create a scavenger hunt around your home or yard.
Just make sure to have plenty of chocolate eggs on hand!
Springtime Haiku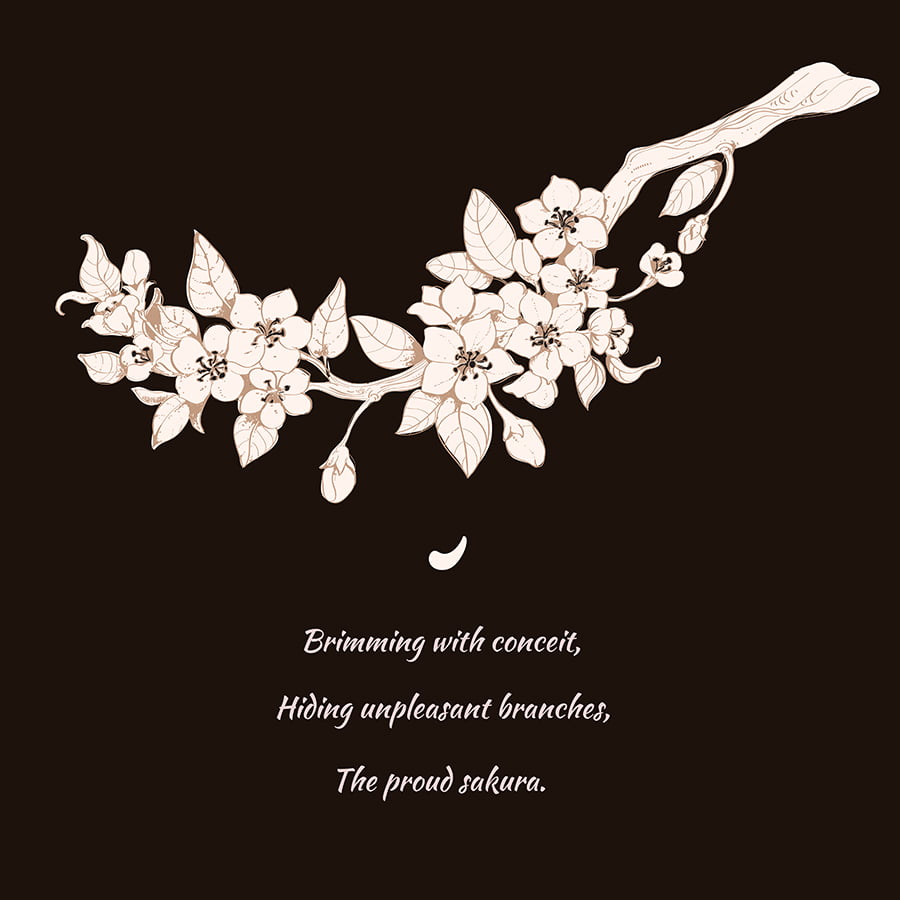 These three-line poems consist of 17 syllables, with the first line having five syllables, the second line seven syllables, and the third line five again. You can write haikus about anything related to spring or Easter – from blooming flowers and chirping birds to chocolate bunnies and egg hunts! Here are a few examples:
Pink petals falling, Cherry blossoms in full bloom, Spring has arrived here.
Easter eggs galore, Hidden in every corner, Kids search high and low.
Egg Dyeing Tips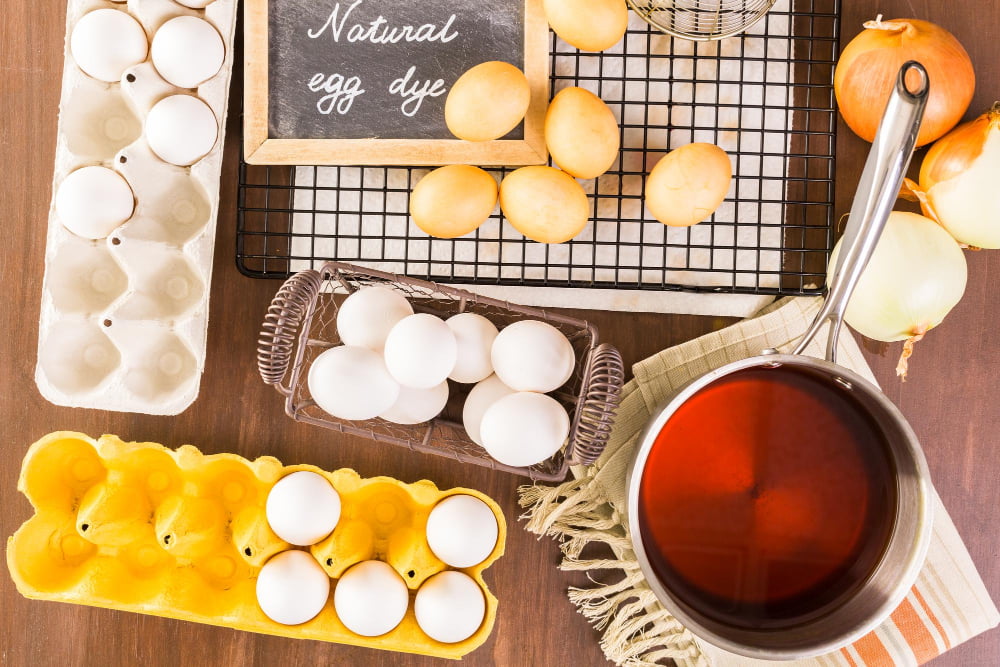 Here are some tips to help you achieve the best results:
1. Start with clean, dry eggs: Make sure your eggs are free of any dirt or debris before starting the dyeing process.
2. Use food coloring or natural dyes: You can use either food coloring or natural dyes such as beet juice, turmeric powder, or red cabbage to color your eggs.
3. Add vinegar to the dye mixture: Adding vinegar helps the color adhere better to the eggshell.
4. Experiment with different techniques: Try using rubber bands, stickers, tape, wax crayons or even leaves and flowers from your garden for unique designs on your Easter Eggs!
5.
Easter Trivia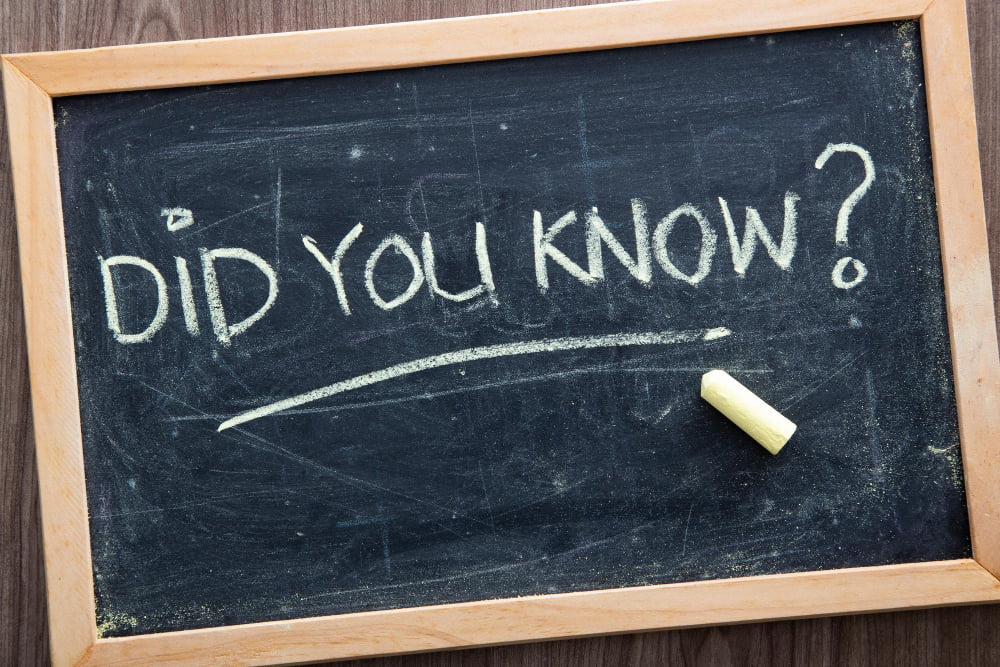 You can create an Easter-themed chalkboard with interesting facts about the holiday, such as its origins, traditions around the world, and popular Easter symbols like eggs and bunnies. Did you know that in some countries it's traditional to throw water on each other during Easter? Or that in Greece they play a game called "tsougrisma" where people tap their red-dyed eggs against each other until one cracks? Sharing these little-known facts will not only entertain your guests but also educate them about different cultures' customs surrounding this special time of year.
Lamb and Bunny Pals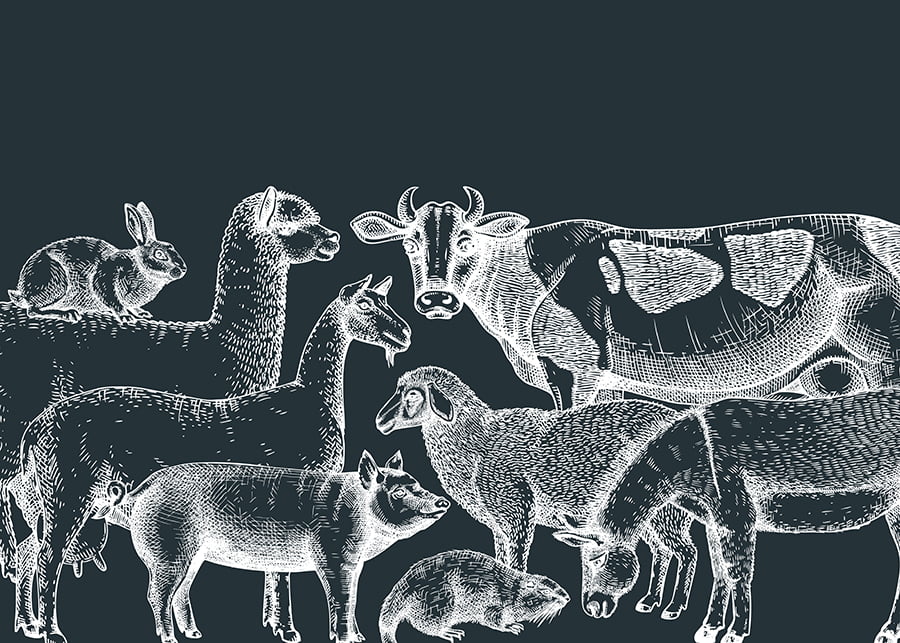 Draw a cute lamb and bunny together, or create separate illustrations of each animal to place on opposite sides of the board. You could also add some fun text like "Best Buds" or "Hoppin' with my Lamb".
This idea is perfect for those who want to keep their Easter decorations simple yet adorable.
Liked reading this? Here's more: