Last updated on November 2, 2023
Dive into this treasure trove of Quinceanera decoration ideas because creating a unique, memorable party is more attainable than ever with the right inspiration.
As the proud creator of these 20 perfect quinceanera decoration ideas, I sincerely hope you find my unique designs inspiring, garnishing as much joy exploring them as I did creating them.
Quinceanera, a significant event in the Hispanic culture, marks the transition from childhood to womanhood when a girl turns 15.
The celebration is as grand as the meaning it holds, and the decorations play a crucial role in setting the right mood.
Whether you're aiming for a traditional or a modern theme, a garden party or a grand ballroom event, it's essential to choose decorations that align with the theme and resonate with the birthday girl's personality.
From table centerpieces, backdrops, balloons, floral arrangements to the cake table, every detail contributes to the overall aesthetics.
This article will provide you with various decoration ideas that will help you plan a memorable Quinceanera.
Pastel Balloon Archways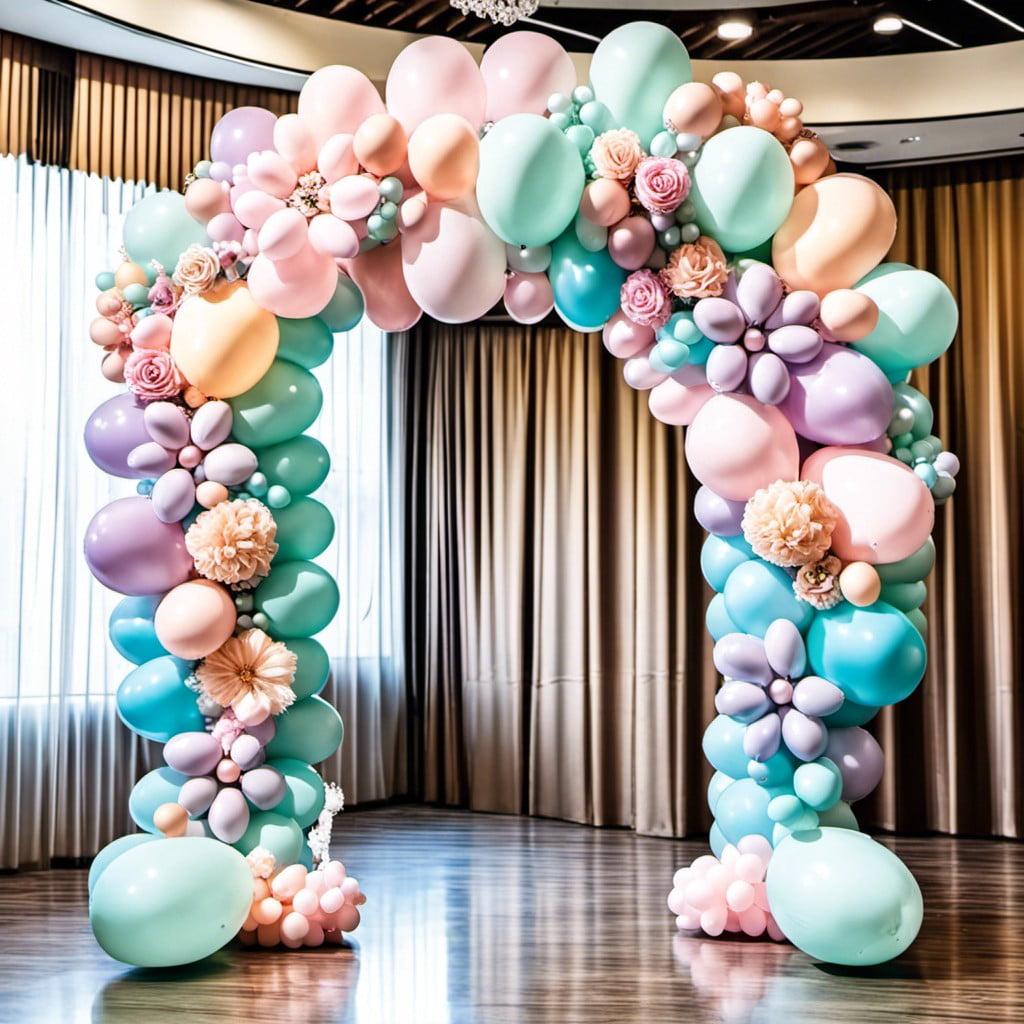 Installing an archway made of soft hued balloons gives an ethereal touch to the entryway or stage backdrop, setting the tone for a lovely quinceanera event.
1. Use shades like sky blue, gentle pink, or lavender to maintain the pastel theme. Mixing several pastel colors can also create a beautiful rainbow effect.
2. Keeping in mind the venue's size, design the archway to either be a grand statement piece or a charming welcome at the entrance.
3. Elevate the archway by adding small touches – wrap them with ivy, tulle or twinkling fairy lights. If choosing a single-color theme, consider adding white balloons for contrast and depth.
4. To ensure longevity, opt for helium-filled balloons, which can also provide a magical floating effect.
5. Engage professional balloon artists for more intricate designs, such as spirals, clusters, or flower shapes.
Remember, pastel balloon archways are not only visually pleasing but also offer fantastic spots for memorable photographs.
Crystal Chandeliers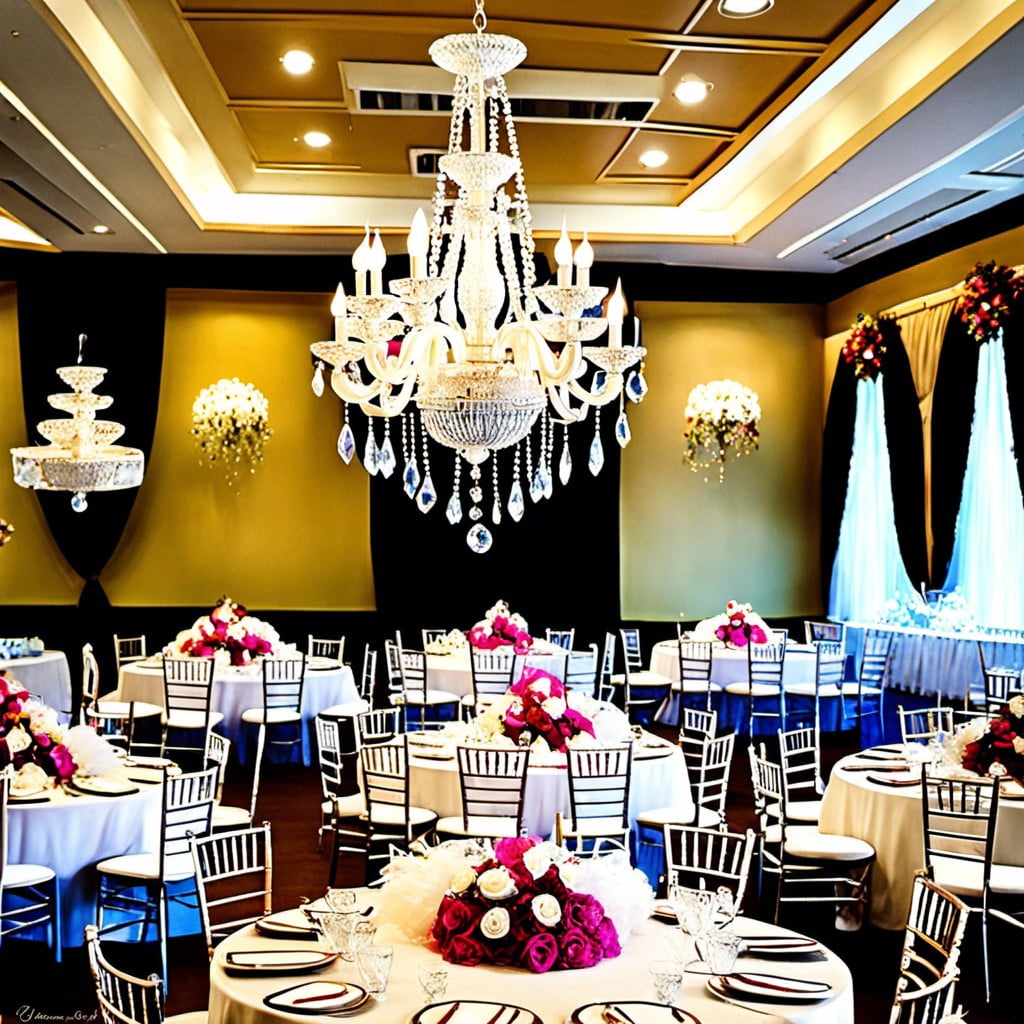 Lending an air of elegance and grandeur, crystal chandeliers can be a perfect lighting choice. With its sparkling elegance, it creates a magical ambiance that is both dazzling and inviting.
Whether suspended over the main feast table, the dance floor, or strategically scattered across the venue, they disperse a gentle radiance that adds depth and sophistication.
For a more personalized touch, opt for chandeliers that reflect your event's color scheme. For instance, pink crystals can subtly tie in with a rosy motif.
Alternatively, a classic clear crystal chandelier works well with almost any theme, adding a timeless charm that is hard to overlook.
Remember, the key is to balance the chandelier's scale with the size of the space to prevent it from overwhelming the area.
Be sure to consider using dimmers if the chandelier is adjustable, as the flexibility to control the lighting can dramatically alter the mood depending on the phase of the celebration.
It not only provides a visual appeal but also creates a captivating atmosphere that guests will long remember.
Floral Wall Backdrops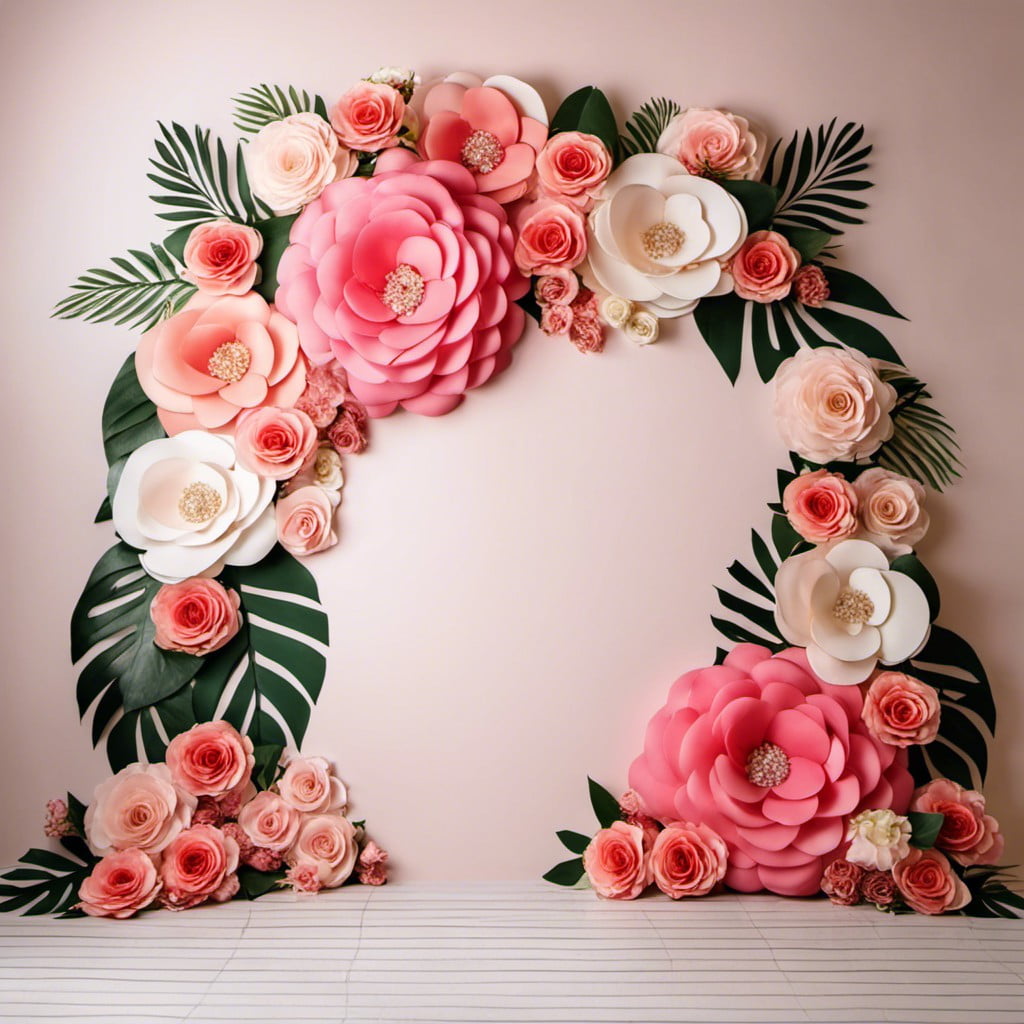 In choosing the variety of flowers, not only consider the colors that match the overall theme, but also the texture and size. Large, voluminous blossoms like roses, peonies, or hydrangeas create a lot of impact and fill space beautifully, while smaller flowers such as baby's breath or daisies lend delicate detail.
Don't limit yourself to real flowers—silk or paper creations offer a cost-effective alternative and ensure longevity—the backdrop can be made ahead of time without worrying about wilting. Plus, this offers an opportunity to incorporate non-traditional or out-of-season flora.
Stripe patterns, ombré effects, or random placements all create varying aesthetics within this theme. It all depends on the style you want to project.
Keep in mind the placement of this backdrop. It perfectly suits being a striking background for the cake table, a photo area, or even behind the special throne chair of the celebrant.
Creating some depth can be quite effective—consider adding fairy lights, crystals or greenery interspersed to give a 3D element to the arrangement.
Make sure your background surface is sturdy and will support the weight of your floral wall, and ensure that the assembly and disassembly process is planned out carefully to avoid any hiccups on the big day.
Butterfly Themed Decor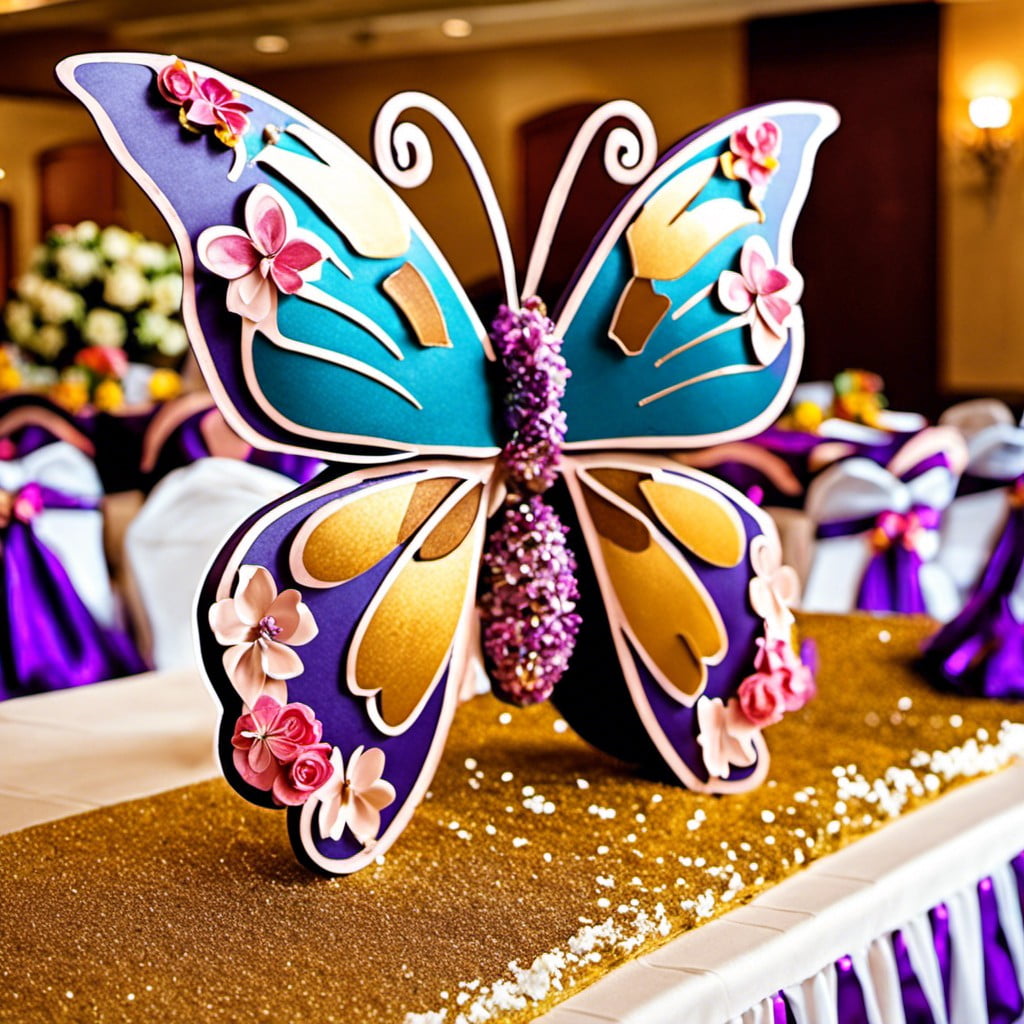 Frolicking through a field of fluttering, colorful wings not only ignites the imagination but sets a dreamlike atmosphere. Create this magical essence using assorted butterfly decorations – both suspended and stationary. Choose different sizes and hues for visual variety, mimicking nature's unpredictability. Decorate walls, ceilings, and even the centerpiece with these delicate creatures.
Incorporate butterfly prints on table runners and napkins or even on the cake design, bringing cohesion to your theme. Translucent, butterfly-shaped fairy lights can line walkways and dance floors, providing gentle illumination with a touch of whimsy. For an additional interactive element, consider designated butterfly release during the celebration's climax, a breathtaking spectacle that leaves lasting impressions.
Organize a craft station for the younger attendees to create their own artistic butterflies, providing a fun activity that doubles as a take-home party favor. The butterfly theme is a versatile yet unique choice, encompassing grace, transformation, and sheer beauty.
Enchanted Forest Setting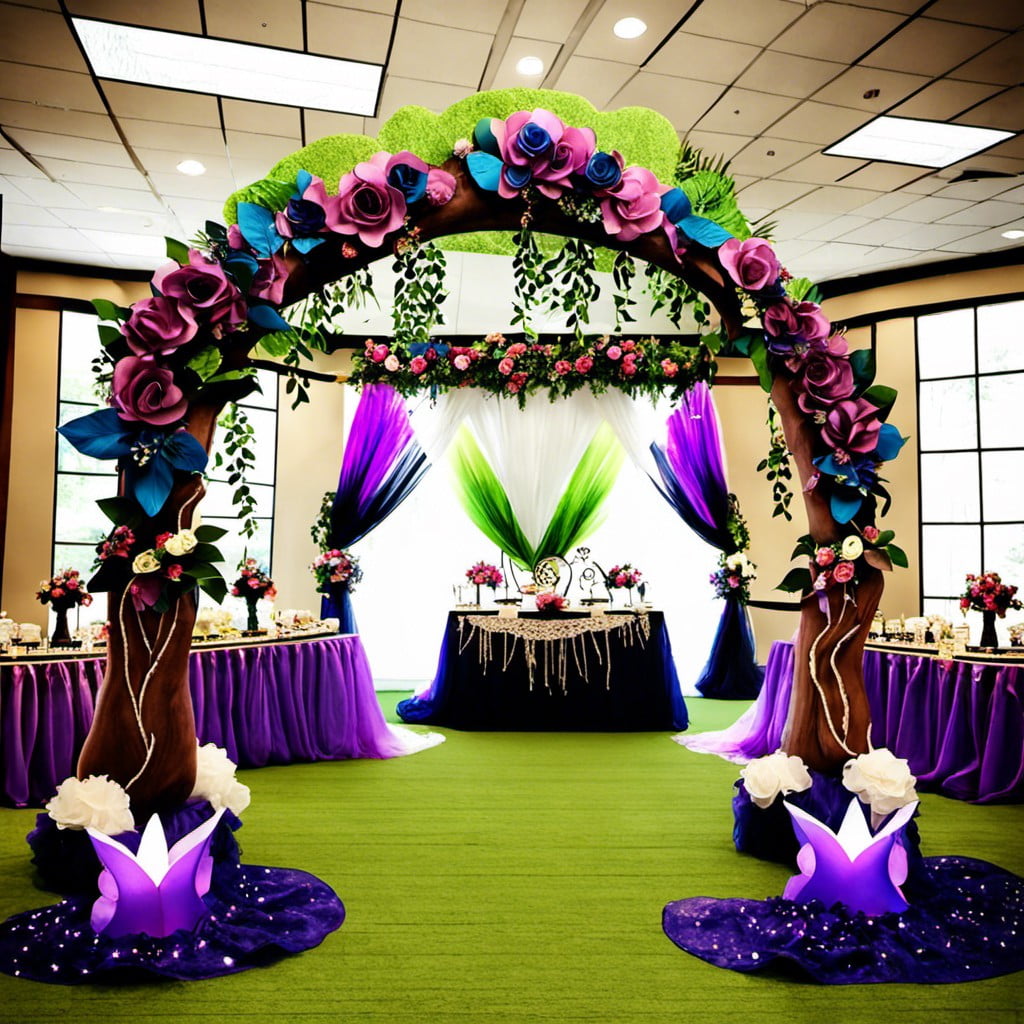 In establishing this magical environment, consider incorporating towering tree replicas and lush green foliage. Include string lights to simulate twinkling stars and hanging lanterns for an ethereal glow.
Artificial water bodies, like a small pond or waterfall, could elevate the sense of being in an actual forest. To add a dash of mystique, create a mystical pathway using moss or green faux grass.
Wooden furniture, such as tree stump tables and forest-themed tablecloths, can serve as charming accents for this setting. For a finishing touch, try hiding small forest creatures like faux birds or butterflies among the decorations.
Cinderella Carriage Centerpieces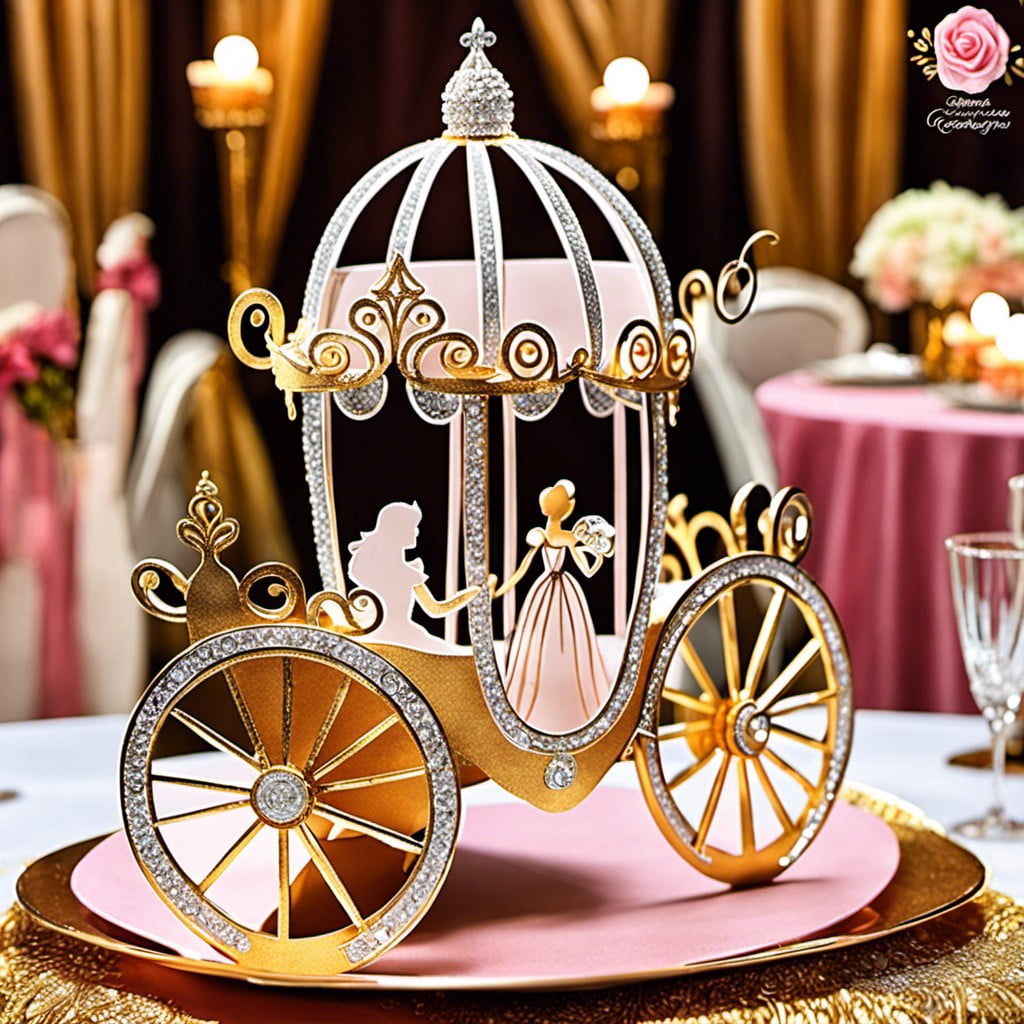 Fitting for any princess-themed quinceanera, these centerpieces are unique show-stoppers. Fashioned from metal and glass, they re-create the magical carriage from the beloved fairy tale.
Many often come with intricate detailing in gold or silver, matching well with almost any color scheme. Place one in the middle of each guest table, surround it with fairy lights or delicate rose petals to create a dreamy ambiance.
Some even have a small compartment to hold flowers or a candle. Those who want to go the extra mile, could consider adding a tiny horse figurine beside each carriage, sure to make guests smile.
Meanwhile, those seeking a clear canvas to decorate can opt for an all-glass design, waiting to be adorned with their personal touch. Creating a charming and memorable centerpiece, guests will feel like part of the enchanting story themselves.
Quinceanera Tiara Table Decor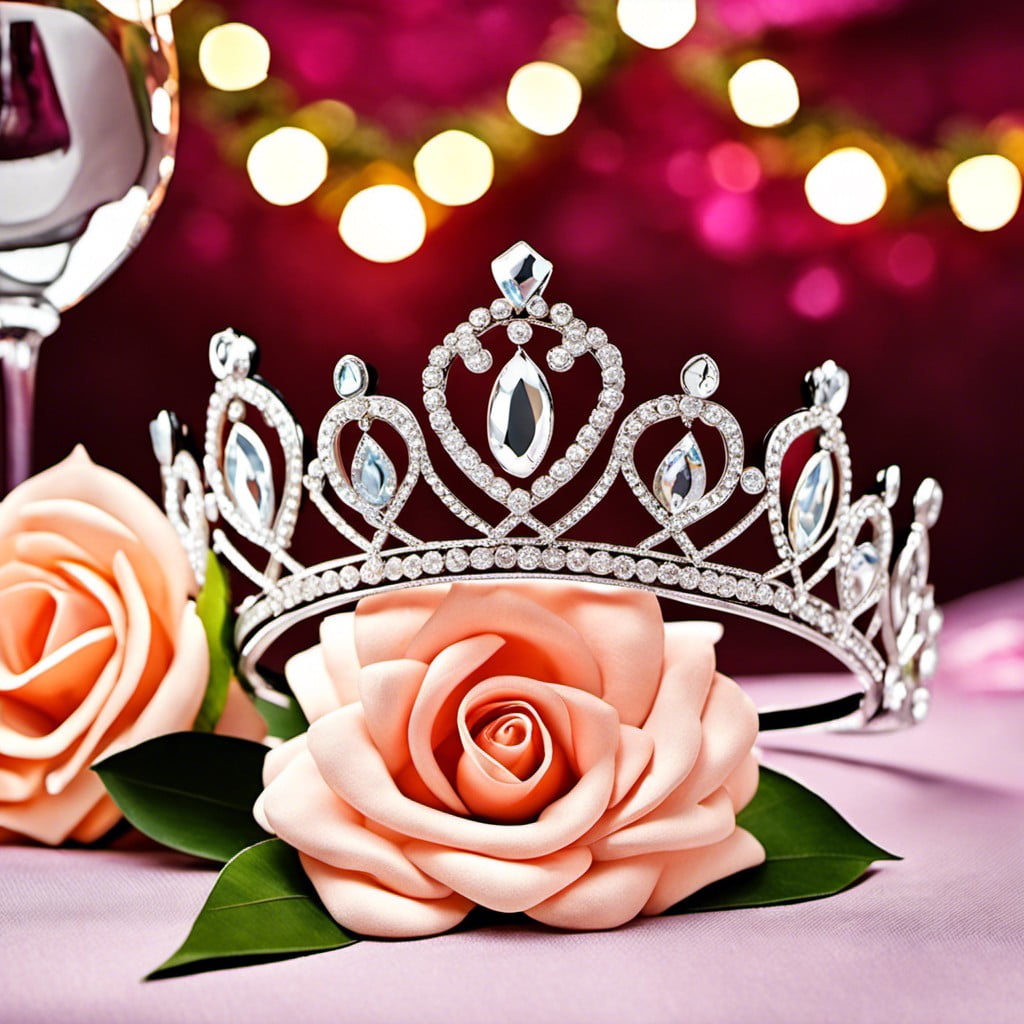 Enhancing your table decor with tiaras adds an extra royal touch that conspicuously symbolizes the coming of age transition.
You can opt for miniature tiaras as place card holders for a more subtle nod to the theme, or go more extravagant with larger tiaras forming the centerpiece of each table.
Paired with floral arrangements or surrounded by tea lights, these glittering pieces can transform your tables into regal settings instantly.
You could also scatter sparkling tiara-shaped confetti around for added shimmer.
It's a beautiful way to remind everyone of the birthday girl's princess-for-a-day status.
Remember to maintain the color scheme of the event to create a harmonious look.
Fairy Light Canopies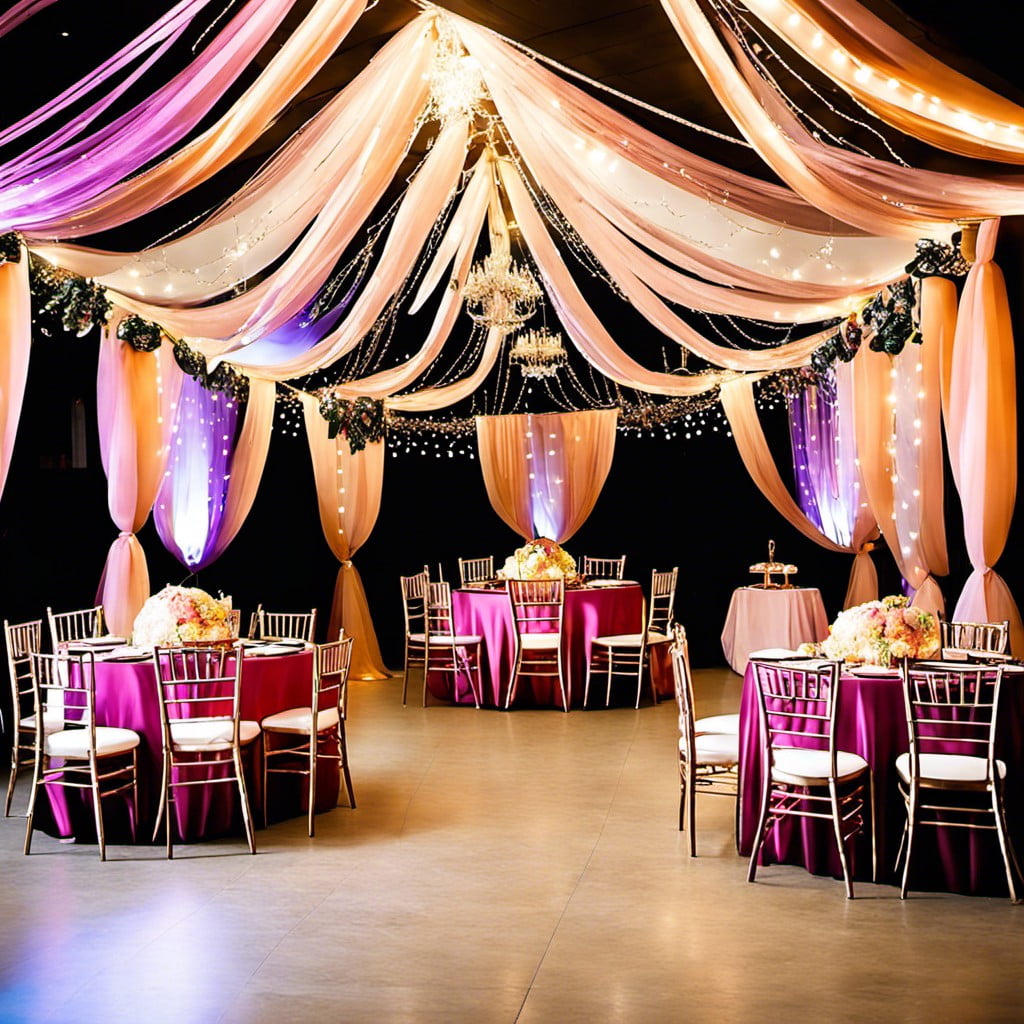 Taking inspiration from star-studded skies, creating a canopy of fairy lights can lend a magical touch to your celebration. Here's how you can incorporate this dazzling feature:
1. Overhead Draping: Suspend strings of warm-toned fairy lights above dining tables, buffet areas, or dance floors. It creates an intimate, celestial ambiance.
2. Wall Vines: Use LED vine lights along the walls. Not only do they look like climbing vines but also cast a warm glow, perfect for a garden-themed Quinceañera.
3. Under Table Illumination: Wrap strings of these lights around the edges of tables for a captivating lower-level lighting effect.
4. DIY Light Curtains: Using straight lines of connected lights hanging down, create a backdrop or entranceway that excites your guests.
Remember, the intensity of lighting should be given careful thought. Too bright, and you'll diminish the fairy-like subtlety; too dim, and you'll lose the effect altogether. Strike a perfect balance for a memorable lighting experience.
Custom Pillows With Quinceanera's Name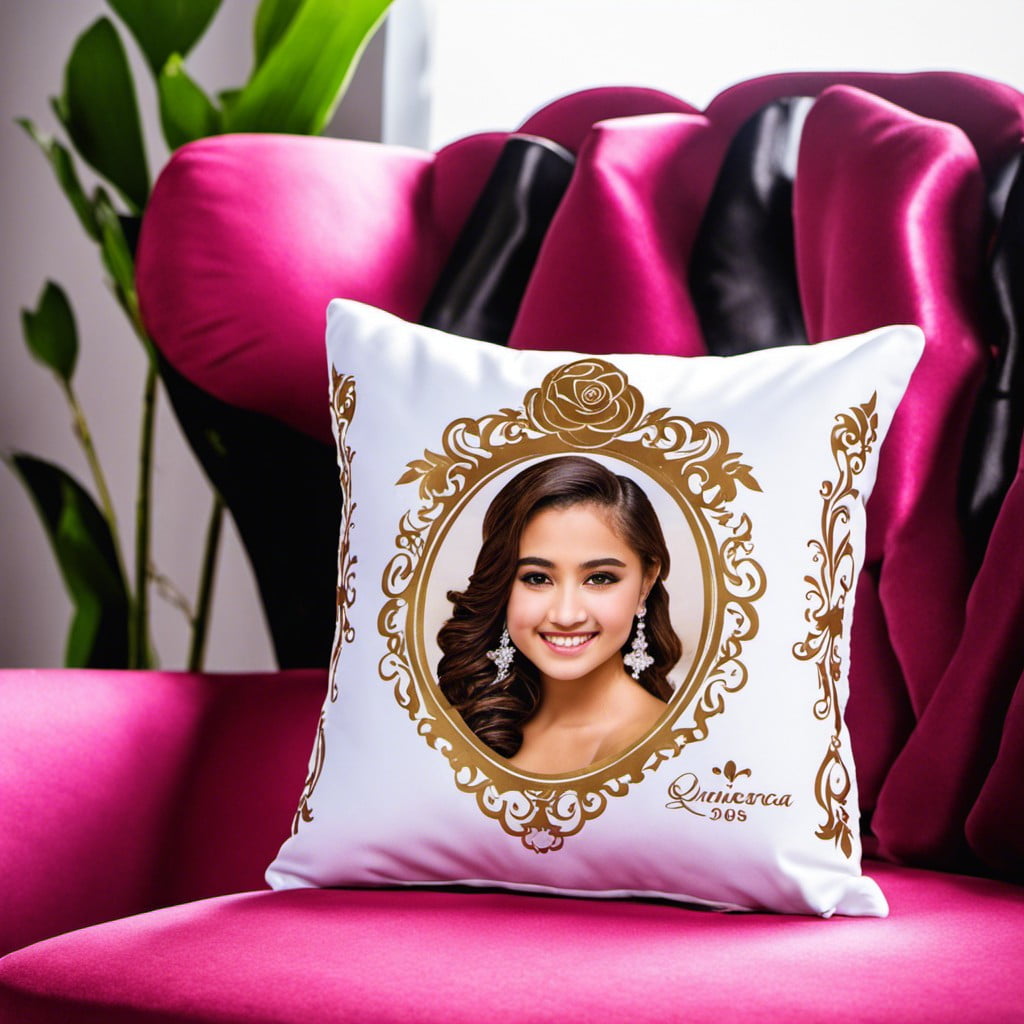 Adding a personalized touch to your event is important and this can be achieved using customized pillows inscribed with the celebratory girl's name. These statement pieces offer both elegance and comfort, elevating the aesthetic of your event.
From delicate embroidered styles to rhinestones and sequins for a high-glam look, there's a design to match any theme. These pillows can be placed on lounge seats or event chairs for a cozy yet stylish touch, providing an Instagram-worthy backdrop for guests.
Furthermore, they serve as great keepsakes for the guest of honor post-event. A professional decorator or event planner can assist you in sourcing vendors for these custom artisanal pieces. They come in various fabrics like velvet, silk, and satin, and countless color options to blend seamlessly with your quinceanera decor.
For an additional effect, considering adding some illumination. Mini LED lights or glow-in-the-dark paint can add a magical touch, making the star of the evening truly shine.
Masquerade Ball Theme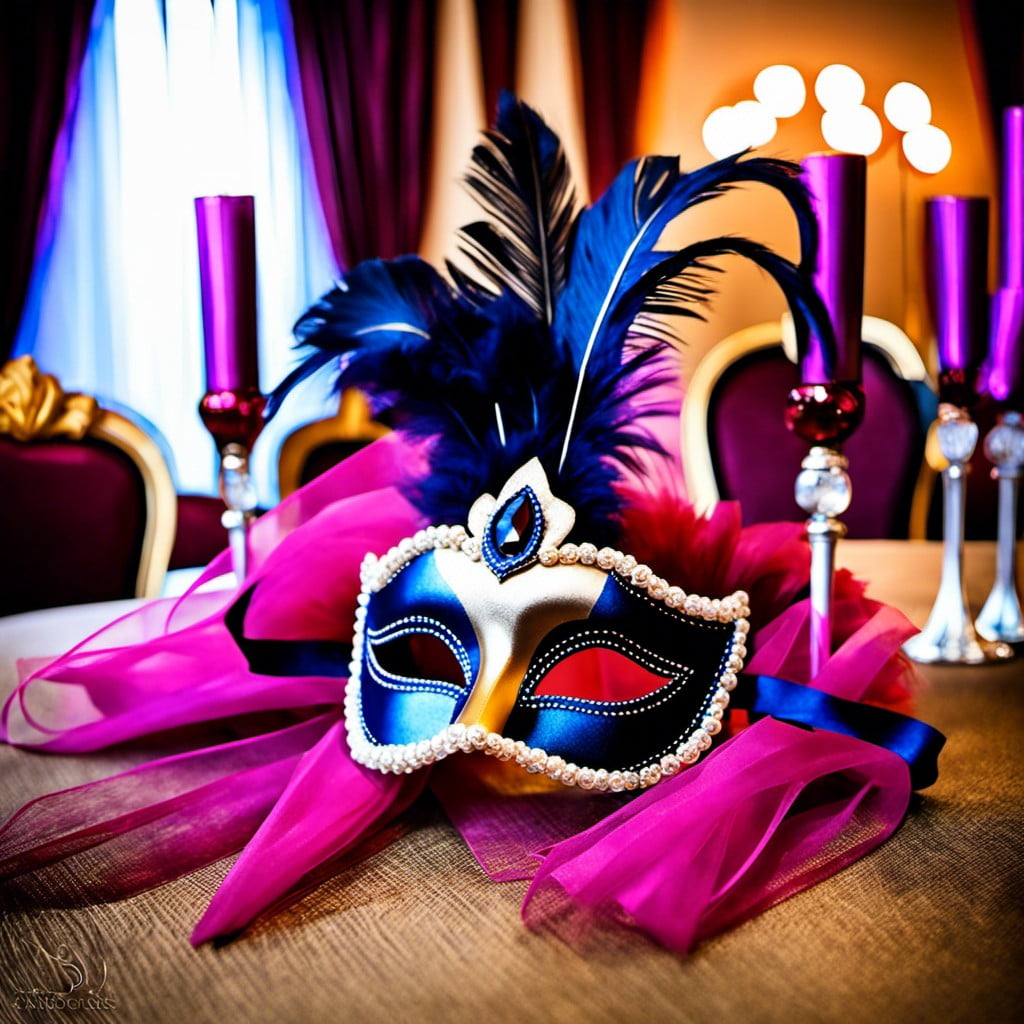 A masquerade ball theme catapults the quinceanera into an atmosphere of mystique and elegance. Imagine guests adorned in ornate masks that twinkle under the ambient lighting.
You can opt for a color scheme, such as black and gold or royal blue and silver, which blend seamlessly with velvet drapes, intricate candelabras, and feather centerpieces.
Remember to furnish a decorative mask for each guest on their seat, it's not just decor, but also a fun party favor to take home.
Light tones can provide contrast, coupled with metallic accents, they create a visually striking balance.
Option for a grand chandelier to illuminate the setting while emphasizing the regality of the event.
Lastly, don't forget the dance floor, bordered with flickering string lights, it's where all the masked merriment will unfold.
Elegantly Draped Ceilings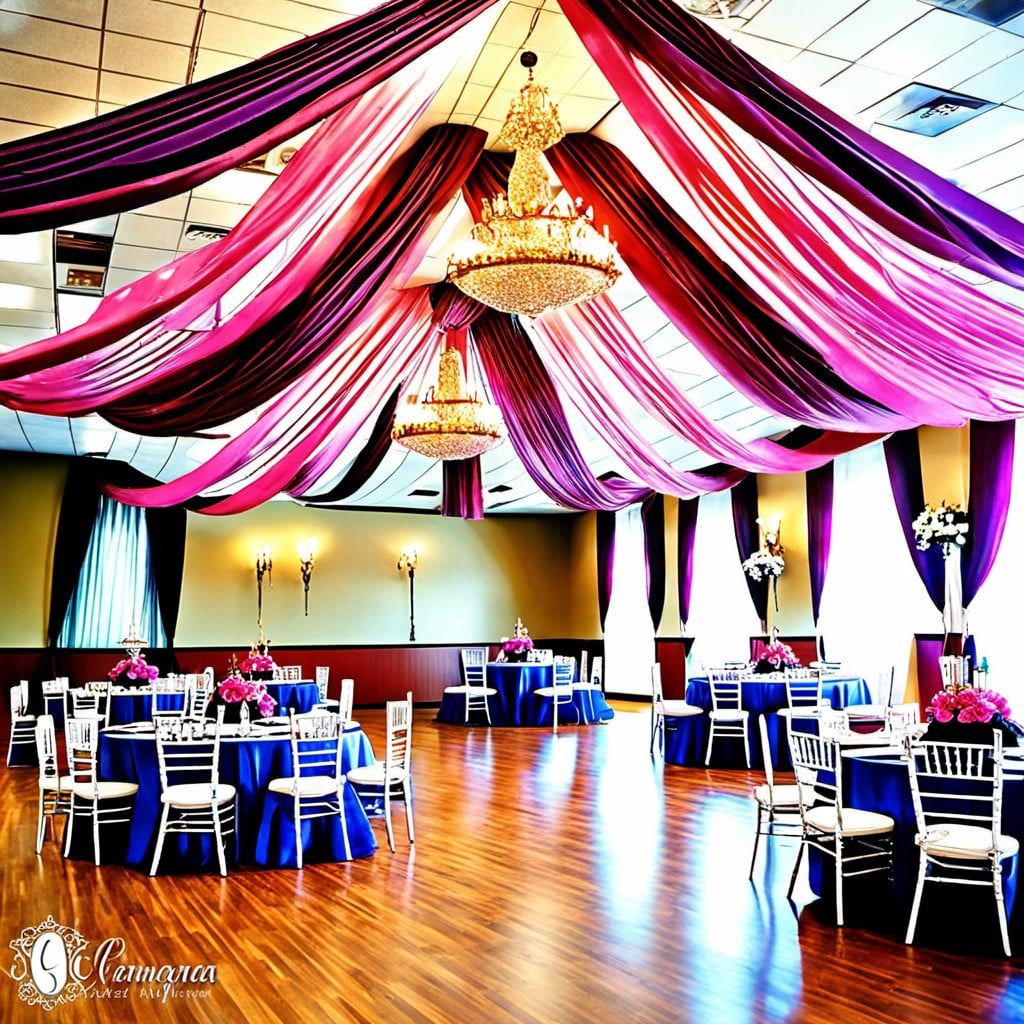 Applying fabric to the ceiling can add a unique touch to the celebration, instantly transforming simple spaces into extravagant party venues. Here are some things to keep in mind:
1. Material Choice: Sheer fabrics like chiffon and tulle are common, as they create a lightweight, voluminous effect when draped. They are also budget-friendly options.
2. Color Selection: Typically, soft colors are chosen, which can be matched with the overall color scheme of the party or can make a contrasting statement.
3. Draping Styles: Fabric can be arranged in a number of ways. Swags, gathered bunches, or parallel lines are just a few styles that bring distinct looks. Alternatively, fabric can drop from a central point, evoking a dramatic, tent-like aesthetic.
4. Lighting: Incorporating fairy lights or lanterns can enhance the mystical ambiance created by draped ceilings.
5. Safety First: Always consider safety while decorating. Ensure fabrics are fire resistant and firmly secured to avoid accidents.
A well-draped ceiling can significantly impact a quinceanera's visual appeal, immersing guests in a festive environment befitting the occasion.
Royal Throne Chair for Quinceanera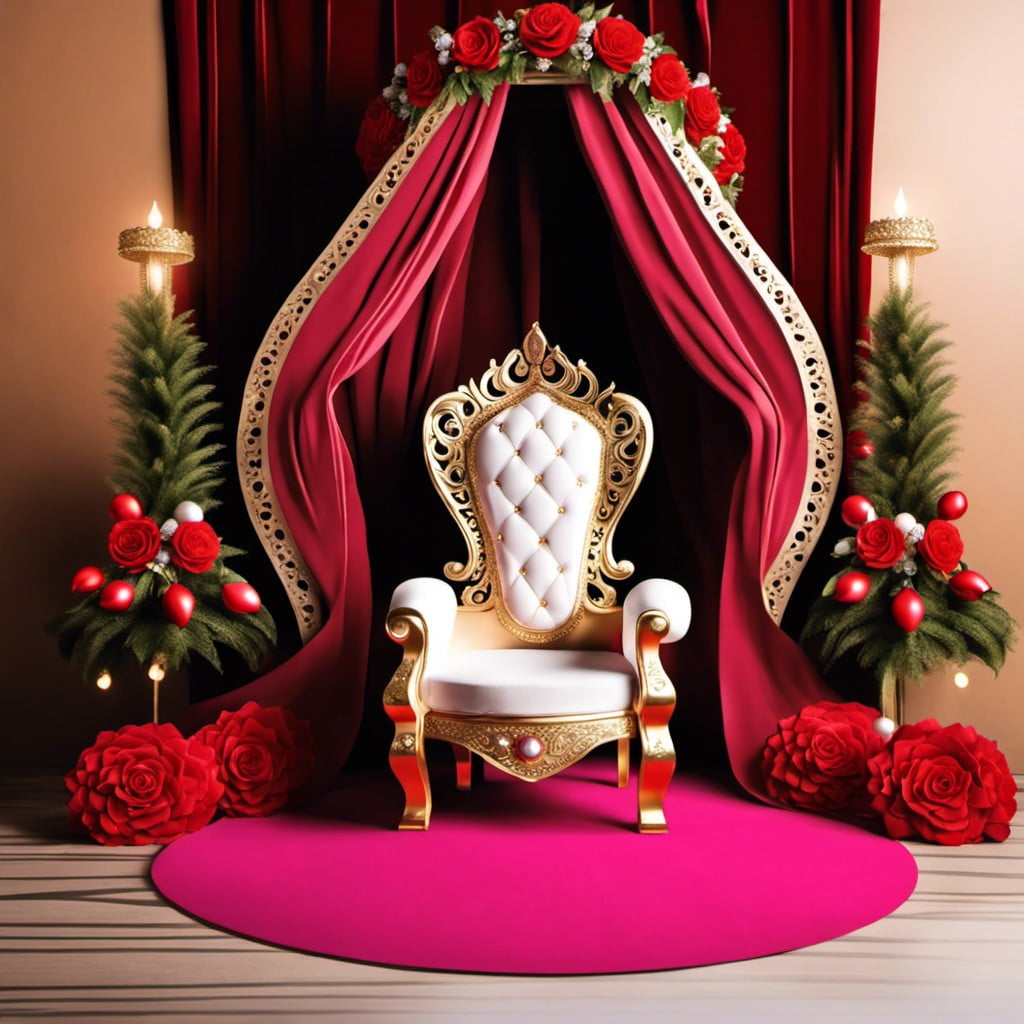 Elevating the birthday girl's status on her special day, a Royal Throne Chair serves as an ultimate decorative feature. This distinctive seating not only enhances the overall aesthetics but exudes grandeur for the event.
1. Positioning: Centralize the chair on the stage for maximum visibility. Strategically placing it ensures that the spotlight is always on the birthday girl.
2. Chair Design: Opt for a design that complements the party's theme. Velvet upholstery with gold trimmings caters to more traditional tastes, while a sleeker model adorned with rhinestones suits modern sensibilities.
3. Color Coordination: Align the chair's color with the party's palette to ensure a cohesive visual flow. Traditional colors include gold, silver, or white – all symbolizing royalty.
4. Accessorizing: Adorn the chair with flowers, ribbons, or glittering crystals to add a personalized touch.
5. Comfort: With aesthetics, don't overlook comfort. Cushioned backs, armrests, and seats ensure that the birthday girl feels like true royalty throughout the event.
Utilizing these pointers ensures that the Royal Throne Chair becomes an unforgettable centerpiece for a magical Quinceanera.
Princess Castle Cake Stand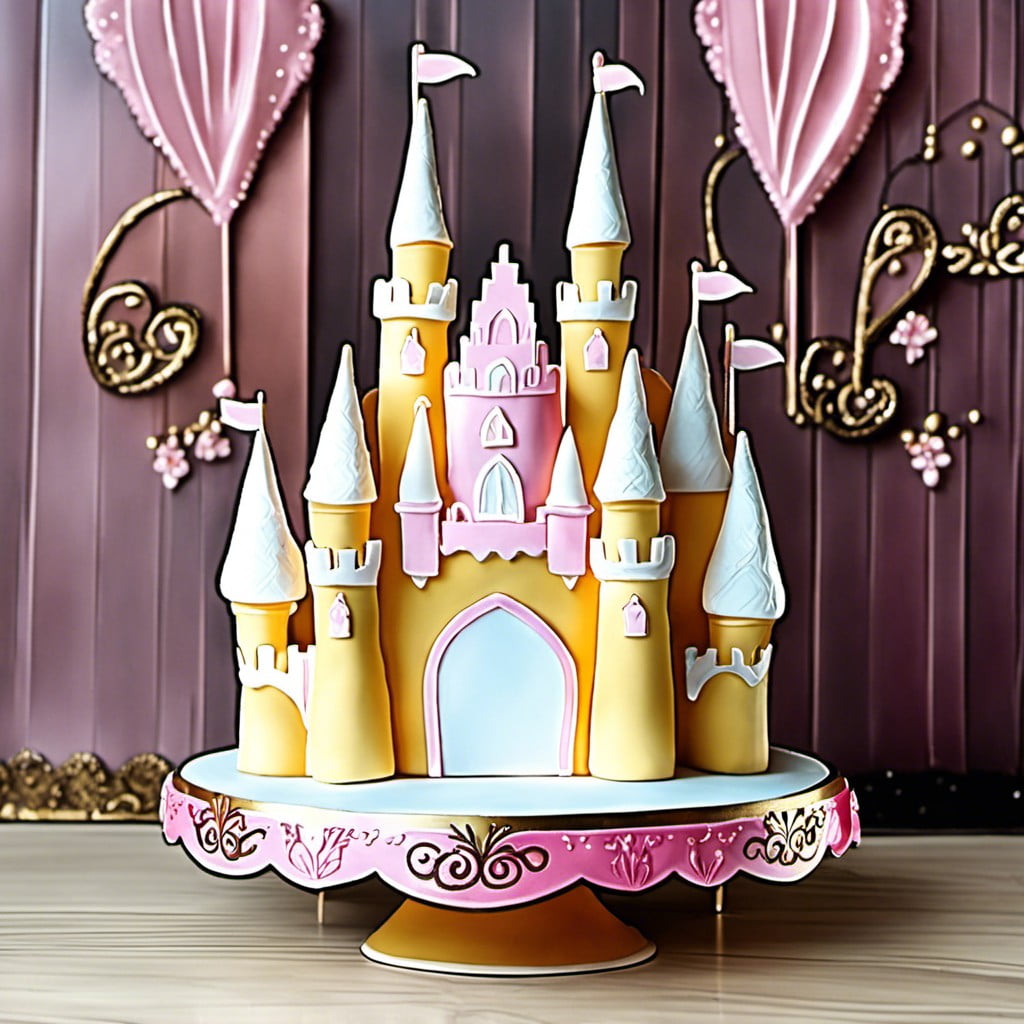 A quintessential centerpiece of any princess-themed quinceanera, these stands elevate your cake, quite literally, and add an element of opulence to the event. Their grandeur reflects the importance of womanhood initiation ceremony celebrated in this occasion.
Carved with intricate details, they elegantly mimic the grandeur of a fairytale castle.
The idea is to create a visual spectacle, making your cake not just a dessert but a piece of decoration in itself. Opt for a stand that complements the cake, to enhance its beauty. Some popular variations feature towers, drawbridges, or even glitter or LED lights to lend a magical feel. Remember, the key to achieving the perfect decoration lies in the balance – keep other aspects of the tabletop decor simple to let your castle stand shine.
For extra charm, consider cake stands with matching serving sets. These make for an enchanting addition to your cake cutting ceremony, tying in the theme seamlessly. With their royal touch, cake stands prove that decorations can also be functional, adding a slice of sophistication to your quinceanera.
Lantern-lit Walkways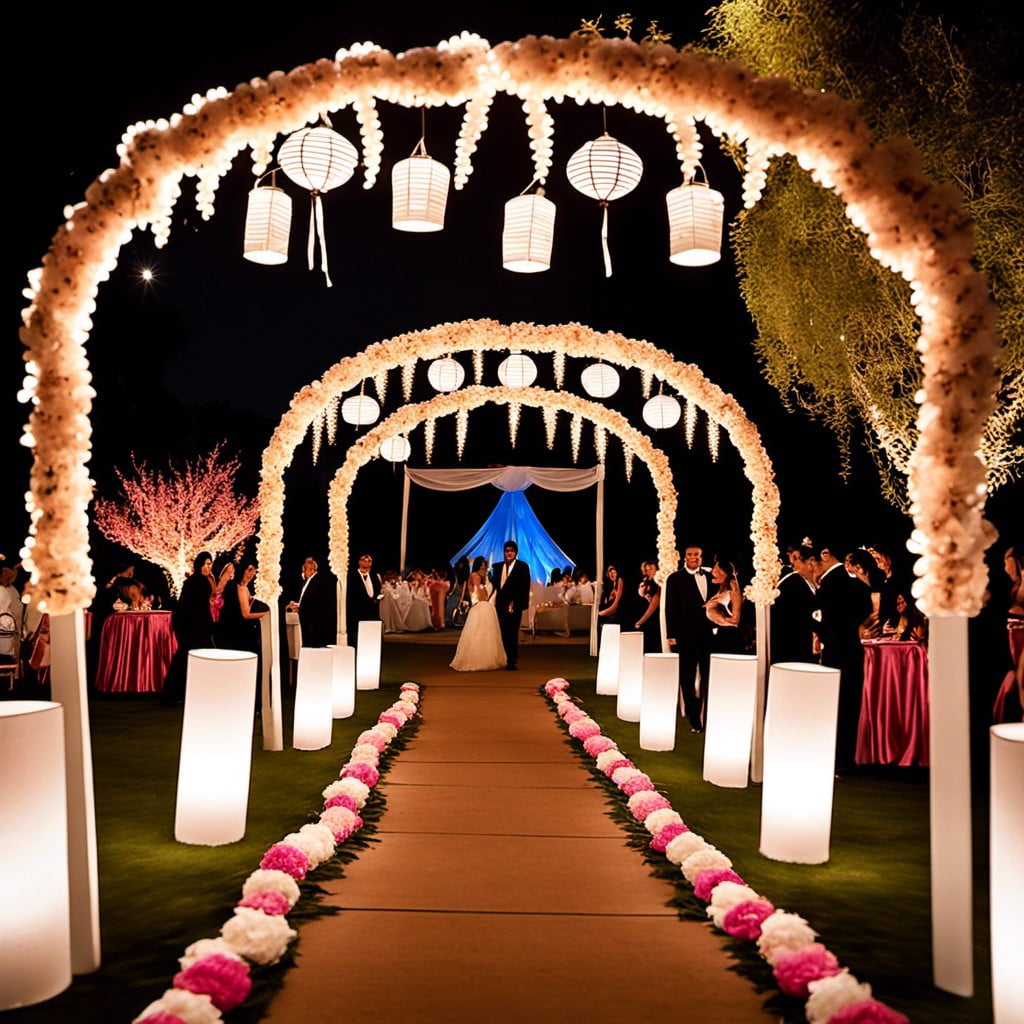 Lanterns have a unique charm about them – they exude soft, ambient light that enhances the beauty of any space. When integrated into walkways, they infuse a magical aura that beautifully complements the quinceanera mood. They can be hung from trees, positioned along the path, or floated in water.
If you want to step up the game, consider adding LED fairy lights inside the lanterns for a twinkling effect. Different shapes and sizes of lanterns can add an extra dimension. While a consistent color theme is ideal, a mix of complementary colors can also create a striking appearance.
Remember to use safe lighting options in accordance with the venue's safety regulations. For a more sustainable approach, you might opt for solar-powered lanterns. This option not only assures a magical atmosphere till dawn, but are also environmentally friendly.
Pink Rose Petal Aisle Runner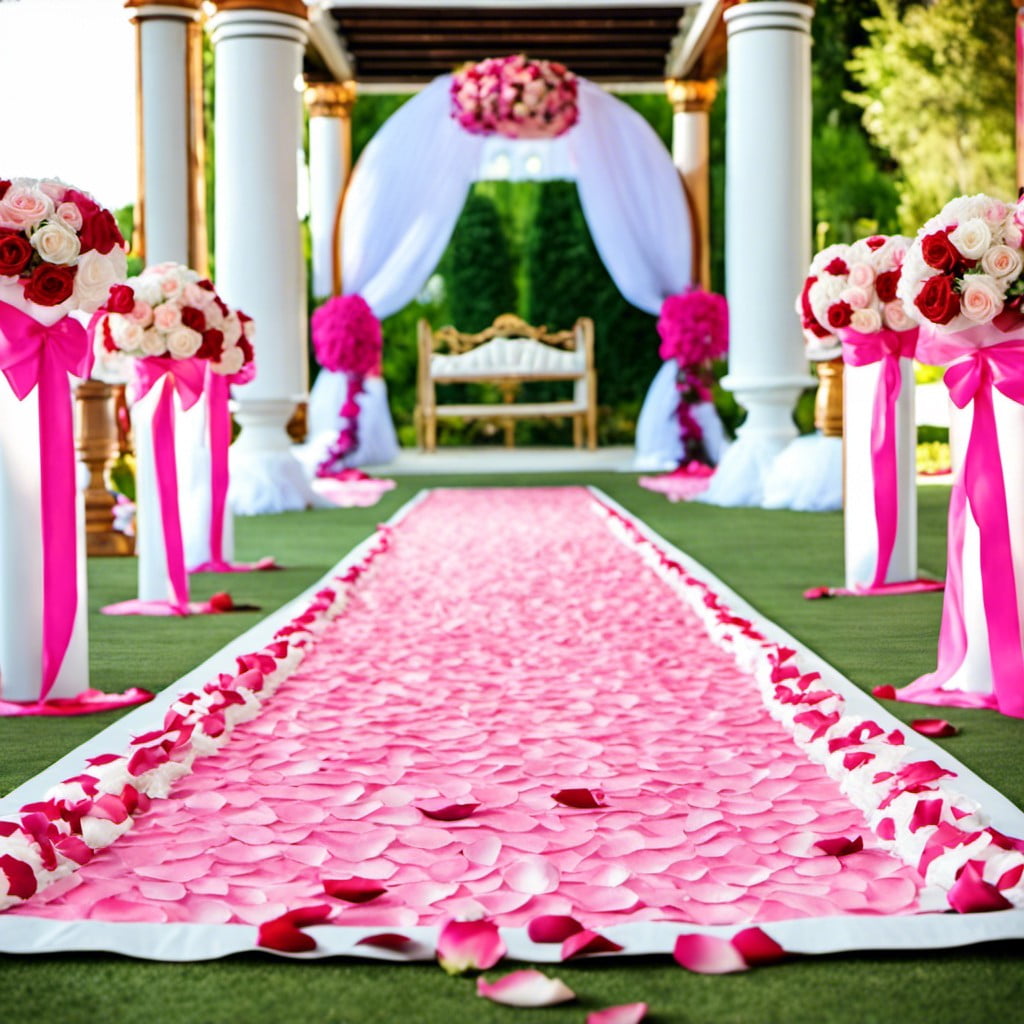 Creating an ethereal atmosphere is effortless with this decor idea. Start by selecting fresh, fragrant petals from your choice of pink roses. Opt for darker shades for a romantic, dramatic look, or pale pinks for a soft, sweet aesthetic.
Line the petals down both sides of your aisle, trying for an organic, random scattering to mimic the effect of a naturally fallen carpet of blooms. If you wish for a denser coverage, do not hesitate to use more petals.
Consider complementing this route by placing ornate lanterns filled with fairy lights along the edge. Not only will this increase visibility for guests, but it also creates a magical, twinkling ambiance.
If the event is outdoors, a gentle breeze will elevate the romanticism by carrying the delicate aroma of roses to guests. For indoor events, you can achieve a similar effect by strategically placing rose-scented candles.
Remember, the aisle is not just a path leading the Quinceañera to her grand entrance. With this decor, it becomes a significant, enchanting element of the event's decor.
Gold Sequined Tablecloths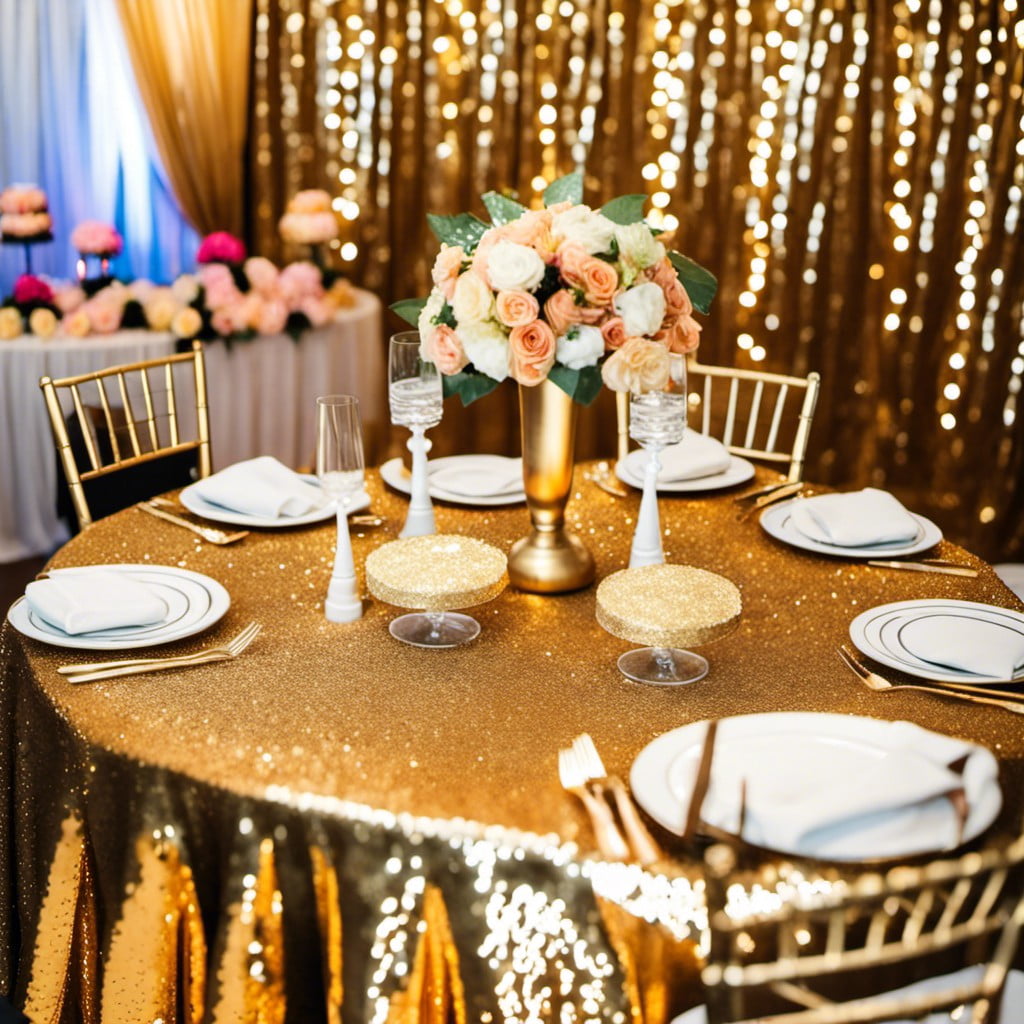 Adding luxurious textures and sparkling reflections to your decor is easily achievable with these tablecloths. Think of them as a canvas where other elements of your table decorations can shine. The uniform gold sheen creates an elegant atmosphere, effortlessly boosting the room's overall aesthetics.
In terms of practicality, these tablecloths veer away from the mundane and traditional options. They serve as a protective layer for your tables while displaying a luscious, radiant appearance.
Additionally, pairing them with elements like crystal tealight holders or candelabra can create a charming contrast. The reflected light from the sequins adds a magical ambiance that is attractive to the eye and sets a celebratory tone. Remember, lighting plays a big role in maximizing your sequined tablecloth's visual impact.
For theme versatility, gold sequined tablecloths work harmoniously with numerous themes. Whether the Quinceanera is princess-themed or masquerade-inspired, these tablecloths easily align with various color schemes and decorative styles. They offer the opportunity to build bold centerpieces, as the subdued yet glimmering background aids in making other decor pieces pop.
Experimenting with complementing colors for table accompaniments like napkins, plates, and glasses can accentuate the festive look. For a cohesive appearance, consider elements of gold in other areas of your decor to tie everything together seamlessly.
Crystal Tealight Holders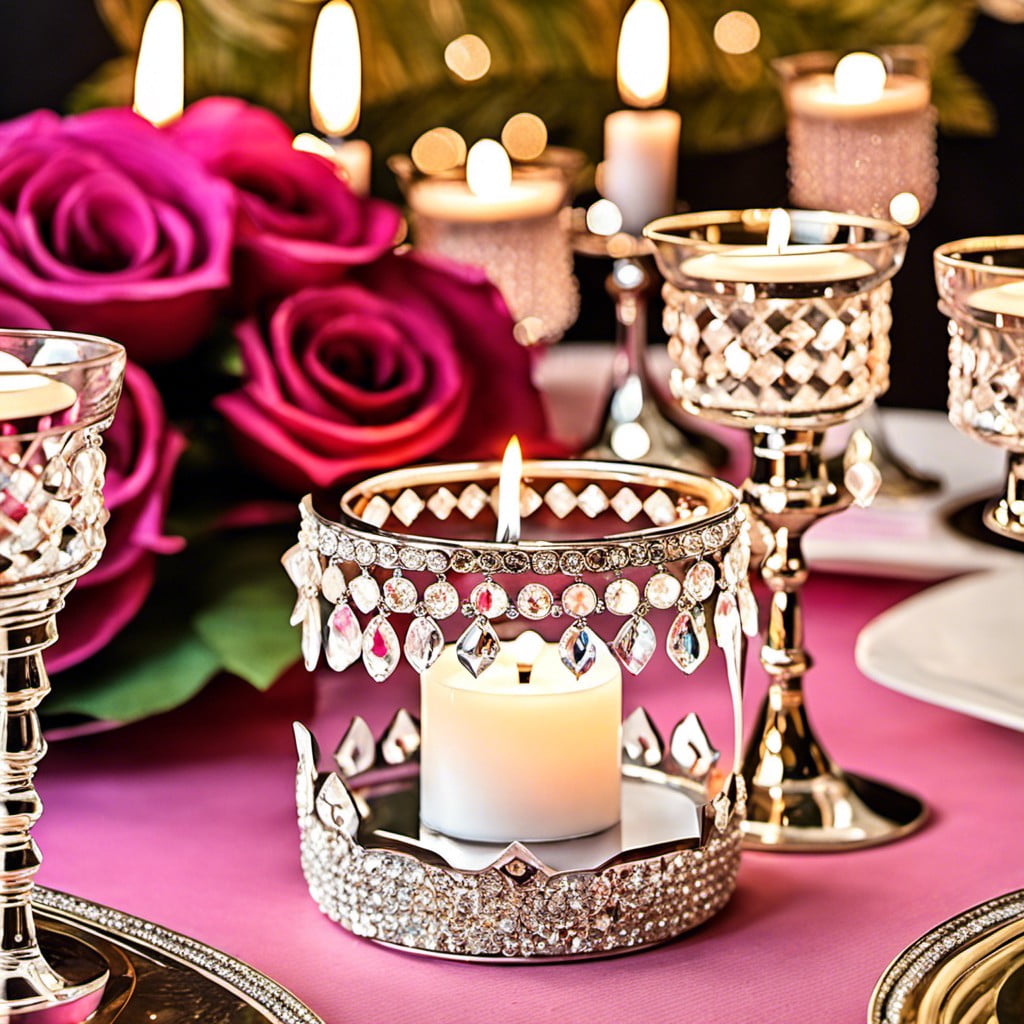 When thinking about tabletop accents capable of adding a sprinkling of elegance, there's nothing quite like these gems. Typically made from cut glass, they cast stunning patterns of light around the room, adding sparkle and warmth to any setting. They're versatile enough to be incorporated into diverse themes, making them a must-have for every quinceanera decorator's toolkit.
These exquisite pieces transform the ambiance, especially at evening events. With candles lit, the flickering flames reflect off the crystal surfaces, creating a mesmerizing effect. Their intricate designs can captivate guests while providing a sophisticated touch to the table decor.
Depending on the look you're aiming for, both simple and elaborate styles are available. Sometimes, less is more – a minimalist crystal tealight holder can truly shine in a modern, understated tablescape. However, if opulence is the keyword, opting for detailed, ornate patterns will add extravagance to the setup.
Remember, it's also essential to consider candle fragrances to accompany the holders. Scents can influence the mood, so select aromas that align with the quinceanera theme and season.
Also, bear in mind the safety aspect. Ensure there's ample space around each holder, and they are placed sturdily to prevent tipping over. Now, imagine the combined effect of these small yet significant details, creating a memorable visual and sensory experience.
Photo Booth With Props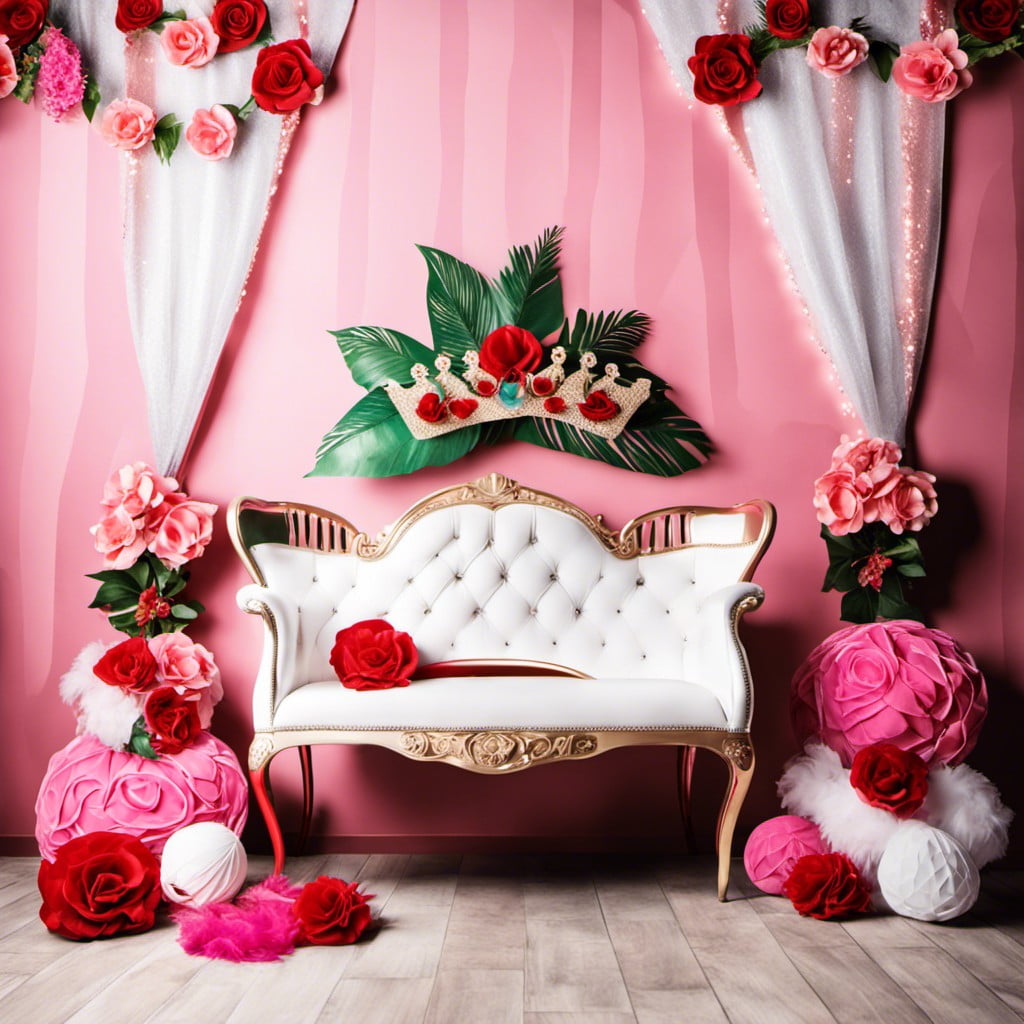 Creating an interactive and engaging space for guests to capture memorable moments is an excellent idea. Props such as hats, glasses, and even themed elements oriented to the quinceañera could be included.
This invites guests to step in and snap quirky, fun-filled pictures which are then printed as keepsakes. Go for an eclectic mix of stuff – feather boas, oversized sunglasses, chalkboard signs for personalized messages, tiaras – the more, the merrier!
A customized backdrop that aligns with the overall decor theme can heighten the allure and make every photograph pop. Remember, it's not just about posing but creating a lively and shared experience for everyone present.
Candelabra Centerpieces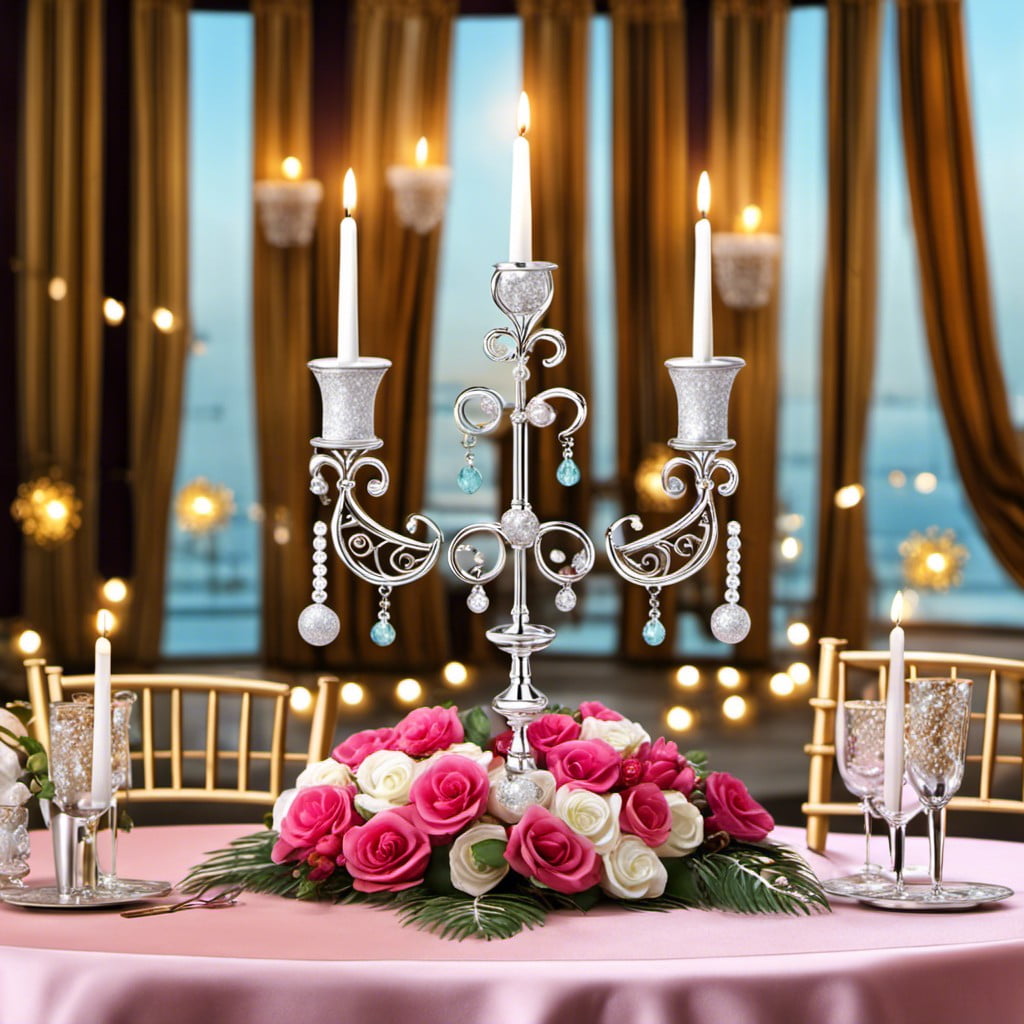 Transforming tablescapes into spectacular displays, candelabra centerpieces bring a striking and romantic touch. Their diverse range allows for flexibility in design.
Choose from different types such as vintage crystal, ornate wrought iron, or classic gold for a royal feel. Enhance their charm by draping them with strands of pearls or intertwining vines with flowers.
As a tip, use flameless candles for safety reasons – with this, you get the cozy glow without the worry. Be mindful of the size – it shouldn't obstruct the view across the table. And of course, coordinate with the quinceañera theme for a seamless décor.
Overall, these centerpieces emanate a luxurious ambiance, making the celebration even more unforgettable.
Diamond Scatters for Table Decor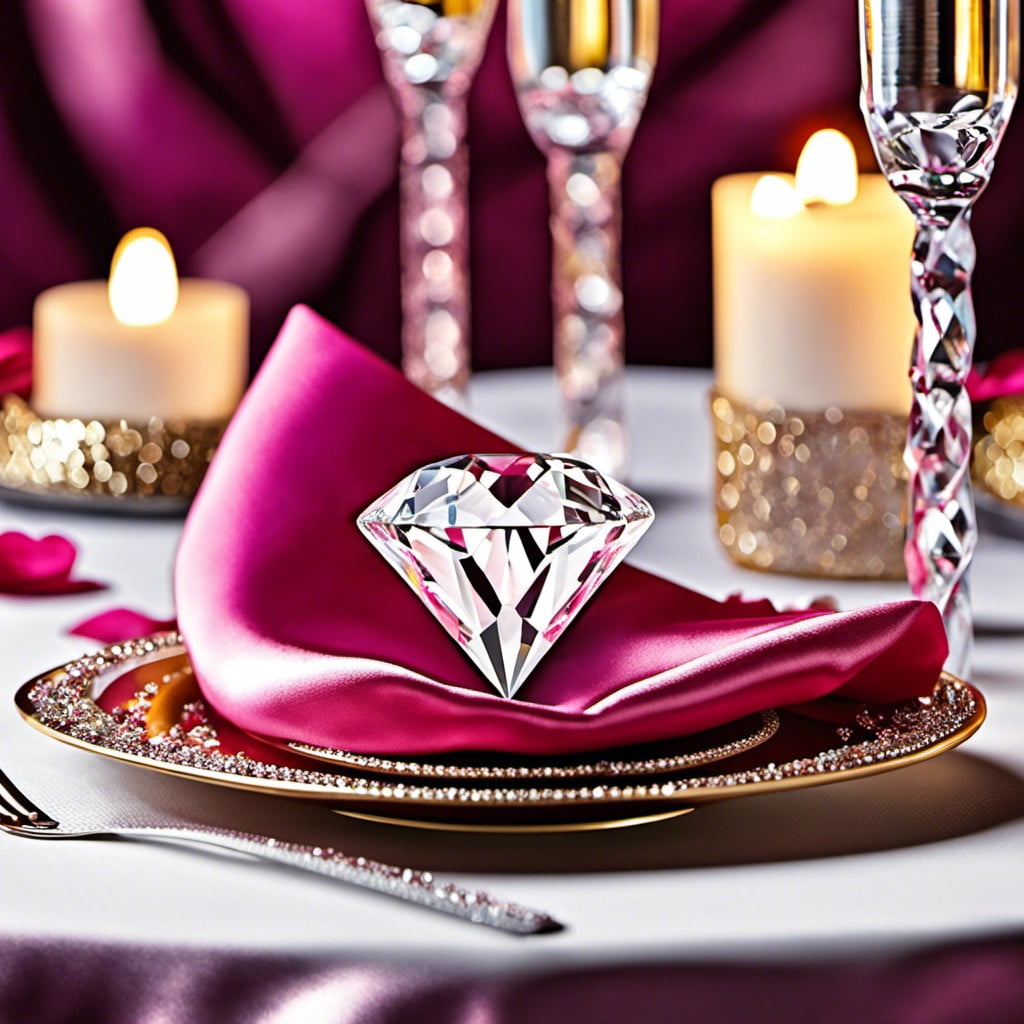 Diamond scatters are ideal for adding that extra sparkle to your table decor. These small, often acrylic, gems mimic the appearance of real diamonds, providing a classy, luxurious touch without breaking the bank. Here's how to integrate them effectively:
1. Complement with Candlelight: When paired with candles, diamond scatters reflect the light beautifully, and create an elegant, twinkling effect.
2. Use with Colorful Tablecloths: Diamond scatters pop against colored tablecloths, providing a delightful contrast and enhancing the overall table layout.
3. Pair with Floral Centerpieces: Mix diamond scatters amongst your floral centerpieces to add a glamorous shine.
4. Enhance the Serveware Display: Sprinkling diamond scatters around your serveware, such as plate chargers or glassware, provides that extra festivity and impresses your guests upon arrival.
Make sure to use them sparingly in order to not overshadow other decor elements. The aim is to create a synergy that adds to the visual appeal of your tablescape.
Liked reading this? Here's more:
Recap: