Last updated on October 24, 2023
With the world in the midst of a pandemic, it is more important than ever to appreciate all the good things that life has to offer. One of those things is undoubtedly your outdoor space.
No matter how small your garden is, there are ways that you can make the most out of it. In this blog post, we will be discussing some expert tips on how to do just that!
So whether you're thinking of adding a decking area, building an outdoor kitchen, or installing a swimming pool or jacuzzi, read on for some inspiration!
Add Some Decking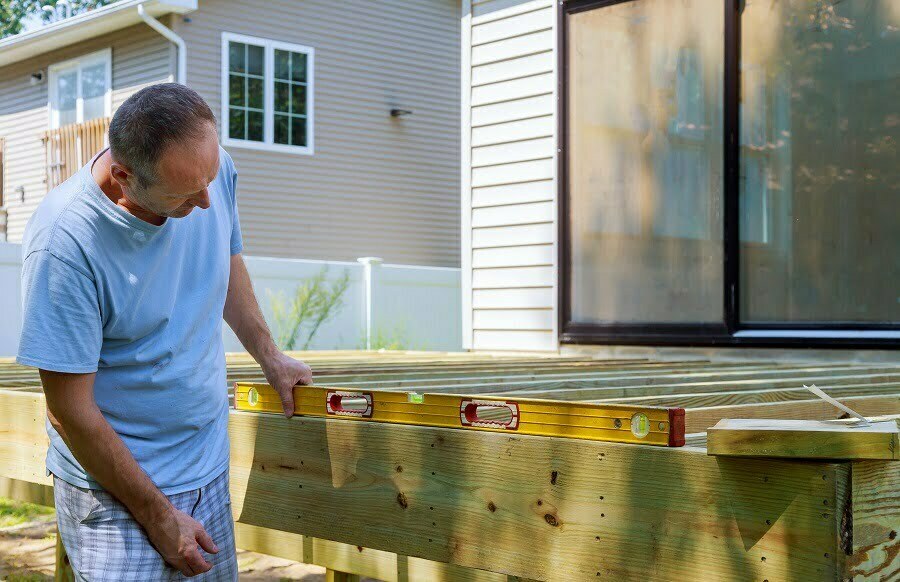 One great way to make the most out of your outdoor space is to add some decking. Decking is a great way to create an extra living area, and it can be used for both dining and relaxing. It's also a great place to entertain guests, or just relax in the sun. If you're thinking of adding decking to your garden, there are a few things you need to consider.
The first thing to think about is the size of your garden. If your garden is small, it's best to choose a simple design for your decking area. This will help to avoid overcrowding and will make the space feel more spacious. The second thing to think about is the location of your decking area. You will need to choose one that gets plenty of sunshine but can also be sheltered from the wind and rain.
Another important thing to consider is the material. There are numerous materials available. So, before choosing, consider each material's benefits and drawbacks. Most experts advise getting low maintenance decking. Materials that require low maintenance are normally resistant to weathering, rotting, fading, and staining. In addition, these materials tend to be an affordable option in the long run. And unlike traditional decking materials, they don't need sealing or painting.
Finally, you should consider what kind of wood you will be using for your decking area. Pine and oak are both popular choices because they're durable and hard-wearing.
Build an Outdoor Kitchen
If you enjoy spending time outside, why not build yourself an outdoor kitchen? A well-designed outdoor kitchen can be used to entertain family and friends at any time of year. It's also a great way to get more use out of your garden in the winter months when it might otherwise go unused!
But before building the kitchen, there are factors to consider. For instance, you have to consider its functionality. For your outdoor kitchen to be functional, it must have four zones. These zones include hot, cold, dry, and wet. These zones should be easily accessible to one another.
Another factor to consider is the placement of utilities. Ensure that there is access to gas, water, and electricity. You may need to consider lighting to transition your outdoor kitchen from day to evening. The options you choose should light every vital zone. These include meal prep, cooking, cleaning, and eating zones. The last factor to keep in mind is storage. Storage is vital as most outdoor kitchens can be dusty and filled with critters, humidity, precipitation, and temperature fluctuations. You can store your utensils and other items in plastic containers that will go into your pantry. Once you figure out all the features of your outdoor kitchen, your next task will be setting it up.
The first thing you will need is an outdoor kitchen frame. There are a few ways to go about installing one of these. You can purchase a prefabricated frame, a custom frame or you can opt to build your own from scratch. All three have pros and cons and a lot can depend on your budget. However, if you choose to build your own, it's important you make sure to use weatherproof wood like cedar or redwood.
After the frame is built, there are a few essentials you should purchase. These include a grill, an oven, a sink, and storage cabinets. You can also add other features like a pizza oven or fire pit if you have the space.
Install a Swimming Pool
If you're lucky enough to have the space for a swimming pool in your outdoor area, why not install one? A swimming pool is the ultimate way to spend time with family and friends. It's also a great exercise if you're looking for an alternative form of fitness! You can use your swimming pool all year round, and it's a great way for children to learn how to swim. If you're thinking about installing one in your garden, there are some things that should be considered before making any decisions:
The first thing is the size of your swimming pool – make sure that it will fit into whatever space you have available. The second thing is whether or not you need planning permission for installation (this will depend on where your house is located). Finally, think about how much money you have available to spend and what type of pool would suit your needs best.
Another vital factor to consider is maintenance. Choose a pool that won't require much maintenance, such as a fiberglass and vinyl pool. A low-maintenance pool can make it easier to keep it in great shape for years.
If you are on a budget, you could consider an inflatable pool. These are much cheaper to install than traditional swimming pools, but they won't last as long. Alternatively, you could choose a plunge pool that is smaller and less deep than a traditional pool.
Get Some Outdoor Heating
Outdoor heating is a great way to make the most out of your outdoor space. Outdoor heaters can be used all year round, and they're perfect for entertaining friends or family in colder weather. Certain types of heaters can also help deter mosquitoes, making them great for use on cooler summer nights.
There are a few different types of outdoor heaters available: fire pits, electric heaters, and gas-powered ones. Each one has its pros and cons, so make sure you choose the right type for your needs! Fire pits are an easy way to create warmth outdoors during colder months – they produce smoke that rises up into the air while burning wood at temperatures above 400 degrees Fahrenheit, meaning they're perfect for keeping everyone warm!
Electric heaters are a great option if you don't want to deal with any fumes or sparks from a fire pit. They also come in a variety of shapes and sizes, so there's sure to be one that will fit into your outdoor space. Gas-powered heaters are the most expensive option, but they do provide more heat than other types of outdoor heating systems.
There are many ways to make the most out of your outdoor space. Some ideas include adding some decking, building an outdoor kitchen, installing a swimming pool or jacuzzi, and getting some outdoor heating. With these tips in mind, you should have no problem creating an area that everyone will enjoy!
Liked reading this? Here's more:
Recap: