Last updated on December 6, 2023
Because creative decorations enhance any celebration, this article unravels several unique Father's Day decoration ideas to make the day extra special.
I take great pride in presenting my personally crafted 20 unique and simple Father's Day decoration ideas, hoping that you find them as inspiring and enjoyable to implement as I did creating them.
Celebrating Father's Day can be made even more special with thoughtful decorations that show appreciation for all the dads out there. Whether you're planning a small family gathering or a big party, there are countless creative ways to deck out your space.
From DIY projects like personalized banners and themed centerpieces, to buying ready-made decorations that match dad's interests, this article is packed with unique and memorable Father's Day decoration ideas.
Stay tuned to explore a wide range of options suitable for different styles and budgets, ensuring your Father's Day celebration is one to remember.
Handmade Cards From Kids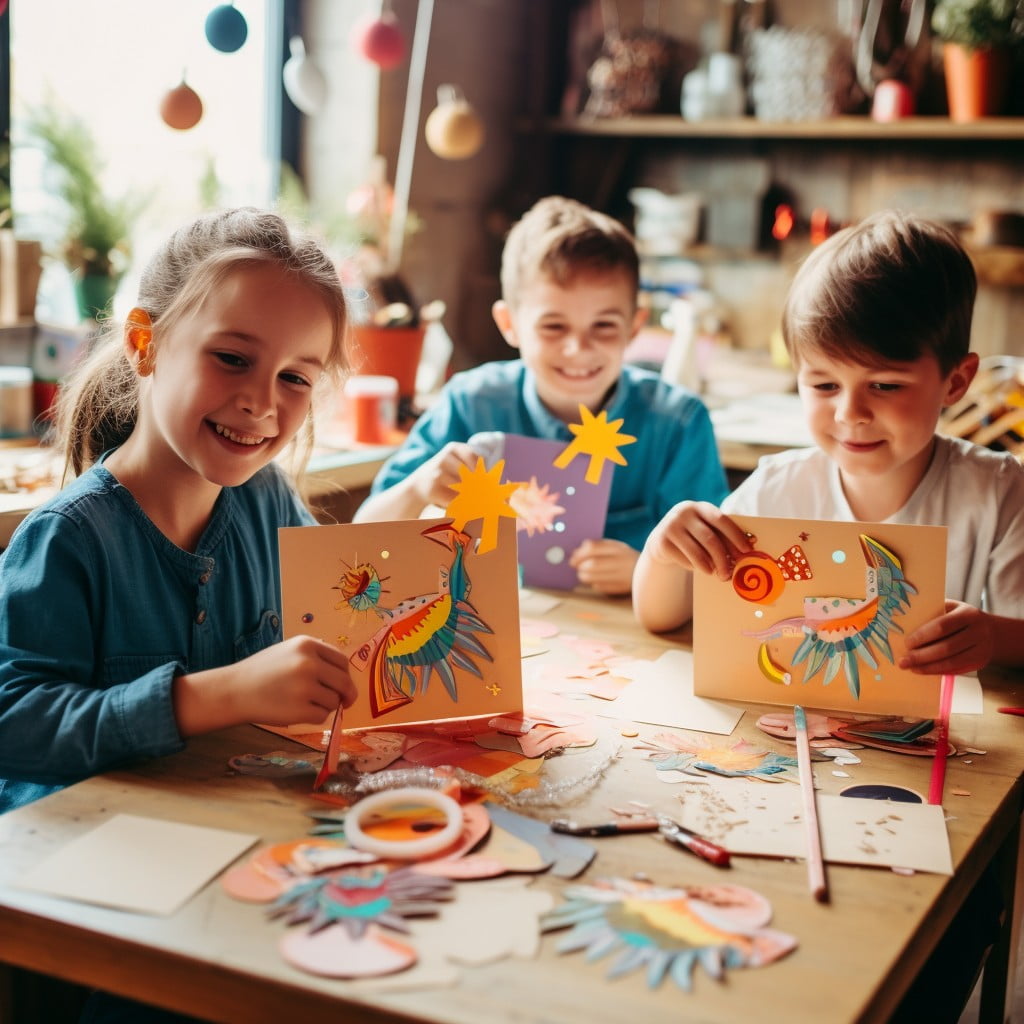 Imparting a personal touch in the form of handmade cards makes the day more memorable. Here are some ideas to spark creativity in your little ones:
1. Mismatched buttons can be glued onto card stock to spell out "Dad". The use of vibrant colors can make it more appealing.
2. Cut-outs of your child's handprints on colorful paper can be put together as a father-child bond symbol.
3. Stencils or stickers can encourage younger children to create a picture or message.
4. Drawing or sketching dad's favorite items or hobbies brings a personalized feel to the card.
5. Compose a short poem or write a heartfelt message about why they appreciate their dad.
Remember, the purpose is to create a token of love, filled with personal memories and emotions. Be sure to assist your kids with sharp tools, and encourage them in expressing their feelings and creativity. Keep this activity fun and engaging!
Photo Collage of Family Moments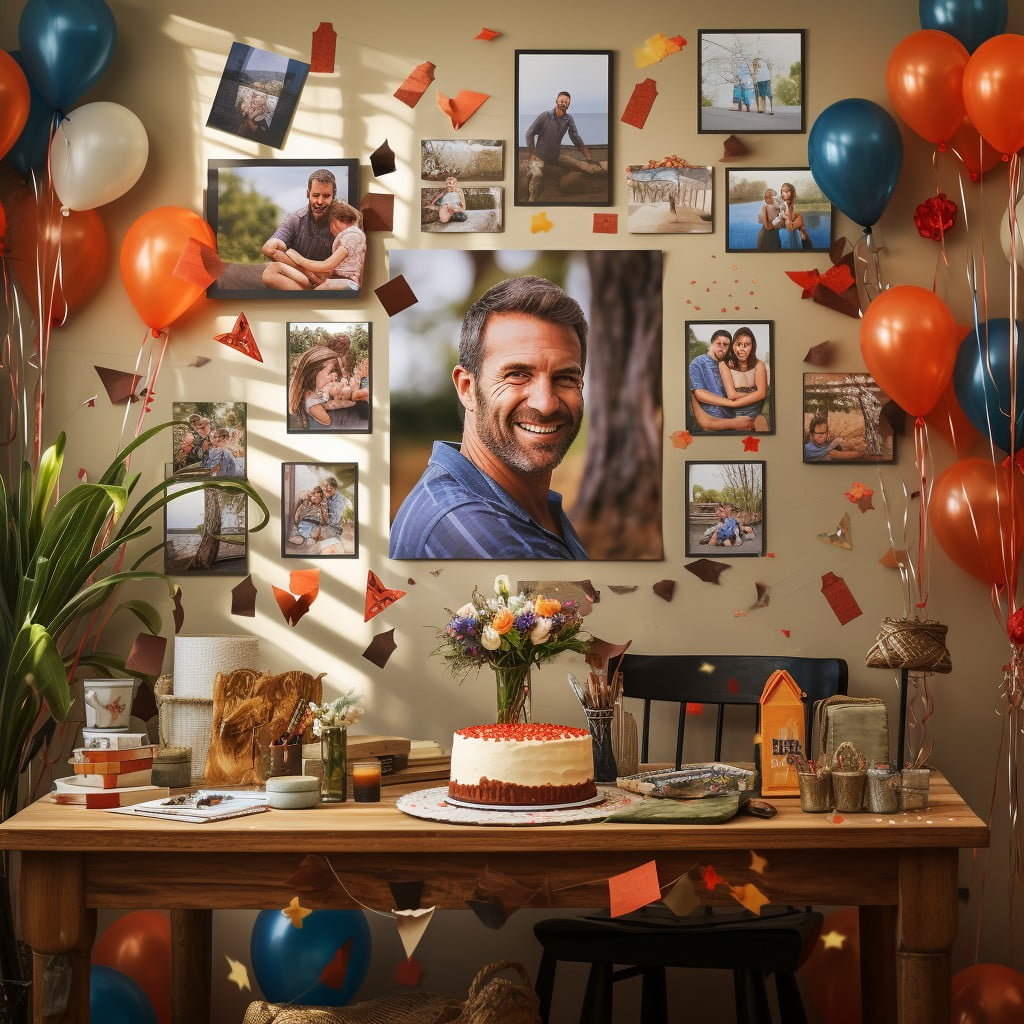 Sourcing photos to create a heartwarming collage can be a fun, family-oriented activity. Start by selecting a variety of pictures, including candid shots and posed portraits that encapsulate unforgettable memories and milestones. Babies' first steps, graduation days, birthdays – any event that tells the family's story through dad's eyes.
Next, choose the style and size of the collage. This could be a large poster to hang on the wall or a smaller arrangement to rest on a tabletop. Materials can range from framed photo paper to canvas prints, depending on your preference and budget.
When arranging the images, play with dimensions and angles for dynamic visual interest. Mix up larger photos with smaller ones, exchange color images with black and white shots; there's no fixed rule – the key is to represent a multifaceted, meaningful journey through the years.
A digital collage can be an excellent option for those comfortable with technology and may provide more flexibility and control. Various online tools and software are available to help with design and printing. Remember, the gift of a photo collage is not just about the final product but the reminiscing and shared affection that comes with its creation.
Customized Banner Reading "Happy Father's Day"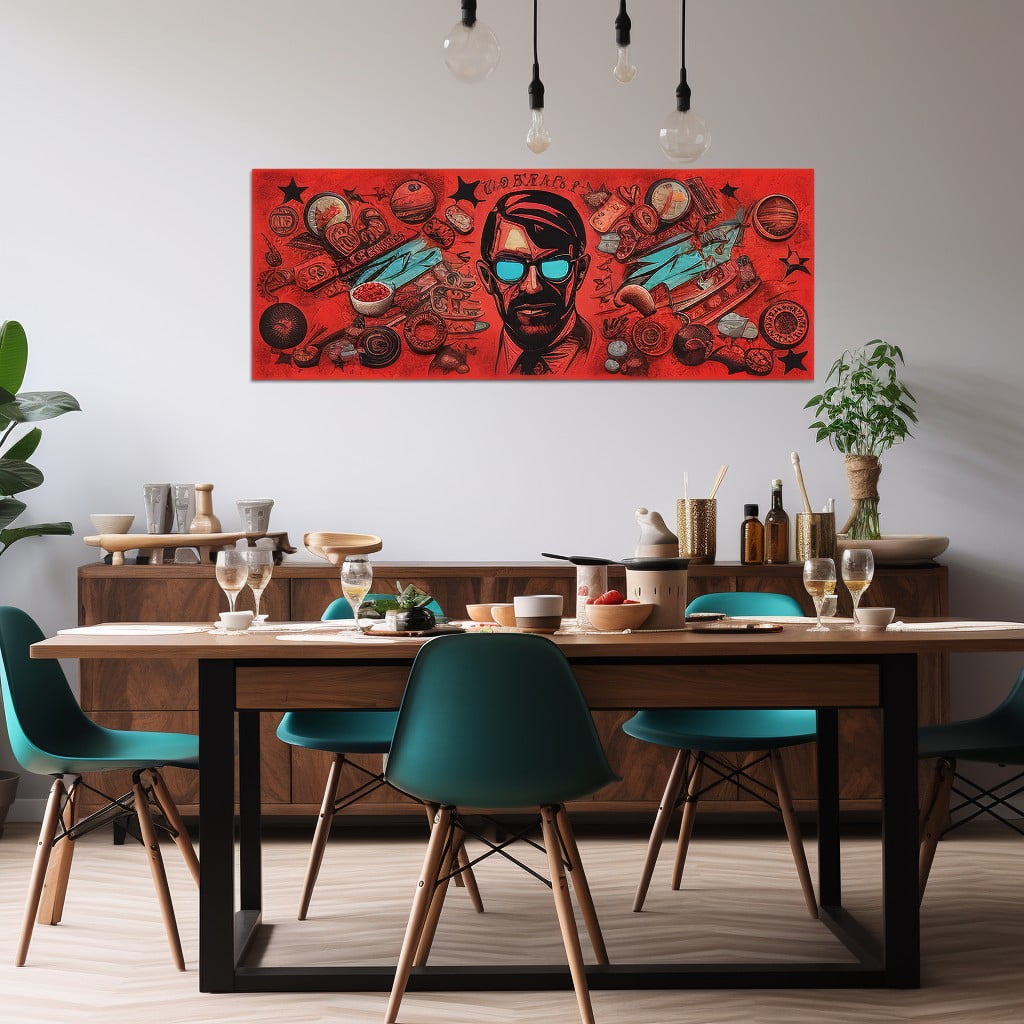 Crafting a personalized banner involves a simple process. Begin with a large piece of fabric or paper in a color that dad loves. Using stencils or freehand lettering, carefully write out "Happy Father's Day."
Take the design further by adding individualistic touches. Include dad's favorite catchphrases, include the names or handprints of the kids, or affix images of his beloved hobbies— be it fishing, sports, reading, or else. This combination of general celebration and personal touch distinguishes a homemade banner from a store-bought alternative.
Add finishing touches like glitter or stickers for added sparkle, or use felt letters for a 3D effect. Once completed, choose a prominent place in the house to hang it – it's not just a decoration but also a heartfelt message that amplifies the Father's Day spirit.
Remember, it's less about perfection, and more about the thought, effort, and love infused in the banner. Your unique masterpiece is sure to elicit a beaming smile from dad on his special day.
Balloon Arrangement in Dad's Favorite Colors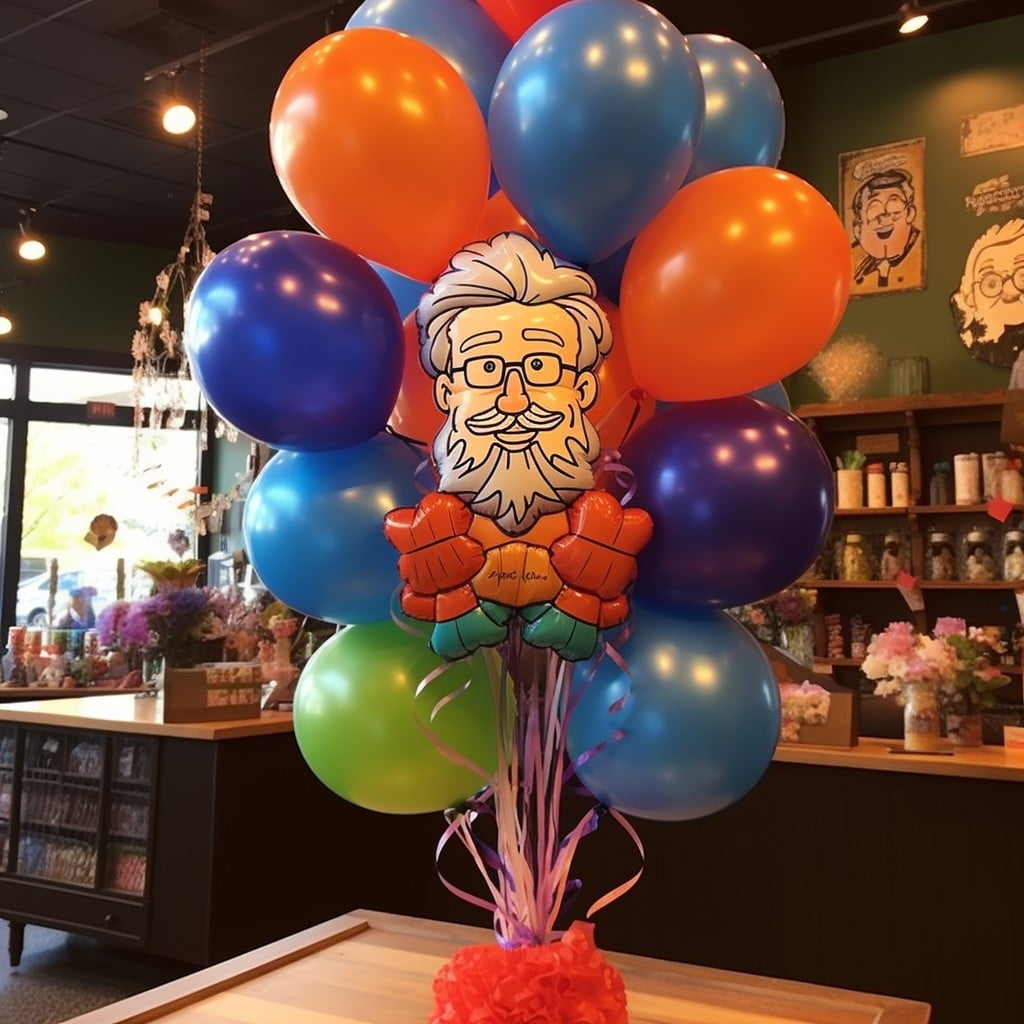 To create an impactful and cheerful ambiance, focus on choosing balloons reflecting your dad's preferred hues. This not only adds a personalized touch but also evokes certain emotions linked to different colors.
Next, consider combining both foil and latex balloons for visual texture, with patterns and plain variants for variety.
Balloons can be arranged in many ways: spread loosely around the room, clustered at entryways, or even shaped into an arch.
Try attaching pictures or handwritten messages to the balloon strings for an elevated and thoughtful touch.
Remember, this should not only look good but also resonate with your dad's taste and personality.
Table Centerpiece With Dad's Favorite Items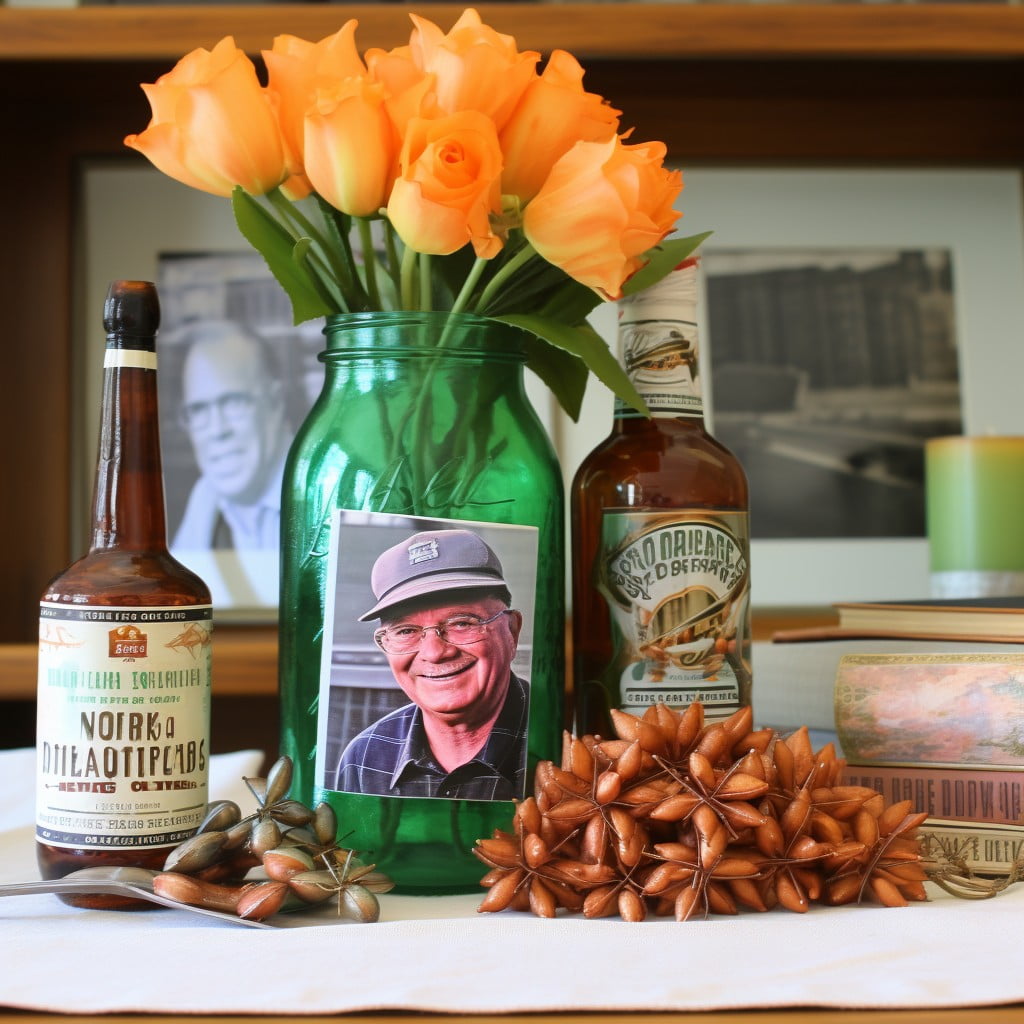 A well-thought-out table centerpiece can communicate your appreciation for Dad's hobbies and interests. It bridges the gap between function and sentimentality. Think about incorporating items like his favorite books, framed photos from memorable trips, or even pieces of his vintage vinyl collection if he's a music lover.
For a sports fanatic dad, utilizing sports equipment like baseballs or golf balls in a creative arrangement can liven up the table. Or, if he enjoys gardening, potting some of his favorite plants for the table will highlight his love for greenery.
Ensure to maintain a balance between decorative and usable real estate on the table—scale the centerpiece to the table size. Use items that match the overall color scheme to maintain visual harmony. This personal display not only serves as a conversation starter but also shows the effort and thought invested in celebrating your dad's special day. It's all about personalization and subtle details that resonate with him.
DIY Dad-themed Cake Topper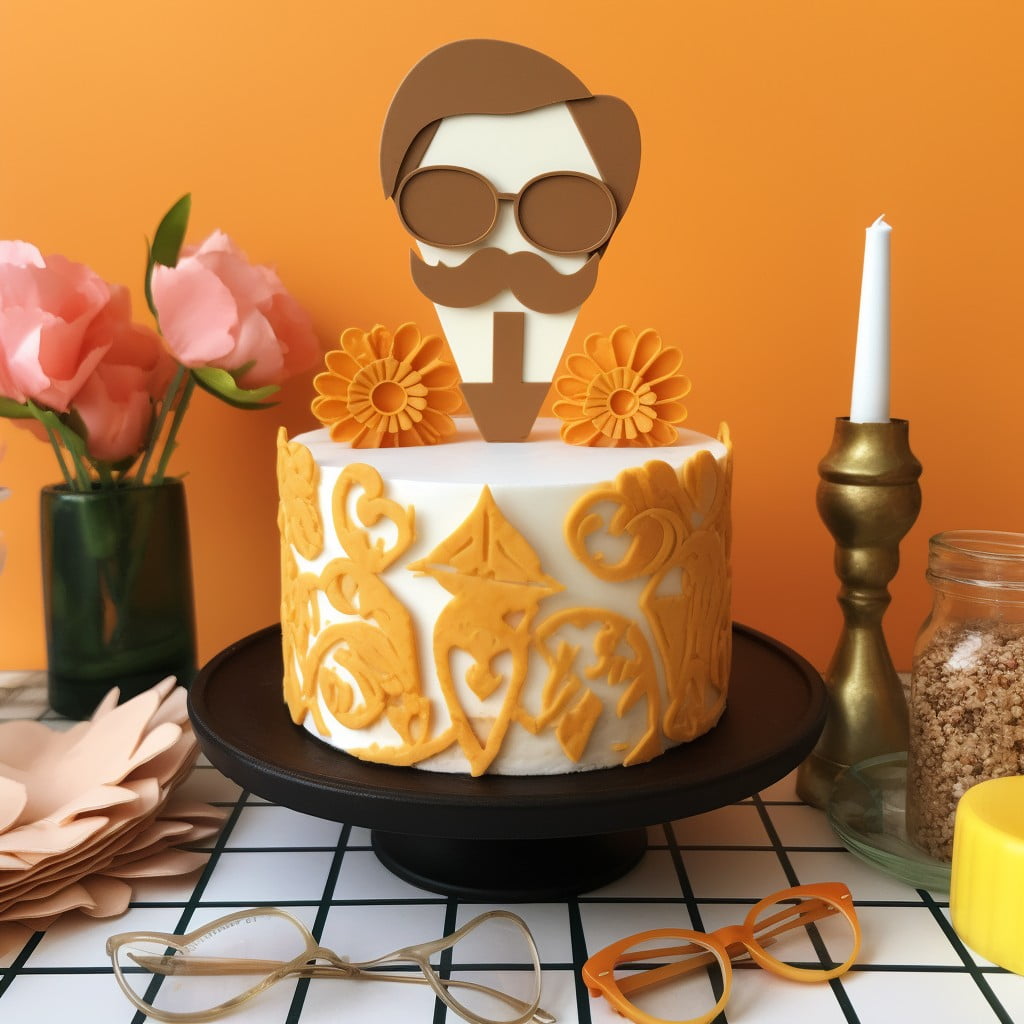 Creating a custom cake topper adds a personal touch that all family members can enjoy. Start with materials like cardstock, wooden skewers, and markers. You can sketch out a few of your father's favorite things – maybe it's a guitar, a fishing rod, or even a superhero's emblem – onto the cardstock.
If you're game for a bit of humor, craft a mini briefcase, coffee cup, or toolbox. For added effect, use your dad's favorite colors. Cut out these sketches and use a dab of glue to affix them to the top end of the skewers.
Once the glue is dry, arrange your toppers in a meaningful or fun way on top of your cake. This not only adds decoration but also a personalized story element that will make your dad's day extra special.
Don't forget; this is a project where kids can help out too, under supervision, adding to the excitement of the grand reveal.
Personalized Napkins With Messages for Dad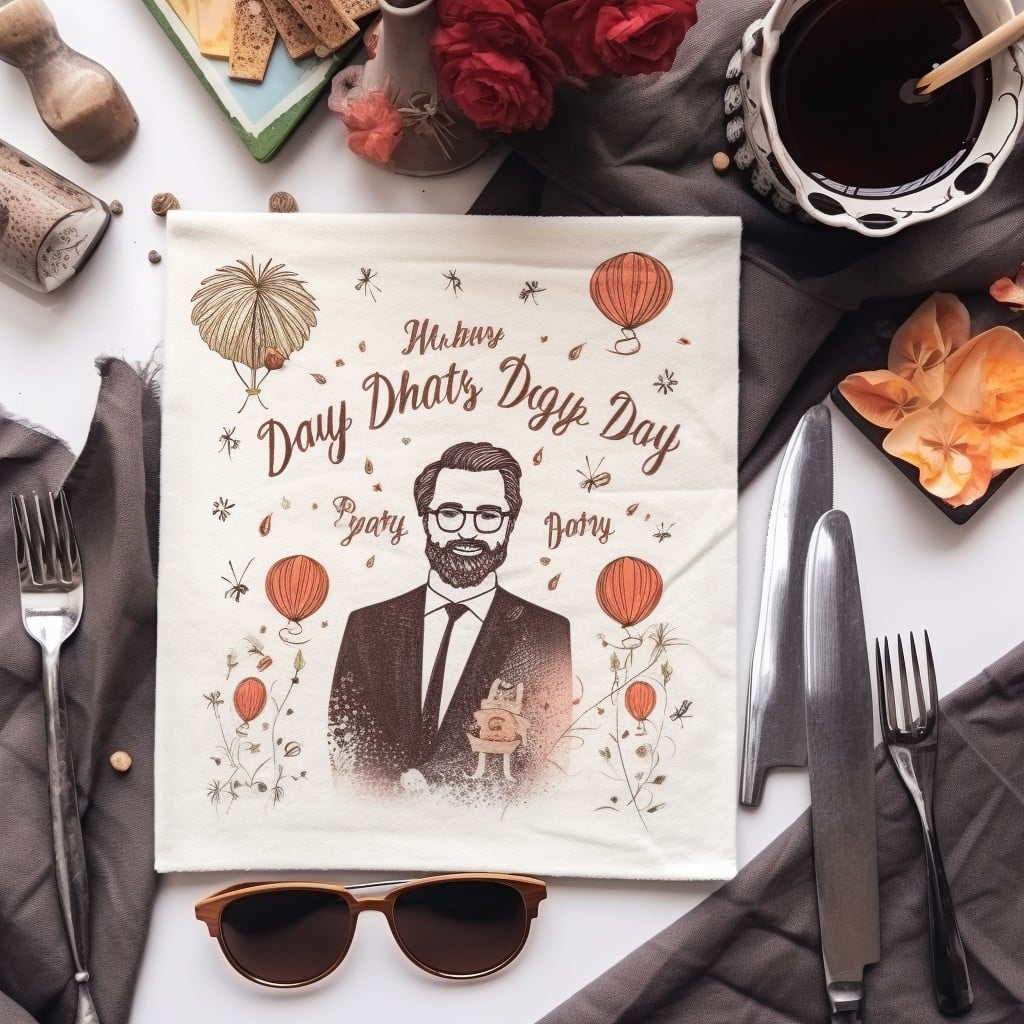 To create a heartfelt ambiance during mealtime, consider using napkins imprinted with thoughtful messages. These could include fun dad jokes, heartfelt quotes about fatherhood, or simply a thank you note for everything dad does.
Choose various styles in a color scheme consistent with your overall decorations.
To make these, you'll need plain napkins, preferably in a light color, and a fabric marker. Simply write out your messages, let them dry, and fold them neatly next to each plate.
This easy customization adds a memorable touch that Dad will appreciate.
If you're not inclined to DIY, there are plenty of online stores that stock pre-made options.
Remember, this is all about expressing love and gratitude. It's something light-hearted yet personal, adding a dash of emotion to your Father's Day décor.
Outdoor Lighting Decorations for a Garden Party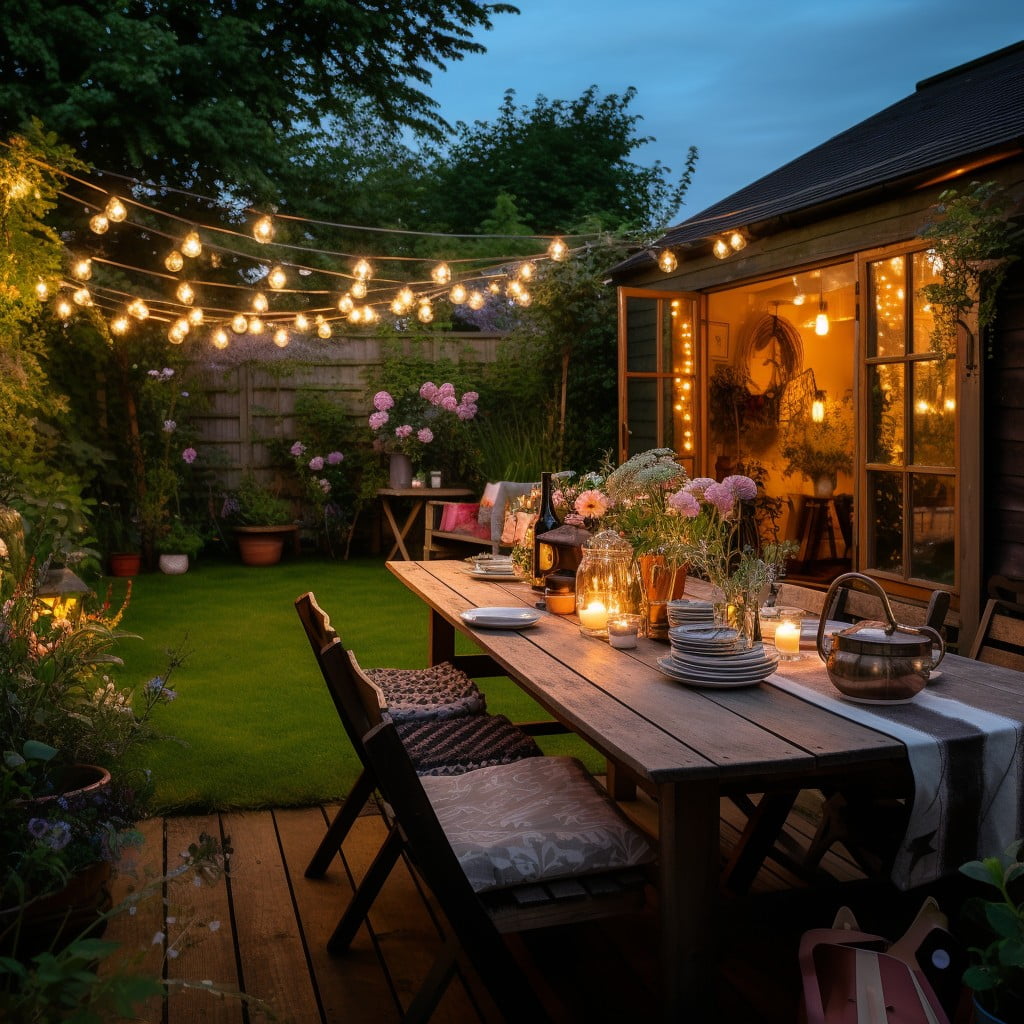 Creating an intimate ambiance, string lights can add a cozy and warm touch to your garden party. Opt for soft, warm white shades over harsh bright colors as they create a relaxing atmosphere.
Choose globe string lights for a classically beautiful look, or fairy lights for twinkling whimsy. LED candle lanterns strategically placed around the seating area not only illuminate the space but also add rustic charm.
Solar lights are another great option, they are easy on the pocket and ideal for pathways or outlining the boundary of the party area.
Remember to connect your lights safely, using outdoor extension cords and GFCI (Ground Fault Circuit Interrupter) outlets.
For an extra-special touch, incorporate your dad's favorite colors into your lighting scheme. This personal touch can make your Father's Day celebration all the more meaningful.
Dad's Favorite Sports Team Décor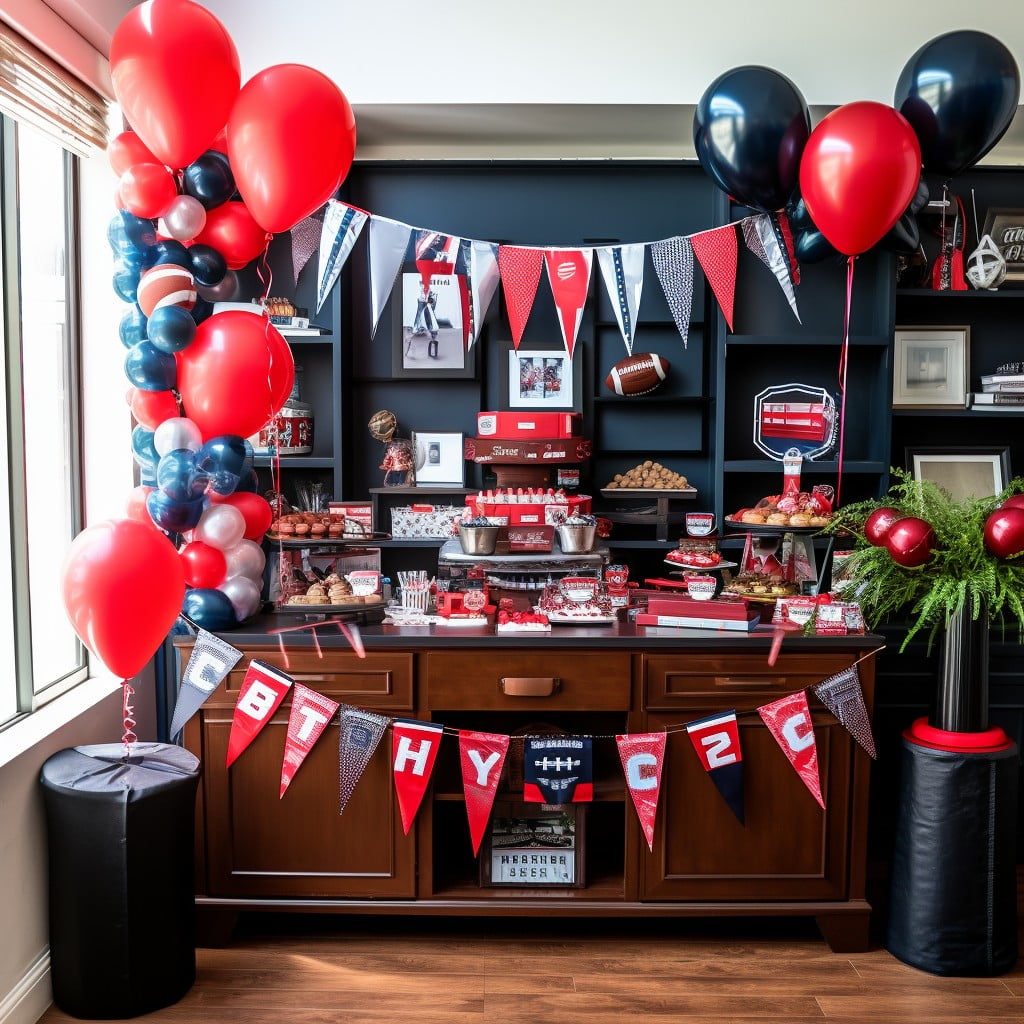 Transforming space into a fan zone is an amusing and heartfelt way to honor a sports-loving dad. Choose decor pieces reflecting the team colors – whether it's throw pillows on the couch, table runners on a dining table, or even planting flowers in the garden.
Incorporate the team logo in subtle ways around the room like on coasters, snack bowls, or beer mugs. Banners or pennants make great accents on walls or across doorways. And if you have any team jerseys or signed gear, consider displaying them prominently for the day.
For the wow factor, consider surprises like the team's anthem playing softly in the background or arranging pre-match interviews on the TV. Remember, these tweaks need not be costly, even printouts of the team symbol or DIY coasters serve the purpose. It's about the memories, cherishing and celebrating dad's interests. Think of it as an emotional touchdown!
Printed Tie-shaped Cutouts for Wall Decoration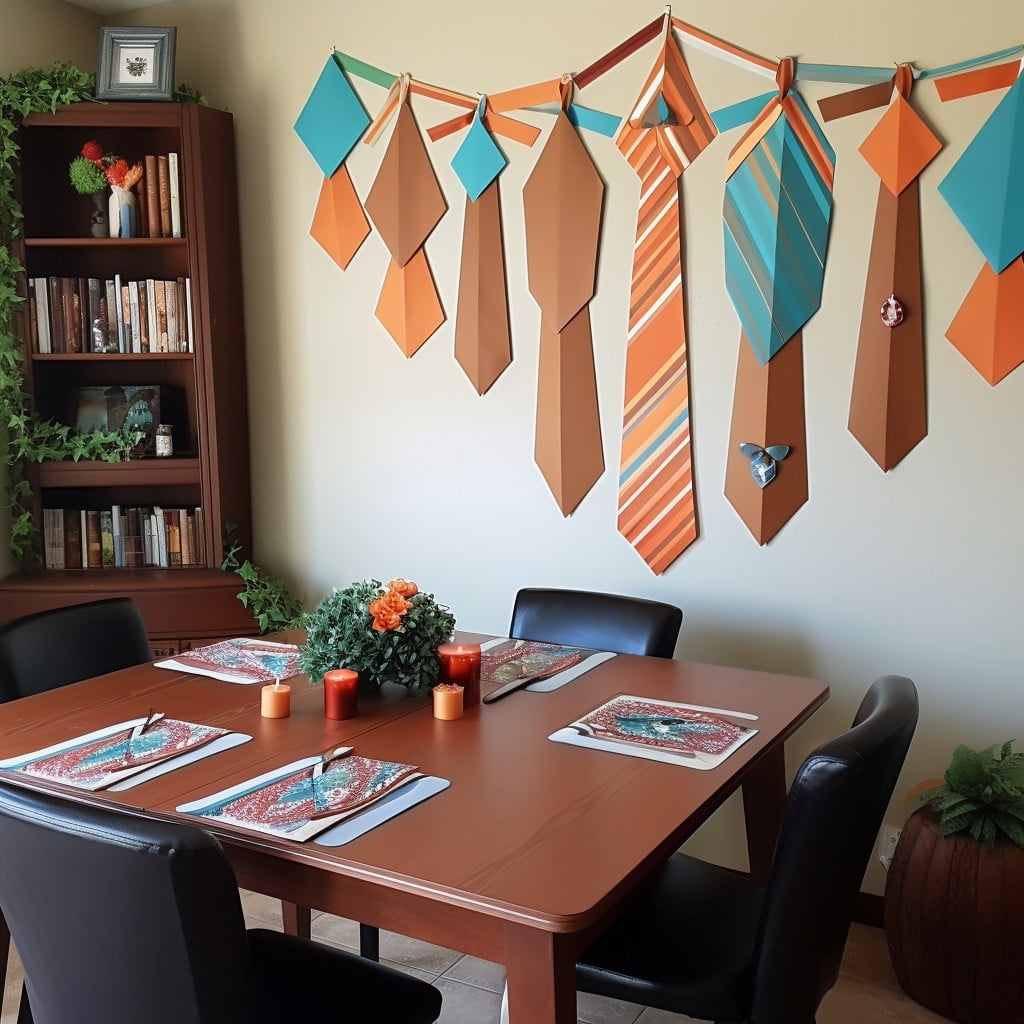 Embracing dad's iconic wardrobe staple, the tie, you can create a striking decoration for your wall. Opt for paper or card stock in various colors and patterns – perhaps even coordinate with the hues from your other decorations.
You'll need to draw or print a tie shape then carefully cut it out; older kids might enjoy assisting with this task.
Adhere multiple tie-shape cutouts across your chosen wall, making it a decorative focal point. Feel free to play with arrangements – a cascading cluster or orderly rows would work equally well.
Not only does this add to the festive atmosphere, it also offers a nod to the reason for celebration; a simple, yet highly effective touch in the overall Father's Day decorations setup.
BBQ Themed Table Setup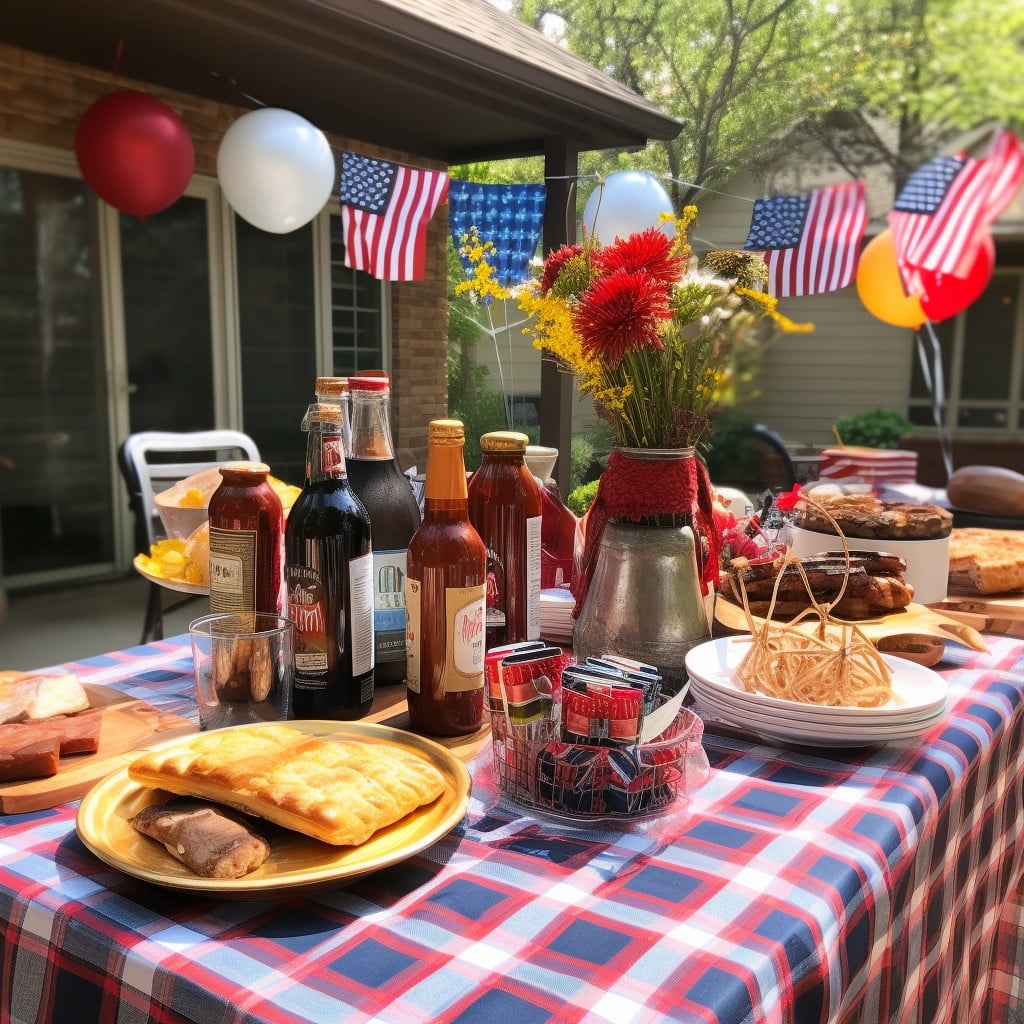 Begin by setting the table with a checkered tablecloth, mimicking the classic picnic vibe. Opt for sturdy, outdoor-friendly tableware; ceramics complement this theme well.
Center the table with a BBQ sauce station, complete with different flavors from spicy to tangy. Arrange spice-rubbed jars for interactive seasoning.
Include a mini "grill" centerpiece – a small basket or container filled with charcoal and decorated with red and yellow tissue paper to mimic flames. Add tiny toy grill tools for added fun.
Ensure appropriate dinnerware is available. Think grill tongs as serving utensils and grill-themed placemats. Replace traditional napkin rings with miniature BBQ tools like spatulas or forks.
Incorporate decorative details inspired by popular BBQ foods. For example, napkins folded into the shape of chef hats, corn-on-the-cob holders, or skewer-inspired centerpieces.
Lastly, lighting is key. Opt for warm, string lights or lanterns to evoke feelings of a relaxed, warm summer night barbeque.
Decorative Beer Mugs As Centerpieces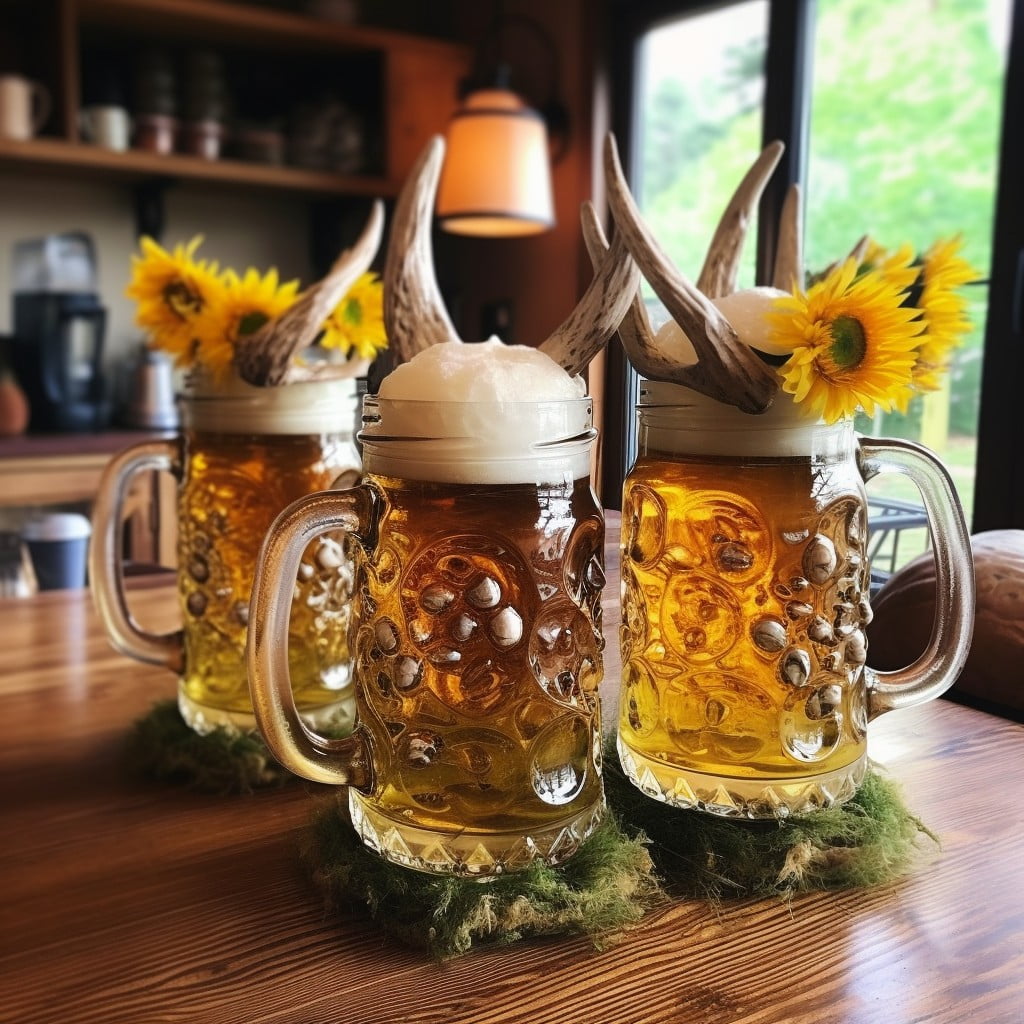 Adding a personal touch to your Father's Day decor can make the occasion even more special. An easy way to do this is by leveraging items that many dads enjoy – such as beer mugs.
To integrate beer mugs into your décor scheme, consider placing them in prominent spots on your party table. Make sure they're clean, then fill them with your dad's favorite flowers, candy, or even a collection of his favorite small knick-knacks. A craft beer bottle or even a matching set of beer caps can enhance the theme.
You could also utilize the mugs for a different aesthetic by placing small LED tea lights inside, creating an ambient glow that adds a warm and inviting atmosphere.
Don't forget to play with different arrangements and mug sizes. This personal, unique, and functional centerpiece not only adds creativity to your decor but also stands as a reusable gift for dad after the celebration.
Hanging Photo Frames of Dad and Kids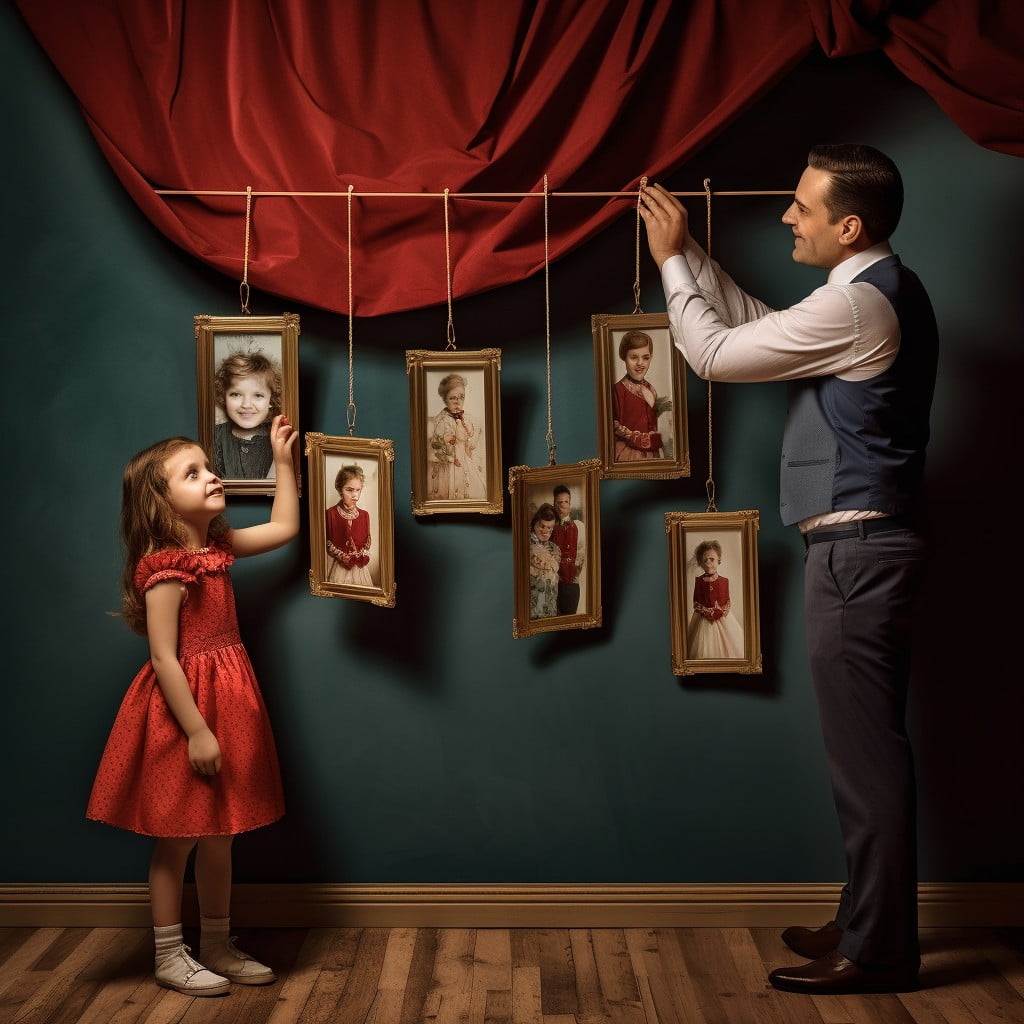 To start, selecting photos that bring back fond memories can make this project very special. Choose an array of pictures that range from candid moments to milestone events.
Next, focus on picking the frames. Choose frames that complement your home's current decorating style so they blend in nicely. You could also consider using matching frames for a neat and streamlined look or mismatched ones for a more eclectic feel.
When it comes to hanging the frames, think about the arrangement carefully. Group photos together that tell a story. For example, sequence photos chronologically, or group them by event or holiday.
Remember, there's no right or wrong height when hanging these frames but a general rule of thumb tends to be having the center of the artwork at eye level. It is also essential to ensure the frames are equally spaced for a balanced look.
Lastly, don't forget that the wall color where these frames will hang is key to making the pictures stand out. Opt for light colored walls for darker frames and vice versa.
With all these in mind, your photo frame decoration is sure to be both a touching tribute for Father's Day and a beautiful addition to your home.
DIY Mustache and Tie Garlands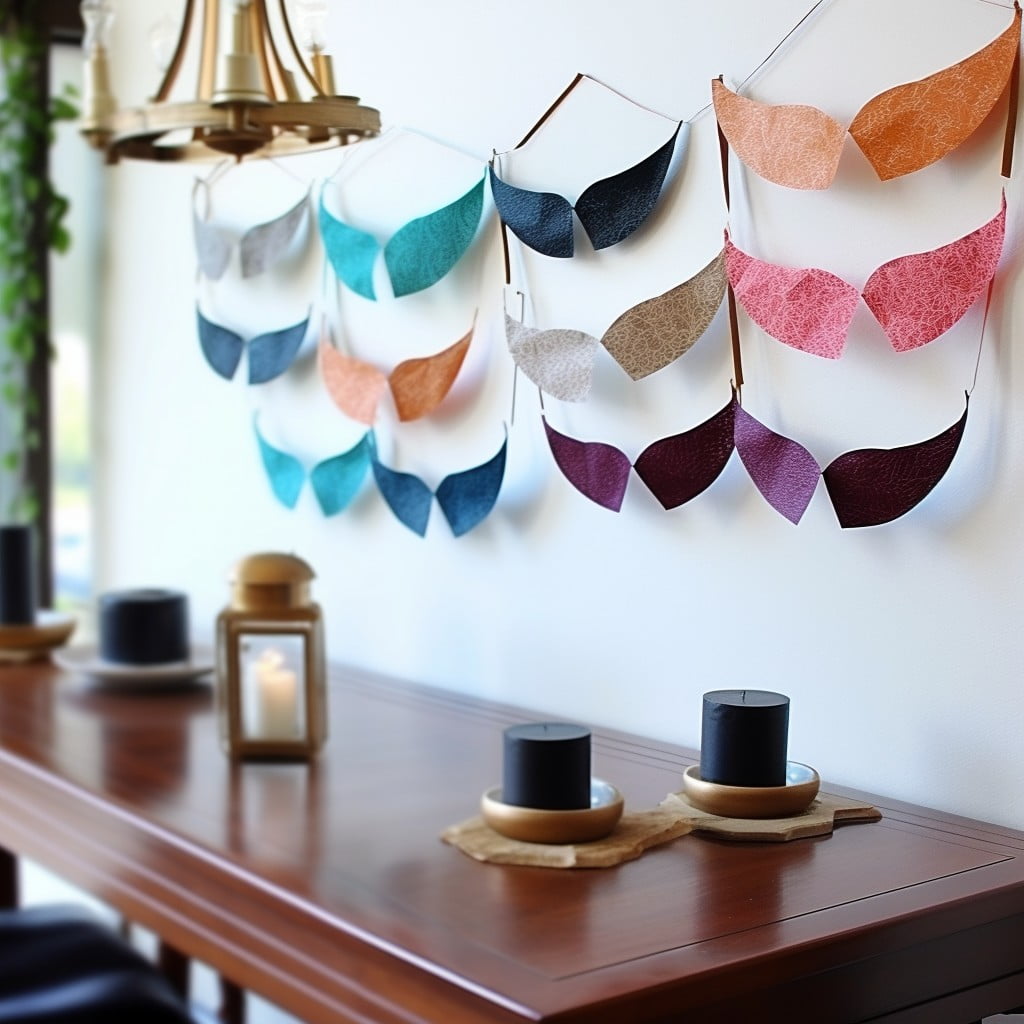 This creative garland perfectly encapsulates the spirit of Father's Day, by using quirky, dad-associated symbols: mustaches and ties. Here's how to make it:
Materials:
Colored paper.
Scissors.
Glue or tape.
String.
Steps:
Choose your paper. Using dad's favorite colors can add a personal touch.
Cut out tie and mustache shapes. The internet offers a plethora of templates to help.
Glue or tape your shapes to the string. Be creative, mix and match patterns!
Find the perfect spot to hang your creation.
This project is an excellent way to engage kids in the preparation. Plus, it adds a playful touch to the celebration – a tribute to dad's amazing sense of humor!
World's Best Dad Award Display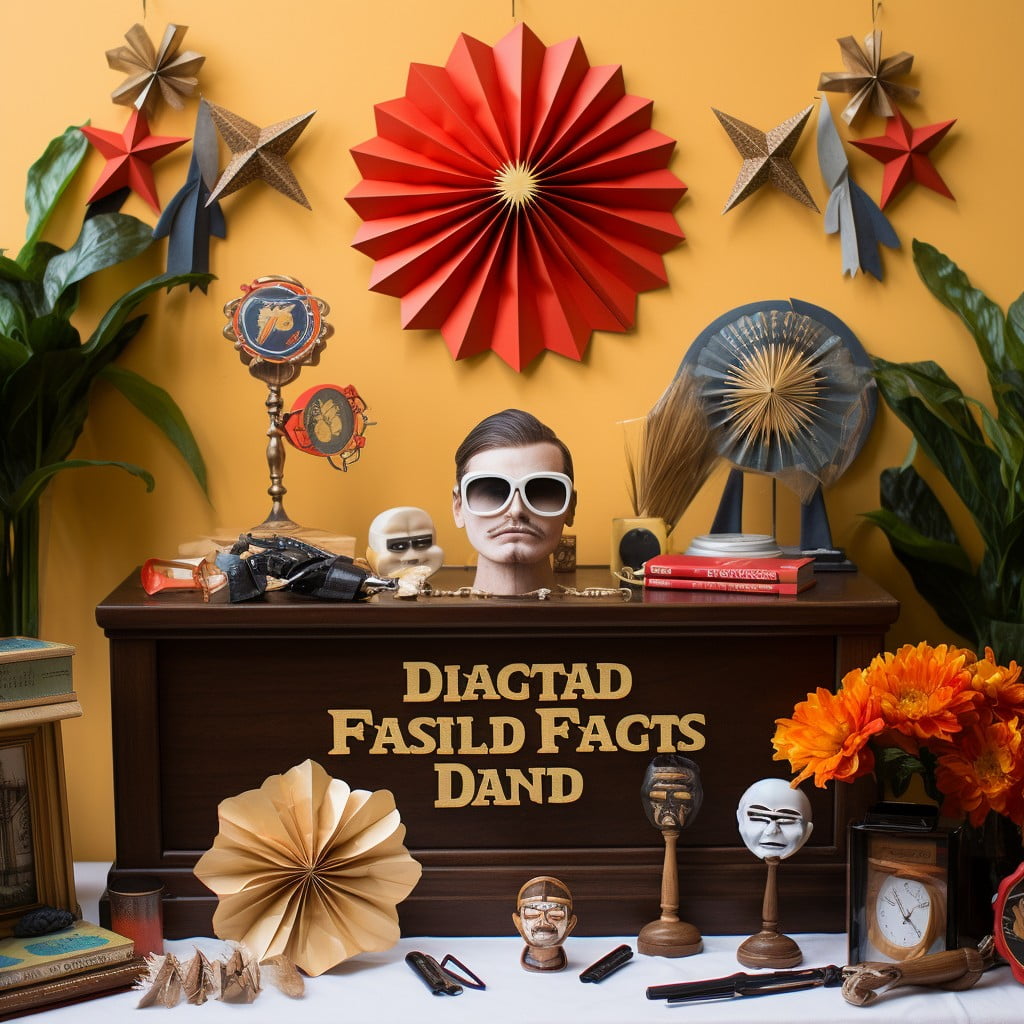 In ensuring this year's festivities are unforgettable, why not incorporate an ornamental award display? Consider buying or crafting a vibrant, emblematic trophy or medal inscribed with "World's Best Dad". Such an award will not only bring a smile to his face but also, laden with sentimentality, will be a cherished keepsake.
For a more personal touch, enlist the children to make their own versions using material like cardboard or clay, for an element of uniqueness. Use glitter, stickers, or anything else that adds a touch of glamor. The kids can write messages or draw something special on the awards, making them even more personal.
Moreover, place this award display in a noticeable spot, like near the dinner table or in the living room where everybody gathers. It could be a conversation starter, heartbeat warmer, and an everyday reminder of appreciation. So, with this idea, make your Father's Day celebrations both meaningful and festive in one neat package.
Fishing Theme Decors for Dads Who Love Fishing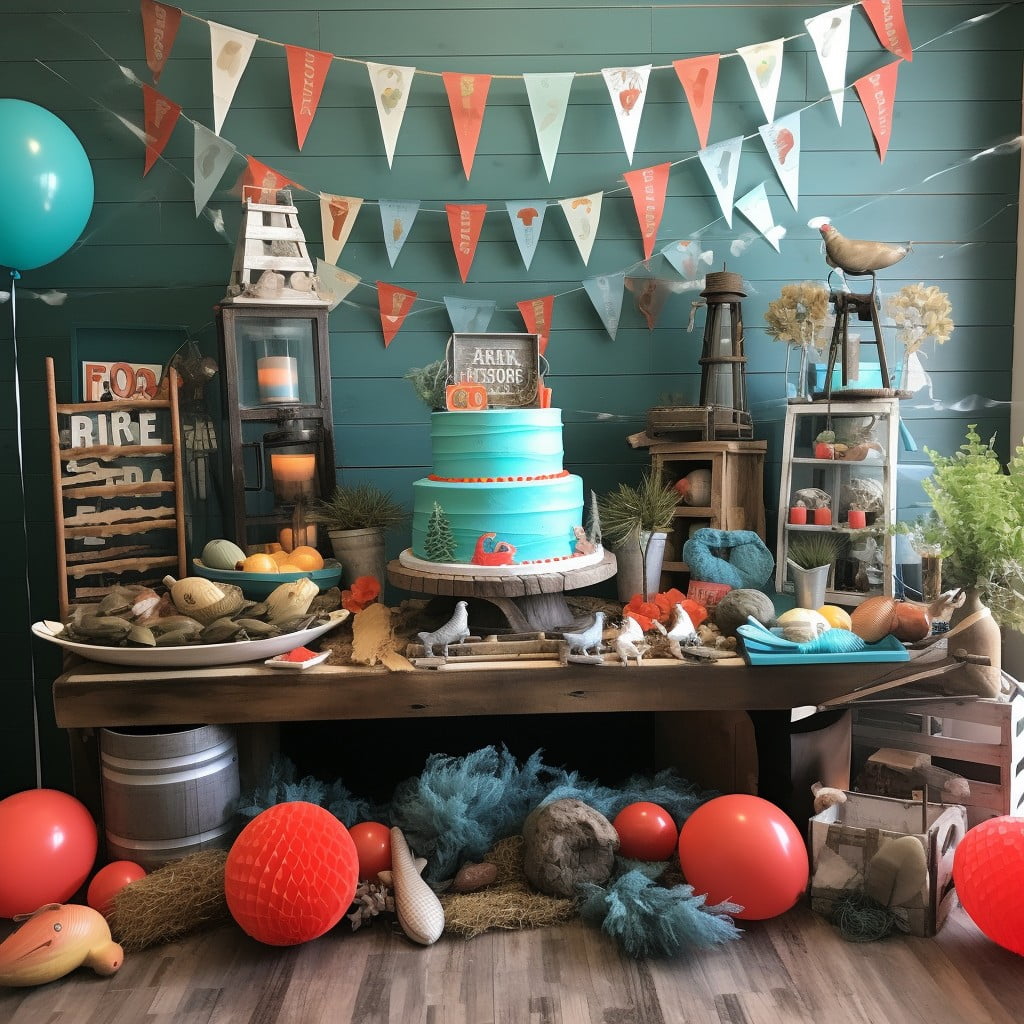 Applying this particular decoration idea is all about incorporating elements that resonate with a father's love for fishing.
– Consider using fishing net as a tablecloth or a wall backdrop for an added layer of authenticity.
– Use bait and tackle boxes and well-cleaned fish figures as unique centerpiece options.
– Another great option is decorative fish-shaped lanterns, that can create a serene, under-the-sea atmosphere.
– If it's an outdoor event, twig Wind Chimes personalized with fishing accessories can add a touch of rustic charm.
– Finally, if you want your decoration to have a personal touch, giving a display of dad's own fishing gear — like well-polished rods and reels — can make him feel truly honored. Just ensure they're cleaned first!
Remember, the goal is not just to create a decorative visual treat but also to showcase dad's passion in the most flattering light.
Golf Ball Decorations for Golf-loving Dads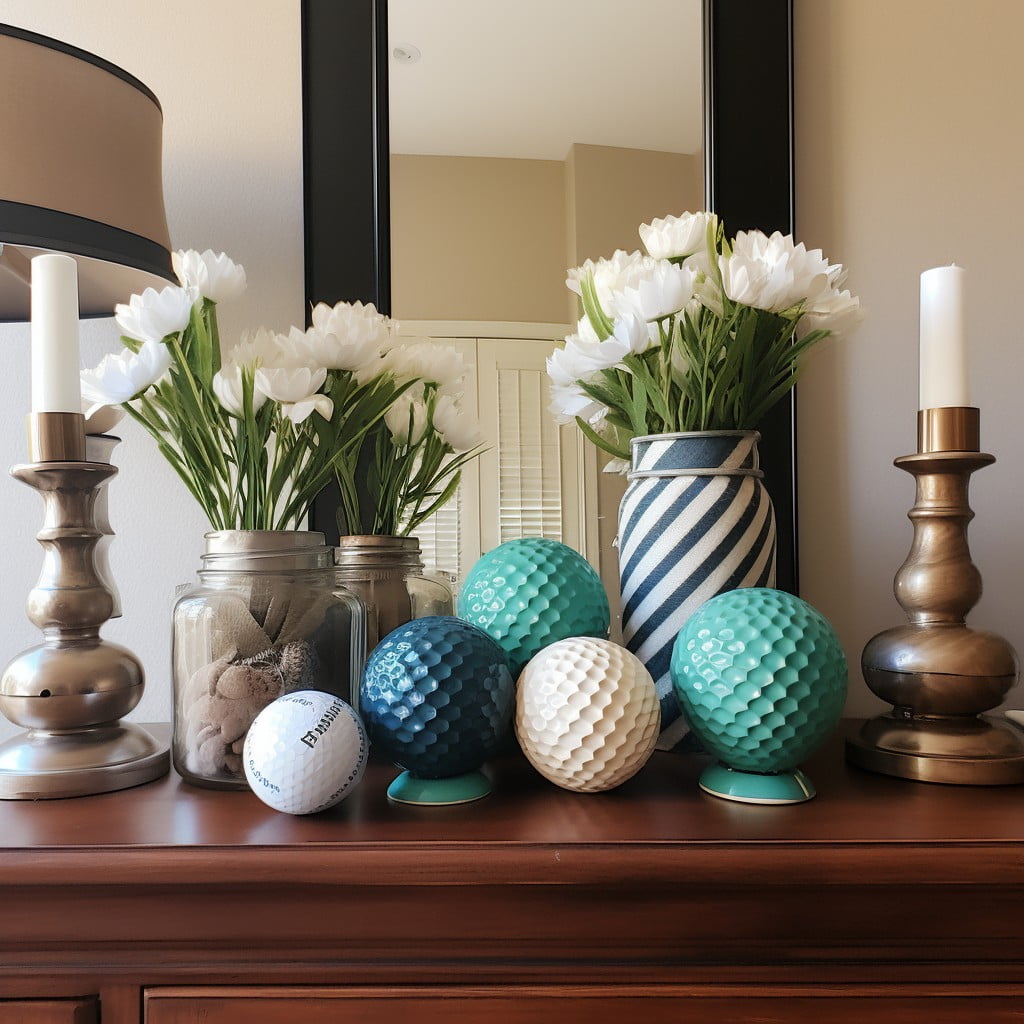 Golf balls aren't just for the course – they make great décor! Start by collecting old or unused balls. Consider painting them in hues matching the party's color scheme or dad's favorite colors, or even drawing small details, such as bows and ties, to make them festive.
You can arrange these fun artifacts in a glass bowl as a centerpiece, showcase them in a decorative tray, or string them together to become an unconventional, sporty garland. If you want to add a personalized touch, label each ball with significant years or milestones in your dad's life. This way, they become not just decorations, but conversation starters, allowing you to walk down memory lane with dad on his special day.
Father's Day Themed Balloons and Streamers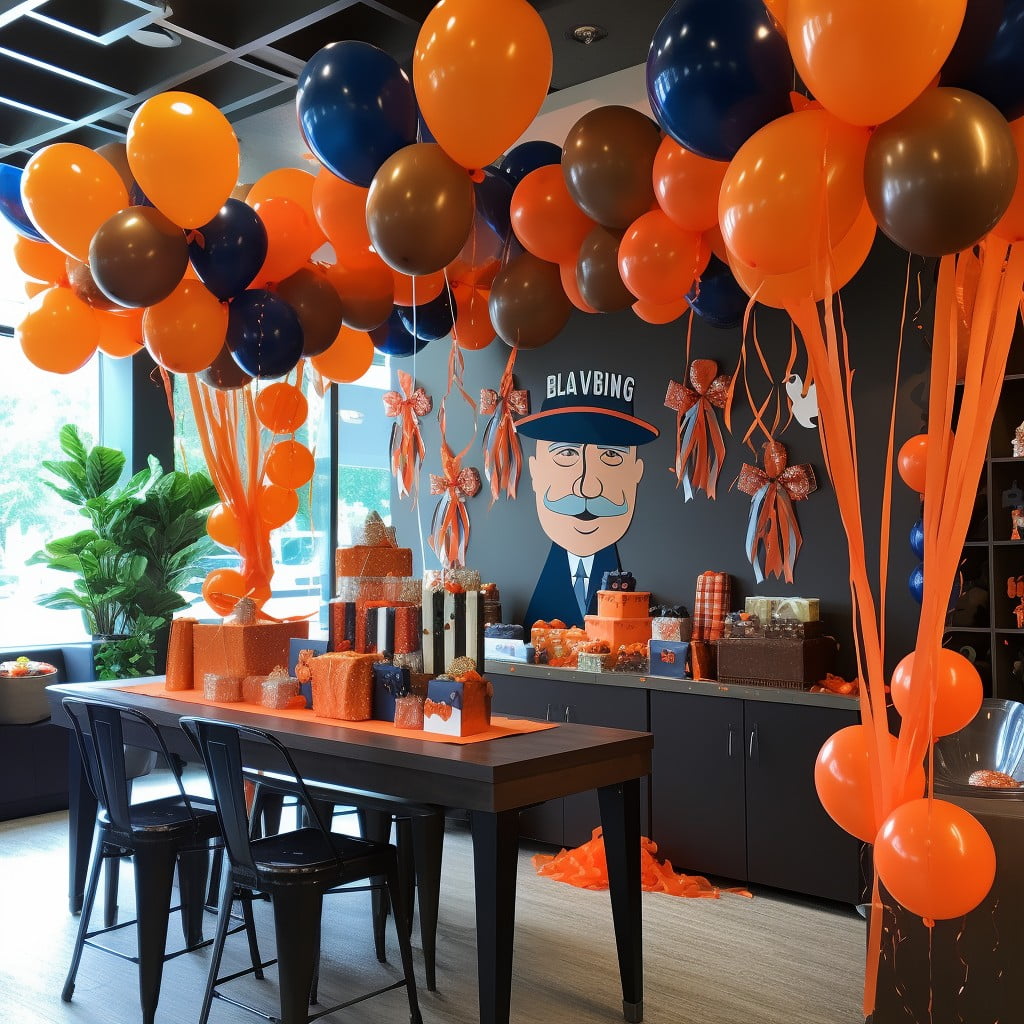 To create a festive atmosphere, consider incorporating helium-filled balloons combined with streamers. Decorate with colors that your father prefers or go for traditional Father's Day colors like blue, grey, or green. Some balloons come pre-printed with Father's Day messages, while others can be personalized. Mix and match these with plain color balloons for visual interest.
As for streamers, they add an element of fun and playfulness to the decor. Drape them from the ceiling, wind them around table legs, or even make a backdrop for a photo booth. Opt for crepe paper streamers or shimmering metallic ones depending upon the overall theme of your celebration.
When arranging balloons and streamers, consider forming patterns like a balloon arch or a streamer curtain. Alternatively, randomly spread them across to give a casual, effortless decor vibe. Remember, the aim is to make the day joyful and celebration-worthy for your dad.
Tool-shaped Cookies As Food Decorations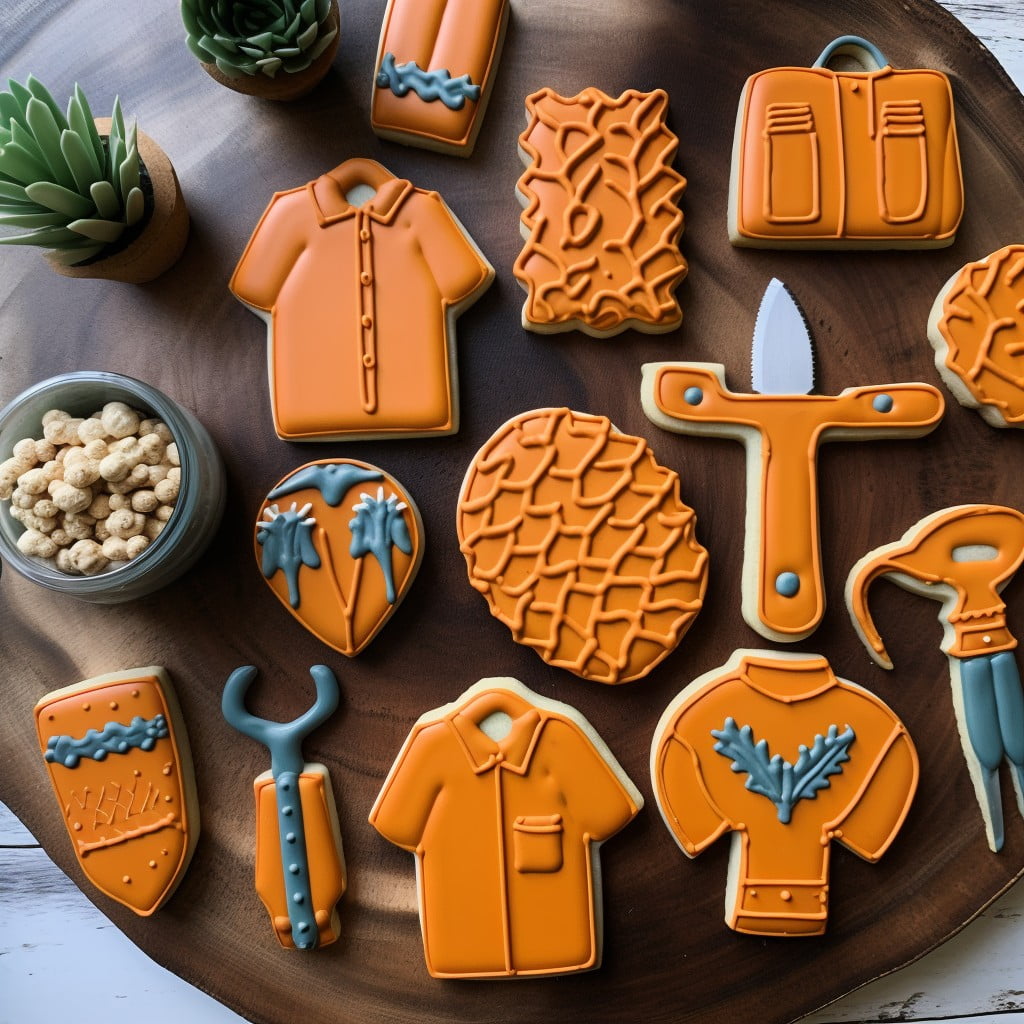 To kick-start this engaging endeavor, pick out your favorite sugar cookie recipe or buy premade dough from the store. Choose a variety of tool-shaped cookie cutters such as hammers, screwdrivers, wrenches, or saws to reflect dad's interests and hobbies.
Once your cookies are baked and cooled, creatively use icing to bring the tools to life. For a realistic yet edible effect, consider shades of metallic greys, browns, and blacks. However, feel free to vary the color palette if you wish to add a whimsical or personal touch.
These cookies can be laid out on a tray to serve as an edible centerpiece, or individually wrapped as party favors for guests. Prominently display them to catch guests' attention and spark conversations.
Readily involving the kids in cookie making and decorating will foster a fun-filled bonding opportunity, creating memories that will last way beyond Father's Day.
Ancestor Tree Wall Decoration to Honor Past Fathers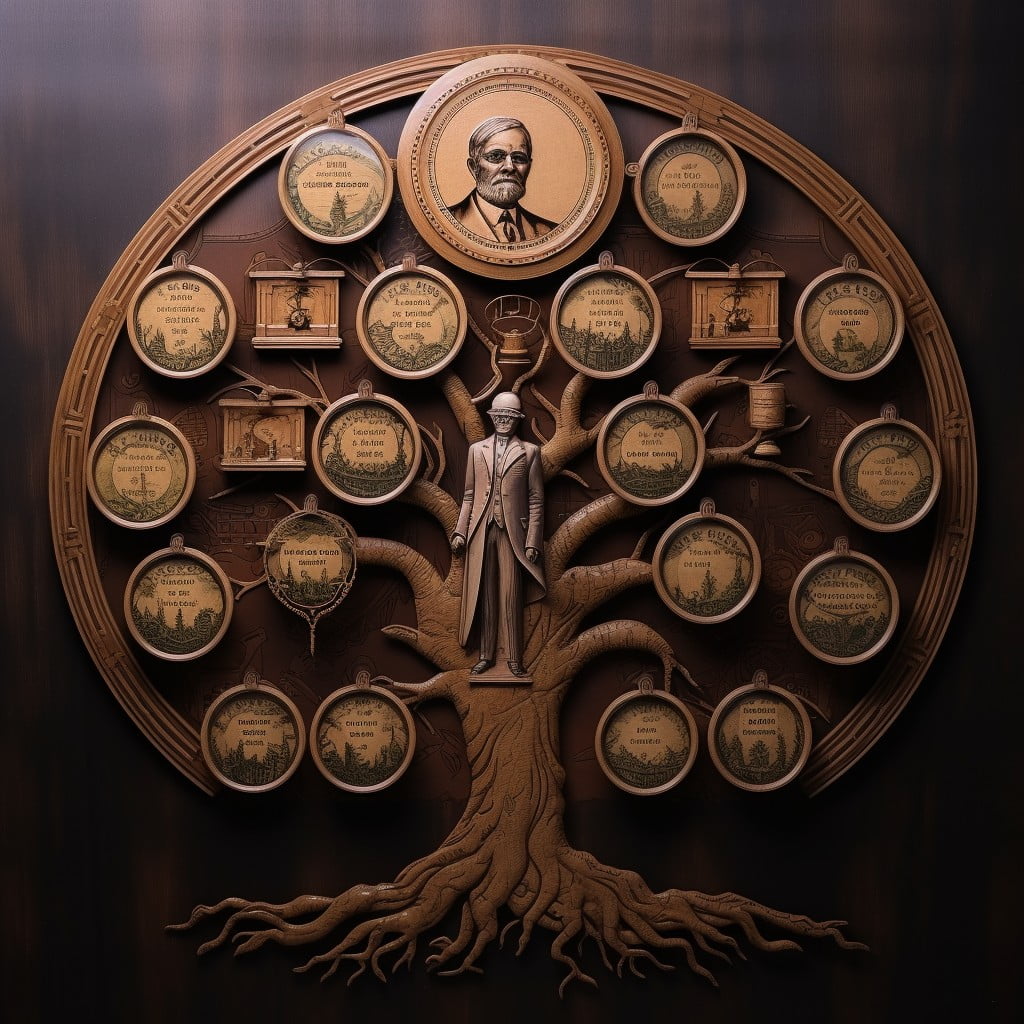 Creating this thoughtful decoration is an opportunity to delve into family history. It can be an engaging and informative project for kids, as they learn about their lineage, trace roots, and reflect on the legacy that their fathers and forefathers have left behind.
Begin gathering perfect photos of your father, grandfather, and great-grandfather, perhaps even further back if they're available. Once you've collected enough, organize them in the shape of a tree on a large piece of cardboard or more permanent material, anchoring the oldest generation at the top, dwindling down to the current generation – the children – at the base.
Consider adding small labels or tags next to each picture with names and any significant details like birth or pass-away dates. This will make it easier for everyone to recognize who's who. A bit of decorative flair, such as a frame or edging around the pictures, can also help magnify the sense of pride and heritage.
The act of creating the tree is one the entire family can partake in, which makes it more than just a decoration. It becomes a bonding activity that facilitates conversations about family history, values, and how many mustaches were truly fashionable in the past!
Liked reading this? Here's more:
Recap: