Last updated on November 13, 2023
Because of their classic elegance and versatility, glass pumpkins elevate your fall décor to new aesthetic heights.
I'm thrilled to share this article and unique designs on 20 Glass Pumpkin Ideas that I've personally crafted, hoping it inspires you and brings as much joy to your crafting projects as it did to me while creating them.
Glass pumpkins are a fantastic way to bring a touch of autumn elegance into your home. They're versatile, stylish, and can be used in a multitude of ways to enhance your decor.
Whether you're looking to create a stunning centerpiece for your dining table, add a little sparkle to your mantel, or even craft a unique outdoor display, glass pumpkins are the perfect choice.
This article will offer a range of creative and inspiring ideas, detailing how to incorporate glass pumpkins into your home decor effectively. So, let's dive into the world of glass pumpkin decor and explore the endless possibilities.
Glass Pumpkin Table Centerpiece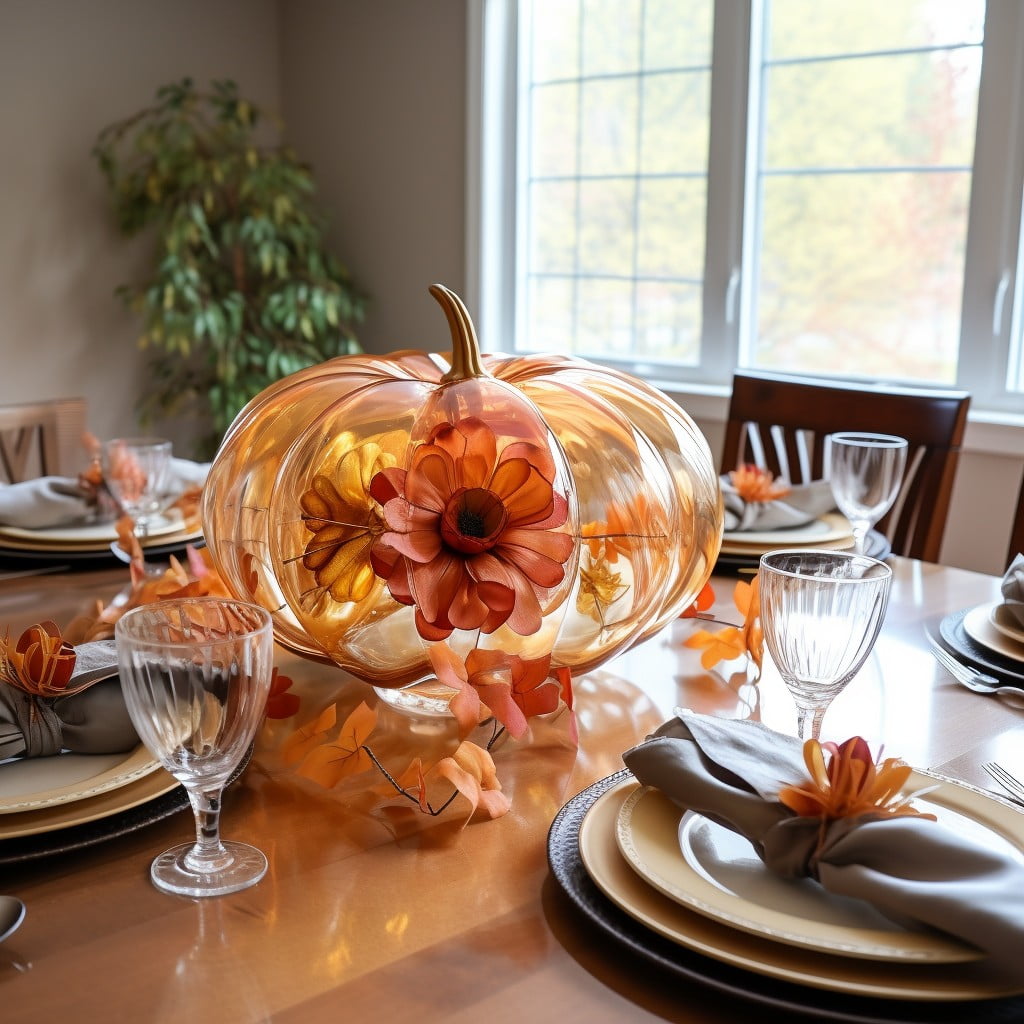 A well-curated glass pumpkin centerpiece effortlessly uplifts the aesthetic appeal of a dining table, coffee table, or mantel. It can make an elegant impression and become a beautiful conversation starter among guests. The transparency of the glass creates a sophisticated, modern look, while preserving the holiday spirit. To create your own, choose a large glass pumpkin to act as the focal point.
Surrounding it with smaller pumpkins, gourds, and clean sticks, acorns or autumn leaves can add depth and a rich palette to the scene. In addition, consider placing LED string lights inside the pumpkin to add warmth and wonder in the evenings or cinnamon sticks and star anise for a refreshing, seasonal scent.
For variations, glass pumpkins can be filled with seasonal goods like dried corn kernels, candy corn, or even cranberries for a wave of rustic charm. A mirrored tray base can heighten the display's refinement, and tastefully arranged elements like moss, pine cones, and holly berries can enhance its organic aesthetic. Remember, the beauty unfolds in the thoughtful details and personal touches you add to this centerpiece.
Glass Pumpkin Candle Holders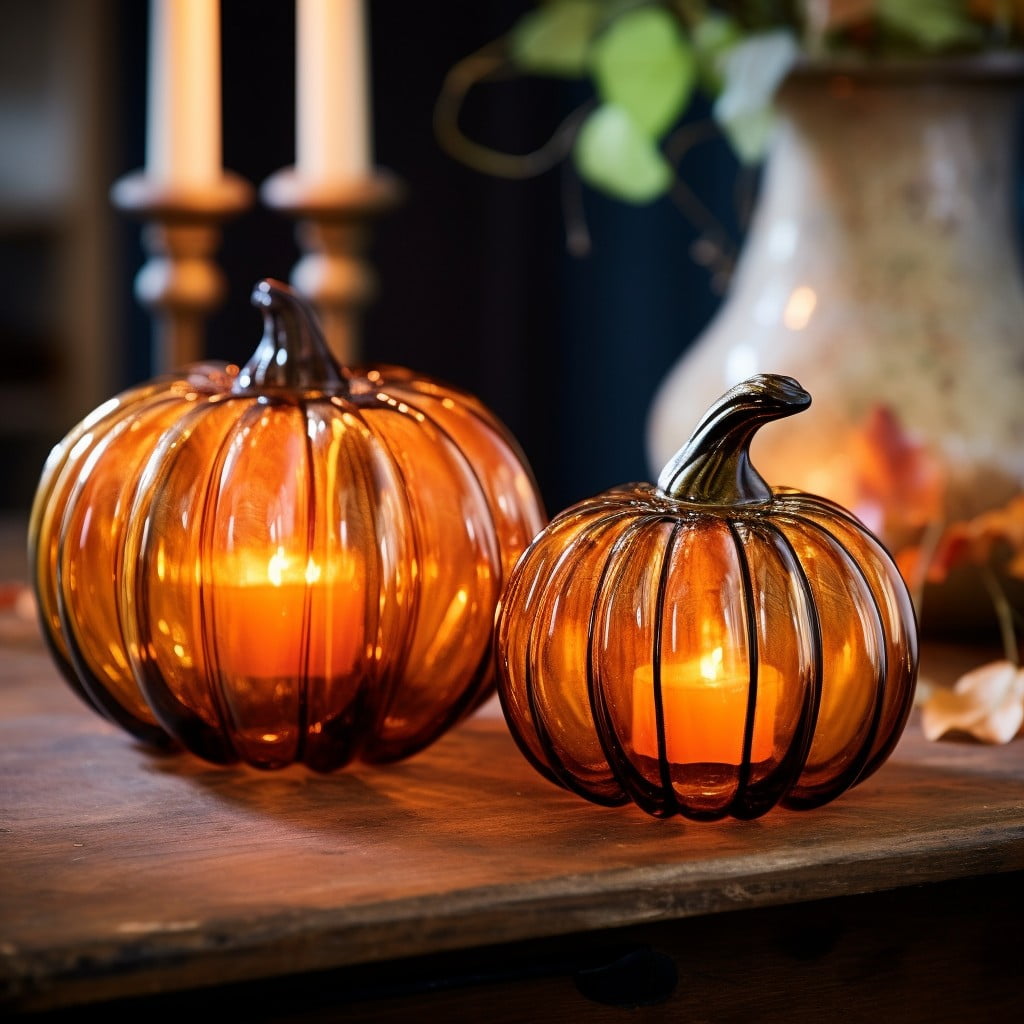 Harnessing the beauty of autumn right in your home, these unique candle holders promise to add warmth and charm. Hollowed out, and capacious enough for a votive candle, these stunning pieces cast delightful, flickering shades on near surfaces. Giving it a magical ambiance.
There are several styles to explore:
Freeform glass pumpkins, where irregular shapes and textures mimic a genuine pumpkin
Stained glass styles, offering vibrant color patterns as the candlelight filters through
Frosted finishes for a softer, cozier candlelit effect
Clear glass options for minimalist, modern aesthetics
Remember, ventilation is crucial. Ensure the holder provides ample space for heat and smoke to escape. Placing them on heat-resistant mats preserves furniture surfaces. Also, always remember, never leave burning candles unattended.
Outdoor Glass Pumpkin Decorations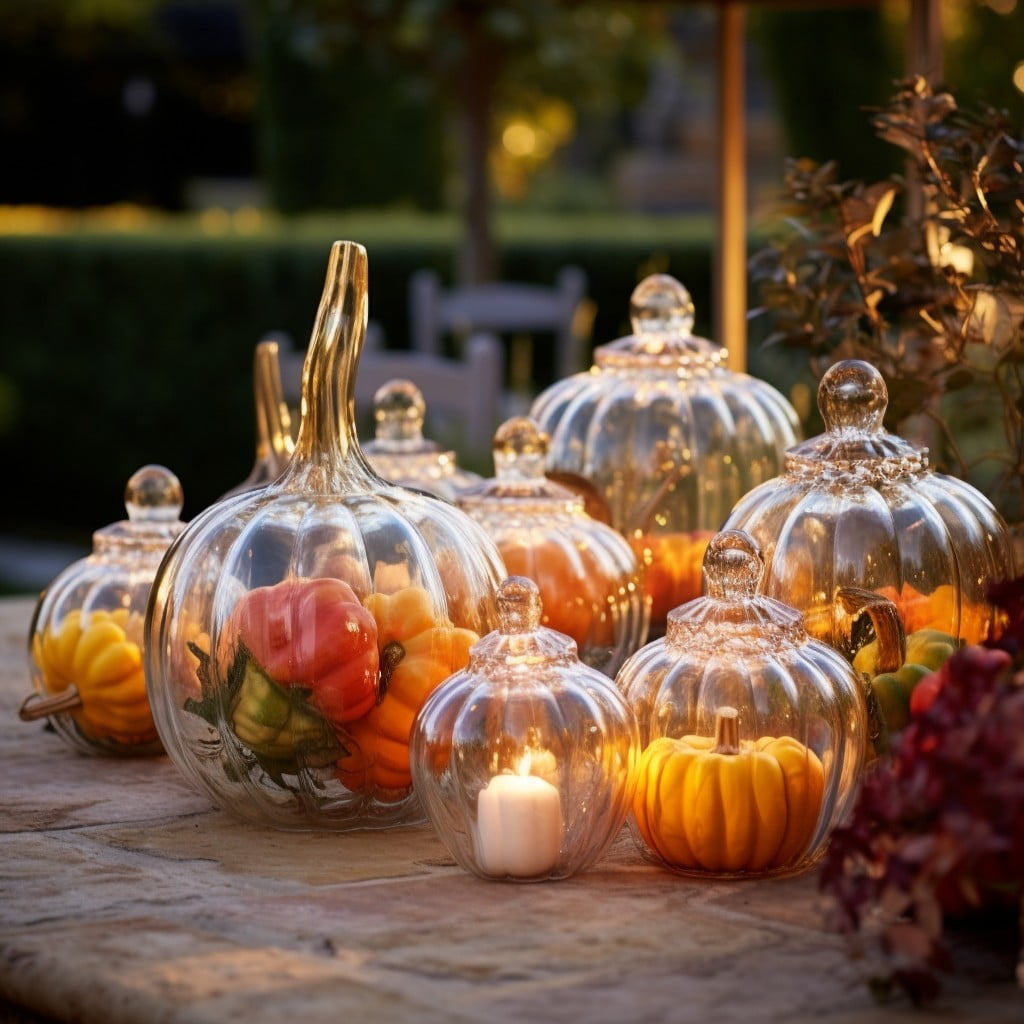 Positioning glass pumpkins outdoors adds an enchanting touch during fall. Here are some tips to make the most out of these decorations:
1. Lawn Display: Arrange several glass pumpkins of varied sizes and colors for a captivating visual.
2. Garden Planters: Instead of flowers, plant small glass pumpkins in your garden beds or pots.
3. Doorway Dressing: Flank your front door with tall glass pumpkins for an instant festive look.
4. Fence or Wall Decor: Hang glass pumpkins at varying heights to create a charming backdrop.
Remember, while their glassy structure contributes to their allure, they're pretty fragile. To prevent breaking in harsh weather conditions, consider secure display methods and placements.
Glass Pumpkin Fairy Lights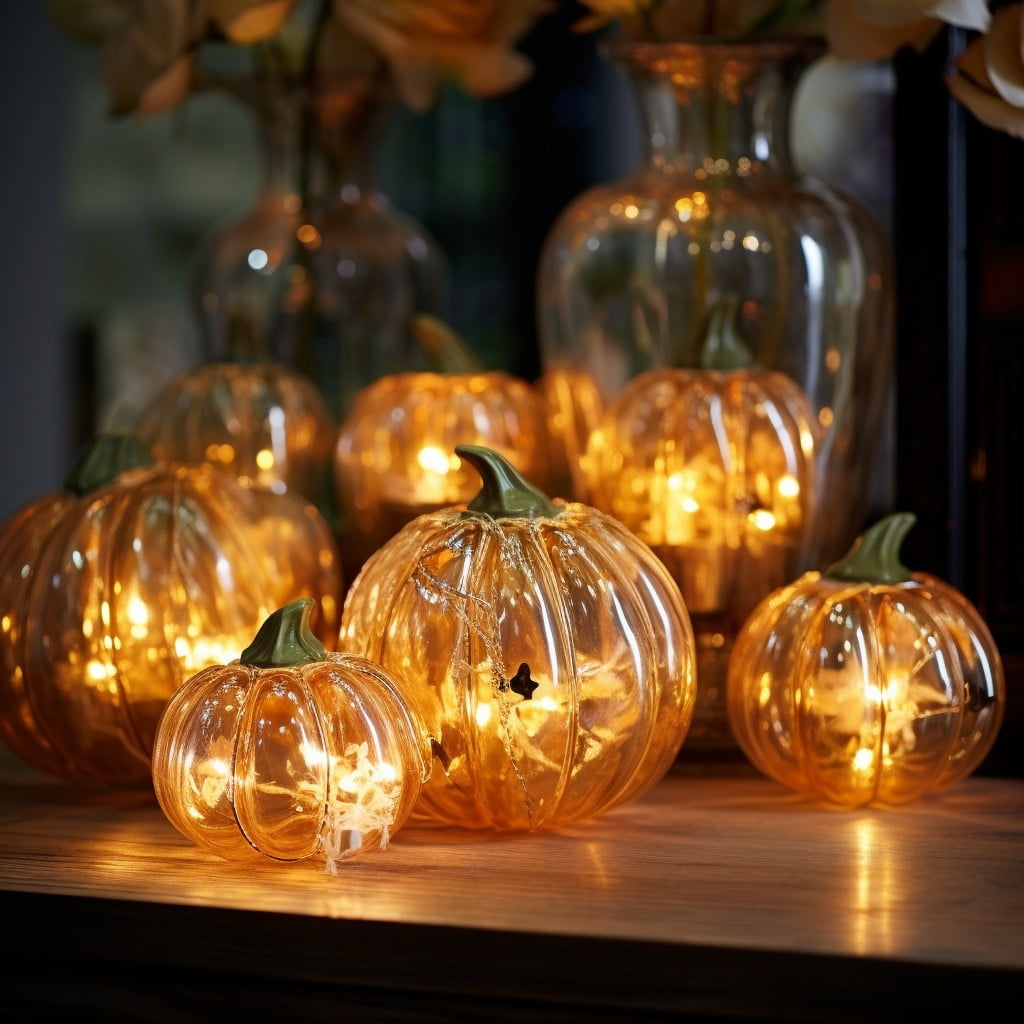 Incorporating fairy lights into your glass pumpkin provides a whimsical charm to your decorations. They are ideal for living room displays, window sills, or even outdoor events.
Start by choosing a glass pumpkin of any size. Fill it with a wire strand of battery-operated LED fairy lights. Warm white or multicolored lights both work brilliantly.
These lights can be easily bent and manipulated, so they disperse evenly inside. Make sure the switch or battery pack remains accessible. You can hide it under the lid or at the back.
Consider intertwining the fairy lights with artificial autumn leaves or miniature pinecones for an extra festive effect. Glass pumpkins with fairy lights offer a splendid way to make your space look cozy and autumn-ready. The glow from the light within creates a magical ambiance, especially in the dusk and evening hours.
Glass Pumpkin Window Display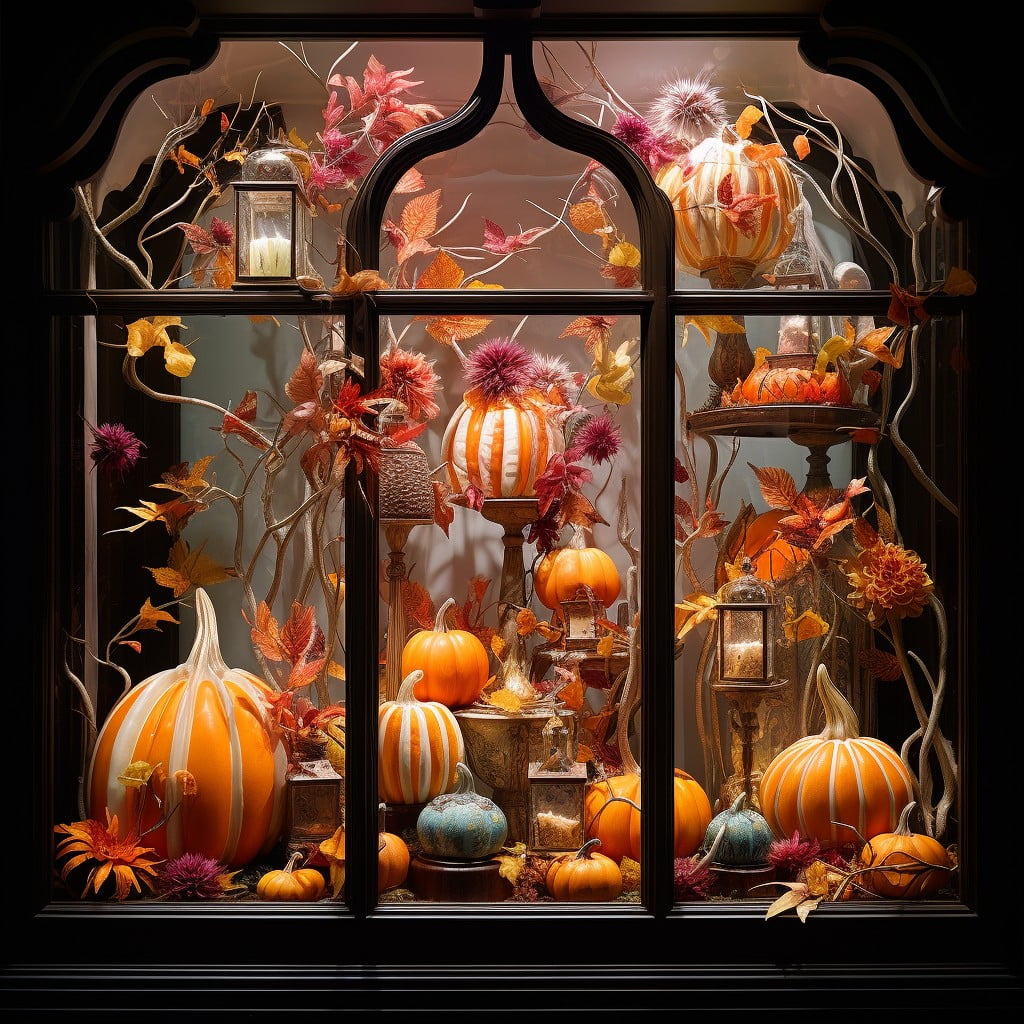 Implementing a window display featuring glass pumpkins can make your home radiate a festive fall charm.
A few key pointers for ensuring an outstanding setup include:
Arrangement: Play around with various arrangements until you get the most visually pleasing setup. Try grouping pumpkins of differing sizes and colors together for a balanced and eye-catching display.
Illumination: Consider placing small LED lights inside or around the pumpkins for a magical nighttime glow. The lighting will produce a sparkling effect on the glass surfaces that undeniably draws attention.
Accessories: Complement the glass pumpkins with additional fall-themed elements, such as dried leaves, pine cones, or miniature hay bales. This will enhance the autumnal feel and tie the whole display together.
Contrast: Use darker elements like wooden crates or black iron stands to contrast against the glass pumpkins. This will make the pumpkins stand out more in your window display.
Always remember, creativity is key. Deviate from traditional ideas and find your unique style to create an unforgettable glass pumpkin window display.
Glass Pumpkin Art Sculptures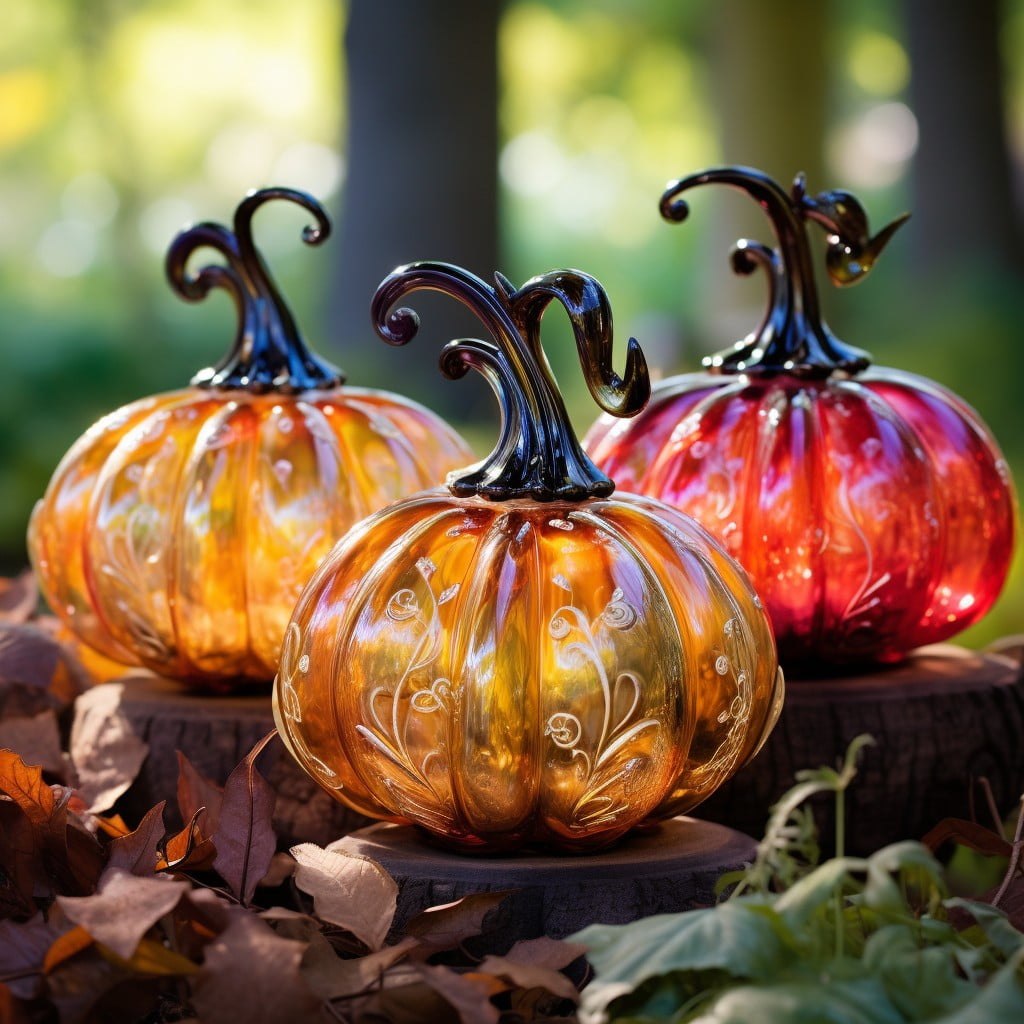 Creating a unique aesthetic within your living space can be a delightful and fascinating activity. Stylized and cool structures, detailed carvings, and a vast range of colors are a few of the distinctive features of glass pumpkin art sculptures.
1. Aesthetics: These sculptures bring an artistic touch to your décor, transforming a regular space into a creative hub.
2. Variety: From minimalist designs to complex forms, there's something for every taste.
3. Focal Point: Even among other pumpkin decors, these eye-catchers stand out due to their intricate detailing.
4. Durability: Unlike natural pumpkins, they never spoil and can be reused season after season.
5. Versatility: Place them anywhere – mantels, shelves, coffee tables, or even your garden to enhance your décor.
6. Customizable: You can find ready-made sculptures or commission an artist for a personalized piece.
Overall, such magnificent sculptures not only serve as decorations but also as art pieces that bring a certain wow factor to your home. Remember, home decoration is all about expressing your style!
Hanging Glass Pumpkins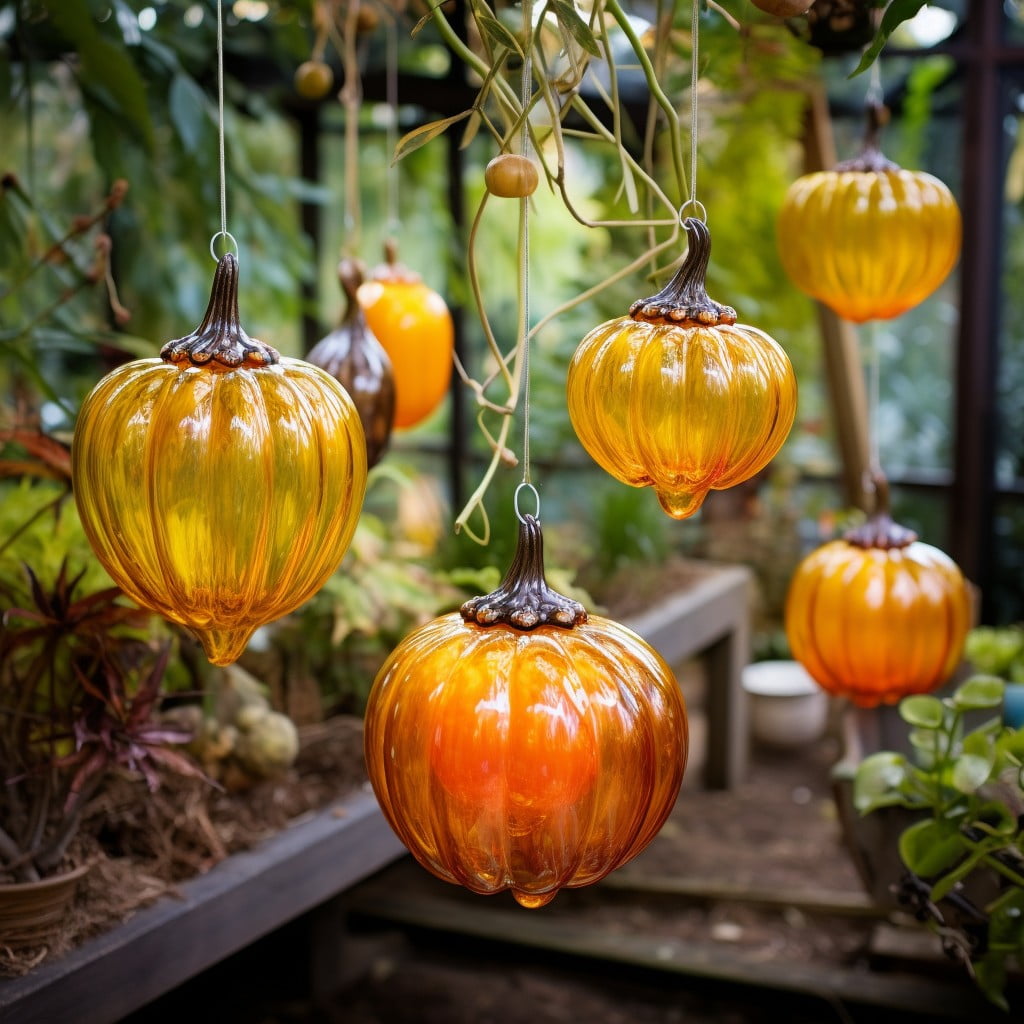 Creating an ethereal glow within your décor, these whimsical alternatives are easy to install and boast a charming visual appeal.
1. Placement: They work well in sheltered outdoor areas like porches or patios, or indoor spaces like hallways and living rooms.
2. Design: Often crafted from hand-blown glass, each piece offers a unique texture and color variance, adding depth and distinct beauty to your space.
3. Illumination: Incorporated with light strands or solar-powered LED's, they emit a soft, ambient glow after dusk that enhances the overall aesthetic.
4. Size Variety: Available in various sizes, you can create an enchanting display by clustering together multiple pumpkins in a cascading arrangement.
5. Customization: With the choice of clear or colored glass, you can match the pumpkins to the color scheme of your existing décor for a cohesive appearance.
Remember, the versatility of these decorations allows for creativity — experiment with different heights, positions, and lighting options to achieve your desired look.
Glass Pumpkin Filled With Autumn Leaves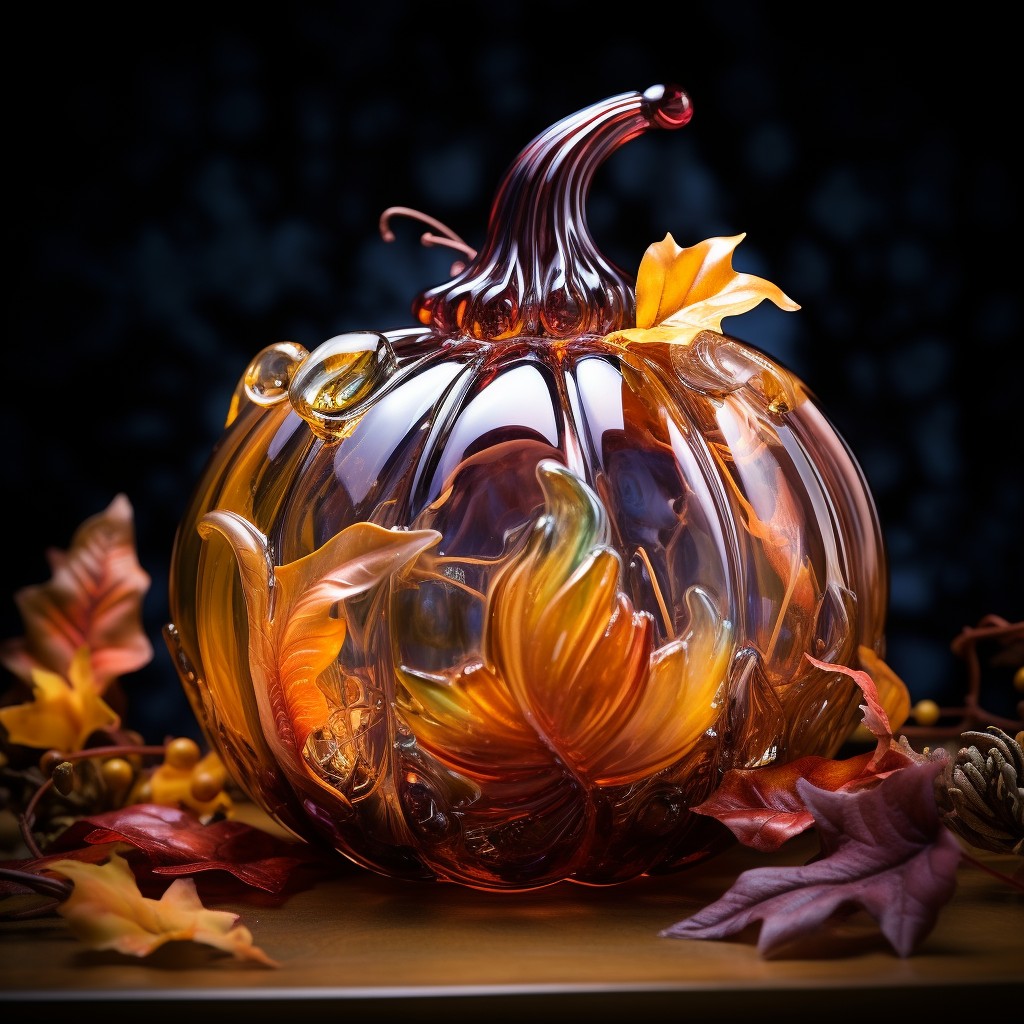 Certainly an eye-catching idea, this concept utilizes natural elements to highlight the beauty of the season. Start by finding a diverse selection of leaves in various autumn shades – gold, crimson, orange, and brown. Dry them out by placing them between sheets of newspaper and heavy books for a week.
Next, get a clear, sizable glass pumpkin. The wider the opening, the easier the process. Carefully arrange the dried leaves inside the pumpkin, ensuring that the most vibrant ones can be clearly seen through the glass. Use a long skewer or a similar tool to adjust their positions.
Sprinkle a few smaller, brighter leaves on top for a pop of color. For a final touch, consider adding in some mini LED lights for an added warm glow. This decoration brings the splendor of autumn indoors, delivering a stunning and elegant focal point for any room. It is all about evoking seasonal charm with a sense of sophistication.
Small Glass Pumpkin Party Favors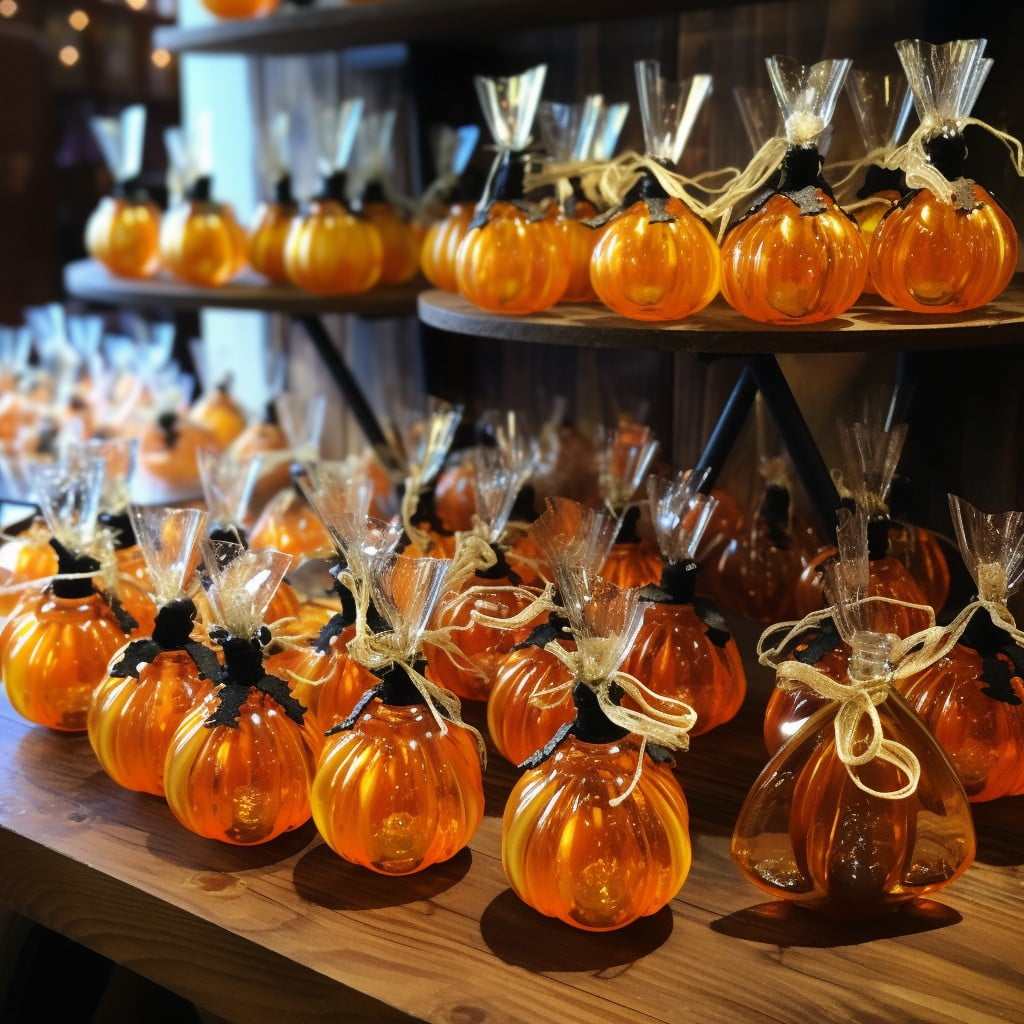 Small is definitely the new big. When it comes to party favors, these tiny treats often steal the show. Opting for mini glass pumpkins could add a unique charm to your autumn parties or Halloween celebrations.
1. Charm in Simplicity: These small tokens embody simplicity yet have an attractive appeal. They are perfect to complement any fall-themed décor where they sit beautifully at each place setting.
2. Personalization: Small glass pumpkins can be personalized to add a touch of intimacy to the party. Names, dates, or a short message can be etched on them for an added touch.
3. Budget-friendly: Despite their refined look, these tiny souvenirs need not be costly. Several varieties are available in the market that cater to different budgets.
4. Versatility: Apart from just handing these out, they can double up as elegant table number holders or place card holders, providing functionality along with decoration.
5. Memorable Keepsake: Unlike other party favors, these glass pumpkins can serve as a long-lasting memento of the occasion, something guests can take back and cherish.
In essence, small glass pumpkin party favors can elevate the aesthetics of your event while offering a delightful gift for guests to remember the occasion by.
Glass Pumpkin Terrarium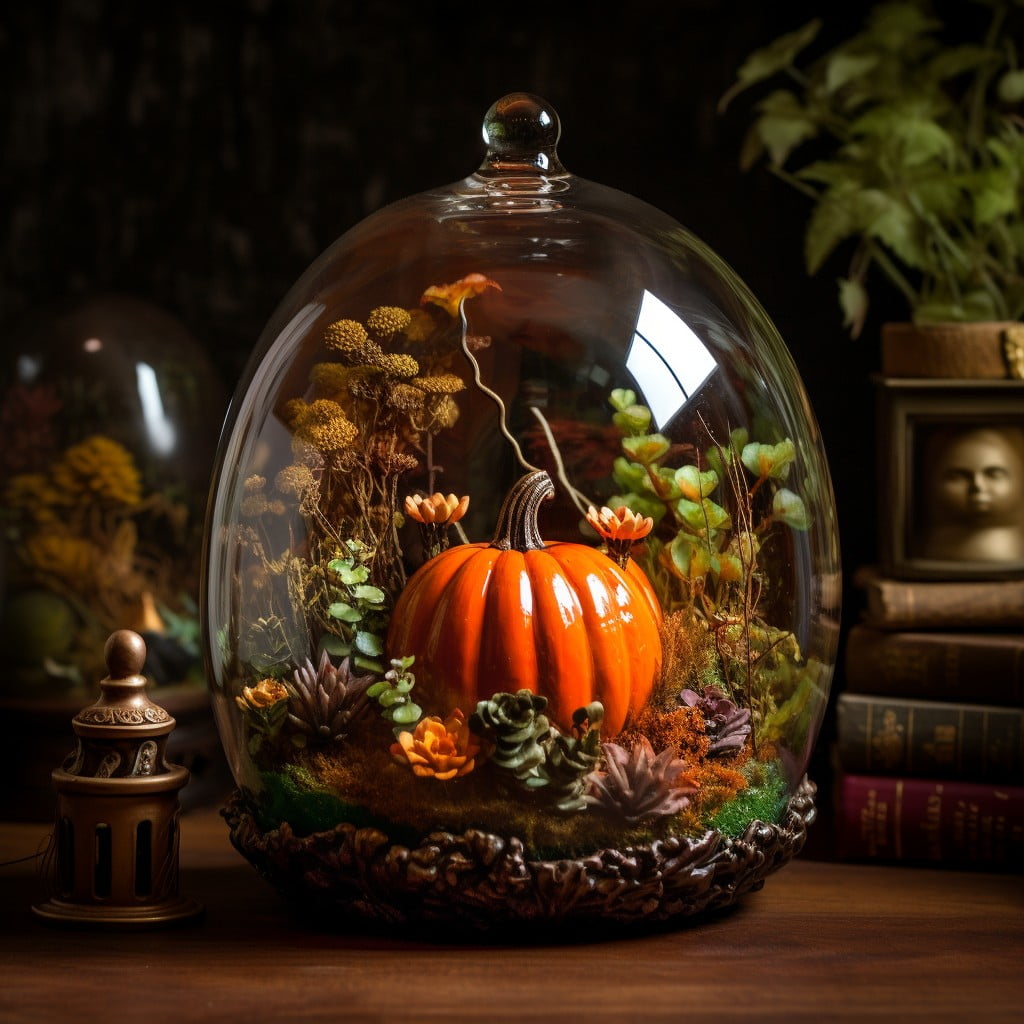 Harnessing the beauty of glass and the natural world, a terrarium makes the perfect setting for your favorite succulents or ferns. The glass pumpkin shape offers ample space and a unique canvas to create miniature verdant landscapes.
For best results, layer the base with pebbles or activated charcoal for proper drainage and to prevent moldy roots. Above the base, a layer of potting soil provides the foundation for the plants. Choose small, shade-adapted plants that can thrive in the relatively low light of a terrarium.
After carefully arranging your plants in the soil, accessorize with small decorative stones, moss, or miniature figures for a whimsical touch. Remember to place your glass pumpkin terrarium away from direct sunlight, and water sparingly to avoid overhydration.
Featuring plants encased in a captivating glass pumpkin, a terrarium is a creative and green way to evoke the spirit of autumn. It serves as an eye-catching decoration and a statement of natural beauty, offering a serene retreat right in your living room.
Glass Pumpkin Lanterns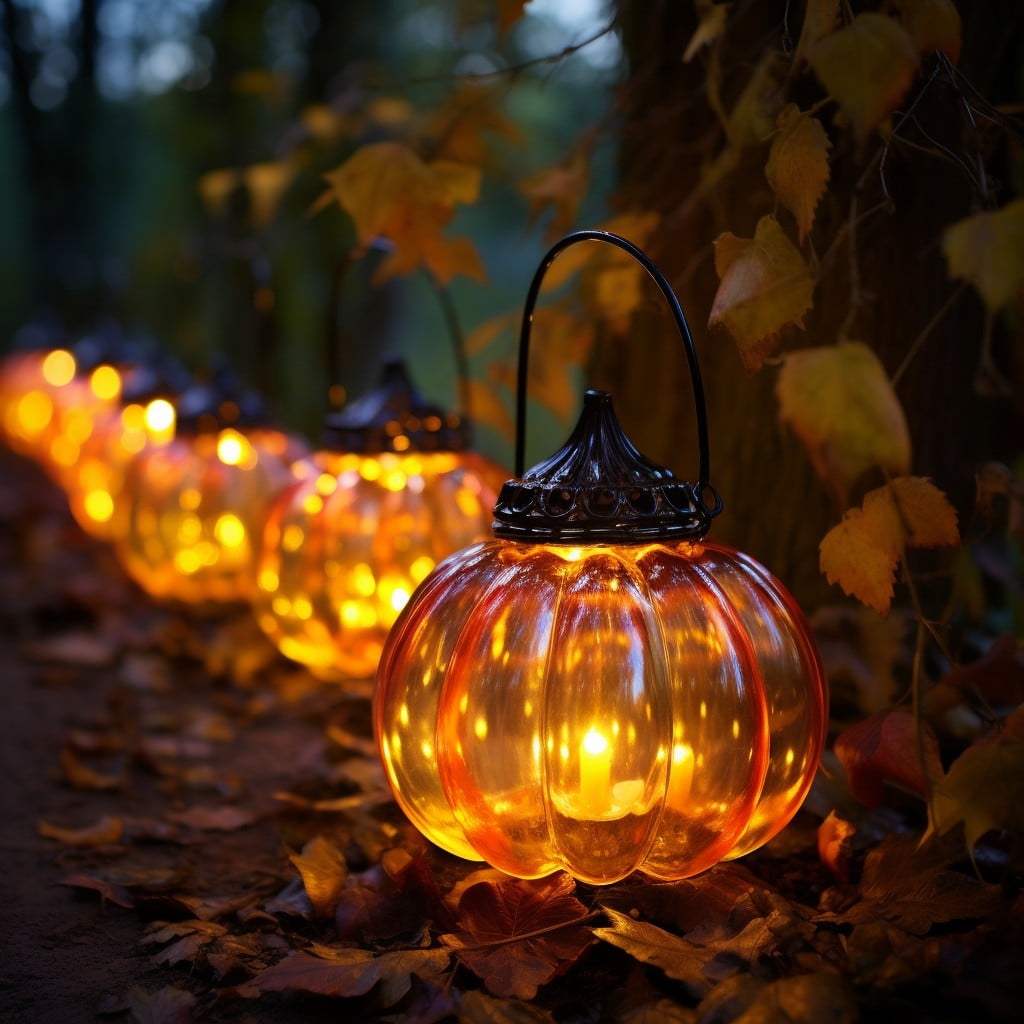 Crafting a captivating ambiance for fall evenings becomes undemandingly delightful with the inclusion of these lanterns. With their ability to diffuse ethereal, warm light, they provide an enchanting spectacle, whether lining a walkway or perched on a porch.
Consider these bewitching tips:
Use various sizes of lanterns to create depth and interest.
Opt for flickering LED candles for a safer, all-night glow.
Pair with autumnal foliage or petite gourds for a more festive look.
Consider models with metal handles for effortless mobility.
Stagger them alongside a pathway to guide guests during evening gatherings.
Successfully incorporating these ideas requires the art of balance – striking between the lantern's glow and the darkness of the night, which in turn results in an invitingly illuminated outdoor area.
Seashell-stuffed Glass Pumpkins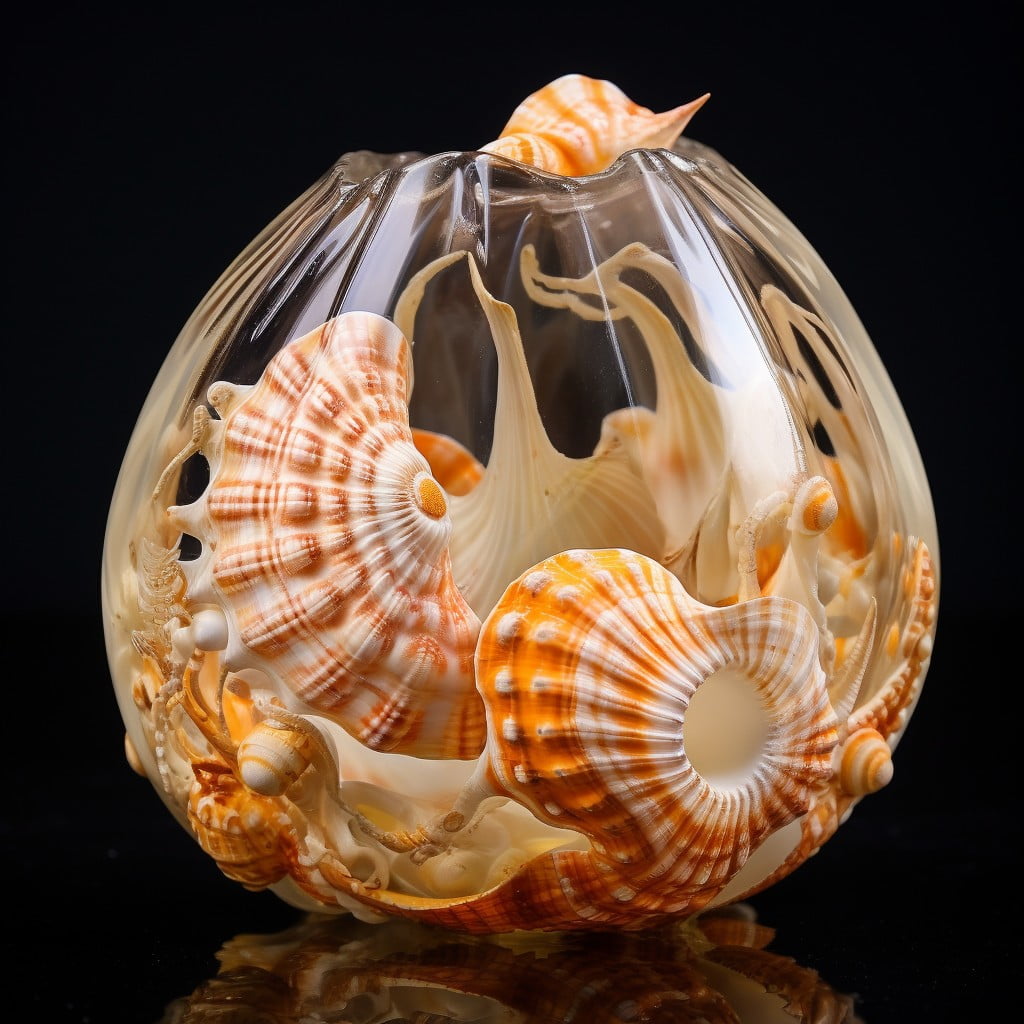 Once you've got a clear glass pumpkin, it's time to match the beachy, coastal theme by stuffing it with beautiful seashells. Here are some key steps to achieve this look:
1. Gather a collection of seashells, preferably of varying sizes and shapes.
2. Clean the seashells thoroughly before use to avoid an ocean smell.
3. Arrange the larger shells at the bottom of the glass pumpkin to provide a nice base.
4. Fill with the smaller shells, and adjust as needed to create a pleasing visual mix.
5. Consider if additional items such as sand, driftwood or starfish could further enhance the display.
Remember, the beauty of this idea lies in its flexibility. Feel free to experiment until you find the perfect beach-themed pumpkin arrangement for your home.
Glass Pumpkin Flower Vases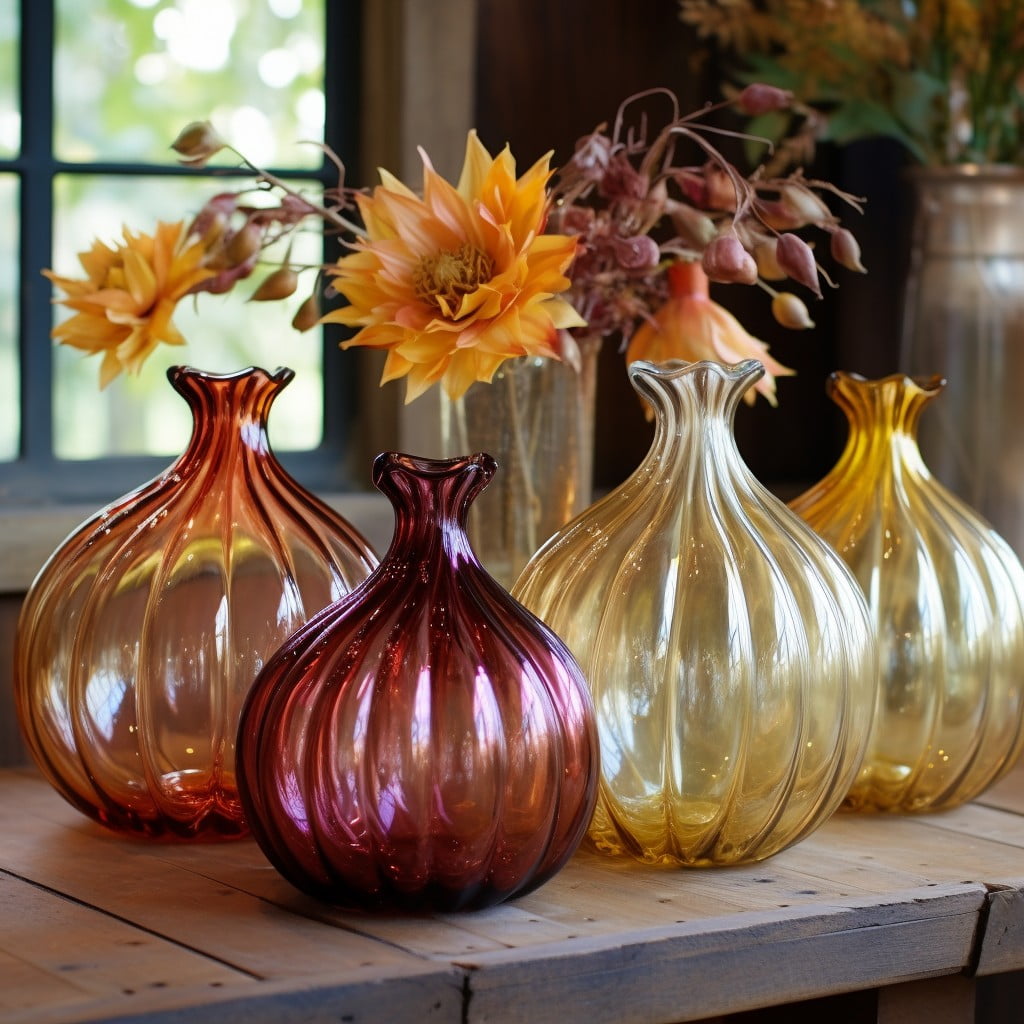 Taking advantage of the seasonal availability of flowers can add an extra touch of elegance to your glass pumpkin vase. Consider filling it with a vibrant bouquet of autumn blooms such as chrysanthemums, marigolds, and sunflowers. The transparency of the glass allows the stems to be part of the display, creating a beautiful, organic aesthetic.
Another idea is using the vase for dried arrangements. This design stays fresh-looking for longer and provides a rustic feel. Used coffee beans can be lined at the bottom for added contrasting color and unexpected fragrance.
Lastly, consider using long stemmed flowers or willow branches for a dramatic effect. This look can be a show-stopping centerpiece for your dinner table or as a statement piece on a mantle. Maintaining water at a lower level will keep the attention on the entire structure of the vase.
However you choose to style your glass pumpkin vase, remember the beauty lies in its versatility – don't be afraid to experiment, mix things up, and most importantly, have fun!
Glass Pumpkin Soup Bowls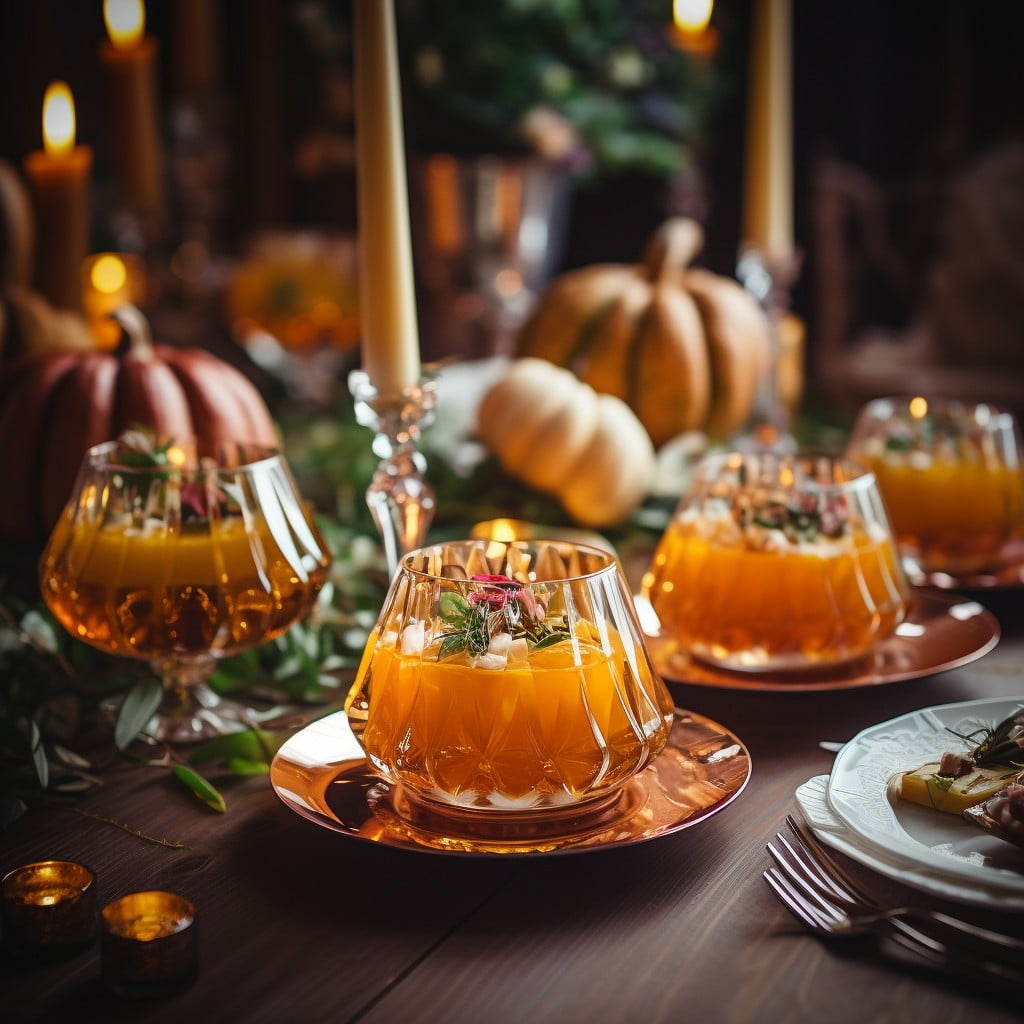 Introducing a dash of autumn charm to your culinary presentation, glass pumpkin soup bowls redefine festive dining. These items, with their cutesy pumpkin shapes and rich, autumnal hues, turn even the simplest of meals into a gourmet experience.
Here are some quick tips to maximize their usage:
Soup Selection: Opt for thick, creamy soups, as their texture and warm tones complement the decorative bowls perfectly. Butternut squash or pumpkin itself would be perfect choices.
Color Coordination: Match your table linen and cutlery with the hues of the bowls. Stick to neutral or complimentary colors for a sophisticated look.
Temperature Sensitive: Remember, glass retains heat, so warn your guests before serving.
Layering: Use these bowls nested within larger, plain ones to protect hands from heat and to add a decorative layer to your table setting.
Storage: Consider a display cabinet when not in use, where they can serve as aesthetic kitchen décor.
Remember, these bowls aren't merely an eating aid, but an enhancement to your culinary presentation, complementing your dish, and setting the mood for the entire meal.
Glass Pumpkin Drink Dispenser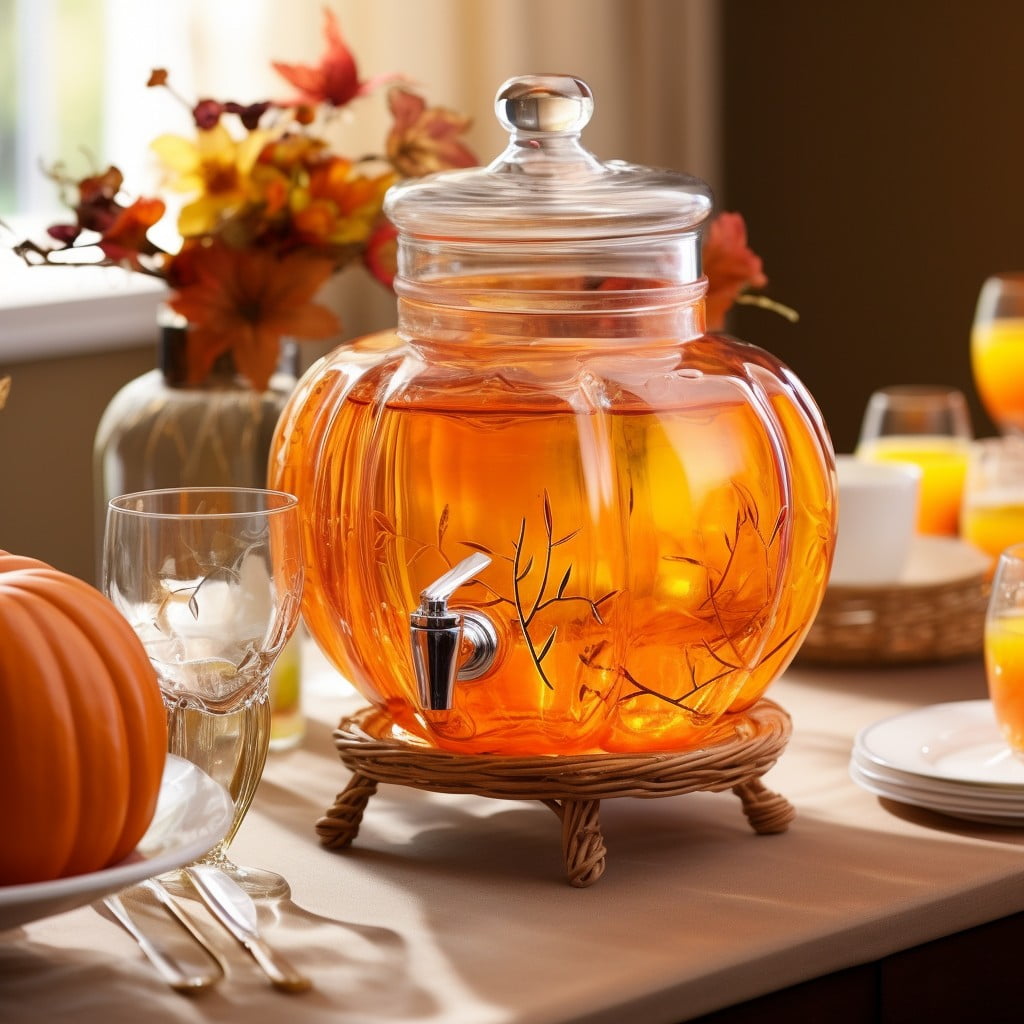 Implementing a glass pumpkin drink dispenser will enhance your autumn gatherings with seasonal flair. These dispensers, available in various sizes, can contain a range of beverages, from iced tea to spiced cider or a Halloween-themed punch.
1. Convenience: With a built-in spigot, it allows guests to serve themselves with ease.
2. Volume: Depending on the capacity, they can hold a large volume of the chosen drink, making it practical for parties or large gatherings.
3. Versatility: Beyond beverages, these dispensers can also double as a unique infuser for fruits or spices.
4. Aesthetic: With its pumpkin-shaped design, the dispenser can serve as a decor while also being functional.
Not only are they a charming addition to your decor, but they also offer a practical, easy solution for keeping your gatherings refreshed and seasonal.
Aqua Blue Glass Pumpkins for Coastal Themes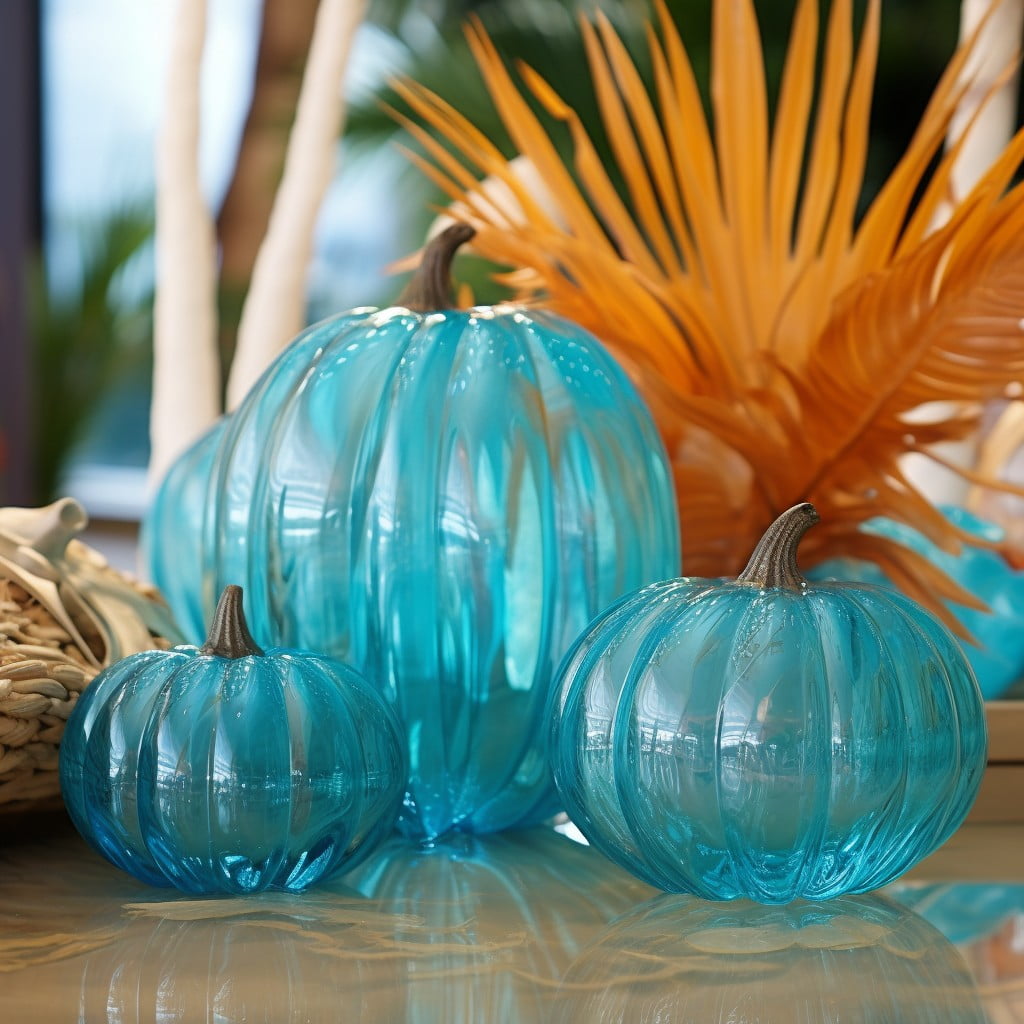 Creating a coastal theme with this particular décor brings a fresh, natural touch to your setting. Just consider these points:
The color, reminiscent of clear ocean water, instantaneously evokes beach-side vibes.
Mismatching various sizes, from small trinkets to center-pieces, can give a dynamic look to your display.
These can be beautifully placed together with white or silver decorations to enhance the coastal look.
Incorporating shells or sand around these pumpkins further emphasizes the beach theme.
Use them not only during autumn but all through the year to keep reminding yourself of serene ocean waves.
This versatile décor piece is as charming as it is unique and will surely attract attention to your coastal-themed space.
Glass Pumpkin Cookie Jars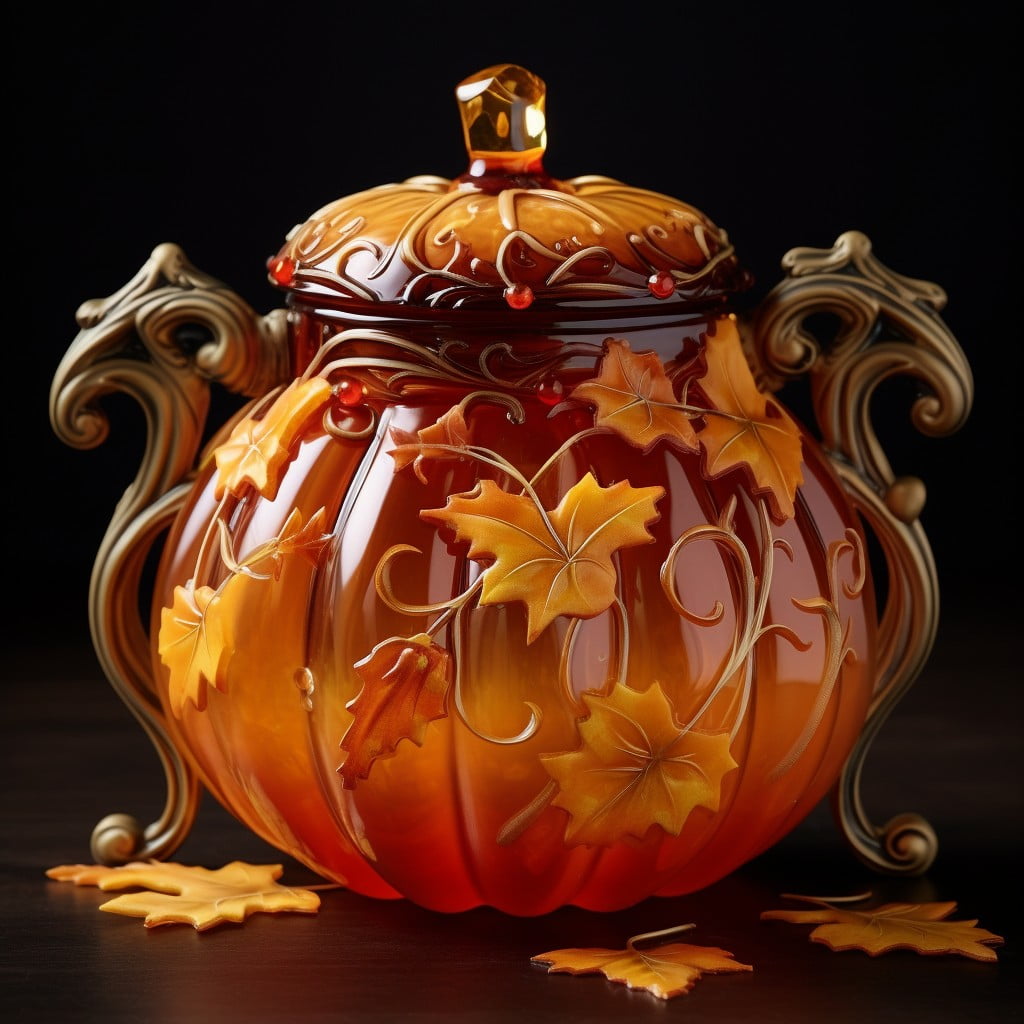 A clear or colored glass pumpkin cookie jar provides both aesthetic and functional attributes that enhance kitchen décor. The intricate design often seen in these pumpkin-shaped jars brings an artistic element to your counters. They're perfect for the autumn season but with a neutral color palette, you can let them stay out year-round to provide a bit of whimsy.
The functional side is obvious – it's a place to stash your cookies! Not only does the transparent nature of the jar create a visual display of your baked goods, but it also keeps them fresh, adding a practical benefit. The jar can be filled with classic chocolate chip cookies, unique fall-themed gingerbread, or any other favorite biscuit recipe. The lid on the top ensures your baked treats remain fresh for days.
They're available in various shapes, sizes, and shades, from intricate blown glass designs to simpler moulded versions. Some may have a frosted finish for a wintry feel, while others are clear with a bright, glossy finish. This gives you flexibility in matching the jar to your kitchen's existing color scheme or seasonal décor.
Overall, glass pumpkin cookie jars offer an engaging way to store treats, all while serving as an eye-catching centerpiece in your kitchen.
Glass Pumpkin With LED Lights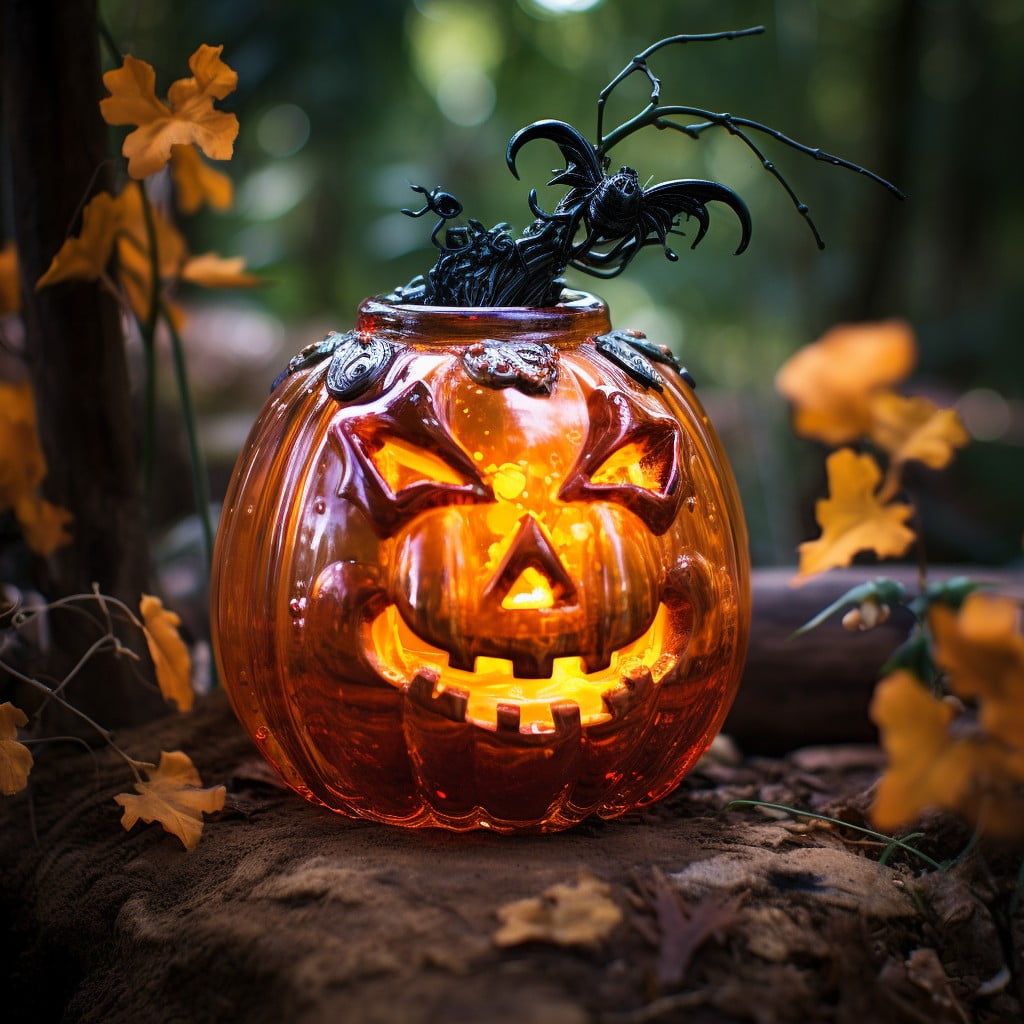 LED lights can lend a fantastic glow to glass pumpkins, particularly during the evening. Here are a few points to think about:
1. Size of LEDs: Select compact LEDs to maintain the pumpkin's delicate appeal. Smaller lights also allow for better light distribution.
2. Color Choice: While traditional white LEDs are popular, consider colored lights for a unique touch. Warm hues like amber or red can simulate a classic candlelit glow.
3. Battery-operated vs. Wired: Battery-operated lights provide the advantage of mobility. However, if the pumpkin is positioned near an outlet, a wired option may offer a brighter illumination.
4. Arrangement: Spread lights evenly throughout the pumpkin for a balanced glow or cluster them for a concentrated light source.
5. Function: Decide if you want constant lights or flickering bulbs that can enhance a spooky ambiance.
In short, incorporating LED lights into your glass pumpkin decoration amplifies its charm, captures attention, and makes it savourable in both day and night.
Glass Pumpkin Candy Dish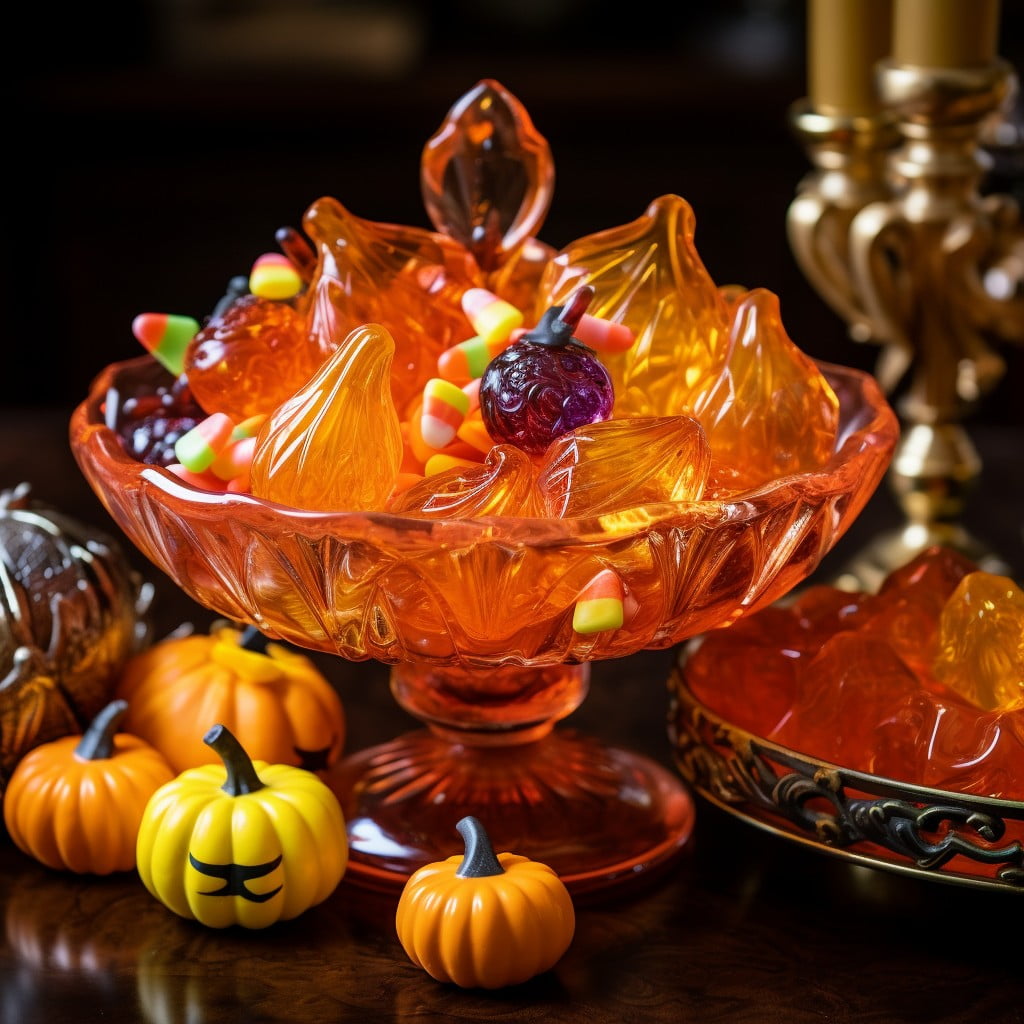 Dipping into the candy dish has never been more fun or festive! A glass pumpkin candy dish adds the perfect touch to any coffee table or counter during the autumn season. This functional piece of décor not only satisfies the sweet tooth but also brings a dash of whimsy and elegance to room ambiance.
Opt for one with a lid for panache or those without for easy access. Remember, the candy's color can play a role in the overall aesthetic — think hues of orange, black, or gold to truly emphasize the fall feel.
From individually wrapped mini chocolates to traditional candy corn, curate your candy selection to fit the ambiance. It's a simple, striking way to sprinkle a bit of Halloween spirit into daily life.
Frosted Glass Pumpkin Décor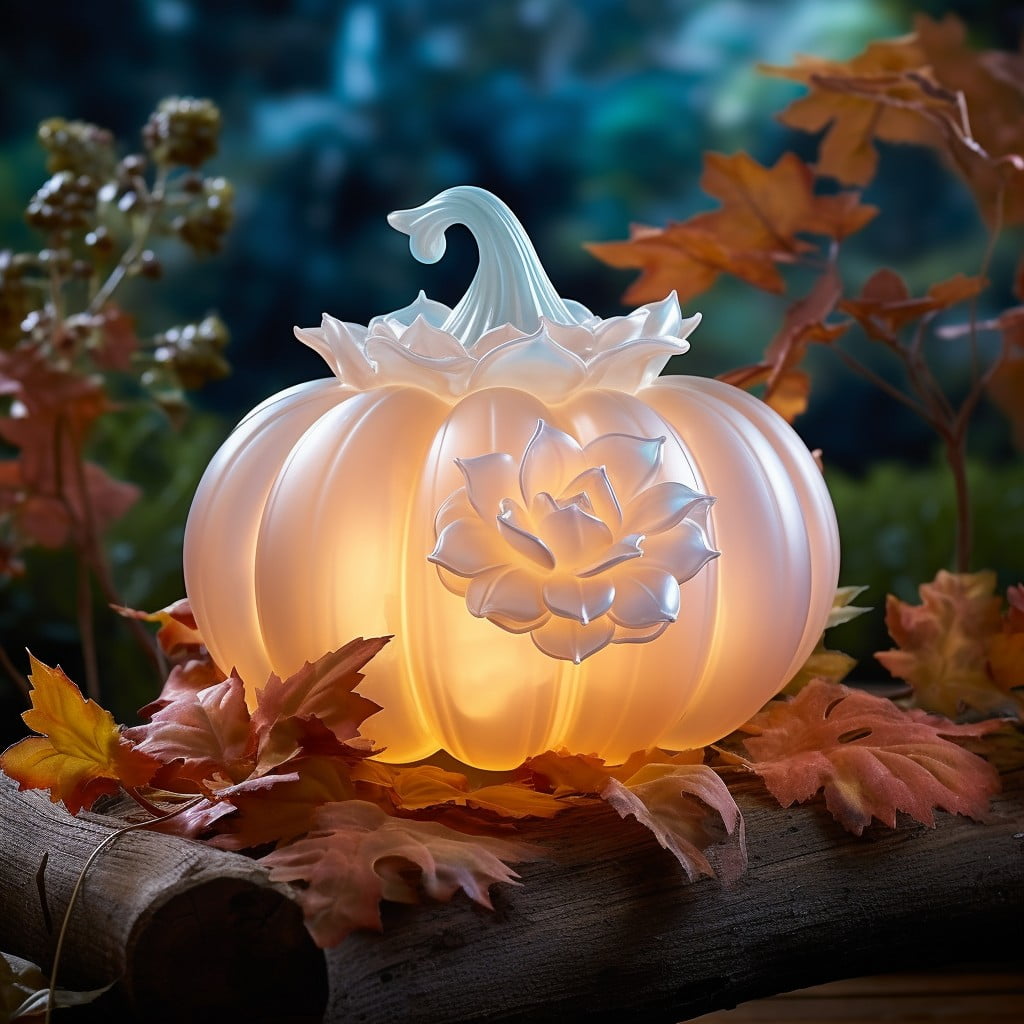 Frosting these autumnal treasures adds a chic, modern spin on traditional glass pumpkin decor. Frosted glass pumpkins exude an ethereal, understated elegance that blends perfectly with various interior design styles – be it rustic, contemporary, or minimalist.
Here are some ideas to leveraging frosted glass pumpkins this fall:
Pair with warm, white LED lights: The soft glow peeking through the frosted exterior creates a magical ambience.
Combo with clear glass pumpkins: The contrast enhances the attractiveness of both display pieces.
Set atop a mirrored tray: This multiplies the dazzling effect, especially under lighting.
Use as a sophisticated container: Perfect for small candies, potpourri, or fall foliage.
By exploring these suggestions, these frosted beauties can provide a unique charm to your fall decor, beyond the generic orange counterparts.
Liked reading this? Here's more:
Recap: