Last updated on July 23, 2023
Discover an array of charming and creative wedding chalkboard ideas that will add a touch of personalization, elegance, and fun to your special day.
Wedding chalkboards have become increasingly popular in recent years, and for good reason! Not only are they a charming and unique addition to any wedding decor, but they also provide an opportunity to showcase personalized messages or quotes. Whether you're looking for inspiration for your own wedding or just love the look of chalkboard art, we've got you covered with 20 creative ideas that are sure to impress.
From elegant calligraphy to playful illustrations, these wedding chalkboard ideas will add a touch of whimsy and romance to your special day. So grab some chalk and get ready to be inspired!
In This Post:
Welcome Sign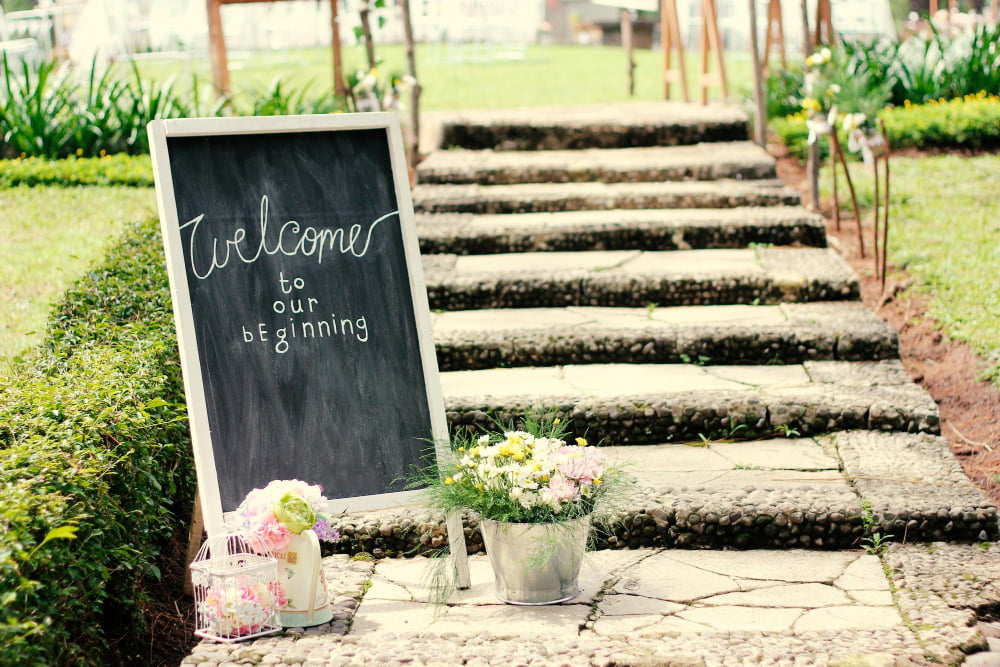 A wedding chalkboard welcome sign is a great way to greet your guests and set the tone for your special day. You can customize it with your names, wedding date, and a warm message.
The sign can be placed at the entrance of the venue or near the ceremony site to guide guests in. You can also add some floral arrangements or greenery to make it more eye-catching.
A welcome sign not only adds a personal touch but also helps create an inviting atmosphere for everyone attending your big day!
Seat Chart
It's easy to update if there are any last-minute changes, and it adds a personal touch to the reception decor. You can use different colors or fonts for each table, or add small details like flowers or illustrations.
Make sure the names are clear and legible so guests can easily find their seats without confusion. A well-designed seat chart on a chalkboard will not only help your guests navigate but also make for an eye-catching piece of decor at your wedding reception!
Menu Board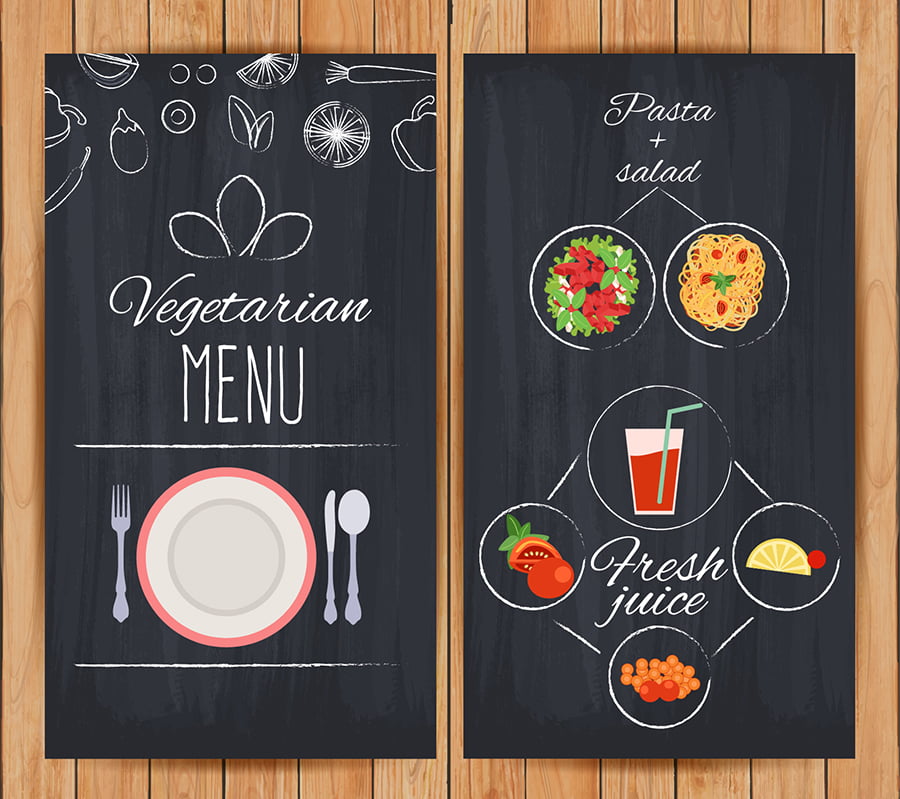 It can be placed near the buffet or food stations, and it allows guests to easily see what's available without having to ask around. You can use chalkboard paint on a large piece of wood or even an old window frame, then write out each dish in beautiful calligraphy.
Don't forget to include any dietary restrictions or allergy information as well! A menu board adds a touch of elegance and sophistication while also being practical for your big day.
Timeline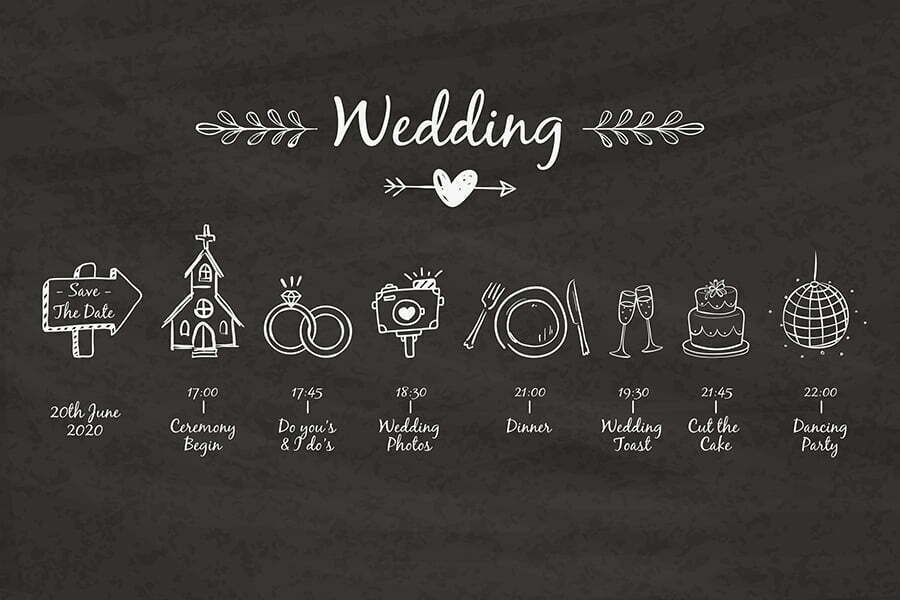 You can use it to display the order of events, including ceremony start time, cocktail hour, dinner service and dancing. This will help your guests know what to expect and when they should be ready for each part of the celebration.
You can add some fun details like photos or illustrations that match your theme or color scheme. A timeline chalkboard is not only practical but also adds a decorative touch to your wedding decor!
Guestbook
Instead of the traditional book, guests can sign their names and leave messages on a large chalkboard. This not only adds to the decor but also creates a fun activity for guests to participate in during cocktail hour or reception.
The couple can later hang the signed board in their home as a keepsake from their special day. To make it even more personalized, consider adding prompts or questions for guests to answer such as "What is your favorite memory with us?" or "Give us some marriage advice.".
Hashtag Display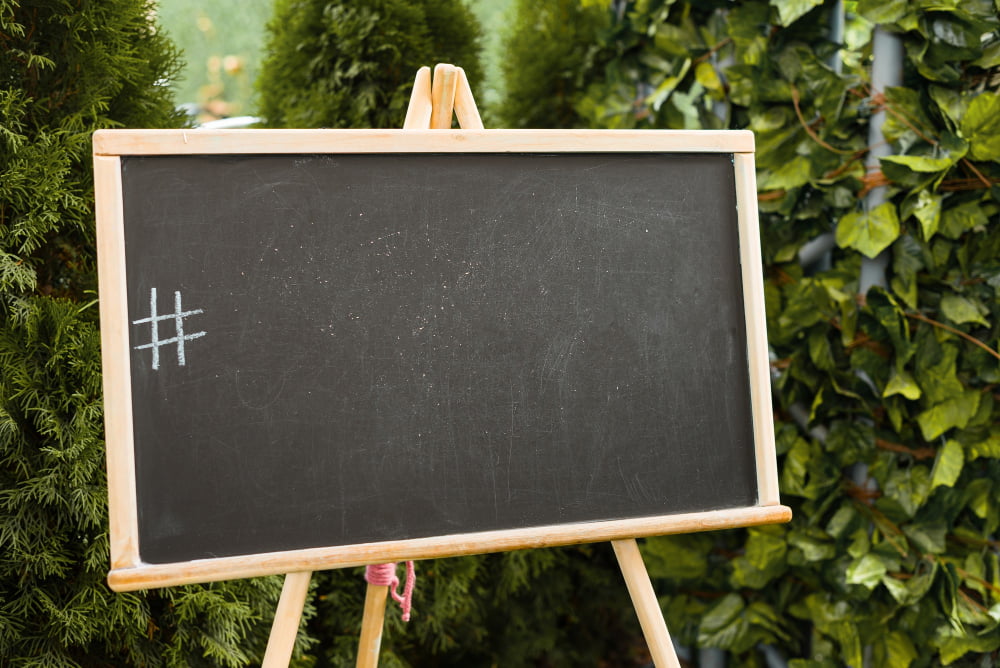 It allows guests to share their photos and videos on various platforms using the same hashtag. A chalkboard displaying the wedding hashtag can be an excellent addition to your decor while also encouraging guests to participate in capturing memories of your special day.
You can get creative with this display by adding some fun elements like emojis or illustrations that represent you as a couple or reflect the theme of your wedding. Make sure that it is placed in an area where everyone can see it, such as near the entrance or next to the photobooth backdrop so that all those candid shots are captured under one tag!
Drink Options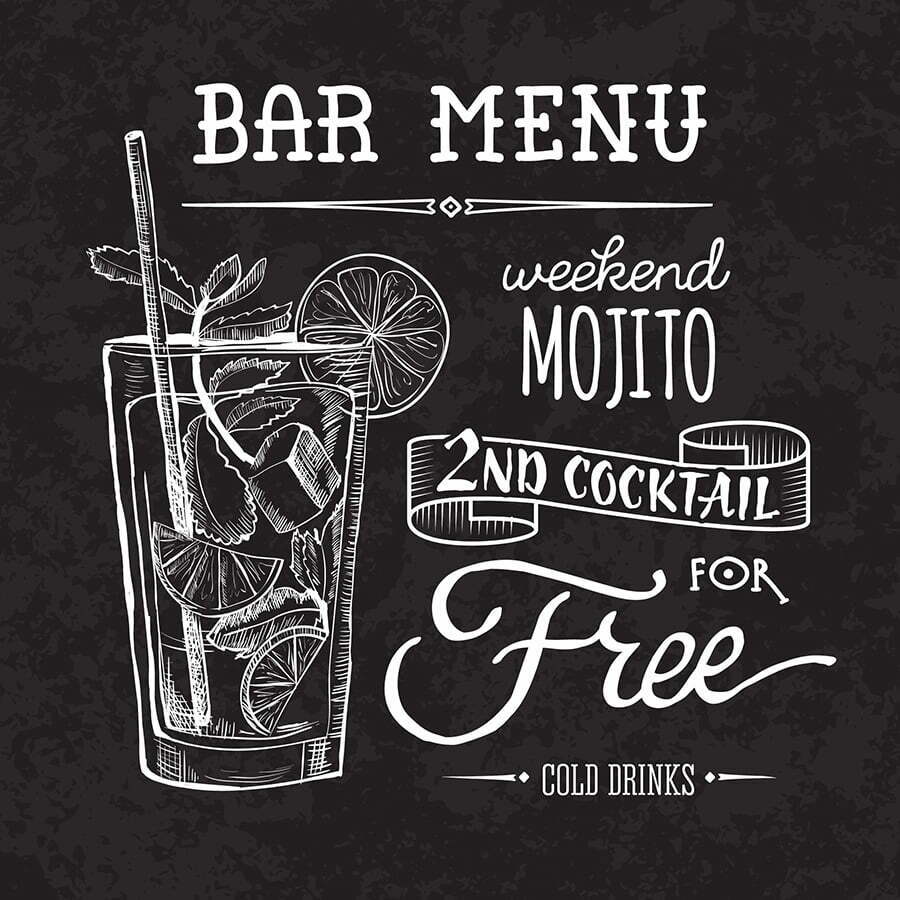 You can list the signature cocktails, beer and wine selections, or even non-alcoholic beverages. This is especially helpful if you have a bar that is separate from the main reception area.
Guests will appreciate being able to see what drinks are available before making their way over to the bar. Plus, it adds an extra touch of personalization by showcasing your favorite drinks or incorporating your wedding theme into the signage.
Ceremony Program
A chalkboard can be an excellent medium for displaying this information, as it allows you to easily update or make changes if necessary. You can include details such as the names of those walking down the aisle, readings or songs being performed, and any special traditions that will take place during your ceremony.
Consider adding some personal touches like photos or quotes that reflect you and your partner's personalities!
Love Quotes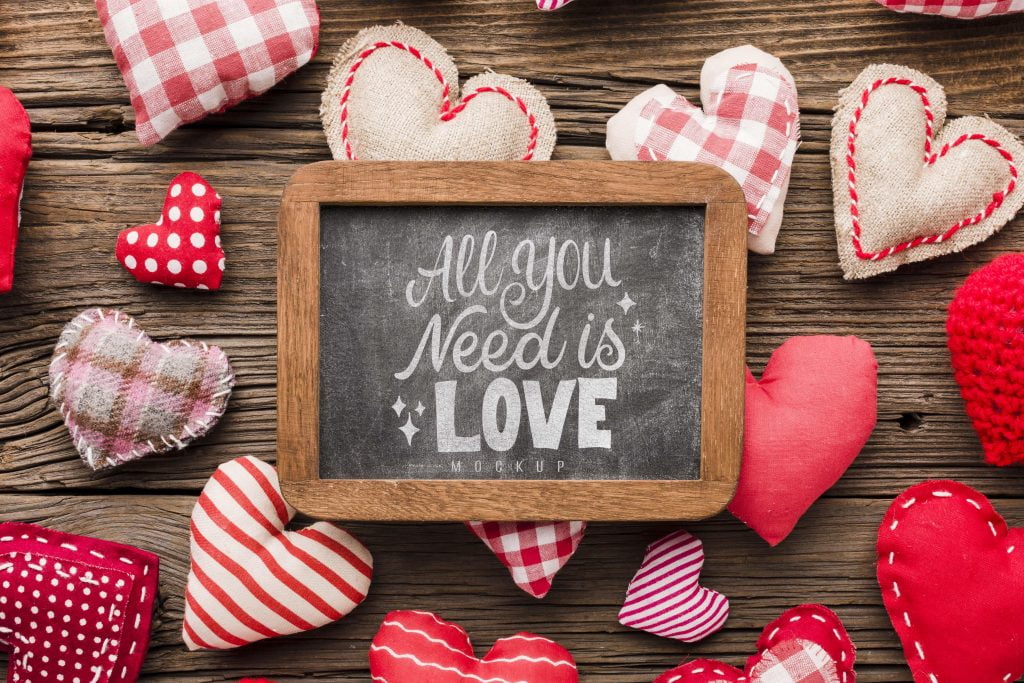 They can be used as a standalone display or incorporated into other elements such as the ceremony program or photobooth backdrop. Quotes from famous authors, poets, and even movies can add an extra touch of romance to your special day.
Some popular options include "I have waited for this opportunity for more than half a century, to repeat to you once again my vow of eternal fidelity and everlasting love." by Gabriel Garcia Marquez and "Whatever our souls are made of, his and mine are the same" by Emily Bronte. Choose one that resonates with you both as a couple!
Dessert Display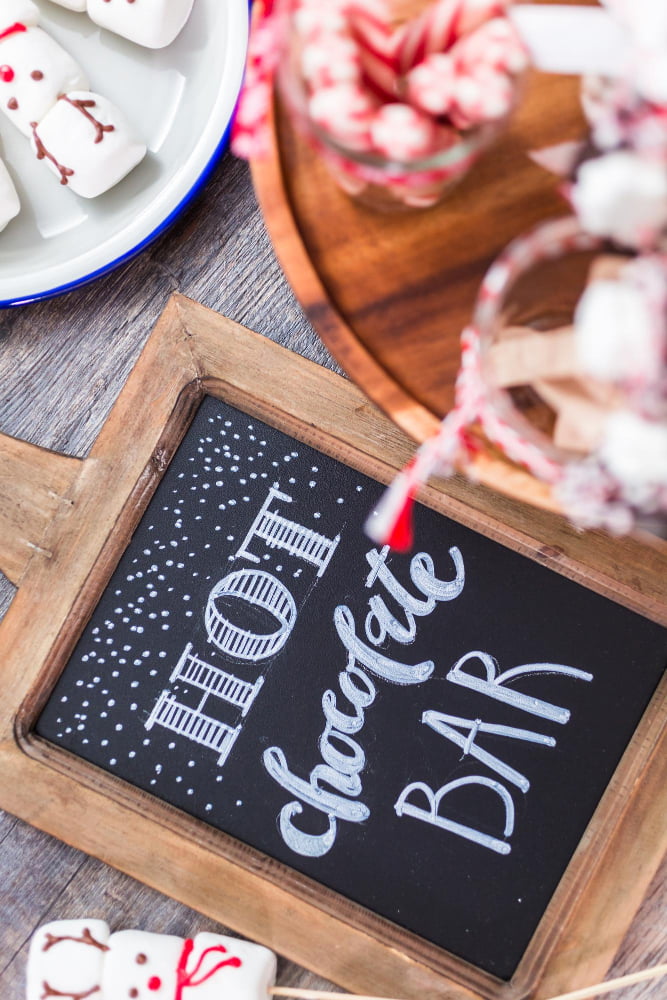 You can use it to showcase your wedding cake, cupcakes, or other sweet treats. A simple design with the names of each dessert written in elegant calligraphy is enough to make an impact.
Alternatively, you could create a more elaborate display by adding illustrations or photos of each dessert next to its name. This will not only help guests choose their favorite treat but also add some visual interest to your reception decor.
Photobooth Backdrop
Chalkboards can be used as the perfect background for guests to take photos in front of. You can customize the chalkboard with your names, wedding date or even a cute message like "strike a pose".
To make it more interesting, you could also add some props such as hats, glasses or mustaches on sticks for guests to use while taking their pictures. A photobooth backdrop will not only provide entertainment but also create lasting memories that you and your guests will cherish forever!
Direction Signs
Chalkboard direction signs can be used to indicate where the ceremony, reception, and other important areas are located. They can also be used to direct guests towards restrooms or parking areas.
To make them more visually appealing, you could add some decorative elements such as flowers or greenery around the edges of each sign. Using different fonts and colors for each sign will help differentiate between them and make it easier for guests to follow directions without getting lost!
Table Numbers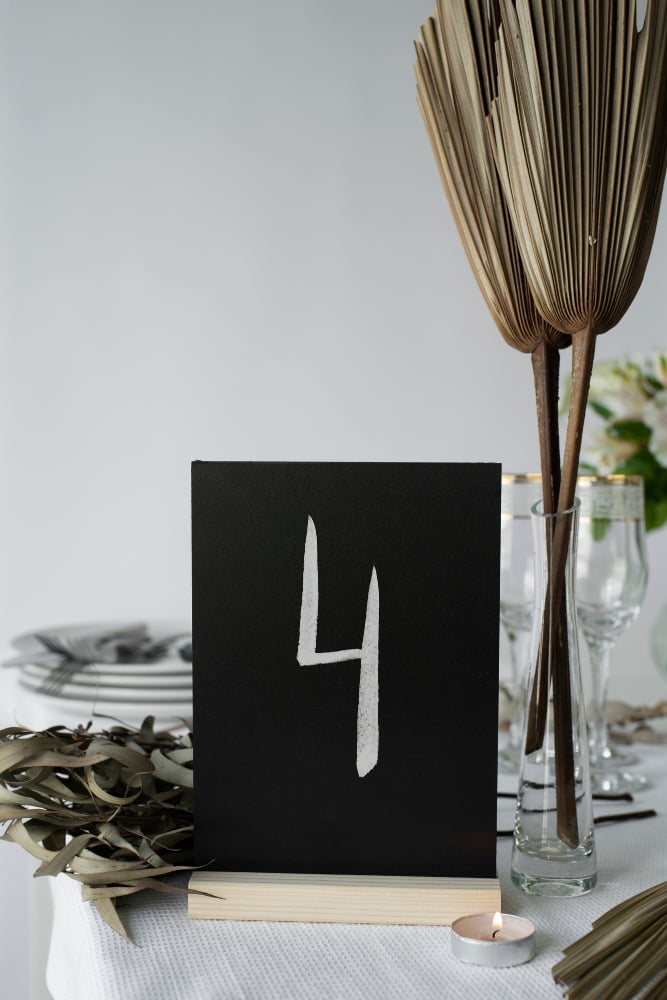 They help guests find their seats and ensure that everyone is seated in the right place. Chalkboard table numbers can add a touch of elegance to your reception tables while also being functional.
You can use different fonts, colors, and designs to match your wedding theme or decor style. Consider using chalk markers for a more polished look that won't smudge or fade throughout the night.
Whether you choose simple number designs or get creative with unique shapes and symbols, chalkboard table numbers are sure to impress your guests!
Reserved Signs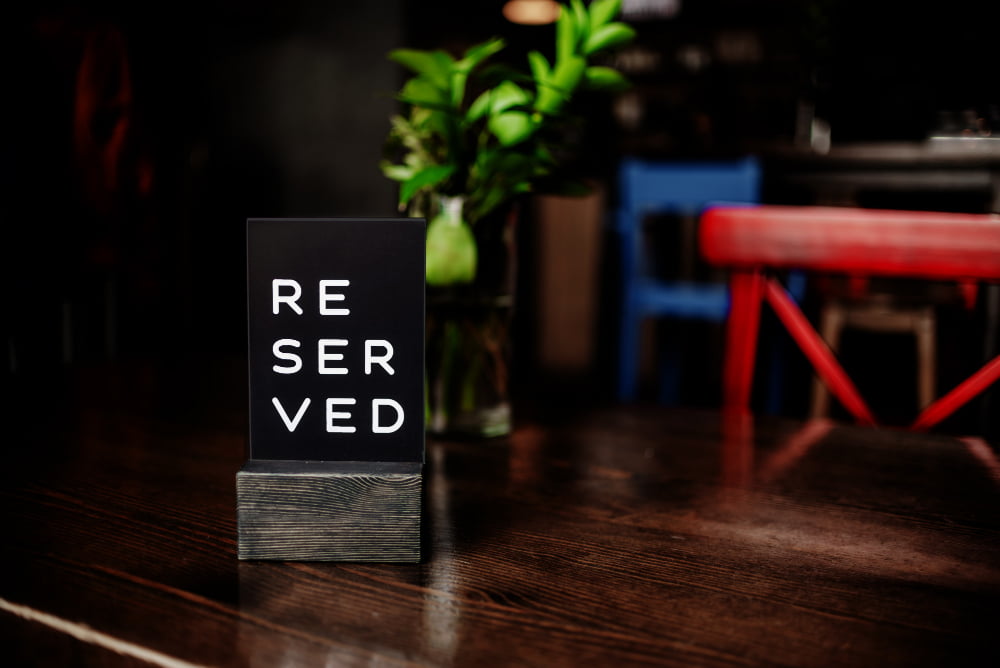 They help to ensure that guests know which seats are reserved for special individuals, such as the bride and groom's parents, grandparents, or other family members. Reserved signs can be made using chalkboard paint on wooden plaques or even repurposed picture frames with a chalkboard backing.
These signs can be decorated with flowers, greenery, ribbons and other embellishments to match the overall theme of your wedding decor. Placing these reserved signs on chairs at both the ceremony and reception venues will make sure that everyone knows where they should sit without causing confusion or awkwardness during this special day!
Wedding Playlist
It sets the tone for the entire evening and can make or break the party atmosphere. When creating your playlist, consider a mix of genres and eras to appeal to all guests.
You may also want to include special songs that have meaning for you as a couple, such as your first dance song or a song that was playing when you first met. Don't forget to ask guests for their favorite songs on RSVP cards so you can incorporate them into the list! be sure to work with your DJ or band ahead of time so they know exactly what music should be played during each part of the reception (cocktail hour, dinner service, dancing).
Fun Facts
You can include interesting facts about the bride and groom, the wedding venue, or even some trivia related to the date of your big day. For example, did you know that June is one of the most popular months for weddings? Or that in ancient Rome, brides carried herbs under their veils as a symbol of fidelity? Including these little tidbits on your chalkboard will add personality and charm to your special day.
Favors Reminder
It's easy for them to get lost or forgotten in the excitement of the day. A chalkboard sign reminding guests to take their favors can be a helpful addition near the exit or on each table setting.
You can also add a personal touch by including a message thanking them for being part of your special day and encouraging them to enjoy their gift at home. This small gesture will ensure that all of your hard work and thoughtfulness in choosing favors doesn't go unnoticed!
Family Tree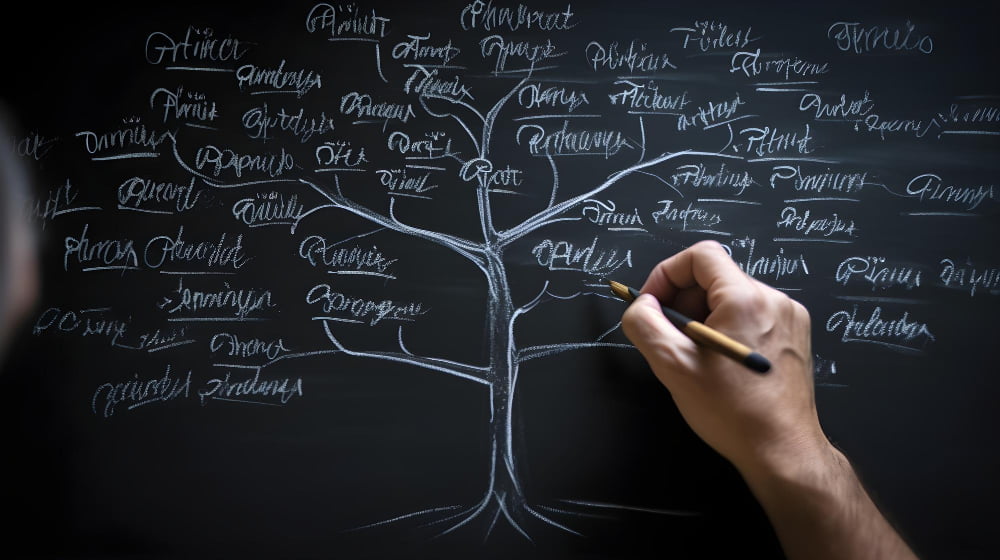 You can include photos or names for each member, making it both informative and visually appealing. It's also an opportunity to pay tribute to loved ones who have passed away by including their pictures in your display.
A family tree chalkboard will add warmth and personality to any wedding venue while reminding everyone present that they are part of something bigger than themselves – a loving community united by marriage!
Memory Tributes
A wedding is a special day, but it can also be bittersweet for those who wish someone special could be there to celebrate with them. Creating a chalkboard tribute allows you to include their memory in your big day and keep them close in spirit.
You can write their name, add photos or quotes that remind you of them, or even dedicate the entire board as an "in loving memory" display. It's important to remember that this is your day and how much or little you want to include is up to you – just make sure it feels right for both of you as a couple!
DIY Station
Set up a chalkboard with instructions and supplies for guests to create their own personalized keepsake. Provide different colored chalks, stencils, and other decorative elements such as ribbons or flowers that match your wedding theme.
Guests can write messages of love and congratulations or draw pictures on the board before taking photos with their creations as souvenirs of the special day. A DIY station adds an interactive element to your reception while also creating lasting memories for you and your guests alike!
Liked reading this? Here's more: