Last updated on September 19, 2023
A pantry is a small storage room adjacent to the kitchen to keep your non-perishable groceries, spices, and sometimes cookware. Read on to find out all about it.
So, a pantry is a room within a house used for storing food. There's usually a door leading out of the kitchen. Sometimes, another door may lead into the room from outside the kitchen. These doors are called pantry doors. It is a place where you keep your pantry items, such as flour, sugar, salt, etc. The term pantry comes from French and means a storeroom for bread.
A compact, the well-lightened place has many of the functions of a larger pantry, including sturdy deep shelves, a usable work surface, and finished with a face frame and baseboard-style trims. Paneled, windowless doors and stone-like floors integrate the pantry with the surrounding space. Pantries should be designed as part of the kitchen, not separate rooms.
The pantry is usually located next to the refrigerator and can be accessed through either an interior or an exterior sliding glass door. It may also have its entrance.
This is a significant room because it contains all the essential items the cook requires. A good pantry will help you save time when preparing meals by providing you with the necessary ingredients at hand.
In This Post:
History of the Pantry
The word "pantry" comes from the French word Panettiere which means bread. In the Middle Ages, people stored bread in storerooms. This was later used to store all kinds of food stock.
In the 17th century, the pantry became more organized. People started putting their food away in baskets. Then, in the 18th century, the pantries began to look like what they are today.
Today, most kitchens have a pantry. However, the size varies depending on the type of home. Some homes have small pantries while others have large ones.
What Goes into the Pantry
These are some of the essential ingredients that we use in our cooking. We need these items to prepare food for us. They include groceries and ground spices: flour, sugar, salt, pepper, garlic powder, mustard powder, vinegar, eggs, butter, milk, oil, etc.
How to Create a Pantry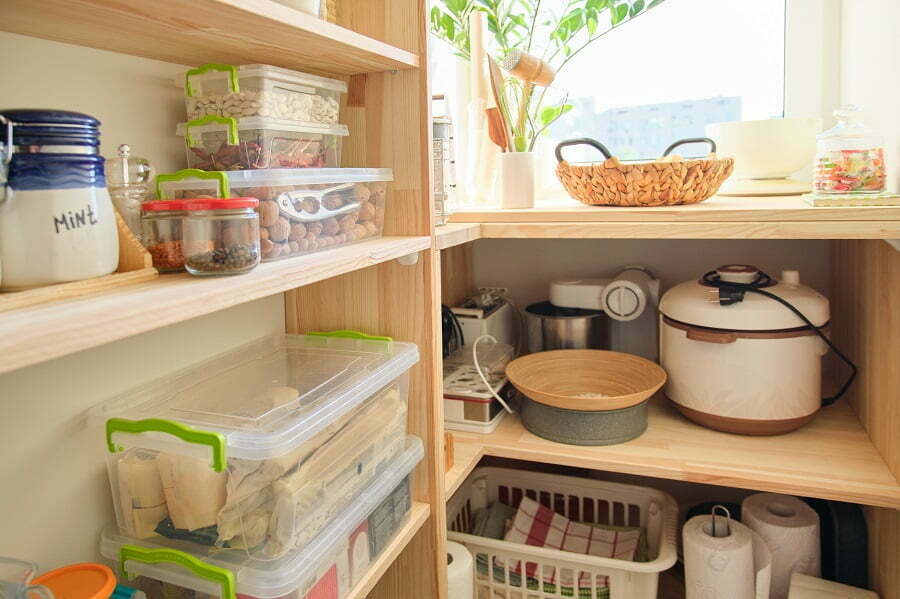 Choose the right size for your needs. You can choose between a small pantry or a large pantry. Make sure there is enough storage space for your supplies.
Keep everything organized. If possible, put things similar together, so you don't waste time looking for what you need. Use shelf dividers to organize your supplies. Add shelving to increase storage capacity.
Include a work area. This way, you won't have to walk back and forth from the fridge to get something out. Think about how you plan on using your pantry. Will you only use it once a week or every day? Find a location that's easy to access.
Other things to consider:
Have a trash bin handy.
Consider installing a sink.
Install a light fixture.
Plan on adding more storage space later on.
Don't forget about ventilation!
Organizing Kitchen Pantry Shelving
Kitchen shelves should be built using materials that match your style. You can choose from different wood, metal, plastic, glass, or even stone. Your choice depends on what kind of material you prefer.
Choose from different styles too. For example, if you want something modern, you could go for sleek or clean lines. Or, if you're looking for something more rustic, you might choose something with a rough texture.
When you're building your shelves, make sure you use quality materials. Make sure that you buy them from reputable stores. This will ensure that you get exactly what you need. And remember that you can always customize your shelves to fit your needs.
If you're looking for a simple and inexpensive option, you can build shelves yourself. All you'll need is a few tools and a little bit of know-how.
The best thing about this project is that it doesn't require much money. You can do it in less than two days. But if you'd instead hire someone else to do it for you, you can find plenty of professionals who are willing to take up the job. They charge anywhere from $100 to $200 per hour. So depending on how long you want the project done, you can expect to pay anywhere from $250 to $500.
The first step in building kitchen shelves is measuring the length and width of your cabinets. Then, cut the boards to the exact measurements.
Next, measure the height of the cabinets. Once you've got these numbers, draw a diagram of your new shelves.
Now, mark where each board goes. You can also add additional shelves as needed.
After marking the boards, drill holes at the marks. Drill one hole into each corner of the cabinet. Then, screw the boards into place. After that, sand down the edges of the boards. Sanding helps give the boards an attractive finish. It makes the shelves look professional.
The next step is to hang the shelf. If you don't have a ladder, you can still hang the shelves by drilling through the wall and attaching hooks. Hang the shelves, so they rest against the inside walls of the cabinets.
Once you have all your shelves installed, you can start filling them with things like plates, pots, pans, and utensils.
Use your imagination when decorating your shelves. You can put pictures, plants, vases, clocks, books, or anything else you want. Just make sure to keep everything organized. That way, you won't end up losing track of anything.
FAQ
What is the difference between a kitchen and a pantry?
A kitchen is usually used for preparing food. A pantry is often used for storing items such as flour, sugar, and spices.
Why is it called a pantry?
Pantry comes from the Latin word Panettiere, meaning "bread."
How many shelves should I install in my pantry?
You can install as many shelves as you would like. However, installing too many shelves may cause problems.
What food goes in a pantry?
People generally store dry goods (such as flour, rice, pasta) there. Other foods can include canned vegetables, fruits, meat, and dairy products.
Liked reading this? Here's more: