Last updated on September 19, 2023
The bathroom isn't just one of the most functional spaces in your home — it's also a reflection of your style. Whether you want to reshape a tired and outdated space or add creative touches to an already beautiful room, plenty of upgrades can bring out the best in your bathroom decor.
From smart storage solutions to new lighting designs. Read on for our picks for transforming dull space into truly dazzling.
In This Post:
Start with Shower Sealing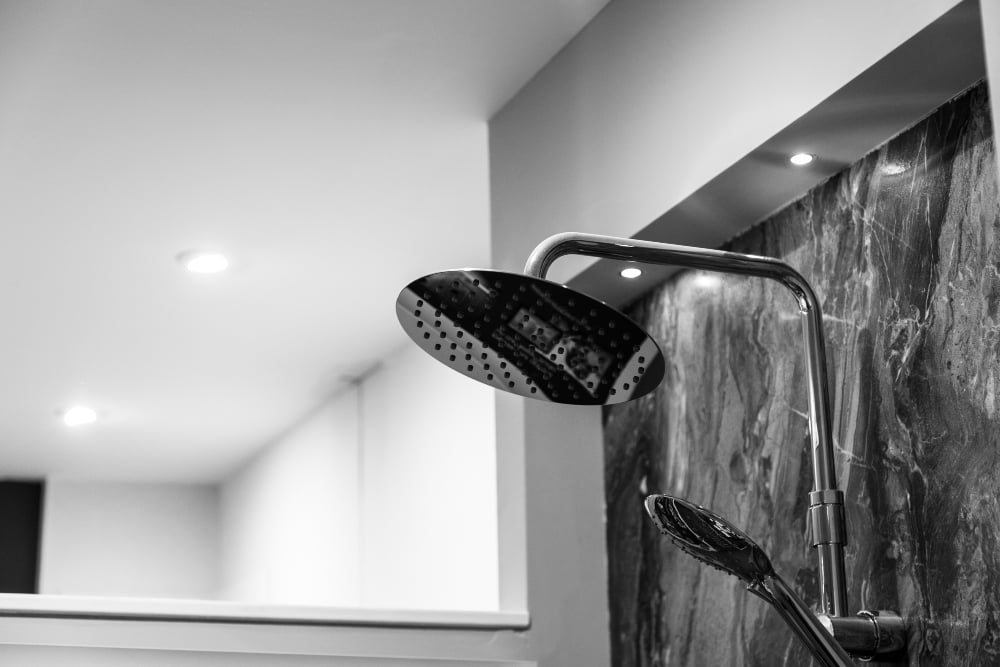 Starting with shower sealing is a prudent first step in your bathroom makeover journey. This simple yet vital task can prevent water leakage, thereby averting potential structural damage to your bathroom.
Find a professional who does shower sealing repairs to ensure a quality job and avoid costly repairs in the future. A properly sealed shower provides a solid foundation for further modifications and ensures the longevity of your bathroom space.
In terms of aesthetics, shower sealing offers you a chance to refresh your shower's look. Select from various sealing materials and colors to match your bathroom's design theme.
Not only does this add to the visual appeal of your space, but it also boosts the overall value of your home. While it seems minor, shower sealing significantly impacts your bathroom's functionality and aesthetics.
Invest in Smart Storage Solutions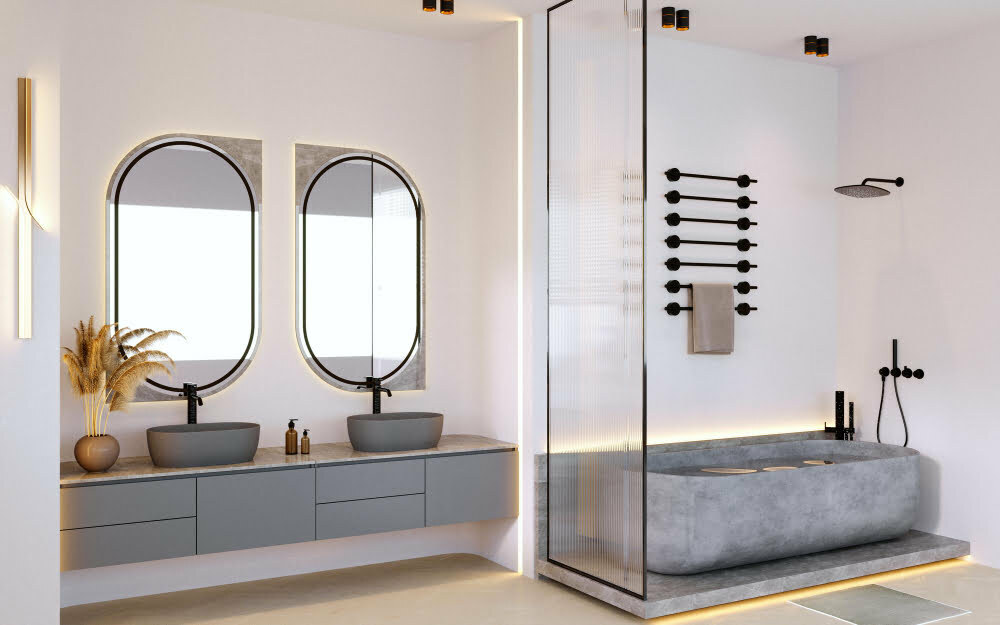 Storage is always a tricky issue when it comes to bathrooms. You want to be able to access your items easily, but at the same time, you want them to be clear from cluttering up the bathroom. The solution? Utilize every available space and invest in smart storage solutions.
A great way to do this is by adding shelves or racks above the toilet and in other tight corners. This makes it possible to store more items without sacrificing style or removing your bathroom's aesthetic appeal.
Moreover, you can also opt for storage units that act as a decorative feature. Floating shelves and wall hangings with built-in cabinets are the perfect addition to any modern bathroom — they open up the space and provide ample storage for your toiletries. For an even more stylish look, why not try a few mirrored cabinets to reflect light and make your bathroom feel bigger?
Illuminate Your Way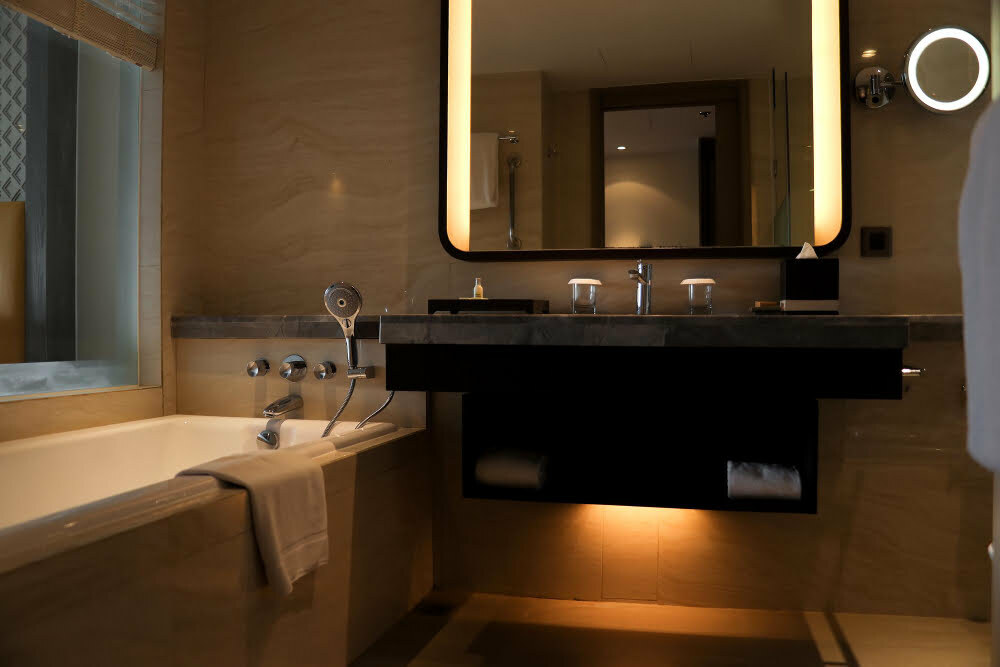 Lighting plays an important role in any bathroom design project. You can create the perfect atmosphere for your bathroom with lighting fixtures such as wall sconces, chandeliers, and vanity lamps. Adding a dimmer switch also gives you control over the room's light — from bright and airy to cozy and relaxing.
Consider installing LED lights or using recessed lighting embedded in false ceilings for a truly modern look. With these lighting systems, you can enjoy precise illumination in all corners of the room. What's more, you can choose from a range of colors and lighting modes to customize your bathroom's overall look and feel.
Update Your Fixtures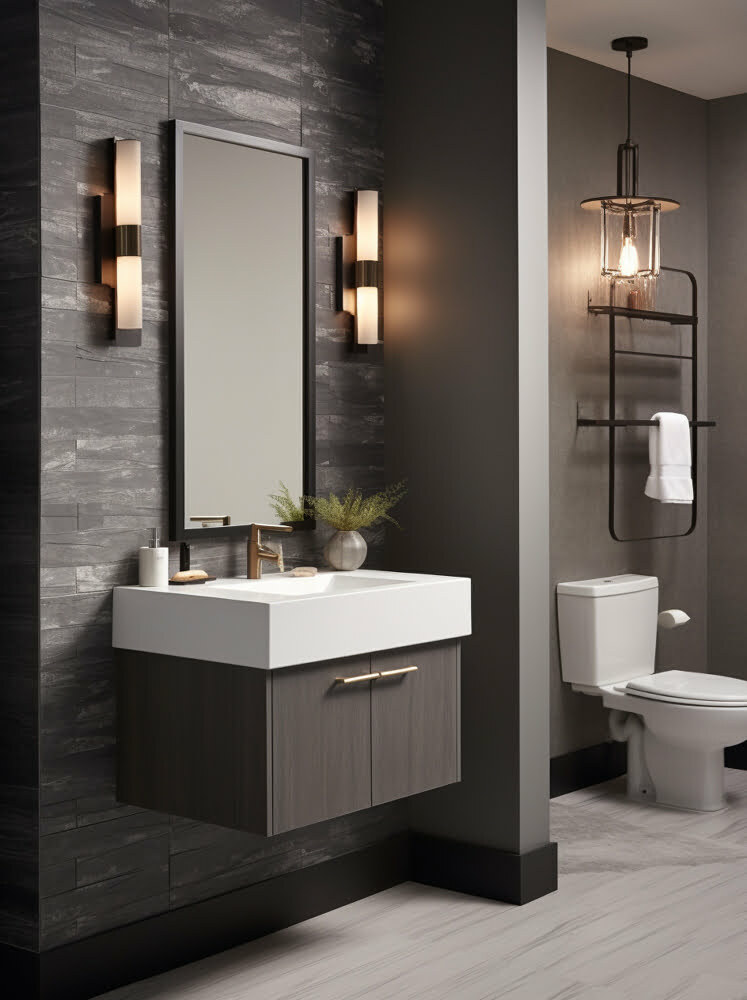 Outdated fixtures can make any bathroom look dated and uninviting. By upgrading your fixtures, you can give the entire space a new lease of life.
Switching out old faucets or taps for contemporary-looking ones is an easy way to transform the look of your basin area. Consider adding a rain shower head for a luxurious experience or installing multiple jets in the bathtub to enjoy a spa-like experience in the comfort of your home.
When it comes to fixtures, consider updating the toilet seat and lid. High-quality lids not only look great, but they are also comfortable and easy to clean. Selecting a stylish color and texture will add a designer touch to your bathroom without having to break the bank.
Refresh Your Tiles
Tiles are a great way to add color and texture to any bathroom. A wide range of tiles are available for bathrooms these days — from rustic subway tiles to sleek marble varieties or even mosaic designs. You can also opt for grout-less versions, such as porcelain panels that are easy to install and simplify cleaning and maintenance.
Once you've chosen the perfect tiles for your space, it's time to get creative with patterning and layering. Consider adding a border around the room or opt for an interesting diagonal pattern to give your bathroom that extra visual impact. You can also use decorative tiles to create a feature wall or add some personality with mosaic accents.
Get Creative with Accessories
Getting creative with accessories can significantly elevate your bathroom's overall look and vibe. Consider items like soap dispensers, toothbrush holders, shower curtains, towel rails, and even the humble toilet roll holder as opportunities to inject personality into your space.
Choose accessories that complement your color scheme and overall design aesthetic for a cohesive look. For instance, a coastal-themed bathroom might benefit from seashell-shaped soap dishes or nautical-striped shower curtains.
In addition to the functional accessories, consider incorporating decorative elements. Plants are an excellent choice as they add a splash of color and a touch of nature, creating a serene and spa-like atmosphere. Artwork, too, can make a striking statement.
Feel free to hang your favorite print or painting, as long as it's fitted with a suitable frame to protect it from the humidity. Remember, the trick is in balancing functionality and aesthetics — every accessory should serve a purpose while contributing to the visual appeal of your bathroom.
Add a Dash of Luxury
Why not add some luxurious touches to your bathroom? From heated floors and towel warmers to aromatherapy diffusers and music systems, there are plenty of ways you can pamper yourself — and your guests — with the perfect combination of high-end features.
If you're looking for something more cost-effective, you can always invest in spa-like amenities such as bath salts, bubble baths, or scented candles.
Adding these features to your bathroom doesn't have to be expensive — focus on the details and choose items that will help create an inviting atmosphere. With careful planning and creative design ideas, you can give your bathroom the ultimate makeover that will leave your family and friends in awe.
Transforming your bathroom into a place of comfort and luxury doesn't have to be expensive or time-consuming. With the right upgrades, materials, and design ideas, you can create a functional bathroom that looks just as stunning as it is practical.
All it takes is some careful planning and creative styling — before you know it, you'll have a bathroom space that looks like it belongs in a 5-star hotel. So go ahead and get started on your dream bathroom today.
Liked reading this? Here's more: