Last updated on September 19, 2023
Contemporary aesthetics seem to be at the forefront of the most prevalent interior design trends. Many people decided to embrace a more modern approach to decorating their living spaces in the last decade. It resulted in a massive spike in the popularity of high-shine materials, razor-sharp lines, and graphic prints — all of which are defining elements of the contemporary style.
If you want to make your living room a bit more contemporary-looking, we have just the thing for you. With the help of our tips, you will be able to create an inspiring space that will amaze all your family members and friends.
Besides painting the room in monochromatic colors, you could incorporate varied lines in your design, add more metallic accents, and switch to hybrid flooring. Other than that, you might want to use natural textiles like wool and silk and add sleek furniture made from light woods like birch and maple.
Here is how you can transform your living room into the perfect embodiment of contemporary style.
In This Post:
Switch to Hybrid Flooring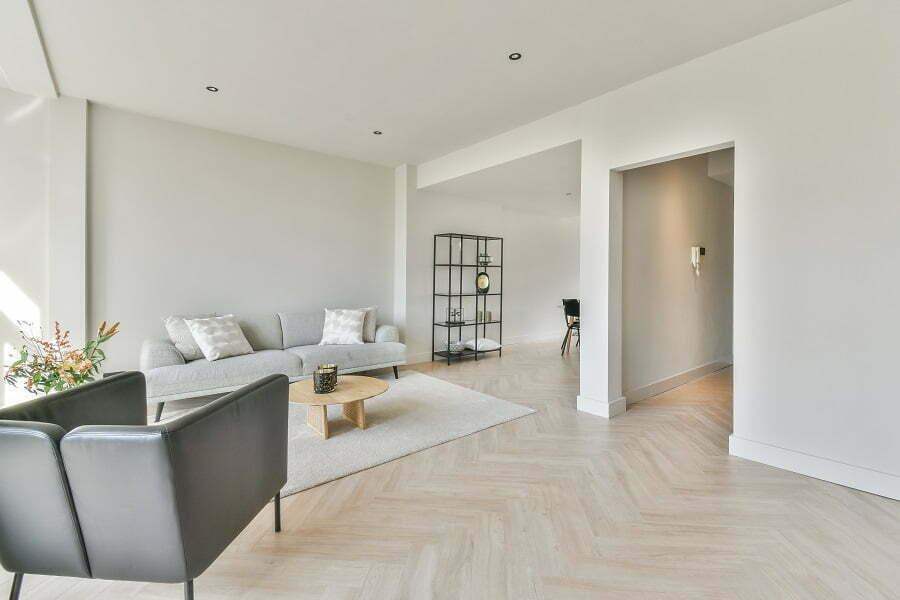 Traditional living rooms usually have either hardwood floors or carpeting. It is not a surprise as wood flooring is one of the most popular choices for indoor environments. It is known for its natural beauty and durability, so it looks great in any setting. However, if you want to create a contemporary look, you should use a hybrid flooring material instead.
Hybrid flooring is a combination of laminate and vinyl. The effect is more than just the sum of its parts — it embraces the best attributes of these flooring options to create a rigid floating floor that can be installed throughout the entire home. Many homeowners have already opted for Aspire Hybrid flooring to boost the appeal of their homes.
Hybrid flooring can give your living room a more modern look and feel. It is also more versatile and durable than either hardwood or carpeting alone. Besides, it will add a nice finishing touch to the room, complementing its color scheme.
Introduce Monochromatic Colours
One of the most significant differences between contemporary and traditional living room designs is the color palette. Contemporary aesthetics rely heavily on monochromatic schemes, whereas traditional designs tend to be more colorful.
If you want to make your living room look more contemporary, you should consider painting the walls in a single color or using a limited palette of a maximum of two or three colors.
First of all, you need to decide on the main color scheme of your living room. If you want to go with brighter tones, opt for a shade of white or grey. However, if you are looking for something more sophisticated and elegant, we recommend going with black, charcoal, or even teal.
Avoid mixing colors when painting the walls. If you want your room to be more vibrant and energetic, you could use splashes of bright colors in furniture and accessories. But if you are aiming for a calmer and more relaxed atmosphere, stick to monochromatic hues.
Use Varied Lines
Another defining characteristic of contemporary design is the use of varied lines. Unlike traditional aesthetics, which tend to be symmetrical, contemporary design often features asymmetrical compositions.
Furthermore, boring straight lines and overly-curved forms are not welcome in this type of design. Instead, you should incorporate a variety of lines that will complement each other and create a very dynamic living room.
To create a more contemporary look in your living room, you should use furniture and accessories that feature different lines and shapes. For instance, you could pair a curved sofa with a rectangular coffee table or a round pouf with a square ottoman.
Breaking up a wall with a shelving unit or a floating shelf is also an excellent idea. Additionally, you could use some incredible artwork to add more interest to the space. There are many types of graphics you can use for this purpose. For example, you could go for light geometric shapes like triangles and circles or bolder designs like splashes of paint or abstract art.
Add More Metallic Accents
Metals are a must-have for contemporary designs. With their industrial look, they can make any living room or dining room feel more modern. You could use them for the walls, flooring, and furniture. Some people even like to mix metals together, going for a bolder look.
If you want to add a touch of luxury to your living room, you should consider incorporating some gold, silver, or copper accents. You could add a few metallic accessories, such as vases, sculptures, or picture frames. Or you could go for something more dramatic, like a mirrored coffee table or a unique chandelier.
Use Natural Textiles
When it comes to fabrics and textiles, contemporary living rooms often favor natural materials over synthetic ones. Wool, silk, and linen are all popular choices for upholstery, window treatments, and area rugs.
For instance, you could invest in a large wool rug that you can place in the center of the room. It will define the space and lead your eyes toward it like a magnet.
You could also choose a silk area rug or a fabric sofa if you want to go for something more modern. Silk is also perfect for draping curtains as it has a very smooth texture.
Add Sleek Furniture
The furniture of your living room should add to its contemporary vibe. You could opt for sleek, curvy designs, as they will make the space look more spacious and visually attractive. Woods like birch and maple are the perfect materials of choice, as they are lightweight but sturdy.
However, the best thing about contemporary living rooms is that they can feature a variety of furniture made from different materials. For example, you could use metal and glass coffee tables, marble dining tables, and leather couches.
The Takeaway
In this article, we've given you some tips on creating a contemporary living room. We've also shown you what kind of colors, finishes, and furniture you should use. Hopefully, it will help you design the perfect space for yourself.
Remember that contemporary style is all about varied lines, monochromatic colors, and metallic accents. If you want to reach this aesthetic, you should consider implementing all of the elements mentioned above.
If you follow our suggestions, you will be able to create an inspiring space that will wow everyone who enters it. Stay committed to your goal, and you should reach it soon enough. Good luck!
Liked reading this? Here's more: