Last updated on December 7, 2023
Embrace the fresh energy of spring with these April chalkboard ideas because they offer a delightful way to celebrate the season's bloom.
I've designed unique illustrations for these ideas. I hope you get inspired!
April chalkboard Ideas – they offer a splendid platform for expressing creativity and seasonality right within your home. Whether it's colorful doodles, artful reminders or thematic designs, there's so much you can do.
Many popular ideas have flooded the online world, some of which are truly worth commendation. At the end of this article, I'll be providing resources that take you to the best of these. But, the wind of this piece blows in a different direction.
Aim is to stretch your imagination further with fresh, unique concepts seen from new angles. Here's to several more riveting ways your April chalkboard can light up each spring day.
Let's dive into a world of inventive chalk-art you'll find exceptionally captivating and helpful.
"April Fools' Day Chalkboard Messages"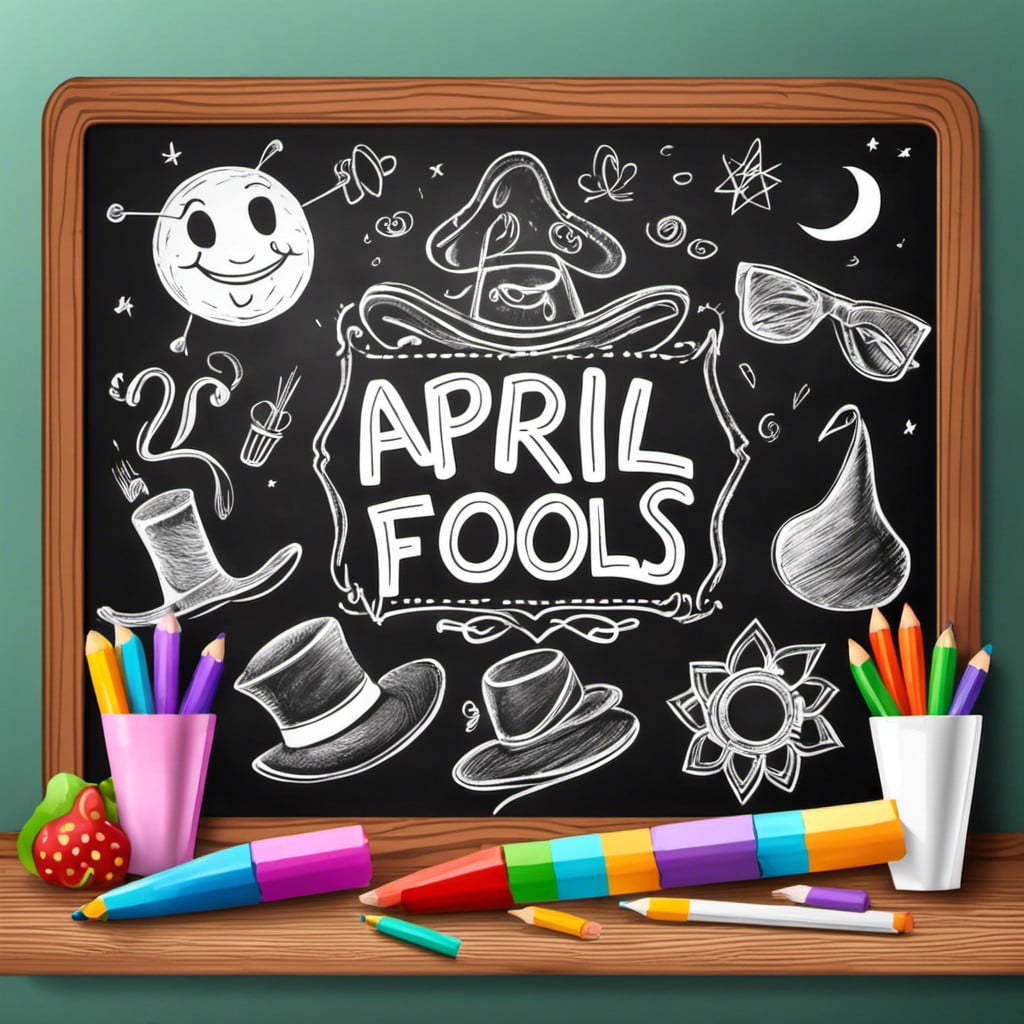 Celebrate the trickster holiday with an amusing assortment of playful notes or doodles. Shock your family with a fake menu of outrageous meals, ranging from spaghetti tacos to unicorn burgers.
Or, stimulate giggles with absurd predictions about the day, like pigs flying.
Parents can include a fun, harmless prank for their children, such as school on a Saturday.
Moreover, you can script a riddle or a joke and invite everyone to solve or get the jest.
The primary goal is to elicit laughter, surprise, and good-natured fun.
Remember, nothing offensive or harmful – keep humor light and family-friendly.
Enrich your board with exciting fonts and spring colors to foster the festive spirit.
Be creative – the possibilities are endless!
"Spring Inspirational Quotes for April Chalkboard"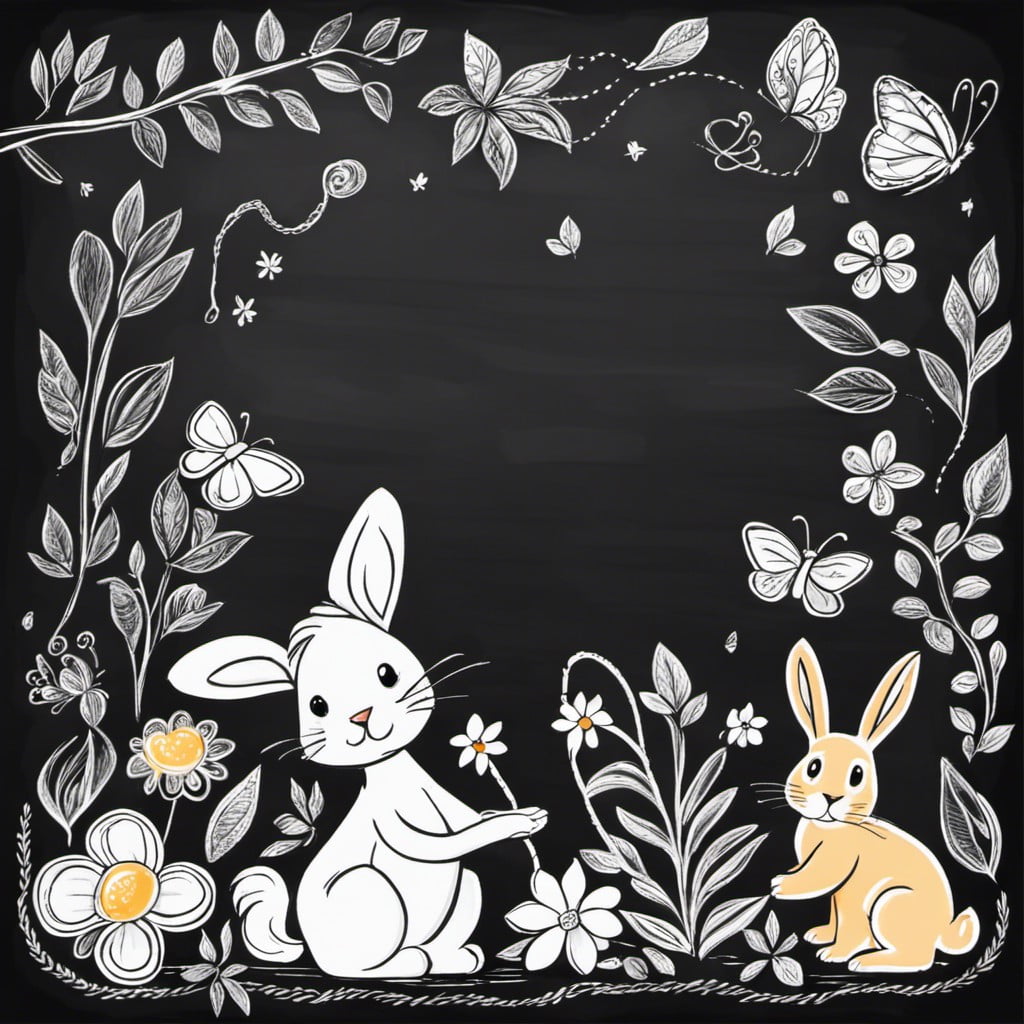 To set a refreshing and uplifting mood for the season, give your chalkboard a spring makeover with inspiring quotes. Here are some key points to consider:
Choose quotes that embody renewal and growth, reflecting the essence of spring.
Opt for light, bright colors like pastels or whites to represent the vibrant hues of springtime.
Calligraphy skills can be especially useful to impress guests, but if you're a beginner, there are numerous online tutorials available.
Incorporate spring elements like flowers, butterflies, or rain clouds to further enhance the theme around your chosen quote.
Ensure readability from a distance, use bold and capitalized letters where necessary.
Keep the message encouraging and positive, resonating with the fresh start that spring typically signifies. Quotes like "Bloom where you are planted" or "No Rain, No Flowers" are great examples.
Switch up your quotes weekly or monthly to keep up with the changing dynamics of the season.
"DIY April Chalkboard Birthday Calendar"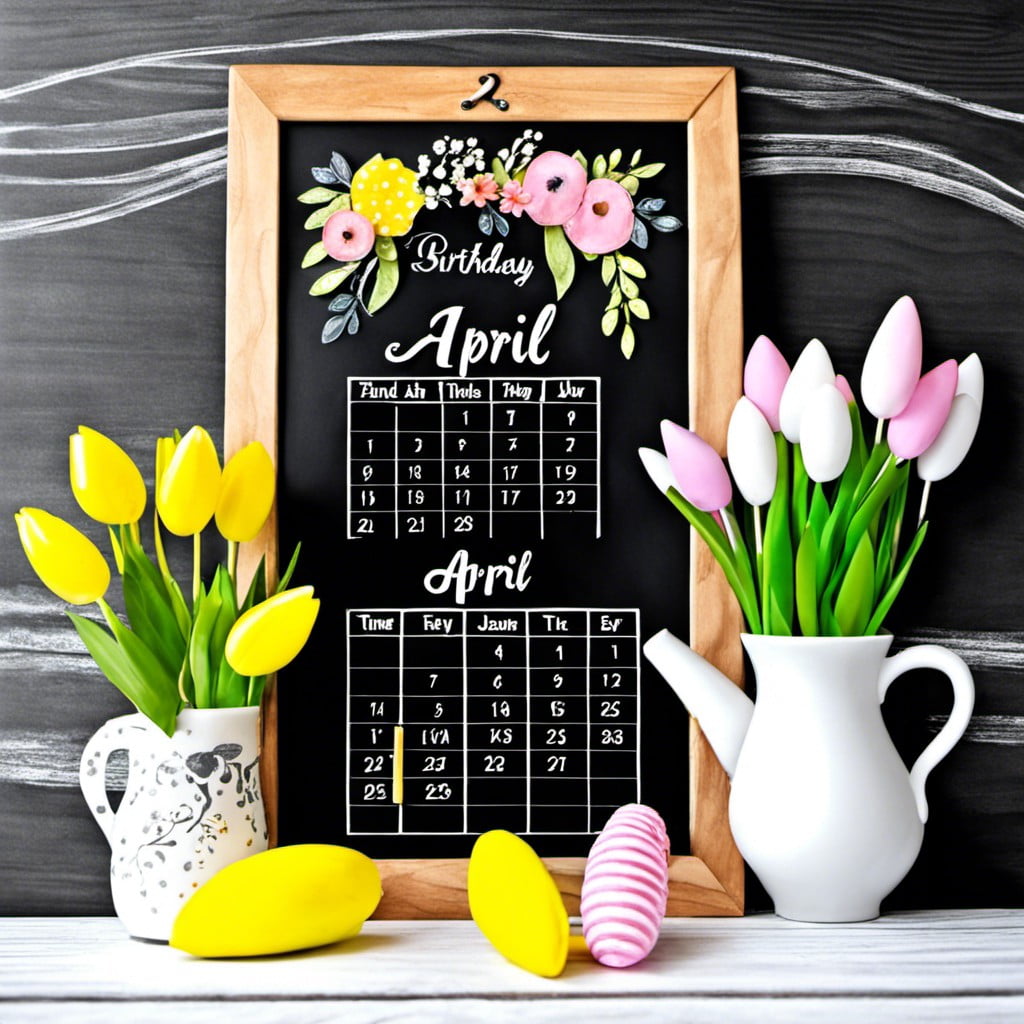 Creating your homemade Birthday Calendar on a chalkboard for April doesn't have to be a daunting task. With a bit of creativity, it can become a fun and rewarding project. Here's how:
1. Select and Prepare Your Chalkboard: Ensure it's clean and ready for use. A rectangular one would better suit a calendar design.
2. Draw the Grid: Use a ruler to draw straight lines making 5 rows representing weeks and 7 columns for days.
3. List the Dates: Number each box starting with the 1st of April. Adjust for April's 30-day duration.
4. Write Down Birthdays: Dedicate a special color of chalk to write down the name of the birthday individual on the corresponding date box. This will make it stand out.
5. Add Graphic Elements: Personalize the board by drawing balloons, cakes, or confetti around the birthday date for a festive feel.
6. Update Monthly: Remember, this is a reusable calendar. When April is over, wipe it clean to start for May.
This is a practical and personalized way to track birthdays, offering a visual reminder of the celebrations to come.
"Easter-Themed Chalkboard Art Ideas for April"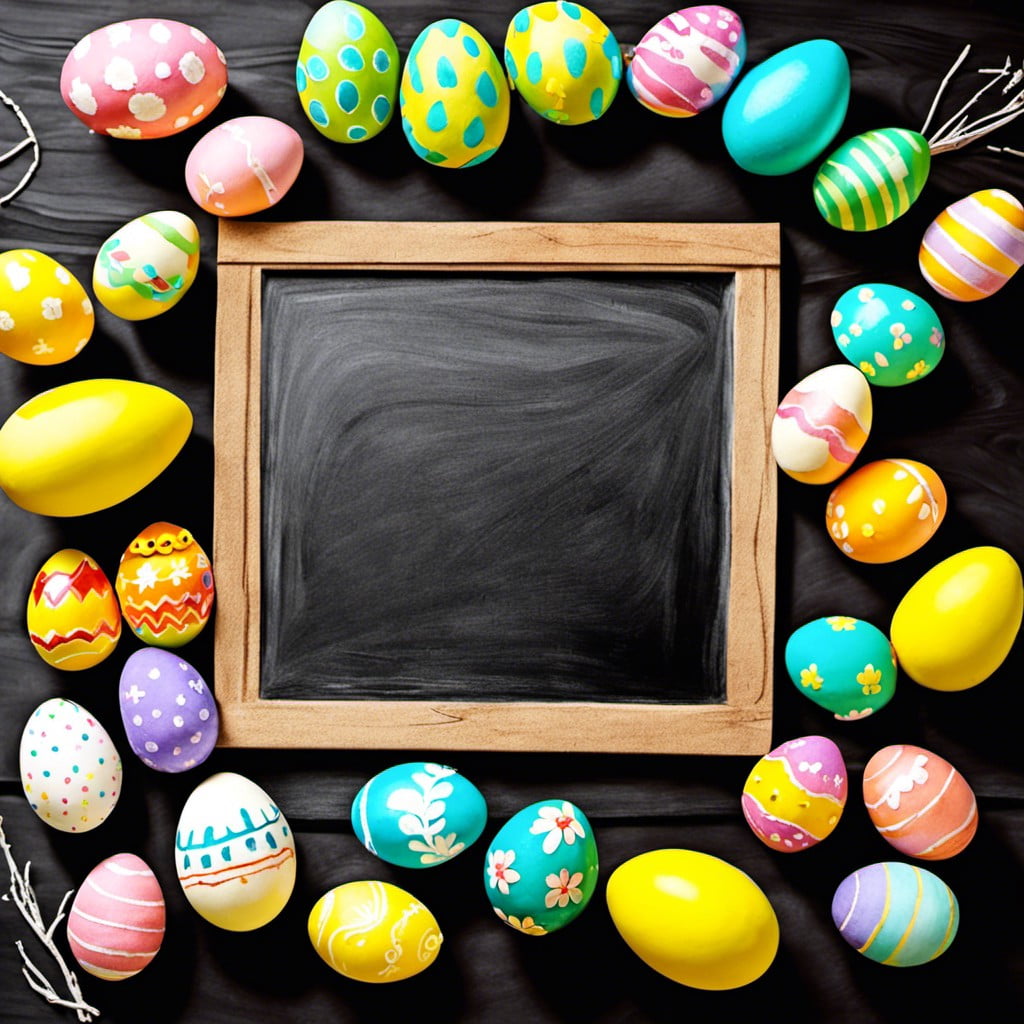 One way to bring the Easter spirit into your home this April is through unique chalkboard art. Opt for classic designs like eggs or bunnies, which teammates simplicity and tradition. For those with defter hands, a drawing of a Nester basket brimming with eggs and daffodils can add a nice touch. Write 'Happy Easter' in a whimsical cursive for additional effect.
Next, consider incorporating scripture or uplifting sayings reflective of the day. Phrases like "He is Risen" act as a faith-filled touch to your chalkboard art.
For a fun spin, try a playful messaging or count down the days until Easter. If children are around, engage them by allowing them to add in Easter-related drawings like baby chicks, carrots, or Easter bonnets.
Remember, you can always add colors. Pastel chalks in soft pinks, blues, and yellows work beautifully towards creating a true Easter ambiance. Finally, don't forget to update the chalkboard as Easter Sunday approaches with pertinent information about celebrations or egg hunts.
"April Showers Chalkboard Drawings"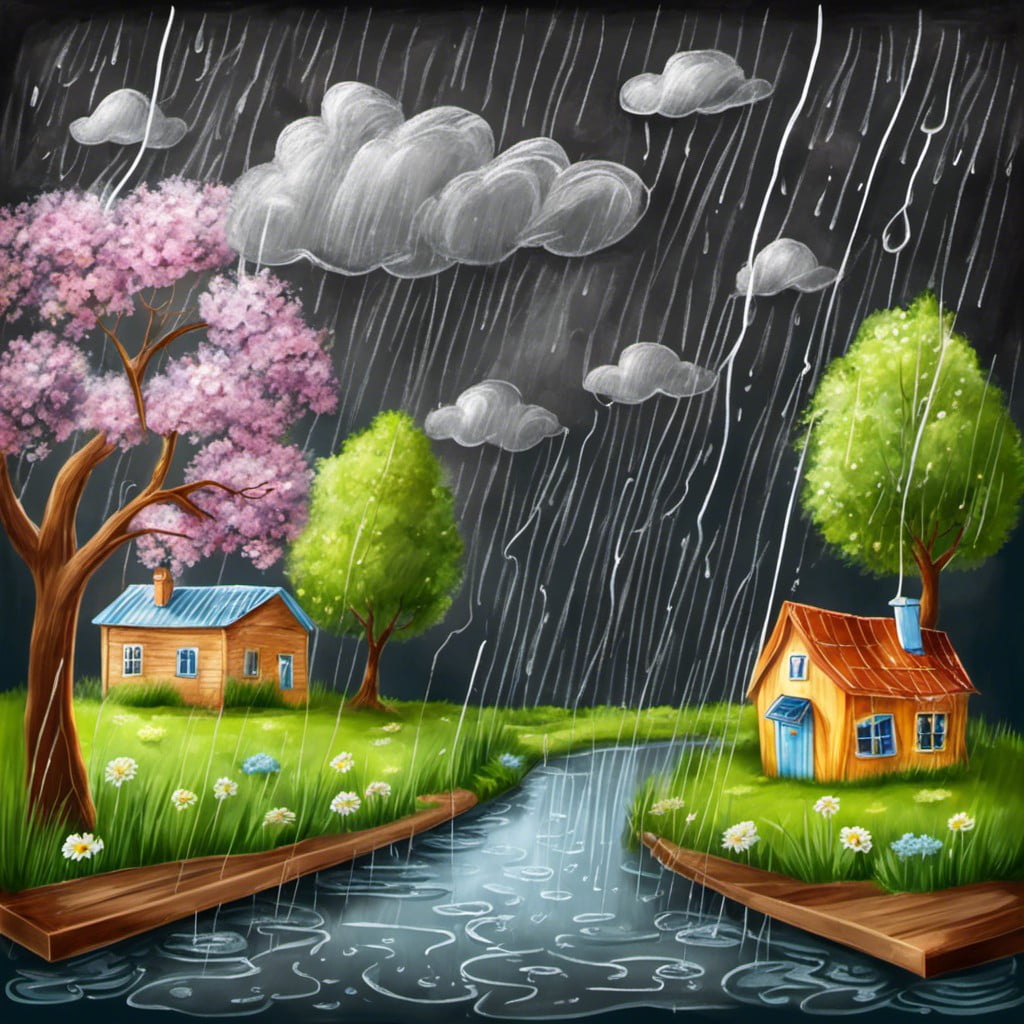 Capturing the essence of dewy mornings and rainy afternoons on your chalkboard will truly breathe life into your space this month.
1. Drawings: Consider simple umbrella sketches, raindrop patterns, or even more elaborate scenes like children dancing in the rain.
2. Quotes: If you're a word enthusiast, accompany your drawings with a few rain-inspired quotes. Examples include "Rainy days and Mondays" or "April showers bring May flowers".
3. Colors: Utilize a color palette that embodies spring – soft blues for rain, greens for the budding trees, and maybe a splash of yellow for the coveted raincoat.
4. Style: Doodles, calligraphy, and bold shapes can be mixed for an artistic and whimsical touch.
5. Extra Touch: Add decoration with real objects, like a small umbrella-shaped key holder hanging beside.
Remember to keep it flexible so you can easily update your chalkboard with the ever-changing April weather patterns.
"Earth Day Chalkboard Concept for 22nd April"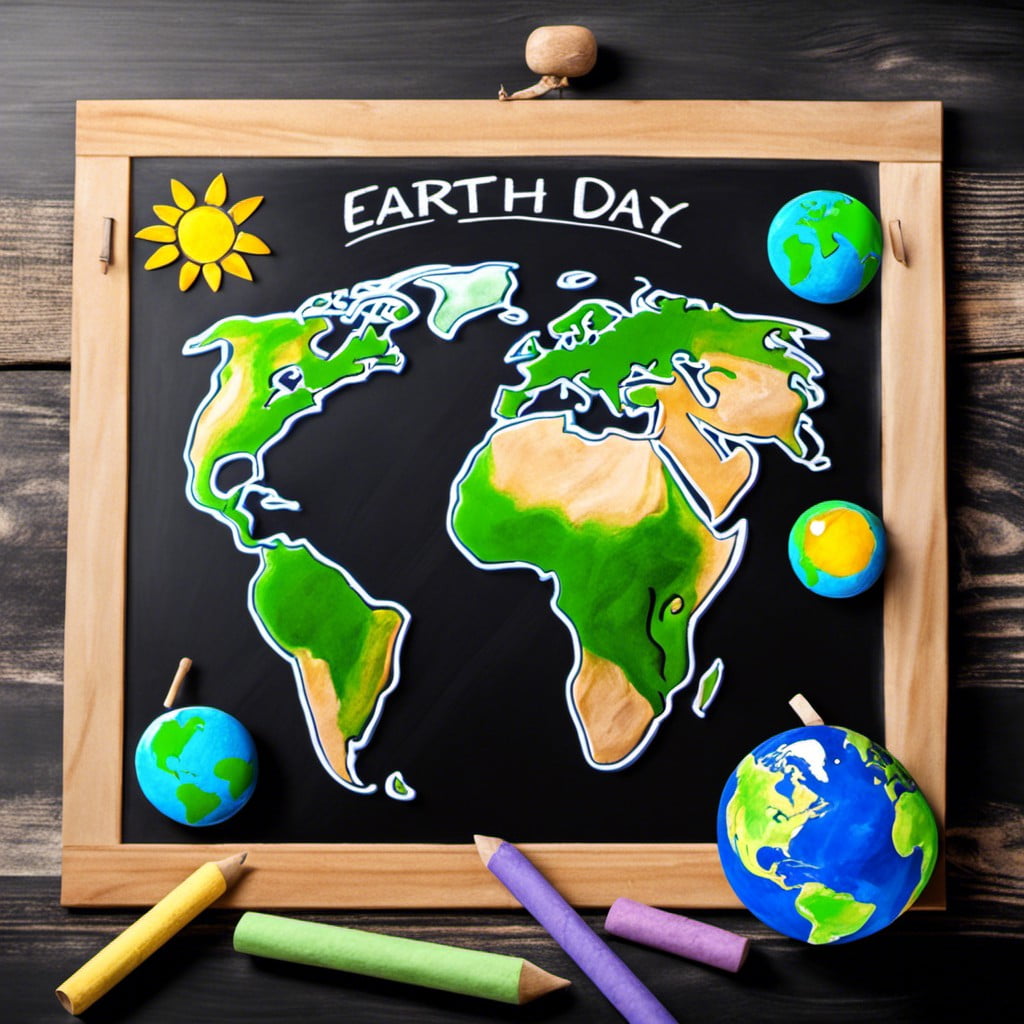 To commemorate this globally significant occasion on your chalkboard, focus on integrating designs and messages that promote environmental awareness and action.
1. Depict Recycling Symbols: Use chalk to illustrate three arrows forming a triangle, the universally recognized symbol for recycling. In the center, you could list items commonly recycled in your household.
2. Draw Images of Earth: Sketch our globe, accentuating the contrasting bright blues and greens. This serves as a striking visual reminder of the planet we are striving to protect.
3. Script Climate Change Facts: Incorporate brief impactful facts about climate change to educate and inspire proactive behavior to reduce carbon footprints.
4. Highlight Endangered Species: Draw or write about endangered animals, underlining the interconnection between human activities and wildlife.
5. Green Tips List: Chalk out simple green tips, like turning off lights when leaving rooms or reducing plastic usage, encouraging actionable steps in daily lives.
Embrace your creativity, transforming your chalkboard into a poignant representation and celebration of Earth Day while subtly encouraging ecological responsibility.
"Chalkboard Menu Ideas for April Seasonal Foods"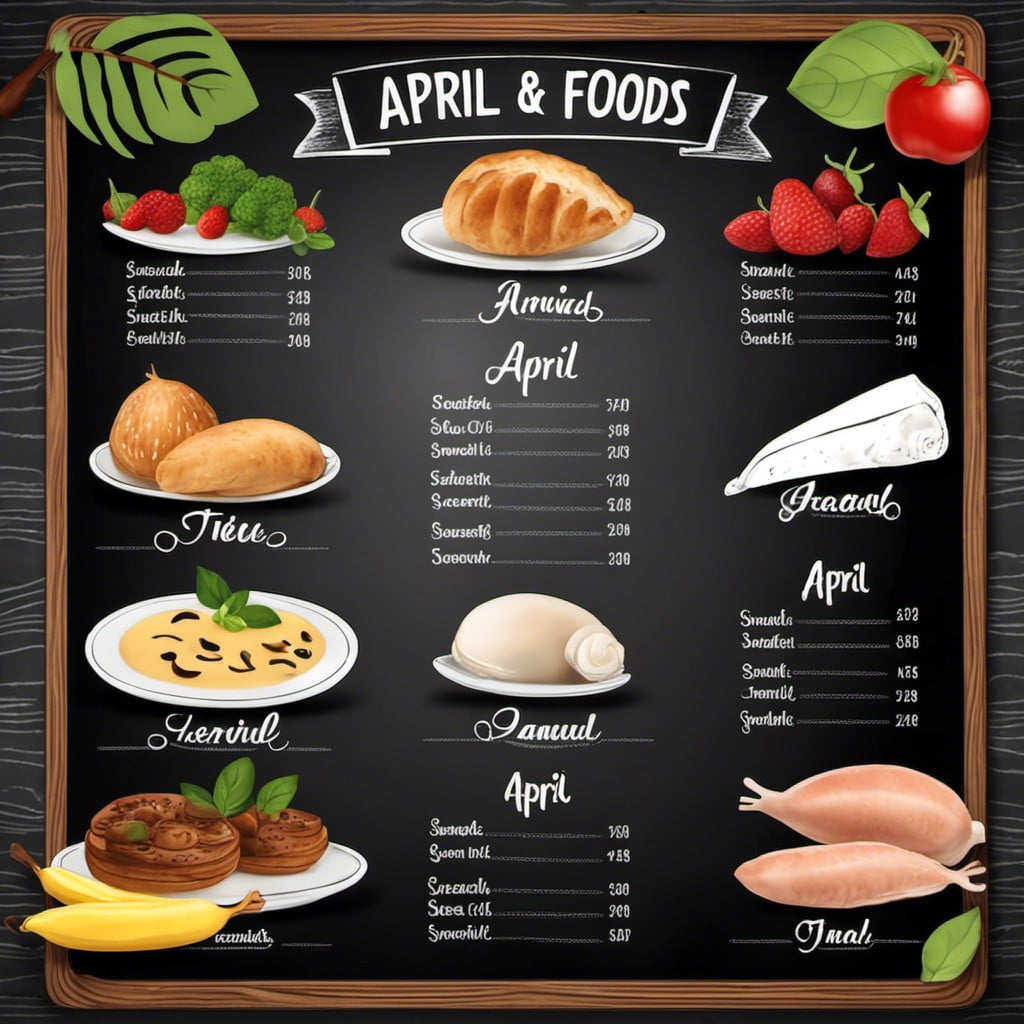 Seasonal ingredients take center stage in these chalkboard menu ideas, making the most of what April has to offer. From fresh fruits like strawberries and cherries to vegetables such as asparagus and peas, these ingredients can be highlighted in dishes written on the chalkboard.
For breakfast, you might consider writing out a recipe for a strawberry-kiwi smoothie or cherry oatmeal. For lunch, list asparagus soup or a mixed vegetable salad featuring peas. For dinner, a roast lamb with new potatoes would hit the right spot. Don't forget the dessert – a rhubarb crumble could be an excellent finisher!
Embellishing your menu with drawings of these dishes or ingredients can give your chalkboard a rustic and charming look that triggers the appetite.
Of course, matching the colors of your chalk to your dishes or using them as accents can increase visual appeal. For instance, use green chalk for asparagus soup or red for strawberry-kiwi smoothie.
Remember, the key is to rotate your menu monthly to reflect the season's best and encourage a healthier, more sustainable eating habit. Additionally, changing your chalkboard menu keeps things exciting for diners, giving them something to look forward to each month.
"Countdown to Summer On April Chalkboard"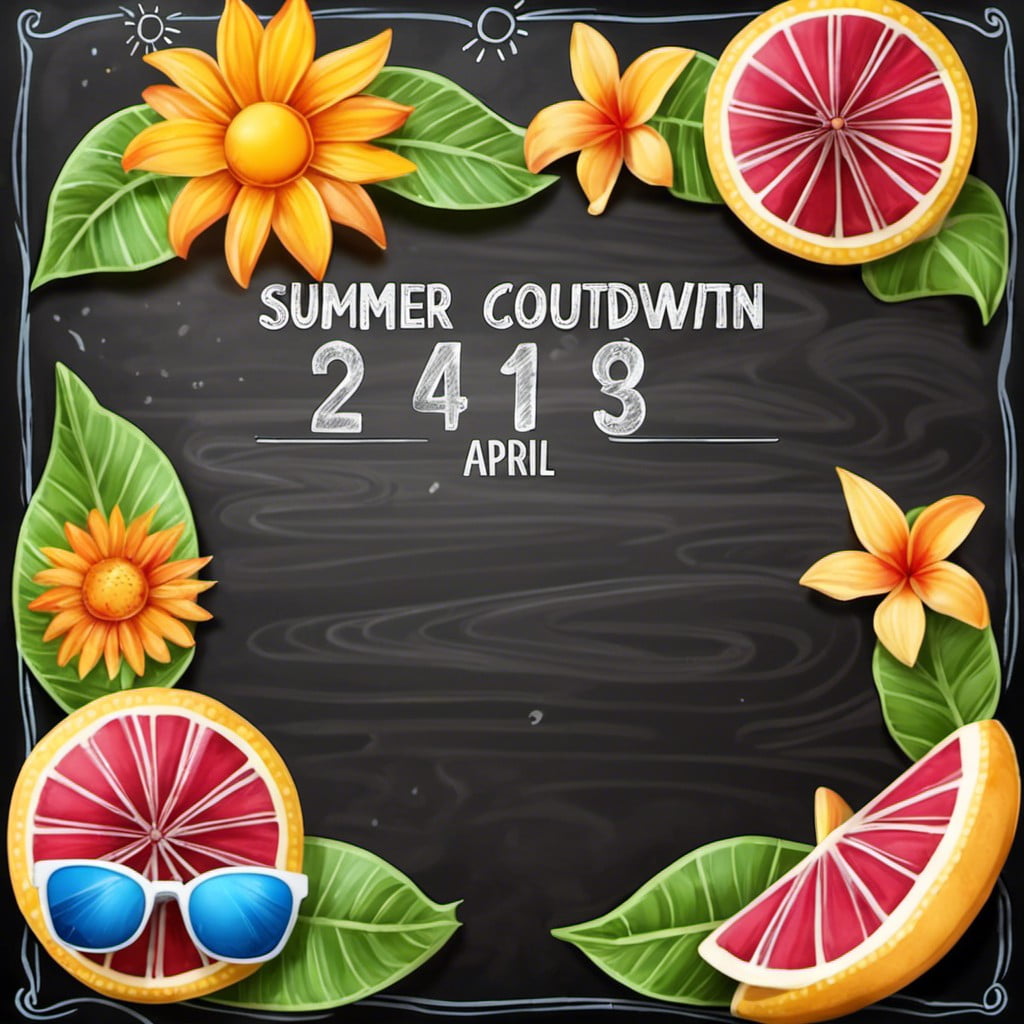 Creating a visual representation of the remaining days until summer can inspire excitement and anticipation. A chalkboard offers the perfect medium for such a countdown, and the creativity involved can be enjoyed by both children and adults alike.
Let's delve into how you can make this happen:
Use a large chalkboard for better visibility; small ones could also work, but may not be as impactful.
Divide the board into sections representing the days left until the start of summer.
Each day, color in or erase one section to signify the passing of a day.
Draw symbolic icons such as sun, beach, and ice-cream to keep the theme alive and add enthusiasm.
Make it interactive by involving family members in the daily update process.
Include motivational quotes related to summer for add-on fun.
Remember, while the technicality is important, there is no need to strive for perfection. The overall essence is to create a fun and engaging way to countdown to summer.
"Inspirational Fitness Quotes for April Chalkboard"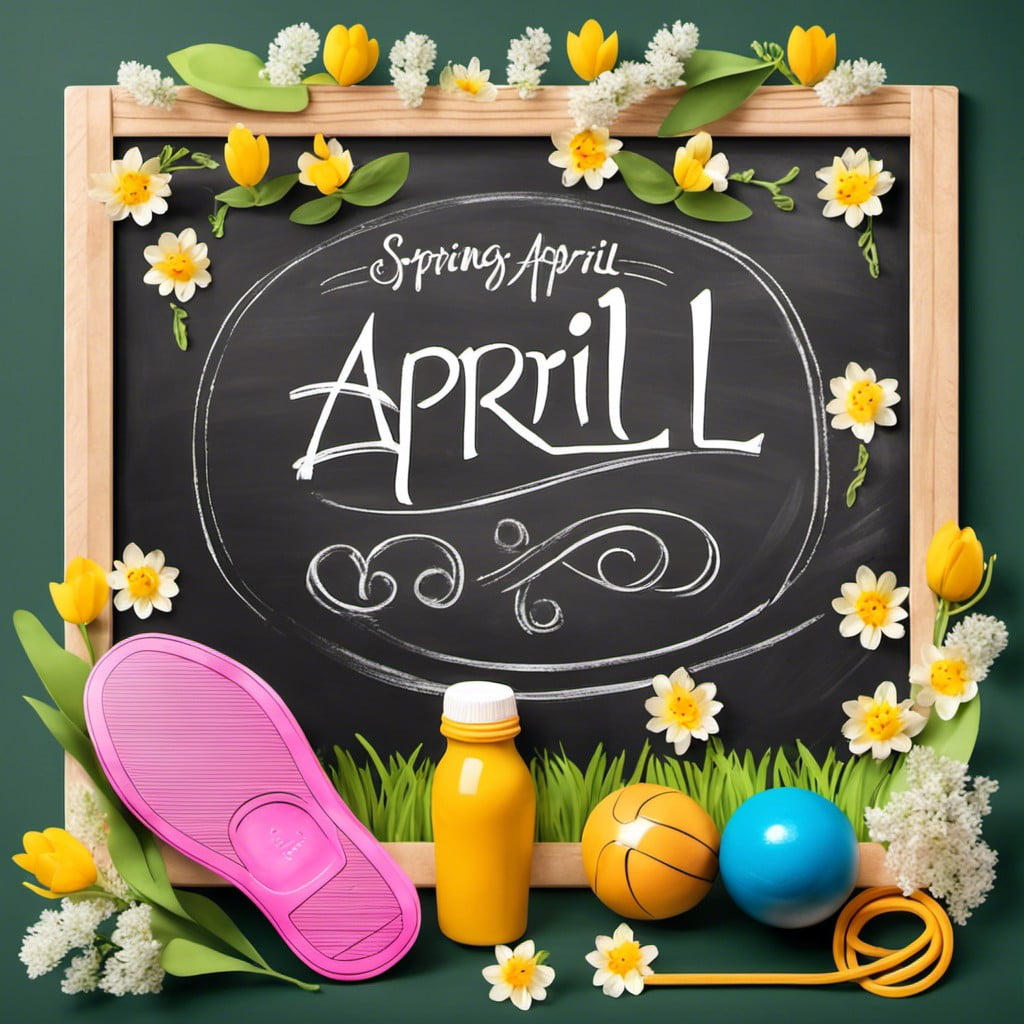 Choosing the right words can be an excellent source of motivation, fueling your daily workouts with true power. Keep it fresh and encouraging, rotate the quotes throughout April for a constant stream of inspiration.
1. "Sweat + Sacrifice = Success"
Discover the overlap between hard work and achieving fitness goals with this poignant message.
2. "Every Workout Counts"
Leave no room for excuses – every step taken towards fitness is a step towards improvement.
3. "You Are Stronger Than You Think"
A powerful reminder that mental strength is just as crucial as physical strength.
4. "Train Insane or Remain the Same"
A call to action, pushing you towards making advancements in your fitness journey.
5. "Strong Body, Strong Mind"
Promote the symbiotic relationship between mental and physical health.
6. "Sweat Today, Smile Tomorrow"
Inspire future rewards through current efforts with this uplifting phrase.
Remember, creating a motivating atmosphere is key in fitness journey. Make your chalkboard a source of this power. Let these words push your boundaries, fuel your motivation, and bring you closer to your fitness goals.
"Blooming Flowers Chalkboard Art for April"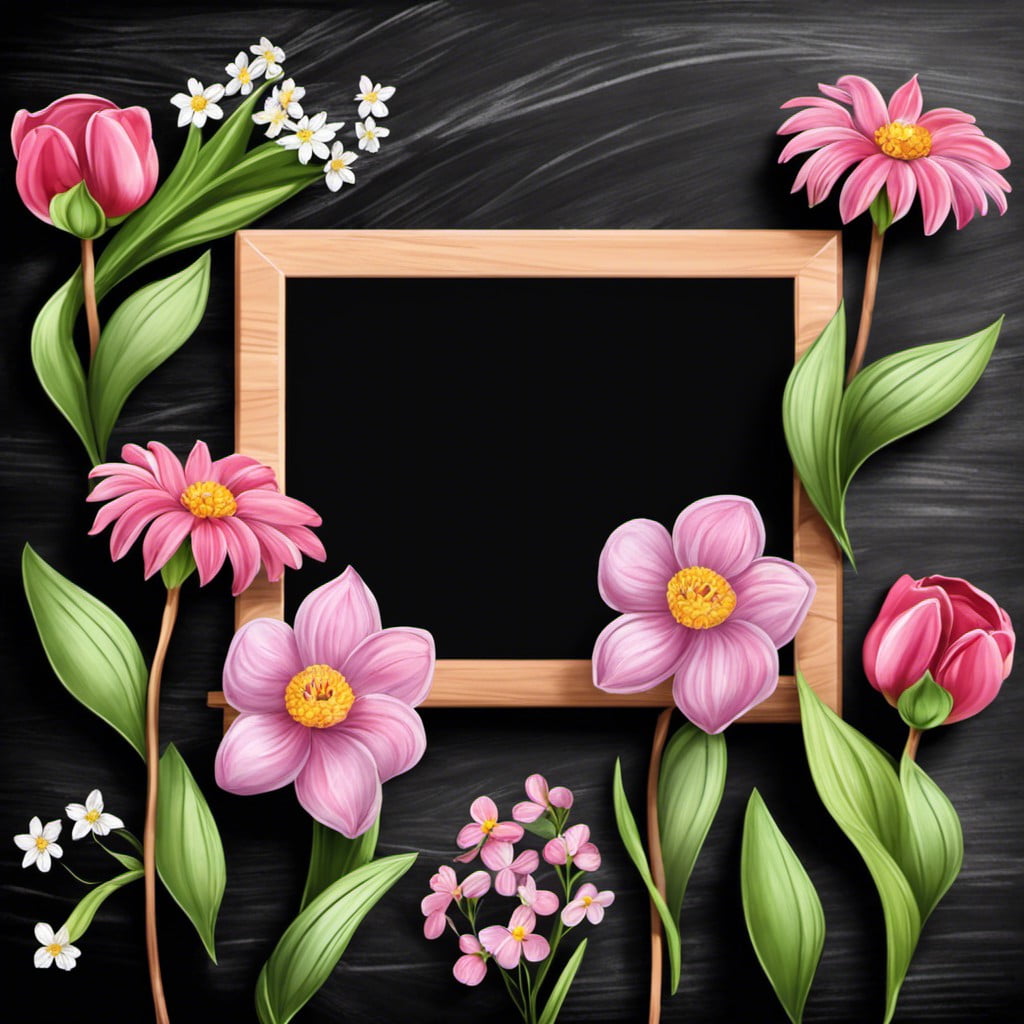 Bright daffodils, delicate cherry blossoms, or bold tulips – spring flowers are perfect chalkboard inspirations for April. The key is choosing flowers that resonate with you, and expressing that beauty through chalk art.
Here's how to start:
Select a flower kind: April gives a plethora of blooms, pick a favorite.
Sketch lightly: It provides you a base to work upon and helps to avoid mistakes.
Shapes and colors: Understand the basic shapes that constitute your flower. Use different shades of chalks to create depth and dimension.
Details: Add lines, textures, and shades to make the chalk art more realistic.
Use Green: To create foliage around the flowers.
Incorporate a spring message: Adding 'Hello Spring', 'April Blooms' or any other short note amplifies the effect.
Remember practice makes perfect, so don't worry about initial attempts or complexity, focus on enjoying the process!
"April Poetry Day Chalkboard Display Ideas"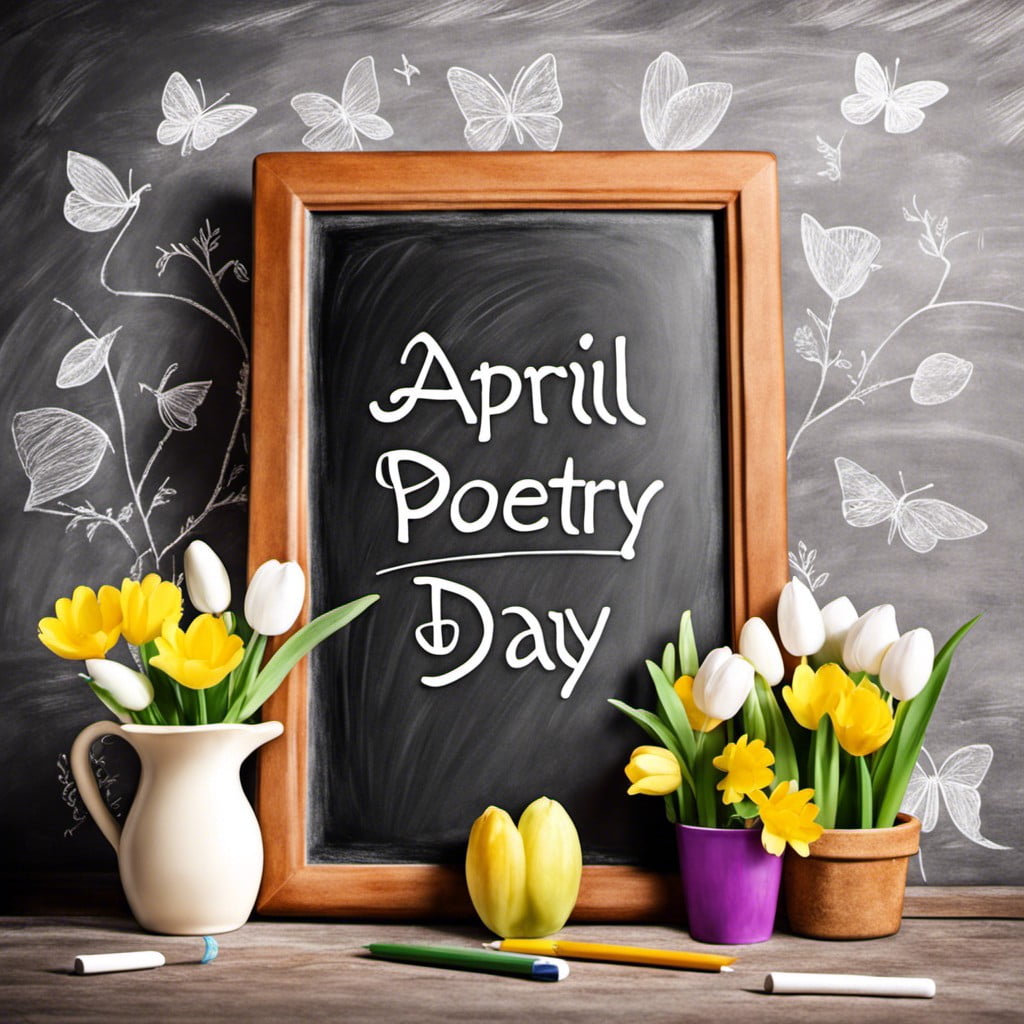 Founded on the joy of words and the power of expression, chalkboards can be transformed into platforms for creativity during Poetry Month. Here are effective ideas to display:
1. "Favorite Quotes": Highlight excerpts or lines from beloved poems. This can ignite interest and spark conversation about different poetic works.
2. "Haiku Corner": Featuring short, evocative works of haiku keeps the board fresh and dynamic, and is also a way to pay tribute to this specific poetic form.
3. "Poet Profile": Dedicate space to showcase the work of a specific poet each week with a snippet of their poetry.
4. "Interactive Poetry": Leave chalk out for guests or family members to add their favorite lines of poetry or even create their own.
5. "Poetry Prompts": Awaken the muse in everyone by providing a daily or weekly poetry prompt. This nurturing approach may spur a new generation of poets.
6. "Visual Imagery": Incorporate illustrations that are inspired by the poems on the board. This could make poems more accessible, especially for children.
Remember, keep the handwriting clear and legible, ensuring that the beauty of the words can be appreciated by all.
"Chalkboard Plan for April Gardening Tasks"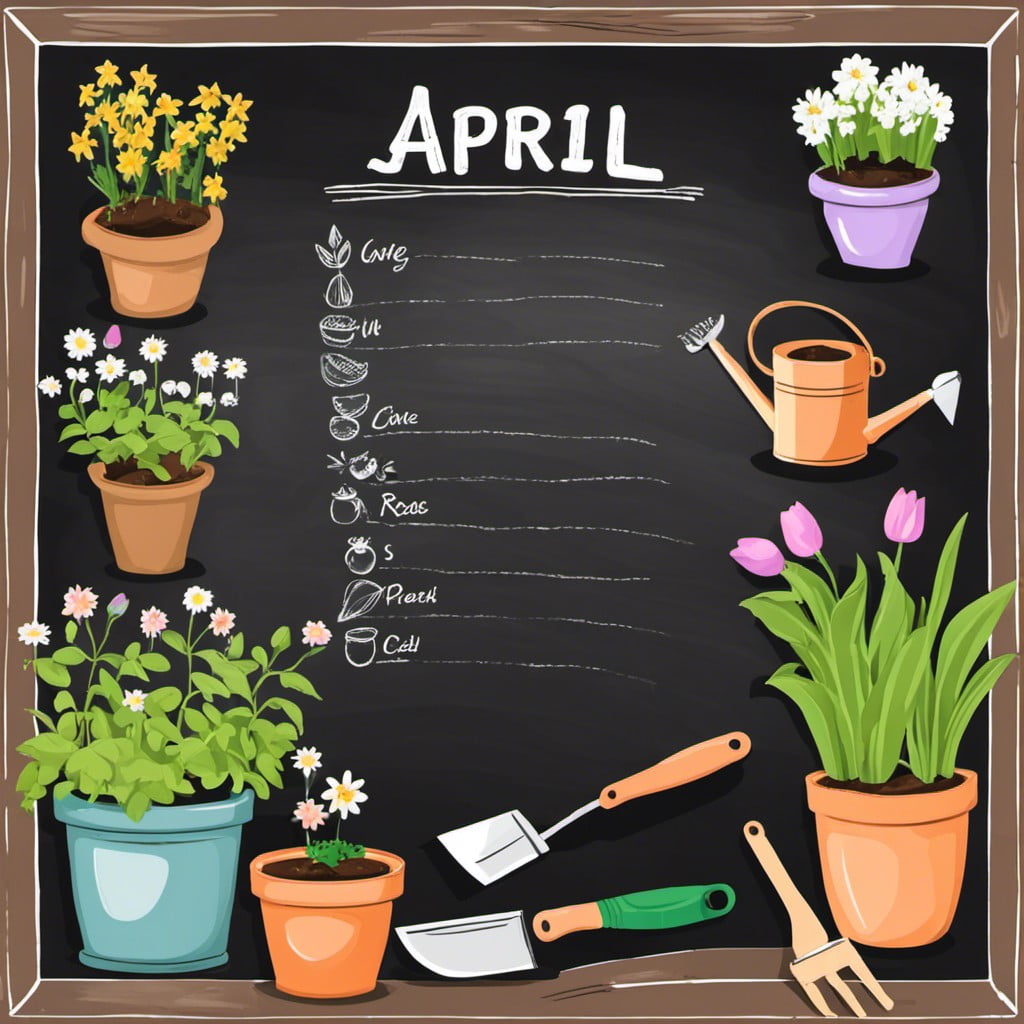 Mapping out your gardening tasks ensures an organized and productive month. Begin with listing the chores such as cleaning and preparing your flowerbeds. Consider the necessity of removing wilted winter plants and cultivating the soil to make it replenished and ready for spring growth.
Next, mark the dates for planting frost-sensitive plants like tomatoes and peppers. They flourish best when the soil is thoroughly warm which typically begins in April.
Jot down reminders for regular watering and fertilization, as both are key to healthy plant growth. Also, give priority to pest control measures. April often marks the beginning of seasonal pests, so early intervention can prevent a minor issue from becoming a severe problem later.
Finally, don't forget to include a schedule for trimming and pruning. Structuring reminds your flower-beds and trees not only maintain their aesthetic but also encourages healthy growth patterns.
"Lesson Plan Ideas for April Chalkboards in Classrooms"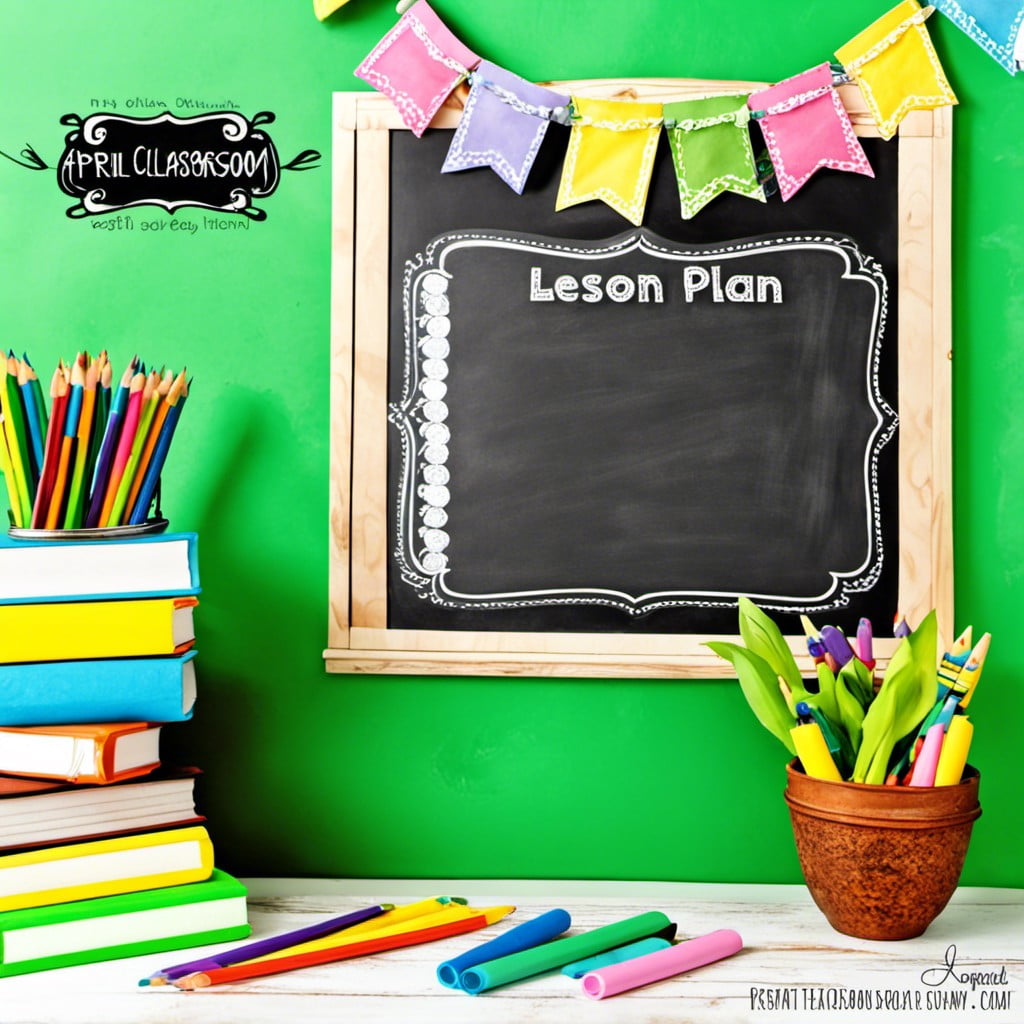 As spring rolls on, chalkboards can serve as a dynamic teaching tool encompassing the essence of April. Educational themes can be incorporated effectively through interactive chalkboard designs.
1. The Resurgence of Nature: Illustrate the lifecycle of plants and insects with chalk drawings. Discuss the significance of earth day and relate the topic to the subject of science and nature studies.
2. National Poetry Month: Assign students to write a haiku or acrostic poem each day. Incorporate literary devices and use this opportunity to explore famous poets.
3. Spring Math: Draw colorful patterns and sequence of blooming flowers or butterflies to teach counting, addition, and subtraction.
4. Historical Events: Highlight important occurrences of the month like the Titanic sinking or Leonardo da Vinci's birthday, to connect history with real-time frames.
5. Visual Schedule: Outline the month's activities to demonstrate how to organize time and plan ahead.
These visual lesson plans can make learning more captivating while aligning with April's spirit.
"DIY April Chalkboard Wedding Announcement"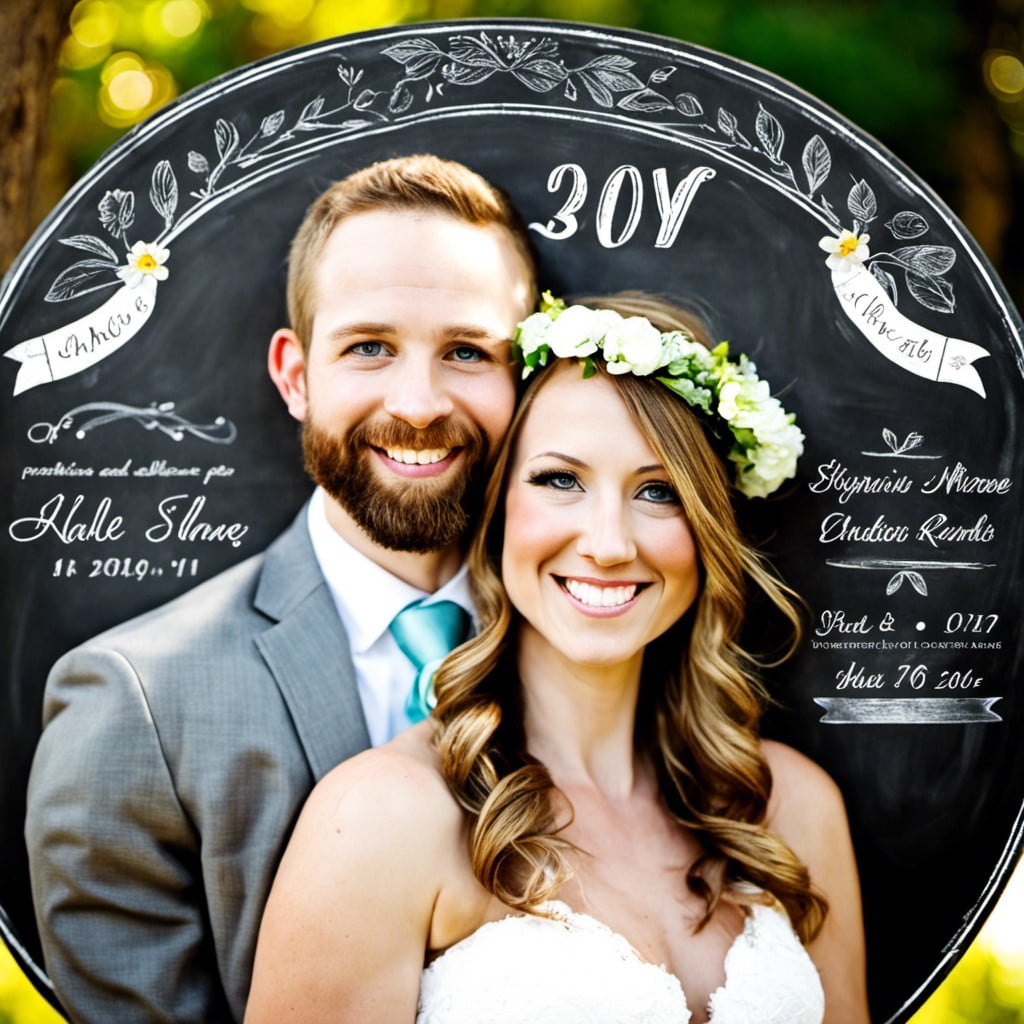 Creating a wedding announcement using a chalkboard can be a charming and unique way to share your happy news. Let's discuss a few key concepts involved:
1. Personal Touch: Hand-drawn elements make the announcement feel personal and intimate. Consider including your names, the date, and even a small sketch portraying both of you.
2. Design: It's important to plan the layout beforehand. Your design might include flowers or vines, keeping with the April spring vibe. Maintain a balance between text and artwork for easy readability.
3. Fonts: Use a variety of chalk lettering styles. Big, curly fonts for important details like the date and your names, and simpler fonts for any additional information.
4. Color: Stick to classic white or experiment with pastels to add a pop of color. Remember to use colors that complement each other.
5. Photoshoot: Once your chalkboard is complete, arrange a photoshoot to capture the announcement on camera. Keep the setting simple with focus on the chalkboard.
Remember, practice makes perfect. Don't fret if it's not flawless; its charm lies in the fact that it's not professionally produced.
"Chalkboard Decoration for April Baby Showers"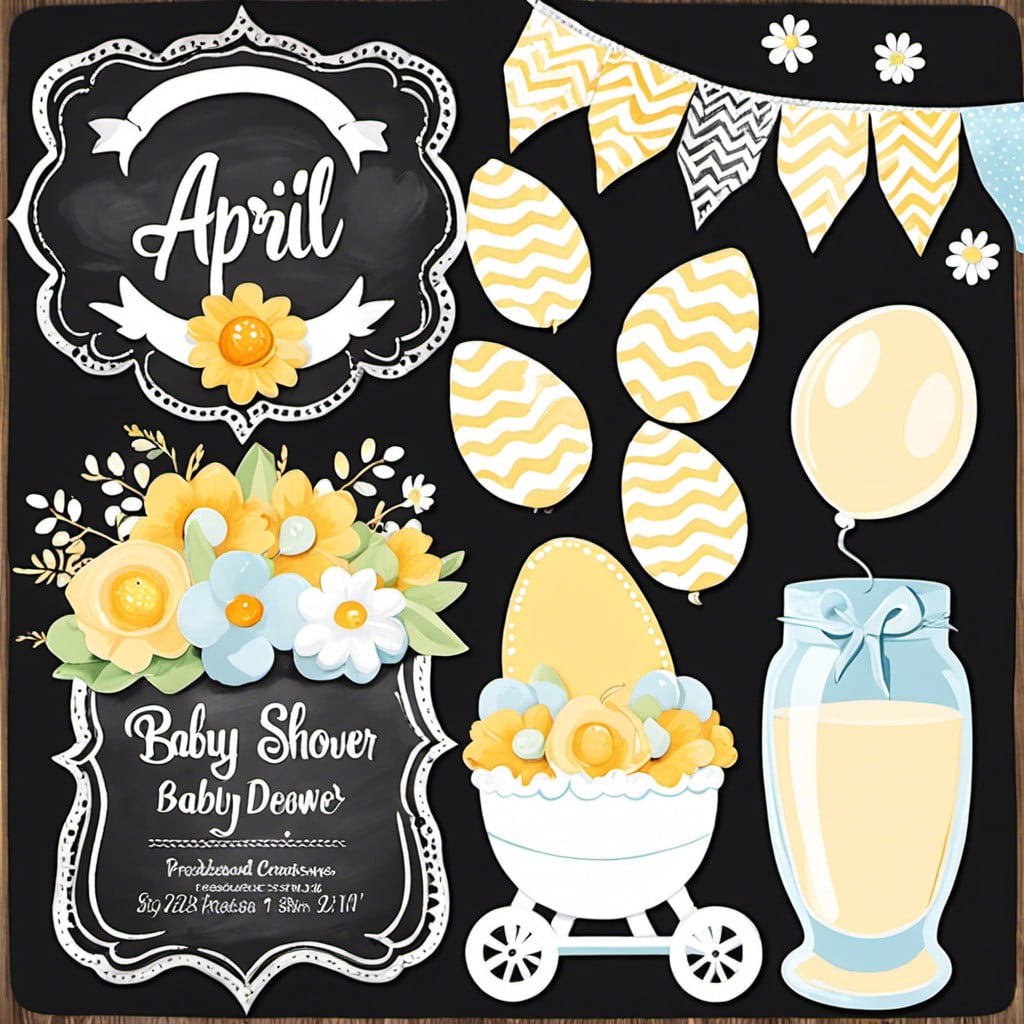 Settings adorned with chalk-driven art offer a unique charm for baby showers held in April. As temperatures rise and flowers blossom, it's time to incorporate these elements into your decoration. One idea is to sketch a tree with budding leaves to symbolize new life. Write "Welcome Little Blossom" or the soon-to-be-born baby's name.
An umbrella motif or tiny rain drops can also be engaging, linking the classic phrase "April showers bring May flowers". Adding an array of colorful chalk to create a rainbow can provide a pop of color, too.
Personalized messages from guests to the baby or mother-to-be can also be a highlight. Let each guest write a short wish or advice on the chalkboard. This can serve as both a decoration and a treasured keepsake after the event.
Remember, a clear, simple design often has the most impact. Utilize the space well and choose colors that match the overall theme for a coherent look. Don't forget, practice makes perfect. If you're not completely satisfied with your first attempt, simply erase and start fresh. With a little time and effort, your baby shower chalkboard will truly be a masterpiece.
"April Chalkboard Craft Ideas for Kids"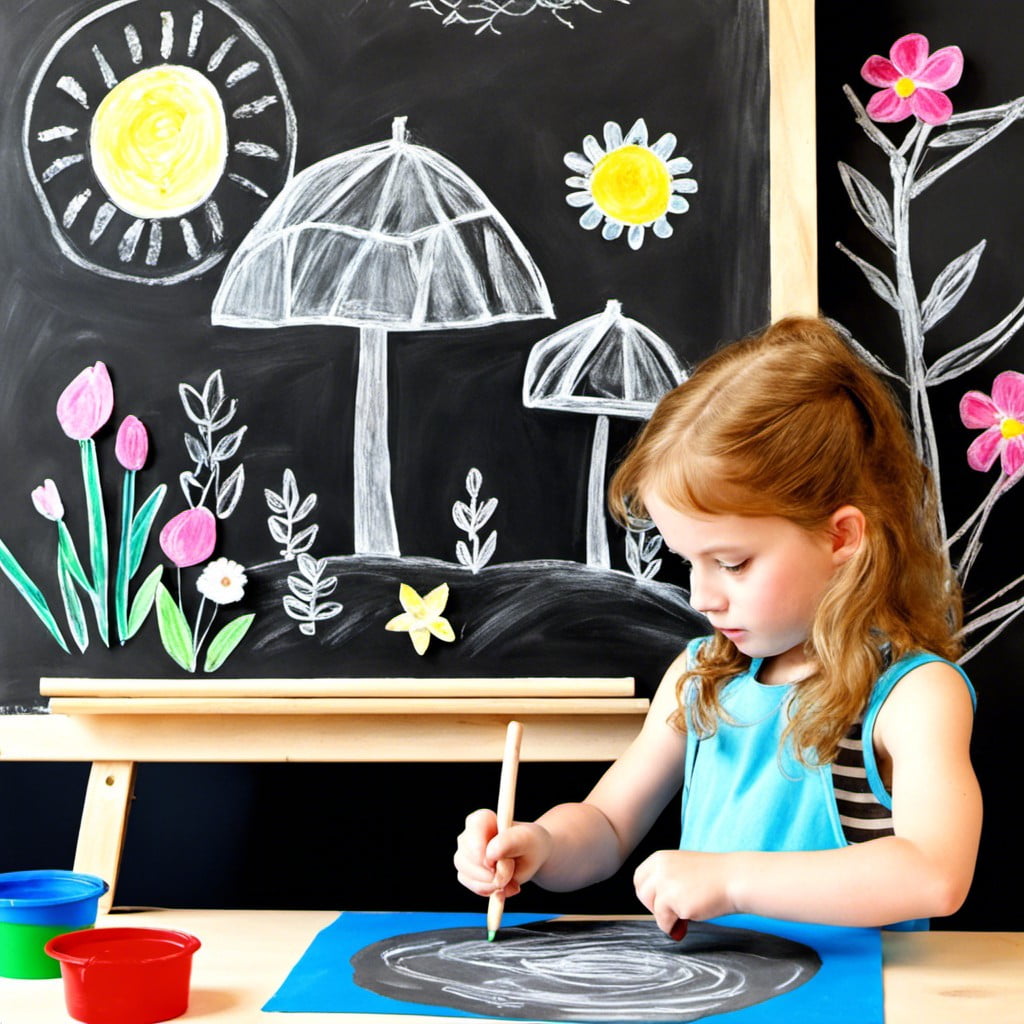 Engaging the young ones in creative activities is a productive way to let them explore their artistic potential. Transforming a simple chalkboard into a canvas of imagination can be a fun-filled experience for kids during April. Here are some craft ideas that can be executed:
"Rainy Day Art": Inspired by April showers, children can draw raindrops, clouds, and umbrellas, blending in various shades of blue and grey.
"Spring Flowers": From tulips to daffodils, kids can create a colorful garden scene with flower chalk art.
"Earth Day Tribute": Mark April 22nd by having kids design an Earth-themed piece, promoting environmental awareness.
"Easter Bunny Hop": Allow them to showcase their Easter enthusiasm with bunny drawings and Easter eggs, adding a festive spin.
"Animal Kingdom": Since April is National Frog Month and National Pet Month, children can doodle their favorite animals or pets.
"Fluttering Butterflies": Drawing these delicate creatures can enhance their color mixing skills, as they play with spring colors.
Remember, the focus here is not on perfection but on creativity and enjoyment. Incorporating these craft ideas should make April a vibrant and entertaining month for kids.
"April Chalkboard Ideas for Home Decor"
Decorating your home with a chalkboard to celebrate April's seasonal charm is a beautiful and flexible option. Try these creative ideas for a unique home décor:
1. "Blossoming Art" – Draw blooming flowers on the board. Tulips and daffodils are exemplary, depicting the revival of nature.
2. "Menu Highlighter" – Use your chalkboard to highlight seasonal recipes for April, like asparagus soup or lemon cupcakes.
3. "Wellness Tracker" – Keep up with your spring wellness goals. Mark your progress for a healthier diet or fitness regimen.
4. "Gratitude Wall" – Write what you're grateful for each day. This serves as a daily positive reminder.
Remember, the aim is to enjoy the process and the outcomes, adding your personal touch along the way!
"Celebration of Baseball Season On April Chalkboard"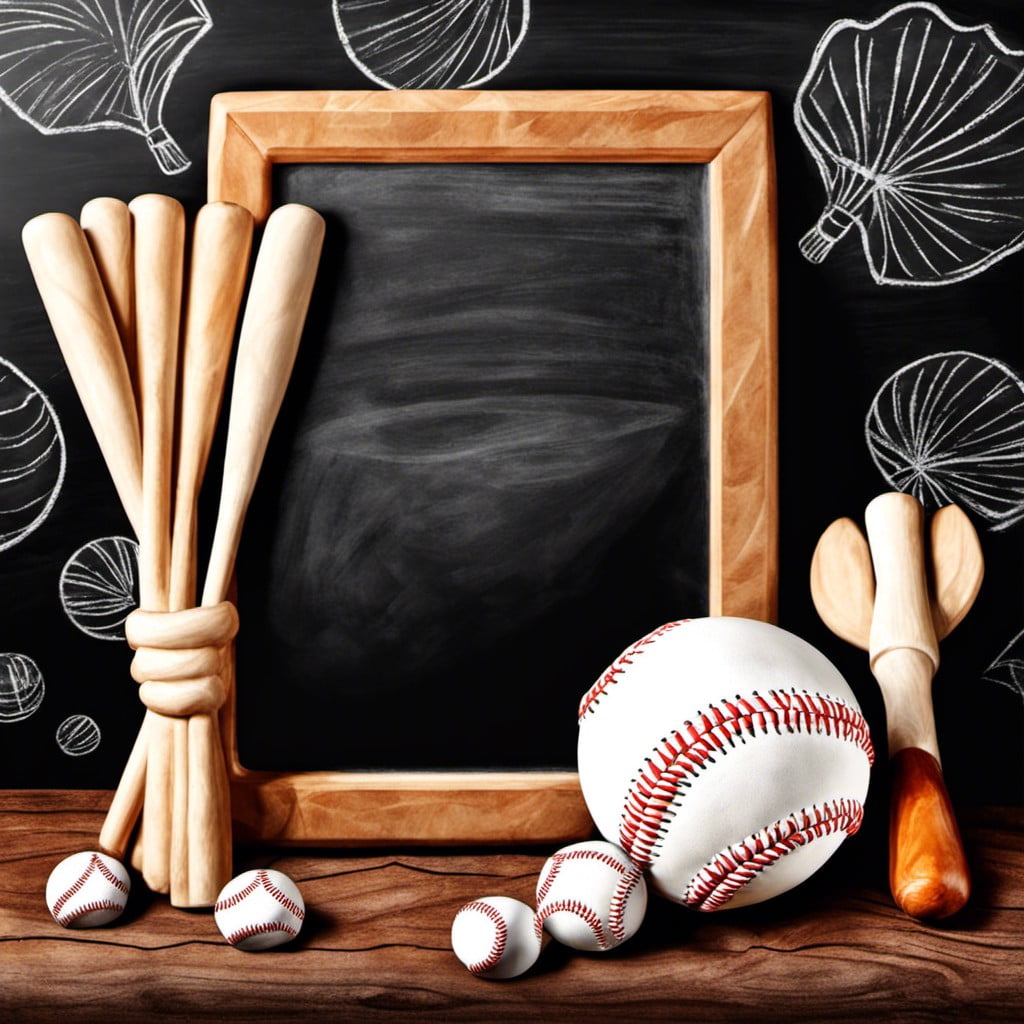 Kicking off the baseball season with fitting chalkboard art has its own charm. Firstly, a highly recommended concept involves mimicking the iconic 'baseball diamond' diagram— enhancing it with accented base paths and creative annotations. Also, consider illustrating player positions to educate and engage.
Alternatively, jot down your favorite team's game schedule. This not only adds a personalized touch but also ensures you remain updated on the matches.
For a more artistic approach, you can choose to sketch out bats, gloves, or helmets in creative designs, around a specific, baseball-related quote or message. Intricate designs with baseballs as flowers or bits of baseball gear as framing elements can also add a creative twist.
Remember, the key ingredient in all these chalkboard ideas is your personal involvement with baseball. Whether you're an active player, an ardent spectator, a tremendous fan, or someone who merely enjoys the spirit of the sport – there's a chalkboard decor idea waiting to capture your passion.
"April's Motivational Business Quotes for Chalkboard"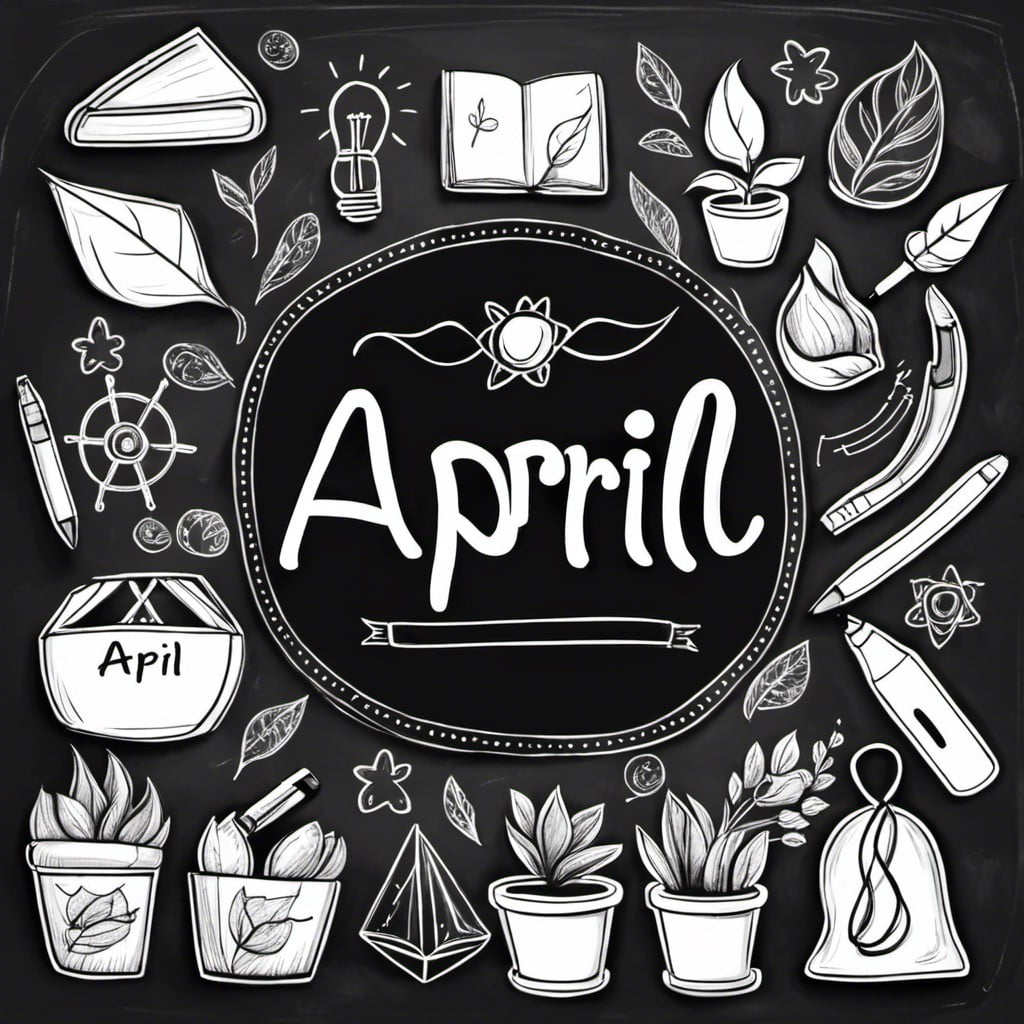 Jotting down a few business-related quotes on your chalkboard can keep your motivation high throughout the month. Below are a variety of quotes to bolster enthusiasm and drive home the importance of perseverance and ingenuity in business.
1. "Success usually comes to those who are too busy to be looking for it." – Henry David Thoreau: A reminder that being preoccupied with achieving your goals often leads to success.
2. "Opportunities don't happen. You create them." – Chris Grosser: This underlines the need for proactive action in hunting for businesses opportunities.
3. "Don't be afraid to give up the good to go for the great." – John D. Rockefeller: Encouraging a mindset of not settling for mediocrity but striving for excellence.
4. "I find that the harder I work, the more luck I seem to have." – Thomas Jefferson: This emphasizes the correlation between consistent effort and luck.
5. "Success is walking from failure to failure with no loss of enthusiasm." – Winston Churchill: This provides reassurance that setbacks are stepping stones towards success.
Rotating these quotes weekly, or even daily, can provide fresh motivation and serve as excellent conversation starters. Keep these in sight to foster an inspiring and productive work environment this April.
"Book Recommendations On April Chalkboard"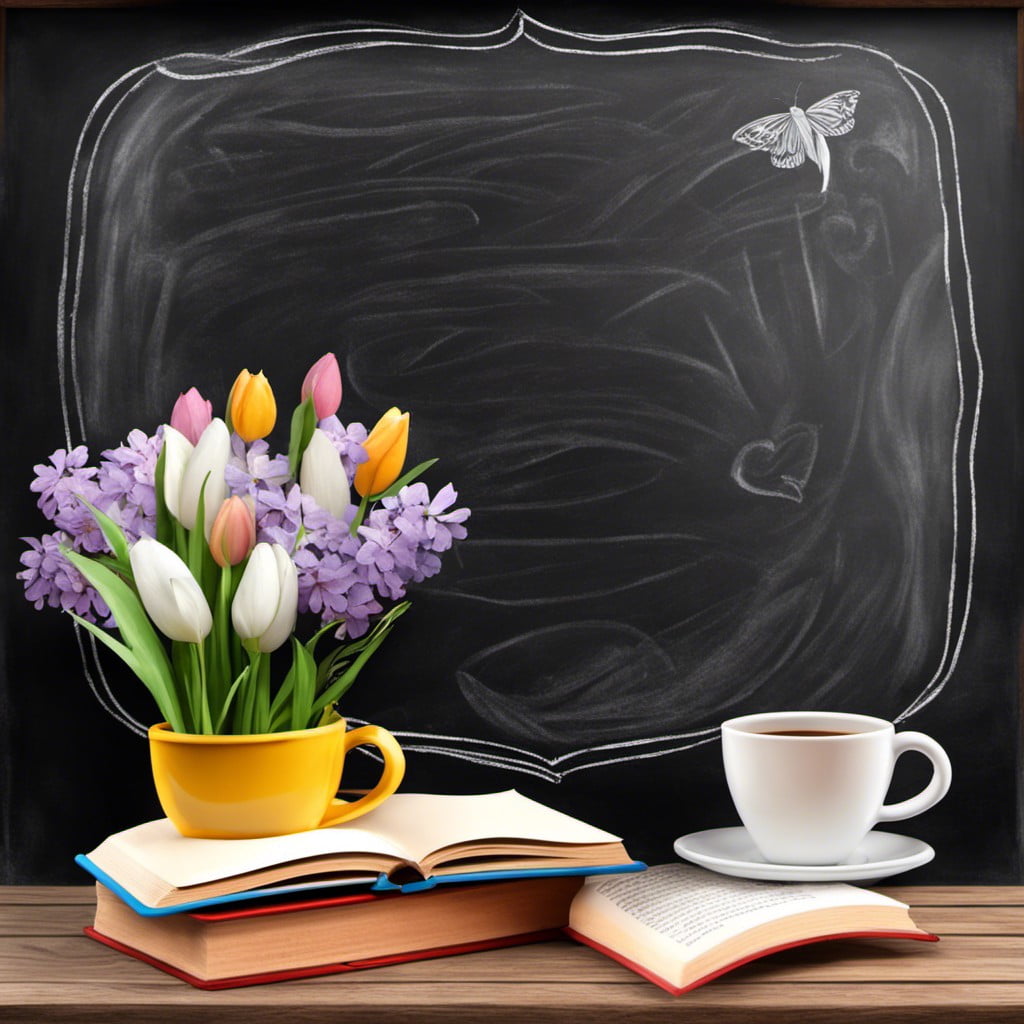 Unveiling your favorite literary finds on a chalkboard is a unique and engaging way to share your passion with family, friends, or visitors. Choosing a specific theme for each month like novels, biographies, or self-improvement books can create an inviting experience for every bibliophile.
Consider these fun ideas:
Use colorful chalks to draw book covers.
Sketch out a mini shelf to neatly arrange your book titles.
Include short, compelling reviews or famous quotes from the books.
Invite guests to write down their own suggestions.
Incorporate hashtags relevant to each book for social media sharing.
This practice helps encourage reading habits in your home. Besides, it provides an excellent conversation starter for any guest intrigued by your literary plastered wall.
Ideas Elsewhere
Liked reading this? Here's more:
Recap: