Last updated on November 10, 2023
Reviving weathered charm in modern spaces becomes delightfully simple with these modern farmhouse wall decor ideas, because each suggestion masterfully combines rustic aesthetics with contemporary finesse.
I'm proud to present my distinct designs in this article on 20 Modern Farmhouse Wall Decor Ideas, and I hope you'll find them as inspiring and fun to experience as I did creating them.
Modern farmhouse wall decor infuses the warmth and charm of traditional farmhouses with the sleek, clean lines of contemporary design. This unique blend of old and new creates a welcoming, yet stylish atmosphere that's perfect for any home.
Whether you're looking to incorporate rustic wood elements, vintage-inspired signs, or simple and chic metal wall art, this guide provides a wealth of ideas to help you achieve that modern farmhouse aesthetic.
It's all about finding the right balance between comfort and sophistication, and this article will give you all the details you need to transform your walls into a stunning testament to modern farmhouse style.
Rustic Wooden Clock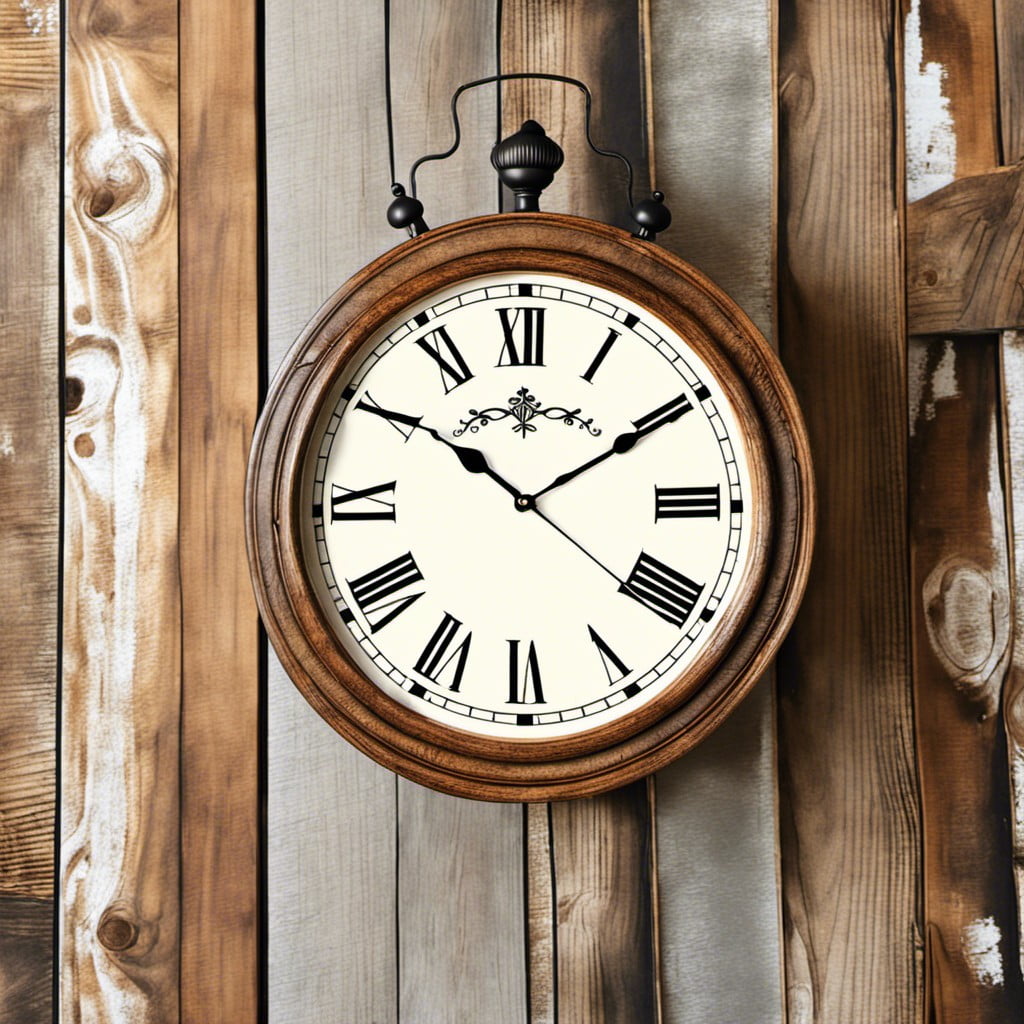 A unique timepiece can serve as a creative focal point in any room. Sourcing a rustic wooden clock, designed and aged to perfection, can contribute to the quintessential modern farmhouse aesthetic.
Steer towards those featuring Roman numerals or bare timber for a more reclaimed look. Complementing the classic charm of the modern farmhouse style, such clocks seamlessly blend form and function.
Opt for oversized pieces to create an impactful statement in living or dining spaces. Alternatively, smaller versions can add character to a narrow hallway or above a fireplace mantel.
Prefer clocks made of reclaimed or distressed wood for the ultimate in down-home comfort. With the imperfect finish, it's the ideal marriage of rustic appeal and modern simplicity.
Pair the clock with other wooden or wicker accessories for a cohesive feel. Ensure the clock's tone contrasts well with your wall color to truly let it stand out and express its unique charm.
Chicken Wire Wall Basket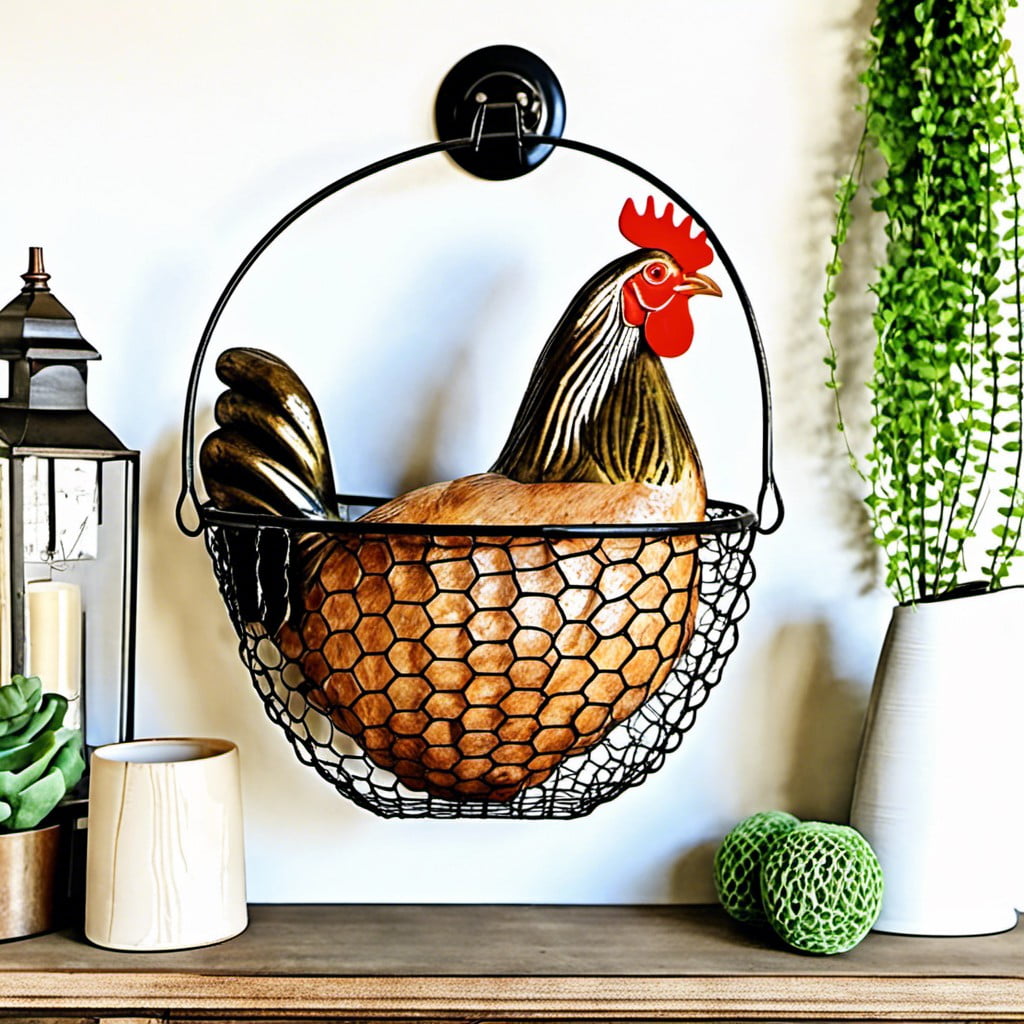 Moving away from the traditional use of chicken wire, its implementation in wall baskets brings a delightful rustic touch to any wall. Slightly distressed and robust, these baskets can be used for various purposes. They're fantastic for showcasing fresh blooms or dried flowers, adding a pop of color and warmth to any room.
Unexpected yet elegant, they can also serve as a unique arrangement for displaying your favorite reads. Small kitchen utensils, cute tea towels, or everyday items like keys and mails can beautifully be stored in them, achieving both farmhouse esthetics and functional organization. Additionally, the mix of metal and the texture of items within the basket encaptures the essence of the modern farmhouse style.
The adaptability of this wall decor certainly makes it a versatile investment for your home.
Reclaimed Wood Floating Shelves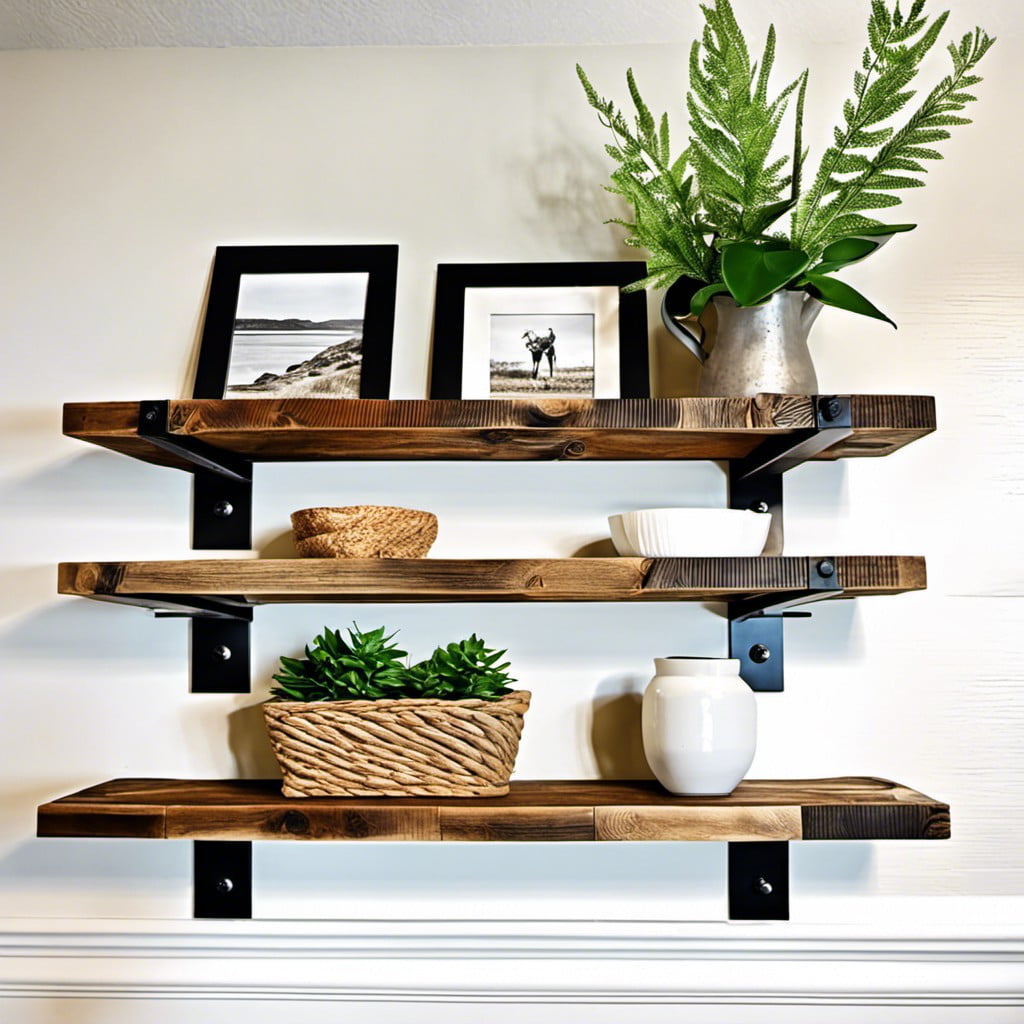 Adding a touch of nostalgia and practicality, these shelves effortlessly marry form and function. Reclaimed wood carries a history like no other material. Each piece is unique with its own knots, nicks and color variations, providing an authentic textured look.
1. Versatility – Ideal for any room, they can hold anything from books in your study to spices in your kitchen.
2. Space-Saver – Floating shelves accentuate wall space, opening up your living area and creating an illusion of a larger room.
3. Authenticity – By choosing reclaimed wood, you're embracing a piece of history, adding a story to your home.
4. Sustainability – You're doing your part in preserving the environment by reducing the demand for newly sourced wood.
5. Easy Installation – Most come with mounting hardware included, making them a relatively easy DIY project.
Selecting pieces that follow the grain and beauty of the wood create a unique focal point in your room, exuding a warmth and charm that only nature can offer.
Mason Jar Wall Sconces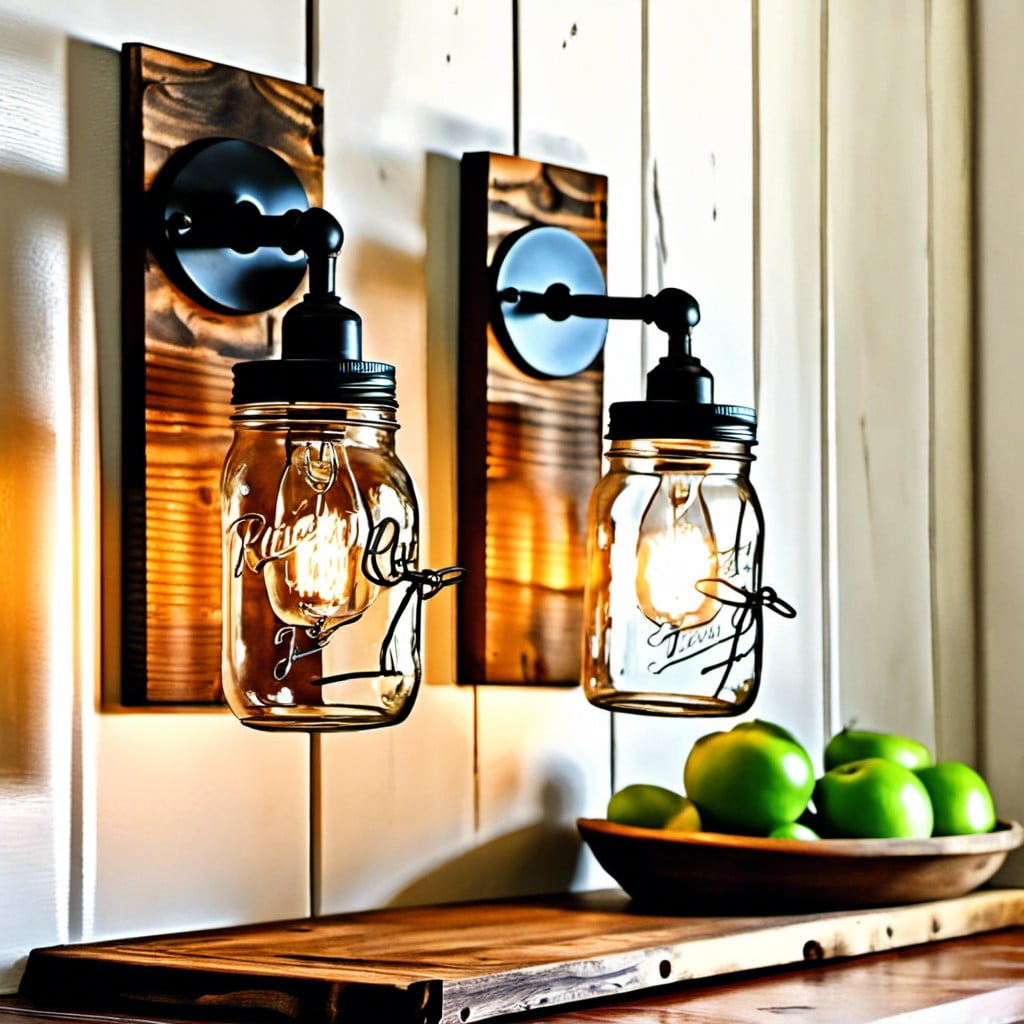 Mason jar sconces are a versatile addition to any modern farmhouse decor. Equally functional and eye-catching, they can be used to cast a soft glow in dark corners, highlight an architectural feature, or provide ambient lighting. An authentic farmhouse aesthetic can be easily achieved by taking advantage of the jar's rustic appeal.
1. Use as Lighting Source: Equip them with tea lights or fairy lights to create a warm and inviting ambience in your space.
2. Opt for Natural Fillers: Pea gravel, sand, shells, or even preserved flowers add a unique touch for a more customized feel.
3. Hang using Rustic Elements: For an authentic rustic charm, hang your Mason jar sconces using natural rope, twine or a rugged piece of reclaimed wood.
4. Choose Aged Jars: Opt for weathered or tinted Mason jars instead of clear ones. This adds depth and character to your sconces.
5. Experiment with Arrangement: Depending on your wall space, consider a vertical or horizontal layout. Multiple jars can be grouped together for a striking feature.
In short, the charm of Mason jar wall sconces lies not only in their simple elegance but also in their versatility. They are a stylish nod to the rugged utility and natural materials synonymous with modern farmhouse decor.
Galvanized Metal Wall Planters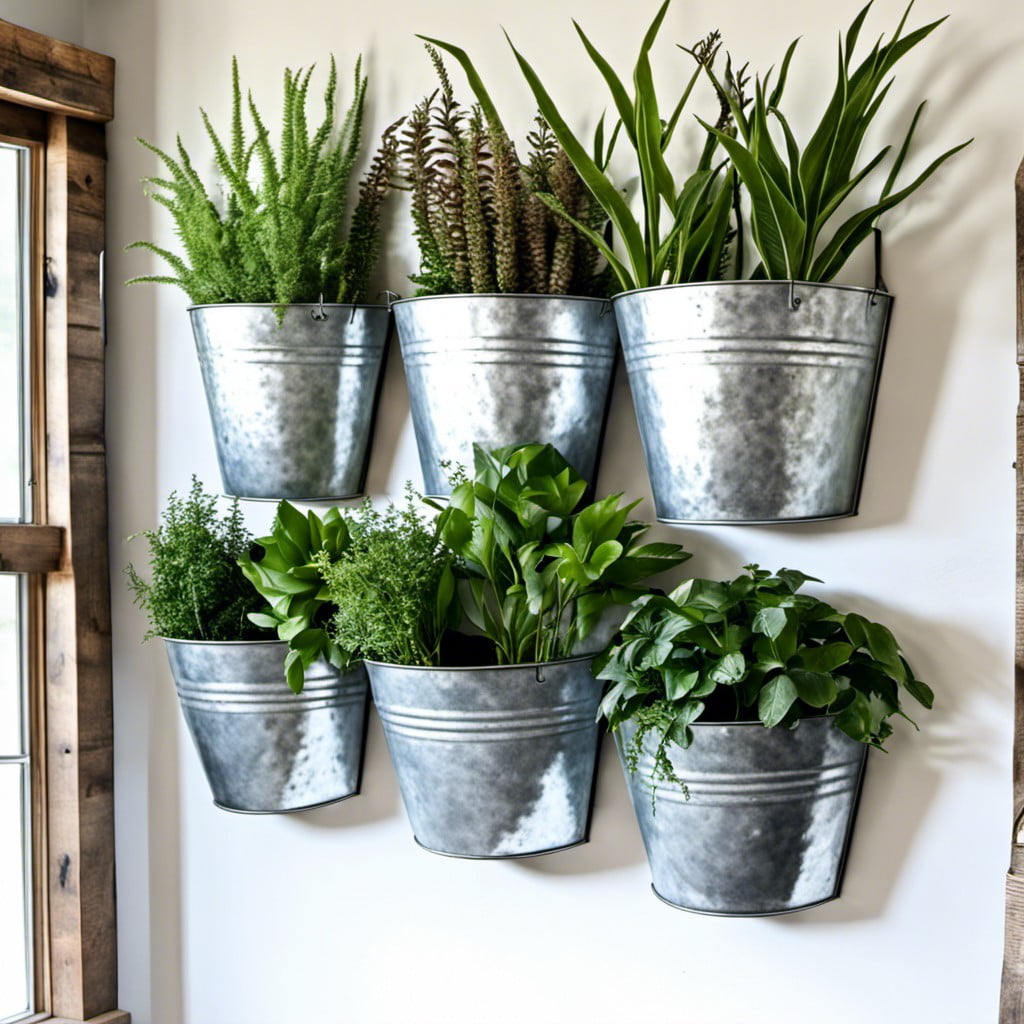 Opting for these planters adds a raw and rustic vibe while serving a practical purpose. Available in numerous sizes and designs, they work well for both indoor and outdoor walls. A plethora of plants can be used – from herbs in the kitchen, succulents in the living area, to flowers for a pop of color on outdoor walls.
One interesting point to note – the corrosion resistant nature of galvanized metal makes it suitable for withstanding the dampness from the plants. Additionally, the reflective surface of the metal can help to enhance the appearance of your greenery by providing an attractive contrast.
In terms of arrangement, asymmetrical setups lend a more organic feel, while symmetrical arrangements add an element of order and structure. Consider pairing with other rustic elements like wooden signs or antique items for a harmonious farmhouse aesthetic. If planning for indoor, ensure the wall gets plenty of natural light. Finally, be mindful of weight considerations when mounting on the wall.
Framed Family Photos in Black and White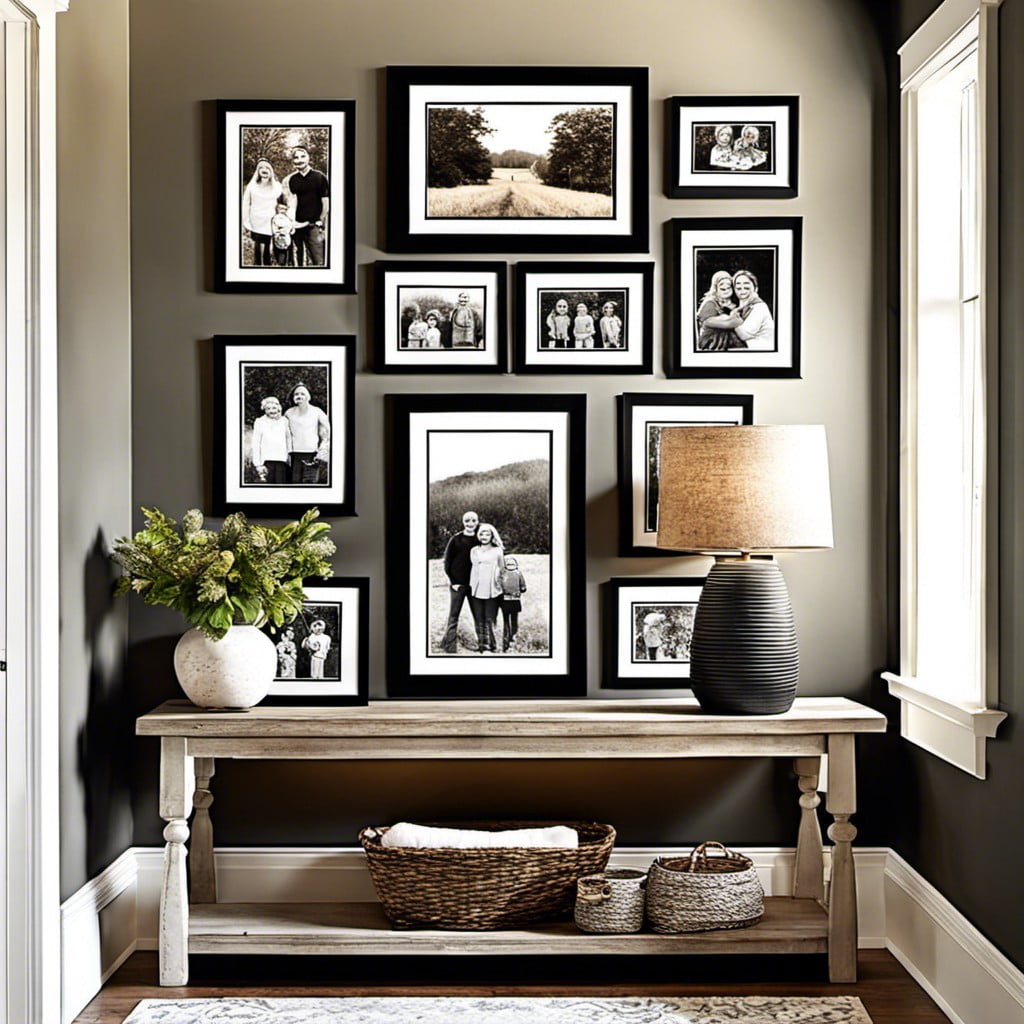 Opting for framing family portraits in monochrome not only honors the past but also enhances the modern farmhouse charm. The key is contrast; stark white backdrops combined with black imagery form timeless pieces that draw the eye.
It's best to use varied frame sizes and styles to create texture and depth for a dynamic wall display.
Don't limit yourself to standard rectangles and squares. Consider oval frames or even geometric ones that add an unexpected twist to traditional photo displays.
Moreover, you can mix in quotes or favorite sayings amongst the pictures to break up the photographic narrative and infuse a bit of personality.
Remember to keep the frames' finish rustic, whether that's distressed paint, barn wood, or metal for a cohesive look.
Placement matters too; clustering them on one wall for a gallery-like display or scattering them throughout the space blends personal touches seamlessly into your farmhouse aesthetic while reflecting the essence of family connection.
Vintage Farm Tool Display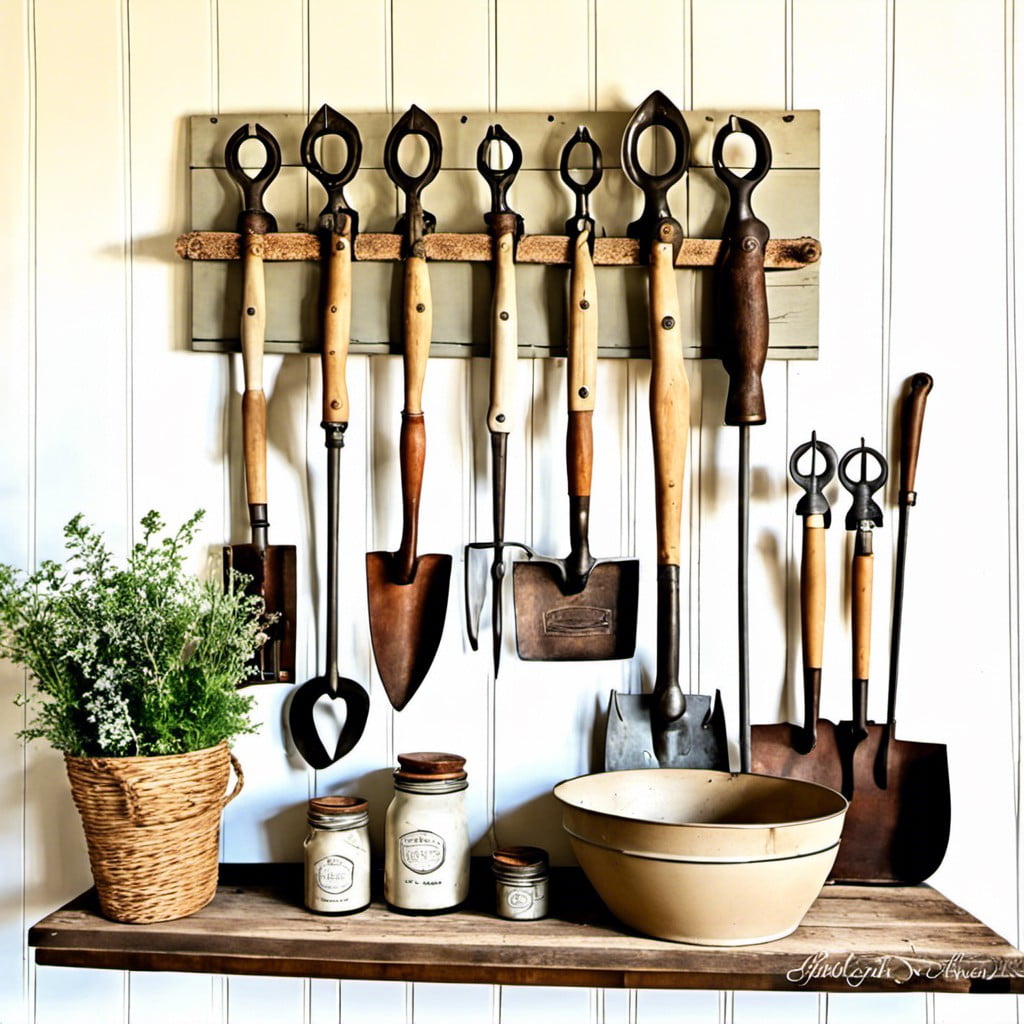 Exhibiting a slew of repurposed antiquated farming tools can exhibit an air of Americana and homage to simpler times. This decor style naturally draws guests' attention towards the walls, creating a focal point in the room that is distinct and intriguing.
Consider spreading out rakes, pitchforks, or antique hay hooks—hang them horizontally, vertically, or even diagonally for a trendy, avant-garde look. Each tool you display adds character and tells a unique story, offering both visual interest and conversation starters for your guests.
Remember, even the rusty, worn-out parts can add to the charm and authenticity of this style. If preserving the integrity of these historical items is a concern, a layer of clear varnish can help prevent further rusting. Lastly, arrange them on the wall in an asymmetrical design for a less formal and more dynamic visual impact.
Iron Rod Wall Hooks for Hanging Decorations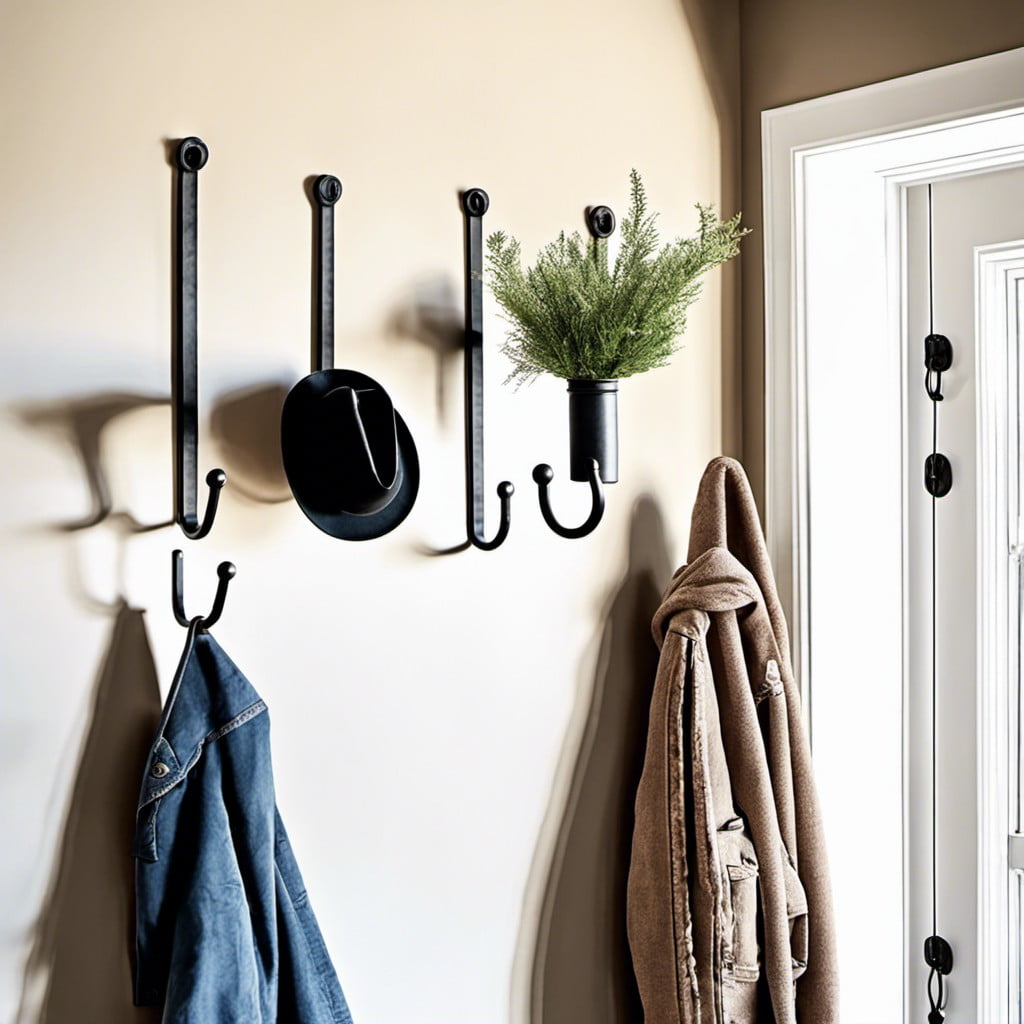 These sturdy hooks, offering both form and function, can be the ideal touch for your farmhouse decor. Apart from being handy for hanging essentials like coats, scarves, or bags, they have a deeper stylistic role.
1. Style Essentials: These hooks, with their vintage appeal, seamlessly blend into a farmhouse aesthetic, drawing the eye with subtle charm rather than overwhelming.
2. Versatility: Depending on your needs and preferences, they could be mounted in various rooms – the entryway, kitchen, or even bathroom, serving diverse purposes from holding utensils to towels.
3. Space-efficient: By utilizing vertical space, these hooks help in maximizing square footage – a boon especially in smaller homes.
4. DIY friendly: Opting for industrious wall hooks does not imply a complicated installation process. Many come with all the hardware you'll need, ready to be fixed onto the wall in a jiffy.
Remember, while uniform rows of hooks can create a clean, organized look, don't hesitate to experiment with staggered positioning or varying sizes for a more dynamic, personalized touch.
Distressed Window Frame Mirror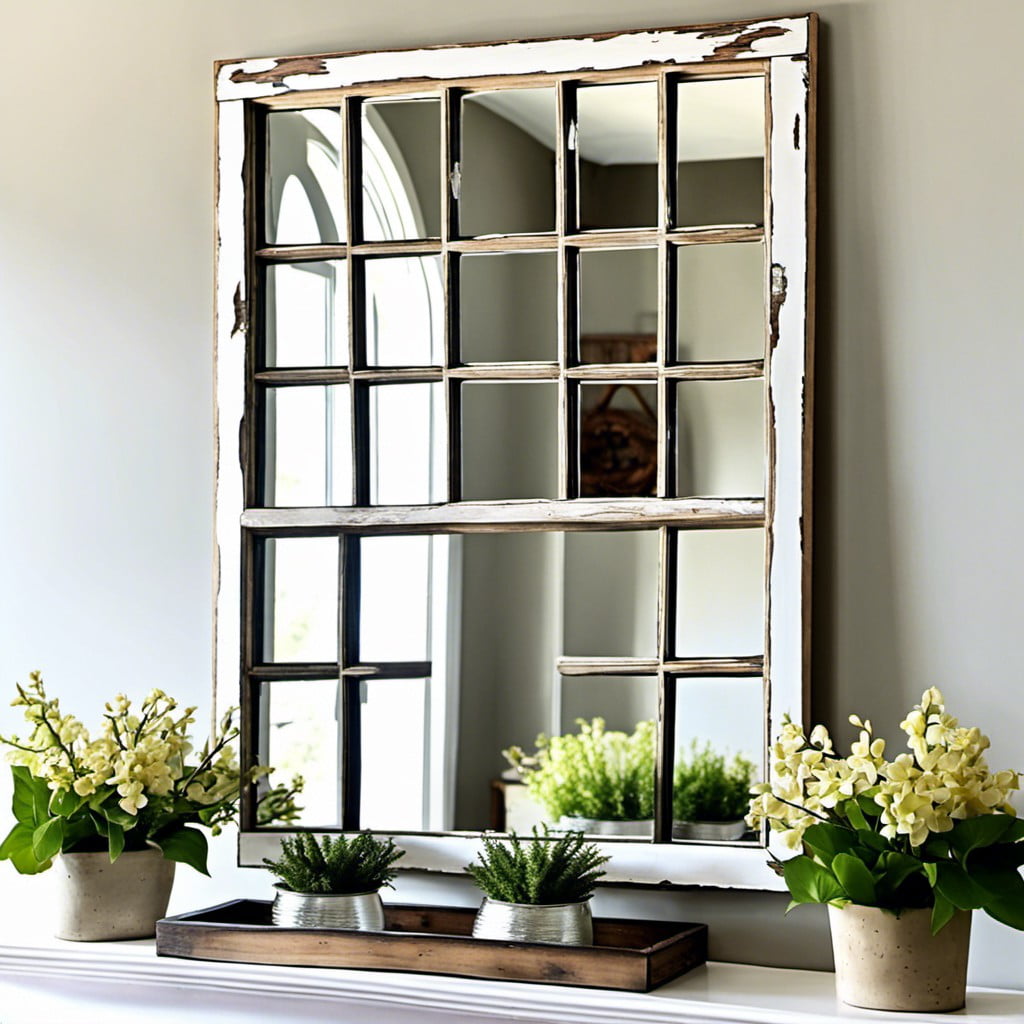 Instantly creating a focal point, this decorative element adds depth and natural light to any room. While selecting your frame, consider one with an aged or weathered finish to evoke classic farmhouse charm. The grainy, sun-bleached look tends to blend seamlessly with rustic interiors.
When hanging the mirror, position it opposite a window to catch incoming light and brighten up your space further. You could also dress the mirror up with a wreath or a handmade banner for a personal touch. The mirror's function isn't solely decorative; it also visually enhances your room and makes it appear more spacious.
A helpful tip – for an authentic feel, consider using an actual salvaged window, complete it with old glass panes or replace them with mirror glass. This detail can echo the design's history and whimsical style elements of farmhouses.
Remember, to keep the balance and proportion of your room don't be tempted by oversized frames if your room is small. On the contrary, in larger spaces, large distressed window frame mirrors make quite a statement and are a quick way to introduce rustic charm.
Keep blending and contrast in mind, a piece like this is neutral enough to match virtually any color palette but maintaining contrast is crucial. For example, if your walls are light, opt for a darker frame.
Repurposed Barn Door Turned Wall Art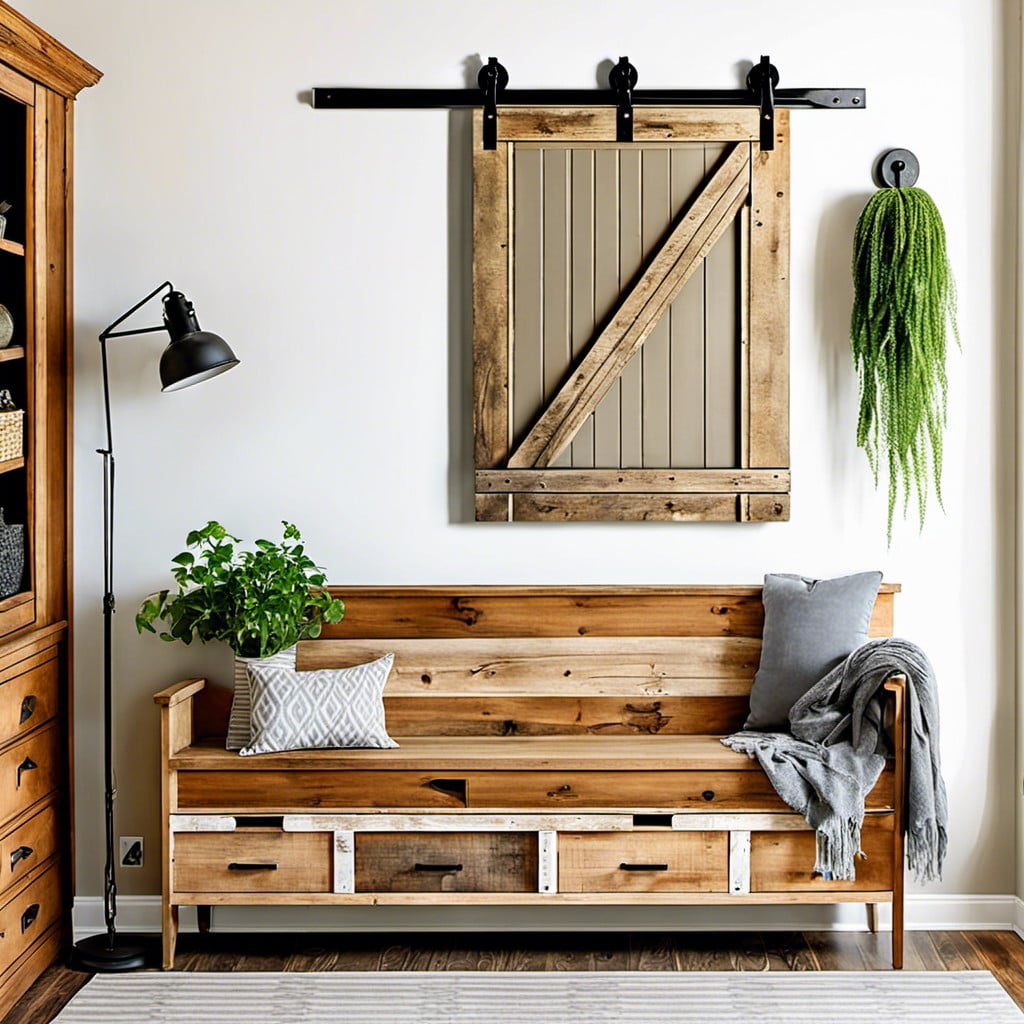 Incorporating this unique element into your decor generates an authentic farmhouse environment. To start, locate an old barn door. Many antique stores or online marketplaces provide a variety of options. Ensure the door's condition complements your desired aesthetic, as character marks, such as peels or scratches, can enhance the rustic charm.
Next, decide on the door treatment, which can remain in its original state or undergo some modifications. For example, you could whitewash or distress it further for a shabby chic look. Or, lightly sand and varnish it to showcase the wood's authentic texture and color.
The door's use as a wall art piece opens up a myriad of creative opportunities. It can host a dazzling mirror, a favorite vintage poster, or a small window box filled with faux greenery. An alternative is to affix an intriguing object, like an antique silhouette or barn lantern, for an eye-catching centerpiece.
Bear in mind the weight of the barn door and ensure it's securely installed. It may require heavy-duty anchors or professional installation. Regardless of its interpretation, this unusual art piece guarantees a conversation-starting focal point in your modern farmhouse abode.
Wall-mounted Wrought Iron Candle Holders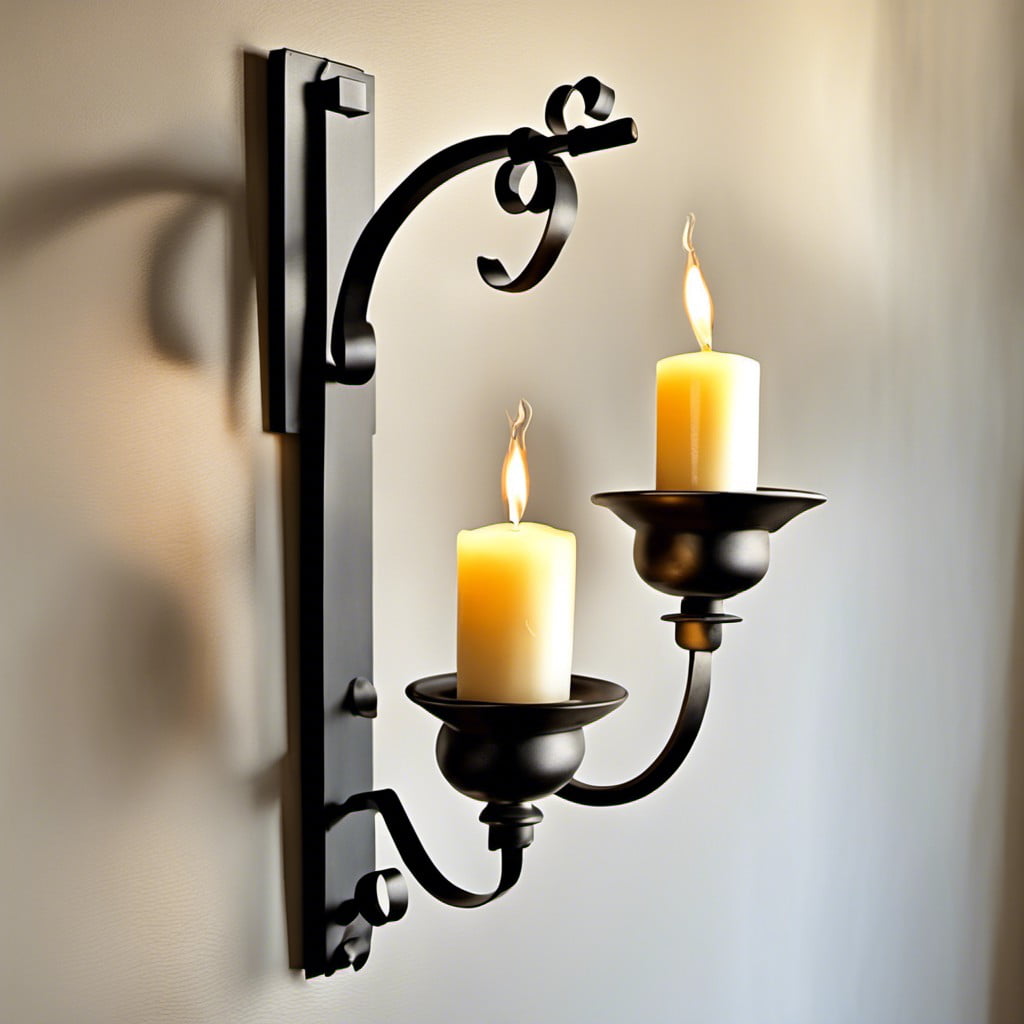 The strategic placement of wall-mounted wrought iron candle holders can create a notable impact on your modern farmhouse decor. The drama and historical charm they bring to any room can't be overstated. They harken back to days of old when candlelight was the primary source of lighting in homes, giving your space a touch of functional antiquity.
Make sure to consider the design of your select candle holders that will harmonize with the rest of your decor. Opt for distressed finishes that reflect worn out, rustic aesthetics typical of a farmhouse. The flame of the candles will provide a warm and cozy atmosphere, enhancing the hospitable ambiance that is characteristic of the modern farmhouse style.
Remember, they are not limited to holding candles alone. Think outside the box, use them to store small décor items or repurpose them as plant holders. This multipurpose use adds another layer of functionality and complexity to your wall decor. Their adaptability is what makes them an imperative part of the modern farmhouse aesthetic.
Ensure the holders are installed at a height which amplifies their focal point status without posing a fire hazard. Consider clustered arrangements for larger walls or single placements for a straightforward yet impactful look. Lastly, consider the proximity to other decor elements, the candle holders should complement rather than overshadow them.
Farmhouse Script Calligraphy Signs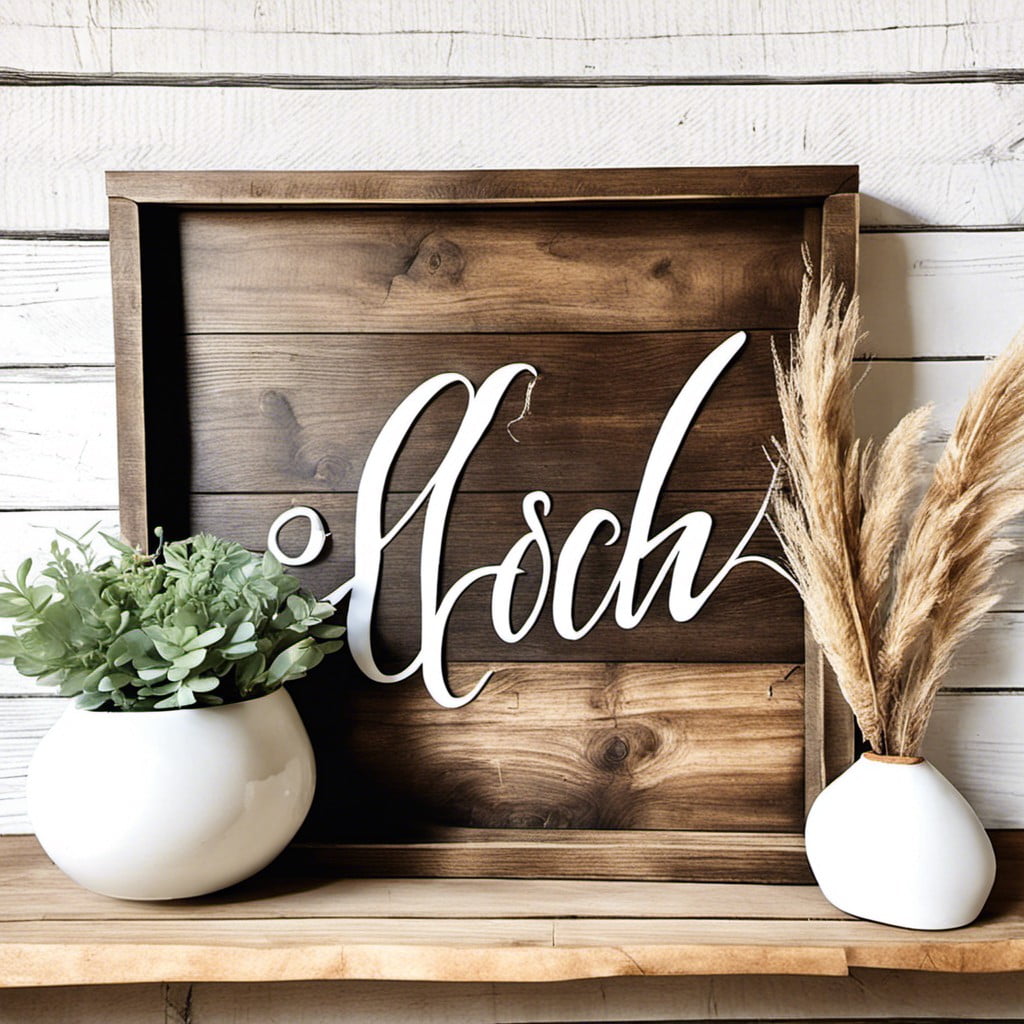 A farmhouse interior just isn't complete without script calligraphy signs that infuse a refreshing blend of sophistication and country charm. Made usually from distressed wood, these signs often flaunt motivational or loving quotes that remind us of simpler times and offer a sense of homely comfort.
Some popular phrases include "Welcome", "Gather", and "Family", but personalization is possible to suit individual preferences. Offering an artistic touch, the curved, graceful lettering stands out magnificently against the raw, rustic backdrop of the wood, embellishing your walls with a subtle show of sentimentality.
Hang them over a fireplace, above your bed as a headboard, or as a standalone centerpiece, and see how these signs harmonize into your decor, instantly transforming your space into a warm, inviting haven.
Antiqued Farmhouse Chalkboard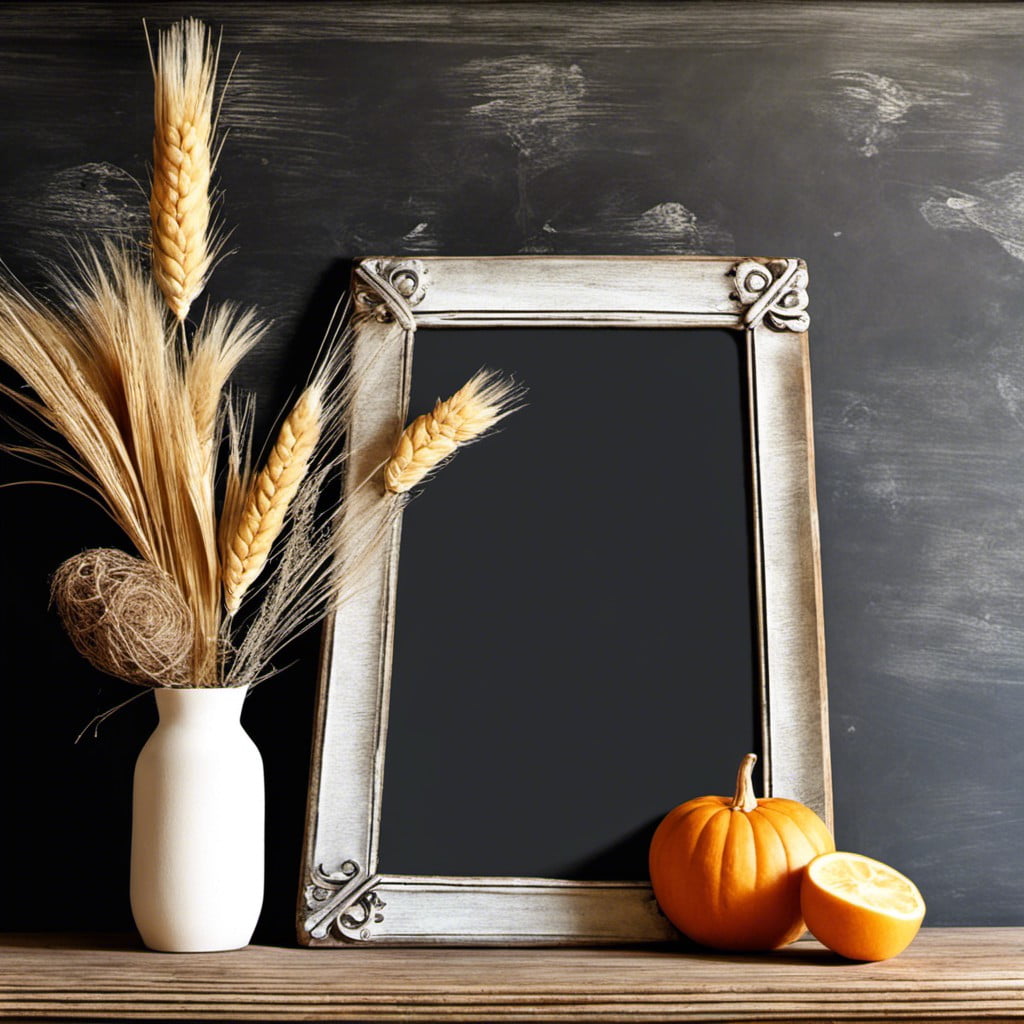 A chalkboard isn't just for a classroom, especially when it's an antiqued farmhouse chalkboard. It brings together an old-school charm and practicality, fitting into the modern farmhouse aesthetics effortlessly.
Here are some unique aspects of this decor item:
Versatility: It can be used for various purposes, from a menu board in the kitchen to a reminders board in the hallway.
Styling: Empty frames, distressed paint, and a vintage look give it the perfect farmhouse charm.
DIY Potential: You could even take up a DIY project and convert an old mirror or picture frame into a chalkboard.
Interaction: It adds an interactive element to the decor, where family members can write messages or doodle.
Space-Filler: It can be a unique way of filling an empty wall space, especially in larger rooms.
Personalization: It's easy to personalize with your favorite quotes or sayings for a warm, homey touch.
Remember, the key is to incorporate this piece in a way that complements your other decor elements and overall room theme.
Large Letter Block Wall Decor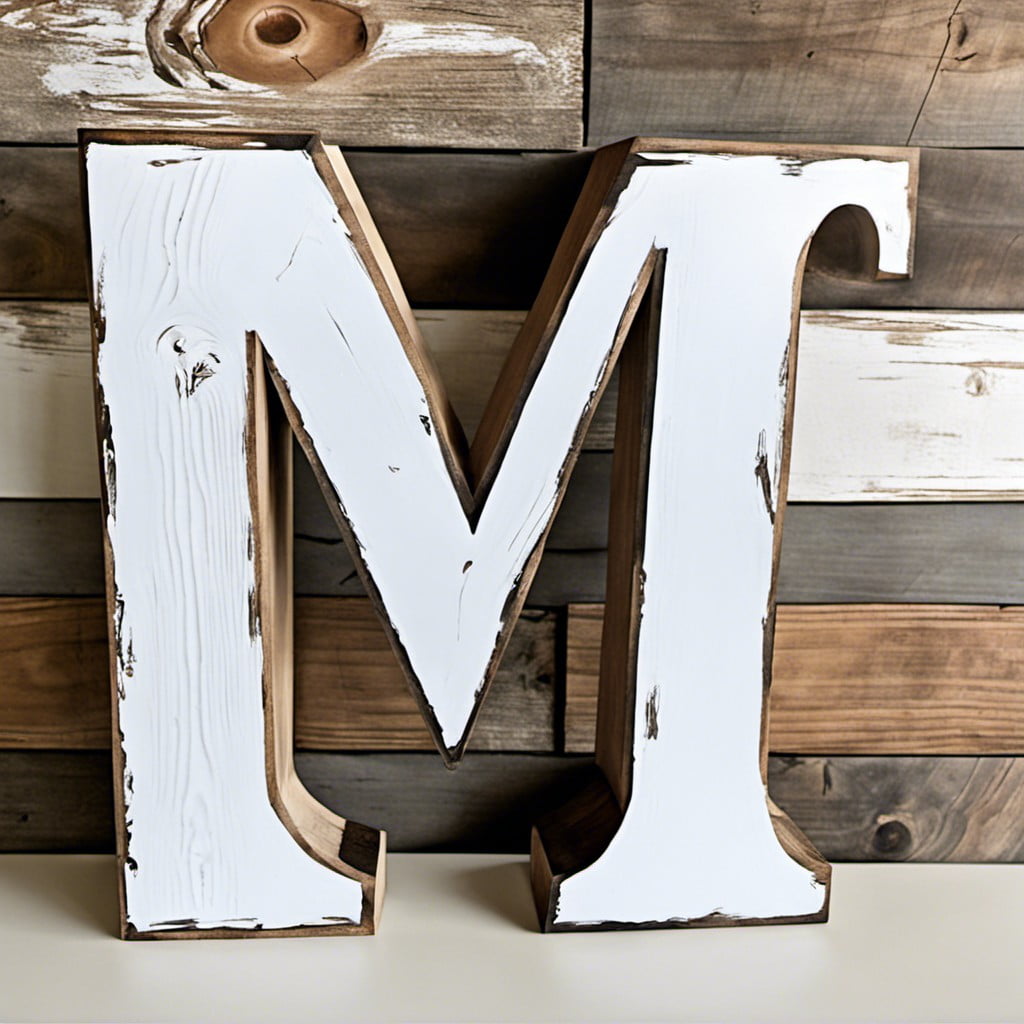 Large letter block decor is an excellent choice for those seeking unique and impactful elements for their walls. This kind of decor has a strong typographic appeal that often draws the eye. Adding such pieces to a farmhouse styled space can add a modern industrial touch to the rustic charm.
Here are few points to keep in mind:
1. When selecting letters, choose those with a meaning to you. This could be an initial, a whole word or even an acronym.
2. The size of your selected letters is an essential factor. Big, stand-alone letters can be a bold statement, while smaller ones work well when combined to spell out words.
3. Material choice can greatly affect the look of the decor. A metallic block letter may give an industrial edge, while a wooden one keeps the rustic feel.
4. Positioning shouldn't be overlooked. Placement above mantelpieces, door frames or in the center of a wall makes these pieces stand out.
5. Finally, consider combining these with other decor. Nestle them between frames or let them stand as a contrast to other wall pieces.
Shiplap Wall With Gallery Frames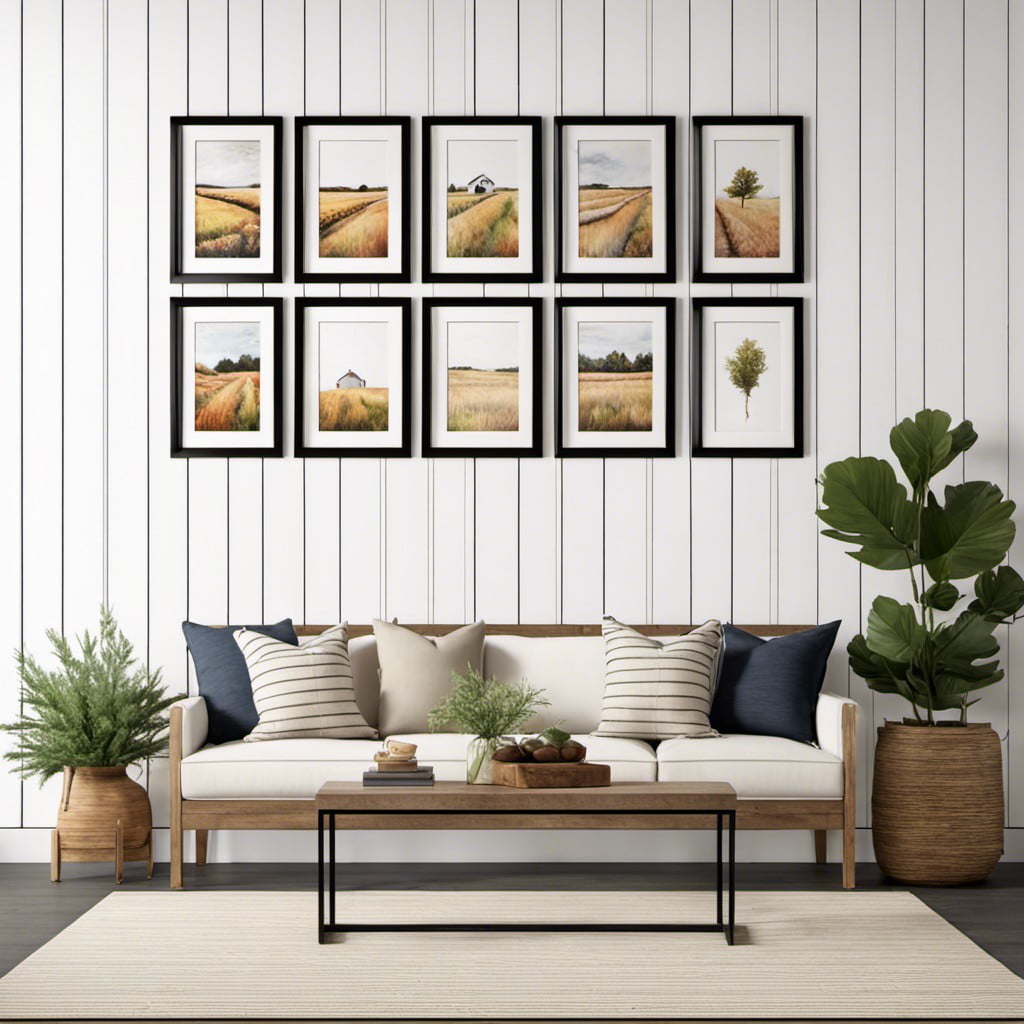 Incorporating gallery frames into a shiplap wall can create a unique yet harmonious blend of rustic charm and personal touches. Here's how it can work perfectly:
1. Combine Different Frame Styles: To add dimension, use a blend of metallic, wooden, or painted frames. The variance will create visual interest and prevent monotony.
2. Use Various Sizes: Mix up large and small frames to break up space and add a dynamic pop to your wall.
3. Add Non-Photo Elements: Farmhouse décor is characterized by its use of homey and natural elements. Intersperse frames with objects like a vintage clock, metal keys, or wooden letters.
4. Keep Consistency: Though variety is key, maintaining a common theme or color throughout the frames ties the whole display together.
5. Use High-Quality Images: The images you showcase should be clear and high resolution to draw attention and complement the farmhouse feel. Black and white or sepia tones can maintain a vintage feel.
6. Regular Spacing: Keep the space between frames consistent for a polished and organized look.
Implementing these tips ensures that your shiplap wall takes center stage, telling a story with both its farmhouse appeal and the cherished memories showcased in the frames.
Windmill Wall Clock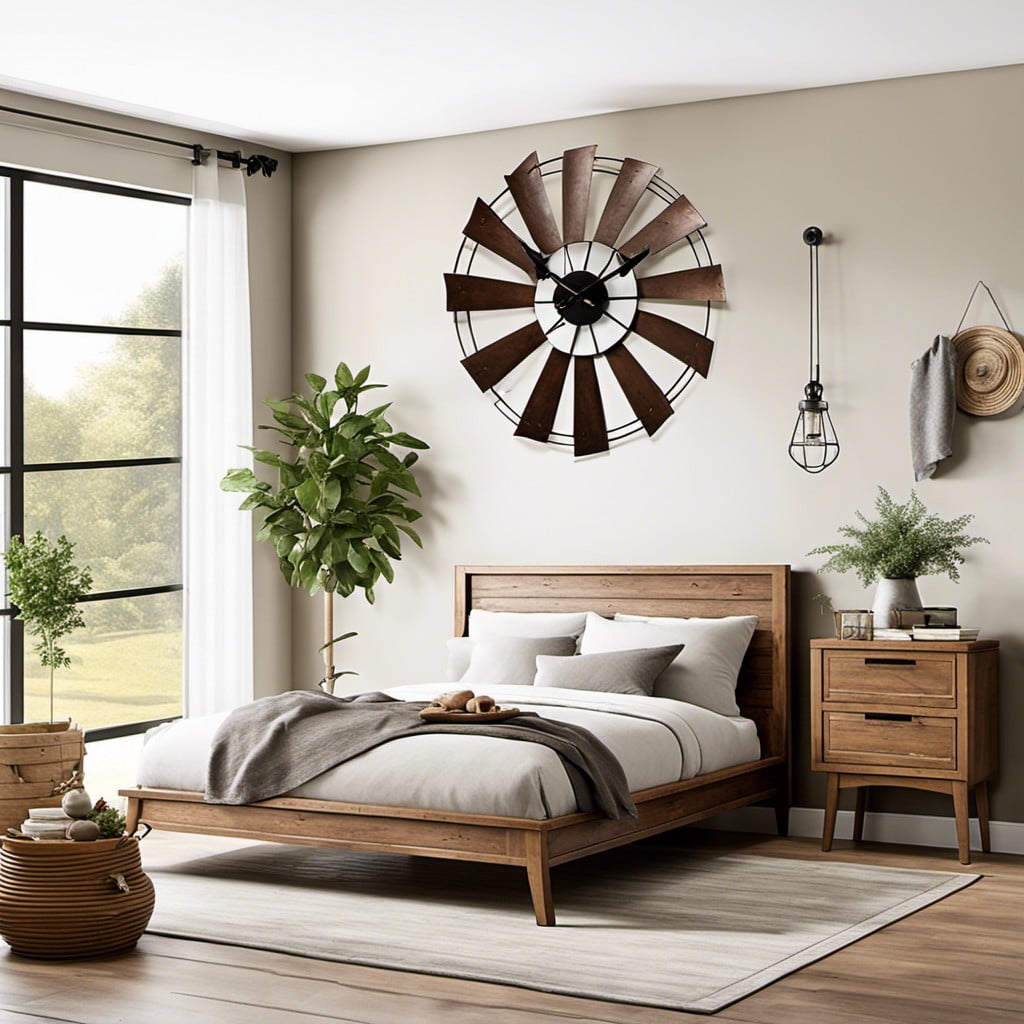 Recently gaining popularity, this particular piece is a charming blend of the antique and the industrious. Its design, inspired by an actual windmill, lends a captivating visual appeal to any room it adorns. Its large gearing and rotating blades add an enthralling kinetic element that catches the eye whenever one glances at the time.
These clocks are typically constructed of galvanized steel, adding a robust feel while maintaining an aesthetically pleasing dull shine that blends seamlessly in a typical modern farmhouse decor. A large windmill clock not only fills up a large wall space but also becomes an immediate focal point due to the dimensions.
Versatility is also a key feature. They fit into various design themes, from stark minimalist decor to a more detail-oriented rustic design, given their neutral color palette and the distinctive aesthetic.
One crucial aspect to pay attention to while buying your windmill wall clock is the size and proportionality to your room. It should be large enough to be an eye-catching element but not overwhelmingly big that the room feels congested.
Remember, a windmill clock isn't merely a timepiece but an artistic addition to the farmhouse theme, making it an excellent choice for a wall decor idea.
Wine Rack Made From Reclaimed Wood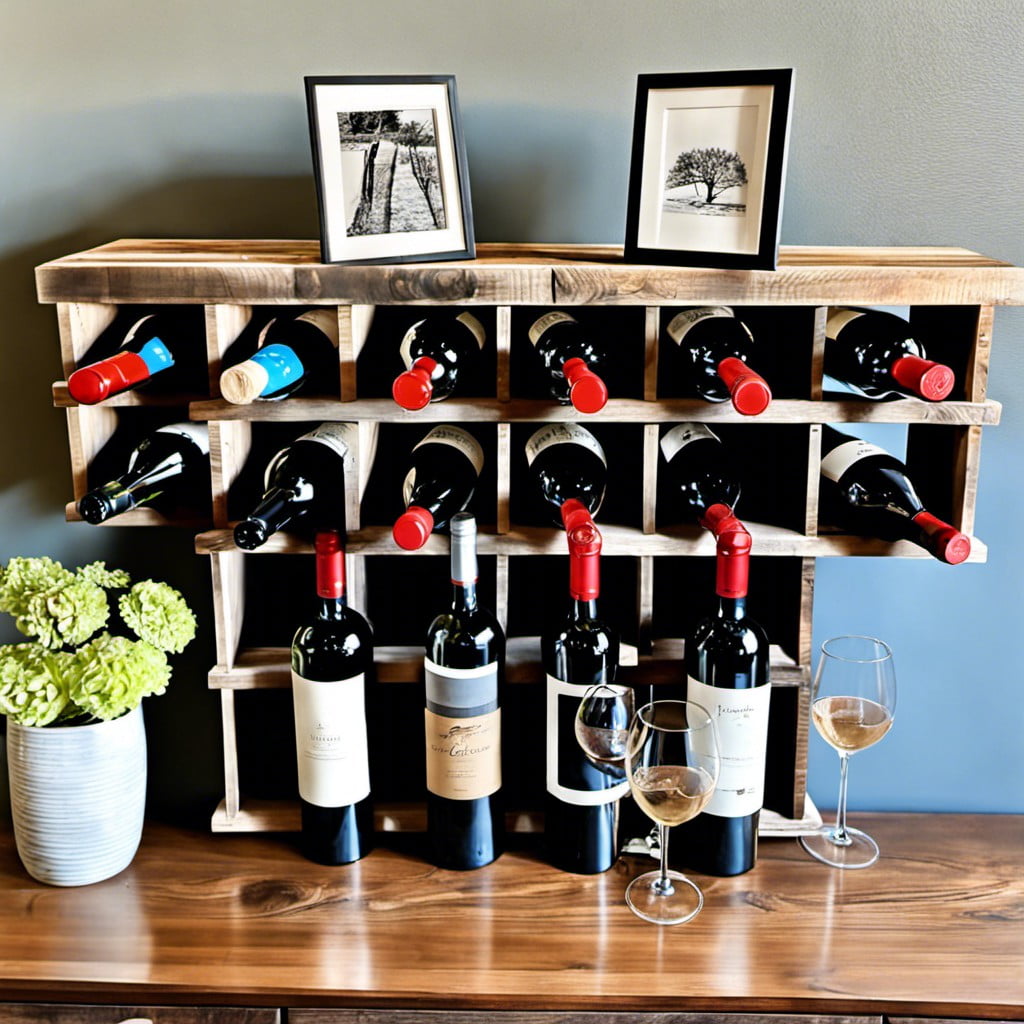 In crafting a wine rack from reclaimed wood, you'll amazingly capture the essence of the farmhouse style. Display your wine bottles in a cozy and rustic way, providing a charming accent to your kitchen or dining area.
Here's how this decor enhances your farmhouse aesthetic:
Sustainability: Reclaimed wood breathes new life into old materials, resonating with the philosophy of farmhouse decor—comfort, simplicity, and repurposing.
Authentic Look: The imperfections of the wood—grooves, knots, different shades of color—add an inherent warmth and rural charm.
Functional Art: Aptly marrying utility with style, it offers a fashionable storage solution for wine enthusiasts.
Customizable: Owing to its versatility, you can tailor-make it to your needs—vertically aligned or horizontally, large or small, stained or natural.
Conversation Starter: Besides offering a practical way to keep your bottles, it becomes a statement piece that invariably triggers admiration and envious glances.
Remember, while interior design trends may come and go, pieces with character and story like this never go out of style!
Burlap Sack Wall Hangings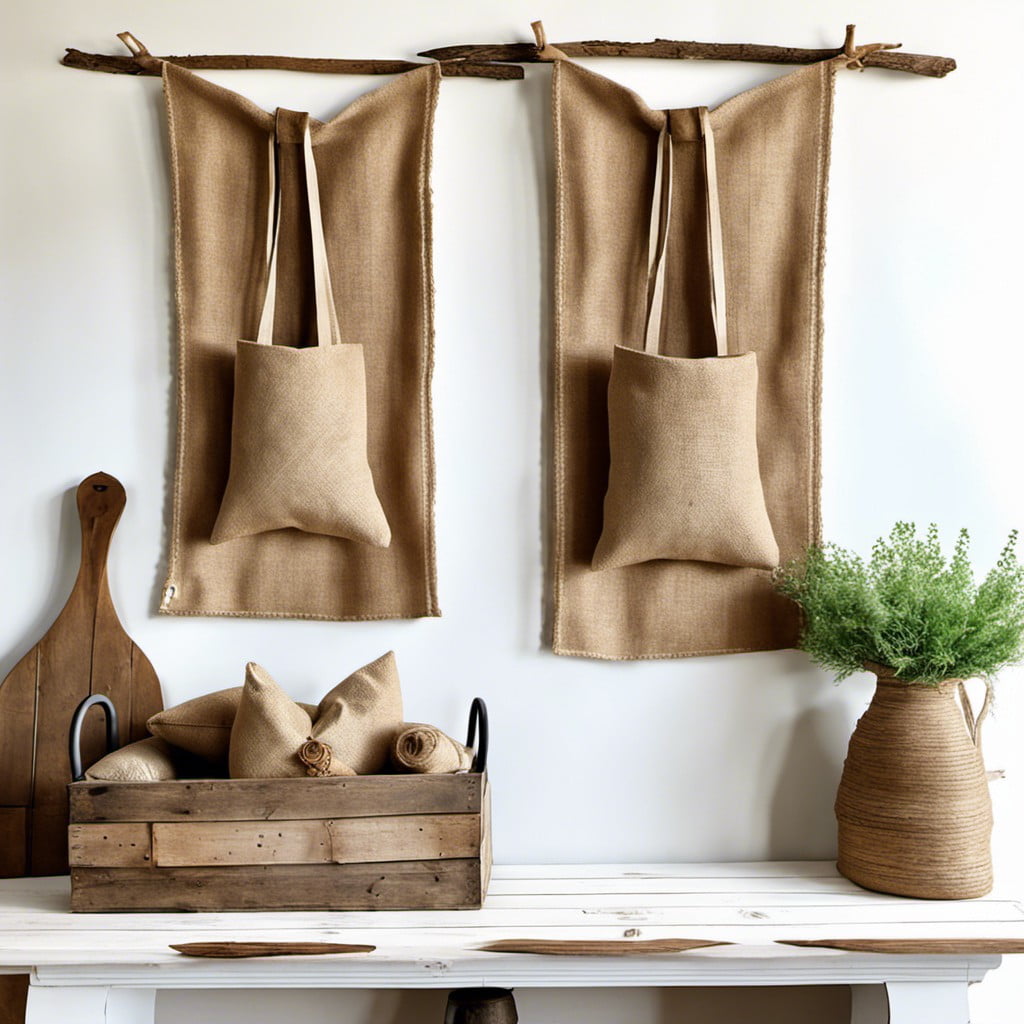 Exceptionally easy to source and modest in expense, burlap sacks make for a truly unique wall decor option. Perfectly aligning with the natural, rustic aesthetics of farmhouse living, burlap lends an immediate warmth to any space.
Picture this: sacks repurposed as charming wall hangings, perhaps featuring stencilled lettering, farm-themed illustrations or even family initials for a personalised touch.
It's not just about visual appeal, as durability ensures these hangings withstand the test of time. Simply stretched onto a wooden frame or even hanged directly onto the wall, securing them couldn't be easier.
Diversify pieces by playing with dimensions, maybe considering a cluster of smaller sacks as a tasteful focal point. Remember, the power lies within the personal, so choose designs or themes that resonate with you and breathe life into your farmhouse decor.
Therein lies the enchantment of burlap sack wall hangings – their straightforward simplicity and boundless adaptability.
Cotton Wreath Hanging On a Rustic Window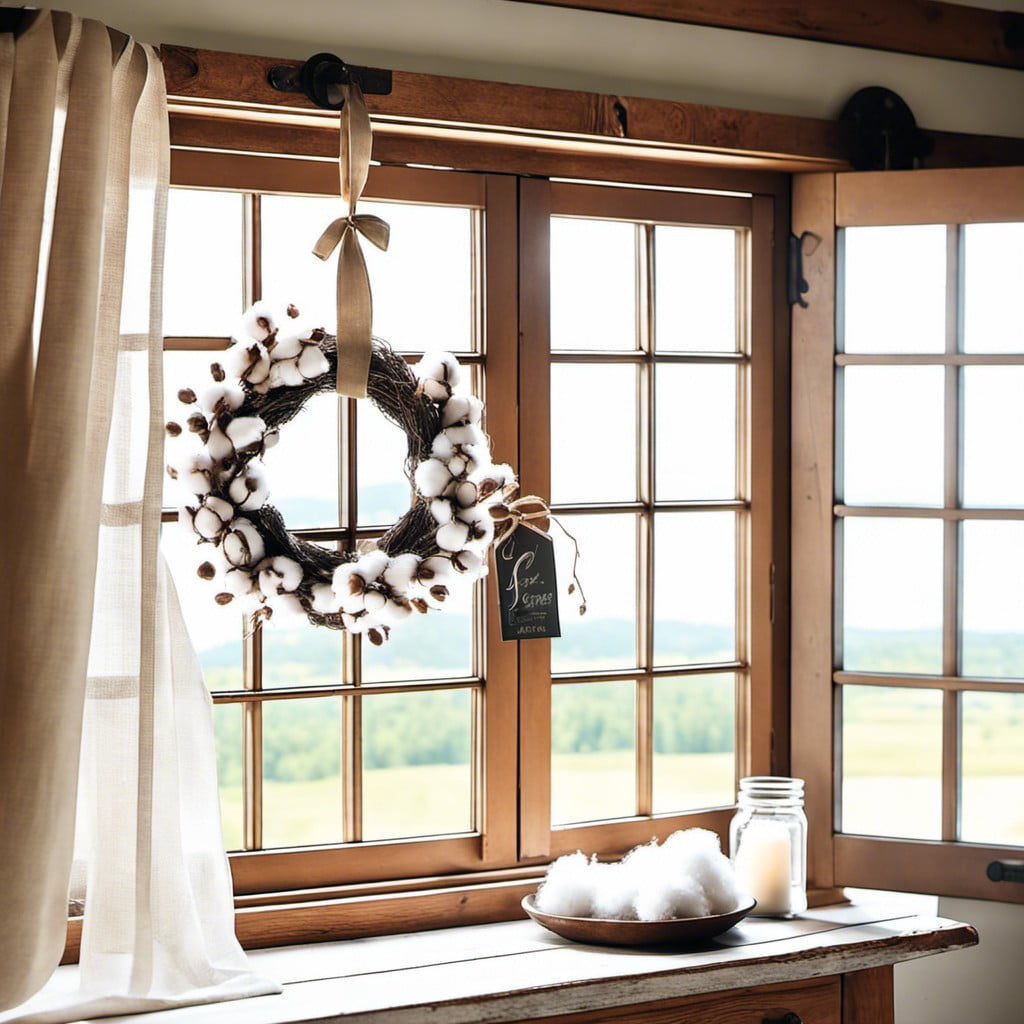 Crafted from authentic cotton bolls, a cotton wreath provides a textural and visual appeal that captures the heart of farmhouse design. First, opt for a natural, organic look. Alternatively, incorporate subtle touches of color for a hint of modernity.
Take advantage of rustic, weathered windows as a backdrop. They can be sourced from salvage yards or flea markets, creating a perfect blend of the old and the new. Remember, the beauty of farmhouse decor lies in the imperfections.
Consider different hanging methods for personal touch. You might drape it over a corner of the window or hang it off-center for an asymmetrical charm. A twine or a simple nail can do the trick.
Be mindful of size when arranging your display. The wreath should be in proportion with the window. Too small and it might get lost; too large and it can overwhelm the space.
Lastly, placement is key. Hang your rustic window with the cotton wreath in a room with ample natural light or the entryway to create an inviting statement. This subtle but stylish wall decor not only adds depth but also serves as a conversation starter.
Grain Sack Inspired Wall Art Prints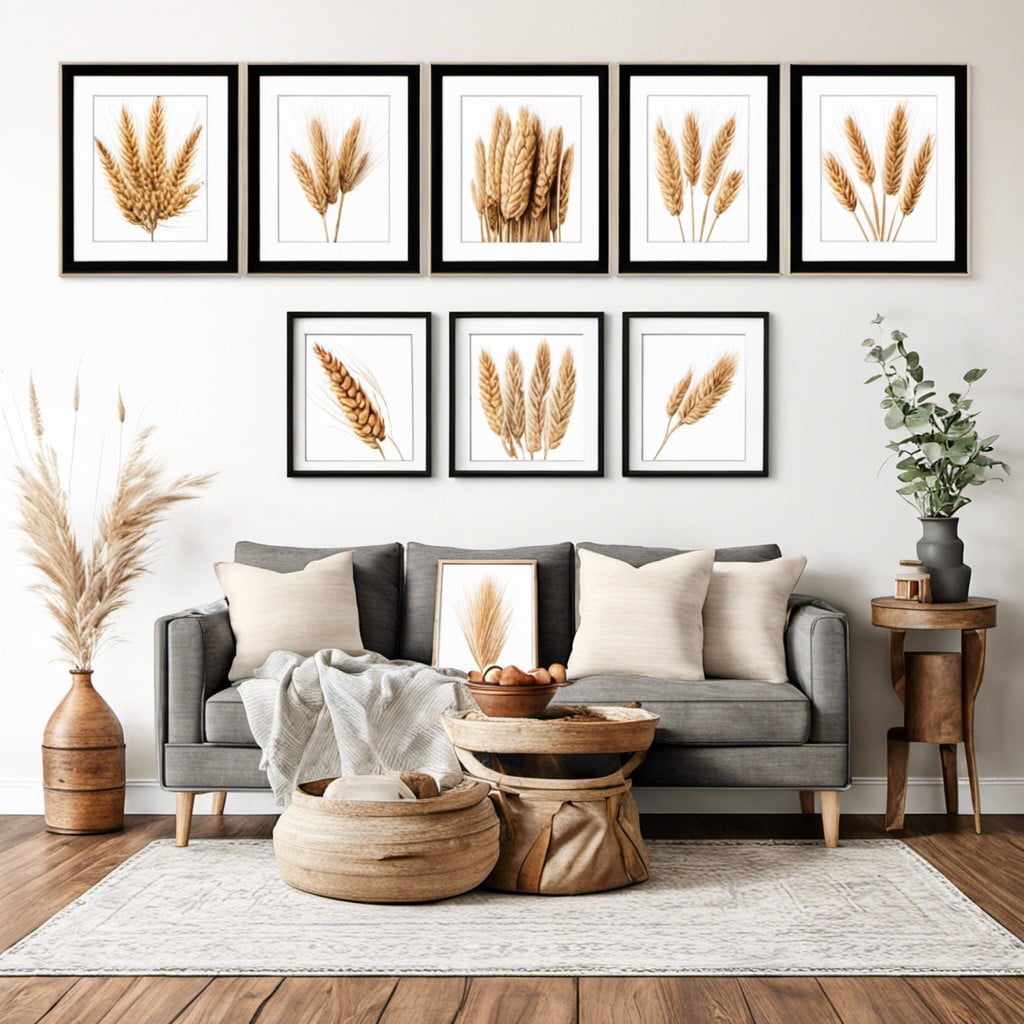 Grain sack designs have long been a staple in the modern farmhouse aesthetic, infusing a hint of rustic charm into any room. These wall art prints capture those authentic touches, creating an inviting sense of warmth.
Here's how they enhance your farmhouse decor:
Authenticity: Inspired by the grain sacks used in the 19th and early 20th centuries, these prints tap into the nostalgia that's inherent to traditional farm life.
Versatility: These designs subtly fit into any room, from kitchens to living rooms, and even bathrooms. Their neutral tones and simple patterns harmonize with various color schemes.
Easy to Update: With the seasons changing or as your style evolves, swapping these prints for alternatives is a breeze, keeping your decor looking fresh.
Budget-Friendly: You can often find inexpensive grain sack prints, making it a cost-effective way of transforming your space into a modern farmhouse haven.
Customizable: With an array of styles available, from prints featuring vintage typography to those depicting traditional grain sack stripes, you have the freedom to choose a design that best fits your individual taste.
In summary, grain sack inspired wall art prints offer an ideal way to introduce a touch of rustic charm into a modern farmhouse. They are versatile, budget-friendly, and easy to update, ensuring your decor always brings a genuine farmhouse feeling to your home.
Liked reading this? Here's more:
Recap: