Last updated on September 23, 2023
These baker's rack decorating ideas will help you turn any useless corner of your home into a fabulous display. All by using an unexpected item!
Who even knows what a baker's rack is? I certainly didn't until very recently. And I've had my share of racks in my kitchen. Then I've noticed it on Pinterest and I had to have one in my home.
In This Post:
What is Baker's Rack and What is it Used for?
Historically, a baker's rack comes from the 17th century and it was used to store freshly baked bakery. It was made from cast iron too. Thus its thermal conductivity helped absorb the heat and distribute it evenly. In other words, it helped keep the goodies warm longer.
Today, it has purely decorative and general storage value. A rack doesn't even have to be made of iron. It can be wooden and even have cabinets built-in.
So we've come a long way with the baker's rack trends. One thing that has remained constant is that they typically have a gorgeous ornate frame look. Which is exactly what we want.
Where Can You Use It Today?
A typical rack is ideal in the kitchen. But its decor value is so great, you can put it in any room for gorgeous and even whimsical decor appeal. Here are some ideas:
Add a lightweight thin rack in any free corner of the kitchen for extra storage and style.
Use it in the bedroom to keep blanket, linens, woven baskets for more storage.
Place it in the bathroom (if there's enough space) and keep the towels, accessories on display.
Put it in the entryway for instant home decor appeal as you step in right through the front door and as a whimsical coat rack.
Keep it no the deck or patio where you can add plants in pots, keep other outdoor items.
How to Decorate a Baker's Rack?
How you decorate it, depends on where you have it placed, and what type it is. That's why we will go over a bunch of different baker's rack styles and see how they fit our decor. However, some general good-decor rules apply for every display:
Keep it clutter-free. It's a very open rack, so every item brings its weight. It's easy to get it overcrowded quickly.
Use attractive bins (usually on lower shelves) to keep small items that don't need to be displayed.
Put your cups and mugs on display in the middle rows.
Add hooks to the frame to hang more mugs elegantly.
Add vases with flowers.
Distribute things evenly across all shelves. Avoid one shelf dominating the whole rack.
Use rustic signs to decorate the top shelf.
Now let's see what different types of baker's racks have to offer.
Metal Baker's Rack
Baker's racks made of metal is a close replica design to the old racks (granted it should be wrought iron). The look is mostly vintage, but it can be industrial or rustic too. Such a frame is light and lends itself to decorating easily.
Where does a metal baker's rack fit?
Definitely, the kitchen. A light metallic frame will provide you with more storage and in an elegant way.
Living room. A neutral frame without much embellishments is the perfect shelving unit. Nobody will give a second thought to this choice.
A bedroom is also a good place for it.
Finally, stainless steel frames can be placed on your deck or porch and withstand any weather.
Wrought Iron Baker's Rack
The wrought iron design has round embellishments that create a vintage look. This design is the most similar to baker's racks used for their purpose at the turn of the last century. Thus the antique appeal brings most charm to your decor.
Baker's Rack with Drawers
Modern racks can have drawers built-in. So it's your classic iron frame with beautiful ornate embellishments, but it has one or more shelves with drawers.
This is an excellent and practical feature that doesn't take away from the look. If anything, nice wooden drawers in a vintage style add to the overall visual appeal.
You can keep all kinds of small items in the drawers, as you would expect.
Kitchen Baker's Rack
The kitchen is, of course, where you would expect to see this rack most likely. After all, it's its original purpose. Only you probably won't store your bakery on it (unless you actually run a bakery at home), but you will nicely keep your kitchen utensils, pots, and pans, and do it nicely. It's a special type of rack, too, because you can usually adjust it to your needs.
Here's how you can decorate a baker's rack in the kitchen:
Don't overcrowd it – it's not your pantry.
Keep big items on the bottom shelves, small ones at the top.
Add plenty of hooks under the shelves for utensils, and hooks on the frame for mugs and pans.
Dedicate a shelf to cookbooks.
Consider leaving the top shelf for a rustic sign or a decor vignette.
Small Bakers Rack
Want to try your hand at decorating a baker's rack but you don't want to bring a full-sized one to your home? There are these small adorable racks that can make a lovely accent.
These small racks are made for mugs and other small utensils, perhaps bread too. And they have a nice French style design that is like a mini version of the real thing.
You can place one such a small rack on a counter and create a small mug rack, coffee station, or a mini herb garden.
Wooden Bakers Rack
A wooden rack has frame parts made of wood or it's entirely wooden. It's a lot more similar to a bookcase, it has shelves, drawers, and can even have cabinets. The style looks vintage as the design still has to mimic the one of a real baker's rack.
Because it looks a lot like a bookcase, it can be used as one in any room. The drawback is that wood makes it bulkier and heavier. So it doesn't have most of the benefits of a metal rack.
Most racks of this type have a vintage look which can bring a lot of character to your home. Case in point, the unit shown above is an embellished wooden rack with drawers and weathered paint. It has a shabby chic vibe all throughout.
Bakers Racks with Wine Storage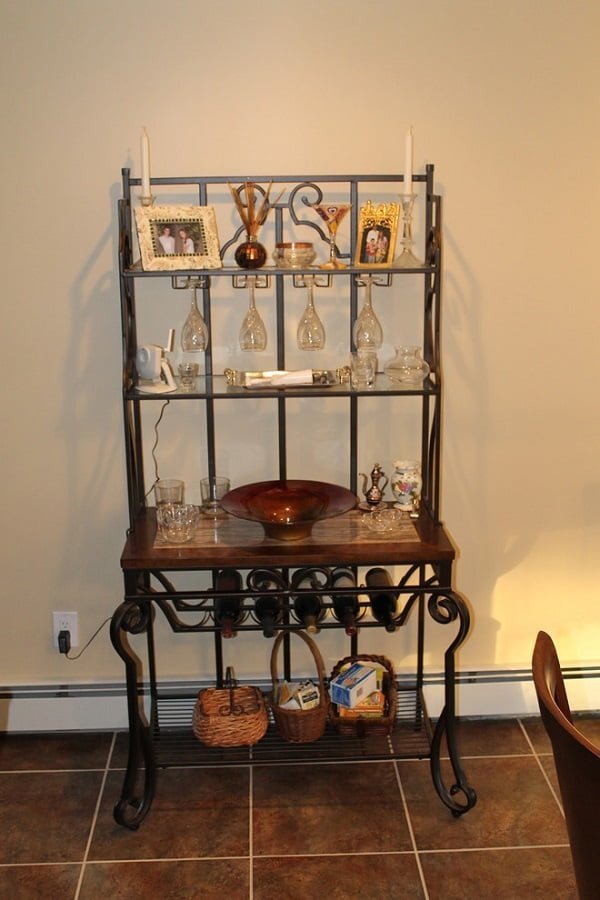 A great addition to the rack is a wine holder. Usually, it comes in the form of an additional shelf at the bottom of the unit. A glass holder may also be included a the top of the rack.
Such a unit can make the perfect mini bar in your kitchen. So you may decorate it as one as well. Think about what wine-themed decor ideas you can apply:
Add vintage bottles.
Keep small things in beautiful wine boxes.
Display signs about wine or grapes.
Arrange wine serving dishware and utensils.
Outdoor Bakers Rack
Outdoor baker's racks need to be made of metal (stainless steel or wrought iron) to be used outside. It's an excellent addition on the porch, deck, or your front yard.
How do you decorate an outdoor baker's rack?
Use it as a multi-tiered plant stand. Place bigger pots on the bottom shelves and smaller ones on the top shelves.
Dedicate a shelf or two for gardening tools (as a gardener's bench).
Grow vine on it as a trellis.
Baker's Rack with Cabinets
What do you get if you combine a cabinet and a baker's rack? Well, it's a baker's rack with cabinets, for the lack of a better term. (I would call it a "cabber's rack", but I think it might mean something else).
Anyway, it's a useful storage unit just as it is gorgeous. If you're not entirely sure you want a metal rack in your kitchen (or another room), this version might be the ideal alternative. So you get the cabinets for storage and a beautiful ornate rack shelves on the top.
I would call it the perfect modern farmhouse piece of furniture.
Black Bakers Rack
I didn't want to actually get down to colors (since you can have your rack in any color – paint it if you don't). But black is so classic (and classy) it fits in modern decor nicely.
That's right. You can take a piece of furniture from the 17th century and add it to a completely modern (even minimalist) home. Granted, such a modern rack has all it's embellishments stripped and left with only what is essential.
It still looks lovely, doesn't it?
Baker Rack with Storage
It's a rather strange term talking about storage in a rack. There's intrinsic storage per definition of the unit. What we can talk about is the extra storage that can come in the form of:
Deeper shelves
Drawers
Cabinets
Extra shelves
Extra hooks and bars
Basically, you may be looking for a rack with as much storage as possible. And there really is a lot of room to add more of it.
Shown above: a gorgeous baker's rack in chrome finish, wooden shelves (3 deep shelves, 2 narrow), bars for towels, and a glass rack. It offers ample storage.
Wire Baker's Rack
The wire rack is one of the lightest designs possible (with the exception of a small rack). It's light in the literal sense, and in a visual sense as far as decor. Yet it can pack a lot of storage. So use it wisely:
Don't overstuff it with things – it is light, so keep it light.
Organize each shelf. It's best if each shelf is dedicated to a specific type of thing.
Make shelves that are purely display.
Distribute the different sized items evenly. Keep big items at the bottom. Only add one big item on upper shelves if needed, and balance it out with a bunch of smaller items. (You can see a well-balanced wire rack in the picture above.)
Baker's Rack Plant Stand
The baker's rack makes a great plant stand. Why? Because its round shapes and embellishments make your plants stand out. And you can place it indoors as well as outdoors on your porch or deck. It just makes so much more sense than using a bookcase or another shelving unit.
Large Bakers Rack
A large rack can replace a bookcase and cabinets in any room. In this case, it's the living room. Much of the same rules of decorating apply. And you can see how much charm the rack brings to this room's decor that goes for the eclectic look.
Rustic Bakers Rack
A rustic unit can take many shapes. It can be made of metal or wood. The most important aspect of rustic design is the finish. It brings a weathered or raw look to the decor. You can keep it small, or go large. The rack will be a great addition to any farmhouse kitchen. It will also make an excellent accent in a modern room.
Most of the decorating ideas that we've already covered apply to this type of rack too.
Industrial Baker's Rack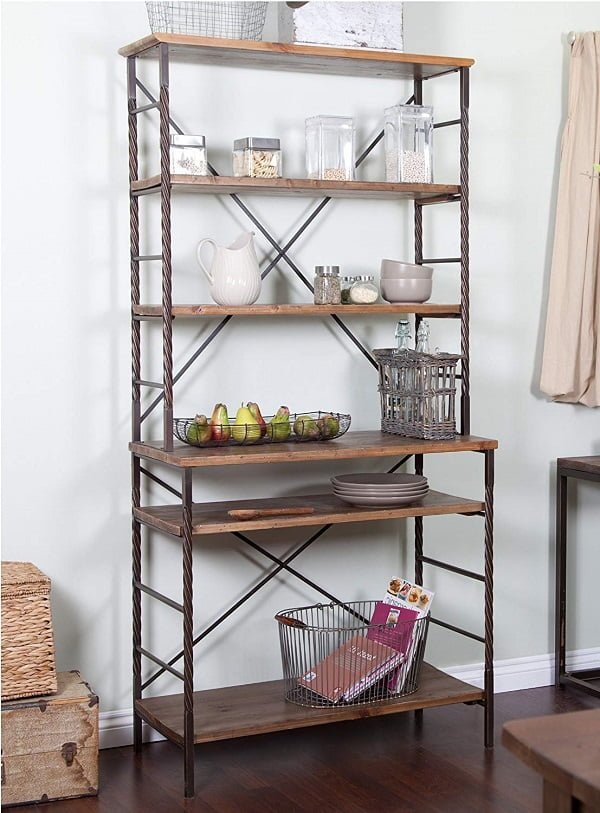 The industrial style is for those who like to keep things simple. If you don't see using a vintage-style shelving furniture for storage, you can keep the same benefits without changing your decor theme.
Likewise, the industrial accent works in modern spaces, or farmhouse kitchens.
French Baker's Rack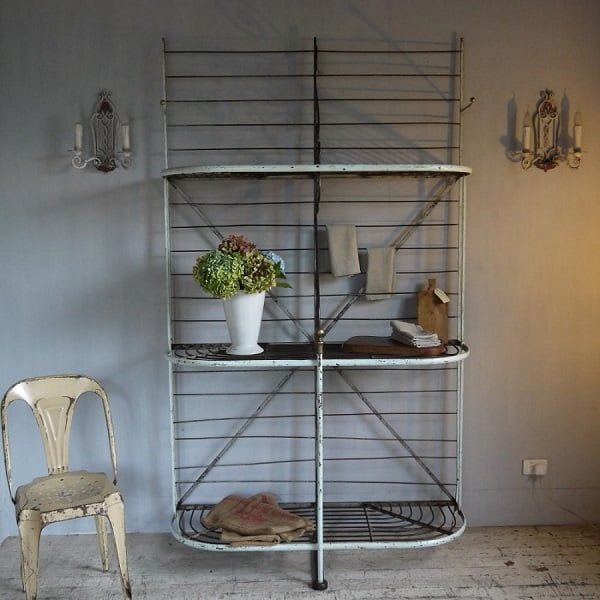 The French style rack brings shabby chic vibes to your decor. So anything that goes with this style can go on this rack. Get ready to bring a lot of character to your home with this unit.
DIY Baker's Rack
What's a better way to make the most unique piece for your decor? It's the DIY way. Granted, this project won't give you the pretty embellishments most baker's rack have, but it excels in other ways.
For this project you will need:
Pipes with elbows and T-fittings to make the frame you want.
Plywood boards for the shelves.
It's a straightforward project. You only need to assemble the pipes and attach them to the wall. Use plywood for the shelves. There's a lot of leeway for experimentation.
Short Baker's Rack
A short version of the rack can function as a cart. So it's a very lightweight addition to any room. Here are the ways you can use it:
A mobile cart to help you with your cooking in the kitchen.
A small shelving unit in the bathroom.
To decorate it well, use plenty of attractive baskets and don't overload it with big items.
Baker's Cart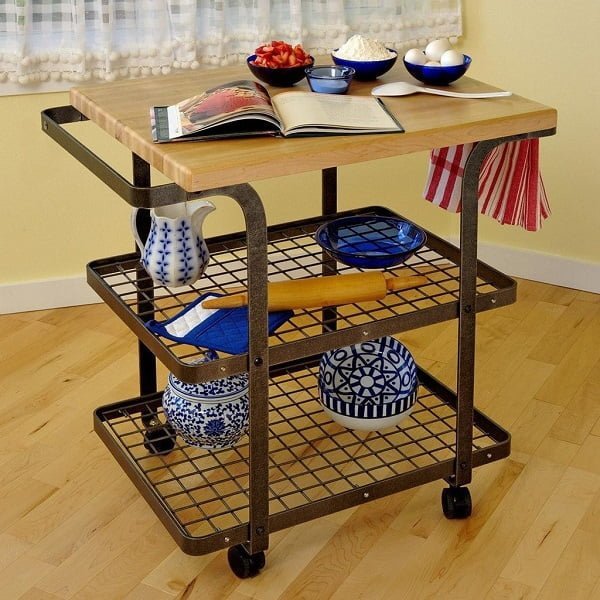 A small rack can function as a cart. This little mobile station can be your cooking buddy. It's a useful piece of furniture to keep around, especially if you have a small kitchen that lacks countertop space. And when not used, it can serve as a side table.
Liked reading this? Here's more: